Last updated on September 30, 2023
Want to revamp a lamp you have with a new DIY lampshade? Here's how to do it. Choose from terrific 11 ideas. Read on!
Most lampshades are pretty simple, but they can also be boring. And once you're tired of the colors and accents you chose for the room's decor, a lampshade can quickly look out of place. The solution is a DIY lampshade project, which takes only a few minutes, a few dollars, and just a few simple materials to complete. The best part? When you're ready for a new look, just take it apart and start again!
How to Make a Lampshade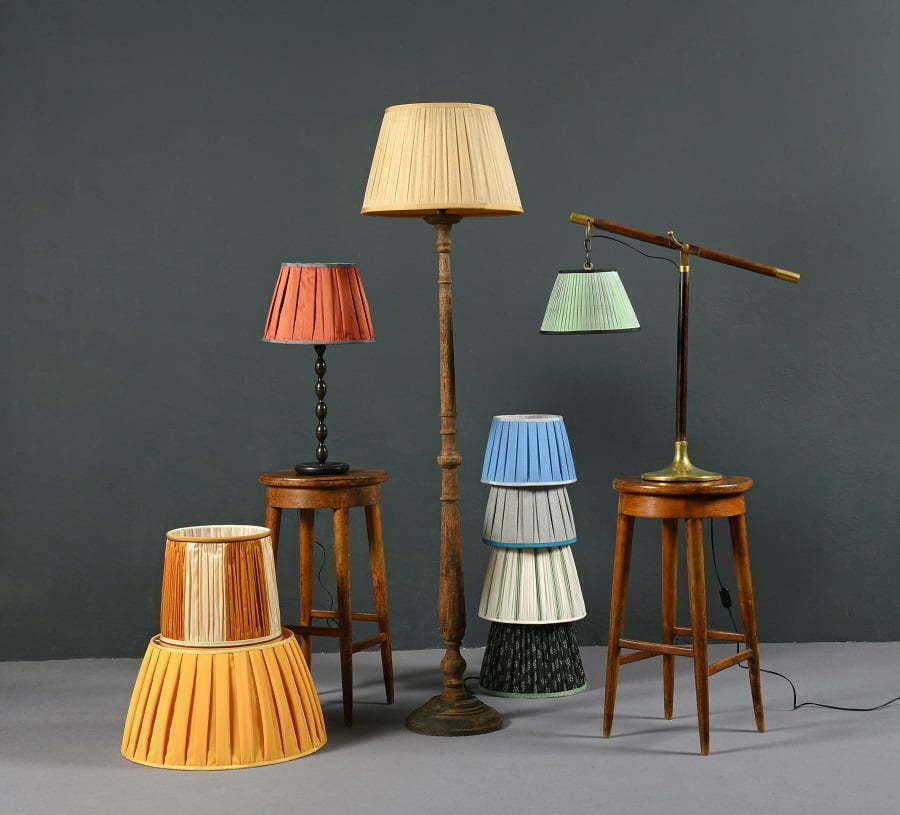 And here are the basic steps to make a lampshade:
Choose the material for your lampshade;
Cut the material in the shape you need;
Paint the material;
Prepare the material for the lampshade – this usually includes waxing it to make it heatproof;
Glue the lampshade together;
Attach it to the lighting kit or a lighting fixture.
Materials That Can Be Used for a Lampshade
Most materials can be used to make a lampshade except anything that is easily flammable and not resistant to heat. Here are some of the materials you can use for a DIY lampshade:
Light cotton fabrics;
Waxed paper;
Jute and rope;
Plastic;
Metal;
Glass;
Wood;
Concrete;
Recycled materials;
Once you choose your materials and know-how to make a lamp and a lampshade, let's continue to the step by step tutorials for the specific DIY lamp you want to make.
Rustic Lamp Shade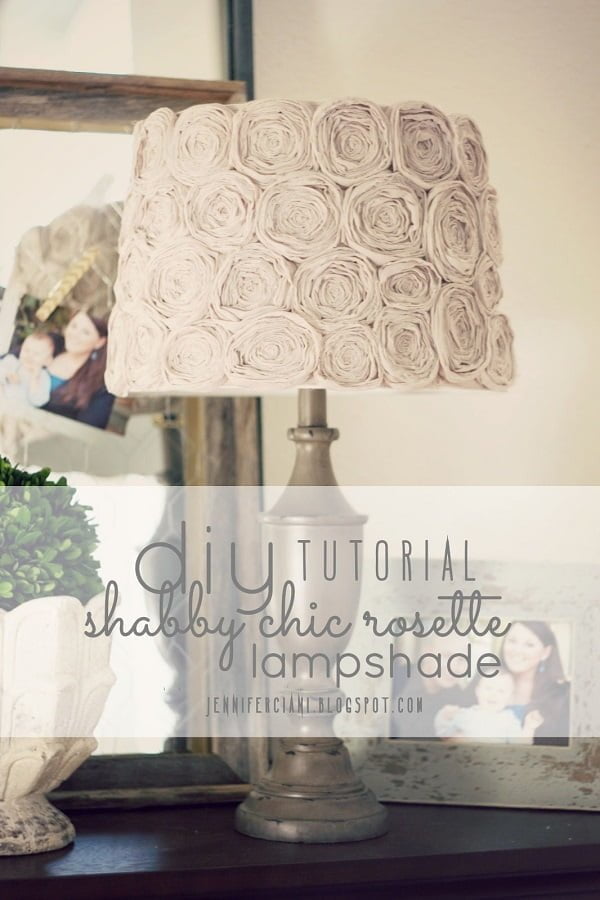 If you are on the search for the next great DIY project, here it is! A fabulous lampshade idea takes the form of a rose garden and delivers guaranteed romanticism to any setting. To do it, you will need a few bits and pieces, including fabric, simple lampshade, and hot glue and scissors.
The first thing to do is to create your rosettes. If you are into creativity, this is just the time spender to keep you busy. Once that's done, you only have to assemble all rosettes onto the lamp itself. Pretty and striking, indeed!
Fabric Lampshade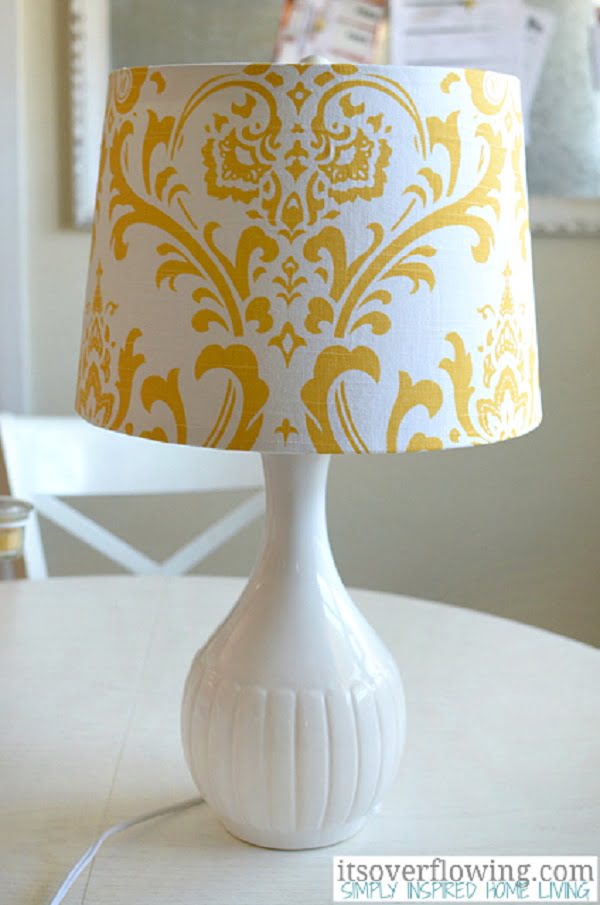 Lamps are prone to changes, which is precisely why you need to try out this next DIY project! Turning your plain, white lamp into a greatly patterned piece is possible. For that, you will need an old light you want to redo, a patterned fabric of your choosing (the brighter, the better), and of course glue.
What you are looking to do is a lamp wrap, using the chosen fabric and an appropriate spray. Once done, make sure your lamp is smooth and doesn't wrinkle.
This practical and affordable idea can trigger up your creativity for more projects to come, so let's have some fun!
Crochet Lampshade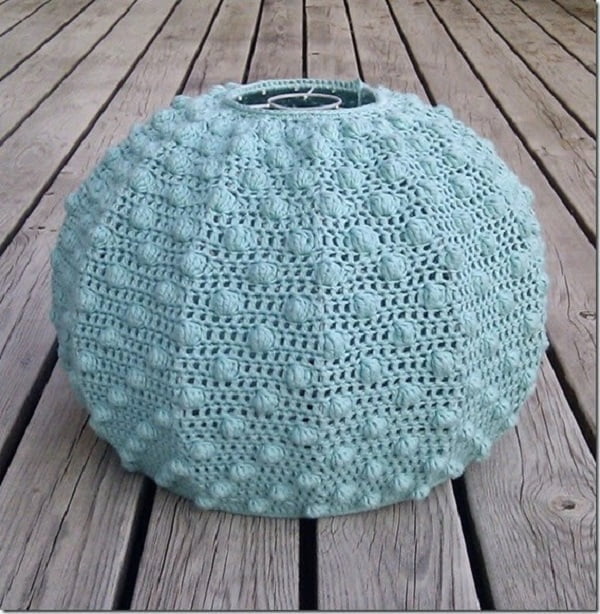 If you are into color and crocheting, this is the perfect DIY lamp project for you. Here we have a beautiful homemade lamp design that is both trendy and nostalgic at the same time. All you need is a few crocheting skills, but a helping hand can be used as well.
For the project itself, you'll need a crocheted shell pattern, intended to fit the lamp perfectly. Use a metallic frame and wrap it halfway. Finally, install your light kit and you are done. A truly dynamic and practical idea that puts your creative skills to the test!
Cloth Scrap Lampshade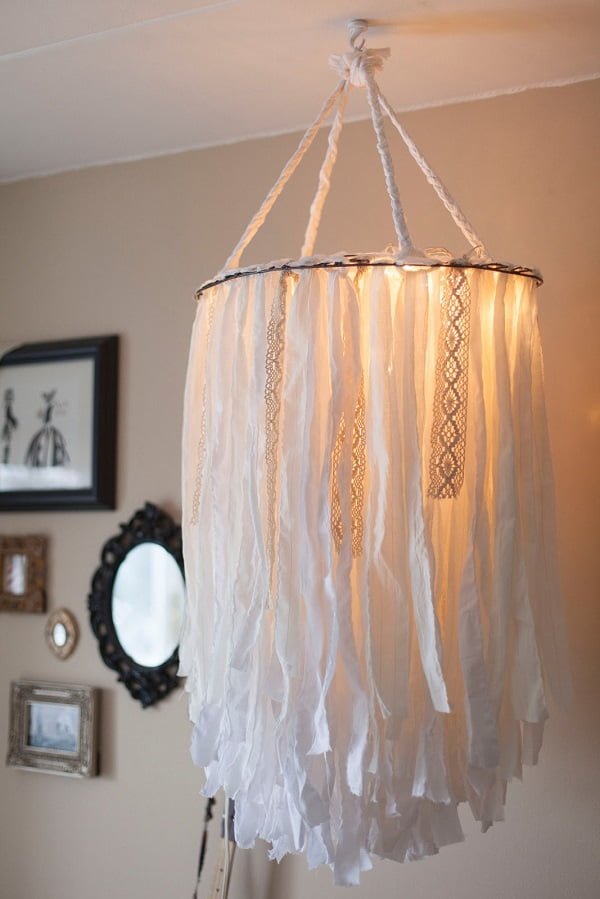 Cloth scraps are an interesting fabric to work with, so if you're up for it, here is a DIY project to experiment with. This cloth-wrapped lampshade is very easy to make, and still gives out a sense of liberation and breeziness to your space.
To make it, you will need a light, slightly transparent piece of white cloth (always go for lighter shades). You will also need fabric cutter and a circle-shaped wire as the frame.
After making your cloth into fringes, begin wrapping them around the metal wireframe. Secure them well and let your fantastic new lampshade introduce fun to your home!
Industrial Lampshade (City Scape)
Welcome to the city of lights, turned into a fabulous DIY project. If you want an authentic lamp in your home, this cityscape idea will win your over. Making it requires a few elements, among which are a central cone or cylindrical lamp, a hole piercing tool and a contemplated design in mind.
With a bit of effort, you will create a mini-city that shines brighter than sunshine. The final steps include regluing your lamp back and exhibiting it for everyone's sore eyes. Simple, captivating and anything but pricey, this DIY project is a definite 'Go.'
Recycled Sweater Lampshade
Wondering what to do with your old sweater? Then, here is a DIY project you'll love for sure. This unusual lamp ides uses two simple elements – a metallic frame and a well-stretched sweater around it. Make sure you choose a sweater that is light, finely transparent and playful regarding pattern.
Cut as much of the middle section as you need, and stretch the fabric across the lamp base surface. Glue everything in together, and install your lighting kit. Lighting the path towards romance, for sure!
This excellent idea will create a mellow, yet comfortable space, so why not give it a shot?
Colorful Ombre Lampshade
Ombre is not just for hair anymore! This perfect blend of colors is impressive as it is, but once transformed into a lampshade, it becomes even more glorious. To complete it, you will need a handful of items, such as a white or neutral nightstand lamp, basin, warm water, and chosen hair fabrics (bright colors, please!).
From here, mix the water and color and start dipping the lamp in it. Make sure you work in levels, so the nice blend translates well. All in all, this project is beyond worthy of your time and has a detailed tutorial to follow. Be my guest!
Vintage World Map Lampshade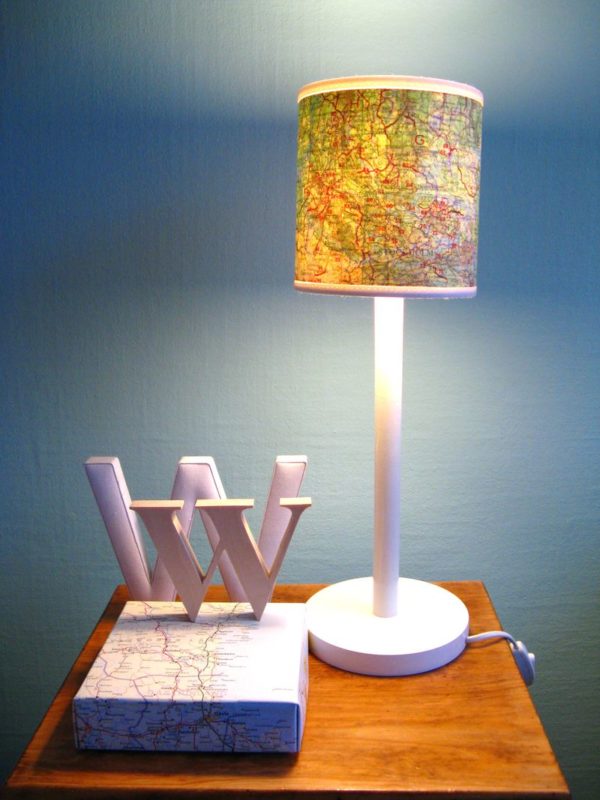 World maps are a fresh element to have at home, so why not incorporate them creatively? Look at this fancy lampshade project that is easy to do, and very suitable for your wallet as well. Creating it requires a few tools and items, such as a plain, white lampshade, a paper world map, and a permanent spray to hold it all together.
Now. Make sure you get your figures right, so you don't overcut the map itself. Regarding details, this is an easy project to manage, but definitely, a one to make you a better handyman…and handywoman.
Balsa Wood Lampshade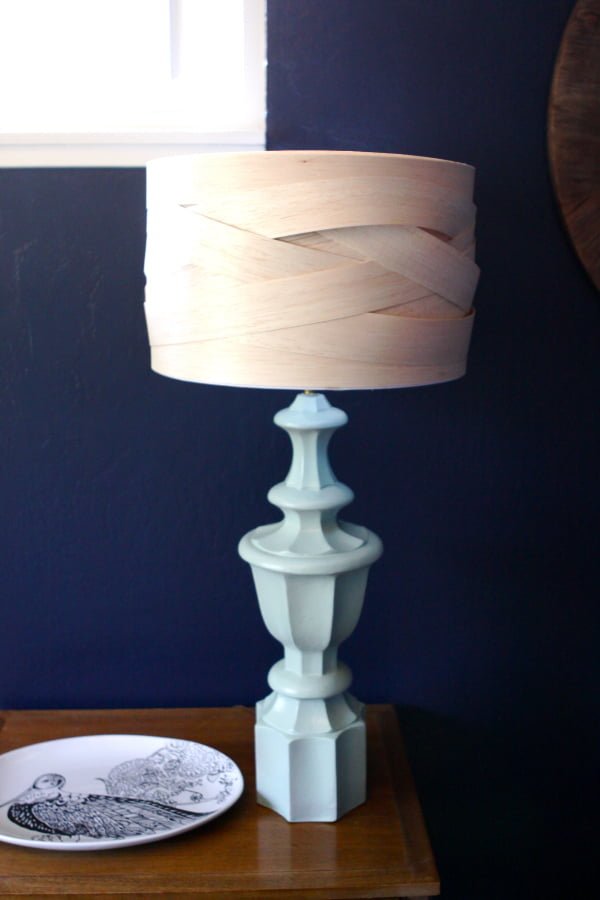 Have a look at this gorgeous and classic Balsa wood lampshade?! Want to do it? Great, because we'll teach you how. This lamp is made with a few essential elements, like a white lampshade, Balsa wood in different sizes, and of course, glue.
Begin wrapping your lampshade with the Balsa wood pieces, but create a level to it. Overlay your pieces on top of each other and form a diagonal bliss. The glue will help hold it all in one place, giving your lamp stability and firmness.
Good for its price, this DIY lamp idea will always be 'in.'
Burlap Ruffle Lampshade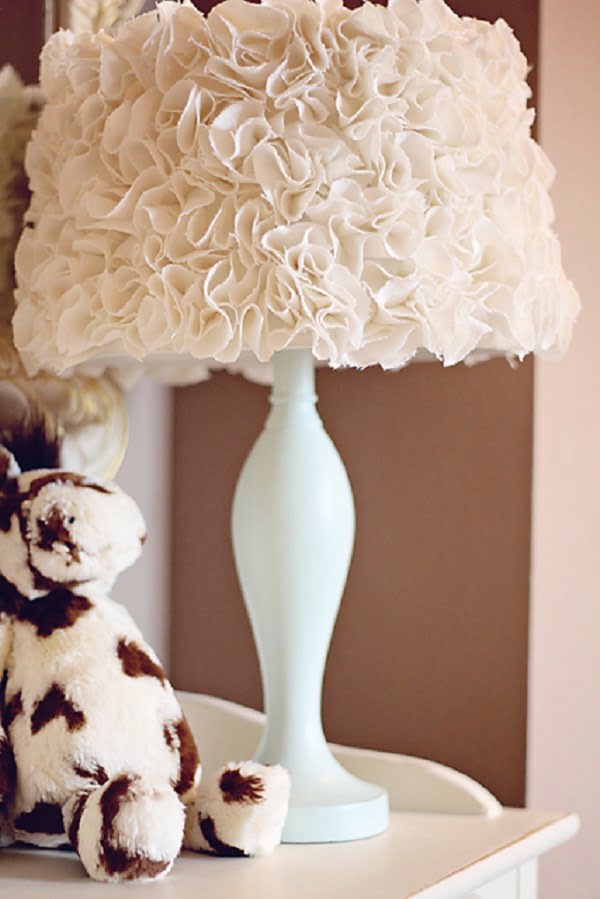 Inspired by Anthropologie, this burlap ruffle lampshade is pretty straightforward and easy to make. If you're looking for something simple that you can DIY but something that will have an impact on your decor, try this lamp.
Recap
Liked this article? Here's what you can read next: