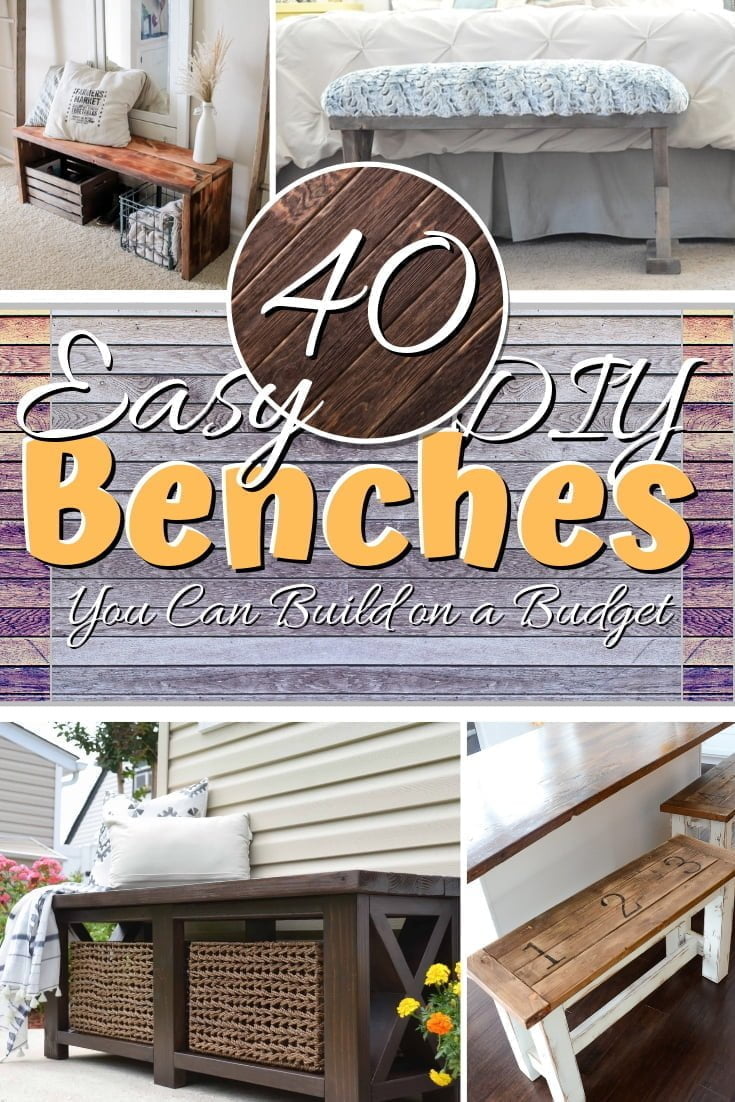 Last Updated on
Looking to build a bench for your home? Let's make it easy for you. Here are 40 easy DIY bench tutorials that will make building one a breeze.
There are plenty of DIY projects that will be both decorative and functional around your house. One of our favorites is a DIY bench, which is always a great way to provide a practical and decorative accent both inside and out. Benches are appropriate both, indoors and outdoors, and can be used for storage, for decoration, or just to sit on and reflect.
A DIY bench can follow many styles and types, from the casual farmhouse or rustic to a more modern decorative look. The tutorials below will give you ideas for a wide range of DIY benches, most of which are both easy to make and affordable.
How to Build a Bench
Here's the process in 4 easy steps:
Choose material, usually wood (3 boards are enough for a simple bench).
Measure and cut the boards.
Attach the boards with wood glue and screws.
Stain and paint your new bench.
It's that simple, and you can follow basic bench plans to build it. If you want to get fancy, we have a bunch of tutorials that you can choose from below.
The Farmhouse Bench
If you're looking for a simple and iconic bench for indoors or outdoors, the Farmhouse Bench is the perfect answer. This tutorial will teach you how to quickly make a Farmhouse Bench that will look amazingly cute and will fit perfectly into many spaces in and around your home.
Simple Plans
Here's a bench that's so simple to make that you can do it while your toddler naps. It also helps to create a neat and tidy space for storage underneath. Have a look at the tutorial, and you'll soon see how easy and straightforward it can be to create your DIY bench at home.
Upholstered
For an extra cute and comfortable bench add upholstery.  Not only will this upholstered X bench serve as a comfortable resting place, the addition of padding means you can customize the pattern and colors for any space in your home. This X bench makes a great accent piece in any room.
Balustrade Legs
One simple to make, and always the welcome addition to your home, is the country styled Farmhouse Bench. This DIY project will teach you how to make this classically country designed Farmhouse bench with a minimum amount of fuss and labor. Plus it's an amazingly affordable way to add some country flair.
Rustic
This popular Rustic bench sports an "X" style, provides extra storage and looks extra special with the addition of woven fiber baskets. The tutorial for making this trendy X Rustic bench is dead simple, and says that the materials cost less than $30! You really can't do better regarding affordability and style.
Kitchen Benches
If you entertain a lot or have a big family, you need to check out these rustic Kitchen Benches. Not only do they look fantastic, but they also provide plenty of seating space without taking up loads of room. Just follow the link to the tutorial, and you'll soon be enjoying your very own Kitchen Benches.
Woven
For a unique conversation piece, you should try this DIY Woven Bench. You'll be amazed at how easy it is to make, and your guests will be impressed by your sense of style and creativity when they get their first look at your unique Woven Bench.
Modern Kilim Rug Upholstered
To make a real statement and brighten up any room this Modern Kilim Rug Bench is just the thing. If you're looking for a bright and colorful accent piece that doubles as a useful piece of furniture in your home, then look no further than this Kilim Rug Bench.
Inexpensive Fabric
Brightly colored and patterned Fabric Benches seem to be all the rage these days, but they can be so expensive to buy or make. That's not the case with this DIY Inexpensive Fabric Bench, which can be made for as little as $10 according to the tutorial.
Corner
From a cozy reading nook inside your home to a special place on the porch or patio for relaxing, this Corner Bench is a hands-down winner. The addition of a built-in table makes for the perfect place to rest your drinks, a book, or to display some lovely spring or summer flowers.
End-of-Bed
Here's an End-of-Bed Bench that will serve to pull your master bedroom together, while serving as a focal point for the room. It will also help take up that space at the end of your bed, giving the bedroom a complete look. Have a look at the tutorial to see what I mean.
Repurposed Headboard
This bench is beautiful, stately, and functional. It takes an old headboard and turns it into a grand bench that also has a built-in storage space. And since you can use pretty much any old headboard, you can make it as simple or ornate as you like, and it's inexpensive as well.
Outdoor
This cute Outdoor Bench sports a double X pattern to make it stand out. It can be perfect outdoors to provide a focal point but is equally at home indoors where it can be used to fill a space. Best of all it is very affordable and easy to make as the tutorial will show.
Dining Table
The Farmhouse Bench is becoming increasingly popular both indoors and outdoors, and the benches shown in this tutorial become even more impressive when paired with a farmhouse table. You might think you aren't ready to DIY the table, but these benches are merely a smaller version of one, so once you make the bench, the farmhouse table will be a breeze as well.
Pallet Wood
Discarded pallets are easy to find, making this Pallet Bench very affordable. It is also quite distinctive, with a herringbone pattern, although other designs are possible. With a few discard pallets, some 2x4s and a few tools you too can have one of these unique Pallet Benches.
Fur
If your idea of comfort revolves around things that are soft, warm and furry, then you'll love the plans for this Furry Bench. It seems great for when the weather turns colder and would go great for animal lovers or just those who appreciate the furrier things in life.
Modern
If you need a simple, functional bench look no further. Here's an easy DIY Bench that anyone can make. It's perfect for filling in empty spaces and would go great in a child's room as it is not quite as tall as some other benches.
5-Board
Here's a nice little bench project that meets two critically essential benchmarks: It's easy for you to build one and it looks like you didn't DIY. Very professional and understated little bench that appears to be something you'd find in a high-end shop.
For Beginners
You can make this sturdy, familiar bench out of very ordinary materials, even things you have lying around or can find in scrap heaps. That makes it a very earth-friendly option for those who are into repurposing old materials.
West Elm Knockoff
A great example of how much markup is found on even the simplest of mass-produced items. You can buy this bench in the West Elm catalog for a mere $699, or you can make one yourself for practically a song and have it finished in the color that will complement your current décor.
Weathered Gray Finish
How about building a tremendous antique-looking creation that is sturdy enough to carry any load but looks like it came out of Amish country? You can do it easily with this project, and you'll learn a lot about antiquing finishes to boot.
Plumbers Pipe
Of course, benches are made out of other materials than just wood. This simple little plumber's pipe bench is a great way to get involved in the art of bench making without needing a lot of woodworking skills or tools.
Tufted
When you're ready to try a DIY bench project that incorporates some comfy cushioning on top, this is the one you'll want to do. Just beautiful, so practical, and you'd never guess it wasn't professionally built.
IKEA Hack
Now here's a great way to build benches without having to, you know, make one. Why not update a perfectly functional, yet dull, item you already own and turn it into something utterly you and unique?
Mid-century Modern
One of the best ways to beat the high cost of retro furniture is to do your retro-ing. This fabulous fifties Mid Century Modern bench is such a perfect match for the era, and it will make all of your other period pieces look even better. It is, however, more about upholstery than it is about bench-making.
X-bench
Finally, someone who understands that mistakes can happen and provides solid coaching on how to avoid making them yourself. Oh, and it's a tremendous little X-legged bench project that you're going to love as well.
Hairpin Legs
Speaking of benches from the Atomic Age, this little jewel is not only a perfect ringer for something out of that era, but the materials only cost about as much as you'd spend in 1963.  If that isn't good enough, it also is a very quick and easy project to create.
Brushstroke Upholstered
Looking for something a little more avant-garde and creative than your classic wood bench? Why not try out this daring departure that features some charmingly bold artwork on the fabric? There isn't a wrong way to do this sort of impressionistic designing so give it a shot.
Bedside
The great thing about hairpin legs on benches is that they are so easy to install and look so great. Plus, of course, you can paint them to match practically anything. Add in a fabulous repurposed kilim rung on top, and you've got a sure winner on your hands.
Entryway
Many spaces, particularly in older homes, are best suited for very natural-looking accessories. This woven topped jute bench is simply perfect for those instances where glass and chrome are not going to cut it.
End of Bed
One of the most significant advantages of DIY furniture is that you can adjust the dimensions of the piece to perfectly suit your specific requirements. Unlike factory items, which tend to come in standardized sizes, you can produce the perfect fit for your own imperfect spaces.
Modern Upholstered
Who needs old junky coffee tables? Anyone who wants to make fabulously stylish new benches for their homes. The best part is that virtually all of the woodworking is already done for you. Just add style and away you go.
Rustic Hairpin
Some of the best and most simple DIY bench ideas come from people who are not typically involved in such things. Here is an excellent and straightforward project that looks great.
Upholstered Bedside
The thing about benches is that so much of the project is built around the legs that go underneath that big slab of wood which otherwise comprises the unit. So check out this variation on the prevalent Mid Century Modern theme.
Numbered Pallet
Looking for an idea that is whimsical and just plain fun? This is the one for you. Oh, and fun also means easy to do, doesn't it? Sure does.
Pallet Rustic
Who doesn't love the idea of a DIY pallet project? Costs are low, creativity is the prime ingredient, and you end up with something that nobody else will ever be able to match if they tried for a thousand years.
Reused Kilim
People seldom realize the value of excellent directions until they stumble across a project that features them. For those who are just starting on DIY bench building, this is the perfect place to start your quest.
Nelson Platform
For those who are better endowed with woodworking skills and equipment, this is a great project that will produce a fantastic replica of a modern classic piece that has never gone out of production since its introduction in the 1940s.
Slat Wood
Some DIYers love the slat wood look but lack the expertise to tackle a Nelson Bench knockoff; this is a great compromise that is much easier to construct and still retains much of its panache.
Rustic Modern
When it comes to turning old items into new ones, it is good to keep in mind that the old items and the new items do not have to belong to the same species of thing. Here, a couple of castoff dorm stools are turned into a classy, yet easy to make, bench.