Last updated on September 19, 2023
Banquette is an L-shaped or U-shaped bench seating. It is used in restaurants to create booths or in the kitchen to create a breakfast nook.
Adding banquette seating to the kitchen is a great way to use space. The L-shaped style of a banquette means you can use a corner of even a small kitchen effectively. They are great to make use of dead space too, including window sills by creating built-in seating.
Want to explore the idea of creating and using banquettes in your kitchen to make a breakfast nook for the whole family or your very own cozy dining room booth? Let's discover what banquette seating, what styles of it are available, and how you can use it at home.
Let's dig in!
What Is a Banquette?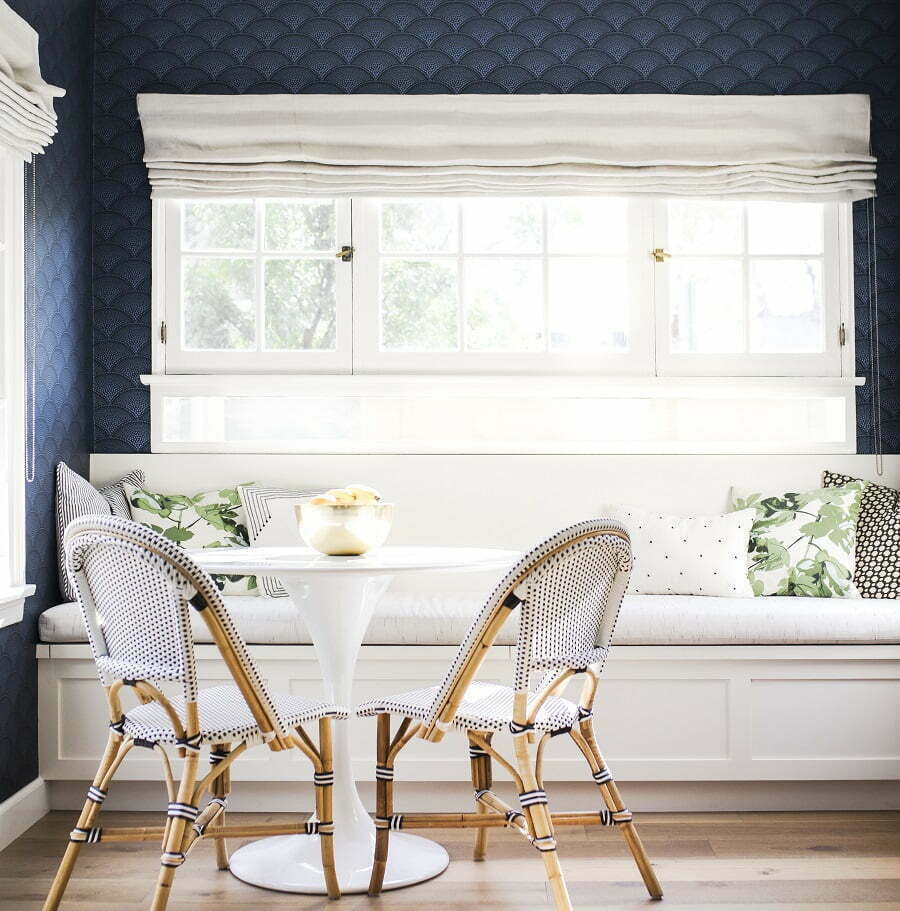 You've seen them in a restaurant — banquettes are built-in benches that allow people to eat comfortably without having to worry about getting in each other's way. They're great for breakfast with family who wants to eat together but doesn't have much space. Banquettes also make it easier to fit a large table into smaller areas. A banquette can be used to make a corner breakfast nook. 
A kitchen banquette is great place to sit down and relax. They're cozy and very efficient with the room. They can be built with lift-up tops or drawers to store things. A custom banquette can be built into any room, but they are instrumental in small kitchens.
Banquettes are great for dining rooms because they provide ample space for people to sit comfortably. However, they also require careful planning before installation. A chandelier should be moved if you want to place your banquette in a corner or near a wall. You could hire an electrician to do this job for you or use a simple hook to hang the light above the desired spot.
Tables should be chosen carefully. You need to consider how many people will be sitting on the benches. Also, if you're building a bench into a corner, make sure that there is enough space for people to get in and get out of the bench. Rectangular or oval tables work well for most situations. Round or square tables work well when there's a lot of seating around them.
Multiple banquettes can form a booth.
What Is a Booth?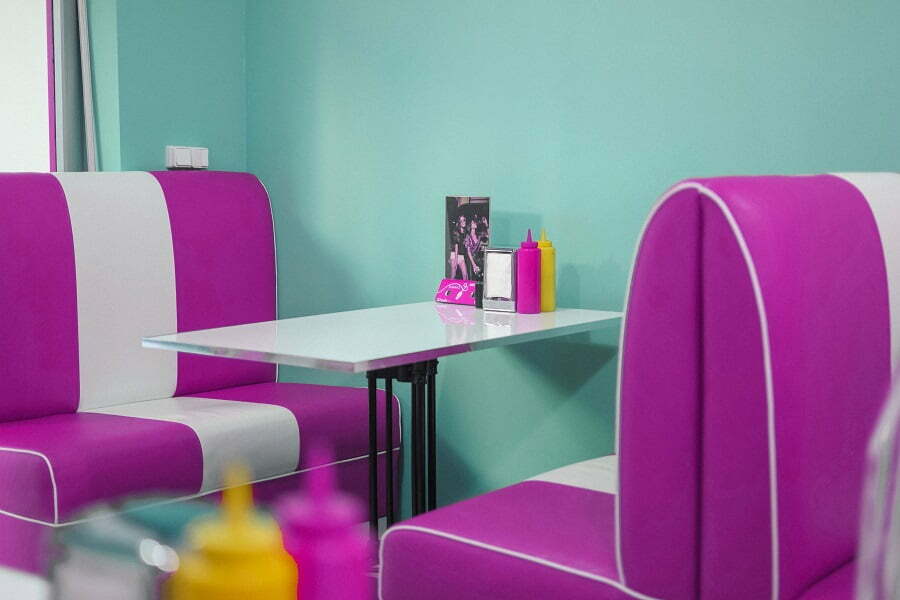 Booths are made of multiple banquettes, usually forming a U-shape (sometimes an L-shape). If you create a built-in banquette in a corner, you can close it into a booth by adding a table and another banquette.
Banquet tables are often rectangular with legs that extend above the ground. They have seats attached to them which are sometimes called banquette style chairs. Banquet tables are also known as banquet tables or dining tables.
Booths vs. Banquettes
The main difference between a booth and a banquette is that one is part of the other. So you can make a booth that consists of multiple banquettes.
Banquette tables come in various sizes, shapes, and styles. The most common types include:
Round
Rectangular
Square
U-shaped
L-shaped
Pedestals
Banquette Seating Ideas
A built-in banquette seat is the smartest way to create a versatile eating nook for any kitchen. They're a clever space saver in smaller rooms and can hold up to three people more than the conventional dining table setup. You can also incorporate storage into the design, like a lift-up bench for kids' toys or pull-out drawers for linen and dishes.
Banquettes are perfect for adding color and texture to a space. You can use them for different purposes, such as a cozy reading nook or a workstation. Banquettes can be placed anywhere in the house, including the kitchen, living room, bedroom, and even the bathroom!
Use Banquette Seating to Boost Space
A banquette sofa is an ideal solution for storing things in your kitchen. Drawer storage under the seat provides easy access to seldom-used items. You don't need to remove cushions or take them off when accessing contents.
Drawers are used to store things that you need frequently. They are usually made out of wood or metal. You can also buy drawer organizers to organize your drawers better.
You can still enjoy a banquette seating idea with a little creativity if you have limited space. For example, you can turn a regular bench into a banquette by placing it against a wall. This creates extra space for seating.
You can also add a cushion to the bench's backrest to give it a banquette look. The cushion adds comfort to the bench while also providing additional seating.
Maximize Your Dining Space
Banquettes are great for seating large groups. They're compact and easy to move around, and they fit well into tight spaces. You can squeeze them right up against walls and still have room for everyone.
If you're looking for ways to maximize your dining area, consider using banquettes instead of standard chairs. These seats are much easier to move around, and they won't block traffic flow. Banquettes are a good option if you're trying to avoid having too many chairs in one place.
Banquettes come in a variety of shapes and sizes. Some are rectangular, some are round, and others are oval. Choose the shape that works best for your home.
How to Choose a Banquette Seating Style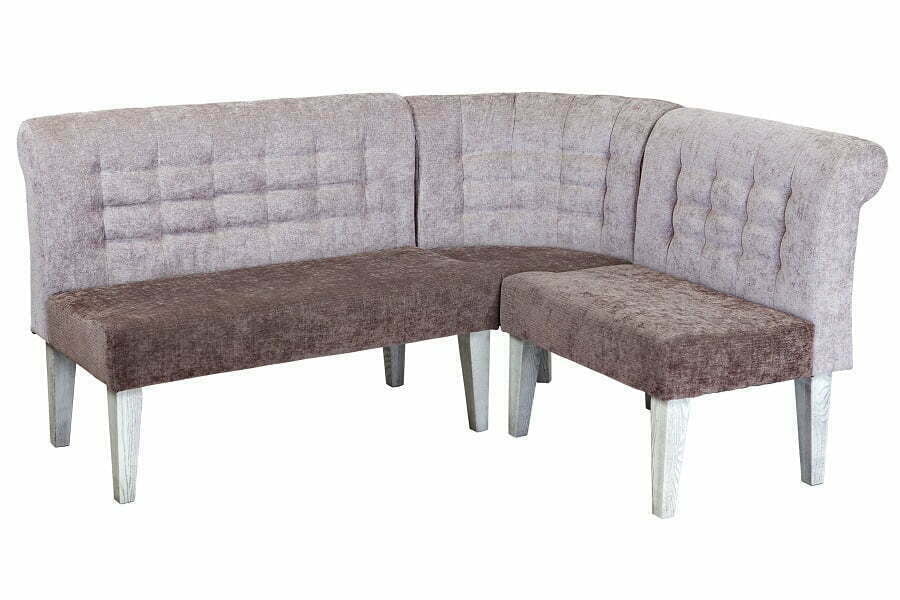 The first thing you'll need to decide is whether you want a banquette seating arrangement for indoor or outdoor use. Outdoor banquettes are typically larger and wider than their indoor counterparts.
You'll need to make the second decision is whether you want a fixed or movable banquette. Fixed banquettes are permanently attached to the floor, so you can't easily move them from one spot to another. Movable banquettes are freestanding and can be moved from one location to another.
Fixed banquettes are generally more durable than movable ones. However, if you plan on moving your furniture regularly, you may prefer movable banquettes.
Fixed banquettes are available in a wide range of styles. You can find banquettes with exposed beams, decorative molding, and other features.
Movable banquettes are available with various designs. Some banquettes are designed to blend in with the surrounding décor. Others are bold and colorful.
What Banquette Fabric to Choose?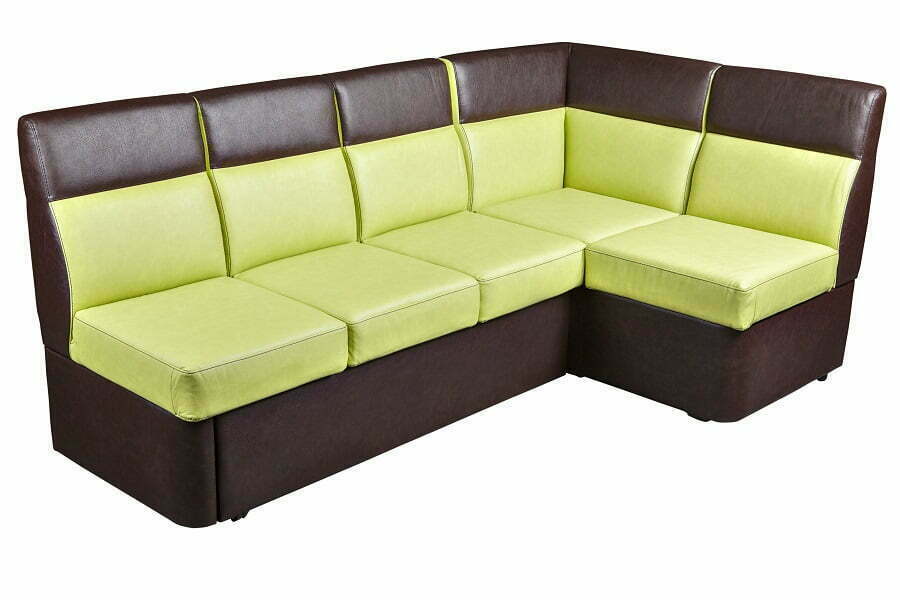 Choosing the right banquette fabric is important. Fabric choices vary widely depending on what type of banquette you purchase.
Upholstery plays a big part in determining which fabrics work best for banquettes. There are two main types of upholstered banquettes: slipcovers and cushions. Slipcovers are durable covers that protect the underlying material. Cushions are soft and plush pieces that provide comfort and warmth.
Slipcover options include wovens, leathers, vinyl, and cotton. Leathers and vinyl are popular because they offer durability and longevity. Cotton is a common choice for slipcovers because it's breathable and comfortable.
For example, leather banquettes are very popular because they provide excellent durability and long-lasting beauty. Leather banquettes are available in solid colors or different patterns.
Leather banquettes are often stained or painted to match the rest of your decor. Apply a protective finish every few years to keep your banquette looking new.
Wood banquettes are usually made from wood composite materials. They're sturdy and attractive. Many wood banquettes come pre-stained or pre-finished.
Wood banquettes are available, either unfinished or finished. Unfinished banquettes require finishing after installation. Finished banquettes are ready to go.
Cushion banquettes are ideal for smaller areas with not enough room for a chair. Cushion banquettes don't take up much space, offering plenty of seating options.
Cushion banshees are available in several fabrics. Some cushions are made from natural fibers like cotton or wool. Other cushions are made from synthetic fibers such as polyester.
On top of that, you can lay some throw pillows. Pillows add comfort and color to any seating arrangement.
What Type of Banquette Seating Should You Get?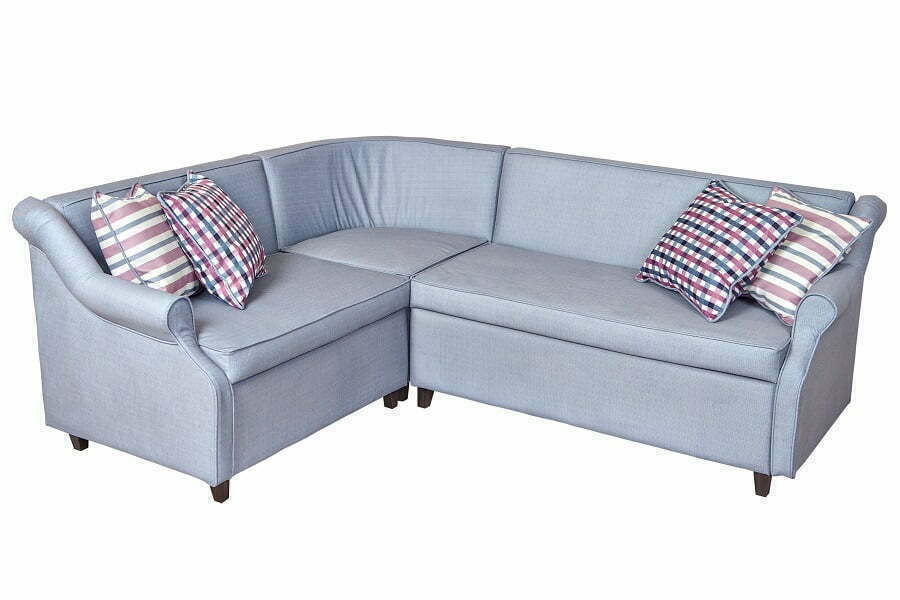 There are two main types of banquettes: traditional and modern. Traditional banquettes feature a curved design. Modern banquettes tend to be straight-sided.
Traditional banquettes are often found in older homes. They're built to last and provide a classic look.
Modern banquettes are popular today because they're stylish and functional. They offer plenty of storage space and are very comfortable.
Modern banquettes are available as either freestanding or built-in units. Built-ins are perfect for smaller rooms where there's not enough space for a full-sized banquette.
Built-ins usually include a tabletop that extends out over the seat. They're ideal for small areas such as bathrooms, powder rooms, and hallways.
Free-standing banquettes are usually made with metal framing. They're sturdy and versatile. They're also portable, which makes them great for outdoor use.
Free-standing banquettes can be used indoors or outdoors. They're typically freestanding, but some models are built to attach to existing structures.
FAQ
Does banquette seating save space?
Yes! Banquettes don't take up nearly as much space as regular chairs. In fact, you might even say that they save space.
Can I put a banquette seating unit next to a wall?
You sure can! The banquette will fit right next to any wall. It doesn't matter if it's an interior or exterior wall.
Do banquettes require special care?
No, banquettes aren't particularly difficult to maintain. All you have to do is keep them clean.
Is banquette seating safe?
Yes, banquette seating is safe. It won't tip over or fall.
Recap
Liked this article? Here's what you can read next: