Last updated on September 8, 2022
Want to know how to build a banquette with seating in your kitchen? These DIY banquette ideas will show you how. Read on!
A banquette in the kitchen makes a wonderful dining area. It takes little space (usually it is built in a corner or by the windows), and it provides extra storage in its benches. Having one in your home is like having a restaurant booth. It makes a great dining experience, but with all the coziness of a home.
How to Build Banquette Seating with Storage
Here are the steps:
Start with storage cabinets (IKEA has several options which are great for this).
Measure and cut wood boards for the seating.
Stain and paint the wood.
Attach the seating top to the cabinet in a vertical position using wood glue and screws.
Add optional cushions.
This makes a very basic but easy banquette seating which you can then complete with a dining table. It doesn't take advanced skills, and you can create a small nook from simple cabinets even if you're a novice.
But the project doesn't end here. Check out what else you can do to make your banquette even better.
IKEA Hack
This bench for the dining room is visually appealing and multifunctional. It provides storage and is completely versatile, so it can be changed up to suit your mood. Follow this website to see how to do it.
Ikea Kallax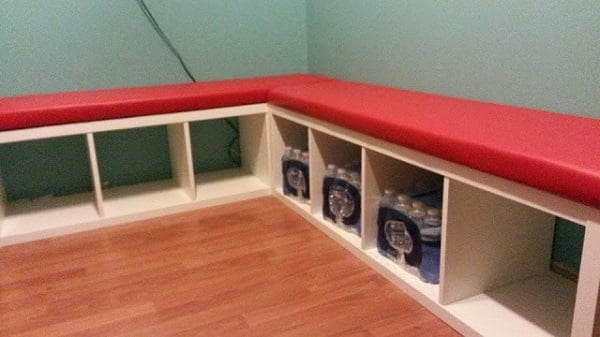 This corner banquette is a great addition to different spaces around the home. It can bring beauty and function to any room in which it is placed. And all you need is a Kallax unit from IKEA. Read the article to learn how it's done.
Storage Banquette Bench
For a built-in dining bench that adds oomph to your home, this should definitely be placed on your list of considerations. Get ready to create a remarkable masterpiece. Follow this website to find out how to do it.
Kitchen Booth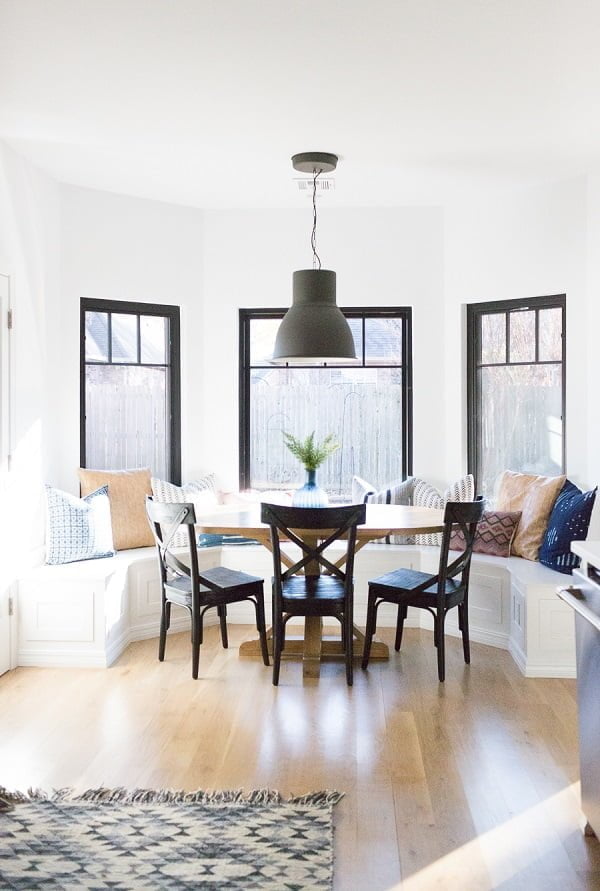 Ideal for a contemporary or eclectic space, this kitchen banquette is designed to add gorgeousness to your home. Pairing it with complementary chairs adds even greater visual interest to the area. Check out the tutorial to get the full plans.
Corner Dining Bench
This banquette is designed to match the kitchen cabinets, complement the rest of the space, and provide ample room for both household members and beloved guests. Check out this website to find out how it's done.
Using IKEA Storage Cabinets
With upper cabinets used as its benches, this banquette is a great way to add valuable storage to your home. The L-shaped bench is created via a combination of cabinet sizes. Follow the tutorial for the full guidance and instructions.
Bench Seat
To create this beauty you will need cabinet-grade plywood, pine board to use as trim pieces and 2 x 4 lumber. You will also need caulk, primer, preferred paint color and lots of nails and screws. Follow the tutorial to see the entire details.
Breakfast Nook Bench
This spacious kitchen banquette provides the ideal place for family members to gather around to eat, do homework, and share the peaks and pits of their day. See this website to learn how it's done.
Banquette Seat
This seating is a part of a multifunctional area of the dining room. This piece of furniture effortlessly fits in with all the surrounding shelving to bring storage and cohesiveness to space. Read the article to see how it's done.
Upholstered Dining Bench
This bench is a perfect addition to a small space that could use an additional seating area. Made from ¾-inch MDF, wall panels and upholstered panels serve as finishing touches. Follow this website for the entire guidance.
Pegboard Seating
This versatile banquette is complete with a backing that can double as a headboard. It is designed as a two-piece work of art with its upholstered panel and bench. See the article to get the entire details and instructions.
Built-in
This bench is seamlessly incorporated into a stunning and functional built-in that serves as additional storage space. The upholstered seating adds a touch of softness and comfort. Check out the tutorial for the full details.
Bay Window Nook
The purpose of this banquette is to add functional seating to a nook, and it fits in well with space under a bay window (use the right bay window curtains) or similar areas around the home. Read the tutorial to learn how to do it.
High Back Bench
A thing of absolute beauty, this upholstered DIY kitchen banquette is sure to be a conversation piece for years to come. The upholstery and nail heads add class to the area. Follow the tutorial to find out how to do it.
Kitchen Corner Bench with Storage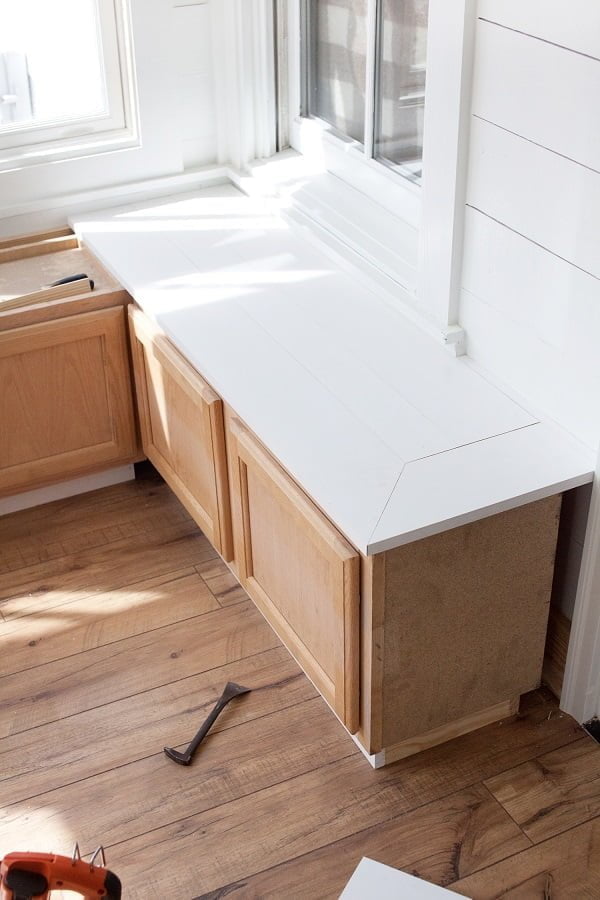 Its seat is made from 1×4 and 1×6 primed boards, and its sides and bottom are clad with ¼-inch plywood. Shoe molding is then attached before it is primed and painted. Check out this website to see how it's done.
L-Shaped Bench
Colorful and spectacular, this banquette is sophisticated and provides space for a whole lot of storage. It forms a part of a breakfast nook that can add spark to your day. Check out the tutorial to see the full guidance.
Budget Storage
This is a super functional storage banquette that can be used in several applications. For example, it could be built into an L-shaped breakfast nook or used as window seating. See this website to find out how it's done.
Breakfast Nook
In addition to adding valuable storage in the kitchen, this banquette will bring character to any space in which it is installed. Check out the tutorial to see how it's done.
Recap
Liked this article? Here's what you can read next: