Last updated on September 29, 2023
Bay windows offer great benefits but also introduce decor challenges. Here are creative bay window curtain ideas you can use. Read on!
Three or more windows are combined to form a bay window. The structure projects outward from an exterior wall in the form of a square, hexagonal, or octagonal bay.
Bay windows are unique in that they provide more daylight, but they also create an unusual wall shape. This creates a challenge when it comes to window treatments.
You can put any curtains in bay windows in two main ways: a curtain in each window or curtains across the entire bay. It is also possible to mix and match and double down.
Use these ideas to dress up your bay windows and make the most of them.
Cafe Curtains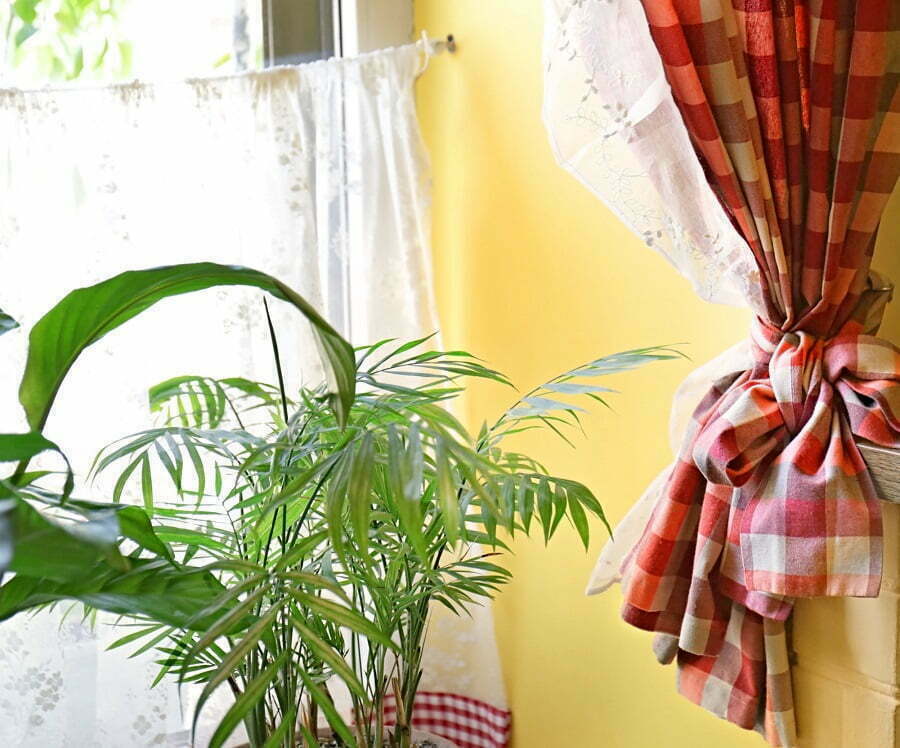 To achieve a casual look hang short curtains at the bottom half of the bay window. It will allow light to enter through the top half of the window while also providing privacy, which is particularly important with large bay windows.
Finish the edges of the fabric panels with hems and then hang them from a flexible net curtain wire. It will allow the panels to be gathered at the side if additional light is required.
The look is relaxed while still being modern, and you can combine the room's other natural features to create an aesthetic, such as cushions made of linen and furniture in light colors.
Curtains on Each Window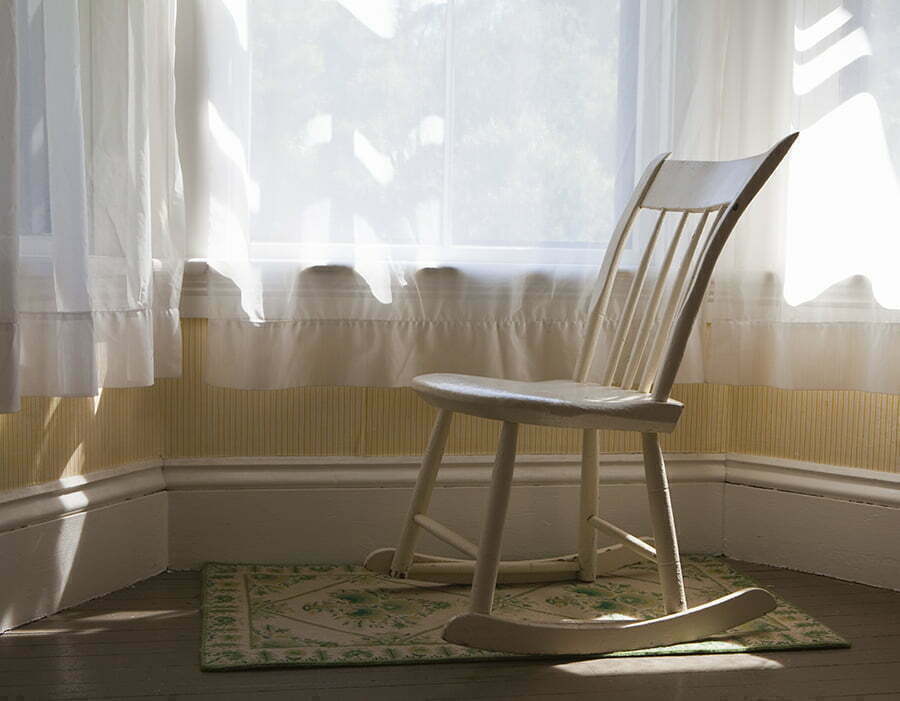 Installing a separate pole at each window is worth considering if you don't want to spend a lot of money on unique curtain designs for bay windows that are difficult to fit around curves and bends.
It's the best idea to hand the curtains in the middle window followed by the sides with different curtains. It will produce an extremely refined appearance, with the bay serving as the primary point of attention.
The curtains can be gathered into an appealing fabric swag using tie-back hooks installed at a high level.
To complete the look, install a thin pelmet made of a dark material around the top of the window. It will help to draw the eye upwards and create the illusion of more space.
Curtains Across the Entire Bay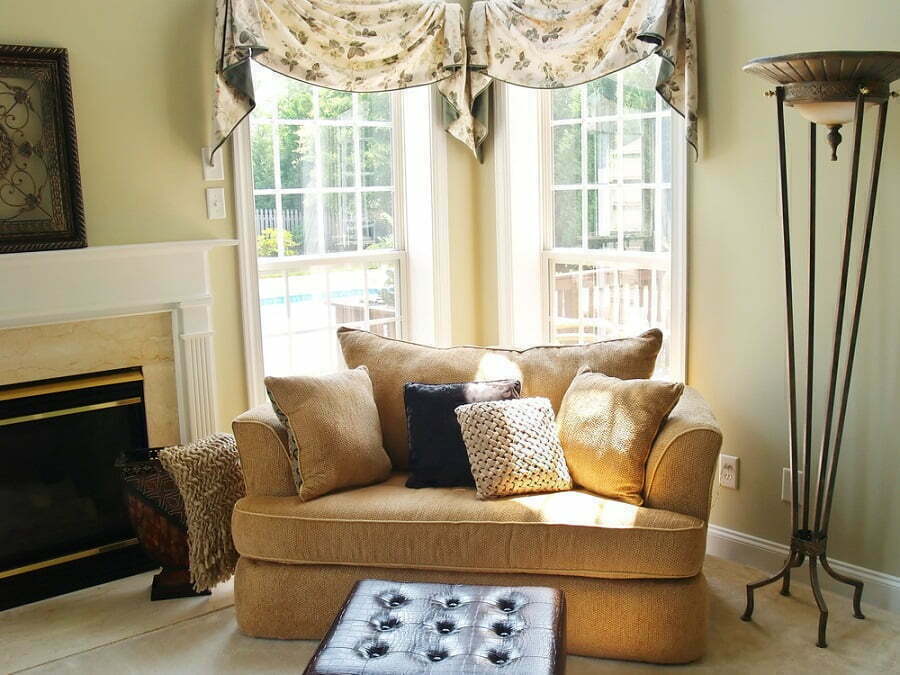 Suspend a rail made of thin wire across the bay window's front. Use a light muslin or linen curtain to create privacy without blocking the light for a simple and fuss-free look. It will give the bay window an airy and open feel.
To get a good night's sleep, total darkness is essential, so one clever idea for bedroom curtains is to use a material that completely blocks light.
Placement of a work desk or shelves in the bay window nook is highly recommended in the living room if you want to hide them.
This curtain can act as the ideal screen, keeping the rest of the room clutter-free. If you have a storage area in the dining room's bay window space, this curtain is suitable for use as a privacy screen.
Layered Curtains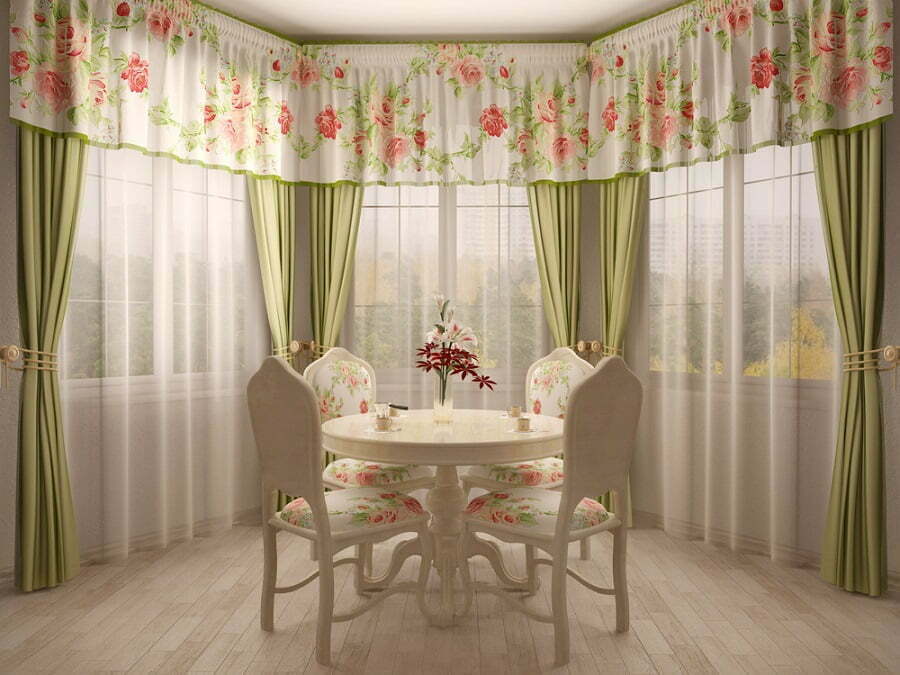 Adding drapes over bay window curtains gives a room a more finished and attractive appearance and serves a practical purpose.
The layers of sheers and drapes allow you to control the daylight efficiently. Use the sheers for filtered light, and draw the drapes for privacy and less light.
When choosing the layers, consider how each layer compliments each other and how it fits in with the rest of the room's decor.
Double Curtains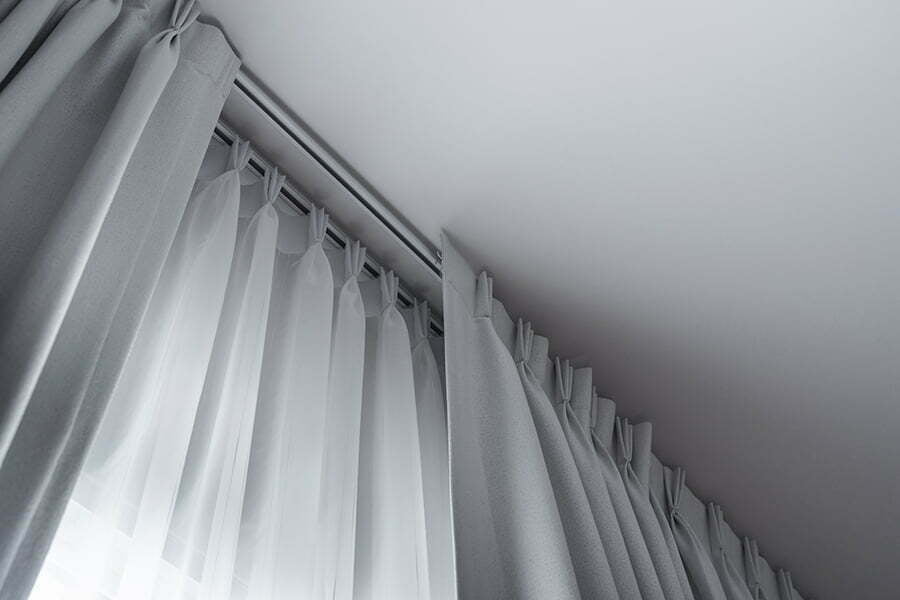 Use a variety of window coverings on bay windows to get the most out of their style and functionality. The windows will appear more spacious if you mount the curtains high on the wall.
Fabrics that echo patterns and colors found elsewhere in the room, such as the circular design located on the shades and a similar circle print found on the bedspread, are used to create an appearance of unity throughout the space.
Drapery Panels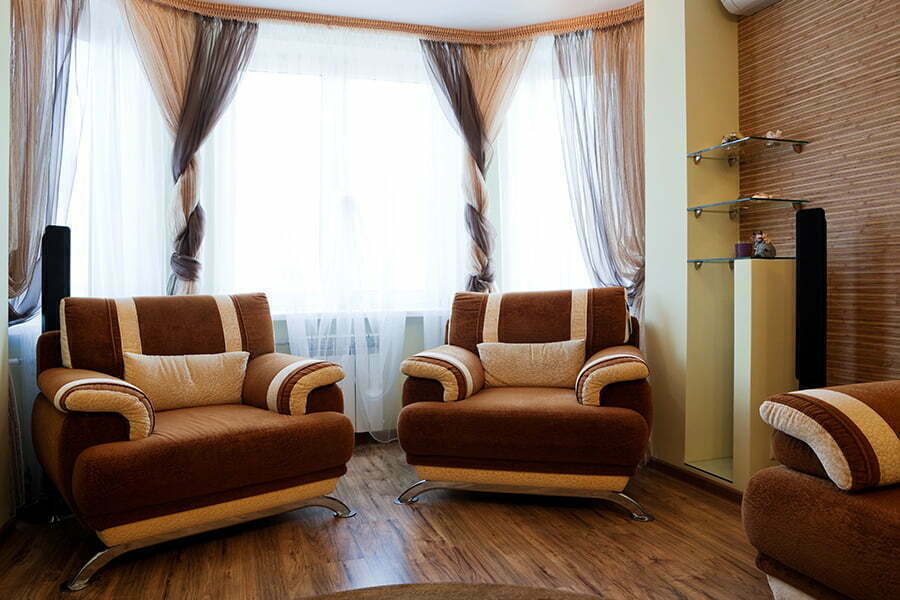 Curtains and drapes are made of fabric panels, but drapes are typically constructed from more substantial fabrics and are cut to either reach the floor or slightly puddle there.
Drapery panels in each bay window will add elegance and charm for a finished look. Use them in bedrooms and living rooms where you want to create a traditional interior.
Shutters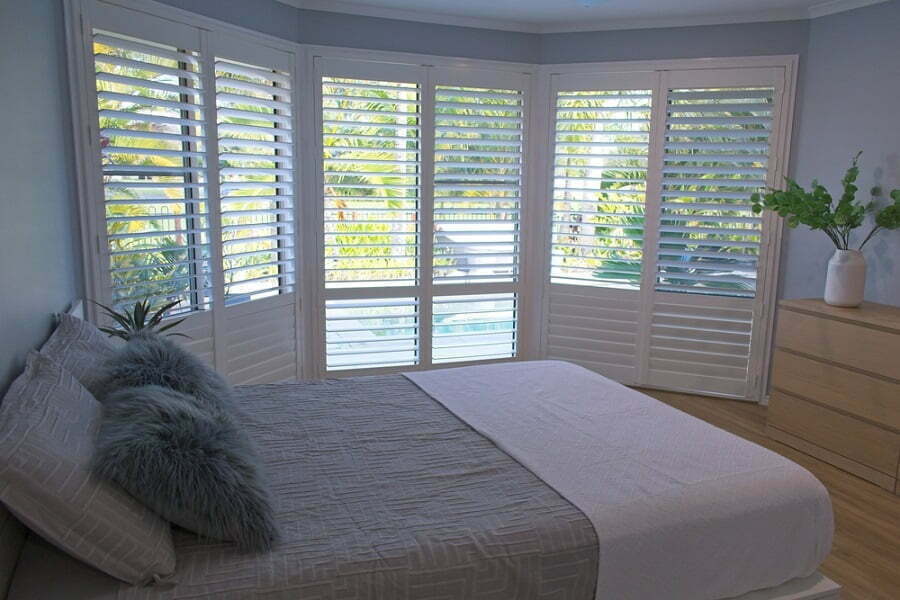 Ideas for window shutters can be used to completely and precisely cover a window.
And functional; they let in light, create a sense of privacy, and deaden ambient noise; and are low-maintenance; all they need is the occasional dusting to look new.
Frames for bay windows are custom-made to precisely fit each pane of glass, allowing for the most significant possible degree of light regulation.
Patterns
Use your statement window layout to create a more stunning effect by applying a bold pattern to the curtain panels.
Adding a decorative design and an accent color to the room can be accomplished with something as simple as pattern curtains.
Find a pattern that incorporates the colors you want to use in the scheme, and try to find one that does so in a way that does not result in a clash or a look flattened out in dimension.
Fabric Shades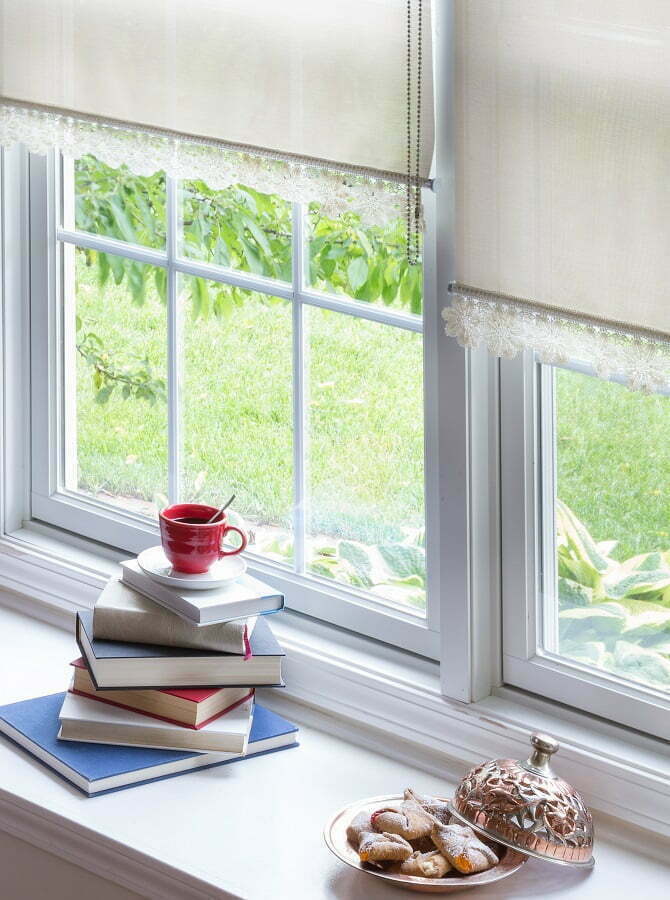 Fabric shades provide a simple solution to the bay window treatment. Simply put, they filter the light and provide privacy. But you still get the daylight you want.
Styling the fabric shades is also possible, not to mention the different colors and patterns you can use to dress up the windows.
Rattan Shades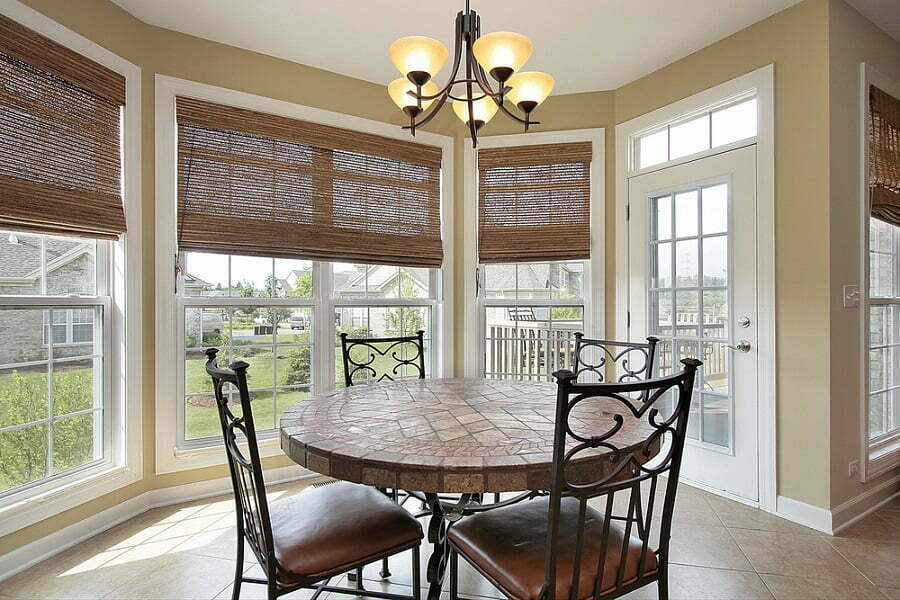 Window treatments can help bridge the textural divide in a room without vivid color, fashionable accessories, and many patterns.
Because the bay has an impressive number of windows (three to five, to be exact), a straightforward design is necessary to avoid creating an overly busy appearance. Rattan shades offer this simple solution.
Roman Blinds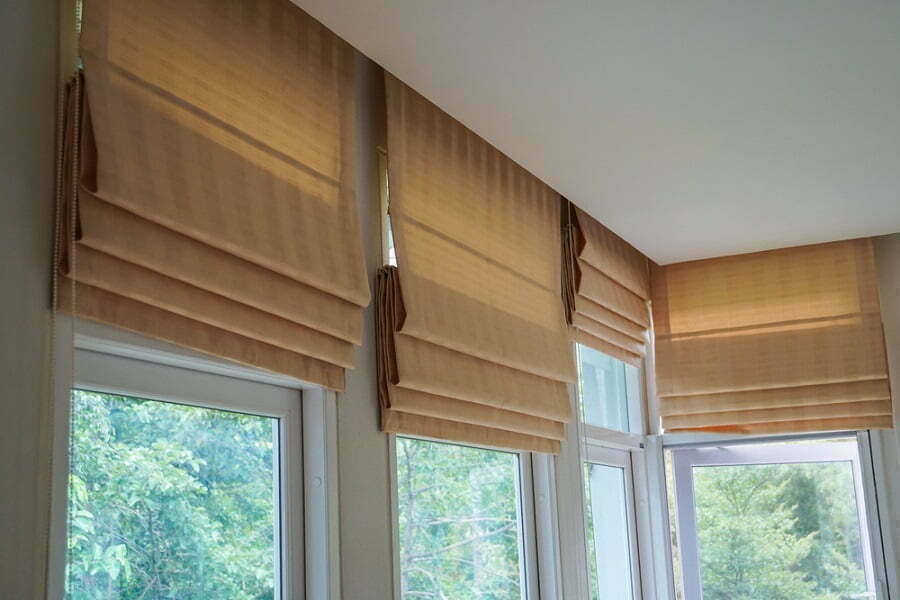 Choose Roman blinds as the dressing for each bay window, and then measure the blinds to hang slightly over the window's frame. It will ensure that the entire glass pane is covered and that there are no gaps at the edges of the window blinds.
Choose blinds with a pattern that is on a large scale for maximum impact, and pair them with plain curtains in a color that coordinates with them. Roll-up Roman blinds are an easy solution for bay windows.
At the same time, curtains can either add more privacy and warmth or be a decorative addition, framing the window for a stylish finish without the need to be drawn.
Venetian Blinds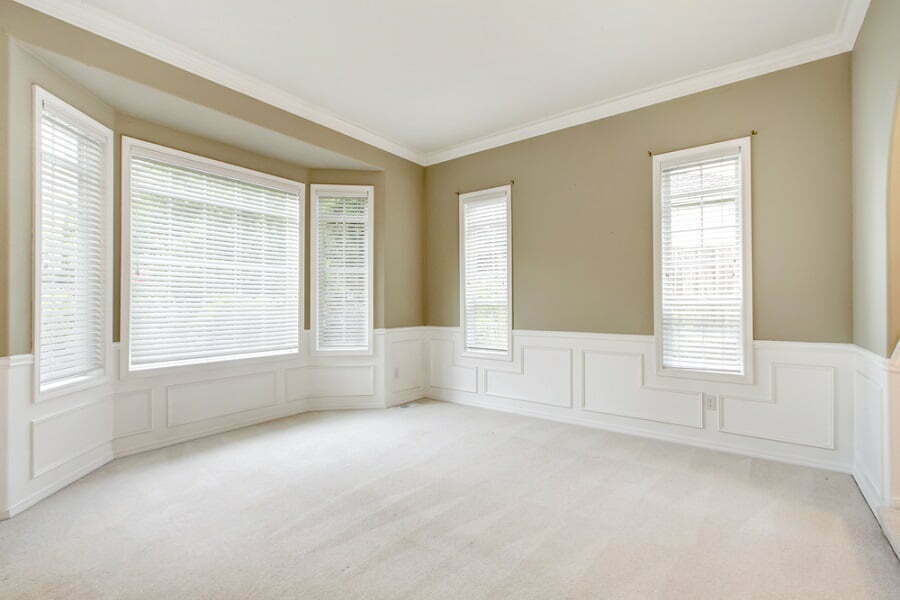 To draw attention to the unique shape of bay windows, the window treatment you select should focus on the window frames.
Venetian blinds, which are more affordable than shutters but have a similar appearance, provide substantial material for dressing windows.
Valance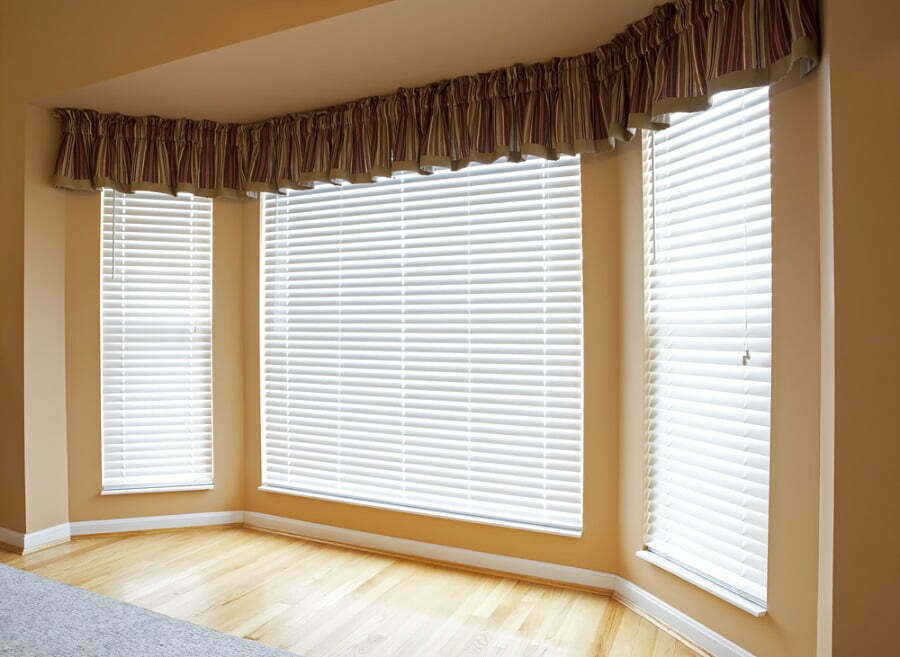 Covering up equipment, curtain rods, and anything else that might be at the top of a window that you might want to embellish is one of the primary purposes a valance serves.
Any window treatment can have a more polished and put-together appearance by adding a valance. Even within the same room, they can unify the appearance of windows dressed in various treatments. Valances are still fashionable if they are made of fabrics, colors, and patterns currently in vogue.
In addition, timeless designs are always in favor; sometimes, all that is required to bring them up to date is an update to a more modern fabric pattern or color.
This is all the more important with prominent bay windows.
Pelmet Heading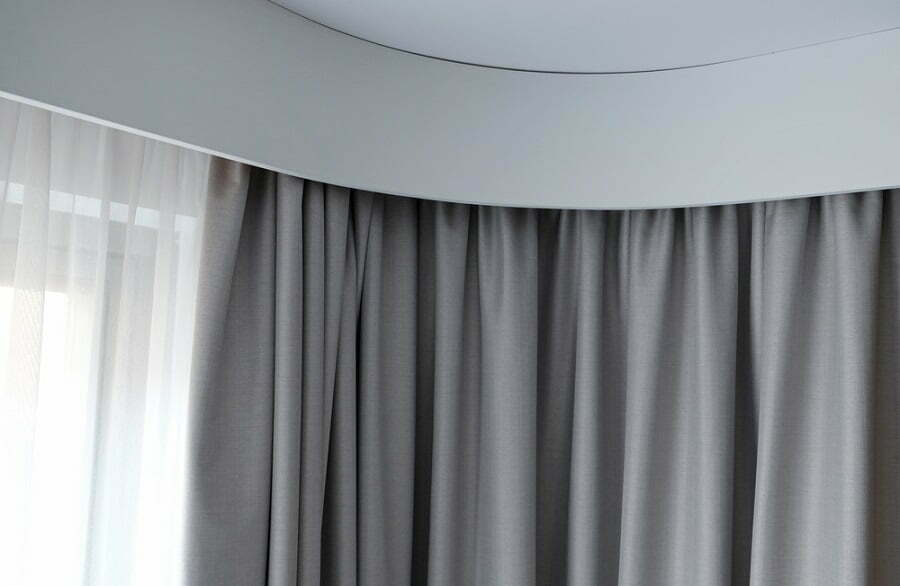 A pelmet is a fabric or wooden frame placed over the top of a window and its curtains. It is traditionally hung in such a way as to hide the curtain track decoratively.
It also provides an additional layer of insulation in front of the window, thereby reducing the amount of heat that escapes your home through the window.
Large bay windows can benefit from a pelmet in all of these aspects.
Curved Curtain Rod or Track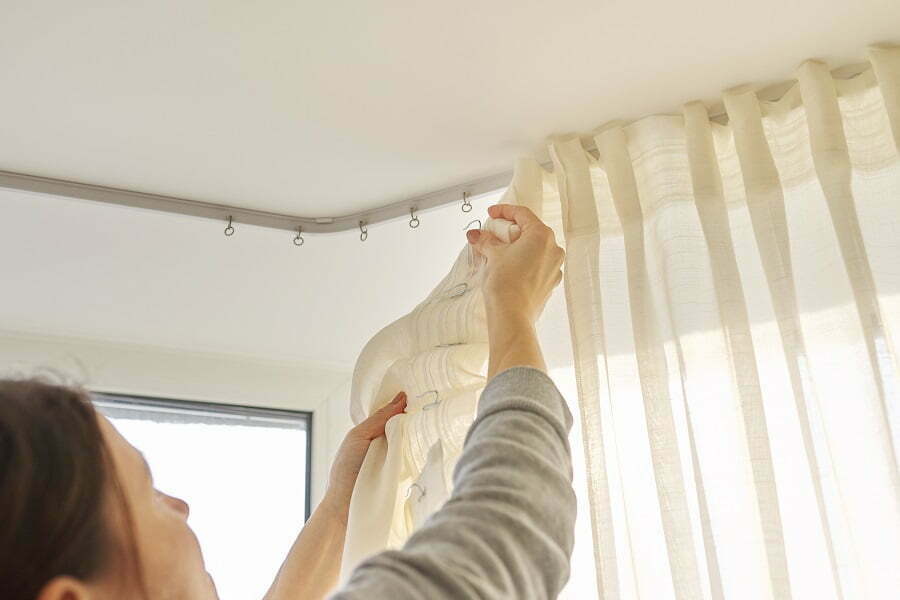 The combination of form and functionality is wonderfully served by a curved curtain rod. It allows you to use a single curtain over the entire bay windows without worrying about different windows and their treatment.
Squared Curtain Rod or Track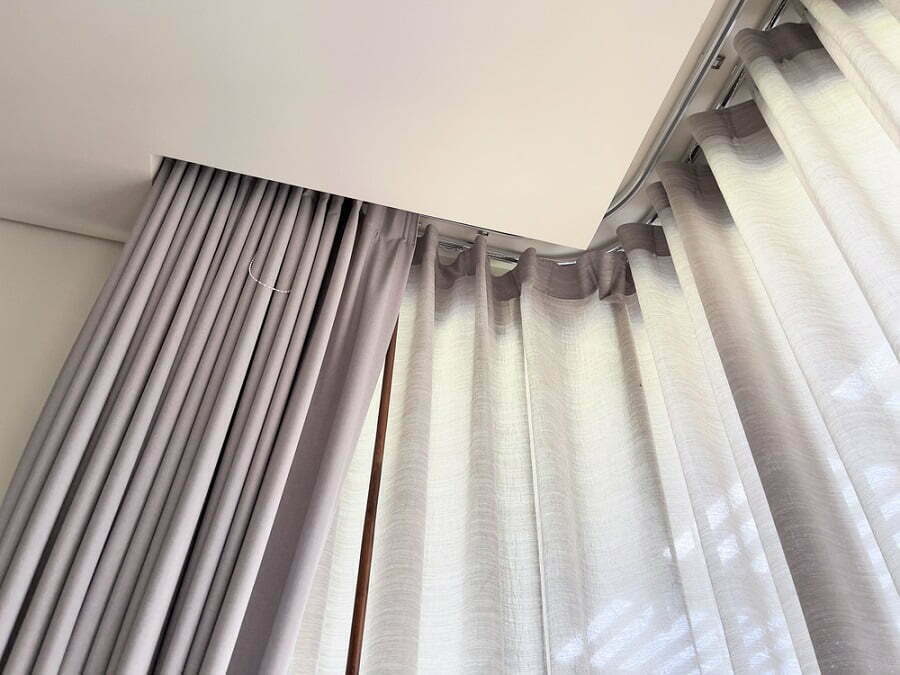 Like curved curtain tracks, the squared version offers a similar way to hang the curtains in bay windows. In this case, you have the option to hang a single curtain or separate panels for each window.
Bold Curtains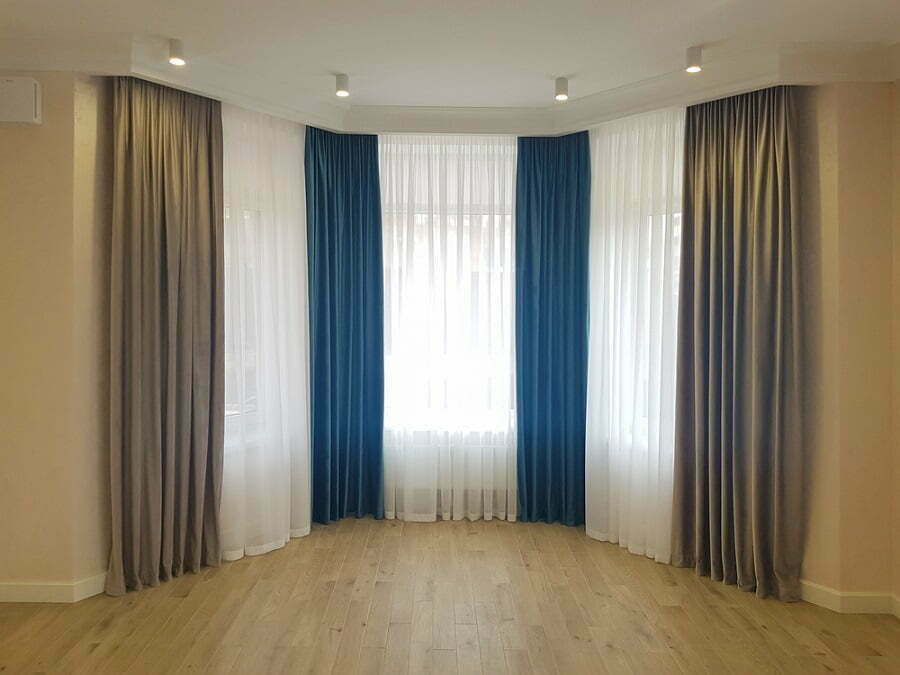 Bay windows are prominent enough, and they don't really require bold curtains to make a decor statement. But if you want them to really stand out, you can always add that pop of color.
Elegant Curtains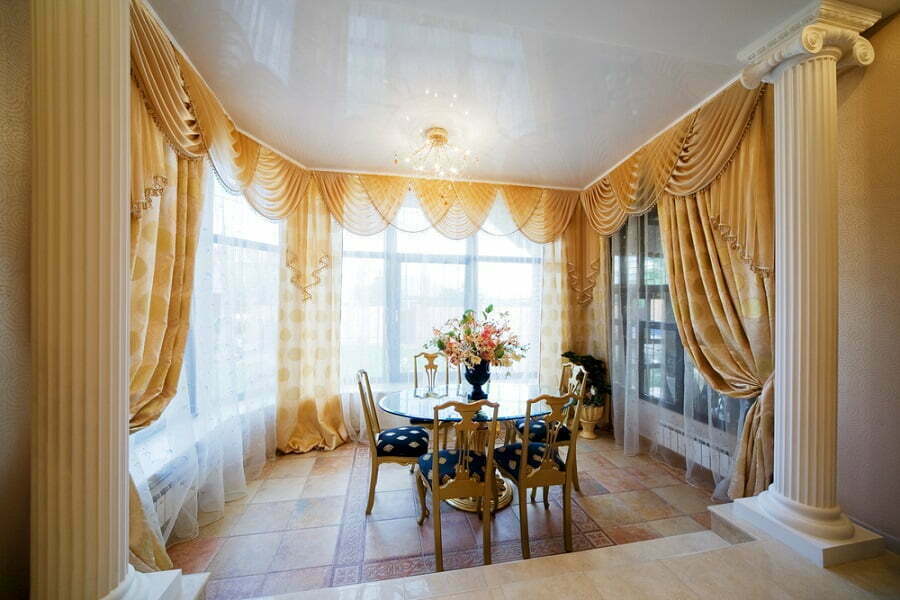 Elegant curtains can take the already large and imposing bay windows to another level. These curtains instantly turn the windows into a focal point of the room's decor.
Modern Curtains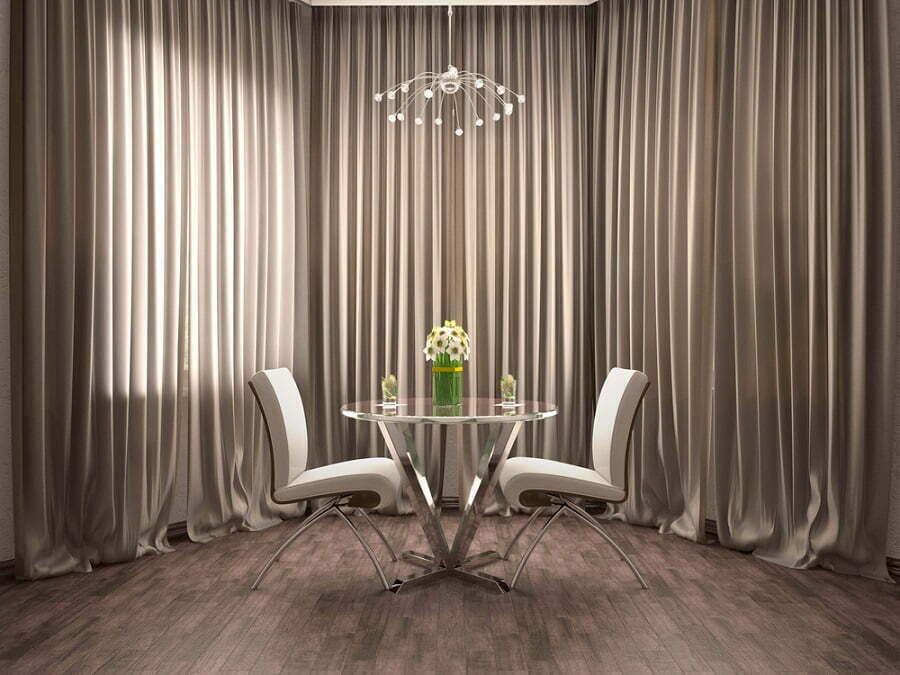 Today, styles of curtains and drapes are moving toward more simplicity and minimalism. When selecting new bay window curtains for your home, you should go for ones with more flow and less fluff.
Cotton and linen, two time-honored textiles, are at the top of the list of materials in style to complement the popular airy, unwinding, and naturalist motifs.
Window Seating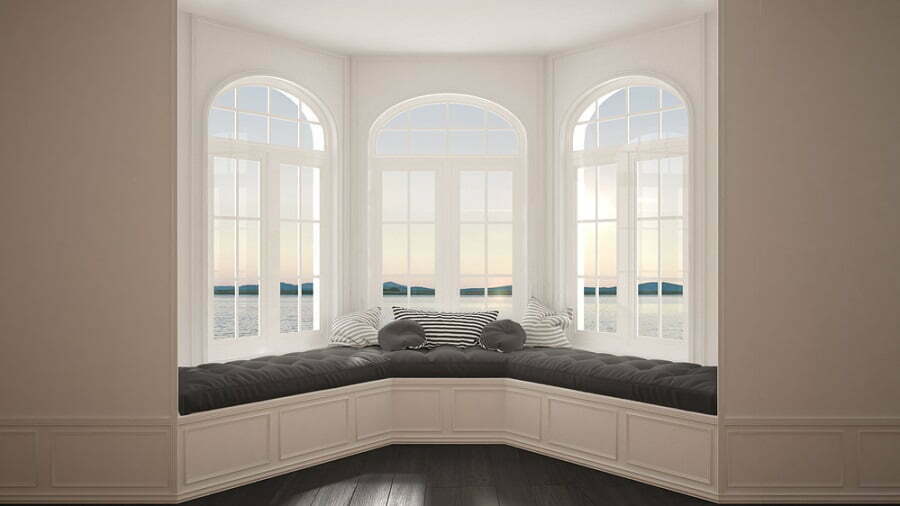 Bay window seats provide comfort, especially when topped with a plush cushion, as well as views of the surrounding environment.
The alcove or nook characteristic of a window seat contributes to the feeling of warmth and safety that it exudes. In addition, when outfitted with drawers, cabinets, or even just a hinged bench top, they offer additional storage space.
FAQ
What curtains are best for a bay window?
Layered treatments. Having another layer of the curtain on top of the other is the key to achieving the highest level of style. When you combine a drapery or valance with a blind or shade, you can control the amount of light that comes into the room, insulate better, and add a layer of texture or color to the space.
How do you hang curtains in a bay window?
Utilize three curtain rods and thread the curtains through each one to hang curtains in a bay window. One curtain can create a closed space inside the bay.
How many curtains do you need for a bay window?
If your bay window has three windows, you'll need at least four curtain panels. But it is possible to use a single curtain with a curved rod.
Can you have blinds and curtains in a bay window?
You can layer different window treatments in a bay window just as you would in any standard window.
What can you put in front of a bay window?
If the bay window in your home does not have a sill, you could try positioning a small sofa so that it is about a foot or so in front of the window and placing a console behind it.
Recap
Liked this article? Here's what you can read next: