Last updated on September 27, 2023
Here are the latest window blinds and shades ideas to create privacy, control the light, and decorate every room in your home. Read on!
Window blinds can greatly improve the appearance of your room or office interior. You can go about decorating with blinds and shades, such as matching the blinds to the wall's texture or the space's color, coordinating them with furniture and fixtures, and so on.
The perfect mix of shades and other window treatments can give your space a new appearance. The trend is moving away from mini blinds and Venetian blinds to Roman shades in pattern fabrics and woven sisal or wooden shades.
The following ideas cover the timeless classic use of blinds (such as layering with drapes) and the latest up-to-beat trends like the aforementioned Roman shades.
Let's dig in!
Match Window Blinds with Curtains or Drapes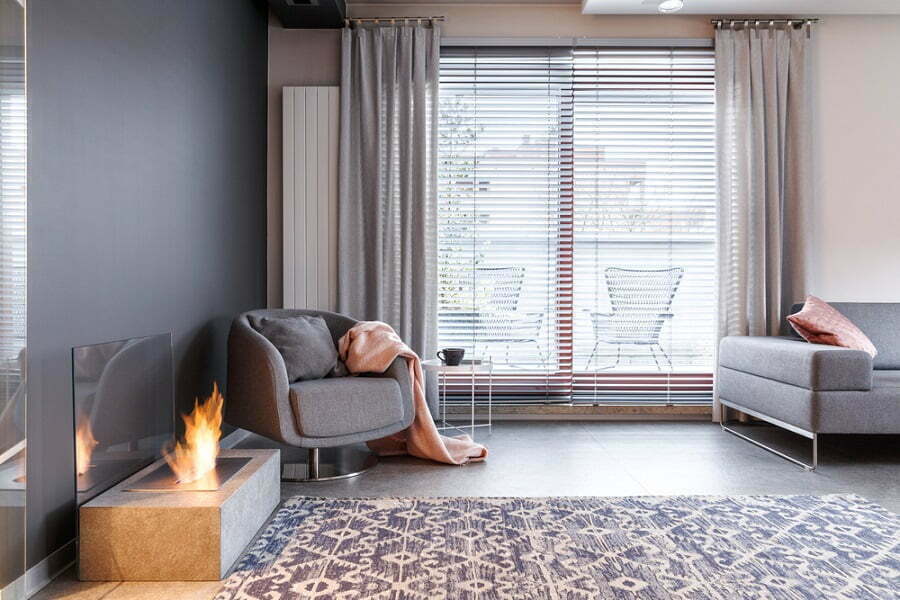 It is possible to create a cozier atmosphere in a room by combining the usage of blinds and curtains rather than depending just on blackout curtains to control the amount of light entering the space.
You may instantly shift attention and change overall mood by either opening the blinds while draping sheer curtains over the window or drawing the curtains while allowing some blinds to show through partly.
Match Blinds to Furniture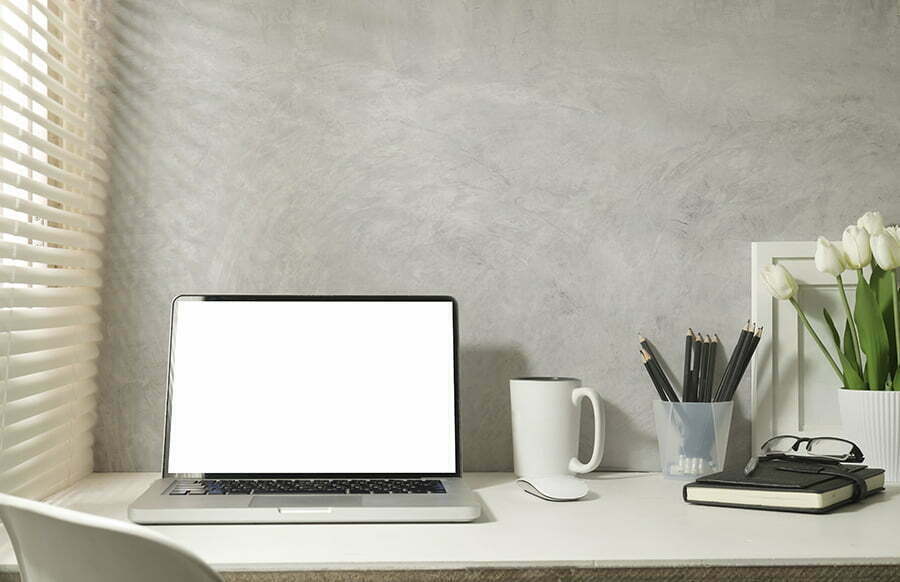 If you have couches or other pieces of furniture in your room that are a solid color, you should take a brief tour of the space and pick out three colors that will complement the blinds.
You may get a natural and laid-back style by drawing inspiration from aspects of the natural world, such as the colors: burnt orange, rust red, and autumn-inspired tones of gold.
The color sage green looks stunning when combined with the deep dark brown of the furniture. You might also try experimenting with some cool-toned colors to create a striking contrast with your dark furnishings.
Match Blinds to Light Fixtures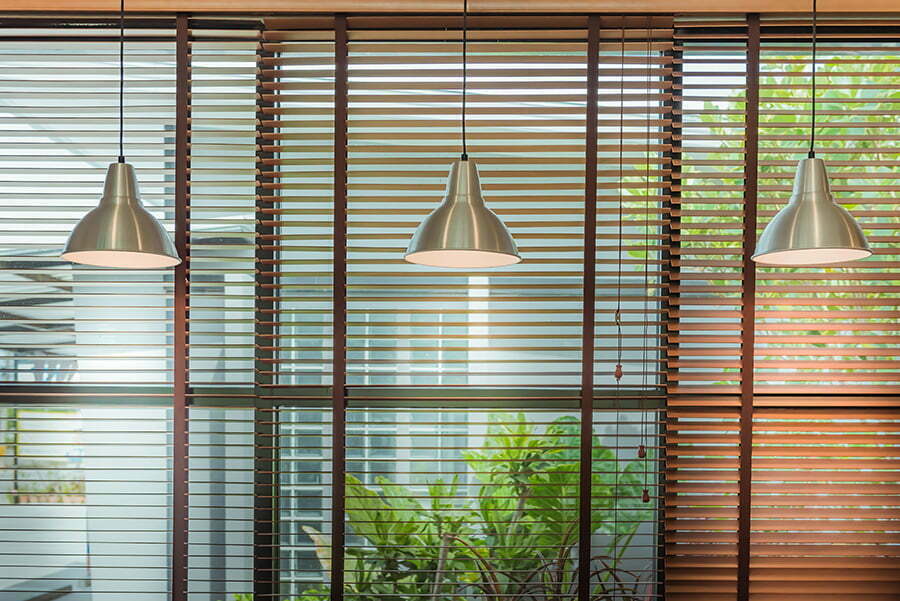 A magnificent light fixture matched to the window blinds in a room can have a significant impact on the space's decor.
It is also quite unusual as a design feature since it does not occupy any area on the floor or the walls. It makes it possible to improve the appearance of your room while also clearing out clutter.
Match Blinds to Wallpaper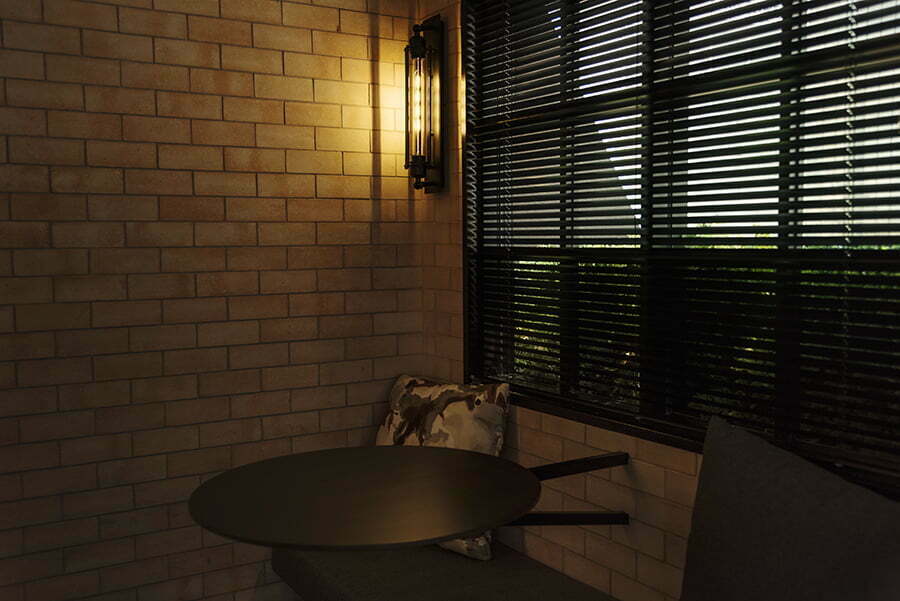 Because of the significant roles that colors and patterns play in interior design, it is essential to ensure that they are compatible.
A wallpaper and blinds combo will work in your space regardless of the decor style you have chosen for your home.
For example, adding depth, character, and texture to the room may be a lot of fun with the help of wallpaper that looks like wood paneling. You can choose between using genuine wood paneling or faux wood paneling.
The window shades in an espresso hue look fantastic when paired with the aged wood panels.
Match Blinds to Wall Color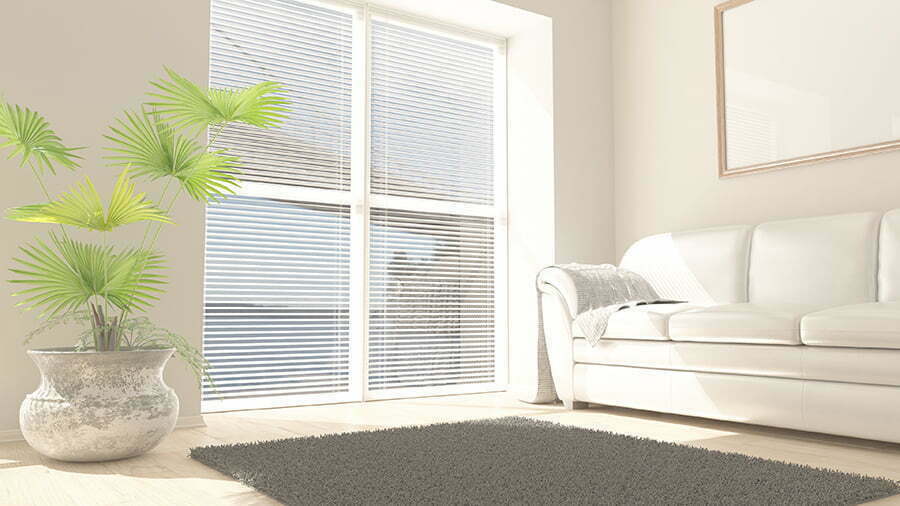 Matching the color of the blinds to the walls gives the space a streamlined look, though it may seem cold.
Consider the style of your interior and the kind of blinds you want for your interior. Is the built-in look the style you want?
When it comes to window blinds, you will have a broader range of color selections to match that of your walls.
All neutral tones appear stunning when paired with complementary styles, creating an excellent backdrop for the rest of your decor.
Match Blinds to Floor Color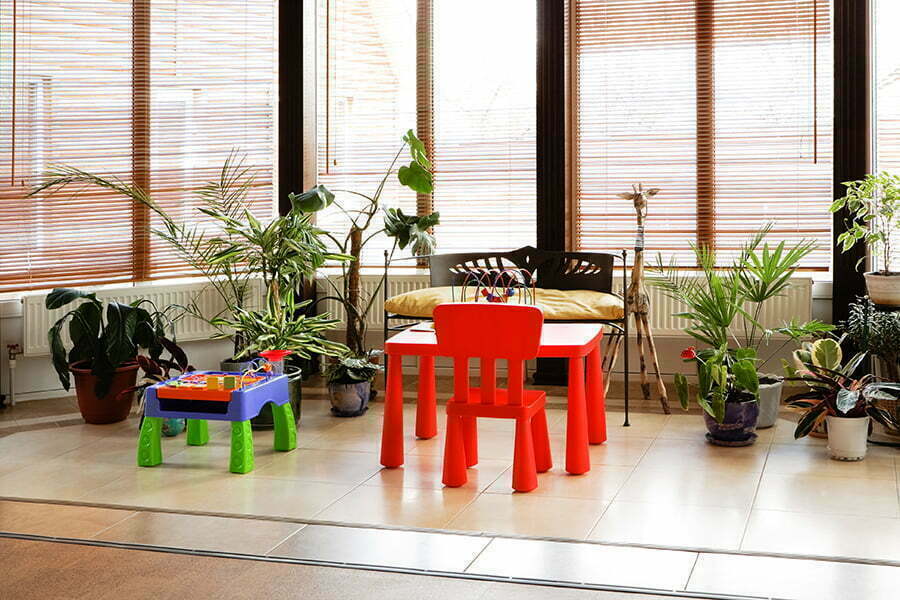 It's up to you if you want your blinds to match the floor or not, but the specific color of the blinds you choose will affect the whole room, from the floor to the furniture and the room's overall look.
Many new homes, offices, and warehouse-style buildings decide to have floors made of granite, marble, or concrete. These modern floors work well in kitchens, bathrooms, entrances, and meeting rooms, especially in places that get wet or have a lot of foot traffic.
You could use different fabric blinds to match your concrete and natural stone floors.
Blinds Inside Window Frame for Seamless Look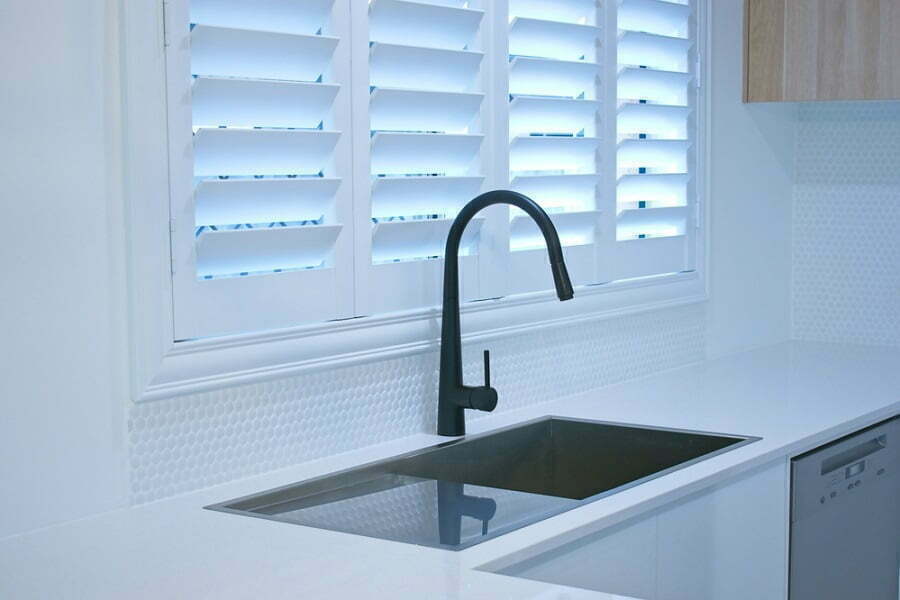 Placing the blinds inside the window frame changes how they look and work. It could also make your whole window less energy efficient.
If you use an inside fit blind, it will draw attention to the way they built the window. The cleanest look will come from blinds and shades on the inside. They take up less room and look clean and smooth.
Blinds Outside Window Frame to Emphasize the Window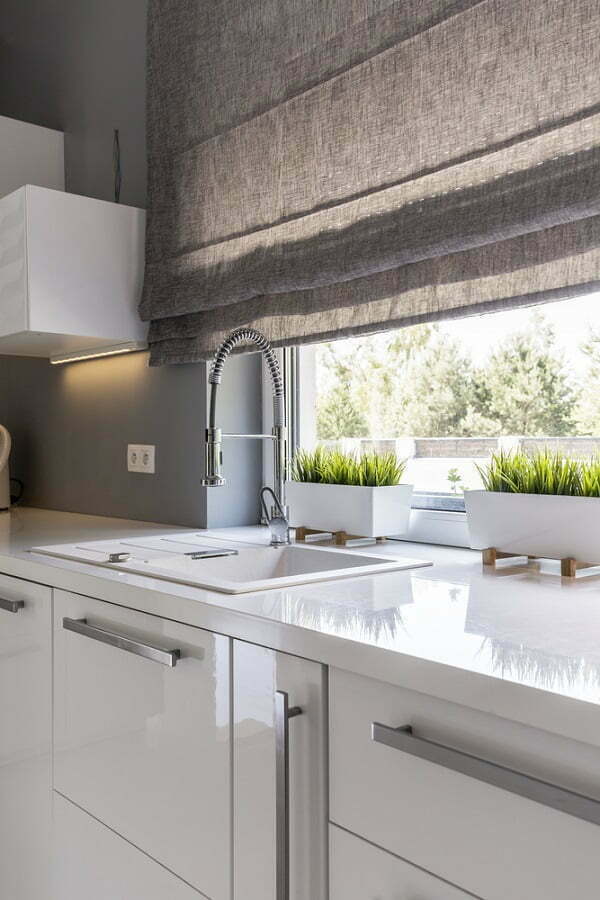 The use of outside fit is beneficial for concealing window frames of different sizes while also providing a unifying design feature that may use to balance them.
The outside fit of the window might sometimes give the illusion that the window is larger than it is. Suspending blinds from the ceiling to the floor may make a bold and textured design statement.
Roman shades work very well in this particular case. See how this idea for blinds works in the kitchen.
Darker Blinds Add Depth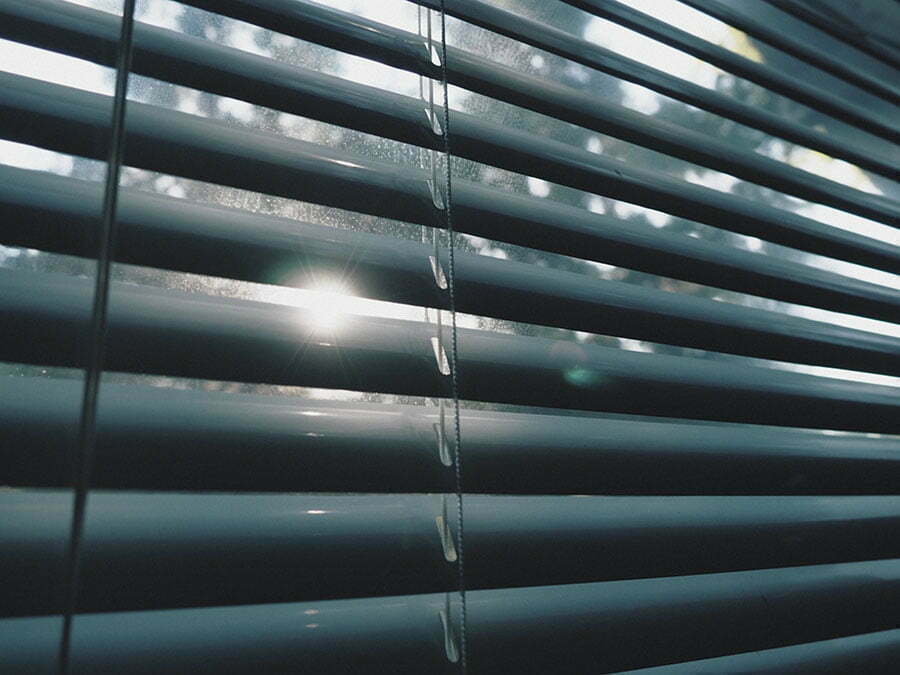 The use of darker colors may make a room seem cozier; nevertheless, you will quickly notice that these colors absorb light rather than reflect it, which gives the impression that the room is much smaller than it is.
As a result of their dark color, black blinds will be effective in blocking out light. They are an excellent option for entertainment areas, in which you want to minimize glare and create a cozy environment, as well as for bedrooms, in which blocking out the light may enhance sleep.
Print Blinds Make a Decorative Accent Pop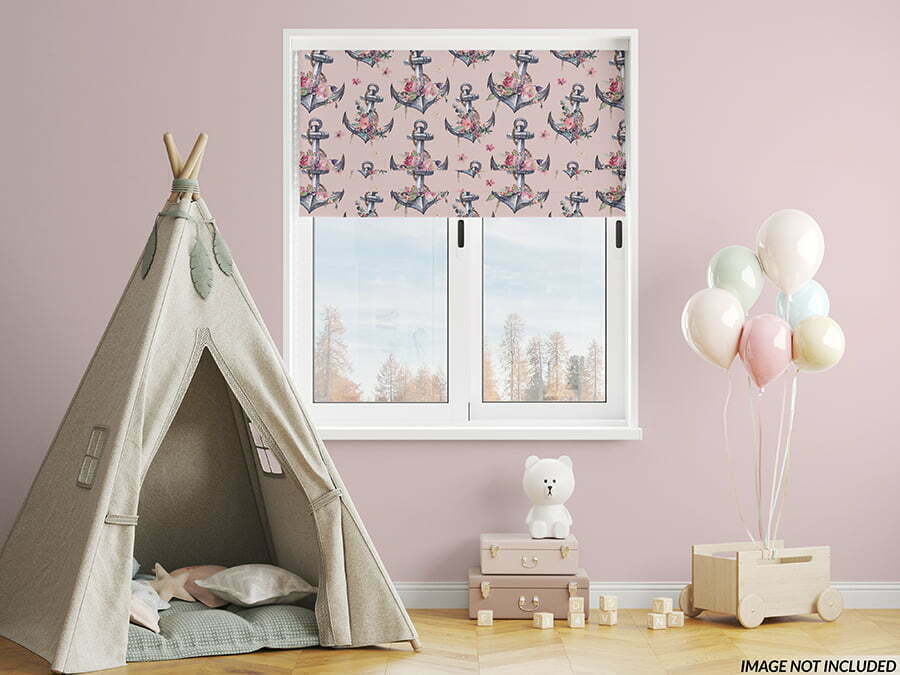 If you want to your home to have a vibe that is unlike any other, go for roller blinds because of their distinctive design, as well as the contemporary aesthetic and practicality.
Roller blinds with printed patterns are a fantastic choice for use as a decorative feature in any space. In addition, they are an excellent choice because the fabric used can accommodate a wide variety of designs.
Pale and Neutral Blinds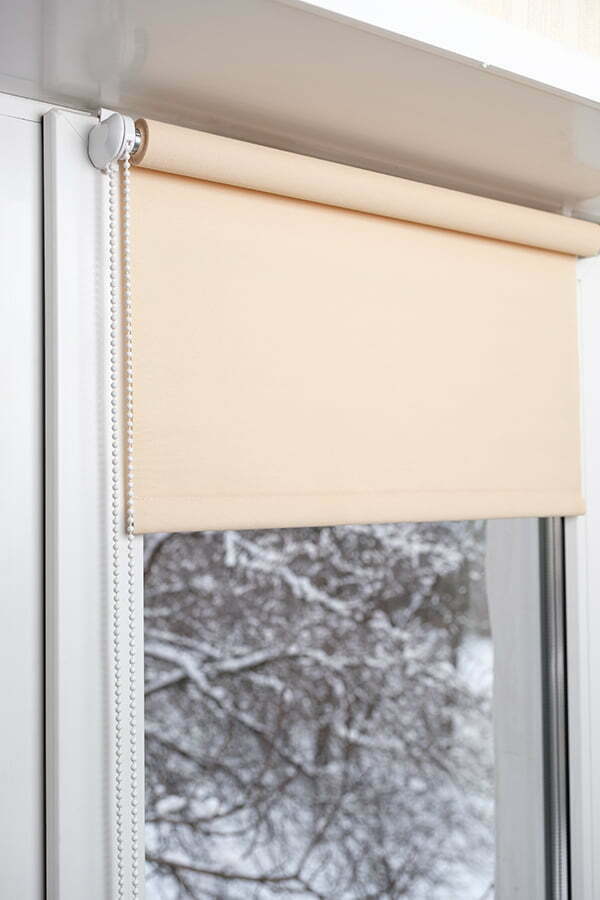 What colors are considered neutral? It can be white, gray, black, beige, or other colors that are safe for the inside of a home.
Some people think it's boring or too simple, but it's the most popular and safest way to decorate a house.
Neutral colors aren't dull as long as you pair them with the right colors. It's the best choice if you like to change the look of your home often. It's the only color that can go with any pattern, texture, or color.
Wooden Blinds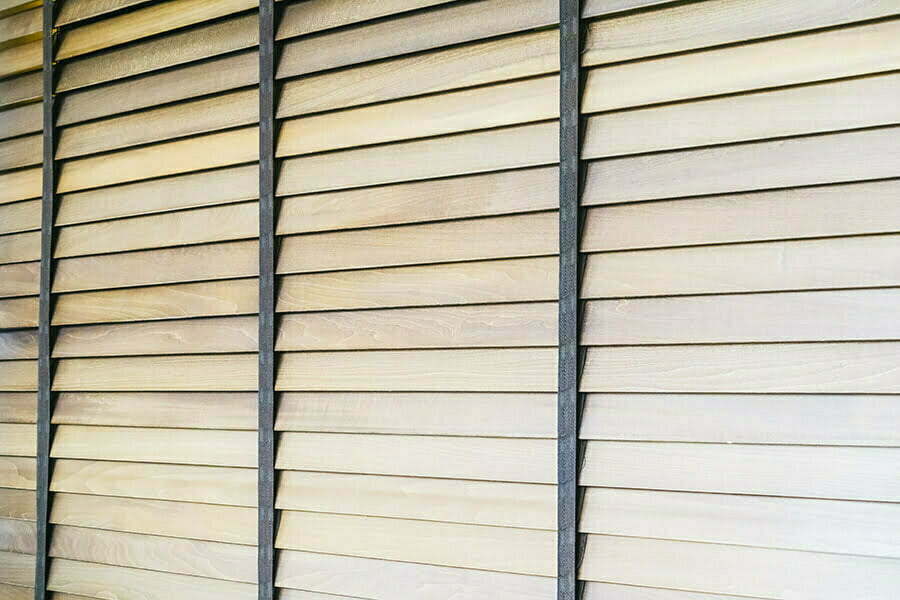 Real wood blinds are the only option if you want a space to have a look and feel authentically natural, as well as if you wish for the materials and textures of the blinds to mix in smoothly with other types of wood and natural materials in the room.
They exude warmth and depth that is difficult to imitate in manufactured materials because these qualities are essentially intangible. Wooden blinds incorporate the earth's varied, complex, and unique textures into any room's design, elevating it to a level of opulent beauty.
They are the apparent option for coziness, longevity, and adaptability. They will provide an enduring beauty to any space while allowing you full control over the lighting.
Distressed Wood Blinds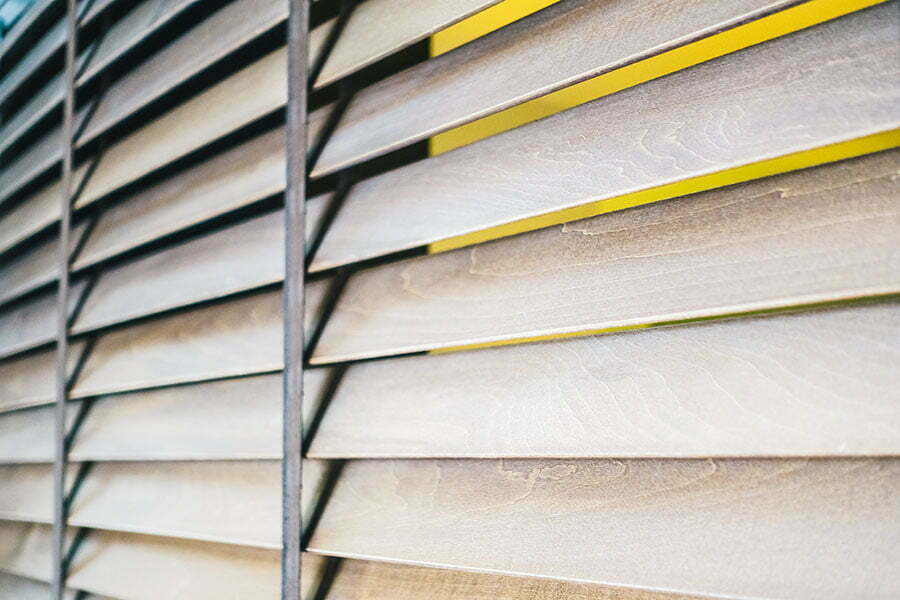 This style extends to embellishments made out of distressed wood. If staining a whole table or floor sounds too big of a commitment, you could always look for a test run on some blinds instead.
The end effect is a touch of rustic and informal style that blends well with contemporary and traditional furniture pieces.
Any room may benefit from the addition of texture and personality provided by these wood blinds.
Vinyl Blinds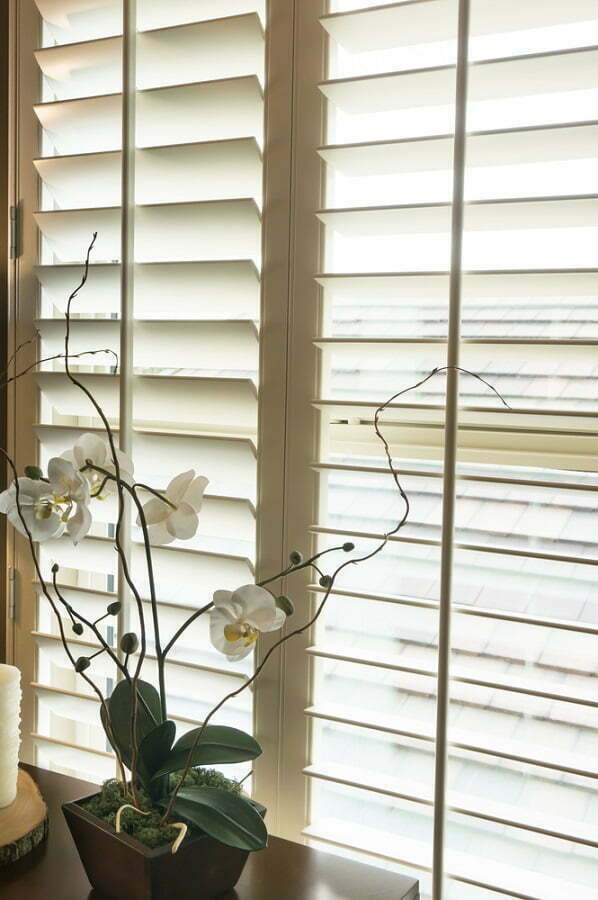 Vertical and horizontal vinyl blinds are traditional window coverings used in various residential settings for quite some time. It is available in a wide variety of hues as well as designs.
Vinyl is not a natural substance like genuine wood; it is a synthetic material. It is a kind of plastic that differs from traditional plastic because of the ethylene and chlorine used to fabricate it.
The fashion or the variety of available selections are not their strong points. The fact that they are reasonably priced and require little in the way of upkeep are two qualities that set them apart and make them a well-liked option among consumers.
Shade Fabric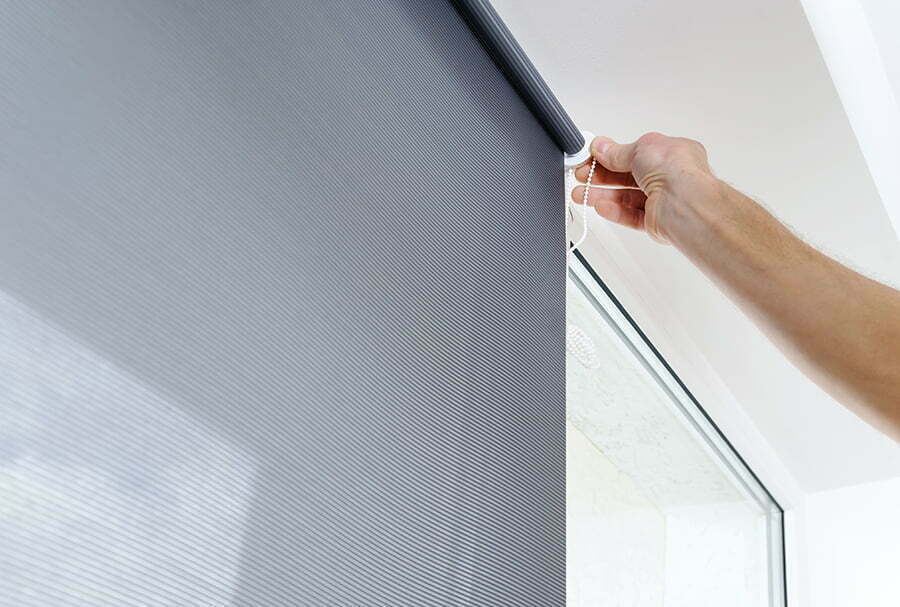 The most common kind of window treatment is called a window shade, consisting of a piece of fabric that you can pull up and down using a cable or another lifting mechanism.
In place of individual slats, shades often consist of a single sheet of fabric that can be turned open or closed to control the amount of light that enters the room.
Modern Roller Blinds and Shades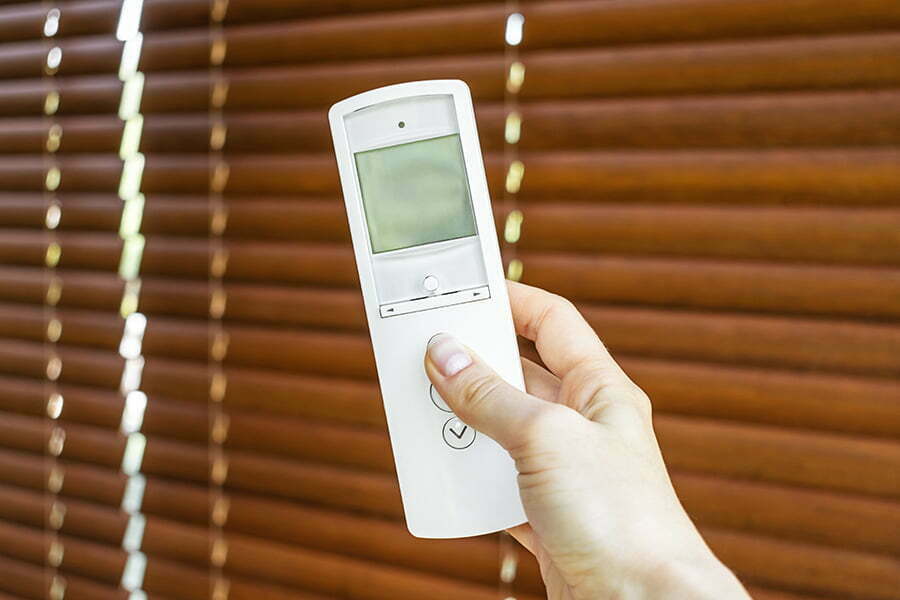 Roller blinds for windows consist of a rectangular piece of fabric rolled up and fixed to a wooden dowel or metal tube installed between two brackets attached to your window.
When the blinds are raised or lowered to the same height, it creates a visual design. It contributes to the overall harmony and composition of the space. It's a simple tip, but doing so helps define the space in your room.
Modern blinds usually provide a streamlined look and an automated lifting mechanism.
Valances Over Blinds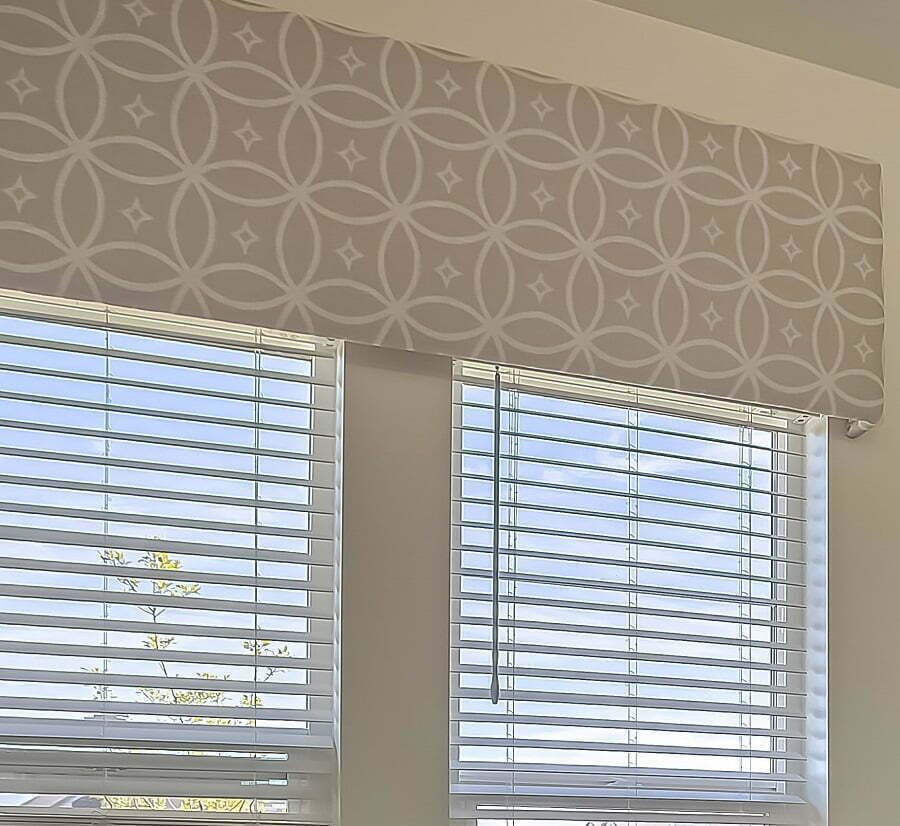 Valances are stylish enough to be used as independent window coverings. They also work very well in conjunction with window blinds, shades, or draperies to create a fascinating layered look.
Valances might have a simple, pleated, ruffled appearance or any other appearance ranging from a traditional wooden finish to a contemporary metallic appearance.
They may swag, cascade, layer, or inflate, and there is a wide variety of styles to pick to accommodate anyone's unique preferences.
Striped Blinds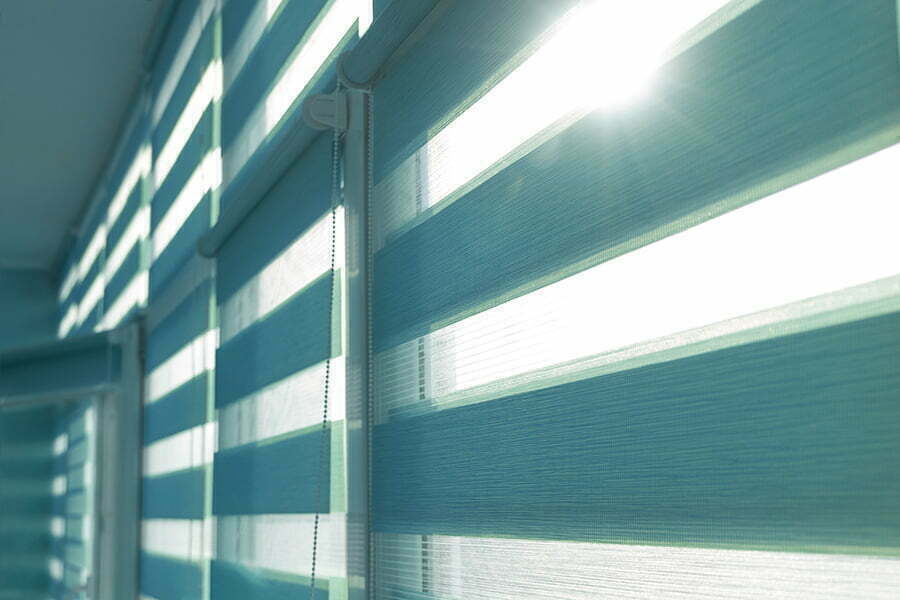 Zebra blinds, otherwise known as striped or dual blinds, are a contemporary roller blind alternative to horizontal blinds.
Zebra blinds may also be called double blinds. These blinds, which make up of horizontal strips of cloth that alternate between opaque and transparent, provide a smooth transition from daytime to night.
You have complete command over the amount of light and privacy entering the room according to how you arrange the stripes.
Blackout Blinds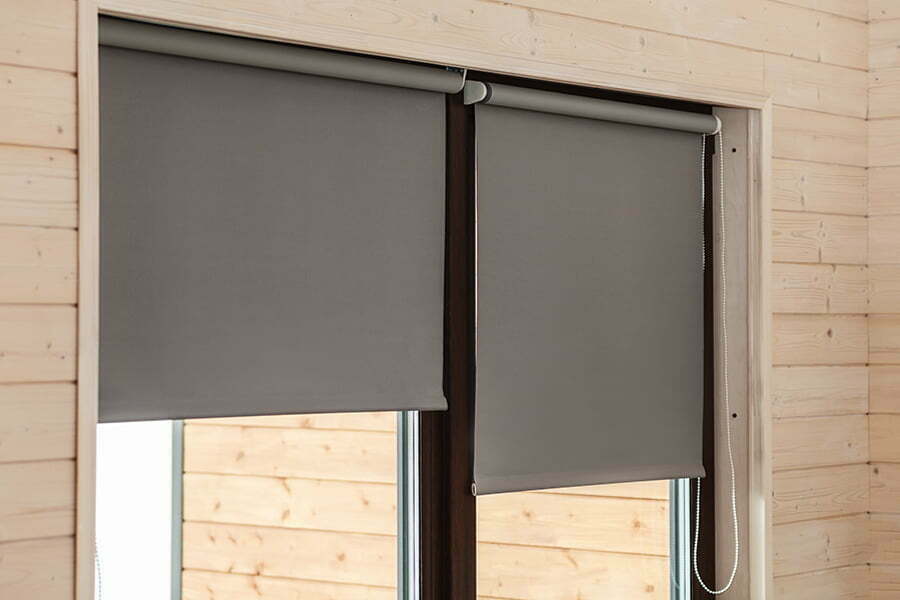 Installing blackout shades in your bedroom is the best answer if you want your sleep to be completely uninterrupted and stress-free.
They not only feature noise reduction to guarantee that you are not bothered by any outside noise while you are sleeping, but they also provide near total blackout from any unwelcome sunlight that may be present.
You can install blackout blinds anyplace in your house, and they will seamlessly blend in with the design you already have.
Double Blinds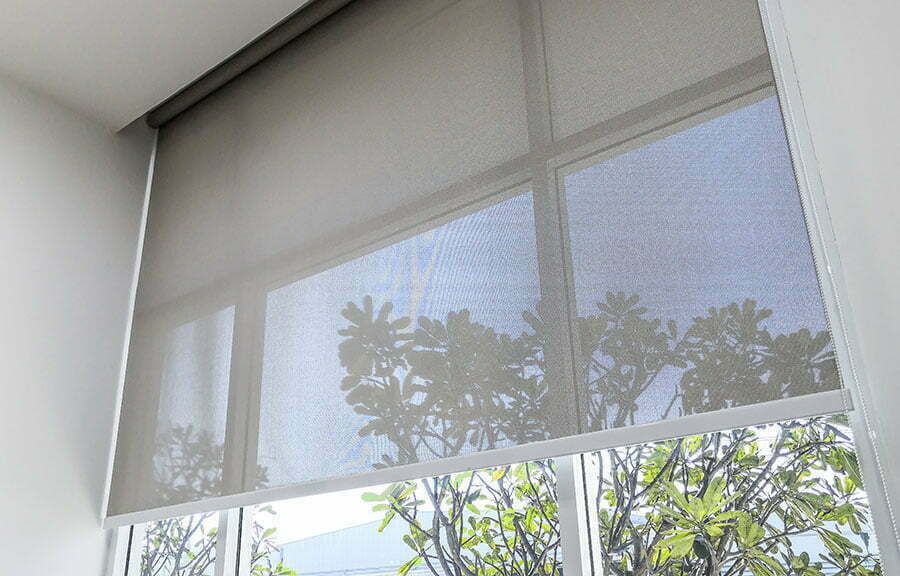 Double roller blinds give a better ability to control light and greater energy efficiency during summer and winter.
They have a modern appearance and allow you to play with colors and contrasts. These benefits are in addition to the fact that they have a very stylish appearance and will allow you to combine and play with colors and contrasts.
Roman Blinds in Bathroom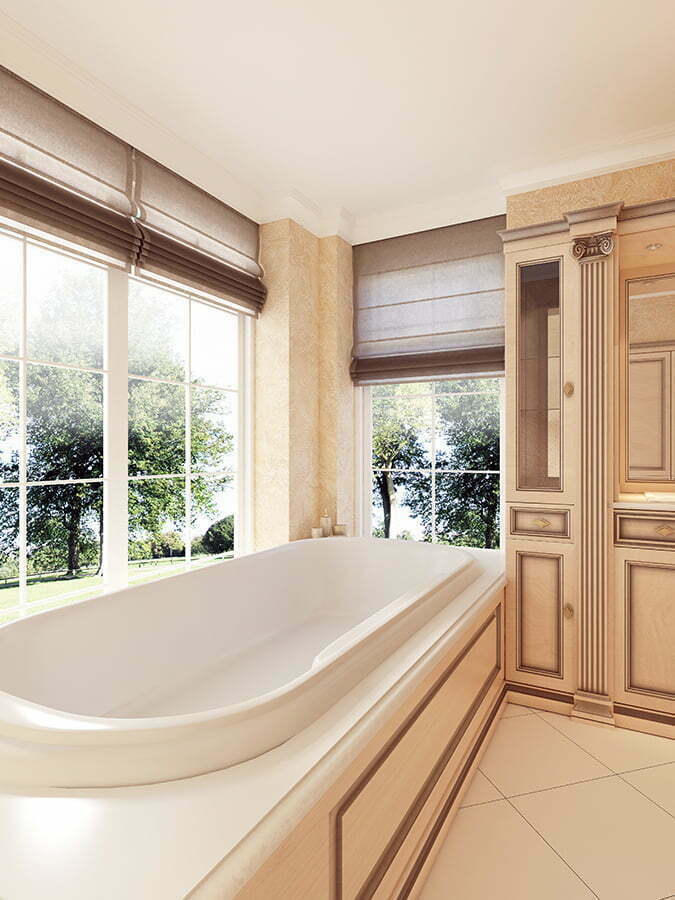 Especially if they harmonize with the rooms' decor, Roman blinds are an excellent option for bathrooms.
Avoid using Roman blinds in bathrooms that are either tiny, very often used, or excessively steamy.
However, you may put them to use in bathrooms that are big enough to have enough ventilation, providing some color, texture, and warmth to the area.
Solar Shades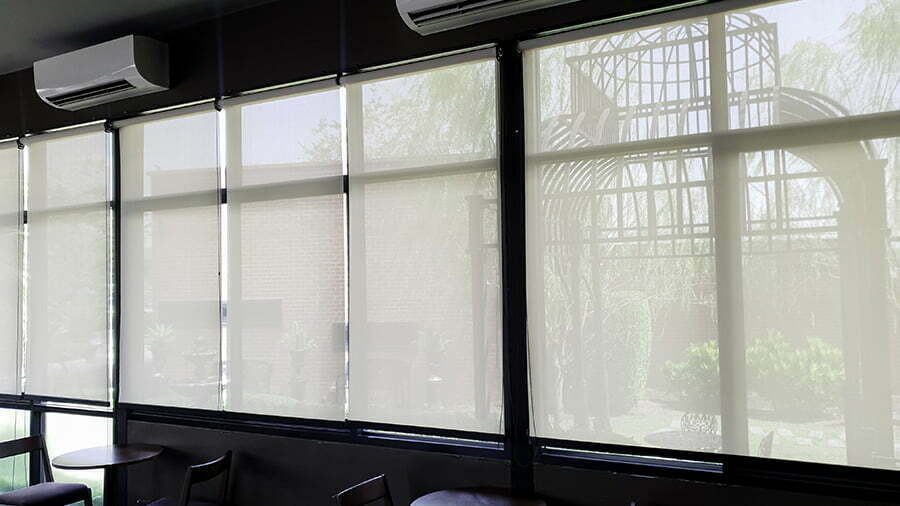 Solar shades for windows are a revolutionary line of shades that use a fabric specially designed to reduce heat, provide protection against UV rays, and block harsh sun glare while preserving your beautiful view.
Solar shades for windows and doors are available in various colors to complement any decor. The internal solar shades are simple and elegant at the same time.
They feature a simple and contemporary design that almost allows them to vanish when they are in a completely open position, allowing for an unobstructed view of the natural environment
Vertical Blinds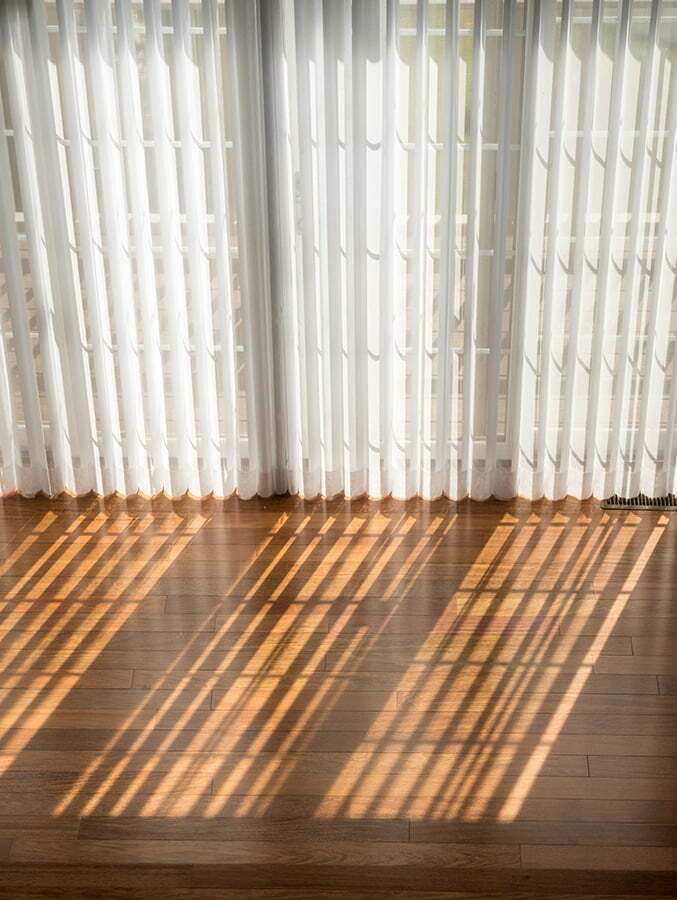 When it comes to covering broad windows, vertical blinds are the most effective choice, mainly because they offer a diverse selection of styles, hues, and materials.
At the same time, there are many additional advantages to installing vertical blinds; these are some of the more important ones.
Because its louvers can be turned in any direction, from entirely open to fully closed, and every point in between, vertical blinds provide you about as much control as any other kind of blind does when it comes to this aspect of the blind's functionality.
It allows you to direct or filter light, maintain your perspective, and keep your privacy without sacrificing either.
Match Window Blinds and Shades in the Same Room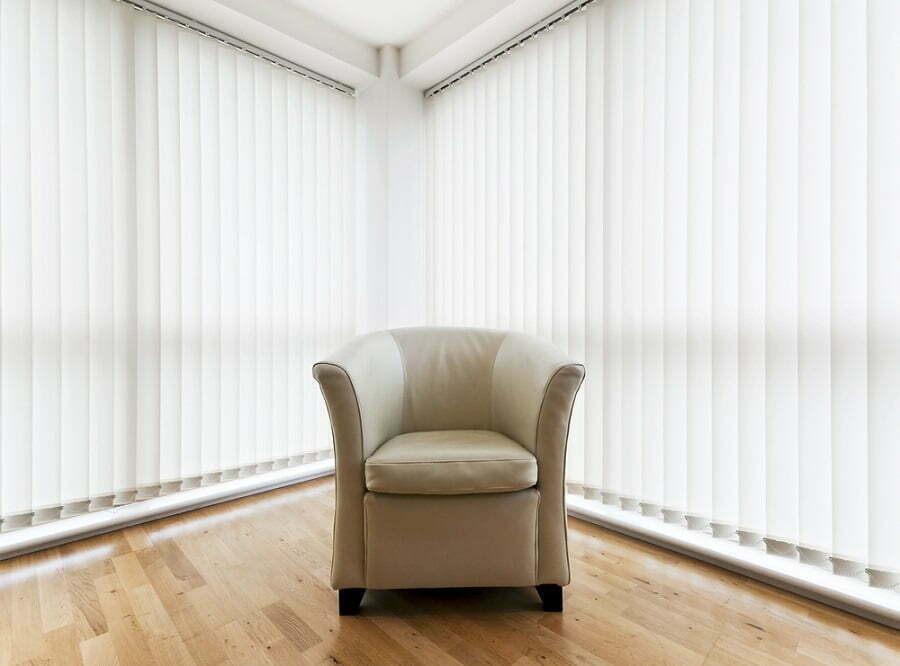 Combining blinds and shades is an excellent way to get a versatile look in a room, as well as to balance the amount of light that comes in and maintain your privacy.
When trying to find the perfect combination of blinds and curtains for a room, choosing the sort of blinds you want for the area first is advisable.
Roller and Venetian blinds are the most prevalent because they complement draperies and provide a fundamental, solid color block.
Both of these factors contribute to their popularity. You must pay close attention to the color and fabric choices and how these elements interact with one another in the space.
Mix and Match All Options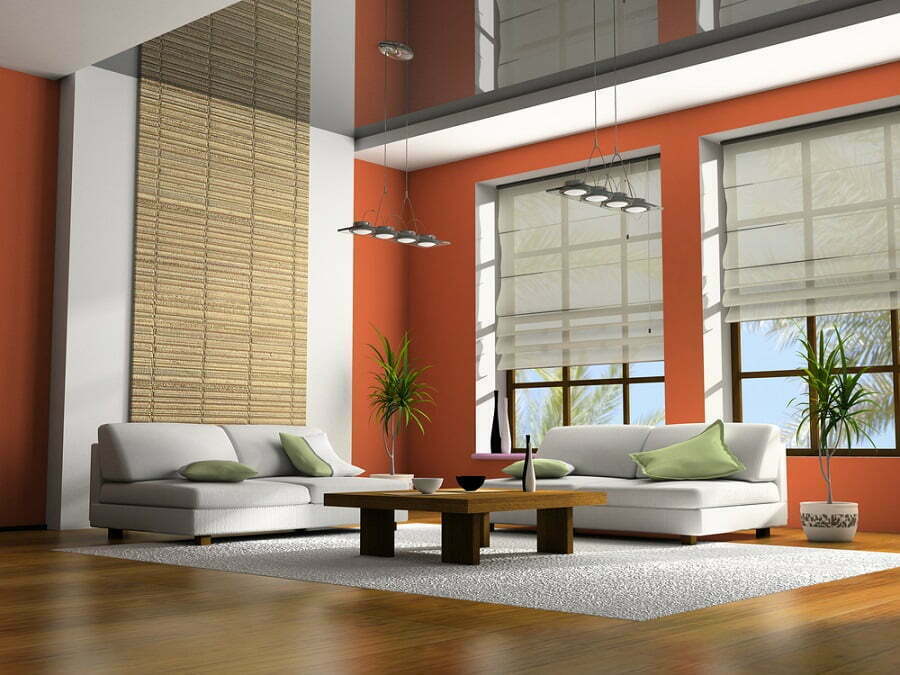 To further improve the ambiance and style of your home, you can do some mix-and-match window treatments according to your style and techniques.
First, choose window treatments for your home, such as blinds, contemporary roller shades, or woven wood shades that complement your home's features, such as the flooring, tiling, wood beams, or stone fireplace.
If you coordinate their design with these other, more permanent features, your window coverings will continue to look great for many years.
The next step is to decorate the space with patterned and colorful accents by adding beautiful curtain panels, cushions, and other items.
For instance, you might use the same color scheme to decorate your breakfast nook with a patterned valance and the neighboring family room with solid curtains that coordinate with the valance.
You might also make your dining area more dramatic by installing floor-to-ceiling panels with a striking pattern or a deep accent color. For a more designer-like appearance, woven-texture wood blinds should match drapes.
Like neutrals? They also work well in delicate ways of tone-on-tone that overlay to create a seamless contemporary appearance. You may enhance the shades in your child's room with drapery panels in their favorite color, or you can add panels to the bedrooms to compliment the bedding you already have.
Layering several types of window coverings is one of our favorite design choices, but we also like to mix and match several and various shades.
FAQ
What is the main purpose of blinds?
It is possible that you cannot sleep at night if you do not have blinds, or you may able to see your television screen during the day if you do not have blinds. Blinds allow you to keep the sun out of a room and prevent interior light from escaping.
What are the most popular type of blinds?
The most often used kind of blinds is known as the Venetian style. Horizontal blinds have slats that run horizontally and are attached to the window via tapes, which might be made of string or strips of fabric. When Venetian blinds are lifted, the slat at the bottom of the blind is pushed up into the slat that is directly above it.
Which blinds block the most light?
The most effective method of obstructing light entry via a window is to use blackout shades. That means you won't have to stress about getting up at dawn! With blackout blinds, you can always have a quiet night's sleep, no matter what time of day it is. It is ideal for those who work nights and sleep during the day since it prevents outside noise from disturbing their slumber.
Recap
Liked this article? Here's what you can read next: