Last updated on April 17, 2022
Zebra blinds are two-layer shades in stripes that resemble alternating slats. One stripe is sheer, while the other is light-blocking.
Zebra blinds (also known as combi shades) are controlled by a cord mechanism that functions like roller shades (it can be automated.) When the stripes of zebra shade overlap, sunlight comes through. When they don't overlap, the window shades block the light.
This way, Zebra shades add uniqueness to your house with a functional, modern, and innovative window treatment. They are remote-controlled or cord-operated shades that provide insulation and privacy for your room while facilitating light filtering. With zebra blinds, you gain a sense of privacy without sacrificing natural lighting.
Zebra blinds are highly recommended if your house has tall ceilings or large windows. There are also ideal when there is less space between floors. 
How Do Zebra Blinds Work?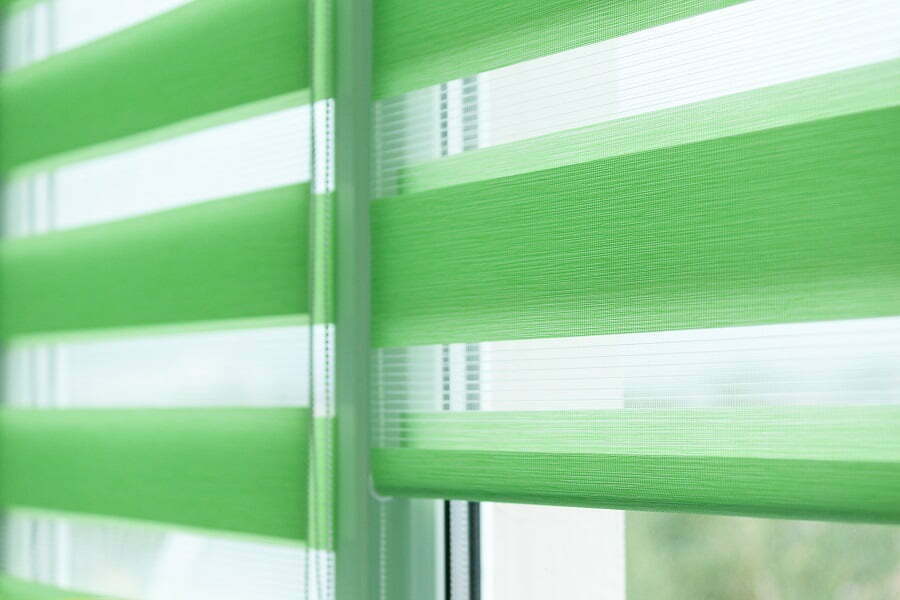 Zebra blinds are a type of horizontal blinds that work by alternating sheer shades and solid stripes (thus, they are also known as combi blinds). These window blinds are dual-layer shades and can have different color tones for an added effect.
You use a pull-bar or cord to change the stripes. To block light, you move the solid over the sheer stripes. Lining up solid over solid will let the light flow in. Thus they work as sheer blinds or as blackout blinds.
Because of their innovative design, changing between the shades happens instantly. To enjoy total privacy, you pull the zebra blinds all the way down, and for bright light, you pull them all the way up. 
They work on most rectangular windows to control the privacy and natural lighting. During the day, they let in soft light, and at night they facilitate privacy. 
Benefits of Zebra Blinds
With zebra blinds, you benefit from privacy and light filtering. Most blinds only offer one of these, and you have to spend more to get both options. However, you get both privacy and light filtering in one package with zebra shades.
You can customize them to any color or window size. They are versatile and can fit on any modern window. Because of their flexibility, you will find them easier to roll up and down compared to other blinds.
If you want an aesthetic window treatment that you can afford, zebra shades are recommended. You will save on purchasing, installing, and maintenance as these are affordable blinds considering their functionality.
You don't require a professional installation because you can install them yourself. Maintenance involves cleaning with soap and water. 
Drawbacks of Zebra Blinds
You need to be careful with zebra blinds because of their fragility. They are easily susceptible to damage. They will also not offer you noise reduction functionality like blackout roller blinds.
They have moving parts. Therefore, to enhance their durability, you must dust and clean them regularly. However, the cleaning activity will not take long. 
Because of their design and manufacturing, they have gaps meaning that a little light will always enter. When they are lowered, they can interfere with the views of windows in a room; this can be solved by directly pulling up the blinds for visible and clear vision. 
Still, because these are a highly functional and affordable alternative to blinds, the benefits far outweigh the drawbacks.
Motorization
Do you have children or small pets in your household? Zebra blinds can injure them with cords. Motorized zebra shades will eliminate this hazard. Families with children should consider motorized options.
Motorized blinds offer convenience; you can operate the shades from any room area. You can stay on the couch or lay on a bed and still move the blinds. 
Motorization facilitates efficiency and comfort. If you have tall or difficult-to-reach windows, motorized shades will be helpful. A room with many windows that must be closed and opened regularly will also benefit from motorization.
If you love your current zebra shades and desire the convenience of motorization, you don't need to replace the entire thing; the chains can be swapped with motors.
Fabric and Design Options
You should choose zebra blinds made of 100% polyester for elegance and durability. They are better than those made with regular polyester, which has low quality and won't last long.
You can opt for a smooth and plain fabric or one with a pattern or texture. The fabric can contain differently colored fabric bands. 
You can select zebra shades with a standard design. Alternatively, you can opt for something customized to the features of your house.
Customized design will bring the best out of your house. It will match with other interior décor elements in your room. You should customize the colors for the painting of your room.
Can You See Through Zebra Blinds at Night?
You might be asking: can you see through zebra shades at night? The simple answer is no. Whether choosing room darkening or light filtering zebra blinds, there will be total privacy at night.
Onlookers might figure out diffused shadows with light filtering options, but they will not see through. They combine a light filter with a privacy protector, which makes you enjoy your environment while blocking the outside view.
Zebra Blinds Types and Styles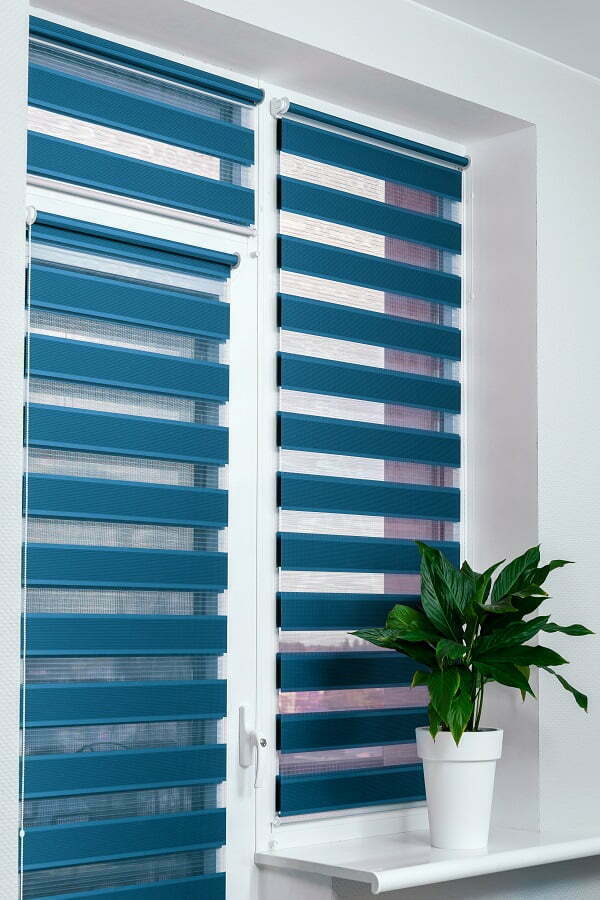 Looking for the perfect zebra blinds? You need to understand the various types and styles. The two major styles are blackout and translucent zebra shades.
Want a light-blocking solution? Choose blackout blinds. If you want the light to filter through, you will need translucent shades.
Types range from China-made prefabricated to designer custom-made types. Designer options cost more, but they have high quality. Cheaper blinds have thinner and more fragile fabric, while designer types are robust with multi-layered fabric. 
The best type will depend on your tastes and preferences. You should also consider your interior decor while factoring in fabric selection, quality, and price.
FAQ
Are Zebra blinds see-through?
Zebra blinds work in two ways. When they are set in the light-blocking position, they are not see-through. When they are set to filter light, they can be see-through.
Why are zebra blinds popular?
Zebra blind is a great choice to block light without sacrificing privacy. With their unique appearance, they add style to any home.
Are zebra shades black out?
No, zebra shades are not blackout blinds. They allow some light to pass through.
Are Zebra blinds private?
Yes, zebra blinds provide reasonable privacy. No one will know what's happening inside your room when they are set to block the light.
How long do Zebra blinds last?
Zebra blinds last like most roller shades, between 5 to 10 years, depending on how well they are maintained during use.
What material are zebra blinds made of?
Zebra blinds are usually made of polyester. Polyester is sturdy and durable.
Are Zebra blinds good for the living room?
Zebra blinds can work in living room decor, especially if you use the shades with multi-color stripes. It's a great way to add decor interest.
Do zebra blinds insulate?
The double layers of Zebra blinds provide extra insulation because they trap air between the layers.
Recap
Liked this article? Here's what you can read next: