Last updated on August 31, 2022
Can window blinds look like shutters? Yes, several types of blinds will resemble the look quite accurately.
Some blind styles are unequivocally called shutter blinds. These look like and function like shutters and blinds in one. And there are a few more kinds of blinds that will help you create the look of interior shutters at a fraction of the cost but still in the same style.
Let's find out how!
Shutters vs. Blinds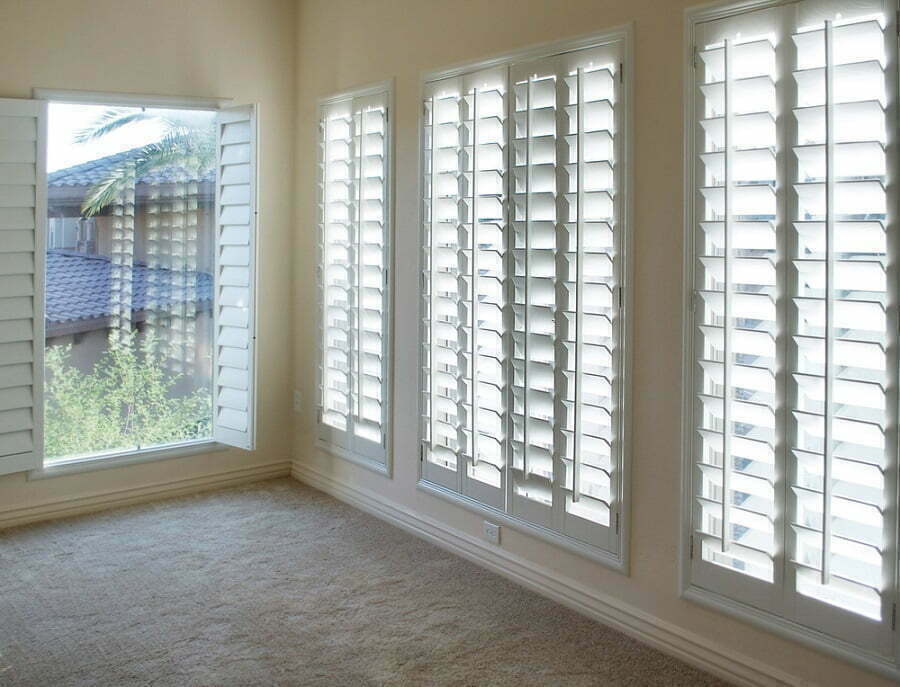 Shutters are window coverings that can be opened and closed manually. They are usually used for privacy and security reasons to cover windows completely. Blinds are made of slats that change position to block or allow light. They are usually used to control the amount of sunlight entering a room.
What Are Shutter Blinds?
Shutter blinds combine both options. These shutters also have adjustable slats to control how much light goes through.
Shutter blinds are made of wood, metal, plastic, or vinyl. They are used to protect furniture and artwork from sunlight, rain, snow, dust, and other elements. They come in many different designs and colors.
Such window shutters can be affixes to cover the whole window or cover certain portions to allow moving parts to come up and down. A type of shutter blind, called cafe shutter blinds, is only mounted to the bottom half of a window. Full-height shutters cover the entire glass door window.
Wooden shutters are the most expensive but last longer than other types. You can choose from a wide range of colors for your shutters.
Blinds Styles That Look Like Shutters
Many types of blinds can look like shutters. These are usually double panel blinds styled to resemble the look of real shutters. If you want an alternative to expensive shutters, these can do the visual trick while still providing the functionality of window blinds.
Venetian Blinds
Venetian blinds are great because they allow you to control the amount of light coming into your room while providing complete privacy at the same time. They are also easy to operate. You have to raise or lower the slats to let in the right amount of light. When you close the slats completely, you'll get total darkness. This makes them perfect for bedrooms as an idea for window blinds.
If installed correctly, Venetian blinds can closely resemble the style of plantation shutters.
Wooden Venetian Blinds
Venetian blinds resemble the look of shutters, and their wooden slats can provide almost the same quality of blackout and thermal insulation.
The best part about wooden Venetian blinds is that they are easy to clean. You need to wipe down the slats regularly. The wood itself doesn't require much maintenance. However, it's important to keep your wooden blinds free of dust and dirt. Make sure to vacuum up all loose particles before wiping down the slats.
Consider purchasing faux wood vinyl Venetian blinds if you're looking for something more durable. These blinds are usually easier to maintain as they don't require cleaning as often. Vinyl blinds can last anywhere from 10-20 years, depending on how frequently you use them.
Vinyl Venetian Blinds
Vinyl blinds are very popular among homeowners who want to add some color to their homes but still want privacy. They are also an excellent choice for those living in areas with high humidity. Vinyl blinds are also suitable for rooms that receive lots of sunlight.
They are instrumental when you want to block out the hot summer rays. Vinyl blinds are available in a wide range of colors and designs. Some even include patterns and textures. In addition, they can be custom designed to match the decor of any room in your house and make them look like real shutters.
Faux Wood Blinds
Faux wood blinds are a great option to give your home a rustic feel without spending too much money. They come in various styles and sizes, so you can choose one that will fit perfectly in your space. Custom-made faux wood blinds will resemble shutters on your windows.
Cafe Shutter Blinds
Shutter blinds are great for covering windows when you want to enjoy the view while boosting privacy. Customized designs can be created to fit your needs.
Shutter blinds work well on desktops to boost privacy. People walking by won't be able to see you if you use them. Bathroom and bedroom windows work well too.
French Door Shutters
French door shutters are explicitly designed for bifold doors and window frames. They can be made to match any style of decor. They are easy to install and come in many different styles. They can be used as decorative shutters or functional shutters. They can be installed on both sides of the frame or only one side.
Wide Slat Shutters
Shutter louvers are made up of many different parts. They come in different sizes, and they're either mounted inside or outside the window frame. Slats are wide, but they're still few. This gives the room a minimalist, modern appearance.
Roller Blinds
Roller blinds are similar to traditional blinds, except they roll up instead of opening. They are great for rooms with large windows since they can be rolled up and stored away easily. They are also great for rooms that receive a lot of direct sunlight. Because of this, these blinds are ideal for kitchens and bathrooms.
How to Make Blinds Look Like Shutters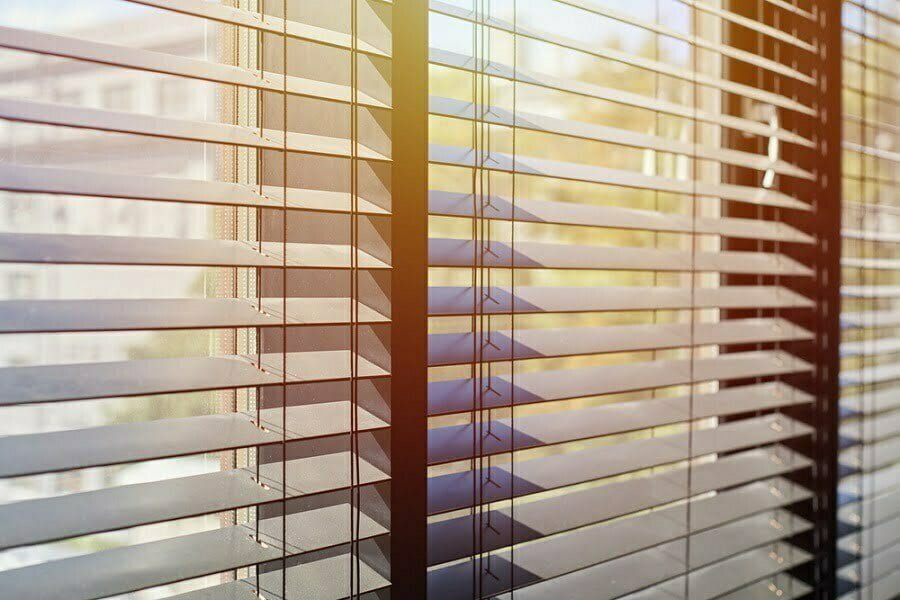 The key to making blinds look like shutters is installing them in two panes. Shutters are usually bi-fold, so you have to make your window blinds look in this style. Adding a frame around them will further improve the look.
Wooden blinds and custom-fit blinds are great alternatives. They're made to measure so they match your window frame exactly, giving you a seamless look you'd get with new shutters, but without the hassle and a hefty price tag.
These blinds also feature slats that can tilt for light control, just as shutters do. And even better, these blinds won't usually require any screws or drills for mounting—snap them into the frame and enjoy your new window treatment.
FAQ
What is the difference between shutter blinds and roller blinds?
A shutter blind is a type of window coverings that resembles shutters. They have slats that open and close to allow light in and block it out. A roller blind is a window covering with a fabric material attached to a track system that allows the material to be pulled up or down.
How much does it cost to replace my old shutters?
The price depends on what kind of shutters you need and how big your windows are. You can expect to pay anywhere from $65 to $100 per hour, depending on the size of your windows and your location.
Are there blinds that look like plantation shutters?
There are several types of blinds that look like plantation shutters. Mostly these are wooden Venetian blinds.
Do I need to buy new hardware if I want to change the color of my shutters?
No. All you need to do is remove the existing hardware and repaint the shutters. If you want to change the color, you'll need to purchase new hardware.
Can I use my current hardware when installing shutters?
Yes. You can use whatever hardware you already own, such as hinges, latches, and locks. Just make sure to choose shutters that will fit over your existing hardware.
Why do houses have fake shutters?
Fake shutters are there for the looks. Many people think that the look of shutters improves their exterior decor even though they serve no function.
Do shutters look better than blinds?
It depends on the style of the blinds. The ladder can look like shutters, so they look just as good. However, many real wooden shutters have a classic look that cheap mini blinds won't offer.
Are shutters warmer than blinds?
Wooden shutters can provide better insulation than vinyl blinds. However, some types of blinds (such as blackout thermal blinds) can provide better insulation. 
Which is cheaper, shutters or blinds?
Wooden shutters are typically more expensive than most blinds because they are made of more expensive materials and are more challenging to install.
Recap
Liked this article? Here's what you can read next: