Last updated on October 14, 2023
No, mini blinds are not out of style if you choose right. The key is finding what works in your interior and exterior decor. Here's how.
Mini blinds themselves are not out of style. Some designs of build-grade PVC mini blinds might look outdated, but you have more options to choose from. If you pick right, your blinds will look very much in style.
Window blinds rank as one of the most popular window treatments, and the design aesthetic has advanced considerably since the days of wide, off-white metal or hardened plastic blinds.
Today, window blinds come in different materials, colors, and styles, and mini blinds are often chosen even though wider blinds allow more natural light into a room.
Roller blinds and Venetian blinds remain the most popular choices of modern decorators, but mini blinds remain popular when adequately chosen and supported with a complimentary window treatment.
What Are Mini Blinds Exactly?
Mini blinds refer to the type of blinds that has 1-inch slats. These are usually made of vinyl, but they can be made of a variety of materials too. When you think of mini blinds, you usually imagine builder-grade blinds that don't add any decor value. It's a popular choice because they are cheap and neutral. However, there are many more kinds of these blinds that can add decorative elements and look stylish.
Are Mini Blinds Ruining Your Curb Appeal?
One design rule is difficult to break, so you should follow the wisdom: Use white on street-facing window treatments. That avoids the design faux pas of creating a mismatched effect like Skittles candies. Children love these colorful candies, but using multiple colors on street-facing sides of window treatments creates a nightmare. If you use modern mini blinds, you can easily find white blinds or blinds with a white fabric backing that blends perfectly with your window design.
Adding a lining increases not only your home's curb appeal but also protects your fabrics or other window treatment materials from sun damage. You can use pleasing colors on shutters, shades, mini blinds, and sheer curtains for interior design effects while ensuring a white appearance from the street.
How to Make Mini Blinds More Stylish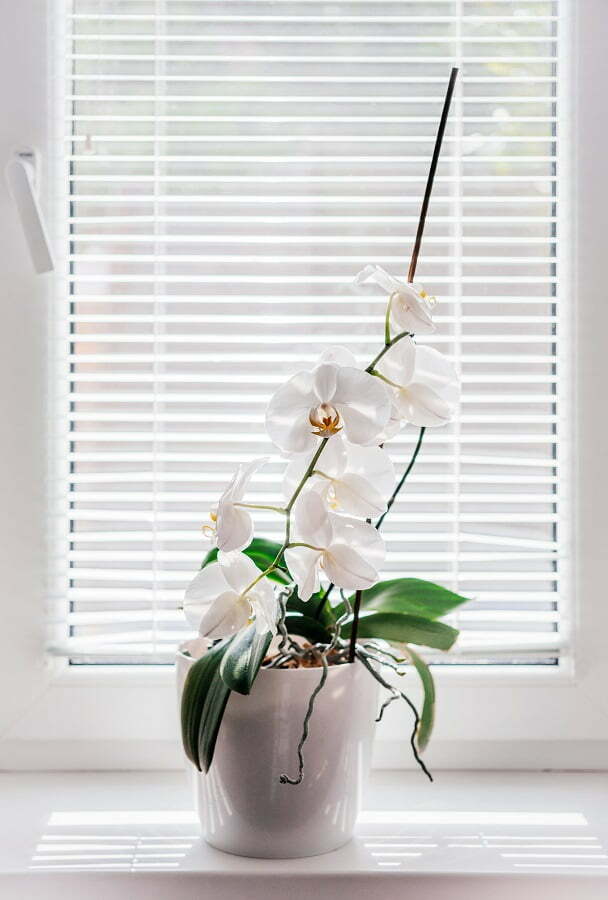 Maybe you're stuck in the mindset of the Venetian blinds used in schools in the 1950s and 1960s. These plastic blinds were invariably raised and lowered unevenly, and they just felt cheap, outdated, and cheesy. You find a perfect home while apartment or house hunting, except every window is covered in blinds. Even ugly blinds can be brought into the 21st century with the following practices:
Open your blinds wide to enjoy natural light, or slant the blinds almost horizontally to minimize their appearance.
Keep your blinds mostly all the way up or down to minimize their footprint.
Use sheer curtains or shades to draw the viewer's focus.
Add plants to draw focus and make your window treatments look better.
Use your curtains strategically within the limited space to complement the blinds.
Are Other Blinds Out of Style?
People often look for alternatives, but blinds will always be in style because they allow you to block the view or peak through slatted blinds without being observed. As long as you follow the white-to-street rule, you can paint the backs of faux wood blinds, use modern roller shades with white reverse color, and use Roman and woven wood shades with a white liner.
Should You Put Curtains Over Mini Blinds?
Even though blinds are often seen as the alternative to curtains, you can absolutely pair blinds and curtains to make a significant design statement. Draperies can add texture to your space, and linen provides a crisp, modern aesthetic. Velvet drapes can provide an eclectic interior look.
You should pay particular attention to how the curtains match or complement other colors and fabrics in your room's design. Timber and aluminum are often used in mini blinds, and these often use warm colors like burnt orange. Bright colors can work when you pair the blinds with drapes or curtains in a muted shade of the blind's primary color.
You can easily pair blinds with curtains to enhance flexible decorating strategies as long as you remember the importance of blocking light and ensuring your privacy. White or light cream colors for curtains work with most styles of mini blinds and create a crisp appearance.
What Are the Most Stylish Types of Blinds?
The trends move back and forth in determining what is considered fashionable in blinds. Perhaps the most significant change in 2021 involved the increased use of mini blinds in home office decor. More and more people work from home, and mini blinds seem to generate a professional workspace.
The challenges of designing a productive home workspace include:
Reducing screen glare on computers and peripherals
Window drafts
Rooms become too hot in summer and too cold in winter
Nosy neighbors being able to view proprietary information
Excessive zoom usage
Strangely enough, mini blinds and other blind types that have become increasingly fashionable also solve one or more of these workplace issues. Mini blinds can prevent outsiders from seeing inside, help to reduce screen glare, and provide ways to heat or cool a room.
The second most popular blinds are roller blinds with blackout capability. These blinds have multiple customization options, come in many designer colors and patterns and rank among the most affordable blinds.
Vertical blinds are making a comeback, and their popularity has waxed and waned as homeowners seem to have a love-hate relationship with vertical blinds. Older vertical blind designs often were exclusively meant for offices in dull yellowish colors, sun damage, and fraying edges. However, modern vertical blind designs and styles are now considered cool and cutting-edge.
Blackout blinds have also become increasingly popular based on their ability to enable better sleep. Like roller blinds, blackout blinds can provide the ultimate privacy for any activity.
Cellular shades are trending in 2022 because of their energy efficiency. The design traps air between layers, thus giving it insulation properties.
Smart blinds are also a new trend that allows you to connect window treatments to smart home technology. You can control the blinds with your smartphone or smart hub systems and automate them.
Creating an alternative to plantation shutters is another style that works. For this, you need made-to-fit blinds that can be built into bi-fold windows.
Finally, it is safe to say that horizontal blinds still win over their vertical counterparts. The functional design and ease of installation and maintenance give them an advantage.
Do Blinds Have to Match Throughout the House?
Blinds don't need to match, and you can customize your design by matching different styles of blinds with fabrics, furnishings, and decorative focal points. Again, remember the white-to-street rule, and make sure that the street-facing side remains white or off-white. You can manage this with paint, white fabrics, liners, and white or light-colored blinds.
Recap
Liked this article? Here's what you can read next: