Last updated on September 26, 2022
Here are the best window blinds ideas for the kitchen to control the light, provide privacy, and decorate. Read on!
Windows in the kitchen are a fantastic way to inject vibrancy, color, and design into the space. Blinds let you control the daylight and privacy in the kitchen, but they don't have to be boring.
Roman shades are all the rage in kitchen decor these days. They are practical because you can open as much or as little of the window as you want. And you can get them in any design you want.
Valances over blinds are also getting popular. The look is much like the Roman shades, but you can use them even with your regular mini blinds.
Blinds and shades, in general, are a better option for the kitchen than curtains since they are more functional, less time-consuming to maintain, and more aesthetically pleasing.
In addition, they are cost-effective, so you may improve your kitchen's aesthetics without breaking the bank. Blinds are also easier to maintain and clean than curtains in the kitchen, especially on windows above the sink (no more pesky grease spots.)
These are the most popular options and some creative ideas you can do with blinds and shades in the kitchen.
Roman Shades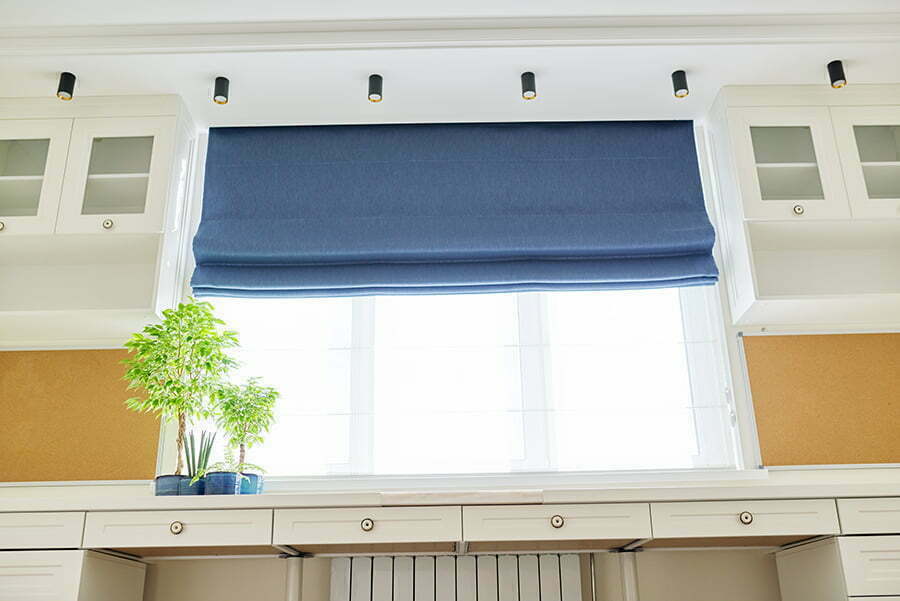 We are used to seeing Roman shades in other rooms but rarely in the kitchen in the past. But these days, it's the go-to option. It makes the kitchen look cozy and lends itself to be used as a decor feature.
Choose shades in a color that complements your decor theme. Use solid colors or patterns. The latter is very popular in earthy tones. They make the kitchen look more welcoming.
If you're after the farmhouse look, floral patterns and shabby chic fabrics can add charm to the space.
Overall, it's a great alternative to standard window blinds.
Valence or Cornice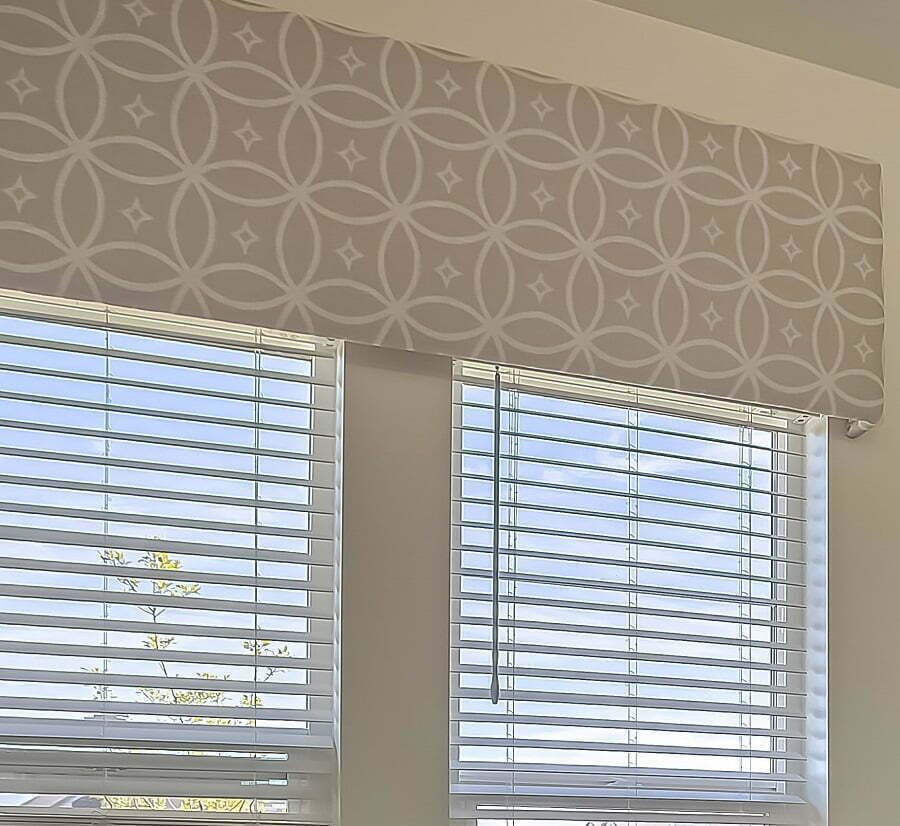 Wooden cornices are an attractive and practical way to decorate the top of your windows. And there's no reason why they cannot be used with blinds.
The sides and front of a cornice are always made of wood, regardless of whether it is lined and covered with fabric, stained, or painted. In most cases, plywood is utilized for a cloth wrap. A valance consists of a fabric-covered front board and two or more fabric-covered sides that drape freely from the top panel.
This makes them ideal for kitchen decor as they can also hide the unsightly parts of the blinds (such as the roller blinds mechanism.)
Venetian Blinds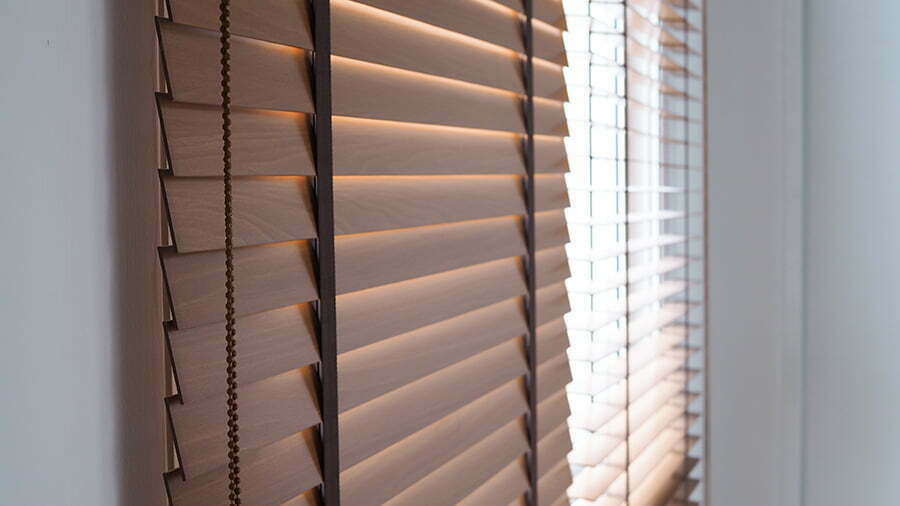 Venetian blinds remain a popular choice for today's houses despite their long history of use in various building styles.
Venetian blinds have always been a stylish and well-liked window option because of their unique design. They have a straightforward construction consisting of horizontal slats of wood or metal strung from ladder cables.
They are simple to raise or lower, allowing you to choose how much light enters the room. Even after all this time, Venetian blinds remain the most popular choice for windows in commercial buildings.
Venetian blinds are popular in kitchens because they allow for the control of natural light, making them ideal for large and small spaces.
Woven Wood Shades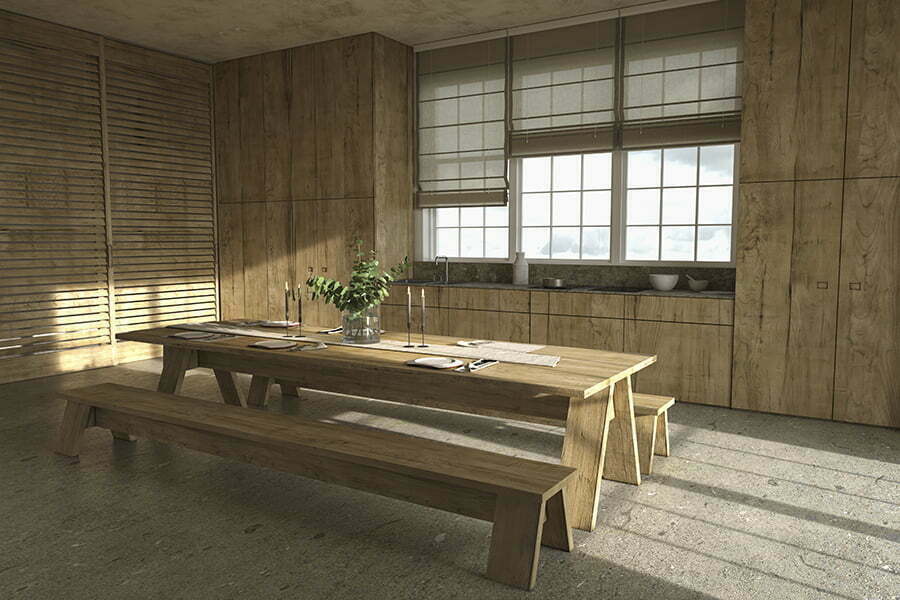 Woven wood shades add an earthy touch to kitchen decor. Since they are made from sustainable materials like bamboo, jute, reeds, and grasses, these eco-friendly products will blend in with your home's natural aesthetic.
Because of their timeless design, your new window coverings are both environmentally friendly and aesthetically versatile.
Distressed Wood Blinds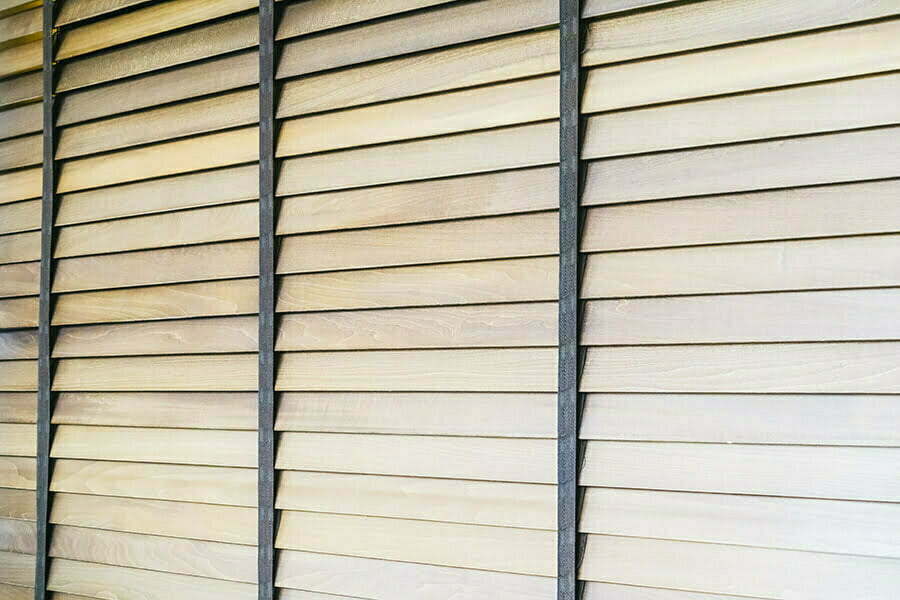 Distressed wood slats create that shabby chic look everyone craves in a farmhouse-style kitchen. It's one of the prevalent trends.
You can get this look by buying faux wood vinyl blinds in a distressed-look print, or you can use old window shutters to achieve the effect.
Faux Wood Blinds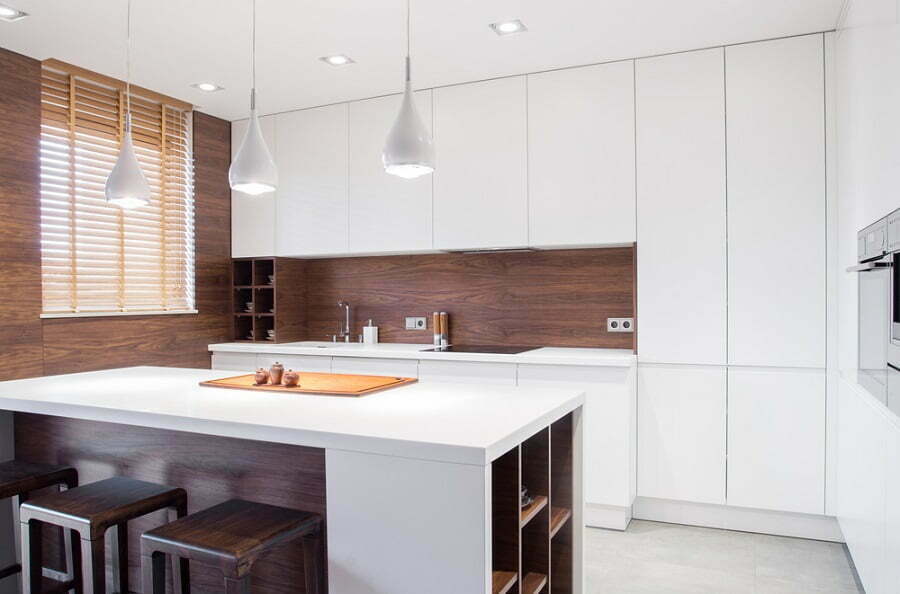 Faux wood blinds are really made of long-lasting polymer materials like vinyl.
Don't be fooled into believing that they lack the character of genuine wood because of it, however. Indeed, the opposite is true.
They may pass for authentic timber, thanks to their convincing look. You may find imitation wood blinds in many different colors and wood grain textures.
Faux Wood Shutters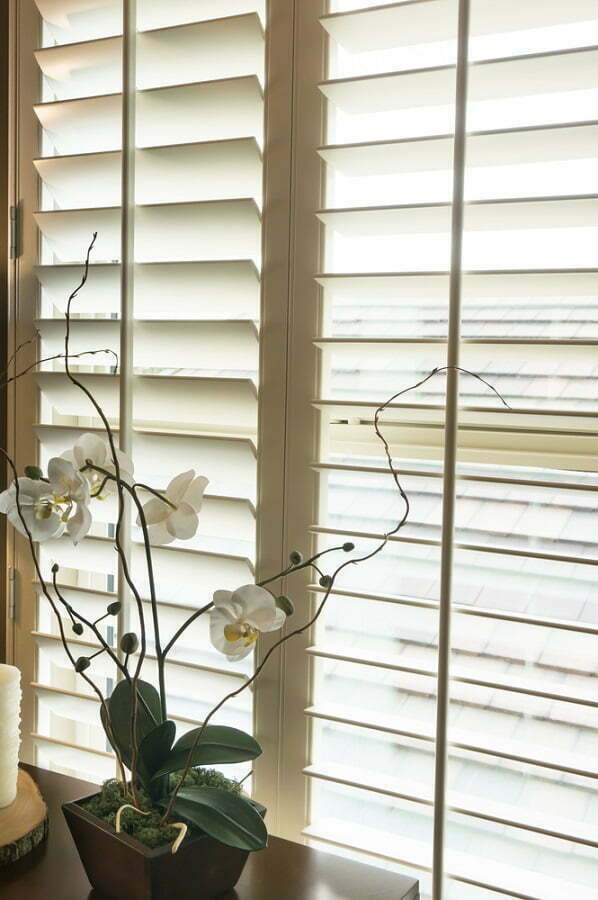 Most imitation wood products are marketed as a more affordable alternative to hardwood, but a closer comparison reveals that many are inferior in quality to cheap hardwood.
Composite wood, a mixture of wood fiber, plastic, and glue often coated in vinyl, accounts for the vast majority of the "fake wood" sold today.
The vast majority of engineered materials of this kind are not durable, cannot prevent the transmission of sound or the loss of thermal energy, and become yellow and fade from prolonged exposure to sunlight.
However, it is a cheaper option if you're after a specific decorative look for your kitchen.
Cellular Shades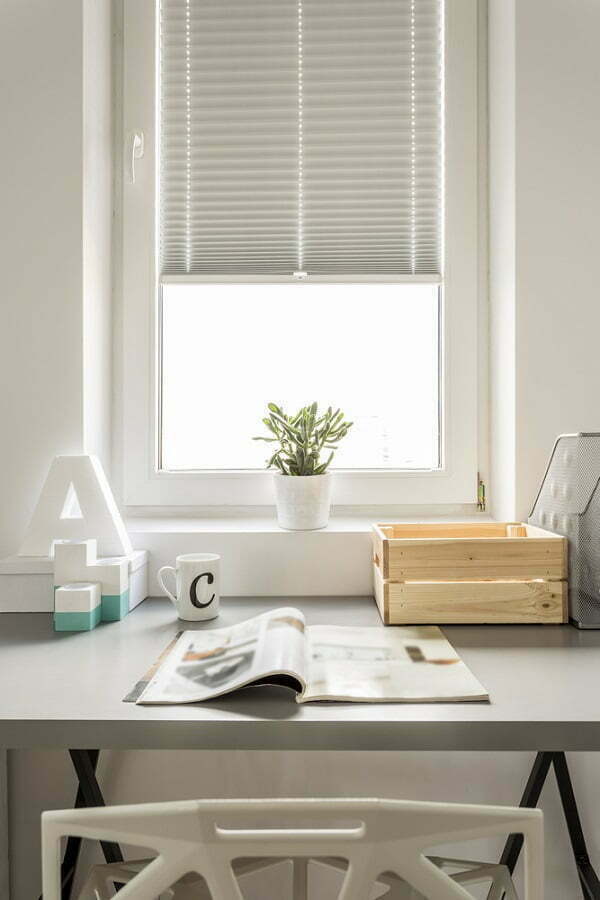 Cellular shades for windows may either be rolled up (in the case of roller shades) or folded up. It's a practical option for the kitchen.
Cellular blinds often collapse into neat pleats. Various cellular shade alternatives are available, including different pleat sizes, colors, and light-blocking capabilities (from sheer to blackout).
All the while, their honeycomb-shaped air pockets or cells provide the best possible amount of insulation. Top-down/bottom-up, cordless, and motorized configurations are all on the table.
Sheer Shades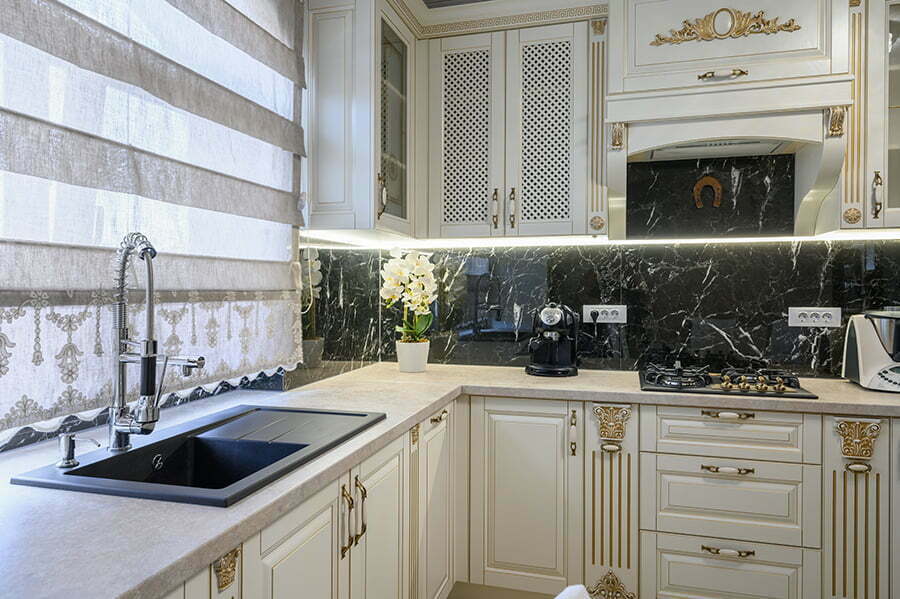 You may soften the light in your kitchen by covering the windows with sheer shades and instantly inject some elegance into your design.
Sheer shades provide some seclusion and go well with other window treatments for a multilayered look.
Roller Shades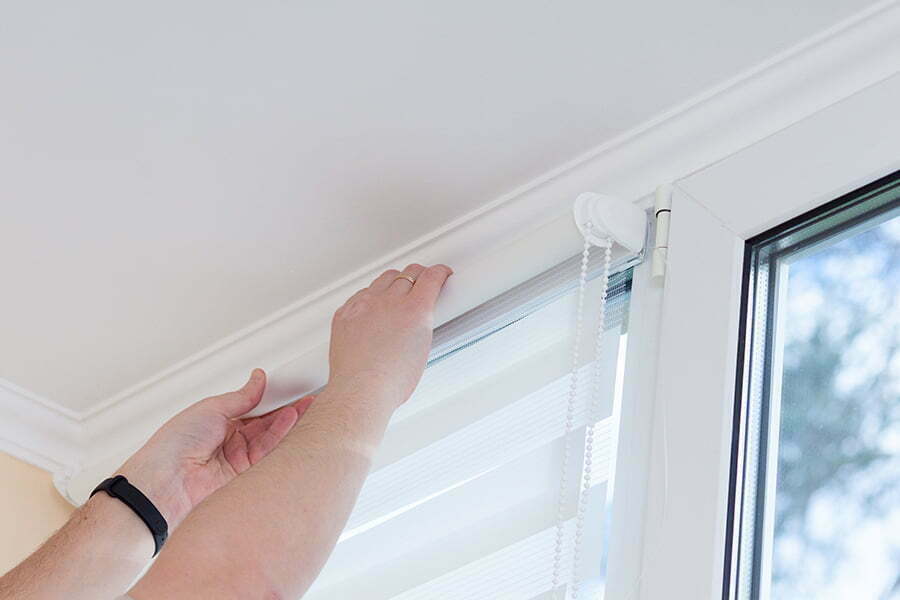 When you wish to see outside the window, you can simply roll up the cloth that makes up your roller shades.
They are available in many styles, sizes, hues, and textures. Roller blinds are often used in the kitchen because of their adaptability to various decor styles.
Numerous alternatives are available to help you find the perfect finishing touch for your home, such as decorative hems, designer patterns, wooden valances, and braided cords.
The bottom portion of roller shades may be changed to your desired height while the total amount, known as the headrail, remains fixed.
Pattern Blinds on Window Above Sink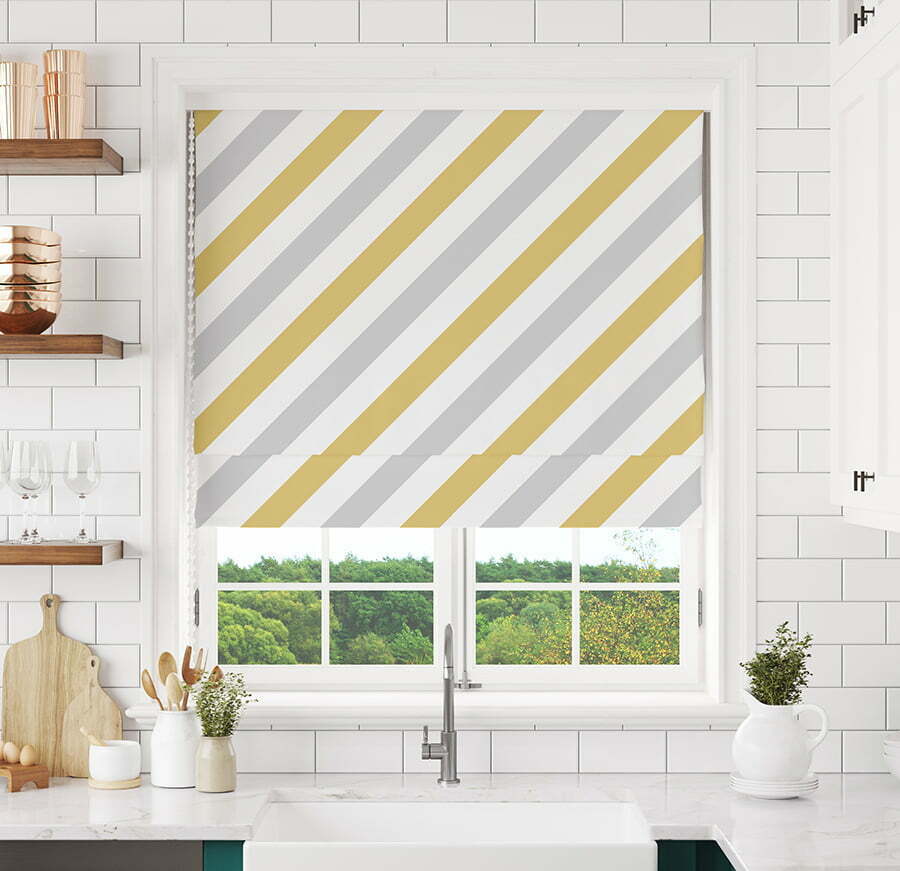 The window above the sink is the ideal place for pattern blinds or shades. A unique pattern will add some spice to your kitchen decor.
Thinks about popping colors and patterns that would make a statement and perhaps even become the focal point of the space. Roller shades are practical as you can open them easily to let the light in and enjoy the views while cooking.
Shutters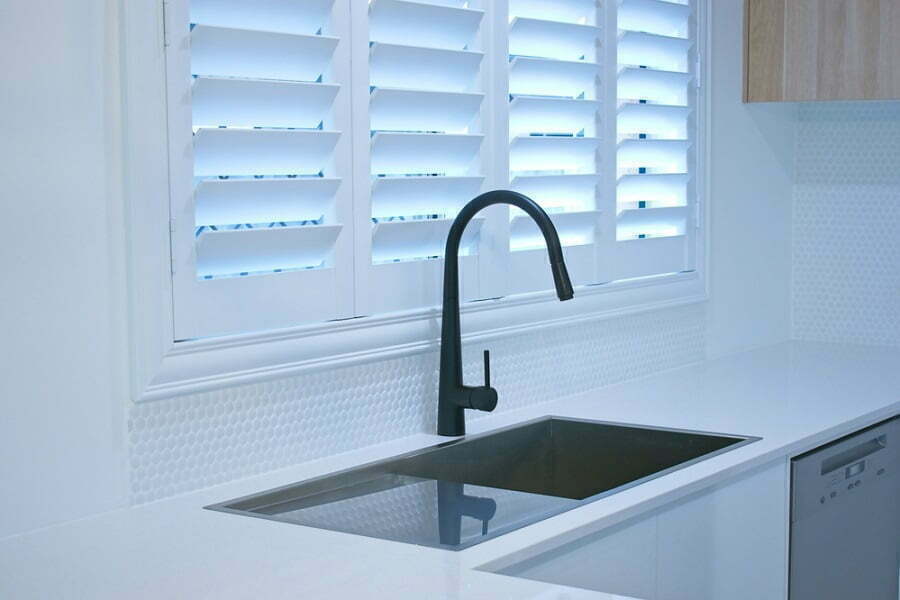 One definition of a window shutter is a sturdy and reliable window covering with a frame made of vertical stiles and horizontal rails (top, center, and bottom).
Almost everything that can be installed inside a structure may be set within this frame, including louvers (either moveable or fixed, horizontal or vertical), solid panels, cloth, glass, and more.
Aside from its practical use (such as regulating the quantity of natural light allowed into a space), shutters may also be used for aesthetic purposes (by improving the look of a window) and for more theoretical ones (by protecting it from the elements or unwelcome intruders).
Window Blinds Outside the Window Frame Add Visual Height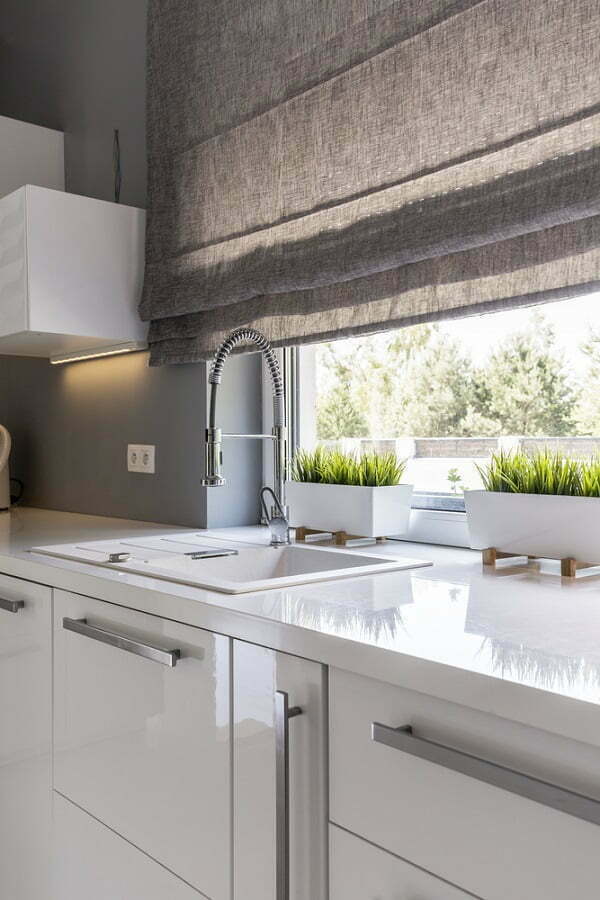 Typically blinds are hung within the window frame. But consider hanging them outside the frame and higher above the window. Roller blinds and Roman shades are great for this.
In this case, the window looks higher, adding an overall sense of height to the kitchen. This is especially important when decorating a small space.
Window Blinds in Pastel Colors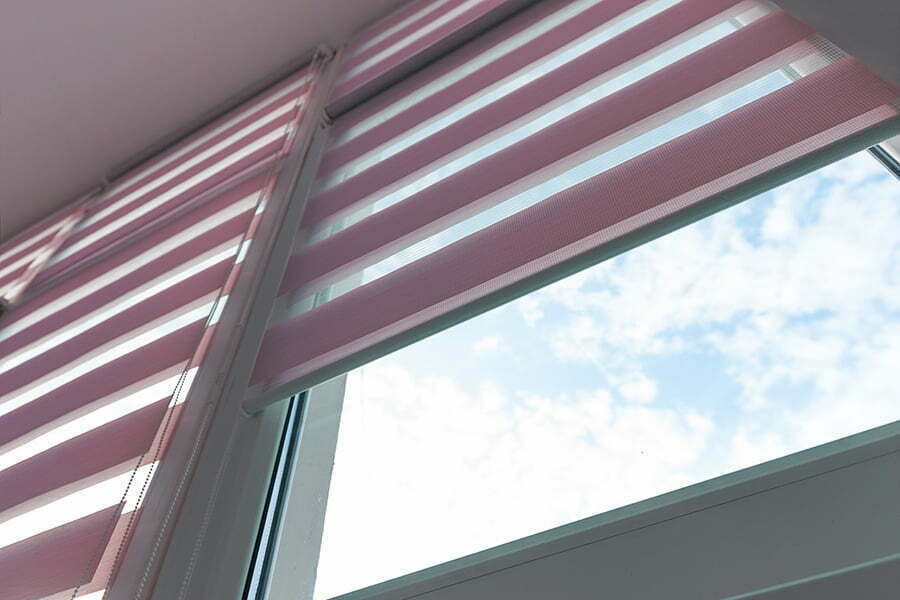 If you're looking to modernize your kitchen and give it a breath of fresh air, these pastel colors could be just what the doctor ordered: lavender, lilac, tangerine sherbet, apple green, lemon ice, sky blue, strawberry cream, soft yellow, and light green.
Colors of the pastel family (also known as spring colors or sherbet colors) provide a calming effect while simultaneously stimulating.
The atmosphere is brightened and soothed by their all-natural, airy vibe. Use home decor with pastel tones, but don't limit yourself to plain colors; experiment with patterns.
Floral patterns, stripes, dots, bird and botanical prints, latticework, and abstract motifs are all excellent examples of patterns that work well with pastels. The soft, ethereal vibe of a pastel room is amplified by the addition of light-filtering thin drapes and shades.
You may breathe new life into your house all year long by decorating with soft, lovely pastels this season.
Designer Print Blinds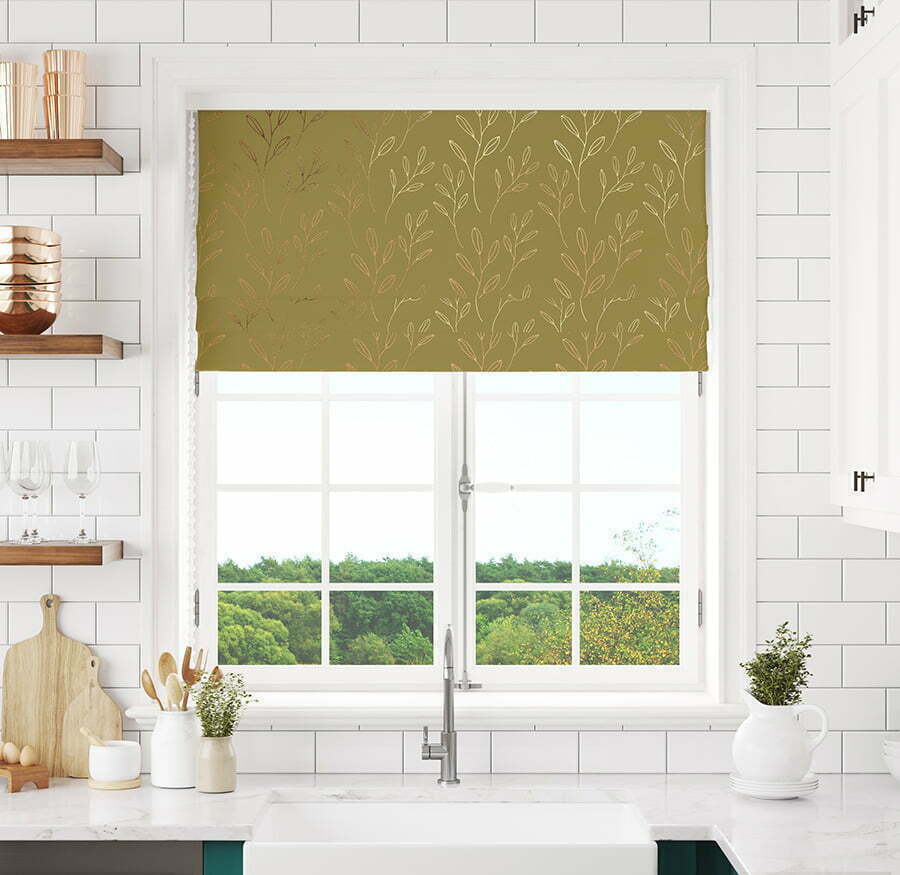 Digitally printed blinds, produced to order with your artwork, logo, or picture, are the best way to personalize a space and may be manufactured in any desired style (sheer, transparent, or blackout).
Thanks to advances in digital printing, the possibilities for customizing a roller blind for your home or workplace are endless.
Thanks to digital printing, we can make photo blinds from any photo or image you provide. Or, you may choose from the many paintings we have available.
What about the picture-perfect scene you captured on your most memorable vacation? If you want to remember this for a more extended time, why not get it printed on your blind?
Window Blinds in a Popping Color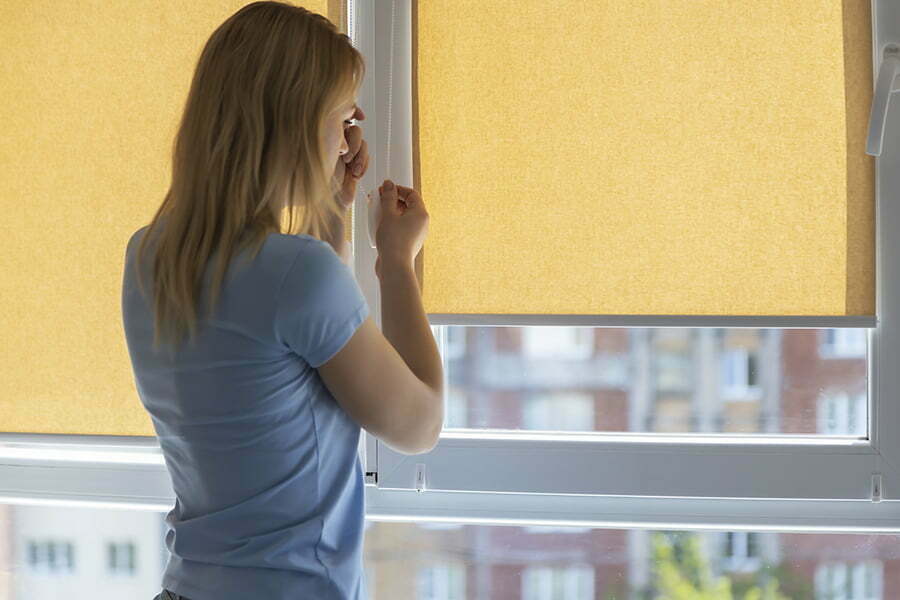 Add blinds in a popping color to make a statement in your kitchen decor. Choose a color that is the opposite of your entire kitchen theme.
Shades that are easy to replace can give you ample room to experiment. You can make this a seasonal thing.
Use earthy colors in autumn, minty greens in spring, and popping blues in the summer. Or use entirely different colors — it's up to your imagination.
Kitchen Window Blinds Can Make a Decor Focal Point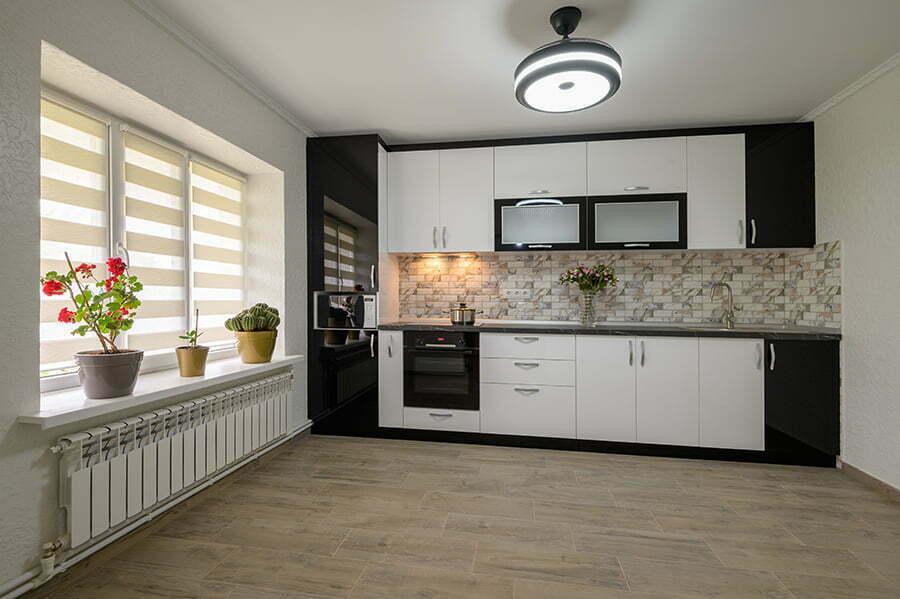 Windows may be a stunning focal point in any room, especially if the view outside is beautiful.
Stylish windows may elevate the visual appeal of a room by drawing attention to the windows themselves and drawing the eye outward toward the scenery beyond.
Top-down Style Blinds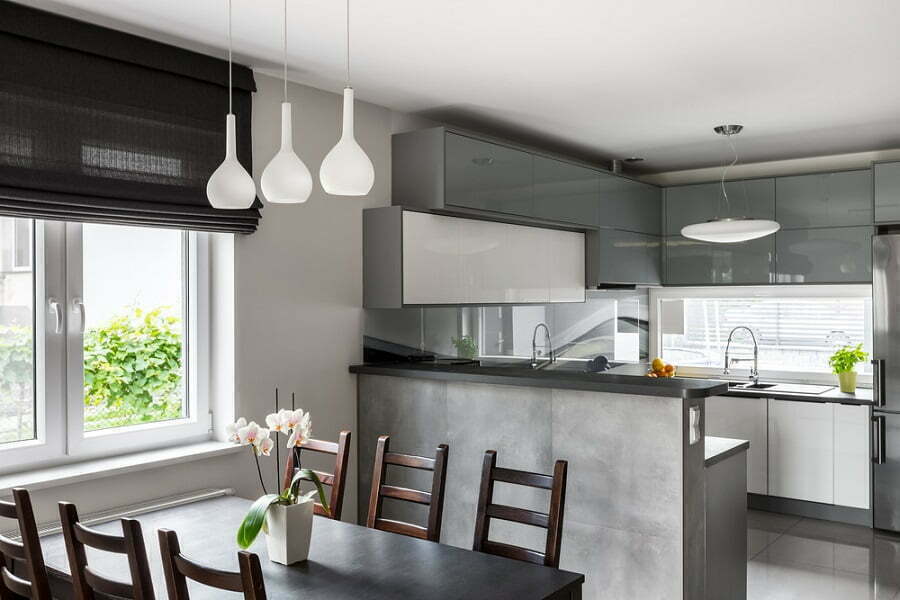 The name says it all: top-down, bottom-up blinds may be raised and lowered from the top or the bottom.
Both may be used together for added effect. The purpose of a top-down, bottom-up shade is to provide complete seclusion without blocking out the sun. In addition, they have a sleek, uniform design that works with any decor.
The options for customization with this kind of window covering are extensive. This design enables you to adjust your shades to any angle, unlike the bottom-only style of standard blinds.
An example of typical top-down blinds is the Roman shades.
Cafe Curtains with Blinds
Cafe curtains may be put up quickly and for far less money than full-length drapes. They are often referred to as half-window curtains, providing a stylish solution to allowing light while maintaining privacy.
Curtains are hung in the middle of a window, usually between 24 and 36 inches in length.
Hanging a Wreath on Blinds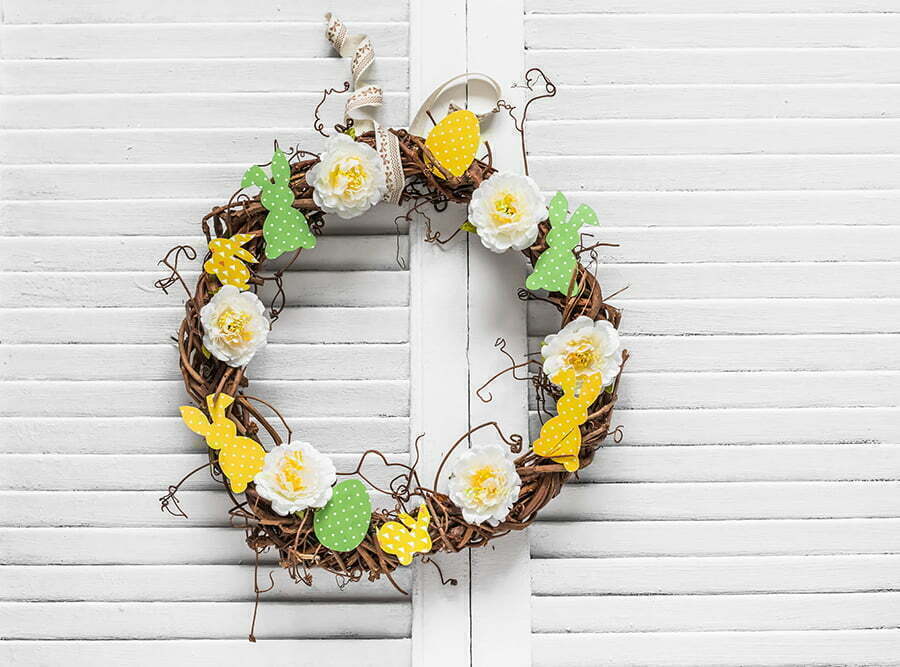 Wreaths may be hung on windows in any convenient location. Depending on preference, it may be placed either at the top, the center, or the bottom of the window.
Your choice. But remember to hang all your wreaths at the same height and in the same spot on each window.
Hang them so that the center of the wreath falls about a third down from the top or a third up from the bottom for an aesthetic look (the rule of thirds.)
FAQ
Is it important to have window blinds in the kitchen?
You may use either blinds or curtains on your windows, and they'll look fine. However, you should consider whether blinds would be a better option than curtains in the kitchen. There is a high risk of food and liquid accidents in kitchens, and there may also be issues with privacy and illumination.
What are the best blinds for a kitchen?
The best blinds for the kitchen are made of materials that are easy to clean and waterproof. You may also avoid blackout blinds because daylight is much needed in this space.
What can you use to cover the windows in the kitchen?
Choose roller blinds if all else fails. They may cover as much or as little of a window as you choose, and they come in various lengths and widths made from fabric, mesh, and other materials that fit your decor.
Recap
Liked this article? Here's what you can read next: