Last updated on September 26, 2022
Use these kitchen window curtain ideas to make your space look cozy while remaining functional. Read on!
The window treatments in the kitchen are entirely optional. However, installing curtains in the cooking area is not at all inappropriate.
The elegant framing of a window can be accomplished through the use of patterns, color, or opacity with the help of curtains.
When a kitchen window is too long, too wide, or in an unusual shape for blinds, curtains are a good alternative. Then it is best to hang curtains in the window instead of blinds.
Dressing up kitchen windows with curtains is a constant battle between allowing as much daylight as possible and maintaining your privacy.
The appropriate selection can also work wonders for the appearance of the kitchen. These are some of the most brilliant ideas, ranging from the time-honored to the cutting-edge contemporary.
White Sheers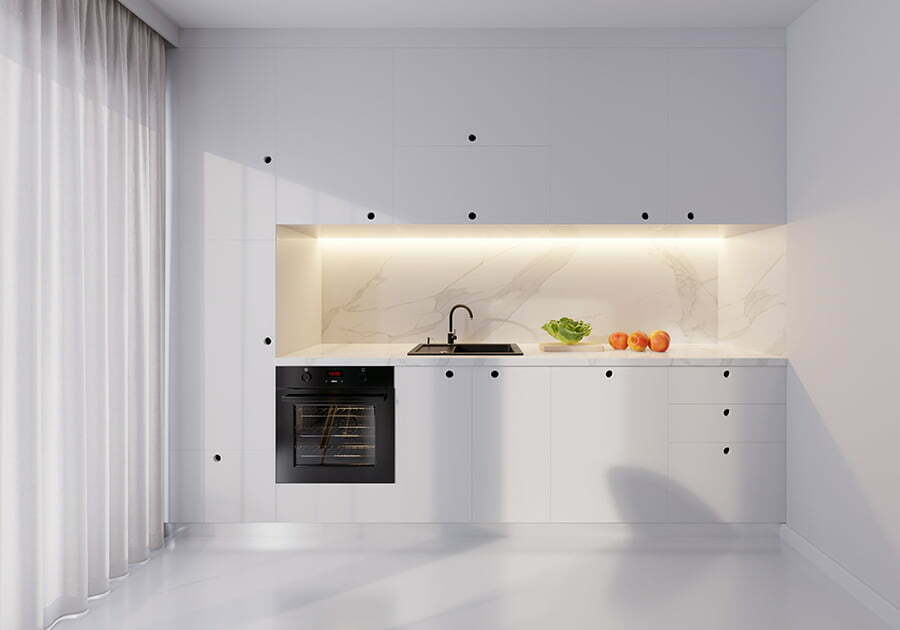 The sheer white curtain is a popular choice, although it does not offer much privacy or shade.
However, we adore the glow it creates whenever sunlight passes through it. Sheers are one of the most flexible curtain options available because they can be used in any room and complement any design aesthetic.
Pop of Color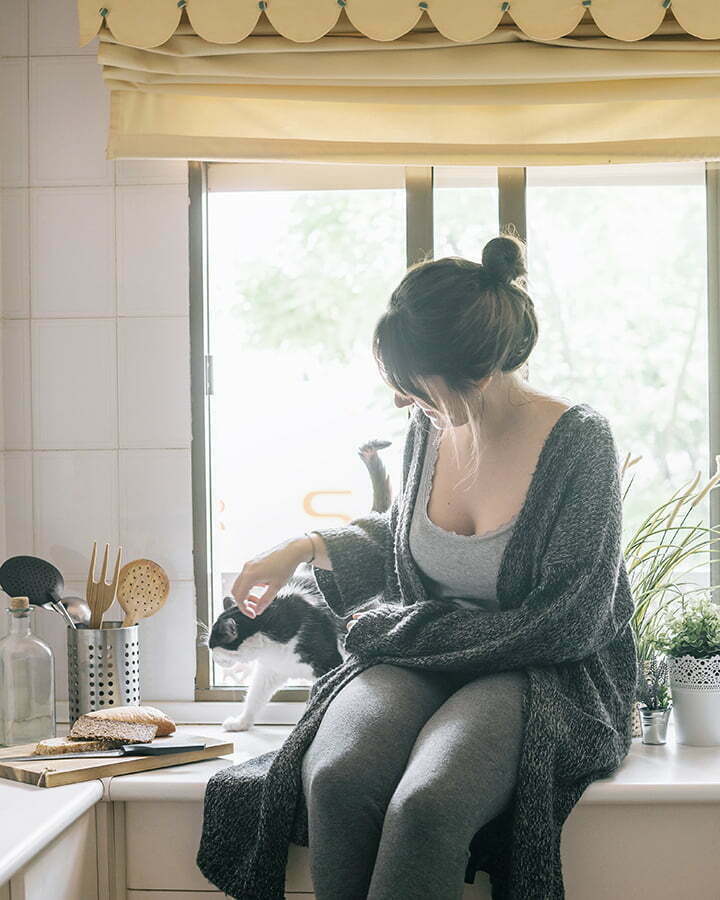 To have a gorgeous light that is also very bright in the kitchen.
It's nice to have a kitchen decorated in varying shades of light and dark grey, with colorful accents coming from the curtains.
Green Curtains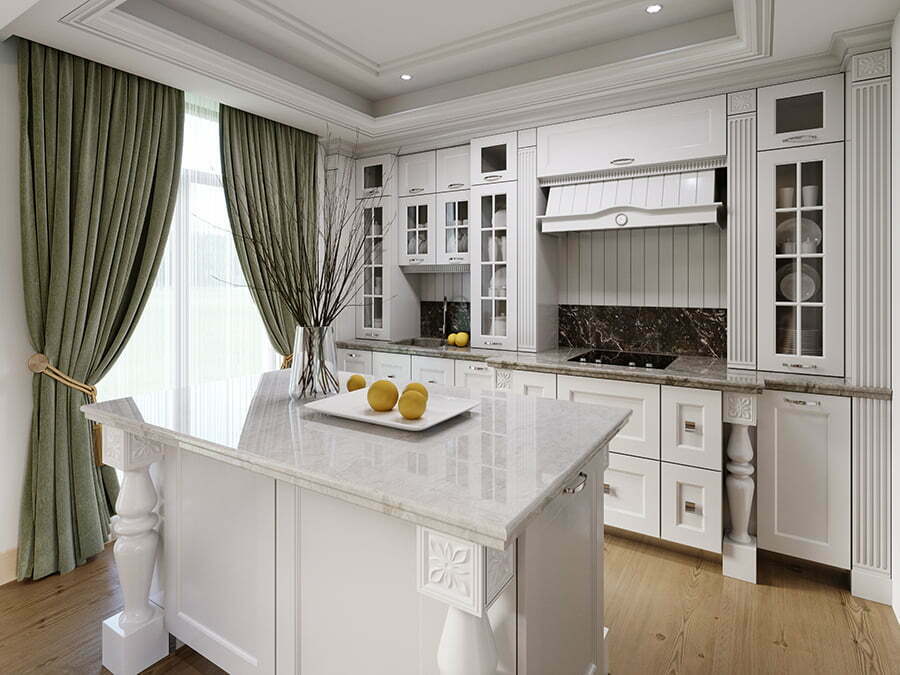 Green curtains are fitting in the kitchen. Not only because they give out a close-to-nature vibe but also because it's a good choice of color for the space.
Use subdued pastel tones for green curtains. Or choose a bold accent in a vibrant minty green. Either way, these window treatments only add to your kitchen decor.
Cream Curtains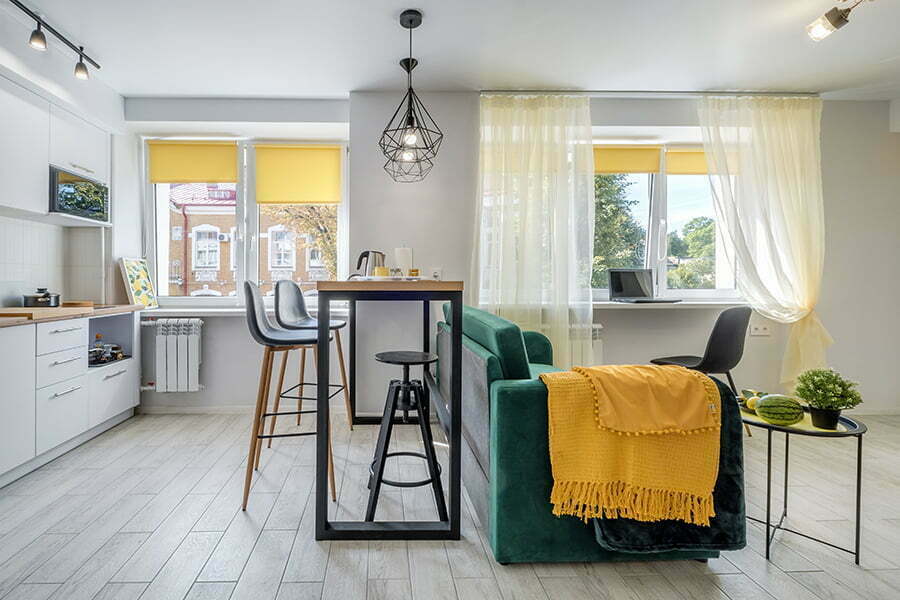 Cream on cream has never appeared more appealing. The straightforward solution is to select a color that is either one shade lighter or one shade darker than the cream color of your walls.
Depending on your preferences, you can choose a cotton or khadi material with a satin look. Don't worry, and we assure you it does look good!
Plaid Curtains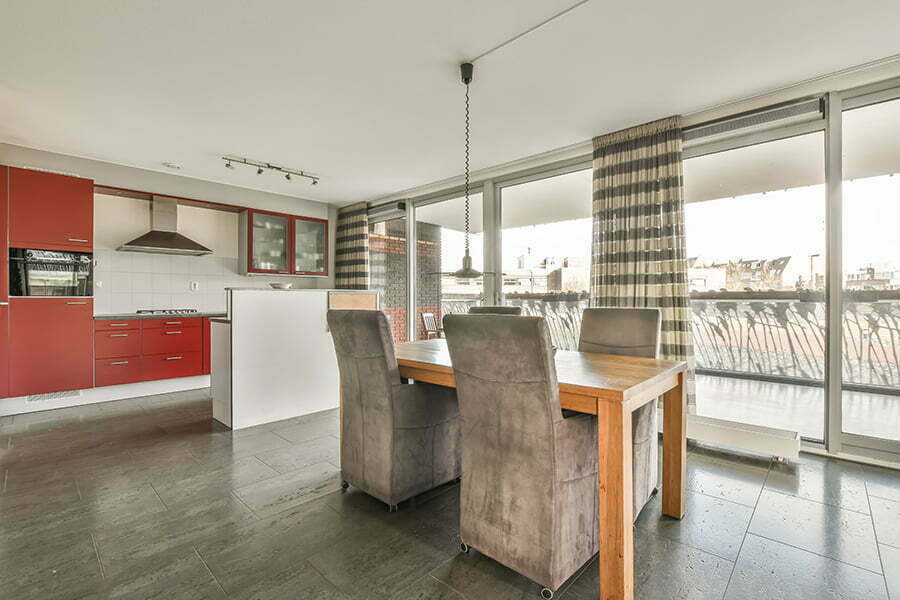 When we think of plaid curtains, the first thing that typically comes to mind is a dense, woolen-style fabric. However, this isn't always the case.
If you would like to let more sunlight into your room but don't require curtains for privacy (perhaps because that window does not look out onto a road or another building), then sheer and semi-sheer curtains are a better idea.
In this instance, the checkered pattern will appear less boldly, but it will still be easy to identify.
Curtain Prints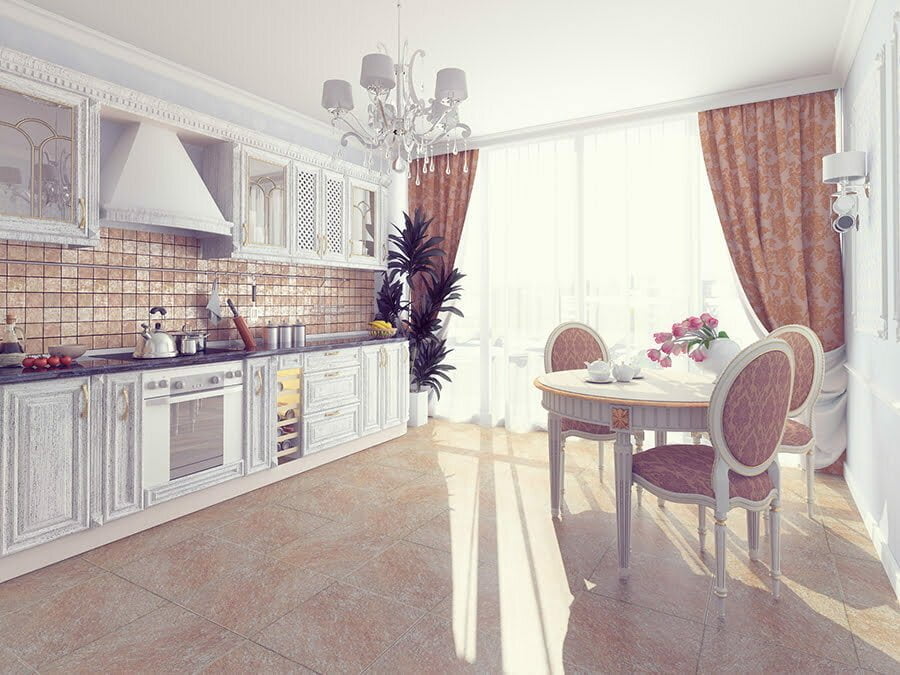 It's what the grandmillennial style is all about. We must look at the rest of the decoration before deciding whether to use prints or solids.
As a result, one strategy for working with printed curtain designs for windows is to combine them with furniture in solid colors and accessorize it with printed accessories like area rugs, chair upholstery, and so on.
You could use quirky prints and geometric patterns in a contemporary space, whereas florals would fit better with traditional or modern classic decor.
Neutral Curtains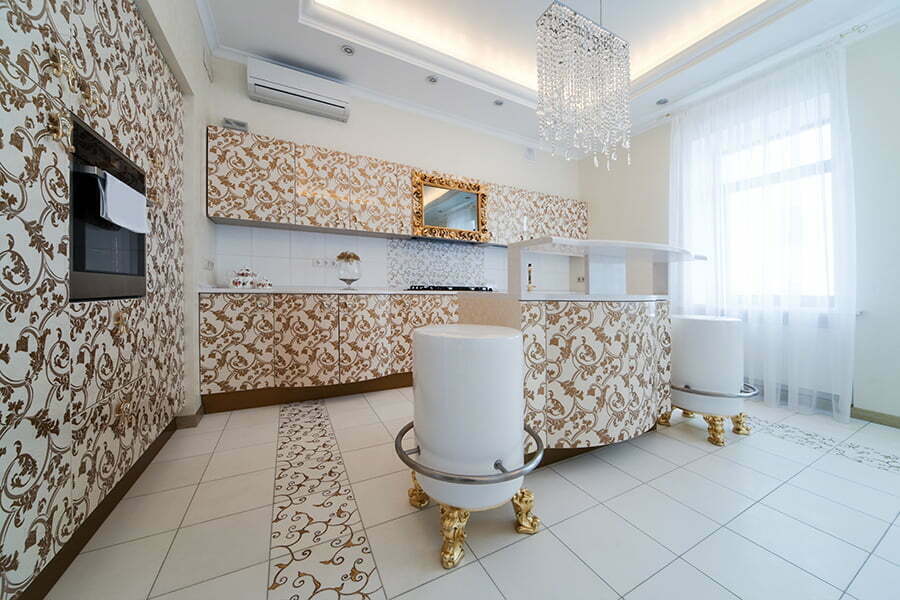 Neutral curtains are the way to go if you want to emphasize other decor elements in the kitchen (like the cabinets, the countertops, or the furniture.) Especially if the kitchen is small.
Light curtains fit a small kitchen as they make the space look bigger. But you should experiment with warmer and darker but still neutral colors in a large kitchen.
White, a very light gray, or even a very light blue are all excellent color choices for coastal kitchens.
It would help if you also considered selecting drapery that has a design that complements the backsplash in your kitchen.
Vintage Curtains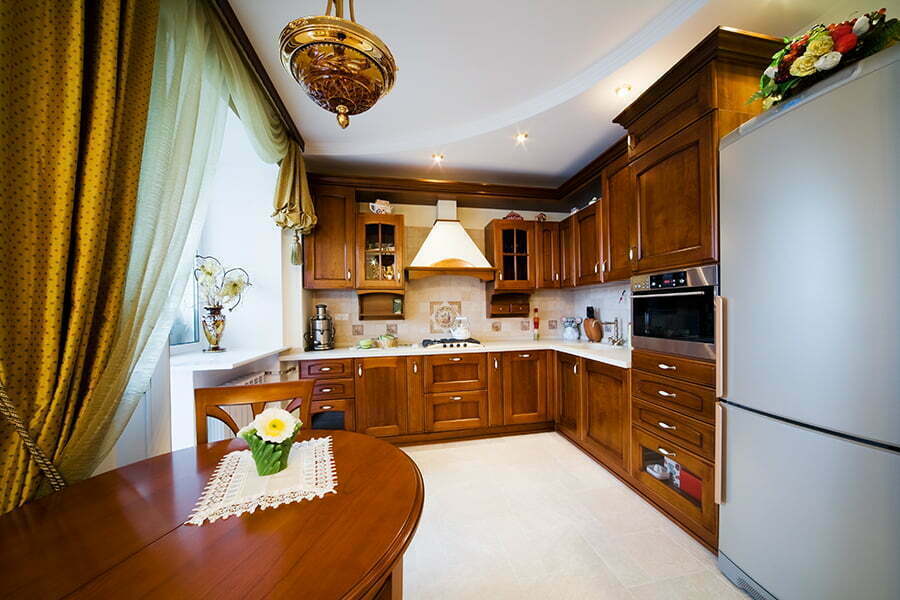 Vintage curtains say a lot about you. They are a fantastic way to add color and beauty to your home and reflect your style and taste, and they are an excellent reflection of both.
Mixing Patterns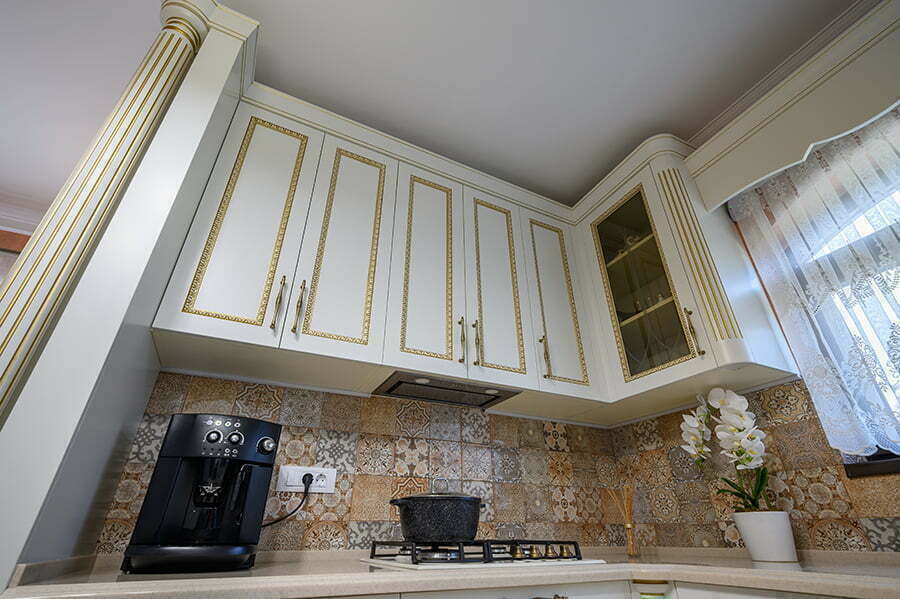 Your design options can be expanded by combining different colors and patterns, but if you do too much, the space will feel cluttered and disorganized.
To break up the lines and shapes created by your patterns, sprinkle in some solid colors every once in a while.
In addition, make sure that your patterns move freely around the entire space and are not confined to just one side. Use no less than three different patterns in one room.
For instance, you could put together a grouping of floral, striped, and polka dot patterns. Paisley, herringbone, and stripes are the members of yet another pattern group that go together quite nicely.
The third group of patterns could consist of two plaids of varying sizes and a floral design.
Floral Curtains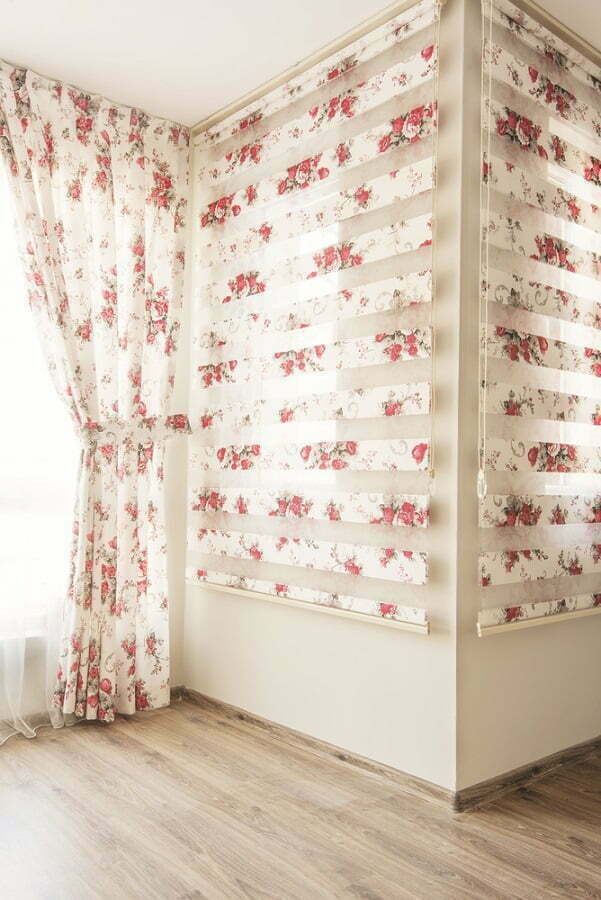 Floral prints have been popular for a significant amount of time.
Although the specific pattern may have evolved slightly over the years, the overarching motif of flowers has remained the same.
This flower-patterned design has become very popular, and a fantastic example of its popularity is found in floral curtains.
Shades and Curtains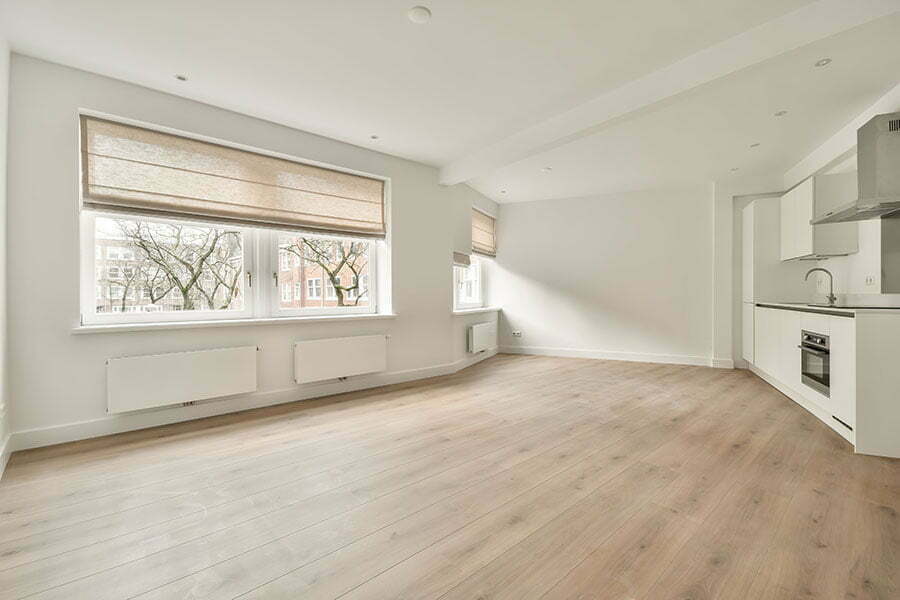 Bamboo shades are trending in kitchen decor. They are a great way to add earthy tones and natural texture to the decor while still being practical.
It would be a mistake not to try this combination, which works particularly well with neutral color schemes or farmhouse/rustic decor.
Blinds and Curtains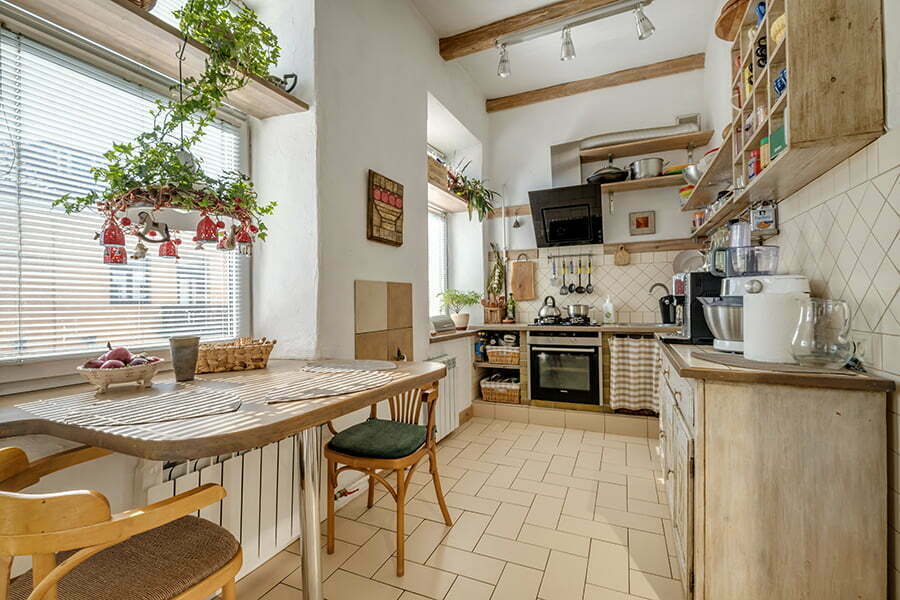 When used together, curtains and blinds can bring out a flexible decor and ensure adequate light blocking and privacy control in a room.
Nevertheless, some sartorial recommendations should be followed to achieve the perfect look.
Cafe Curtains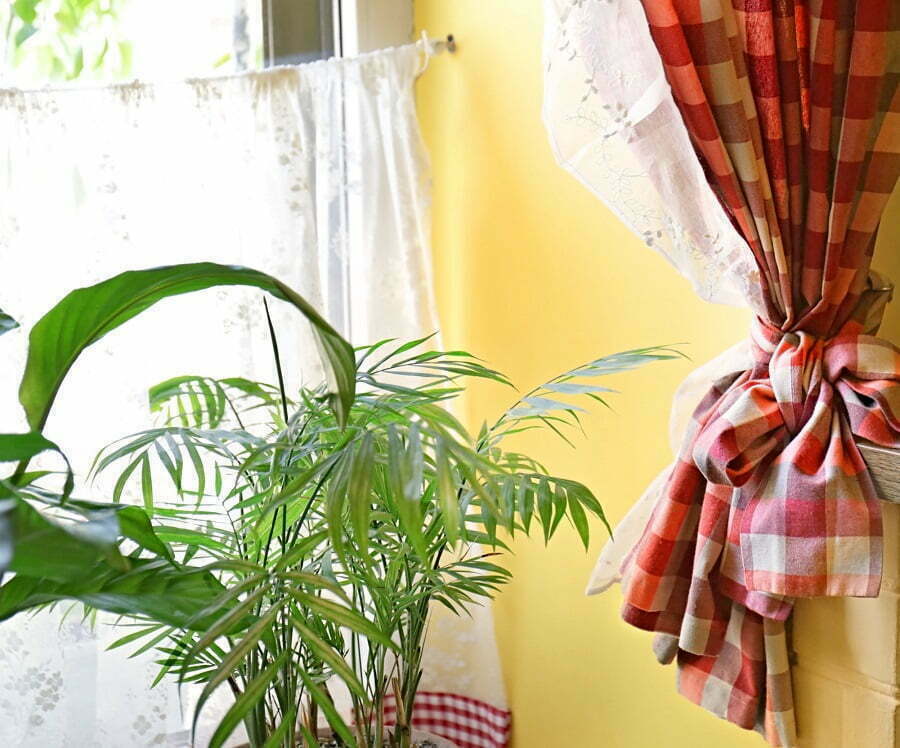 It won't take a few minutes to sew these kitchen cafe curtains.
Any pretty fabric will work as the cafe curtains. You can easily sew them and hang them on a rod or a cord across the middle part of the window. A tension rod is the best option in this case as it gives you the required flexibility.
Experiment with different patterns and colors for these short curtains.
Cornice
A cornice solves the problem if you don't want an exposed curtain rod in your room. It's a board (sometimes upholstered) that covers the curtain rods and other hardware that you wouldn't want to be visible. The presence of a cornice creates a streamlined look for the window treatment.
Valance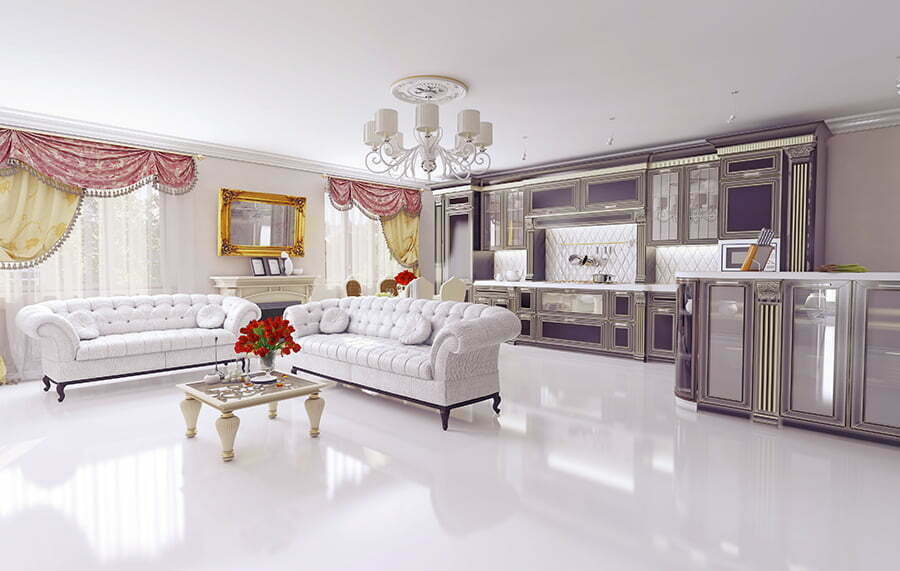 Valances, much like a cornice, hide the curtain hardware and makes the kitchen look cozier. Think about a draped or laced fabric that covers the top of the window.
This style of valance with draped sides completely transforms your kitchen. It acts as a frame around your undressed window, contributing to the room's sense of being more lived-in and cozy.
Roman Shades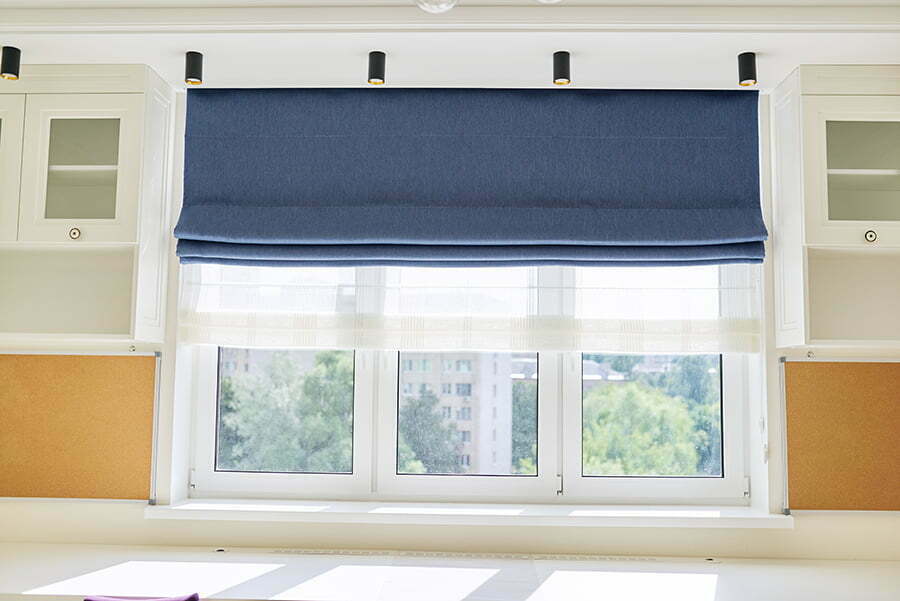 The Roman shades are trending as a kitchen window treatment idea. We see them everywhere. And no wonder — it lends itself to becoming the focal point of kitchen decor.
Think about colors and patterns (like grandmillennial floral) that you can add to the kitchen with simple shade fabric. And it's also very practical as a window treatment in the kitchen (especially above the sink.)
Bamboo Shades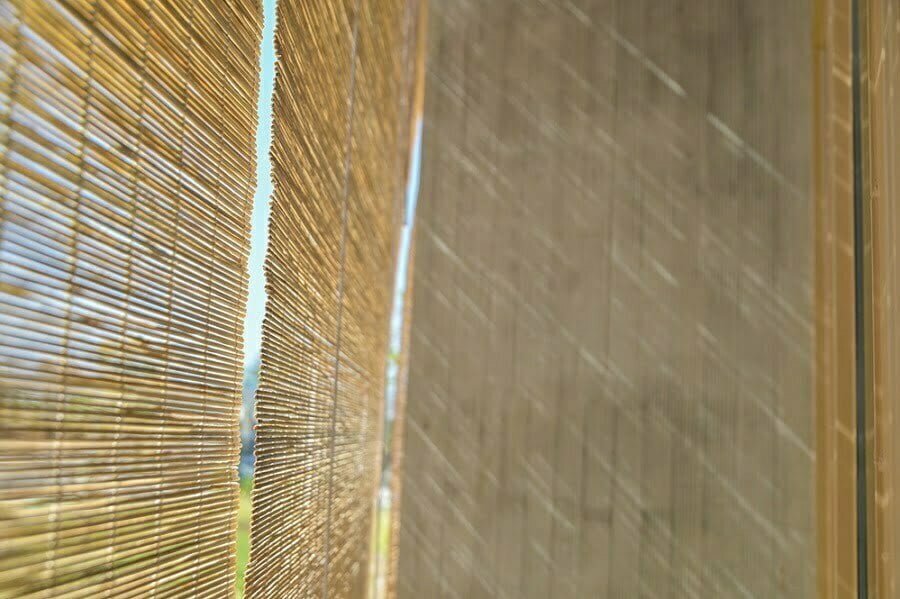 Don't settle for premade curtains or blinds if your kitchen window is an unusual shape or size. You can adjust the size of the bamboo blinds with some effort.
With everyone talking about sustainability in their home decor and design (another trend), this is your chance to bring it in with bamboo shades (and also blinds.)
Color Accent Curtains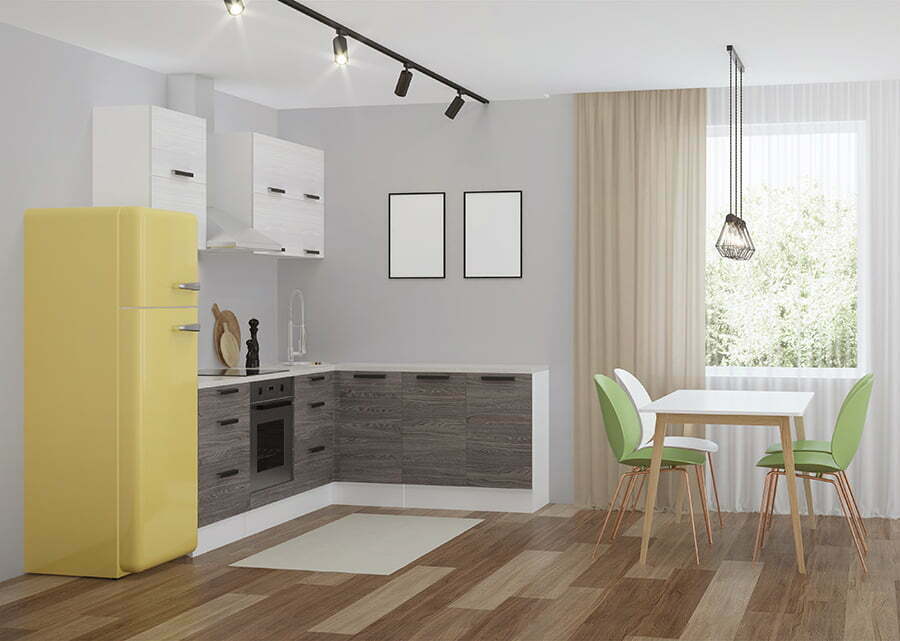 Gray, black, taupe, beige, ivory, and various shades of white are neutral colors that exude a sense of youthfulness and contemporary style.
These are the colors that can pair with anything. Choose drapes at least one shade lighter or darker than the walls to avoid having them blend in and become unnoticeable.
Linen Curtains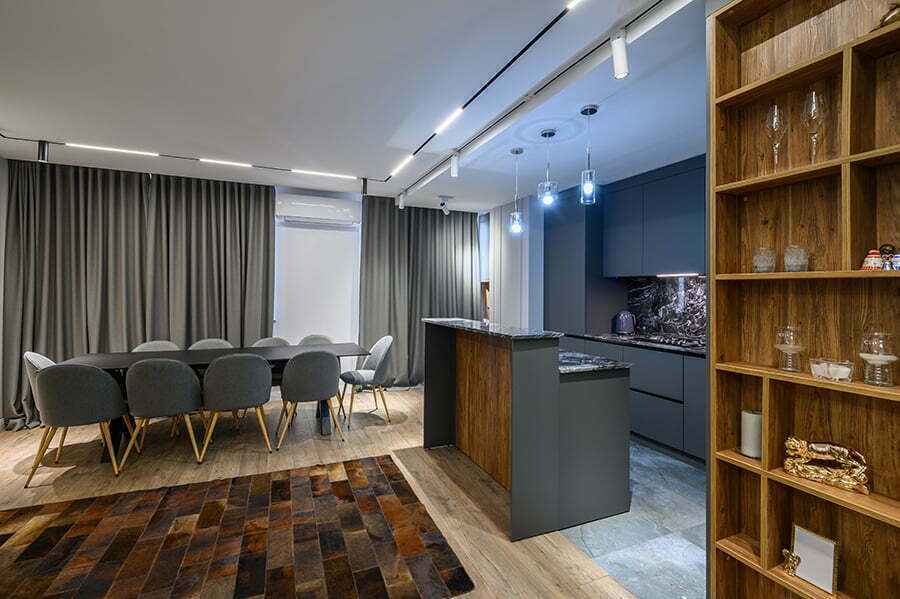 Linen is a fantastic material that works well with the home's traditional and contemporary design aesthetics.
Whether you prefer a tailored Roman shade or billowing pleats suspended from a rod, linen is a great choice.
In addition, it requires minimal effort to keep it looking its best.
You have the option of dry-cleaning linen or laundering it in your washing machine. It does become softer and more worn with each wash you put it through.
Tasseled Curtains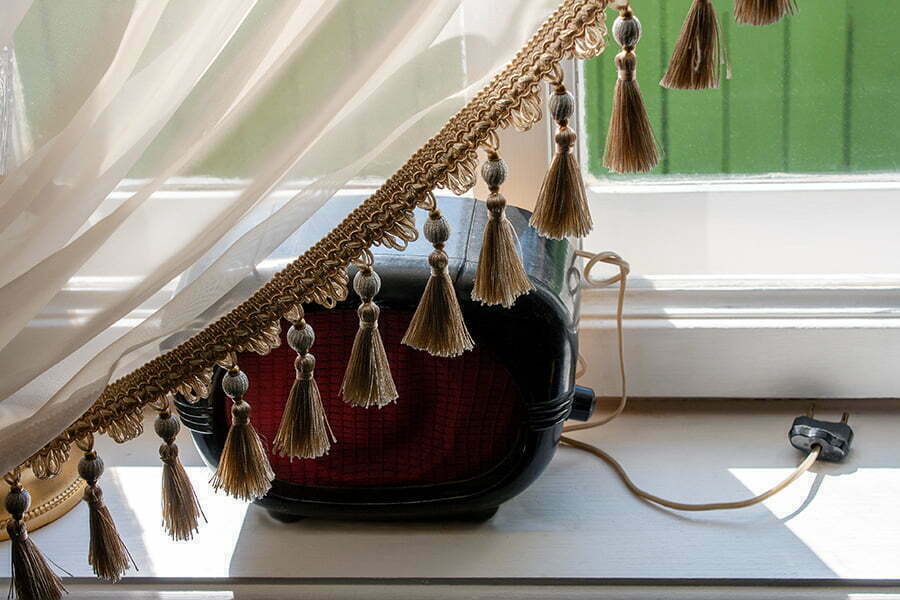 Adding pom-pom or tassel trim lets you update a simple curtain quickly and inexpensively.
You can use hot glue to secure individual string tassels or tassel trim along the hem of your curtains after you make your purchase.
Balloon Curtains
The balloon curtain may not be the most common silhouette for kitchen window dressings.
Still, its endearing appearance is an obvious choice for either a country cottage or a traditional country kitchen. The design is similar to a Roman shade in that it is drawn upward to let light in.
However, the balloon curtain is draped more decoratively, and it features two pick-up points that, when the drapes are drawn, give the appearance of scalloping.
Rustic Style Curtains
Mix and match different rustic window treatments for an added dose of country charm.
Sheer white curtains soften the sunlight streaming in through the window, while rustic shutters on either side of the window add a touch of magic to this intimate dining space.
The repurposed pediment mounted above the window has an antique look matched by the shutters.
Curtains Over Pantry Shelves
One of the simplest ways to make a design statement in the kitchen is with the help of curtains for the windows.
It's an intelligent move to hang some drapes over the pantry.
Hang a Wreath Over Curtains
To hang a wreath in front of a kitchen window with blinds or curtains.
You would hammer a nail or tack into the wall just inside the window frame and then lower the wreath to the desired height with a fishing line or ribbon.
In the wintertime, this style is incredibly fashionable and lovely.
Rustic Wooden Sign Over Curtains
Using straightforward do-it-yourself window treatments can help you give your kitchen a more country feel.
Choose a tea towel or fabric that has been hemmed in the color and pattern of your choice, and then mount it on a rod using curtain clips.
Above the sink, these curtains are fashioned in the style of a café and are made of striped fabric in gray and white.
Curtain Rod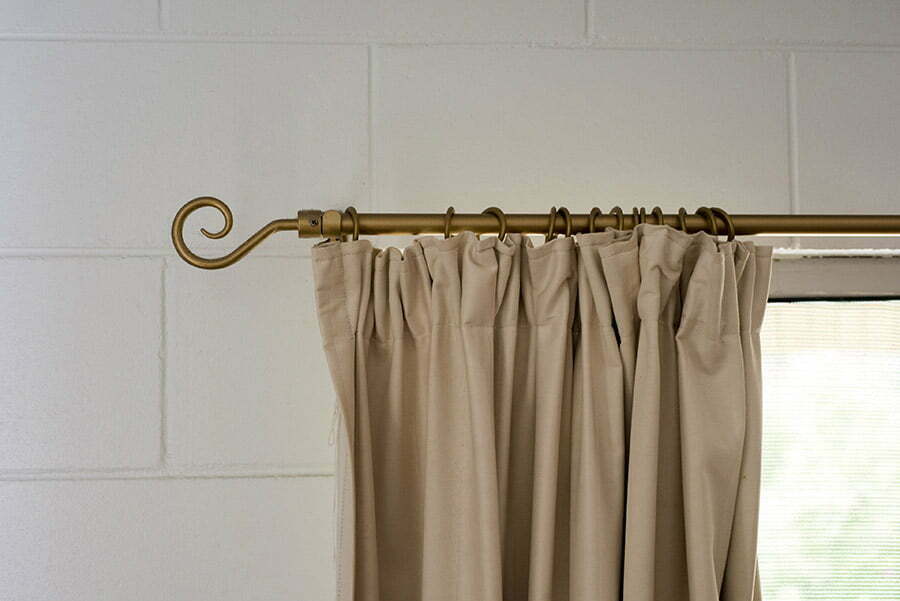 A curtain rod, also known as a curtain rail, a traverse rod, a curtain pole, or a traverse rod, is a device used to suspend curtains.
Curtains are typically hung from a curtain rod above windows or along the edges of showers or bathtubs but can install a rod anywhere curtains are needed.
They are an essential component of the windows that have the best designs.
It would be a mistake to ignore them because of their potential to improve the appearance of your home just as much as the window treatment itself.
In the world of curtain rods, there are many designs and configurations available for you to choose from at the moment, and you may wish to do so.
FAQ
Do you put curtains on kitchen windows?
When a kitchen window is too long, too open, or in an unusual shape for blinds, curtains are a good alternative. Then it is best to hang curtains in the window instead of blinds. The elegant framing of a window can be accomplished through the use of patterns, color, or opacity with the help of curtains
What color should kitchen curtains be?
The best fabric or material to use is neutral and grounding if you want to achieve a clean, crisp contemporary, or modern feeling. Keep these tips in mind if you have a modest-sized kitchen: using light and cool colors can make it appear larger and brighter; if your kitchen is on the larger side, using dark and warm colors can make it feel more balanced and inviting.
How can I dress my kitchen window without curtains?
Make a garland from used bandanas, scarves, or fabric scraps.
What length should kitchen curtains be?
The curtain's width should be between two and a half times the width of the window as a general rule of thumb. Curtains are almost always sold in pairs, but the number of panels you'll need depends on the dimensions of the window in your room
Are curtains or blinds better for the kitchen
Blinds, as opposed to curtains, are typically considered to be the superior option for use in kitchens. Blinds not only have a lower risk of obstructing the view through the window, making them the safer choice, but they are also much simpler to clean and offer a broader range of customization options in terms of privacy and exposure to natural light.
Recap
Liked this article? Here's what you can read next: