Last updated on January 15, 2022
The room darkening and blackout curtains are made of polyester and cotton blends in layers. The layering provides the desired darkening or blackout effect.
Polyester and nylon blackout fabric layers are usually used for making blackouts. Often cotton is used combined with polyester. The curtains are made from coated fabrics which create the blackout effect. Meanwhile, the room darkening curtains are usually made like regular curtains, only using thicker triple-weave fabric to let less light through.
The key to making blackout curtains is to use the fabric thick enough to block the light without going overboard with heavy and thick curtains. The window treatments have to serve their decorative purpose as well as functional.
Types of Materials for Blackout and Room Darkening Curtains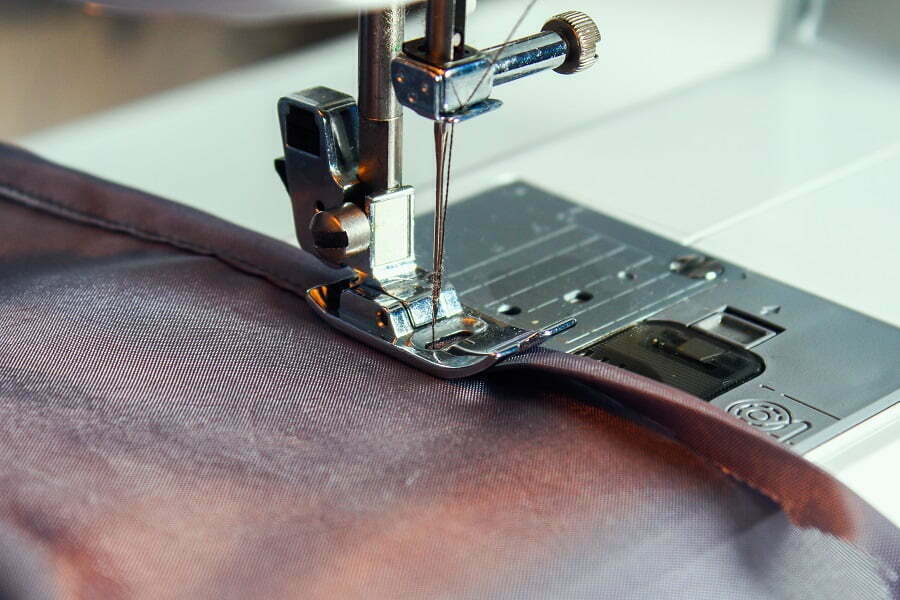 These are the fabrics and materials that are typically used (based on blackout curtain market statistics) to make room darkening and blackout curtains from the most popular to less-used:
Polyester Fabric
Nylon Fabric
Triple Weave Fabric
Cotton Fabric
Silk Fabric
Wool Fabric
Acrylic Fabric
PVC Fabric
Cellulose Fabric
Bamboo Fabric
Linen Fabric
Denim Fabric
Fleece Fabric
It's important to note that different fabric types can be layered to achieve better shade, thermal insulation, and noise blocking effects. Different types of materials can add a different style, which is very important when decorating a room with heavy room darkening curtains (or blackout curtains.)
How Are Blackout Curtains Made?
The blackout curtains are created by putting different layers and linings of foam and fabric together. These can be two-pass or three-pass blackout layers. The more layers, the better darkness they can provide for uninterrupted sleep.
Blackout curtains are made from coated fabrics which create the blackout effect. Light or whitish color is then added on top of the dark colors. A layer of black foam is layered with a colored layer to create a two-pass blackout. Three-pass blackout is created by using two lighter-colored foams (one white and one yellow) and then placing a darker-colored foam (black) between them.
How Are Room Darkening Curtains Made?
Room darkening curtains are usually created using triple-weave fabric. This fabric has three weaves: warp, fill, and weft. The warp weave is the vertical threads that run lengthwise; the fill is the horizontal threads that go across the vertical ones, and the weft is the diagonal threads that cross over the warp and fill.
The fill typically uses a black yarn for its light-blocking qualities.
Types of Curtain Lining
Blackout-lined – Blackout curtains use thicker polyester than regular drapes, which creates a stronger curtain rod attachment point. However, they achieve a total blackout effect by using heavy material.
Foam-coated – Blackout curtains prevent light from coming through them by keeping the soft folds of the drapes, but they won't block out every bit of light.
Light-blocking – Light blocking liners are designed to block most of the light. They're often made of heavier materials, so you need to ensure your window frame will hold up to its weight.
Thermal lining – Thermal lining keeps heat from escaping the room while still allowing sunlight into the space.
Blackout and Room Darkening Curtain Colors
Do the blackout curtains have to be black? No! You can choose from a variety of colors to match your home decor. You can even find blackout curtains in other colors such as white, ivory, and off-white.
While it's true that dark colors are typically used to block light more effectively, there are plenty of bright colors available as well. If you want to incorporate brighter shades, look for curtains with a patterned design.
Because these curtains are made using layers, you can get them in any color you want, and they will still block enough light to darken the room.
FAQ
What are room darkening shades made of?
They are made of various fabrics and materials, including cotton, silk, wool, linen, nylon, acrylic, polyester, vinyl, bamboo, jute, etc.
Is blackout fabric toxic?
No, blackout fabrics are not toxic. They are non-toxic and safe for children.
Can I put blackout curtains in my home?
Yes, you can put blackout curtains in your home. You have to choose the right kind of curtains for your specific needs.
Are blackout curtains expensive?
Not necessarily. There are many ways to save money on blackout curtains. For example, you can get ready-made curtains at discount stores such as Costco.
What material is blackout fabric?
Blackout curtains are typically made of polyester or other synthetic fibers.
How do you make blackout curtain fabric?
To make blackout curtains, buy dense enough fabric to let less light through. Use curtain liners to get the desired blackout effect.
Recap
Liked this article? Here's what you can read next: