Last updated on October 18, 2023
Warm weather outside means fun times in your backyard. And there's almost always food involved. Build a DIY outdoor kitchen to make the best of it.
When it comes to outdoor cooking, there are many ways to do it. It all depends on how involved you want it to be. A portable grill will work if you cook out just a couple of times during the summer. But you need something bigger if you're going to go out every weekend or more often.
Starting with simple and quick to build mobile carts, finishing with a full-featured permanent outdoor kitchen. Choose what best fits your needs and build it. These ideas will help you.
Parts that you will need to build or acquire:
Countertops
Outdoor kitchen appliances (like the oven, a grill, etc.)
Mobile Cart
Want the convenience of your kitchen when cooking outdoors, but lack space, or money? Make your mobile kitchen cart using Studiomama's DIY plans. Read this website for complete guidance.
Portable Counter
You may have seen all those beautiful outdoor kitchens with a fancy countertop and powerful grills and ovens. Well, everyone would want such a thing for their home, but usually, they come at a high price. Check out how to build one for cheap – see the link to get the entire plans and instructions.
Counter with Sink
Build an outdoor kitchen on your patio with a sink. With water and sewage, it's even more fun to cook outdoors. It includes smart storage, fresh herbs, and utensils. See this website for the entire guidance and instructions.
Built-In Grill
You can build this two-counter outdoor kitchen with a built-in grill on your patio. This idea uses bricks for a permanent structure. Read the article for the full details.
Concrete Countertops
Concrete countertops are ideal for an outdoor kitchen, so here's a project to build them. See this website to see the entire plans.
Patio Countertops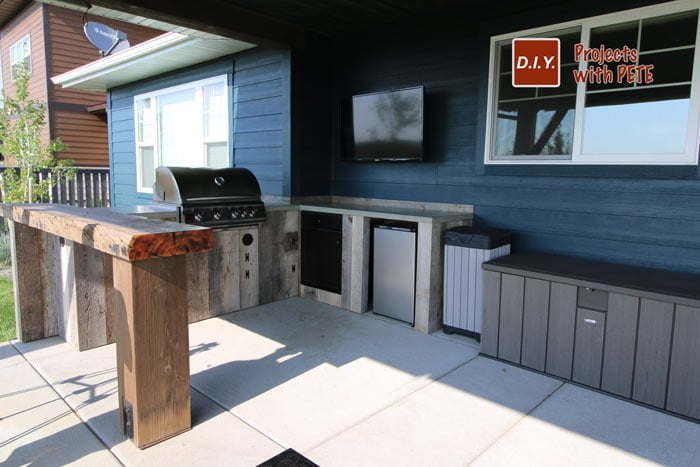 Concrete countertops are such a great idea that we need more projects for it. Check out the detailed instructions from DIY Pete; he makes it look easy. Follow this website to learn how it's done.
Modern Design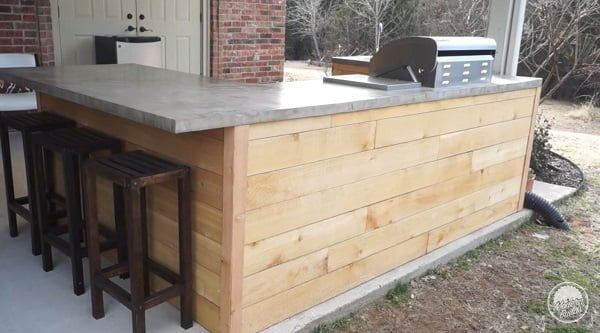 Build this huge outdoor kitchen with a grill, sink, storage, and seating. Follow the link to find out how to do it.
Wood and Brick Counters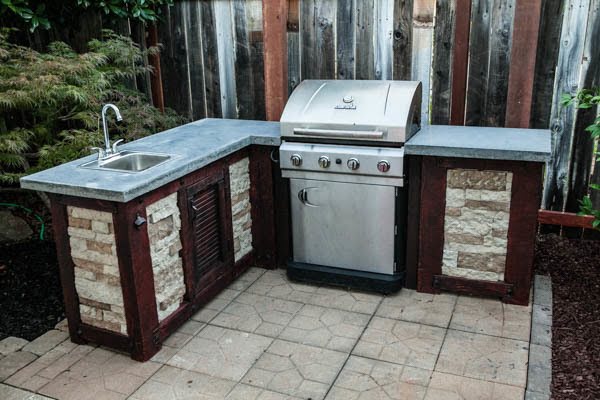 This design is functional and looks good. Use wood boards for the frame and stone bricks for the walls. Follow the tutorial to get the full guidance and instructions.
Painted Counters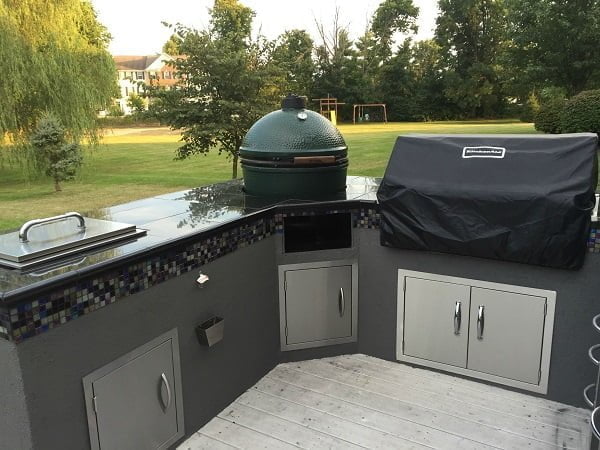 If you care about the design as well as the function of your outdoor kitchen, you can do as much as this DIYer has done. That is, paint and decorate the counters after building them. Check out the article for the full details.
Kitchen Pergola
Some DIYers go all out to build fantastic designs as this outdoor kitchen with big and beautiful counters, a pergola, dining, and lounge areas. Check out the details to learn how it's done.
Grill Station
If grilling is all you care about, here's how to build a small station for it. Fun times in your backyard are ahead! Follow the tutorial to see the complete details and instructions.
Grill Island
If you've got some basic skills and a couple of handy friends, you too can build a grill island like this one. Read the link to see the complete details and instructions.
Outdoor Bar
Take your project a step further and build a kitchen bar on your patio. It's perfect if you live in an all-year-warm climate. Check out the article to see the complete guidance and instructions.
Recap
Liked this article? Here's what you can read next: