Last updated on September 24, 2023
Here are DIY kitchen cabinet plans with step-by-step instructions.
Here you will find plans for all types of kitchen cabinets, including the basic cabinet box, countertop base, sink base, pullout shelves and drawers, fridge enclosure, and more.
If you manage to pull it off successfully, the project of building your entire kitchen cabinets can be the most involved one in your entire home.
It's difficult and requires a lot of planning. At the same time, it is very rewarding. However, you should do your best to get ready for it.
Depending on your level of DIY and woodworking expertise, we recommend you choose the right plan and tutorial. If you're a beginner, read up on making the most basic cabinet box or choosing a different alternative to cabinets.
Later, move on to the face frame and the drawers. Finally, choose the finishing style (the shaker style is a simple classic). Regardless of where you are, check out all these tutorials to pick one or more that suit you best.
DIY Kitchen Cabinets 101
Plans: ana-white.com
In these plans, Anna shows you how to build a functional, high-quality kitchen cabinet with simple tools and readily available materials.
This simple kitchen cabinet features a solid base, sturdy carcasses, and a top and countertop support.
Start by building your cabinet's base from four 2×4 boards, then install dividers. Use a table saw to cut plywood strips for your face frame cabinets.
With the plywood cut to size, your cabinet should take an hour or two to assemble. These kitchen base cabinet ideas are ideal for both modern and vintage-style homes.
DIY Kitchen Cabinets with Plans and a Guide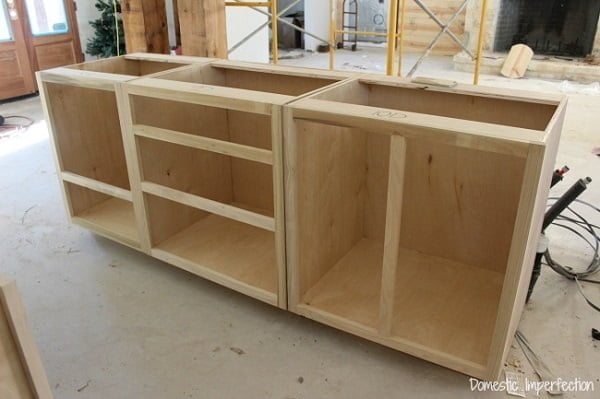 Plans: wildfireinteriors.com
Building your kitchen cabinet can save you loads of cash and still get you the furniture piece you've always wanted. However, the trick to assembling a stylish yet functional kitchen cabinet lies in your initial design sketch.
This model features sports two cabinet compartments to go on either side of your oven or dishwasher. The list of materials and tools you'll need for this project include ¾-inch poplar strips for the frames, 5/8 inch birch plywood for the sides, a keg jig, and wood glue.
Owing to the size and nature of this project, this cabinet is best suited for moderate to large-sized kitchens.
DIY Kitchen Corner Cabinets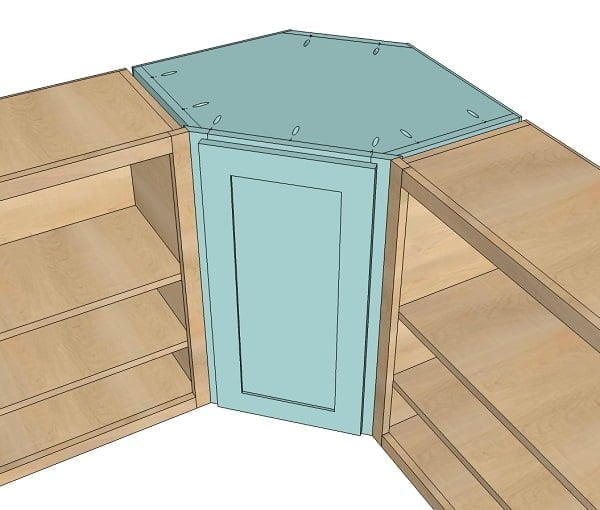 Plans: ana-white.com
Add style and convenience to your kitchen by adopting this handmade corner wall cabinet. Advanced DIY woodworkers and hobbyists will require a high degree of sophistication to pull off this project; the result, however, is to die for.
For this kitchen plan, you'll need ¾-inch hardwood plywood, matching hardwood veneer, shelf pins to install adjustable shelves, 1 ¼-inch pocket screw holes, overlay face frames, and wood glue.
Your tools arsenal should include tape measures, safety glasses, Kreg Jig, table saw, miter saw, sander, level, and drill.
This cabinet plan works best for farmhouse-style kitchens. Its angled design ensures you have plenty of storage space.
Upcycled Barnwood Style Kitchen Cabinets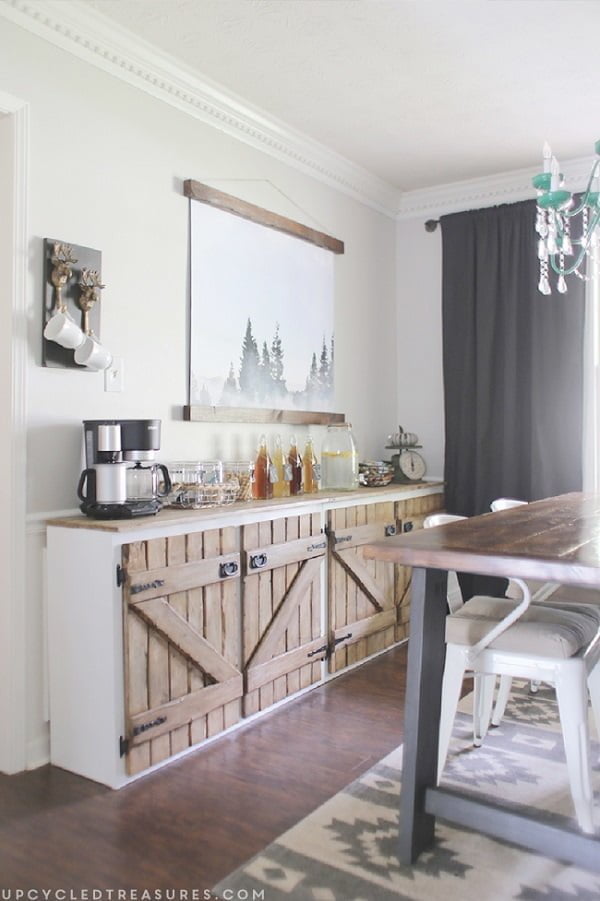 Plans: mountainmodernlife.com
This eco-friendly cabinet uses recycled wood to create visually stunning kitchen furniture that will last for ages. Upcycled Barnwood-style cabinets can be a great addition to any kitchen.
You don't need to be a pro woodworker to pull this off. You can turn dumpster material into a stunning work of art with the right materials. Give your upcycled cabinet a new paint job to make it pop.
We recommend using epoxy paint to match your kitchen's interior decor. This project is both sustainable and cost-effective.
DIY Kitchen Cabinets to the Ceiling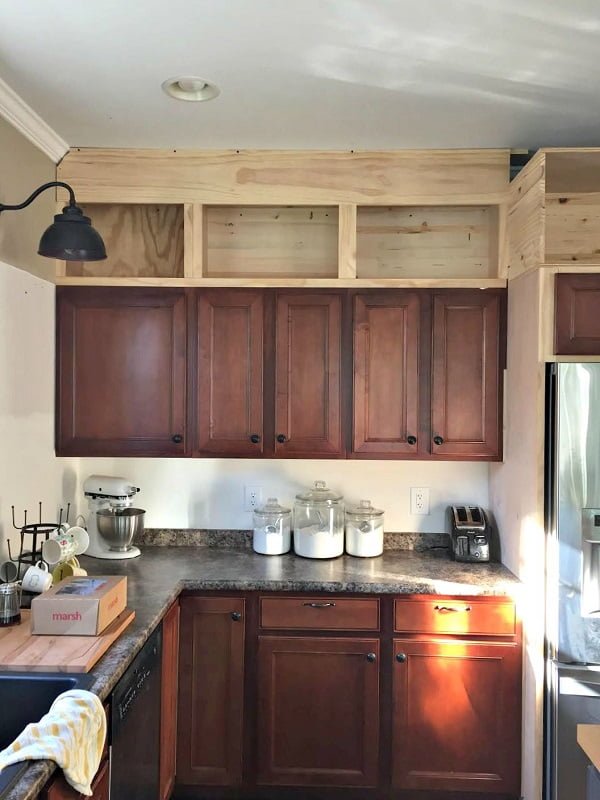 Plans: thriftydecorchick.com
Building your cabinets to the ceiling requires meticulous planning, but it's all worthwhile in the long run. For this project, you will need drills, screws, table saws, tape measures, sanders levels, and high-quality wood workpieces.
Make your ideas come to life by using sketches and diagrams. For the upper cabinet sections, use screws to hold them in place; wood glue is not ideal here. Still, on upper cabinets, you can opt to mimic the look of the bottom cabinets to create an overall flowing design.
With this cabinet plan, you have enough space to fit larger appliances such as ovens and fridges. The refined end-to-end style makes this plan ideal for contemporary and farmhouse-style homes.
Country Style Kitchen Cabinets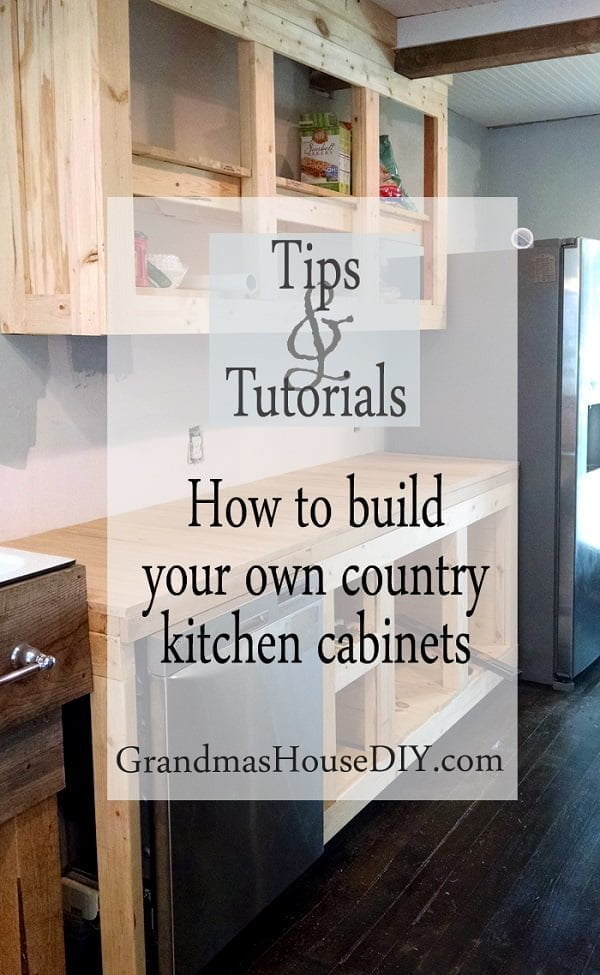 Plans: grandmashousediy.com
Rectangular overhead kitchen cabinets are a staple in most modern home kitchens. The good news is that you don't need an expert to build these cabinets and kitchen shelves.
A clear plan and lots of motivation are all you need to pull it off. Another benefit of this project is that it doesn't require complicated tools or hard-to-find materials.
The boards left over from building the main cabinets can be used to create smaller shelves above your fridge for extra space. Top it off with a paint finish to match your kitchen's décor and lighting needs.
DIY Kitchen Cabinets with a Refrigerator Enclosure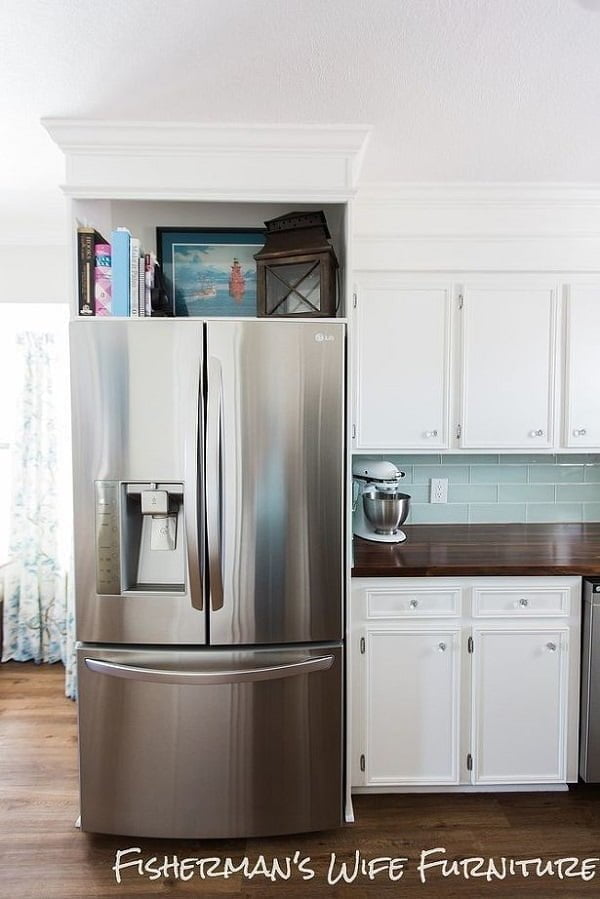 Plans: hometalk.com
If your fridge is bulky, oddly colored and always catches your eye every time you walk into your kitchen, then this DIY refrigerator enclosure solves all these issues.
For this project, you will need ¾" high-grade plywood for the enclosure and a set of screws, wood glue, and paint finish. The cabinet can be built to the ceiling to accommodate extra shelves above the refrigerator.
Once the frames are secured, use trim and filler for soft edges and a neat look. Fridge enclosures are not new to the kitchen scene; they are common in contemporary farmhouses and townhouses.
Drawer Base for Kitchen Cabinets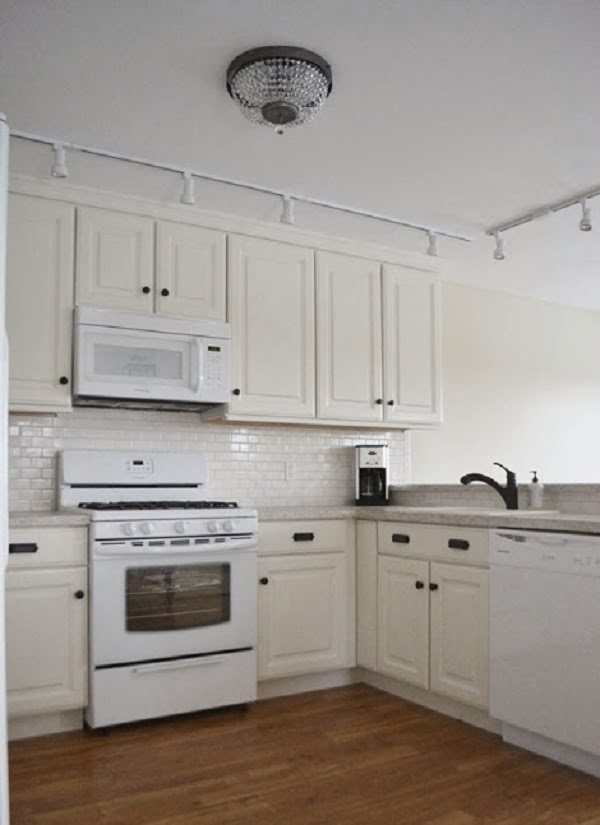 Plans: ana-white.com
If you have kids and a large family, this kitchen cabinet setup is for you. Once again, Anna's step-by-step approach simplifies this project for both semi-skilled and skilled woodworkers.
To start off, you require plywood strips for the sides, shelves, and base support, 1×2 plywood strips for the face frames, 1 ¼-inch pocket screw holes, ¾-inch nails, and drawer slides.
Unlike shelves, base drawer cabinets are useful because they neatly conceal your kitchen utilities. Base drawer cabinets can add value to both new and remodeled homes.
Face Frame Kitchen Cabinets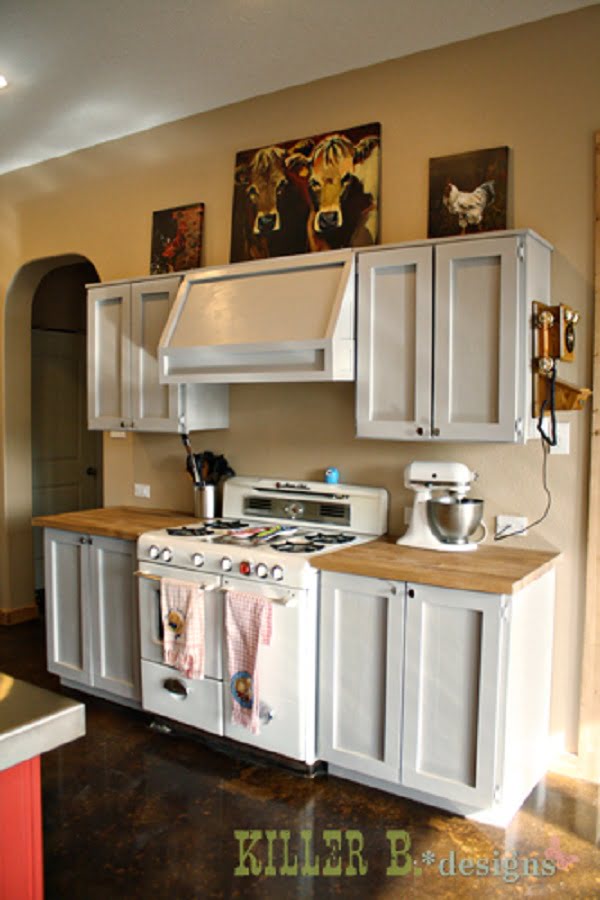 Plans: ana-white.com
Hand building your face frame base kitchen cabinet will save you hundreds of dollars. This cabinet style features long face frame overhangs that align perfectly with the kitchen walls.
Add a toe kick over the cabinet for an overall safe and smart build. A face frame base kitchen cabinet carcass is ideal for new and remodeled kitchen plans. Any woodworker with intermediate to advanced skill level can tackle this DIY project.
Materials for this kitchen plan include cabinet plywood (preferably PureBond Shown), top and bottom support boards, ripped plywood strips for the toe kick, and 1 ¼-inch pocket screws.
Woodworkers Plans for Classic Kitchen Cabinets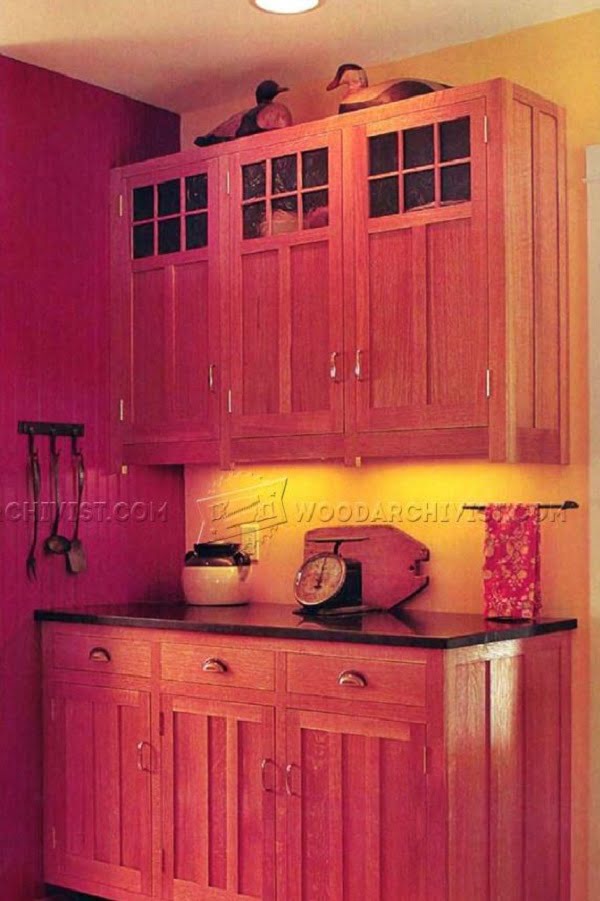 Plans: woodarchivist.com
Instead of ordering an expensive showroom cabinet, why not build one for a fraction of the cost? Creating your own cabinets is not as complicated as it first appears.
With the right set of tools and a good plan, there's little you can't achieve. When drawing up your cabinet plan, you can decide whether to include doors, drawers, or a combination.
The design features sports face frames and forwards opening doors with glass panels in the upper compartment. For this plan, you'll need maple or Baltic-birch plywood for the bottoms and quartersawn White Oak for the doors.
Once complete, the base cabinet is placed atop a sturdy shelf where it is safely secured using screws.
DIY Kitchen Cabinets with Fridge Enclosure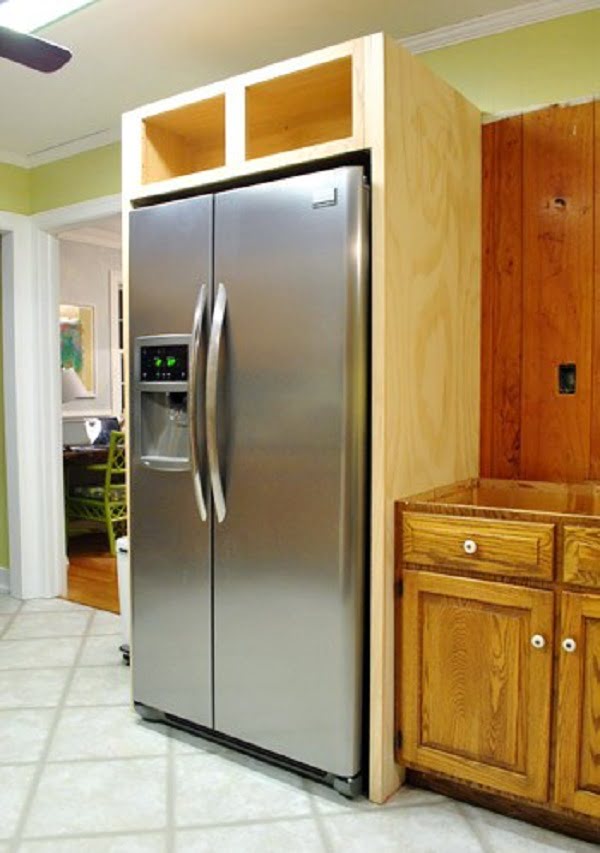 Plans: younghouselove.com
Make your kitchen look refined and fancy by adopting this floating fridge theme. This custom fridge enclosure setup even features a front flush cabinet on top.
For this project, you'll need a tape measure, fridge pranks, 1×2 inch pieces of pine trim, and a Kreg Jig. Table saws, drills, and sanders can be rented from any workshop.
The beauty of this cabinet plan is that it leaves behind very few scraps of wood, and the leftovers can be incorporated into the back of the cabinet.
DIY Kitchen Cabinets with Pullout Shelves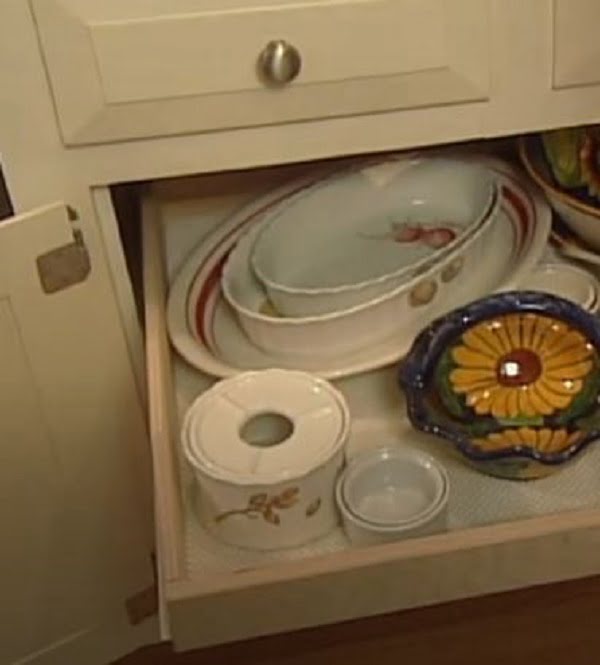 Plans: ronhazelton.com
Pullout kitchen shelves allow you to expand your cabinet space to fit more items without altering the shape or form of your cabinet doors. Apart from offering extra storage, these pullout shelves make items stored at the back easily accessible.
For this project, you'll need a Japanese saw to cut out the vertical supports, a cordless drill, screws, wood glue, and good-quality plywood.
A detailed guide on how to build DIY pullout shelves is available from ronhazelton.com. Pullout shelves are ideal for small and medium-sized kitchens for optimum use of cabinet space.
DIY Pullout Drawers for Kitchen Cabinets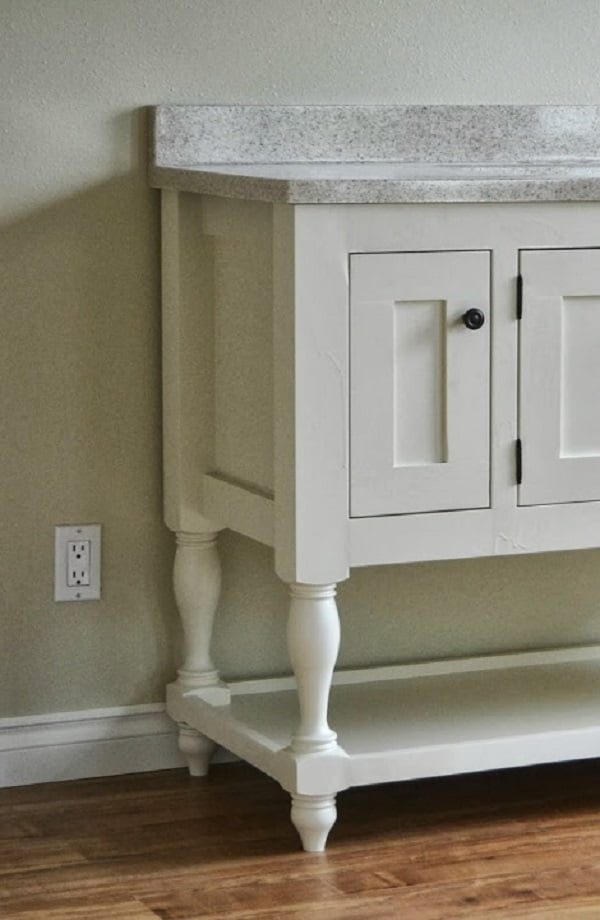 Plans: ana-white.com
Here's another informative tutorial by Anna White on creating stunning pull-out shelves for any kitchen cabinets. Pull-out drawers are ideal where you have limited space to work with, such as in small to medium-sized kitchens.
This kitchen vanity can act as storage for your kitchen recipes. Despite its sophisticated look, this DIY vanity pull-out shelf cabinet plan is easy to implement.
For this cabinet to work, you'll need to have straight boards with straight surfaces devoid of imperfections, a drill for boring holes, and nails and glue for assembly. Pull-out drawers can be the alternative for small farms or townhouses for base cabinets.
DIY Kitchen Cabinets with Lower Rollouts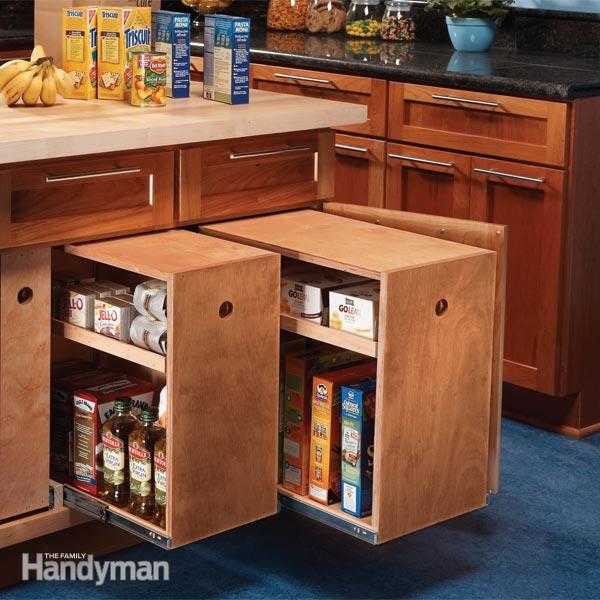 Plans: familyhandyman.com
Vertical rollout drawers can save a lot of time in the kitchen because their convenient design makes things easy to find. Even better is that these rollout bins can be customized to fit any kitchen base cabinet.
These vertical rollout drawers are essentially plywood boxes that have been fitted with adjustable shelves.
The materials for building these drawers are readily available, including hardwood plywood, sandpaper, table saw, tape measure, miter saw, straight knot-free drawer cheats, nails, and screws.
The rollouts can be built in under a day and require only moderate carpentry skills.
DIY Upper Kitchen Cabinets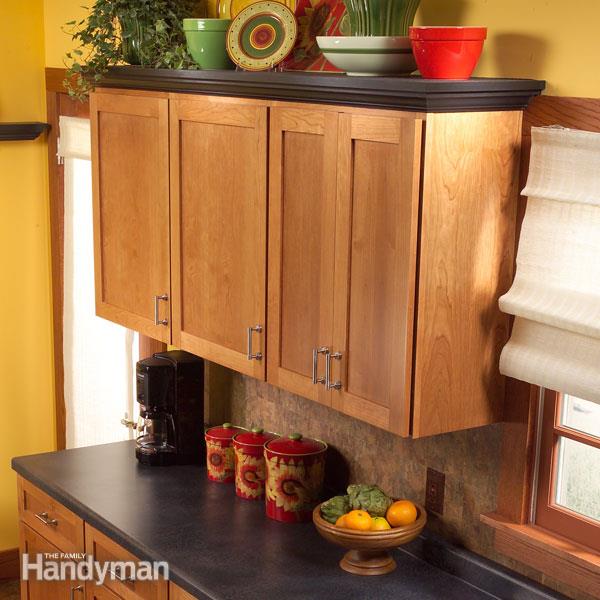 Plans: familyhandyman.com
Make every space in your kitchen count by installing shelves above your kitchen cabinets. These beautiful display shelves are easy to build and cost you less than $100.
You need not be an expert to build this kitchen vanity; basic carpentry skills and tools are all you need to create this kitchen vanity. Your tools kit should mostly comprise a miter saw, cordless drill, plywood, and a set of nails.
Sand the wood for the perfect finish. As for the paint finish, choose a satin or gloss paint finish that complements your cabinets and kitchen countertops.
DIY Kitchen Cabinets with Sink Base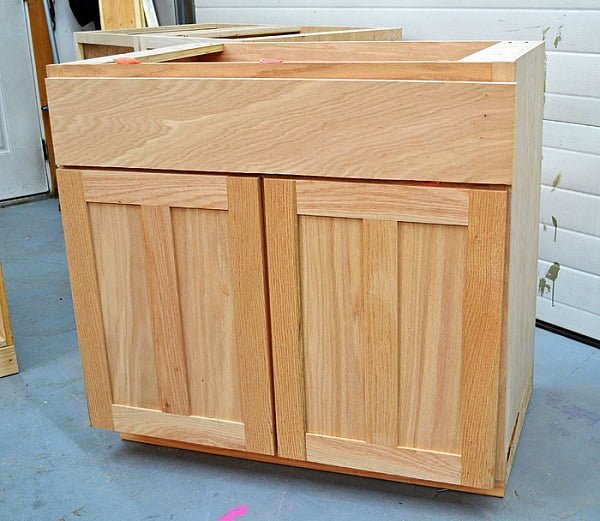 Plans: ana-white.com
This amazing kitchen cabinet sink base with a full overlay face frame only requires a budget of around $100. A 3D model of how to build this kitchen cabinet is available on Anna's website.
The instructions on how to go about it are pretty straightforward; anyone with intermediate to advanced skills in woodworking should be able to pull this off.
For this project, you will need ¾ inch hardwood oak plywood for the frames and base, 1-1/4 and 2-1/2 inch pocket hole screws, Elmer's wood glue miter saw, sander, and drill.
The model sports a 36-inch wide door/drawer frame similar in design to the sink base. This kitchen cabinet plan would be an excellent addition to any modern or vintage-inspired home.
Assemble Kit Kitchen Cabinets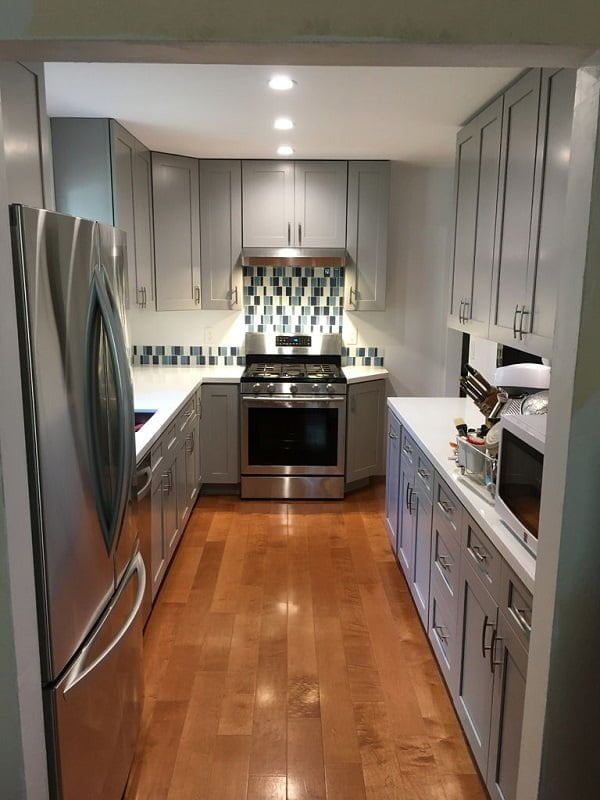 Plans: instructables.com
Grey is all the rage when it comes to home decor. The color is neutral, warm, and trendy. Cool grey kitchen cabinets give a modern, sleek, and contemporary feel. Silver hardware adds to the look with a clean and polished look. White countertops complete the look with minimalist lines and a bright and open feel.
Stainless steel appliances play off the grey DIY kitchen cabinets for a nice contrast of color and sheen. The recessed cabinet and drawer fronts add a nice detail while keeping the look sleek and clean.
And you can build all this at home if you follow the tutorial on Instructables.
Rustic Crate Kitchen Cabinets (Open Shelving)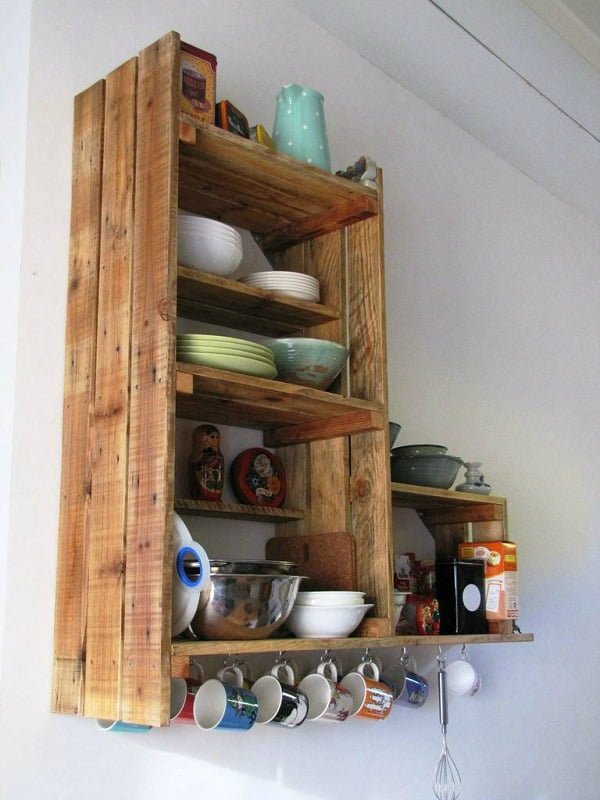 Plans: instructables.com
For a unique rustic farmhouse feel, shelving resembling wood crates makes one-of-a-kind kitchen storage. The crate shelves can be arranged in any configuration to meet your storage needs.
Adding some eye hooks at the bottom of the crates gets those mugs off the counters and adds a cozy vintage vibe, and screwing them into the bottom at the intervals you want couldn't be simpler; the hooks are also ideal for hanging kitchen utensils, pots, strainers, any kitchen items with a hook or hole in the handle.
These kinds of rustic kitchen cabinets are ideal in smaller kitchens where storage is a problem or where there are strange areas of wasted wall space.
DIY Kitchen Cabinet Makeover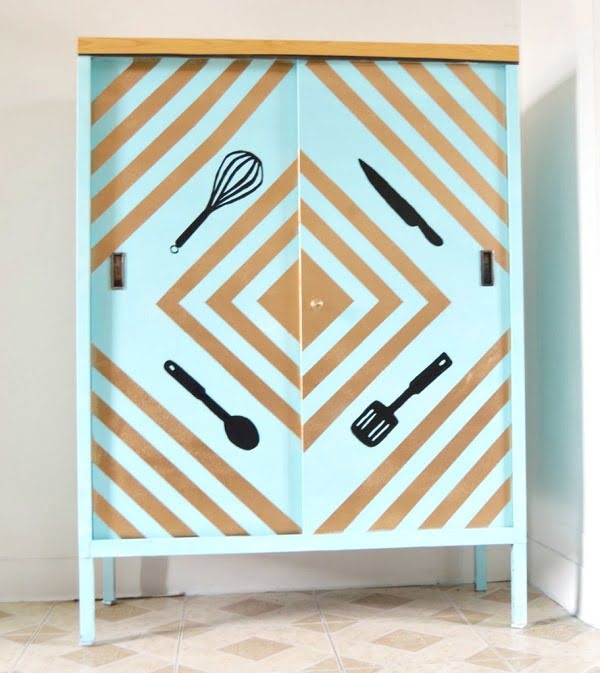 Plans: instructables.com
Nowadays, it is all the rage to use pieces of furniture for original purposes, so why not breathe new life into a tired, ugly sliding door cabinet and turn it into some practical kitchen storage?
A little paint, elbow grease, and a creative design for the sliding doors are all you need to add a pop of color or funk to your space. Some painter's tape arranged in a cool pattern can make a big geometric pattern splash to liven up any kitchen.
Adding some stenciled kitchen-themed shapes like spatulas adds a touch of whimsy and charm to the unit with minimal time and effort.
Rustic Pallet Wood Kitchen Cabinets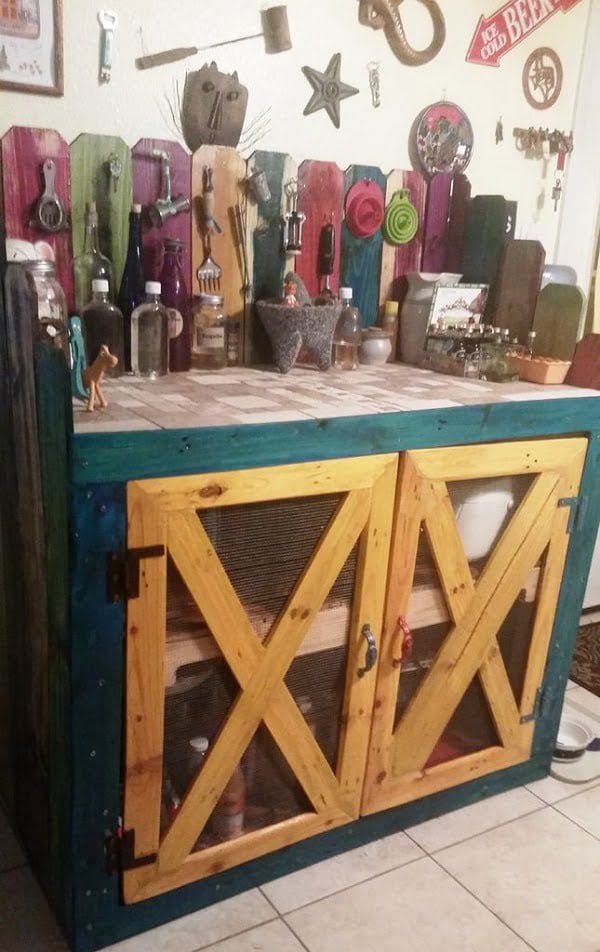 Plans: instructables.com
Pallets are an excellent source of free wood, so reusing some pallet wood and transforming it into a kitchen cabinet is both eco-friendly and practical.
Painting the wood and adding a tile surface allows you to customize it to suit any kitchen style or décor, and the tiled surface is ideal in a kitchen as it can get wet and withstand heat.
From start to finish, pallet cabinets can be fun to design and make while providing practical storage solutions for your kitchen space at a minimum expense. It is a material source you can feel good about as it adheres to the popular reduce, reuse, and recycle movement.
Custom Kitchen Cabinets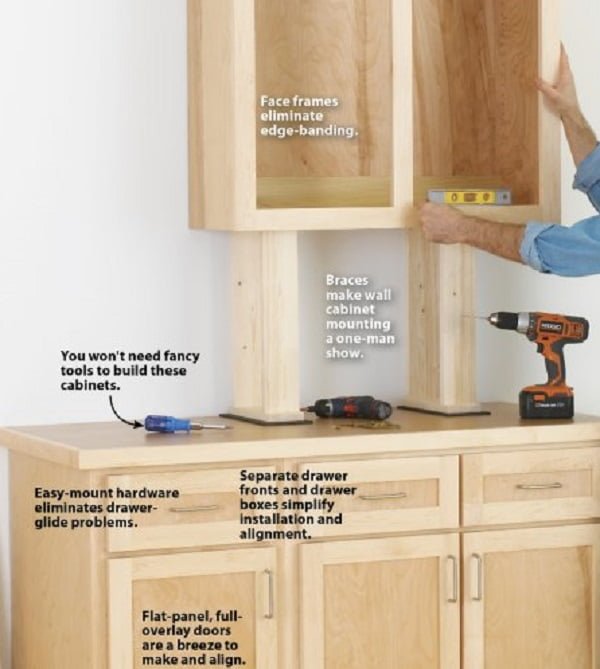 Plans: woodmagazine.com
These are all free and very comprehensive. They do make building kitchen cabinets from scratch seem easy.
If you have some woodworking knowledge and a few tools, why not try making your own kitchen cabinets from scratch? You can choose your wood, the stain, and the finish and configure them to the exact size that would suit your storage needs.
With some woodworking skills, a table saw, and basic tools, you can simply make your own kitchen cabinets.
Making wood boxes and mounting them on the walls via braces can make the installation a one-man job. How impressive would it sound to tell all your guests that you made your lovely kitchen cabinets yourself?
DIY Corner Kitchen Cabinets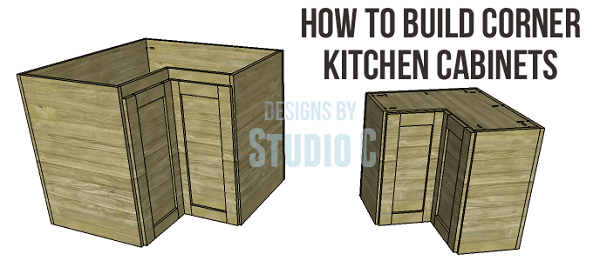 Plans: designsbystudioc.com
Corners can be tricky for even the most experienced carpenters. When it comes to kitchen cabinets, there will usually be a corner or two that will have to be integrated into the design.
If the corners aren't measured and angled perfectly, you will get cabinet doors that will bang against each other and not open perfectly.
There are several different ways to build corner cabinets and different types of hinges that will dictate how the doors open.
Recap
Liked this article? Here's what you can read next: