Last updated on January 18, 2020
Grey kitchen cabinets are one of the classic colors. If you want to create classic kitchen design these 20 ideas are for you.
When choosing grey kitchen cabinets, you have several aspects to think about. What wall colors will you want to go with the cabinets? What countertops will fit? And don't forget about the floor, the furniture, and appliances. You can experiment with the combinations until you get the design of your dreams.
To help you with that, here are 20 stunning kitchen design ideas with grey cabinets specifically. They span across multiple styles and themes, so you have a lot to choose from for your inspiration. Check these out and pick the designs you like the most so you can apply them at home.
What's Inside?
Light Grey Kitchen Cabinets
Grey Shaker Kitchen Cabinets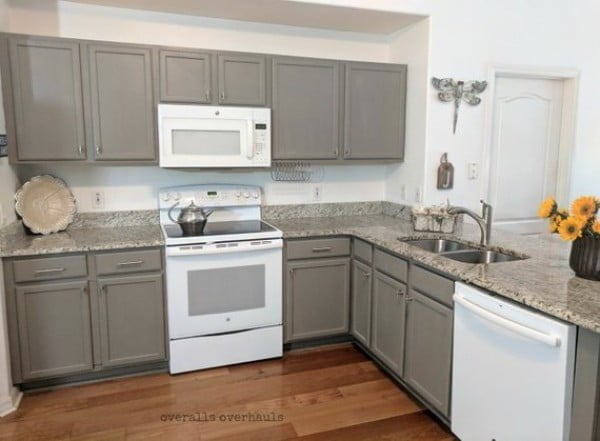 The shaker kitchen cabinets are a go-to when it comes to modern design. The grey tones in this kitchen go well with the white walls and dark granite countertops. The hardwood floor brings the whole design together nicely.
Classic Lunar Grey Kitchen Cabinets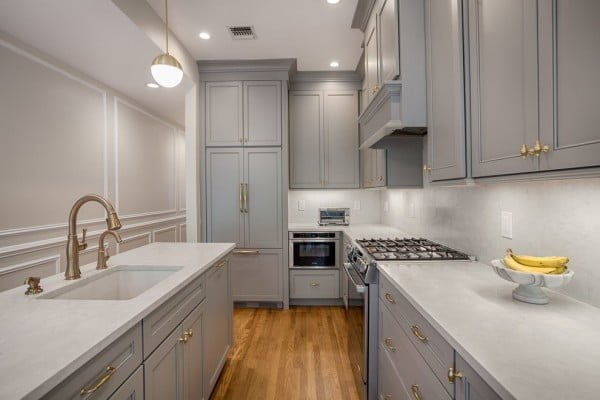 The color of these kitchen cabinets is lunar grey, and it works so well with brass hardware. The overall classic look of the design is achieved with light quartz countertops and backsplashes. Even though the dominant color theme is off-white in this design, the natural wood floor makes an outstanding contrasting element that brings the place together.
Glossy Grey Kitchen Cabinets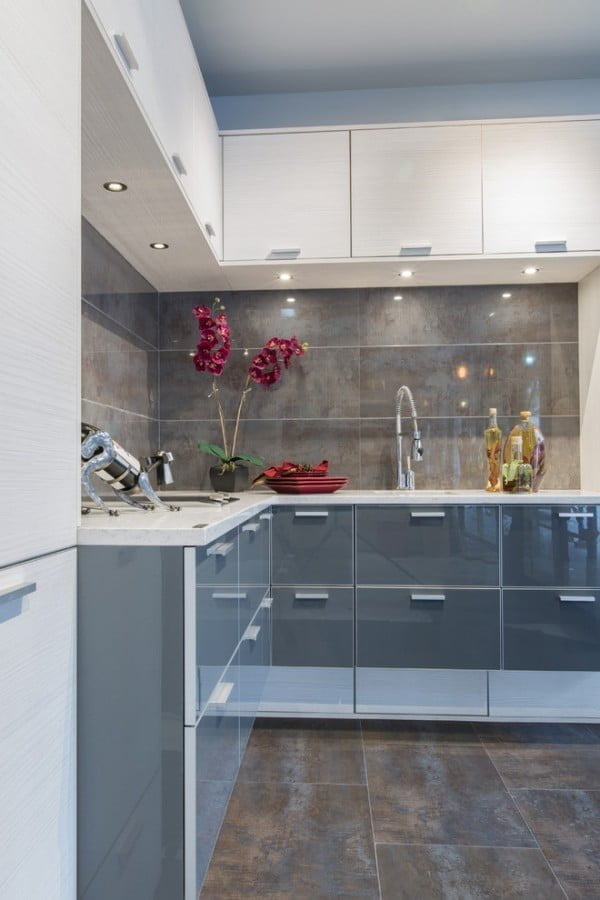 Glossy finish does wonders when it comes to creating luxurious decor. And it works so well in this kitchen design too. The look is achieved by using metallic laminate cabinet panels.
White and Grey Kitchen Cabinets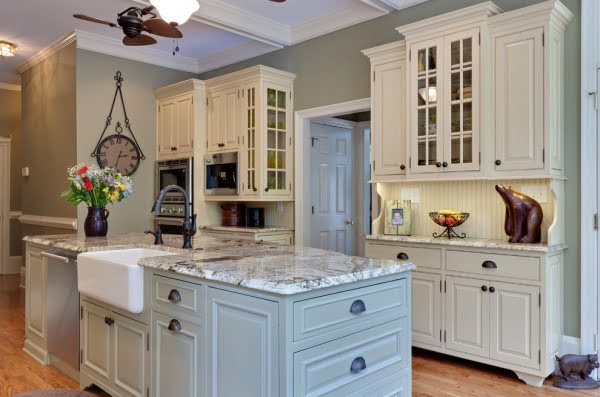 This classic kitchen with farmhouse accents benefits from the mixing of white and grey cabinets so much. It's such a great way to create classic decor.
Grey Kitchen Cabinets with Grey Countertops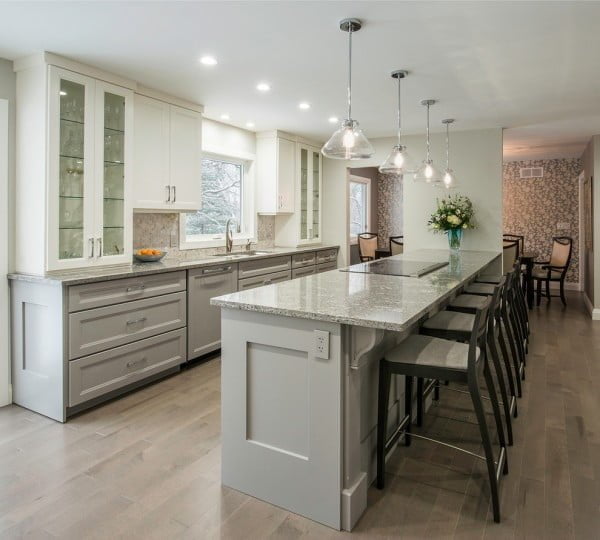 Simplicity is beauty in this monochrome kitchen with grey wooden flooring, chair cushions, lower cabinets, and dividing wall. Meanwhile, the white upper cabinets, window frames, and ceiling lighten up space.
Light Grey Kitchen Cabinets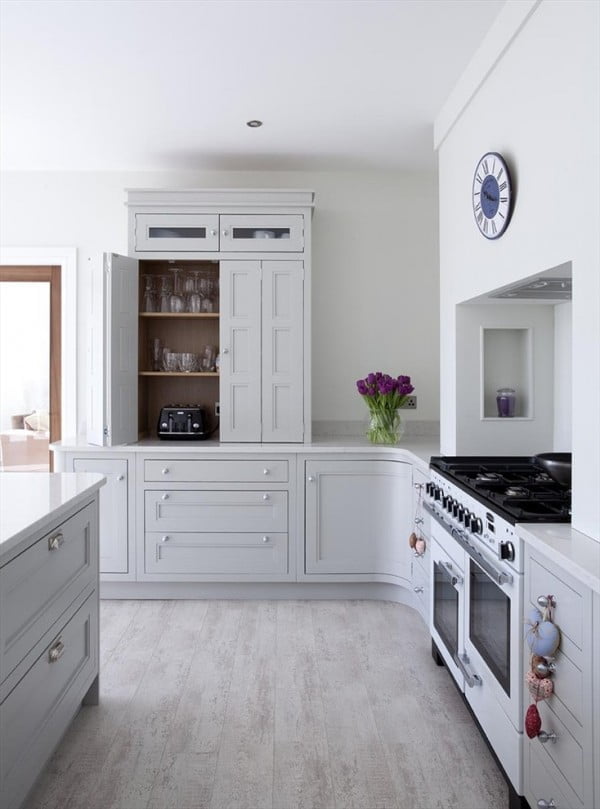 Everything flows smoothly in this workspace from the colors to the lines giving it a clean uniform look. Most corners have been rounded off to prevent bumps and bruises. Personal touches add splashes of color in this grey ensemble.
Light Grey Kitchen Cabinets in Open Plan Design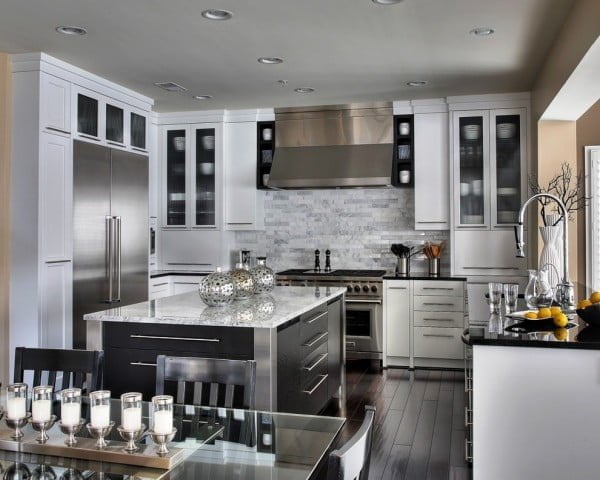 This open plan kitchen looks stunning with its impeccable design and obvious quality of materials. The grey stone wall sets the tone. It is framed with floor to ceiling storage units in off-white with black and silver accents.
Neutral Grey Kitchen Cabinets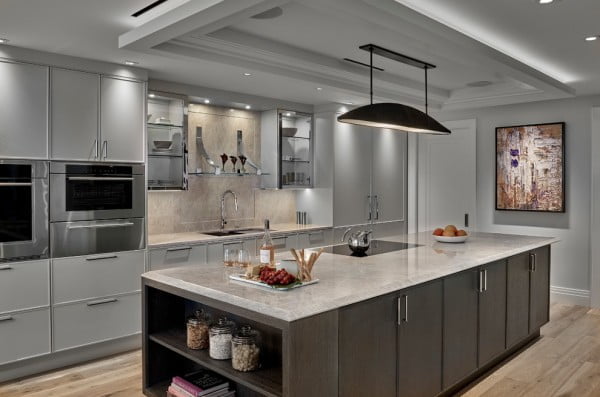 Earth colors and neutrals work well together in this large workspace. The cabinets disappear into the gray walls and are perfectly sized to fit the appliances. Strategic lighting makes meal prep much more comfortable.
Grey Metallic Kitchen Cabinets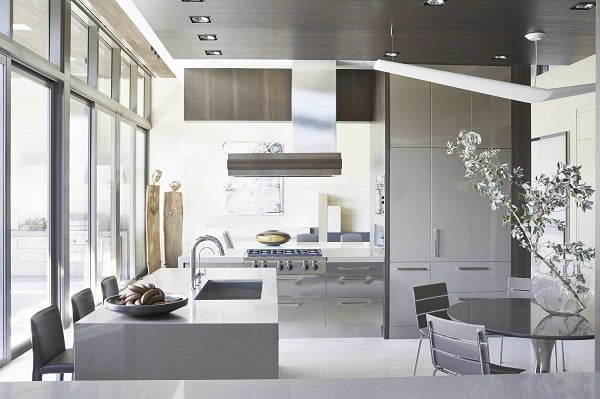 This ultra-modern kitchen manages to squeeze in an island, a dining table, and a breakfast nook. It still looks bright and airy thanks to the full glass wall. The grey cabinets have smooth, glossy panels.
Grey Kitchen Cabinets with Subway Tile in Industrial Design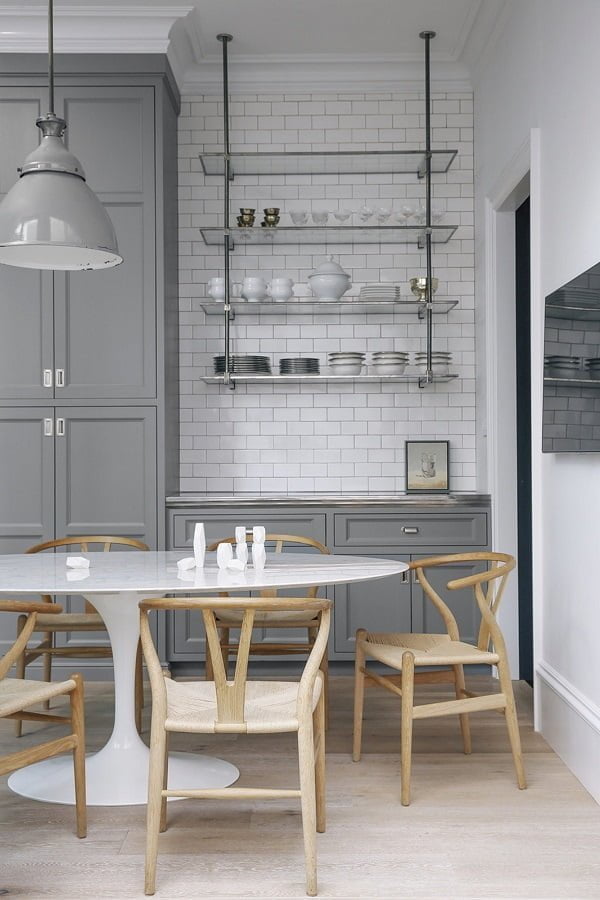 Traditional and industrial aesthetics are combined in this atypical kitchen. The grey cabinets match the metal pendant lamp which, in turn, match the DIY pipe and glass shelves that hang from the ceiling.
Luxury Grey Kitchen Cabinets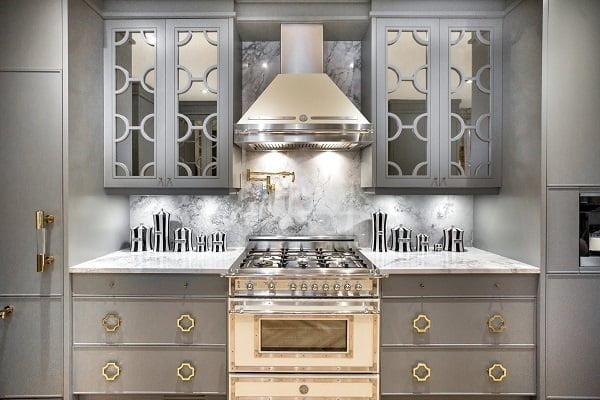 Arguably the most luxurious design on this list. French grey panels are paired with marble counters and that rise up to the backsplash. Gold handles and trims can be found with exquisite detail.
Dark Grey Kitchen Cabinets
Dark Grey Kitchen Cabinets with White Countertops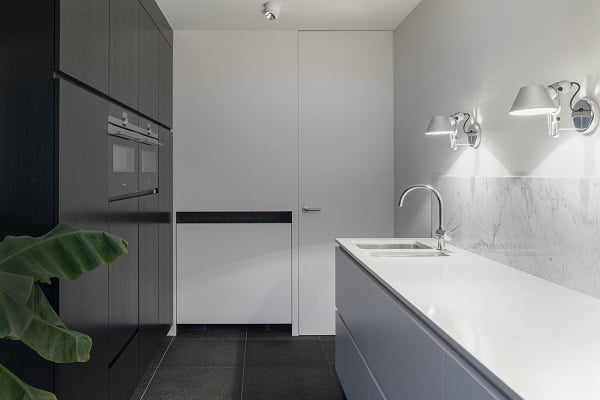 This is the ultimate contrast in the kitchen design, and it is timeless. The dark grey cabinets contrast with the white countertops with a lot of decor drama taking place.
Floor to Ceiling Grey Kitchen Cabinets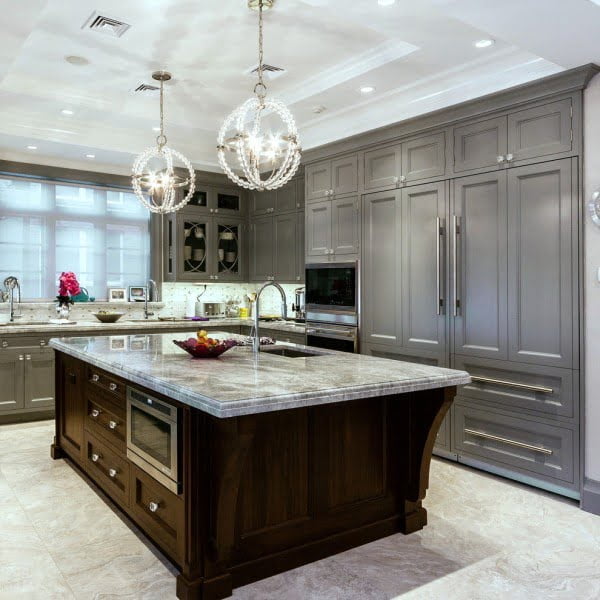 The grey kitchen cabinets rise from the floor to the ceiling in this elegant kitchen. They match the grey marble floor and countertops perfectly. Silver handles and appliances integrate seamlessly into the system.
Grey Kitchen Cabinets in Modern Farmhouse Decor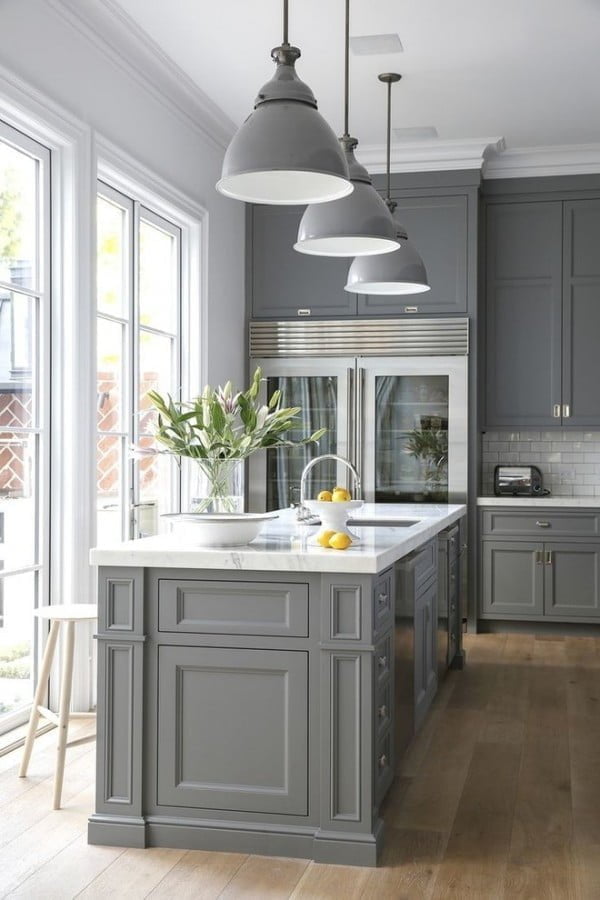 This traditional kitchen gets a modern touch through the use of neutral colors from the center island to the storage spaces and the pendant lamps. These go well with the predominantly white walls, counters, ceiling, backsplash, and décor.
Grey Cabinets in a White Kitchen Design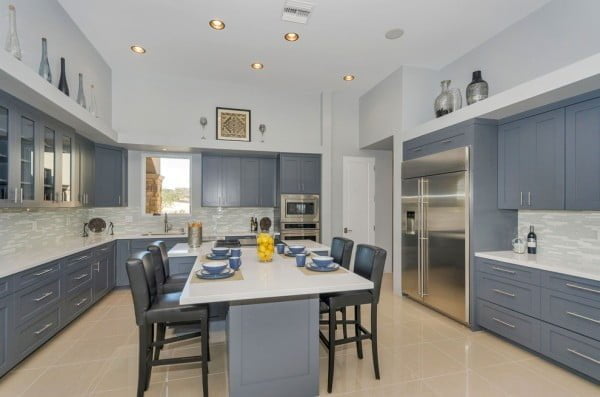 This eat-in kitchen has everything including a dining table, but it doesn't look cramped or cluttered. The high ceiling makes it seem quite spacious, and all the furnishings complement each other.
Wooden Panel Grey Kitchen Cabinets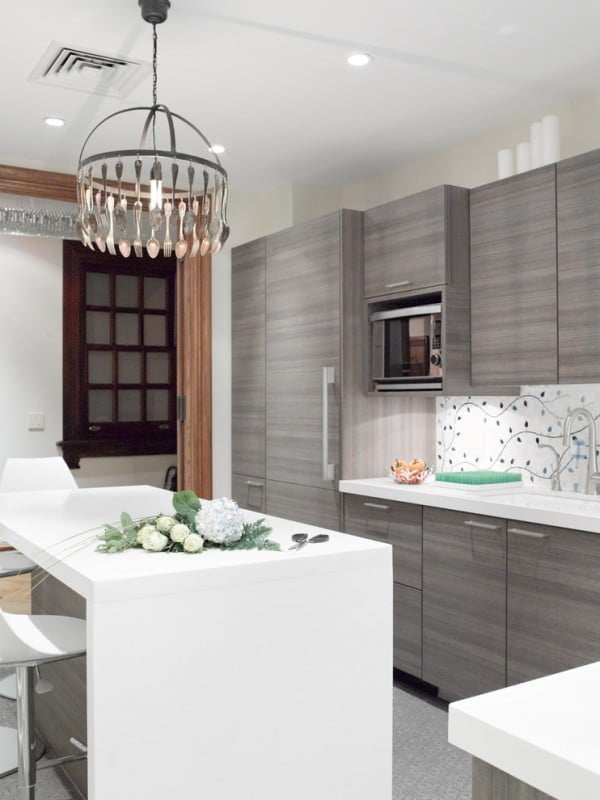 Unlike the usual flat grey finish, these cabinets have more character thanks to the horizontal grains of the wood panels. These are paired with minimalist metal handles. The bottom of the island has the same treatment.
Grey Kitchen Design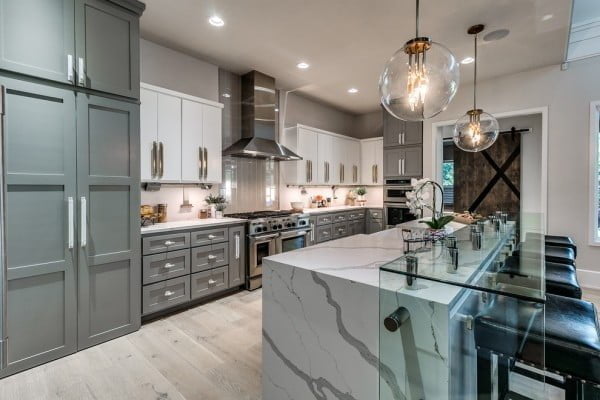 The grey cabinets certainly look at home here thanks to the similarly colored backsplash tiles and kitchen wall. They have recessed shaker style panels that open using white metal knobs and flat handles.
Grey Kitchen Cabinets in Rustic Industrial Decor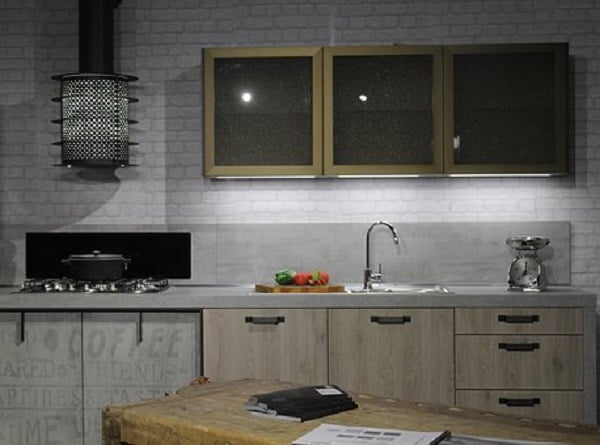 This small rustic industrial kitchen packs a lot of items but keeps everything looking clean and warm by bathing most surfaces in grey tones.
Modern Classic Kitchen Grey Cabinets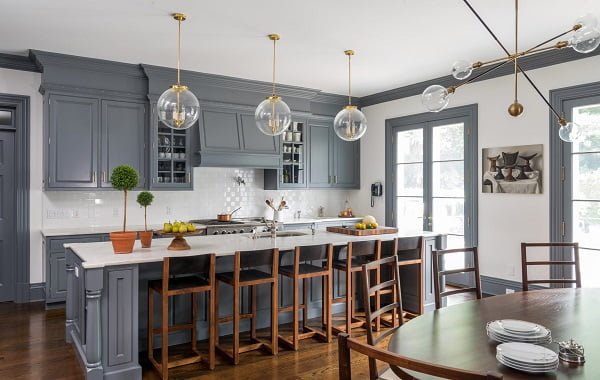 Here is another variation on the grey and white theme. The white backsplash uses subway tiles that cover almost the entire middle portion of the wall. This makes the upper cabinets look like they are suspended from the ceiling.
Grey Kitchen Cabinets with White Marble Countertops
Here is another glamorous kitchen with a breakfast bar at the center flanked by a mix of towering light and dark grey cabinets. As for the backsplash, it's the usual subway tiles except for the marble that curves up to the hood.
Liked this article? Here's what you can read next: