Last updated on November 15, 2023
Do you also find white kitchen cabinets boring? Let's change the go-to classic to something else. Check out these alternatives.
The traditional all-white color scheme may not be the best choice if you're in the market for a new kitchen color scheme. Despite the color's longevity throughout the years, it seems to have fallen out of favor due to shifting paint styles.
What's trending? Dual color cabinets (different upper and lower cabinet colors), distressed off-whites, and dramatic dark tones take over the kitchen.
The use of complementary colors may assist in unifying the kitchen's design and layout while injecting some much-needed vitality into the space.
A brighter, more colorful kitchen is possibly more enjoyable to use. Plenty of space is available without seeming cramped.
If you're as tired of white as we all are, here are some options to make your kitchen seem fantastic.
Off White Shades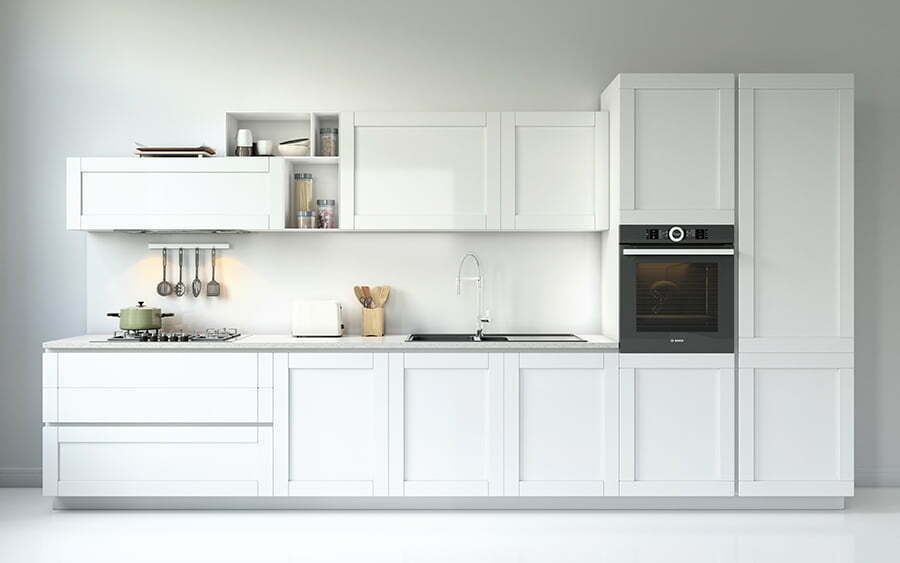 Paired with off-white cabinets creates a sophisticated look in the kitchen. They suit either a traditional or a more modern kitchen design. However, off-white cupboards may be harder to maintain clean than their white counterparts.
Select high-quality paint that covers fingerprints and smudges if you go with off-white woodwork. White can make one feel more open and focused on specifics.
When selecting the white color for the walls, it is essential to consider the space as a whole. For a clean, modern look, choose a white that leans blue.
Blue Hues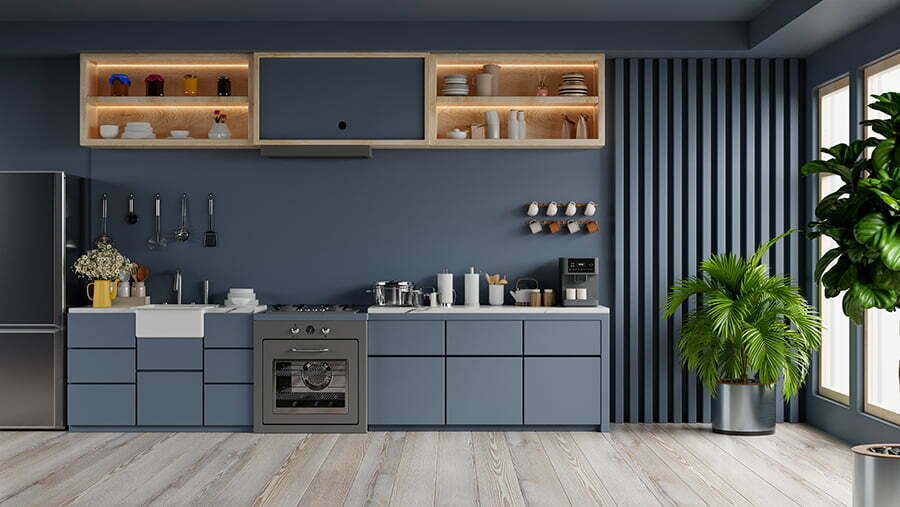 Regarding cabinet paint, blue has been a popular choice recently. A hue that may be both formal and casual, blue is very adaptable.
White is the most significant and trendy hue to pair with blue. The combination of the white walls and blue cabinetry creates a stunning visual effect in the kitchen.
In addition to providing a timeless and on-trend aesthetic, white countertops also have the added benefit of making a space seem more open and airy.
Cabinet Fluting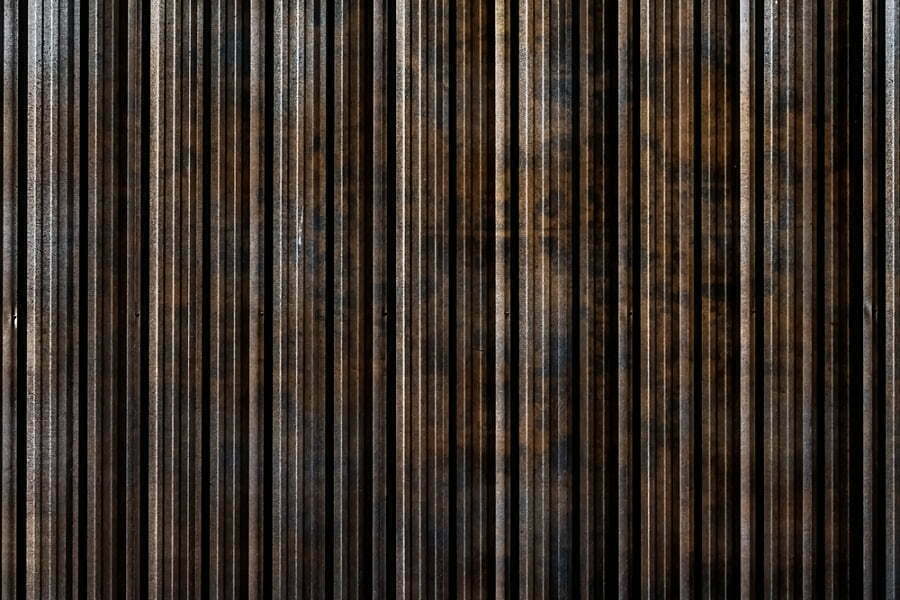 Fluting, or vertical wood molding, serves several uses and is often applied to cabinets for aesthetic and practical reasons. The word fluting describes the appearance of three or more vertical grooves down the face of the molding.
The decorative fluting technique has seen a resurgence in recent years, making a comeback in both traditional and contemporary interior design.
It's great for adding visual interest and can blend with the kitchen tools.
Mid-century Tones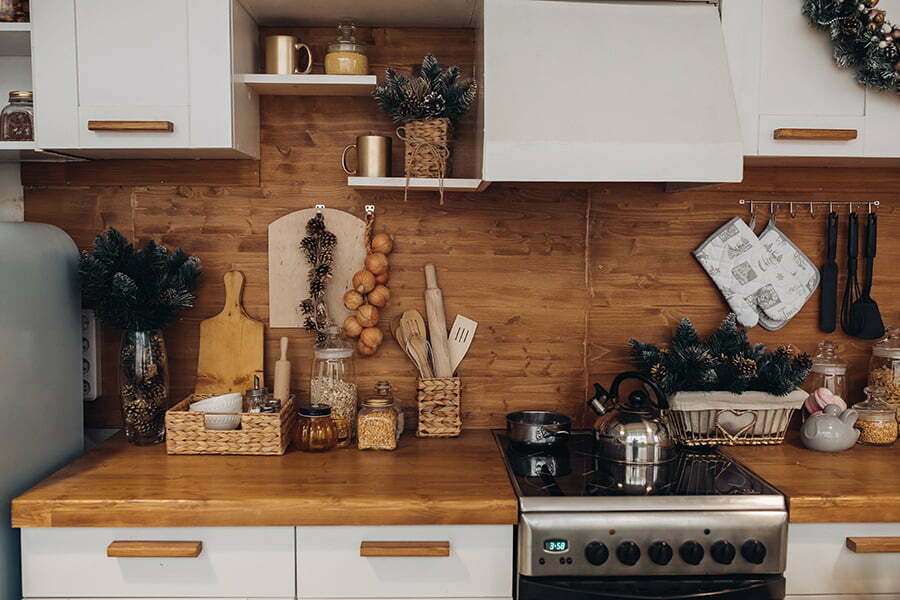 The phrase midcentury modern is often used to refer to a style of architecture and interior decoration that was popular in the middle of the twentieth century.
Furniture with sharp edges, shiny brass hardware, and sturdy wood construction were all in style, especially in the kitchen.
These natural tones, evocative of the handmade, organic quality of midcentury modern design, may be utilized in combination with other colors or alone for a sleek, monochromatic effect.
With both indoor and outdoor influences, mid-century modern interior design is characterized by a minimalist aesthetic emphasizing clean lines and subdued color palettes.
Warm Tones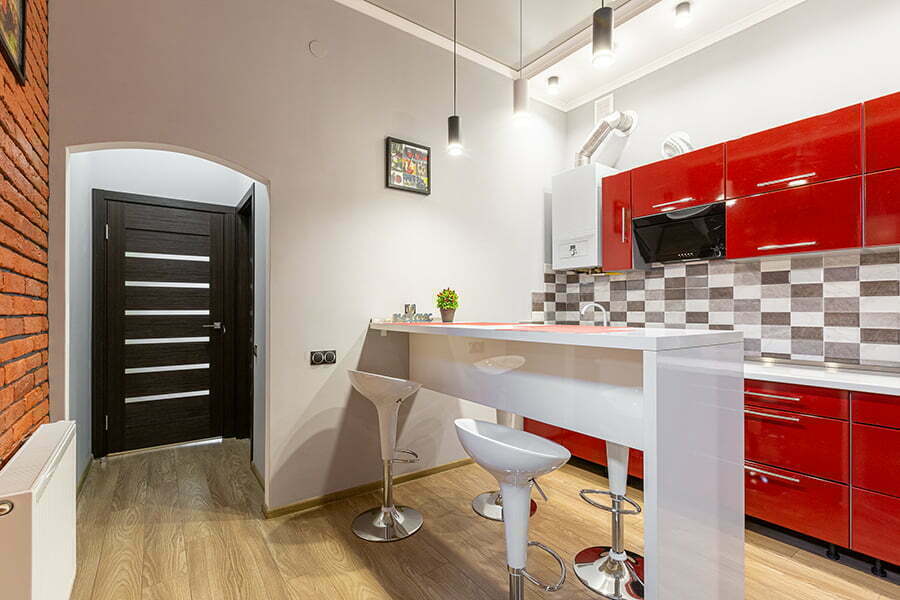 Colors like fire engine red, burnt orange, sunshine yellow, and warm neutrals work well in the kitchen and dining room.
It's possible to utilize these hues to appeal to various tastes. You may create a relaxing beach vibe by combining warm, spicy tones with cold, blue, and neutral shades.
Combining two or more warm hues creates a more inviting atmosphere in the kitchen, and striking a balance between them evokes a sense of the beach.
Your kitchen is a great place to use a wide variety of colors, so feel free to choose a warm color scheme.
Cooler Tones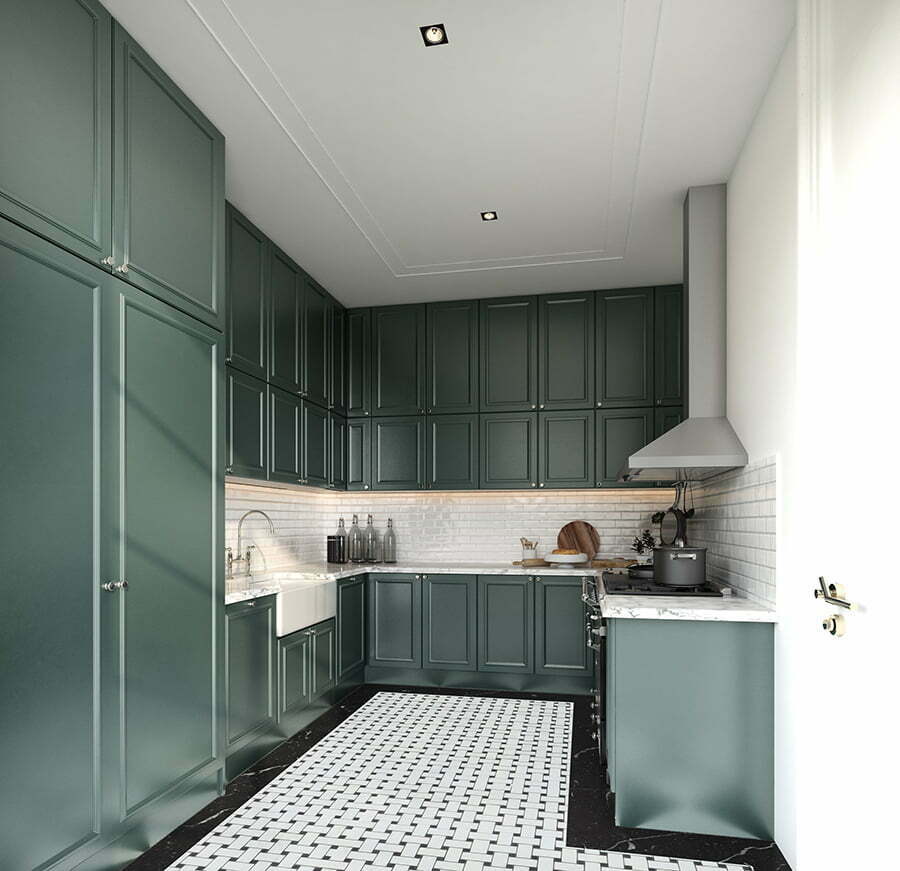 To name just a few examples, the colors blue, green, indigo, and violet are all considered to be chilly tones.
If you believe the wavelengths of light that make up different colors, you'll note that the wavelengths of light that make up cold colors are shorter than those that make up warm hues.
It is a very bright and crisp white, and it looks fantastic in a kitchen that gets a lot of natural light, but the little hint of blue that it has may become more apparent in more great lighting.
Neutral Tones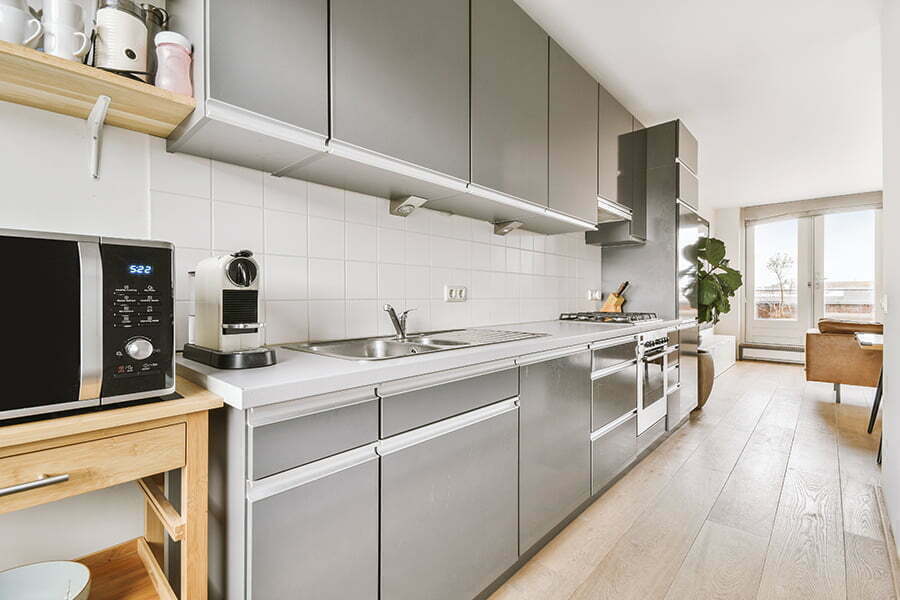 Won't obstruct any of the light from outside and may even make it seem like your kitchen is more extensive and brighter than it is.
White, beige, gray, and sage are all great neutrals for a kitchen. Gray and sage are two more. Neutrals have a wide range of colors to choose from, including earthy tones like linen and taupe and elegant off-whites like ivory, chalk, and alabaster.
Wood Tones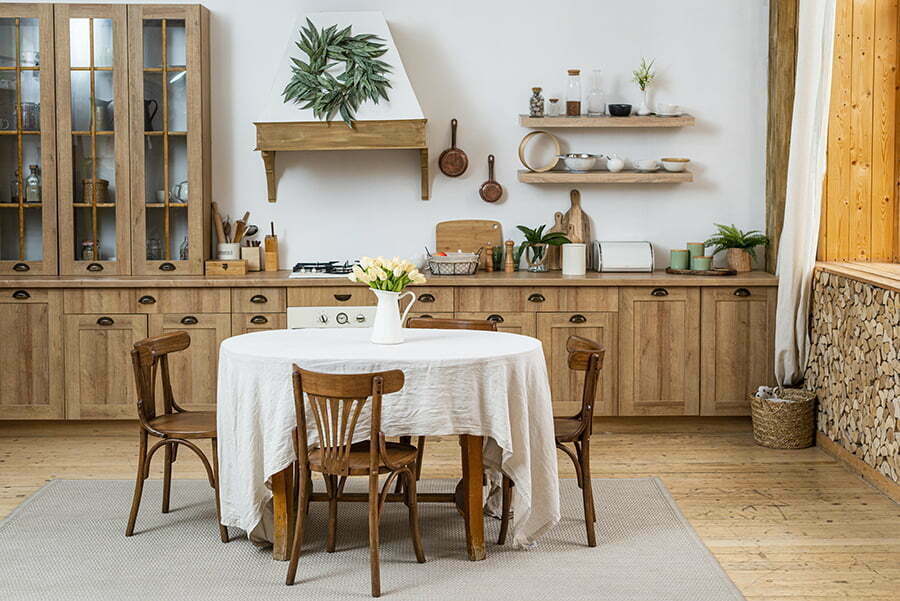 For kitchen cabinets, pine, oak, hickory, cherry, and maple are the five most refined and most common varieties of wood. Cherry and maple are the most expensive because they look the most luxurious.
All of them work well, even in the steamy conditions of a kitchen. When weighing the benefits and drawbacks of each material, solid wood cabinets almost always come out on top.
If cared for properly, its high-quality construction should last a lifetime.
Metallic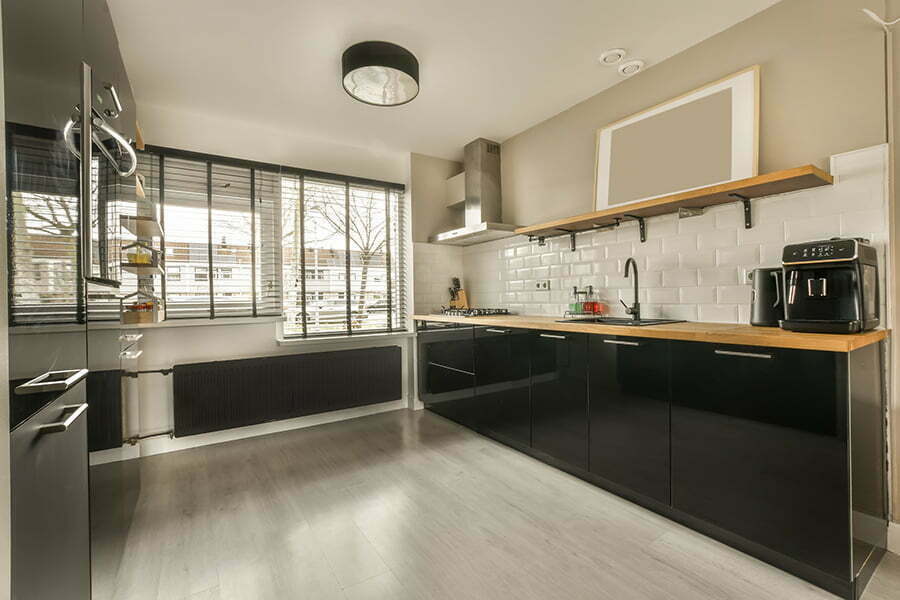 Metal storage for the kitchen is an excellent long-term investment. It will last longer than traditional wooden cabinets.
Consider installing metal storage cabinets to deter rodents from making the kitchen their home. There's a chance that you can maintain this cabinet with little effort and cleaning.
Stainless steel may be recycled several times before losing its sheen because of its resistance to rust and corrosion. This standard is what for business applications.
The best material for kitchen cabinetry is stainless steel since it is long-lasting and straightforward to maintain.
Bold Colors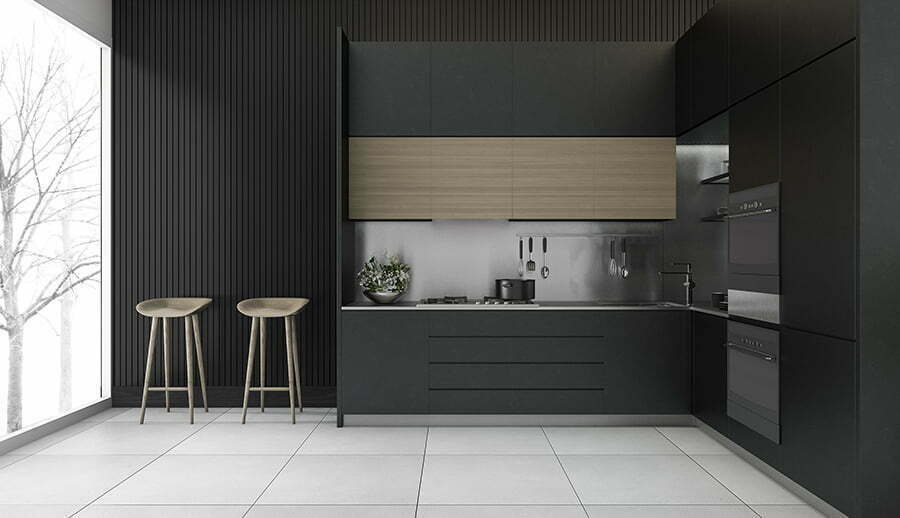 Painting your kitchen cabinets with a striking hue will make them eye-catching. Use these if you want a kitchen with many personalities without sacrificing its traditional charms.
The evergreens here go well with the chrome fixtures, stainless steel appliances, and brass lighting around the spacious room.
You may use this calming color on an island or all the kitchen cabinets, trim, and even the range hood (or one of the range hood alternatives).
The black paint provides a stunning background for brass fixtures while also drawing attention to the waterfall countertop's deep gray veins.
Greige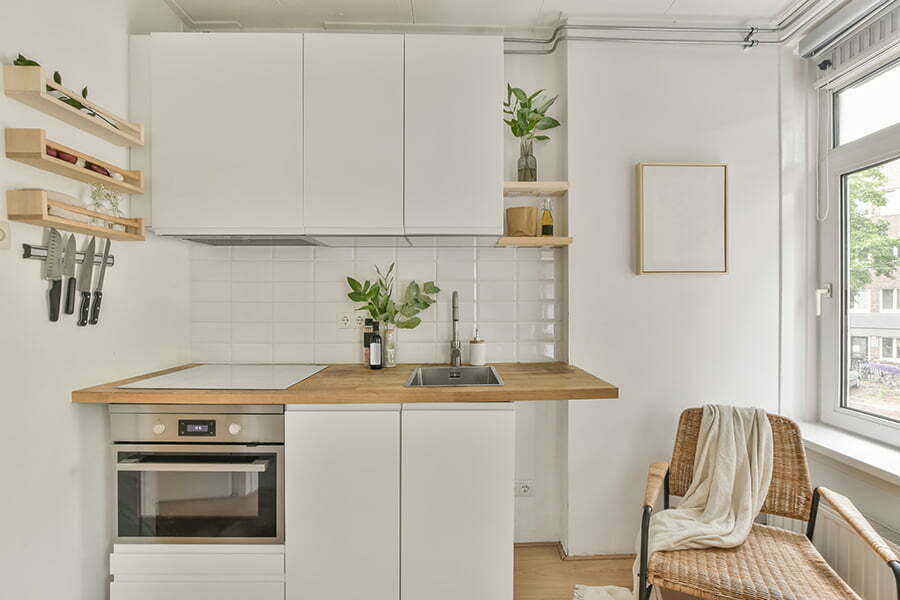 The color greige is one of a kind since it is the perfect blend of beige and gray tones. It is slightly lighter than taupe and warmer than your typical gray, making it the perfect neutral to use in various settings.
A kitchen decorated with greige conveys sophistication, coziness, and comfort. It pairs well with metal, marble, or quartz in brilliant white color and any wood shade.
Sage Green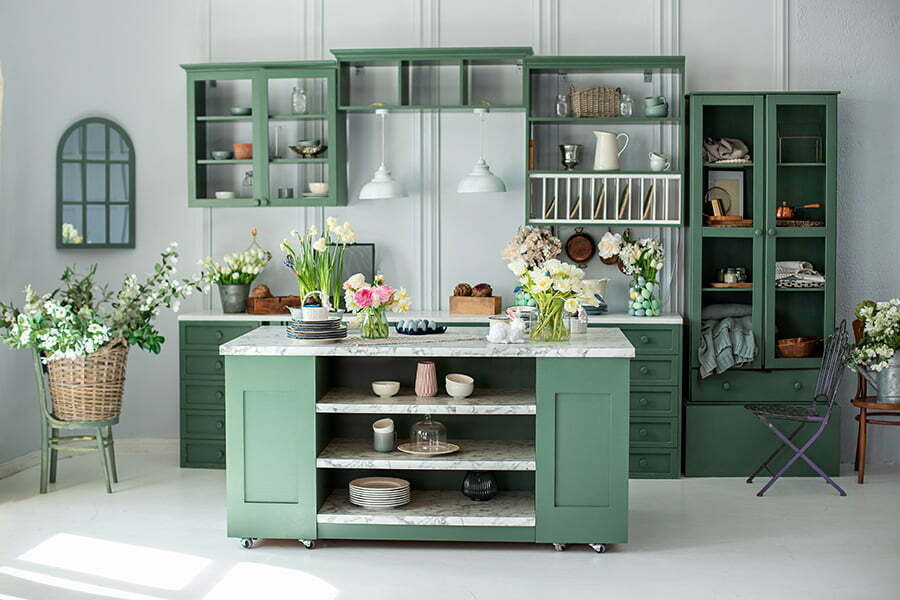 Paint colors that are green but not in-your-face are the most often used. Pastel, subdued, even lighter grey-toned greens are suitable alternatives for cabinet colors—think sage or mint.
They will not only be classic in your house and kitchen, but they may still create a statement.
Sage, being on the less deep end of the green spectrum, pairs beautifully with soft, muted reds, pinks, and purples.
Wood Stain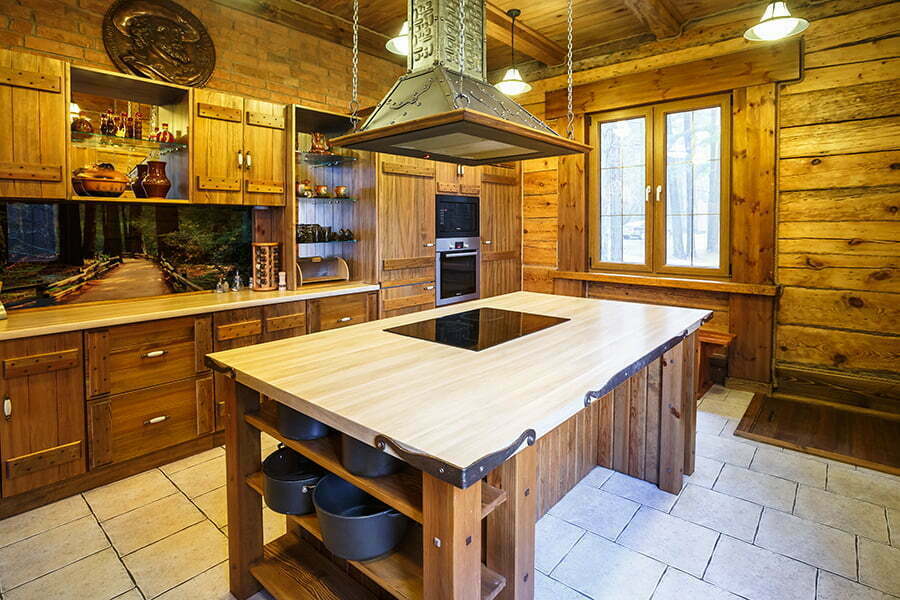 Staining wood is the most acceptable option for finishing cabinets for the most extended lifespan.
As opposed to painted cabinets, wood-stained ones are more discrete and need less upkeep. Cabinets may be using one of many readily available touch-up kits.
A paint that has been good to the wood is more resistant to cracking, flaking, and chipping due to the wood's expansion and contraction due to changes in humidity. Twenty to thirty years is the average time that stained cabinets last.
Zebrawood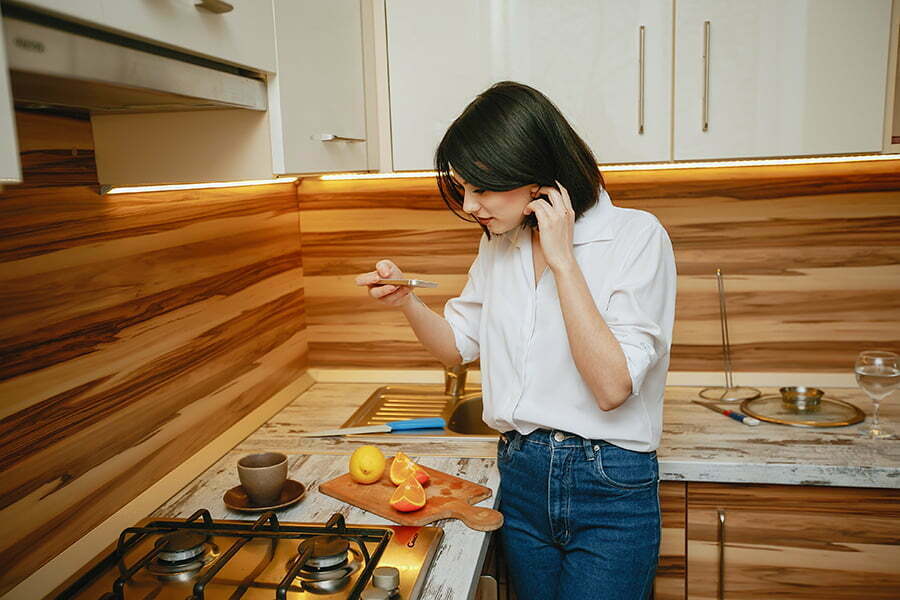 It gets its name from the zebra-like grain pattern that characterizes zebrawood. It is often utilized as a material for kitchen cabinets to break up the monotony of contemporary kitchens.
Zebrawood is a hardwood with an interconnecting grain pattern by the quarter sawing process. Quarter-saw the wood to get the most out of the contrast pattern and the least warping.
It can polish to a high sheen and a clear coat to protect the wood's original grain patterns and contrasts.
Wood Grain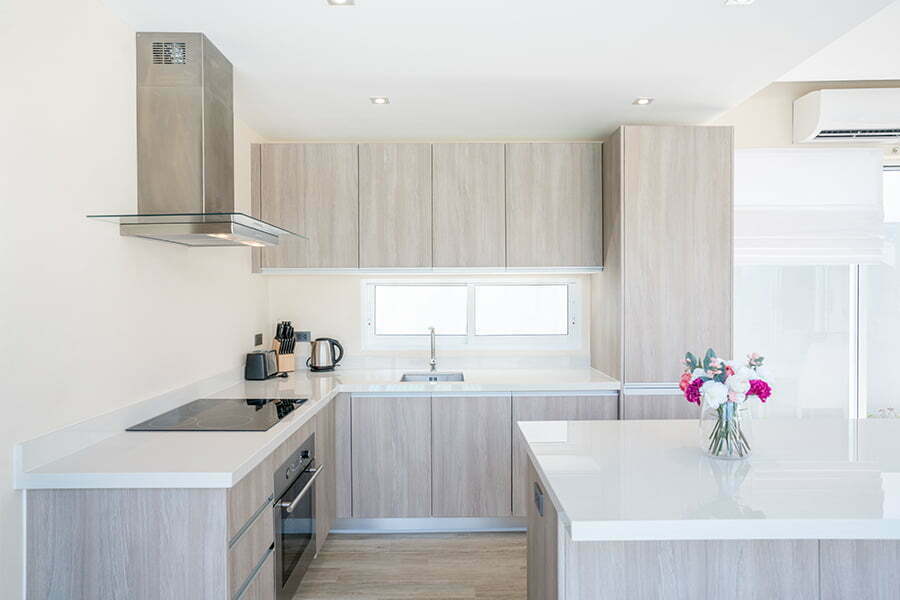 The kitchen cabinets finished with a wood grain pattern will continue to be quite popular for the foreseeable future.
Bespoke builders often work with solid wood in their construction projects. Even semi-custom manufacturers like simple kitchens keep their wood cabinet lines looking as natural as possible.
Shades of Gray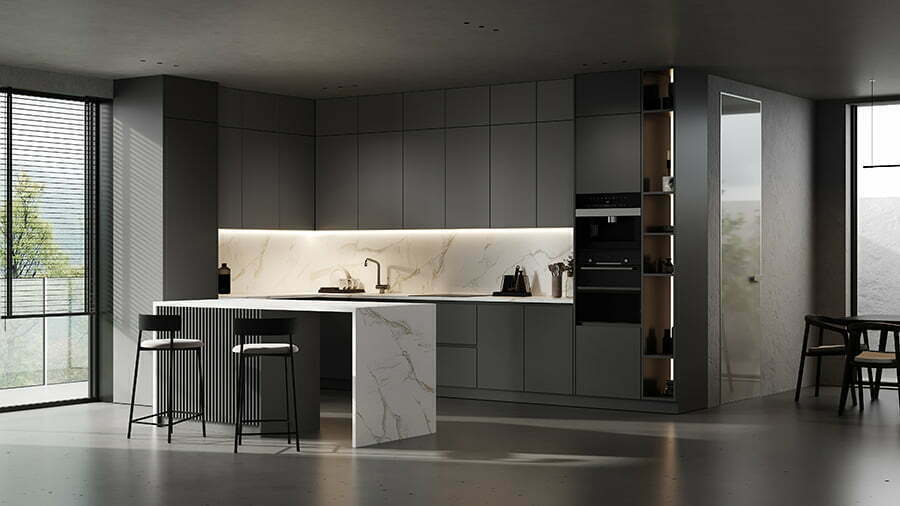 Gray is one of the most popular color choices for homes and interiors because of its timeless and adaptable nature.
This attractive neutral hue for kitchen cabinets and its frequent appearance on furniture and decor.
hile gray isn't precisely on-trend for more traditional kitchens, it has its unique place in the modern kitchen.
Grey cabinetry will never go out of style since maybe can use it in various ways. Your grey cabinets will look contemporary even if a modern kitchen replaces your current one.
Creamy Beige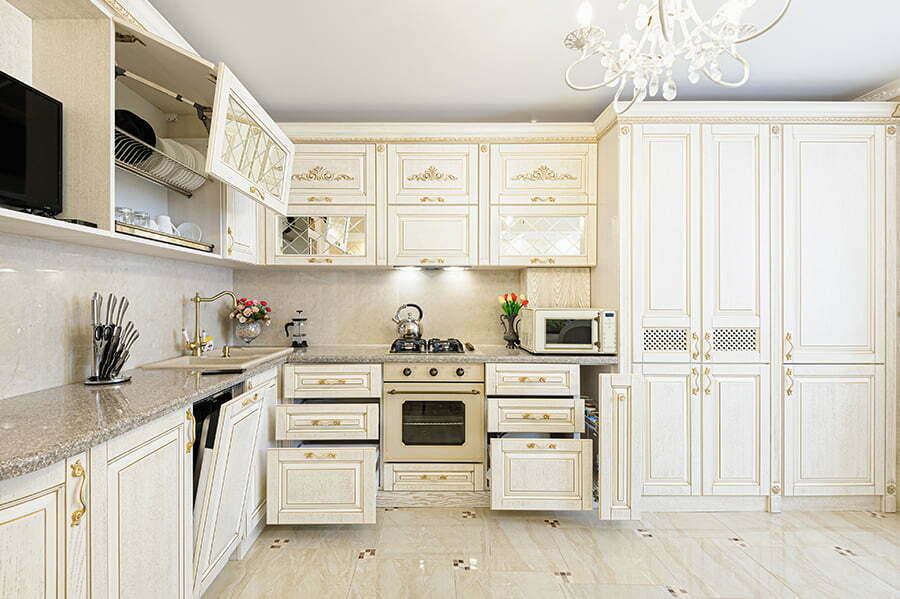 Kitchens with beige cabinetry may seem more contemporary and organized. Recent news articles have suggested that beige might replace gray as the next hot trend in interior design.
Simply by painting them beige, cabinets may seem like light wood. On the contrary, modern kitchens rediscover the soothing tones of cream and other traditionally "warm" hues.
That beige cabinetry kitchen you had to gut because everyone you knew said it was, so last year is making a comeback. Kitchens decorated in soothing white tones are warm and welcoming.
Antique White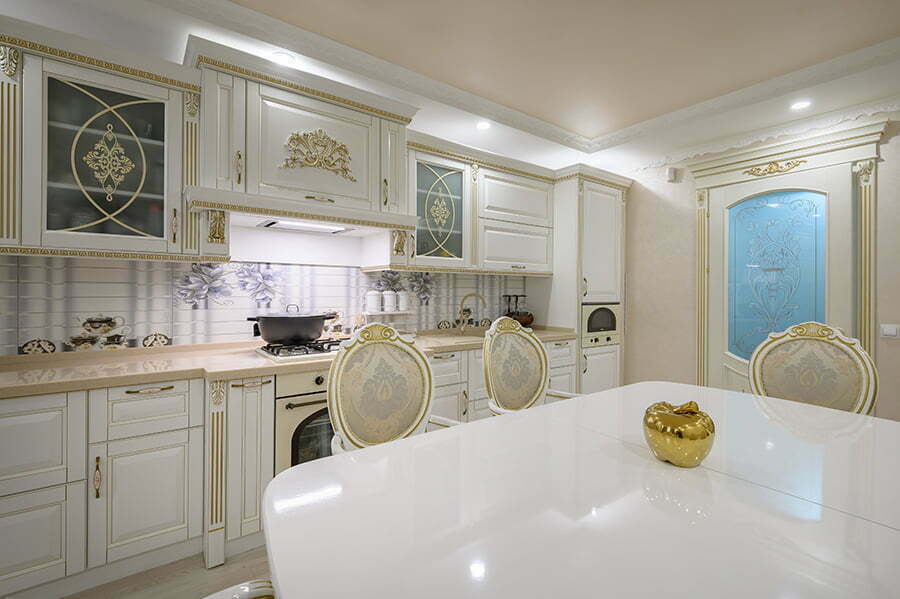 The trademark creamy tone and the construction of the straight line are a winning combination for any kitchen cabinet design. Make a bold statement with a dark island with antique white cabinetry.
For a less striking contrast than brilliant white cabinets would provide, consider pairing antique white kitchen cabinets with black or another dark hue for the worktops and flooring.
Navy Blue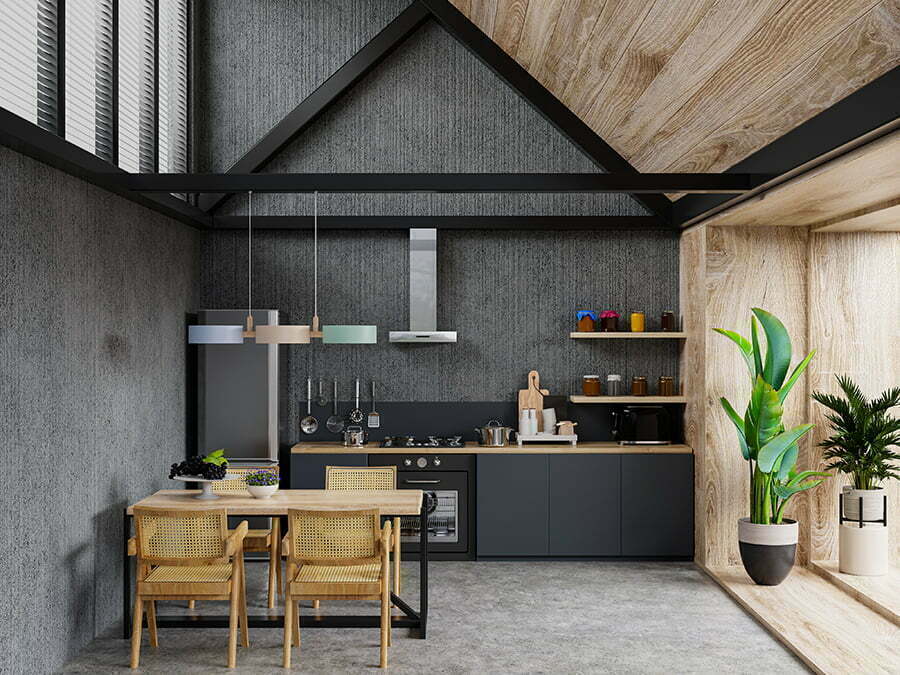 The color navy blue has shown itself to be one of history's most enduring and timeless choices. If you're looking for a new color scheme for your kitchen, the navy blue may not be the first color that springs to mind.
However, this classic and elegant blue might offer the small space a beautiful, uncluttered appeal. More importantly, it may utilize in kitchens and houses of any style.
Black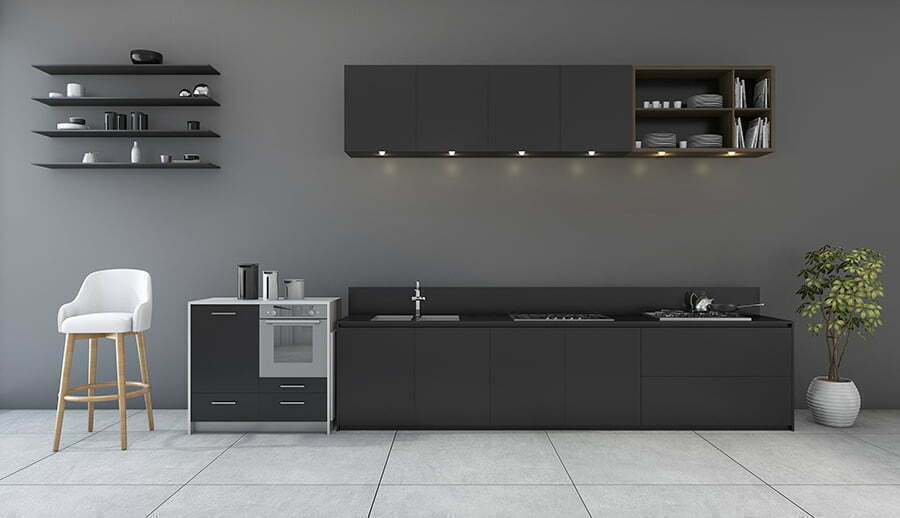 The trend for all-black kitchen cabinets is now famous but won't last forever.
If you want your kitchen to be the focal point of your home's design, installing a sleek black cabinet is necessary.
Compared to dark kitchens, which may give off the appearance of being more personal and exciting, white or brightly colored kitchens might give off the idea that they are clinical.
Kitchens with dark cabinets, such as black or navy blue, are less likely to show fingerprints and smudges.
Those who value cleanliness and order or who have limited time to clean may enjoy this feature.
Creamy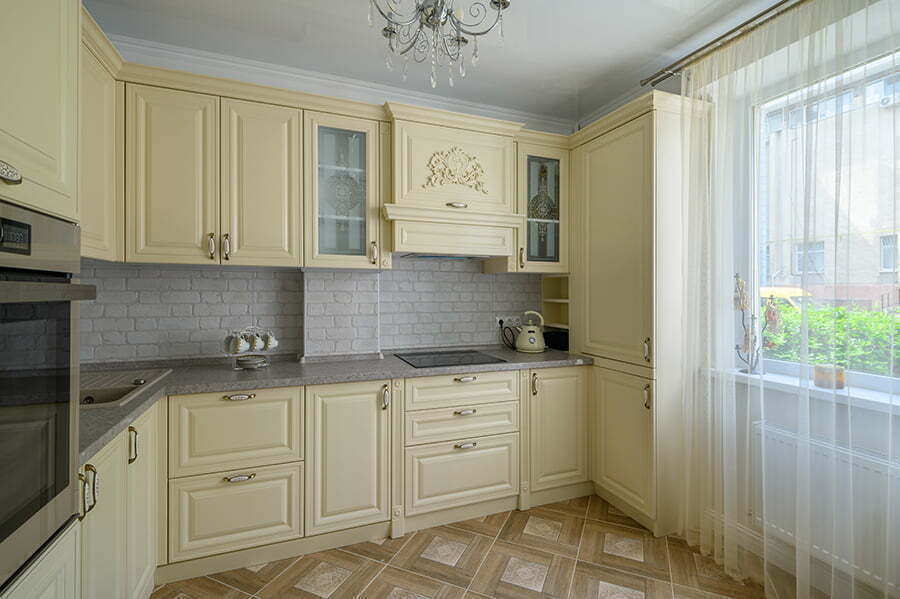 Creamy-colored kitchen cabinets are not just classic and subtle but also on-trend. The range of brownish to light cream tones allows for an infinite number of design permutations.
It's possible that painting the walls of your kitchen a neutral cream color will make a dramatic difference in the space. Because of its versatility, it may blend the cream with various colors to create stunning effects.
Stained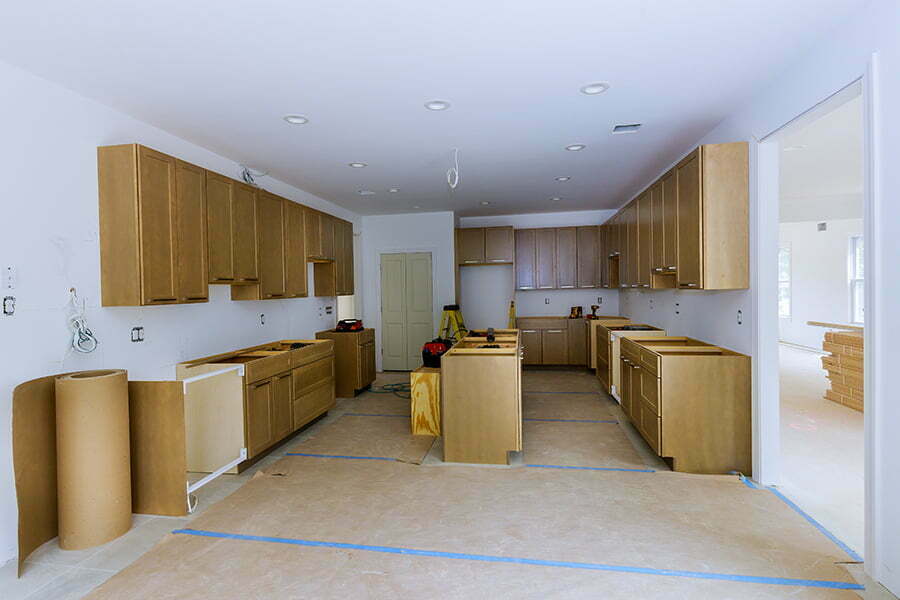 Staining cabinets hide flaws like dents, scratches, and nicks better than paint does. The stain on your cabinets may be by using a touch-up kit.
Stained cabinetry is becoming less frequent, although it may still purchase it. Stained cabinetry will never go out of style. Modern cooks still find them helpful and value them in the kitchen.
Although not the most popular, stained cabinets come in various hues and are still utilized in designs like the transitional kitchen.
Brown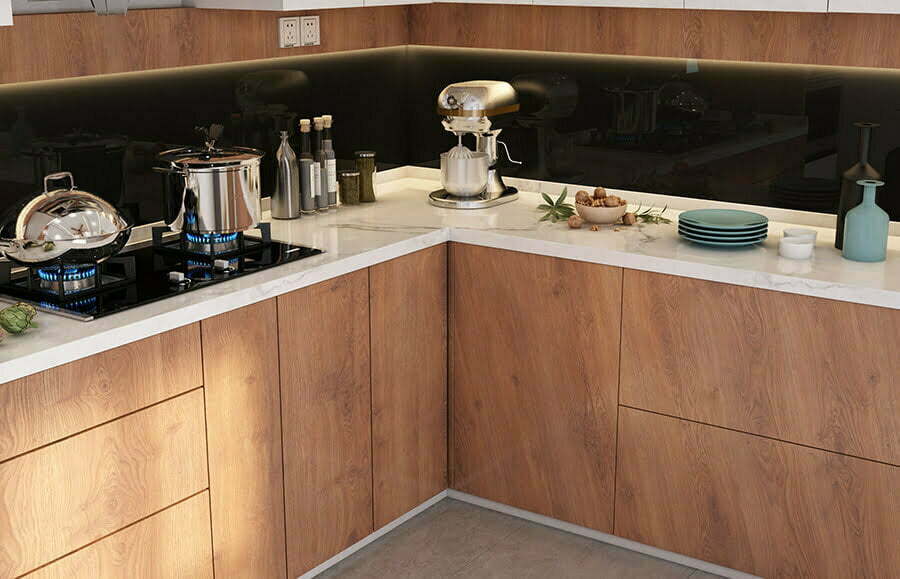 For kitchen cabinets, brown is a classic color. Looking for unique brown acrylic kitchen cabinets is highly recommended. Examine some stunning color schemes that go well with brown cabinets, and choose the one you like most.
Cabinets with a brown hue and a cool undertone will look great with a color scheme consisting of icy neutrals. The walls and countertops vary, from light to dark and from sage green to a dark blue-grey to lavender-toned grey.
Another fantastic option is a kitchen with cabinets in colors between light brown and beige.
Taupe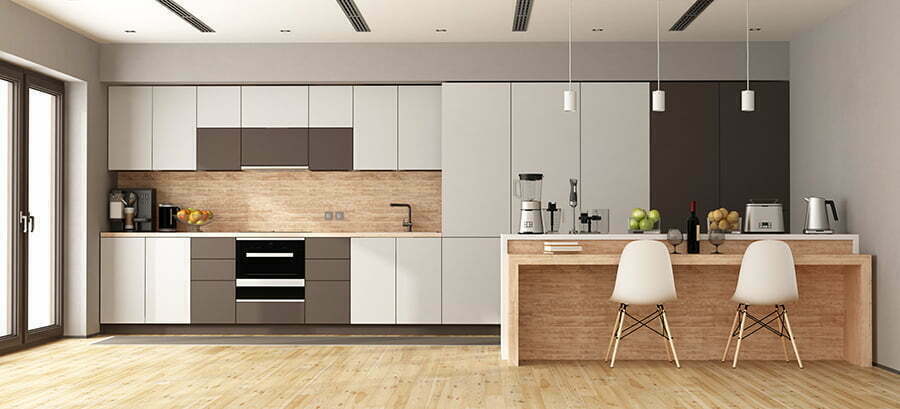 The presence of greenish tones aids the taupe color. To make a striking statement, many people pair taupe cabinets with either white stone countertops and a backsplash or black countertops and a backsplash.
Selecting white upper cabinets and taupe lower cabinets might create the illusion of a two-tone kitchen. For a low-key look, go with shades of gray and brown.
Walnut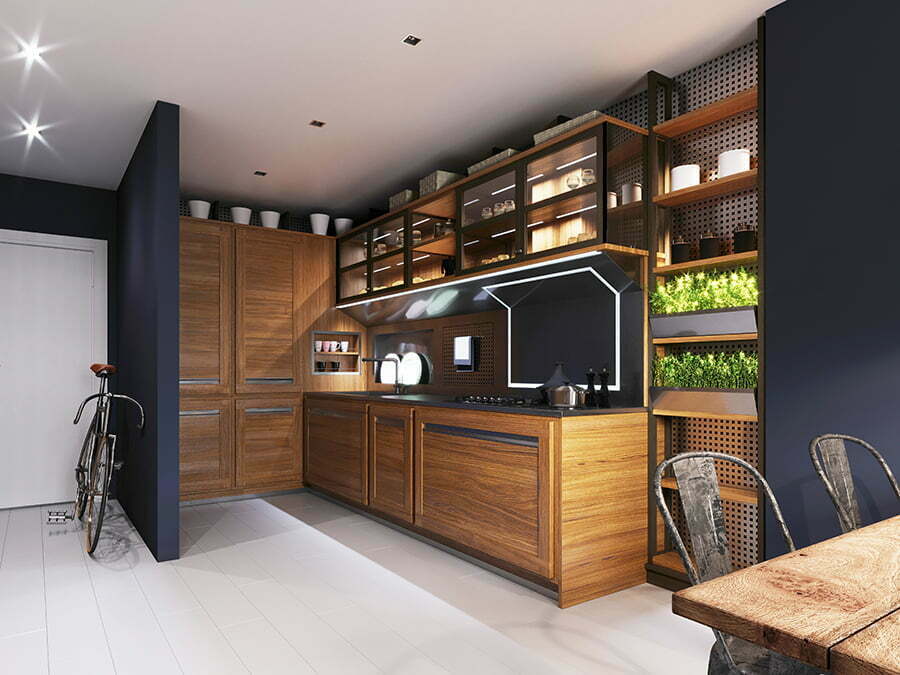 Walnut cabinets are ideal for kitchen cabinetry due to the deep and rich hue of the wood, which lends coziness and refinement to whatever room.
In addition to this, they are simple to maintain and long-lasting. Cabinets made of walnut are adaptable and look lovely in classic and contemporary kitchens.
Two Tone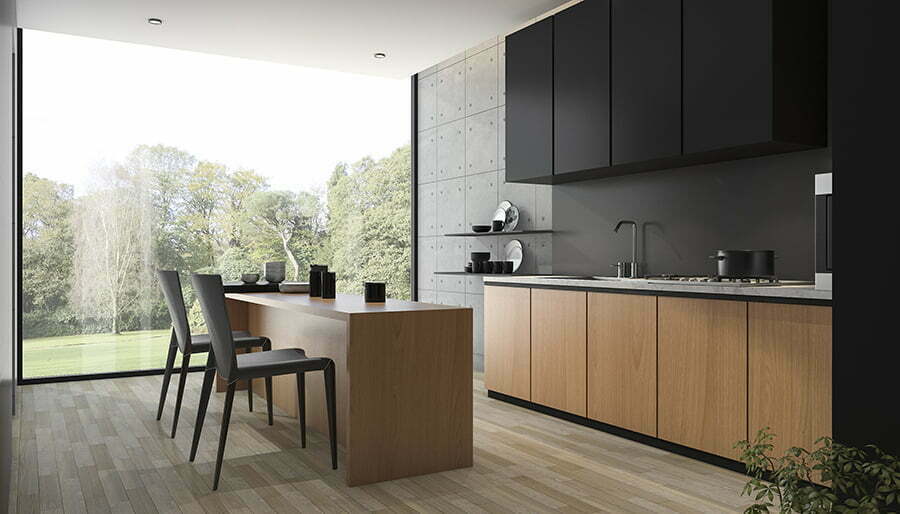 In cabinets with a color scheme consisting of two tones in every kitchen where there is a coexistence of two distinct color schemes, there is room for an unlimited number of conceivable permutations.
It might be a kitchen island crafted from a material different from the custom cabinets. To differentiate the lower cabinets from the upper ones, try painting the lower cabinets in a color that contrasts with the higher ones.
A Subtle Mix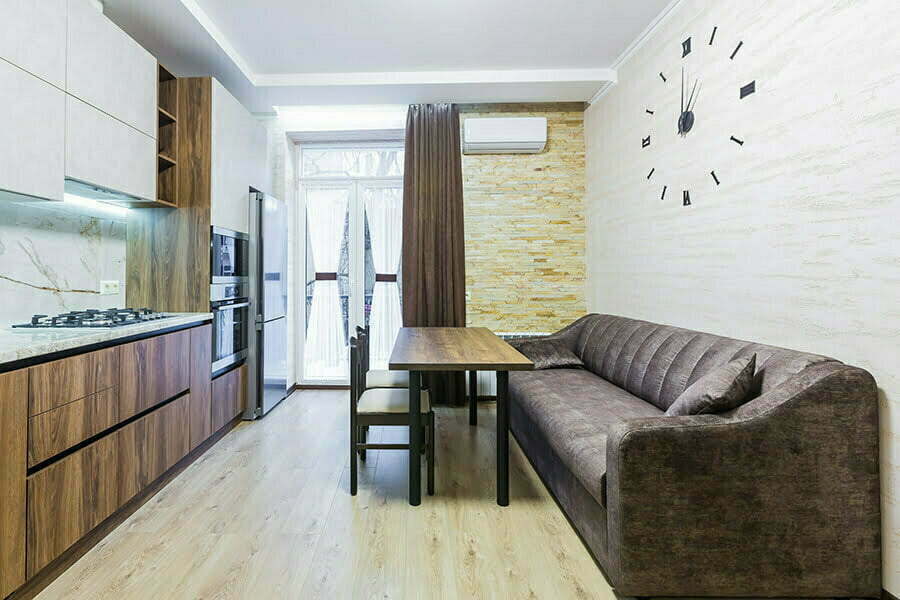 Interior designers often depend on various color combinations and other cabinet elements when creating a one-of-a-kind style for a kitchen cabinet.
However, if you want your kitchen to have a unique and personalized look, you may also accomplish this effect by combining two diverse cabinet types.
FAQ
What is the most popular kitchen cabinet color?
There is a movement toward earthier, warmer colors this year, and it's likely to carry over to 2023.
Are white kitchen cabinets going out of style?
Although white kitchens will always be popular, the more on-trend colors for 2023 will be warmer and more earthy, so don't worry about your white kitchen going out of style soon.
Are white kitchens boring?
No need to worry that an all-white kitchen will be boring or outdated just because of the color scheme. While it's true that white kitchens will never go out of style, they also have a natural advantage in terms of design that prevents them from looking dull or lifeless, even when they're completely white.
What color cabinets will always be in style?
Classic colors such as white, grey, and even black will not go out of style, even if they are a bit boring.
Recap
Liked this article? Here's what you can read next: