Last Updated on
These kitchen layout ideas will guide you through everything you need to know about planning a dream kitchen, and inspire you to design one.
Home is not just a place where you come at the end of the day to sleep. Since the dawn of humanity, we have moved and chosen our dwellings according to food. Therefore, a home without a kitchen lacks a beating heart. Designing one can be a daunting endeavor, but a kitchen of your dreams is the cornerstone of a place you'll call home for decades – maybe even for the rest of your life.
It's no wonder that people are less keen on moving out of their house or apartment if the kitchen is fashioned specifically to their taste. Now, when designing the right kitchen for yourself, it all comes down to understanding what you want, both in terms of functionality and expressing your style through details. If you're on the lookout for some broad ideas that will spark your imagination, here's how to plan your own dream kitchen.
What's Inside?
How to Design a Kitchen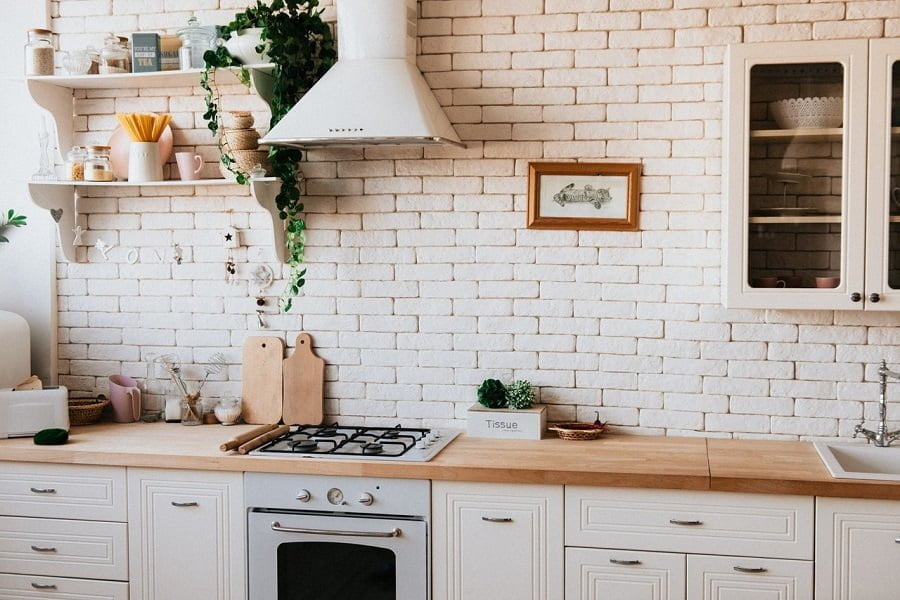 What do broad ideas entail, exactly? Designing a kitchen is a complex process for several reasons. First, you have to consider your options regarding the size, shape, and layout. Second, there are countless moving parts, panels, fixtures, and pieces of furniture to match carefully.
Maybe you've got a specific color that inspires you. Maybe you have your heart set on a specific type of wall fixtures you're going to get, or you've already decided on the entire theme of the kitchen. These aspects are all important, but priorities have to be addressed first. The key to a successfully designed kitchen is to start with the broad strokes and funnel your way down from there.
What do top designers say about it?
Emily Henderson likes her kitchen design with thicker countertops, mixed material counters and islands, counter cabinetry, shaker style cabinet fronts, vertical tile backsplashes.
And here's what Amber Lewis finds important; you have to think function first, update pulls and knobs, update IKEA cabinets, take care of good storage, experiment with paint.
Zoom out: follow the trends, experiment with the look, but always keep function first.
Kitchen Layout Tools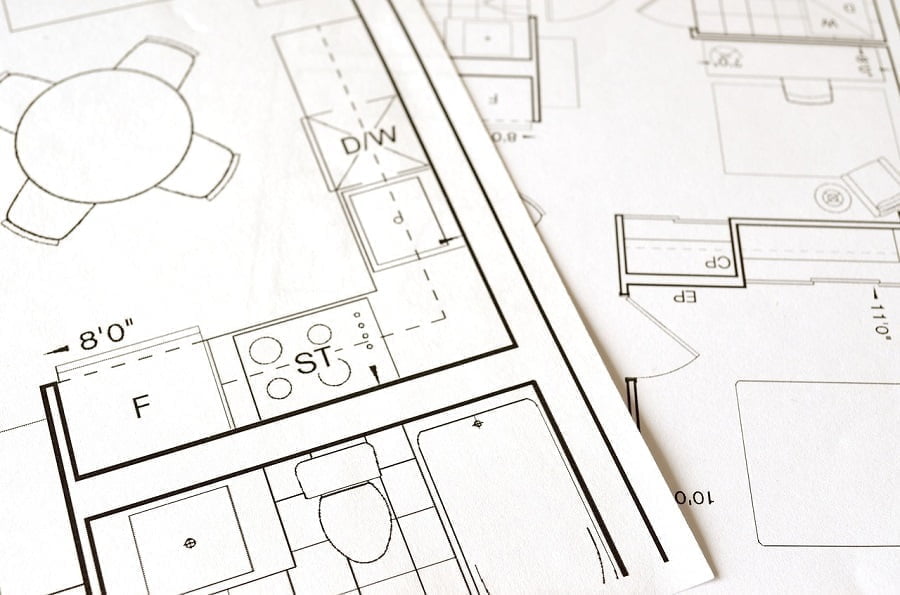 First things first, you need to have a floor plan or at least an idea of what sort of a floor plan you want. A good start is to use an online kitchen design software. Here are a few good ones that can get you started in a heartbeat:
The rest will have to fit in according to this plan. However, unless you're a designer or an engineer yourself, you will need professional help to realize your vision fully.
You'll have enough time to pick your pick up walnut wood serving trays, mahogany counter doors, and brass pendant lights. For now, it's best to rely on the expertise of an architectural technologist or an architect, who will create properly scaled drawing of the current layout and a working draft. 
Only when you're certain that you have a piece of paper that shows everything properly aligned and scaled can you proceed with the plans.
Furthermore, it would be a good idea to make several A4 copies of this layout so that your family members can pencil in their ideas and make alterations. All in all, copies serve for creative brainstorming and playing around with the 'what ifs' that sometimes lead to interesting and inventive solutions.
Remember – creating a good floor plan is strongly interconnected with the choice of layout. One does not go without the other. According to the square footage you have on your hands, you can go through trial and error with the architect until you find creative solutions that are practical as well as able to fulfill your desires.
Average Kitchen Size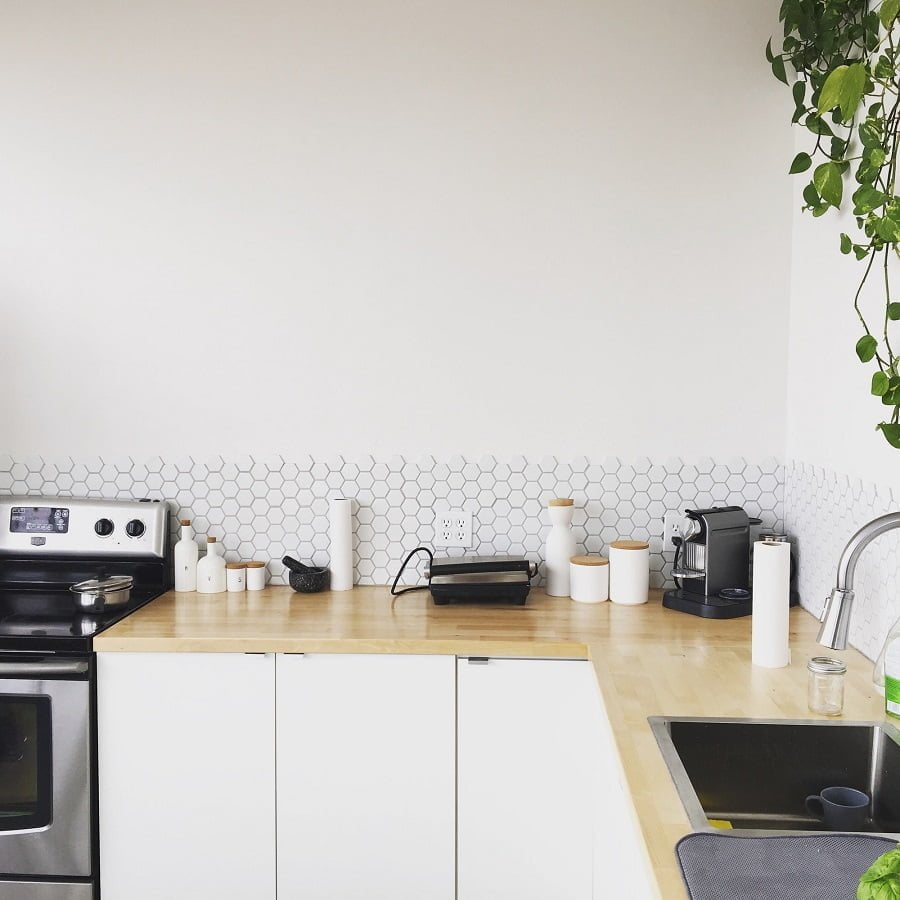 An average kitchen size is 161 square feet, according to a study by NKBA.
Furthermore, the mid-size stretches between 100 and 200 square feet. Anything over that can be considered big, though it is far from uncommon (more on that below). Small kitchen areas usually measure 70 square feet or less.
Now, both floor plan and layout of the elements will depend on your prioritizes within any of those sizes. For example, you might prefer more leg and elbow space, which does provide an airier environment, but it also includes more leg work.
On the other hand, you might just prefer a more compact environment for the kitchen work triangle, which cuts out the leg work significantly.
While such questions might sound trivial to you when compared to the design and choice of appliances, they are nevertheless deciding factors for the future appeal of your kitchen.  
Kitchen Dimensions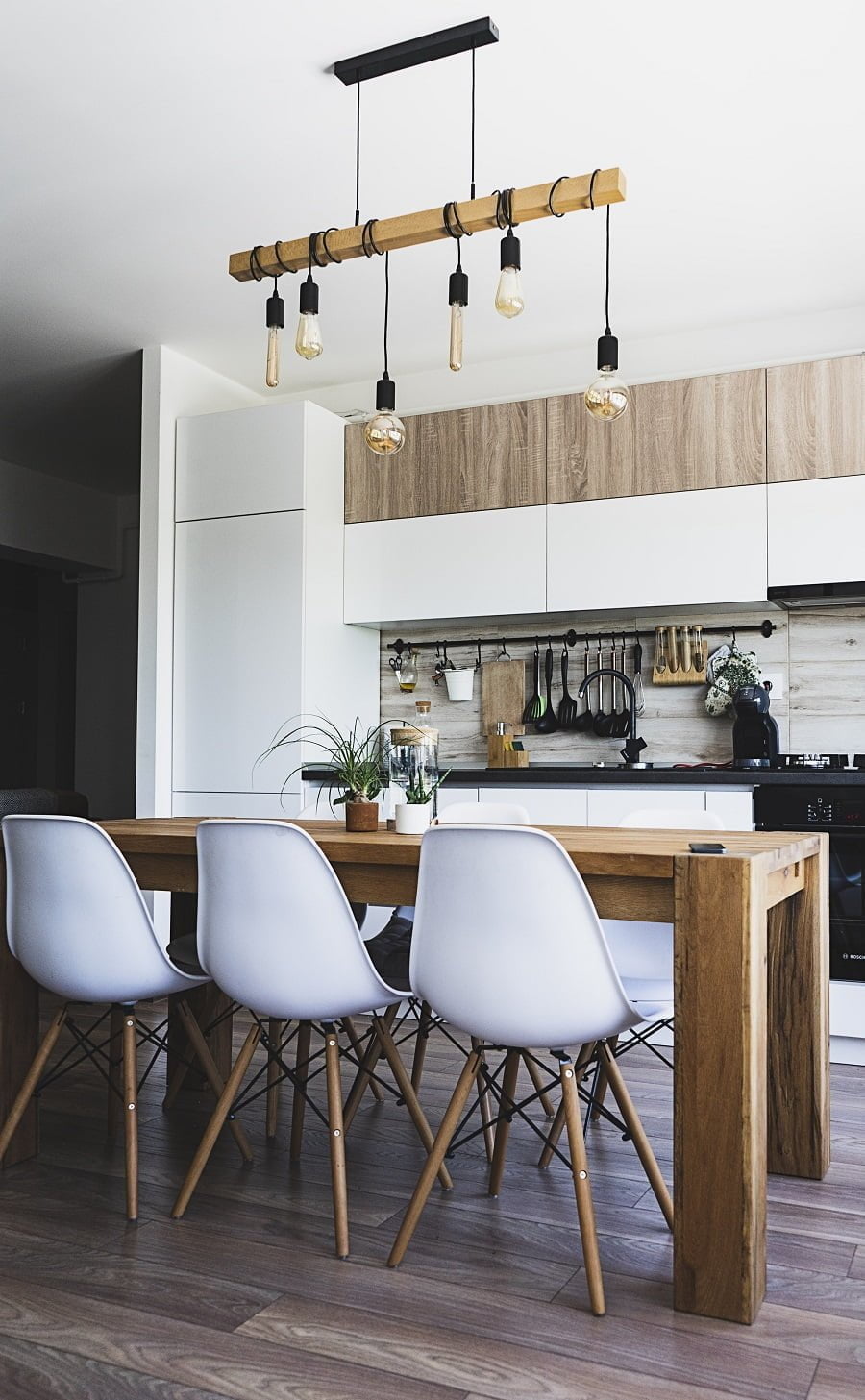 Now, we've mentioned that kitchen areas measuring 200 square feet and more can be considered big. However, an average kitchen size, when compared to a rough estimate of 2,400 square feet for an average home, lies between 250 and 350 square feet (oftentimes 10% – 15% of the floor space).
If your kitchen is more than 250 square feet big, you can easily consider adding in a dining area into that square footage, which also means smaller kitchen dimensions. Think of it this way – a widely accepted traditional benchmark for a kitchen is the golden 10 by 10, which is to say 100 square feet. When you've got more than double that space, a dining area easily fits in.
Still, if you have to work with 70 square feet or less, the dining room doesn't count into the floor plan – especially if you are interested in, let's say, kitchen island areas.
Open Kitchen Design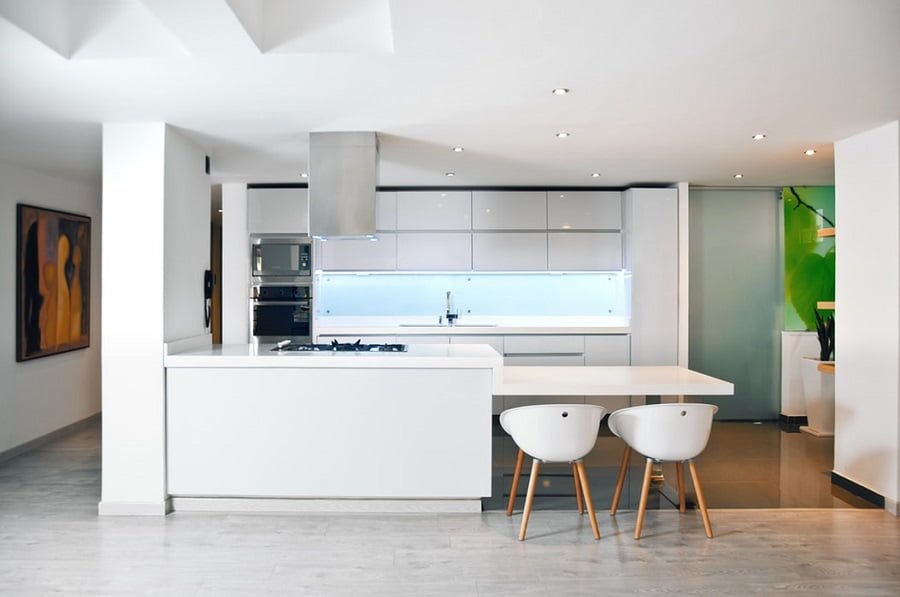 The open kitchen design concept can compensate for the modest availability of space. They can make the adjoining areas and the kitchen itself appear grander, especially if the dining island is right beside it.
In essence, the lack of enclosed walls is a sound choice if you're a fan of the open floor plan in general. But it all comes down to a very specific domestic preference  – do you mind the various odors from cooking invading the other parts of your household?
Galley Kitchen Design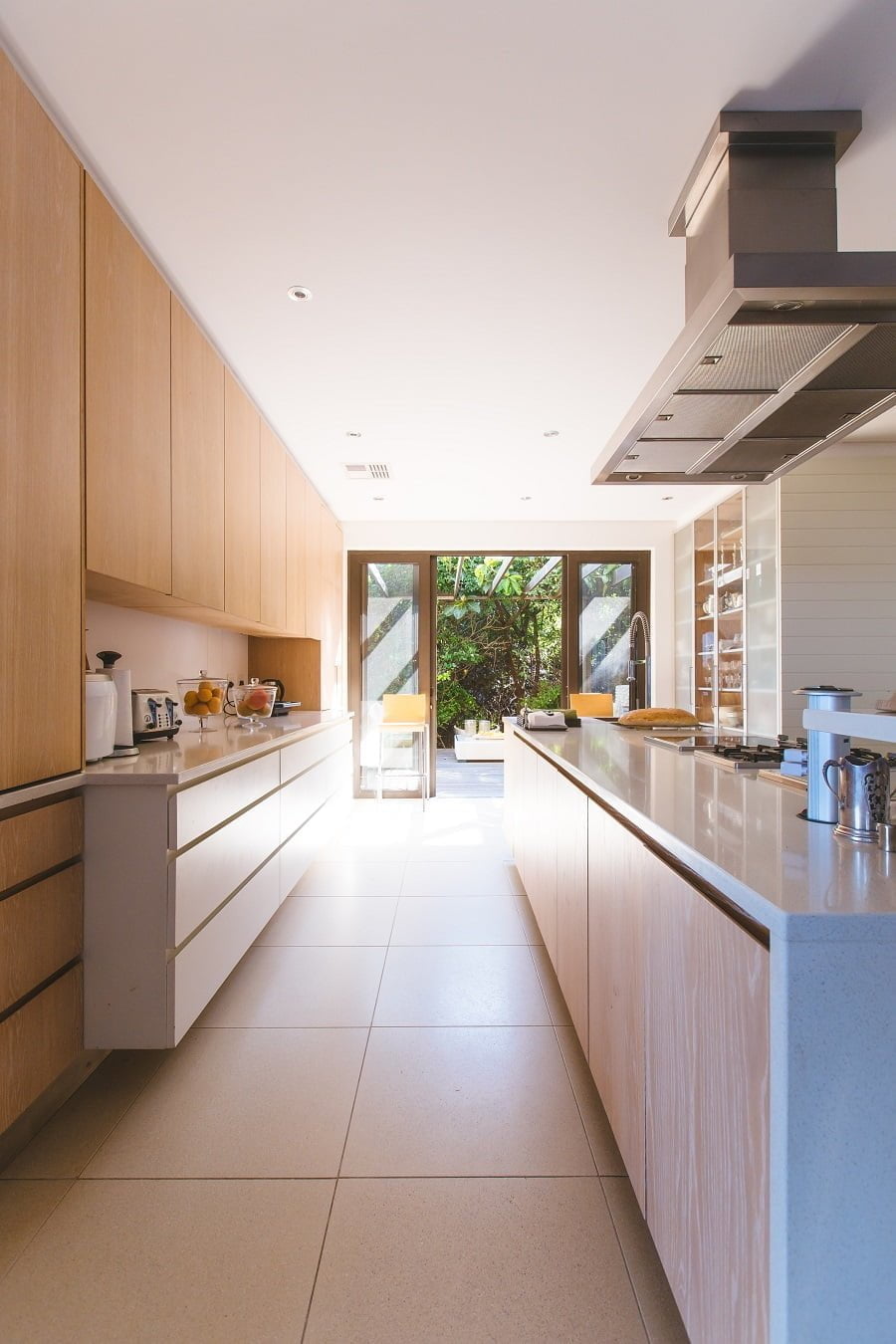 Now, the galley kitchen typically comes in an 'enclosed' variant. It is often all about the utilitarian aspect – the functionality of the area. A galley kitchen is usually a narrow space. They are known as 'lean' variants. The rows of cabinets can go along two walls or only one, and sometimes it can be U shaped.
Overall, if properly designed, a galley kitchen can be an extremely charming, wholesome, and cozy choice.
Galley Kitchen with Island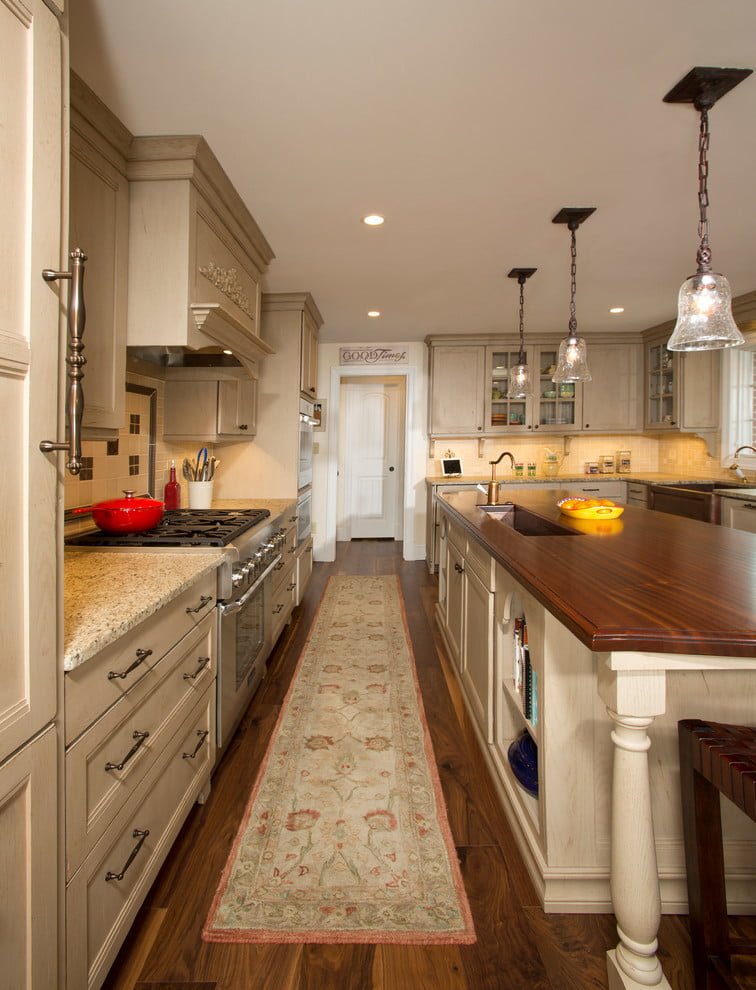 Now, even if they are narrow by definition, galley kitchen areas come in all shapes and sizes, including the variant with islands. Still, be very careful when laying out this type of kitchen, since it can be tricky.
All it takes is a single badly-assessed distance between the island counter and the wall to end up with an impractical, cramped area. In short, if you're thinking of a galley kitchen with an island, you'll simply have to find an experienced technician and choose wisely.
U-Shaped Kitchen Design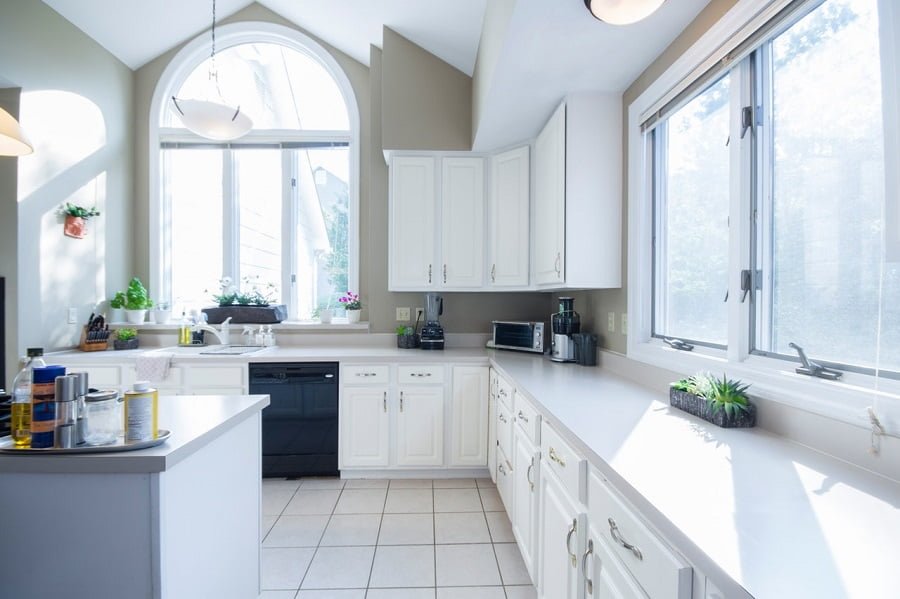 The U-shaped kitchen design is also known as a horseshoe layout. Essentially, it entails three walls of appliances and a cabinet. 
Naturally, it means that most horseshoe kitchen areas are built with enclosed spaces in mind, but they can come with a semi-open floor plan as well. For example, if you are building a kitchen in the corner of a larger open area, you can simply enclose the kitchen by adding another tow of free-standing cabinets, and you will have a U-shaped space. 
U-Shaped Kitchen Design with an Island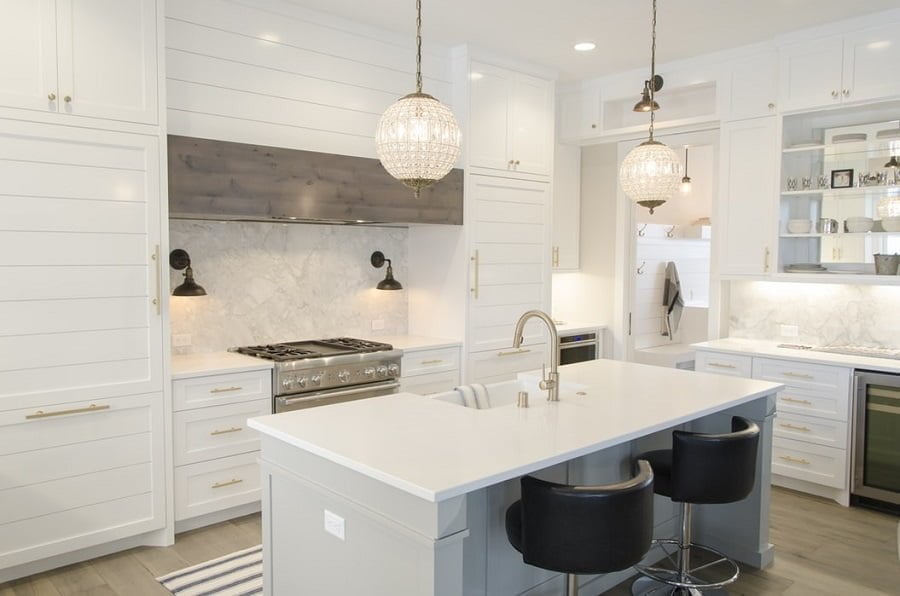 The perk of a horseshoe kitchen is that it allows more traffic and a better flow of people and tasks. It's especially practical for a bigger family, with lots of people mingling around.  
That being said, adding an island in a horseshoe kitchen might sound superfluous, but it works like a charm in kitchen areas that measure more than 200 square feet. This type of layout streamlines the kitchen traffic even further.
L-Shaped Kitchen Design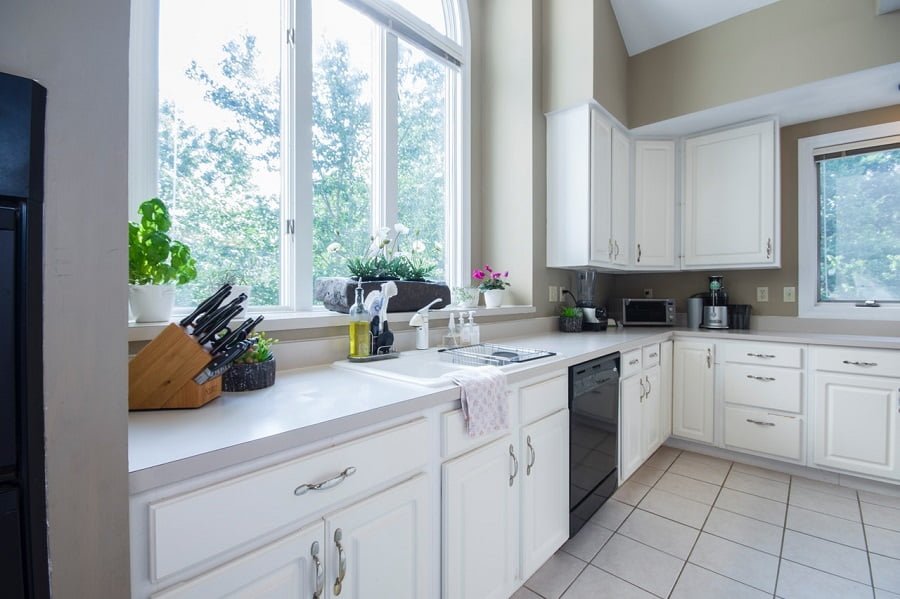 The L-shaped kitchen is probably the most common layout after the galley variant. It works really well for medium-sized cooking areas, and it can even work for smaller ones. The kitchen triangle comes into the fore once more, as the L-shape perfectly encapsulates the dynamic between three spots  – the sink, the stove, and the refrigerator.
L-Shaped Kitchen Design with an Island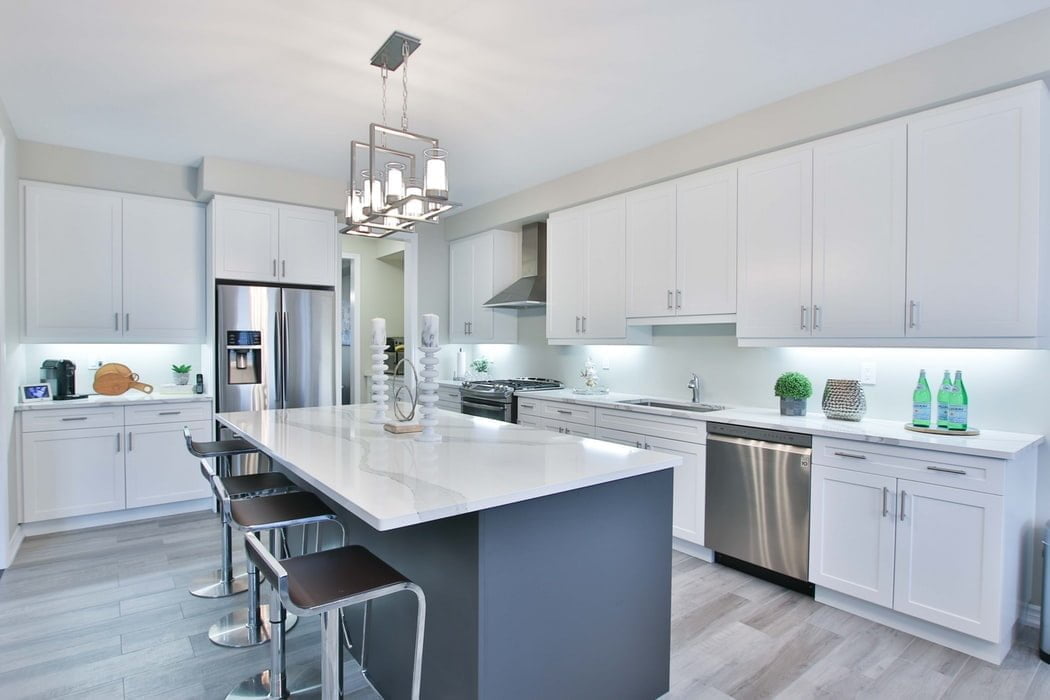 Naturally, an L-shaped kitchen can come with an island, but it usually benefits from smaller elements of this kind. In general, L-shaped kitchen areas that open up to a broader space can come with a fitting island which can also serve as an impromptu dining area.   
G-Shaped Kitchen Design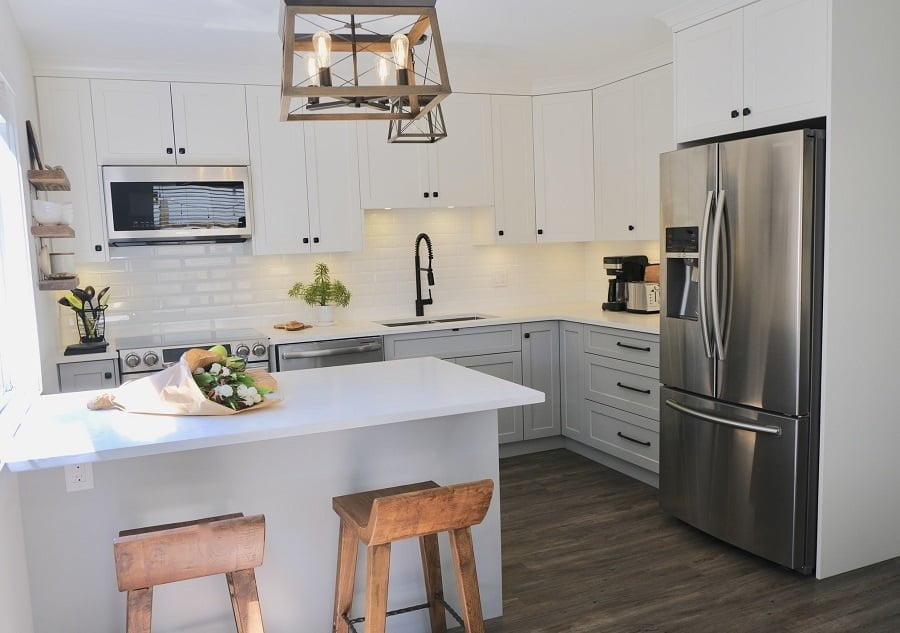 A G-shaped kitchen takes the idea of a horseshoe design and expands it a step further by rounding the cabinet area once more. This leaves only a small opening to enter the kitchen area.
All in all, it comes down to the configuration of cabinetry that forms the letter G, when seen from the floor plan perspective, so you get the idea. This is a popular design choice for open-floor plans, though it can work, sometimes, in an enclosed kitchen space.
Small Kitchen Layouts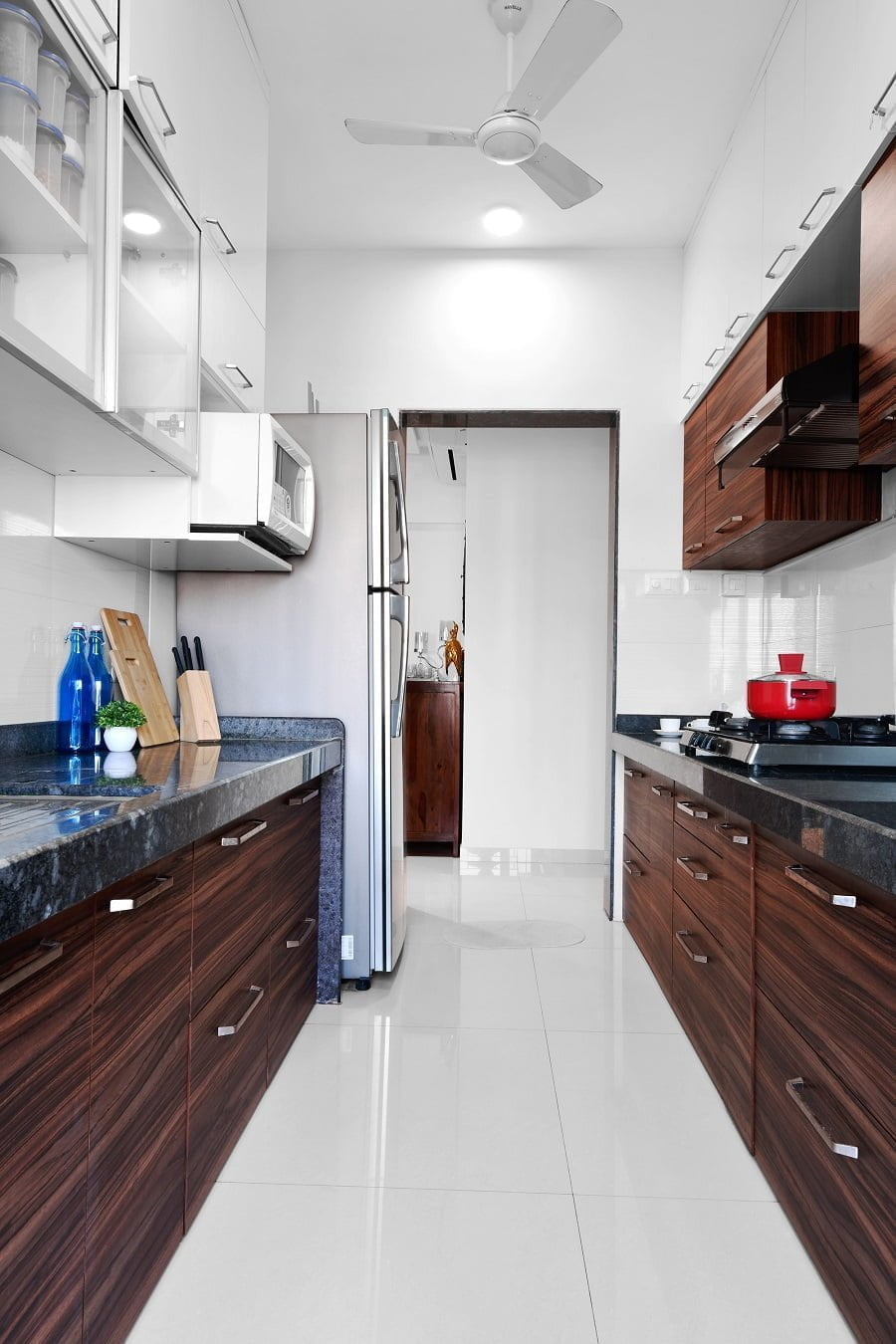 When it comes to small kitchens, it's not so much about the choice of a specific layout as it is about functionality and the conservation of space. For example, it is less important to choose between an L-shaped or a galley miniature kitchen than it is to opt for shelves instead of wall cabinets. Likewise, small kitchens always look better if they are open at least on one side.
Small Kitchen with an Island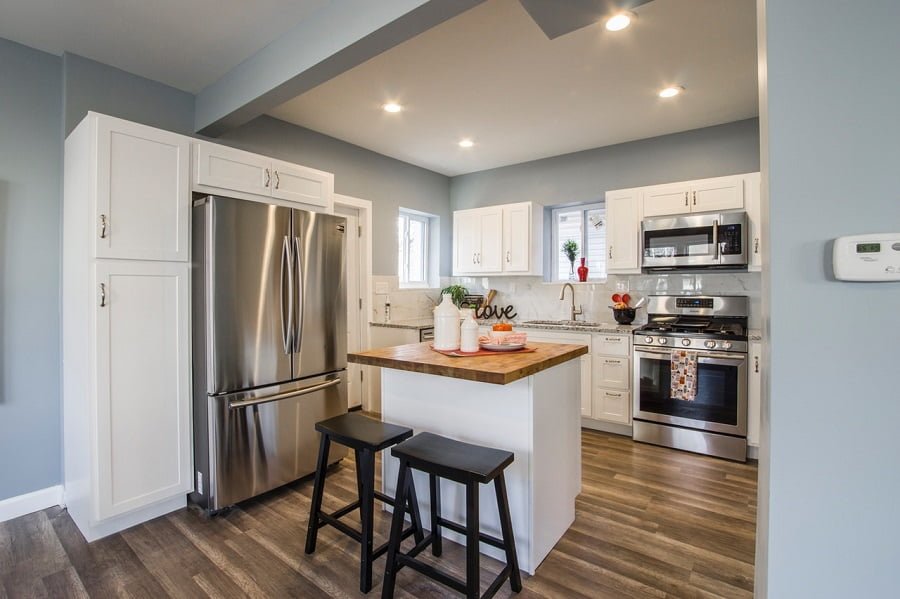 In that sense, an island can be a good choice. For example, if you tear down an entire wall to open up a decidedly small kitchen area towards the dining room or a living room, adding an island that will visually separate the kitchen from the rest of the household will compensate for the potential lack of cabinetry.
Storage Ideas for Small Kitchens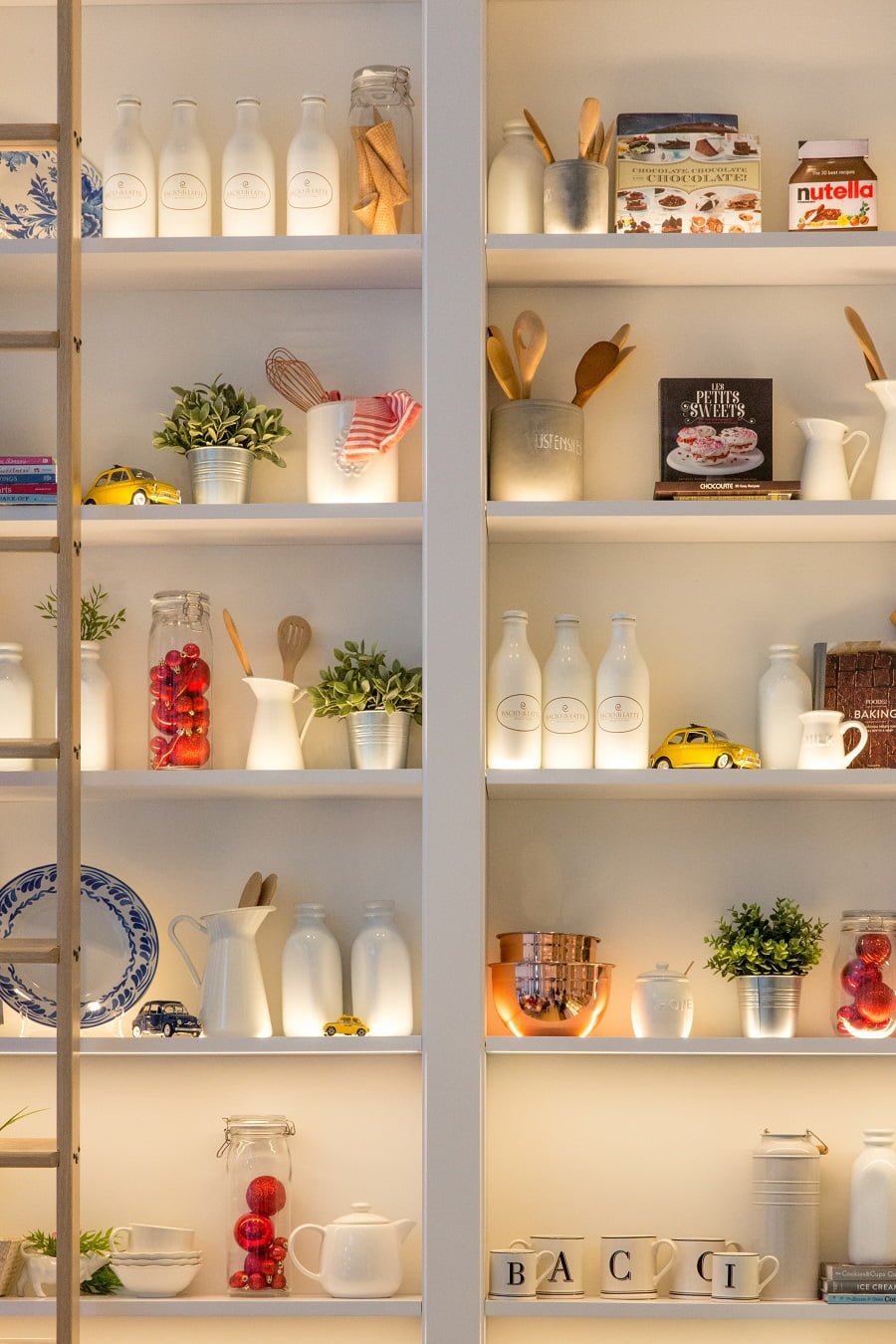 Unfortunately, small kitchen areas are hard to organize. You are playing that ungrateful game of adding enough cabinets for most of your stuff but still avoiding an abundance of elements that will make the place look cramped.
In general, the rule is to leave no space unused. Tilt-down drawers sandwiched between the countertops and the cabinets are a sound design choice. Maximize the storage potential of your cabinets by investing in pull-out racks and shelves, and above all else, use your corners. Remember, corners are often overlooked kitchen areas when it comes to storage  – use this to your advantage.
Kitchen Peninsula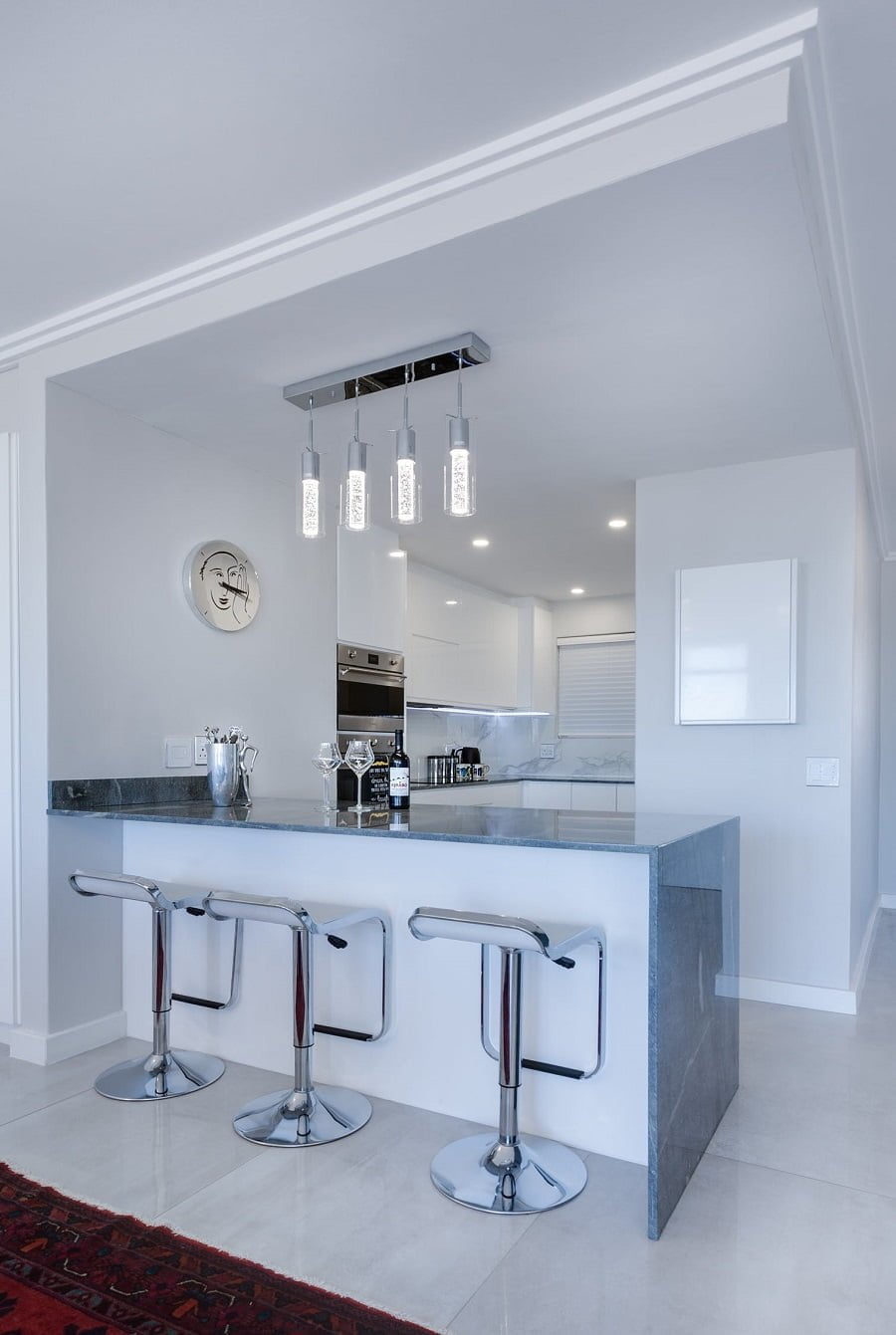 A kitchen peninsula is the kitchen island's more ubiquitous sibling. It essentially serves the same function as the kitchen island or a row of cabinets, but with the additional feature that it reclines against one of the walls. In that regard, the design choices, as well as the stylistic variations and usability, pretty much remain the same as in the case of islands. It's merely a matter of semantics.
Island Shapes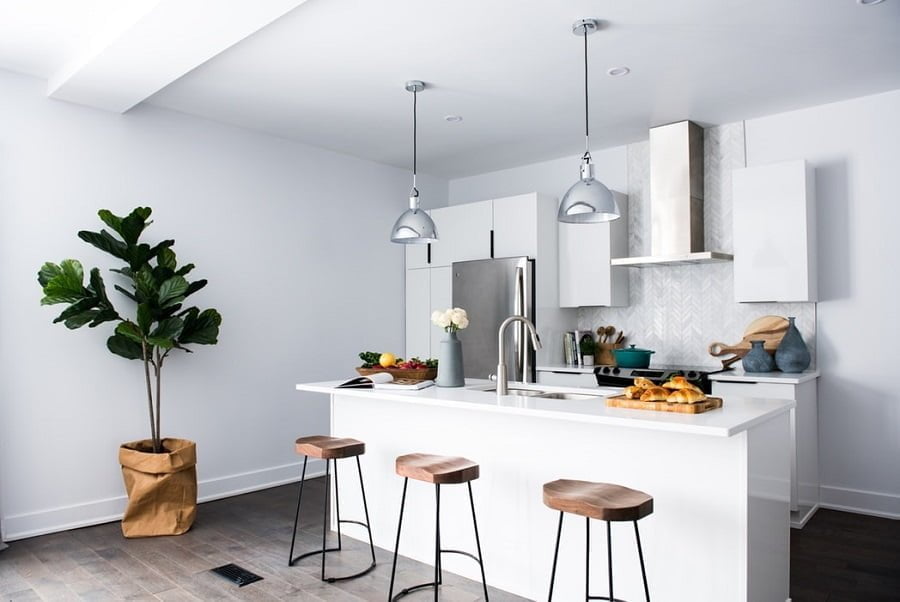 Kitchen islands themselves can come in forms that easily reflect the ones of the kitchen area. You have your standard 'long' or 'short' shape that resembles the one of a dining table. As we've mentioned previously, such kitchen islands often serve as impromptu dining tables as well.
Then again, you have an L-shape as well, the types with subtle or prominent bends. Islands can come in rounder shapes that have a slightly more organic, Zen appeal, but the elements of functionality are where it gets interesting. Islands can have their sinks, and they can also come in a hybrid variant that turns one side of the kitchen island into a bona fide dining table or a bar.
Kitchen Cabinets Layout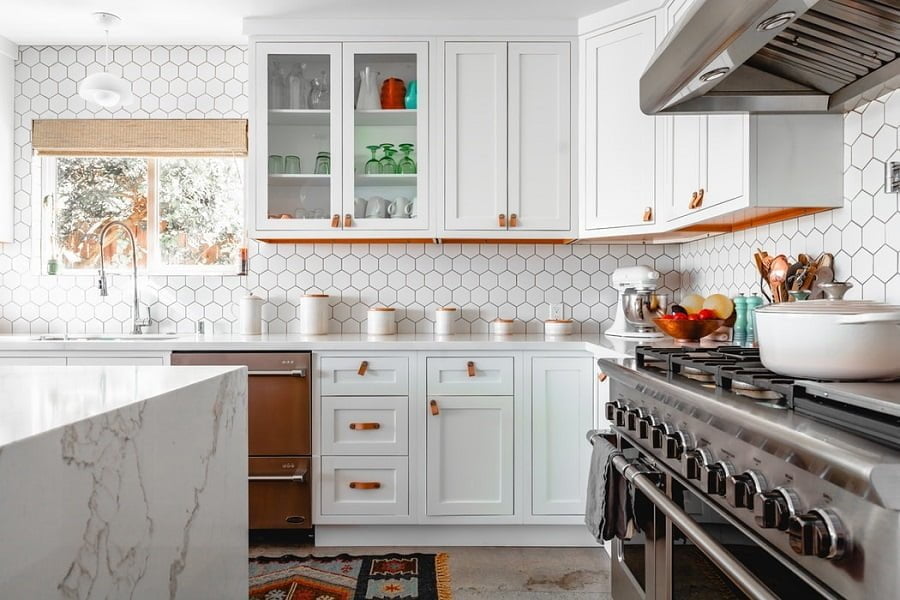 You've rarely seen a kitchen without cabinets, if ever – it's practically impossible to imagine a kitchen without cabinets. They are the ultimate treasure trove of utensils, dishes, your nicest china, and your dirtiest kitchen secrets. They are the go-to solution for decluttering a kitchen area, which speaks volumes about the layout priorities in and of itself.
When it comes to average cabinet dimensions, the height is about 35 inches, and the width can be anywhere between 12 and 48 inches. Of course, countertops are taken into consideration. This goes for base cabinets, as the dimensions of wall cabinets can vary significantly.
Now, if you're dealing with a smaller kitchen space, cabinets are your saving grace.You can go with both the base and wall cabinets to compensate for the lack of space, but keep in mind that this will also make the area feel significantly narrower.
How Deep Do the Kitchen Cabinets Go?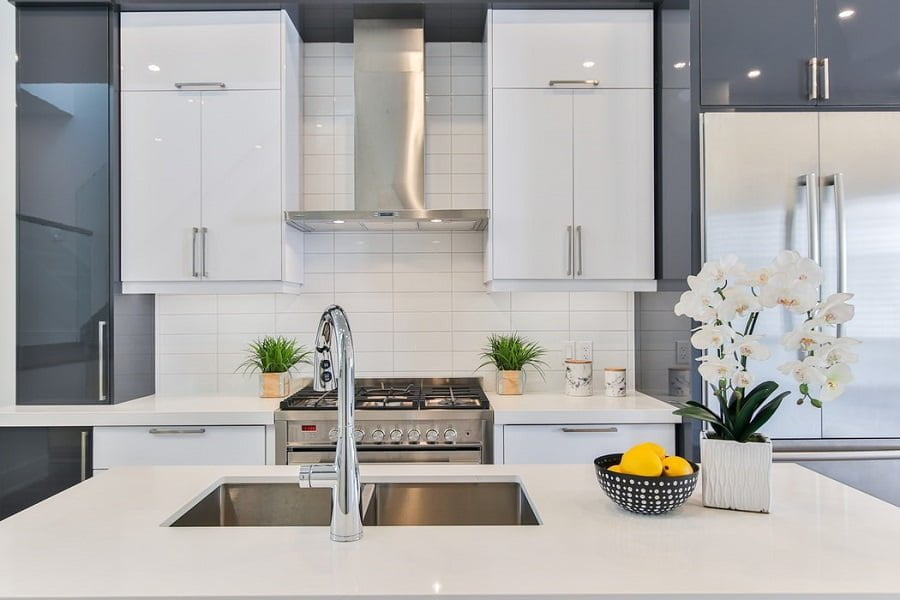 In that case, a proper depth can be a smart solution to avoid a cramped space. Now, an average depth of a base cabinet is about 25 inches, while the width of the wall cabinet can go between 12 and 36 inches. That gives you quite a maneuvering space to keep your kitchen less claustrophobic if you choose something closer to 12 inches.
Kitchen Pass-Through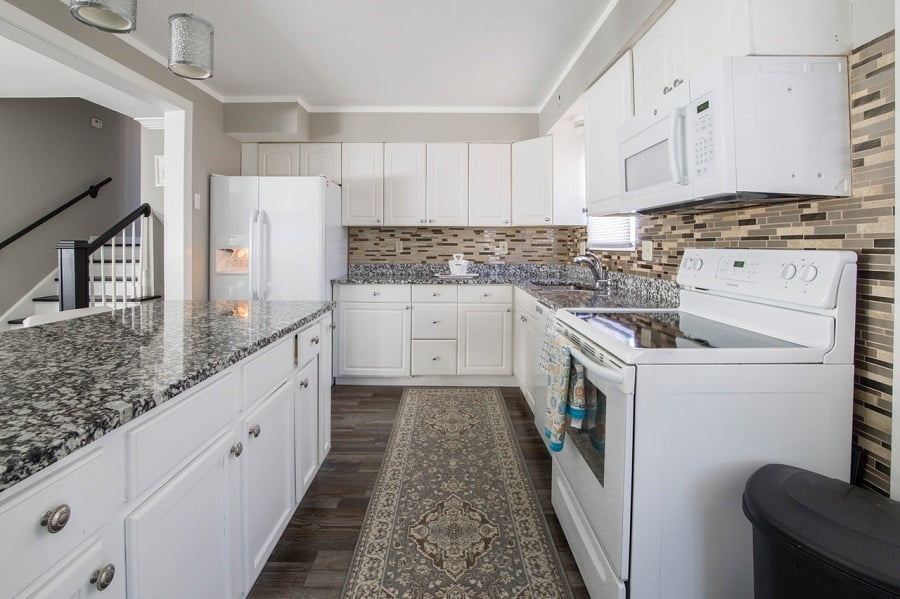 A kitchen pass-through has a fairly simple function that is communicated in the very name. In general, this is an in-house 'window' between the kitchen and the dining room, and it's a nifty solution for passing dishes and meals from one area to another. It is usually built above the sink, although that's not a rule. It can also serve as a home's little bar.
While the pass-through is generally considered a bit outdated, people are constantly looking for new ways to reintroduce old design gestures to their kitchens. This might be just the one that works for you!
Kitchen Appliance Layout Ideas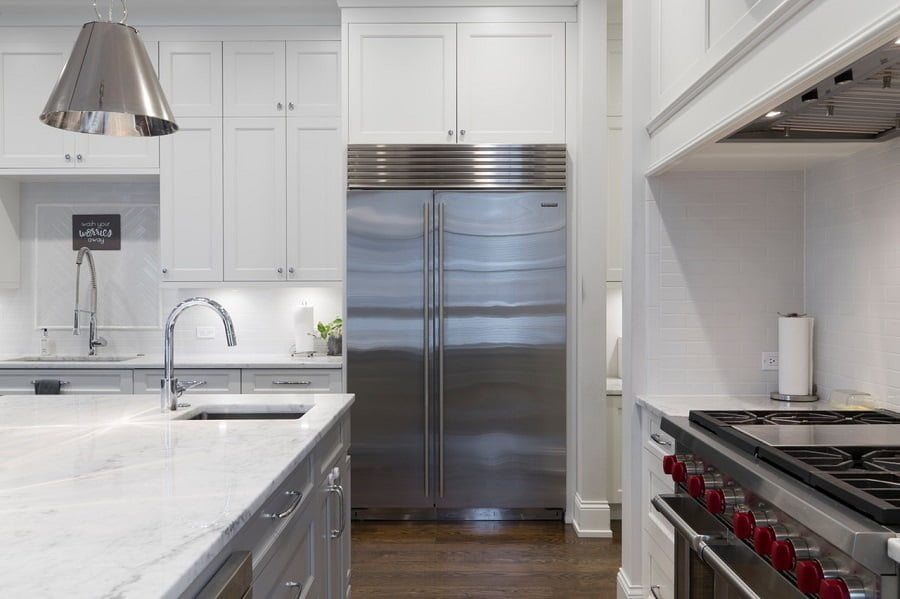 Keep your fridge on the periphery of the kitchen – near the very end of the cabinet row or in a corner. The sink is best served if it's centralized, in the middle of the cabinetry, possibly just below the window.
The key is to have enough elbow space on both sides and unobstructed access to other shelves and drawers. This will make washing and distributing the dishes and utensils easier. The location of the stove should mainly depend on the location of the sink and the closest adjacent cabinet. You should not be forced to walk more than two steps between the sink and the stove.
If you've tweaked your layout and design choices just right, you will fall in love with your dream kitchen so deeply that it will become your favorite dwelling space. Like most of us, you might also find that a well-rounded kitchen space is an area of warmth, serenity, and positive energy. The food is right there, the surroundings are pleasing, and it is a breath of fresh air to spend time in the beating heart of the home.
Related reading: