Last updated on November 15, 2023
Explore the beauty of fluted kitchen islands, a design gem that transforms the heart of your home into a trend-setting, functional focal point, because sometimes, a simple touch can have a dramatic impact on your kitchen's aesthetics.
I'm proud of the 20 stylish fluted kitchen island designs I've created for modern homes, and I hope you find them as inspiring and fun as I did when crafting them.
Fluted designs are the latest trend in kitchen island aesthetics, offering a unique blend of style and functionality. This architectural detail, characterized by vertical grooves, brings a touch of sophistication to your kitchen space.
Whether you're renovating your kitchen or just looking to add a bit of flair, a fluted kitchen island can be a game-changer.
This article delves into a variety of fluted kitchen island ideas, from different materials and color schemes to complementing decor and lighting options.
Stay tuned to discover how to incorporate this trend into your kitchen design without breaking the bank.
Marble Top Fluted Island With Brass Fixtures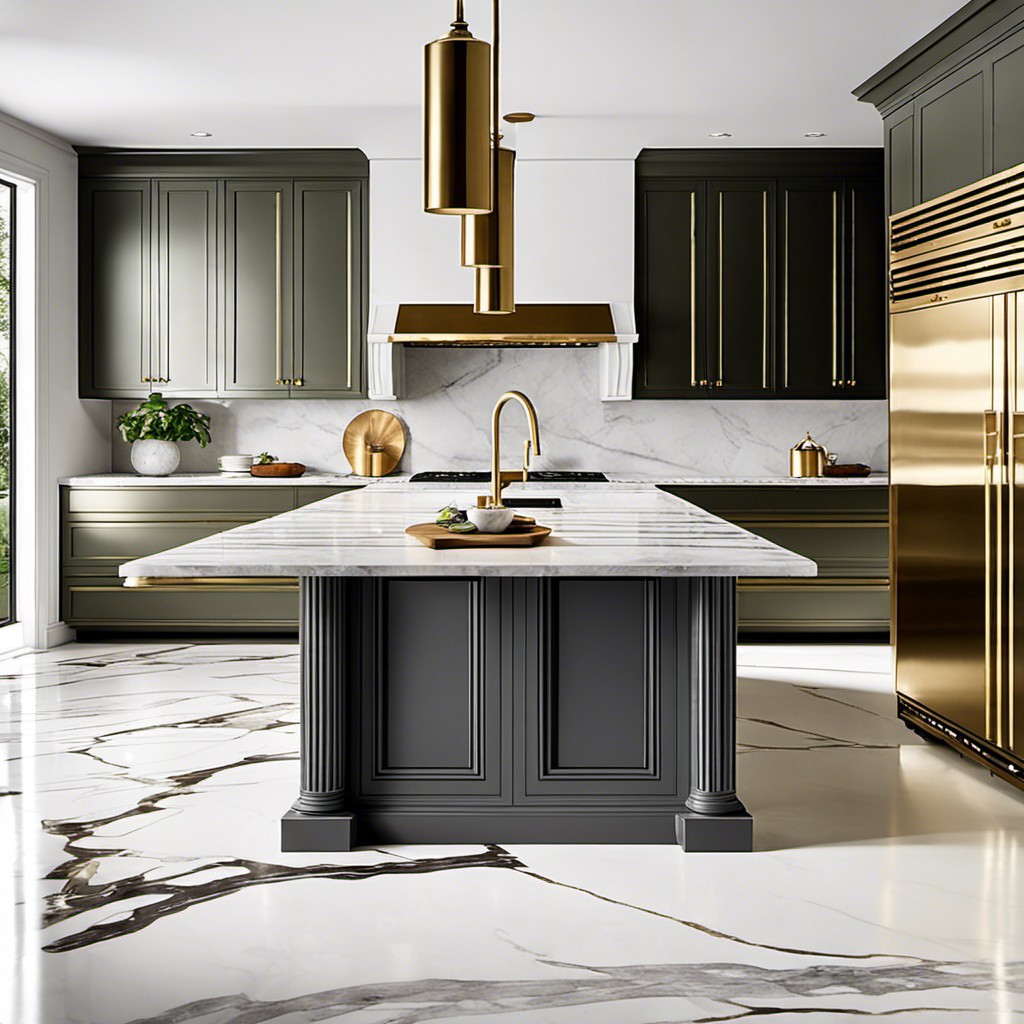 Adding a lustrous marble countertop not only elevates the aesthetic appeal but also provides a durable and scratch-resistant surface for your culinary endeavors. The intriguing patterns and veins inherent to each marble slab make your island a unique masterpiece.
Now, let's not underestimate the power of perfect hardware. Brass fixtures give off a warm glow contributing to the overall enchanting look. The vintage charm of brass paired with marble's elegance results in an enchanting, high-end feel.
A marriage of practicality and design, incorporating concealed cabinets and drawers into the fluted design, maximizes storage space without hampering the style quotient. For an interior that's more on the classic side, selecting deep wood tones for the fluting can create a welcoming contrast.
Lastly, do think about your lighting. Brass pendant lights hanging above the island can mirror the fixtures and tie the entire look together while providing ample light for your kitchen tasks. Implement lighting that complements the rest of your space, for a cohesive and beautifully lit kitchen.
Wooden Fluted Island With Integrated Wine Fridge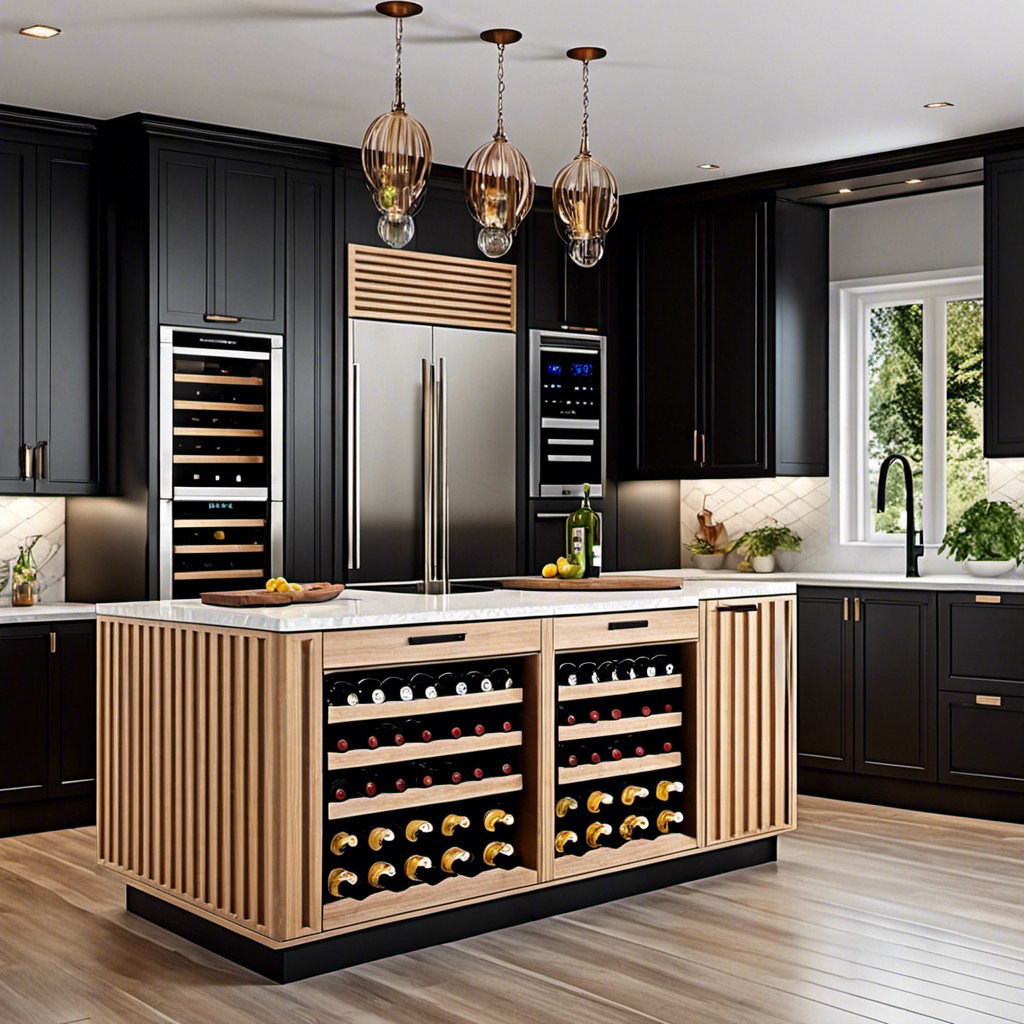 Infusing functionality and luxury, an integrated wine fridge becomes an exquisite feature in your wooden fluted island. This design not only showcases your wine collection but also keeps wine at an optimal temperature. Choose a fridge with a transparent glass door for added visual interest.
Consider a built-in wooden rack above the fridge to display wine glasses. The wooden design syncs perfectly with the fluted design, presenting a cohesive, neat aesthetic. Opt for rich hardwoods, like oak or walnut, for a warm, classic look or go for a painted finish for a more modern vibe.
Remember, placement is key when designing your island. Position your wine fridge in an easily accessible area, maybe closer to the seating or dining area. This way, serving wine becomes easier and more efficient.
Now, let's talk add-ons that elevate the usability and appeal. A wine fridge often offers an empty space on top- utilize it. Place a cheese board, a couple of wine decanters, or a plant for a complete, cozy scenario. The combination of convenience and style will make this island the centerpiece of your kitchen.
Navy Blue Painted Fluted Island With Porcelain Sink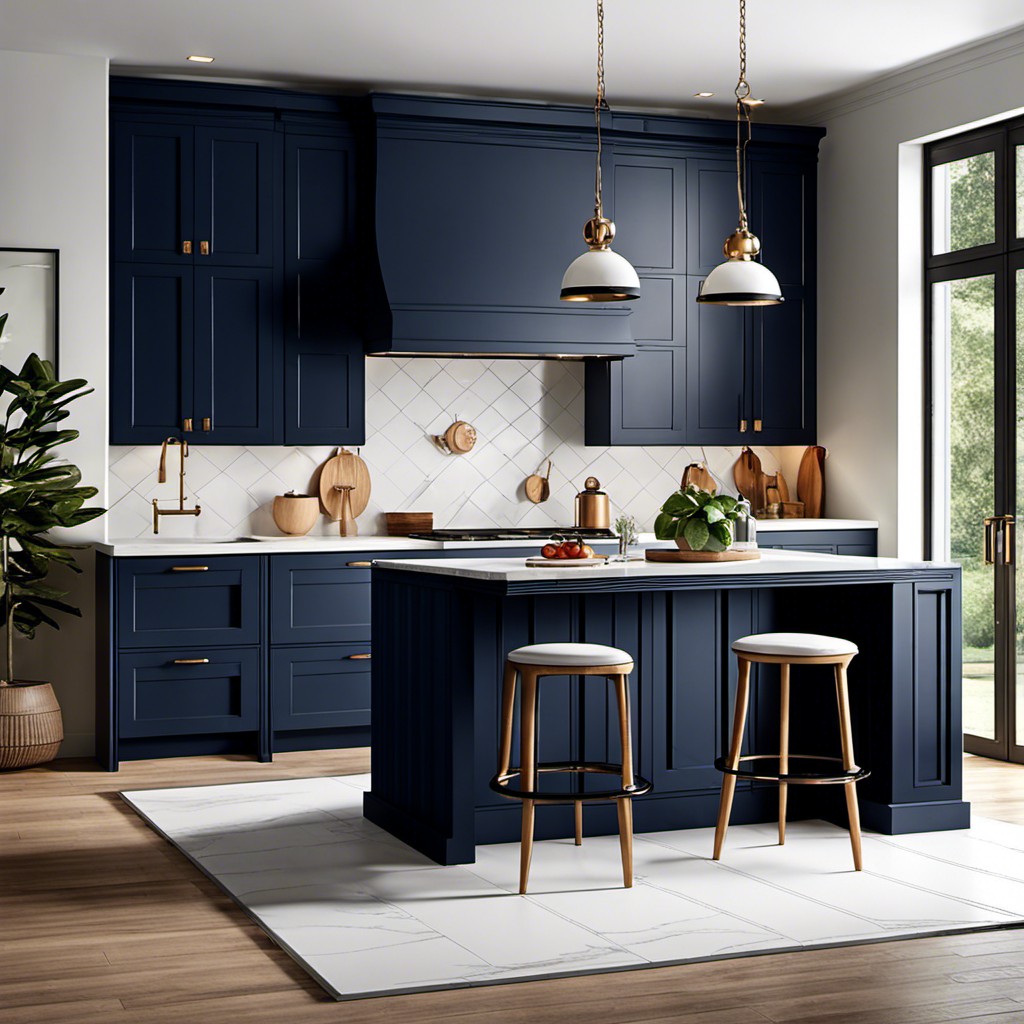 Taking a step into bold territory, a coat of navy blue paints breathes new life into fluted detailing—that traditional architectural feature of vertical grooves, satisfying the visual thirst for texture and depth.
Paired effortlessly with a porcelain sink, it introduces a classy vibe and adds a touch of farmhouse charm.
In terms of striking the right balance, try to mimic the navy blue somewhere else in the room, perhaps in the window treatments or decor accents.
Natural light ensures that the bold color doesn't overpower the space, maintaining a pleasant ambiance.
Now, about the porcelain sink—it's more than just a vintage nod.
Besides its timeless appeal, porcelain is also famous for its durability and ease of cleaning, making it a practical choice as well.
Opt for an undermount design to create a seamless transition from countertop to sink.
This design approach offers an elegant aesthetic that stands out without straying too far from the classic appeal, ensuring the kitchen remains the heart of your home.
Butcher Block Fluted Island With Open Shelving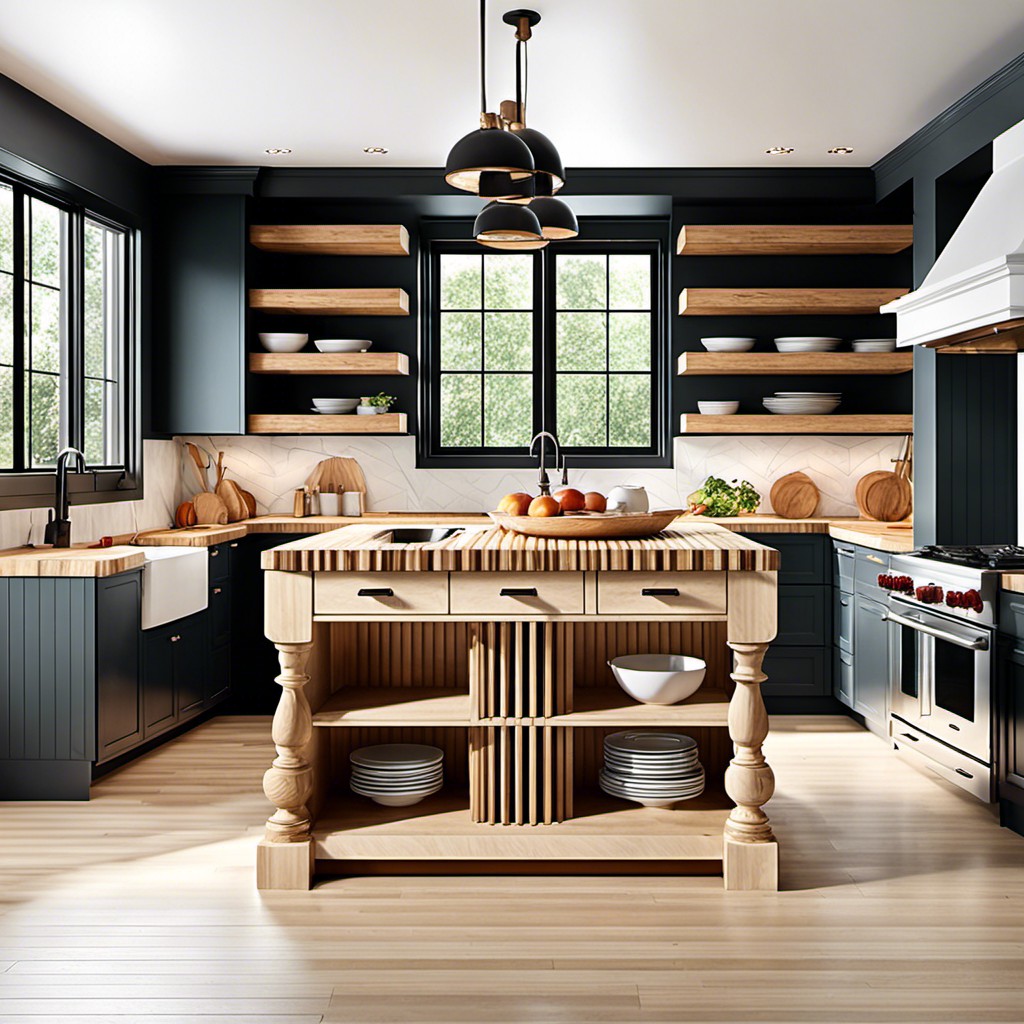 Experimenting with materials introduces a unique touch to the kitchen space. The warm tones of a butcher block top contribute a rustic charm and a durable prep area. Unlike common perceptions, their ease of maintenance and longevity make them a practical choice for busy kitchens.
Flutes carved into the sides offer texture and visual interest. They lend an element of classic design, creating a well-crafted, custom-made look.
Integrating open shelving incorporates practicality and aesthetic appeal. Display colorful cookware or neatly stack white dishes for a neat, well-organized appearance. This also provides easy access and encourages you to keep essentials tidy.
Combining these features creates a kitchen island striking the perfect balance between timeless elegance and modern convenience. By tweaking aspects like the color of the island or the type of wood used for the butcher block, customization options are virtually limitless.
White Fluted Island With Concealed Dishwasher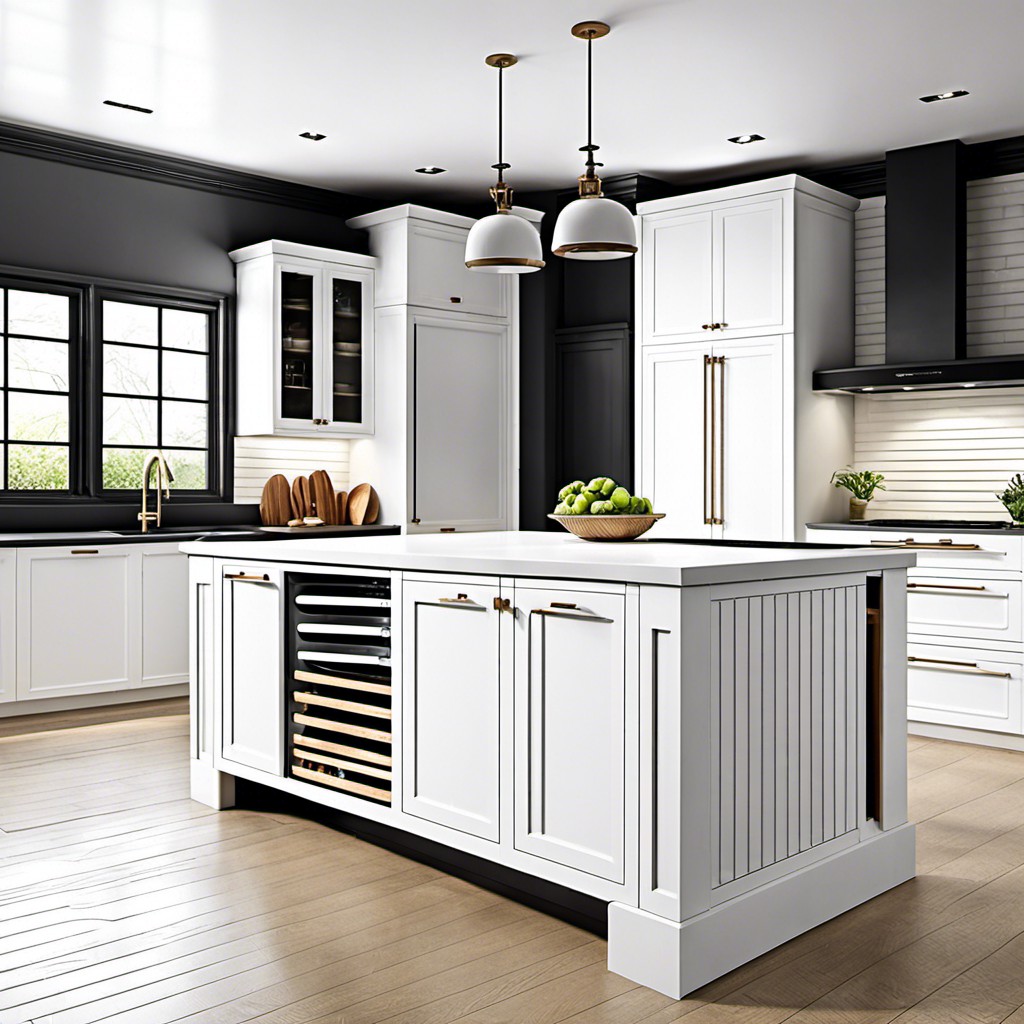 This design acts as a brilliant optical illusion. Concealing the dishwasher behind a stark white fluted panel allows for a clean, streamlined aesthetic all while maintaining the high functionality of the kitchen space.
Here's what's noteworthy about this choice:
1. The dishwasher seamlessly integrates into the aesthetics, closing the gap between style and practicality.
2. Enhances the perception of space, especially for smaller kitchens, by reducing appliance clutter.
3. The bright white finish reflects light, bringing a fresh, airy feel and visually enlarging the room.
4. Fluting details add a layer of sophistication and architectural interest to the island.
5. Can be customized to match your oh-so chic white oven or refrigerator, creating a cohesive look.
Whether your style leans toward modern minimalist or classic elegance, this idea has the flexibility to complement a variety of decor aesthetics. Remember, it's all about merging function with charm for an efficient and stylish kitchen island!
Rustic Fluted Kitchen Island With Vintage Hardware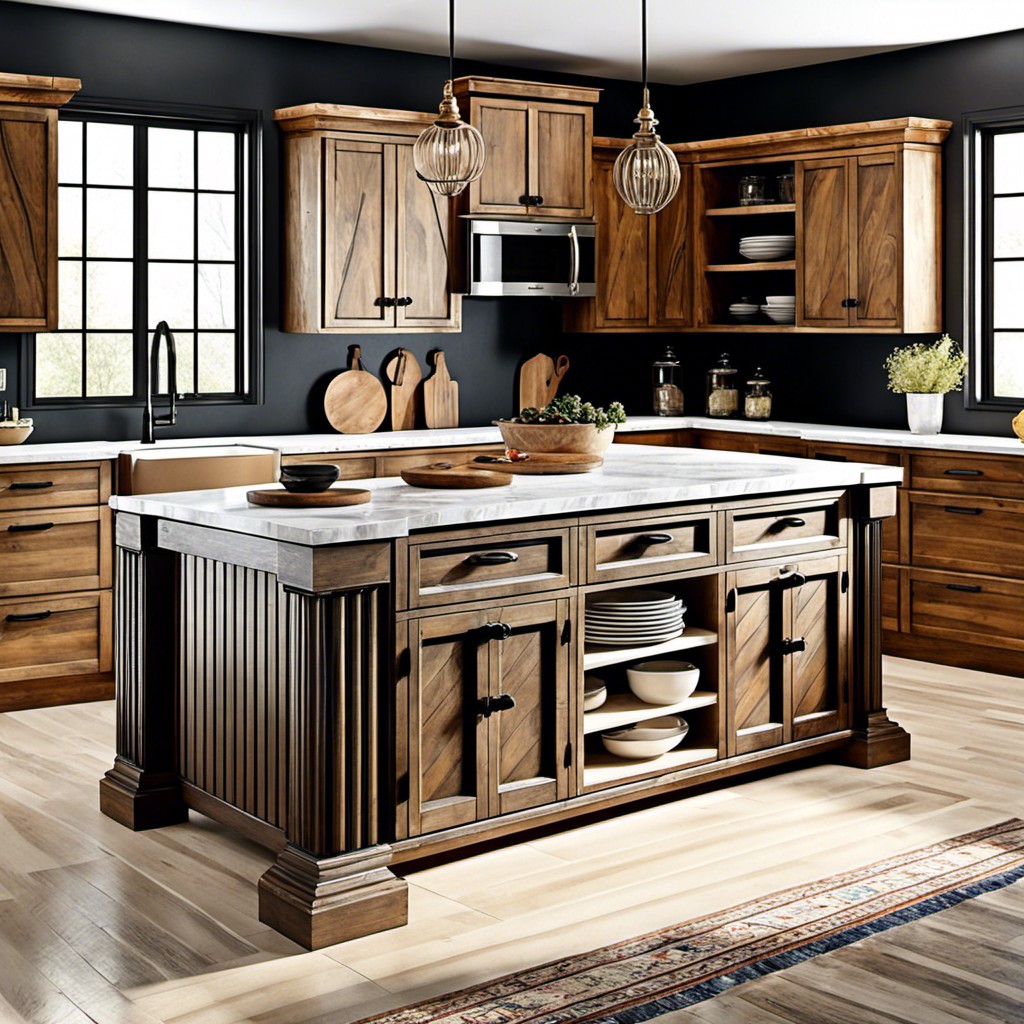 Utilizing vintage hardware can give your rustic fluted island an extra layer of authenticity. Distressed iron handles or an aged bronze faucet will echo the rugged look of the fluting and add a nostalgic feel. The hardware not only serves a functional purpose but also enhances the overall aesthetic.
A dramatic hardware choice such as an antique brass pendant light can be hung over the island to illuminate the workspace as well as provide a visually appealing focal point. Consider unique drawer pulls or cabinet knobs that reference the past – like old clock faces, weathered door plaques, or even faux keyhole designs.
To maintain the rustic charm, choose a countertop material that aligns with the theme. A butcher block or a salvaged wood counter, for instance, would harmonize beautifully with the fluted detailing. For a more durable yet rustic option, a leathered granite counter is worth considering.
Create a harmonious fusion of old and new by integrating modern appliances into your island in a discreet way. For instance, a vintage-looking fridge, dishwasher, or under-counter wine cooler that fits seamlessly with the island's rustic appearance is a great way to infuse a sense of history without sacrificing modern-day convenience.
Modern Fluted Island With Pop-up Electric Outlets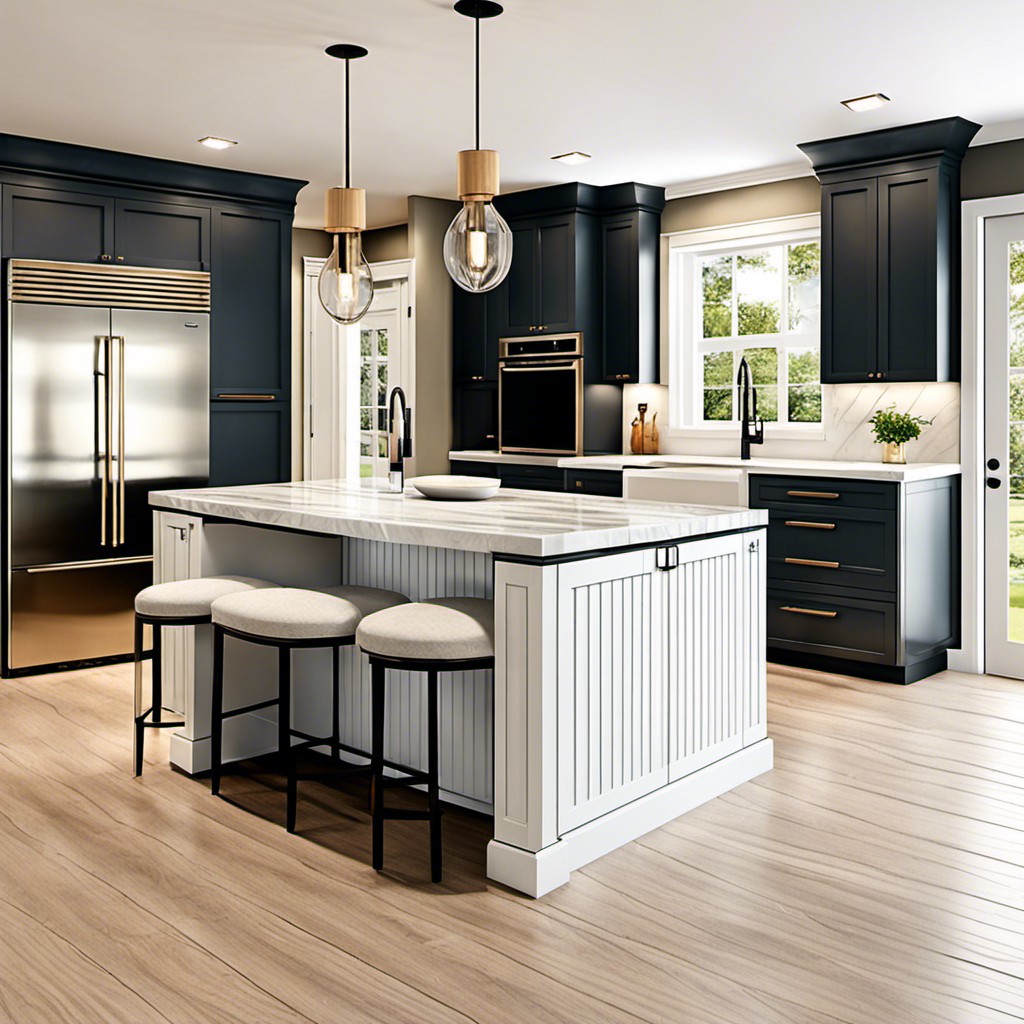 This innovative design cleverly integrates electrical outlets into the structure of the island, which can be popped up when needed and tucked away when not in use. This trend perfectly marries form and function by providing convenient access to power while keeping aesthetic intrusion to a minimum.
1. Power at Your Fingertips: No need to install fixed outlets. The pop-up mechanism ensures power is available at a moment's notice. Plug in your blender or toaster right where you need it, when you need it.
2. More Than Just Practical: The hidden outlets maintain a sleek and modern look. There's no compromise between usability and sophistication.
3. Ultimate Versatility: The pop-up outlets offer versatility to use a variety of appliances without having to rearrange anything. It's all about easy transitions.
4. Easy Installation: Most pop-up outlets can be installed easily into the fluted structure. However, always consider the placement carefully to avoid any interference with the fluting.
5. Safety Considered: Many models come with built-in safety features, such as child-safety locks and splash-proof covers. Perfectly designed for a family kitchen setting.
Remember to consider your specific needs while designing or choosing your modern fluted kitchen island. It's all about merging aesthetics with functionality to create a space that works for you.
Fluted Breakfast Bar Island With Barstool Seating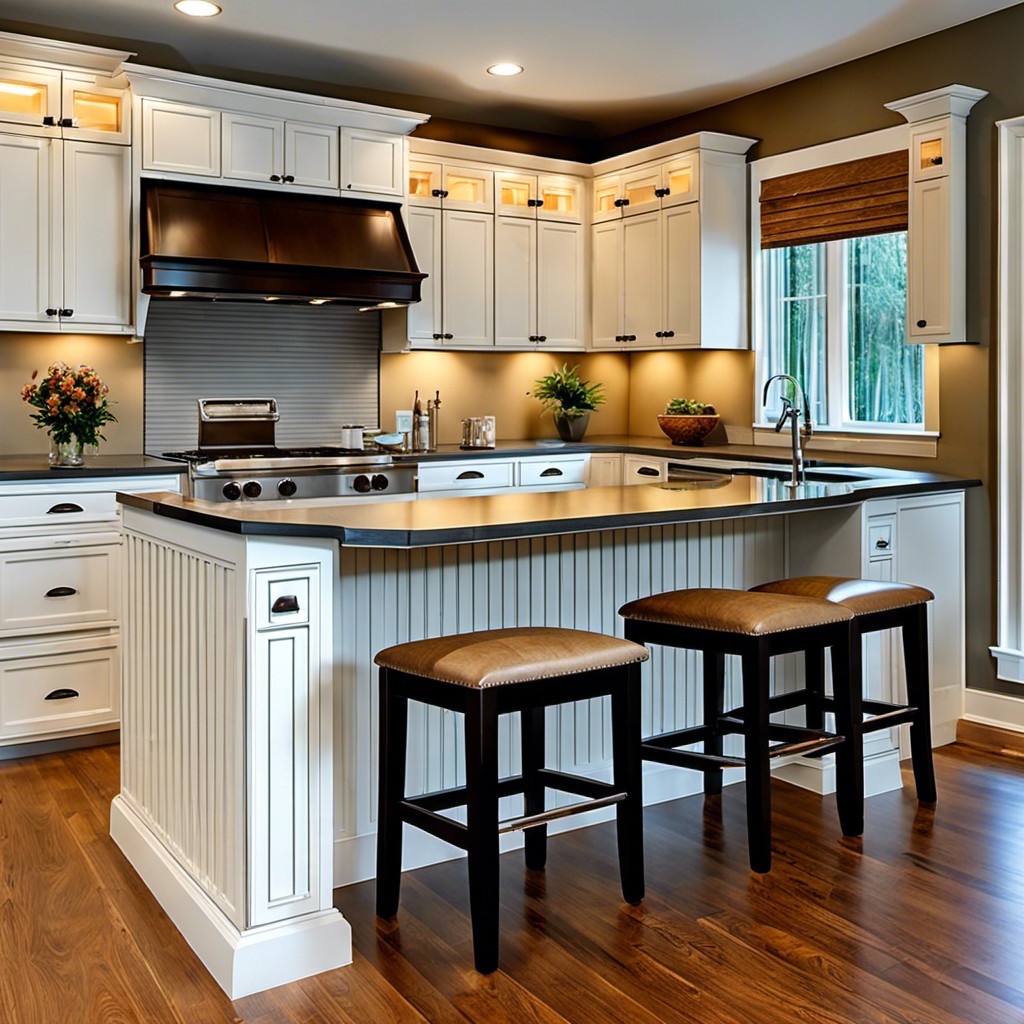 To visually enrich your kitchen space, this idea seamlessly brings together functionality and aesthetics. It prioritizes comfort, making your kitchen the heart of the home where family and friends can gather.
Here are some key pointers to execute this design effectively:
1. Choose barstools that complement the overall decor of your kitchen. It could range from rustic wooden stools to sleek metal chairs based on your preference.
2. Ensure the barstool height is comfortable and relevant for the counter height to facilitate easy dine-in experiences.
3. Incorporate lighting fixtures above the seating area to provide adequate light, creating a cozy ambiance for your breakfast bar.
4. Employ strong, durable materials for the countertop that can withstand frequent usage.
5. Maintain a cohesive color scheme between the fluting, countertop, and barstools for a visually pleasing space.
6. Utilize the open space under the countertop efficiently for additional storage or legroom.
Remember, the goal is to balance utility with style to achieve an inviting, comfortable kitchen space. Keep these tips in mind when executing this design in your kitchen.
Rolling Fluted Island for Flexible Space Arrangement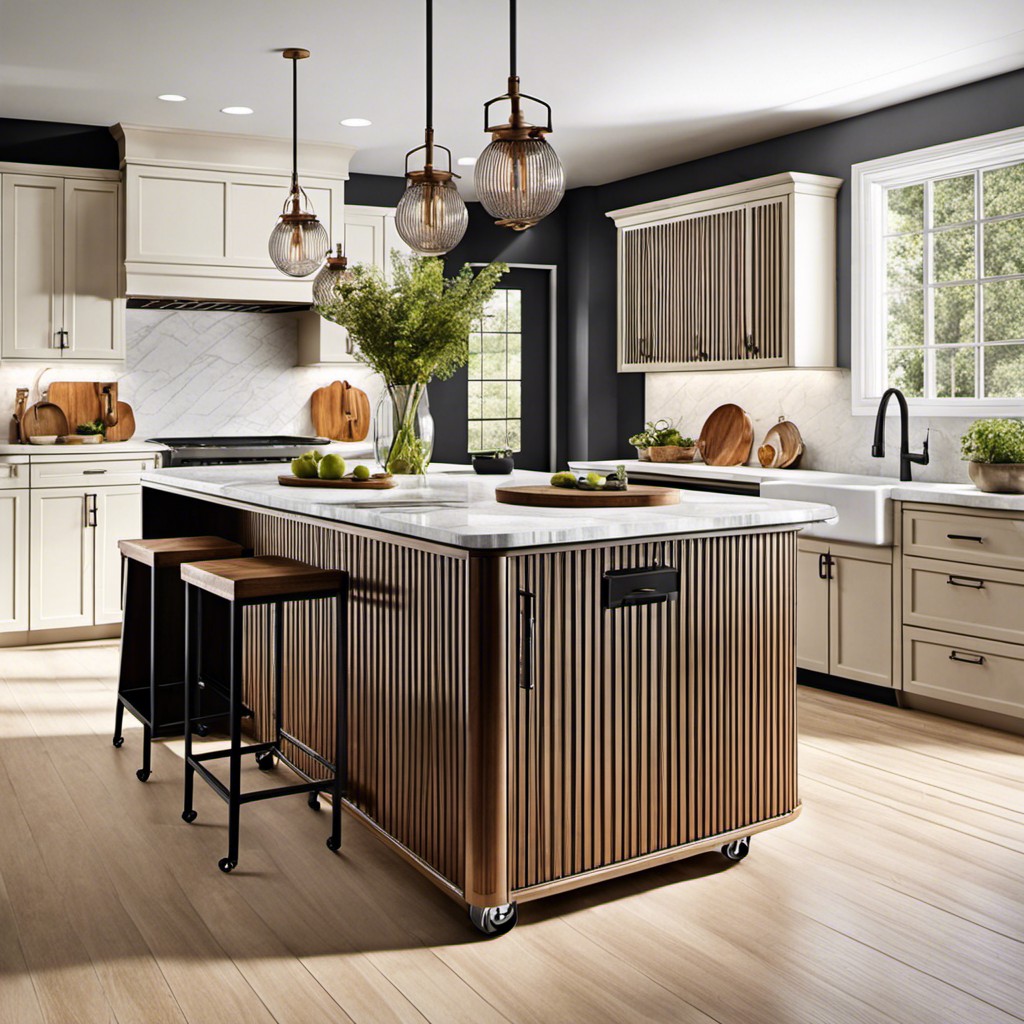 For homeowners craving both style and versatility, nothing serves better than the rolling version. Imagine the flexibility to move your island around as required.
Firstly, consider its key advantage – mobility. You can smoothly relocate it to increase space for kitchen parties or convert it into a temporary buffet table. Moreover, it can double as a workstation or breakfast table in your dining room.
In terms of design, opt for wheels that blend aesthetically with your fluted design, perhaps brass or stainless steel. For practicality, lockable casters are your best choice to ensure stability when the island is in use.
To further maximize functionality, some models come fitted with hooks and rails for hanging kitchen utensils or towels. Or look for those with built-in cabinets, drawers or even a wine rack, to cleverly optimize storage solutions.
Remember to harmonize the style and color of your rolling island with the rest of your kitchen décor to maintain a consistent theme. Whether you opt for a natural wood finish or a painted surface in muted or bold shades, the choices are endless.
Simply put, this kind of island offers flexibility, functionality, and fashion. It can drastically transform your kitchen space, accommodating your changing needs whilst adding that chic fluted charm.
Fluted Island With a Built-in Cooktop and Range Hood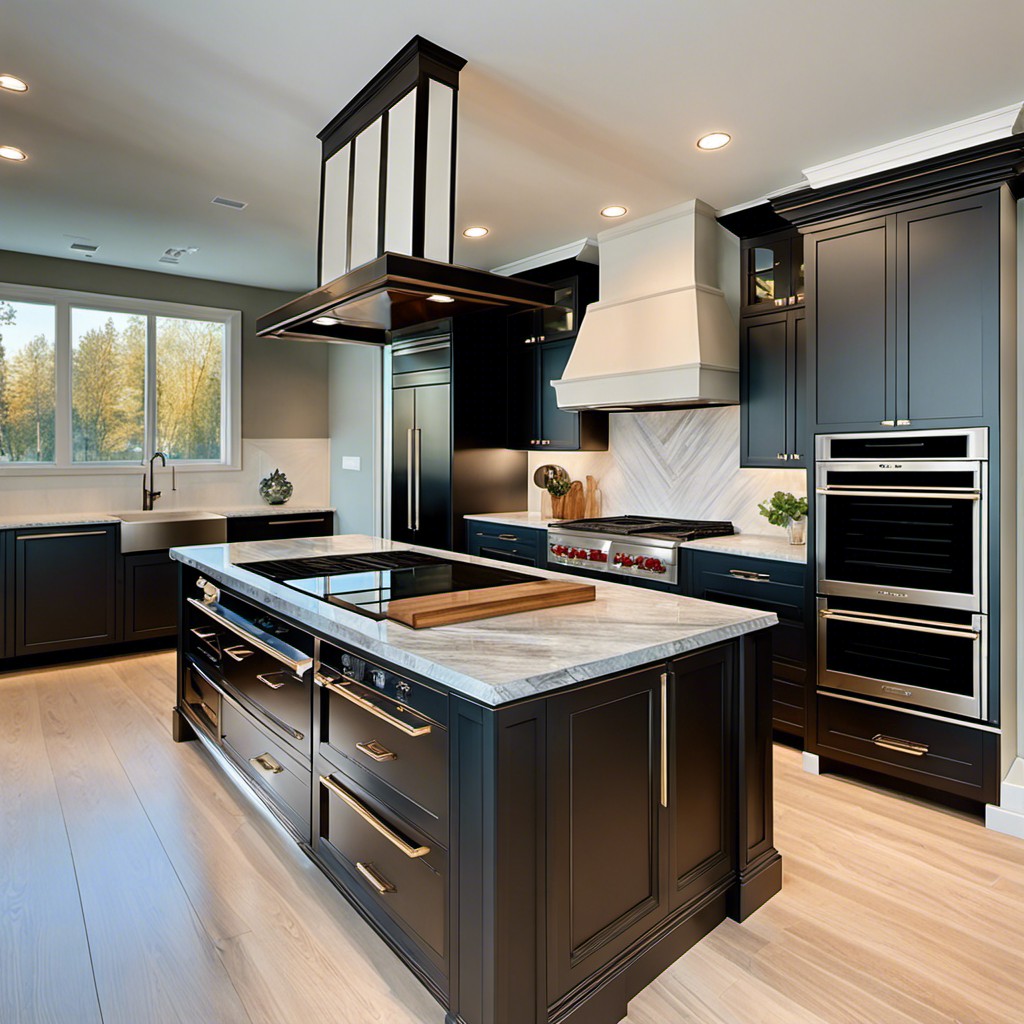 No doubt, incorporating a cooktop directly into the island proves to be a game-changer in kitchen functionality. An integrated range hood not only serves to eliminate odors and airborne grease efficiently, but also acts as a captivating centerpiece, balancing aesthetics with utility.
Key considerations include the island's dimensions and ease of access to gas or electrical connections. What's better than preparing your favorite dish while entertaining guests or supervising homework, all in the same vicinity? A word of advice – invest in a range hood with a higher-than-usual extraction rate to effectively deal with cooking odors in this open layout.
On the aesthetic front, choosing a cooktop and range hood that complement the fluted design will enhance the overall look. Modern styles can opt for sleek, touch-control cooktops, while more traditional kitchens might prefer classic gas hobs. Similarly, range hoods come in various styles, from the ultra-modern island hoods to the rustic, reclaimed wood designs.
In essence, a fluted island with a built-in cooktop and range hood ingeniously blends style, functionality, and socializing opportunities – a kitchen trifecta, if you will!
Two-toned Fluted Island With Storage Baskets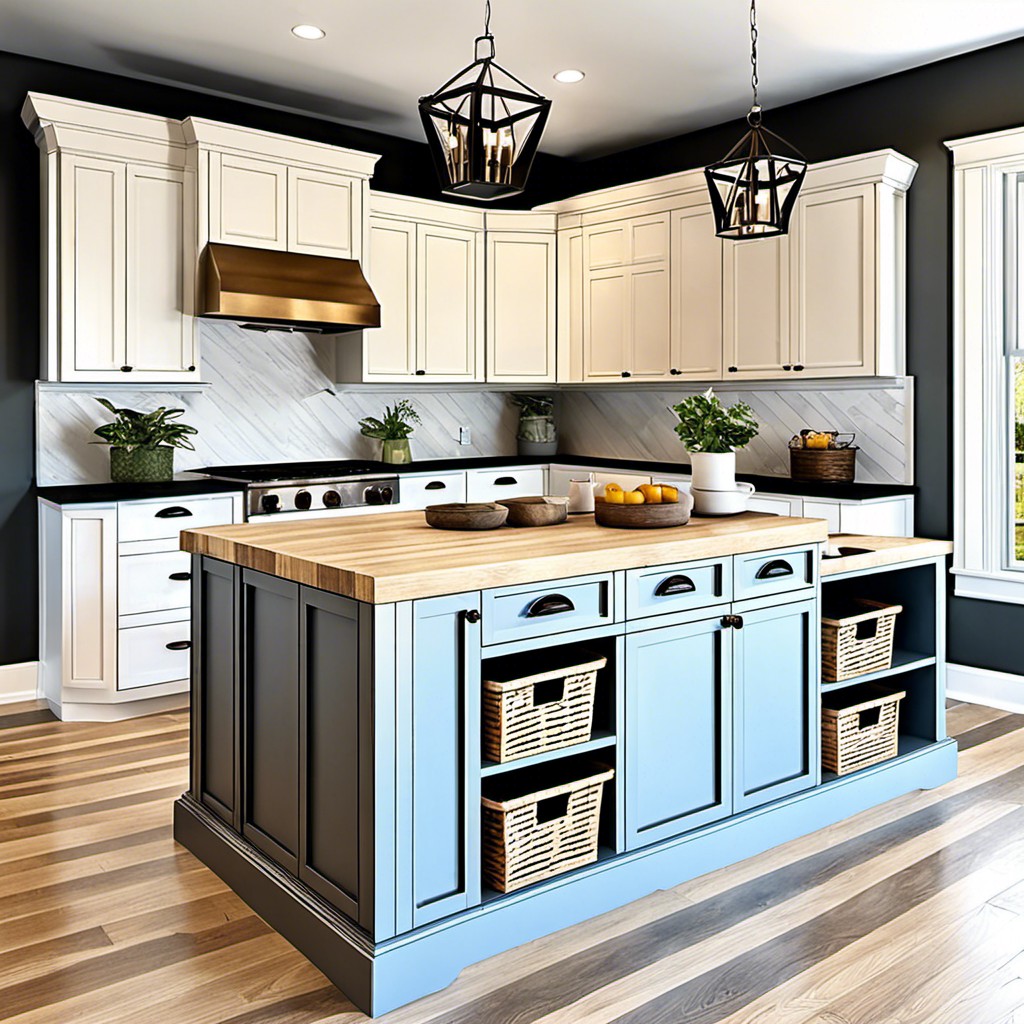 For a pop of color and added visual interest, consider painting the upper and lower levels of your fluted island in different hues. This will also help to break up a large piece and stop it dominating the room. Earthy tones or a mix of neutrals work well for this purpose.
A practical and aesthetically pleasing addition would be woven storage baskets. They provide a natural textural contrast to the smooth finish of the fluting and are ideal for storing items you want within easy reach. Whether you're keeping fresh produce, recipe books, or kid's toys, having them on hand but out of sight keeps your kitchen looking neat and organized.
Consider positioning these baskets within the open shelving compartments of the island. This way, they'll be easily accessible but won't distract from the overall design. For an added layer of charm, go for baskets in a style that complements the rest of your decor.
Painted Fluted Island With Matching Dining Table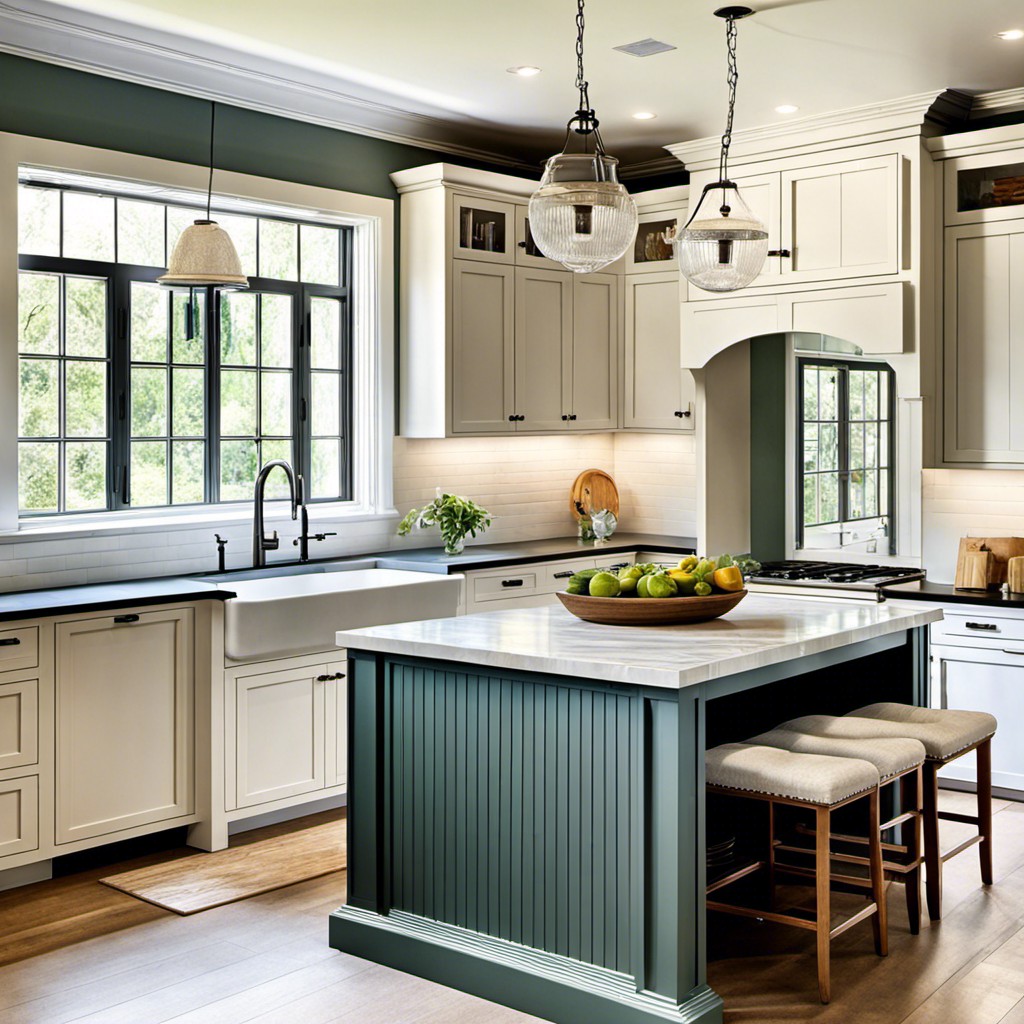 A well-coordinated color scheme can elevate your kitchen's aesthetic appeal. Adopting the same paint color for both your island and dining table establishes a harmonious visual connection. You can choose a vibrant hue for a pop of color or stick to neutral tones for a more sophisticated look.
1. Choose a complementary color: When picking the paint shade, consider the colors of your walls, cabinets, and appliances. The aim is to achieve a flow, not a stark contrast.
2. Material and finish: If you prefer a rustic feel, you might opt for a distressed paint finish. For a modern look, high-gloss paint on a smooth surface provides sleekness.
3. Avoid color fatigue: You might enjoy a bright turquoise now, but think about living with it for years. More subdued hues or classic neutrals often withstand the test of time better.
4. Picking the right table style: Not all tables are suited for painting. If your dining table has intricate carvings or a beautiful wood grain, painting may not be the best choice. An uncomplicated design with clean, smooth lines is ideal.
5. Consider fabric coordination: To top off your matching set, consider the color and pattern of your island's bar stools or the dining chairs. A well-thought-out fabric choice can tie the whole scheme together beautifully.
Industrial-style Fluted Island With Stainless Steel Countertop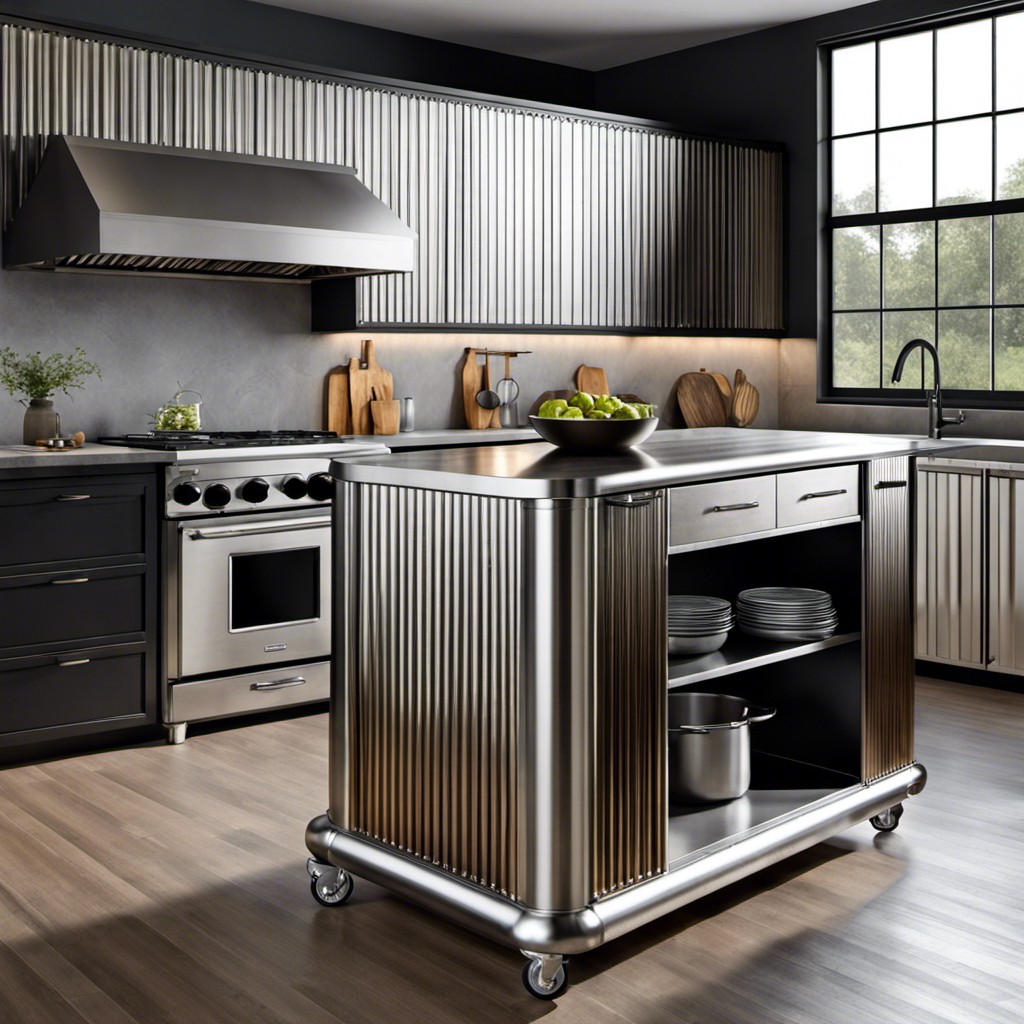 Jumping into the nitty-gritty, this particular style of kitchen island offers a space where functionality meets aesthetic brilliance. Its fluted detailing effortlessly marries the sturdy stainless steel countertop, presenting an elegant take on industrial design.
1. Material Choice: Pairing the rustic charm of timber fluting with robust stainless steel offers an inviting textural variance. It helps bring a sophisticated industrial feeling within your kitchen.
2. Durability: Stainless steel, apart from being easy to clean, boasts of outstanding longevity. It's heat resistant and can handle wear and tear, making it ideal for a busy kitchen.
3. Versatility: This style adapts to diverse settings. If your kitchen carries an industrial vibe, it fits right in. But also, contrasting it against a softer style creates an alluring focal point.
4. Easy Maintenance: Stainless steel countertops are non-porous, meaning stains don't seep in. A simple wipe is all that's needed for a sparkling clean surface.
Remember, opting for this style doesn't mean forgoing storage or features. Many such islands can come equipped with below-counter cabinets, drawers or even optional features like a built-in wine rack. It's all about finding a design that suits your kitchen's space, flow, and overall aesthetic.
Fluted Island With Attached Chopping Board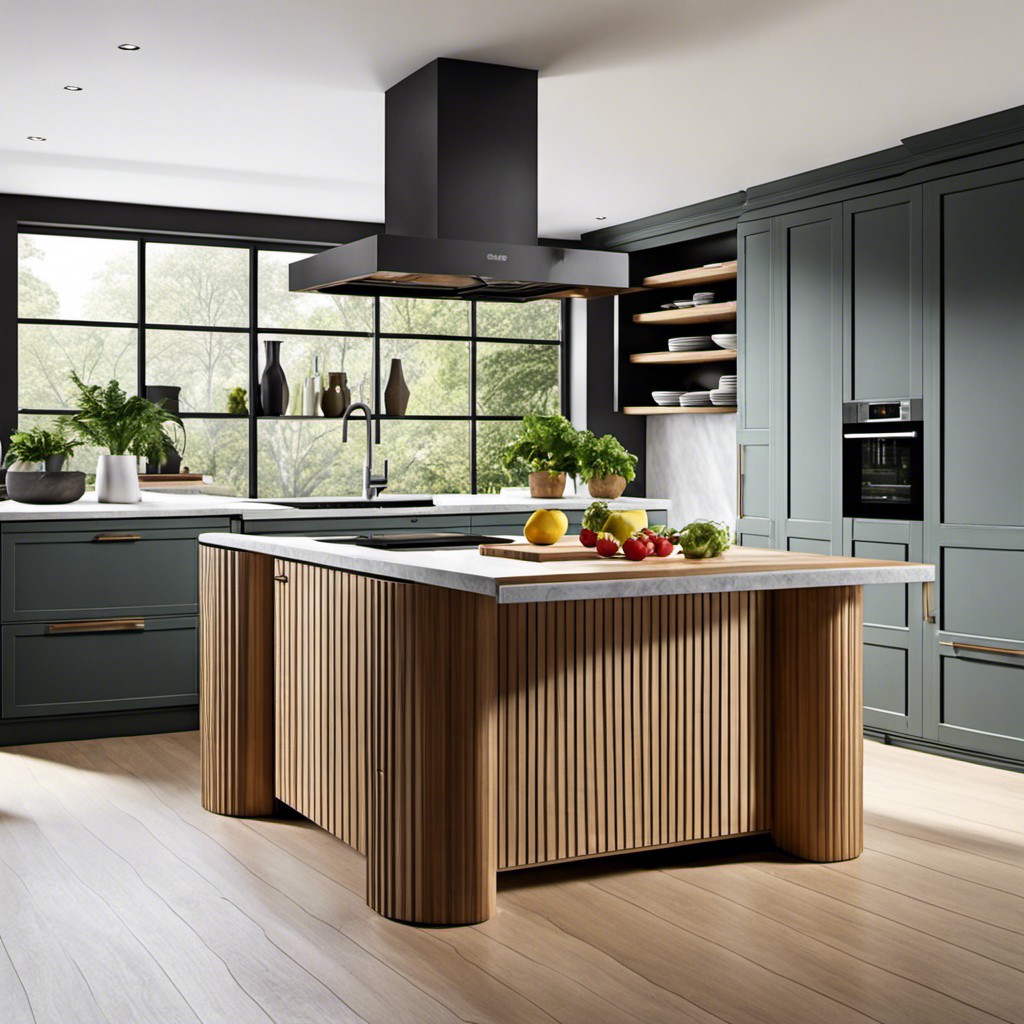 This design speaks to the heart of every home cook. By integrating a chopping board, you are making the island not just a center of attraction, but a functional workstation as well.
For added durability and easy maintenance, choose chopping boards made from bamboo or hardwood.
This concept offers simplicity in operations. You immediately create a prep-space within the kitchen hub, eliminating the need to move around too much.
Something to consider:
Size and thickness – Ensure it's substantial enough for a variety of food prep tasks.
Easy pull-out mechanism – The board should slide out with ease for convenience and to lessen wear and tear.
Proper sealing – Ensure a good seal around the board to prevent seepage into the island structure.
A neat trick would be to attach a waste chute directly into your garbage bin under the chopping board – an effortless way to swipe peelings off the board.
Remember to season your chopping board well before the first use, and you'll have yourself a nifty little workstation right there in the middle of your kitchen.
Grey Fluted Island With Built-in Microwave Cabinet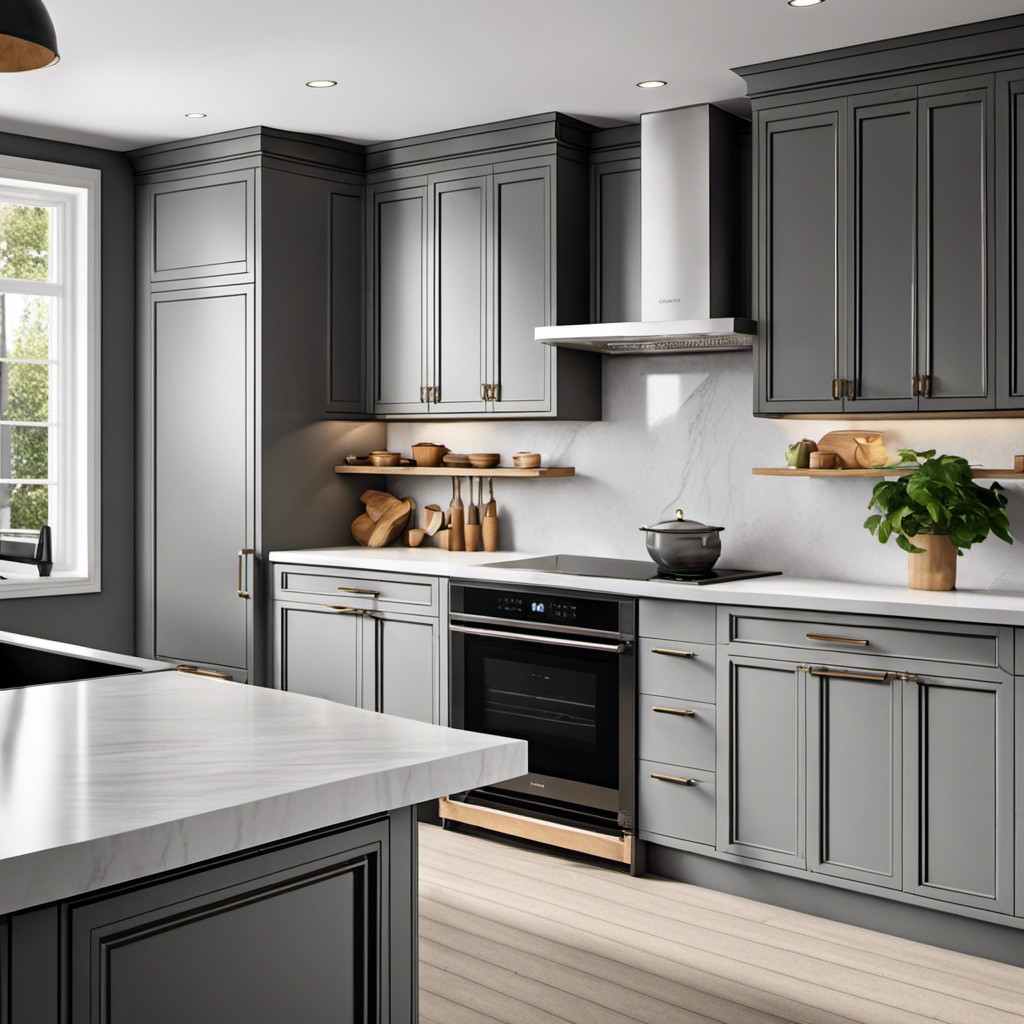 Incorporating a microwave into the cabinet structure of your fluted island tailors the design to the modern need for convenience without compromising style. Firstly, its aesthetic appeal lies in the seamless integration of appliances which fosters a clean, streamlined look. This model speaks to those seeking to preserve the sleek, contemporary allure of their kitchen.
The use of grey color introduces a neutral charm and versatility. It effortlessly matches with light tones such as whites and creams, yet also complements bold hues, ensuring sync with various color palettes. Simultaneously, it sidesteps the common concern of highlighting spots or stains since grey is forgiving with daily wear and tear.
Building the microwave cabinet into the island frees up precious countertop space, adding functionality to your kitchen area. This design element is particularly beneficial for smaller kitchens where each square foot counts. For homes with children, it also facilitates easy access to the appliance without sacrificing safety under supervision.
The fluted design of the island enhances visual interest, echoing architectural detailing typically found in traditional designs. Despite its ancient origins, fluting has found its place in modern kitchen designs by lending depth and sophistication. Its horizontal or vertical lines interplay with light and shadow, adding an additional layer of texture.
Lastly, we recommend pairing it with brushed nickel hardware or stainless-steel appliances to bring out the cool undertones of the grey. However, for a softer look, brass or gold-toned fixtures provide a warm contrast. Be sure to refer to the overall kitchen style and color scheme when making your choice.
Fluted Farmhouse-style Island With Open Bookshelf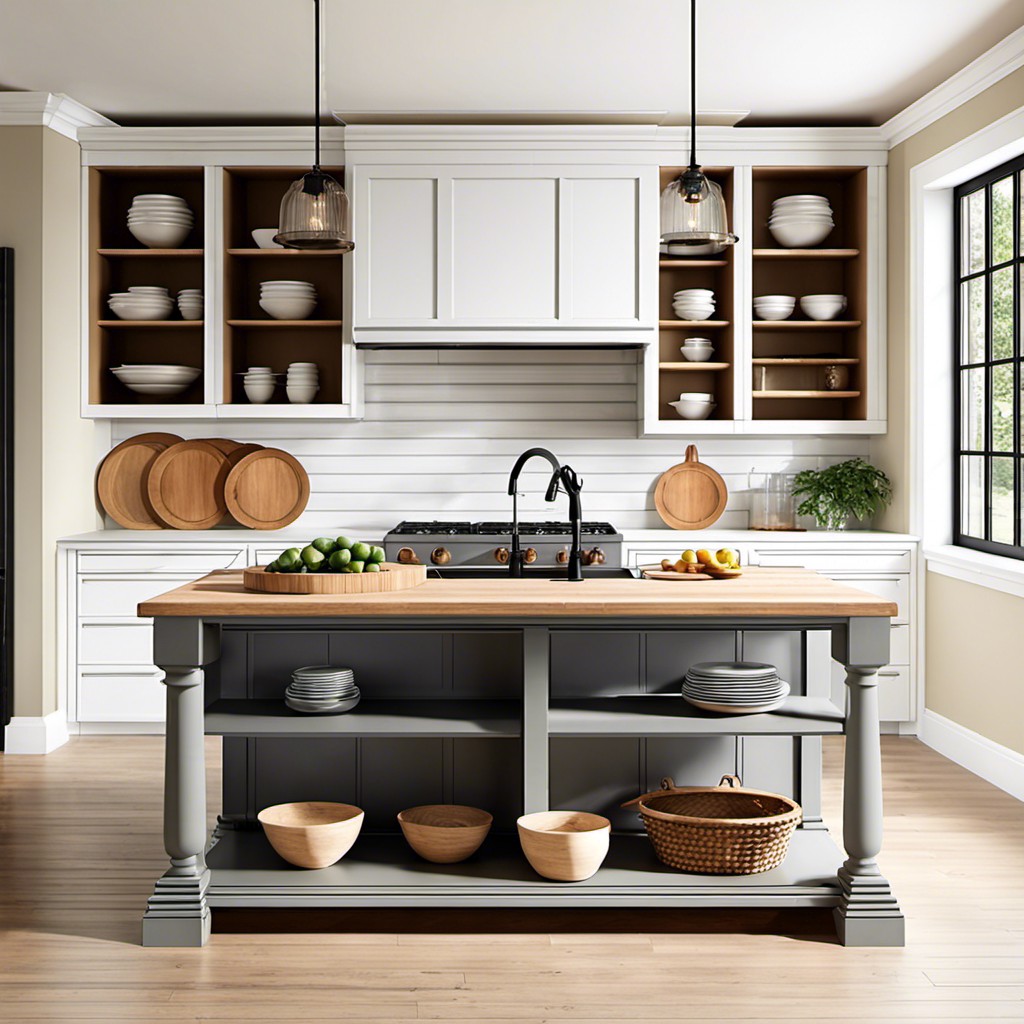 Crafted with meticulous attention to detail, this style reconnects us with nature and simpler times. The open bookshelf adds practicality by offering ample storage for cookbooks and other kitchen essentials, ensuring everything you need is within arm's reach. Ideal for country and cottage-style kitchens, it's an excellent choice for those who desire a warm, welcoming atmosphere in their cooking space.
1. Natural materials: Farmhouse-style bridges the gap between classic rural living and modern functionality. Using natural materials like wood is central to this ethos, bringing a sense of warmth and comfort.
2. Functional storage: The open bookshelf caters well to avid home cooks who enjoy having their favorite recipes on display and accessible. It helps keep everything organized, eliminating clutter from countertops.
3. Customizability: One strength of this option lies in its versatility. Whether you prefer a painted finish or natural wood, you can tailor it to your aesthetic preference.
4. Versatile use: Aside from cookbooks, the shelf can house various items such as decorative elements, small appliances, or a selection of your favorite spices.
5. Timeless appeal: One of the best features of a farmhouse-style island is its timeless appeal. Even as trends change, this island will always have its place.
Remember, the key to creating an authentic farmhouse kitchen lies not just in the design aesthetics but also in the functionality that brings ease to your daily cooking routine.
Contrast Color Fluted Island With Seating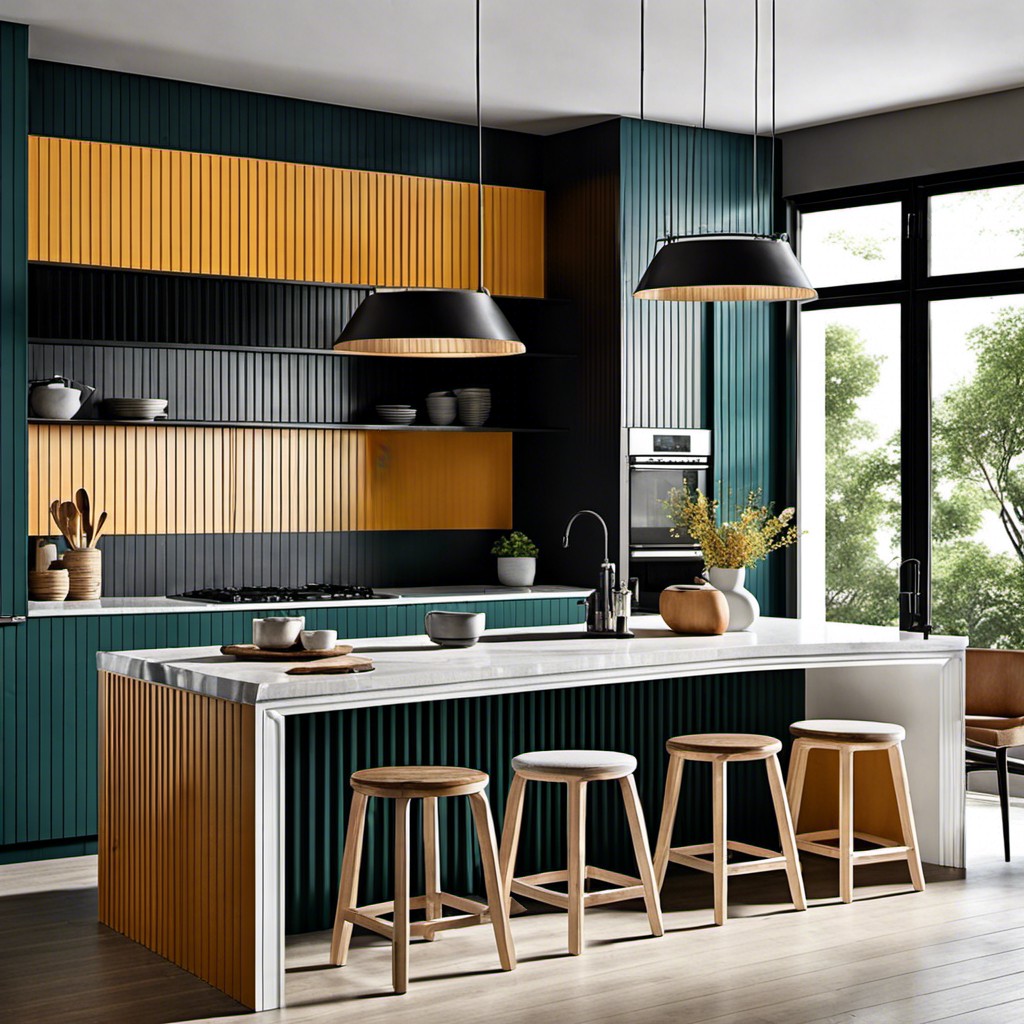 Playing with contrasting colors for your island isn't just visually engaging but also functional, offering both a focal point and a gathering place. A light-toned surface is perfect for food prep, while dark fluted paneling can be practical for masking scuffs and stains. This design concept embraces a variety of aesthetics from modern to rustic.
Here's a quick take on this stylish kitchen feature:
Use eye-catching tones like navy blue, emerald green, or classic black for the island's fluted paneling, paired with neutral countertops in marble, quartz, or butcher wood.
Opt for comfortable stools that match or complement the chosen contrast color to provide seating. Adjust their height based on island height for maximum comfort.
Consider balance and overall kitchen palette to prevent the contrast color from overwhelming the space.
Add rocks, metallics, or pendant lights to highlight the centered piece.
Remember that this unique kitchen feature is not just about style, but also about creating a functional, warm, and inviting space where people would love to gather.
Fluted Island With Multi-level Counter Surfaces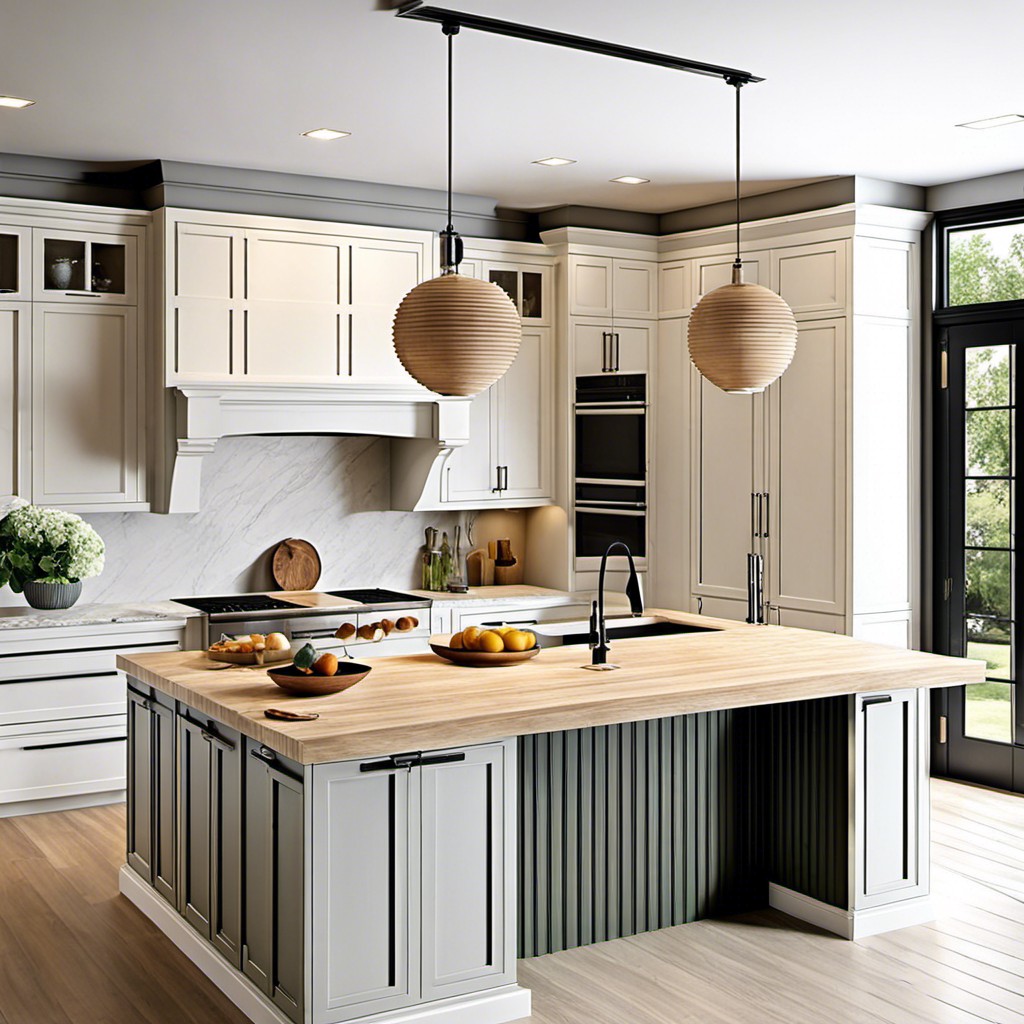 Offering both functional and aesthetic advantages, the multi-level design serves distinct purposes. A higher level serves as a perfect spot for baking preparations or serving appetizers, while the lower tier makes a comfortable dining area, with bar stools tucked nicely under. Various materials like granite, quartz or butcher block can be used to create distinct zones. To keep the design seamless, it's recommended to continue the fluting detail across all levels of the counter. Additionally, consider recessed lighting under the higher countertop to illuminate the lower tier, adding an enchanting glow to your kitchen.
Minimalist Fluted Kitchen Island With Integrated Handles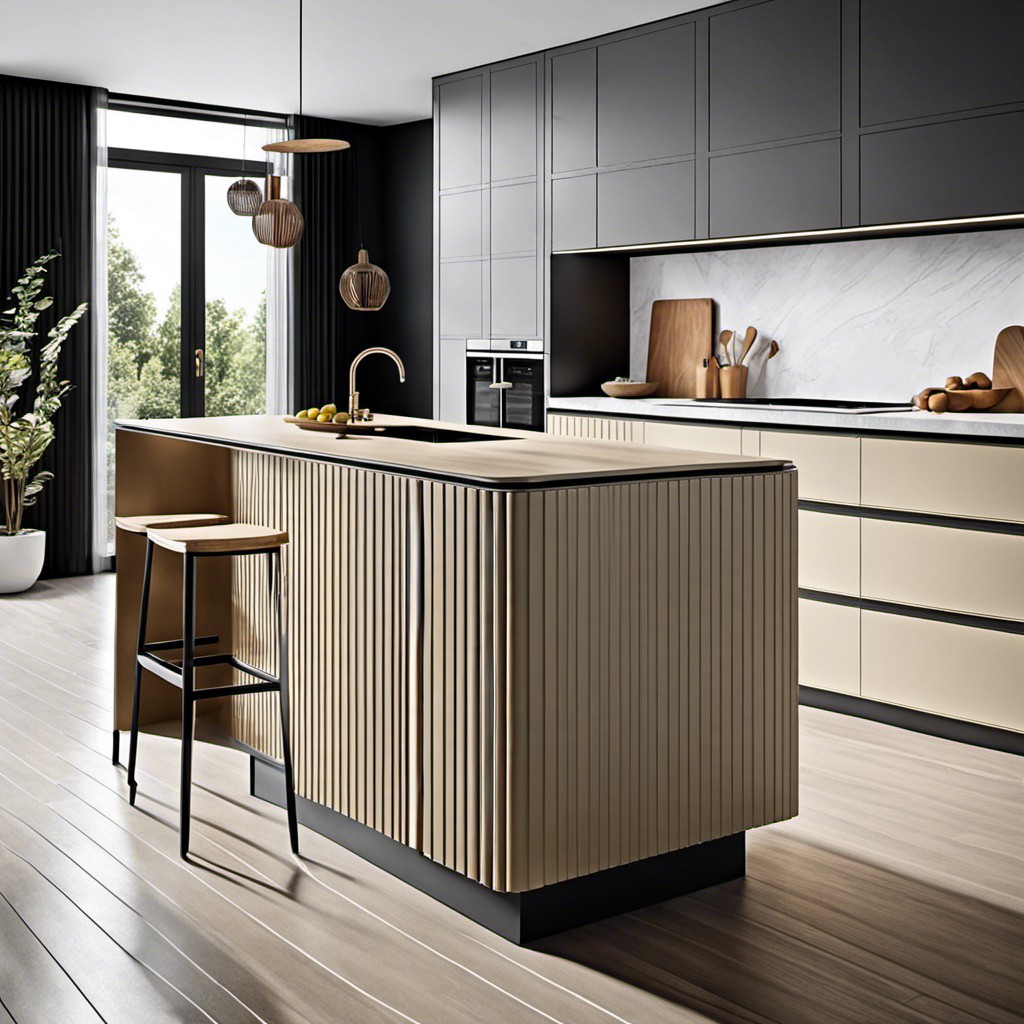 Integrated handles offer a streamlined aesthetic, perfect for a minimalist kitchen. The fluting detail lends texture without overwhelming the simplicity, creating an inviting contrast. This island design strips back to essentials for maximum functionality while maintaining a sleek appearance.
1. Sleek yet functional: Handles are built into the design, reducing visual clutter.
2. Balance of detail: Textured fluting makes a subtle statement in a minimalist setting.
3. Multipurpose space: An island like this can function as a prep area, dining table, or additional storage.
4. Easy to clean: With fewer crevices and an overall sleek design, cleaning can be done in a breeze.
5. Customizable: Choose from a variety of materials and finishes to achieve the minimalist look you love.
6. Improved accessibility: The integrated handles make it easy to access your cooking tools and utensils.
Remember, the goal of a minimalist design is to keep it simple and clean. The integrated handles in the fluted island adhere to this concept beautifully, offering both form and function.
Dual-purpose Fluted Island, Functioning As a Room Divider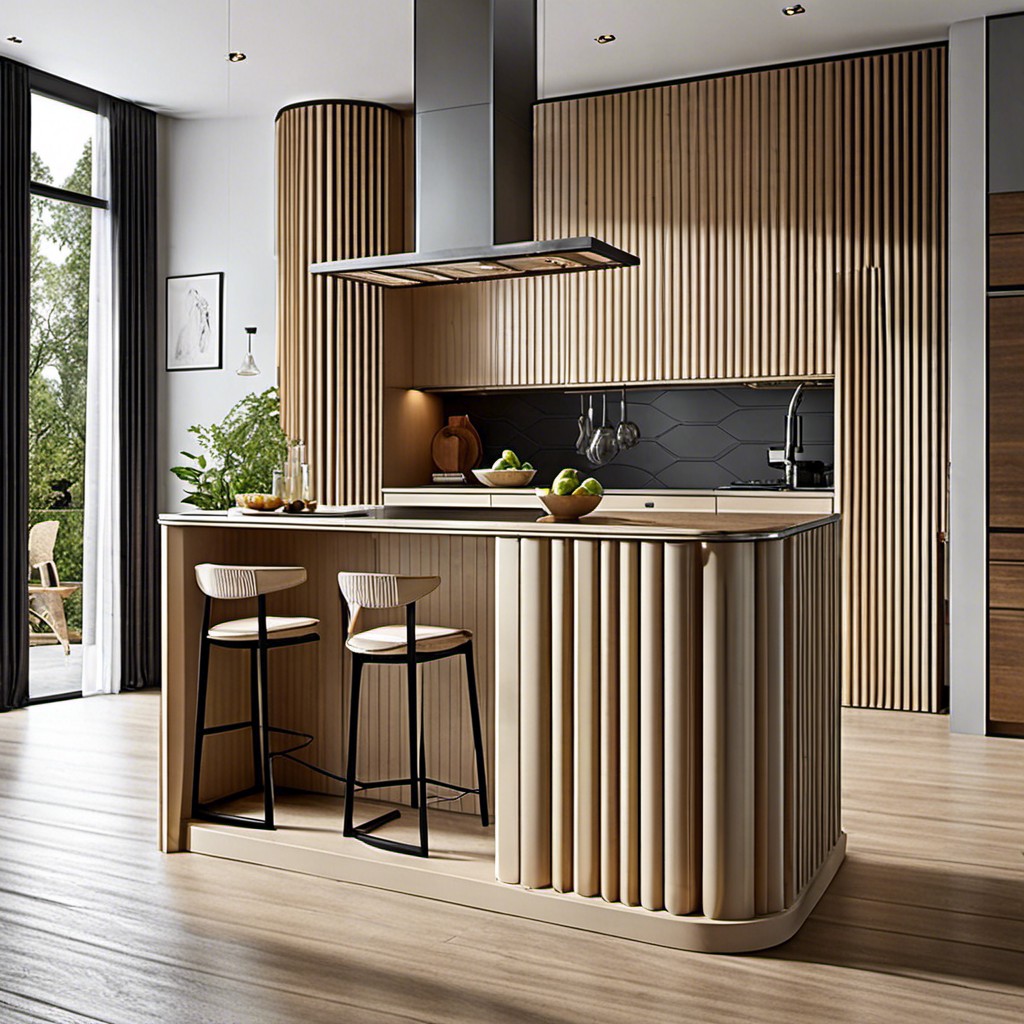 This innovative design gives a dual utility. Besides being a fully functional kitchen island, it can also be used as a room divider! Not only does this add a neat, organized look to your open plan kitchen, it also ensures optimal utilization of space.
1. Space Optimization: In a cramped city apartment, or a smaller home, space optimization is of utmost importance. This design allows maximum use of available surface area.
2. Integrated Storage: Often features pockets or shelves to stow away kitchen essentials. A great way to overcome the storage issues that plague many homeowners.
3. Visual Aesthetics: Can be designed to match the rest of your kitchen décor or stand as an accent piece. The fluted design also gives a unique textural twist to the space.
4. Easy Access: A centralized location renders easy accessibility from all sides. Whether you need a quick stir on the stove or want to grab a snack while lounging, it's incredibly handy.
5. Versatile Seating: Perfect spot for a quick breakfast or a coffee catch-up. Just add a couple of stylish stools and you're set.
Remember, this is an ideal option for those who love to combine functionality with style. Keep this in mind while contemplating your kitchen revamp!
Recap
Liked this article? Here's what you can read next: