Last updated on November 15, 2023
Dive into a world where fluted cabinets enhance your home's aesthetic beautifully because their timeless appeal creates an environment that's both stylish and functional.
I am proud to present my original article, "20 Fluted Cabinet Ideas: Transform Your Kitchen Decor with Ease," including distinctive designs I personally created, and I sincerely hope you'll be inspired and enjoy exploring these ideas as much as I enjoyed creating them.
Fluted cabinets are the latest trend in home decor, adding a touch of elegance and sophistication to any kitchen or bathroom. This article will guide you through the best fluted cabinet ideas, from chic minimalist designs to more traditional styles.
We'll explore the various materials and finishes available, how to choose the right fluted cabinet for your space, and tips to keep them looking their best. Whether you're renovating your entire kitchen or just looking to update your cabinets, this article has you covered.
Stay tuned for a deep dive into everything you need to know about fluted cabinets.
Traditional Oak Fluted Cabinets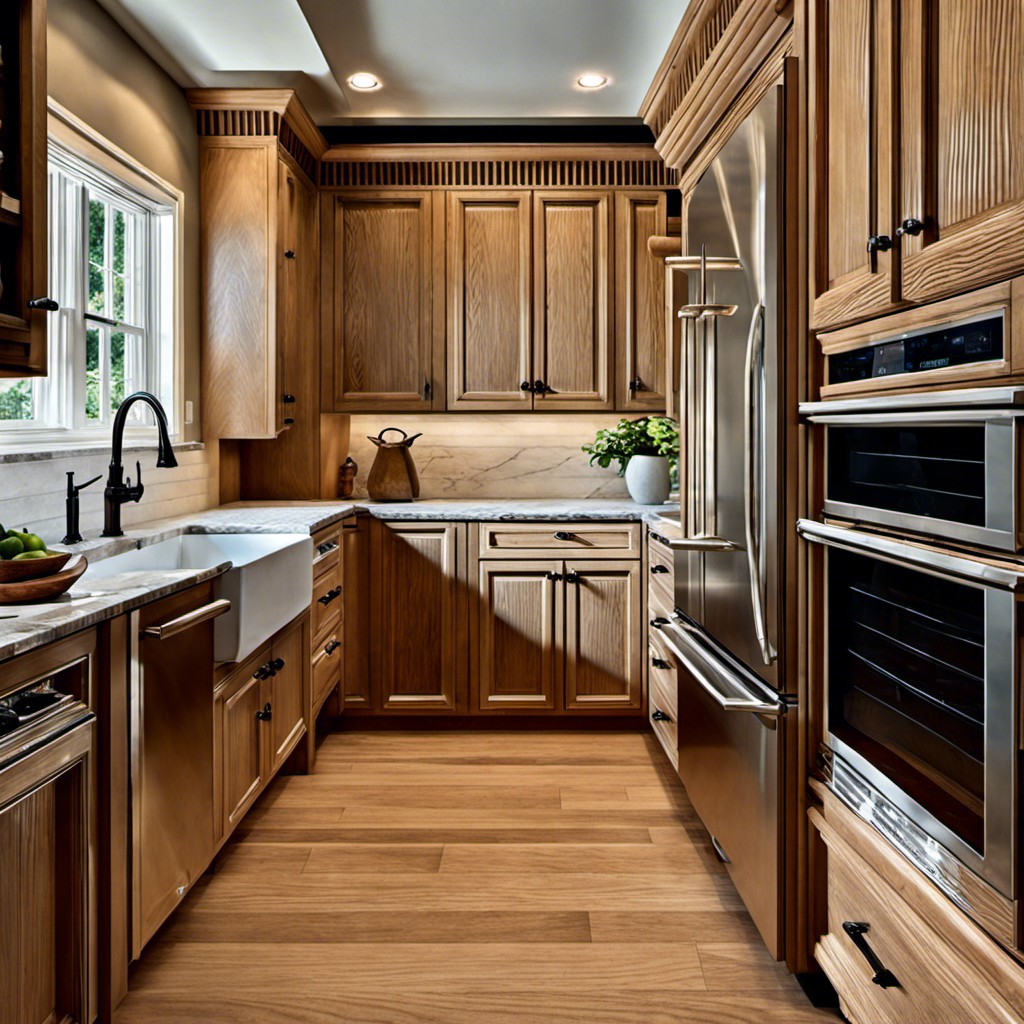 Designed to exude elegance and warmth, these cabinets are crafted from robust and richly grained oak. Embodying a timeless appeal, they can seamlessly blend into various types of decor – be it rustic, traditional, or modern farmhouse.
The fluted detailing adds an extra layer of aesthetic appeal, making the cabinets more intriguing and less boxy. An oil-based polyurethane finish can protect them from scratches and spills, enhancing durability and maintaining the natural look.
Moreover, the oak's distinctive grain pattern brings an organic, textural element to your space. Matching them with bronze or brass hardware augments the classic vibe.
White Fluted Cabinet With Glass Doors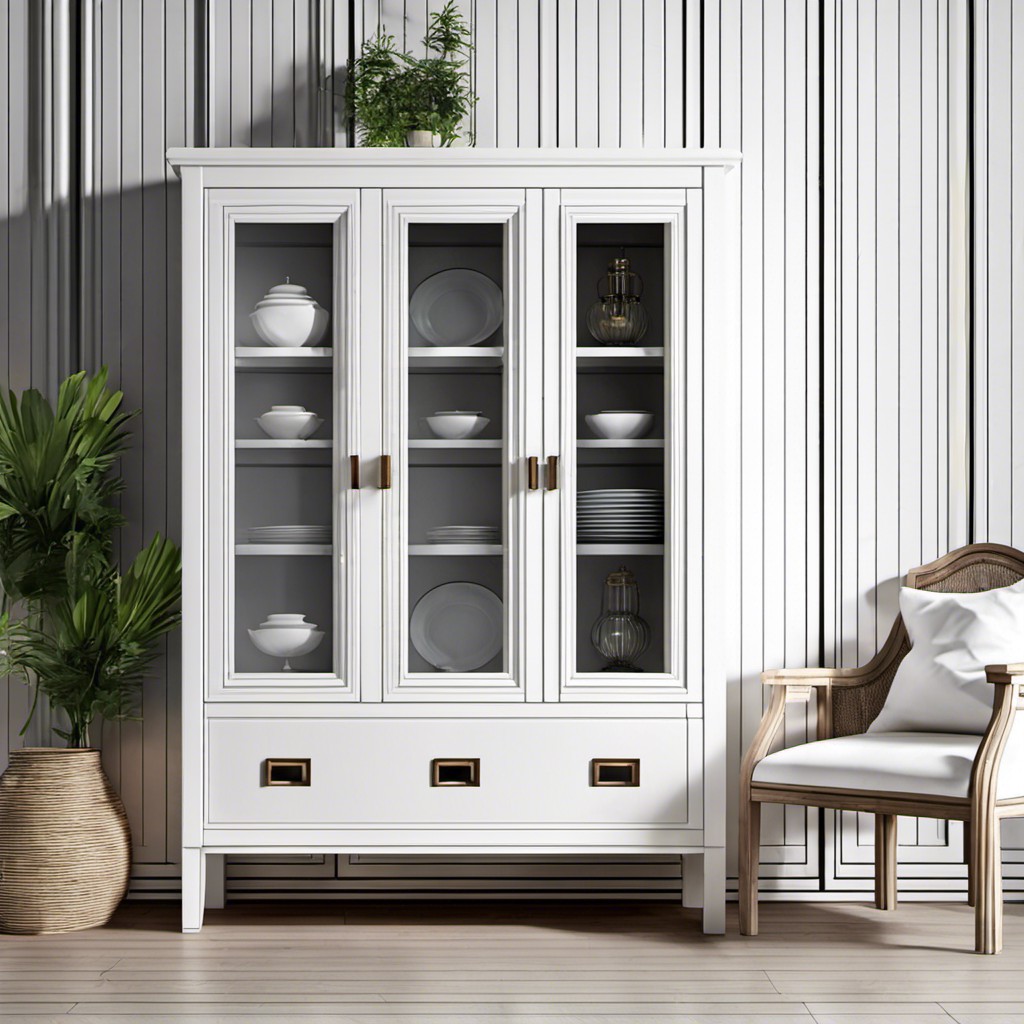 This style offers an equal measure of elegance and practicality. The fluting detail adds a level of sophistication, while the white color ensures versatility to blend with virtually any room décor.
Glass doors, aside from providing a touch of modernity, allow easy visibility to your treasured porcelain, glassware, or book collections.
Here are a few key points to keep in mind:
Opting for clear or frosted glass door panels can define the aesthetics of your cabinet.
LED strip lights inside the cabinet display contents brilliantly.
Combine with neutral walls for harmonious decor or against a bold wall color to create a striking contrast.
Consider pairing with brass or silver hardware for a put-together look.
For small spaces, this cabinet's reflective surfaces help to create an illusion of depth and space.
The concept is simple, yet the outcome is stunningly elegant. It's an investment that can transform the room without major renovation.
Mid-century Modern Fluted Cabinet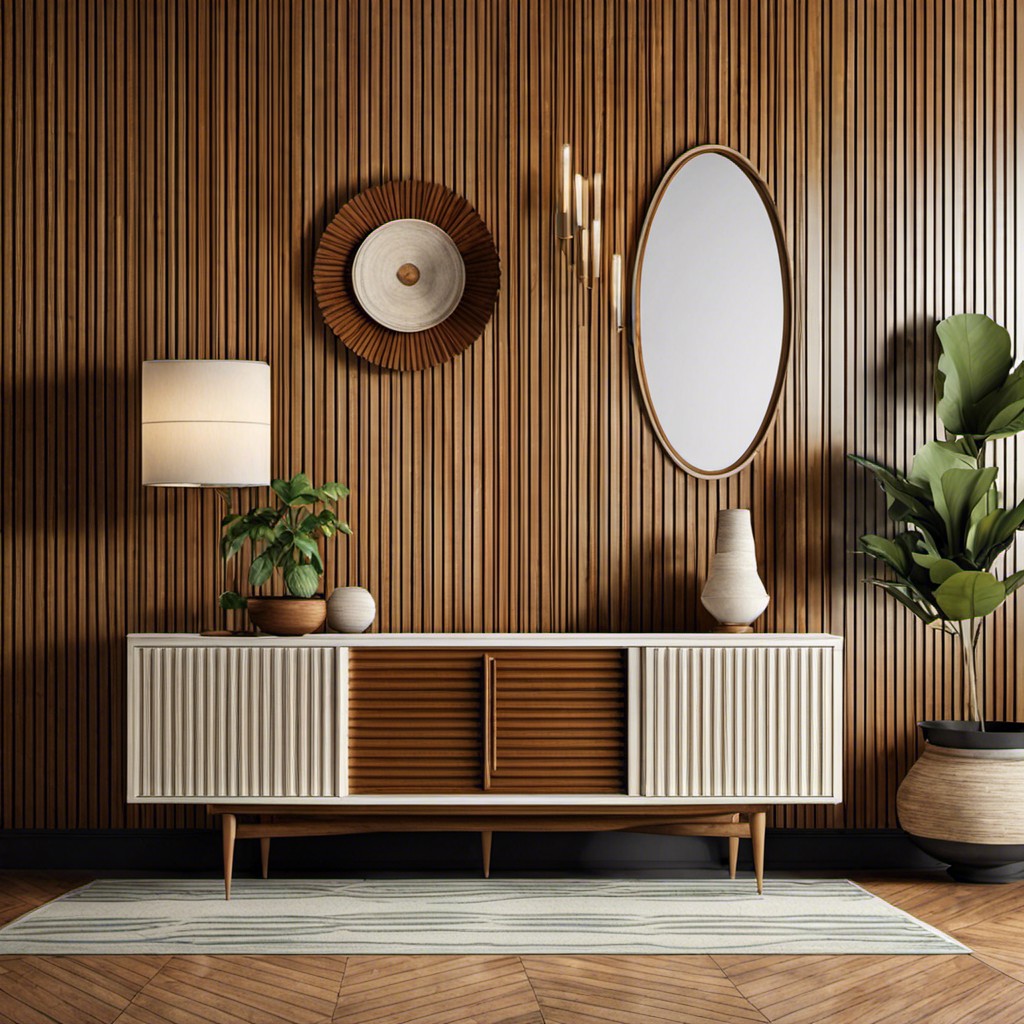 In mid-century modern design, minimalism meets functionality, offering a perfect style for fluted cabinets. The emphasis is on clean lines and organic shapes synonymous with this era, which takes inspiration from nature or geometry to come up with the fluted pattern. This creates subtle yet impactful visual interest.
Key considerations for this style:
Wood Finish: Opt for natural woods like teak, walnut, or oak to highlight the era's ethos of simplicity.
Hardware: Choose sleek, unobtrusive hardware like slim bar pulls or even handless designs.
Color: Keep it neutral or earth-toned. Novice decorators can try incorporating one bold color as an accent.
Placement: These cabinets can serve various purposes from media consoles in a living room to buffet sections in dining areas.
Remember, mid-century design echoes a practical focus. Minimal clutter, easy maintenance, and optimum storage are synonymous with this style. Install this fluted cabinet type to merge nostalgic charm with a modern twist!
Vertical Fluting On Kitchen Cabinets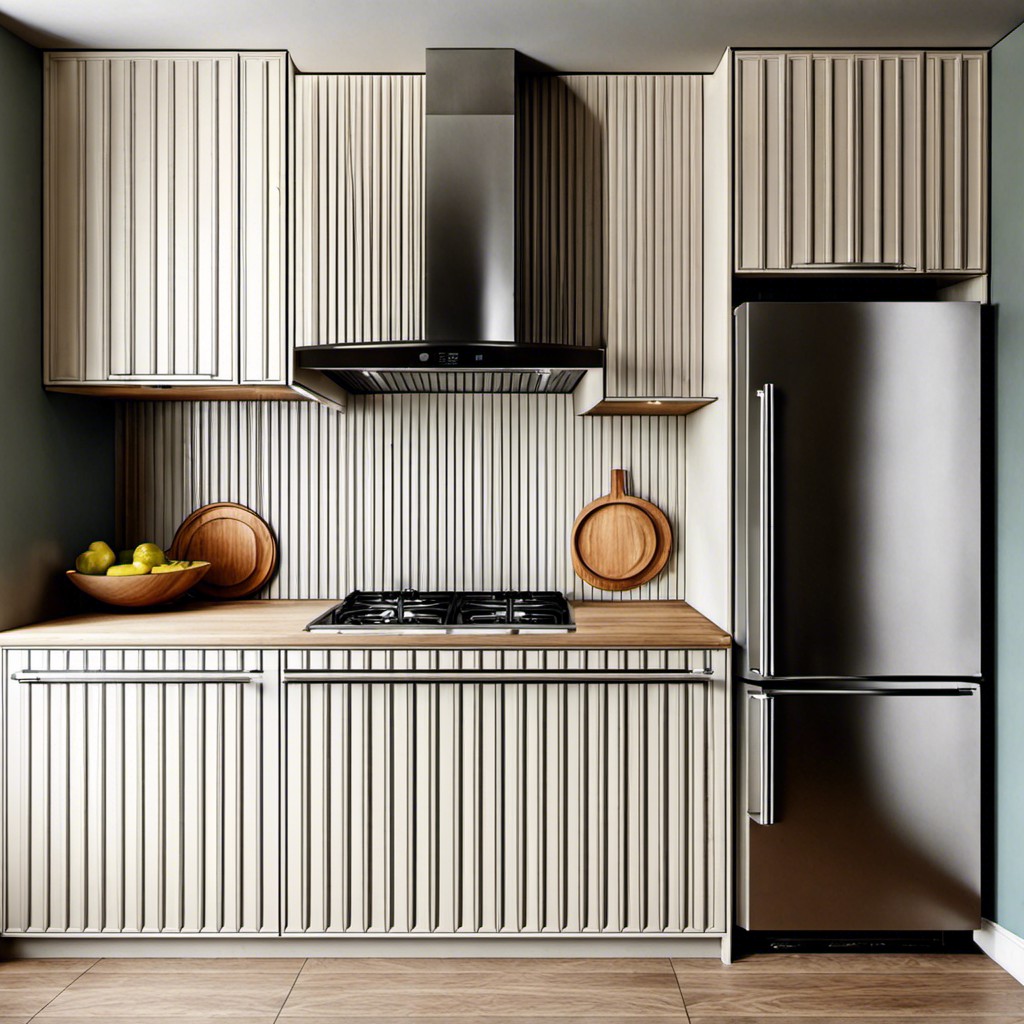 Adding vertical fluting to your kitchen cabinets gives the space a contemporary feel while still retaining an element of classic design. It's a beautiful option to consider for a number of reasons:
1. Enhances Height Perception: The long, linear lines naturally draw the eye upwards, creating the illusion of a taller and larger kitchen.
2. Adds Sophistication: Regardless of the cabinet color, those grooved patterns induce a refined, regal aura that elevates the overall aesthetic.
3. Subtle Yet Striking: It's perfect for those who love a touch of detail but still want a minimalist essence in their kitchen style.
4. Proportion Balance: When paired with other design aspects, such as a royal crown molding or geometric floor tiles, it brings about a desirable structured balance.
5. Versatile: It harmonizes well with various color palettes, hardware choices, and other kitchen elements. Whether you lean towards a warm rustic style or cool modern tones, vertical fluting never out of place.
Remember that, in design, it's all about marrying functionality with style – vertical fluting does justice to both.
Fluted Cabinet Door With Gold Trim
Gold trim adds a touch of opulence to fluted cabinet doors, helping bring out its textural charm. This distinctive design blends conventional cabinet artistry with a contemporary appeal, creating an eye-catching detail. It works exceptionally well with darker tones for a luxurious statement but also shines through on softer, lighter hues, adding an elegant contrast.
Consider these points while incorporating a fluted cabinet door with gold trim in your decor:
Material Matters: Choose quality materials that showcase the gold trim elegantly. Hardwoods and high-grade MDF options provide the ideal canvas for this effect.
Color Coordination: Coordinate the cabinet color with the gold trim. Elegant, dark hues like burgundy or forest green create a regal look, while pastels paired with gold can offer a more delicate, chic vibe.
In Moderation: Use gold trim sparingly to maintain a classy, not flashy, appearance. Too much gold can overwhelm the cabinet's aesthetic.
Match Hardware: To complete the look, match hardware like handles or knobs to the gold trim. It will solidify the cabinet's luxury appeal.
Light and Location: Depending on the amount of natural or artificial light and the cabinet's location, the gold trim can create different effects, from a subtle shimmer to a dazzling spectacle.
Remember, the complexity of a fluted design combined with gold trim requires precision in craftsmanship. Choose professionals who specialize in bespoke cabinet making for best results.
Walnut Finish Fluted Bathroom Cabinet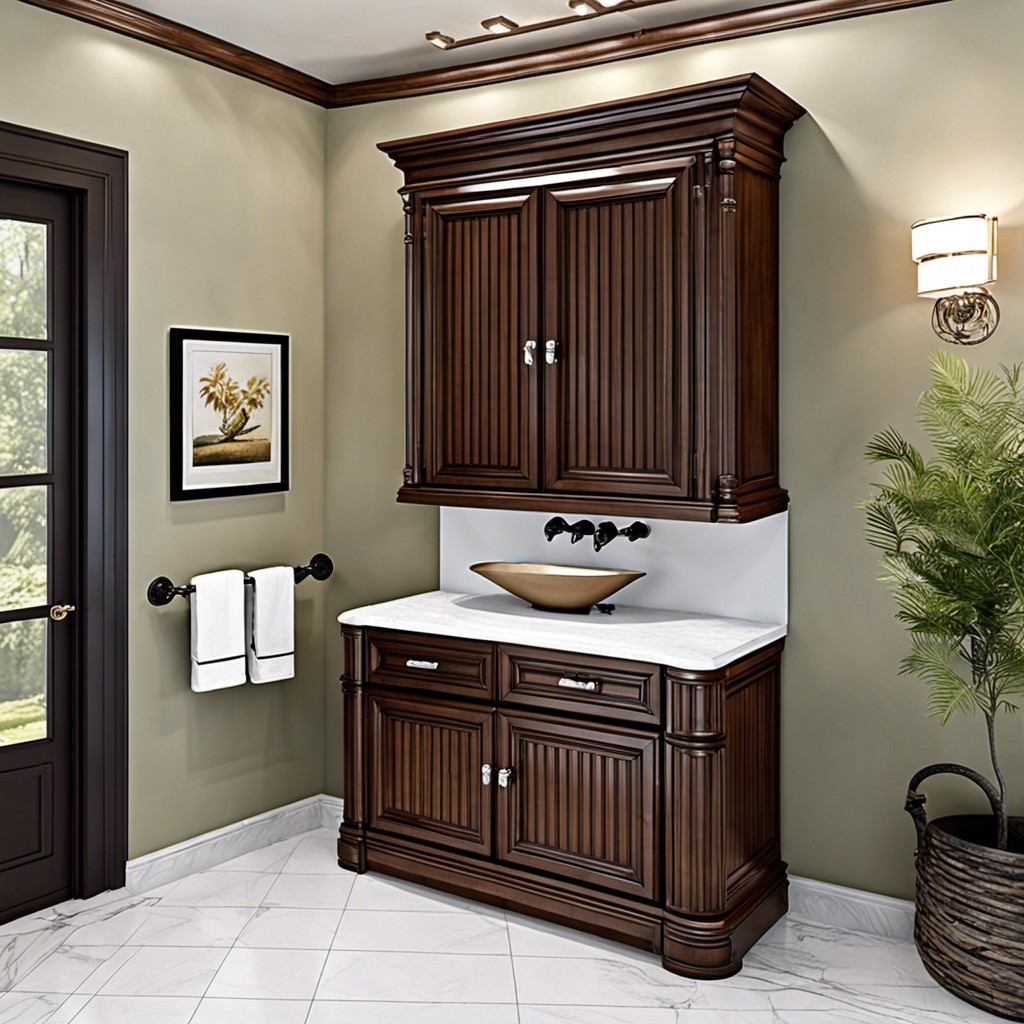 The rich, warm hue of walnut provides an incredibly inviting aura in a bathroom setting, amplified by the detailed fluted pattern.
To complement the design, nickel or brass hardware extends a pleasing contrast. Considering storage efficiency, enhancing the walnut finish cabinets with pullout drawers or built-in organizers proves beneficial.
Interestingly, the fluted pattern isn't just a feast for the eyes, but also lends an improved grip, making them highly functional. For a cohesive look, you could match the vanity or mirror frame with the walnut finish of the cabinet.
Lastly, remember to seal the wood properly to preserve its stunning appearance despite the humid bathroom environment.
Corner Fluted Cabinet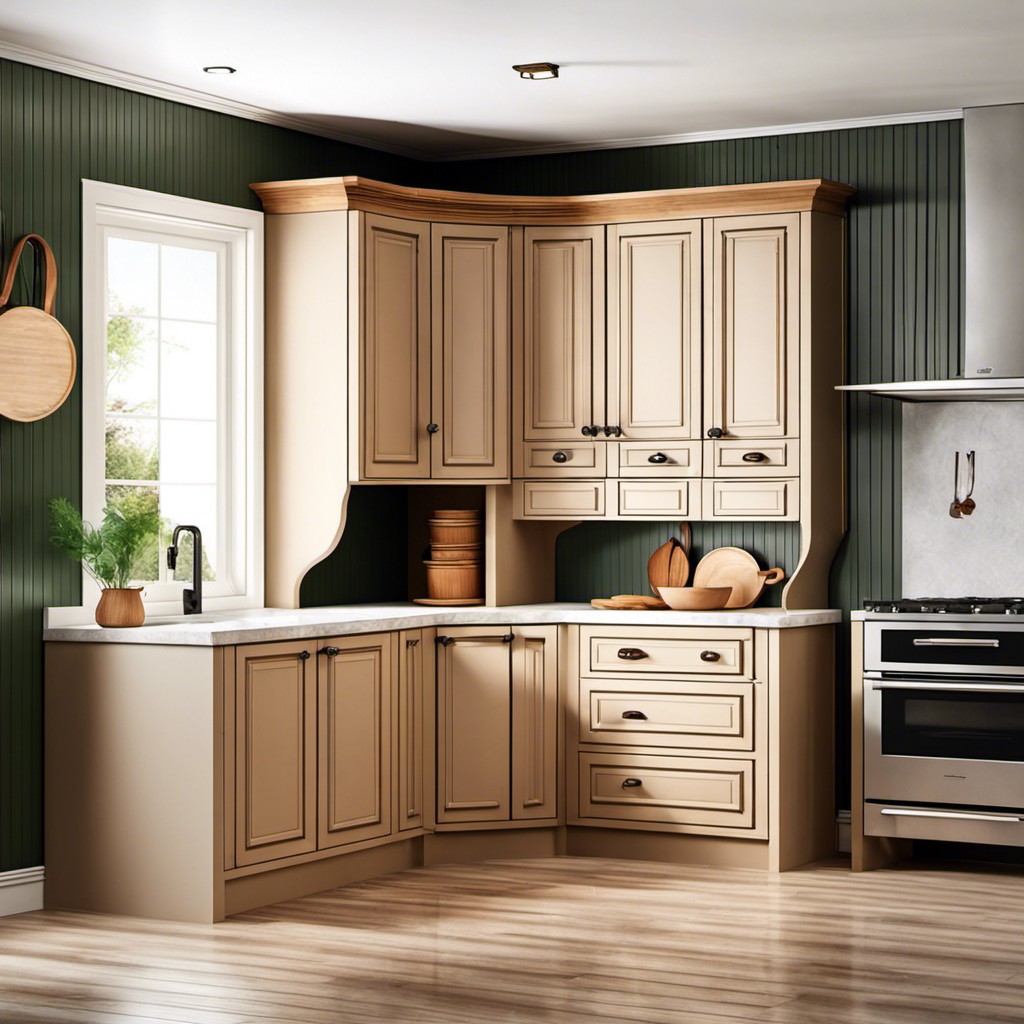 This specific design feels like a hidden treasure. Fitting snugly into an unused corner, it efficiently utilizes space that otherwise remains void. With fluted detailing, it brings a subtle touch of texture and visual intrigue that works harmoniously with both traditional and contemporary styles.
The raised striations of a corner fluted cabinet can create an interplay of light and shadow, adding depth to a room. When it comes to material, the options are plenty – solid wood such as oak or walnut brings a timeless elegance, while painted MDF can give a more modern, custom look.
This design is remarkably versatile. It can serve as a cozy reading nook when adorned with cushions on top, a curio cabinet to display cherished collectibles, or a functional pantry for your kitchen essentials. The beauty lies in its combination of aesthetic appeal and practicality.
Fluted Cabinet With Open Shelving Above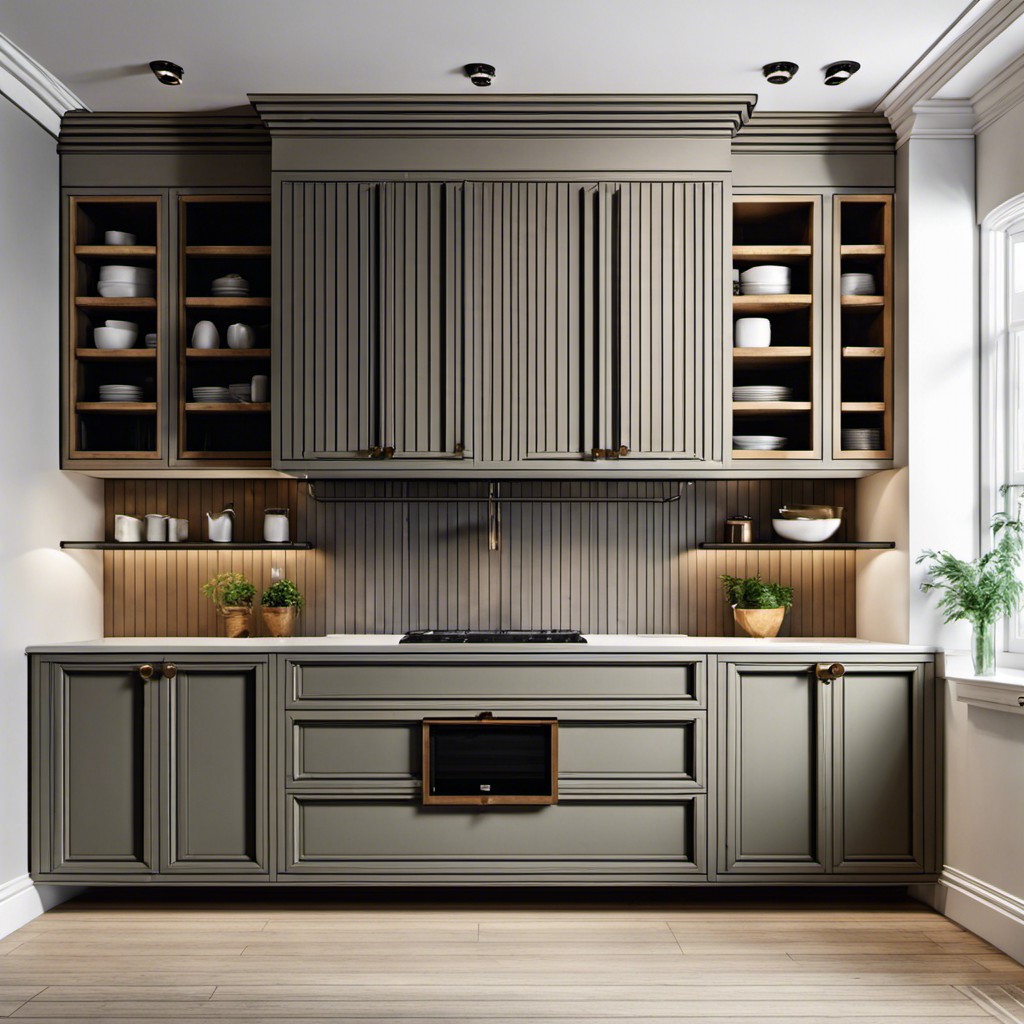 A popular design trend combines the texture of fluted cabinets with the open, airy feel of overhead shelving. It presents a way to showcase artful dishes or colorful cookbooks while maintaining the functional storage the cabinets provide.
1. Consider the Material Balance: The contrasting combination of solid fluted cabinet doors and delicate open shelves can beautifully balance a room. The doors' solid, tactile nature contrasts with the lighter shelves.
2. Plan for Usage: Open shelves are perfect for items you frequently use, like dishware or spices, as they allow for easy reach. Use the fluted cabinets for items requiring more protection or less frequent use.
3. Think About Lighting: The open shelves provide an opportunity for under-shelf lighting. This can create a warm, inviting atmosphere while also making it easier to find items.
4. Pair With Backsplash: A tile or wood backsplash can complement the whole look, tie the open shelves and fluted cabinets together, and provide an easy-to-clean surface.
5. Accessorize: The open shelves can double as a display for your favorite décor pieces.
In just such simple steps, anyone can upgrade their kitchen to a more elegant and functional space.
Small Fluted Cabinet for Entryways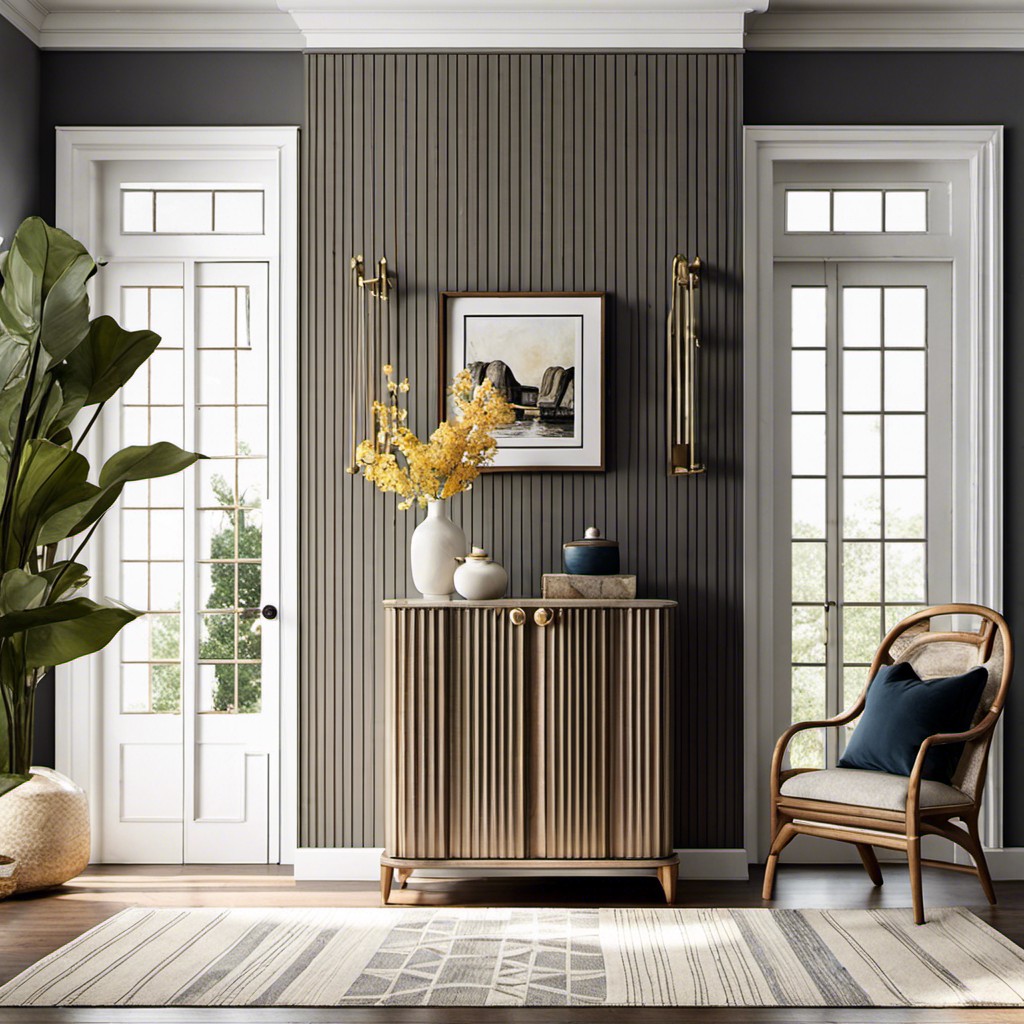 A small fluted cabinet for your entryway proves budget-friendly decor needn't skimp on sophistication. This versatile piece serves dual purposes – storage and style. With its slim design, it fits comfortably in an entry hall without causing obstruction. Yet, the delicate fluting lends itself to an air of elegance, instantly making the whole area appear more upscale.
Here's how this remarkable piece works:
Space Efficiency: Its slim stature offers functionality without eating up floor space. Ideal for homes with limited room or narrow entryways.
Storage Solutions: Ideal for city dwellers, use it as a drop zone for keys, mail, or other daily necessities. The drawers or doors keep clutter hidden.
Visual Appeal: With its linear grooves, the cabinet's facades introduces texture and depth, enhancing the aesthetic appeal.
Versatility: Choose from various finishes, from light oak to deep walnut or a painted color, aligning the cabinet with your home's interior style.
Environmentally Friendly: Fluted furniture can be made from reclaimed or recycled wood, making it an environment-friendly option.
By incorporating this petite, fluted cabinet into your entryway, you can infuse style, all the while being friendly on your purse strings, and environment.
Large Fluted Cabinet As Room Divider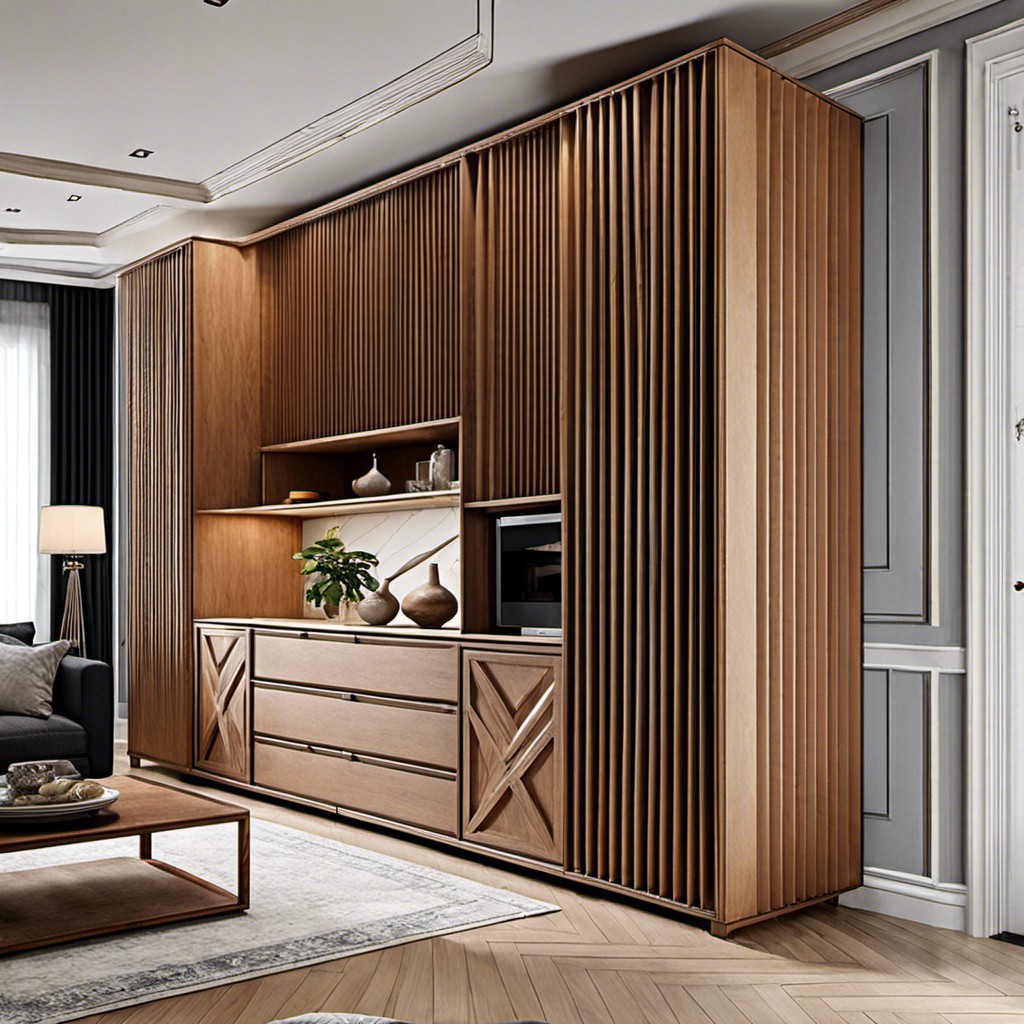 A large fluted cabinet acting as a room divider can be a game-changer in open concept designs. Its imposing presence provides a practical layout solution while injecting personality into the decor.
1. Versatility: These cabinets offer not just visual division but also extra storage and display space, maximizing functionality in rooms.
2. Stylistic Integration: Ensure your fluted cabinet matches the overall aesthetic of both areas it separates to maintain design harmony.
3. Direction of Flutes: Horizontal flutes elongate spaces while vertical ones add height. Choose according to your room's dimension needs.
4. Dual Accessibility: Considering a design with access from both sides elevates its convenience and utility as a room divider.
Remember, customization is key. You can select the color, finish, size, and fluting style that best accommodate your personal taste and space. A cabinet isn't just a cabinet when it can reinvent and refine your room's spatial perception.
Two-tone Fluted Cabinet With Drawer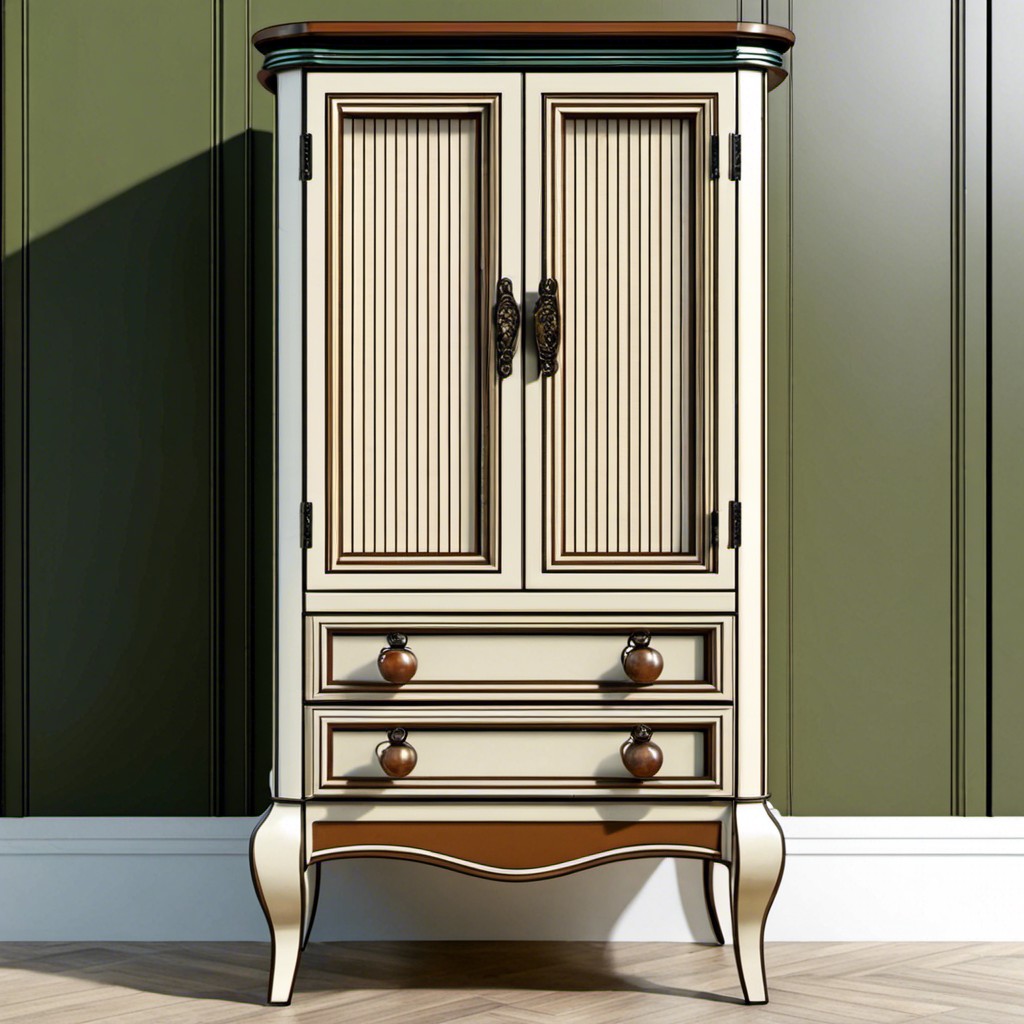 Casting a spotlight on versatility, a mix of contrasting colors adds depth and a personalized touch to your home decor. Imagine a calming hue of crisp white on the framed drawer combined with the bold richness of classic black on the fluted sections. It does more than just attracting attention. This combination balances the need for vibrancy and tranquility at the same time.
The drawer is not just a design element. It's a practical storage solution. Whether that's for a stack of plates or a stash of stationery, a drawer increases functionality. It minimizes clutter and aids in efficient space utilization.
Don't limit such pieces to just your kitchen or study. A compact living room corner or an empty part of your formal dining area could also welcome this two-tone wonder, granting it the potential to adapt to various house settings.
While, at its heart, design shines through, the overall appeal lies in the perfect blending of aesthetics with practicality.
Narrow Fluted Cabinet for Hallway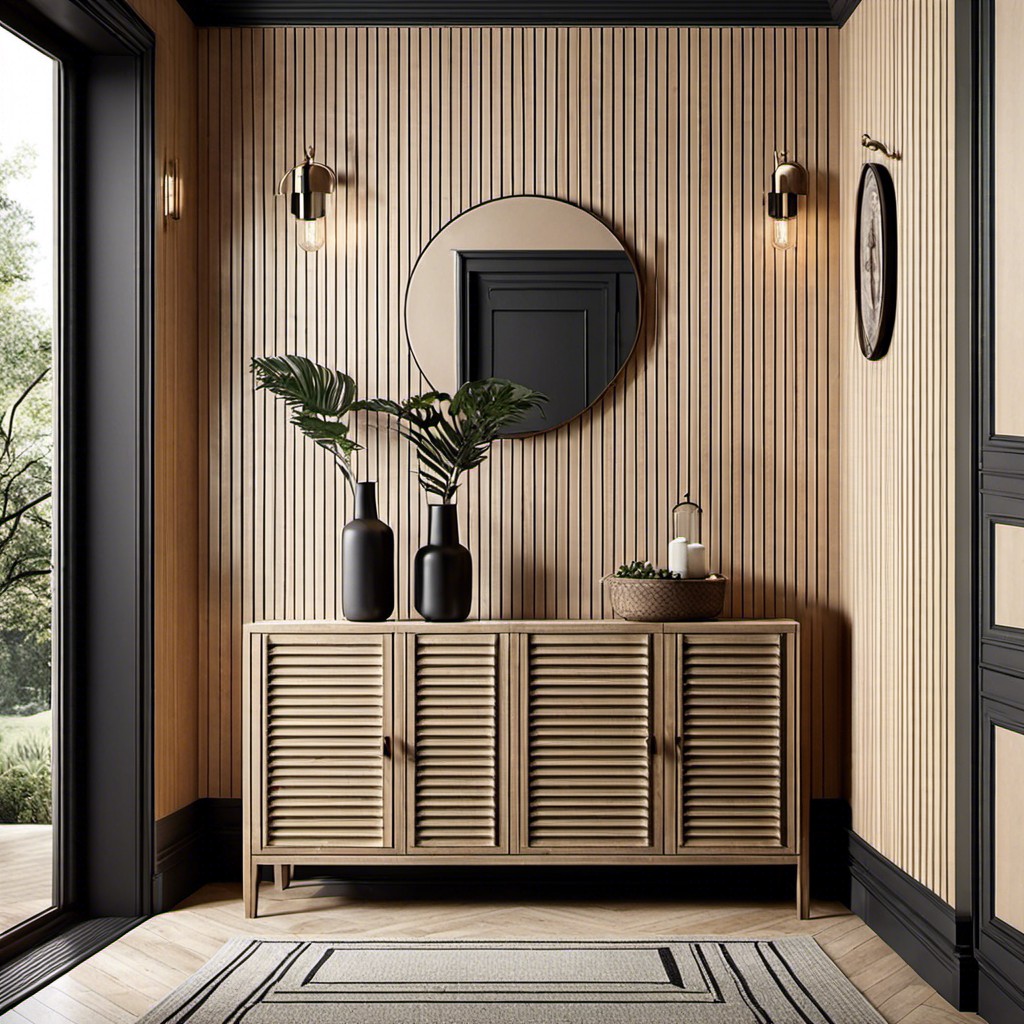 Ideal for tight spots, this piece combines form and function, integrating effortlessly into your hallway setup. Its tall, slender profile, enhanced by the rhythmic vertical lines of the fluting, creates a visual illusion of space, making your hallway feel larger.
Space-Saving Design: Perfectly crafted to fit into a small setting without sacrificing storage. Its vertical design provides plenty of storage, yet occupies minimal floor space.
Versatile: This cabinet easily adapts to its surroundings. It can hold anything from linens to books or be a spot for keys and accessories. You get organization and style in one package.
Aesthetic Appeal: With its delicate grooves, it presents an exquisite texture that significantly enhances your corridor's visual value. You can select from several finishes such as wood, painted or lacquered, depending on your hallway's color scheme.
With it, your hallway won't just be a pass-through, but a statement of your unique aesthetic taste.
Fluted Drawers to Match Cabinet Doors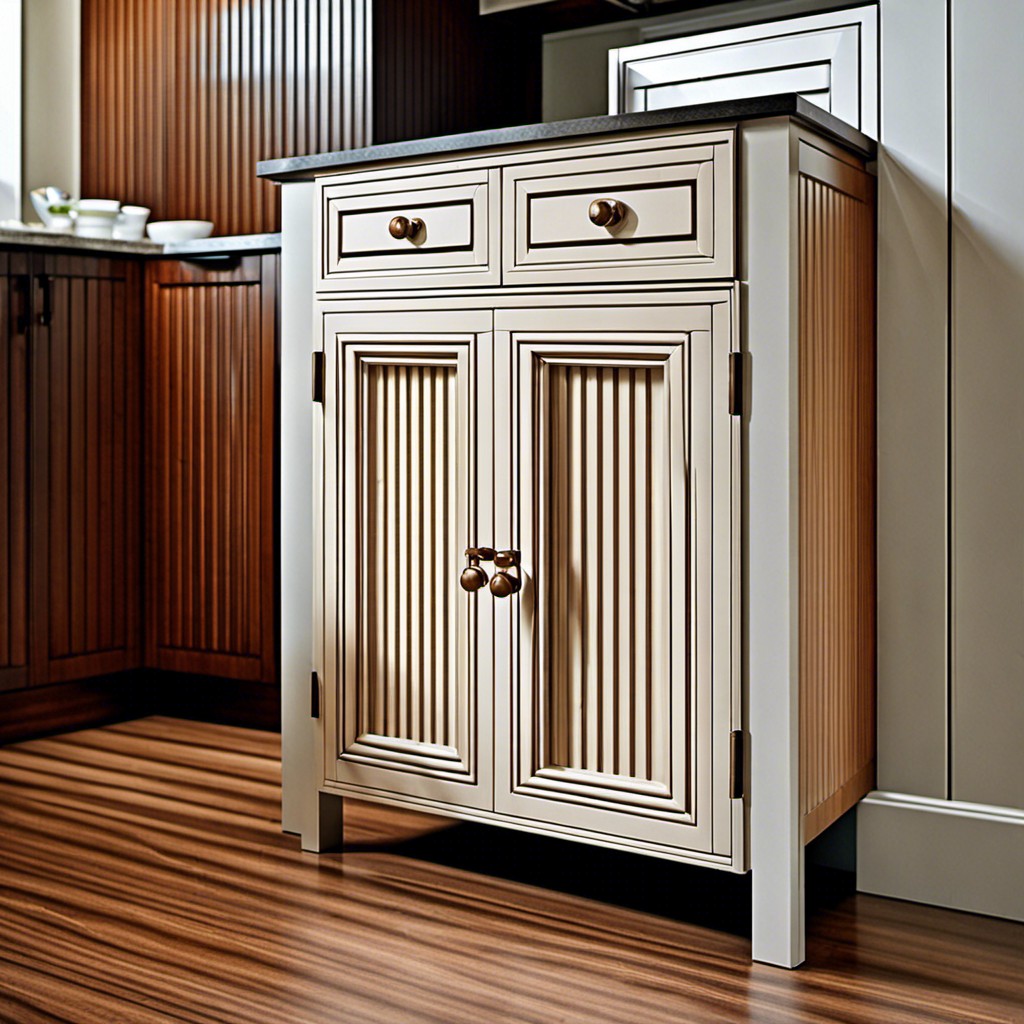 Continuing on our fluted design journey, focusing attention toward the kitchen or bathroom can offer significant payoffs. The beauty of matching drawer and cabinet door fluting lies in the seamless, cohesive aesthetic. This look turns regular disorganized spaces into well-dressed interiors.
Consider these key points:
Uniformity: By matching cabinet doors to drawers, you weave a common thread, creating a harmony that reflects thoughtful design.
Versatility: Drawers can be configured in multiple ways – tall stacks for your cookware, or smaller ones for cutlery – depending on your needs, fluted design still shines.
Size manipulation: For smaller spaces, the vertical flutes give an illusion of height and spaciousness.
Easy customization: With a little DIY savvy, installing fluted panels on existing drawers can be cost-effective, recycling old furniture pieces into fresh, stylish items.
Remember, you aren't limited to kitchens and bathrooms. Any room with cabinets and drawers can benefit from this attractive pairing.
Contrasting Fluted Island Cabinet in Kitchens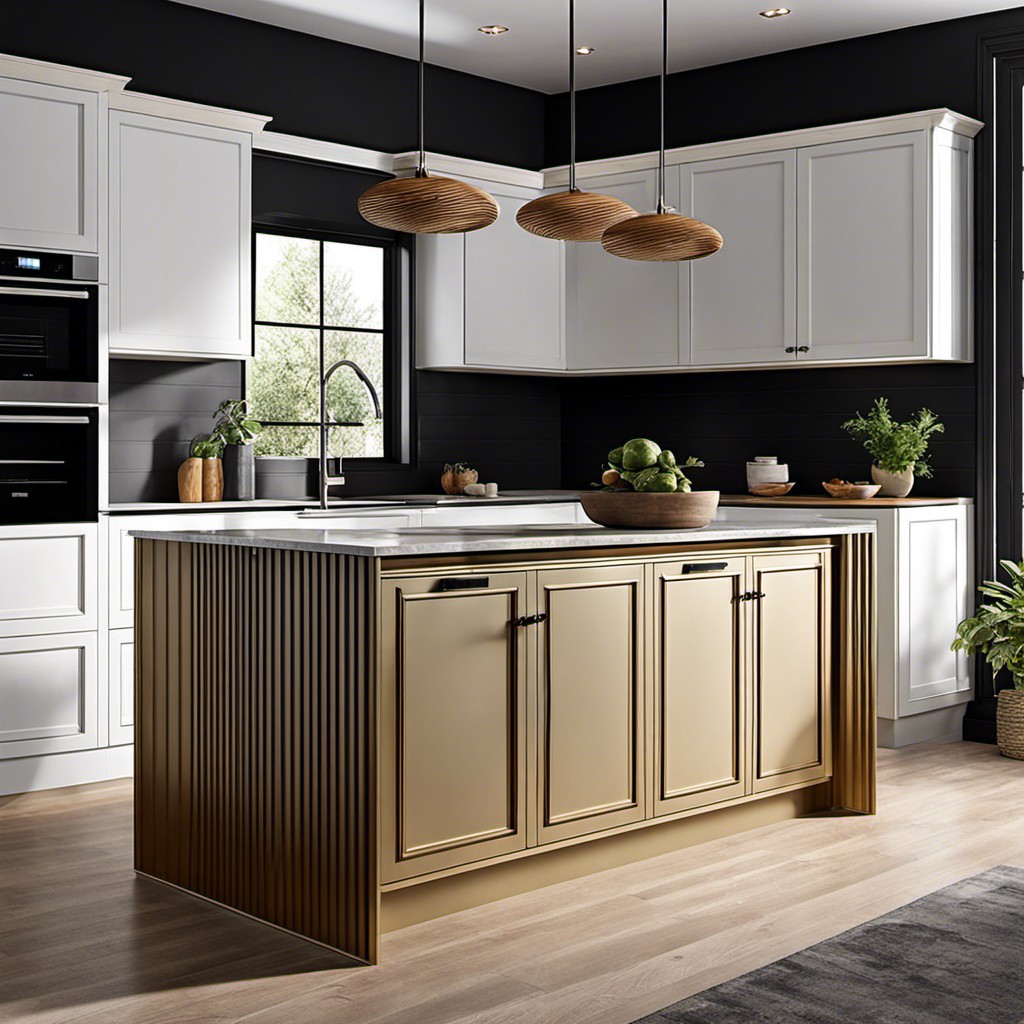 Introducing a contrasting element in a kitchen can make it even more visually alluring. Fluted island cabinets are perfect for this purpose. Choose a color that stands out against your primary kitchen palette. For instance, if you have opted for lighter shades like white or beige for your main cabinetry, you might want to select a deep, rich hue for your fluted island cabinet.
The fluting detail in the cabinet adds texture and depth, making the island even more unique. It's not just the color contrast that catches the eye; the difference in design details will too, adding an additional layer of intrigue. This approach works vice versa as well. If your kitchen predominantly features dark colors, a light-toned fluted island cabinet will pop beautifully.
If color contrast seems too bold of a move, you could also play around with finishing. Give your fluted island cabinet a matte finish while keeping the rest of the kitchen's cabinetry glossy. This subtle differentiation will still make the island stand out. Remember the key to making this work: balance is paramount. This aesthetically pleasing challenge will transform your kitchen into a design marvel.
Antique Style Fluted Cabinet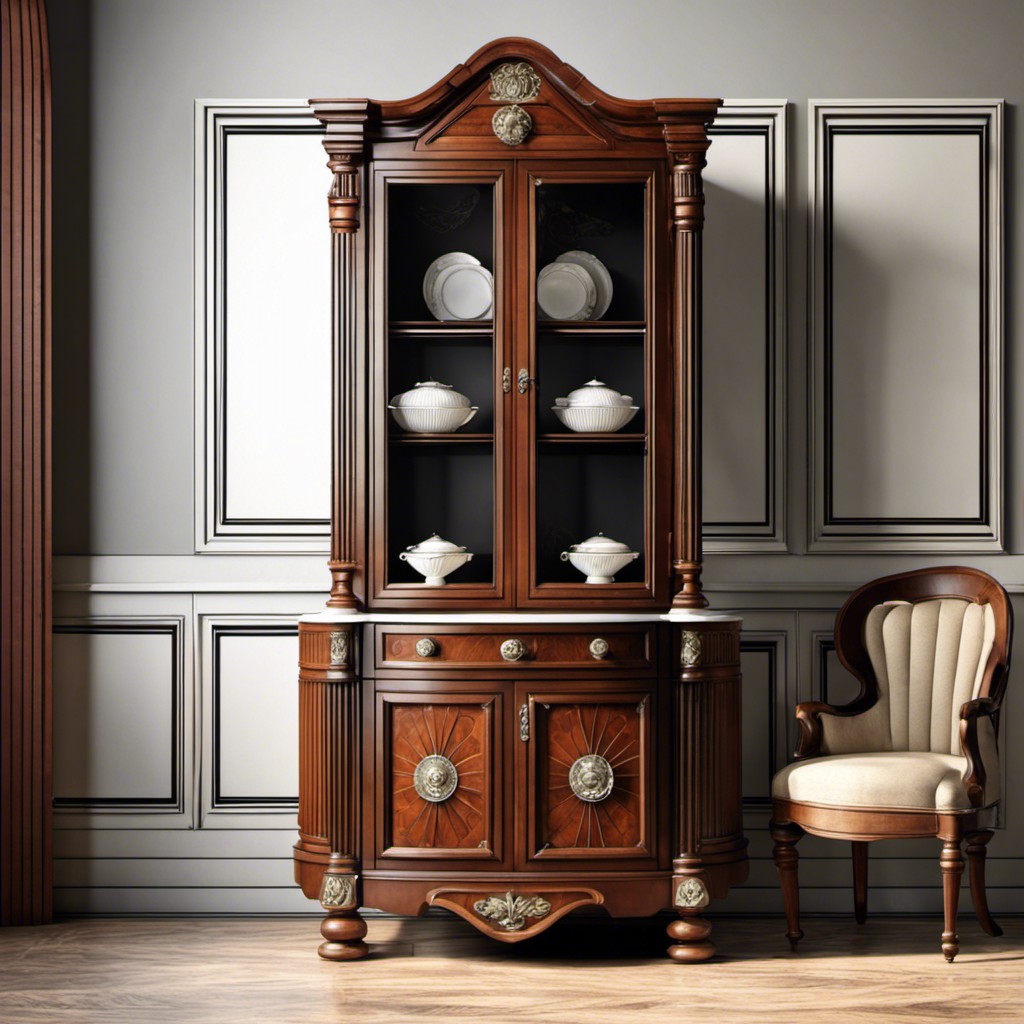 Adding a sense of history and enduring elegance to any room, antique-style fluted cabinets are a delightful choice. Key characteristics include their crafted detailing, subtle curves, and traditional hardware. Often, these pieces showcase a distressed finish, enhancing their vintage appeal.
Vintage Appeal: The cabinet's aging and distressing techniques simulate time-worn aesthetics. This means each piece provides a unique touch to your decor.
Classic Details: Intricate woodwork, curved lines, and traditional hardware such as brass or bronze knobs amplify the cabinet's antiquity. This enables your decor to tell a story.
Versatility: Beyond their intrinsic beauty, these cabinets offer generous storage with shelving and drawers. So, while they add a stylistic focal point, they also enhance functionality.
Placement: Typically, an antique-style fluted cabinet acts as a statement piece in living or dining rooms. Nevertheless, their use isn't confined. They can fetch compliments in any corner of the home.
Remember, while the antique-style is a throwback to yesteryears, it's a timeless decor element, adding a nuanced richness to modern interiors.
Black Lacquer Fluted Cabinet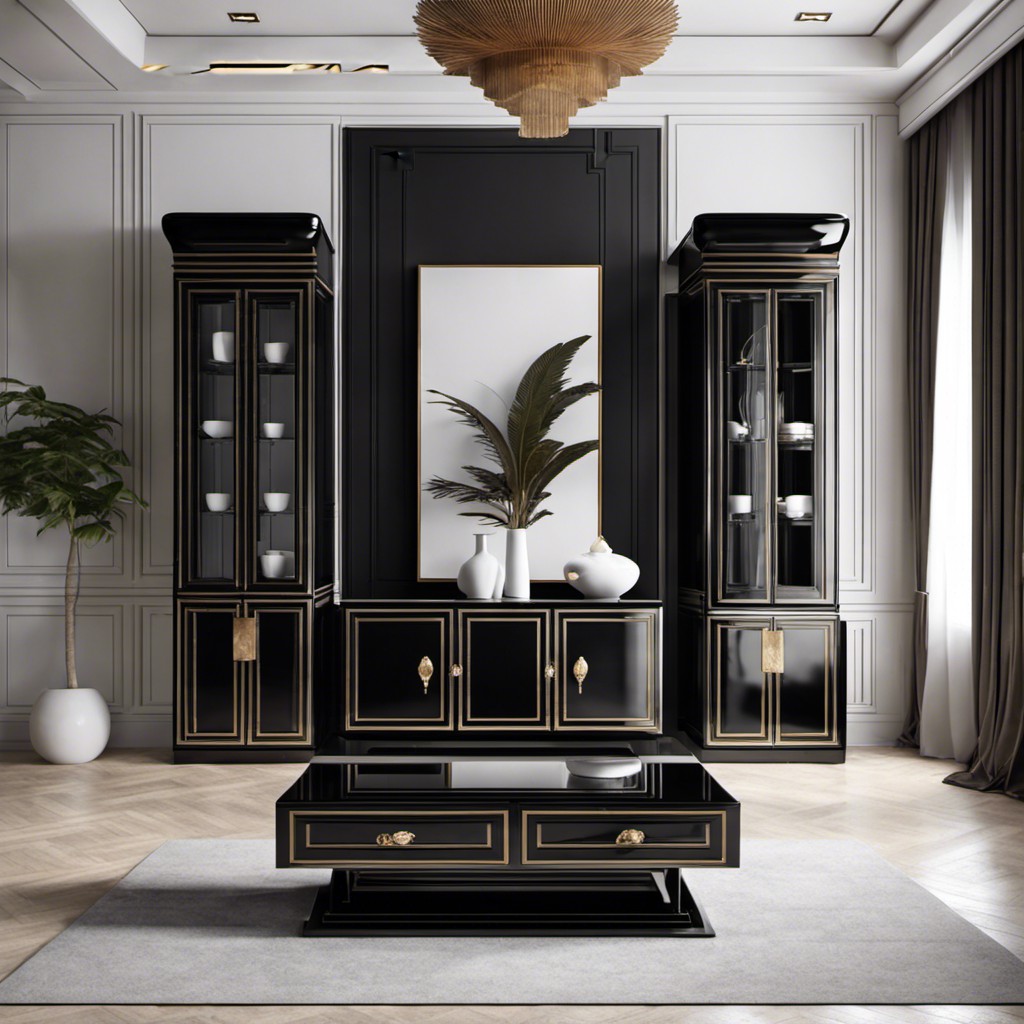 Moving beyond traditional wood finishes, one can explore the sleek and sophisticated charm of black lacquer. Incorporating these cabinets into your decor scheme offers a contemporary twist to the classic fluted design.
The secret to harnessing the appealing aesthetic of this look is all in the contrast. The fluted texture of the cabinet doors dances beautifully against the glass-like finish of the lacquer. It captures light, creating stunning highlights and shadows, and in turn, adding a level of depth and drama to your space.
Bearing the style's irresistible allure in mind, there are practical perks to this choice too. Black lacquer is known for its durability. Its glossy complexion is not only easy to clean but is also resistant to water and heat, making these cabinets perfect for both bathroom and kitchen environments.
Lastly, never underestimate the power of complementary hardware when dealing with black lacquered cabinets. Bronze, copper, gold, or silver handles can create a striking juxtaposition against the dark, glossy cabinets, effectively adding a luxurious feel to your room without excessive spendings.
Nautical Blue Fluted Cabinet for Coastal Designs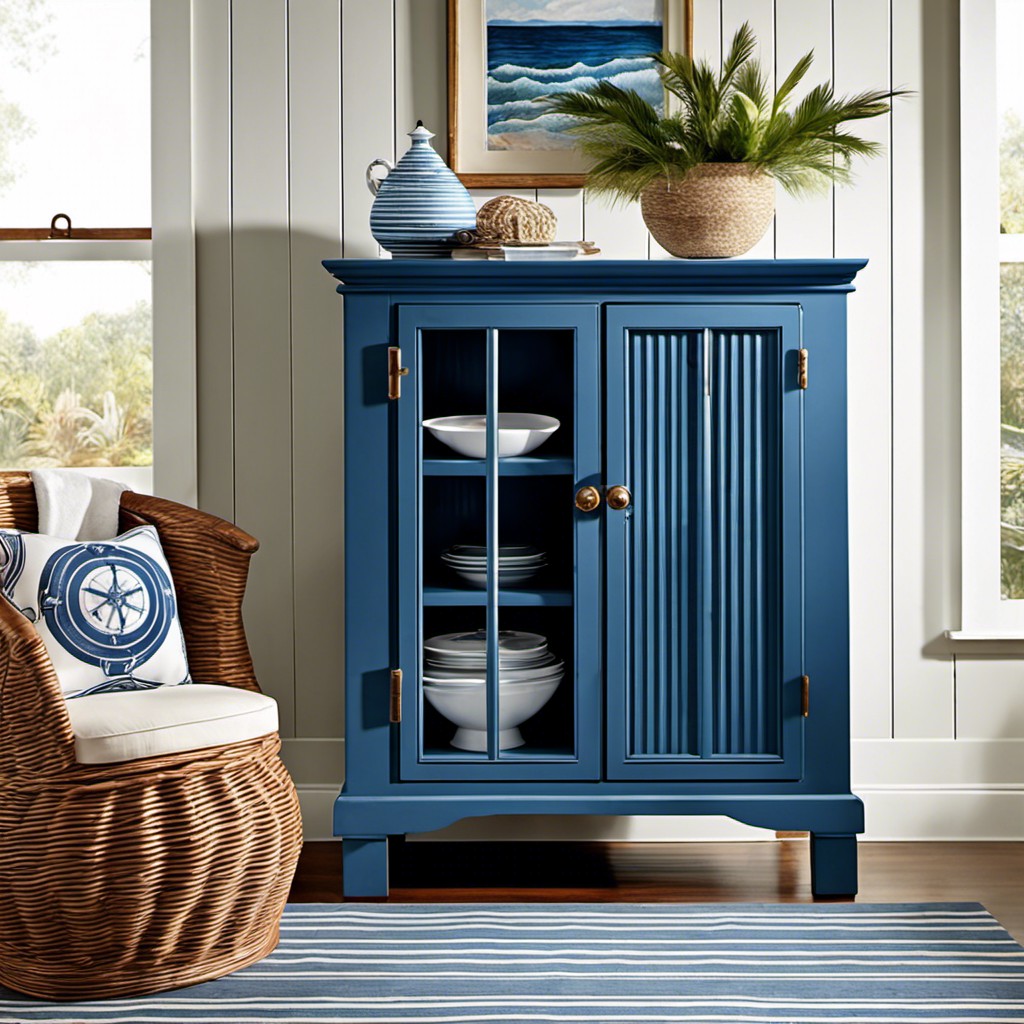 Crisp and clean as ocean air, a nautical blue suit suits a seaside aesthetic, lending a serene simplicity to your space.
Pair these striking cabinets with pale counters, white walls and beach-themed accessories for an inviting, laid-back charm.
Remember to use bronze or brass finishes for knobs and handles to evoke maritime elements, elevating the coastal vibe.
Tip: add an apron-front sink for some rustic appeal that complements the fluted design beautifully.
Open shelves above give you a platform to showcase sea-glass vases or coral-inspired decor.
But, keep it minimalistic – let the fluting and the refreshing blue tone be the stars of your kitchen or bathroom.
Achieving this look is simple, yet effective.
It's all about weaving in cohesive elements that reference the beauty of the coast, without overwhelming the senses.
Fluted Bar Cabinet for Dining Room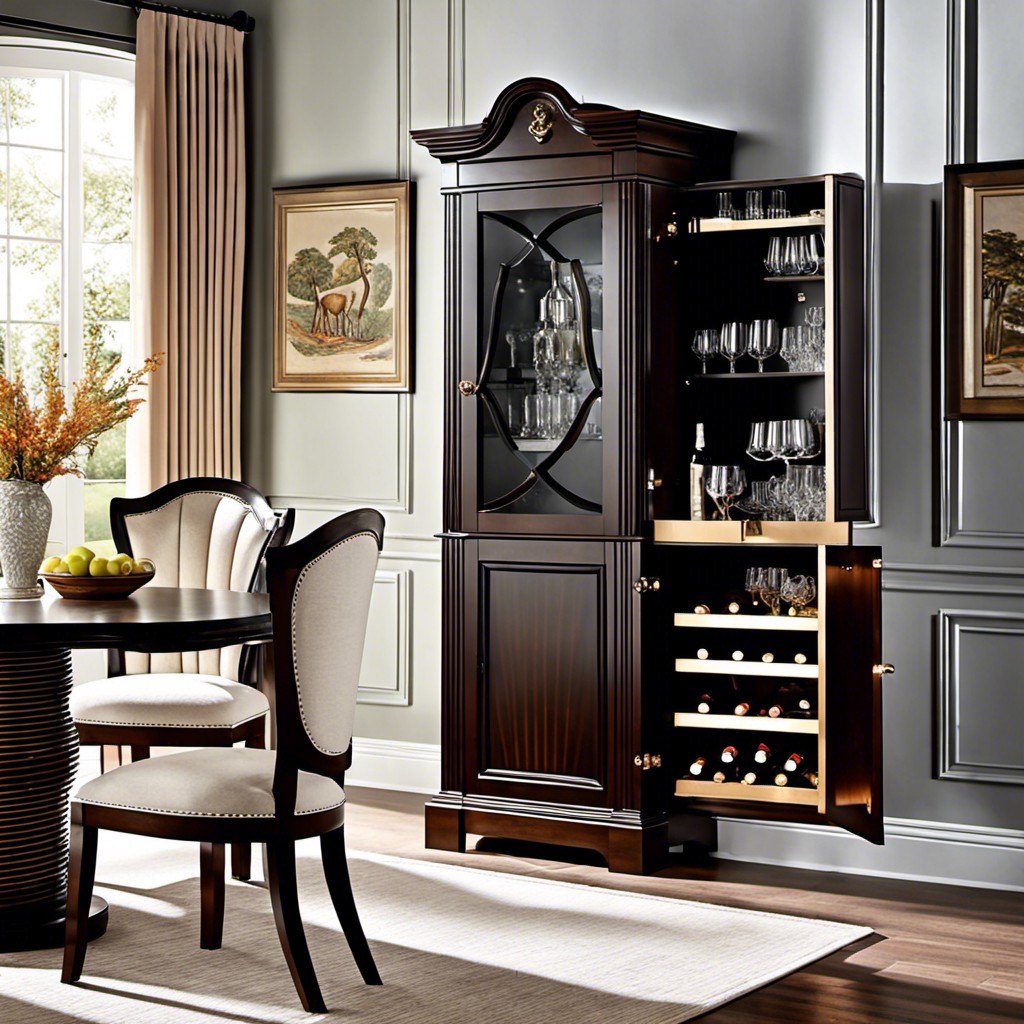 Elevating the ambiance of your dining room doesn't have to wipe out your wallet. A fluted bar cabinet can be both fashionable and functional. Its visually pleasing repeated lines add depth to your space. Offering a sophisticated and timeless aesthetic, it's a savvy choice for your dining area.
For DIY enthusiasts, consider sprucing up a plain wooden cabinet by adding fluting strips. It's a cost-effective way to recreate this classic look. If investing in a new piece, scour thrift stores or online marketplaces for vintage finds. Think about adding your own personal touch via a paint job or adding new knobs.
A fluted bar cabinet isn't just about looks – it cleverly conceals your wine and spirit collection, glassware, and cocktail equipment. Take it a step further by transforming the top into a minibar with your essentials on display. Remember, lighting can amplify the elegance, so experiment with under cabinet or picture frame lighting options.
Lastly, always take your dining room's overall theme into consideration. Whether you lean towards rustic charm, sleek contemporary, or vintage chic, a fluted bar cabinet can find its place effortlessly.
Red Fluted Cabinet As a Statement Piece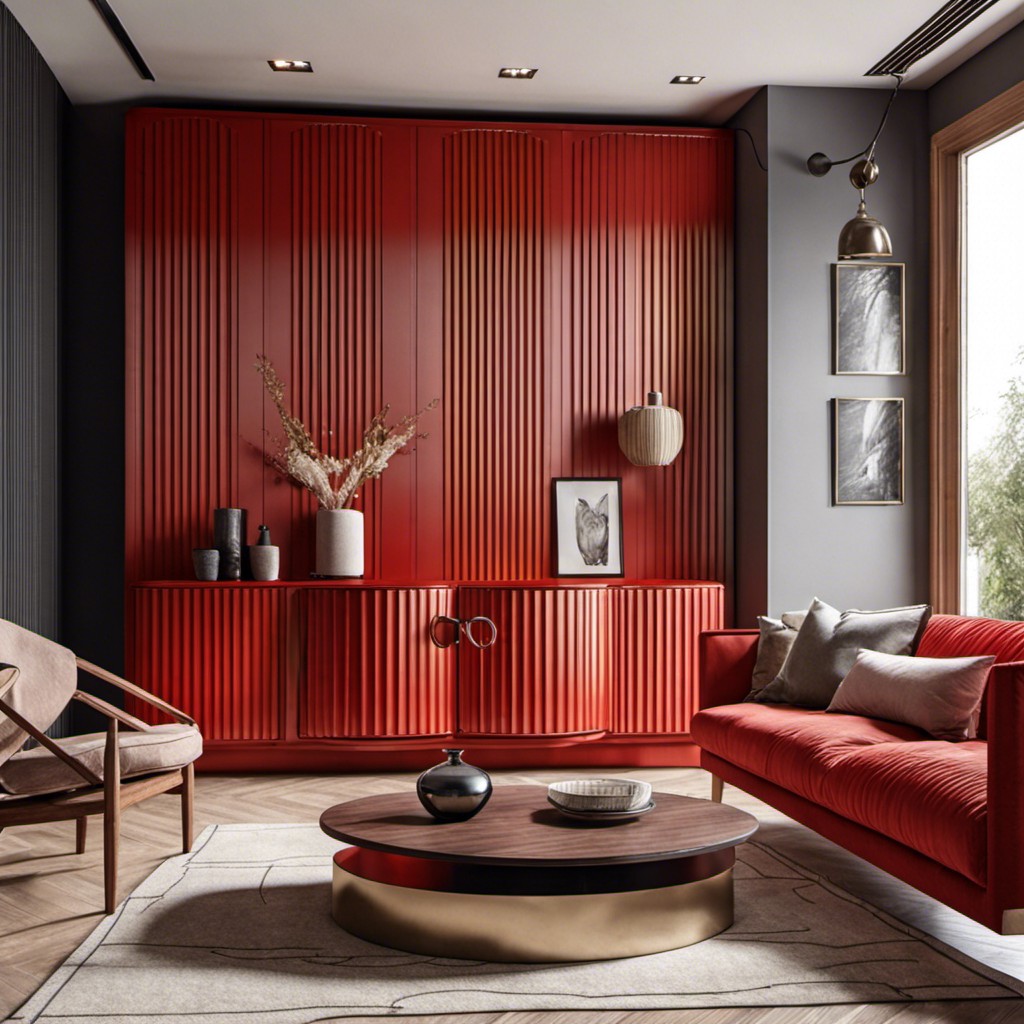 In the realm of home décor, bold colors never fail to make a daring statement, and a red fluted cabinet can become a brilliant focal point in any room. Here are some concepts that play into its visual influence:
1. Vibrant Hue: The vibrant red encapsulates passion, energy, and boldness, immediately drawing eyes towards it.
2. Fluted Details: The ridged detailing of fluting adds a textural depth that pairs beautifully with the bold hue, breaking up an otherwise monochrome spectrum and adding visual interest.
3. Versatility: Despite its vibrancy, this piece can adapt to various settings, from a minimalistic living room to a retro-themed kitchen.
4. Complementary Colors: Pairing it with neutrals or cool blues and greens can subdue its intensity, allowing the red to pop without overwhelming the space.
5. Lighting: Strategic lighting can emphasize the fluting effect, highlighting shadows and lines to create an appealing visual play.
6. Function and Form: Beyond its aesthetic benefits, a cabinet provides useful storage, hiding clutter and keeping your space tidy.
Remember, there are no hard and fast rules. Experiment and have fun with your décor choices. The red fluted cabinet might just be the unique conversation starter your space needs.
Fluted Cabinet With Built-in Lighting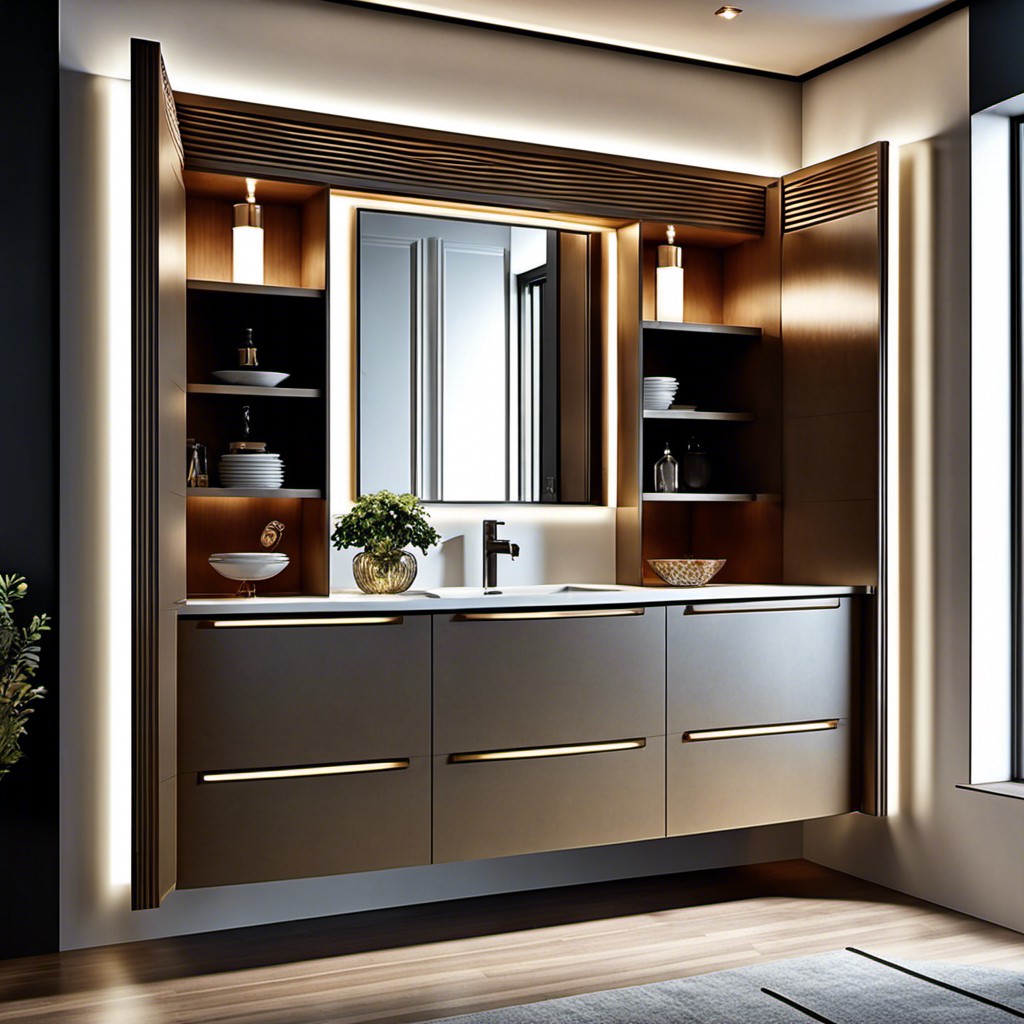 Integrating built-in lighting with a fluted cabinet can immediately elevate the space. The fluting's unique texture pairs nicely with soft illumination, creating a visually striking combination.
Here are some points about this concept:
1. Varying Intensities: Depending on the chosen light intensity, the look can range from subtle elegance in soft lighting to a dramatic ambiance with brighter lights.
2. Direct and Indirect Lighting: Lights can be installed inside to illuminate the content or outside as underlighting or above-cabinet lighting to highlight the cabinet's design.
3. Color Temperature: Warm hues can lend a comforting glow, while cool whites may suggest a more modern, clean aesthetic.
4. Dimming Function: Dimmable lights allow customization depending on the time of day or desired mood.
5. Expert Installation: It's crucial to ensure that the installation is performed by a professional to maintain the cabinet's structural integrity and safety.
Try this idea to add a wow factor to the room, while also increasing visibility. Remember, always choose energy-efficient LEDs for sustained, eco-friendly use.
Recap
Liked this article? Here's what you can read next: