Last updated on September 22, 2023
These are timeless ideas for decorating above your kitchen cabinets that are sure to make your kitchen look more stylish and inviting. Read on!
Decorating the space above kitchen cabinets is a great way to add personality and style to any kitchen.
I always find that the awkward space above the kitchen cabinets is the ideal place to keep your unused things.

These are the items that look good enough to display but not useful for your everyday needs. Think pretty plates, vases, china, and even rarely used small appliances.

Saul Cerni, Editor
There are many different ways to do this, such as creating a cozy vintage display with antique decor, adding bright and cheerful elements with faux greenery and Hobby Lobby signs, or creating a rustic farmhouse atmosphere with dried leaves and pumpkins.
Whatever your style, there is something for everyone when it comes to decorating the space above kitchen cabinets.
Decorative Plates
Create an eye-catching display above the kitchen cabinets made of antique decor, vintage finds, and a touch of sage green. Incorporate items like an old house charm, tins from a Victorian ceiling, and maximalist decor for a cozy vintage life feel.
Greenery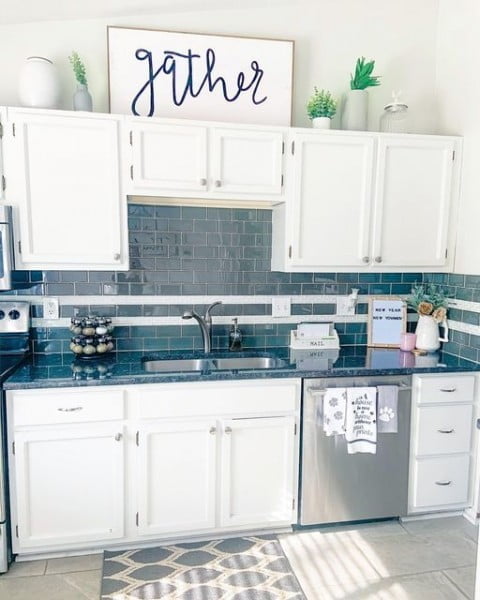 Create a beautiful and bright display above your kitchen cabinets with faux greenery. Using faux greenery is a better idea than real plants in this case because they are placed in a hard-to-reach space.
Fall Decorating Above Kitchen Cabinets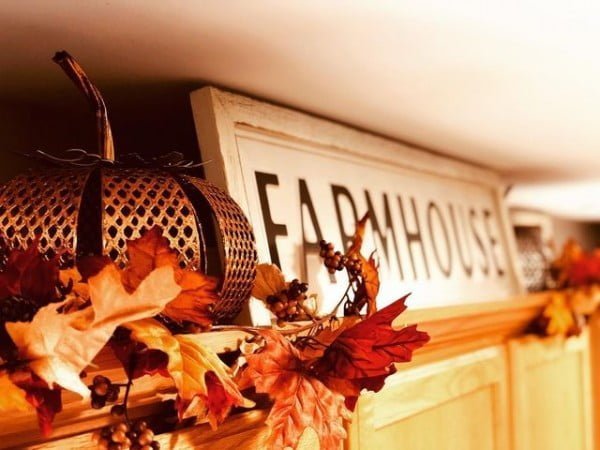 Decorating the space above your kitchen cabinets with rustic farmhouse elements from Hobby Lobby. Hang a wreath of dried leaves and pumpkins, add some distressed wood signs, and place small potted plants to bring the outdoors in.
Baskets
Create a beautiful farmhouse-style display above your kitchen cabinets with white baskets filled with magnolia wreaths and neutral decor items. The combination of woven baskets, magnolia wreaths, and neutral style will give your kitchen a cozy, inviting atmosphere.
Bright Accents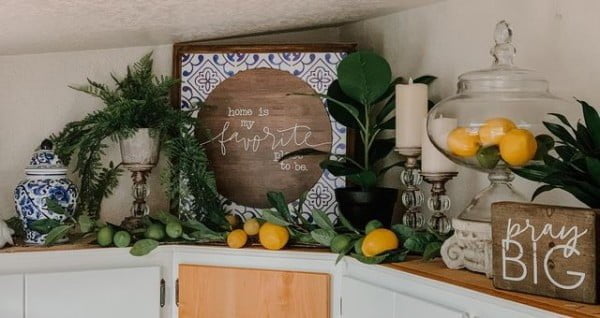 Hang a cheerful lemon-patterned garland above your kitchen cabinets this spring for a bright and inviting farmhouse-style decor. Accent with blue and white decorations, like mason jars or vases, to complete the look.
Rustic Decor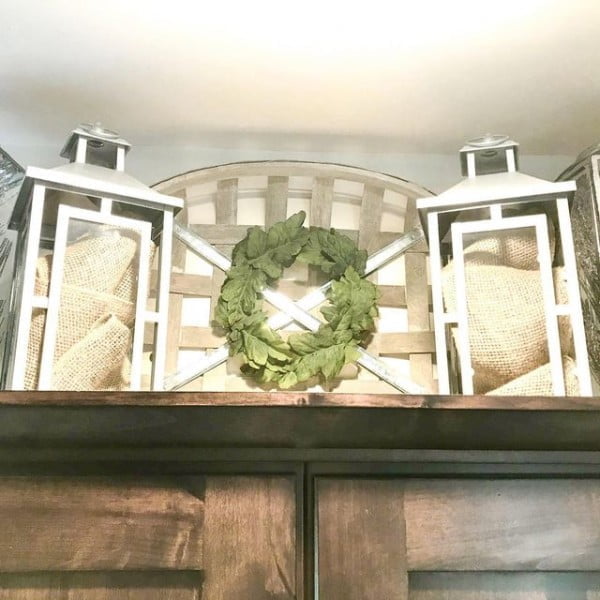 Create a rustic glam look above your kitchen cabinets by hanging two vintage-style lanterns with burlap accents and a DIY wreath in the center. Add some shabby chic charm with French country-style decor, such as an old-fashioned clock or framed artwork.
Candles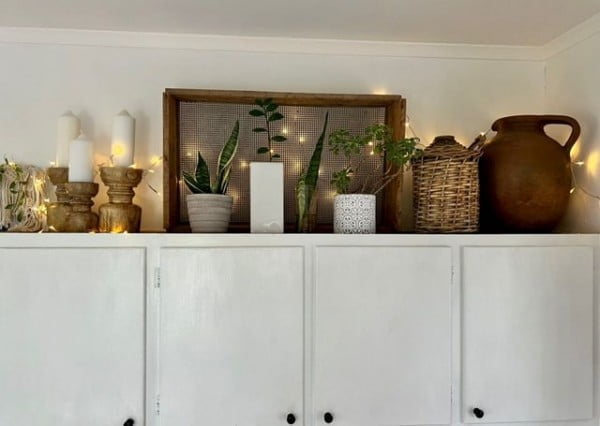 Create a cozy boho atmosphere in your kitchen by hanging fairy lights above the kitchen cabinets and displaying a variety of items such as demijohns, flower drying trays, fruit drying trays, indoor plants, candle holders, and timber candleholders.
Recap
Liked this article? Here's what you can read next: