Last updated on November 11, 2023
Revamp your interiors with fluted door designs because these elegant features can transform mundane spaces into stylish sanctuaries.
I thoroughly enjoyed creating these 20 unique and stylish fluted door designs, and I hope you find as much inspiration in this article as I had fun crafting these designs.
Fluted doors, with their distinctive vertical grooves, can add a touch of elegance and architectural interest to your home. Whether you're looking to revamp your kitchen cabinets, closet doors, or the entrance door, fluted designs can be a game-changer.
This article will guide you through a plethora of ideas to incorporate fluted doors into your decor, from classic to contemporary, and even tips on how to DIY on a budget. As you continue reading, you'll discover how to select the right fluted door, installation tips, and how to style them to match your interior.
So, let's dive into the world of fluted doors and transform your space!
Traditional Fluted Glass Door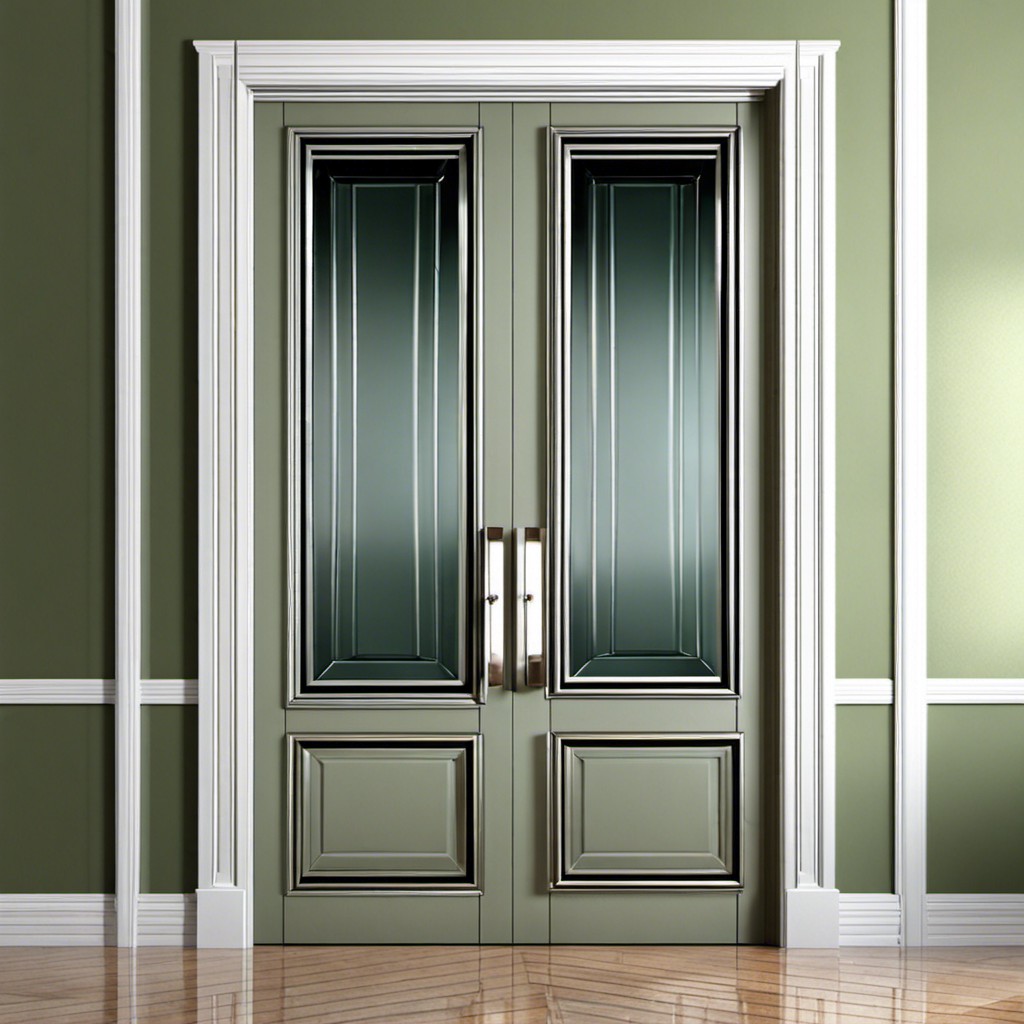 Adding a timeless elegance to any living space, these doors feature vertically grooved glass panels reminiscent of old-world charm. They are especially appealing because they allow light to filter through while maintaining an element of privacy. Pair these with antique knobs or pulls for a cohesive vintage look.
Offering versatility, this style fits seamlessly into various home designs, from rustic farmhouses to mid-century modern homes. While being fairly low maintenance, they ensure durability as glass is resistant to wear, tear, and humidity changes. Lastly, these can be customized to suit personal aesthetics and preferences — opt for frosted glass for a softer look, or clear glass to make a bold, contemporary statement.
Modern Metal Fluted Door Panel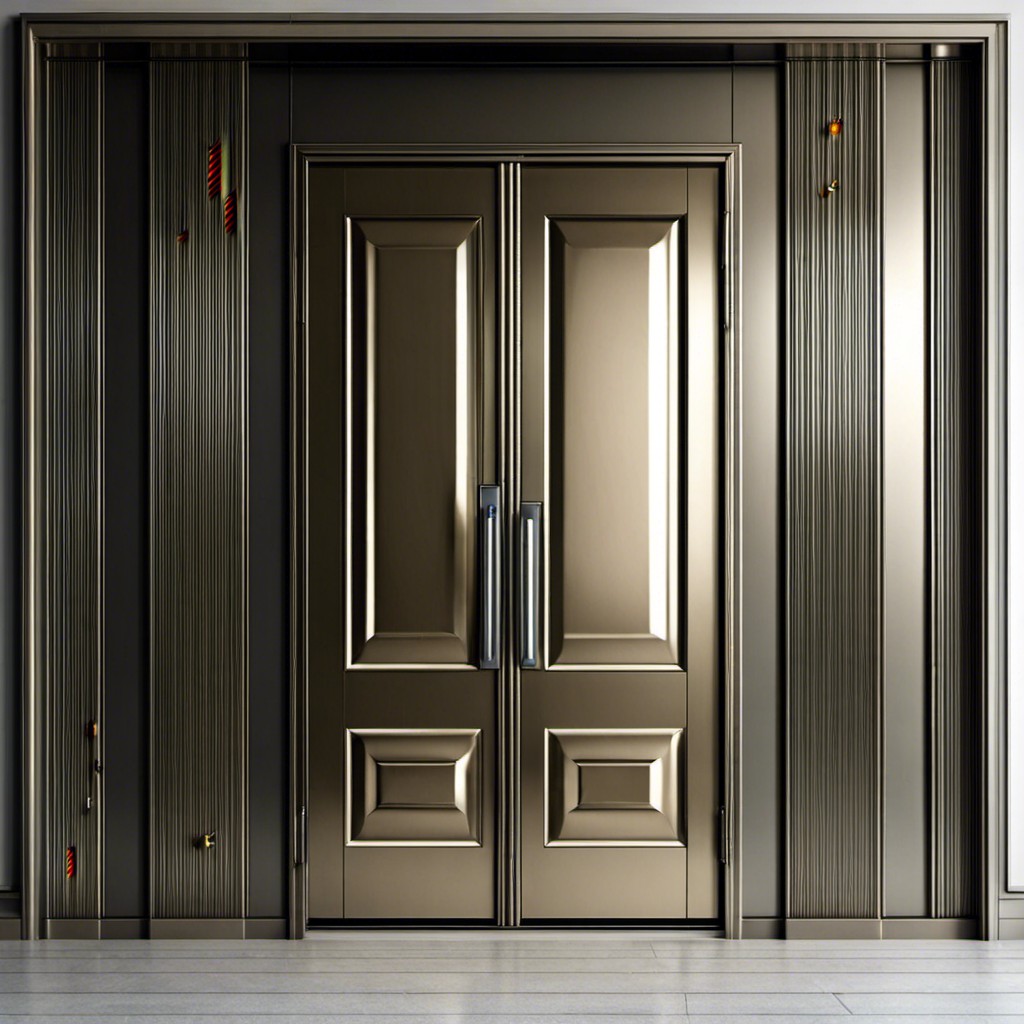 Known for sleek lines and minimalist aesthetics, this design is remarkably versatile. Its metallic framework provides durability and stability, while its fluted panels add texture and depth. The design not only enhances exterior curb appeal but also interiors, lending a sophisticated modern touch. Simple to maintain, a wipe-down with a wet cloth keeps it looking shiny and new.
Incorporating a metal fluted door panel can also be a practical move:
1. Coupled with double-glazed glass, they yield excellent insulation, keeping home interiors comfortable year-round.
2. Resilient against harsh weather conditions.
3. Provides added security with its sturdy construct.
4. Allows customization of finish and color, fitting your home's overall design.
5. Ideal for both internal and external doors.
Remember, choosing the right door involves considering functional features as much as aesthetic appeal. It's a balance between style, utility, and budget. It's about making an impression while ensuring your home's security. The modern metal fluted door panel does that with immense grace.
Elegant White Fluted Wooden Door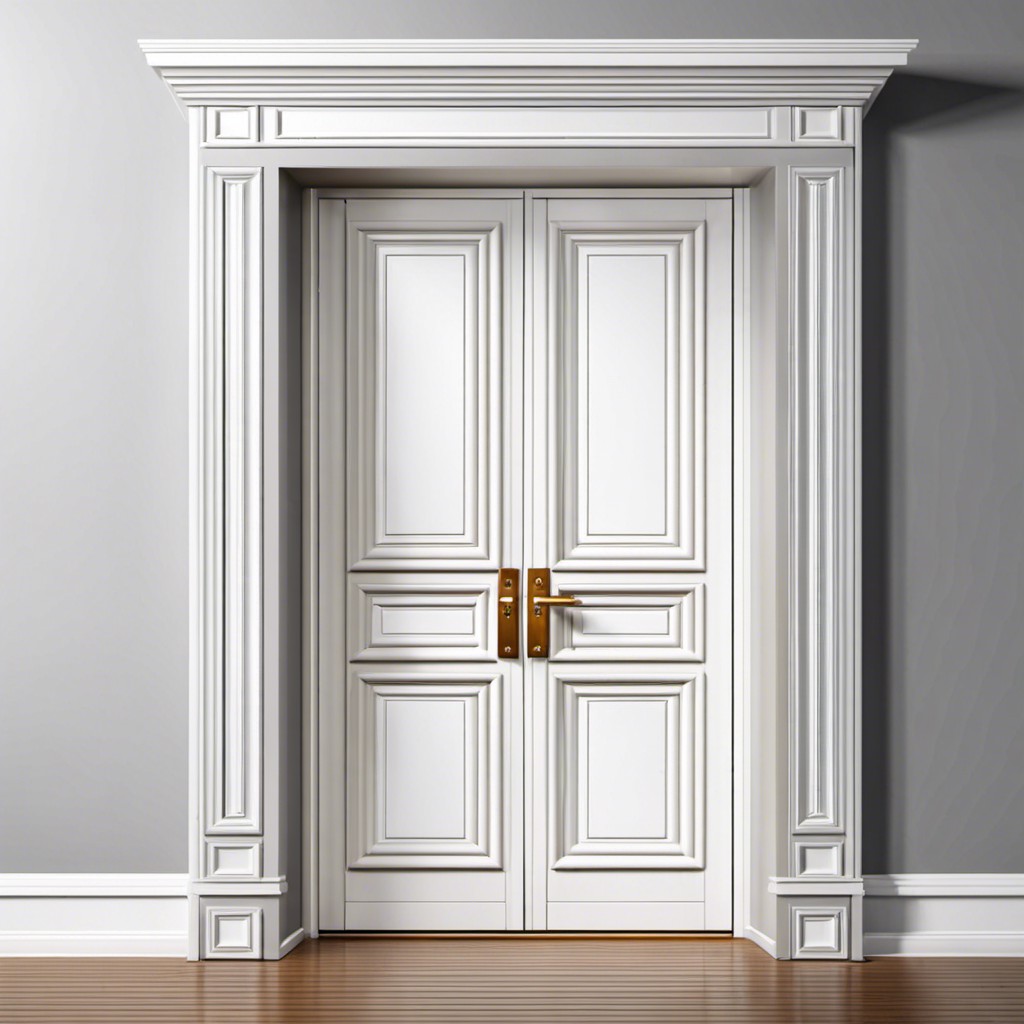 Applying a classic shade of white can provide a timeless appeal when paired with the intricate design work of fluting. Wood, known for its flexibility and durability, serves as a perfect base for such an aesthetically pleasing project.
1. Paint Selection: Choose a premium quality white paint. Gloss or semi-gloss finishes work beautifully with this style.
2. Fluting Pattern: Opt for an understated and consistent pattern to emphasise the grace of the fluting.
3. Wood Type: Hardwoods like oak or mahogany, renowned for their resilience, will take well to the fluting process and ensure longevity.
4. Finishing Touches: Consider adding an elegant knob or handle in a contrasting color such as matte black or brass for a visually pleasing contrast.
This door style conveys sophistication and makes for a stunning entryway, accent door, or feature piece in a room.
Black Fluted Steel Front Door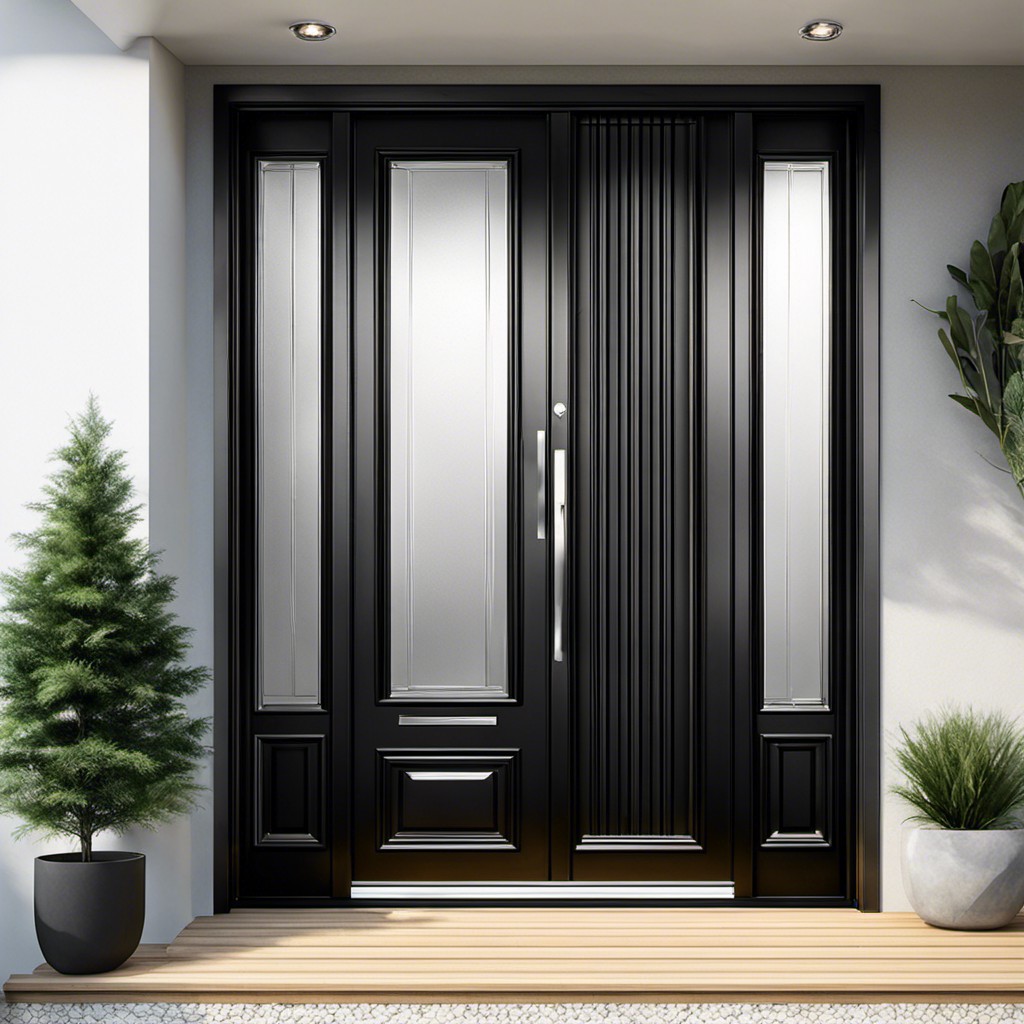 If you're aiming for a bold statement with an air of sophistication, a black, fluted steel front door could be the solution you're seeking. This design taps into the depth and character of fluted patterns, with the robustness of steel for security and longevity.
1. Durability: No need to compromise on durability for aesthetics. Steel, combined with the fluted design, promises high resistance to harsh weather conditions.
2. Versatility: Black, a highly adaptable color, plays well with various external facades, from white stucco to red brick or even wood paneling.
3. Statement Maker: Black, fluted steel doors can instantly elevate your entrance's wow-factor, offering a modern yet timeless appeal.
4. Light Play: The complex geometry of a fluted design adds a playful dynamic with light, which can make even a dark color, like black, feel lively and enchanting.
5. Upkeep: Black doesn't show dirt easily and steel is hassle-free, just some occasional cleaning will keep the door looking brand-new.
6. Security: Steel doors are tough, adding a robust layer of safety to your home.
Remember, while selecting door hardware, take advantage of the opportunity to complement it with the bold black background. A brass or matte gold handle, for example, provides a striking contrast that can truly complete the look.
Rustic Barn-style Fluted Door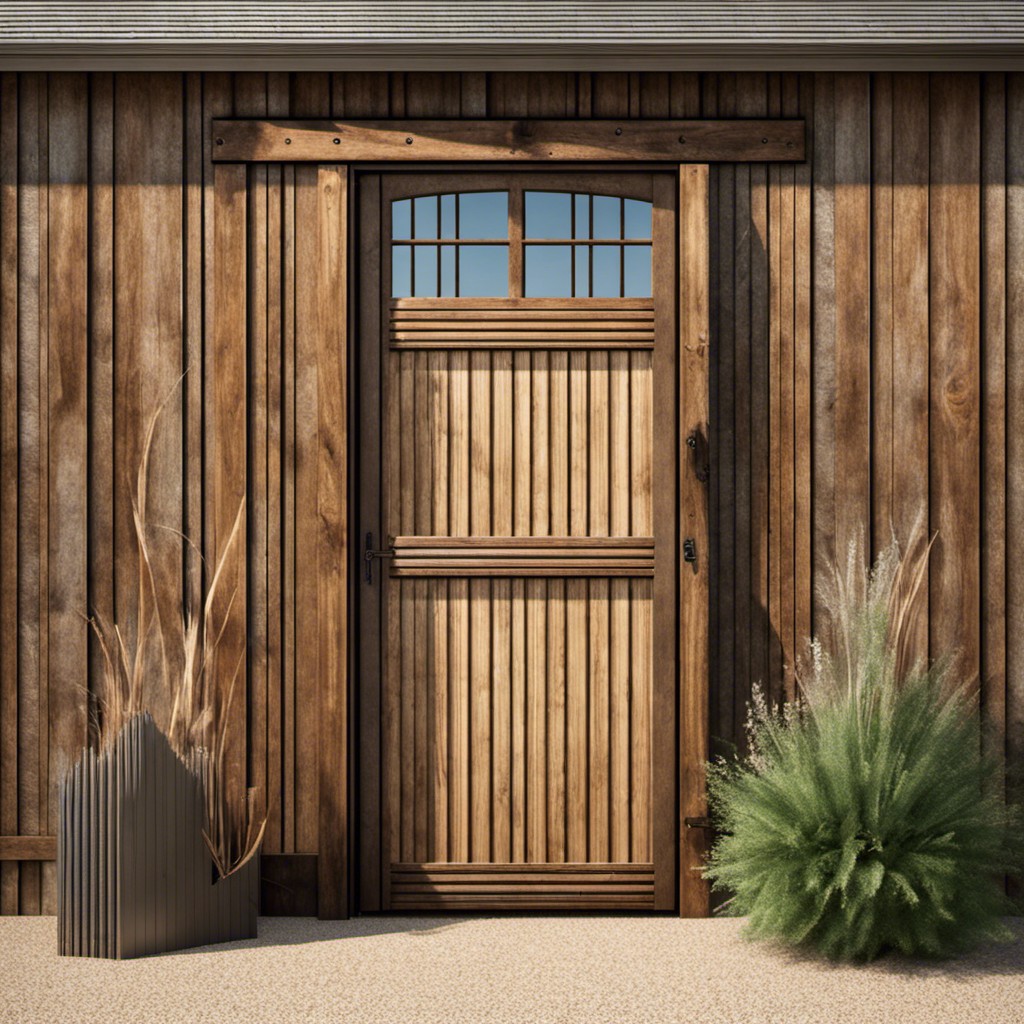 Embracing the rustic appeal of barn-style doors, a fluted design can exude vintage charm and make a bold statement. Here's why you might consider this eye-catching option:
Authentic appeal: The combination of rustic barn-style and fluted detailing evokes a sense of countryside living, perfect for farmhouse or cottage-style decor.
Versatile: These doors can complement an existing rustic charm or add a contrast to modern interiors. They're suitable for both interior and exterior use, providing a dramatic entry point or a unique room divider.
Sturdy construction: Often crafted from reclaimed wood or new solid timber, these doors are built to stand the test of time, adding character as they age.
Customizable: The barn door lends itself well to customization. You can vary the size, color, and finish of the wood or even mix materials for your fluted design—the only limit is your imagination.
Practical: Known for their space-saving qualities, barn-style doors slide sideways instead of swinging out, making them especially useful where floor space is premium.
Remember, the fluting not only adds an appealing detail but can also provide a little extra grip when sliding the door—functionality combined with style.
Fluted French Door for Bedroom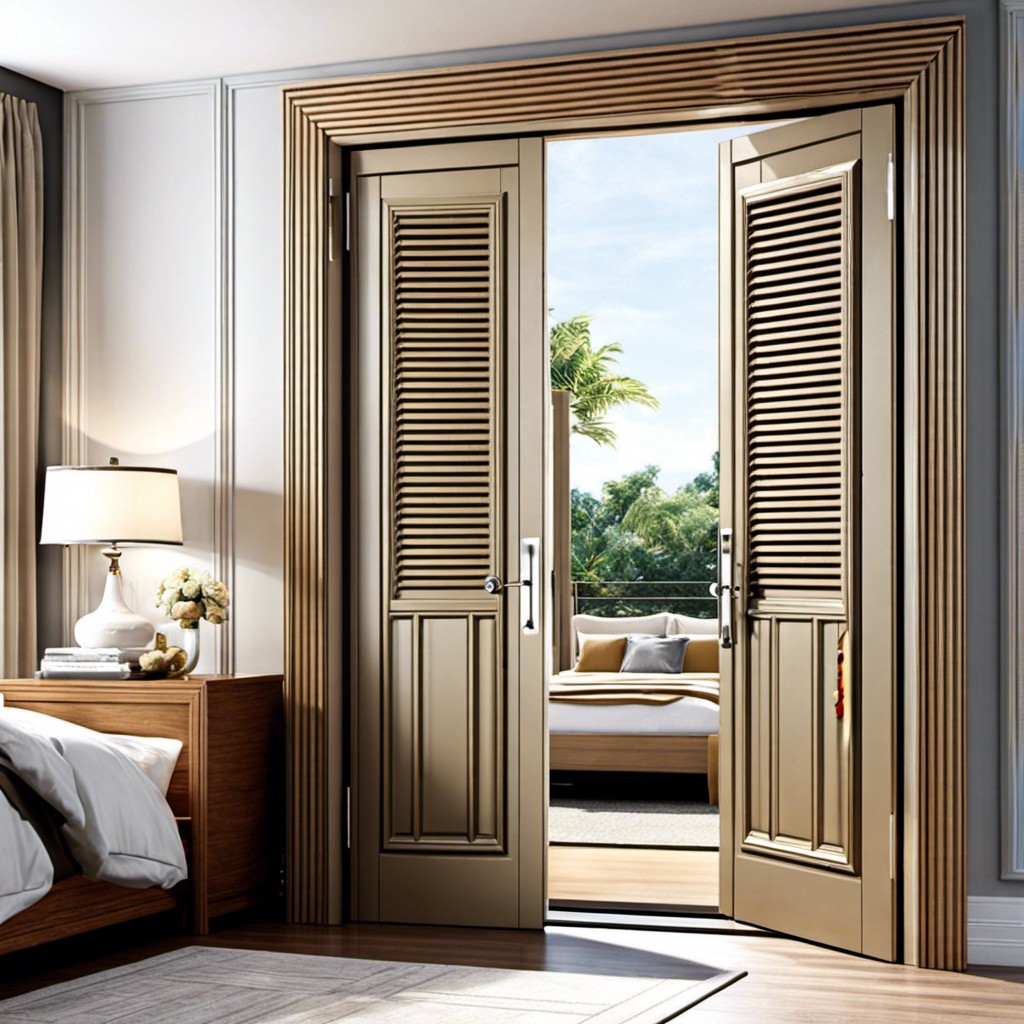 Taking into account the privacy needs alongside enhancing bedroom aesthetics, a French door featuring fluted glass panels is a superb choice. The fluted design introduces dimension, offering textural interest while maintaining a level of obscurity.
These doors also allow natural light to filter through, keeping the bedroom bright and well-lit. Perfect to keep an open feel while maintaining separation, pair these with soft, flowing curtains to add a dash of romance and luxury.
Up the ante with a painted border that complements your room's palette. Note, seal the wood, especially if exposed to sunlight, to preserve the door's charm for years to come.
Easy to install and maintain, this choice is as practical as it is attractive.
Fluted Bi-fold Closet Door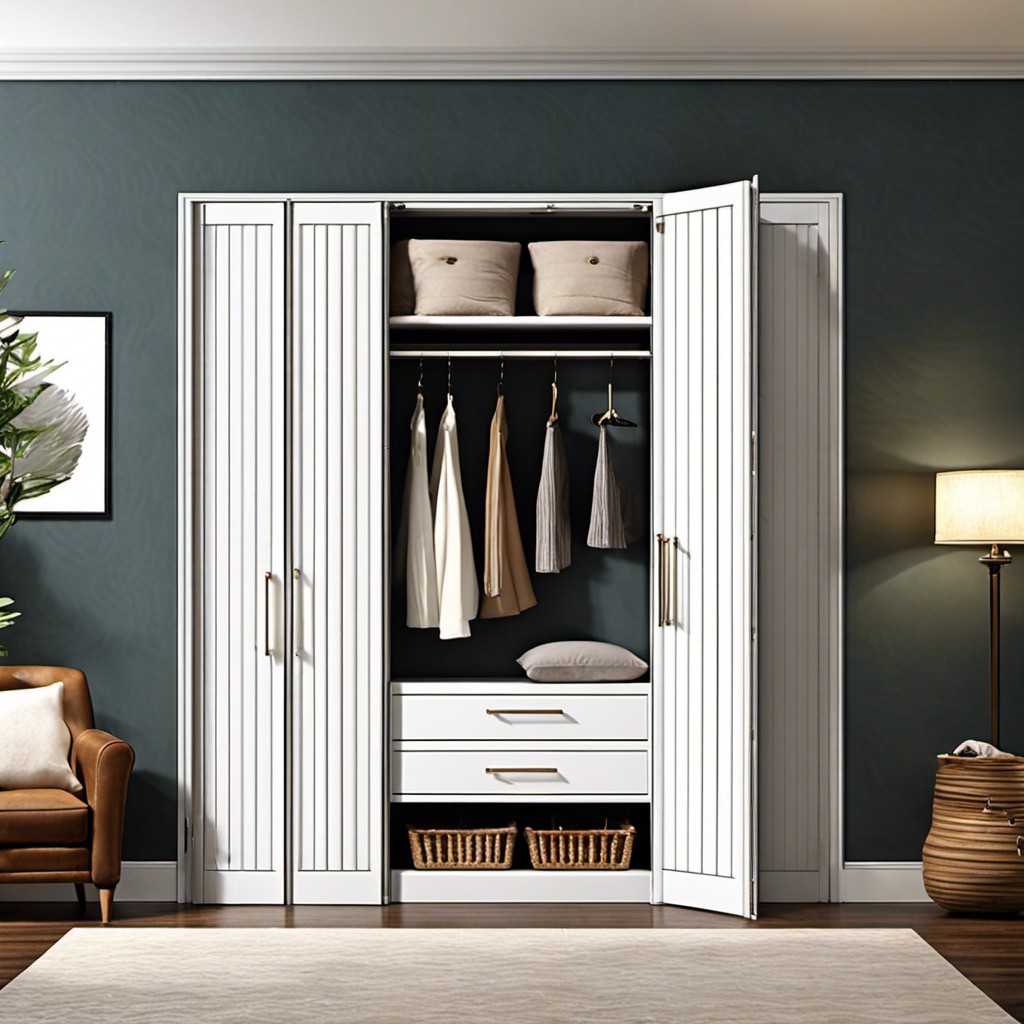 Moving forward from the variety of fluted door styles, bi-fold closet doors take the creativity a notch higher. They are a great choice if you're trying to save space in your room because they fold back onto themselves. Their design also provides hassle-free access to your closet.
Here are a few key points about fluted bi-fold closet doors:
Space-Saving: They open sideways rather than swinging out, saving you valuable floor space.
Full Access: When fully open, they provide unobstructed access to the entire closet, making it easier to find what you're looking for.
Easy Installation: Most fluted bi-fold doors come with pre-drilled holes and all necessary hardware, making installation a breeze.
Versatility: The fluting adds an element of style and sophistication that can be paired with various room designs.
Customizable: These doors come in all standard sizes and finishes, and if required, can be customized to fit your unique design needs.
Remember, maintaining the doors is essential. Regular dusting and occasional polishing will keep them looking spotless and new.
Industrial-style Fluted Iron Door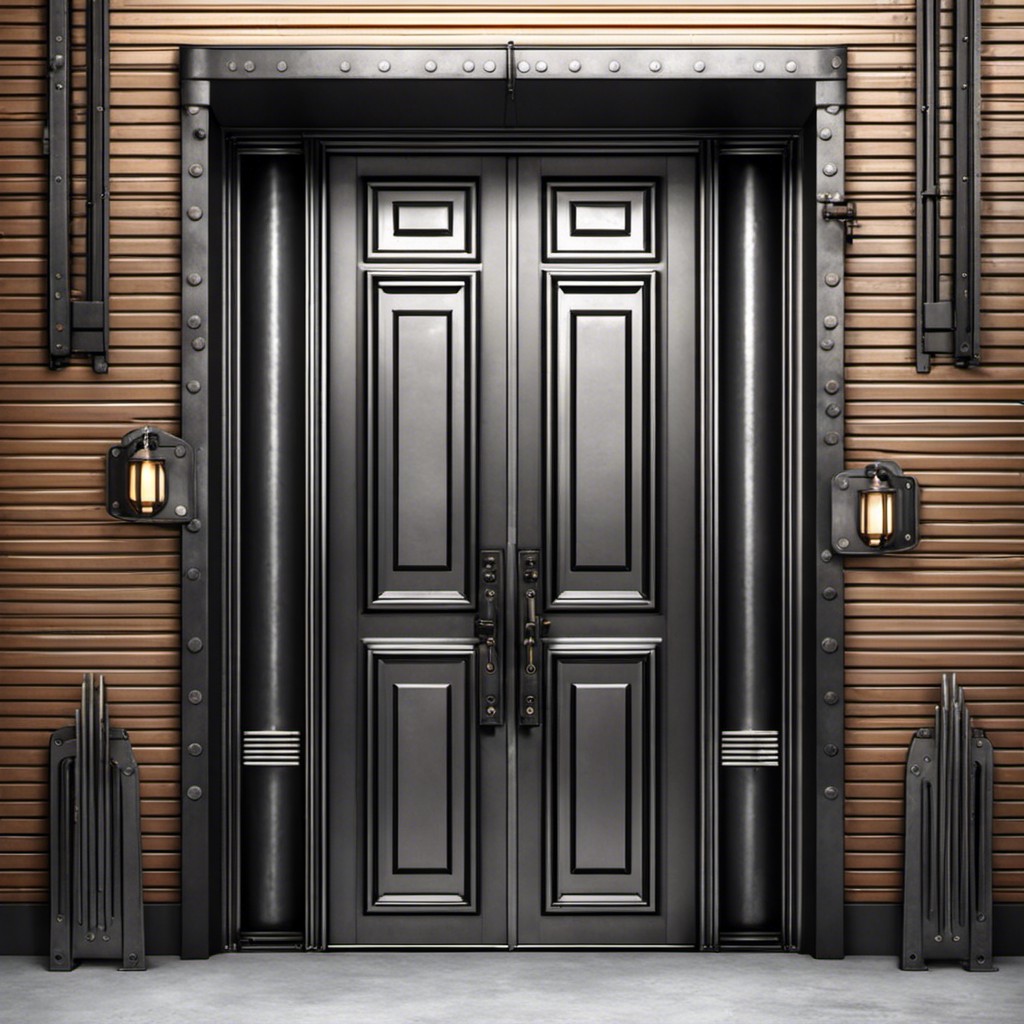 Incorporating an industrial-style fluted iron door is a unique and striking way to integrate resilience and artistic flair. With spectacular durability, these doors are almost synonymous with long-lasting decor.
Another key feature is the privacy offered. The beveled grooves in the iron limit visibility, making them ideal for either exterior or interior spaces.
One can appreciate the distinctiveness of fluted iron doors better when set against raw brick walls, concrete floors, or wooden panels typically found in industrial-style interiors. However, a surprising touch of sophistication emerges when introduced into minimalist or modern aesthetics.
Thanks to the malleable properties of iron, these doors can be fashioned into various shapes and sizes to suit your needs. From grand entry doors to chic patio entries – they serve multiple design goals.
While inherently boasting an edgier look, fluted iron doors can be softened with more refined hardware selections. Think polished brass or nickel handles and hinges. Or remain true to the industrial style with wrought iron hardware.
Maintenance is straightforward. Since these doors are meant to weather years without losing their charm, a simple cleaning routine suffices – sweeping off debris and wiping with a mild solvent.
Lastly, harness the innate industrial flair and blend it with other design elements in your space. Utilize lighting, accessories, and a fitting color palette to pull the entire look together. Remember, it's all about balance – even with a design element as powerful as a fluted iron door.
Double Front Fluted Door With Transom
For an elegant entrance, nothing truly beats the statement made by double front doors. The fluted design, characterized by vertical grooves, immediately adds a layer of texture and depth. The architectural detail creates a rhythmic pattern that captures attention and draws the eye upward towards the transom.
The transom, typically a semi-circular window, further enhances the door's aesthetic appeal. But it isn't just about aesthetics. It also serves a functional purpose by allowing more natural light into the home. A transom could be clear, frosted, or even structure a beautiful stained glass design to add a pop of color.
The combination of the double front doors and transom can integrate seamlessly with both traditional and contemporary house designs due to their balanced and classic architecture.
You can choose the material that best fits your home's style and weather conditions. While wood is the most traditional, fiberglass or steel are excellent alternatives, offering durability and security.
Lastly, think about hardware. Quality door knobs or handles, complemented by matching hinges, can serve as the perfect finishing touch. They can coordinate with the fluted design, enhancing the overall effect or add a contrast, depending on the desired style of the frontage.
Whether opting for a sophisticated, subdued tone or a bold, bright color, this door type is sure to leave a lasting impression.
Sliding Fluted Door for Small Spaces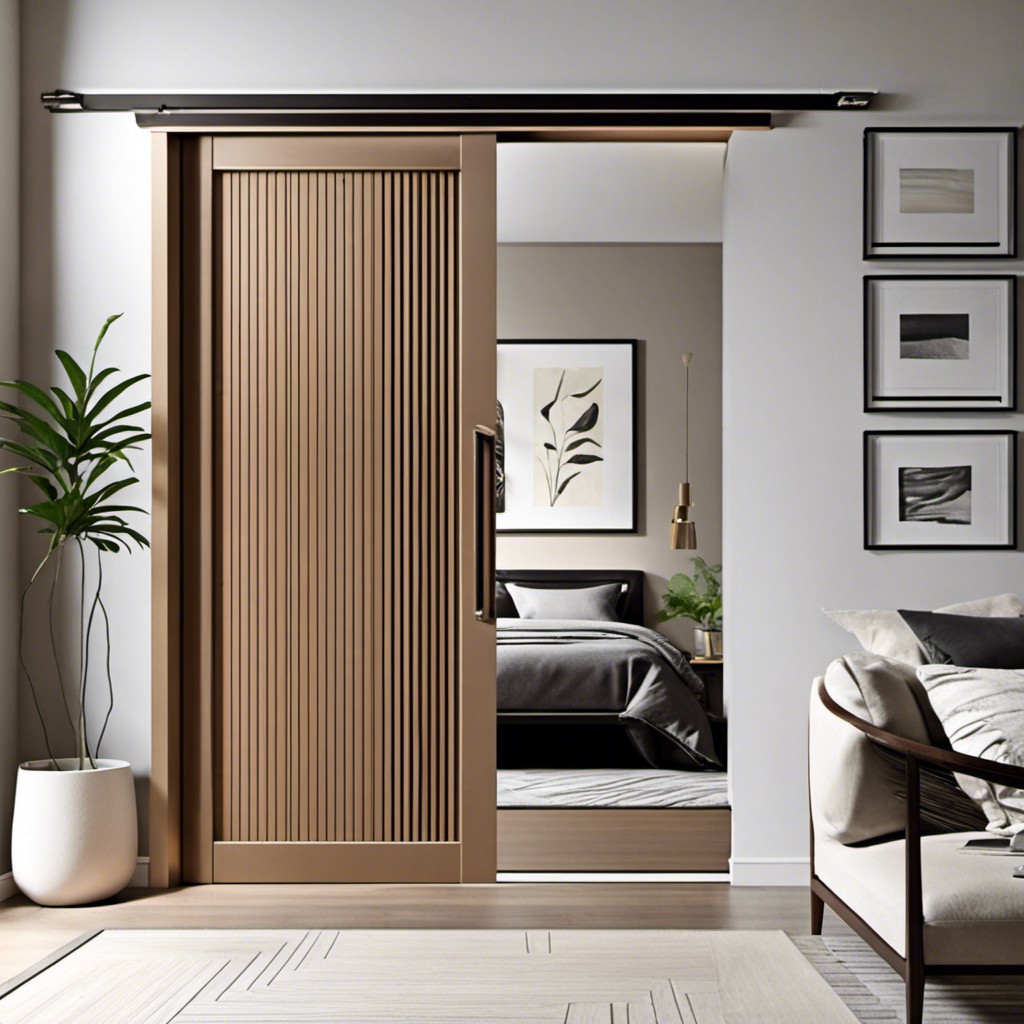 Compact living doesn't mean you have to compromise on style. A sliding option brings functionality and flair to your space. Their parallel movement and absence of swing space makes them perfect for cramped quarters.
Fluted design takes it a step further. Creating a visual illusion of depth, it adds an architectural touch. As an added bonus, it brings in a layer of privacy. This is especially helpful for sections of your house you want to keep shielded from public view.
To nail this look, choose a sturdy track system that can bear the weight. Opt for soft closing and quiet mechanics to enhance user experience. A variety of materials are out there, from wood to metal, glass to composite. Choose one that complements your existing décor and budget. Finally, add handles or pulls that align with your aesthetic.
Take care while deciding the position. It should neither obstruct natural light nor disrupt the furniture layout. With all these pointers in mind, you can enjoy boosted functionality and panoramic style without a doubt.
Fluted Door With Decorative Arch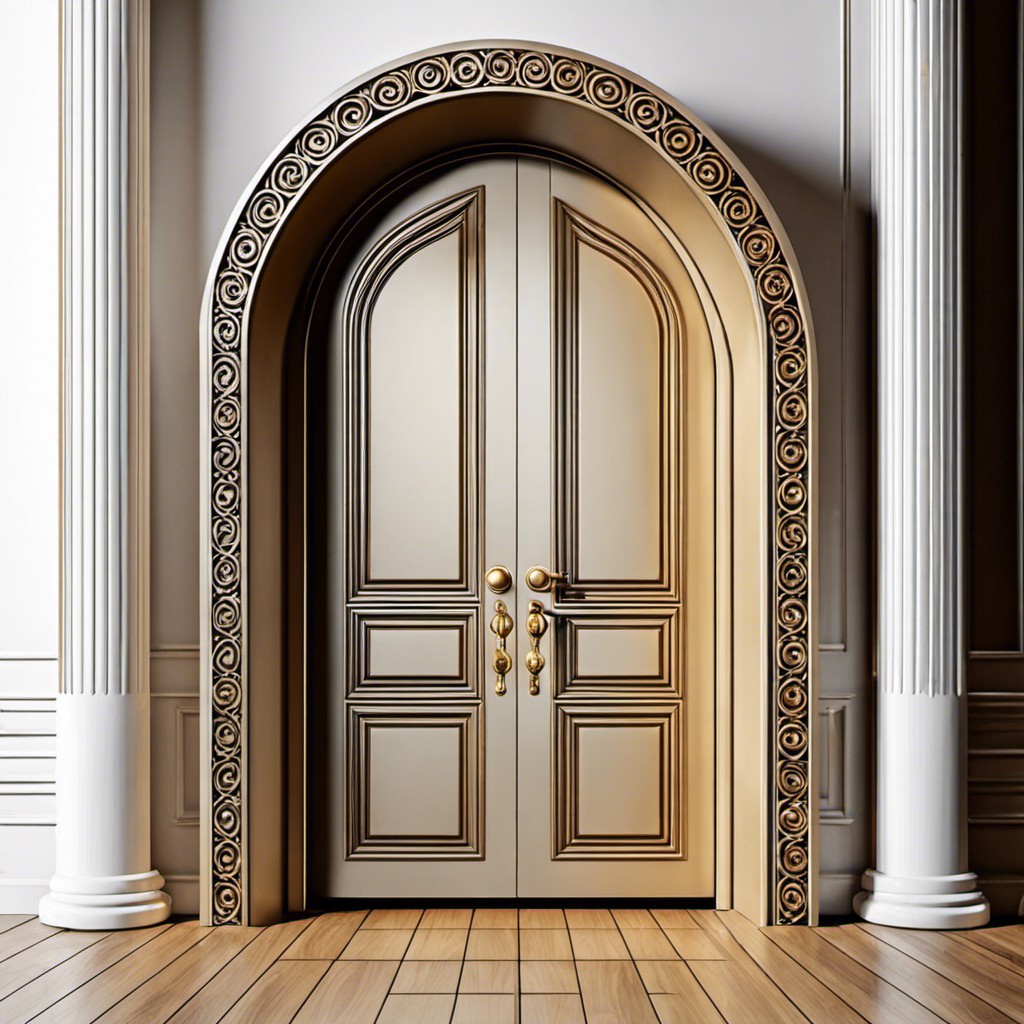 Incorporating arches adds an artistic, old-world feel to your doorway. The fluted design on the door will bring out a rich texture while the arch provides an element of architectural design.
Some key things to keep in mind:
1. Material Choice: Wood is the most traditional choice for its warm, natural feel. However, metal and composite materials offer durability and require less maintenance.
2. Design Elements: Arches come in various styles. The Roman arch with its circular top complements traditional, rustic decor, while a gothic arch lends itself well to more dramatic, formal settings.
3. Customizing Your Door: Personalize your door with unique hardware or stain to bring out the natural wood grain. Integrating glass panels in the arch can add a modern twist and allow more light into your space.
Remember, careful measurement is crucial for fit, particularly when dealing with arches.
Mid-century Modern Fluted Door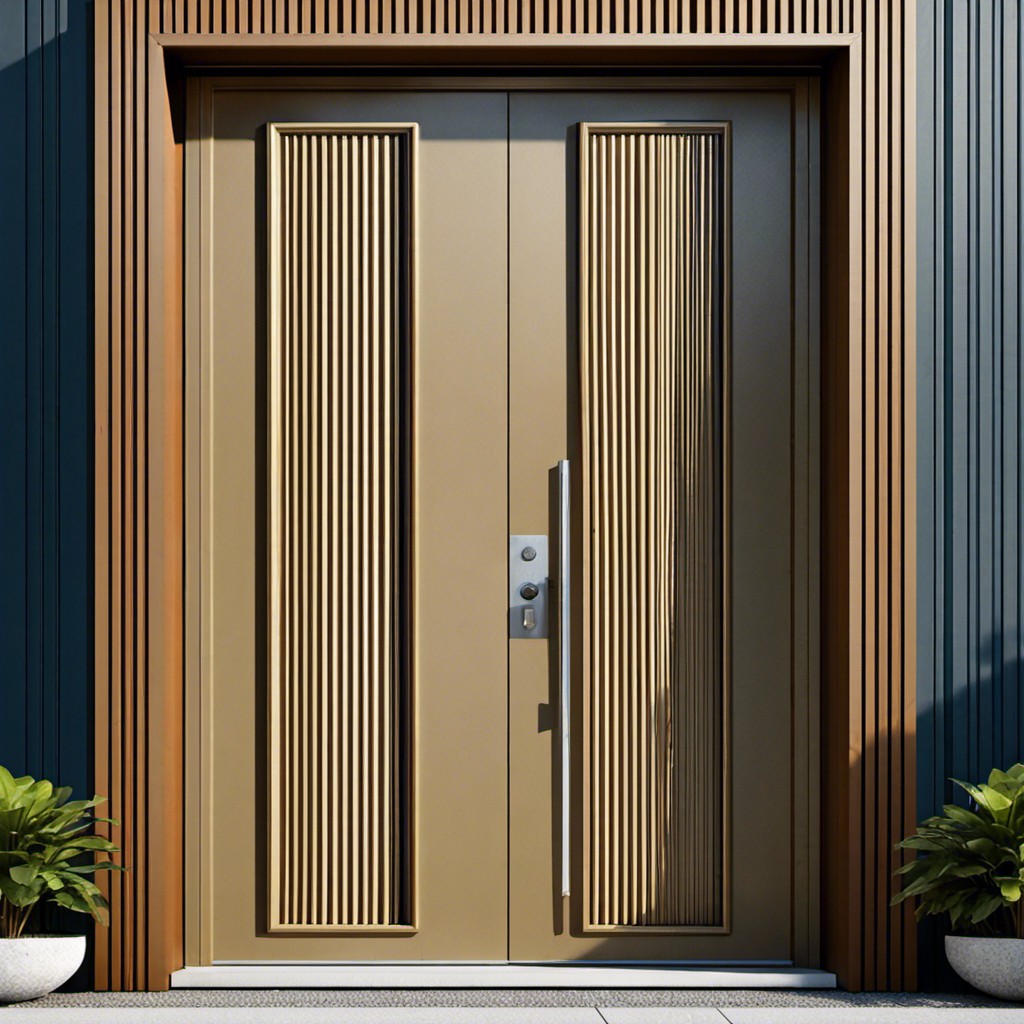 Mid-century modern design celebrates clean lines, simplicity, and an exquisite attention to detail. In applying this aesthetic to fluted doors, you're bringing a touch of classic elegance to your spaces.
The signature flutes add texture and character. These vertical lines drawn across high-quality wood reflect a visually captivating design hallmark of the period.
The beauty of this choice lies in its versatility. While capturing an iconic vintage vibe, it's effortlessly contemporary. Whether your interiors are boldly modern or comfortingly traditional, a mid-century modern fluted door finds its place seamlessly.
Typically you'll find these doors in warm, earthy tones. However, don't limit yourself; feel free to experiment with bolder colors to adapt to the feel of your room.
Consider adding a sleek, minimalist doorknob, it complements the style by pairing with brass or chrome finishes.
Incorporating such a door into your decor boosts the overall architectural interest of your home. It's a modest yet stylish nod to an era beloved by design enthusiasts.
Fluted Door With Stained Glass Accents
Incorporating stained glass accents into your fluted door design curates an undeniably artistic touch. The fusion of detailed fluting and vibrant glass creates a beautiful contrast that instantly adds character to your entryway.
1. Color Coordination: The dyed glass can be chosen to complement or contrast the color palette of your home. Think warm hues to complement earth tones or icy blues for modern, minimalist settings.
2. Pattern Diversity: Stained glass doesn't have to be traditional. Modern, geometric patterns can yield a contemporary feel. Consider simple, broad designs for a more subtle enhancement.
3. Light Manipulation: The use of stained glass adjusts the type of light that filters through, often casting fascinating color projections that can add to the ambiance of your space, creating an inviting glow.
4. Privacy Boost: Along with the texture of the fluting, stained glass obscures vision without compromising on the natural light that traditional doors might block out.
Before you decide, consider that the craftsmanship involved in incorporating stained glass often comes at an additional cost. However, combining creativity and resourcefulness can yield a cost-effective option like sourcing second-hand doors or working with local artisans.
Fluted Pocket Doors for Office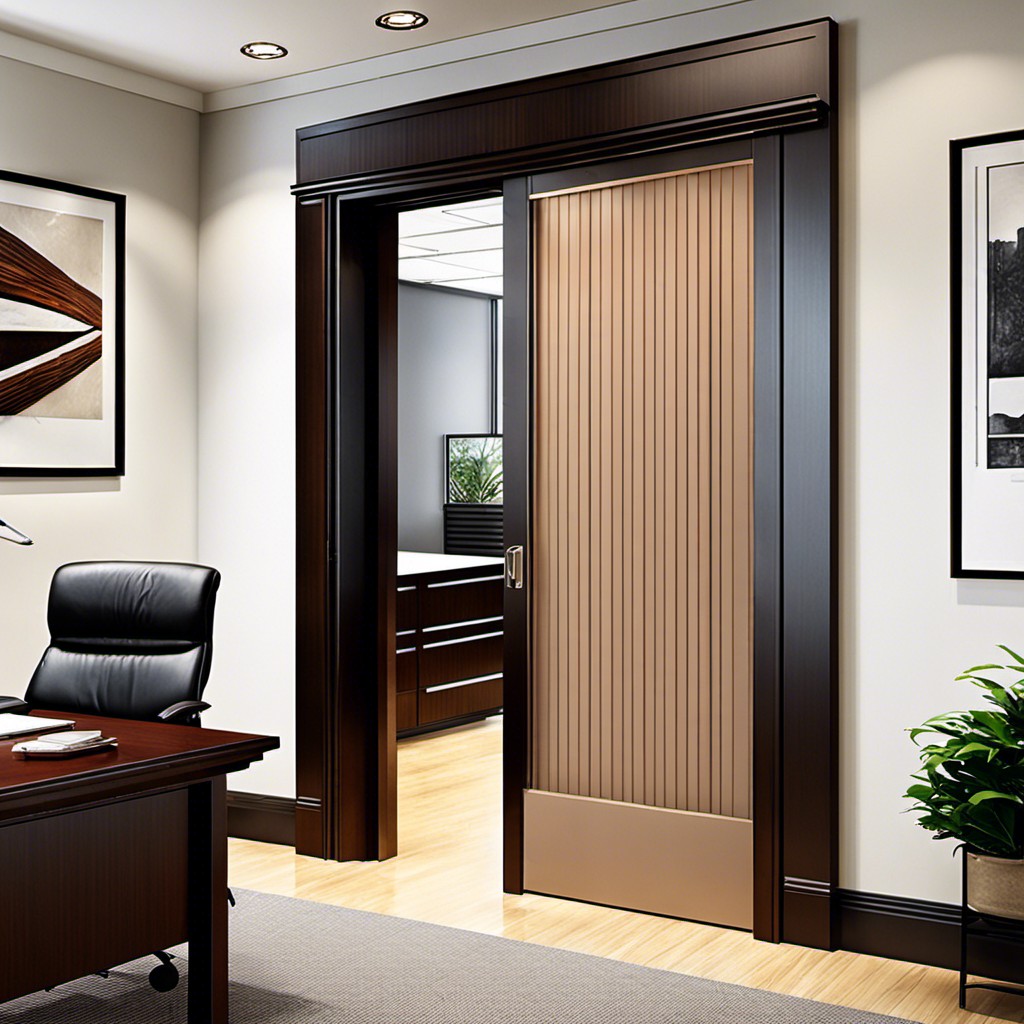 A wonderful choice for space-saving and sophistication, pocket doors with fluted detailing offer an elegant solution to a common office issue. Too many doors can make a space feel smaller and interrupt the flow. Pocket doors recede into the wall, providing unhindered access – perfect for bustling office environments.
These doors exhibit character and class with their fluted design. The vertical ridges create texture and visual diversity, a detail that can elevate a door from simply functional to a design statement.
When considering materials, wood is a classic. However, don't dismiss metal or glass options. Varying materials can better complement your office style, whether it leans more modern or traditional.
Lastly, this door style allows you to experiment with hardware. Brushed nickel or gold pulls can add a finishing touch, while discreetly fitted recessed handles offer a sleek, streamlined look. Enjoy infusing your office setting with a touch of understated elegance with a fluted pocket door.
Shabby Chic Fluted Door With Distressed Finish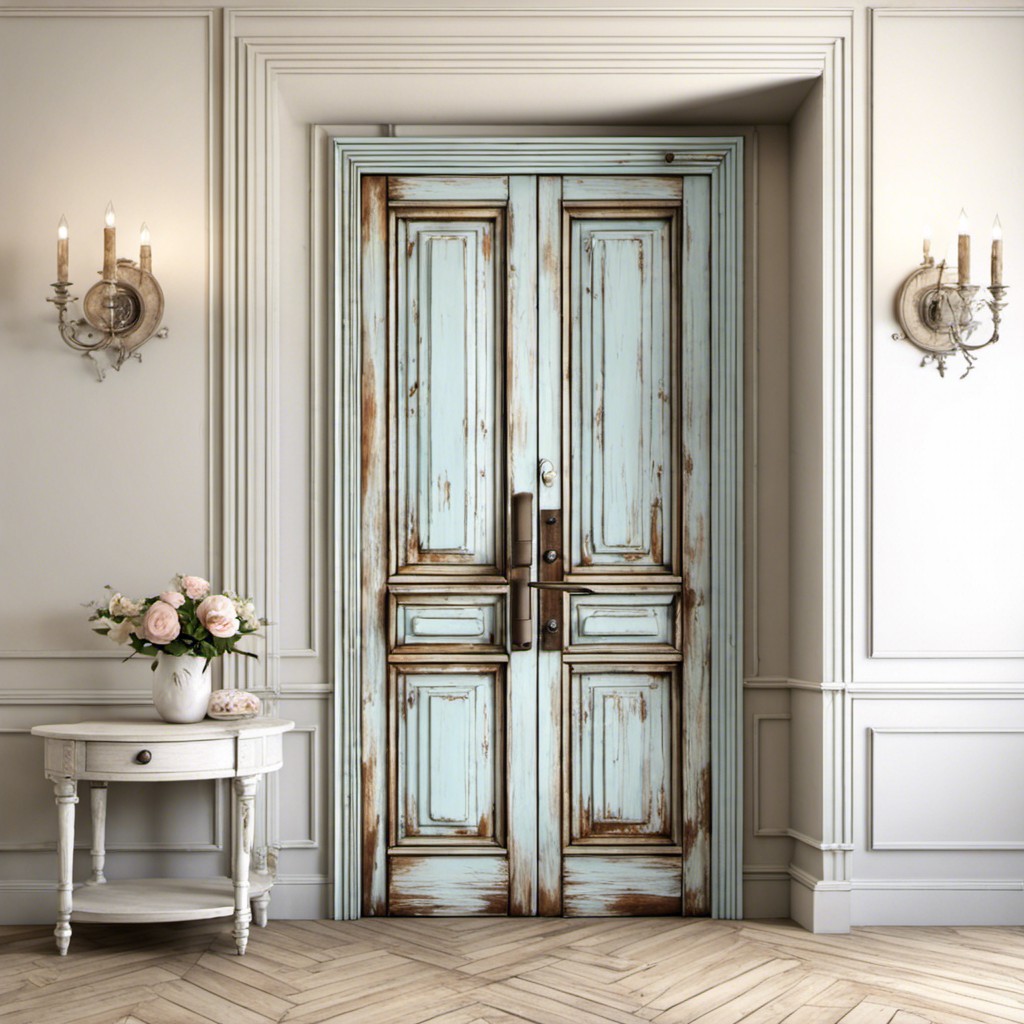 Creating this distinct, vintage-inspired look begins with selecting a wooden door with prominent flutes. The door surface is then artistically worn down, sometimes revealing the raw wood underneath. This process, known as distressing, often involves sanding, denting, or gouging the surface.
White or pastel paint colors are typically applied afterwards in varying transparency levels, this allows some of the distressed wood to peep through, heightening the shabby chic effect. Accentuating the fluting with a darker shade can add depth and bring attention to the door's detailing.
Hardware is a critical component too. Opt for old-fashioned or rustic knobs and hinges. Consider using metal with an antique or vintage finish, like brass or bronze.
Remember, the goal is to evoke a sense of history and charm, making your door not just a functional piece, but a key element in your home's overall aesthetic.
Painted Fluted Door With Contrasting Trim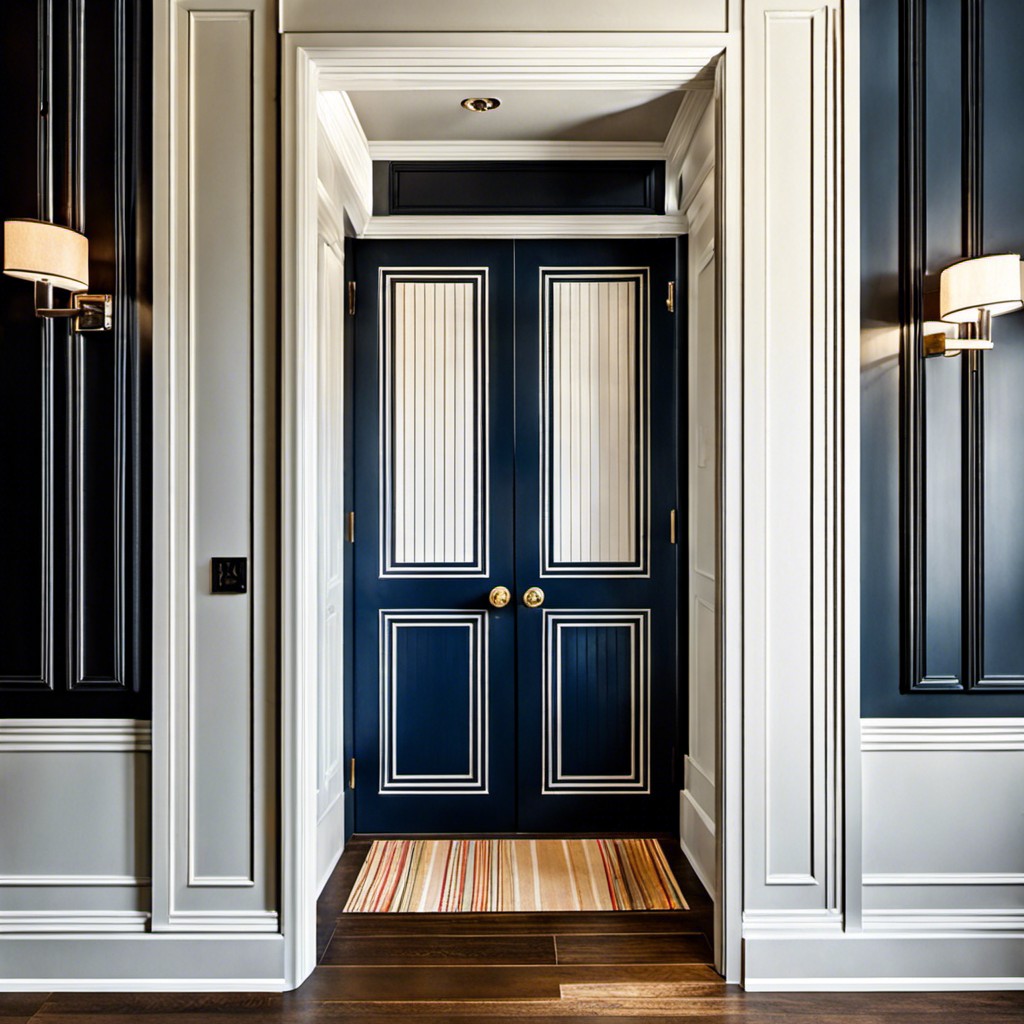 For a splash of color and personality, choose a hue that both complements and contrasts with your home's exterior or room's décor for painting your fluted door. The juxtaposition of bold shades against neutral trims enhances the door's fluted detailing. Whether it's periwinkle blue against crisp white trim or sage green against charcoal trim, the effect can be stunning.
Now, let's discuss some points to get us started:
Use semi-gloss or high-gloss paint, as they are durable and stand up best to frequent cleaning, ideal for a high-traffic area like a door.
Door preparation is crucial. Sand the surface for paint to adhere better and wipe clean to remove dust beforehand.
Use painter's tape to protect areas you don't want to paint. This will give a crisp finish to your contrasting trim.
Consider painting the door in place to maintain the integrity of the fluted design.
Remember, a door is more than just a functional piece – it can be the captivating center of your decor with a little color and creativity!
Fluted Garage Door With Window Inserts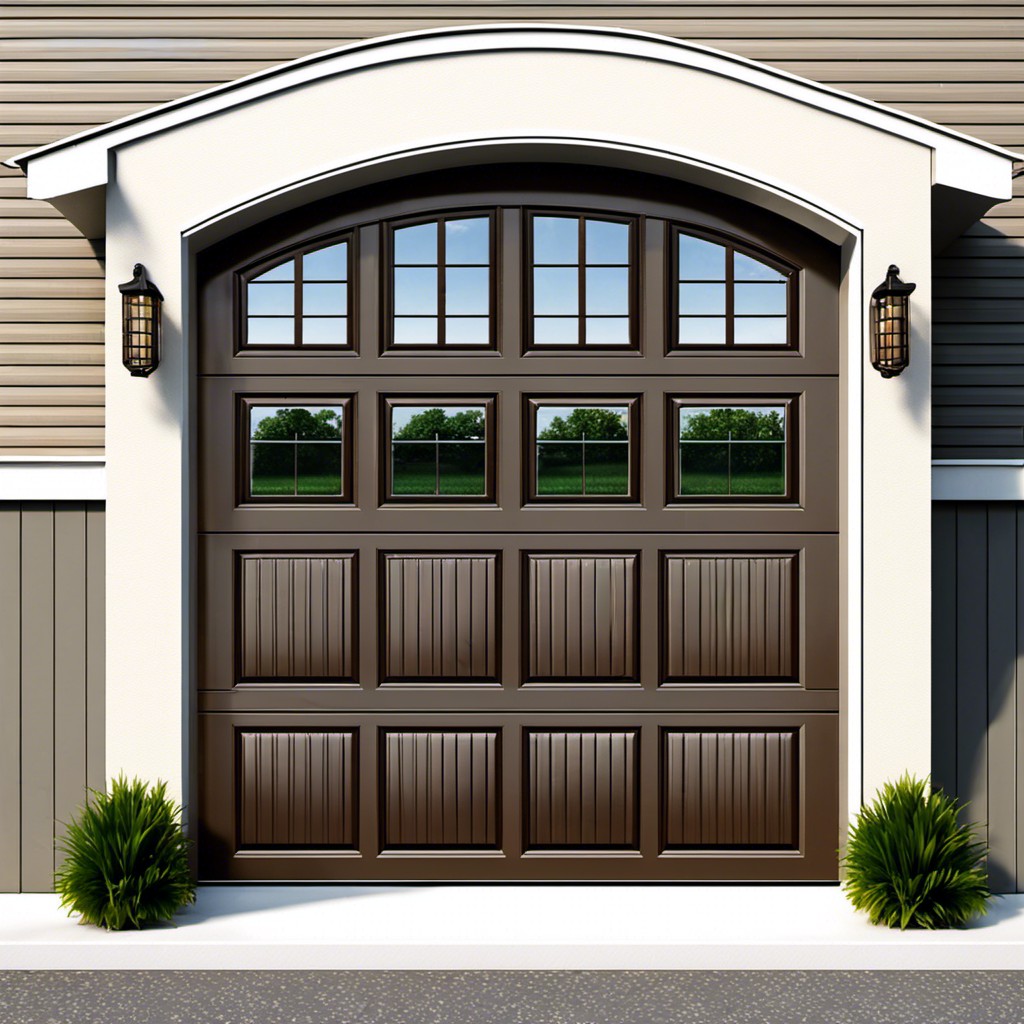 Opting for window inserts adds a distinguished touch to the design, but also has the functional benefits of natural light. Choosing fluted detailing can completely transform the mundane into high-end lookalikes. Here are some points concerning its concepts:
1. Options Abound: Window styles are plenty, from clear to frosted, and tinted. Stained glass can exude a vintage charm whereas sleek clear glass entails a modern essence.
2. Play with Panels: Panels of fluted detailing break the monotony and create an interesting play of shadows when the garage door is under sunlight.
3. Privacy Matters: Make your choice based on how much visibility and light you desire. Fluted glass proves its mettle by allowing brightness and ensuring privacy.
4. Budget-friendly Elegance: Window inserts and a fluted finish can prove cost-effective ways of adding pizazz without replacing the whole door.
5. Thermal Efficiency: Look for insulated glass options to lessen heat transfer, optimizing energy efficiency in your garage.
Remember, the key to a successful garage door upgrade is balancing aesthetics, privacy, and functionality, all within your budget constraints.
Dutch Fluted Door With Split Opening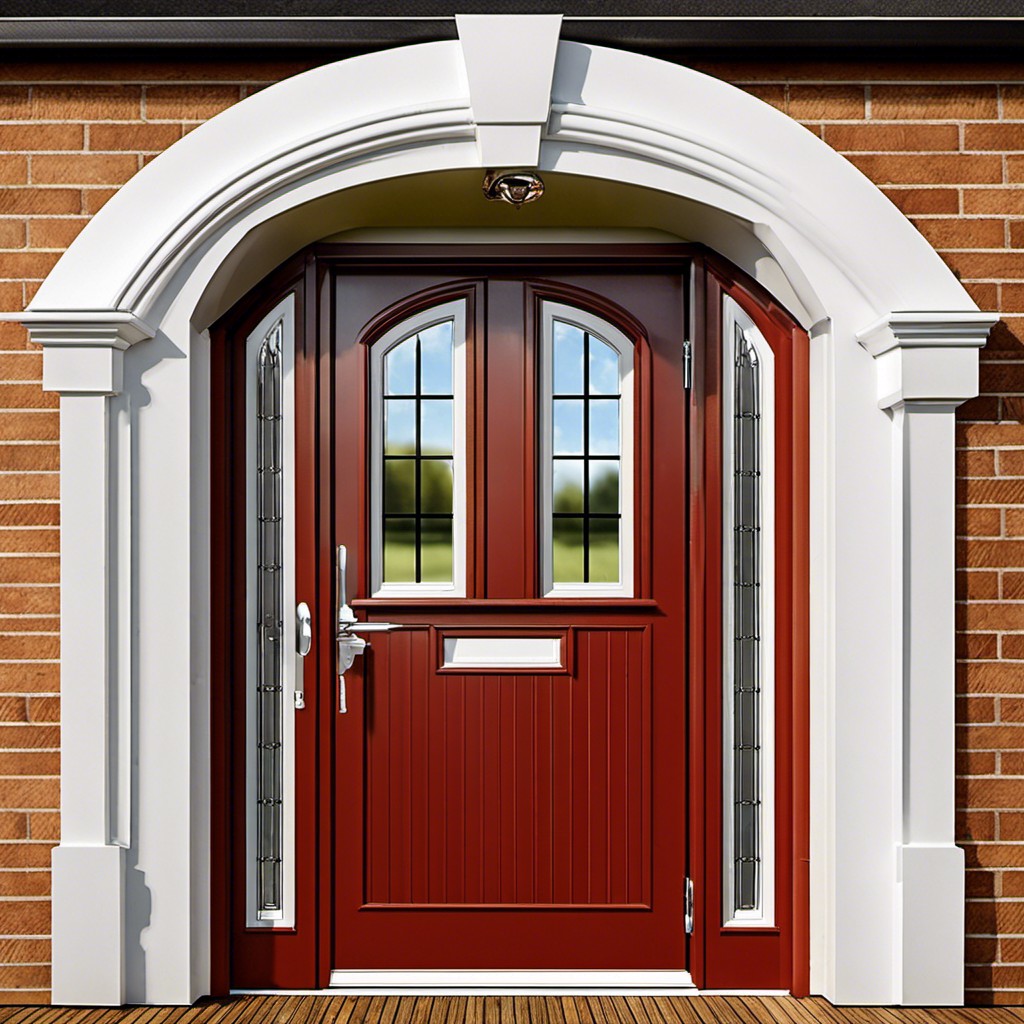 For an unexpected twist to your home's decor, consider incorporating the charming split opening feature often seen in Dutch doors. The design not only adds functionality but also exudes an inviting warmth that is hard to match.
1. Space Efficiency: Ideal for tight or high-traffic areas, providing the ability to keep the bottom half closed for privacy while allowing light and air to filter in through the open top.
2. Versatility: Can be left closed as a solid door or partially open, adaptable based on your needs or mood.
3. Stylish: The fluted design introduces depth and texture, adding another layer of aesthetic appeal to your decor.
4. Practical: By keeping the bottom half closed, pets and children can stay in or out while the top brings in fresh air.
5. Customizable: It's simple to tailor the look of your Dutch door. Choose a paint color that complements your interior or let the natural beauty of wood show through.
Remember, combining the coziness of fluted design and the practicality of a Dutch door could certainly be a unique decorative addition to your space.
Farmhouse Fluted Door With Matching Shutters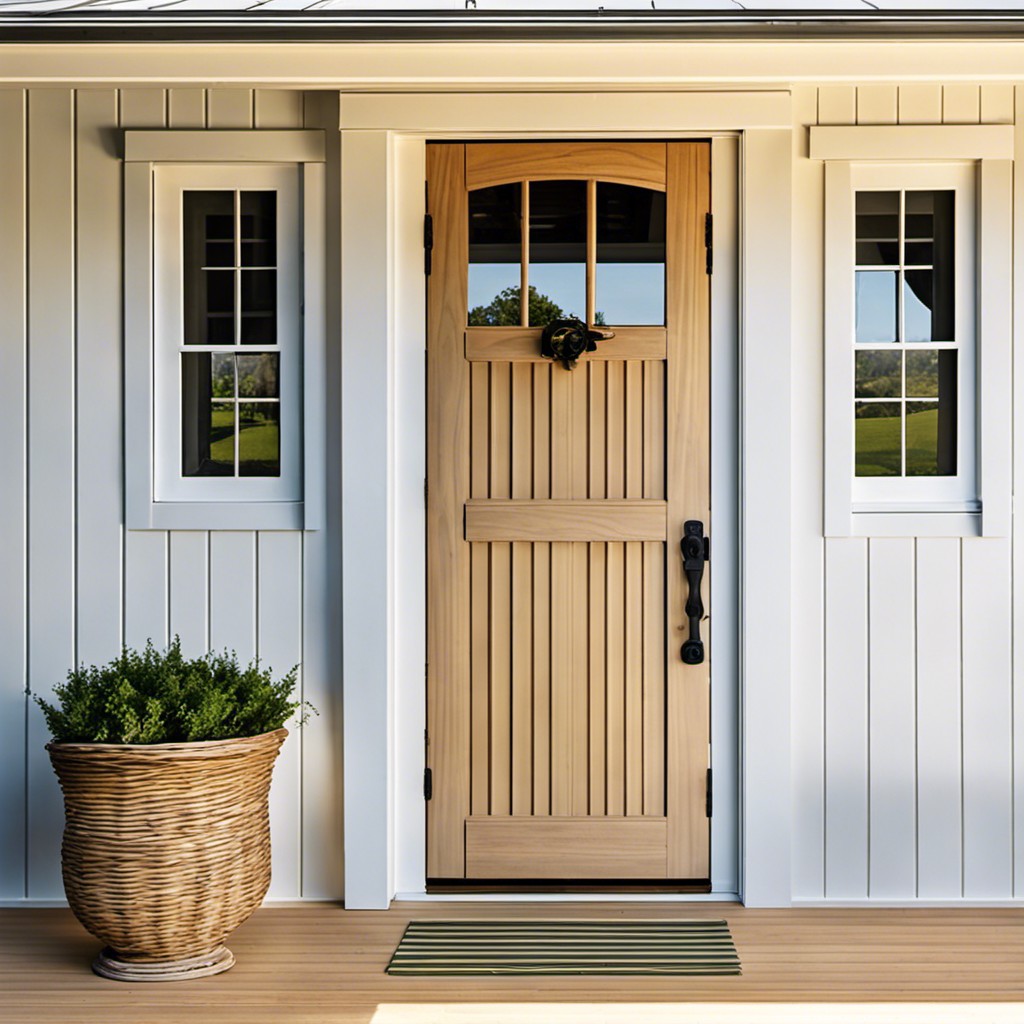 If you're looking for a blend of rustic charm and modern elegance, this design could be a perfect fit for your home. The presence of fluted elements creates a visually intriguing, textured surface that can make a solid door seem less imposing. Combined with matching shutters, this design enhances the farmhouse aesthetic.
Here are some key points:
Materials: Traditionally, natural wood is preferred to bring warmth and a touch of authenticity.
Colors: Neutral, muted tones such as whites, creams or light greys are ideal to achieving a rustic, understated look.
Textures: Extra attention could be given to the fluted pattern's depth and width, too much could overshadow the overall appeal, while too little may not quite encapsulate the style.
Complementary finishes: Satin or matte finishes work well with the farmhouse style, and brass or black iron hardware can provide a nice contrast.
Matching shutters: They not only add to the façade's visual symmetry but also contribute practical benefits like enhanced privacy and better control of sunlight.
Customization: Consider personal touches. A customized carving or a vintage doorknob could make the door distinctively yours.
Just remember, fluted design, while versatile, is an expressive style. One needs to plan and balance the other décor elements to score a cohesive look.
Fluted Door With Organic Glass Patterns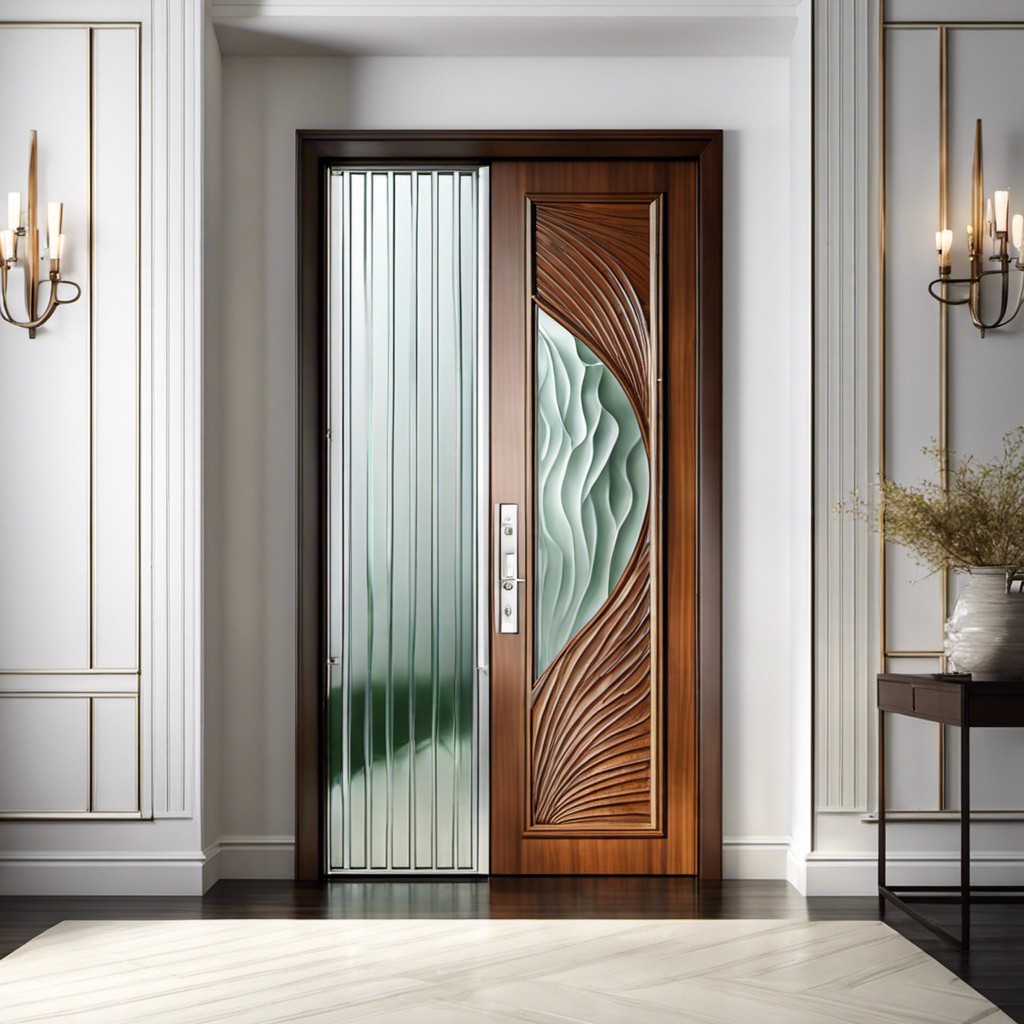 This door style creates a unique visual interest and upscales any exterior or interior space. With organic glass patterns, each piece is not only decorative but also functional, diffusing light in eye-catching ways.
Here's how it stands out:
Unique Designs: Patterns can range from flowing lines, floral motifs to abstract shapes, each enhancing the door's artistic appeal.
Light Control: Depending on the density of the pattern, the door can filter different amounts of light, balancing between privacy and natural illumination.
Variety of Materials: Designs can be etched on clear glass, frosted, or even colored glass, offering a wide range of aesthetics to match your home's style.
Eco-Friendly: Some manufacturers use recycled glass, catering to the environmentally conscious homeowners.
Easy Maintenance: The textured surface hides fingerprints and smudges better than a plain glass door, reducing the need for constant cleaning.
Remember, the choice of design and materials directly informs the door's overall appeal. Hence, careful consideration is key to meet both your aesthetic and practical needs.
Recap
Liked this article? Here's what you can read next: