Last updated on September 13, 2019
Want to decorate your home in style with handmade decorations? Here are 22 best DIY fall crafts to decorate your home in style.
When fall comes, and it gets chilly outside, you rush back into our homes to make them cozier and warmer than before. That means not only cleaning up and decluttering your house to get ready for the annual Holidays and the winter. It also means making your decor prettier than ever.
We want to help you with that as usual. And this year we have also prepared a list of the best DIY fall crafts to make your home a cozier place. In addition to these crafts, you may check out crafts you can make and sell, as well as learn how to create Hygge at home. We are proud of this list, and there are some awesome projects for you to choose from.
Fall Wreath

Wreaths always increase your curb appeal, and it's time to make one for the fall season. This tutorial shows a straightforward way to make one yourself. Be creative and surprise everyone!
Burlap Wreath

Burlap has that warm rustic quality as a material, and it fits the fall theme perfectly. Luckily it's not overused in decor, so it's your chance to make your fall wreath a little different this time around.
Fall Leaf Garlands

No, you don't have to wait for tree leaves to turn orange to have this garland at home. This tutorial shows us how to make faux paper leaves at home the easy way. You can start enjoying your fall themed home decor a lot sooner this year.
Fabric Tape Pumpkins

Who says pumpkins always have to be orange? This tutorial shows us how to create your decorative pumpkins with fabric tape and bring a lot more patterns and colors to the table. Check out how quickly it's done.
Wood Slice Pumpkins

The idea that pumpkins don't have to be real vegetables is one of our favorites. This way we break out of the box that using real pumpkins puts us and decorate our home a lot more creatively. Check out how to make them from wood slices.
Rustic Wood Pumpkins
Use your creativity when decorating in the pumpkin theme as you can make them from just about anything. This tutorial shows us how to craft these cute wooden pumpkins from 2×4's. It makes a great rustic style for your fall vignettes.
Farmhouse Pumpkin Bucket

Create easy fall vignettes with a galvanized steel bucket and a bunch of pumpkins of your choosing. It makes an attractive and creative decor piece for the home. And it's fairly easy to make if you follow this tutorial.
Flannel Coasters

Switching up materials for little details and accents, as simple as coasters for your late night cup of tea can make all the difference in creating the perfect seasonal vibe at home.
Leaf Bowl
Fall leaves are there with pumpkins at the top of the list of seasonal decor but let's be creative and make something more than a wreath, a bouquet or a garland – make a whimsical leaf bowl for your vignettes.
Burlap Pumpkins

Yes, pumpkins are cliche, but it doesn't mean you can't be creative in their use. Burlap comes to the rescue again to create incredible rustic decor detail.
Cinnamon Stick Candles

Simple ideas are often the most charming, so is this cinnamon stick candle contraption. Provide your decor with seasonal detail as well as scent.
Melted Crayon Pumpkins

If you're going to use pumpkins in your decor (and you probably will), you might experiment with something unique and original, such as this melted crayon drip idea.
Tree Stump Candle Holders

Creating the right mood on those long and chilly autumn evenings is really what it's all about. And that's precisely what you get when you combine rustic tree stump accents and mood lights of candles (also see DIY lamp ideas).
Ombre Wine Bottles

The orange explosion of spray-painted ombre wine bottles makes the perfect vases for your autumn vignettes. It's the right idea to add more orange accents to your decor.
Burlap Napkin Rings

Simple projects from simple materials aren't only non-committing and easy fun; they bring seasonal decor to your home in a subtle but meaningful way. Make these fun burlap napkin rings to decorate your dinner table during fall.
Twine Lanterns

Make use of some twine and fairy lights to create these beautiful lanterns for a unique way to bring fall decor home.
Fall Sign

Even as the fall season comes and goes, this idea for a sign stands on solid grounds as it helps to build that much-needed character in your home decor. Don't be afraid to experiment.
Graphic Farmhouse Signs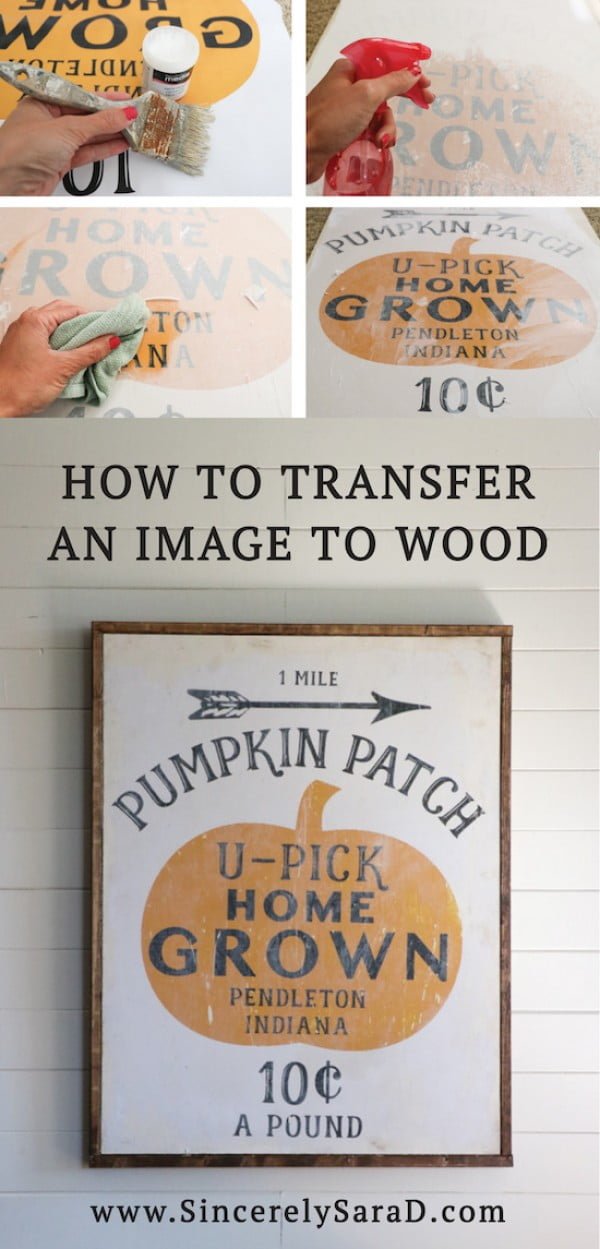 A farmhouse sign can have greater impact on your decor if it includes images. So here's how you can transfer them onto wood.
Printed Burlap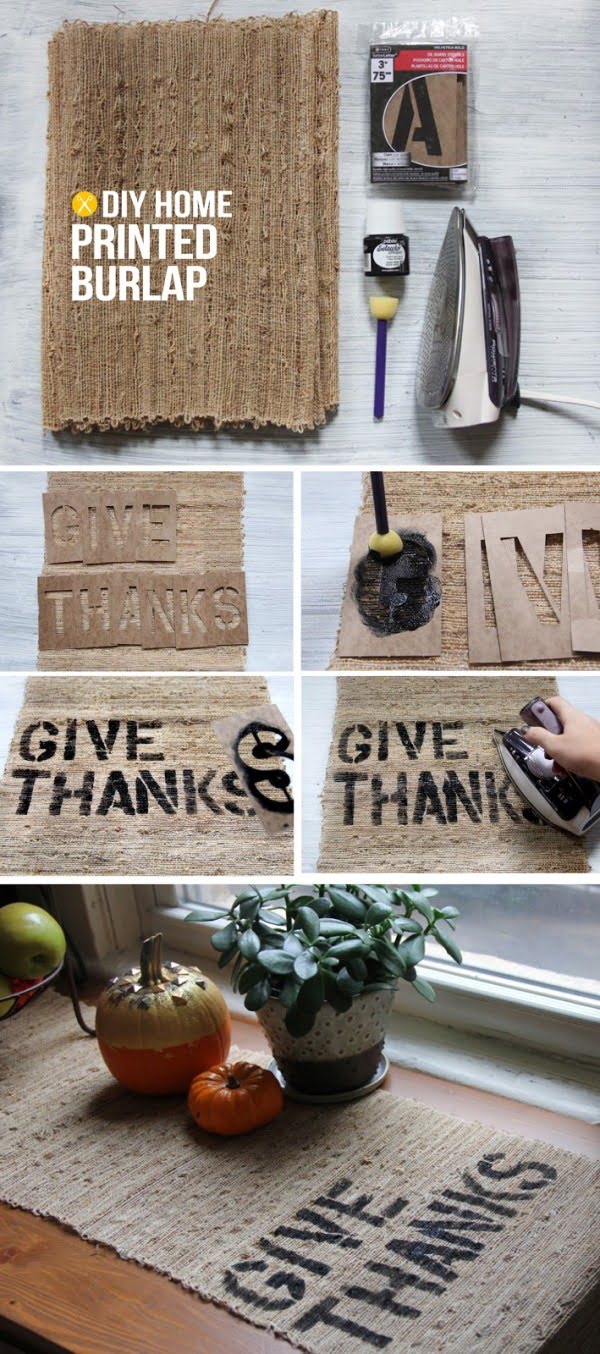 This technique of transferring print to burlap will allow you to create a beautiful table runner for your fall decor coming up to Thanksgiving. Check out the tutorial to see how it's done.
Cinnamon Scented Pine Cones
Make these scented pine cones to not only decorate your home visually but spread pleasant cinnamon scent as well. You will enjoy this decor accent for weeks to come after Thanksgiving too.
Wine Cork Pumpkin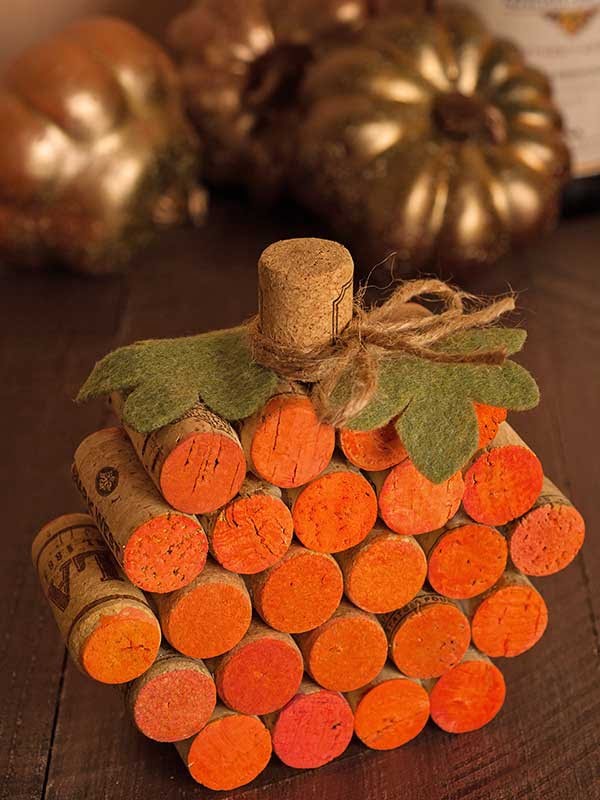 Quirky decor accents like this wine cork pumpkin is a great way to surprise your guests and make your fall decor genuinely exceptional.
Picture Frame Lantern

Fall decor is all about creating warmth at home as the weather is getting colder day by day. A classy lantern which you can use as a candle holder or even as a vase for flowers is exactly what you need. Check out the video tutorial for the instructions on how to make one.
Recap
Liked this article? Here's what you can read next: