Looking for a ceiling fan for your home? Here's an epic list of the best ceiling fans in every category.
A quality ceiling fan not only looks good aesthetically in a home, but it can also provide an excellent source of air flow that helps keep your home cool and comfortable whether spreading air conditioning or pulling in some fresh air when the windows are open in the evening.
That being said, the key is the word "quality." A good ceiling fan can do wonders for the interior of your home, while a poor one will create one headache after another. The goal is to limit your options to the best ceiling fans out there and find the one that is the right fit for you and your home.
What Exactly is a Ceiling Fan?
A ceiling fan is a device with 3 to 5 blades, usually hardwired and mounted on the ceiling. Typically, the fan is used to cool the room or at least provide a breeze and circulate the air. The fan's blades are mounted to a base, which contains the motor and mechanical parts for operation. The fan blades usually rotate more slowly than those of a desk or box fan, though many come with different speeds.
What Makes a Good Ceiling Fan?
There are a variety of factors that go into the review of each of these ceiling fans. A combination of cost, durability, construction, aesthetic appeal and versatility are all taken into consideration when trying to judge which ones should make this list and which don't. Above all, they need to work well on a consistent basis. Next, are our top 10 selected ceiling fans (with their pros and cons) that you can get for your home.
Top 10 Best Ceiling Fans
If you're not looking for any specific type of a ceiling fan, here's a list of top 10 best ceiling fans overall. We've selected these fans from across all types of categories, and it's your go-to list for a quick choice.
Minka-Aire F844-DK Light Wave 52 Inch Ceiling Fan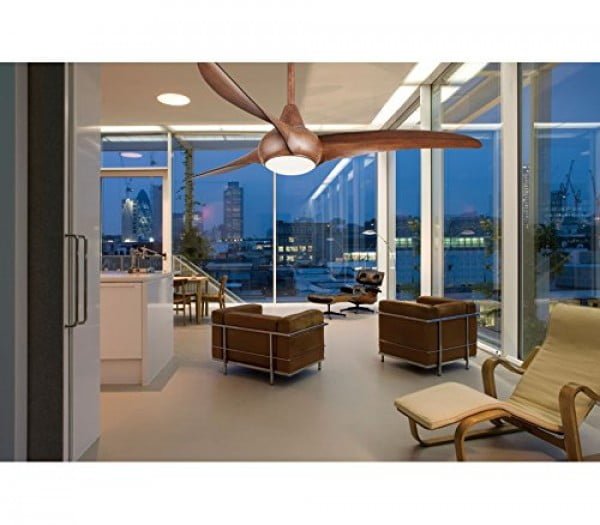 The Minka-Aire ceiling fan is an incredibly unique design that is going to find an even number of lovers and haters. Featuring a three-bladed one-piece design intricately carved comes in silver, white, or brown. The silver and white look modern and futuristic while the brown makes it appear like it is made from beautiful looking wood with a light in the middle. A very intriguing choice for the right setup. Available at Amazon.com.
Pros: Unique design, central light source
Cons: The unique design will be a negative for some
Hunter Builder Deluxe Ceiling Fan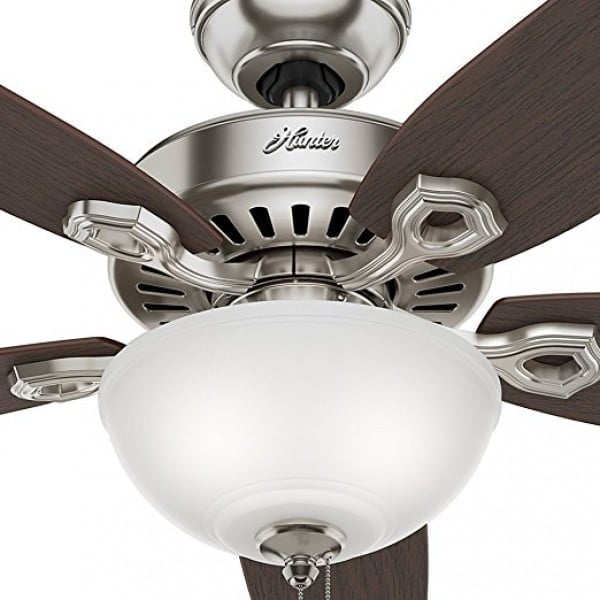 A 5-bladed fan with a central light underneath a shiny metal base, this ceiling fan looks beautiful, and the blades come in a variety of wood designs including Brazilian cherry and stained oak. Very quiet operation with a basic warranty that has warranty upgrade options available for sale. Available at Amazon.com.
Pros: Good looking fan, a company over 125 years of experience
Cons: Designed for residential homes, less warranty coverage than some other options on this list
Quince 24-Inch Ceiling Fan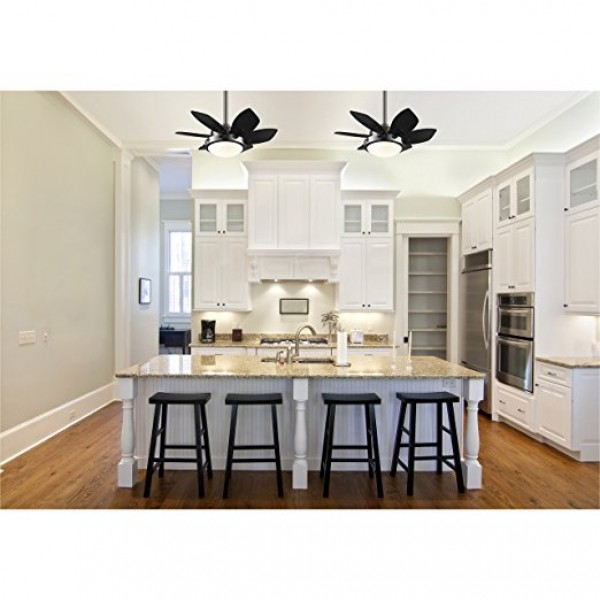 Coming in black or white, these small and versatile ceiling fans by Quince feature a lifetime warranty on the motor and have a reputation for their ability to reverse the direction of the fan to control air flow. Meant only for contained interior areas. Available at Amazon.com.
Pros: Small design is versatile, comes with light
Cons: Varying opinions on an aesthetic look, won't move air like a traditional 52-inch design
Westinghouse 3-Blade Industrial Fan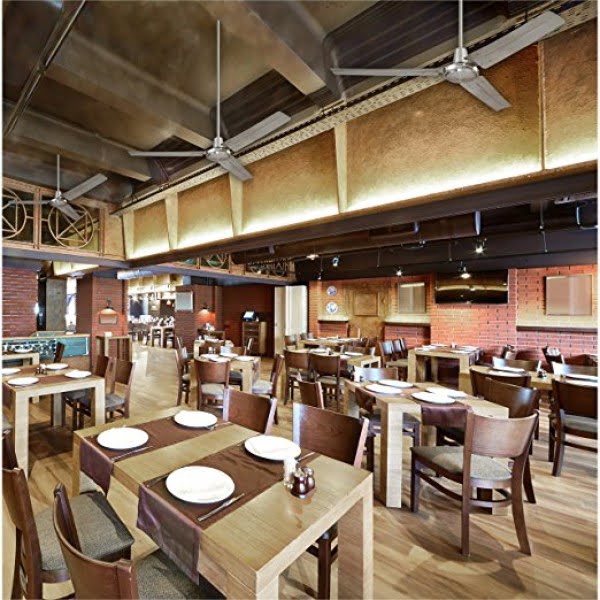 Known as a reliable brand in the world of industrial fans, this style of Westinghouse industrial fan is based on the classic design that has worked for warehouses and industrial settings for years. These fans include a 15-year limited warranty on the motor and two years full on other parts. Available at Amazon.com.
Pros: Exceptional warranty coverage, minimal setup, trusted brand
Cons: Best for commercial/industrial aesthetic over residential
Peregrine Industrial 4-Blade Ceiling Fan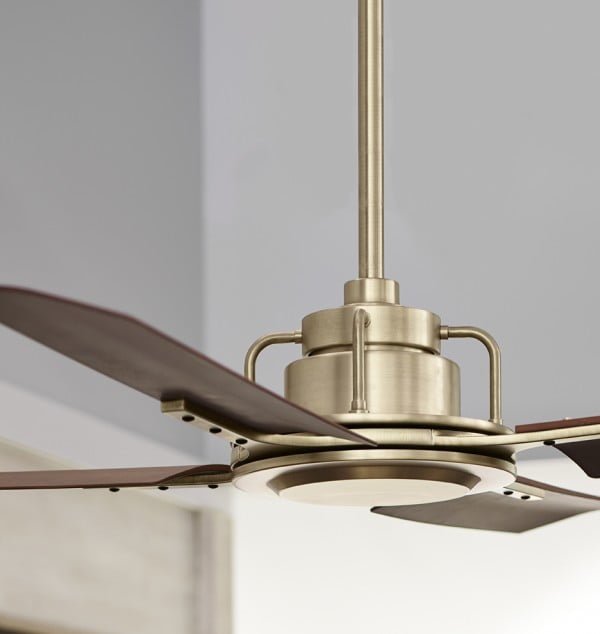 Using four steel blades and focusing on a minimal non-light design that moves air as efficiently as possible, this isn't a big pick when trying to design a room's aesthetic fully, but it is a highly rated fan that works exceptionally well and has a reputation for quality. Comes in an option of brushed nickel, brushed satin, and matte black finishes to offer some very different looks. Available at Rejuvenation.com.
Pros: Extremely efficient at moving air, three different finishes give more aesthetic options
Cons: No lights, very minimalist design
Monte Carlo Discus Ceiling Fan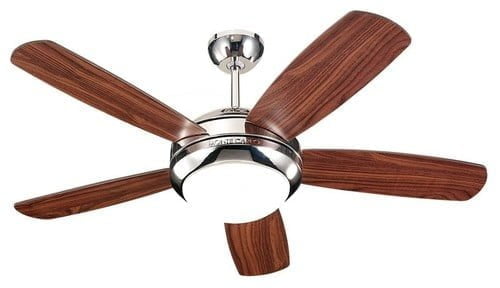 Featuring five blades and a central light, this design is inspired by the idea of quality salvage and re-purposing, and the bronze finish is perfect for nuanced designs that give off a classic aesthetic that works well with homes that have an emphasis on heavier or darker colors. Available at Houzz.com.
Pros: Very effective air movement, classic metal design
Cons: Won't work well aesthetically with lighter colors
Sonnet Oak Ceiling Fan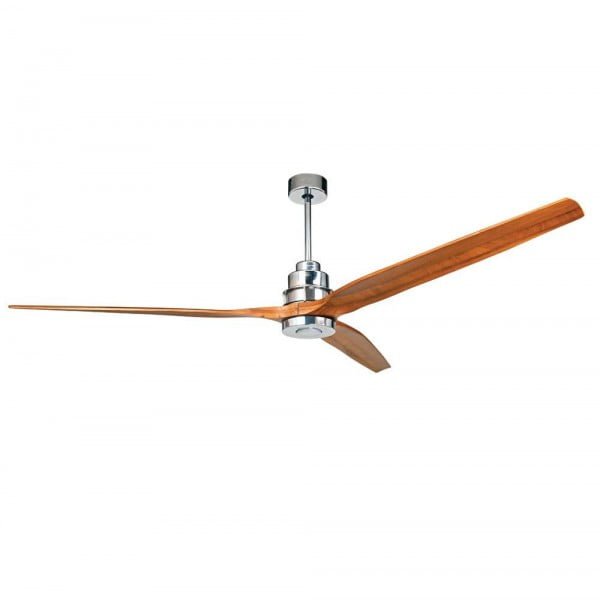 Designed with only three blades instead of four, the Sonnet Oak ceiling fan has dark oak blade design with a bright chrome base. This is a very minimalist and modern look that remains effective in moving air. Works well for offices or more modern residential designs. Available at Amazon.com.
Pros: Sleek design, aesthetically pleasing, excellent air movement
Cons: Minimal design can stick out like a sore thumb in the wrong home or office setup
The Uma Ceiling Fan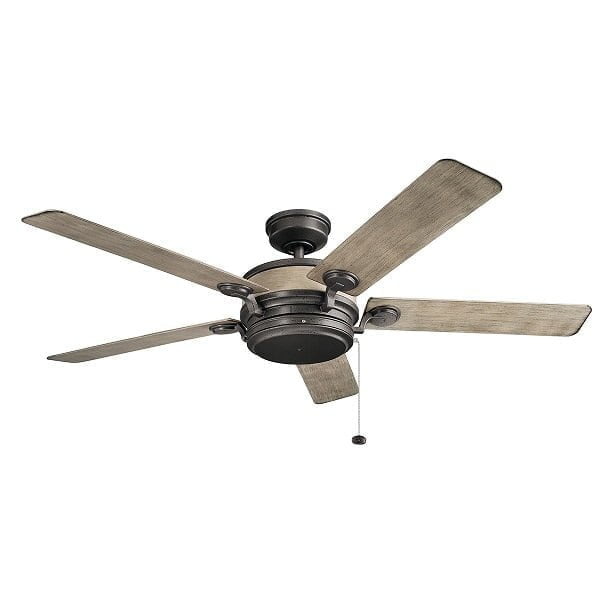 Coming 60 inches in size with a weathered zinc base and blades have an old oak appearance. This is a very classic ceiling fan look that will find plenty of fans (no pun intended) and is from a well-known and established company in Kitchler Lighting. This is an Energy Star approved the design that can fit into a variety of office and conventional home designs. Available at LBCLighting.com.
Pros: Classic design fits in with a wide array of settings, solid fan design, energy efficient
Cons: Won't fit into the ultra-modern home or office aesthetics, not flashy if that's what you're looking for
Mason Jar Ceiling Fan Light Kit (with vintage pints)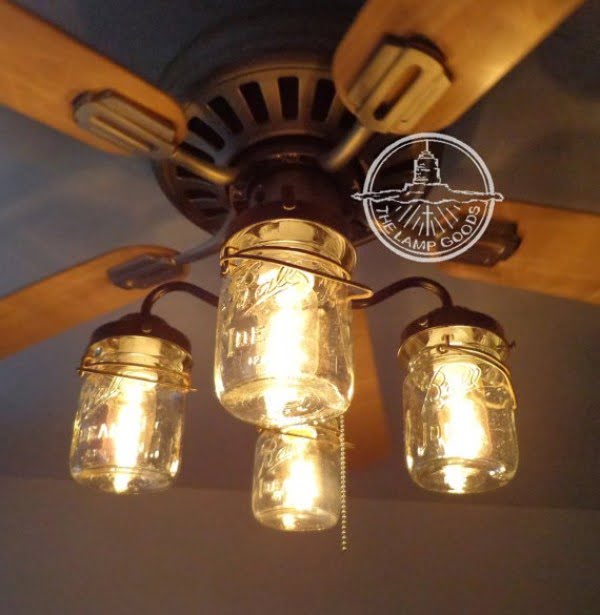 This is a unique design among the options on this list, with four vintage mason jars serving as the protective glass over each light bulb. Featuring four lights and a rubbed brass finish, this is an excellent option for a barn, workshop, farm cottage, or just an oddly eclectic house going for that old farm feel. Important note: this is just the lamp kit; it does not come with a ceiling fan. Available at Thelampgoods.com.
Pros: Vintage look, unique aesthetic, made in the USA
Cons: No ceiling fan included, a particular type of aesthetic that won't fit every residence
Custom Ceiling Fan Blades from Slingshot Creative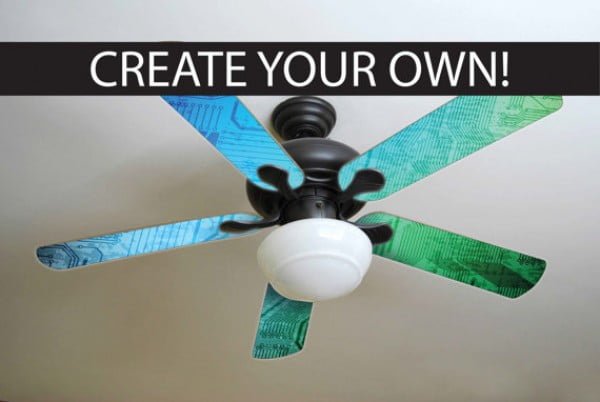 A brief look at the portfolio Slingshot Creative puts on their Etsy shop shows just how many amazingly creative ways their custom work can go. If you love unique designs and have a style in mind to go with a house that is also uniquely you, this is a great way to get actual custom craftsmanship to create the fan blades you want. Available at Etsy.com.
Pros: Can get your perfect ceiling fan blades, can order designs to the other parts you have
Cons: No guarantee of a perfect fit with other pieces, only the fan blades not a full fan or light
Back to Top
Best Ceiling Fans with Lights
Next is our list of the best fans with lights and fandeliers.  We've taken into account multiple criteria and put in a lot of thought when crafting this list. If you need to choose the best product, look for it here.
Wave Three Blade Ceiling Fan with LED Light
This ceiling fan is well made and looks like genuine distressed Koa, which is a remarkable wood. Though it is hushed and operates smoothly, it is quite powerful and circulates the air well, even on the lowest setting. However, we have to note that as it sets in, the fan could be a bit noisy for a few days. There are six-speed options, and on the lowest setting, less than 5 watts are used to power the fan, while in the highest setting, less than 50 watts are used. The LED light is run on 15 watts of power.
Although the fan is plastic, the distressed finish makes it look like authentic wood. This modern ceiling fan is easy to install, and the remote comes with a dimmer feature perfect for creating mood lighting and changing the breeze with ease and convenience. This fan is ideal for those wanting to add a modern touch to their space without a hefty price tag. Available at Houzz.com.
Alsace Light Indoor Ceiling Fan
Inspired by the wind barrels used in French vineyards, the Alsace ceiling fan will add a touch of sophistication to space. The fan is commanding in presence and bold in scale, and if you are looking for a way to anchor the eye in an area, the dark finish of the Alsace is the perfect way to do so. Its riveted iron details encase the chestnut blades and integrated light source, and it has a reclaimed wood finish. It will keep you fresh when the temperatures soar and warm when it gets cold. It also assists in saving on energy costs all year long. This ceiling fan and light combo come with a remote control that is designed to turn off the fan and light separately. There is also the option of getting a pole that will ensure the fan can hang at the desired height.
The middle light adds just the right amount of lighting. On the smaller side, this fan is better suited to smaller spaces that don't demand a considerable amount of air circulation. With the look and feel of reclaimed wood being hotter than ever in the world of home décor, the Alsace ceiling fan is well suited to the current trends in home design. Available at Houzz.com.
Windemere 2-Light Ceiling Fan
The ultra-sleek, contemporary design of this fan looks spectacular, and it fits into just about any décor because its clean lines are not overly modern. It also works wonderfully to cool the space in which it is placed. There are two color options as the blades are reversible to show burnished mahogany on one side and burnished walnut on the other. The motor has a brushed nickel finish, which adds to the visual impact; however, the lighting is less than desirable, and other light sources could be needed for the space to be adequately lit.
The Windemere 2-light ceiling fan has a brushed nickel finish that is ideally suited for sleek and modern spaces. The ceiling fan's design of clean lines and angular blades make it the perfect compliment in rooms with a minimalist modern flair. This fan runs smoothly and virtually with no sound. It circulates air perfectly throughout an ample space with ease. Available at Houzz.com.
Winton Aged Bronze and Weathered Pine Ceiling Fan with Integrated Light
When it comes to character and rustic charm, the Winton ceiling fan has it all. This ceiling fan has custom weathered pine blades, matching weathered pine accents and an aged bronze finish, which combine to deliver a rustic, elegant look and feel. It adds the right amount of rustic to space, without making it feel overdone or trendy. The fan is classic and bold yet unique and understated; it is a statement piece. Its integrated light kit gives off a lot of light via the three included 60-watt candelabra bulbs and also includes remote and wall control. Also, there is a 6-speed reversible DC motor that powers the fan, making it energy efficient. There are also multiple fan speed options. Available at Houzz.com.
Minka Ceiling Fan with Remote Control
This ceiling fan with lights is gorgeous and functions amazingly. The wood blades and overall quality of the fan are highly impressive. It will completely update and provide a chic look and feel to space. Regarding looks, this fan is ideal for an area with an open cottagey feel or one with a calming neutral vibe.
It comes with remote control, offers three speeds and operates very quietly. The fan reverses for heat; however, the reverse function is not on the remote control. It has to be manually changed by using the switch on the body of the fan; this allows it to go from clockwise to counterclockwise and vice versa. It should be noted that installation can be challenging. Some users have reported a slight flicker in the light and difficulty using the dimmer function on the remote. Available at Houzz.com.
Feiss Discus Ceiling Fan
The Feiss Discus ceiling fan features a brushed nickel and matte opal finish. It has clean lines, decent build quality and it is quiet, great-looking and easy to install. There are materials included in the package that allows the fan to be flush mounted on the ceiling for a more seamless look. The fan is a simple fixture that blends in well with various décor. It is also powerful, yet it runs pretty quietly, and the light works remarkably. This is the perfect ceiling fan with lights to update a bedroom or to hang in the game room above the pool table. Unfortunately, it only has a manual reverse switch and a 3-speed pull chain. While it would be nice to have a few lighting options, such as a dimmer feature, the light does give off a soft diffused light that is pleasant in a space. Available at Houzz.com.
Ellington Cavalier 52-inch Ceiling Fan
This fan is extremely elegant and unique. It has a vibrant aged-bronze finish with a delicate glass globe shade for the lights and a traditional design. The cut glass bowl is highlighted when the light is on, but this has had mixed reviews from various owners. Some have found it to be "a gorgeous, subtly-patterned cast of light;" however, others think it "gives a disco or underwater effect, making it a poor source of lighting." There are also a wall mount and a remote control that serve as nice bonuses.
The fan is elegant and runs quietly and efficiently. The dark finish is almost black, making it the perfect focal point to anchor the eye in space. While some do not enjoy the patterns, it casts on the surrounding walls at night; others find it soothing and unique. The fan works well and can be assembled and installed in about an hour by a skilled professional. Available at Houzz.com.
Modern Fandelier with Retractable Blades and LED Lights
The retracting, switchblade blades are very cool, and it definitely makes for a great conversation piece. It has a really cool modern vibe; however, it fits in well with a range of design styles. There is a remote control that allows for even more convenience. This is a solid product, which makes it quite heavy so going with a pro to install it could be the best choice. The model is best for small to medium rooms that measure up to 12 x 14 feet. Available at Amazon.com.
Crystal Led Ceiling Fan
This fandelier is ideal for a great room and can be the perfect solution for space where you do not want the fan to be the focal point but might need one to use occasionally. It has the look of a beautiful pendant light and works wonderfully with many décors. The lights are crystal clear and beautifully bright. It can also be a showstopper in the bedroom, especially since it is hushed and will not disturb your sleep. However, the light on the ceiling fan cannot be dimmed. The height of the fan can be customized with one of the two sizes of rods included. Available at Houzz.com.
Alloy Reversible Ceiling Fan
The Alloy reversible 3-blade ceiling fan features a unique gun-metal finish and an opal frosted-glass fixture. This ceiling fan is sleek and modern. At 42″ and with three blades, it is better suited for smaller spaces approximately 12 x 12 feet in size. The fan has three speeds and comes with a reversible switch to adjust to varying air circulation needs. This fan can be used with dimmer or remote control, but it does not come with one and would have to be purchased separately. The Alloy fan runs quietly and is ideal for someone wanting a modern, understated look. Available at Houzz.com.
Westinghouse Alloy 42-inch Gun Metal Ceiling Fan
With its smart, simplistic style and luminous gunmetal finish, this fan has distinguishing characteristics that are eye-catching. It has an opal frosted glass fixture that delivers stunning illumination. The black and graphite reversible blades make it almost effortless to match styles ranging from modern to traditional.
The fan can be used to transform any space in your home with a sleek, modern style and you will be able to enjoy comfort year round. Its high-quality motor delivers perfect air flow while accentuating the space with its clean lines and minimalist design. The fan is ideal for rooms up to 12 by 12 feet. It does not come with a remote or wall control but is compatible with them if bought separately. Available at Amazon.com.
Westinghouse Quince 24-inch Gun Metal Ceiling Fan
This Westinghouse Quince ceiling fan is unique in its design. With six complementary blades in graphite and black finish and its smooth gunmetal finish, this ceiling fan offers bold, contemporary aesthetics. The light integrated into the fixture provides bright illumination (it gives enough light to be the primary light source in the space) and seamlessly blends in with the design. It has a reversible switch and top-quality motor to assist in keeping you comfortable in cold or warm weather.
The fan is perfect for rooms as big as ten by 10 feet like a child's bedroom, walk-in closet, laundry room, small office or hallway. It includes an energy-efficient motor, performs superbly and has the backing of a lifetime motor warranty. The Westinghouse brand is a trusted one, known to produce products of superior quality and craftsmanship, and the Quince 24″ gunmetal ceiling fan is no exception. Available at Amazon.com.
Hamlett Ceiling Fan
This 3-light, a 5-blade fan will inject style and breezy flair into your favorite space. It has a metallic finish that adds sparkling style to any room, while its bowl-shaped shade blends into formal or casual areas effortlessly. The traditional influence of this piece can be highlighted by incorporating it into a dining room arrangement. This will work well and be cohesive with a pedestal-base table and upholstered chairs. Nearby walls can be dotted with plank-inspired décor and landscape canvas prints for an eye-catching display. You can tie the room together by rolling out a Persian rug.
It features a flush-mount install and is turned on and off via a pull chain. Without a remote or wall mount, this ceiling fan is not the most convenient to operate or switch speeds. It has a three-speed motor with a reverse direction feature. At 52″, it is large enough for use in a large-scale space and will bring with it a touch of sophisticated style and soft elegance. Available at Wayfair.com.
Desouza 5-Blade Ceiling Fan
This ceiling fan with lights will effortlessly cool down any space in which it is placed, and it is ideal for spaces like the den, the kitchen and other large communal areas around the home. It works well in medium rooms that are up to 12 x 14 feet and large rooms as big as 18 x 20 feet. The Desouza has a powerful motor that runs quietly while delivering efficiency and air circulation. The white finish lends it an airy feel perfect for a cottage or lake house décor. Available at Wayfair.com.
Embrace 3-Blade Ceiling Fan
This ceiling fan allows you to embrace pure brilliance and stunning welcome style into your living space. It is everything your space needs and even more. It is understated, yet enchanting, and the look of this 3-blade ceiling fan will complement the finishing touches of just about any space around the home. The package includes a light kit, a blade set, and a cap that make it possible to using the fan without the light. It has an opal glass diffuser, an aluminum body, and adjustable fan speed as well as a dimmer.
The sleek and modern design of the ceiling mount will make it a conversation piece and will fit perfectly into a modern space with clean lines. The Embrace is suited for room sizes up to 8 x 10 feet. The fan and light can work independently to your preference. The fan runs silently, efficiently, and smoothly. The Embrace ceiling fan will add a modern flair to any space. Available at Wayfair.com.
Watson 5-Blade Ceiling Fan
This 34-inch ceiling fan is small in stature but packs a massive punch as it silently circulates the air. It has a frosted glass shade, petal steel frame, hole patterns, and laminated wood blades. It is ideal for spaces like a small bedroom, walk-in closet, bathroom, and laundry room. The fan provides a higher end look as it is made of top-quality materials. It is relatively easy to assemble. The petal patterns on the ceiling mount give it a touch of whimsy and character that would warm up any space. Its three speeds are operated via a pull chain, and it is easily installed with or without the light kit.
The Watson does not come with a remote, nor is it compatible for use with one if bought separately. This ceiling fan is as unique and lovely to look at it is functional. For those wanting to add a dash of warm character to space, the Watson ceiling fan would make the perfect addition in its union of form and function. Available at Wayfair.com.
Hatherton 5-Blade Ceiling Fan
This fan moves the air so well that you might be able to feel a breeze in an adjoining space. You could even find that the speed has to be reduced in the kitchen, so it does not affect the cooking process. Though the three lights on the fan look small, they do a great job in illuminating the space. The clearly-labeled plastic pieces at the end of the chains have icons that show whether the fan or the light is operated by a particular string. This great attention to detail makes the fixture easy to work. It features a black oak and dark walnut finish, so this fan is the perfect choice as the focal point of a space. Its dark finish adds a touch of old-world charm and helps anchor the eye. It is available in three finishes: bronze, brushed nickel, and snow white.
You can purchase a wall mount and remote separately for this fan. While this fan is ideal for large spaces and has a smooth-running motor, users have reported that it runs on the noisy side. The Hatherton has a unique design, and with the three finish choices, homeowners have the option of choosing the finish that best suites their décor. Available at Wayfair.com.
Highpointe 3-Blade Ceiling Fan
This fan looks unique and fits in well with modern/rustic and other design styles. What the wood tone of the blades makes is easy to create a transitional theme. Also, it operates silently and provides remarkable air flow. The package includes three custom blades, removable decorative cables, integrated light fixture, a 6-inch, and 12-inch down rods, removable no-light plate and 4-speed remote control with a small wall mounted hanger for more convenience. It is relatively easy to assemble, and it looks and feels substantial.
This fan is powerful, efficient, and runs quietly. The Highpointe lends a modern industrial vibe to space while easily adjustable to adapt to changing weather demands. The variety of finishes makes it the perfect choice for homeowners who like the design but want to select a finish that best compliments their style. Available at Allmodern.com.
Wilburton 3-Blade Outdoor Ceiling Fan
This fan will keep your home well-lit, fresh and in charming style. It showcases a caged-fan design, a metallic gray finish, an LED light, and chestnut-toned blades. This sleek, stylish fixture is inspired by the natural charm of the cottage home style. It can be hung in the living space to cast a warm glow over every function, ranging from sophisticated cocktail parties to cozy family movie nights. If you would like to emphasize its country-chic style, you can design the space with a brown slatted-wood coffee table, a light blue linen sofa and a natural jute area rug.
You can change the speeds of the fan easily with a handy remote, and you can flush mount the fan with ease. The Wilburton ceiling fan is known to be one of the unique looking with its modern caged design and vintage-looking light feature. Available at Allmodern.com.
Key Biscayne 5-Blade Ceiling Fan
This outdoor ceiling fan has a global appeal and is damp rated. It is built to endure moisture in sunrooms or covered porches, and its compact body enables the wicker-patterned blades to beautifully showcase the fantastic design. This 5-blade outdoor fan will keep your home well ventilated and looking and feeling cool. Its stainless steel hardware is designed to be resistant against rust. The motor delivers a compelling air movement, and its performance is hushed. It essentially gives the cooling power you need without the irritating noise.
The Biscayne does come with a light kit, but it doesn't come with a remote or wall mount; it has to be operated and speed adjustments made with a pull cord. For a touch of al fresco elegance, adding the Biscayne ceiling fan to your outdoor space will not disappoint. Available at Allmodern.com.
Back to Top
Best Modern Ceiling Fans
If you care about your home decor and how your new ceiling fan will fit in, you have to take into account its decor value. And while function and features are essential in such an accessory as a fan, these modern ceiling fans will do well in almost any style of home decor.
Rhodes Folding Blades Modern Ceiling Fan
If you are looking for a modern ceiling fan that will complete your home decor while being functional the Rhodes folding blades ceiling fan may be the ideal choice. Featuring a sleek design and brushed nickel finish the fan is quite appealing to the eye. It is designed using stainless steel making it quite durable. Three remote-control speed settings allow you to switch from one level to the next with utmost ease. Integrated LED lights not only offer illumination during the night but also add to its welcoming ambiance. When turned off the blades are drawn back making it less obtrusive. Available at Houzz.com.
Soleen Lyn Modern Ceiling Fan
This indoor fan is designed using aluminum metal making it one of the most durable in the market today. It has large diameter blades that not only increase its beauty but also ensure that fresh air is distributed evenly throughout the room. The fan can be fitted in various places including the office or living room space. It features energy DC motors that ensure you never have to pay too much when it comes to energy bills. The fan is available for $629 at Houzz.com.
Lapa Modern Ceiling Fan
This fan is streamlined and thin making it quite efficient when switched on. Its design works by reducing noise while distributing cool air throughout the room. The fan's blades are available in various colors including bright nickel, white and maple meaning you can choose something that will easily blend with the color theme of your room or office. A slide wall control makes it possible for you to set the speed or turn off the fan in a natural way. It is available for $364 making it one of the most affordable modern fans in the market at  Houzz.com.
3 Light Palladium Triple Ceiling Fan
If you are looking for something that will work seamlessly in the winter and summer the 3 Light Palladium triple ceiling fan may be the ideal choice. Five reversible blades ensure that you can get cooling air circulation during the summer while the reverse setting makes it possible for you to get warm air circulation. A 3-speed pull chain control allows you to set the speed of the fan to an appropriate level depending on the circumstances. The fan comes with a 3-light frosted glass kit and a cap meaning you can either install the fan with lights. Available at Houzz.com.
Craftmade Montreal Modern Ceiling Fan
This fan is one of the most uniquely designed with its blades being sleek enough to be unobtrusive. The fan's stainless steel design ensures that it remains in good shape regardless of the frequency of use. It features one light bulb that offers a 50 watts illumination when turned on. However, most people prefer bulbs with higher wattage levels which is probably one of the downsides to this product. You can have full control of the fan's functionality by a click of a button on a remote control. Available at Houzz.com.
Fanimation Zonix Fan
This fan has three blades that are designed elegantly to complement the interior decor of any room the product is fitted in. With a reversible control setting, you can be able to switch from warm air to cool air depending on the time of year. The product is designed with energy saving motors to ensure that you do not incur inflated electricity bills. A 4-speed wall control feature allows you to change from low, medium to high speed at the click of a button. This product is available for $349.98 at Houzz.com.
Altus Fan
This product is designed using aluminum materials making it quite sturdy and durable regardless of the frequency of use. Its brushed aluminum finish makes it stand out as one of the most beautiful in this product category. It can be mounted in any indoor room or covered patio. It features three sleek blades capable of distributing clean air throughout the room. The fan has a four-speed fan wall control making it possible for you to set a variety of speeds depending on the current needs. It also features a low profile light option that can be used to provide illumination during the night. Available at Houzz.com.
Monte Carlo Fan
This particular product is built using steel which is why it is likely to remain in good shape for an extended period. It is designed in such a way that its blades can fold down making it less obtrusive. Two light levels allow you to control the kind of illumination you want. Its brushed steel finish gives it extra beauty. The fan comes with a remote control unit which will enable you to control speed levels and light direction independently. Its precision balanced motor and blades not only save energy but also ensure that the fan does not wobble during movement. Available at Amazon.com.
Parrot Uncle Modern Ceiling Fan
This is a combination of a ceiling fan and chandelier which is what gives it an edge over other products in the category. It is made up of different materials including iron, crystal, and fabric. All materials are high quality to ensure durability regardless of the number of times it is used. Four retractable blades allow you to get the even distribution of air throughout the room. The blades automatically protrude when the fan is turned on. The fan's speed and light can be controlled separately using a single remote control. Available at Amazon.com.
Casa Metro LED Brushed Nickel Modern Ceiling Fan
This fan is built using steel which makes it quite durable. It has three tapered silver finish blades that give it a sleek look and add to the beauty of the interior decor. An energy efficient LED light provides ample illumination during dark times without necessarily inflating your energy bills. The fan offers three speeds making it possible for you to choose a level that is appropriate for every season. All settings can be adjusted by the use of a hand-held remote control. While on a low setting it hardly makes a sound. However, when put on the higher setting you can hear the sound of air circulating. Available at Amazon.com.
Hunter Dempsey Ceiling Fan
This fan features a metallic structure with glass parts making it both durable and appealing to the sight. It has fully-dimmable LED lights that allow you to control the level of illumination within the room. WhisperWinder motor technology ensures that the fan performs exceptionally without emitting any noises. Its reversible motor makes it possible for users to switch from downdraft mode in the summer to updraft mode in the winter. It is available at a rate of $149 making it one of the most affordable in its category. Available at Amazon.com.
Innovation Brushed Nickel Ceiling Fan
This product features a metallic design with two silver finish molded ABS blades that offer a decent amount of airflow within the room. It has a 17 watt dimmable LED module that provides ample illumination for the room while adding to the ambiance of the interior. Light remote control makes it possible for users to adjust settings without having to leave the comfort of their seats. This product is designed with energy saving features that ensure your electricity bill does not get out of hand. Available at Amazon.com.
Minka Aire Wave 3 Blade Modern Ceiling Fan
This particular product is designed using high quality distressed koa blades to guarantee that it lasts long regardless of the frequency of use. It requires a down rod to install but can work on sloped ceilings too. The fan is available in brown color and features multiple speed levels. It comes with a handheld remote control that allows users to adjust settings as they deem fit. If you are looking for a product that goes for $229.95, this may be the ideal fan to pick. Available at Wayfair.com.
Zipcode Design Dennis 3 Blade Ceiling Fan
This fan features three 48-inch blades that offer exceptional airflow within enclosed spaces. Its sleek design makes it both beautiful and ergonomic which means you will hardly hear any noises emanating from it. A LED light situated at the center of the fan allows users to illuminate the room while saving energy. This fan's settings can easily be adjusted from the comfort of the seat using a remote control. Available at Wayfair.com.
Latitude Run Modern Cedarton Haggar Celing Fan
This product is available in a variety of colors including white, silver, and black. This means you have the option of choosing a color that will match your interior theme. It features five reversible blades enabling users to get warm air circulation during the winter and cooling air circulation during the summer season. The blades are slim in design while the motor is balanced with utmost precision to avoid wobbly movements and annoying noise emissions while on high speed. Its LED downlight is fully-dimmable meaning you can adjust brightness as you deem fit. The fan comes with a lightweight handheld remote control that allows you to change settings to desirable levels. It is designed to meet modern energy saving standards which is another reason why it ranks highly. Available at Wayfair.com.
Mercury Row 42″ Corsa 3-Blade Ceiling Fan
This product features three blades with a smooth finish that make it look elegant. Its silicon steel motor fitted with a dual capacitor allows this unit to remain functional for a long time without producing any annoying noises. The 42-inch blades ensure that air is evenly distributed throughout the room. A reversible switch makes it possible for this fan to remain useful both in the summer and winter seasons. It features three fan speeds which are low, medium and high. Its settings can be adjusted by the use of a lightweight remote control. Available at Wayfair.com.
Fanimation Spitfire 3-Blade Fan
This is a unique product because it is not fitted with blades during a sale. This means you have the freedom to choose from a variety of blades including those that are designed using steel or wood. Its reversible motor makes it possible for users to alter the fan from downdraft to updraft depending on the seasons of the year. The product can be used in both damp and dry areas. It features three-speed settings that can be adjusted using a handheld remote control. Available at Wayfair.com.
Wade Logan Oakmont Ceiling Fan
This fan features four blades that are made from manufactured wood. Its sleek design and dark wood finish give it a striking appearance that will boost the decor of the room in which it is fitted. It has a reversible feature that allows users to switch from warm to cool air circulation depending on the time of year. It is built to use up energy efficiently and cause no carbon footprint which is why it has earned a place on the list of the most popular fans in the market today. Available at Allmodern.com.
Clarity II Ceiling Fan
This fan features three blades which may be available in four finish combinations making it ideal for any interior decor. It has a reversible motor allowing users to enjoy comfortable conditions regardless of the prevailing weather. Its precision balanced motor ensures that it does not wobble even when on the highest speed level. This fan also has a LED downlight that is fully-dimmable meaning you can adjust its brightness to the point that is desirable. You can conveniently change its settings using a remote control. Available at Allmodern.com.
Fanimation Beckwith Ceiling Fan
This enclosed fan features a white frosted glass bowl that is enclosed in a well-designed metal frame. It has five blades that distribute cool air evenly throughout the room. Its reversible motor allows users to switch from downdraft to updraft depending on the season of the year. It comes with dimmable lights making it an ideal addition for individuals that want illumination in their rooms without necessarily installing too much hardware. You can adjust the fan's three-speed settings conveniently by the use of a remote control. Available at Allmodern.com.
Back to Top
Best Outdoor Ceiling Fans
We do realize that a ceiling fan is not only for indoors and you may want to keep your patio cool as well. That's why this next list is of the best outdoor ceiling fans. Look for the right fan here if you're looking for this type of a fan.
Minka Aire Rainman Indoor/Outdoor Fan
With silver finish galvanized blades and the caged halogen light that uses acid etched glass for the cover, this fan has a cool industry look and will work as an accent to any space where it is installed. The product is fit for both indoor and outdoor use, although it will be in your best interest that you don't choose this expensive piece for wet locations (Use UL listed fans for that purpose.). The design will also sit nicely with farmhouse outdoor settings. The fan can be set to multiple speeds and features such as the light dimmer and the wall control allow extra convenience to users. Available at Houzz.com.
Minka Aire Slipstream Remote Control Outdoor Ceiling Fan
The simple and elegant look of this Minka Aire indoor/outdoor model is a winner in itself and would fit seamlessly with pretty much all different decors, indoor or outdoor. The fan comes with eight concave large diameter blades which ensure that the air is circulated evenly across a large area. The reversible blades also make the model ideal for use both in summer and the winter months. The DFL light attached to the fan is of a low voltage and is non-dimmable, and we think that goes nicely with the overall aesthetics of the model since the lamp is meant for atmospheric light and you can always install extra light fixtures if you want a brightly lit space. The model is also available in four different color finishes: Oil Rubbed Bronze, Flat White, Distressed Koa and Brushed Nickel Wet. Available at Houzz.com.
Westinghouse Great Falls Outdoor Ceiling Fan
The dark walnut resin blades of this outdoor model give it an unmistakable rustic charm, and you will love mounting it on your outdoor gazebo or pergola. The fact that the model is declared suitable for wet locations means that you can even install it on an outdoor setting which does not have a covered roof. What is more, the sturdy wooden blades of the fan not only add to the overall rustic design of the model but also ensure high durability. To boot, we love the orange glass covered caged LED light fixture attached to the fan. Available at Houzz.com.
Westinghouse Brentford Reversible Outdoor Fan
This one again is both stylish and comes with sophisticated functional features. Just like the last featured model on our list, the rustic design of this model will be particularly appealing to the buyers. The blades are of a dark cherry finish with shaded edges, and this wonderfully contrasts with and complements the overall aged walnut finish of the rest of the model. The product works just as well regarding functionality. The reversible blades are welcome, but special mention must be made of the superior quality three capacitor motor of the fan which ensures quite but powerful circulation of air. The motor comes with a lifetime warranty as well. You can also use it with a remote control which however is sold separately and does not come as part of the package. Available at Houzz.com.
Bahama Outdoor Ceiling Fan
If you are looking to add some tropical flavor to your outdoor or already own a tropical flavored garden/outdoor area, this beach style model with its five palm-frond shaped blades would be ideal for you. The fan comes in two different color varieties: the more pronounced Roman Bronze blades in American Walnut and the other in all white. The fan is also UL listed which means you can use it for wet locations as well. Also, the 3-speed motor ensures superior functionality and quiet but powerful spinning. Keep it in mind though that although the walnut finish blades have a wooden look, they are not wood blades. Available at Houzz.com.
Clarity Max Outdoor Fan
This sleekly designed fan is one of the few outdoor models which can be flush mounted on your ceiling. This means there is no rod attached to the body which makes it ideal for outdoor fixtures with low ceilings. The integrated flush LED light adds to the industrial vibe of the model. The blades are slightly concave with the tip of the blades pointing down towards the floor. The model is available in five different color finishes – Roman Bronze, American Walnut and Rubberized White among them. However, the Chrome Rubberized White finish happens to be the most popular since it fits most suitably with the design of the model. Available at Houzz.com.
Martinique Outdoor/Indoor Ceiling Fan
This is another tropical design ceiling fan built especially with outdoor use in mind, though it can be used indoor as well. The fan comes with five leaf-shaped blades with oil rubbed bronze finish. The pull chain lets you switch between different speed settings. The model doesn't come with an integrated light fixture. However, you can add a fixture of your choice as the motor is light kit adaptable. The reversible motor of the fan also lets you save energy and helps keep down your utility costs. Use it in the porch areas, sunrooms and even in wet locations since the model is UL listed and dampness won't be an issue. Available at Houzz.com.
Fanimation Enigma Outdoor Ceiling Fan
The price tag of this model may cause to form a frown or two on your forehead, but rest assured that you get what you pay for when you invest in this sleek, uniquely-designed, one blade outdoor ceiling fan model. The fan comes in a metro gray chrome finish and would seamlessly fit in with all contemporary/new age decors. Apart from the bold and beautiful design of the model, the powerful motor ensures there is little to no noise when the fan is working. The model comes with remote control, is UL listed and is fit for both indoor and outdoor use. Available at LBCLighting.com.
Fanimation Torto Ceiling Fan
Just like the previous model listed here, the Torto again is a sure winner if you are looking for a contemporary design fan which will also act as the centerpiece of the area you mount it at. As you will expect from a high-end model such as this one, you get all the desirable features such as remote control, reversible blades as well as reversible motor, an integrated flush light fixture with frosted glass cover, damp rated, etc. More relevantly, though, the model uses new age motor technology which makes the blades push the air at an angle and not straight down as with standard ceiling fans. And this feature results in a stronger and a more evenly distributed airflow pattern. Available at LBCLighting.com.
Edgewood Wet Rated Outdoor Ceiling Fan
If you prefer the more traditional designs, consider this beautiful five-blade model. This is an Energy Star rated model which helps you save some decent bucks on your electricity bill. The model is also wet rated and suitable for both indoor and outdoor use. The pull chain adds to the traditional look of the model and of course, allows you to switch between three different speed settings. You also have the option to choose from some different blades and body finish—the all white, the all black and the dark cherry blades with oil rubbed bronze/aged bronze body. Available at LBCLighting.com.
Fanimation Kaya Ceiling Fan
Another superbly functional model with a traditional and somewhat rustic look. Quietly elegant, the model will nicely fit in with pretty much every décor without drawing any particular attention to itself. So, if you're NOT looking for your outdoor fan to act as an accent piece for the setting, this model would be ideal for you. The model comes in a rust finish with cherry bronze blades. We also love the opal frosted glass light fixture attached to the model. Available at LBCLighting.com.
Monte Carlo Micro Ceiling Fan
This compact, art deco style Monte Carlo model would be ideal for placing in smaller, small outdoor settings. This, however, does not mean that you cannot mount it in a larger area. The powerful triple capacitor, reversible motor ensures uniform and robust airflow across larger spaces as well. The small rod makes it look almost like the flush mount. The model is fit for use in wet locations as well. Many users who have installed the model at their master bathroom report that they haven't faced any issues with rust at all. The model does not come with an integrated light, but it is light kit compatible, so you can attach one if you want.
Finally, the fan comes in four different colors and finish, and all of them have a different feel and flavor attached to them. The polished nickel, for example, would fit in with a more transitional style décor while the white and roman bronze finish come with traditional looks. This gives you the option to choose a model that will be most suitable to your existing décor. To cap it off, this is one of the best compact models you are going to find in this highly affordable price range. Available at Amazon.com.
Hunter Weathered Zinc Outdoor Fan
This Certified Refurbished model is one of the highest rated outdoor fans available in this price range. It comes with an integrated LED light, and the body is of a weathered zinc finish with 5 gray pine reversible blades. Most verified purchasers/users admit that they were a little worried about the product being a refurbished one, but once they started using it, they found all their concerns to be groundless since the model delivers superbly both regarding functionality as well as design. Available at Amazon.com.
Hampton Bay Seaport Outdoor Ceiling Fan
If you are looking for a sturdy and durable model which also comes in an elegant design, you won't get many that can beat this 4-blade attractive white finish model with pull chains and nautical pattern integrated light fixture. Ideal for porch or sunrooms, the model excels on the functional front as well. Users report that the fan is very quiet and they haven't noticed any problems with balance either. Available at Amazon.com.
Kensgrove Espresso Bronze Ceiling Fan
This exterior rated eight 72″ wide blades model is ideal for use in larger outdoor areas. The powerful motor of the model can move a great deal of air. The body is of an Espresso Bronze finish, and the weather-resistant maple colored blades make it especially suitable for outdoor use. The frosted opal glass light kit comes with dimming features that you can access with the handheld remote control that comes as part of the model. Available at Amazon.com.
Turbina Max Outdoor Ceiling Fan
This brushed steel finish outdoor fan with its quiet design will suit many different kinds of decors. The model is equipped with six wide blades and a powerful 3-speed motor, thus making it perfect for use in different types of outdoor settings. The fan is UL/damp listed. However, it will be best not to use it in too humid conditions and climates with saltwater exposure. Available at Amazon.com.
Honeywell Palm Island Outdoor Ceiling Fan
Unlike the previous model listed, this model with its sturdy, rust-proof build can be used in pretty much all weather conditions. With its five palm leaf-shaped blades, the design is bold and beautiful as well. What is more, the model comes with a 4-speed reversible motor which helps save energy and also ensures quite functioning. Overall, at the price you get this model, this one is a pure steal. Available at Amazon.com.
Harbor Twin Breeze Outdoor Fan
This dual ceiling fan is worth its money for its beautiful and innovative design alone. Though both of the attached fans are compact with three small blades attached to each, you would still normally consider it for somewhat spacious outdoor areas. The opal frosted glass light adds to the beauty of the model. The fan delivers just as superbly on the functionality front with its specially designed durable material, advanced quite motor technology and a powerful three-speed reversible motor. Available at Amazon.com.
Fleur de Lys Beaton 5-Blade Outdoor Ceiling Fan
Consider this model for its exquisite design with intricate scrollwork and other details. Ideal for all elegantly designed outdoor area and gardens. The design pretty much speaks for itself, but it will also help you to know that the fan is specially built with outdoor use in mind. The blades and the body are made with premium quality, highly durable and rustproof materials. The blades are all zinc-coated for extra protection. Although generally mounted with a down-rod, the model gives you the option of flush-mounting with its special flush mount kit. Available at Wayfair.com.
Schiller Patio Ceiling Fan
This 5-blade patio ceiling fan is another model that you would like to invest in for its design alone. Quiet and elegant, the design will suit both traditional as well as transitional decors. The light fixture accommodates a candelabra bulb, and the model is equipped with a 14 pole motor. You also get to choose from two different color options: Matte Black and Old World with Walnut Blades. Available at Allmodern.com.
Decor Benefits of Using a Ceiling Fan
There are many benefits of using a ceiling fan as part of a room's decor. It can accentuate a particular style and provide a steady breeze at the same time. A ceiling fan with rich hardwood tones can coordinate with traditional furniture. A modern fan with simply designed blades can work with modern decor. A cottage look is easy to achieve by adding a ceiling fan in white, wicker, or a light wood tone and helps create the charm of a cottage.
Many people use ceiling fans when the redecorating, as they come in so many varieties. Ranch homes with a Western theme can have ceiling fans with a Western look, such as a wagon wheel or a rustic design. A lakeside or ocean cottage can be fitted with a fan with blades resembling boat oars.
A ceiling fan can add interest to a room. It can draw the eyes up to the ceiling, to accentuate wood beams or unique features of the ceiling's architecture. It can also become the focal point, in rooms that might otherwise be dull or lacking in flair. Ceiling fans are relatively inexpensive, compared to other home furnishings, new furniture, or adding design features to a room. A room can feel more cozy and comfortable or look more elegant and sophisticated, just by installing a ceiling fan. It can look good with a smooth ceiling finish or with a textured finish if the right style is chosen.
Other Types of Ceiling Fans
There are two basic types of ceiling fans. Simple fans with only blades, and fans with lights or light fixtures. The fans with lights serve a dual purpose and are designed for rooms that need more diffuse light. In most average sized rooms, lights on the fan can cover the entire room. Fans with lights can be small bulbs with tiny shades or traditional bulbs with glass shades in elegant shapes.
While there are two different types of fans, they also come with 3, 4, or five blades. The more simplistic fans tend to come with fewer blades. Fans with three blades look good in patio rooms, in cottage bedrooms, breakfast nooks, and informal family spaces. 4 or 5 blades tend to have a more elegant style and look best in rooms with the classic or formal decor. Fans with lights also tend to come with more blades.
Pros and Cons of Having a Ceiling Fan
Pros:
Ceiling fans in homes without central air conditioning can help move the air and create a cooling breeze. They are especially useful when windows are open, and a gentle breeze is blowing. However, they can also be helpful in homes with formal cooling systems, to circulate the fresh air. The blades can be reversed in colder weather, to help move warm air from heating systems. In general, they can help reduce home energy costs.
Ceiling fans are relatively easy to install, for anyone who has basic knowledge of electricity and wiring.
There are styles for every room and prices for every budget, which makes ceiling fans desirable in many different situations. Ceiling fans are easy to buy, being available from many different retailers.
Cons:
Ceiling fans may need to be installed by electricians or contractors when buyers don't have any electrical knowledge. This can significantly increase the costs of installation. They can be noisy, even when new and when the parts are properly lubricated. The quietest fans will still produce a low hum.
Ceiling fans can be tedious to clean, especially if they come with several design features, like carved wood blades and ornate glass shades.
In rooms with low or average ceilings, fans can be hazardous to taller people, who will need to duck or walk around the blades to avoid injury.
How Much Should You Spend on a Ceiling Fan?
Ceiling fans can cost as little as $30 or as much as $1,000, depending on the style and how ornate they are. The higher priced models tend to be those in high demand or those with longer blades, designed for larger rooms. However, there are plenty of attractive styles and finishes at economy prices. Buyers who want to change the look of a room or create a breeze don't have to spend a fortune, to find a functional, stylish ceiling fan for a particular place or living area.
The best way to find the right ceiling fans is to determine the budget, then look for and compare different models in that price range, that come with the desired features. It's best to compare similar features, to determine the value and desirability of different models. Ceiling fans of simplistic, simple styles can look just as good as more ornate fans priced higher, in many instances. What a buyer pays for a ceiling fan depends on the look and the reasons for buying a ceiling fan.
The perfect ceiling fan for one person isn't going to be a great fit for another. When looking through the many options for the best ceiling fans out there, it's important to remember that in each situation getting the best fit means having to match a specific fan to where it will be installed. Keep that in mind, and you'll be able to find the perfect fit.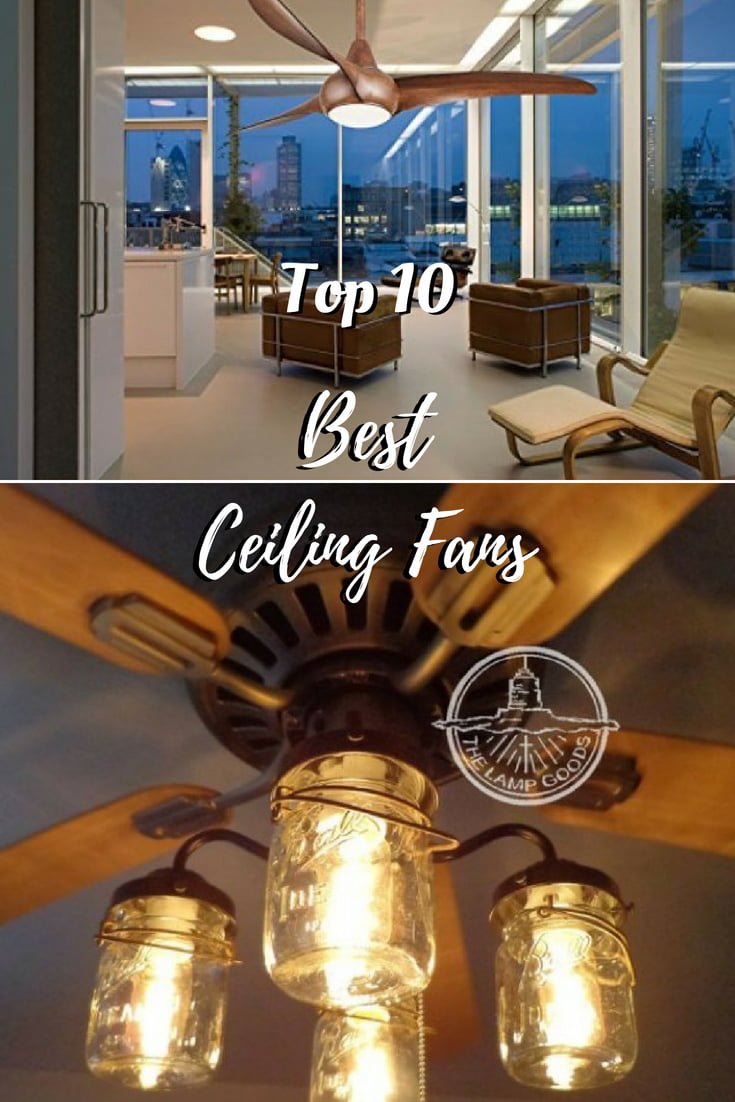 ---
Disclosure: We are a participant in the Amazon Services LLC Associates, Houzz Inc., Etsy Inc. affiliate advertising programs designed to provide a means for us to earn fees by linking to Amazon.com, Houzz.com, Etsy.com and affiliated sites.