Last updated on April 24, 2020
Looking to make a DIY toilet paper holder that's both functional and stylish? Check out these great ideas that will solve your TP storage problem for good.
Yes, a DIY toilet paper holder can be stylish! It's not the most glorious bathroom project, indeed, but you need this decor accent nonetheless. After all, sometimes home decor is all about eliminating the visual eyesores. And what can be worse than an ugly roll holder sticking out of the wall or worse yet, toilet paper rolls lying around in a mess? You're better off giving up the TP completely and installing a bidet attachment then.
If we haven't convinced you to make a DIY toilet paper holder yet, check out the following creative ideas and you will get inspired for it. Check out how to turn shame into fame (of your bathroom decor).
We've made a list of several easy DIY toilet paper holders that actually look good. Which one will you try making for your home first?
What's Inside?
DIY Toilet Paper Storage Ideas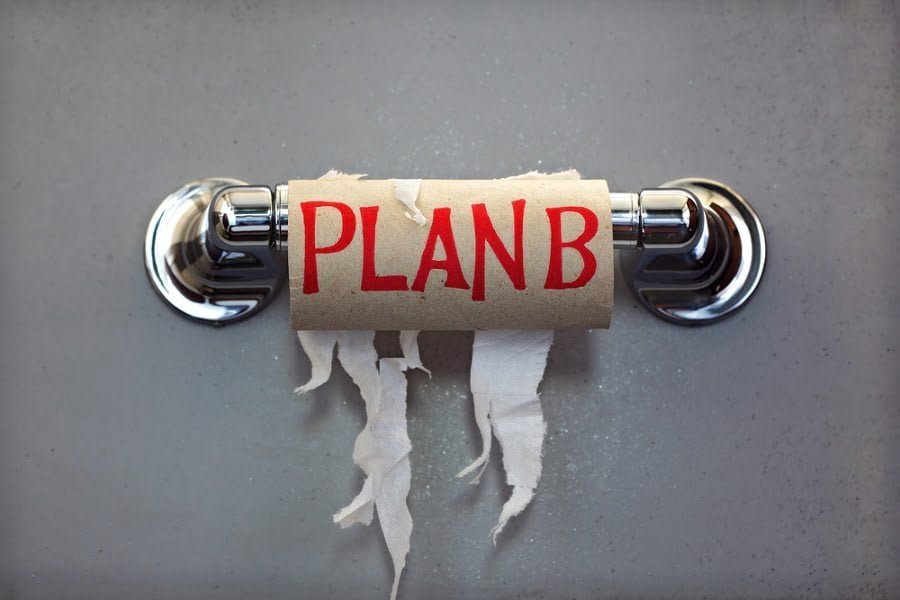 Don't let this happen! Here are all the ways you can store toilet paper in the bathroom:
A wall-mounted roller (your typical toilet paper holder)
A small stand with shelving
A basket
A dedicated cabinet
A recessed in-wall shelf with a roll holder
Toilet tank stand
Hidden compartments
Decorative holders
We are going to cover all of these ideas in practice next.
DIY Toilet Paper Holder Ideas
Now let's get down to business, why we're all here for. Let's make some good looking toiler paper holders without breaking the bank. These are our favorites. Which one is yours?
DIY Toilet Paper Stand
This wooden floor DIY toilet paper holder is a simple box design that carries extra rolls and has a roller of easy toilet paper access on top. This simple idea and design are actually quite attractive. And it's easily made too.
You can use the natural wood look as pictured above, or you can stain the wood for a more rustic appeal. In any case, this simple DIY toilet paper holder will change the way you store toilet paper in the bathroom.
Recessed DIY Toilet Paper Holder
Nothing looks more sophisticated than a built-in in-wall DIY toilet paper holder (yes, we've just used "sophisticated" and toilet paper in one sentence.) You can add a small shelf and a roller in a small wall niche to make it look seamless.
Of course, this project is more involved than most others. You have to cut the wall to install this little unit. But it's very much worth it in the end.
Hanging DIY Toilet Paper Holder
The DIY toilet paper holder that provides storage for extra rolls in tiny a bathroom. The idea is to sew two hanging pockets and attach them to your regular TP holder. It doesn't take much space and actually looks attractive.
The project does require you to have some sewing skills. But the tutorial made it look easy. You can choose the fabric to match your bathroom decor.
Cloud Toilet Paper Holder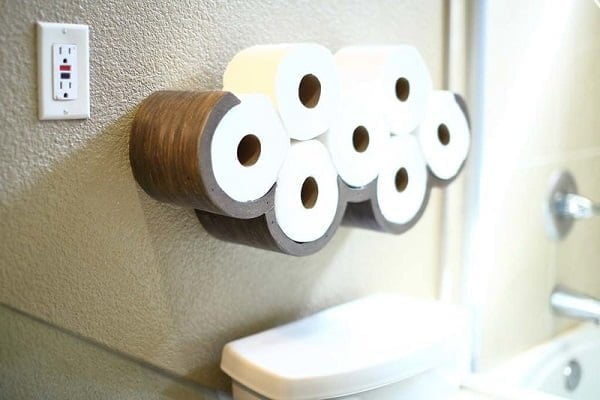 We've been looking for this tutorial high and low. It's one of the most attractive toilet paper storage designs out there. Yes, you can buy one and save yourself the trouble of crafting it (it's quite involved), but that's not the kind of story here. We'll make it if it takes us forever!
So it involves quite a bit of time spent at the drawing board, cutting the wood, and heavy use of power tools. But there are instructions and you can follow them. Love this little cloud above the toilet.
Copper Pipe DIY Toilet Paper Holder
What better way to add decor interest with a toilet paper holder than one that's made from a pipe. It's the copper pipe in this project. The shape comes ideal for such holder from the start, so you don't have to do much but assemble it and mount it. All details are included in the tutorial.
What does it do to your bathroom decor? This homemade accessory works best in modern bathrooms and gives it a splash of copper accent. It works best with other metallic accents (such as a mirror frame and vases, organizers.)
Decorative DIY Toilet Paper Holder
Who says a DIY toilet paper roll holder can't be pretty? You can go out of your way to embellish something as simple as a hanging folder. This is one idea of how to make a decor accent from it.
Simply use colored string and beads to make it. Experiment with different designs by mixing and matching. It's much more fun than it should be.
Rustic DIY Toilet Paper Holder Stand
This rustic style wooded stand holder works as a toilet tank topper. You can finally make use of that dead space for something that looks good and useful. The design only works for tanks with a side handle (not a push button on the top lid.)
You can get the rustic look by choosing the right wood stain and/or paint. We'd also like to note that you may use the natural wood look or paint it white for a modern look if you want one.
Farmhouse Toilet Paper Holder
You can achieve the farmhouse look in many different ways. The main ingredient is rustic style paint. The holder itself can be made of industrial pipe, for example. This combination of a shelf and holder makes the farmhouse design you want.
Experiment with different paints. Try weathered white paint for the shelf and the actual pipe too.
Covered DIY Toilet Paper Holder
This idea works for both, toilet paper and tissue rolls. It's for those who simply hate the look of the white ugly rolls in their beautiful bathroom. In that case, make a covered holder. Choose a cover pattern that is best suited for your decor theme. Add labels for more charm.
DIY Toilet Paper Basket
A toilet paper basket is simply an attractive idea for roll storage. But it's not just any basket. It's designed with a bar handle to hold a paper roll in use. That way this basket can stand by the toilet and serve its both purposes at the same time.
Want one too? The idea is not to actually make this basket (although we're sure you're crafty enough to do it), but rather scour your home or a flea market to find a fitting basket. Add a tube across its handles and you have your toilet paper holder.
Nautical Toilet Paper Holder
The nautical decor theme is very prevalent in bathroom decor. And you don't have to be giving in a beach house for it. Maybe it's the association of the running water and the ocean. It's hard to tell. But if you're going for nautical accents, a toilet paper holder in this theme will work great.
Here's one idea. It's for a small painted box (turquoise), a few seashells to decorate and a bottle in twine "fishnet" to accessorize. It definitely makes the toilet paper look good.
DIY Toilet Paper Holder with Shelf
A little wall-mount shelf with a paper roll hook is the accessory you actually want by the toilet seat. First of all, it draws the eyes away from the roll, and secondly, it's a useful shelf for extra storage.
No, you don't want to store extra rolls on that little shelf. Instead, use it to display little trinkets and other accessories, or even to hold your phone while you're busy doing you know what.
Unique DIY Toilet Paper Holder
A holder can be very unique if you use your creativity. You may even get by with simple cardboard to create one. For example, this project makes a TP holder in the shape of holding hands.
Use your imagination to cut interesting designs from cardboard and bring some little fun to bathroom decor.
Industrial Pipe Toilet Paper Holder
We've already mentioned that pipe works as a great paper roll holder. That was with copper pipe. There's also the industrial pipe for a completely different look. It is visually interesting and imposing.
This particular design comes with an additional shelf where you can hold extra toilet paper rolls or some bathroom accessories. Get the assembly and mounting instructions here.
DIY Toilet Paper Rack
You can make a rack if you combine more than one holder. The industrial pipe is one of the easiest ways to do it. Add two or more holders to your rack for easy storage and access.
This design solves the storage problem in a very functional way. All you have to do is keep adding rolls to your rack. It looks visually interesting and attractive too.
Liked this article? Here's what you can read next: