Last updated on July 20, 2019
Want to make a unique accent DIY backsplash in your kitchen? These 20 easy project ideas with tutorials will help you do that.
So you have a designed kitchen, and it looks all neat and sweet, but it's missing something. You miss something that would make the design complete. And that something might be an accent backsplash. It's such an essential detail in the kitchen that it can easily be considered as the focal point of decor. And yet, many times builder kitchens are stuck with a plain backsplash that works but doesn't add any value to the decor.
You can fix that problem, and you can do it yourself even on a tight budget. It's an excellent project to make a DIY backsplash that will guarantee you a unique kitchen decor look. You have many attractive options, from mosaic tile to using unique materials (such as stainless steel or pallet wood) to whimsical accents (such as plates). Check out these tutorials and find your favorite to do at home. Enjoy!
How to Make a DIY Backsplash
Here are the basic steps to make a DIY backsplash:
Choose the material (usually some type of tile);
Measure the wall for the backsplash;
Prepare the necessary tile (or other material) cutting when necessary;
Apply adhesive;
Add the tile;
Apply finish where necessary.
Choose one of the following tutorials to get detailed instructions of each step.
Easy Stainless Steel Kitchen Backsplash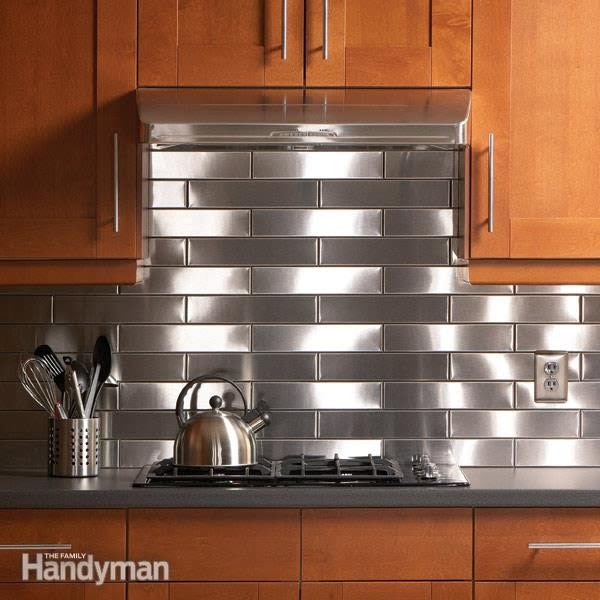 Metallic tiles are unusual as the kitchen backsplash, but stainless steel is practical, and it provides a lot of decor value. It's a very dramatic effect to have this backsplash design, and it's relatively easy to do too. Watch the tutorials on how it's done.
Garden Stone DIY Backsplash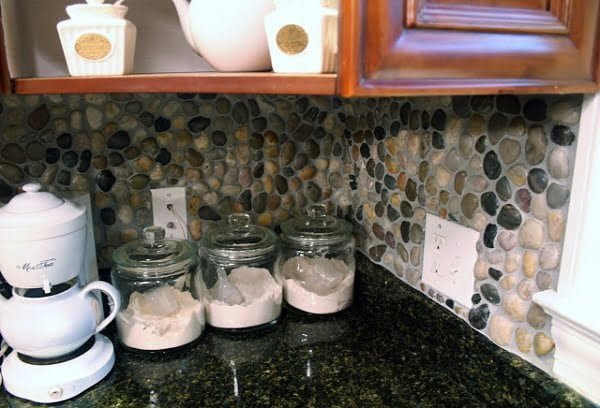 When it comes to unique backsplash ideas, this is one of the best. Garden stones or pebbles are whimsical and provide a lot of decor value. So why not use them in your kitchen backsplash. This tutorial shows how it's a great idea.
Easy Herringbone Beadboard Backsplash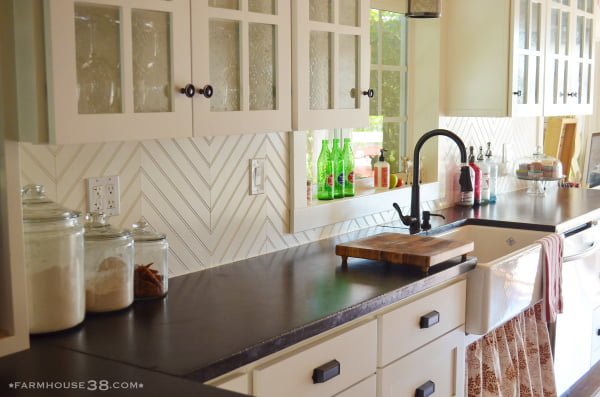 Have you ever seen a lovely herringbone headboard and thought that it would make a beautiful kitchen backsplash too? Well, you're not the only one, and it can be done. Here is a tutorial that will show you how.
DIY Mosaic Tile Kitchen Backsplash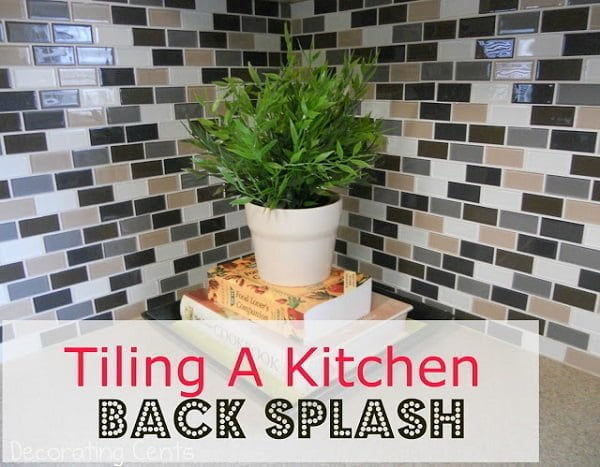 This might be one of the most straightforward backsplash tiling ideas, but it doesn't make it any less significant. Watch how a simple tile mosaic makes a terrific accent kitchen backsplash. There's a tutorial for you to follow too.
Easy Pallet Wood Backsplash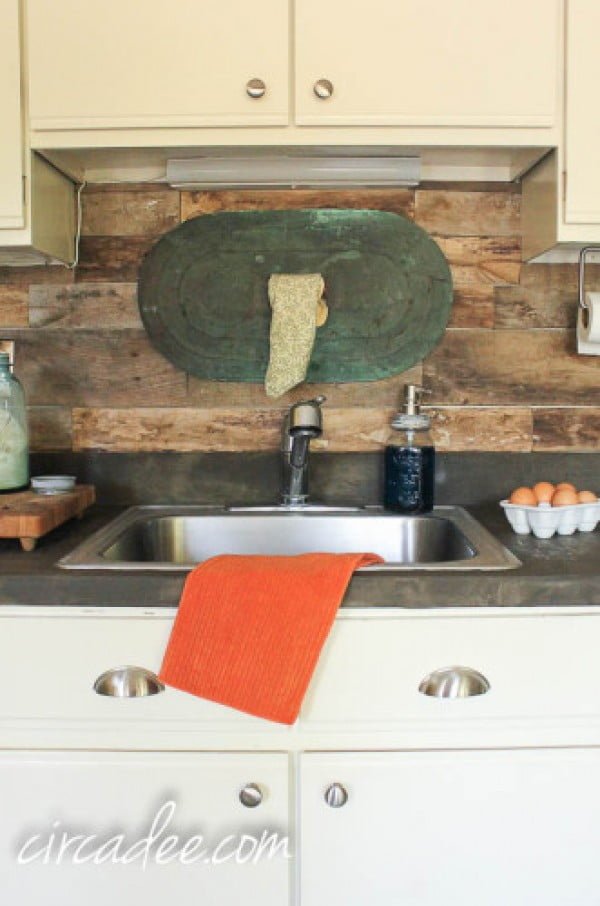 Made from scrubbed reclaimed wood from an old shipping pellet, this DIY backsplash is a masterpiece that is sure to give the kitchen a visual boost. The weathered oak makes a remarkable style statement.
Faux Talavera DIY Backsplash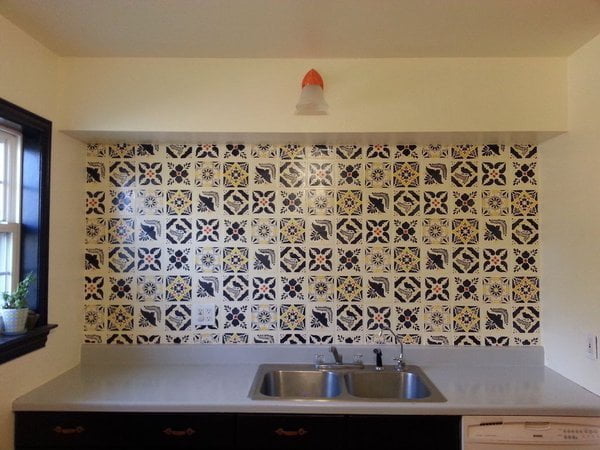 If you like the look of Talavera tile (it's unique), you can get it without even installing the tiles. This design of a backsplash is achieved with a stencil. Check out the tutorial with instructions if you want to do the same in your kitchen.
Mason Jar Mosaic DIY Backsplash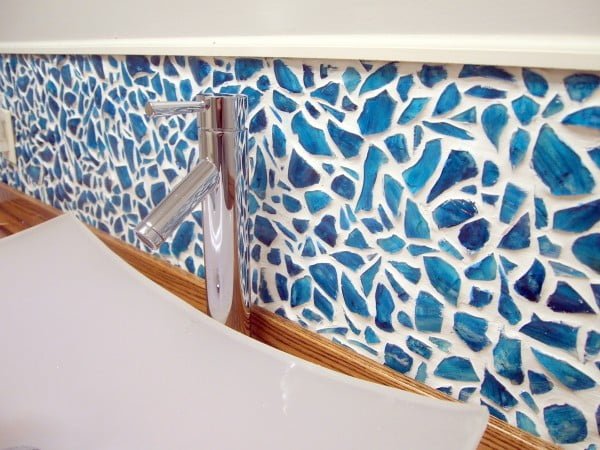 The intricate and beautiful expanse of blue and white backsplash is made out of tinted and broken Mason jars. The pieces are entirely filled in with white polyblend grout.
Airstone Vineer DIY Backsplash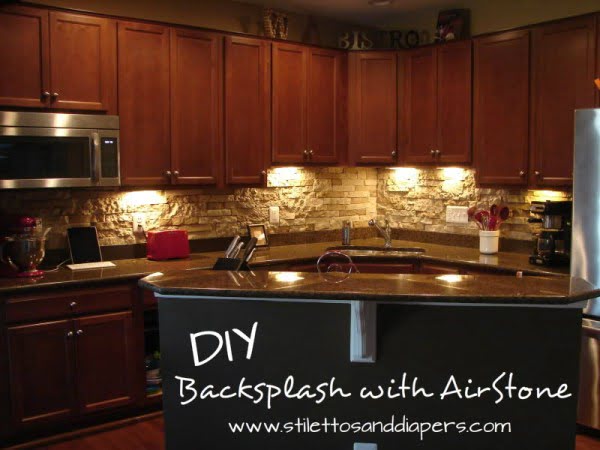 These Airstone veneers can be placed in any pattern you desire to create a backsplash that suits your design preference. They provide the look of stone without the price tag.
Hexagon Tile DIY Backsplash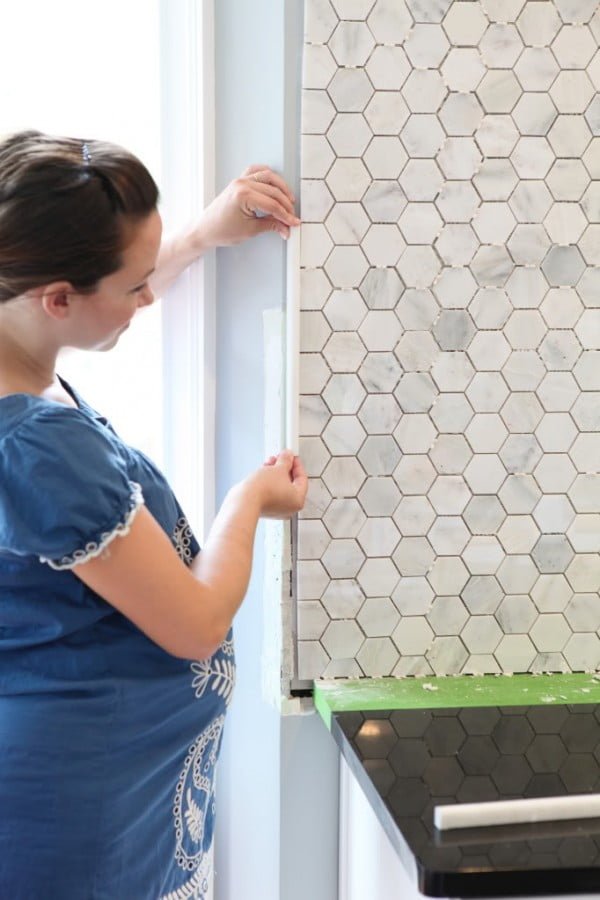 From their shades to how they perfectly complement the rest of the kitchen, everything about these hex tiles combines to make the perfect DIY backsplash.
Easy Decal Tile Backsplash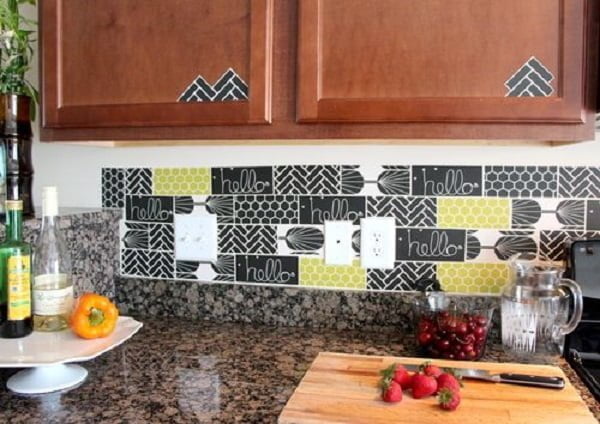 This Spoonflower peel and stick wallpaper is especially ideal for the DIY champion who is currently renting his or her home. It is easy to install and will not damage the wall.
DIY Mosaic Tile Kitchen Backsplash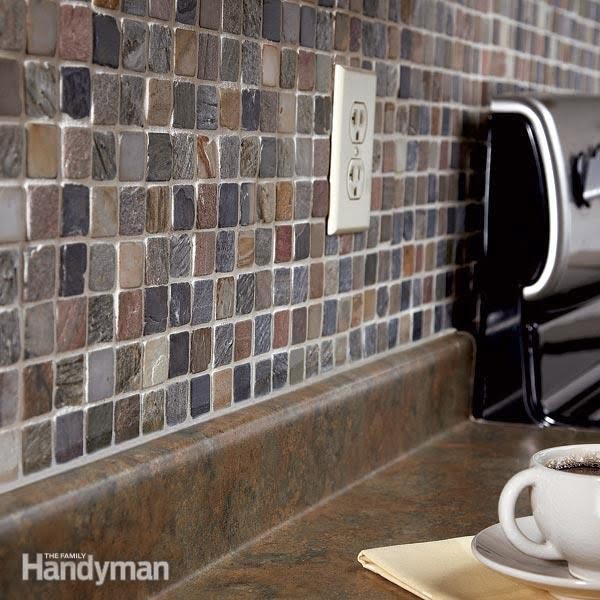 This mosaic backsplash is easy to install. It is a sure way to give your kitchen a functional, budget-friendly boost and a quick infusion of style as well.
Easy Painted Backsplash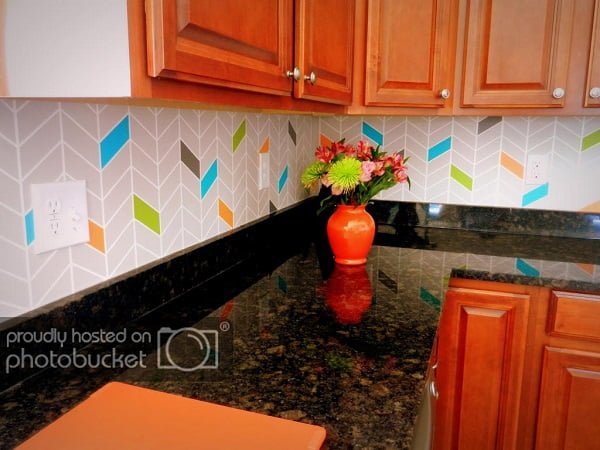 A fresh, economical way to update your kitchen is by opting to do a painted backsplash. With the help of some frog tapes and a few other supplies, you can create this masterpiece.
Plate Wall DIY Backsplash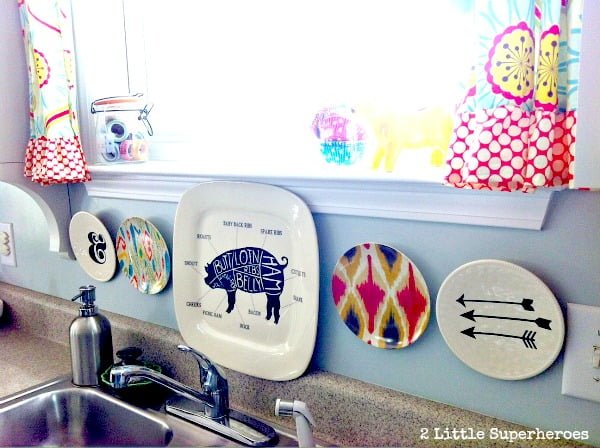 An impressive, inexpensive and super funky technique you can use to add interest to your kitchen is to place low-cost, interesting plastic plates on your backsplash strategically.
Old CD Mosaic DIY Backsplash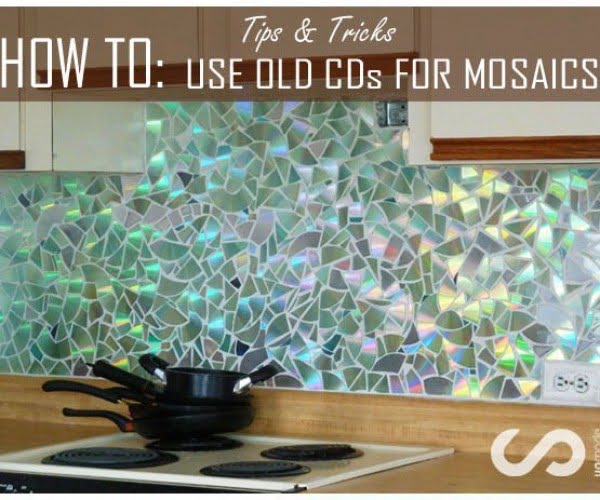 The perfect use for all those old, unwanted compact discs is to cut them into patterns and repurpose them into a stunning DIY backsplash. You will be astounded by their spectacular beauty.
Easy Pressed Tin Kitchen Backsplash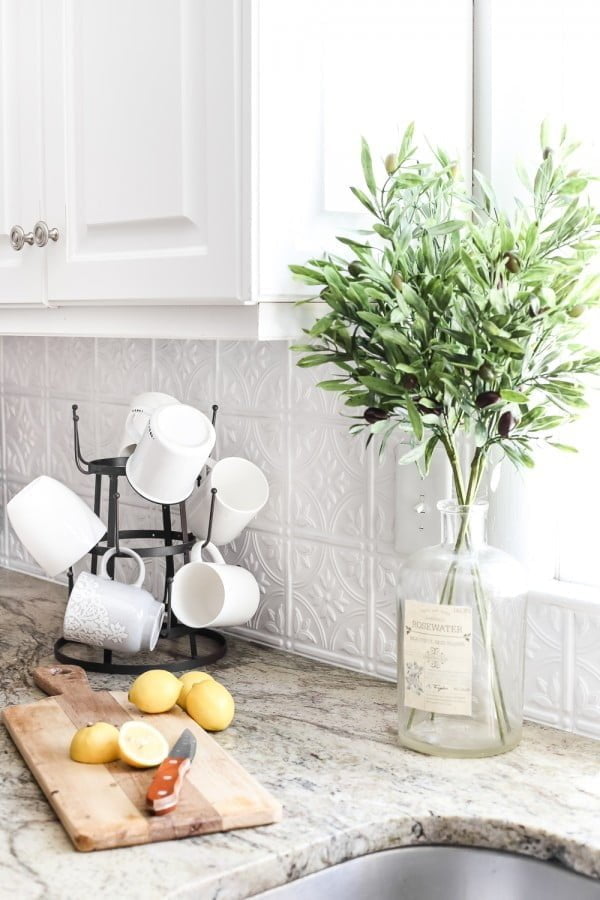 Instead of on a ceiling where pressed tin is typically placed, the white PVC version of this versatile material could be used to make the perfect backsplash for your kitchen.
Stainless Steel Mosaic Tile DIY Backsplash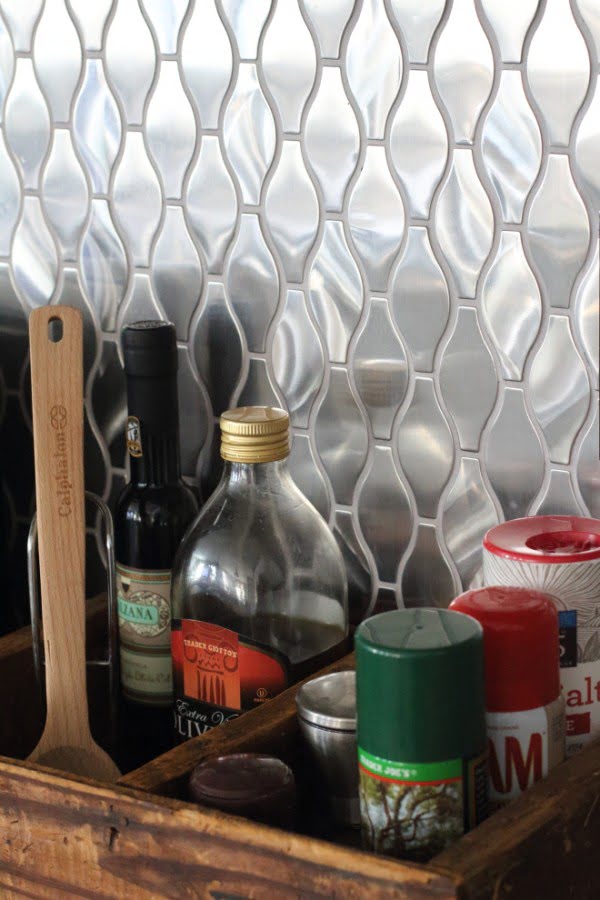 This stainless steel backsplash in a mosaic design will take the potential starkness of white cabinet and transform them into a thing of stunning beauty. It provides functionality while bringing style and elegance to space.
Easy Finger Painted Tile Kitchen Backsplash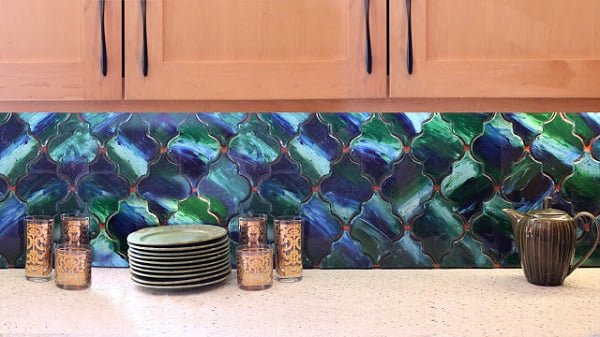 If you want to spice up your kitchen, this Unicorn SPiT painted backsplash will go a far way in getting the desired look. Since it is easily removable, it is also an excellent option for renters.
DIY Backsplash from Pennies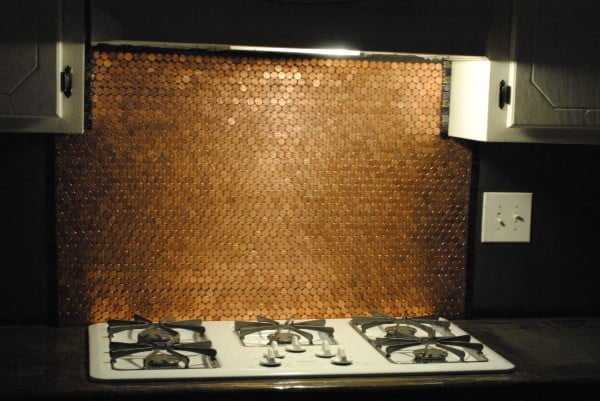 Who would have thought that soaking pennies in coca cola could create such a beautiful DIY backsplash? Finished off with charcoal non-sanded grout, there is no doubt that this work of art will be a conversation piece.
DIY Cheap Tile Backsplash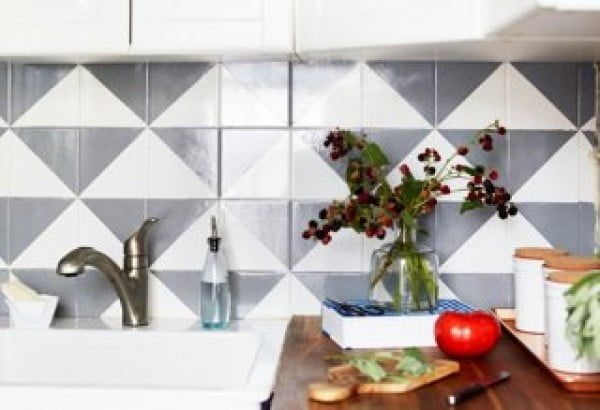 Updating your kitchen does not have to be a majorly expensive project. With the right materials and your preferred design in mind, you can paint your tiles and give your kitchen a brand new lease on life.
DIY Beaded Mosaic Backsplash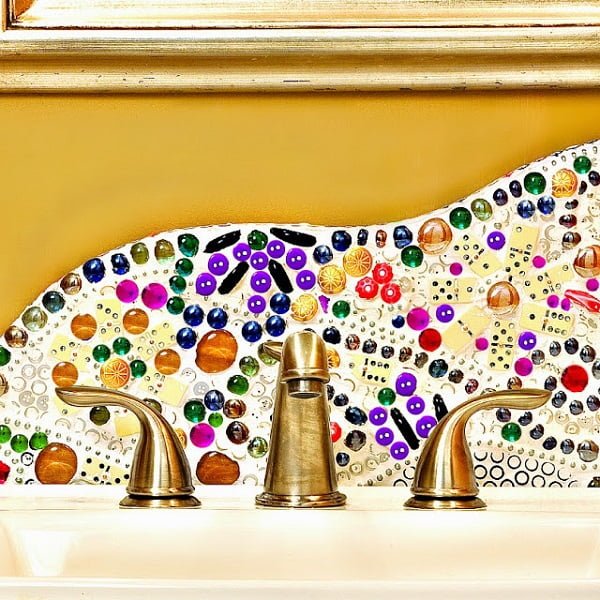 If you are artistic and would like your bathroom to reflect your design preference, this could be the ideal backsplash for you. This mystic mosaic is made up of a combination of bobbles, beads and some scraps of wood.
Recap
Liked this article? Here's what you can read next: