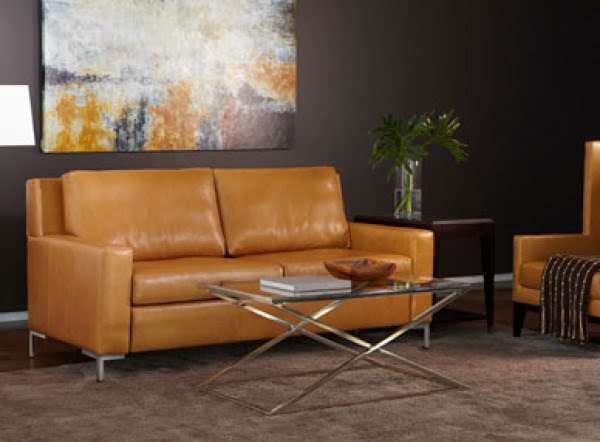 Need a sleeper sofa or sofa bed to save space and accommodate sleepovers? Here's the ultimate guide of the best sleeper sofas of all types in 2018.
When you need more than a couch, you turn to sleeper sofas. They are great because they are multi-functional. And they are irreplaceable in small spaces. You can have visually appealing seating to accommodate guests, and at the same time, they can double as beds when you have sleepovers.
Here's our ultimate guide on choosing the best sleeper sofa or sofa bed by any type you need. When researching them, we made sure that they were not only well built, sturdy and easy to use but attractive in their design too. Bringing one of them home you will not damage your decor, and you can choose the style to fit. We have updated this list for 2018, so you can be sure you're choosing from the latest options.
Top 10 Best Sleeper Sofas
We start with the list of top 10 best sleeper sofas overall. If you don't have any specific requirements for your couch, take a look at this list first.
DHP Emily Convertible Linen Futon

This sofa is one of the biggest bestsellers. It's a futon, but it has all the qualities of a good sleeper sofa. It will fit even the smallest living rooms and still provide plenty of seating space as well as unfold into a roomy sleeper at night. The sleek modern design will fit in your decor perfectly especially if you're going for the minimalist look. It's also one of the most affordable options out there.
Derwyn Storage Sectional Sleeper Sofa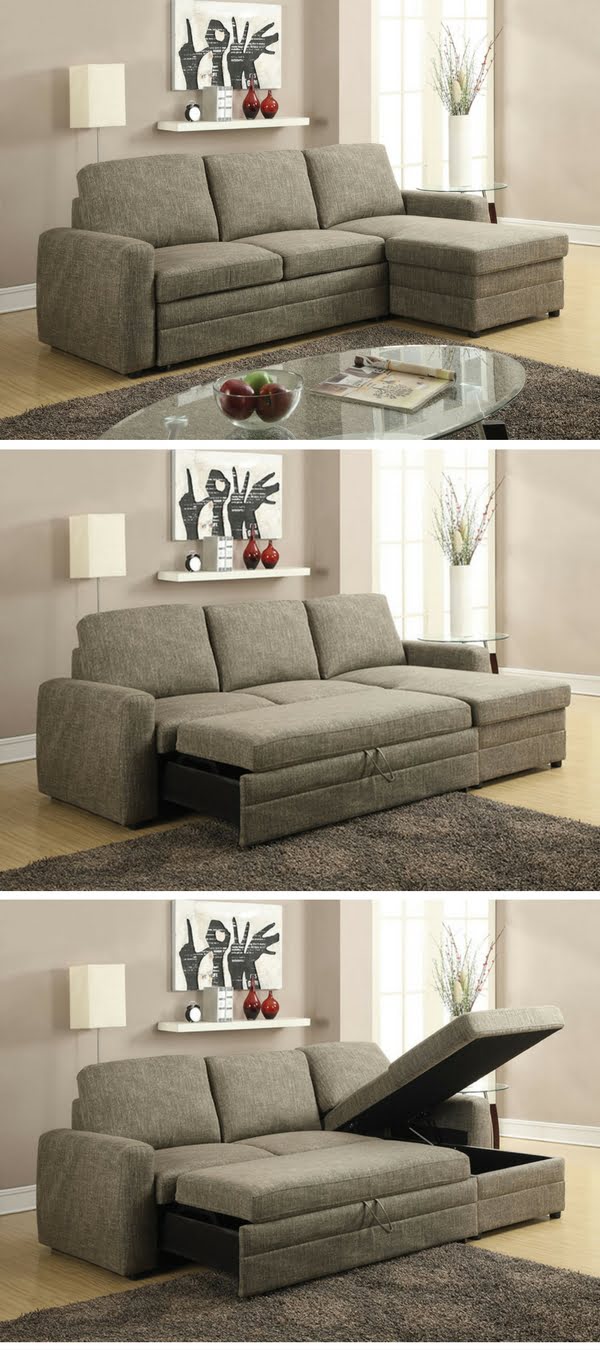 This sleeper sofa is as functional as they get. Not only it unfolds to a roomy sleeper; it has built-in storage and a chaise. As a sectional sofa, it is quite compact and will take up reasonable space in a small room. The light linen fabric upholstery makes a neutral but attractive design that will blend in your room's decor.
Tess Sectional Sofa for Corners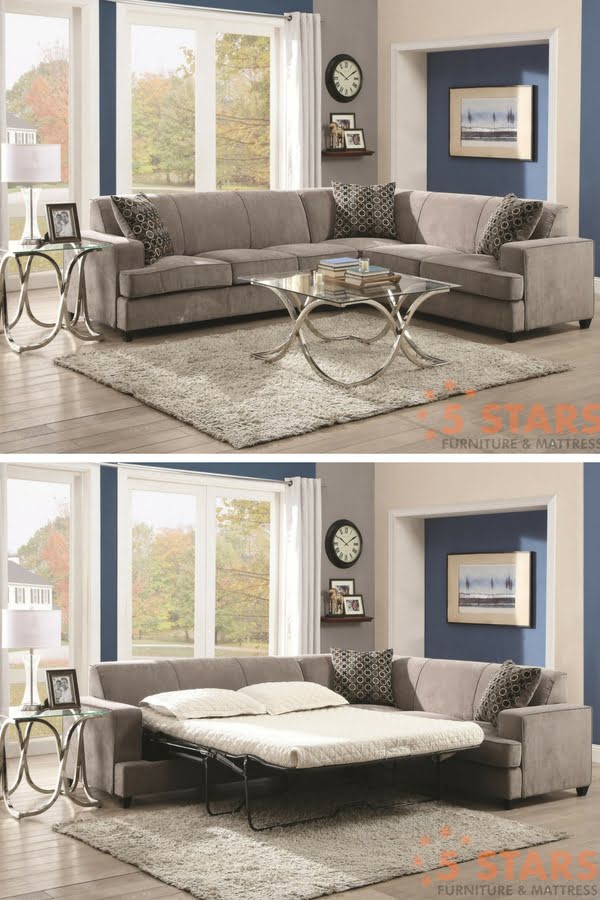 This sectional sofa is quite bulky so it may not be the best option for most small living rooms, but if you can afford the space, it's very well worth it. You can place it in a corner or in the middle of the room to divide the area. The sofa provides plenty of sitting space for quite a crowd to gather and it comes with a sleeper mattress which unfolds to a full sized bed. It comes with three accent pillows and aims for a contemporary neutral design that will blend into your decor seamlessly.
Coaster Futon Sofa Bed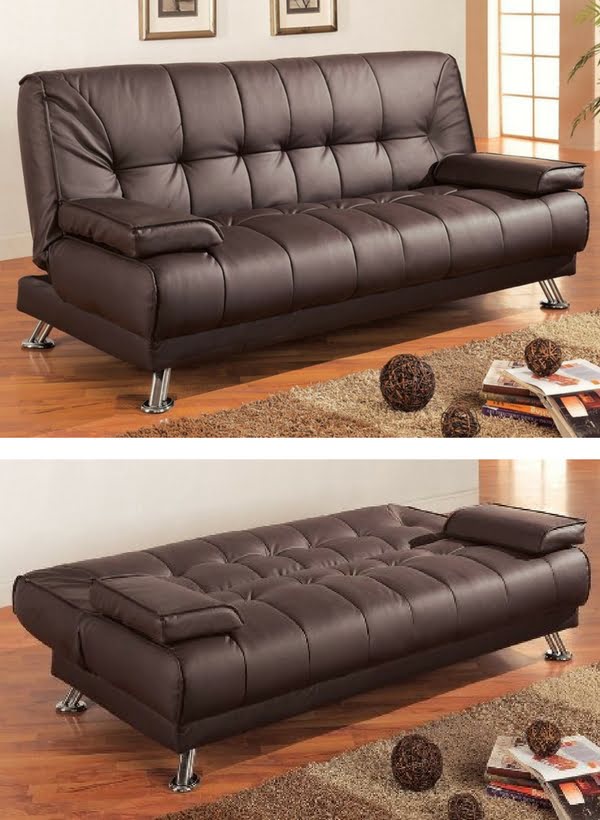 The Coaster futon sofa bed goes for the more sophisticated look with its bulky design and imitation leather finish. It is quite bulky, so it will require enough room space to spare, but its design is its key feature. As any sleeper sofa, it opens to a bed as you would expect it. Overall, it's not the most functional or practical sofa on the list, but if you're going for this look, you will love it.
American Furniture Classics Sierra Lodge Sofa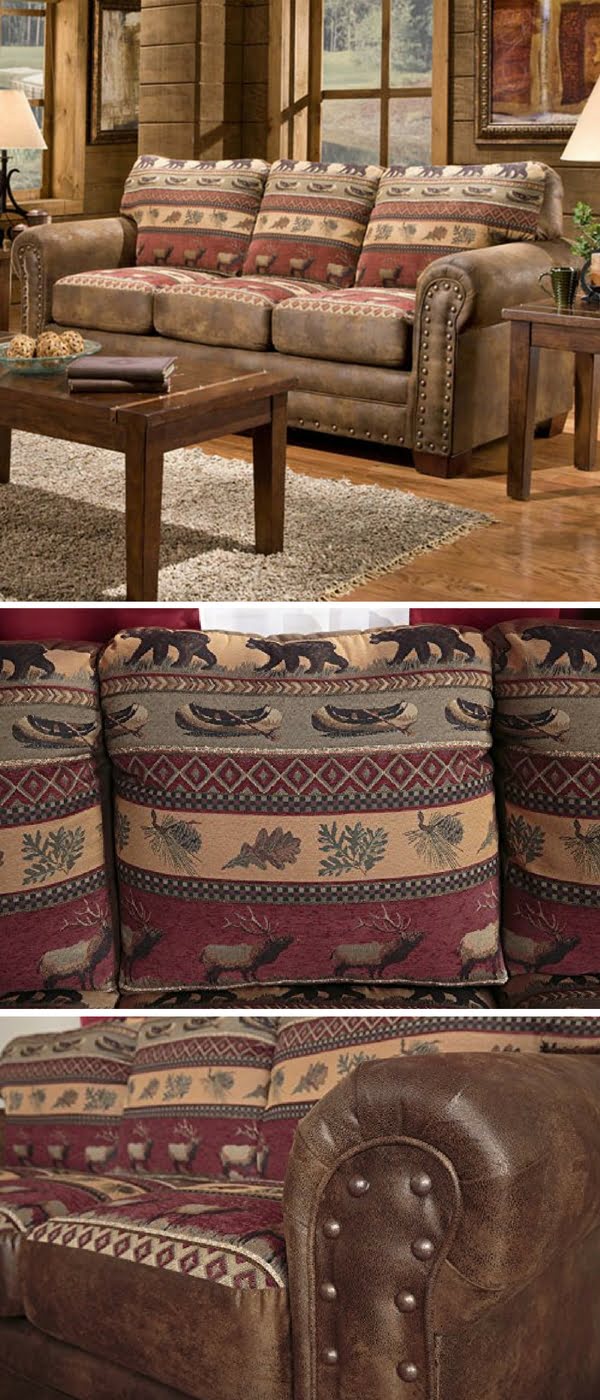 We always include something for those of you who like unique design furniture and this is one of those times. This big bulky sofa is as comfy as it looks and it looks quite unique, especially if you're going for a rustic style in your decor. The frame is made from solid wood as are the legs, so it's as sturdy as it is visually appealing. It features microfiber leather-look upholstery with tapestry cushions.
Zipline Convertible Sofa with 3 Ottoman Set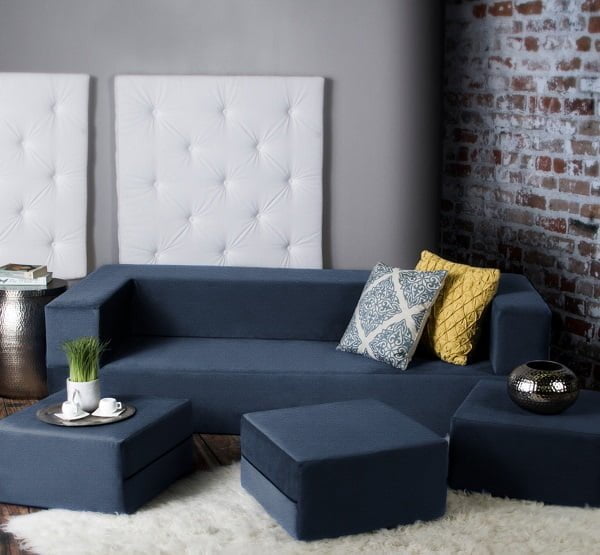 The Zipline convertible sofa is one of our all-time favorites for many reasons. First of all, being so compact it is very functional and roomy. It doesn't take much space and fits even small rooms. The chic look and a choice of cover colors will make it work in almost any decor style. It unfolds into a king-size bed or a lounge day bed. We love this sofa bed for its versatility and style. There are many uses in different rooms of a house for it. It will work as a couch in a living room, in a playroom or teenagers room. Any doubts? It is quite low (4 inches lower than an average chair) and can be a bit to snug for a tall person. Other than that it's a great sleeper sofa for a reasonable price.
Frankfort Convertible Sectional Sleeper Sofa Bed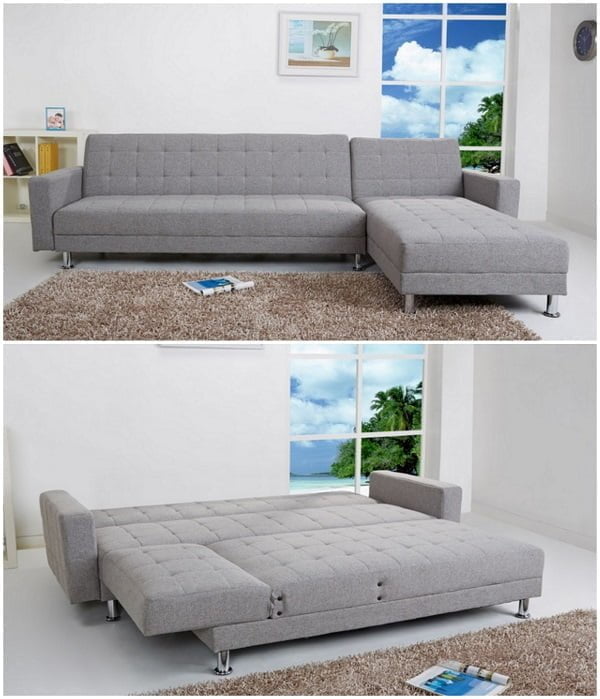 The Frankfort sectional sofa bed is a sleek and modern addition to your home. If you're looking for a roomy but compact sleeper sofa that can double as a queen size bed for your guests, this is an affordable option to consider. It's very sturdy and comfortable. We like its clean, modern look and versatility. The only drawback that we can mention is a rather slim depth (though it's alright in most cases).
Castiel Sleeper Sofa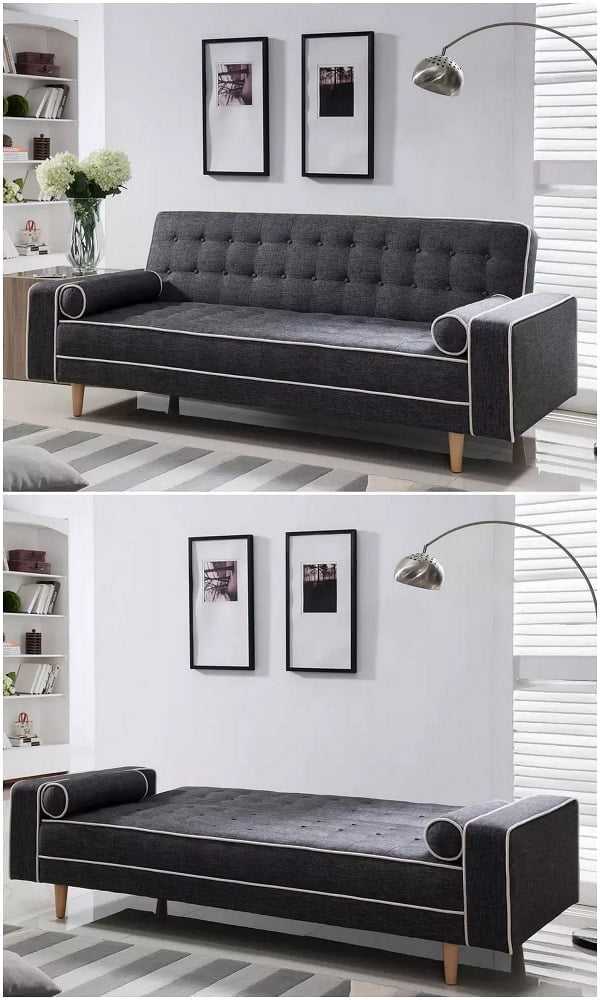 Mid-century style gives that airy look with the thin elevated legs of this sofa, and it's perfect for a small living room. The design itself is attractive with its subtle lines emphasized by a white border. It is just as functional, unfolding into a sleeper easily and quickly. Stylish, affordable and straightforward – often that's all it takes.
Lysander Sleeper Sofa

This sleeper sofa has a formal look to it, but it may be precisely what you want if you're looking for a sleek modern design. It is quite simple in its construction but it does the job, and that's all you need from a decently affordable sofa that makes a great option if you're on a budget. It features elevated metallic legs, polyester upholstery, and of course a frame that converts into a bed.
Bliss Sleeper Sofa

The timeless look that blends in your decor, space-conserving design and a queen size mattress that unfolds from this sofa aren't the only things that make it great. It features a hand built frame and hand finished upholstery which ensures only the highest quality. The wide variety of fabrics you can choose from is only the icing on the cake.
---
Best Sleeper Sofas Under $500
If you're on a tight budget, you'll want your sleeper sofa or sofa bed to cost no more than $500 (or even less!). There are lots of inexpensive options and you can definitely find a quality piece of furniture even with this kind of budget. Here's a list of 20 best options for under $500.
Albany Convertible Loveseat Sleeper Sofa
This loveseat is both compact and versatile. It is perfect for couples or single dwellers who are aiming to fill the basics in a small minimalist apartment. The minimalist styling means that there is no wasted space. It can accommodate two people comfortably while watching TV in the living room. In case guests stay overnight, you can rearrange the 3-layer seat to create an additional bed. This does require some assembly but it should be easy enough with the right tool. There are five colors to choose from including Ash, Beige, Dark Gray, Cocoa, and Marble. Available at Houzz for under $500.
Phillip Sleeper Futon Sofa
Those who need extra seating in their living room or bedroom may want to check out this contemporary sofa. The thin arms and clean lines make it easy to fit into any space. You can unfold it to reveal a futon bed that is good enough for two people. The Phillip Sleeper Futon Sofa is a great option if you would like to turn an existing room into a multi-functional guestroom. It definitely provides excellent value for the money. The cover is made from a polyester-cotton blend. It comes in two colors: Beige and Gray. Available at Houzz for under $500.
HomCom Folding Futon Sleeper Sofa Bed
Here is another sleek sofa bed for space-conscious individuals. It has a stable metal frame so there should be no worries about durability. Use it as a comfortable seat during the day then fold down the back to transform it into a wide bed during the night. It already comes with two pillows with matching color. This has faux suede for the outer cover and cotton for the inside. This stylish model can add a touch of sophistication to any room without breaking the bank. It is available in deep blue at Houzz.com for under $500.
Arden Futon Set
Here is a futon with a shabby chic aesthetic. The exposed solid wood hardwood frame provides a reliable base while the 8-inch mattress offers incredible comfort. You can configure the back into three positions: upright, recline, and flat. Everything is made in the US so you can be assured to quality construction. This product is backed up by a 5-year warranty on the frame and a 4-year warranty on the mattress. The hardwood is smooth with a great finish. The futon requires some assembly which can take a few hours depending on the buyer's skill level. Available at Amazon.com for under $500.
Zinus Contemporary Upholstered Sofa
If you would like faster assembly time, then take a look at this model. It comes with fewer parts for quick construction. At 78 inches, it is a lot longer than most of the products on this list. It can serve as the main living room couch with the strong wood frame capable of supporting up to 4 people. The cushion provides a good mix of softness and support for lengthy use. You cannot fold the back but it is big enough for an adult to sleep on as is. Available at Amazon.com for under $500.
Modern Entertainment Futon Sofa Bed
Style meets substance in this formidable package. The tufted faux leather cover gives it a touch of class while the cylindrical chrome legs add to the modern appeal. You can extend the wide base to the back to support the mattress when folded down. The ingenious design features a zip compartment underneath for the stage of the legs and other hardware. The frame is strong enough to hold 500 lbs. You can remove the armrests to allow taller users to stretch their legs. It can feel stiff to sit on so look for other options if you'd like a softer seat. Available at Amazon.com for under $500.
DHP Lodge Convertible Futon
This futon boasts of a slim design and a modern aesthetic. You can use it in smaller spaces where bulky furniture will simply not fit. It is similar to the Romano Sleeper but this one has a tufted back and microfiber upholstery. Thanks to the choice of materials and simple design, this unit is fairly easy to clean. You can tilt the back into multiple positions for sitting, lounging or sleeping. Assembly should not be a problem as there are no tools necessary. Just follow the simple instructions and you should be done in minutes. Available at Amazon.com for under $500.
DHP Emily Futon Couch Bed
Class and quality were combined in this excellent convertible. The clean lines, the absence of arms, and chrome legs bolster its modern credentials. The sturdy frame is attached to the cushion. There are 3 positions for the back to support different activities. If you want to make the bed even wider, you can purchase the Emily Chaise Longer and effectively get a queen-sized mattress. You can put it together in a snap and be proud of the high-end looks for less. Available at Amazon.com for under $500.
Zinus Classic Upholstered Sofa Couch
This is another no-fuss assembly unit. You can get it ready for use in minutes without using any tools. However, the help of a friend will certainly prove useful. As the name implies, this looks like a traditional sofa with an upholstery covering everything except for the wooden legs. The compact design makes it easy to fit into tight spaces. Use it as a book nook or an extra living room seat. Although this is not a convertible, you can definitely curl up on this while reading a book, watching a film, or listening to your favorite tunes. Available at Amazon.com for under $500.
DHP Premium Sofa Bed with Pull Out Mattress
Most of the convertibles on this list have a reclining back but this one has a different approach to transformation. It features a hidden coil mattress under the seat which you can pull out when it's time for bed. The wooden frame can accommodate up to 400 lbs. Two people can share this twin size sofa bed in comfort. It is a smart solution for small apartments where the living room often doubles as an emergency guest room. Assembly should take you no more than an hour. It offers excellent value for money and should last a long time. Available at Amazon.com for under $500.
Hammondale Pin Tufted Convertible Sofa
Most renters have to contend with small spaces but this shouldn't be a problem with this convertible sofa. It can provide plush seating for daytime activities like reading a book, working on a laptop, or watching TV. You can recline the back for lounging or bend it all the way down for sleeping. It is a nice thing to have if you wish to turn your living room into an instant guest room. This piece has a wooden frame, firm cushion, and velvet upholstery. The rich detailing and fine materials make it look more expensive than it really is. It comes in blue, gray, green, and tan. Available at Wayfair.com for under $500.
Swiger Convertible Sleeper Sofa
This sleeper sofa has a simple silhouette that allows it to blend into most interior spaces. Thanks to the traditional styling, you can easily find matching accent chairs to assemble a compelling sofa set for the living room. There are track arms at both ends to hold the occupants in place while block legs lift the whole sofa off the floor. Two accent pillows are provided with the package. It is a sturdy piece of furniture with a weight capacity of up to 600 pounds — twice that of other models. Available at Wayfair.com for under $500.
Tulsa Sleeper Sofa
Inspired by Scandinavian aesthetic, the understated elegance of this sofa is perfect for apartments with modern interiors. It can serve as a strong anchor point for the living space with its clean lines and luxurious seating. Wooden legs prop it up to make cleaning easier. The wing-shaped arms are curved for distinctive appeal. The upholstery material is linen with a color that works great against a white wall. This item's simplicity and neutrality makes it suitable for pairing with accent pieces like colorful rugs, extra seats, and wall art. Its ability to transform into a sleeper makes it highly functional but be prepared to roll up your sleeves during assembly. Available at Wayfair.com for under $500.
Spirit Lake Sleeper Loveseat
With a commanding presence and excellent versatility, any homeowner will be proud to have this in their living room. The boxy silhouette is paired with clean lines and tufted upholstery for a chic modern aesthetic. Two adults can sit comfortably for movie marathons. If guests sleep over, the back may be folded down to give them ample space to stretch and slumber. There is also an intermediate recline position for lounging. The mechanism used makes it a breeze to shift from one angle to the next. PU faux leather is used as the upholstery material. This is available in black and white at Wayfair.com for under $500.
Regal Convertible Sofa
The style is reminiscent of the 1950s aesthetic but with a modern twist. This is apparent in the low profile, straight lines, and wooden legs. Indeed, its wooden frame provides it with good stability for both seating and sleeping. The feet have padding to protect the floor from scratches while the ends have winged arms for added comfort. Conversion is fast and easy. This makes it an ideal choice for tiny apartments or condo units. The tufted upholstery is made from 100% linen. The unit can support up to 600 lbs. of weight. Available at Wayfair.com for under $500.
Dariana Ash Sleeper Sofa
If you are looking for a practical sofa, then this may be it. The look is ultra-modern with a neutral color and angular metal legs. The slightly tufted polyester upholstery provides character without going overboard. One of the main differences between this and other convertibles is its split seating design which makes the configuration more versatile than usual. While in bed form, it may be fitted with a twin size sheet to protect the surface. Assembly is as simple as adding the feet and can be completed within a few minutes. Available at Wayfair.com for under $500.
Buttrey Convertible Sofa
This is another viable option for those dealing with space constraints. It is a pared down futon that should be able to fit in almost any room without any problems. A lot of buyers place it in bedrooms to create a chill out area that can turn into an extra bed if needed. Underneath are six wooden legs that bear the weight of the cushions. The solid frame construction can support two full grown adults with ease. The 3-position back means that users can find an appropriate angle no matter what they have in mind. This model comes in Burgundy, Gray, and Navy at Allmodern.com for under $500.
Mid Century Modern Convertible Sofa
While minimalism is popular, it is not for everyone. Here is a sofa for those who would like a few more curves and contrast. This futon comes in either dark or light gray with white piping for the borders — a look that immediately distinguishes it from the rest. The splitback design allows it to cater to individual preferences. One side can be set upright while the other reclines. The solid wood frame can carry up to 400 lbs. This isn't the highest rating in this category but it should be enough for most users. Assembly is a breeze. Available at Allmodern.com for under $500.
Zuo Romano Sleeper
Most of the products in this category tend to be bulky. The Romano Sleeper veers away from the norm with its eye-catching slim design. Don't think that this makes it hard to sit on as the soft but firm cushion and plush velvet fabric definitely enhances the comfort level. The wide base is supported by stainless steel legs on all four corners. The absence of middle legs and the smaller size makes reduces its capacity to just 350 lbs. This is good enough for one adult or two children who would like to stay overnight. Available at Houzz.com for under $500.
Castiel Sleeper Sofa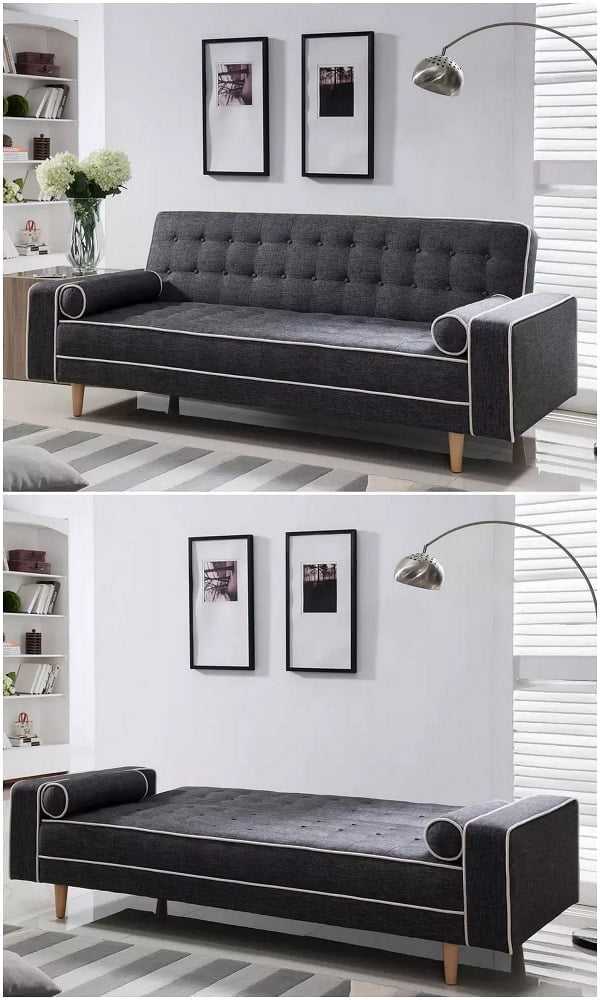 Mid-century style gives that airy look with the thin elevated legs of this sofa and it's perfect for a small living room. The design itself is attractive with its subtle lines emphasized by a white border. It is just as functional, unfolding into a sleeper easily and quickly. Stylish, simple and affordable – often that's all it takes. Available at Allmodern.com for under $500.
---
Best Modern Sleeper Sofas and Sofa Beds
If you're looking for something contemporary and modern to compliment your home decor, this is the list for you. You will find some of these sleeper sofas and sofa beds on other lists too, but these are the best sofas of this type to choose from.
Unfurl Sleeper Sofa
When it comes to this modern sleeper sofa, the Unfurl model cannot be beat because it's light, stylish, very comfortable for sleeping, is priced reasonably and is easy to open and close when needed. This sofa bed features soft upholstery materials and design that you want in a sofa bed for sleeping or lounging as a beautiful piece of furniture. Available at Houzz.
Savina Modern Sleeper Sofa
This Savina sleeper sofa is ideal for anyone who wants to go from day sofa comfort to night sleeping seamlessly. You can fit this modern, comfortable sleeper in any home decor. The model features top quality synthetic fiber padding that adds great comfort. Meanwhile, its design can be described as "convertible excellence" in a high-tech sofa and a portable bed. It is crafted from fine wood and materials that last long. Overall, this is the perfect sleeper sofa for home, apartment, dorm room or loft because it's built and designed for modern beauty and comfort. You can hardly beat the price at this line of sofas as well. Available at Houzz.
Frankfort Sofa Bed
The Frankfort sleeper sofa is on several of our list and for a good reason. It is an ideal sofa bed for any size home or space, it is expertly designed to fit in with any modern decor. Anyone who has already bought it says it's a truly comfortable sofa bed for day or night use. The product's frame and finely crafted upholstery ties this good looking sofa together for lots of positive comments from customers online. If you're looking for a great modern piece of functional furniture for your home, seriously consider this option. Available at Houzz.
Marco Queen Size Sleeper Sofa
This top-quality Marco sleeper sofa features a clever design that allows it to fit in small or large spaces with a real presence and lots of comfort for sitting or sleeping. This model is not the cheapest option on the list but it has many pros to justify the price. If you're looking for a practical and easy to maintain queen size sleeper sofa, seriously consider this option. Available at Houzz.
Simmons Sleeper Sofa
When it comes to comfortable sleeper sofas, this Simmons model cannot be beat for design, comfort and fine upholstery. In fact, there are many glowing customer comments online about this model being perfect for upright sitting or lounging, and darn right super comfortable for when it's in a sleeping position. The product is priced competitively and features a full Simmons product guarantee that ensures you will enjoy this sofa bed for many years to come. This product features all the bells and whistles that one would expect in a modern tapered designed sofa bed that's perfect for day and night use. Available at Houzz.
Velvet Sectional Sleeper Sofa
The great thing about this Velvet sleeper sofa is its unique contemporary tapered design that presents itself as both, a wonderful looking modern sofa for upright use, and a truly comfortable bed for evening use. This high-tech sofa bed opens and closes easily; while its hued velvet upholstery seems to wrap around the sofa giving it a really classy look. Many customers have followed suit with glowing comments about this fine piece of furniture that serves as both a really nice sofa and an efficient and effective bed. Available at Houzz.
Olsen Sectional Sleeper Sofa
This Olsen sleeper sofa model is ideal for any size room or home because it is designed for appearance and comfort. This product's upholstery and fine fabric-covered seating makes it ideal for any home sleeping or lounging use; while customers offer glowing comments online about how this model is value priced. At the same time, this sleeper sofa features a solid hardwood frame and springs linked to the sofa's frame so it is a true sofa bed in terms of being comfortable sitting, lounging or sleeping. Available at Houzz.
Mid-Century Sleeper Sofa
This fine designed Mid-Century sleeper sofa is all about making the most out of space, while also providing state-of-the-art design and comfort in one super sofa and bed. There are many glowing comments from customers online who like this model because it's priced very reasonably. At the same time, it is well-made with strong wood legs and comfort cushions with an innerspring mattress and bedding that is second to none. This model has all the bells and whistles that you'd want in a piece of furniture that is perfect for sitting, lounging and sleeping. Can you believe it's under $250? Available at Houzz.
Leberta Catherina Sofa Bed
The Leberta Chatherina sofa bed is trending online with customers wanting a truly comfortable and expertly designed sofa for lounging or sleeping. This model features a high-tech tempered steel spring systems that ensures lasting comfort. There are even nice accent pillows that make this choice all pro with very few cons to report about this model. Of course, if you fancy the look and you don't mind the price. Available at Houzz.
Palomino Sectional Sleeper Sofa
The great thing about this Palomino sleeper sofa is its comfort and attractive modern design that makes it a perfect fit with any home decor. There are many who buy this model because it is simply a beautiful looking modern sofa. It's really fun to sit or lounge on as well. Overall, this sleeper sofa has many glowing reviews and few cons from customers who like the fact that it's fully customizable and fairly affordable (for its kind). The whole process to open or close the bed takes just seconds; while the sofa is fun to lounge on at any time of the day. Available at Houzz.
Divano Roma Futon
Divano Roma futon has all the bells and whistles that you may want in a sleeper sofa. In fact, there are many glowing reviews for this model online because it sleeps comfortably and sits and lounges just as well. While comfort is the main pro for this sleeper and sofa model, it's the sturdy design with strong legs and an attractive modern design that keeps this sleeper trending with young and old. It is perfect for small spaces and folds down quickly and easily to create a really nice looking bed. Available at Amazon.
Divano Roma Splitback Recliner
The Divano Roma Splitback Recliner is a cheap option for a modern sleeper sofa and it's a real good looker. Unfortunately, there are more than a few complaints of its lack of sturdiness. Still, if you're looking for an affordable option that you'll use occasionally, its the one to consider. Available at Amazon.
Divano Roma Plush Tufted Sleeper
Another inexpensive option for a good looking modern sleeper sofa. In short, you get what you pay for. If you're not going to use it heavily, it's a great good looking option. But if you want something more durable, move along the list. Available at Amazon.
Langria Sleepers
This top quality Langria sleeper model is trending online with customers wanting a nice modern design with true sleeping and lounging comfort in a sofa bed. There are many other pros for this fine sleeper including the product being priced reasonably. The only real con for this sleeper is that its mattress may measure shorter than some people like; while it is offered and designed in most common sizes. Available at Amazon.
DHP Delaney Sleeper
We find DHP sleepers not the first time in our lists. This top quality DHP model is a brand of a sleeper that folds away for use for sitting and lounging as well. Fans of this product credit it with being one of the most comfortable folding sleepers they've ever owned. This sleeper sofa is priced competitively and is fully guaranteed by the manufacturer when it comes to materials and operation. The only con about the DHP sleeper you may find if you're used to a pull out sofa – it may take some time getting used to it. Available at Amazon.
Zinus Living Couch
Zinus is on another list again. This model is model is for you if you want something different in a typical sleeper sofa. The main pros for this sofa focus on its plush cushioning and modern design as well as appearance. The only real con for this product is that it's priced a bit more than other similar models. You may prefer this style sofa model, though, because it takes traditional sofa beds up a notch. while offering unrivaled comfort and relaxation that fans say is second to none is this top-quality sleeper couch. Available at Amazon.
Leather Futon Sleeper
The great thing about this leather chaise longer is that it is designed for looks and comfort. In fact, there are many pros for this product online. Satisfied customers are stating how they appreciate the strong wood frame, high density foam comfort of its cushions and its many decor styles that compliment any home or apartment. Available at Amazon.
Divano Roma Sleeper
The pros for choosing this fine Divano Roma sleeper are many when it comes to glowing comments from satisfied customers online. This product is perfectly designed and is oh, so comfortable for sitting, lounging or sleeping. While there are few cons for choosing this sleeper, it's priced fairly when considering all its bells and whistles. The product's modern look and design is why this sleeper is credited as the most handsome addition to any room in a house or apartment. Available at Amazon.
Oliver Smith Adjustable Sleeper
There are many pros for choosing this fine Oliver Smith sleeper online or at a traditional brick and mortar shop. Though, it costs a bit more than other similar models, it is quite comfortable for a modern sleeper sofa. Sleeper's frame, mattress and overall design is second to none and simply great for use as an extra bed. Available at Amazon.
Riley Ave Sofa Bed
The great thing about this Riley Ave sofa bed is that it's priced to sell. It features awesome overall construction that ensures it will never let you down. The other pros for this sofa bed is that it has a cool modern design with high-tech seating and arm materials. It lasts without showing signs of age or the usual wear and tear. Overall, there are many glowing comments online about this model being a great addition to their home with a nice variety of colors and decor styles on offer. Available at Amazon.
---
Best Sectional Sleeper Sofas
If you need your sofa to provide ample sleeping space, a simple 2-3 seater may not be enough. A sectional sofa is a great option for bigger spaces wen you need to accommodate as many guests as possible. Here are 20 best options for sectional sleeper sofas.
Frankfort Convertible Sectional Sofa Bed
Introducing this into your home will instantly transform your indoor living space. Resplendent, chic and modern, this sofa bed makes an excellent utilization of small spaces without overcrowding your lounge. Fairly easy to assemble, this is suitable for sleepovers when it may be necessary to pile up a bunch of sleepy kids on a fold out bed like this one. Looks awesome and made from fine fabric that's guaranteed to last the test of time. Its low height may be a problem for some, but over and above, its comfortable enough to give you a good night's sleep after a long day at work. The ash/grey color is fantastically charming too! Available at Houzz.com.
Whitman Sleeper Sofa
If this is what floating on clouds feels like, then you'll definitely consider buying the sky once you relax on one of the most comfy sleeper sofas. Edgy and unique, the set consists of an assortment of cushions, a quality that makes this sofa the ultimate back soother for those who engage in arduous physical work to make a living. Excellent height, though not suitable for unattended toddlers. Not only does it unfold into a spacious sleeper, but it comes in color neutral designs that attractively fit into any indoor space. Made from wholesome fabric, its durability is unquestionable. Available at Houzz.com.
Splitback Sofa Bed
Fancy watching the Football game with your tired limbs sprawled comfortably along the long stretch of a lounge chaise? If so, you'll definitely love the splitback sofa bed. At first glance, this sofa gives one the lasting impression of sublime sophistication. With an elegant, streamlined design, this split back sofa completely revolutionizes the way people look at the modern decor. It may not unfold easily into a sofa, but its greatest utilitarian feature is in how it doubles as both a sofa and a reclining bed. The color is also non-partisan and unobtrusive, allowing it to blend almost instinctively with any surrounding decor. Available at Houzz.com.
Horizon Slipcovered Sleeper Sofa
Canvassed in a warm and consoling color, the indigo blue hue of the Horizon Slipcovered Sleeper Sofa just makes you want to fall into its loving arms without a second thought. The high elevation may be a safety hazard for toddlers and infants, but is superb for adults coming back home from a long and tiresome day at work. Cozy and compact, it's sturdiness gives it a touch of promised longevity without compromising on beauty. A little deficient when it comes to seating space, but that can always be counteracted with additional couches and chairs. A bit on the expensive side side though, however, worth every penny! Available at Houzz.com.
Vegas Futon Sectional Sofa Bed
The Vegas Futon Sectional Sofa Bed is a must have indeed. Its solid, snug appearance gives off an inviting aura that few furniture items are capable of, and its lime green color makes it all the more harder to resist. Assembling it on your own, however, can prove challenging as some of the leg screws require meticulous handling. The accompanying chaise lounge can be alternated from right to left, but again, not without breaking a sweat. It can also be unfolded into a spacious sofa with enough legroom for 2-3 persons. The fine velvet texture also adds a certain degree of cosmopolitan comfort. A truly pretty chair! Available at Houzz.com.
3-Piece Sleeper Sectional
Absolutely lovely to the touch, this 3-piece suede sectional sleeper is what sweet dreams are literally made of. It is cheerfully homely courtesy of its roomy utilitarian features, which consists of 5 seating areas and a single chaise section. Unfortunately, it doesn't always come with a product guide that lets you choose between a right facing chaise and a left one. The other backdrop is that it is almost impossible to install without assistance. Otherwise a great price for a modern piece of furniture that has all the essential features of an ideal lounge sofa. Its restful and warm design will surely fit perfectly into your decor without the added hassle of having to buy extra furnishings. Available at Houzz.com.
Oliver Smith Contemporary Upholstered Sleeper Sofa
You'll be in for quite a surprise when you are quick to immediately dismiss any claims that this sofa is easily adjustable, because it is. It may not be the kind of sectional sleeper couch that allows you to spread out your legs and relax, but from a different perspective, it's possible, albeit not without a little neck strain. Seating space is generously available with space for up to 6 people. Resolutely sturdy and compact, this sofa will definitely last the test of time. As far as price goes, expect to part ways with a little under $700. Available at Amazon.com.
Coaster Home Furnishings Casual Sectional Sofa
For the WOW factor that turns guest into complete zombies, buying Coaster Home Furnishings Casual Sectional sofa may just be your best home decor decision this winter. Styled to ease quietly into even the harshest of indoor environments in terms of variety, this sofa does its job with serene perfection. Exactly what you look for in a modern styled apartment, its neither firmly rigid nor overly comfortable….just the right mix of comfort and sturdiness. Switching to sleeper mode requires the application of a simple mechanism of lifts and hinging that can be learnt in a heartbeat. Quality and price are reasonable. True value for money! Available at Amazon.com.
Flash Furniture Benchcraft Sectional Microfiber
If you're looking for the true definition of lavishness, then look no further than the Benchcraft Sectional Microfiber. Super comfy and spacious, this contemporary sofa has detailed stitching running throughout its delicious looking walnut fabric. It surprisingly has enough room and cushions for everyone to cuddle and get cozy. What's more, it consists of an additional rectangular couch that, with a little improvisation, can allow you to rest peacefully and perhaps even fall asleep. Installation requires screwing in a few screws, but it's always smarter to call a technician. Available at Amazon.com.
Christies Home Living Tracey Reclining Sectional Sofa Bed
With a weight of 394 pounds and costing well in excess $1,000, this luxurious sectional sofa bed from Christies Home Living is certainly not for the fainthearted. But because it's made from the finest hardwoods, reinforced steel and covered in 100% polyester fabric, it's well worth the price, and effort too! Including 2 recliner seats and a sofa bed, it is completely functional and capable of seating 6 people. Not only that. It also comes with a storage unit for the storage of common living room items like blankets and books. As for comfort, it comes out tops, with pocketed coils encased in foam nd lying on top of a flexible coil system. Available at Amazon.com.
Stendmar Contemporary Grey Microfiber Sectional Sofa
Three words for it: Lavish, versatile and functional. This is not your usual "run of the mill' sectional sofa, and for good reason too. To start with, the material. Completely breathtaking to the touch, the velvety upholstery gives one the feeling that their host is a Prince of some small, rich nation halfway across the world. With a solid all wood frame, this 3-piece sectional includes a sofa, a chaise and an ottoman. Tonnes of space to seat a miniature crowd of people, making it a favorite for large families. Requires a bit more maintenance than most sectional sofas, as well as professional assistance when it comes to installation. Available at Amazon.com.
Walter's Sectional with Pull Out Sleeper Chaise
With a very unique and unorthodox design, Walter's sectional sleeper chaise defies all common sense. However so, it's an excellent piece of living room furniture. From its modern style and adjustable headrests, to its lavish foam encased flannelette fabric, almost everything about it is perfect. With a manual included, piecing it together is easy and fairly straightforward. Perhaps not ideal for small spaces, but with a little ingenuity you can spread out the pieces around your apartment with relative ease. Decent price as well. Available at Amazon.com.
Spirit Lake Sleeper Sectional
Made by the renowned Wade Logan, the Spirit Lake Sleeper Sectional is one sleeper whose fine attributes match up to the price tag. Designed to be useful and practical -but not exceedingly delightful- this sleeper can be unfolded into a very spacious bed. But because it isn't as comfortable as it is elegant -made from leather- you'll need extra bedding to make it snug. Ideal if you live in a small inner city apartment as you can absolutely turn it into your bed with no added hassle of assembly and reassembly. The chaise is also nice and elongated with an elbow rest for ultimate relaxation. But if you have kids around, then you might need to get the black one as the white sleeper sectional is susceptible to staining. But generally affordable. Available at Wayfair.com.
Stigall Sleeper Sectional with Ottoman
Nothing comes closer to sheer perfect than the Stigall Sleeper Sectional. Spacious, comfy, regal and chic, this sectional sleeper sofa is a product that allows you to make good use of space without taking up too much room at the same time. Then of course you have the smooth outlines and stylish upholstery, which, by the way, is fine leather. Capable of being turned into a bed, it can accommodate up to 2 persons quite comfortably. And with most sleepers being inherently difficult to assemble, it's a real relief to piece the Stigall Sleeper Sectional with relative ease. It's functional too, having enough free room between the elbow rest and the seats. Considering quality, it's fairly priced as well! Available at Wayfair.com.
Reider Sleeper Sectional
A delight to the eyes, the Reider Sleeper Sectional by Latitude Run is an elegant piece of furniture. Compact and sturdy, this sleeper sectional sofa economizes on space so well you'd think the manufacturer had you an apartment in mind when embarking on this magnificent piece of craftsmanship. While one of the downsides is that this a a small sectional sofa, it truly lives up to the concept of a 'sectional' sofa. It therefore easily doubles as a cozy corner sofa in a small apartment. A bit of effort required for assembly, but once complete, fuses perfectly with any background colors. Available Wayfair.com.
Wade Logan Ricardo Reversible Sleeper Sectional
Available in both white and black, the leather upholstery of the Ricardo Reversible Sleeper Sectional sofa by Wade Logan is in a class of its own. With a fabulous polished look, it can seat up to an impressive 6 people. The Chaise section is broad, consisting of a well elevated elbow rest, which can be on either side depending on your preferences. This sofa is an excellent way to dd a modern touch to your living room. The faux leather is both smooth and tough, making it a wise choice if you want to experience the maximum pleasure possible. The legs are made of wood, so there aren't any safety concerns to worry about here. Available at Wayfair.com.
Bloomquist Sleeper Sectional
Your typical sofa, it is casual and almost unapologetic in how it fits into any living room. It makes up for its lack of space -it seats only 3 people- by being exceedingly comfy and cozy. Sleep with your seat up and relax on the chaise section after a long workout at the gym. But costing a little over $1,000, it's an irresistible hard bargain if you're working on a tight budget. But the Red Barrel Studio Blomquist Sleeper Sectional is value for your money as it comes with some convenient storage space just underneath the chaise for storing couch friendly items like jerseys, socks, blankets, magazines and books.
Sleeper Sectional by Infini Furnishings
It's not everyday that you walk into a furniture store and stumble upon a sofa that charms you into absolute submission even before trying it out. That sums up this stylish offering from Infini Furnishings. Daringly bold and slick, the smooth edges are a testament to the attentive craftsmanship put into the design, which makes it a timeless piece of furniture. Not only is it comfortable, but it's a convenient usage of space as it has a storage compartment for storing any clutter from last night. And to add some icing on this wonderful cake, it is convertible to a bed. Available in blue gray and navy blue. Available at Allmodern.com.
Amanda Sleeper Sectional
With an additional sleeping option for visitors, this sofa tops the lit as far as functionality is concerned. Coming in a color that's to die for, the Amanda Sleeper Sectional will invariably get along with any new pieces of furniture you add to your living room as it has an accommodating hue. A tad questionable when it comes to comfort, but that can be easily remedied by a low cost upholstery redo or a foam mattress. Assembly is fairly easy but it's advisable that you call a local furniture store employee to assist you as some of the screws need proper fastening to void snapping. It also comes with handy storage space under the chaise sleep section. Available at Allmodern.com.
Cosmopolitan Sleeper Sectional
Perfect for a small apartment, the Cosmopolitan Sleeper is exactly that, COSMOPOLITAN! Having more or less the same distinct features as most sectional sleeper/sofas, its extra edge is its natural propensity to fit snugly into small spaces without being too domineering. When it comes to mechanics, it's great, popping open and folding with minimal effort. However, it's not too appealing when it comes to comfort as the upholstery is a bit firm and unyielding to the occasional wiggle in the sheets during night-time television viewing. But for the price, it's a decent sectional sleeper if you can get some extra padding for improved comfort. Available at Allmodern.com.
---
Best Leather Sleeper Sofas and Sofa Beds
Want some luxury in your new sleeper sofa or sofa bed? Choosing leather is the way to go if you have a little more money to spare. It will look classy and definitely add that luxe to your room decor. At the same time, these 20 best leather sofas can seamlessly accommodate your guests for a sleepover.
Bycast Leather Sleeper Sofa
The plush tufted back and seat of this contemporary futon sleeper couch makes it quite a comfortable place to lounge. Being upholstered in white bycast PU makes for a stylish look that brings a great deal to a modern design. Within seconds, this sleeper couch can be easily converted into a bed. Hardwood solids are used to make the frame of the futon and it sits on top of four well-built espresso finish wooden legs for stability. It is creatively designed for remarkable multi-functional purposes and can fit in small spaces. It is also ideal for a spare bedroom. Available at Houzz.com.
Enzo Faux Leather Sofa Bed
This sofa bed is sure to inject a whole lot of style, functionality and comfort into any space in which it is placed around your home. In addition to providing conveniences for everyday comfort, this piece can be easily converted into a full-sized bed whenever you have an extra set of guests who decide to spend the night. With its simple design, faux leather upholstery and a sleek black finish, this sofa bed was created specifically with the modern or contemporary living space in mind. The visual appeal and functionality of the sleeper make it truly desirable. Available at Houzz.com.
Bonded Leather Functional Sofa Sleeper
This is a part of the Platinum sofa collection and its sophisticated style and clean lines are ideal for a living space with contemporary design. This functional sofa has a pullout bed that provides additional space when necessary. In addition, the dark wood frame provides both function and visual contrast that adds to the aesthetics of the sleeper. This is accentuated by the tufted seat and back and tight back cushions. The measurement of the sofa bed is 86 inches x 37 inches deep x 36 inches high. Available at Houzz.com.
Bowery Hill Leather Sleeper Sofa
This elegant, high-quality transitional sofa is designed with plush seating and tufted cushions to deliver comfort and it brings a contemporary look to any space. It is made of faux leather, solid oak wood frame, and plastic legs, offering a combination of durability and style. The seat and back have multiple layers of foam for additional comfort so you can enjoy lounging around on the sofa or sleeping on the bed of this convertible chair. It should also be noted that the chair if super heavy and requires a certain level of strength to move it around.
Slumber Sleeper Sofa
This sleeper is designed to deliver style and functionality in a single piece. This makes having guests for sleepovers a lot easier. The sofa is available in three different colors and three different sizes. It is versatile and can be used in a living room, larger bedroom or even in an office space. Regardless of where it is placed, you are sure to have the comfort of a 4-inch gel foam mattress to sleep on or the coziness of a sofa to relax and unwind. This sleeper sofa is available in Twin, Full and Queen sized mattresses at Houzz.com.
Ashley Lottie Leather Sleeper Sofa
One of the best leather sleeper sofas provides a stylish solution, especially when hosting overnight guests. Its cleverly concealed memory foam mattress and streamlined design deliver comfort whether as a sofa or sleeper. It has classic curves and lines upholstered in high-performing DuraBlend to replicate the appearance of leather without the cost or maintenance. Its high resiliency foam cushions are covered in thick poly fiber and it bustle backs provide lumbar support. When it is bedtime, just pull out the queen-sized mattress and go off to dreamland. Available at Amazon.com.
Larkinhurst Traditional Sleeper Sofa
With its clean and simple lines, this sleeper sofa can easily fit into a number of different décor and design styles. It has the look and feels of distressed leather and the seat cushions are firm and comfortable. They provide the finest level of support, while craftily concealing a full-size mattress. In addition, the Larkinhurst's traditional sofa is constructed with an easy-lift mechanism that almost effortlessly converts from a cozy sofa into a very comfortable bed. This is one of the easiest to maintain sleeper sofas and does not typically stain if spilled liquids are wiped off quickly. Available at Amazon.com.
Coaster Contemporary Leather Sleeper Sofa
This leather sleeper sofa provides you with the opportunity to have a remarkable space saver and a stylish addition to the space in which it is placed. The contemporary piece is upholstered in either dark brown, black or cream bonded leather and comfort is guaranteed with its tufted cushions and plush seating. This sofa comes pretty much completely assembled and all that is required is screwing on the feet, which is quite a quick and easy task. The bonded leather used on the sofa makes for a firm yet comfortable and plush sitting experience and the queen-sized mattress provides comfort when used as a sleeper.
Prescott Leather Sofa
Made from genuine leather, this sleeper sofa has a flat top arm design with options to choose down and firm cushions. The plushness of the sofa makes it a great place to rest whether it is on the sofa or sleep position. You will experience a sense of bliss as you are enveloped by the coziness of the down cushion or standard cushion fill. You can opt for the Queen Air Dream Mattress, Queen Deluxe Innerspring Mattress, Queen Hideaway Air Mattress or the Queen Standard Innerspring Mattress. Available at Wayfair.com.
Mirage Leather Reclining Sofa
With its over-stuffed cushions, this reclining sofa highlights an Italian design. It has track arms and back cushions that maximize comfort. This sleeper sofa is upholstered with soft, high-quality, top-grain, all-around leather materials. It smoothly reclines, enabling you to sit back and relax for extended periods of time and it can be a comfortable place to spend the night. The armrests and back of the chair are zippered for re-stuffing or removal. Additionally, its arms, backs, and frames are solidly padded to provide support. Its hardwood frame defines its look and, more importantly, makes it sturdy. Available at Wayfair.com.
Savannah Leather Sleeper Sofa
You will instantly add an air of distinction to any room with this Savannah 3-seat sleeper sofa. It has a bold design and the nail head details allow this piece to look stylish and refined at the same time. One of the great things about this sofa is that you can further customize it by selecting from a number of different kinds of wood for the legs. The arms, backs, and frames are solid padded and sinuous springs are used in the construction to capitalize on comfort, whether as a sofa or a bed. Available at Wayfair.com.
Dominick Sleeper Sofa
This leather sleeper sofa is a phenomenon in both design and functionality. It is made from aged Brazilian top-grain leather and is both soft to the touch and appealing to the eyes. The design uses open welt stitching to deliver one of a kind visual impact and its low profile backrest and wide arms make it suitable for a modern or contemporary space. It makes ingenious use of a concealed pull that transforms the sofa effortlessly into a full-size sleeper. In addition, the clever pullout design has concealed storage that is ideal for bedding. Available at Wayfair.com.
Redner Platinum Reclining Sofa
Manufactured out of genuine leather, this sleeper sofa has clean lines and brings a contemporary aesthetic to any living space in which it is placed. It is skillfully crafted with button-less tufted bonded leather upholstery to boost comfort. Its square arms and solid poplar wooden legs add an atmosphere of character to the overall appearance of the space. When you transform it into a bed, you will have access to a big, comfortable queen size bed with metal sleeper mechanism that envelopes your body to provide you with a restful night's sleep. Available at Wayfair.com.
San Diego Coffee Leather Sofa
This is one of the sleeper sofas that is expertly made with bonded leather upholstery. Its finished arms and wood rails provide a distinguished look that will instantly elevate the look and feel of any space in which you place it. It is made from steel frame construction and sturdy hardwood to deliver top-class durability both as a sofa and when it is transformed into a bed. The high-density, wrapped foam cushions of this sleeper sofa are craftily designed to provide you with maximum comfort as you sink into the depths of this coffee leather chair. Available at Amazon.com.
Pennock Sleeper Sofa
This sofa sports a sophisticated and luxurious design and will be a remarkable addition to your home. It is convertible, elegant and its cushions are upholstered in faux leather, making it tremendously comfortable. It has a tufted design that takes its comfort and style to a whole new level. In addition, its solid pattern exudes stylishness and adds to its aesthetic appeal. The sofa is also available in several colors, allowing you to choose the one that is most suitable for your décor. Its sturdy and stylish legs also play a huge role in it classy overall look. Available at Allmodern.com.
Lewis Sleeper
This is one of the oversized convertible sleeper sofas designed to provide a relaxing and unique solution for any space around your home. You can prop this adjustable sofa bed upright to serve as a backrest or lay it flat. You can also quickly and easily transform it from an oversized sofa into a twin size bed. Each side of this uniquely designed couch also functions separately from the other and it can be adjusted accordingly. This makes it possible to cater to individual needs and you will be able to create a number of options for any space in your home. Available at Allmodern.com.
Cassius Q Deluxe Sofa
This convertible sofa bed is made out of faux leather. It has a textured back, and with its button-tufted seat cushions, has a classy, sophisticated design. For this reason, you can make it be the freestanding centerpiece of the room. It is constructed with 7-inch pocket spring and chrome legs. This significantly contributes to the sturdiness and durability of the sofa. In addition, the pocket springs are covered with high-quality foam. The mattress is stuffed with heavy fiber to make sure optimum comfort is provided while you are sitting and sleeping on the sofa. Available at Allmodern.com.
Graham Sleeper
The modern look of the Graham sleeper sofa adds style and comfort to your home. Sleekly designed in European style, it will bring freshness and elevate the overall look and feel of the space. The armrests and buttoned cushions add even more style. This extra-long sleeper sofa provides seating space that can accommodate more people than the average living room sofa. It makes a great place for family members to spend time together. It is made with durable faux leather and requires only minimal maintenance. The sofa converts easily into a comfortable bed via its click-clack mechanism. Available at Allmodern.com.
Dempsey Leather Sofa
This is one of the well-constructed leather sleeper sofas that is a classic. The plush cushions and clean, modern lines make it a dream to dive into this timeless masterpiece. It is wrapped in chocolate-colored, top-grain, full aniline-dyed leather. It should be noted that aniline leather has a soft, waxy finish and a natural look. With age and use, the material will eventually scuff and become a vintage patina. This can cause the sofa to have an antique appearance. In addition, for proper ventilation, the non-visible part of the back of the leather cushions is wrapped in breathable fabric. This makes the sofa a more comfortable place to relax and unwind. Available Westelm.com.
Paidge Leather Sofa
This sofa is designed to be a modernized version of a traditional silhouette. Its welted seams, sweeping arms and leather upholstery provide a polished look that instantly updates the space. It is crafted in America with hand-built cushions and frames and hand-finished upholstery. You can customize this leather sleeper sofa with your choice of tapered or cone solid wooden legs. Choose either pecan or chocolate stain. You also have the option to have your sofa upholstered in navy, saddle, chalk or charcoal leather. This ensures that you will get the sleeper sofa that best suits your design preference. Available at Westelm.com.
---
Disclosure: We are a participant in the Amazon Services LLC Associates, Houzz Inc., Etsy Inc. affiliate advertising programs designed to provide a means for us to earn fees by linking to Amazon.com, Houzz.com, Etsy.com and affiliated sites.