When choosing a bed, you are faced with thousands of variations of most of the same bed sizes and styles. We have broken them down into 57 types of beds to make a choice manageable.
Yes, there are thousands of different bed types if you consider that every bed has its size, frame design, and visual style. So while there are only a few dozens of design styles, a specific bed can be, for example, a king-size convertible, industrial-style bed.
While these are just three properties describing a bed, they can make thousands of different combinations.
How do you get your head around all this? This is where our guide helps. You merely need to discover the 50 or so different frame designs and styles, choose the size and have a specific type of bed that is ideal for your needs and requirements.
To choose a bed, consider these points:
The size to fit your bedroom.
The material of the frame.
Weight capacity.
What mattress it can support: memory foam mattress, innerspring mattress, latex mattress, air mattress, hybrid mattress, a built-in mattress, or mattress alternatives.
The design by use. Does it need to have storage? Will you use it for multiple purposes during the day (such as a daybed.)
Is it for your kids?
The price.
Health considerations.
Note that we have included examples for bed designs with shopping links (that earn us a commission) at no expense to you.
Let's begin!
Bed Sizes
All types of beds start with the size and there are 6 main standard sizes referred to by their names. Here they are:
Twin
In terms of size, the smallest adult bed available is for a twin mattress. The width of this size is 38 inches, and the length is 75 inches. For single sleepers, youth, and bunk beds, it's beautiful space-saving bed size.
Twin XL
Twin XL mattresses are about five inches longer than twin mattresses. The width is 38 inches, and the length is 80 inches. If you're tall, you'll enjoy this. Likewise, if you're a student who is used to getting a lot of space in their dorm room, this will work well for you.
Full Size
A full bed is also known as the double bed and measures 53″ in width and 75″ long. It is larger than twin XL. The full-size bed is suitable for individuals who sleep alone, such as those in their twenties. They're excellent for guest rooms as well.
Queen
The queen-sized mattress is 60″ x 80″. This works well for couples and is perfect for those who are living alone. For master bedrooms that are at least 10 x 10 feet, queen-sized beds are an ideal match.
King
This bed size is perfect for single sleepers who prefer to sprawl out or for couples with children and pets.
It is standing 76 inches wide and is 80 inches in length.
Cal King
The largest mattress size at 72 inches by 84 inches. This mattress is extra-long, helping those six feet or taller get a good night's sleep. It is possible to fit two people in the California king-size bed. One caveat is that if there is more than the necessary amount of sleeping space, the bedroom can feel cramped.
Bed Frame Designs
Once you have the size of the bed, you get to know the frame design. This covers the material and shape (as well as the purpose) of the bed.
Standard Bed Frame
Beds come in a range of shapes and sizes. In most cases, they're low to the ground and have both a headboard and footboard. Without box springs, this sort of bed frame will not be stable.
Metal Bed Frame
A metal bed frame, which is durable and reliable, is common. The metal bed frame is durable and uncomplicated. These are strong and can carry a lot of weight. Beds come in different types. The vast majority have headboards, but there is a handful that do not.
Wood Bed Frame
Solid wood is used to build wood bed frames, which are thus very heavy. You can easily customize them. For most styles of bed frames, you don't need a box spring.
If you're looking for a bed frame that's classic and timeless, a wooden bed frame may be the perfect choice for you. Wooden bed frames first became popular in upstate New York in the early 20th century but quickly became a popular choice from coast to coast. The neutral tones of wood are a perfect backdrop for your bedding, and the vintage look of wood can help create a warm, homey feel in your bedroom.
Slat Bed Frame
One of the most common bed frames is a slatted frame. This is built from large planks of wood fixed together by a group of rubber grommets. It is a base to use as a foundation for your mattress.
Daybed
Check Out the Top 10 Best Daybeds
A daybed is a flexible bed sort that can be very functional (use it as a sofa or a bench during the day). It is a multipurpose piece of furniture that's great for students or visitors. But it's also a little more sophisticated. This bed is available in different shapes and sizes, but it is usually used for twin mattresses. Whether in a guest room, an office, or on a patio, daybeds are an excellent choice.
Futon
Check Out the Top 10 Best Futons
You can use a futon as a sofa and bed if you don't want to spend a lot of money on a daybed. Traditional Japanese bedding is perfect for small spaces, apartments, and dorm rooms. The traditional Japanese futon can be folded and packed away very quickly, so you can put it practically anywhere in your house.
Sofa Bed
Check Out the Top 10 Best Sleeper Sofas
Also known as sleeper sofas, they are very similar to futons: they both consist of futon-like mattresses that you sit on while reclining. A sofa bed is a valuable addition to any home. It can serve as a comfortable place to sit and relax, as a place for guests to sleep, or even as a way to increase the available space in your home by transforming your sofa into a bed. Today, sofa beds come in a wide range of materials, colors, and styles that make them more comfortable and attractive than ever before.
Upholstered Bed Frame
These beds are covered in fabric-upholstered frames. Various fabrics, including suede, silk, faux leather, and more, can make the fabric. You can find designer bed frames in several different types, and these frames can feature embroidery, button studs, or some other ornamentation.
Platform Bed
Check Out the Top 10 Best Platform Beds
A platform bed frame is a base that holds the mattress up and is thicker and sturdier than traditional ones. Since the base is included, you don't usually need to buy a box spring or foundation for your mattress unless you want to lift it. While most platform bed frames are lower to the ground, you can also raise the height by adding bed raisers.
Wrought Iron Bed Frame
One of the most durable metals is used to make wrought iron bed frames. It can carry a large amount of weight, making it almost difficult to flex. Although wrought iron bed frames also feature designs on the headboard and footboard, they are not needed to have this as part of their design.
Pallet Bed
A widespread type of DIY bed frame is the pallet bed frame. They can be rolling or stationary. Any size is appropriate. It is possible to build them either low to the ground or on elevated foundations. The bed mattress is mounted on a pallet platform.
Wingback Bed Frame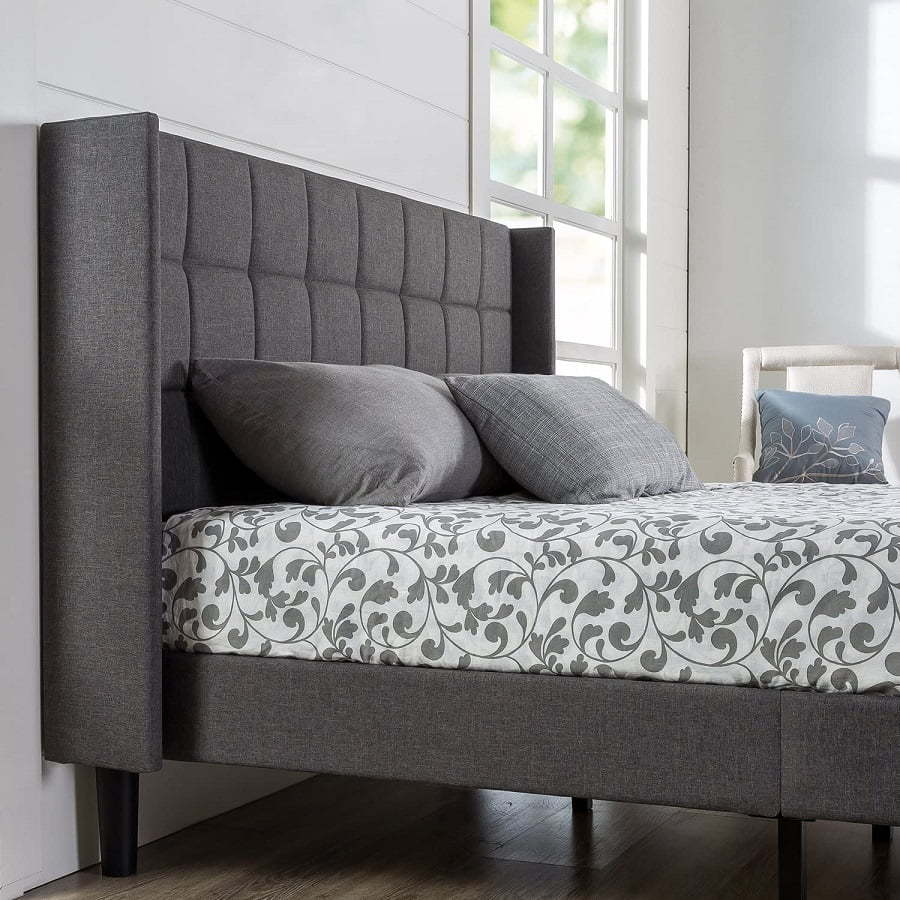 Many people are familiar with wingback bed frames because of their headboards. Wingback bed frames have headboards with curved lines and protruding edges, rather than the conventional flat headboard.
Sleigh Bed Frame
A sleigh bed frame has the form of a sleigh. It is usually found that the head and footboards are made of wood. This traditional-style bed was common in the 1800s.
Spindle Bed Frame
This bed frame style is one-of-a-kind because of the spindles, which can be seen both on the headboard and footboard. For nearly every bedroom style, it's an appealing and understated look.
Adjustable Bed
Beds that raise and lower through motors are certainly something to look into if you like to read or use devices in bed or watch TV in bed. Also, you can have it so you can individually change all sides. It's fascinating.
Air Bed
Air mattresses are inflated with air, but air beds are a more permanent solution. Since they're intended to be used in the house, air beds are much more permanent than portable air mattresses (see their alternatives.)
Waterbed
A waterbed is usually filled with water rather than air, as the name implies. Waterbeds do have several benefits, which soothe sore muscles. They are also used in several physical therapy techniques. To provide heat and alleviate joint pressure, you can heat the water.
Bookcase Bed
If you enjoy curling up with a good book before bed, you can look into buying a bookcase bed. Instead of placing bookshelves in the headboard, these beds come with a built-in bookshelf in the footboard, adding more space for storage.
Murphy Bed
Check Out the Top 10 Best Murphy Beds
Murphy beds are referred to as pull-down beds or wall beds because people who want to make most of their rooms prefer these beds. To store the bed when folded, it has a hinge on one end. The majority of these types of beds come with storage situated on either side to take advantage of the floor space. Studio apartments and other small rooms benefit immensely from these because they are so multi-functional.
Convertible Bed
If you have a fondness for multipurpose pieces, you will love a convertible bed. You may turn beds into sofas or other forms of seating. You can use them in just about any type of space, but they are most frequently used in guest rooms.
Four-Poster Bed
The term four-poster bed refers to a bed that has four posts or pillars, which may be either freestanding or attached to a headboard. The most common types of four-poster beds are poster beds, canopy beds, and canopy-style beds.
In literature, the four-poster bed's use goes back to ancient civilizations, such as Ancient Egypt and Rome, when it was often a symbol of wealth.
Round Bed
A round bed is built with a circle as its base. You can compare this type of bed to a king-sized mattress in terms of size. This type of bed is perfect for lounging around the house and does exceptionally well in rooms with big windows.
Divan
The divan bed's base has a wooden frame encased in fabric. In addition to this base, the bed can have a headboard and drawers for additional storage. It's also designed with a mattress built to fit your bed's base for your optimum comfort. For customers who want to buy a mattress and bed in one go, this bed style is suitable.
Ottoman Bed
Gas-lifting hydraulics hidden under the bed raise the mattress to expose storage space underneath. If you want to store things under your bed and declutter the bedroom, this type of bed is ideal (without sacrificing comfort).
Canopy Bed
While traditional canopy beds use posters that rise from each corner of the bed, poster beds are comparable to traditional canopy beds because they both feature poster-studded frames. This type of bed is distinct from regular beds in that the poster acts as a frame for the bed. Traditional canopy bed posters are usually made of heavy wood, which gives the bed a durable feel. Once you have your piece, you can drape fabric over the frame to create a warm and cozy atmosphere.
Panel Bed
A bed frame with a headboard, a base, and side panels is generally referred to as a panel bed. Due to their durable construction, panel beds can support box springs and heavy mattresses, making them the most reliable choice.
Hanging Bed
A bed suspended from the ceiling hangs just as you'd imagine. A hanging bed has a distinctive design, but it is possible to put it to different uses in your living room. For those who like to rock themselves to sleep, a hanging bed is ideal for furnishing an outdoor space.
Floating Bed
The floating bed design is achieved by hiding bed supports and lighting LEDs under the bed. The bed looks as if it's floating in the air. You can consider it a gimmick but it's a great way to add a futuristic touch to your bedroom decor.
Attempts were made to build a real floating bed using magnets but these were dropped with the last exhibition of $1.6 million technology back in 2006.
Hammock Bed
The canvas or rope hammock is suspended from the support of something taller. They're usually synonymous with lounging outside or camping, but they're increasingly used as beds in the home.
Folding Cot
A cot bed is typically not someone's first choice when it comes to sleeping. On the other hand, it is a very convenient alternative. A bed that folds up to the frame is built with wheels at the bottom of the frame, making it compact when folded. When you're feeling cramped for space or visiting friends or family, you can bring it out and have a restful night.
Open-Frame Bed
Metal-frame beds, also known as open-frame beds, are a minimalist type of bed with no sides. Many different models feature open rectangular spaces in these frames. The headboard and footboard are their features, so they bring some elegance to every bedroom.
Bunk Bed
Check Out the Top 10 Best Bunk Beds
Bunk beds are a type of bed that is popular with kids who live in multi-bedroom houses. To save space, a bed is directly above another bed to form a single unit. Finally, a ladder is used to climb up to the top bed.
Triple Bunk Bed
Check Out the Top 10 Best Triple Bunk Beds
Triple bunk beds, as the name implies, have three beds. Stacked vertically, made of wood or metal, they lie on top of each other. Children of all ages can use three bunk beds that come in full, twin, and queen bed sizes.
Trundle Bed
Compared to bunk beds, trundle beds have a bed that you can take out from under the bed frame. Often perfect for sleepovers, they are another fantastic way to save space in a kid's bedroom.
Loft Bed
Compared to conventional beds, which have an inch space between the bed and the floor, the loft bed is a single bed that is elevated off the ground and leaves a comfortable room for reading or studying underneath it. Bunk beds have ladders so that you can climb to the top. No bed is below, however. Children's bedrooms with space under the bed are set up with a desk or play area are well suited to this bed.
L-Shaped Bed
L-shaped beds are, as the name indicates, L-shaped. They can fit two beds into a small space by combining them in a corner. Many people prefer this bed choice for a child's bedroom because it decreases the amount of space needed while also providing siblings with an opportunity to sleep next to each other.
Treehouse Bed
A treehouse bed is ideal for kids who love to visualize and build. Treehouse beds are raised, resembling treehouses. To make a bunk bed, you can also use this type of bed.
Novelty Bed
Beds can come in the most surprising shapes (especially kids' beds). These can have various geometric shapes, curved lines, as well as come in shapes of cars, dollhouses, pirate ships, and so on.
Bed Styles
A bed of any size and bed frame design can also have a different styles. These are the most common styles that any bed can have:
Traditional
The traditional bed has several bed styles that date back in time. A wide range of bed styles is included in these designs, including poster beds, canopy beds, and more. Dark wood is usually used to improve the timeless look because of its connection with the traditional design.
Rustic
A rustic bed has a specific look that not many people prefer in their bedroom, but it's trending nonetheless, with a rough, aged, and natural look. Cabins and older homes tend to have beds with this styling.
Country
The country-style bed is like a rustic bed in that it has a weathered and aged look. Popular styles include frames that are made of wood and contain panels at the feet and head.
Farmhouse
The farmhouse style is a combination of the rustic and country styles. That's exactly what you can find in this style of bed frame. It's made of wood or metal, and has a rustic feel to it without being over the top.
Modern
A modern-looking bed means it is in line with the latest fashion trends. Usually, this style of bed is elegant and straightforward. They have nothing in the way of showiness and can be used in practically every style of home decor.
Industrial
You know the look — it's as if they're made in a factory and stayed there. They look fantastic in contemporary homes and are outstanding statement items. Industrial beds usually have wood and metal elements.
Retro
Beds that use vintage and antique designs are considered retro. In mid-century modern homes, they can work either old-fashioned or modern, but they all have a retro look.
Mission Style
Beds that use natural wood and are distinguished by a simple and elegant appearance are called mission-style beds. Flat panels, horizontal and vertical lines are typically used in these bed frames.
Cottage
Cottage beds are a classic type of bed that comes with a headboard unique to the cottage style. Remarkable carvings or colors are usually found on headboards. Farmhouse, country, or beach-style homes look excellent on them.
Mid-Century Modern
Beds from the mid-century period are exquisite in style. They are traditionally made of wood and feature designs from the mid-1900s, resulting in a traditional and vintage look.
French
French beds are elegant and traditional. Decorative headboards are popular. They are especially well-suited to master bedrooms and are sure to inject a sense of romance into any space.
Rattan
Rattan or wicker beds have a soothing and stylish feel. Every bed is unique because of the wooden bed frame produced by weaving wood. Adding texture to the farmhouse, country, or beach-style homes is a beautiful way to use them.
Scandinavian
The simple, clean Scandinavian-inspired style is perfect for modern homes. Usually, this type of bed's headboards are made of solid wood and are free of decorations.
Recap
Liked this article? Here's what you can read next: