Last updated on August 13, 2020
Floating beds are easy to incorporate into virtually any decor. They also make for a fun and relatively simple DIY projects. Floating beds are becoming extremely popular with people who are looking to maximize their space because the beds provide viable storage areas beneath.
Some of the more elaborately designed beds even feature track lighting and enough ground clearance to provide an easily visible area beneath. The lighting is also ideal for beds that are built into children's rooms because it eliminates the need for a nightlight. The greatest advantage to a floating bed is the ease with which they can be built, making them relatively simple DIY projects for virtually anyone.
Modern Industrial Look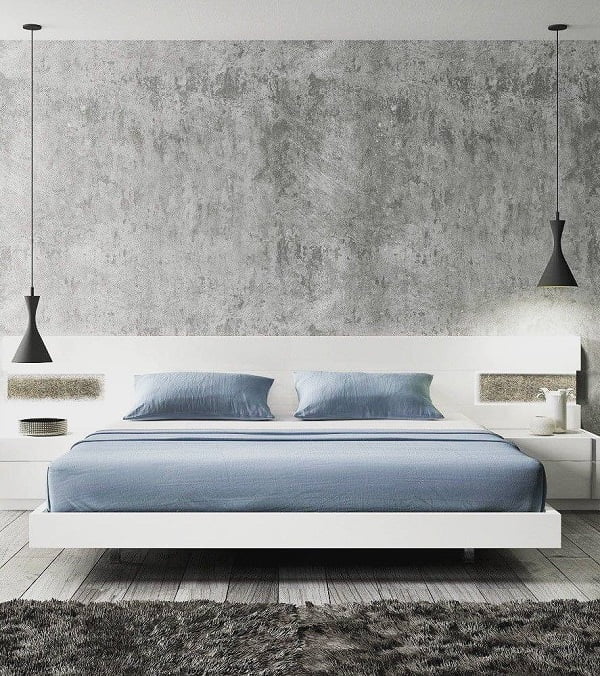 This sleek modern floating bed frame design fits an industrial look that is done with concrete walls and industrial style pendant lights.
Solid Ash Floating Bed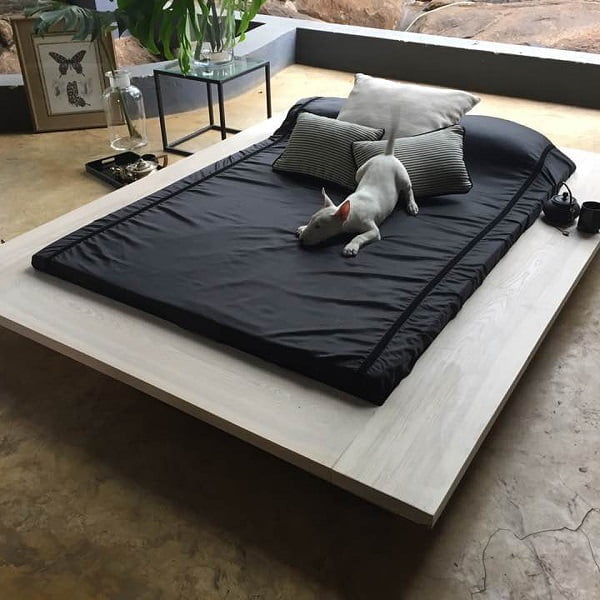 This is a rather simple design that allows you to easily change mattresses. It's also very spacious and relatively low to the floor. This project might be best for someone who has little experience building furniture.
Traditionally Beautiful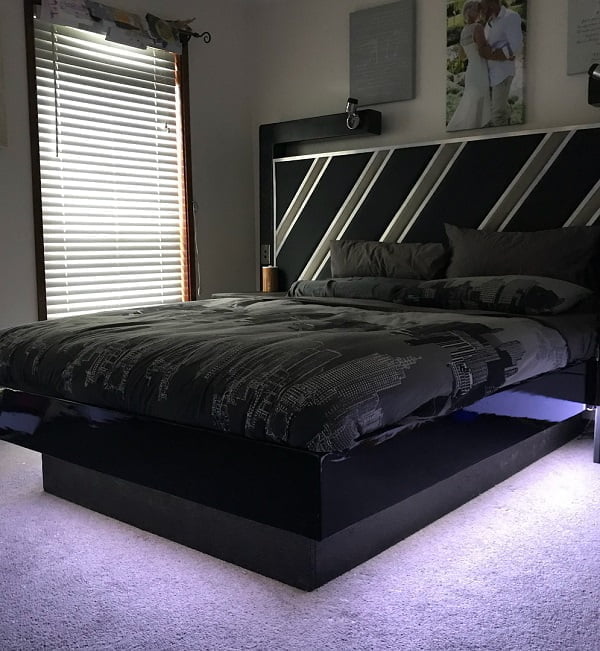 This is a great bed for someone who wants a floating bed that rivals a traditional box spring and mattress. It has enough space for two to sleep comfortably while still being small enough for a modest apartment.
Affordable Comfort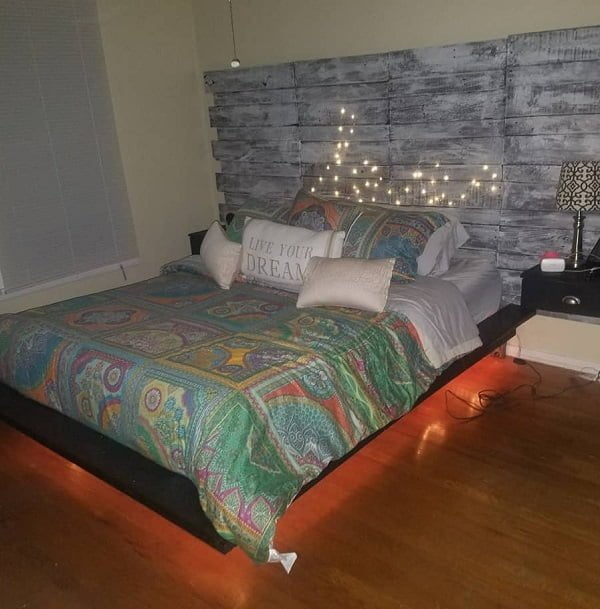 Stay within a modest budget with this quaint floating bed. It's constructed of wood which is always a reliable building materiel and it illuminates the surrounding area.
Beautiful and Roomy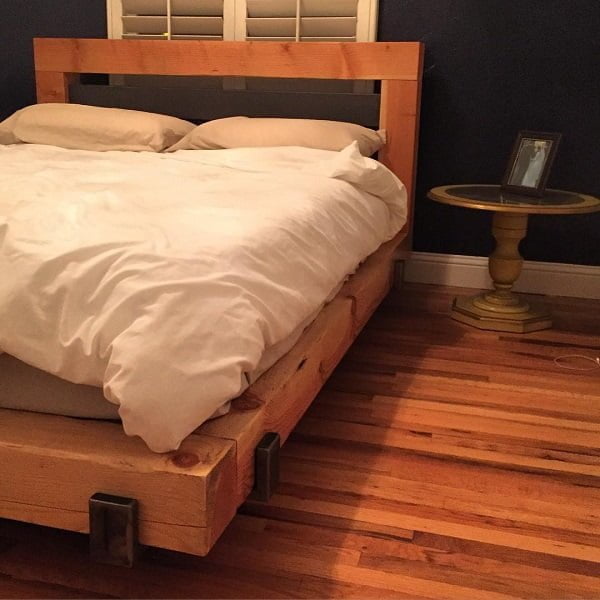 Liven up your bedroom with this stylish floating bed that features attractive metal accents. This is the ideal selection for a couple or for someone who wants a spacious sleeping area.
Big and High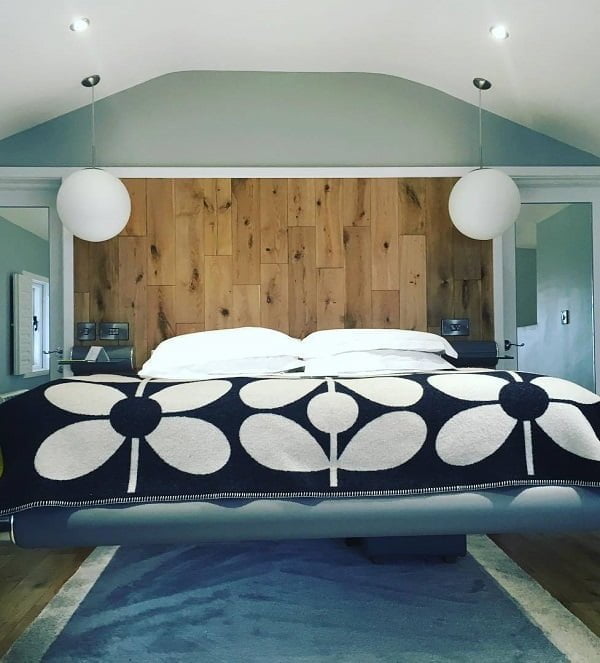 This floating bed design is truly stunning. It's big and comfy, and it features a pretty high bet platform installation.
Daniel Hopwood's Design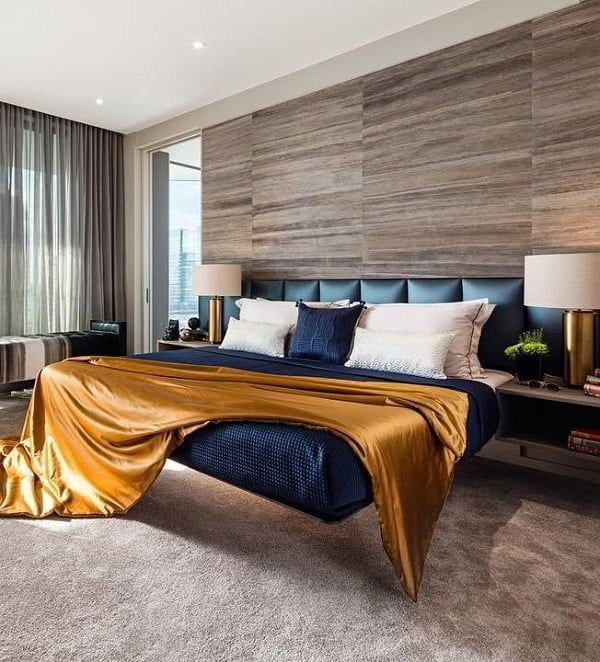 This beautiful design is the brainchild of the noted interior designer. It seems to exude luxury and class which makes it the ideal choice for a loft or condo.
Hidden in Plain Sight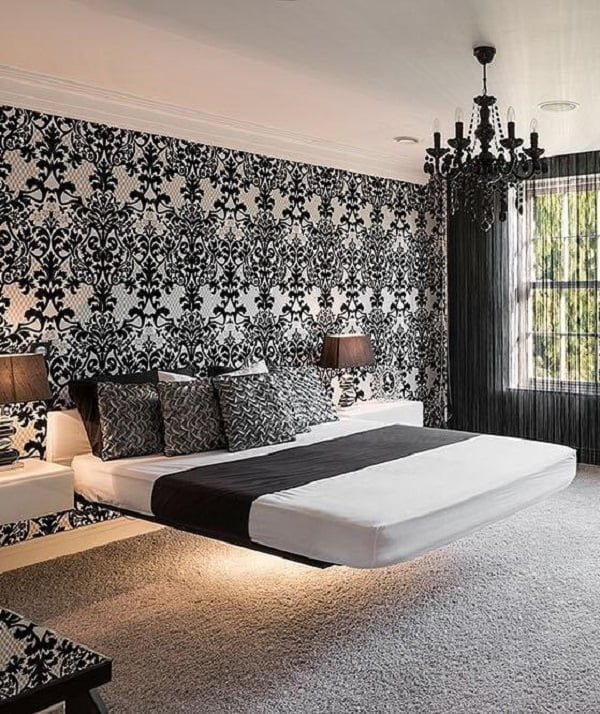 This is one of the most unique floating beds that features a very inconspicuous design. This design even features a light beneath the bed to create an ideal storage area.
Halcyon House Colombo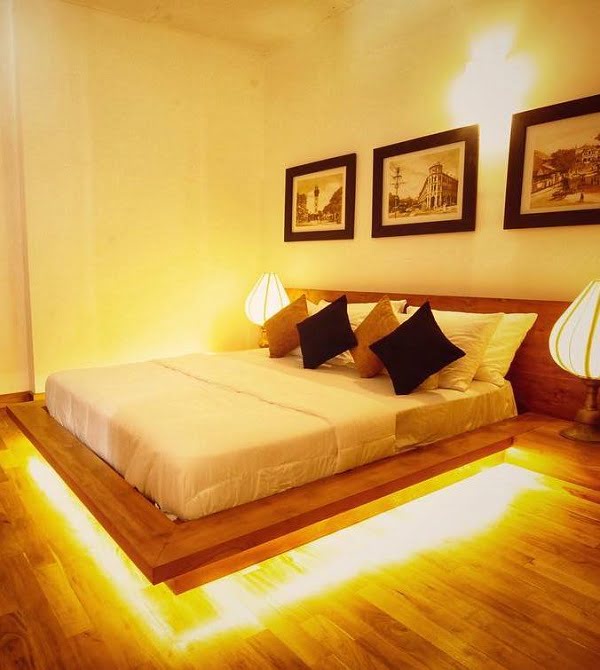 This is one of the most luxurious floating beds on the market and it's sure to impress. It also illuminates the area around it and it even features a beautiful built-in night stand.
The Frugal Sleeper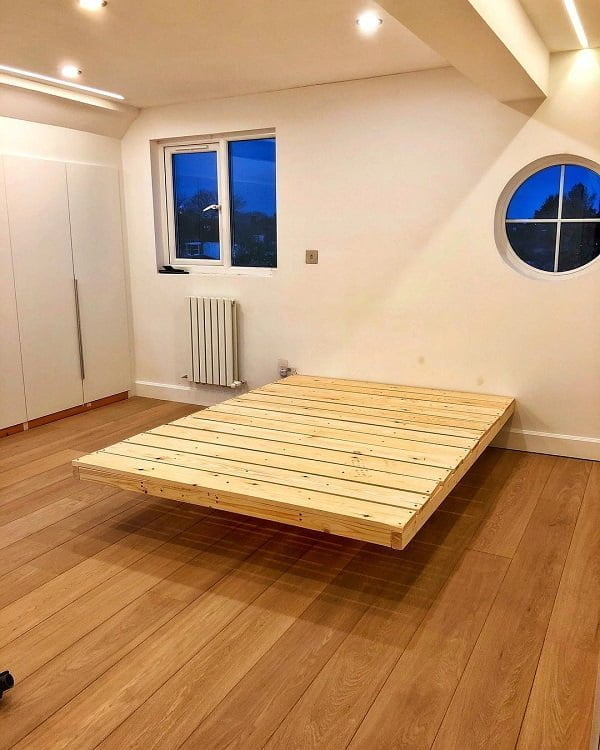 This is the floating bed for anyone on a budget. It's a great DIY project for someone looking for a quality bed that won't break the bank.
Showroom Worthy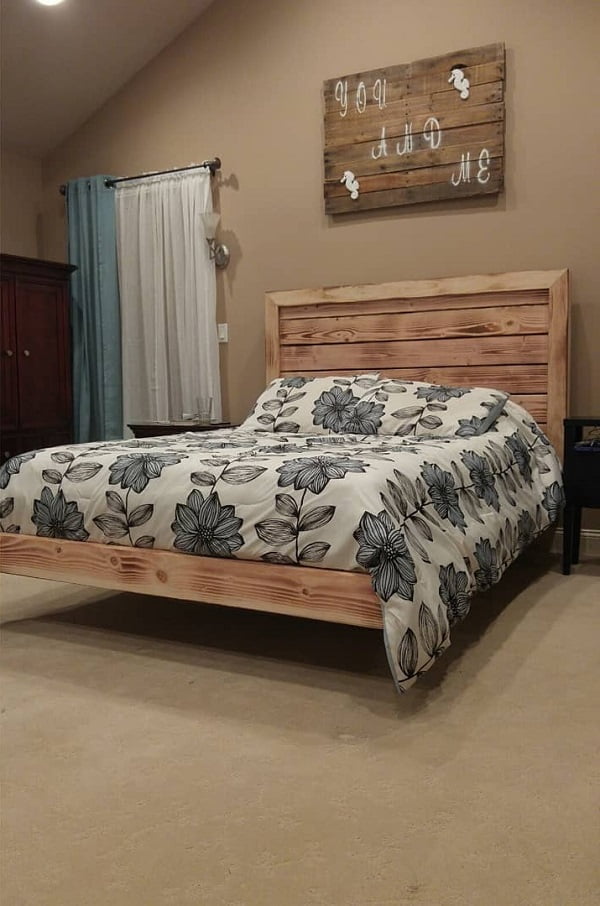 This bed has the style and beauty to rival something found on a furniture store floor room. It exudes style and demonstrates the ease of building your own sleeping space.
For the Youth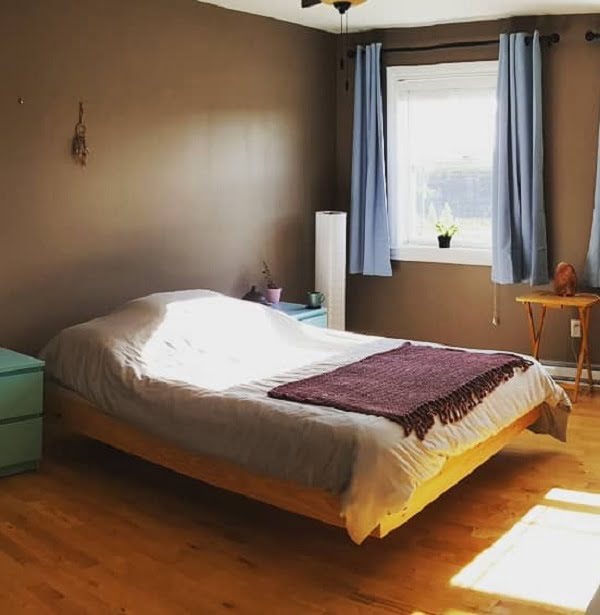 This bed is ideal for a child's room or a young person's first apartment because it consumes very little space. The wooden design also makes it the perfect DIY project for someone with little experience working with tools.
Under Lit Floating Bed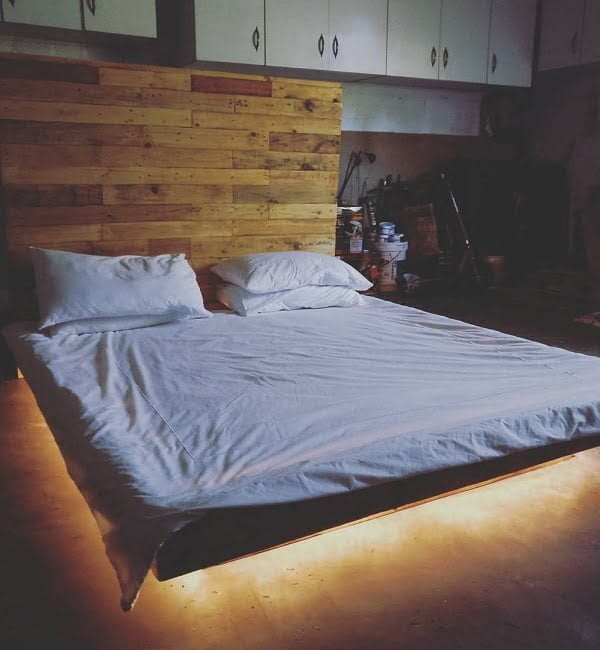 This bed features a large headboard that can be styled with picture frames or paintings. It's low to the floor and as large as a queen-sized bed.
Rustic Floating Bed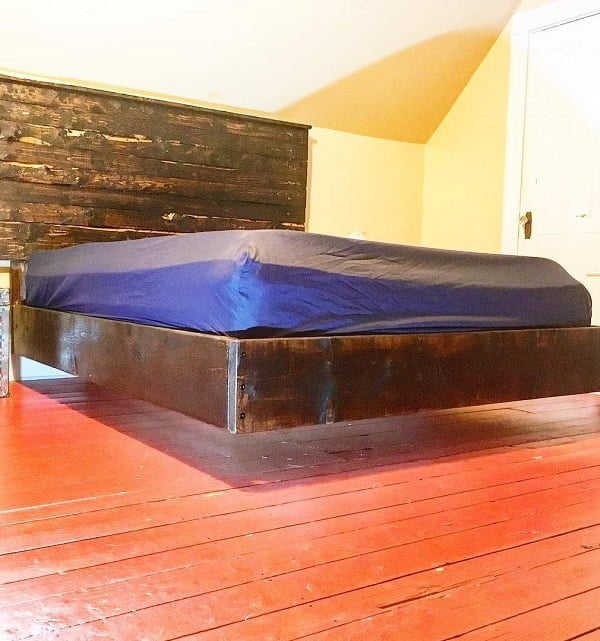 Here's a rustic floating bed frame design that can be a DIY project as well. Any type of wood can be used, including reclaimed or pallet wood.
Industrial Sleeping Area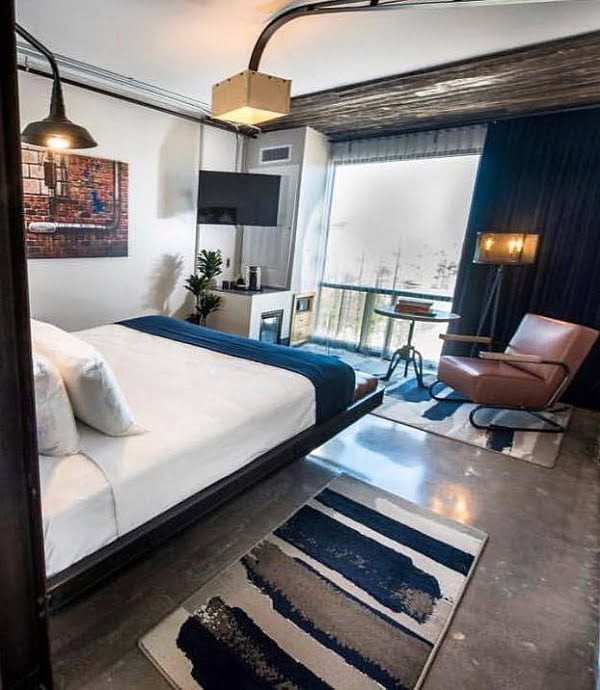 Any studio apartment will seem more spacious when you complete this easy project. It makes brilliant use of the I-beams in the middle of the room and it's ideal for a single professional.
Dream Roper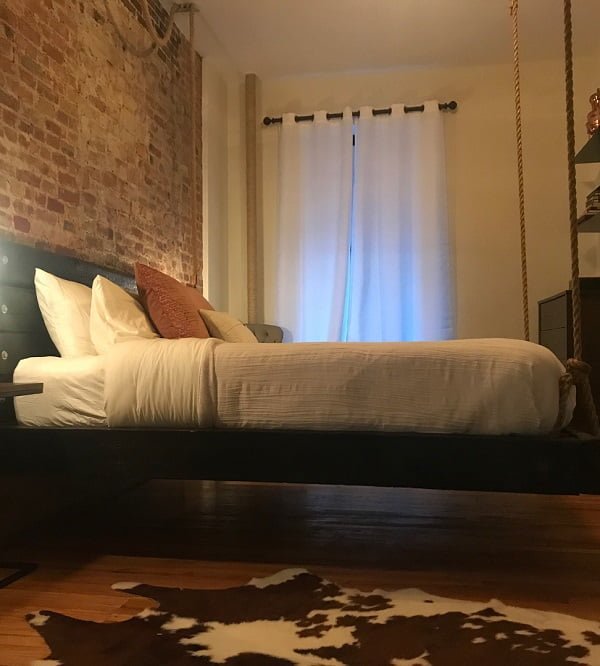 This quaint bed features a headboard that can be easily duplicated. It also makes brilliant use of a pair of ropes that seem to suspend the bed in mid-air. The ropes don't offer any real support but they are a nice added touch.
Vertigo Hotel & Spa NUXE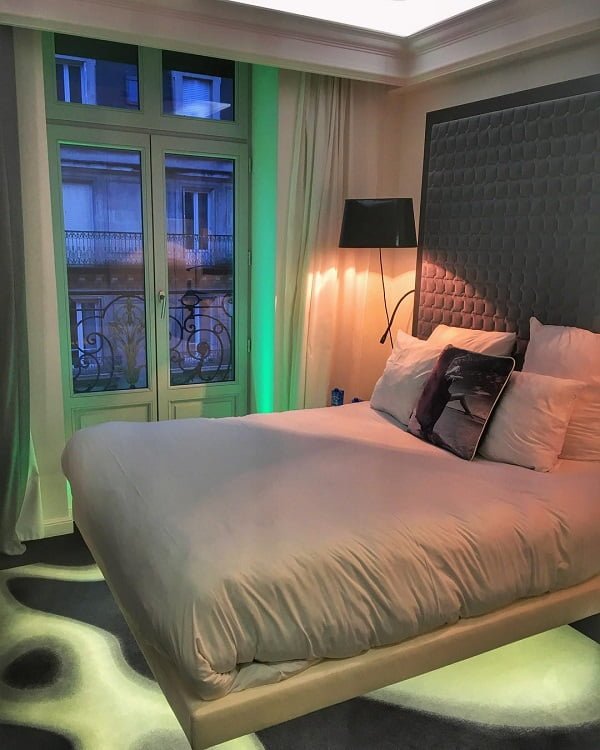 This is a beautiful design that's actually featured at the Vertigo Hotel. Fortunately, it can also be duplicated in a room that has little interior space.
The Beauty of Sri Lanka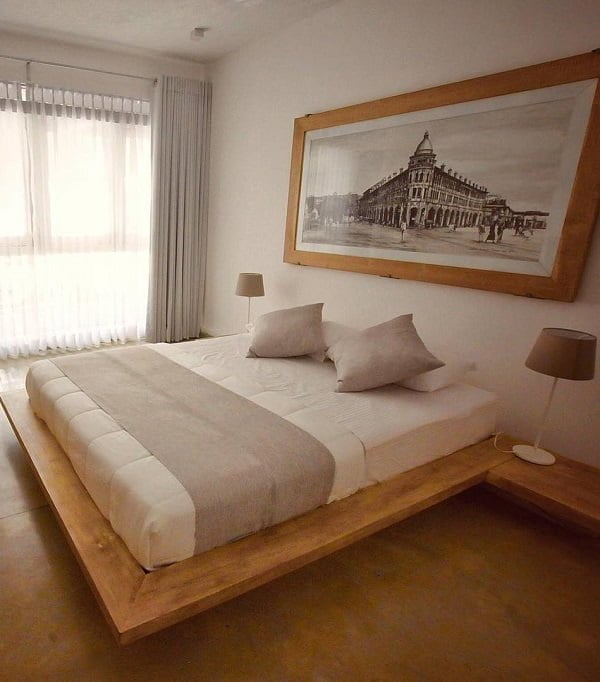 With just a few precise cuts, an unassuming pile of lumber can become this beautiful floating bed. This is ideal for a married couple because the wooden runners eliminate the need for nightstands.
Suspended in Beauty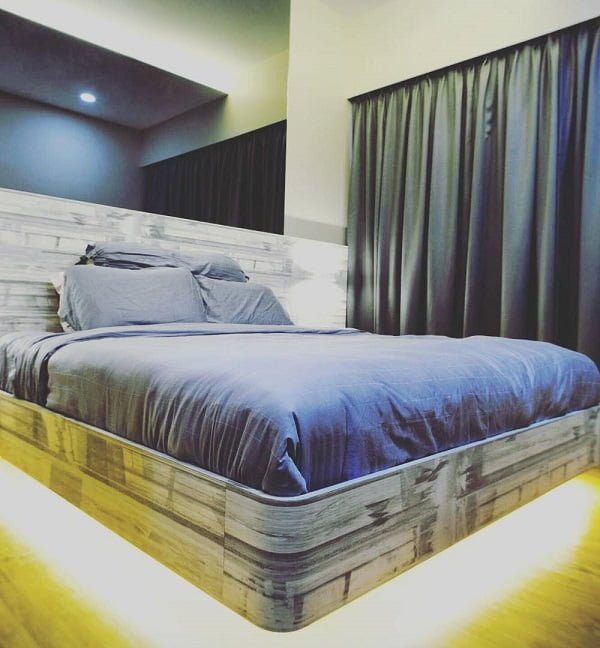 Floating beds don't have to be small as this beautiful project proves. It can beautify a bedroom with just a few supplies touch of ingenuity.
Simply Impressive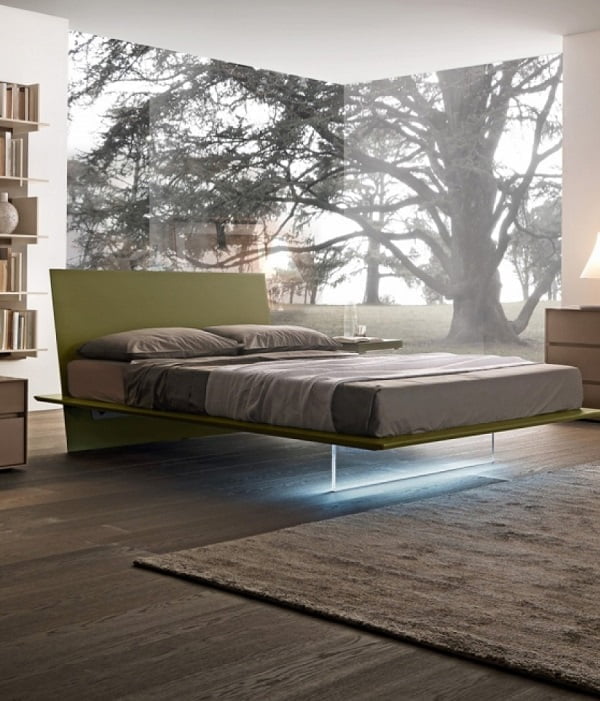 Unlike most floating beds, this number can be built without the need of a wall. Best of all, it gives you the option to relocate it when you decorate and it's composed from eco-friendly materials.
King Sized Comfort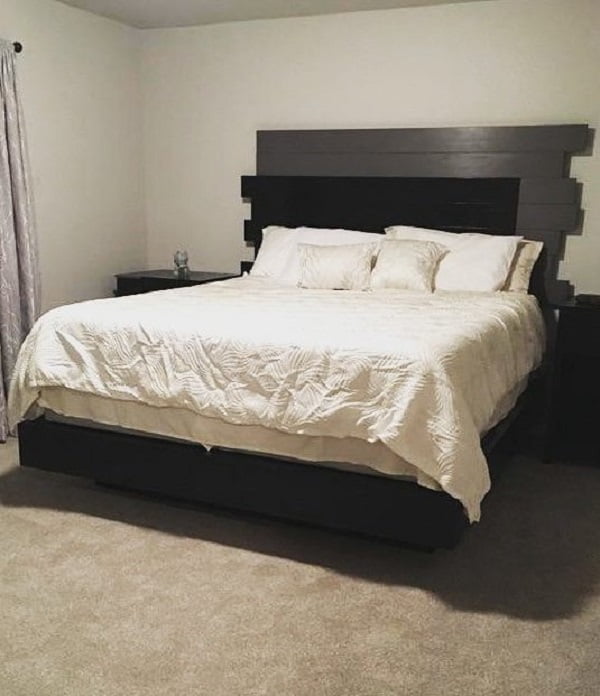 This is one of the largest floating beds, and it defies the typical issues associated with them. You can build this bed and complete it with a pillow-top mattress for ultimate comfort.
Floating for Two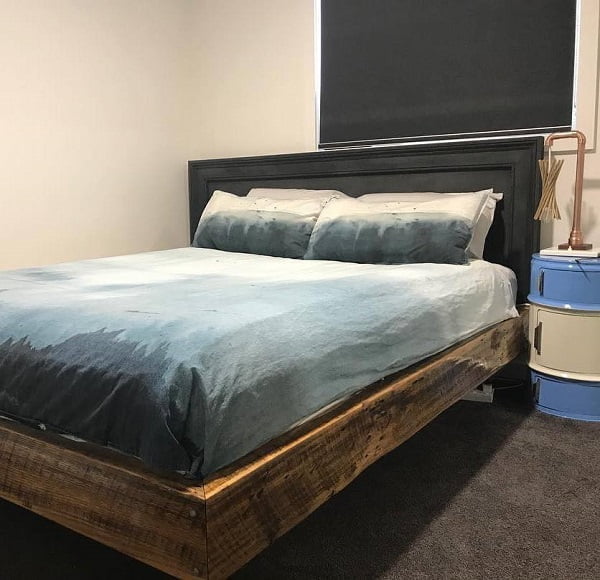 This is one of the best beds for a couple because it can be constructed with a modest budget. The materials are affordable, yet it can easily sleep two people.
The Amazing Floater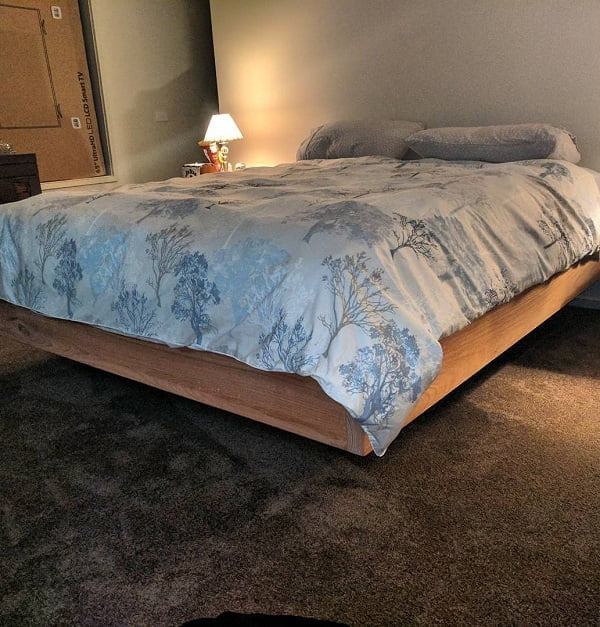 The lack of a headboard may leave people asking if a magnet is holding this bed in place. It also means it can be more easily constructed with fewer materials.
Wooden Masterpiece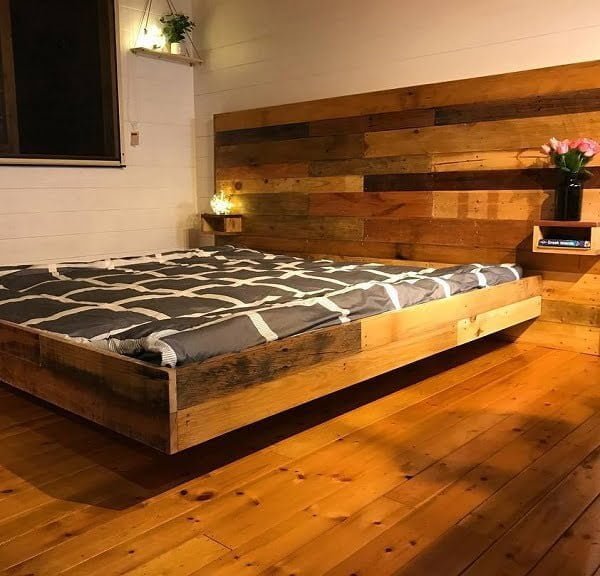 This bed compliments a home with hardwood floors. The headboard also features nice shelves, and virtually anyone can build it a quick DIY project.
Made for Couples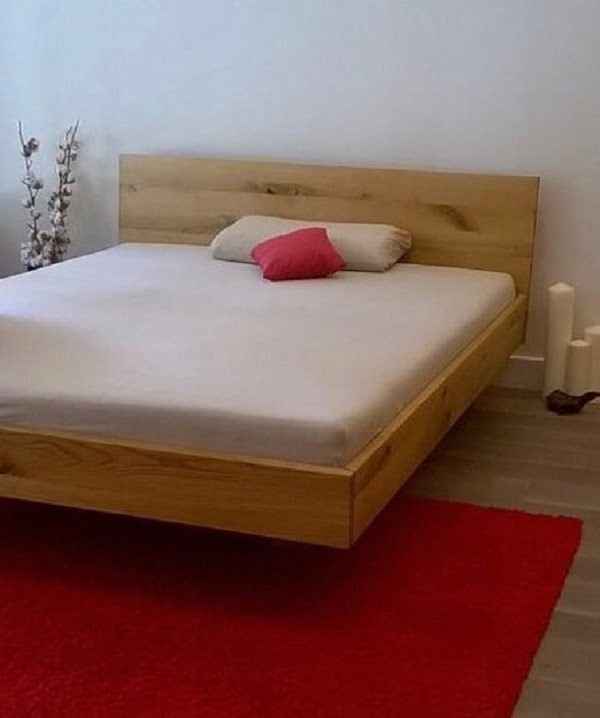 This is another project that allows you to use a traditional mattress without the need for a box spring. It's ideal for a young couple that has a need for space.
Dreamy Sleep Space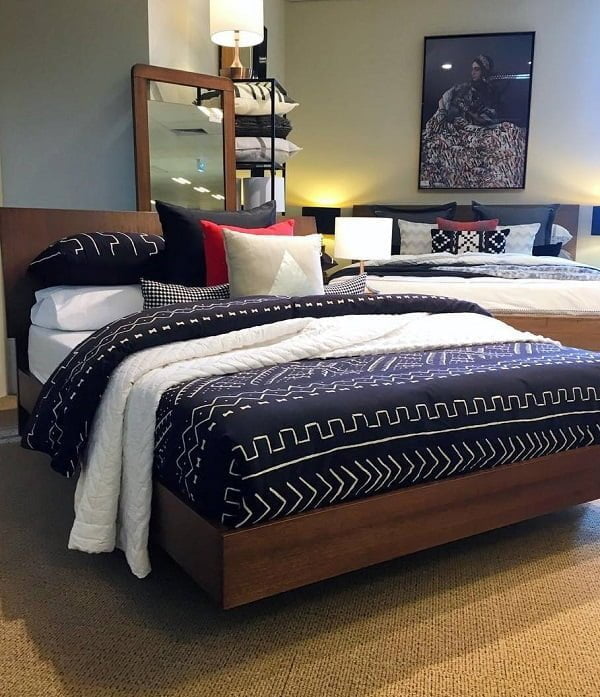 This floating bed can be put together on a modest budget and it's a good choice for a couple with a large bedroom. It's lower to the floor than other floaters but still high enough to store items beneath.
Stepping up to Great Sleep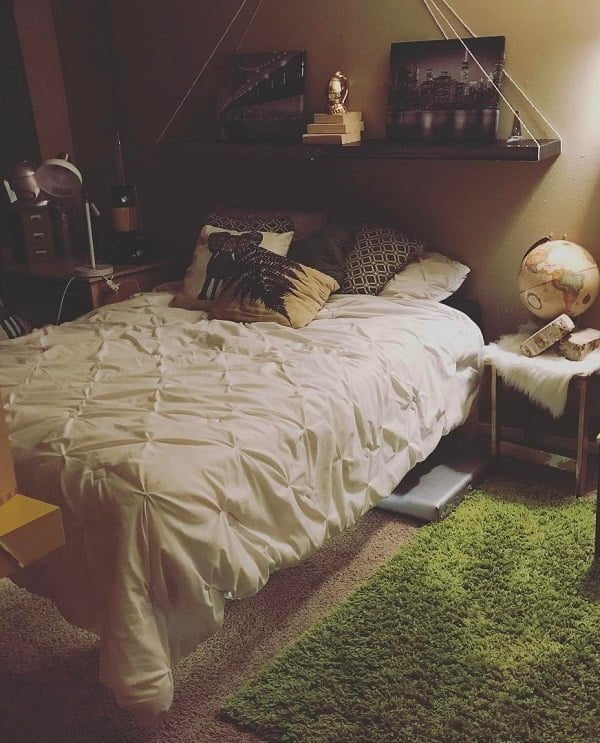 You should consider this option if you want a larger bed and have little space. It has lots of ground clearance for storage and a few plastic bins can eliminate the need for a dresser.
Hollywood Style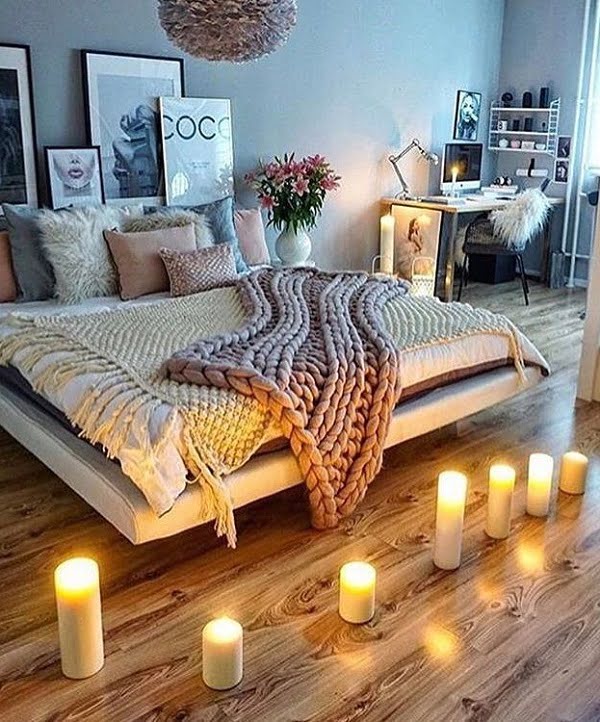 The lack of a headboard leaves more room for decorating the walls. This basic DIY project is ideal for a young couple with a spacious bedroom.
Levitate High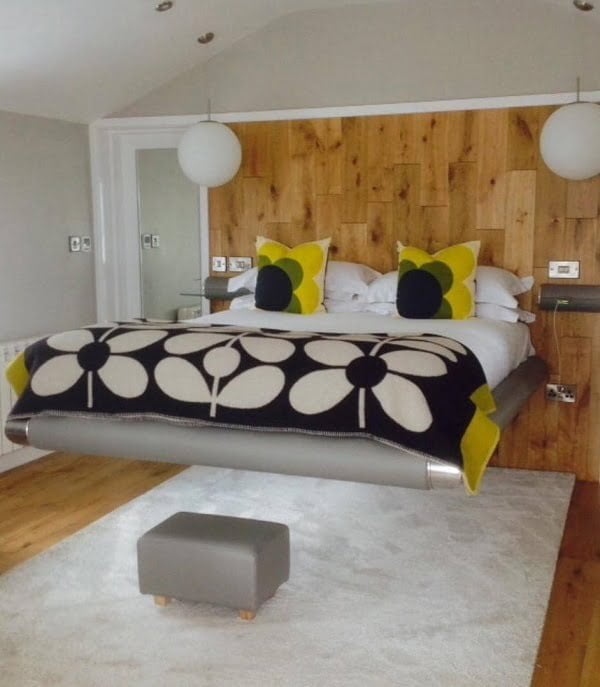 While most floating beds are just a few inches high, you aren't really limited by the height you want. This great idea shows how high you can actually go.
Pop of Orange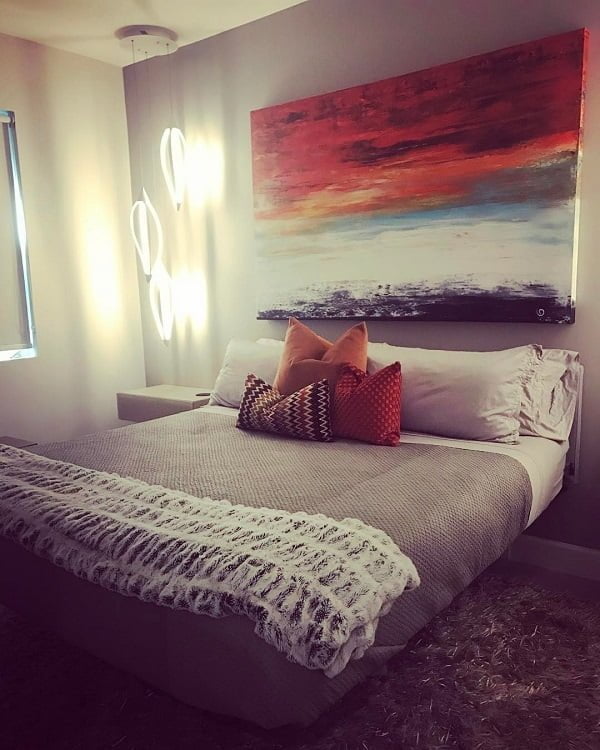 A floating bed doesn't frame the bedroom decor and you are free to be creative. In this case a pop of orange in statement wall art is used to create striking decor.
Recap
Liked this article? Here's what you can read next: