Last updated on November 11, 2023
Because fluted headboards effortlessly combine elegance and texture, this article unveils a variety of affordable ways to incorporate them into your bedroom decor.
I take great pride in having conceptualized and illustrated these 25 elegant fluted headboard ideas, and sincerely hope you find them as inspiring and enjoyable as I found creating them.
Fluted headboards have surged in popularity due to their timeless elegance and ability to transform any bedroom into a luxurious retreat.
Whether you're a fan of the classic or modern style, this article will guide you through a variety of fluted headboard ideas that are not only stunning but also budget-friendly.
From DIY projects to savvy shopping tips, we'll explore how to achieve this high-end look without breaking the bank.
So, get ready to refresh your bedroom decor with these stylish and affordable fluted headboard ideas.
The details are all here, so let's dive in!
Mahogany Fluted Headboard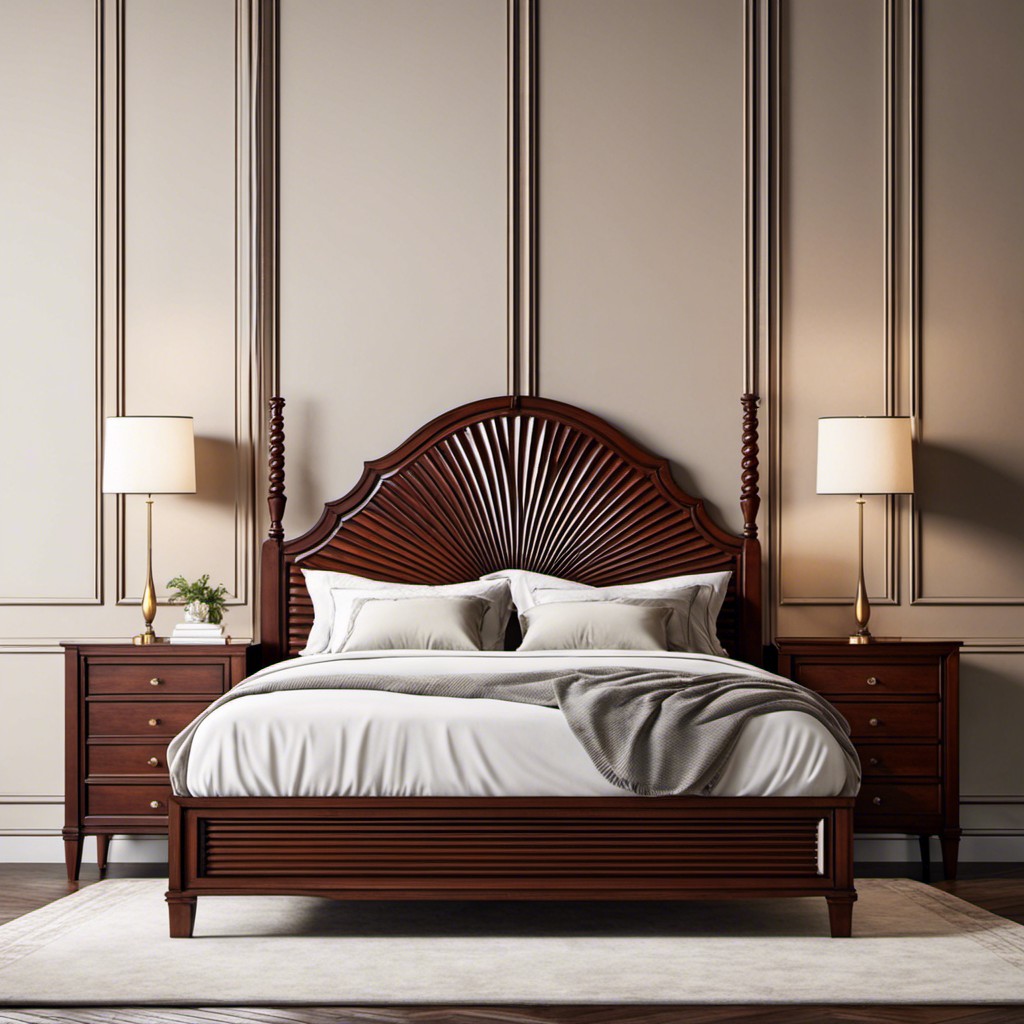 Crafted out of rich, warm mahogany, this headboard version offers an elegant touch to any bedroom decor. Its deep, reddish-brown hue yields an air of sophistication, while the fluted design adds texture and depth. The very nature of mahogany offers durability, ensuring your headboard will stand the test of time.
When considering a mahogany fluted headboard, remember:
Mahogany takes both light and dark stains well, suiting your unique tastes and the aesthetic of your room.
Don't be afraid to play with different wall colors to enhance the mahogany wood's natural tones.
Complement this headboard with gold or brass accents to further underscore its elegance.
Spot cleaning and occasional dusting work well as part of your maintenance routine for preserving the headboard's aesthetic appearance.
Pair it up with neutral-colored linens to help the rich, warm color of the mahogany stand out.
This fluted headboard can set a luxurious tone for the entire room, proving you don't need to break the bank to live in style.
Antique Finish Fluted Headboard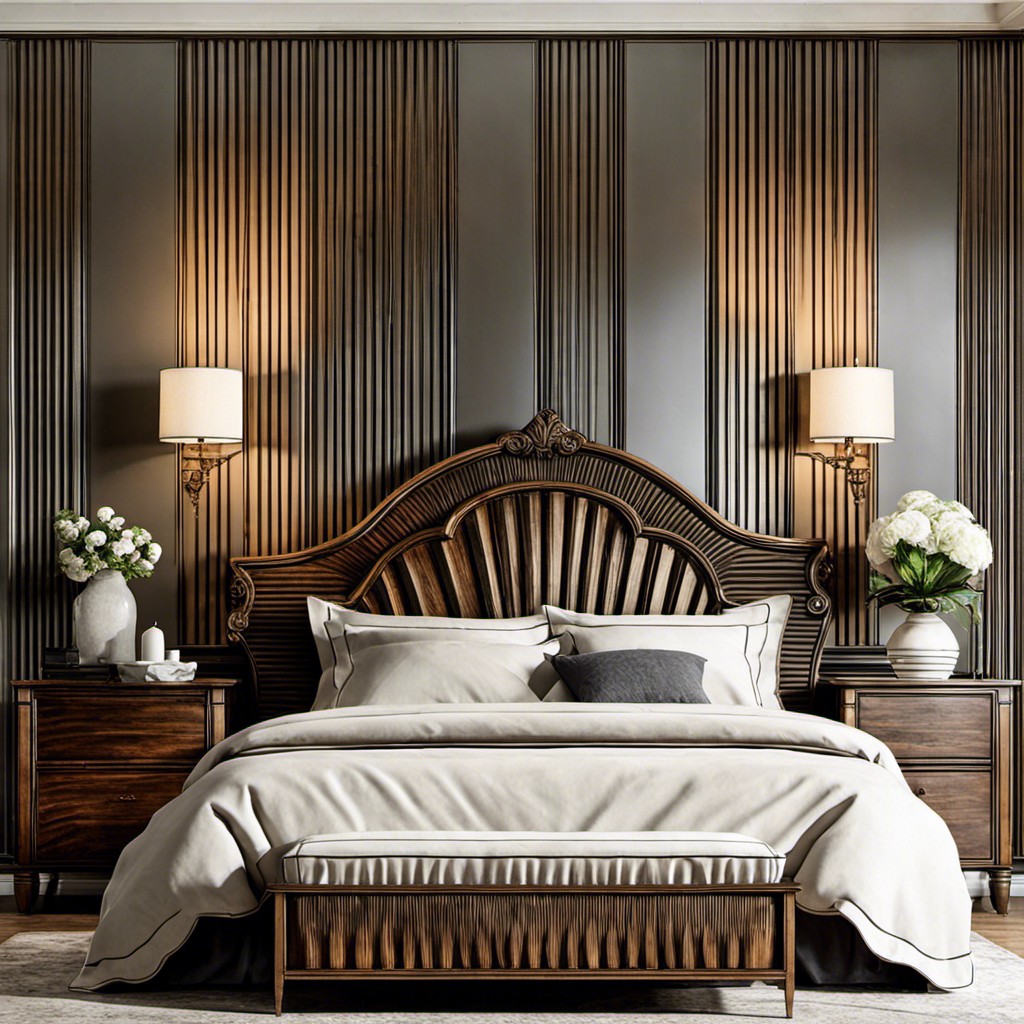 An antique finish lends a sense of elegance and timelessness to your headboard. This approach often involves a vintage color palette, often favoring off-white or eggshell tones. A fluted design subject to this treatment results in an interior piece radiating sophistication and quaint charm.
For this project, you would likely start with a raw wood fluted headboard. The next step would be applying a coat of primer, followed by two or three layers of your chosen paint. White or cream are classic choices for this style.
Next, gently sand certain areas of the headboard to create a distressed look, focusing on corners and crevices where wear would naturally occur over time. A coat of antique glaze will give your piece an extra layer of aged charm. For a final touch, a layer of sealing wax will protect your work and give a lovely sheen.
This process results in a chic, nostalgic signature piece that elevates your bedroom aesthetics, exuding an aura of history and artisanal detail. It not only adds impact to your bedroom, but also it conveys a rich story, becoming a focal point and a conversation starter.
Farmhouse Style Fluted Headboard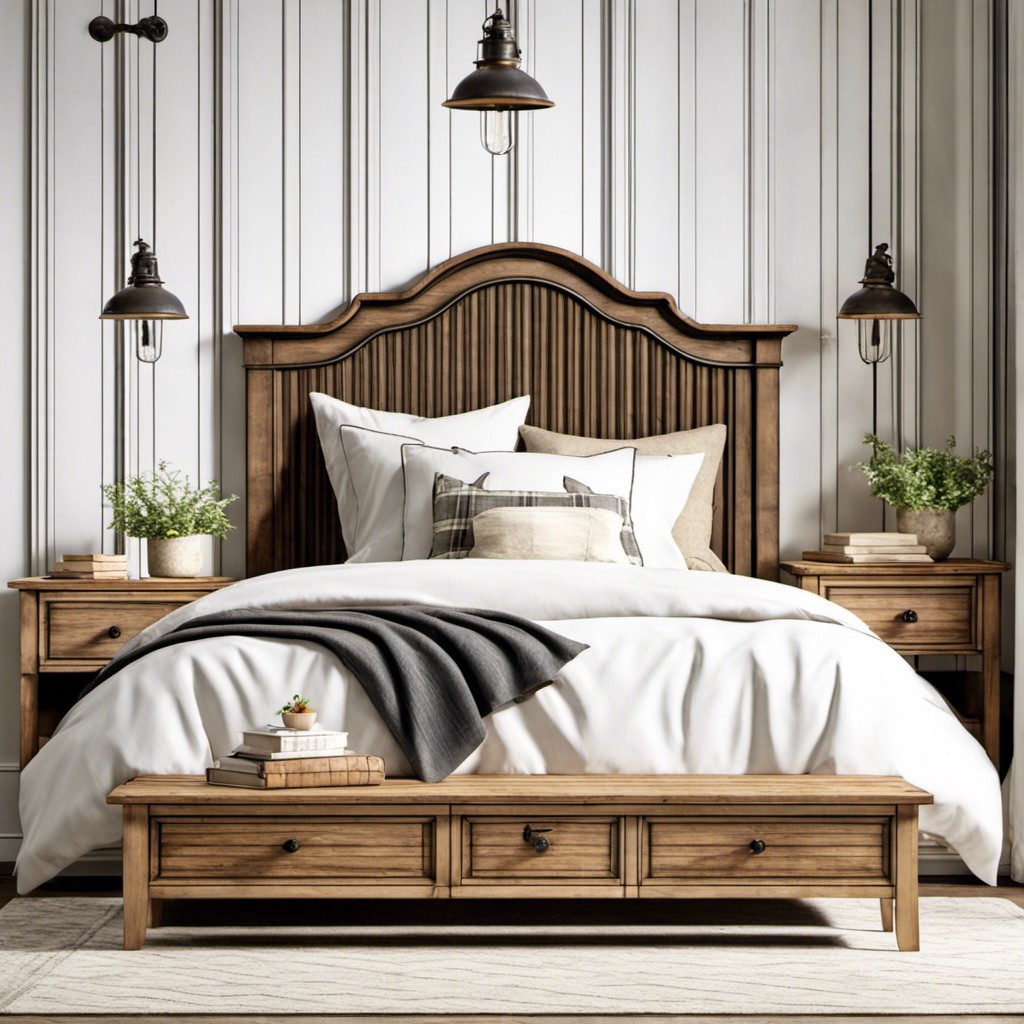 Harnessing the charm of an old farmstead, this approach embraces a balance of textures and materials. Often, the raw wooden texture becomes the main feature. To begin this project, select a piece of reclaimed wood or a moderately weathered board.
A few points to keep in mind:
1. Retention of natural marks and knots enhances the rustic character.
2. A slightly tinted or transparent wood stain not only adds longevity but also brings out the inherent grain patterns.
3. The pronounced vertical lines of a fluted design create a subtle visual interest, making it an ideal choice for a minimalist bedroom.
4. This model can be paired beautifully with a white or neutral color palette, patterns or even contemporary decors.
5. Consider incorporating metal accents or an antique lamp on the accompanying side table to juxtapose old-world charm with modern aesthetics.
Remember, the key to farmhouse design lies in its simplicity and raw charm. With these in mind, transform any sleep space into a welcoming abode that blends comfort, function, and style.
Modern Minimalist Fluted Headboard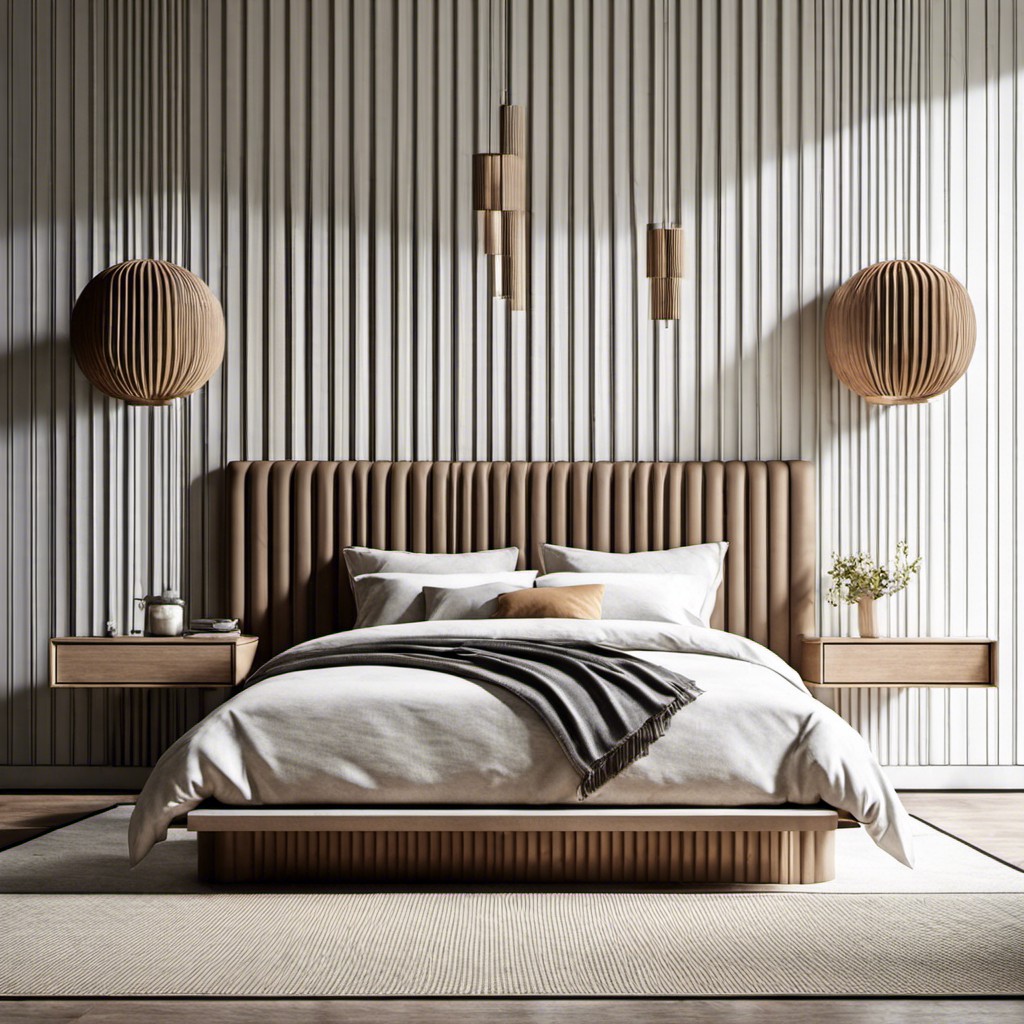 Characterized by less complex design elements, the modern minimalist approach showcases the beauty of simplicity. Combining the fluting technique with minimalistic design, this headboard style proves that less is more.
1. Geometry Rules: Clean lines, sharp edges, and geometric shapes define the modern minimalist style.
2. Monochrome Palette: A single, subdued color scheme enhances the overall look. Popular choices often include shades of gray, white, and black.
3. Material Selection: Primary materials used usually comprise of hardwoods, stainless steel or other sleek looking materials that are known for their durability.
4. Less is More: Minimizing clutter, the focus rests largely on the fluting, letting the texture stand out.
5. Functionality: Practicality is at the forefront. Possibly include built-in storage to align with the inherent functional aspect of minimalism.
In general, the appeal of the modern minimalist fluted headboard stems from its ability to enhance a room's aesthetic value while also ensuring practicality and maintaining a low-key presence.
Rustic Wood Fluted Headboard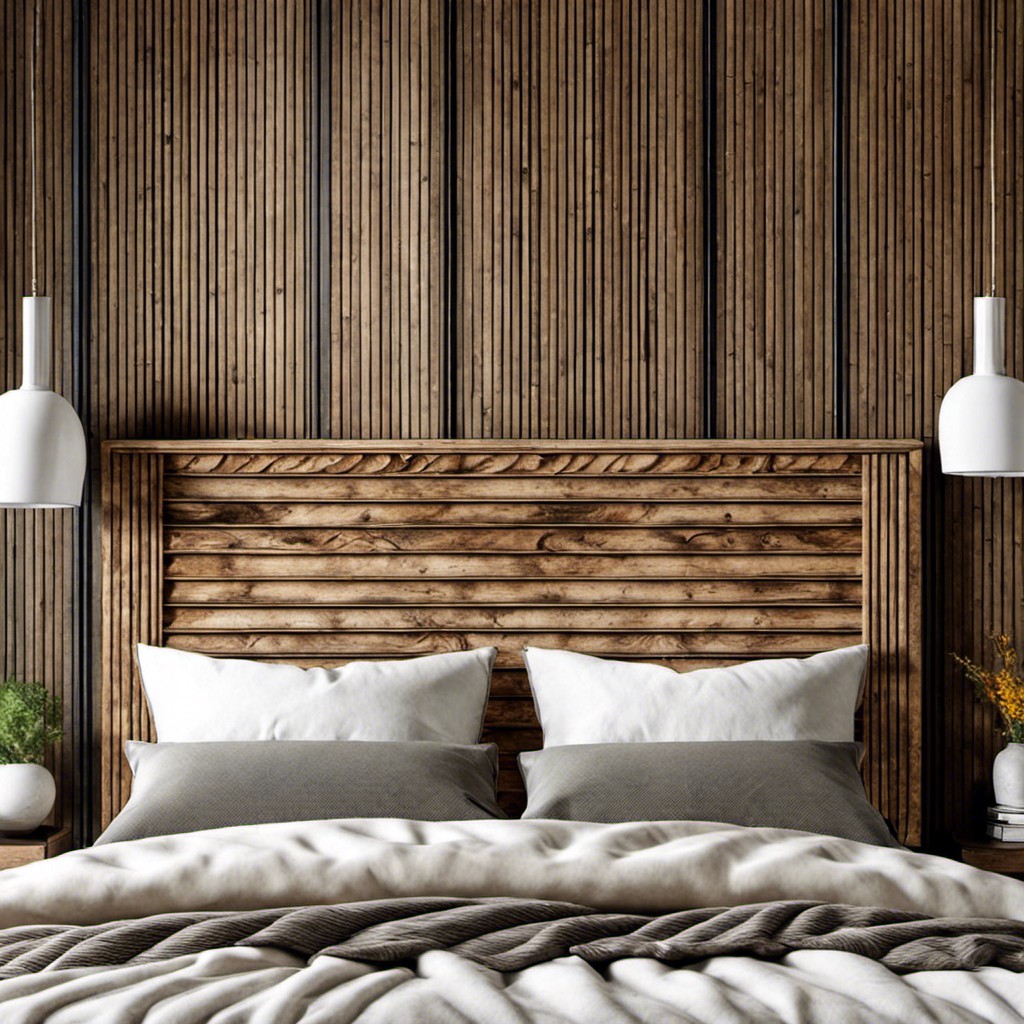 A beautiful way to bring a touch of the outdoors to your bedroom is through a rustic wood fluted headboard. It adds warmth through its natural earth tones and subtle grain texture.
For a truly authentic look, reclaimed wood with its unique markings and knots can be utilized. The fluted pattern, with its distinct vertical or spiraled grooves, adds depth and dimension to this simple design.
For a DIY project, all you need is weathered wood pieces, sandpaper, and timber finish. For an artistic touch, you could also experiment with varying the width of the flutes.
This style, with its casual charm, can easily blend with various decors ranging from country to industrial, though it best complements rooms with a rustic or boho theme.
Slated Fluted Headboard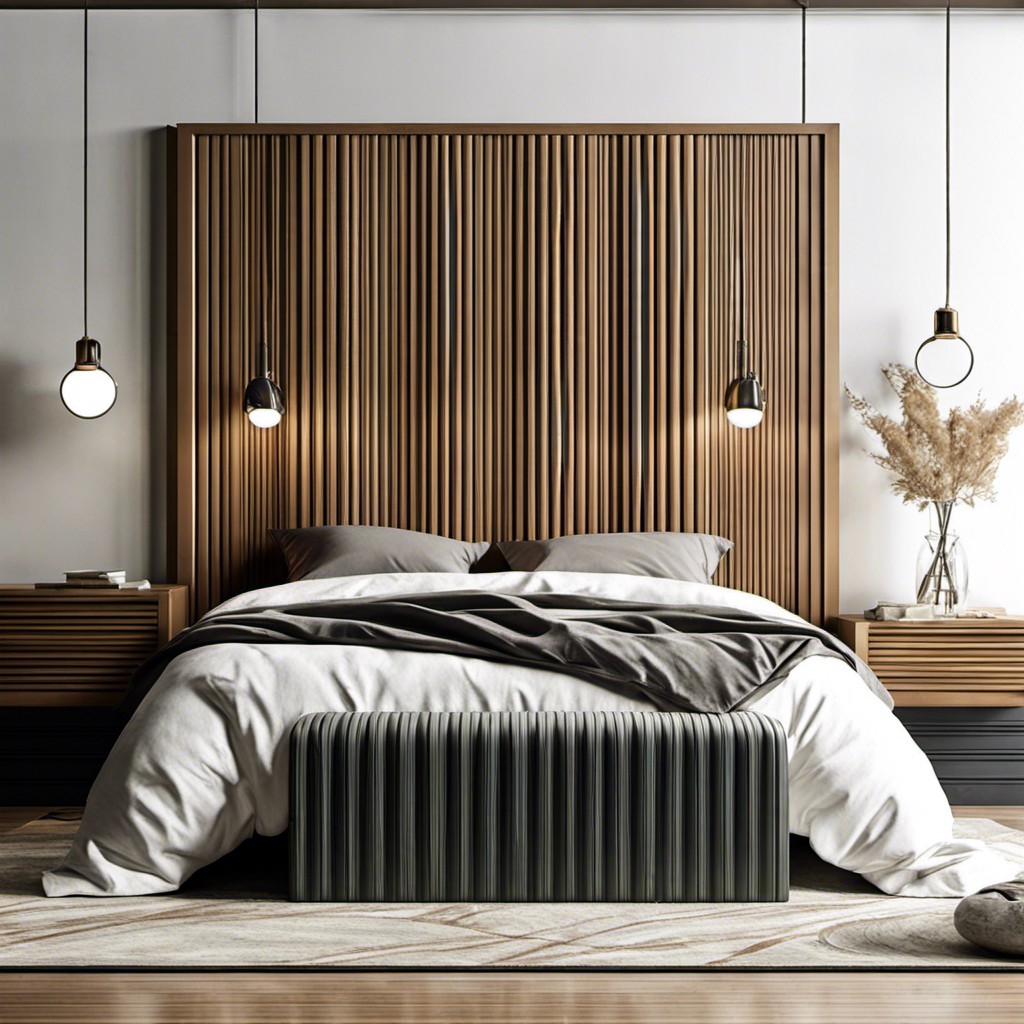 An eye-catcher in any bedroom, this option plays on geometrical nuances to create an appealing design. Here are some key points to understanding its charm.
1. Embracing Linearity: Lean into the unique linear appeal of the slated look. Clean lines are aesthetically pleasing, lending an organized vibe to a space.
2. Versatility in Material: Use a variety of woods or even synthetic materials to achieve the desired effect. Pine, oak, or mahogany can each offer a different character to your room.
3. Exciting Texture Play: The overlapping slats create an interesting textured surface capable of catching light and shadows, adding depth and dynamism.
4. Space Illusion: Slated designs can create an illusion of extended space, making it a fantastic choice for cozy rooms.
5. Color Palette Exploration: Paint each slat a different shade for an adventurous take or stick with a single color to complement your room's scheme.
Remember, your creativity is the limit!
Dark Stained Fluted Headboard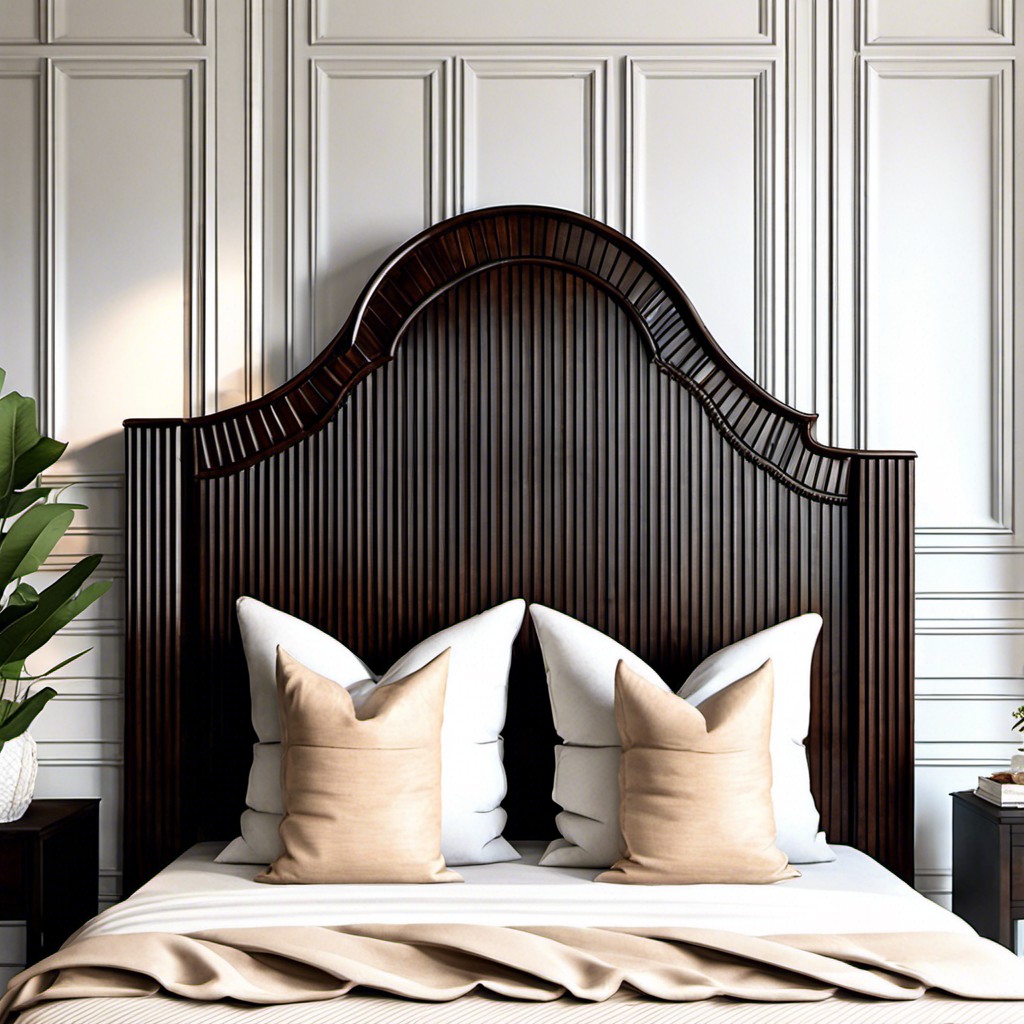 Creating a striking centerpiece in your bedroom is achievable with a dark stained option. The rich tones of the stain enhance the intricacies of the fluting, adding both texture and depth to the overall aesthetic. It creates a bold contrast, especially when paired with lighter colored bedding or pastel walls.
Choose deep tones of stain such as espresso or walnut for the strongest effect, ensuring the wood grain still shines through.
To highlight its elegance, consider accessorizing with metallic fixtures such as bronze bedside lamps or gold picture frames. Alternatively, a monochrome scheme with black and white accents provides a chic, modern touch.
Do not forget, the impact of fluted lines is not limited to traditional styles. If you blend it with contemporary elements, it could perfectly suit a modern bedroom setting.
Lastly, the allure of this appeal lies not only on its appearance but also on its easy maintenance. A damp cloth is all it takes to remove dust, while a soft brush can get in between the crevices. Hence, this type of headboard is a perfect blend of beauty, sophistication, and practicality.
Bold Colored Fluted Headboard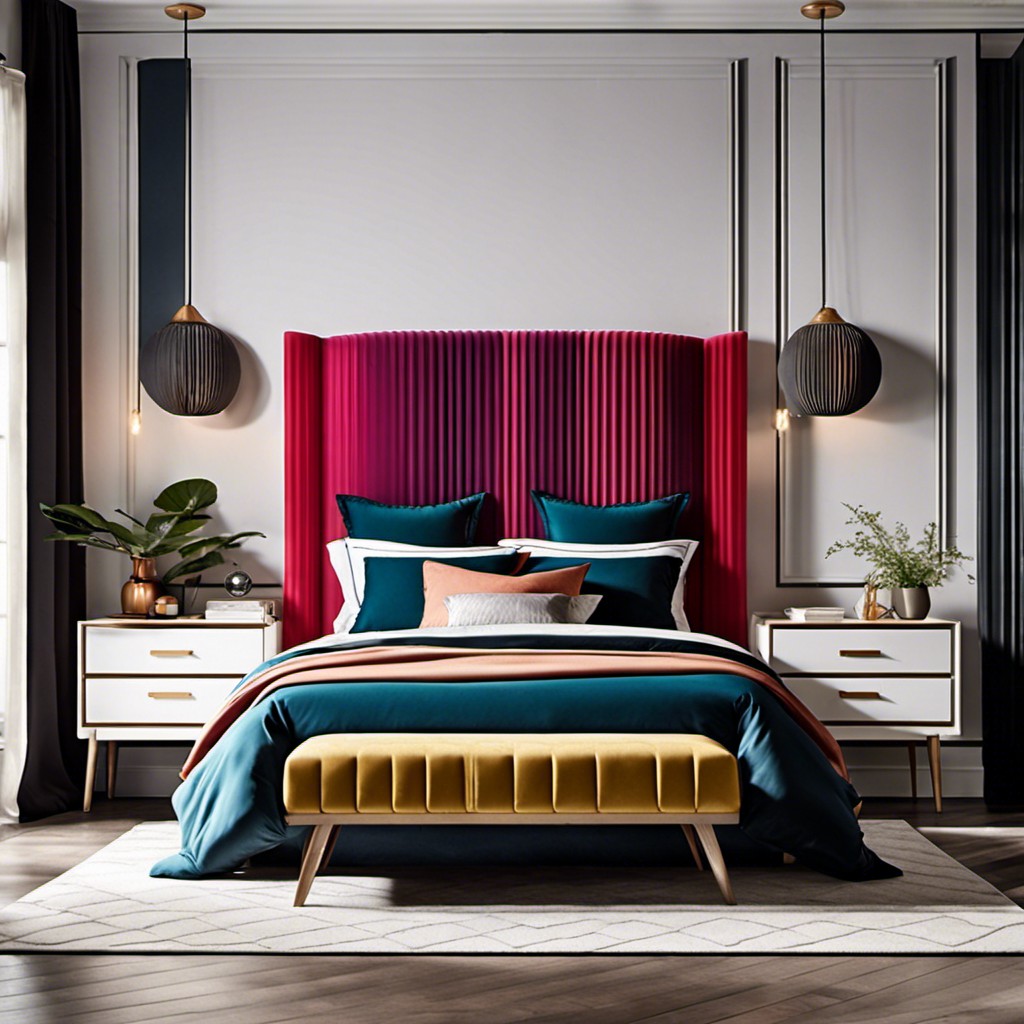 Injecting your personality into your bedroom decor is simple with a bold-colored item that stands out. Choose arresting hues like magenta, peacock blue, or mustard yellow for optimal impact. Chalk paint is an affordable resource and achieves a delightful matte finish. Remember, your room's color palette should complement your vibrant headboard to create a harmonious aesthetic.
An unfinished wood headboard offers a great blank canvas. Alternatively, an old headboard from a thrift store can also be given a new lease on life with a punchy color.
Brush up on painting techniques before you begin. Experiment with color gradients, ombre effects, or color blocking for more depth and intrigue. These techniques can effortlessly elevate an ordinary fluted headboard into a captivating focal point.
Finally, protecting your work with varnish will maintain its vibrancy. It's an optional step, but certainly worth considering for longevity.
Upholstered Fluted Headboard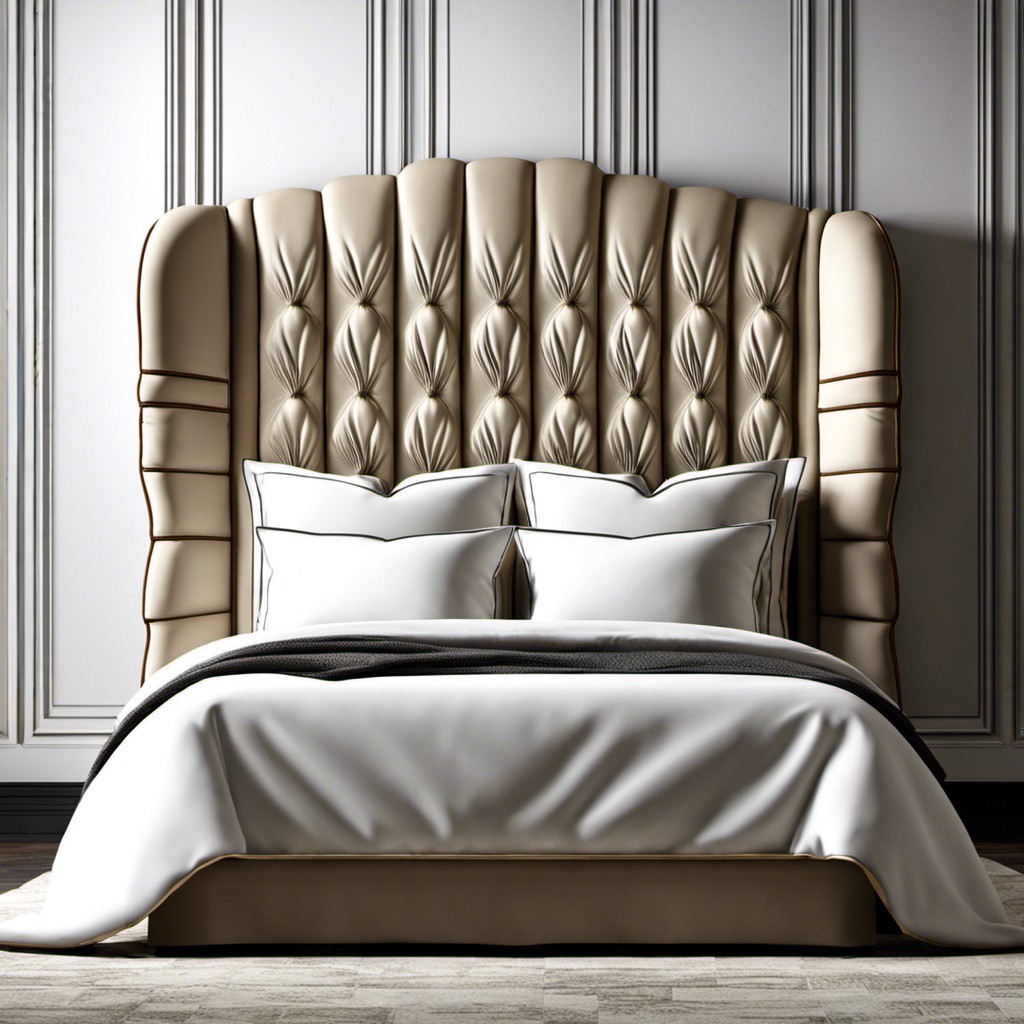 Relaxed elegance speaks volumes when you choose a fluted headboard with upholstery. It adds an instant soft and comfortable feel to your sleeptime retreat, bringing comfort while not compromising on style.
1. Versatility: Upholstery offers endless options in terms of colors, patterns, and textures. Be it velvet for a plush finish or linen for a light, airy feel, your choices adapt to every style and mood.
2. Sound Absorption: Upholstery tends to absorb noise, providing an added peace and tranquility to your rest area – an excellent plus for light sleepers.
3. Cleanliness: Most fabrics are kid and pet-friendly and late-night snack-proof. Removable and machine washable, they stay looking fresh and clean with minimum effort.
4. Comfort: Upholstery provides a cushy backrest for nighttime readers or Sunday morning coffee in bed types.
Remember, your own personality should shine through. Choose a material and color that speaks to your own design sensibilities.
Two-Tone Fluted Headboard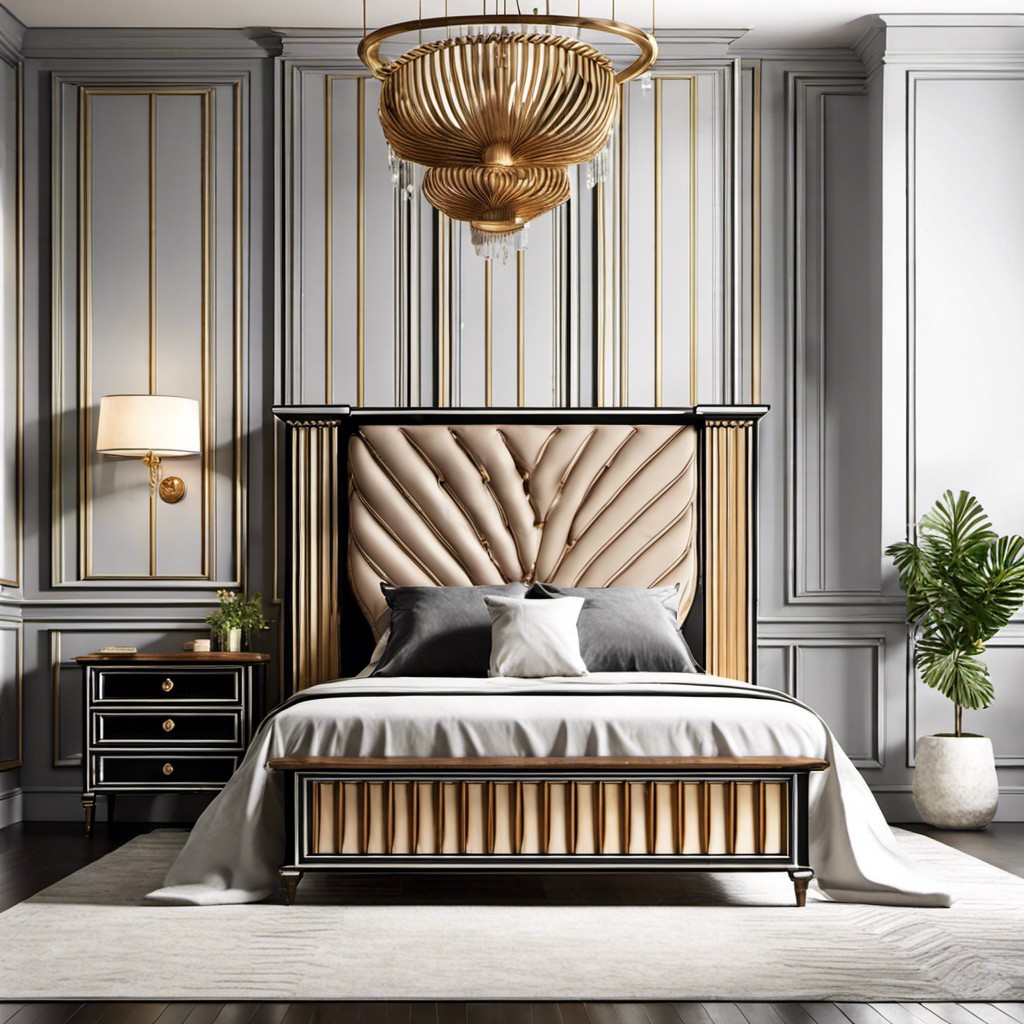 Playing with contrasting shades enhances the architectural detailing of a fluted headboard. Opting for a darker tone in the grooves highlights the curvature, and a lighter shade on the raised parts reflects light, drawing attention to the structure as a whole.
Here are some inspirational ways to achieve this:
1. Pair neutrals like beige or white with rich dark tones like ebony or chestnut. This approach imparts a contemporary yet understated elegance to your bedroom space.
2. Experiment with bold color combinations. Blues or greens coupled with a warm wood tone can introduce vibrancy and create an energizing ambiance.
3. Employ the use of metallics. A combination of matte black and gold produces a luxurious and dramatic aesthetic.
Selecting complementary colors or contrasting hues can emphasize the fluting, providing an artistic and visual depth to your bedroom decor.
Remember, if tackling a DIY project – preparation, priming, and patience during the painting process will yield the best results.
Distressed Wood Fluted Headboard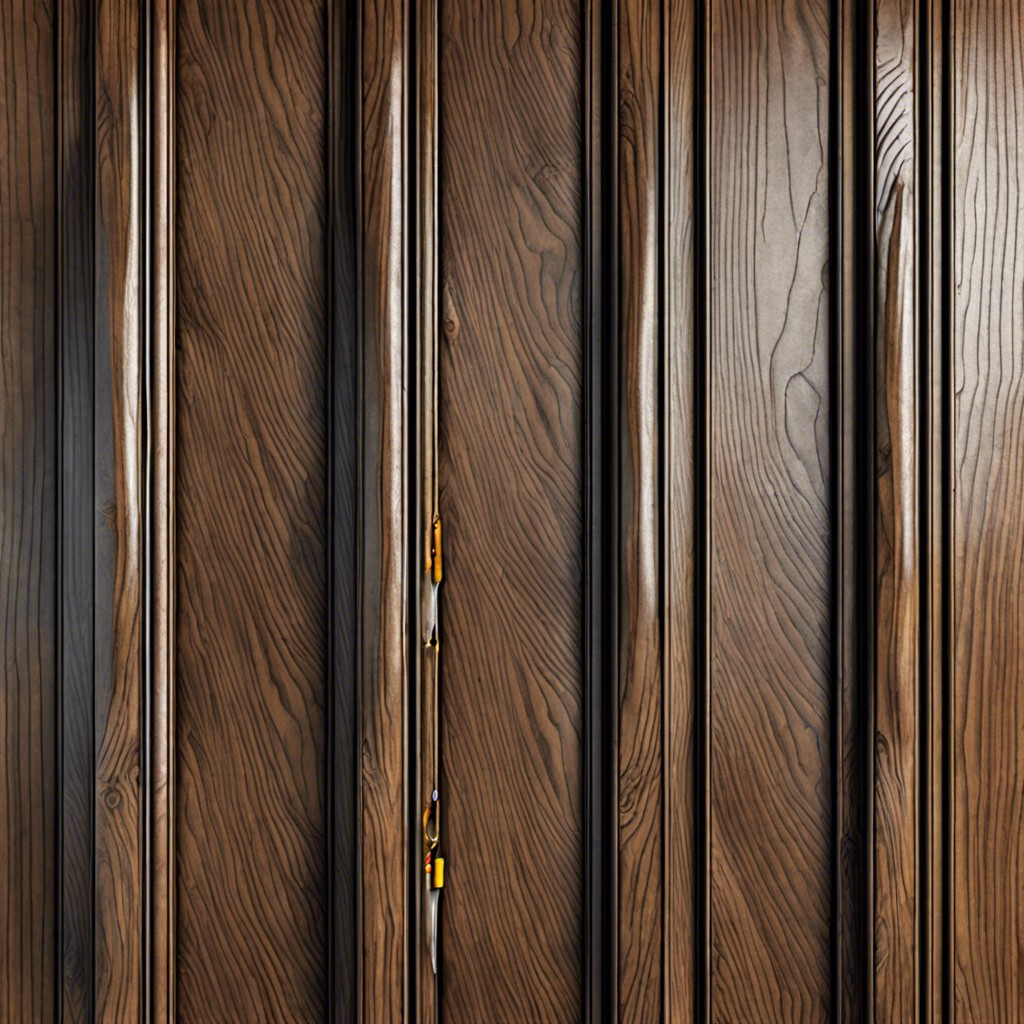 Using distressed wood gives your fluted headboard a measured sense of old-world charm. The deliberately weathered finish presents a graceful aura of antiquity and nostalgia, making it a perfect fit for vintage or rustic home decors.
1. Design: Unlike polished counterparts, a distressed headboard exhibits an authentic, lived-in look, epitomizing relaxed elegance.
2. DIY Potential: Distressing wood is a simple process that can be done right in your garage. Sandpaper, paint, and a touch of craftiness will have your uniquely distressed piece ready in no time.
3. Versatility: Whether you fancy light, medium, or heavy distressing, the process is easily adjustable to the degree of aging preferred.
4. Cost: Coupled with the advantage of using reclaimed wood, the DIY nature of distressing allows substantial savings without sacrificing aesthetic quality.
5. Sustainability: The use of reclaimed or recycled wood in making your distressed headboard helps in reducing environmental impact.
Remember, distressed doesn't mean damaged. It simply adds character, charm, and a story to your headboard, taking aesthetic appeal up a notch.
Intricate Carved Fluted Headboard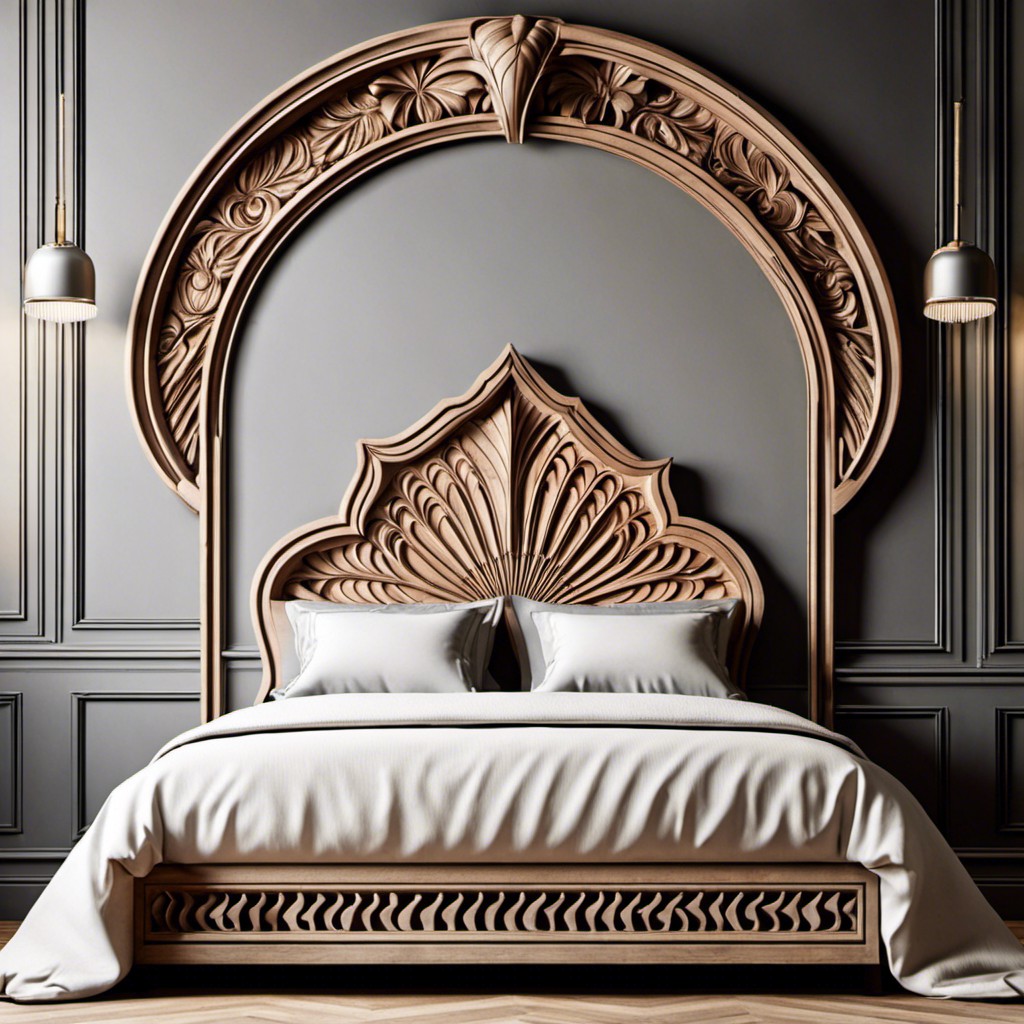 Rolling your eyes around an intricate carved fluted headboard is akin to experiencing a delicate dance of light and shadows. The details in the carvings bring a textural depth that adds a hint of luxury to any bedroom.
Here are a few points to help you unlock the allure of this elegant piece.
1. Customizable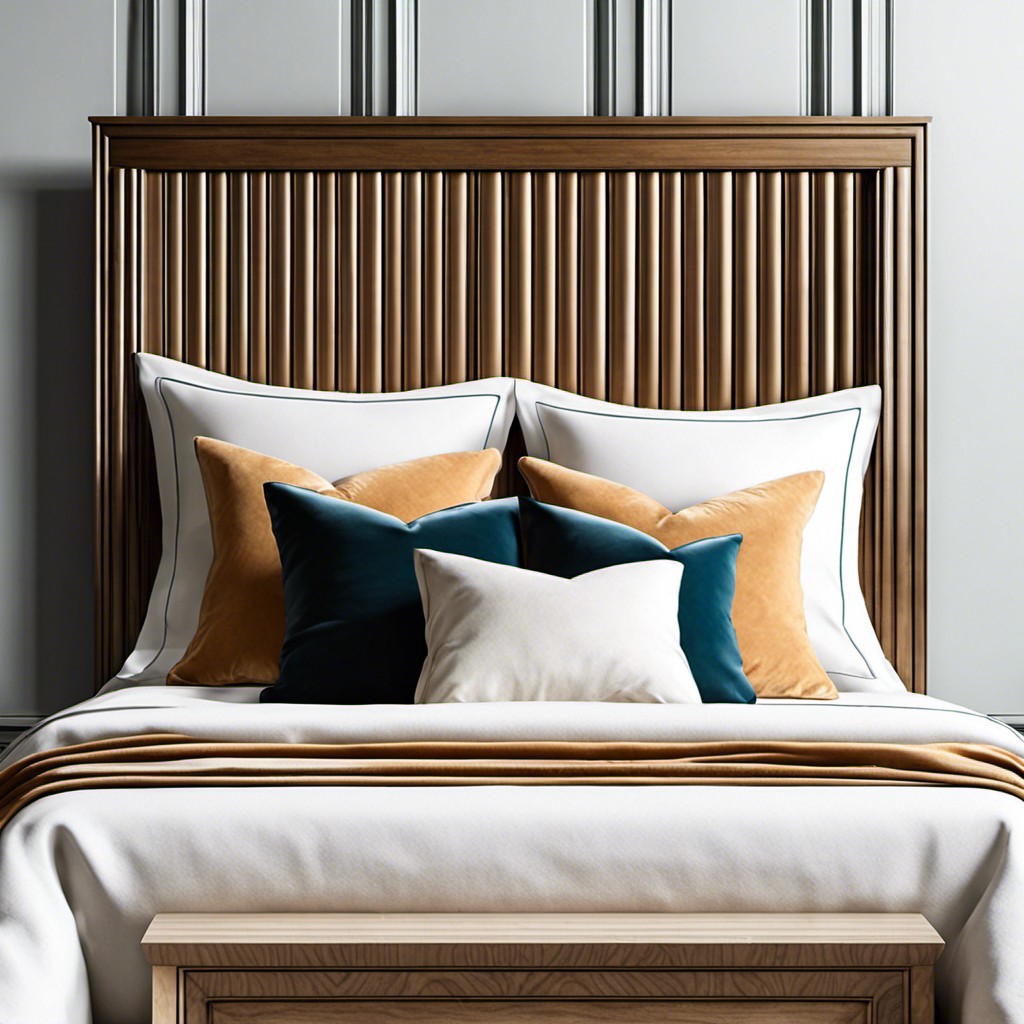 Choose a design that complements your room's aesthetics. From floral patterns to abstract designs, the possibilities are endless.
2. Statement-Maker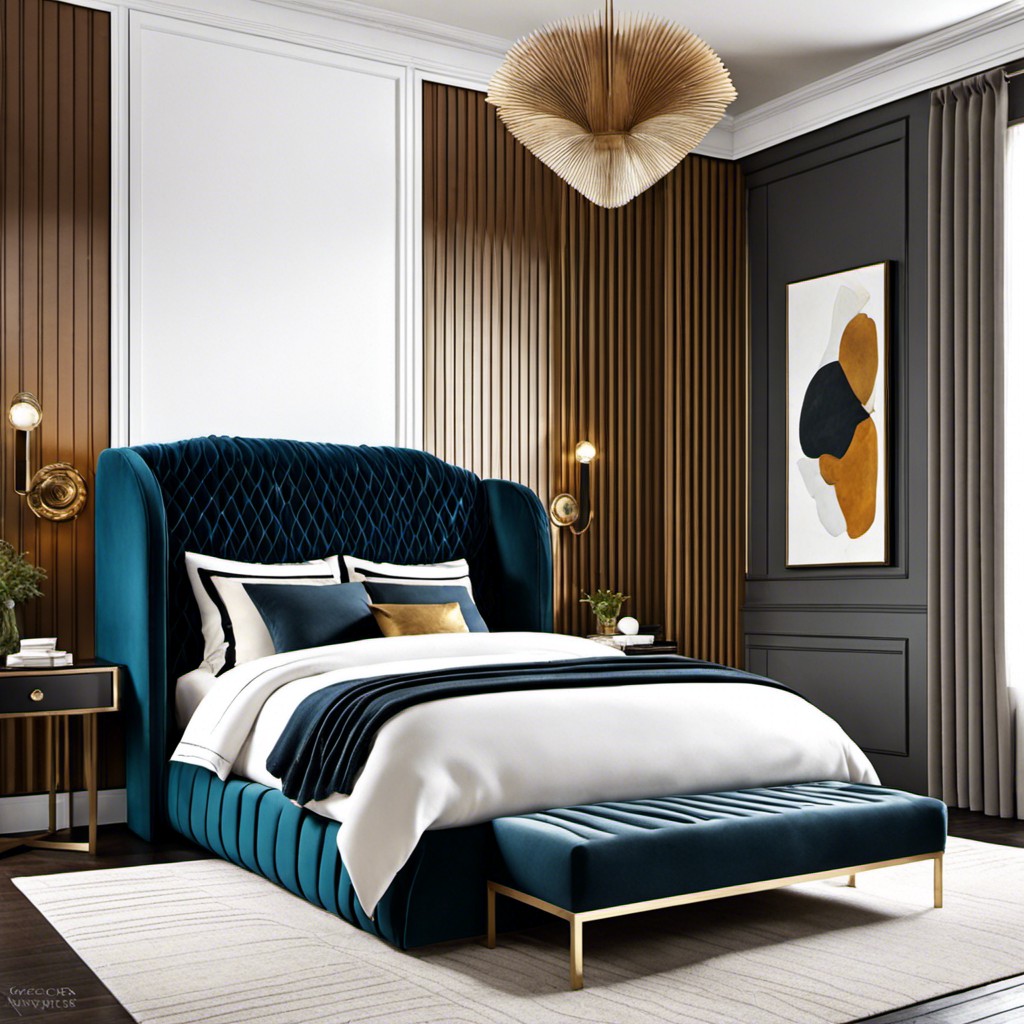 An intricately carved headboard holds its own as the centerpiece of the bedroom. It exudes a unique people-friendly charm while implying sophistication.
3. Versatile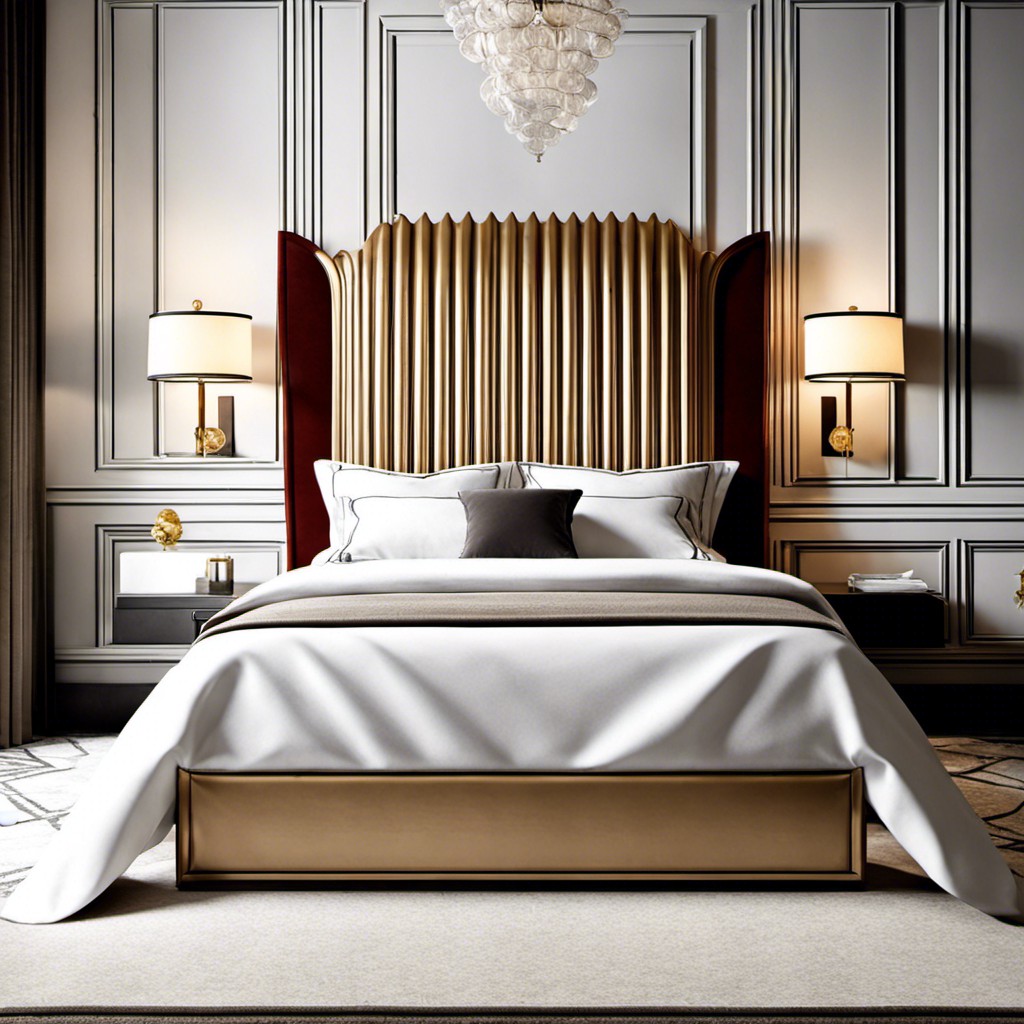 It seamlessly blends in with a wide array of decor styles whether it's vintage, rustic, or contemporary.
4. Easy Maintenance
Despite the intricate designs, it's surprisingly easy to clean. Just a gentle dusting effectively highlights the stunning carvings.
5. Durable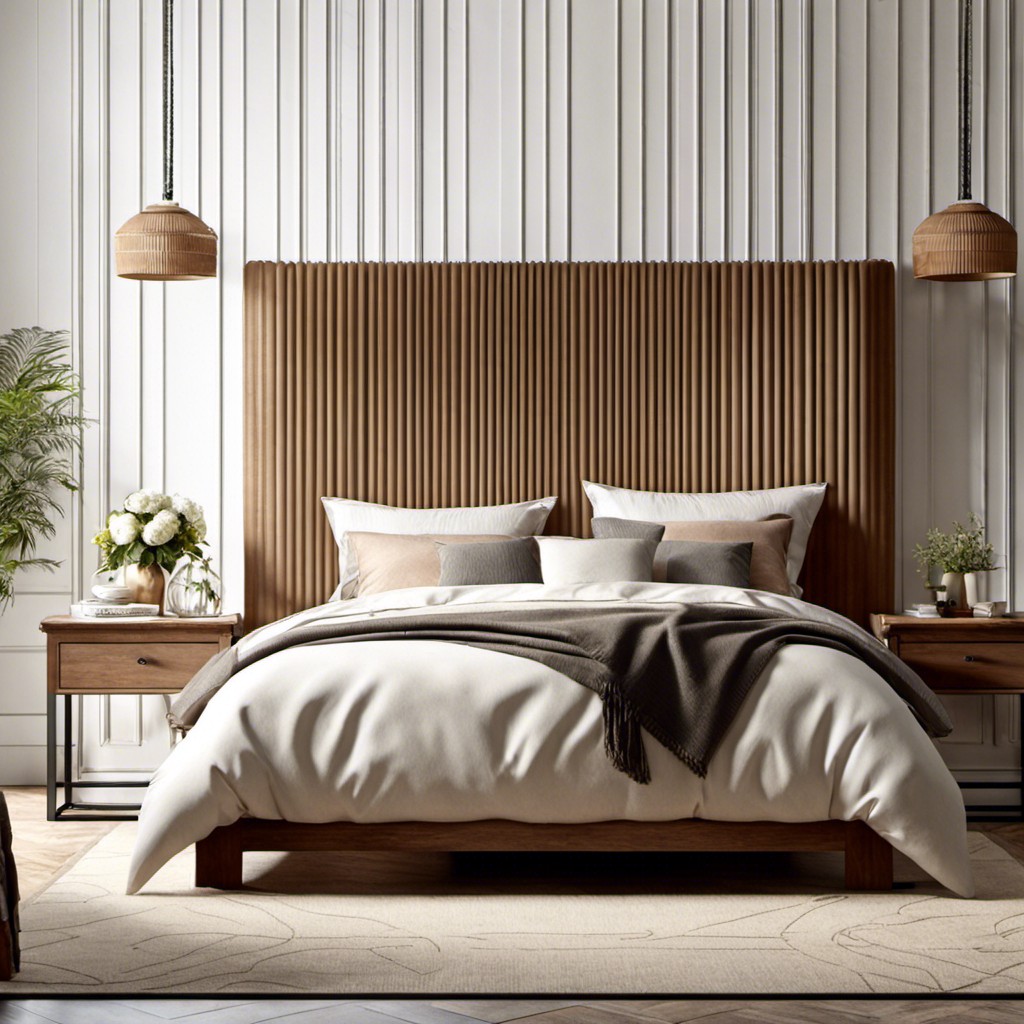 Crafted with precision, these headboards could last for generations notwithstanding the intricate carvings.
Remember, quality over cost in the case of such specialty items. A one-time investment can result in generations of aesthetic pleasure!
Painted Wood Fluted Headboard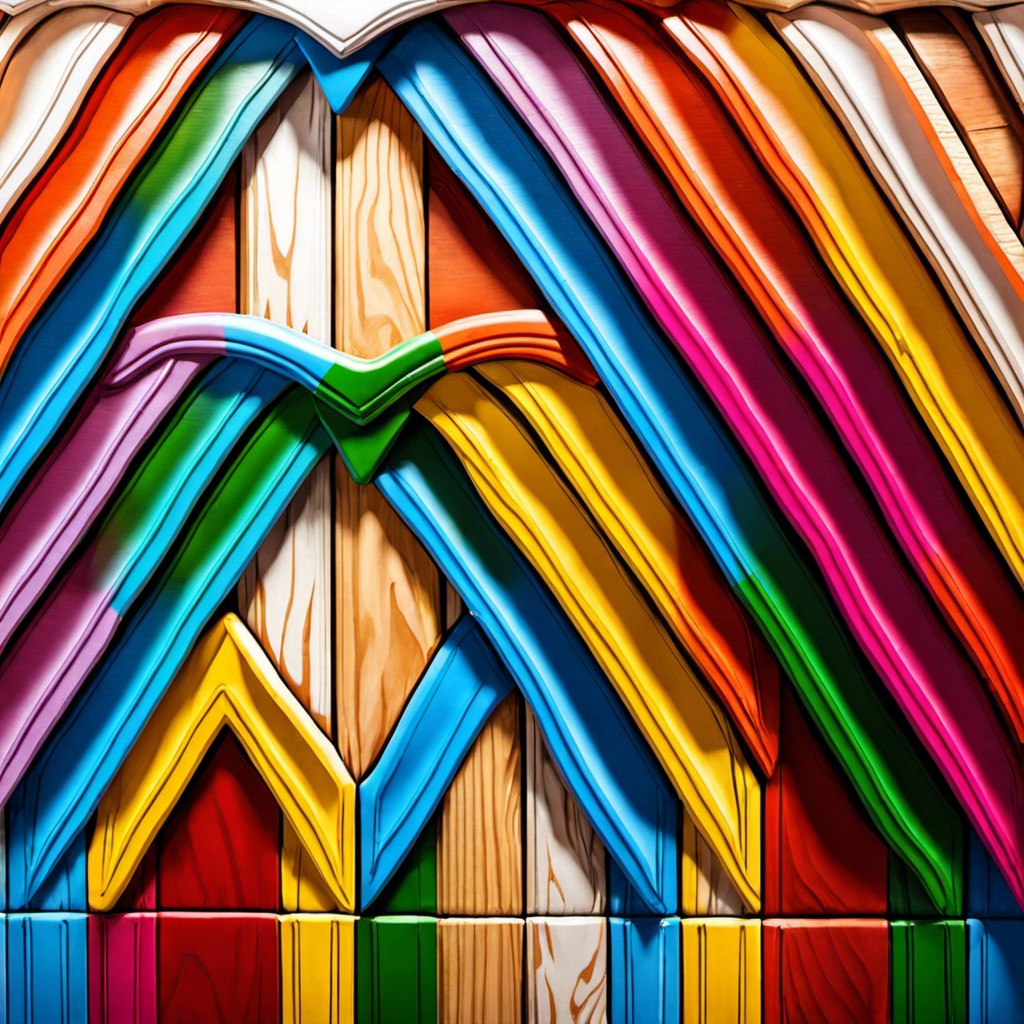 While traditional in form, painted wood allows for customization to match any style or color scheme. A wash of muted greyish-blue can build serenity, while a vibrant yellow could add a much-needed jolt of energy. Consider choosing a nontoxic paint for a more eco-friendly option.
1. Color Matching: Your bedroom's color scheme can inform the hue you select for the headboard. Whether you're aiming for an understated tonal look or a bold contrast, the right paint can make all the difference.
2. Paint Choice: Opt for a smooth satin or semi-gloss finish to keep the upkeep low, or consider chalk paint for a more rustic, antique feel.
3. Creativity with the Flutes: Painting between the lines of fluted detail can emphasize the pattern and lend an unexpected modern twist to this classic design.
4. Aging Techniques: Considering techniques like sanding, distressing, or applying an antique glaze can add depth and vintage charm to a painted headboard.
Remember, whichever direction you take it, a painted wood fluted headboard is a distinctive choice that can reflect your personality and ties your room's decor together.
Soft Fabric Fluted Headboard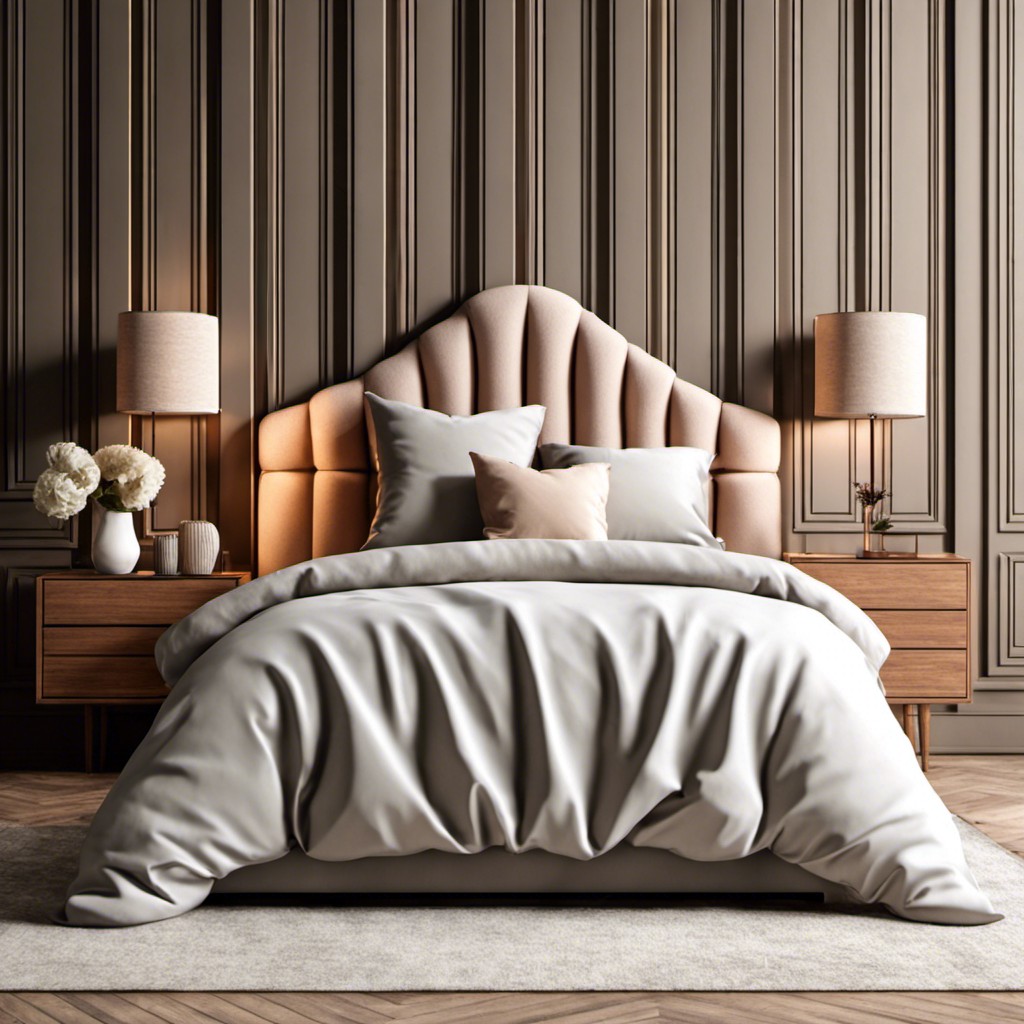 Venturing beyond solid wood, a touch of soft fabric can lend a plush vibe to any bedroom. Its appeal lies in its transformative ability. It can alternate between sophisticated and chic, depending on the chosen fabric type and color.
For instance, a smooth velvet, when coupled with a deep hue like royal blue, exudes an air of luxury.
The key to achieving this style is to start with a sturdy, fluted plywood frame for its distinct ridges. Then, upholstery foam can be used to add a layer of softness before the fabric is stretched and stapled in place. This can be a gratifying DIY project, only requiring a minimum of tools and supplies.
One advantage of the fabric headboard is its comfort. Say goodbye to hard surfaces. It gives a soft spot to lean against when reading a book or catching up on favorite TV shows. Another plus point is its versatility. The fabric can be chosen to complement existing room decor and color scheme.
Remember though, in rooms with high humidity or prone to spills, fabric may not be an ideal choice as it can absorb moisture and stains. However, this can be overcome by opting for performance fabric that resists stains and repels liquids.
Bottom line, a fabric fluted headboard can be a blend of comfort, style, and personalized decor, all achieved without burning a hole in the pocket.
Cream-Colored Fluted Headboard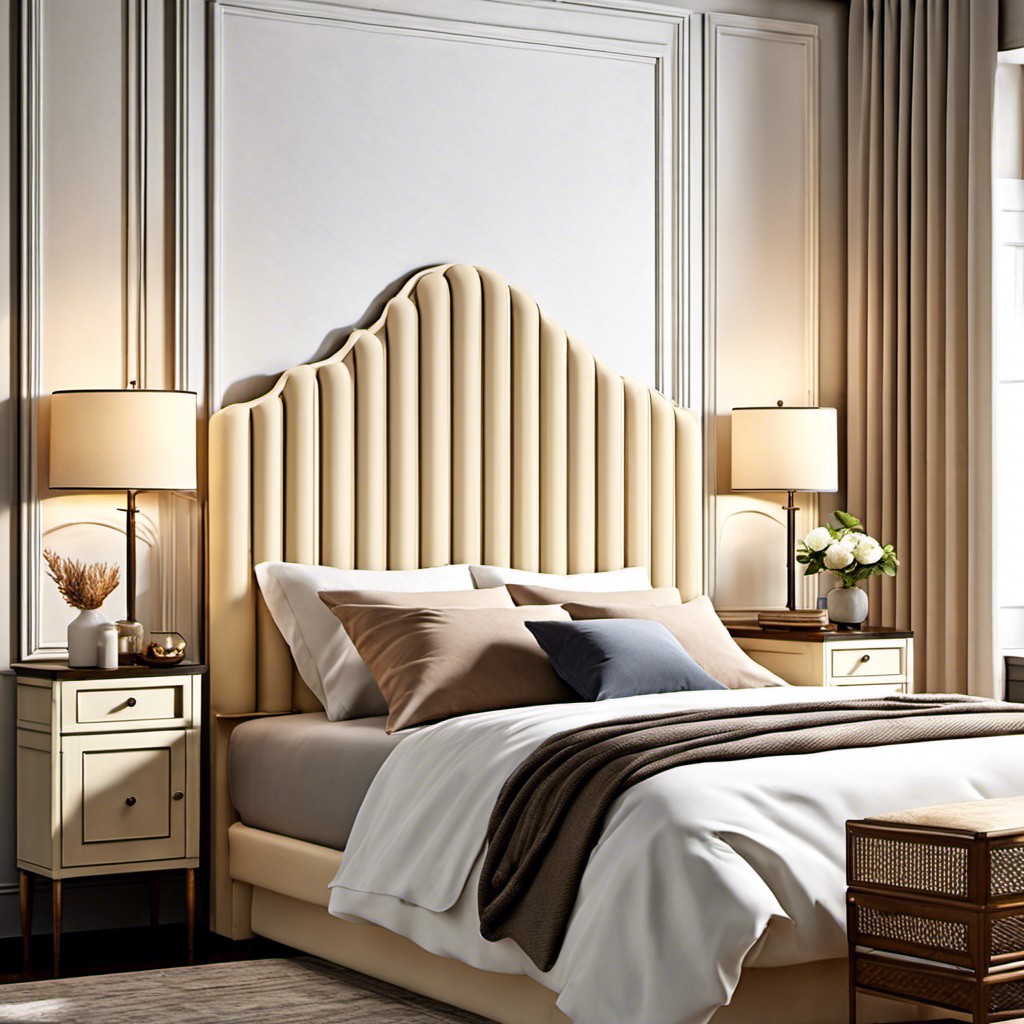 A soft palette allows versatility in bedroom decor. A cream-colored version does just that. It adds a light, airy feel to the room without being overwhelming. Also worth considering is the aesthetic appeal it brings. With its fluted detailing, it offers a visual interest, striking a stunning balance between subtle charm and chic elegance.
When choosing a cream-colored headboard, consider the fabric material. Opt for a sturdy fabric like linen or velvet that balances comfort and durability. The good news is cream-colored fabrics are readily available and affordable.
The fluted detailing on the headboard can level up your room's elegance. It adds depth and texture to a monotonous room decor. With a variety of design options, from sharp vertical lines to soft wavy patterns, each style provides a unique touch.
Lastly, maintaining a cream-colored headboard is relatively easy. It requires minimal cleaning, with just basic dusting and occasional vacuuming necessary. However, use of fabric protectors is advised to fend off stains and spills.
Though such a headboard may seem more delicate than a solid wood option, it adds a soft and plush comfort that wood cannot offer – perfect for those relaxing Sunday mornings with a cup of coffee and a good book in bed.
High Gloss Lacquer Fluted Headboard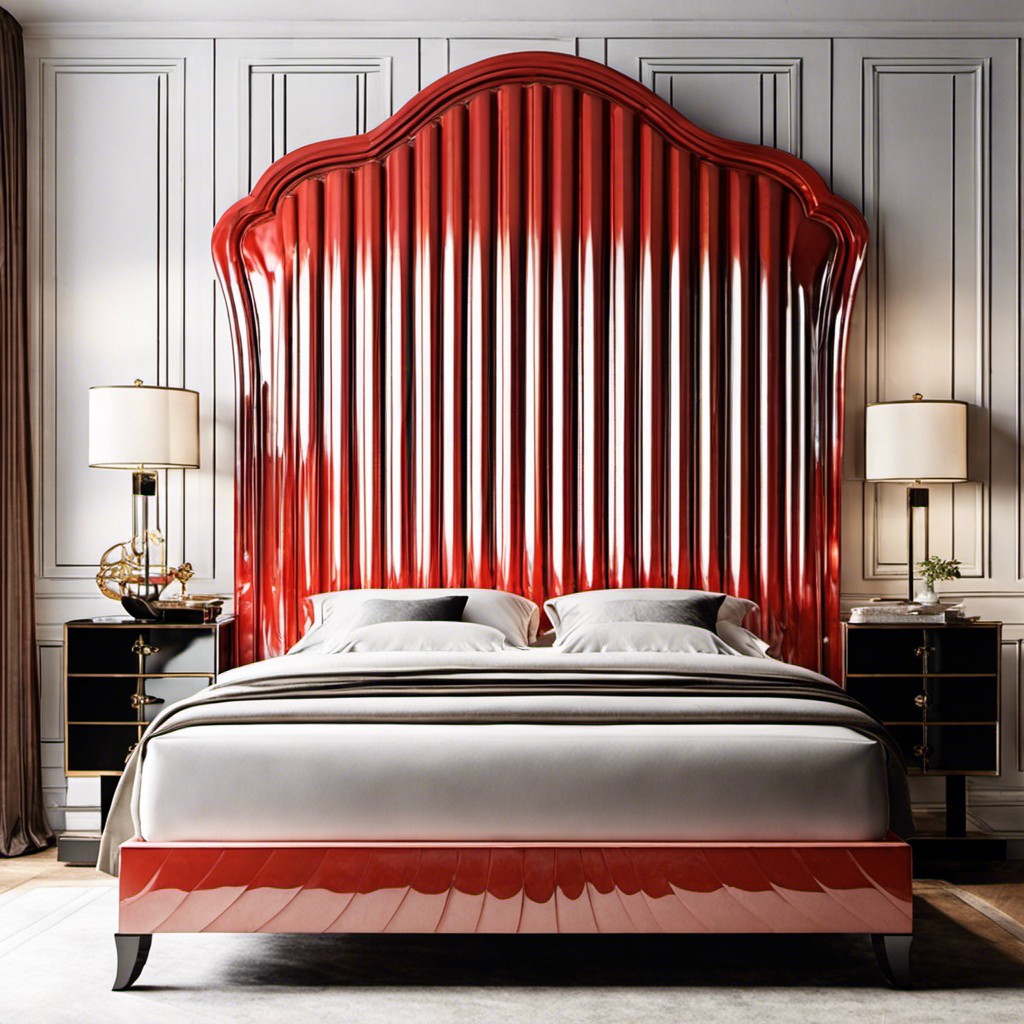 For a striking impression, consider an exquisitely lacquered finish. A shiny, reflective coating adds high-end allure, holding appeal for those with an eye for luxurious details. Beyond aesthetics, the lacquer finish serves practical purposes. It is water-resistant and easy to clean, a soft damp cloth is all you need, making it a great choice for those who value convenience.
Furthermore, it's exceptionally durable and provides superior protection to the wood underneath.
Creating this finish is a skillful process, involving multiple stages of application, sanding, and polishing to achieve that sought-after gloss. Its brilliance, smoothness and reflective nature lend a remarkably modern twist to a traditional fluted design. It pairs well with both light and dark room themes, given its potential for customized colors. Whether monochromatic or vibrant, the choice is all yours.
The resulting high gloss lacquer fluted headboard, an intriguing fusion of tradition and modernity, sets an inviting tone for your bedroom. Its boldness alone can serve as a focal point, reducing the need for additional accent pieces. All you need are some comfortable linens and calming wall colors, to complement your glamorous statement piece. The perfect blend of form and function indeed.
Tufted Fluted Headboard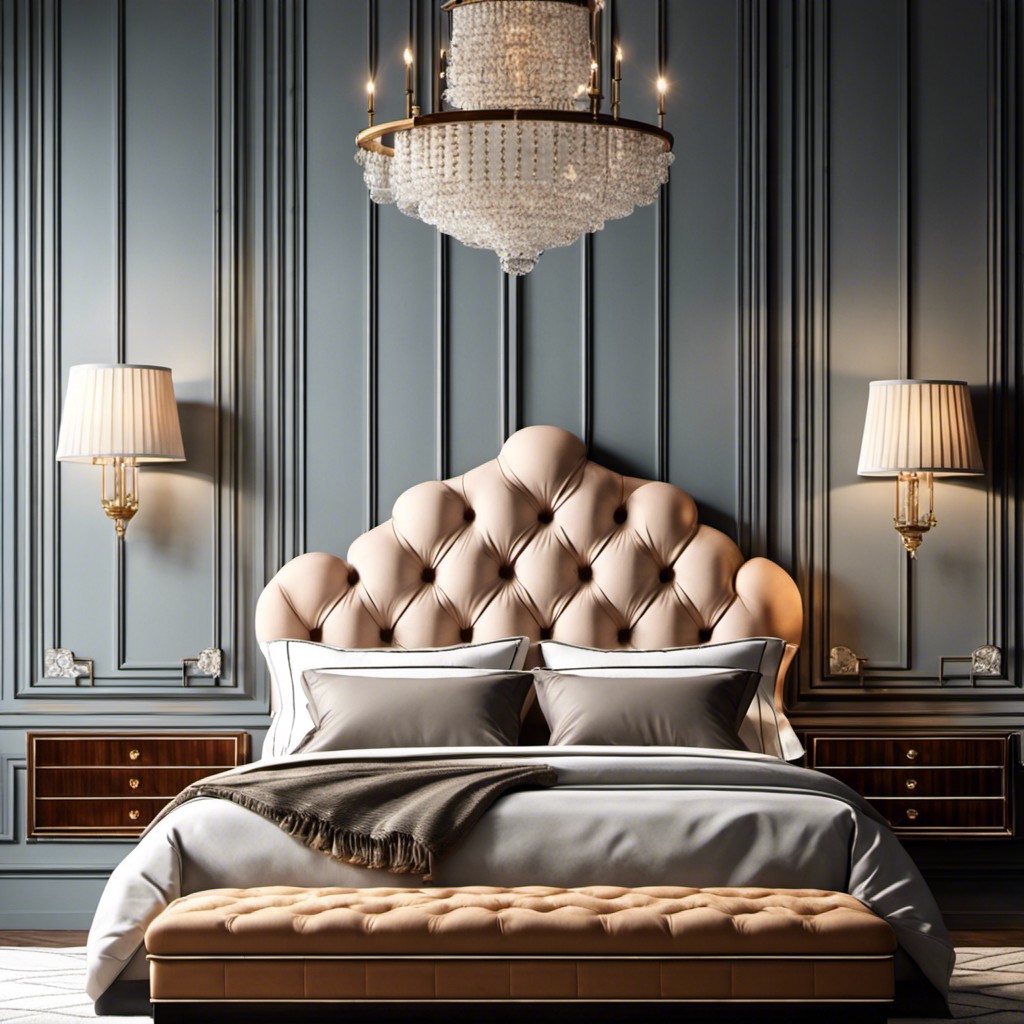 Designed for ultimate comfort, these headboards highlight broad vertical flutes, to which tufted upholstery is added for an additional flair. The smooth folds and curved grooves create a perfect balance with the softness of the tufted fabric.
1. Material: Opt for sturdy, durable fabrics like velvet or heavy-duty linen to withstand the tufting process and maintain longevity.
2. Design: Use a tall headboard for a grand statement, or a shorter, wider style for cozy space.
3. Color: Neutral tones bestow serenity, vibrant shades add character, and pastels evoke a tranquil ambiance.
4. Construction: Hardware stores can cut your wood, or upholsters can create custom foam pieces.
5. DIY: With basic sewing skills, batting, a board, and a staple gun, create your own style.
This style of headboard, blending textile beauty with architectural form, adds a luxurious touch and visual interest to any room. Remember, the key is in the details. Be creative, and let your tufted fluted headboard be the centerpiece of your bedroom.
Recycled Wooden Fluted Headboard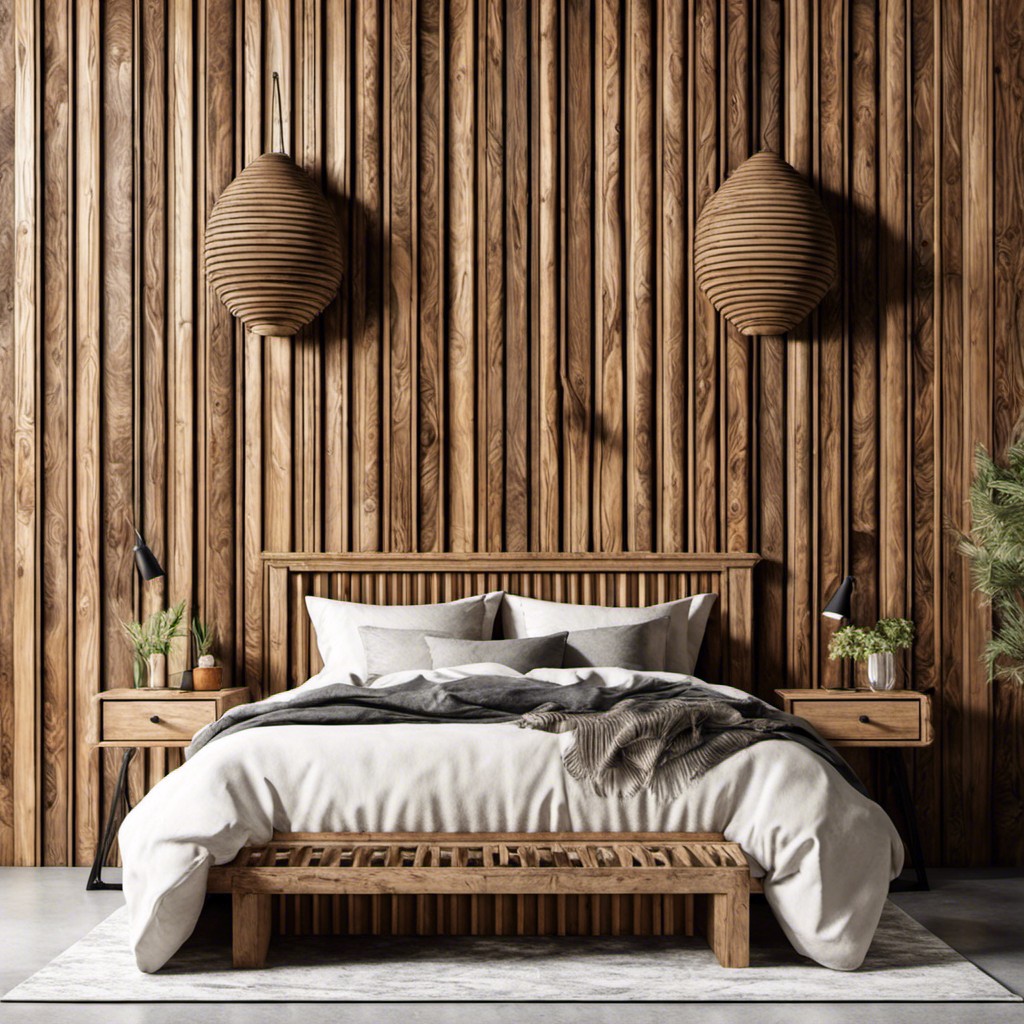 Sourcing recycled wooden materials proves not only cost-effective, but also environmentally friendly. The character-rich textures and natural flaws of reused wood provide this headboard style its unique charm. With its inherent sustainability, this design trend gives a nod to both green living and rustic aesthetics.
1. Look for materials such as old barn wood, pallets, or disassembled furniture to add unique dimension and visual interest.
2. Use different shades of wood for a subtle variation or opt for a singular color palette to keep it more cohesive.
3. Consider applying a light finish to these pieces to enhance the grain of the wood and to protect against potential wear and tear.
4. The installation process can be as easy as attaching the boards to a simple frame — no need for professional carpentry skills.
5. Trending fluted design can be achieved by strategically arranging the wooden pieces in a vertical pattern.
Remember, the beauty of this project lies in the imperfections of the wood. Embrace them, they add to the one-of-a-kind narrative that only your headboard tells.
Fluted Headboard With Inbuilt Shelves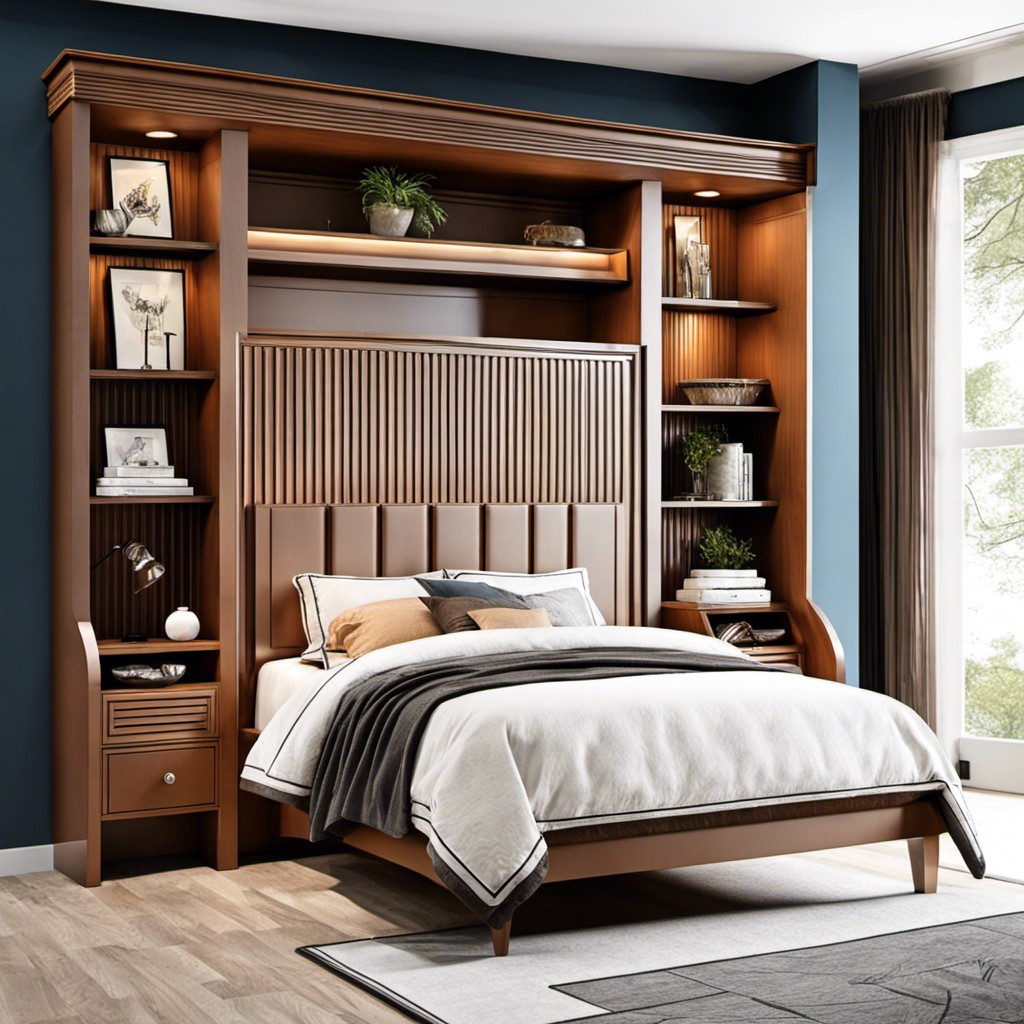 Fitting shelves into the design of a fluted headboard provides a built-in space for storing books, glasses, or other small items close to the bed. This multifunctional feature not only saves valuable floor space in smaller rooms but also adds a distinct, unique aesthetic.
The flutes on a headboard with inbuilt shelves tend to be vertical, drawing the eye upward and making the room feel taller. And using varying depths of flutes can create an engaging 3D effect that adds depth and texture to the room.
For creating your own, consider repurposing old wooden planks or using affordable MDF which, when painted and finished, can mimic the look of more expensive wood types. Installing the shelves doesn't require advanced carpentry skills either – brackets or floating shelf designs are easy for beginners to handle.
The final piece is as much a functional storage option as it is a statement piece of furniture. It effortlessly blends practicality with design, helping you keep your bedroom clutter-free while maintaining style.
Marble Finish Fluted Headboard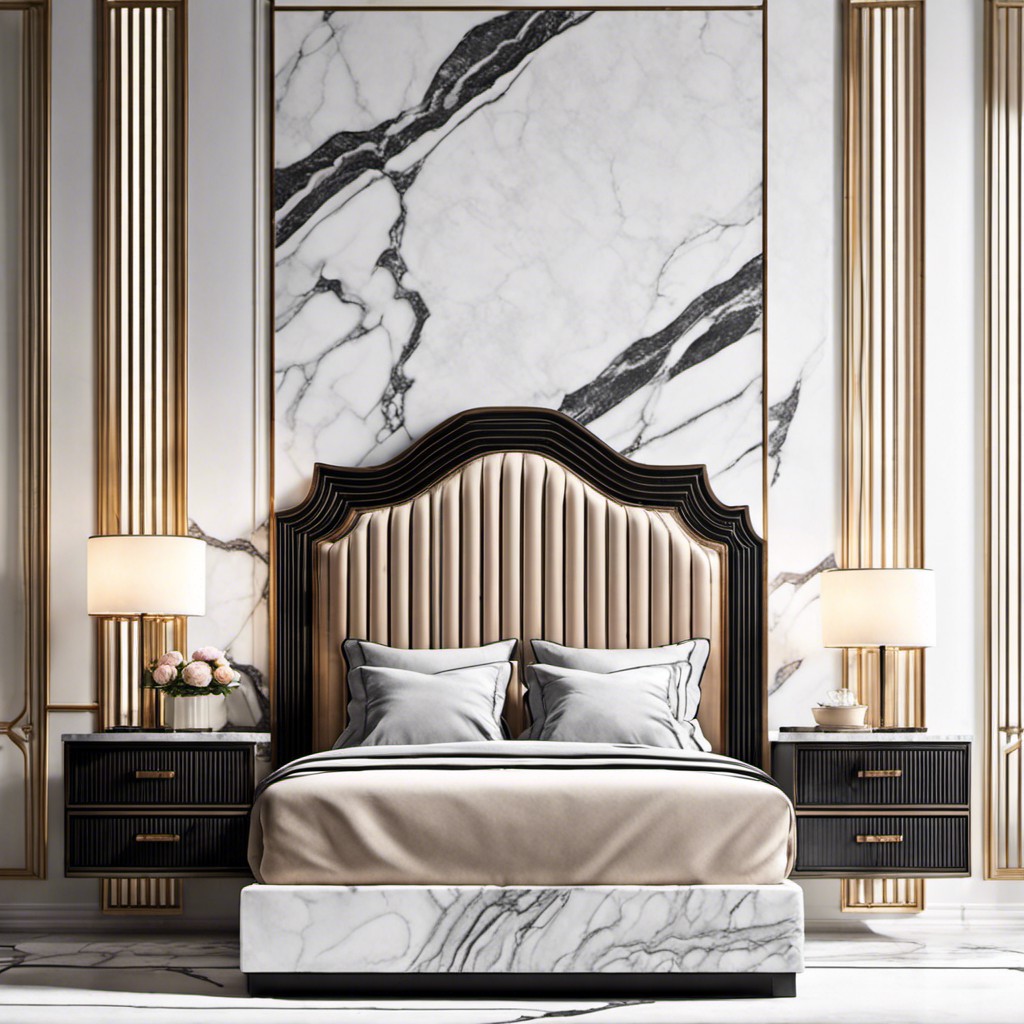 Dripping with sophistication, the marble finish imparts a luxurious look without the hefty price tag. To achieve this, you'll need a simple wooden headboard, faux marble contact paper, and some patience.
1. Prep Work: Start by cleaning the surface to ensure no dust or residue interferes with the adhesion.
2. Measure Twice: Carefully measure your headboard and cut a piece of marble contact paper to fit, adding a bit of extra length and height for safe measure.
3. Slow and Steady: Beginning at one corner, remove the backing and start smoothing the paper onto the headboard. Use a ruler or credit card to smooth out any bubbles as you go.
4. Cut to Fit: Once the whole surface is covered, use a sharp utility knife to trim any excess from the edges. Be mindful to follow the contours of the fluting precisely for a seamless look.
5. Adding Sheen: Consider a clear sealant if you desire extra shine and durability.
This DIY project is a fantastic way to experience the marble effect without splurging on a stone headboard. It adds a touch of elegance and uplifts the ambiance of the bedroom. Neutrality of the marble pairs well with varied color schemes and styles, making this a versatile choice. Happy decorating!
Recap
Liked this article? Here's what you can read next: