Last updated on September 22, 2023
Not everyone has enough room for a daybed to use its benefits. Here are the alternatives to save space.
The versatility of a daybed is a significant selling point for it. It's versatile enough to serve as a couch or a bed. If you have room for it, it's an excellent addition, but there are better space-saving options for more practical use.
Daybeds fall between the comfort levels of sofas and regular beds when it comes to relaxing and sleeping comfort. So how can you replace it?
We can go both ways — look back at the sofa or the bed and all their variations.
Here are the most practical alternatives for daybeds.
Sofa Bed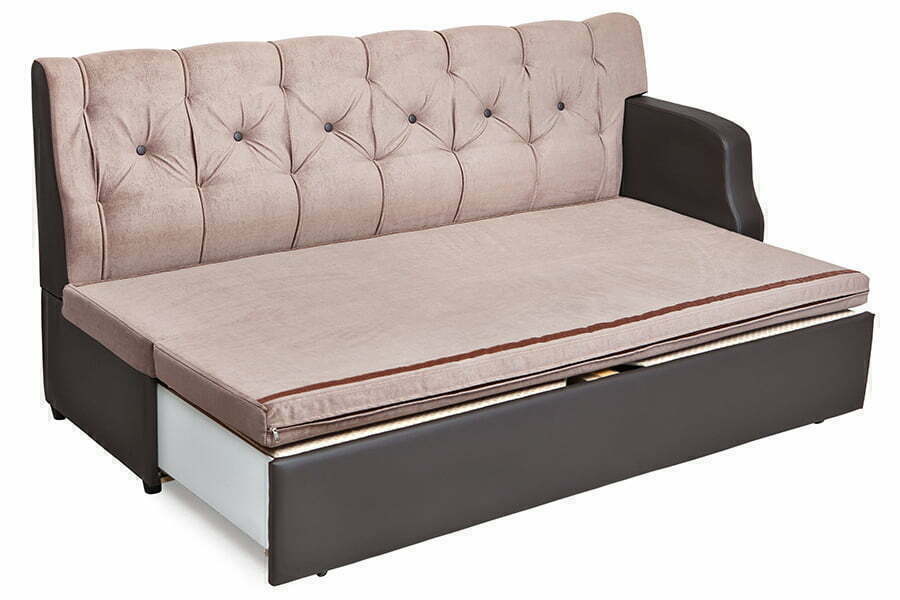 A sofa bed is an innovative and flexible combination of a sofa and a bed, and it can be used as a bed in an instant. You can think of a sofa bed as a couch that unfolds into a bed.
The quality of sleep on a sofa bed cannot compare to that on a bed made specifically for sleeping. There is no difference in comfort between sitting on a traditional sofa and sleeping on a sofa bed.
You can purchase a cheap sofa bed for $400-$900. Mid- to high-range pricing is between $1500 and $2000. Premium real leather sofas cost more than $2,000.
If your sofa bed is too hard to sink into, try finding one with a mix of soft cushioning, such as feather and fiber seat cushions.
Bunk Bed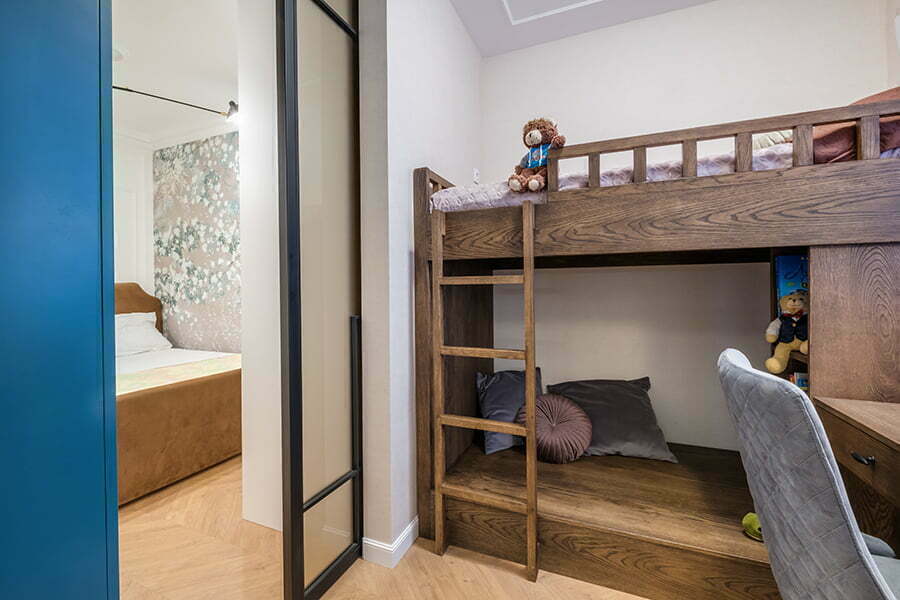 Bunk beds are great for teenagers who need to save space in a shared bedroom. Since a bunk bed provides more separation between occupants, two single beds in a room can.
Bunk beds are an excellent space-saving solution. Since the beds are joined vertically, the floor space required for two beds is reduced to that of a single bed.
This layout makes the most of the limited space in a bedroom, allowing for more floor space and a more pleasant atmosphere. You can efficiently utilize space with bunk beds.
Price ranges for bunk beds are vast, starting at $200 and going up to $2,000 and more. You can find bunk beds in various designs and materials, but the most common are wood and metal.
Most bunk beds are made of wood, but if you're looking for something affordable, look into metal bunk beds instead.
Trundle Bed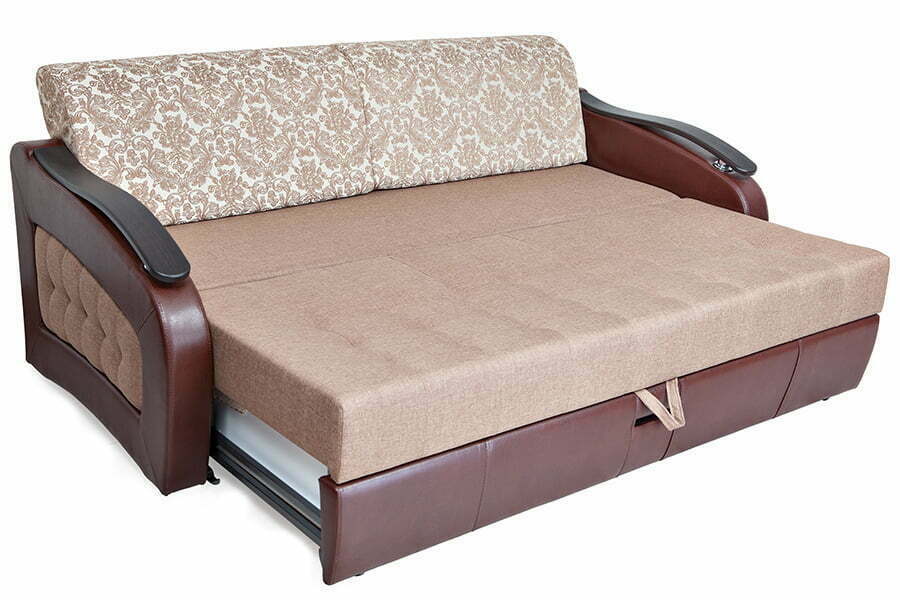 A trundle bed consists of a small bed frame and mattress that can stow away under a larger bed. The wheels on the edge make it portable and convenient to use.
This layout is for you if you have limited square footage but still want to host guests comfortably.
Trundles can be stowed away beneath the mattress. However, the trundle will not work unless your bed frame is high enough off the ground to accommodate it. Trundle beds can be cozy if you get a good mattress for them.
Trundle beds can cost anywhere from $150 to $600, with an average price of around $250.
Hanging Bed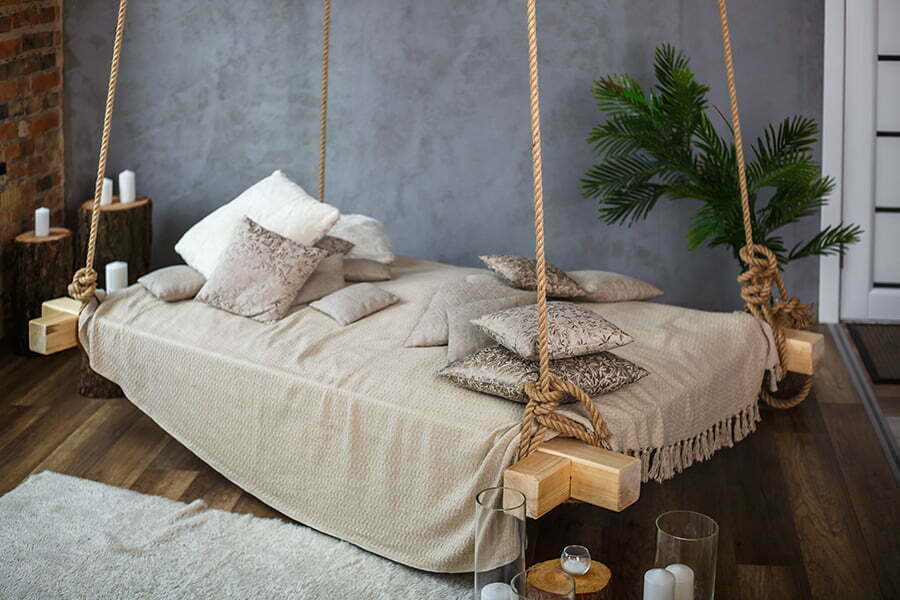 A hanging bed is a unique construction that hangs the platform from the ceiling on ropes or chains. Not every home can support it.
If you're having trouble dozing off, try switching to a more peaceful sleeping arrangement, like a hammock. Beds suspended from the top are cozy, unique, and can completely transform a boring bedroom.
You can either find one at a furniture store for under $100 or have one made specifically for you. The installation cost is the biggest drawback of this option.
Rollaway Folding Bed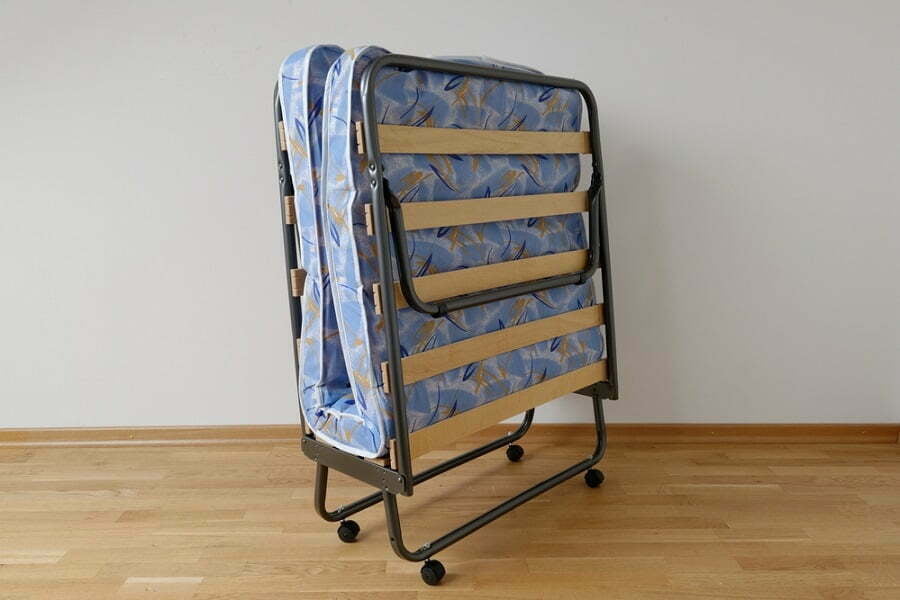 When not in use, a rollaway bed can be folded up and stowed away, but it can be quickly unfolded and set up for overnight guests.
You can fit some rollaway beds in a closet or small space because they have thinner frames and mattresses.
Quality rollaway beds are compact and straight to store, providing overnight visitors with a comfortable night's sleep.
You can expect to pay between $150 and $300 on average. More expensive options for rollaway beds are also available, though.
Sleeper Sectionals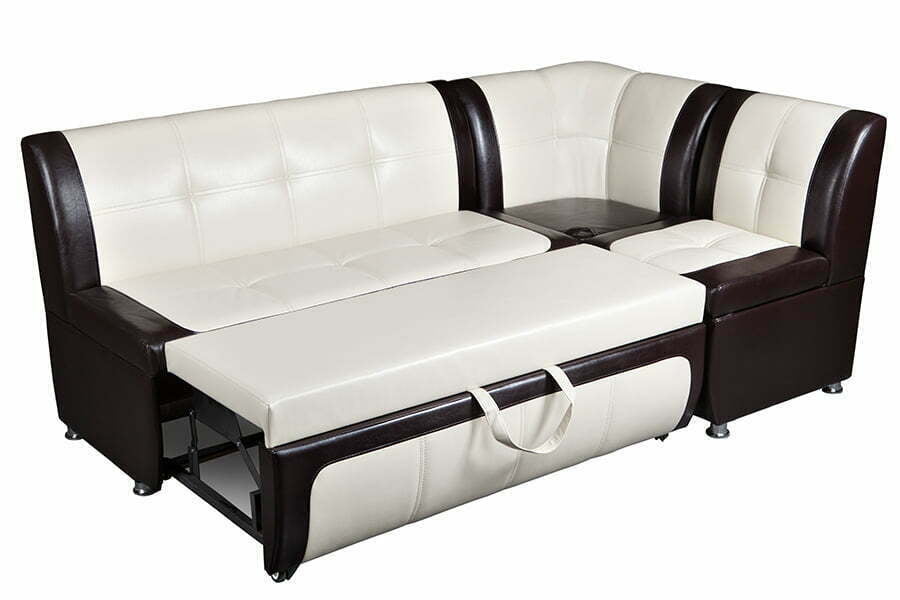 Using convertible bedding like a sectional sleeper sofa can be used in many different ways to meet your needs.
It goes from a sofa to a bed with a few simple adjustments. It is an excellent option for small spaces that need to serve multiple purposes, such as a home office or a spare bedroom, or for rooms that are rarely used for entertaining.
In any home, it would be a welcome addition to the existing furniture.
The price range for a small sectional sleeper sofa is around $600 to $1,000.
Chaise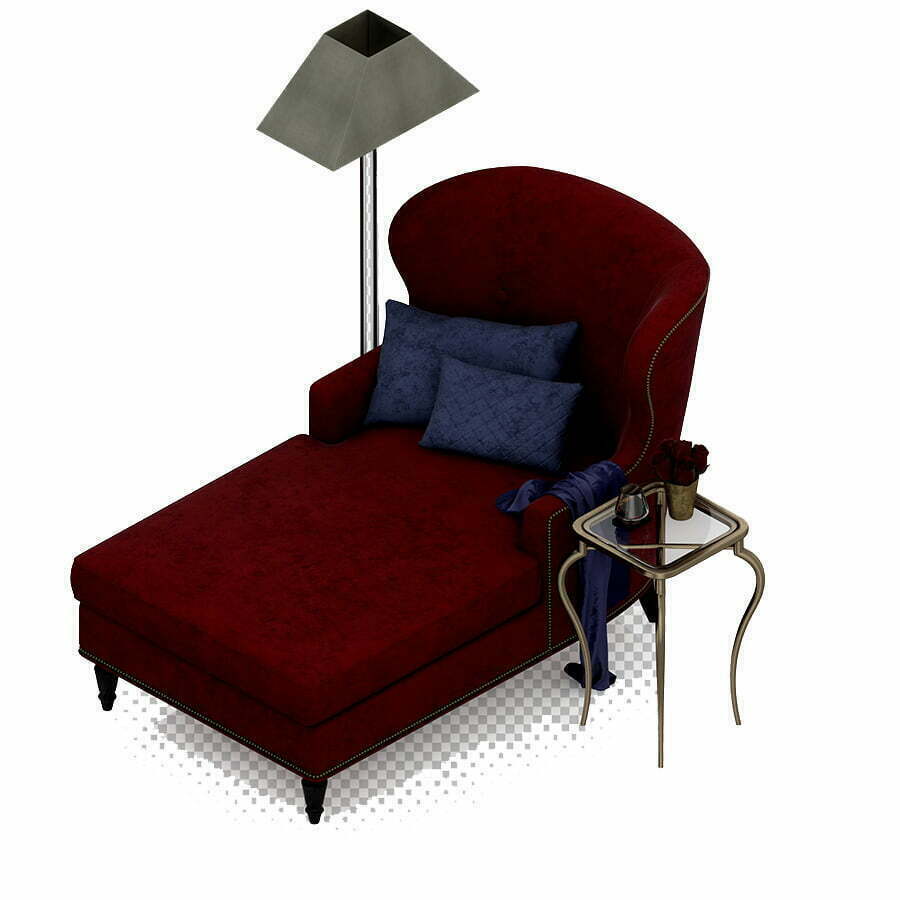 A chaise lounge is an enlarged chair designed for lounging and relaxing. Chaises (or chaise longues) are an exciting alternative to the daybed.
Their form is practical and fashionable, and you can find one that matches any interior design scheme these days.
A chaise may be the best option when a regular sofa is too large for the room. They're not as cumbersome but still have sufficient space for one or two people.
You can expect to pay between $100 and $250.
Armchair with Ottoman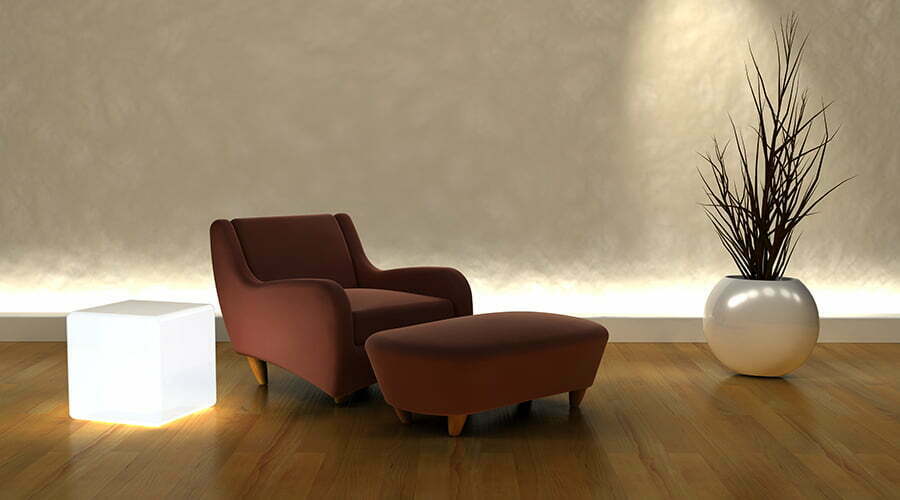 Many stores offer ottoman footstools alongside couches, comfy couches, and gliders to create a unified set.
Ottoman is a versatile piece of furniture that serves many purposes, including a footrest when placed at the end of a couch or chair, a stool, or even a coffee table.
An ottoman is a common but underappreciated piece of furniture in living rooms.
The furniture is a true gem due to its versatility, serving as an alternative cocktail table, a decorative footstool for a sofa, and extra storage space.
You can get a chair and ottoman for around $300.
Oversized Recliner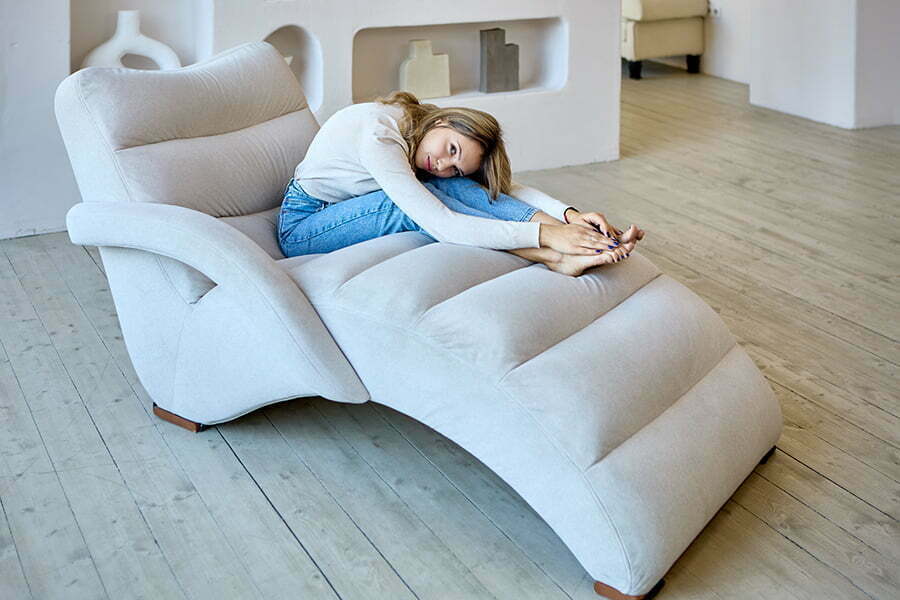 If you and a loved one enjoy lounging in comfort together, you may want to invest in an oversized recliner called a cuddler recliner.
It's a more affordable option than traditional sofas and loveseats, and it's also known as an oversized recliner chair.
This overstuffed recliner provides superior comfort, durability, and support.
Your ideal recliner will depend on you prioritizing certain features over others, so it's up to you to decide which ones are most important.
You could spend between $250 and $2,000 for a high-quality real leather recliner.
Futon Sofa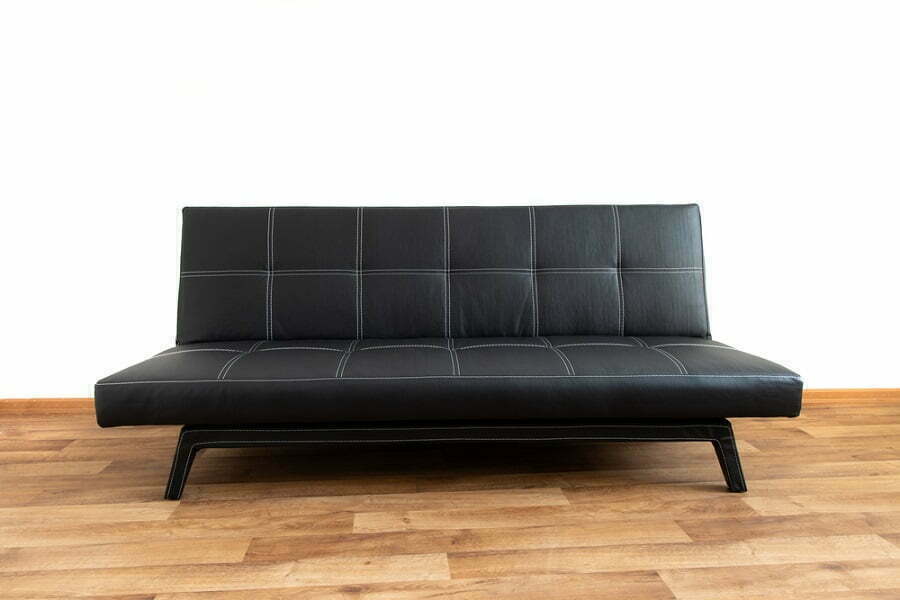 Futons can function as a couch or a bed, and a daybed, making them versatile pieces of furniture.
During the day, they can serve as a couch or sitting area, and at night, they can make a bed. You can have comfortable seating on a thick, high-quality futon mattress.
Prices start at $130 for a simple futon and go up to $350 for a larger, high-quality piece.
Air Mattress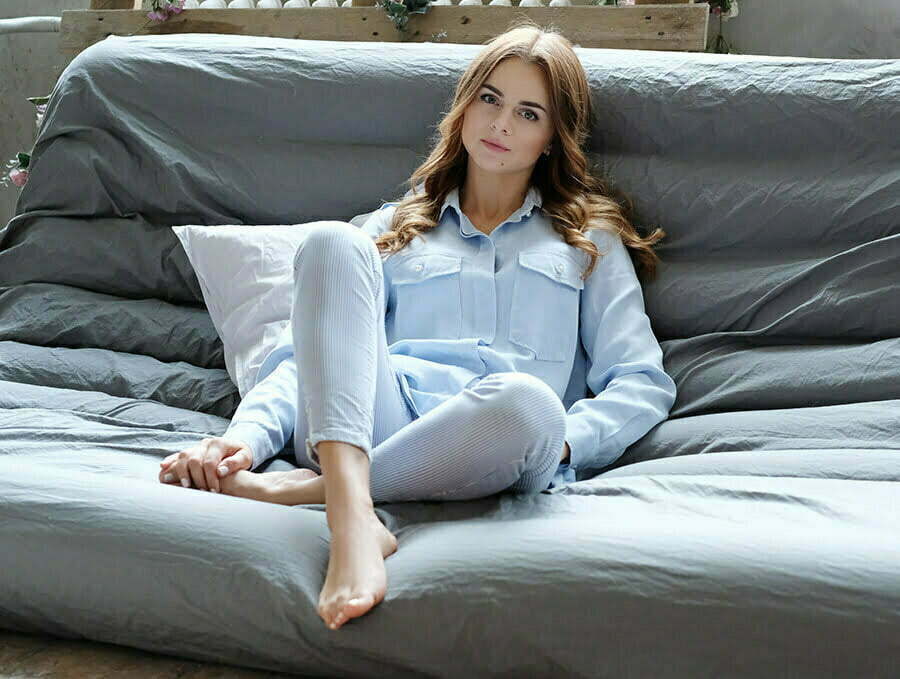 An air mattress will never be as comfortable as a traditional mattress, but it should be able to retain air and not deflate significantly during the night.
The more expensive an air mattress is, the larger it is. Depending on size, the average price of an air mattress varies.
A budget air mattress can cost $50 to $100.
Folding Mattress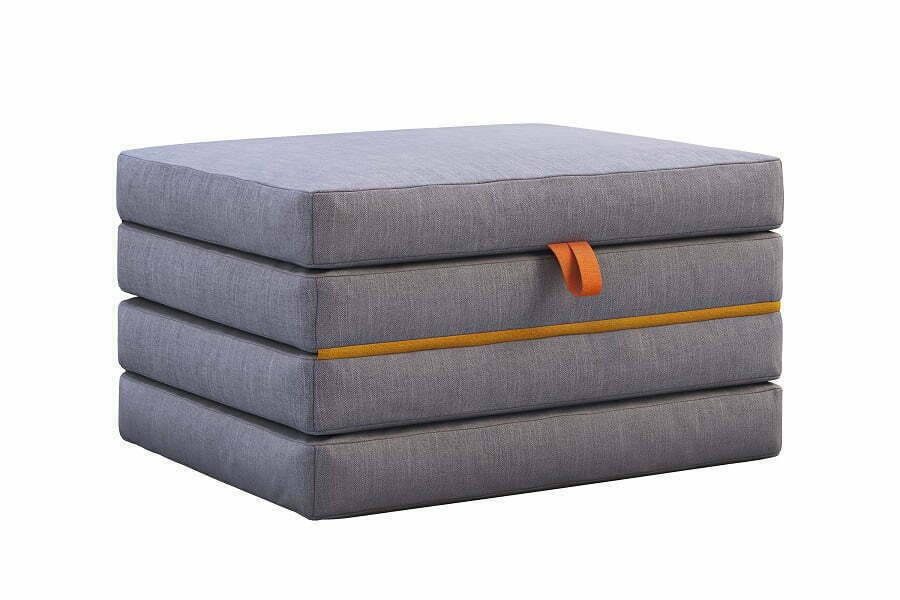 Comfortable, lightweight, and compact folding mattresses are a common choice when space is tight.
An excellent folding mattress can help kids and adults get a good night's sleep because it is typically made from ultra soft and supportive foams.
During the day, you can transform it into a daybed.
You can get a folding mattress for less than $100.
Camping Cot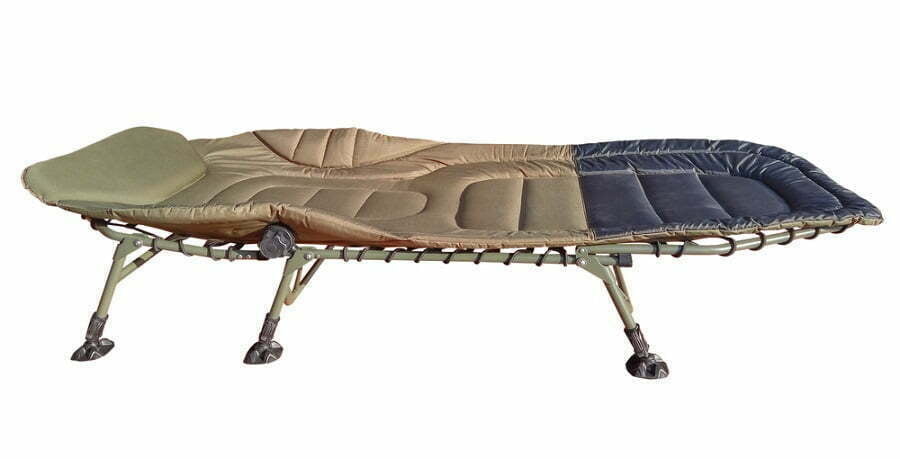 Camping cots are typically compact when folded and lightweight.
You can store them in the trunk and take them to the ball game, the kids' event, an overnight stay with Grandma and Grandpa, and camping.
Easily assembled by simply unfolding and stepping into position, camping cots are a breeze to set up. The most well-designed camping cots can provide as much support as your bed.
Cots are the most common solution for campers who have trouble finding outdoor comfort, but you can use one at home as well. Simple, no-frills cots can be purchased for $40 to $50, while more elaborate ones can cost $300 and up.
Wall Beds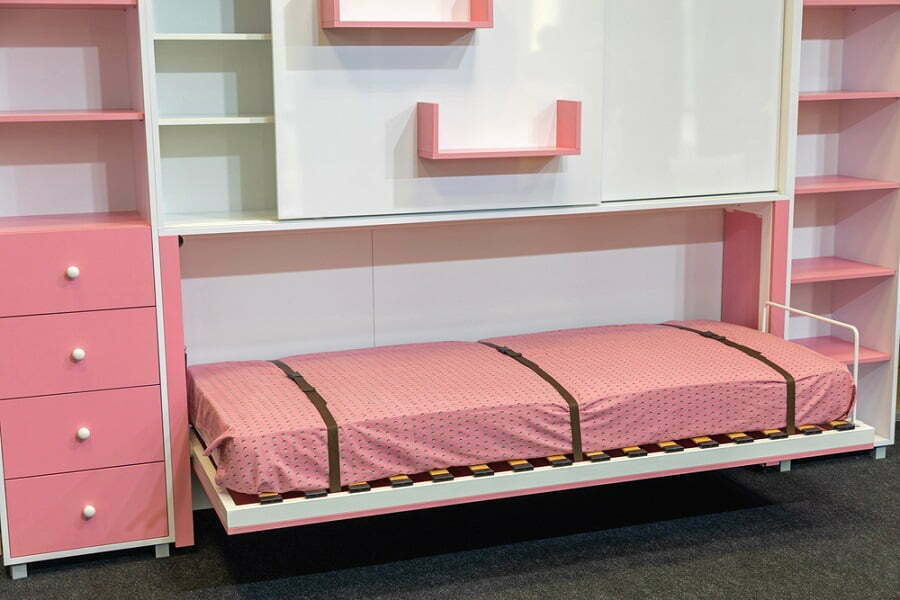 The typical wall bed (a.k.a. Murphy bed), supported by a spring mechanism and has storage space on either side, conceals itself as an ordinary cabinet when upright.
A murphy bed can be folded away and stored when space is limited. It is an excellent option for those short on space.
Since most mattress types work with Murphy beds, you can get the most comfortable one for yourself or your guests.
The typical cost for a wall bed starts at $3,000. This makes it a substantial investment.
FAQ
Are daybeds out of style?
A daybed is still in style. Its nature of being half sofa half bed allows you to decorate around it and keep it trendy.
Are daybeds OK for adults?
A typical daybed will fit an average adult.
What's the point of a daybed?
The purpose of a daybed is to provide seating and sleeping space in small spaces.
Can you sleep on a daybed every night?
You can sleep on a daybed as much as you want if you find it comfortable. However, due to their limited size and mattress quality, daybeds may not be the perfect choice for every night's sleep.
Recap
Liked this article? Here's what you can read next: