Last updated on February 28, 2020
Small spaces require some creativity to decorate and furnish especially when it comes to storage and display. That's why when you're looking for a bookshelf or a bookcase, it doesn't only have to provide enough storage, it has to do that by taking up as little space as possible.
You also have to consider the visual impact adding a unit to room's decor will have – the best choice of a bookcase will make a statement and it may very well become a feature of your entire decor. So in this top 10 list of the best bookshelves for small spaces, if a bit subjective, we keep these main criteria in mind. We've chosen units that aren't just functional but have great decorative value as well.
Furinno Turn-N-Tube Bookcase

We'll start really simple and practical. This standard small multipurpose bookcase will fit in just about any small (or big) area providing space for storage and display. Its open design ensures that you don't overcrowd the room and gives that modern minimal look while blending into your decor seamlessly. It's a simple, affordable but very functional way to add a bookcase to a small space. You can find it on Amazon (#ad).
Geometric Home Office Bookcase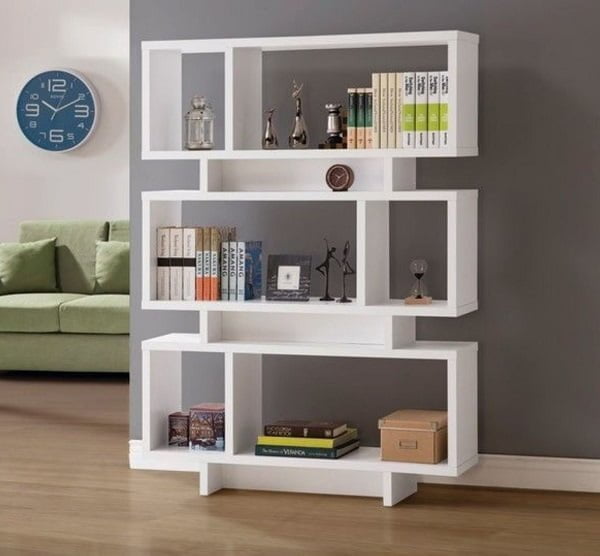 This modern design open bookcase is as functional as it is visually attractive. It is compact and saves space but its real value comes from its backless design fully finished on all sides. That means this bookcase can be used to divide room space as well as be positioned against a wall where it provides an open look. The asymmetric design of shelving gives you enough space to store and display items of various sizes to create decor that pops. The bookcase is available at Houzz (#ad).
Sonax Hawthorn Bookcase

A step up from the classic IKEA's Billy bookcase, this bookcase gives you enough vertical room for storage and display in limited space. As a standard 5-shelf bookcase it does its job pretty well and it adds some decor value with its elegant curved accents. So if you're looking for something really simple but with a little character at the same time, this unit may be exactly what you want. It can be found at Amazon (#ad).
Ladder Style Multi-functional Bookcase/Desk

Multi-functional furniture is especially useful in small spaces because it allows you to use the room a lot more effectively. This bookcase/desk gives you some storage and display space as well as a desk that folds down from a closed area of the unit. So this bookshelf not only gives you open and closed storage space, it is a makeshift work space too. Its slick modern ladder style design ensures that the piece of furniture blends into your decor seamlessly. The bookcase is available on Amazon (#ad).
Large Corner Wall Mount Shelf

When it comes to effective use of limited space, corners are the most underused, which creates a great opportunity to add shelving space where it's least expected. The solution is not only functional, it creates a striking decor statement too. So if you want to use the empty corners of your home, you need a unit that allows you to do that. This corner shelf is the easiest and most affordable way to add storage and display in otherwise unremarkable corners. It is available on Amazon (#ad).
Etagere Corner Bookcase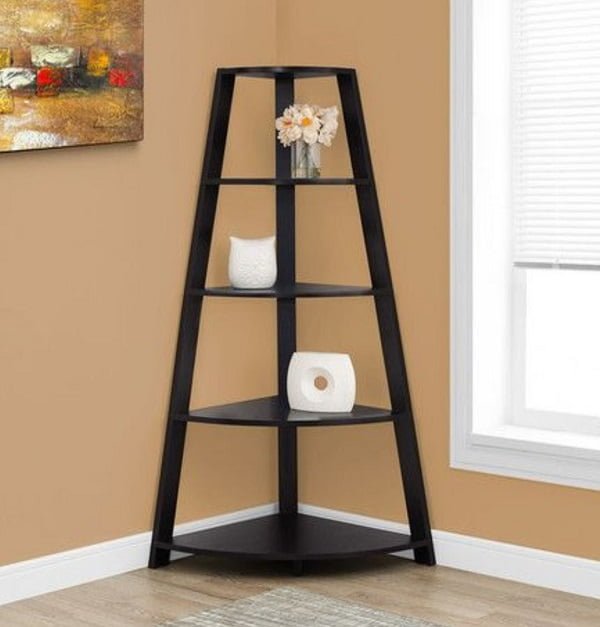 If you need a bit more storage and display space in a bigger corner of a room, wall mounted shelves may not be enough. This corner unit bookcase is designed to fit in any corner without crowding it with its open design. It provides ample storage space and adds an accent to the decor by rounding the room's edges, even making it visually bigger (which is a lot, coming from a storage unit for small spaces). You can pick it up at Houzz (#ad).
Industrial Style Pipe Bookshelf
Industrial style pipe bookshelves are all the rage right now and their design is perfect for modern small spaces. It is for those of you who want to add some unique chic style to your decor and aren't afraid to splurge on it. The bookshelf is handmade under your specifications with the metallic and wood finish of your choice. This unit will not only bring extra open storage space to your home, it will make a strong and unique decor statement. You can order it on Etsy (#ad).
Geometric Bookcase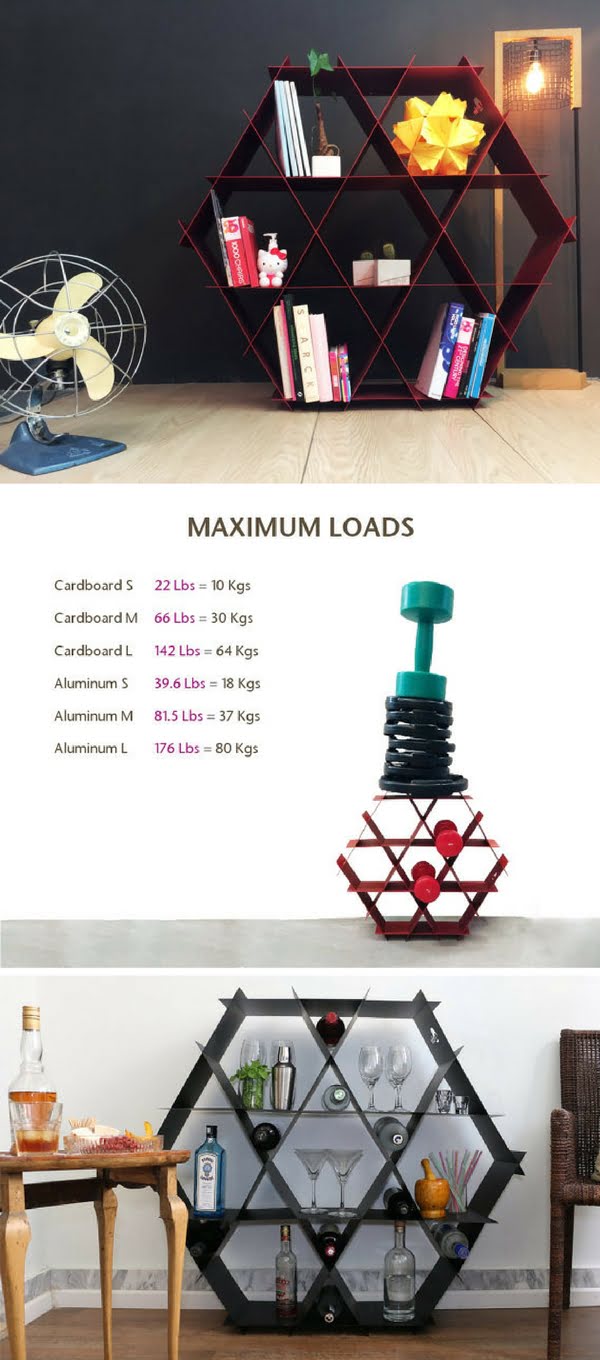 Standard rectangular shapes may not be what you're looking for if you want something out of the ordinary. This bookcase is built with that in mind. Its hexagonal honeycomb shapes gives you a unique accent piece of furniture that is modern and functional in its design. The bookcase is made from aluminum sheets which makes it light but very sturdy as a storage unit, it adds a metallic finish of your choice to your decor. Available on Etsy (#ad).
Altra Lawrence Ladder Bookcase

Another non-standard option on our list is this ladder bookcase that provides a lot of open storage in limited space. Its design enables you not only to use the shelves for storage and display but easily add baskets for closed storage too. The unit adds a modern industrial style element to your decor and it's a very affordable piece of furniture – you can be exceptional without splurging on it. The bookcase can be found on Amazon (#ad).
The Hazel Tree Bookcase
If you're looking for something really unique and exceptional, check out this tree-shaped bookcase. It may not be as functional or as efficient in providing storage space as other units on this list but it's simply too remarkable to be left out. Add a great whimsical decor statement to a room with these little shelves and put your books or collectibles on display. It isn't just a piece of furniture, it is a real piece of art. Available on Etsy (#ad).
Liked this article? Here's what you can read next:
---
Disclosure: As an Amazon Associate we earn from qualifying purchases.