Last updated on September 28, 2023
Looking for budget-friendly, super functional end table alternatives? Add some flair to your room with these options. Read on!
Side tables serve several purposes. They can be used as decor items, a nightstand, a storage area, and many other ways. Don't think of it just as a plank of wood on four legs; think outside the box!
We're not talking about regular tables. We're talking about repurposing other things you already have in your home and turning them into beautiful and aesthetic end table alternatives.
Here are the options for you, especially if you're looking for inspiration or want to get creative with your decor, storage, and space. These end table alternatives make your things accessible at arm's length, and safe.
Check out the list below and choose the best one for your needs.
Vintage Suitcases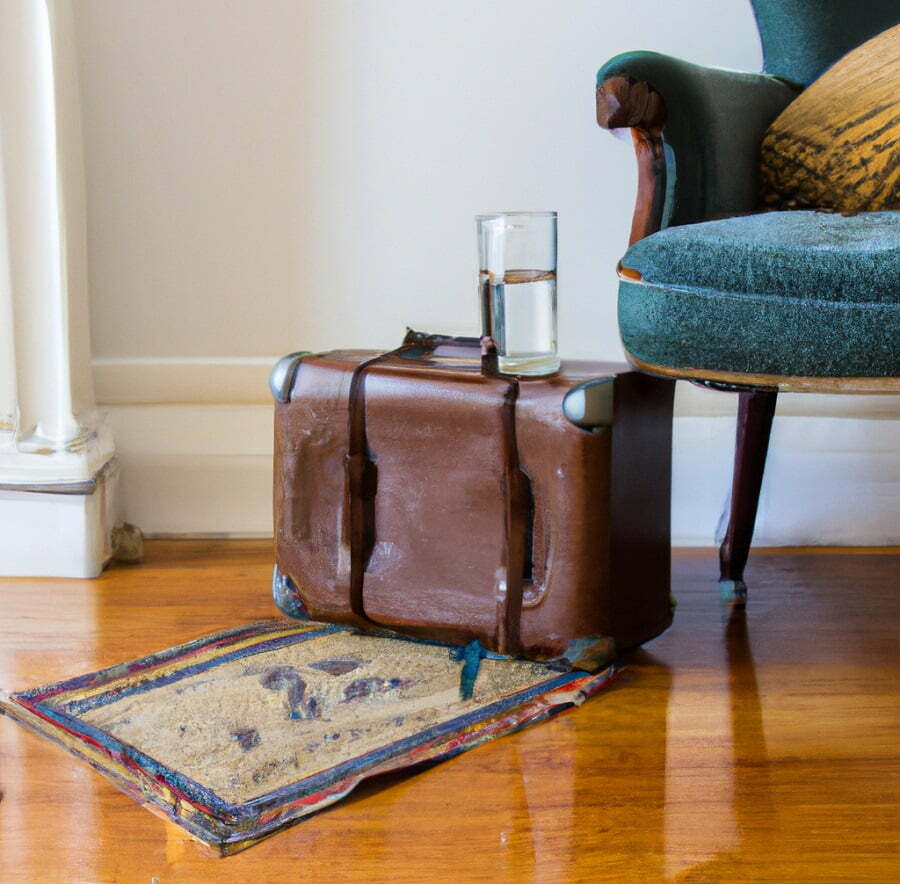 Vintage suitcases are the perfect alternative to nightstands and other types of side tables. Place a single suitcase on a stool or stack around three suitcases together to achieve the desired height.
Most people have numerous suitcases they've collected over the years, so this idea is practical and affordable.
Large Stack of Books
Most people have several large books they rarely read but cannot be disposed of due to their sentimental value. Upcycle these books by stacking them up to create the perfect end table alternatives.
Use large and hard-bound books to achieve that classic look in your room. The larger the books, the fewer you will need for your stack.
Table Lamp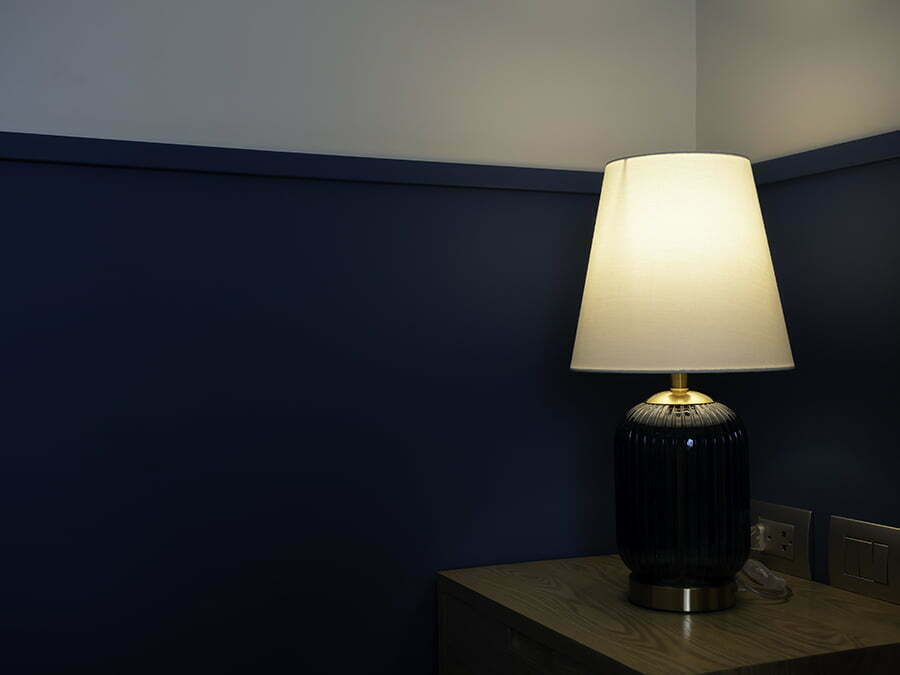 Table lamps are an excellent addition to any living space. They can be placed on the nightstand next to the bed or an office desk, among other places. Whatever the case, it is essential to note that table lamps come in various designs and sizes.
Pick one that matches the feel and mood of your home. Some lamps have their own stand and shelves that can serve as the side table.
Garden Stools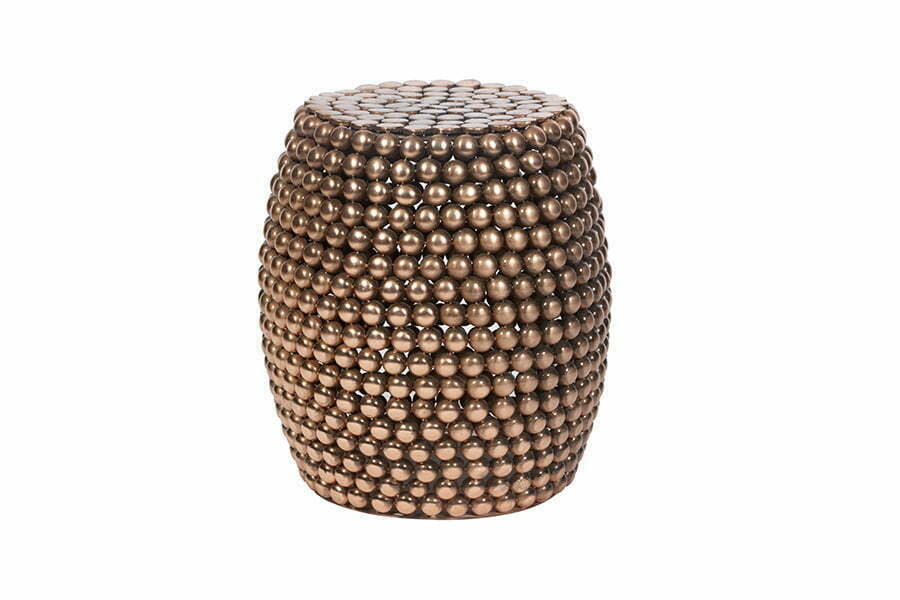 These are decorative stools designed for outdoor use and can be made of ceramic, wood, or metal. They are waterproof, stylish, functional, and versatile. While they are mainly designed for the garden, they can be used as end table alternatives.
Furthermore, decorative stools are space-efficient. So, you don't need to worry about taking too much of your living area.
Low Dining Table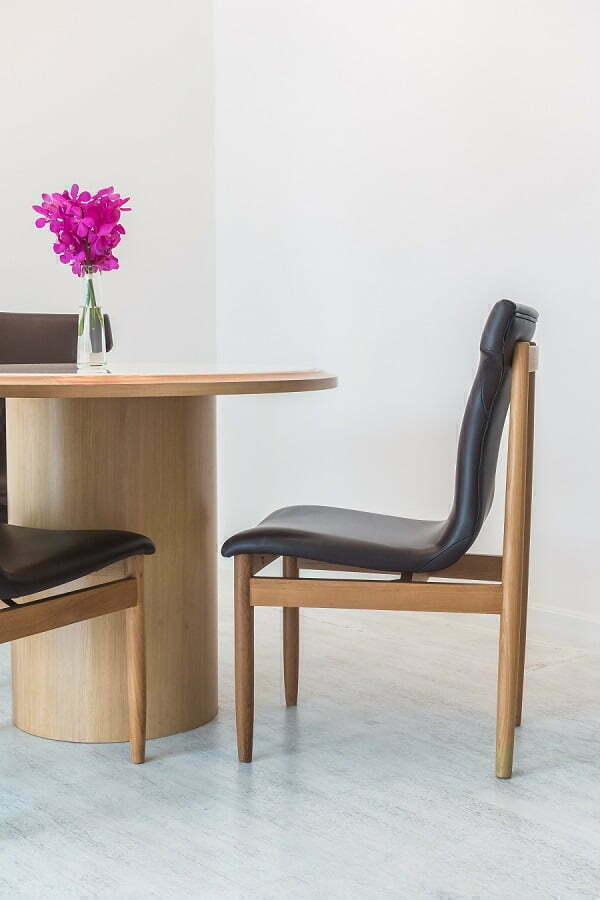 Dining tables are usually made to have a counter height, but some dining table alternatives are shorter. When looking for an end table option, you may want to consider buying a low dining table.
Shop around for unique designs that suit your taste and budget.
Floating Shelves
Floating shelves are one of the best ways to use vertical height in your home. These are shelves mounted on the wall and do not have any visible supporting brackets. They are space-efficient and can store your books, devices, and other things.
This shelving is a great end table alternative, especially for contemporary minimalist interior designs.
Blanket Ladder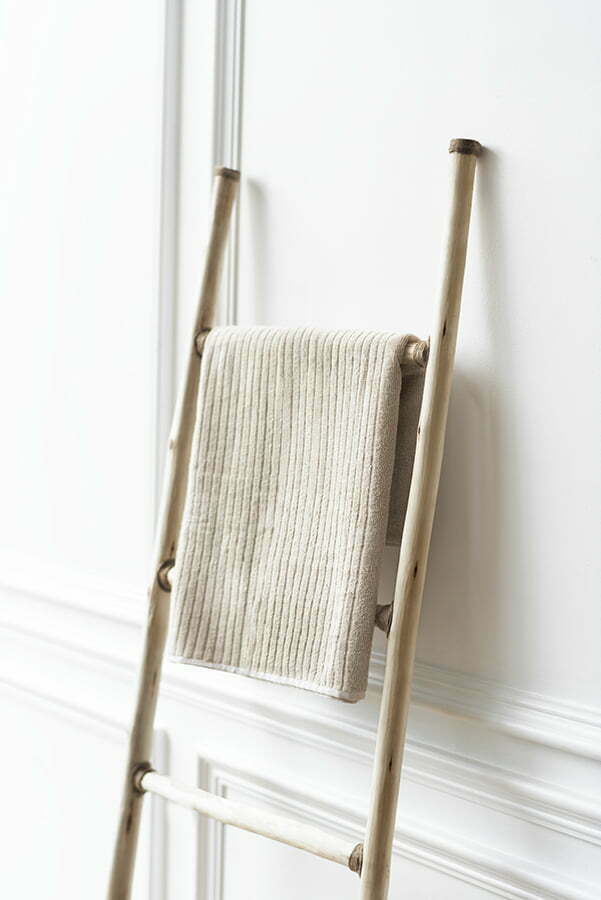 Blanket ladders provide additional vertical storage space for storing towels and blankets. Many people usually fold their blankets and towels and place them on end tables. Therefore, a blanket ladder is a beautiful alternative to end tables.
They come in different designs and heights. Keep an extra layer of warmth and comfort with a blanket ladder.
Large Trunk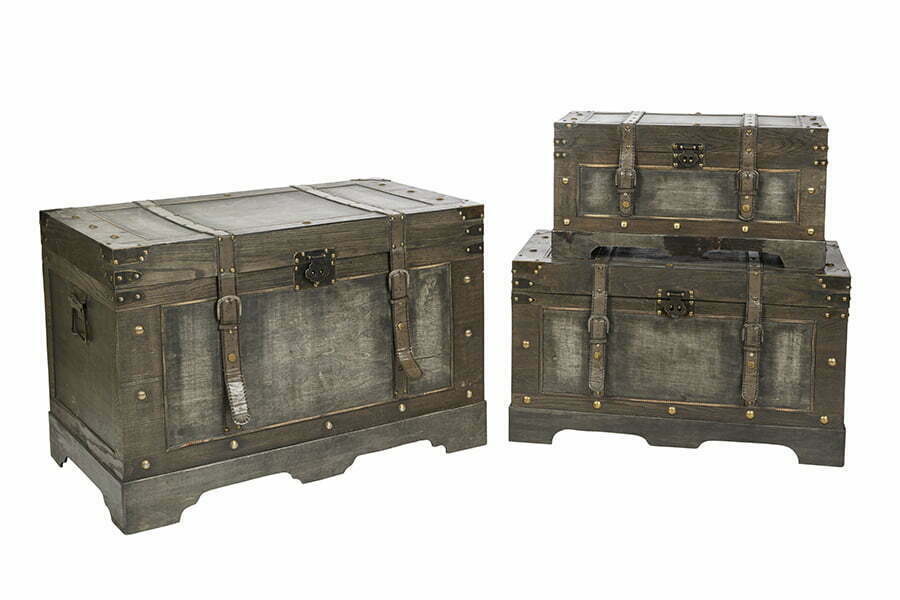 Trunks are standard in boarding schools as they safely store clothing and other personal belongings. If you have a large trunk, you can use it as a side table in your bedroom or even the living room.
In the case of smaller trunks, you may need to stack two of them to achieve the desired height. It's a trend for a reason.
Folding Chair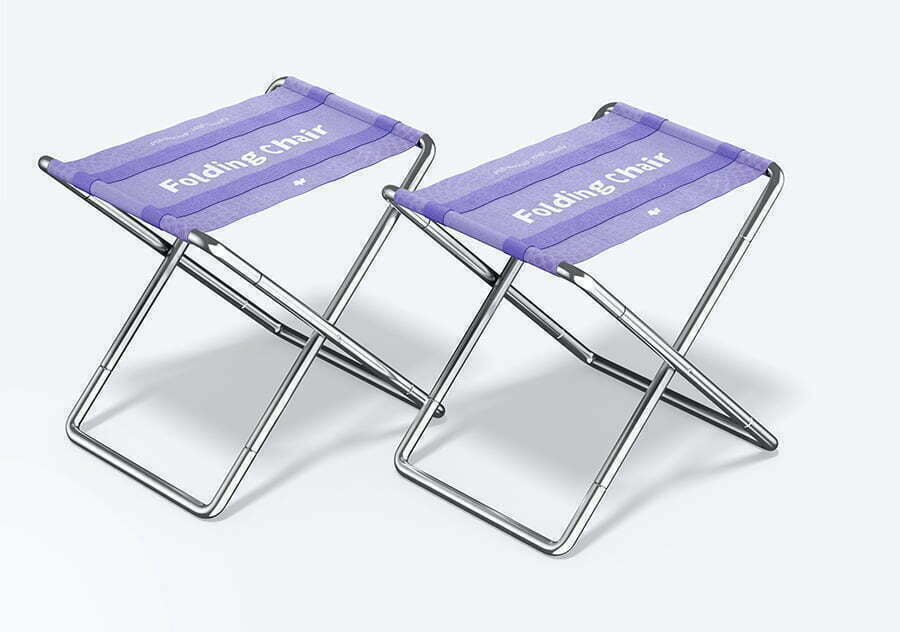 Folding chairs are popular because they are easy to store; just fold them up and keep them in your closet. But instead of keeping them hidden away, use one or more folding chairs to store some of your items.
Folding chairs make great end table alternatives, so be sure to think of ways to make use of these chairs.
Filing Cabinet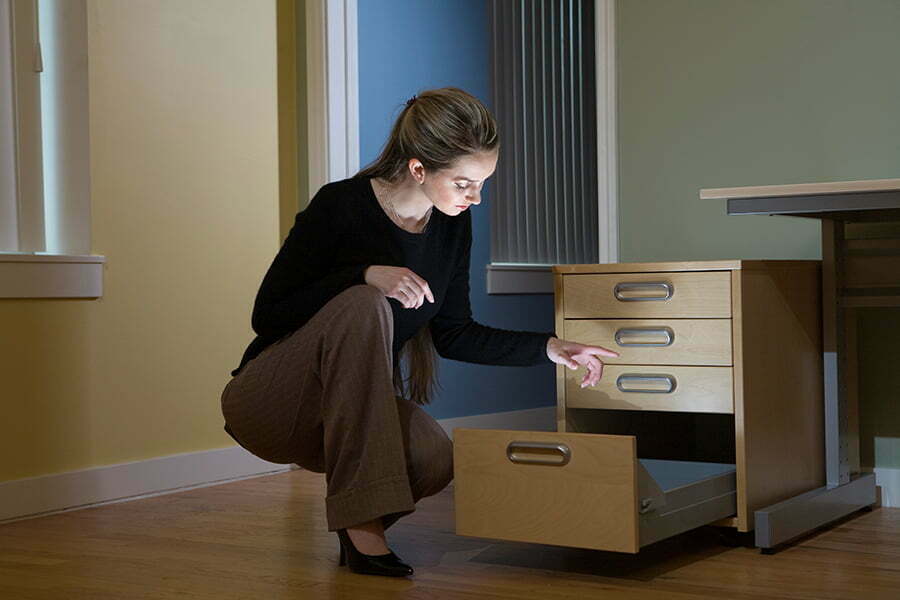 In addition to storing items on top of the cabinet, you can store more stuff inside the cabinet. An end table only provides storage space on the top. If you need additional storage, consider replacing side tables with filing cabinets.
Keep your essentials at arm's length with a filing cabinet as your ent table alternative.
Pet's Crate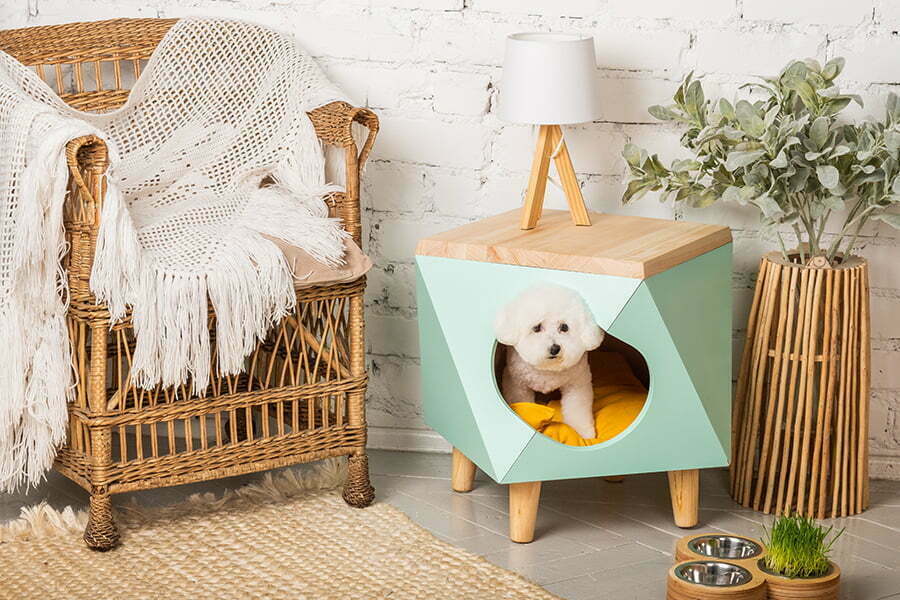 Pet carriers and crates have the same height as end tables, so they can replace the latter. Since you won't use your pet's crate daily, use it instead of an end table.
It doubles as your pet's cozy private spot and is an excellent alternative side table for lamps, aromatic candles, and more.
Stack of Baskets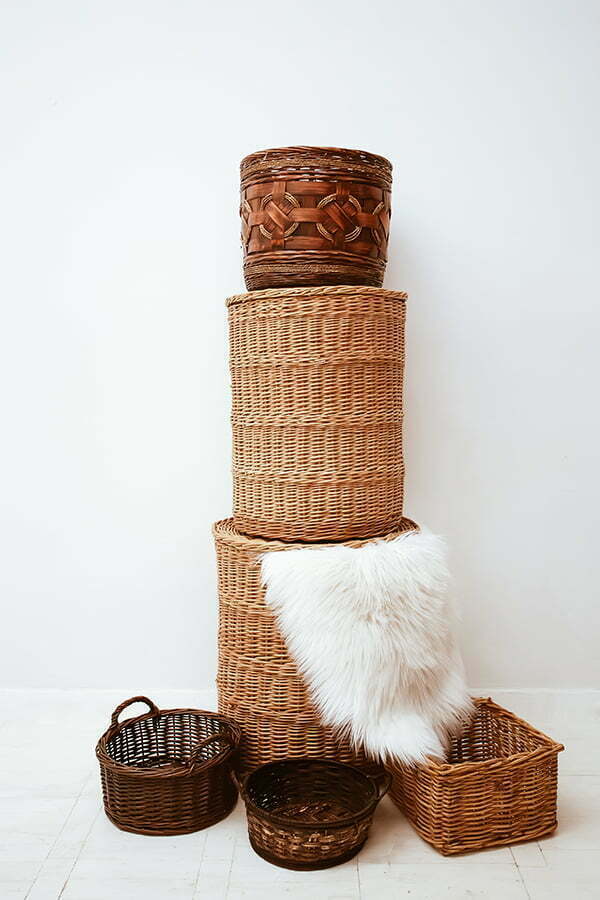 Consider using a stack of baskets when you want a decorative and functional end table alternative. You can order wicker baskets, either lidded or unlidded. The basket will enhance the decor of your home and provide extra storage at the same time.
Just be careful of the things you put on top of it. Due to the weight, don't put heavy items as the basket may cave in.
Bar Cart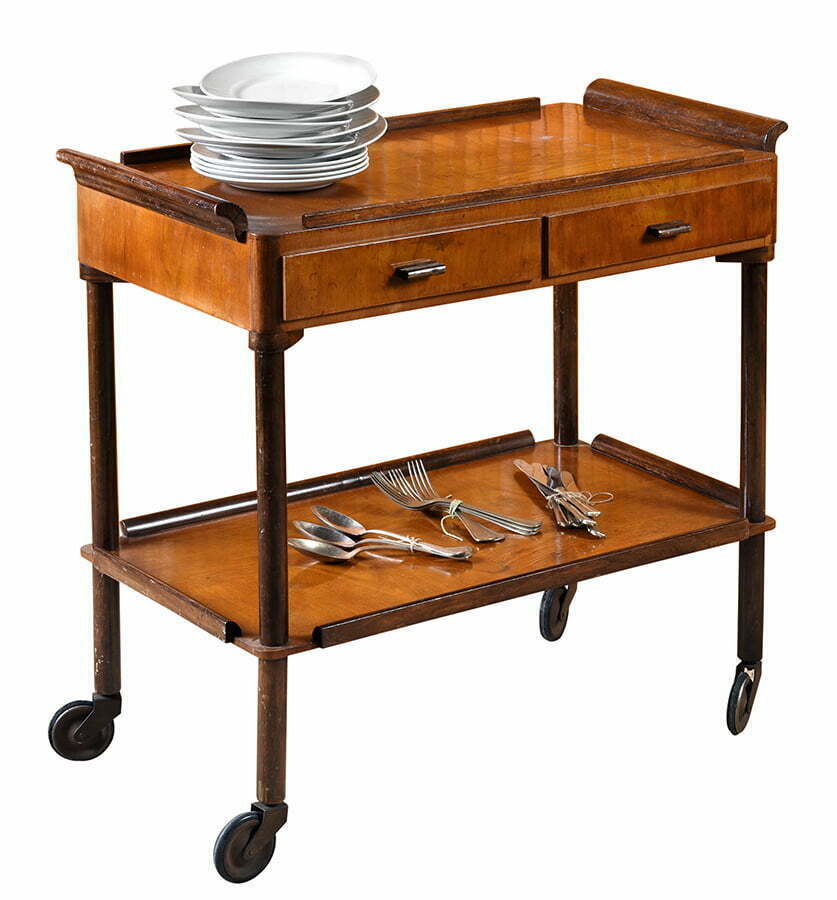 A bar cart can find many uses at home, key among them being an end table alternative. You can store flowers on top of the cart and other items in the lower deck of the cart. There are many places where you can buy different types of bar carts online.
Bar carts have flat-top surfaces and shelves for storage. You can even move them wherever part of your room.
Pouf Side Table
A pouf is a solid freestanding cushion used as a table or a leg rest. It's most famous for decor, but you can use them for more than that, such as your end table alternative. Poufs come in various sizes, including; round, square and oval, so you have many options.
Look for poufs with a semi-flat top to get that surface best for keeping items you need on a whim.
Stool Side Table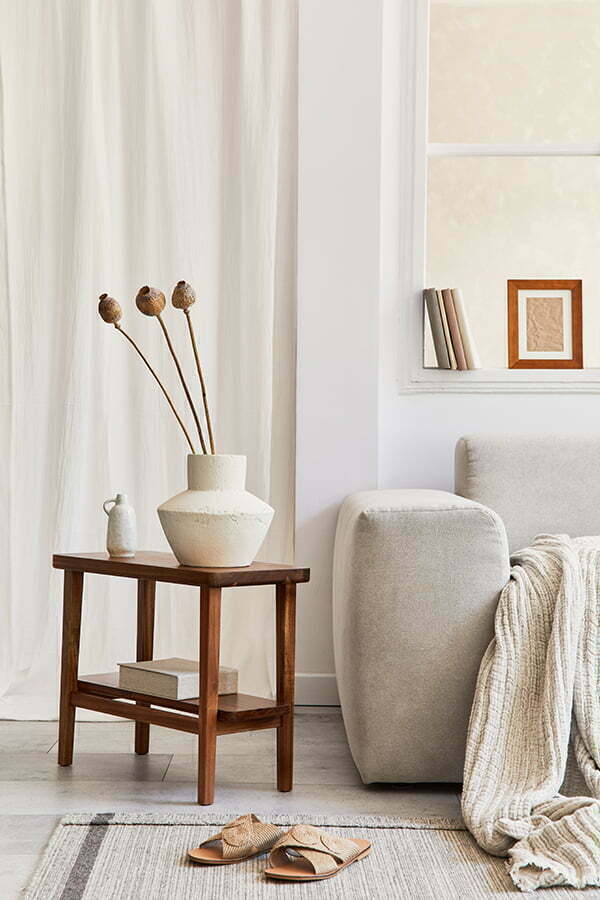 If you're not ready for a ladder as an end table alternative, try a stool as a side table instead.
The stool can have a rectangular, square, round, or oval top, while the legs can be straight or slanting. Make sure you choose a stool with a suitable finish to add to the interior decor of your home.
Whiskey Barrel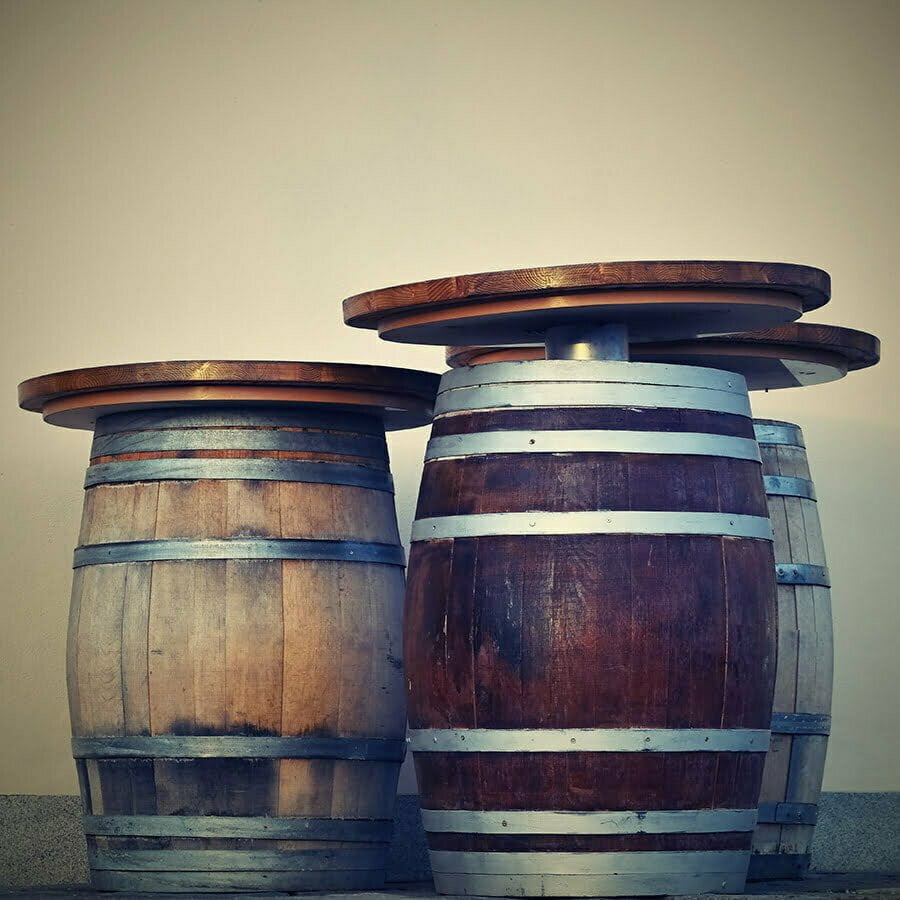 The best whiskey barrels are made of American Oak, but there are many other options. They do not just look great. They also give off a pleasant aroma that can transform the mood in your home. Stain your barrel to get the best shade that goes well with your paint.
Having a ranch feel in your home doesn't require much work. Consider buying an aged whiskey barrel to use as an end table alternative.
Tree Stump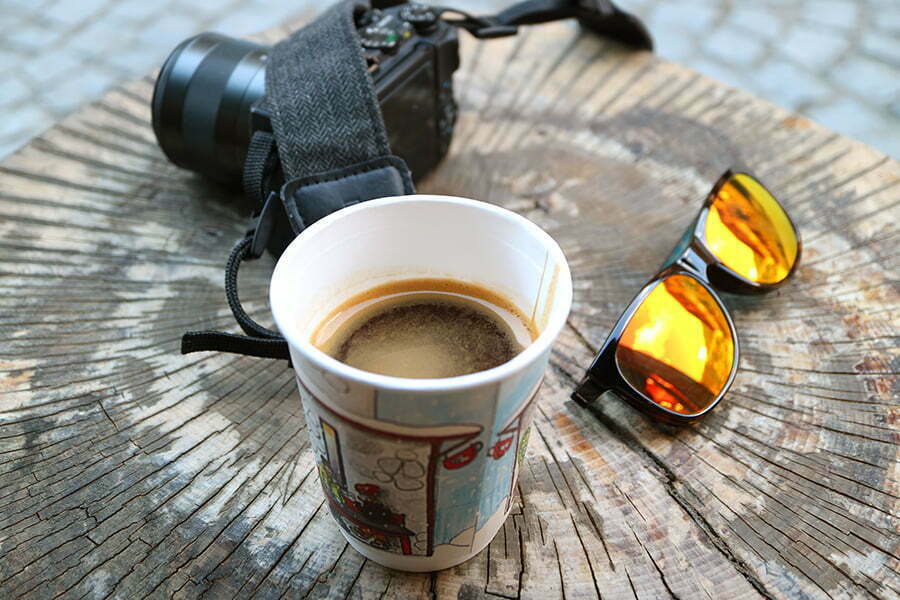 Tree stumps come in a variety of sizes. You can order a tree stump the same height as your end table. The upper surface of the tree stump should be large enough to meet your storage needs.
It's perfect for your book, coffee, and other items you want to access quickly. You can have a DIY tree stump and repaint it or buy it online.
Pedestal Table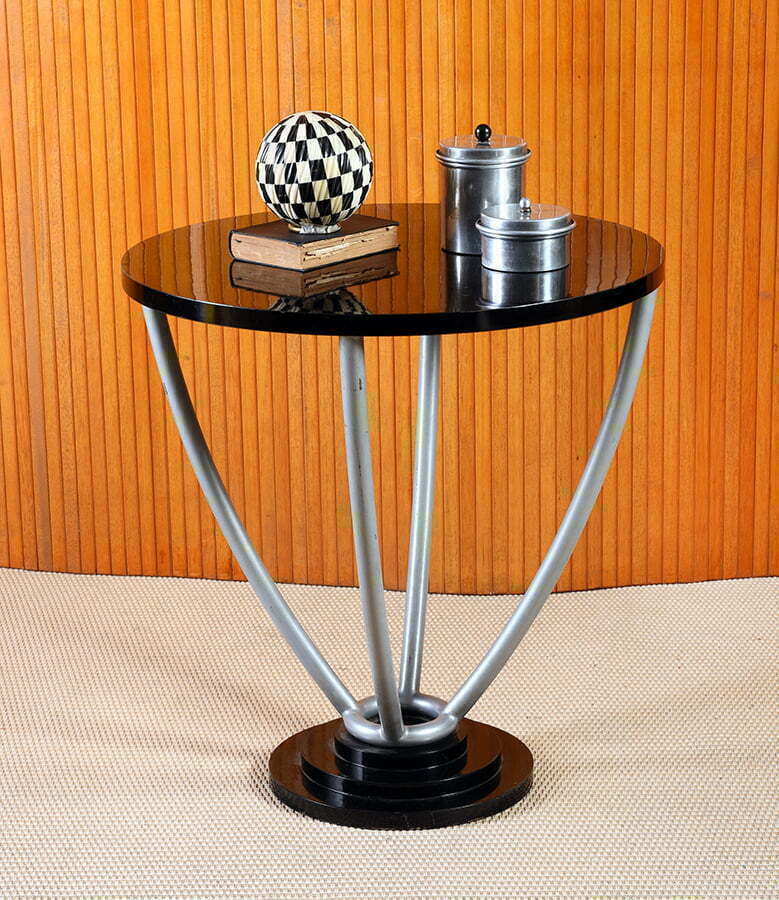 If you want to display decorative items or enhance the interior decor of your home, consider buying a pedestal table. They come in a variety of designs, some of them simple while others are more sophisticated. Be sure to choose a design that suits your budget and taste.
They are a great addition to your home if you're going for that modern and relaxed look.
Accent Chair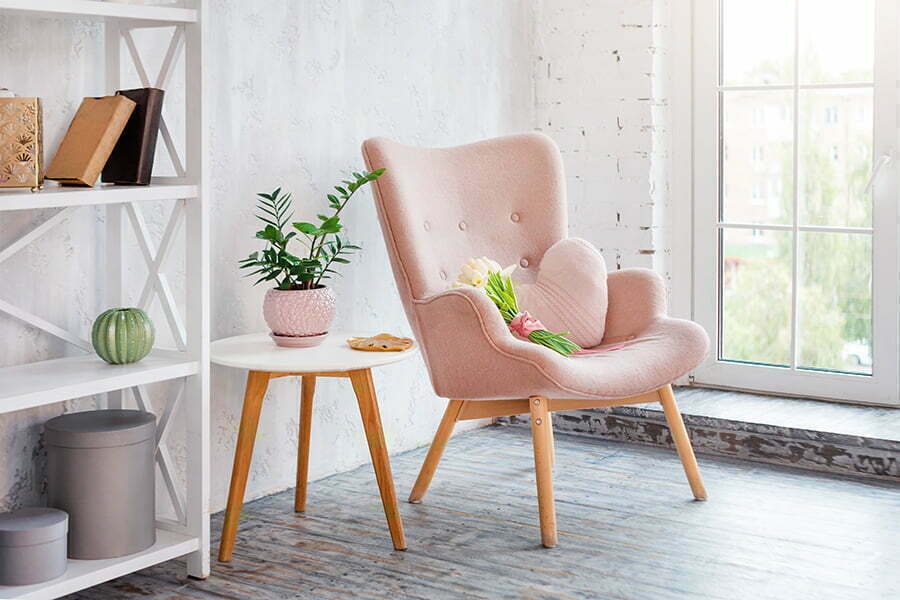 These are single-seat side chairs added to the living room or bedroom as the focal point. You can use these eye-catching chairs instead of end tables. Accent chairs are usually stylish and may come with brightly-colored upholstery.
Sometimes, the cutest side tables aren't tables. Mix and surprise your visitors with repurposed items within your home.
Storage Ottoman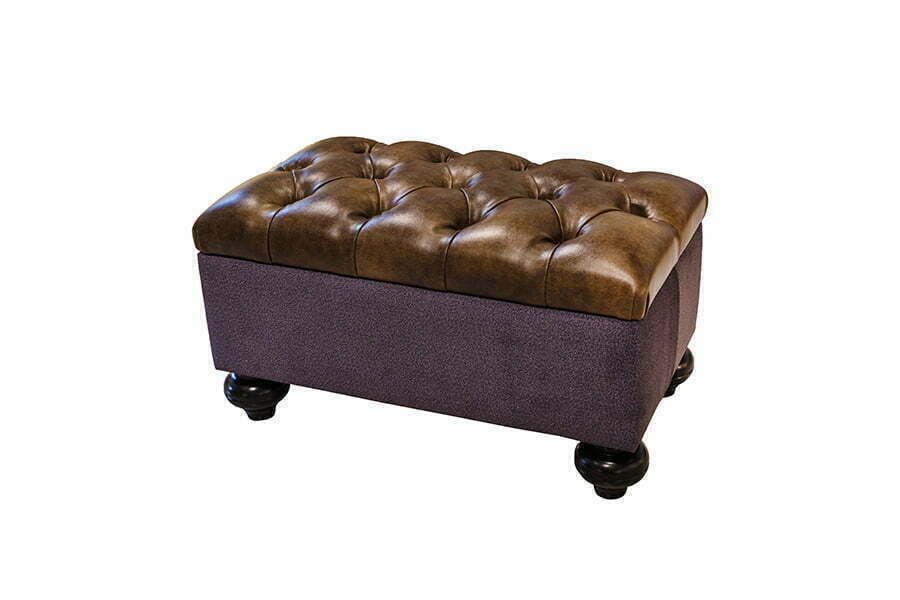 An ottoman is similar to a pouf, except that the top section has a hinged lid. Storage ottomans can be used to store items, such as books, magazines, and linens, among other things.
It's a perfect choice for those living in small spaces. Get creative with your tiny home by using ottoman storage as an exciting alternative for end tables.
Small Coffee Table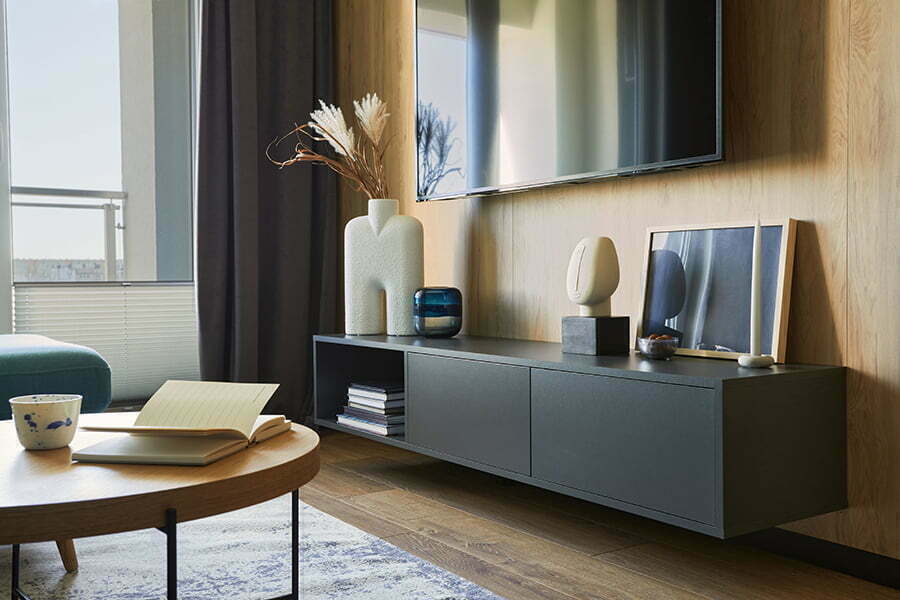 A small coffee table can be an excellent alternative to an end table. The best thing about coffee tables is that they are portable, so you can move them closer to the seats when you need to.
Nesting Tables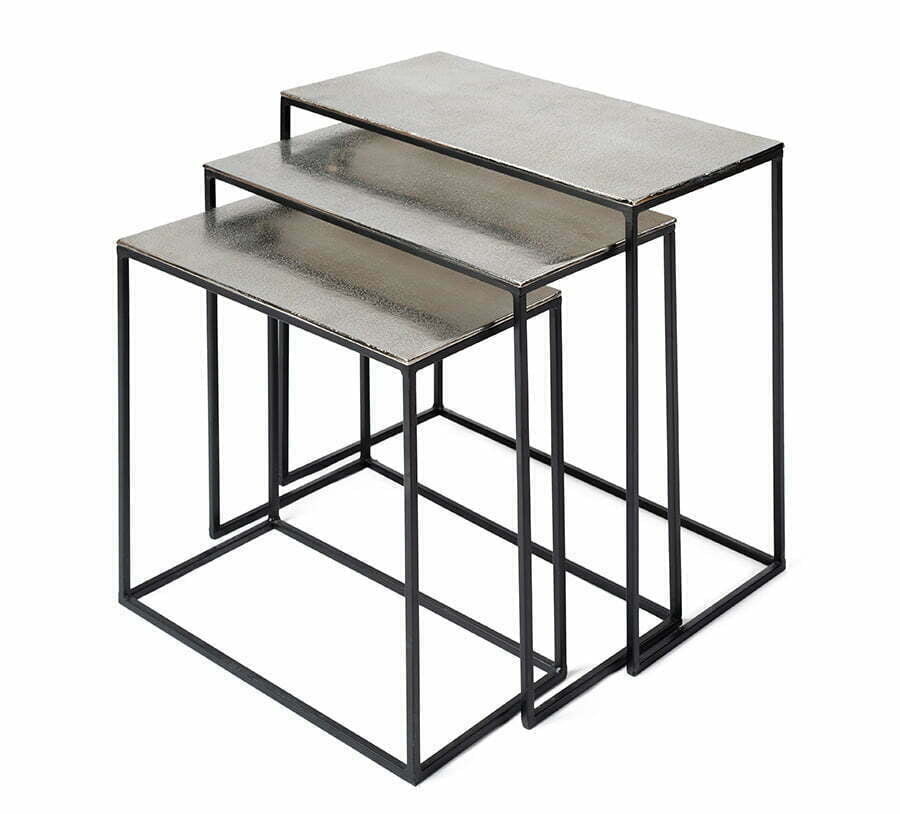 Small living rooms have limited space for decors and furniture. Instead of having multiple things with similar purposes, why not get a decor that acts as an end table and a storage space. The nesting table is a good example.
Nesting tables often come in various sizes, allowing smaller tables to fit under larger ones. You can use nesting tables instead of an end table in your home.
Small Bookcase
Bookshelves, or bookcases, come with multiple shelves for storing books. You can order a small bookcase to replace the end table in your home.
Wooden Crates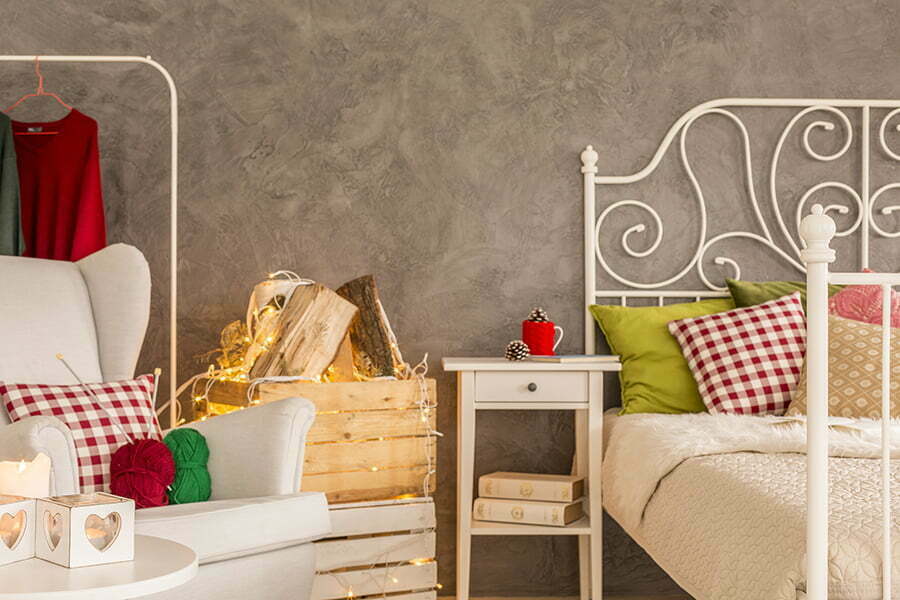 Small wooden crates are great DIY upcycle projects. They can be used in various ways, such as extra storage or an end table alternative. Consider placing a potted indoor plant or large flower vase on the wooden crate to improve the interior decor of your home.
You can stack the crates to get the desired length. You can also attach the crates to the wall to have a floating crate shelf.
Small Bench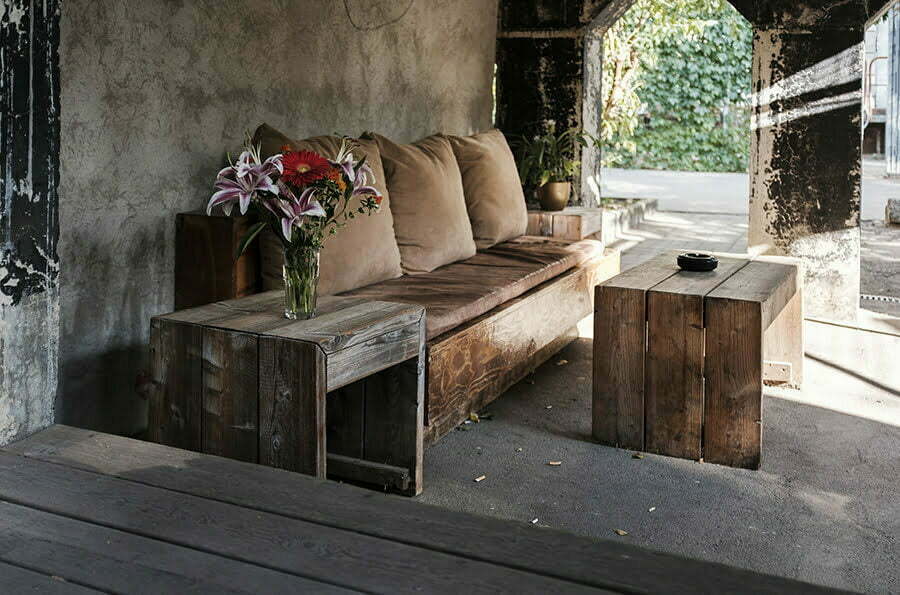 A small wooden bench can add value to your home by providing a surface on which you can store items. Make sure the bench's dimensions and finish are perfect for your needs.
A small bench isn't just a good seating area but an end table alternative.
Recap
Liked this article? Here's what you can read next: