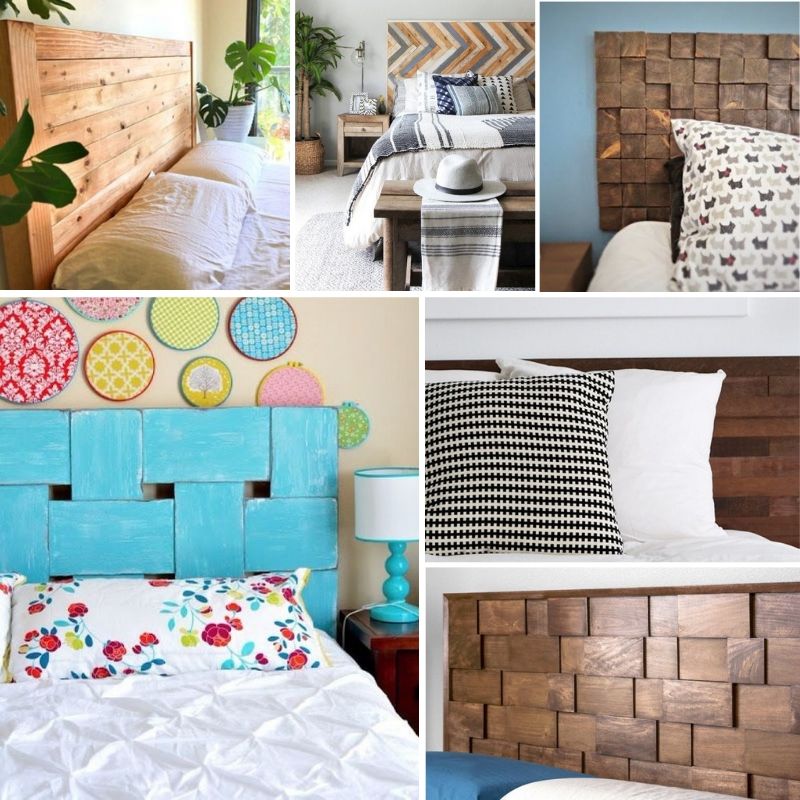 Last Updated on
Want to build a DIY wood headboard for a unique bedroom accent? That's a classic choice of the material! And here are 34 ideas that will help you complete it.
If you're a seasoned DIYer, you know your way around with wood and stains. Cutting a few planks to make a bedroom accessory is all it takes in a nutshell. You need to decide on the design and look to meet your decor style. That's where all these great ideas come in.
We've sought high and low to get you the top list of woodworking ideas that will help you complete your project. Get ready to make some stunning results with these!
Freestanding Headboard
This is an easy beginner level project that you can make over a weekend. The freestanding headboard allows you to fit it to any bed of the right size. These plans are catered to a queen size bed. The included tutorial with instructions will guide you through to build your custom headboard. A stylish headboard like this will transform your bedroom decor.
King Size
This video tutorial will show you how you can build a king size headboard. This is a beginner level project, and it's explained well. So check out this tutorial if you're looking to build a headboard for your king size bed.
Reclaimed Wood Look
This headboard only looks like it's made of reclaimed wood. If that's the look you want, but you don't want to use salvaged material, you can go for these plans. They are for a king size bed – so if that's the size you need, it's the perfect fit for you. Check it out and try it out!
Wood Rounds
This headboard only looks like it's made of wood logs. In reality, it uses inexpensive slices and plywood to make this beautiful and whimsical headboard. And the best part is that it's straightforward to make. So why not create something unique like this at home? Check out this excellent tutorial with instructions.
Mid-Century Modern
We will see blocks being used in a few tutorials on this list. Indeed, it's a unique way to make a beautiful headboard. Albeit it is more involved than most other tutorials, it's all worth it. Check out how you can build a headboard from wood blocks in the mid-century modern style.
Wood Shims
This is another one of the most impressive DIY headboards. It's for a king size bed and uses shims to create an unusual texture. Such a headboard gives the bedroom a complete makeover and a lot of visual interest. If you want to build it yourself, check out the tutorial for plans and instructions.
Queen Size
Here's another great video tutorial if you like learning from video rather than reading instructions. It shows you how to make a headboard from wood for a queen size bed. It's beginner friendly, and you can start right away as long as you have materials and tools. Check it out!
Wood Blocks
Modernism takes another shape, and while it is good ole' blocks we're referring to, your bedroom wall is about to pop drastically! First off, get your hands on a set of blocks, which shouldn't cost you a fortune, but will still deliver an expensive headboard outlook.
The project itself costs less than $80, and creating it will require simple materials, such as plywood, posts, tubes and some paint and oil to finish the piece in style!
The design itself focuses on giving this headboard a different dimension, allowing some blocks to pop more than others!
Herringbone Pattern
Opening up the bedroom space doesn't have to be all about the windows and doors. Instead, try focusing your attention of creating a majestic and clean herringbone headboard, which doesn't take up a lot of time to complete, and still produces an upbeat and soothing bedroom feel at the same time.

To create it, you will need a pile of boards, narrow and long enough to cover the desired wall area. To secure the alignment of the boards, set up the patterned boards onto a plywood frame, which will surely need a bit of smoothing and painting to perfect it!
IKEA Hack Stikwood
IKEA hacks are our favorites because you can accomplish a lot of things in your home decor without breaking the bank. You can make a beautiful rustic wood imitation headboard by using Stikwood sticky tiles on your basic IKEA headboard very quickly. Check out this tutorial for details.
Colored Herringbone
This is a custom headboard idea which will require you to have some essential carpentry experience as also tools such as a circular saw, a miter saw, etc. However, if you are a DIYer familiar with working with wood, this will be a cinch. Check out the tutorial to find more.
Cedar Shingles
The incredible thing about this headboard is that it was made as part of a 24-hour complete roof-to-floor makeover of a bedroom with a modern farmhouse theme. And chic through the headboard may look, it would set you back no more than a paltry dollar eight! Pretty cool, we would say?
The Live Edge
Again, classic as it may look, this live edge headboard involves little work. Get a good quality grained plywood, use a jigsaw woodcutter to make the pattern you want and then stain paint using staining pads. The pictures should suffice themselves, but do follow the tutorial for a few extra details.
Woven Wood
This one is funk with a rustic flavor to it and would pretty much suit all lightly (and funkily) themed décor. The one in the tutorial is used for a King-sized bed in the master bedroom. But you can make a smaller one if you like and install it on the kids' room. Check the tutorial to find how easy and fun this whole project is as also to get some good ideas on how to decorate the wall space right above the headboard.
Chevron Pattern
We adore the neat and sophisticated look of this DIY custom headboard fashioned with thick plywood sheets and pine furring strips. Check the tutorial to get a full list of materials you will need for the project and instructions on planning and execution.
Wood Slats
Slats make an excellent accent headboard. Who knew? Check out the link to find out how it's done.
Wooden Tile
Using wooden planks to make a tiled look. It's all the rage right now, and you can create this accent for the bedroom too. Read the link for the full guidance and instructions.
Stained Wood
We love it when home DIYers aren't afraid to work with wood and stains. So when we saw this project, we had to include it here. Read this website for the entire guidance.
Reclaimed Wood and Coastal Style
This reclaimed headboard for a proper, grown-up bed was built in less than 24 hours. Follow this website to learn how it's done.
Three-Step Painted
Painting a board in three easy steps make this gorgeous headboard. Check out this website to find out how it's done.
Real Reclaimed Wood
This bedroom accessory was built from leftover boards, which is a testimony for how easy a project this is. See the link for the complete guidance and instructions.
Wood Planks
Take a few boards, cut them to fit the size, and put them together to make an easy headboard. Follow this website to see how to do it.
West Elm Inspired
Transform your bedroom using this simple step-by-step tutorial for building a West Elm inspired DIY Headboard for under $200. See the link to get the complete details.
No Bed Frame Required
Directions, materials, and tools for this simple DIY project that lets you make your bed one-of-a-kind. No bed frame required. Read this website to see the complete details.
Wooden & Upholstered
Build a beautiful headboard with a luxurious velvet tufted upholstered center using these free building plans. Read the tutorial to find out how to do it.
Reclaimed Wood Look for Less Than $50
Need a rustic style accessory for your bedroom on a budget? Make this reclaimed headboard with new materials for less than $50 and minimal DIY skills. See this website for the complete plans and instructions.
Reclaimed Wood Chevron Design
Learn how to build a DIY chevron reclaimed bed similar to the West Elm Alexa Bed. Build it with these plans and tutorial for a fraction of the cost. Follow the article to see the entire guidance and instructions.
Wooden Headboard with Light & Trundle
Create this fantastic wooden headboard with a light and a trundle for an easy home project. See the link to see how it's done.
Distressed Wood Style
A simple and elegant DIY distressed headboard you can make at home. This project can be made in a weekend with a few simple tools. Read the link to learn how it's done.
Pottery Barn Hack
This Pottery Barn hack will teach you how to make your budget-friendly boho carved headboard without sacrificing style. Check out the article to find out how to do it.
DIY Repurposed Door Headboard
It is always helpful if you can repurpose old but in-good-condition materials into a headboard. Saves you a hoard of money plus gives you the satisfaction of accomplishing something all by yourself. This tutorial guides you through how to fashion a headboard frame for a queen bed by repurposing an old door.
Cedar Picket Fence Headboard
If you want something big, bold and sturdy and one which looks super classy at the same time, you will love this headboard idea. Made out of 13 cedar fence pickets which will set you back about $30, this is also a steal for the size and look you get.
Repurposed Vintage Window Frame Headboard
We bet you never thought fiving a set of old windows a chance to become a fabulous headboard! Well, thinking outside the box is often more fruitful than your average DIY project.
Starting off this project will require vintage looking window frames (glass included), by your wall space. Make sure you secure and stabilize the headboard well, using picture frame hangers and hooks along with the traditional nailing method.
Given the fact that you already have old windows lying around your garage, this project can be mastered at minimal or absolutely no cost!
Salvaged Barnwood Headboard
Another repurposed headboard idea you are going to love. If you don't have the barn door wood at your own home, you can quickly get some at any garage sales and needless to say, it will cost you little. Follow the instructions on the tutorial to DIY this big, farmhouse theme headboard. We especially love the rough shapes used in this headpiece.