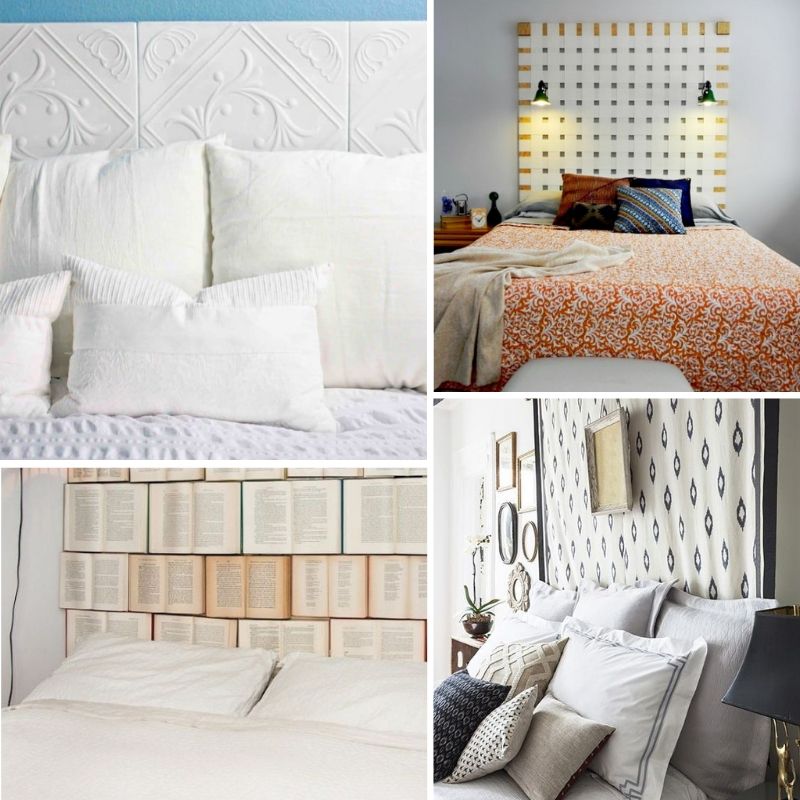 Last Updated on
Are you looking for a unique bedroom accent? A wall mounted headboard offers unlimited creativity to create a personal accent. Check out these ideas.
What's so great about wall mounted headboards isn't only because they take up minimal space. They also provide unlimited room for creativity. Just think about it. You're already breaking the rules by mounting it on the wall. Now if you choose a different type of material. See where we're getting at?
You have to see these creative ideas to know exactly what we mean. Creativity flows with these headboards. And you can have any of them in your home too. Love these!
Faux Brass Metallic Gold
Quite a hassle-free headboard idea. All you'll need is a surface that can be prepared from Wood, MDF and so on (or you can buy a readymade one) and a metallic gold foil. The only tricky part is to smooth out the air bubbles under the foil as you stick it to the headboard. Check this great tutorial to find out how you can pull off a neat job of it.
Woven Headboard
A great tutorial which shows you don't always need wood to create a beautiful headboard. Follow this tutorial to get the basic idea, and all you need to do then is to get some table mats that fit with the décor of the rest of the room and turn them into a legitimate headboard in virtually no time!
Tiles
We love the large and stately appearance of this tiled headboard with that unmistakably Middle Eastern style achieved through the choice of the tiles. And for all its stateliness, it is straightforward and quick to make. Check the photos and the instructions in the tutorial to find more.
Floor Cushion
We love these floor cushion headboards for their modern and relaxed look. The finished product looks like an excellent alternative to traditional headboards, and the project can be completed real quick and with supplies that would cost you little.
Oversized Woven
If you have some old vertical blinds lying around at your garage, you can put them to excellent use to do up a great-looking headboard for a master bedroom. Building the wood frame would take you some time, and math… and patience! But once you have got the frame ready, the rest is a cinch. Check out the tutorial to find how.
Faux Tiles
If you want a lightning fast DIY headboard on a razor-thin budget, you will love this idea. You will need some faux foam titles, some scotch mounting tape, and absolutely zero DIY skills to prepare this one. And for all that, it looks classy enough. Check the tutorial and give it a try if you want.
Old Books
Nighttime reading, anyone? Well, this one is undoubtedly above board, but if you are one of those persons with a cheeky taste for things 'above board,' you are going to like it. This is also repurposing to the extreme. The photo here must've given you a good idea of what we are talking about, so if you are still interested, please feel free to check the tutorial to find how you can get this one made for and by yourself.
Canopy
Looking for something different? You need to go no further than this great spin-off on the very idea of a headboard. What is more, it is super easy to prepare. All you need are two metal rods and some length of fabric, and there is your canopy headboard ready in little to no time. Check out the step-by-step guide on the tutorial to find how to DIY this.
Repurposed Rope
We love this rope headboard idea for the simple and elegant look of the finished product. Once more, you use an old door as the base and wind the ropes around it to make the headboard. As for the color and texture of the ropes, you can choose anything that you think will suit your existing décor – make sure the ropes are sturdy enough. Follow the tutorial guide to do this DIY project.
Floral
Made with West Elm paper flowers, this one again is unique and can act as a high focal point for your room. Follow the tutorial to prepare this floral headboard made with a white Moroccan headboard as the base with paper flowers taped to in a beautiful and eye-catching pattern.
Macrame
This is a very different and unique headboard design than others. It's instead a wall hanging than a real headboard, but it adds as much decor value nonetheless. And it's as simple as making macrame. So if woodworking is not your thing, try this project idea. There's an excellent tutorial for you to follow.