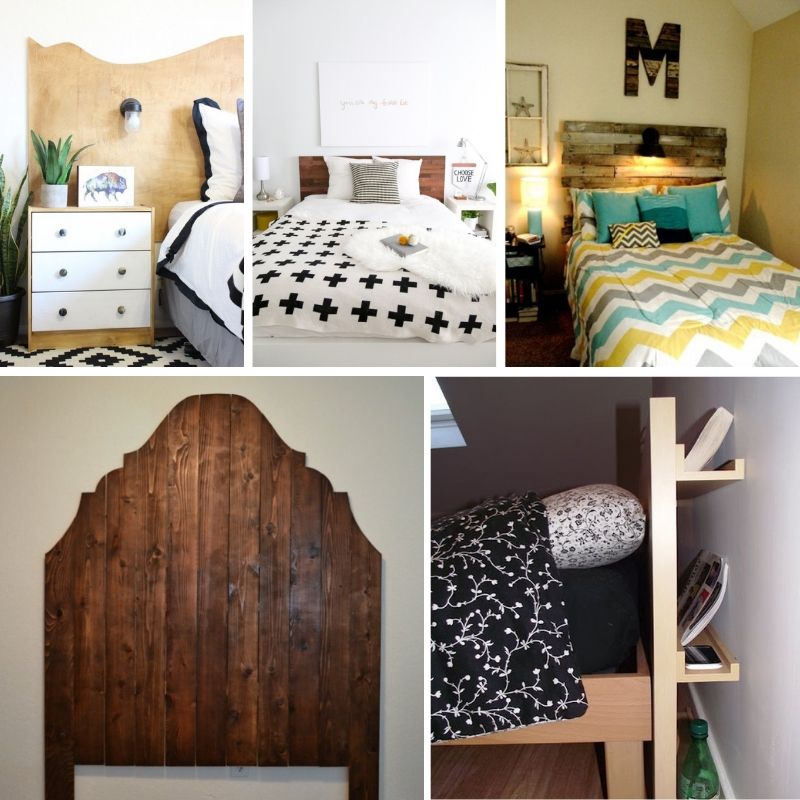 Last Updated on
Looking for the right twin size headboard (perhaps for your kid's room?). If you can't find one – build one, check out these great ideas.
It may be the smallest size of all bed frame types, but building such a headboard for a kid's room or a guest bedroom is an impactful project nonetheless. A small room can benefit from such a statement piece much more than a big one. Such an accent can make up the entire decor.
Want to build one? We've got you covered with the top ideas. Check out these DIY twin size headboard tutorials.
Pallet Twin Headboard
Cut the pallet wood and piece the twin bed headboard together. The result looks amazing. See the article to learn how to do it.
IKEA Stikwood Hack
A simple Ikea Hack wooden headboard to make a big statement: a wooden plank headboard is exactly what your bedroom needs for a polished touch. Follow the tutorial to see the complete details and instructions.
Live Edge Design
This Live Edge Headboard is so cute and an easy project. Great project for beginners and can be completed in a couple of hours. See the tutorial to see the complete plans and instructions.
Using Cedar Fence Pickets
Build this cheap and easy headboard from cedar fence pickets. Talk about repurposing cheap materials from something great. Check out the tutorial to get the complete details.
Clever Storage Spaces
When you have a small bedroom, you have to find new and ingenious storage solutions for all your belongings to also be able to maintain an airy room. See this website to learn how it's done with a new headboard.
Bookshelf Headboard
Looking for a way to make your wall space and bedroom a little more exciting? Here's how to make a bookshelf headboard. Follow this website to see how to do it.
Adding More Storage
This headboard offers a storage shelf behind your head, plus another up above. It's made from just seven parts, which means you can build one quickly with a few basic tools. Follow the link to find out how to do it.
Easy and Beautiful Wooden Headboard
Build a beautiful wood headboard in the twin size that you need. The post includes lots of tips on woodworking and natural finishes too. Follow the article for the full plans and instructions.
Diamond Tufted Upholstered Headboard
Learn the easiest method to make your own Diamond Tufted Headboard for under $50. Check out the tutorial to get the complete details and instructions.
Twin Bed Frame
Why not build the entire twin bed frame while you're at it? Check out this website for the full details.
Tufted Upholstered Headboard
Master the tufting craft to build your accessory. See the link to see how to do it.
Nailhead Style
This tutorial shows you how to build a wood and nailhead headboard. Check out the article to see how to do it.