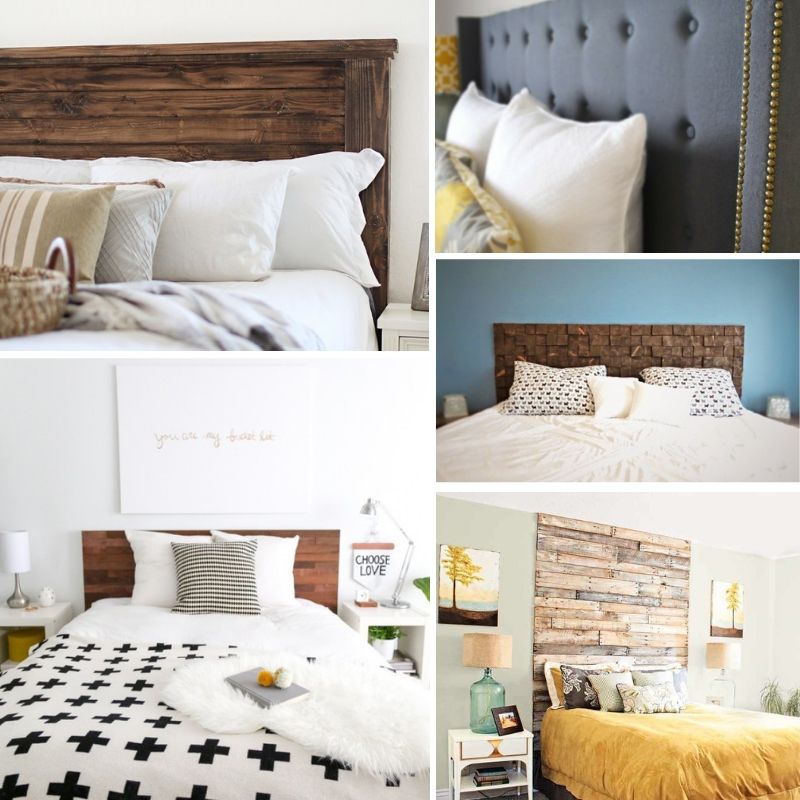 Last Updated on
Want to make a custom tufted headboard at home? Here are 23 easy DIY tufted headboard ideas with tutorials that will help you accomplish this.
Tufted headboards look impressive, indeed. And if you're looking to revamp your bedroom decor, there's no better way to make a statement. Better yet if you can do it on a budget and without breaking the bank. The DIY approach is what comes to mind first.
And even if you're not a seasoned crafter, you can make an easy DIY headboard too. All you need is a tutorial that explains to you how to do it the right way. These 23 ideas with instructions are here to help you with that!
DIY Channel Tufted Headboard
This is a different style of a tufted headboard without a pegboard or a button pattern. However, this design is unique and offers excellent decor value. Making too is easy!
DIY Tufted Leather Headboard

If you're looking to use leather for your new DIY tufted headboard, this tutorial will give you all the guidance you need. Make a leather headboard without breaking the bank for a store-bought one!
How To Make A Tufted Headboard For Under $100
Indeed, you don't need more than $100 for a new custom homemade tufted headboard. This tutorial will show you how to stick to the budget and get a professional looking headboard.
Classy DIY Tufted Headboard
This is a small but chic DIY tufted headboard that you can make for a twin size bed. The tutorial will show you how to do it correctly.
DIY Plush Tufted Headboard
This tufted headboard design looks professionally made and offers excellent value to bedroom decor. So if you want to quickly and easily revamp your bedroom, check out this tutorial.
DIY Tufted Wingback Headboard
This is a lovely tufted wingback headboard with nice nail trim. It features a nice button patter too. You have to check out this tutorial to see how to make it.
DIY Deep Tufted Drop Cloth Headboard
Using drop cloth for a new homemade tufted headboard? Yes, that's right! And you can make it quickly too. What a great way to save!
DIY Chesterfield Style Tufted Headboard
This DIY tufted headboard tutorial offers you a way to use the Chesterfield style for the headboard. It's a different way to style your headboard, and it will make your bedroom decor interesting.
DIY Over-sized Tufted Headboard
This over-sized DIY tufted headboard certainly looks impressive. There's rarely a way to provide so much decor value when revamping your room. So check out the tutorial to see how it's done.
DIY Tufted Headboard with Wings
This tutorial aims to show how easy it is to build your DIY tufted headboard. And it succeeds in an impressive way. Here's how you can make a tufted headboard with wings too.
DIY Modern Tufted Headboard
This tutorial will show you how to create a modern style tufted headboard with a unique frame shape. Check it out to see how to do it.
West Elm Inspired DIY Leather Tufted Headboard
It's another great tutorial for a leather tufted headboard. And the style is inspired by West Elm. You'll be able to get the awesome look at a fraction of cost.
DIY Tufted Headboard Video
Here's another tutorial with a video that explains well how to make your tufted headboard at home the easy way.
Diamond-Tufted Upholstered Headboard
The diamond pattern is the most popular pattern with tufted headboards and for a good reason. It just looks so good. And you can easily create one too. Just check out this tutorial.
DIY Upholstered Tufted headboard
Another great project to give you an idea of how much a custom headboard can cost, what materials you need and the instructions to do it yourself.
Tufted Headboard with Nailhead
The nailhead trim adds that extra charm and accent to a headboard. If you can make a headboard, why not add this nice touch too. Here's how to do it.
Easy DIY Tufted Headboard
This tutorial makes a case that a tufting has to be the easiest way to create a headboard. And it gives you an easy technique to follow. Worth checking out.
How to Make a Tufted Wingback Headboard
A large wingback tufted headboard makes a big statement in bedroom decor. Naturally, you will want one in your home too. So check out how to make one.
Easy Deep Diamond Tufted Headboard
It gets easier and easier. This tutorial will show you how to create impressive deep diamond tufting for a new headboard.
How To Make A Diamond Tufted Headboard For Under $50
Don't you love how every tutorial aims to make a tufted headboard cheaper and easier? All the better for you. This is another tutorial to check out.
How to Make a Tufted Headboard
This is a great tutorial that will show you how to make a professional looking tufted headboard with a deep button pattern.
DIY Tufted Headboard
Here's another excellent video tutorial for a tufted headboard. You'll need a pegboard of your choice and foam padding to make the headboard.
No-Sew Tufted Headboard
This video tutorial will show you how to make a tufted headboard without sewing. It's a great easy tutorial for those who are looking to make an excellent looking headboard without getting involved in a complicated project.