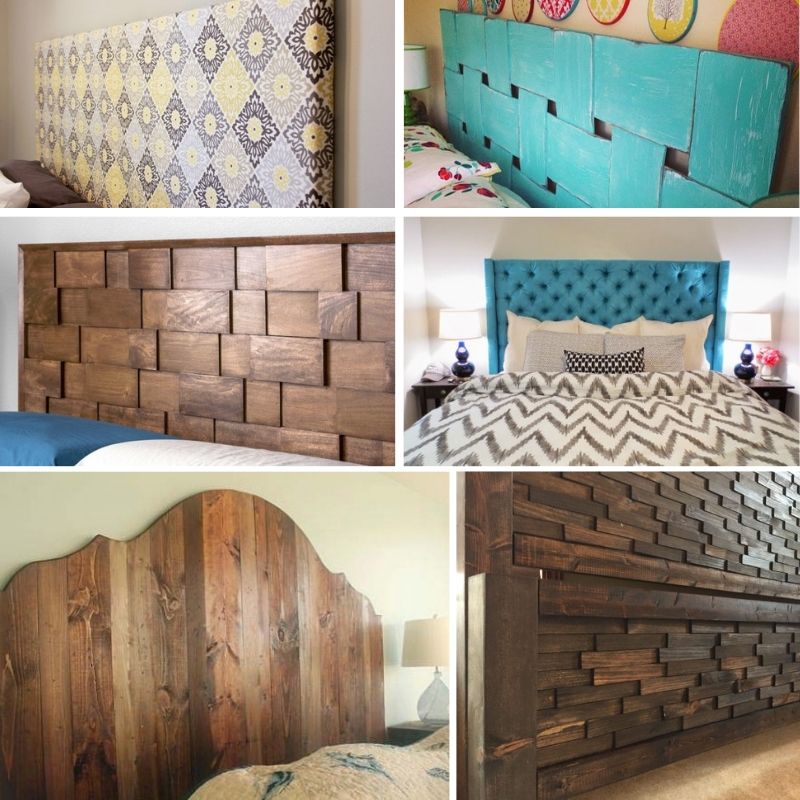 Last Updated on
Looking for a headboard for your king size bed but can't find one in stores? It's time to make a DIY king size headboard! You'll love these ideas.
There's no project too difficult for a seasoned crafter. And if you need a headboard, then you will make one. And as you well know, it will save you a ton of money while giving you the exact bedroom accessory you need. No matter what size, material, or style, we know you can do it. Even if you're a beginner, we have some simple plans for you.
So this list is filled with top DIY headboards for king-sized beds specifically. Check out the various styles you can choose from to best fit your needs.
Deep Diamond Tufted DIY King Size Headboard
You can build a deep diamond headboard the simple way. And it will fit your bed size with these plans. Read the tutorial to see how it's done.
Fabric Cover
This fabric covered headboard looks impressive. And you can make one for your bedroom too. The best part is that you can choose your fabric pattern. Follow the link to see how it's done.
Woven Wood Look
This project offers one of the most unique headboards for a bedroom accent. A woven wood pattern headboard is easier to build than it looks. Read the article to see how it's done.
Mid Century Modern Style
Build this mid-century modern inspired headboard using this easy-to-use tutorial. Read the tutorial to find out how it's done.
Farmhouse Style
Farmhouse style is all the rage right now and that includes headboards. This means that building this project at home will get you tons of likes on Instagram and Pinterest. See the article to learn how it's done.
Pallet Wood
Piece together this fantastic headboard from reclaimed pallet wood. The rustic look you will get will have a stunning effect on your bedroom decor. See this website to find out how it's done.
Wooden Texture Art
These textured headboard and footboard are incredibly straightforward to build and look fantastic. Can you believe they are made using boards and inexpensive wooden shims? See the article to see how it's done.
Rustic Wood Look
Plans on how to create a rustic wood king-sized bed frame headboard. One of the top headboards for $90. Read this website for the entire plans and instructions.
Wingback Headboard
This is a fantastic piece of a wingback headboard with a free pattern for a low-cost home project. Use this website for complete plans and instructions.
Gorgeous Upholstered Style
Increase the coziness factor of your bed frame with this custom-made, fabric-covered accessory. Read the article to learn how to do it.
Diamond Tufted
Learn the easiest method to make your own Diamond Headboard that will cost you under $50. This is by far the most detailed tutorial that you can easily use at home. Check out this website to see the complete details.
Easy Upholstering
This tutorial is so simple anyone can do it. Best of all, you can customize it to fit any size bed frame, and there is no sewing required. See the link for the full guidance.
Upholstered Headboard with Tufting
Learn how to make fabric headboards with tufting for a high-end look. This upholstered headboard uses pegboard to make the spacing of your buttons simple and doesn't require any sewing. Read the article to learn how it's done.
Farmhouse Headboard
This is an excellent breakdown of a farmhouse headboard project from start to finish for those of you who are wanting to tackle it as well. Follow this website to find out how to do it.
King Size Pallets
This is an impressive king size headboard made entirely from pallets in a nice barn style look. Follow the link to get the full details and instructions.
Fake-Tufted from Scratch
How to make a headboard from scratch for way less than a store-bought one. A custom look without the price tag. Fake tufts make it easier and quicker, too. Read the article to learn how it's done.
Deep Tufted
How to make a simple tufted headboard. Have you ever wondered how to make those deep, diamond headboards? Check out the tutorial to see how it's done.
King Size Headboard from a Door
A quick and straightforward tutorial on how to make a king size headboard from a hollow core door. Follow the tutorial to see the full details.
Natural Wooded Finish
Build a beautiful wooden headboard with free plans for twin, queen, and king size headboard. Follow the tutorial for the entire plans and instructions.
Rustic Pallet Wood
So you want to build a big king size headboard form pallet wood pieces? Great choice. It's one of the easiest ways to do it. And all you need is enough of pallet wood which you will be able to cut. Check out this tutorial with plans and complete instructions.