Last updated on July 12, 2021
Looking for a new computer desk for your workspace or gaming rack? These are our picks for the best of 2020 that will meet all your needs. Read on!
So you need a new computer desk for your workspace (or gaming space). How do you choose one? There are many things to think about. You need to figure out what size of the desk will fit your space, where you will position it. There are features to consider too – the keyboard tray, cable management, storage. And of course, your budget plays a big part as well (check the deals for desks under $40).
In this post, we aim to help you with this choice. While there are so many desk options out there, only a handful are actually worth your attention. How do you find those? Well, we've done it for you. Best of all, it will answer all your nagging questions about choosing the right desk.
How to choose the right computer desk?
Think this through:
How much room space do you have for it?
Is it going to a corner?
Your own height and how much legroom you need.
Are you using an ergonomic chair (it needs more space)?
Do you use a computer or just a laptop?
How many devices does it need to accommodate?
How much storage space do you need?
How it will look like in your room decor?
We've found some things that you need to definitely look out for.
What may go wrong?
Make sure it's big enough for your entire computer rig.
Pay attention to the durability of the surface. Heavily used tabletops shouldn't scratch easily.
Assembly of many units might be quite involved.
Ready to check out our favorite and top-rated picks? Let's get to it. But first, we need to let you know that as an affiliate we may be compensated for qualified purchases (via links indicated by #ad) – this will not cost you anything extra.
Which one of the following is worthy of your computer?
What's Inside?
Best Gaming Desk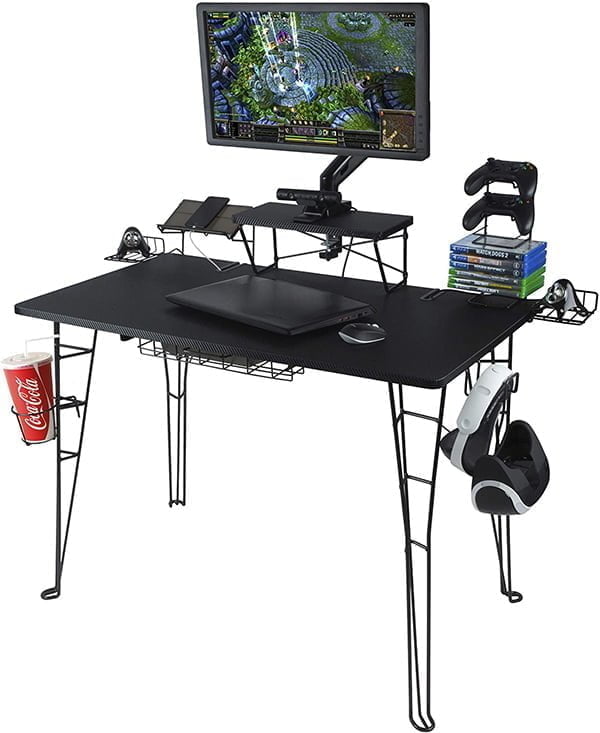 This desk might look ugly in your decor but it sure is functional. And for gaming desk function is all you need anyway (you can hide all the eyesores with smart decor anyway.) It has all the support you need for your entire rig.
Pros: perfect for all our gamers; it has a lot of storage for all devices and gadgets; no need for a monitor stand because there's already one built-in; has a charging stand; simple yet very sturdy.
Cons: assembly isn't the fastest and some of the pre-drilled holes are slightly off.
Best Home Office Desk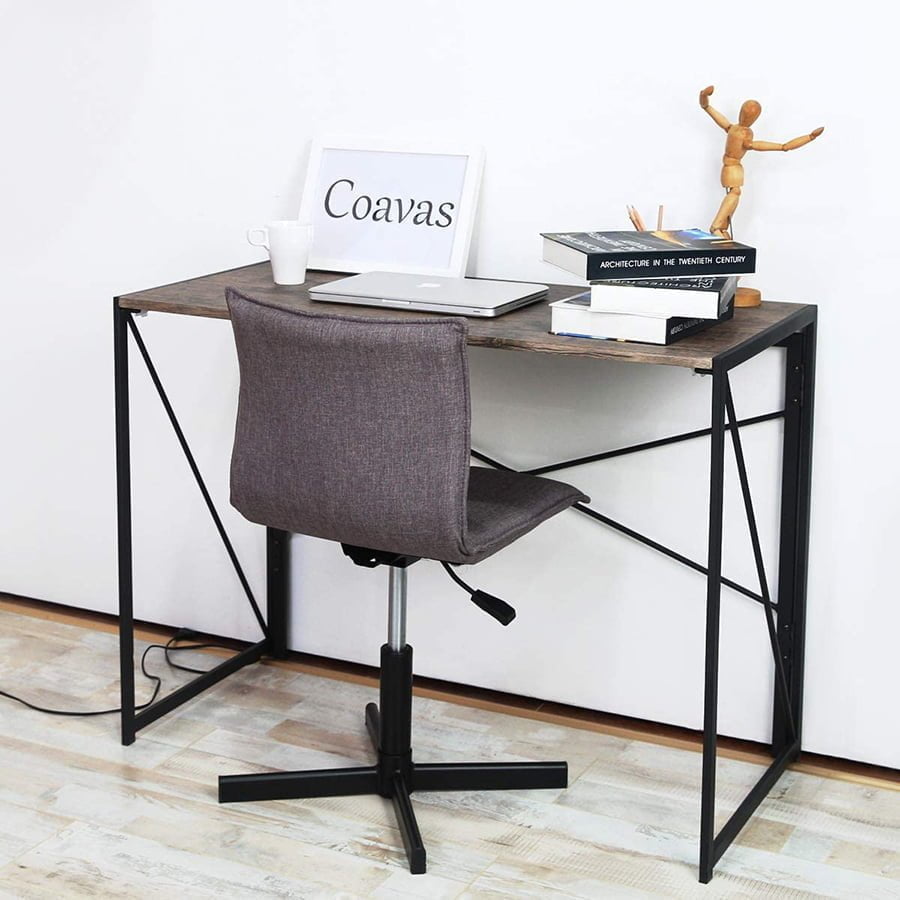 Home office desks need to be compact and use little space, but you still need plenty of legroom. This desk will provide both, and you can fold it away at the end of the day.
Pros: can be folded up in the corner when not in use; will not take up space; suitable for limited space; the right size, sturdy, and extremely easy to assemble.
Cons: no support in the middle of the tabletop which is likely to bend to that part if overloaded.
Small Computer Desk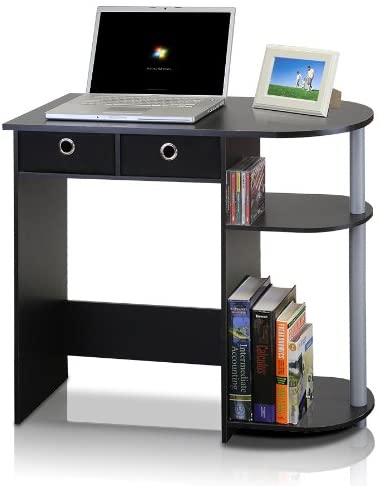 You may need a very small computer desk if your home office shares a room and has a tiny area dedicated to it. But if a laptop (an maybe a printer) is all you need then this unit is a perfect option.
Pros: functional and suitable for any room; comes in multiple color choice; fits perfectly in small spaces; very easy to put together and looks really good; just right for a printer and a laptop to sit on.
Cons: too small for desktops and lacks support; the two drawers are not made of wood.
The L-Desk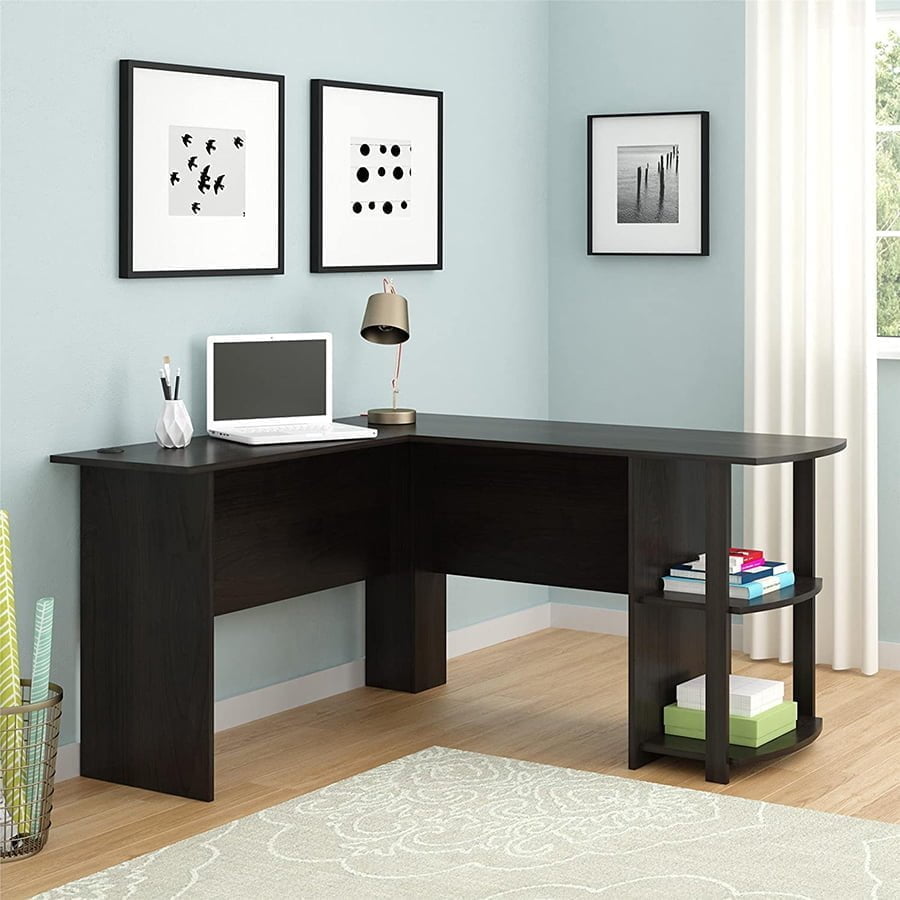 Many people think that the L-shaped desk is only good for corners. It's not far from the truth but you may still use one in your home office if it's not in the corner. It helps you create a clearly dedicated area for the workspace.
Pros: it fits perfectly in a corner or up against any wall; has a large tabletop surface; has extra side storage and grommet holes to keep your cords tangle-free.
Cons: it has sharp edges; you can't let liquids air dry on the surface – it will ruin the varnish.
Rolling Computer Desk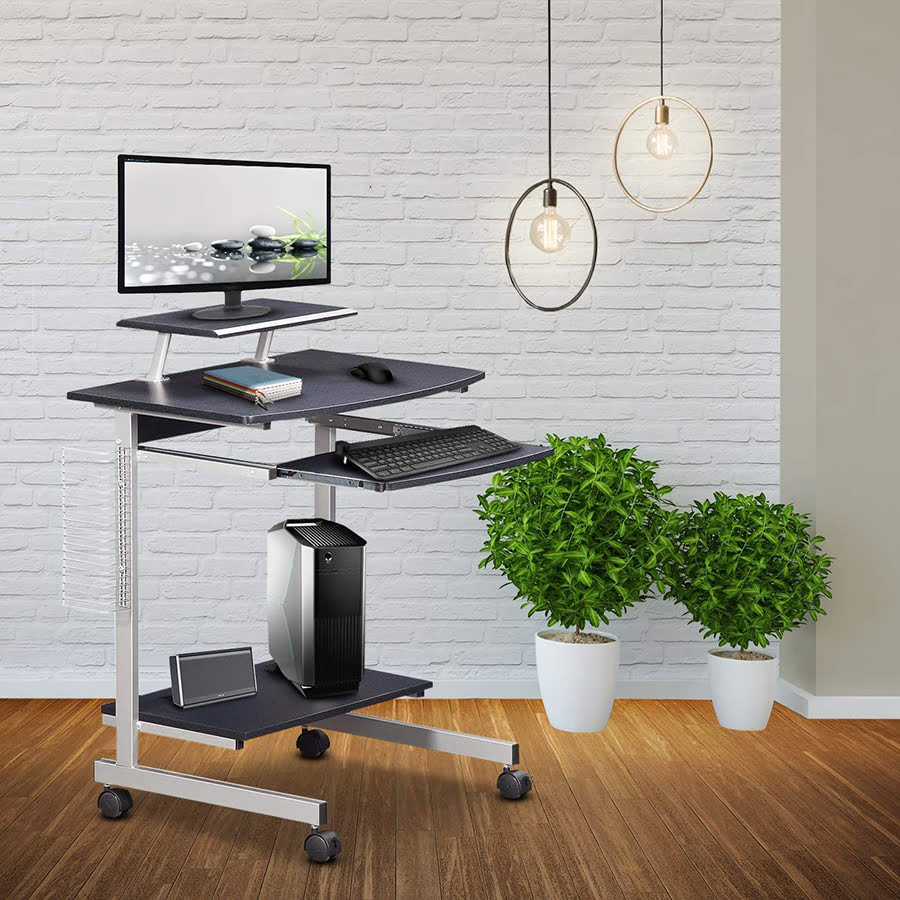 This desk on wheels is your small mobile station. It has room for a computer unit and a monitor. You can move it around when needed. And if you're working on a laptop that's not plugged in, you can even move while working.
Pros: it's sturdy enough to hold everything on the stand; has plenty of room for writing and typing; moisture-resistant and scratch-resistant; sleek design; good quality and easy to setup.
Cons: the pullout platform only fits a single keyboard.
White Computer Desk
This white desk is very modern and functional. It provides a neutral addition to your room's decor and you don't need to worry about creating a work area in a common space like a living room.
Pros: the keyboard tray glides smoothly; it has an extra storage space; very safe due to its rounded edges; the elevated desktop provides a smooth surface and perfect platform for your laptop or monitor.
Cons: does not come with wheels, so you have to carry or push it to move it around.
Computer Desk with Drawers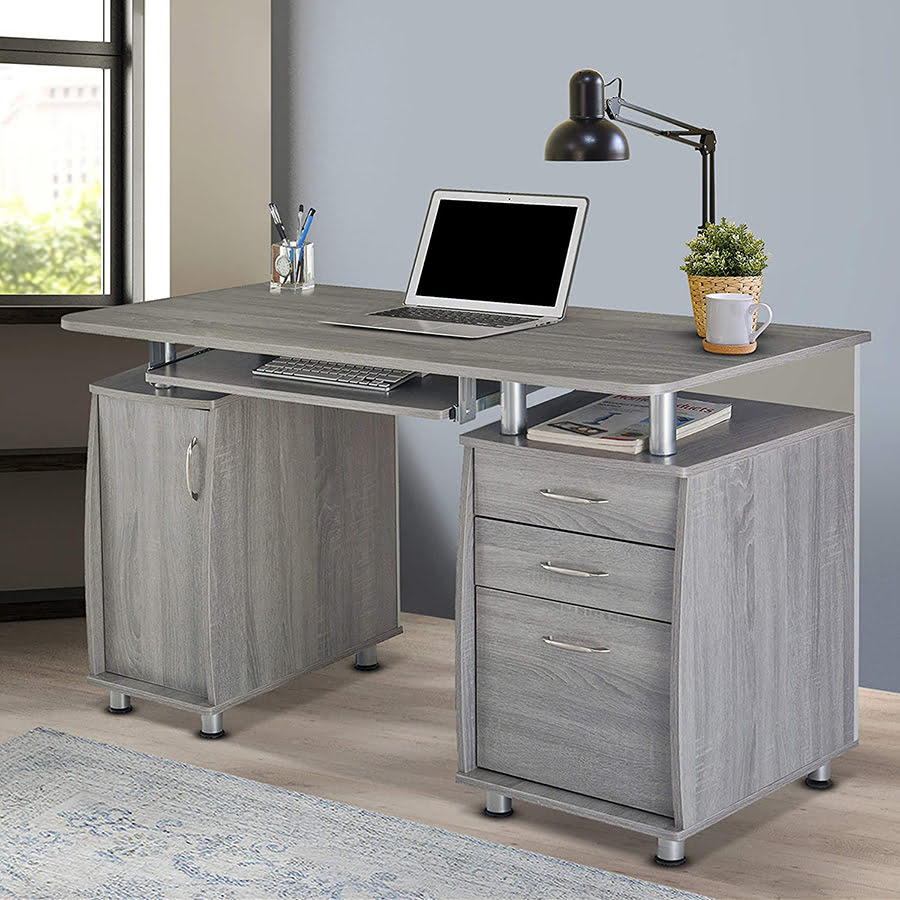 A desk with drawers is not only a classic writing desk but a perfect fit for a modern workplace. Yes, it will work as a computer desk too.
Pros: it offers an ample work surface and storage space; the desk is sturdy; the drawers work easily; easy to adjust the cabinet door.
Cons: measurements are a little off; it's smaller than the dimensions advertised.
Modern Computer Desk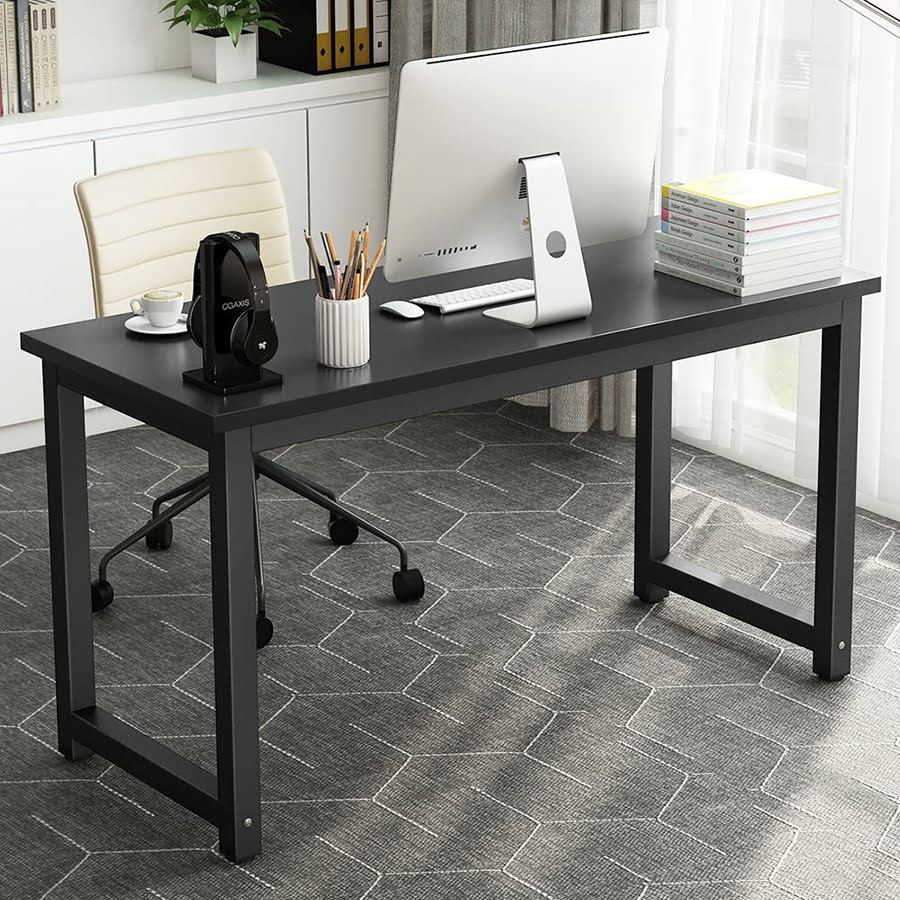 Modern design is sleek and minimal. It has nothing that's unnecessary, just a spacious surface for the computer and a monitor as well as your entire array of desk accessories.
Pros: a very spacious desktop; made with metal legs and you can adjust the leg pads; the desk is stable even on the uneven floor; strong enough to support heavy duty parcels.
Cons: the surface of the desk doesn't handle moisture well.
Large Computer Desk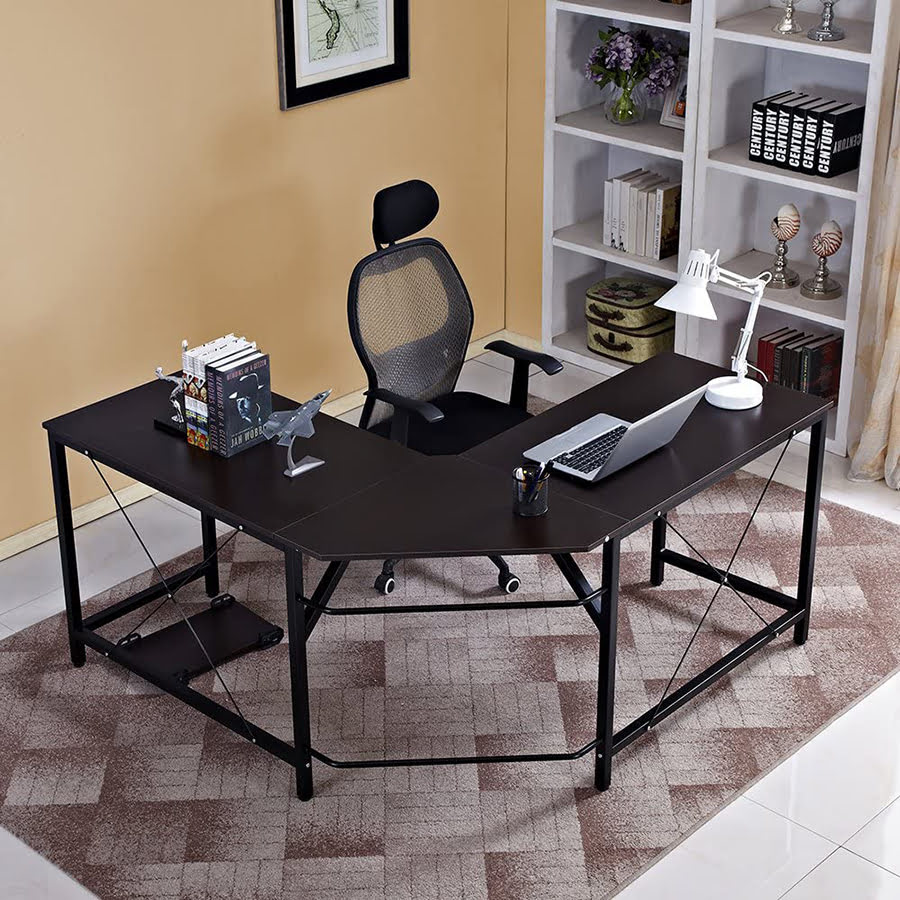 Any larger home workspace will require a large desk. This 59×59" desktop is enough for any type of setup – from a home office to a gaming rig.
Pros: it provides large working space; high resistance on scratch and friction; space-saving design; a perfect size for a crafting/gaming table.
Cons: it takes a bit of effort to ensure that the three panels that make up the desktop are level.
Minimalist Desk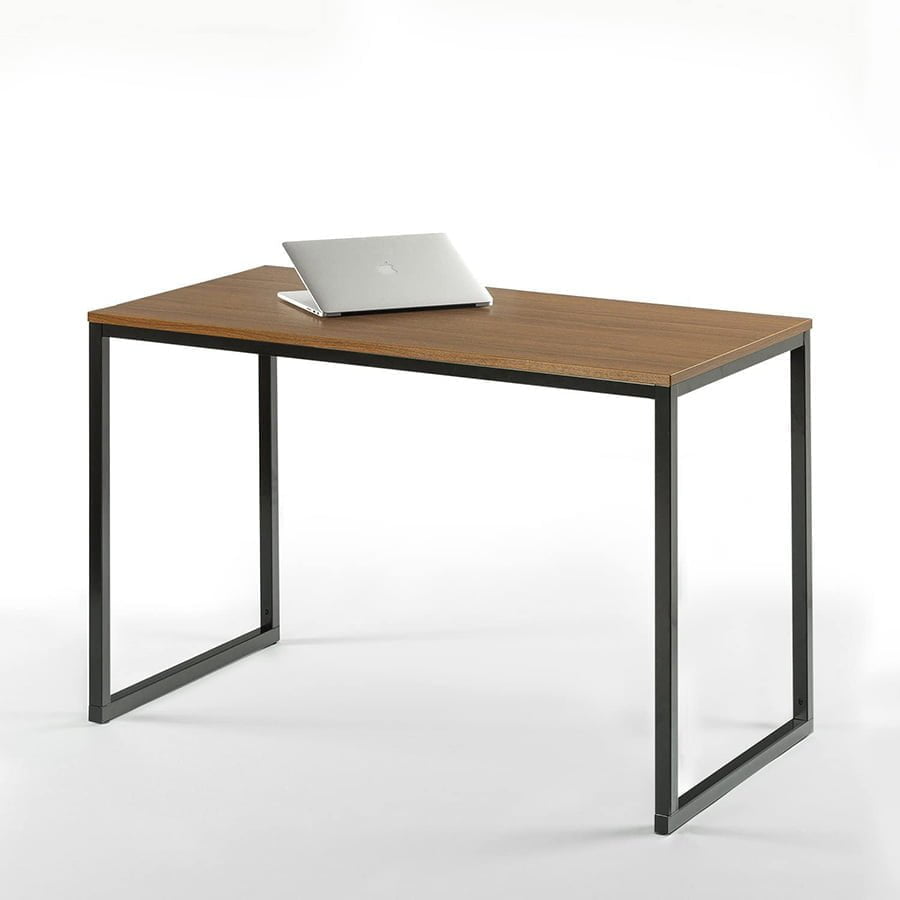 In some cases, this is all you need. If your work at home consists of just using a laptop, then a stylish modern desk like this fits the bill.
Pros: easy to assemble – comes with all the necessary tools to assemble it; a simple and minimalist design that is perfect for any room; the table is very stable because of the all-metal frame.
Cons: the surface of the table is not perfectly flat.
Liked this article? Here's what you can read next:
---
Disclosure: As an Amazon Associate we earn from qualifying purchases.