Last updated on February 18, 2021
Want to refinish or restore an old kitchen table (or maybe you're building one)? You need the best wood finish for it. Here are the top 10 best finishes for the kitchen table.
What do we use on our kitchen table? The Tried and True Danish Oil.
We hate to be overly dramatic but you have a life-changing choice to make when it comes to choosing the finish for the kitchen table.
You see, the nature of the kitchen table is that it is in constant contact with food. That means you should avoid VOC chemicals as much as possible. In wood finish products, these may include petroleum distillates that should be avoided. Urethane compounds are often used in varnishes that are less toxic but still may be dangerous (especially when contact with food is concerned.) Polycrylic is even less toxic and might be considered.
To be on the safe side, we choose natural products that are just as effective but are safer for the environment. To be clear, we're not against water based polyurethane (oil based polyurethane less so) or polycrylic products, we just think they might not be the best choice for the kitchen table surface.
What do you need to know before (re)finishing a wooden table surface:
You can use a lint-free rag dampened with mineral spirits if you're using water-based finishes.
There are no effective recovery options for people who experience extreme anxiety known as wood finishers' remorse, so the only prevention is to test the finished product on parts of the same species of wood that will be used on the table.
When sanding, it's important to use finer or coarser grain sandpaper and/or sand at different grits to get the look you're after.
Fine-grain woods, such as cherry or maple, are mostly finished at 180-grit, and coarse-grain woods like oak or walnut are finished at 150-grit.
You may have to sand to 220 or even 320-grit because the end grain would expose sanding scratches rather than face grain.
What's Inside?
Tried and True Danish Oil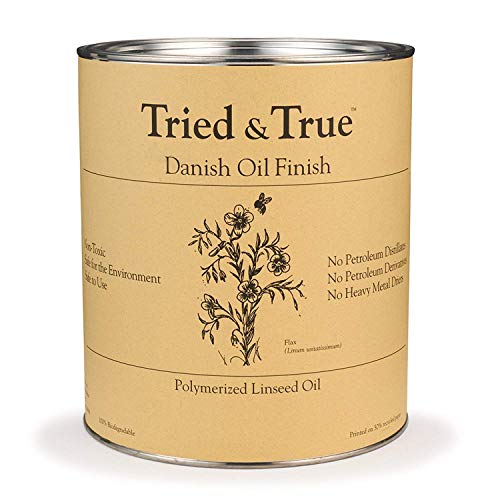 This is our editor's choice.
Danish Oil is good for any woodwork to achieve a satin finish. To use, apply two or three coats for most applications. Use it on the table surface, kitchenware, cutting boards, and children's furniture because it is food safe and non-toxic. It has zero VOC and can be used on surfaces that contact food if you want. The coverage is 600 sq. ft./gallon, and it is very economical. The product is based on linseed oil.
Warmed linseed oil is completely non-toxic (important when it comes to surfaces that have contact with food), and it has an outstanding ability to get into the interstices of wood fibers. A rule of thumb is to allow the wood surface to dry completely in between coats of linseed oil to prevent the growth of mildew.
Quick facts:
Zero VOC, natural product (based on linseed oil).
600 square feet coverage per gallon.
No strong odor.
Minwax Wood Finish Penetrating Stain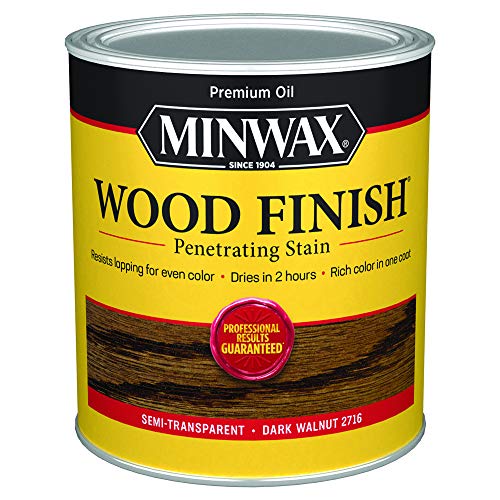 Perfect for staining unfinished wood furniture and the table surface, this product comes in a wide range of colors (28 in all). It is ideal for adding beauty to any bare or stripped wood surface. Penetrates deep into wood fibers to highlight the grain.
Quick facts:
Stain in 28 colors.
Penetrating finish into grain to highlight it.
Strong odor.
WOCA Denmark Diamond Oil Active Wood Finish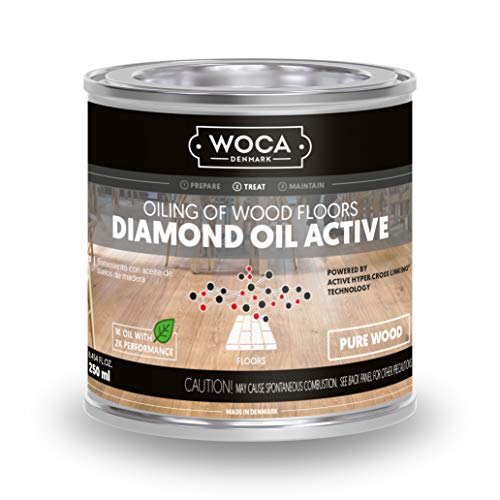 Wood that's been coated with WOCA wood finish will be non-slip and resistant to staining. It will also be easy to clean and beautiful. Just one product meets all of these needs. This low-VOC finish is safe for use around people and pets, so you don't have to worry about how it affects you or the environment. It has a low environmental impact.
Quick facts:
Low-VOC.
Works on any wood surface.
Matte finish.
Watco Lacquer Clear Wood Finish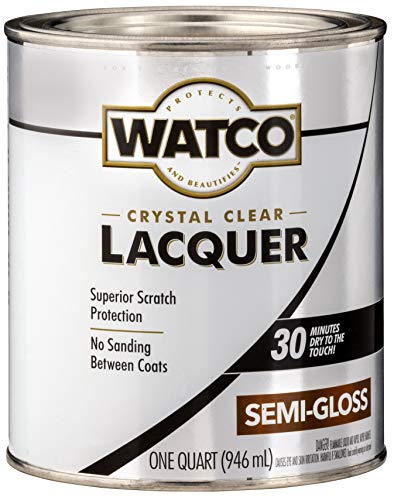 This lacquer finish is ideal for use on table surface and furniture. It is formulated to be clearer than polyurethane varnish, dries to the touch in 1 hour, and covers 280 square feet. It eliminates the need for wood filler and leaves your paint job protected against scratches. Also, you do not need to sand between coats.
Quick facts:
Covers 280 square feet per gallon.
No sanding between coats.
Dries to touch in one hour.
Provides clear coat.
General Finishes Water Based Wood Stain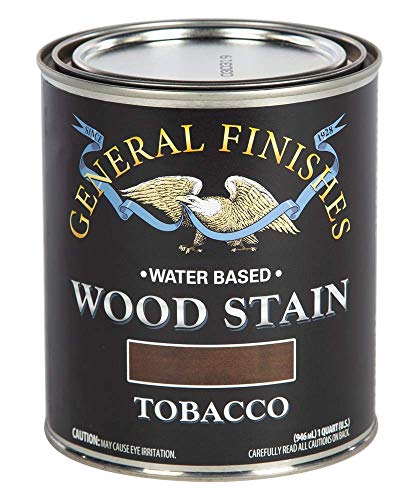 This high-quality wood stain offers a rich, dark color. You can use it in hand-applied applications or by spraying. The formula was made to be similar to that of oil-based stains, so you can still work with it like you would an oil-based product. It is low-odor, low-VOC, and is completely water-based, making it easy to clean up.
Quick Facts:
18 colors available.
No strong odor.
Low VOC.
Water-based.
Epifanes Matte Wood Finish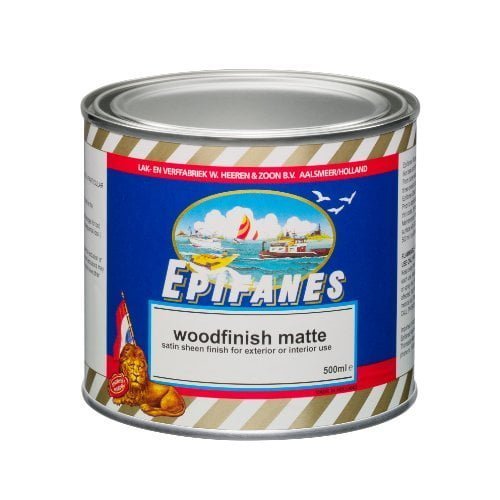 A hard, durable wood finish that requires no sanding between coats. This offers a number of quality benefits, including outstanding UV protection and excellent durability. The finish is one component and is based on a phenolic-modified alkyd resin and tung oil mixture. This means that if it's recoated within 72 hours, there will be no sanding necessary. The finish provides a soft matte beauty with a "rubbed effect" for teak and other fine hardwoods.
The brush has a tendency to stick to the paint and draw like glue. You're advised not to brush your hair too hard to prevent damaging it. It's just slightly understated. This stuff has to be applied quickly and uniformly.
Quick facts:
Can be used outside (UV protection).
Matte finish.
Unfriendly to the brush (drags a bit like glue consistency).
Varathane Premium Fast Dry Wood Stain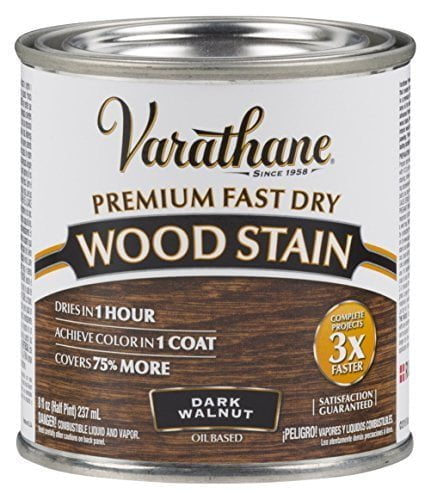 Use this wood finish on all interior wood projects, such as furniture, cabinets, doors, trim, and paneling. It dries quickly and is ideal for one-coat coverage. It is an oil-based formula that dries to touch in one hour and covers up to 70 square feet. Enhanced with nano pigment particles, it highlights the natural beauty of wood grain.
Quick facts:
Stain available in 26 colors.
One coat dries in one hour.
Half-pint covers 70 square feet.
Howard Products Restor-A-Finish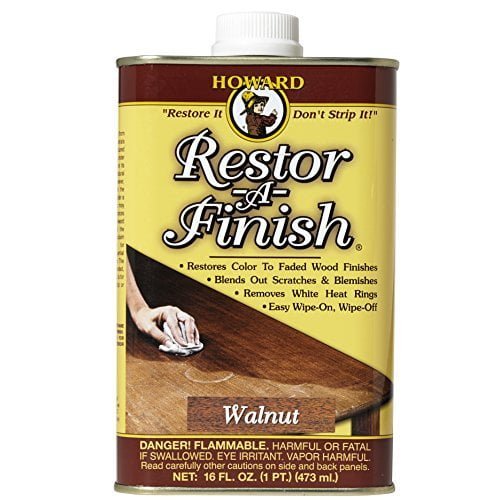 Restore-A-Finish is an easy way to restore wood finishes and fix minor scratches, blemishes, and abrasions. It eliminates the need for complete refinishing jobs. It works great on heat marks and water stains too. The finish is available in 9 colors to match the wood.
Quick facts:
Finish restorer saves the original surface finish.
9 colors available.
Saves furniture from having to refinish it.
Mahoney's Finishes Walnut Oil Wax
Want a food-safe way to protect and beautify your wood? Wipe or immerse your wood in walnut oil wax. Wood oil wax is completely safe for food contact after drying, and it doesn't contain any petroleum distillates. Makes the grain pop.
Zero VOC.
Fast-drying oil finish.
8 oz container.
Minwax Polycrylic Protective Varnish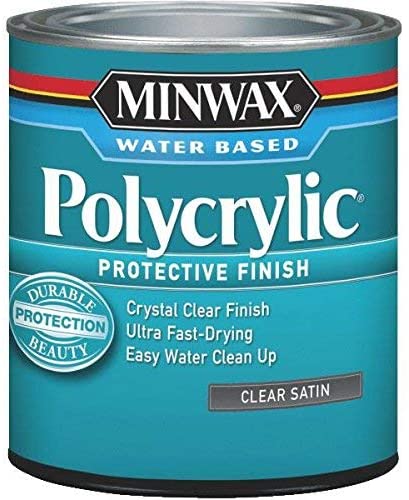 This varnish offers protection for wood surfaces, including tables. It is an ideal topcoat for light woods such as maple, ash, and birch, as well as water-based stains. The water-based formula allows for easy cleanup with soap and water. It dries quickly and offers a crystal clear finish.
It is quick to use, but be careful, as it appears to drip. Clean spills as soon as they occur, so as not to leave stains. It has a milky white color like milk with water mixed in. If you do not spread it uniformly, it looks white, but when it dries, it looks soft.
It has a strong odor, so we suggest wearing a mask or opening the windows to circulate fresh air. It only takes about 20 minutes to dry whether you paint outside or have the windows open. The varnish should be fully dry until you add a second coat.
Quick facts:
Water-based varnish.
Available in different sheen (gloss, semi-gloss, satin, matte, and ultra-flat).
Has a strong odor.
FAQ
How many coats of polyurethane should you put on a kitchen table?
Follow the manufacturer's recommendations to apply polyurethane products on a kitchen table safely (it is usually 2-3 coats). We don't recommend using polyurethane products and choose a non-toxic natural wood finish instead.
How do you waterproof a kitchen table?
A varnish or sealant will waterproof a kitchen table. Most products are capable of penetrating wood fibers to provide this protection, or create a protective layer on the surface.
How do you seal a wooden kitchen table?
Prepare the surface by cleaning and sanding (depending on the wood, you may need 150-grit to 320-grit sandpaper). Apply the varnish with a high-quality brush quickly and evenly, trying to avoid streaks or runs as possible. 2-3 coats are typically used, allowing some time for the coatings to dry.
Is chalk paint durable for kitchen table?
If you use a chalk paint sealant, then yes, this option is durable and attractive.
Liked this article? Here's what you can read next:
---
Disclosure: As an Amazon Associate we earn from qualifying purchases.