Last updated on January 18, 2021
Looking for the best nightstand to go by your bed? It has to be stylish and provide enough storage for the essentials. Read on to find out our top-rated picks!
A good nightstand is one of the key pieces of the puzzles that is your bedroom design. You absolutely need one even if you sleep in the tiniest room. Luckily it can be as small as you want and many pieces of furniture can double as a bedside table (side tables or small shelving units). As you'll soon see in our findings, there's no strictly pre-defined piece of furniture that is the nightstand.
And this is great. It means you have a lot of choices and room for creativity. You can add a piece of furniture to your bedroom that does something more than just occupy space. You have our word for that.
How do you choose the nightstand for your bedroom?
Here's what we suggest:
Measure the space well and decide on the size of the unit that will fit in the gap between your bed and the wall (or the closet.)
Consider a narrow table if you have space for that (this will work against a wall but not against a closet.)
Consider a tall nightstand to use more vertical space.
How much storage do you need?
Think about what it will do to your decor.
If you have a big bedroom (lucky you) get a large nightstand.
We've spent countless hours researching the most popular (and some underdogs) nightstands to find the best ten. We've considered all of the above aspects and then some. So you can be sure you're choosing from the best – most of the legwork is done for you. For transparency, note that as a visitor-supported site we earn from qualifying purchases on Amazon with no extra expense to you (we mark links with #ad).
Which one of the following will you bring to your bedroom?
What's Inside?
Bedside Table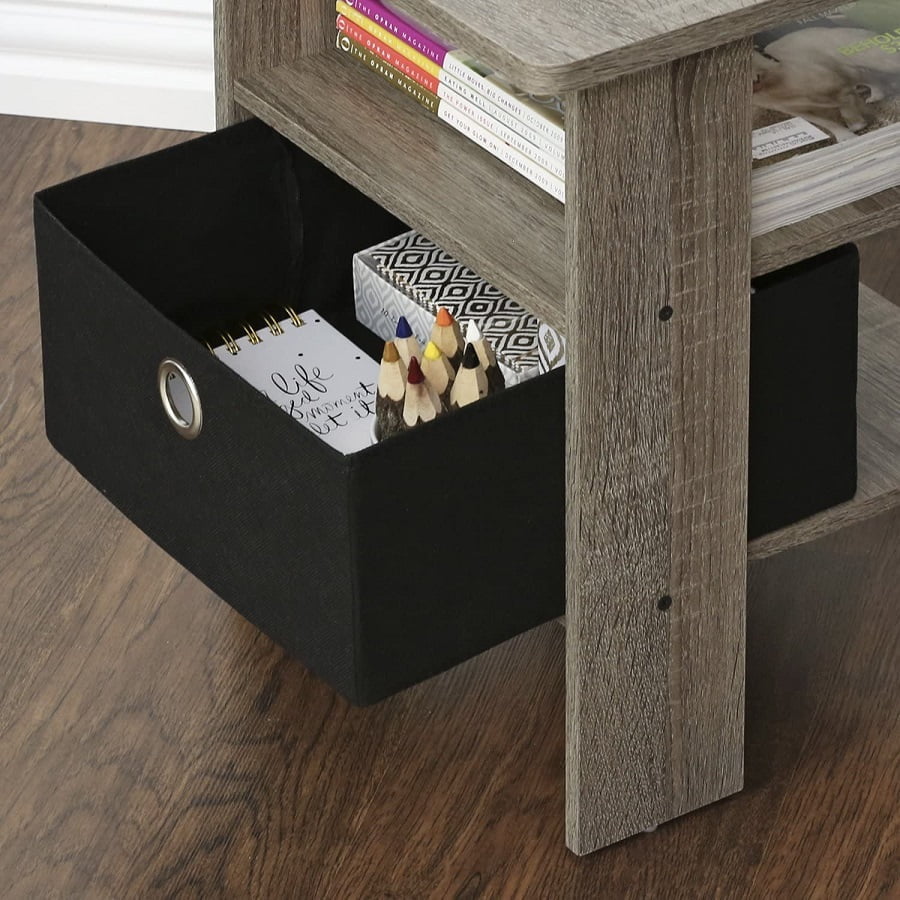 A bedside table that has an open shelf and a bin drawer for storage. It's small enough to fit that small area next to the bed but it still provides enough room to keep the essentials.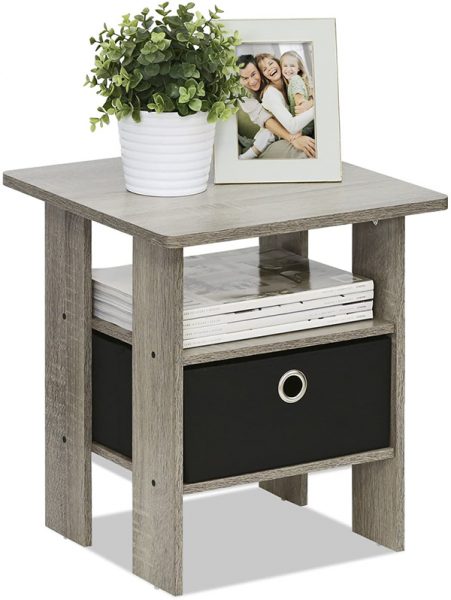 Pros: small size piece of furniture perfect for apartments and dorms; no foul smell; durable material most stable among the medium density composite woods; rounded edge design.
Cons: the drawer fabric isn't of that great quality, and would likely rip easily if not handled carefully.
Small Nightstand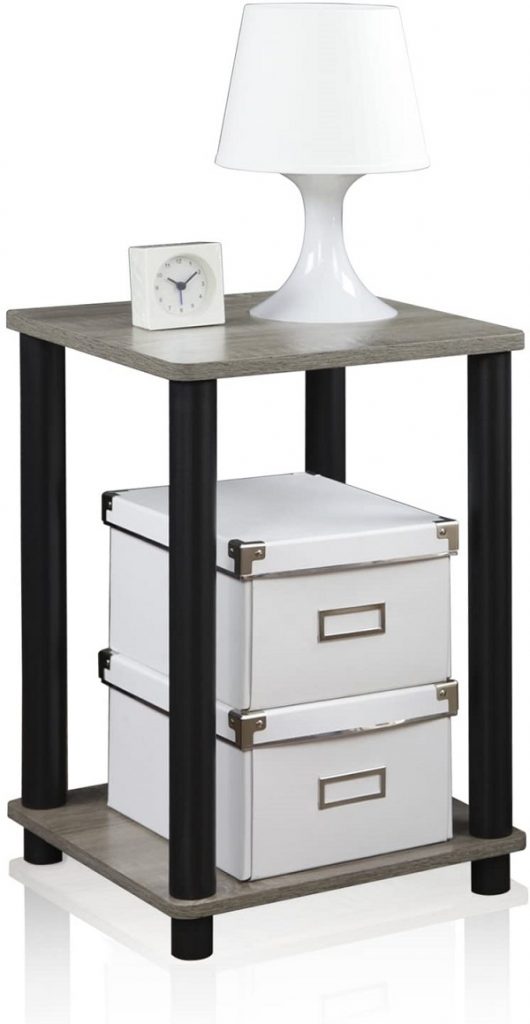 A small nightstand should fit in the most confined spaces. Such are the smallest bedrooms where there's just a tiny gap between the wall and the bed. This small piece of furniture will fit most of those spaces. Yet it still has some shelf storage to boot (even though you'll only fit a small lamp and a clock or your phone on its tabletop.)
Pros: simple design which comes in multiple color options; fits in any space; easy to assemble; sturdy, decent looking nightstand on a budget; very lightweight.
Cons: the legs are a bit flimsy made of hollow plastic.
Narrow Nightstand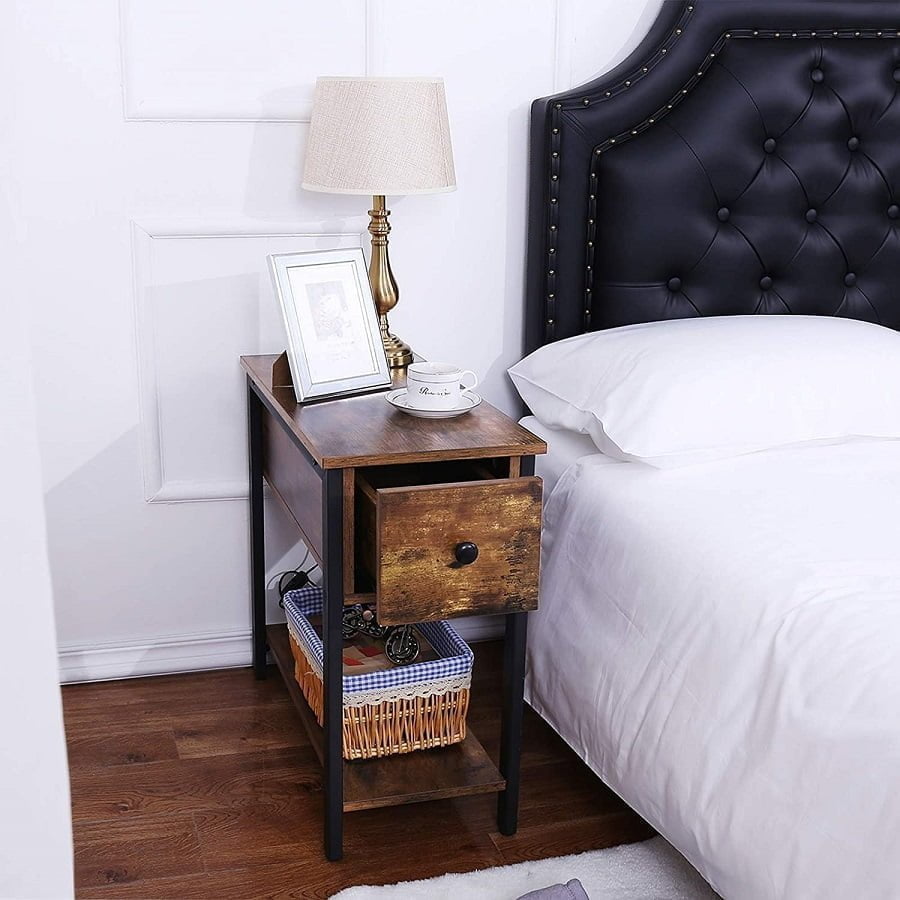 This unit is great for spaces where there's a narrow gap between the bed and the wall (or you want to leave an open path to pass.) It has two-tier shelving and a beautiful drawer in a rustic finish.
Pros: perfect for small narrow spaces; sturdy and attractive wood grain color; has metal legs which are very stable; drawers slide smoothly and close perfectly.
Cons: instructions are a bit hard and it's not easy to put together.
Modern Nightstand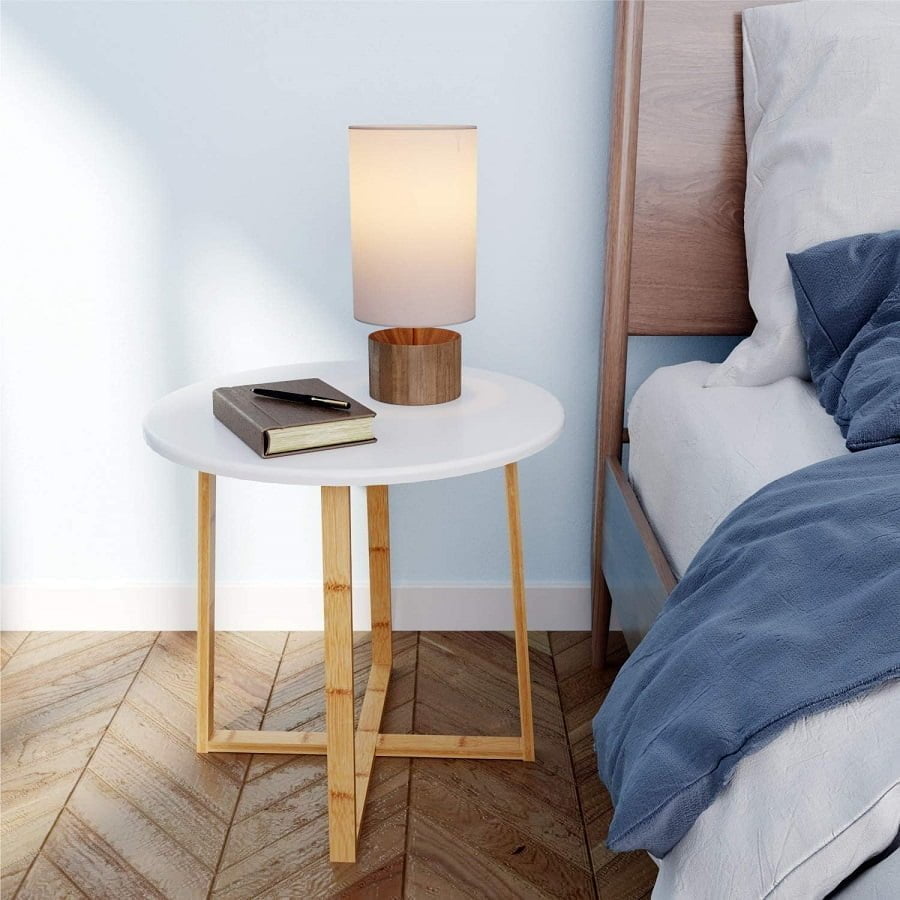 This round nightstand doesn't provide much storage (just a tabletop) but it's so attractive you won't notice the drawback. The style is somewhat mid-century modern with its wooden geometric legs and a round surface. It will fit a bedroom design to match.
Pros: made from high-quality MDF panel and bamboo legs; looks elegant and very durable; smooth surface; compact size and lightweight which is easy to move and carry; perfect for a bedside table when you don't have much room to spare.
Cons: a little wobbly on a carpet.
Glass Nightstand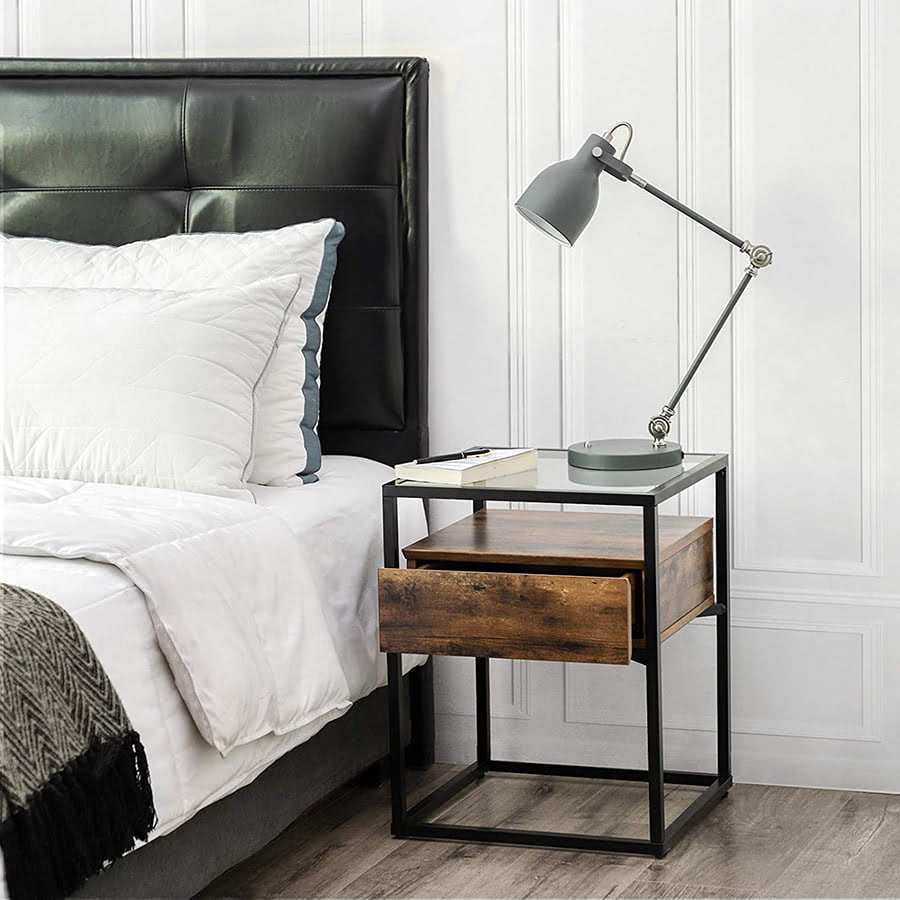 A glass tabletop nightstand with a metal frame like this is industrial but modern. And it has a rustic style drawer to boot. There's so much visual appeal in such a small piece of furniture. It's a definite statement piece in your bedroom decor.
Pros: has a sturdy iron frame and a rustic-style shelf, this nightstand looks very elegant; great looking tempered glass; space-saving frame.
Cons: it's not easy to assemble; a lot of the holes do not line up or are too small for the screws (be prepared to have your own screws.)
Nightstand with Drawers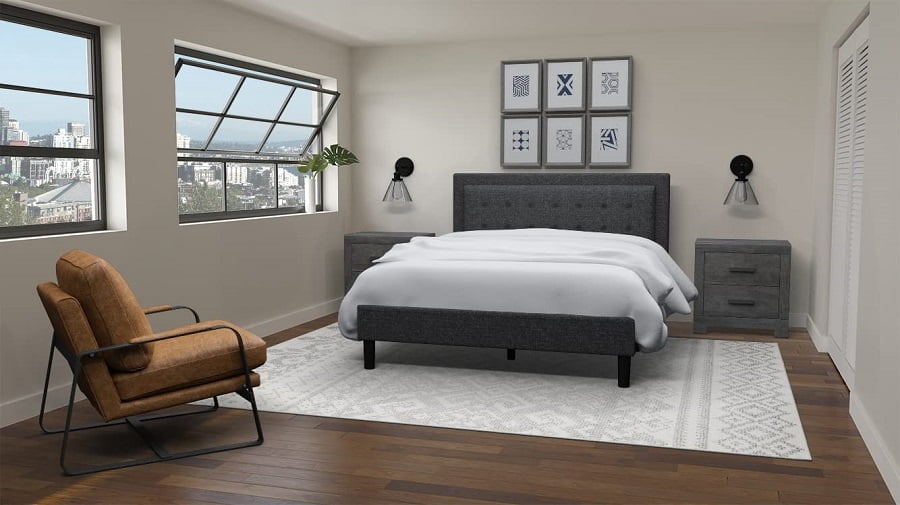 A bulky but solid piece of furniture. Drawers are a much-desired feature for a nightstand, and this unit offers two. The blocky look will work in any modern bedroom design.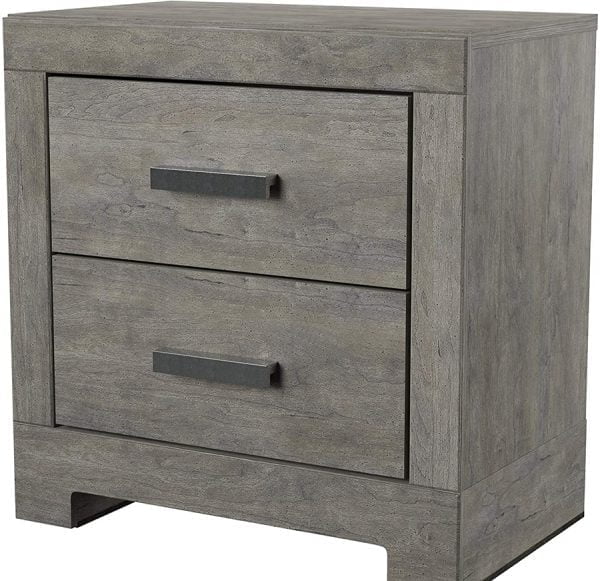 Pros: it has smooth-gliding drawers with replicated linen lining; has 2 USB charging stations; beautiful finish, very smooth, and matches beige and gray well.
Cons: handles are plastic.
Tall Nightstand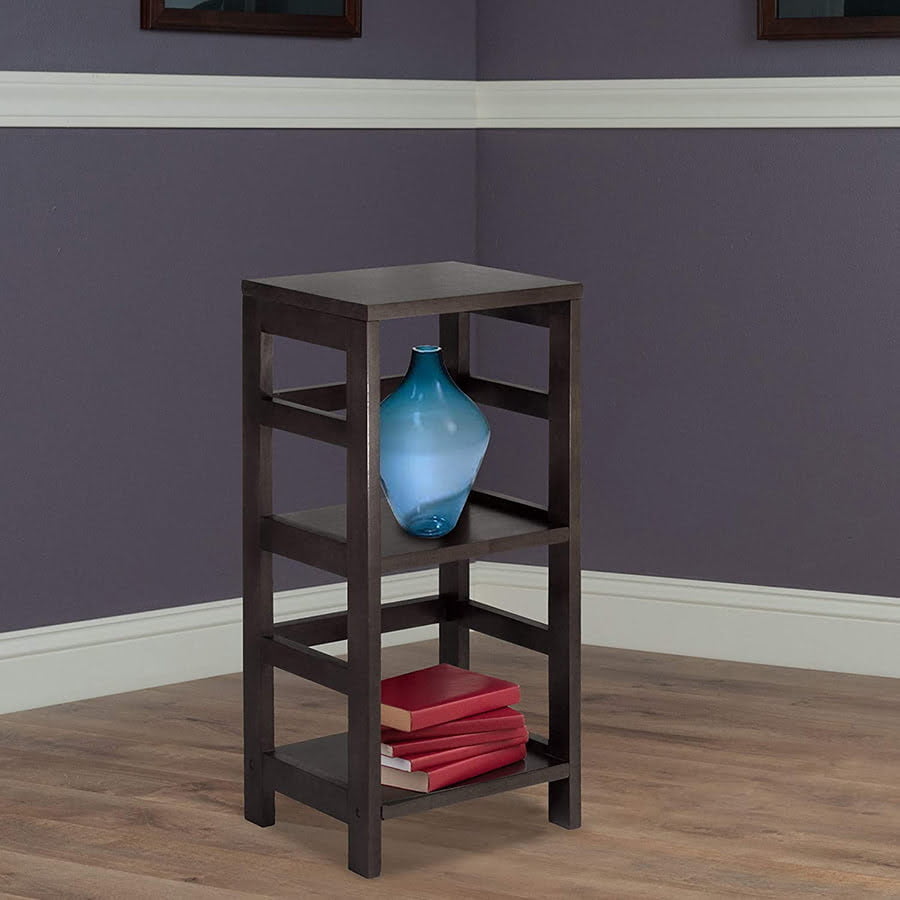 By looking for a tall nightstand we've chosen this small shelving unit. It definitely can be used as one and it provides much-needed storage space by your bed. Make use of that vertical space that you have available.
Pros: great for books and storage by the bed; classic and sturdy design; a perfect little shelf for tight spaces; shelves can definitely hold some weight.
Cons: a bit challenging to assemble.
Antique Nightstand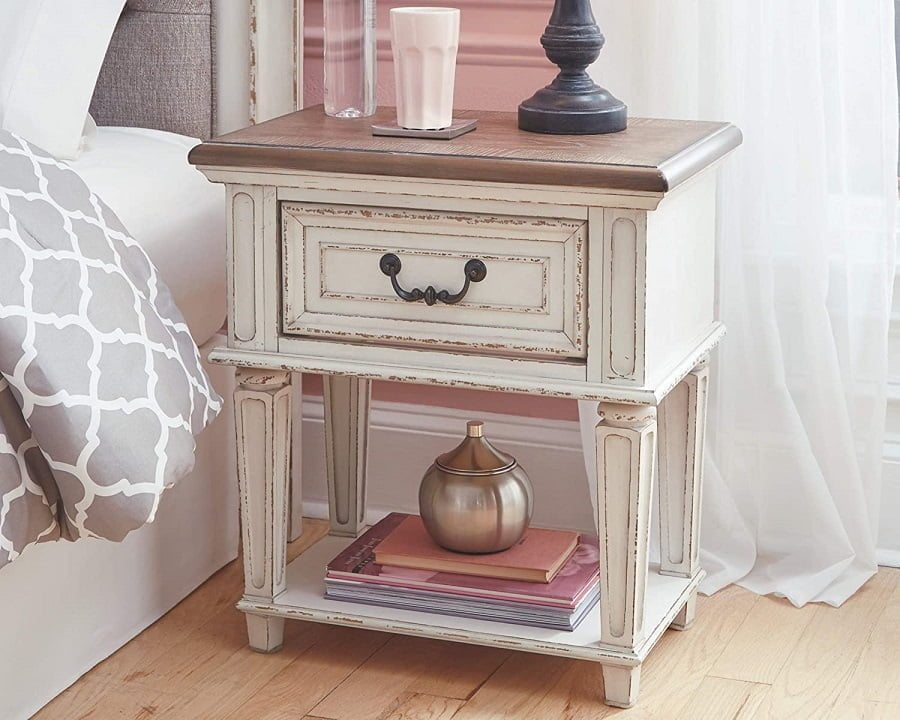 This piece from Ashley looks like a real piece of antique furniture even though it's just the style. Add it to the room for lots of charm. It definitely looks like it comes straight from a flea market.
Pros: smooth gliding drawers; very easy to clean; it fits most bedrooms; easily compliments with older furniture.
Cons: decorative pieces for the bottom of the stand are not attached.
Large Nightstand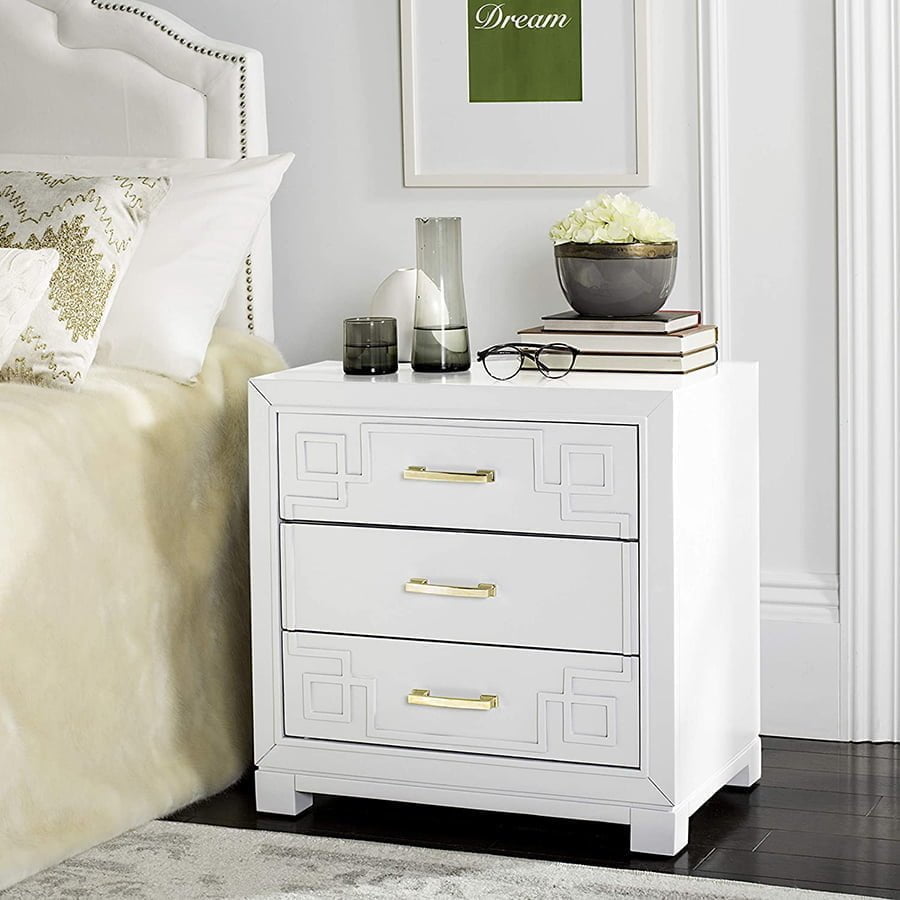 A big bedroom can support a big nightstand, so go for it and you'll have plenty of storage. It's almost a dresser, but it's still compact enough to be a bedside table.
Pros: pretty sturdy; no assembly required; the drawers slide open/close very easily; elegant design.
Cons: the drawers are pretty shallow and don't hold much.
Mid-century Nightstand
It's the signature mid-century modern design of a nightstand. It comes with a double open/closed shelf and tapered legs. Choose this if you're going for the style.
Pros: solid wood legs; white marble tabletop; compact design for small spaces; the base is sturdy and easy to assemble.
Cons: a bit flimsy; the price.
Liked this article? Here's what you can read next:
---
Disclosure: As an Amazon Associate we earn from qualifying purchases.