Last updated on October 27, 2023
Immerse your home in the enchanting holiday tale of the Grinch this Christmas because these unique Grinch-themed tree ideas will fill your living space with whimsical charm and strategic budget-friendly creativity.
In this delightful article, I've proudly crafted and shared 20 festive Grinch Christmas tree ideas, hoping you'll not only find them inspiring, but also have as much joy exploring them as I did in creating each unique design.
Dive into the festive spirit with a whimsical Grinch Christmas tree that brings Dr. Seuss's beloved character to life right in your living room.
This article offers a plethora of creative and budget-friendly ideas to transform your traditional Christmas tree into a Grinch-themed masterpiece.
From the tree topper to the ornaments, you'll discover unique DIY elements that will make your tree stand out.
Stay tuned as we delve into each detail, ensuring your Grinch Christmas tree becomes the talk of the town this holiday season.
Green and Red Color Scheme Tree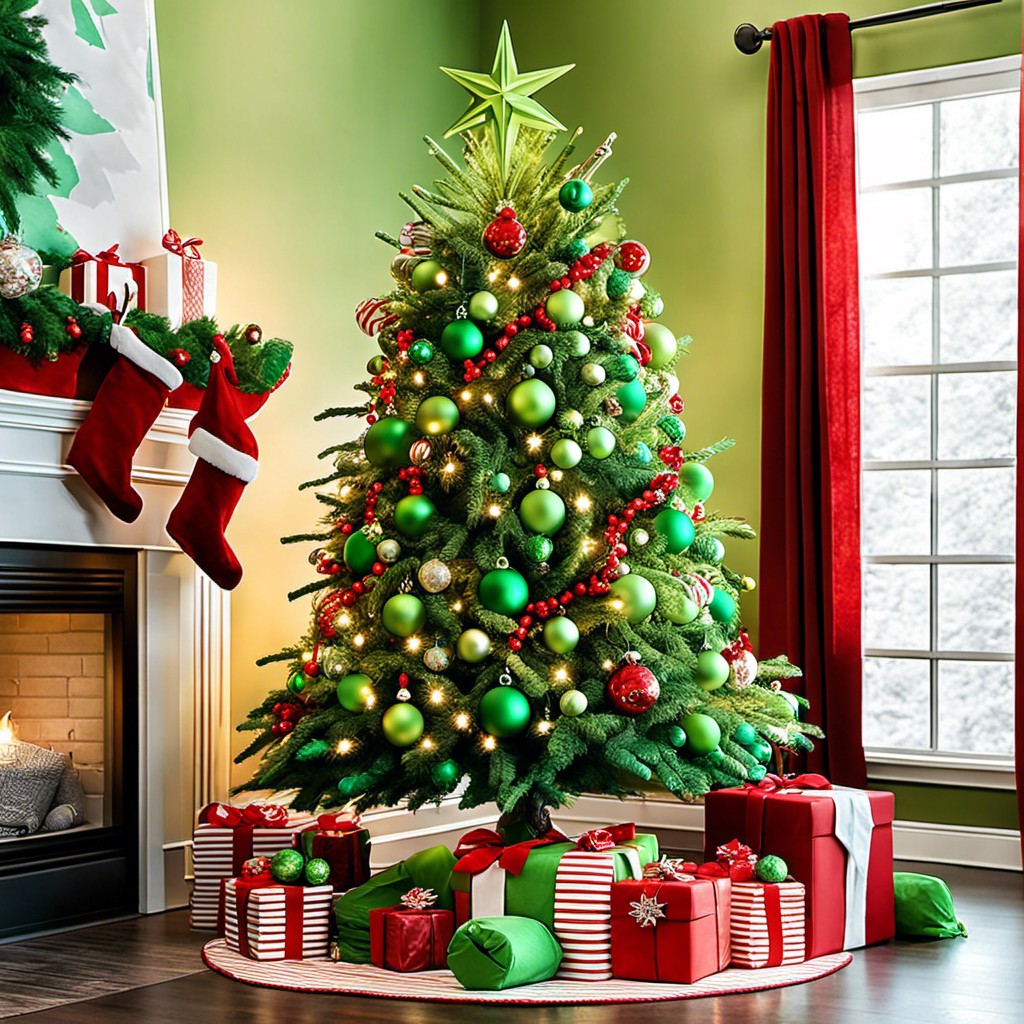 Dive right into the essence of Christmas with a Grinch-themed holiday extravaganza. By using a classic red and green color scheme, you can bring the beloved Dr. Seuss character to life on your tree.
1. Use a vibrant green tree: Whether it's a natural fir or an artificial tree, ensure it has that distinct Grinch green hue for the perfect backdrop.
2. Utilize red decorations: Add red ornaments, tinsel, and lights for a bright contrast. This replicates the classic Grinch image while maintaining a festive feel.
3. Combine differing shades: Don't stick to one tone of green or red. Use bright and dark shades of both colors to add depth and interest.
4. Use shiny ornaments: Glossy red and green ornaments mirror the festive glint in the Grinch's mischievous eyes.
5. Create balance: Mix your red and green equally throughout the tree to create a visually balanced aesthetic. Start with larger decorations at the bottom and work your way up with smaller ones.
By following these points, you'll have a visually appealing tree that tells a well-known heartwarming tale while honoring the traditional Christmas color scheme.
Top Tree With Grinch Hand Grasping a Bauble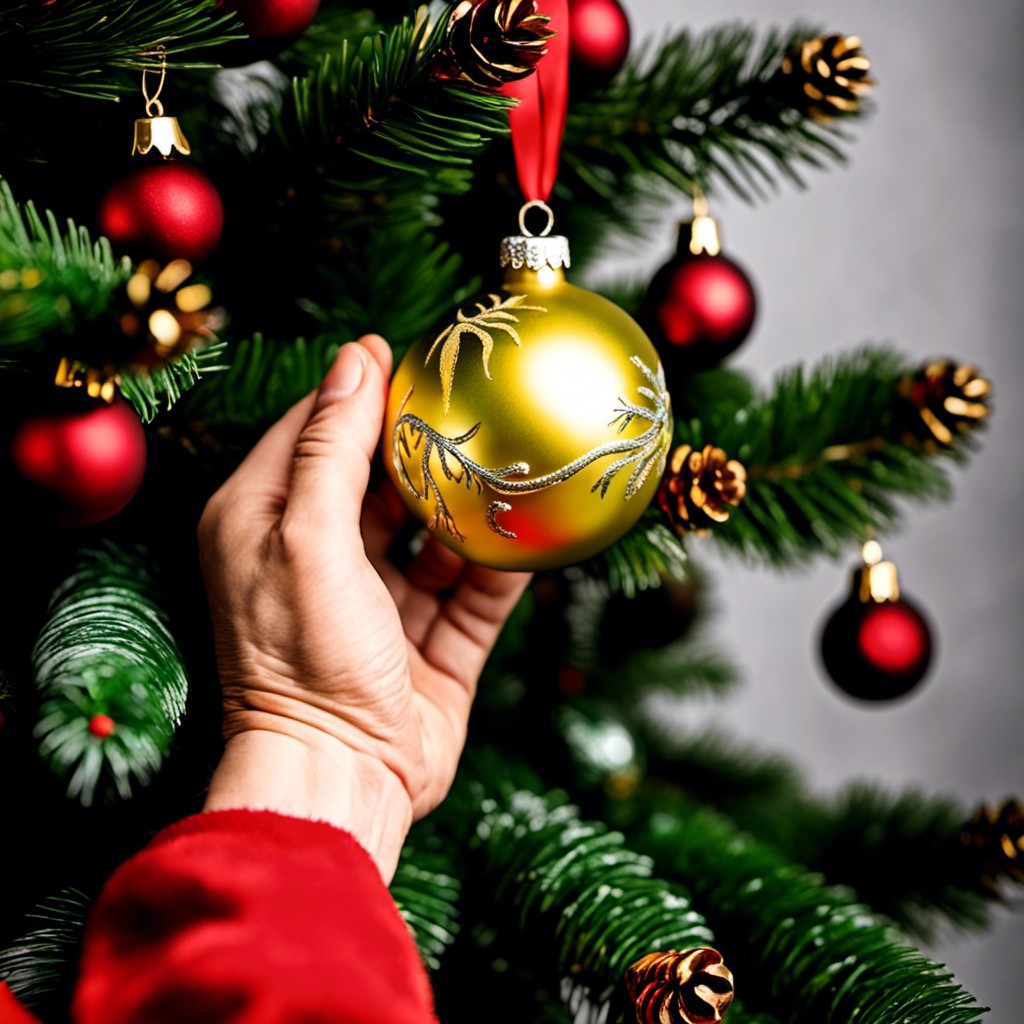 Forging ahead with our festive theme, let's explore one visually arresting decoration idea – an outstretched Grinch hand at the apex of your tree, clutching a shiny bauble. This whimsical nod to the story's key plot point is sure to delight guests and become a conversation piece of your festive centerpiece.
1. Sourcing: Explore craft stores or online platforms for Grinch hand tree toppers, or for the crafty amongst you, consider a DIY option.
2. Implementation: Secure the hand at the pinnacle of your tree, ensuring it's firmly affixed so it won't fall over.
3. Bauble Selection: Opt for a bold, oversized bauble for maximum impact. Consider Grinch-themed colors like green or red, or go for a heart design, symbolizing the Grinch's eventual change of heart.
4. Balance: Make sure to distribute other decorations evenly to counterbalance the weight at the top, maintaining your tree's stability.
This unique touch gives an element of surprise, marrying traditional tree-topper aesthetics with an unexpected, Grinchy twist. Remember, Christmas decor should have fun highlights and this quirky idea certainly fits the bill!
Hang Small Grinch Figurines On the Tree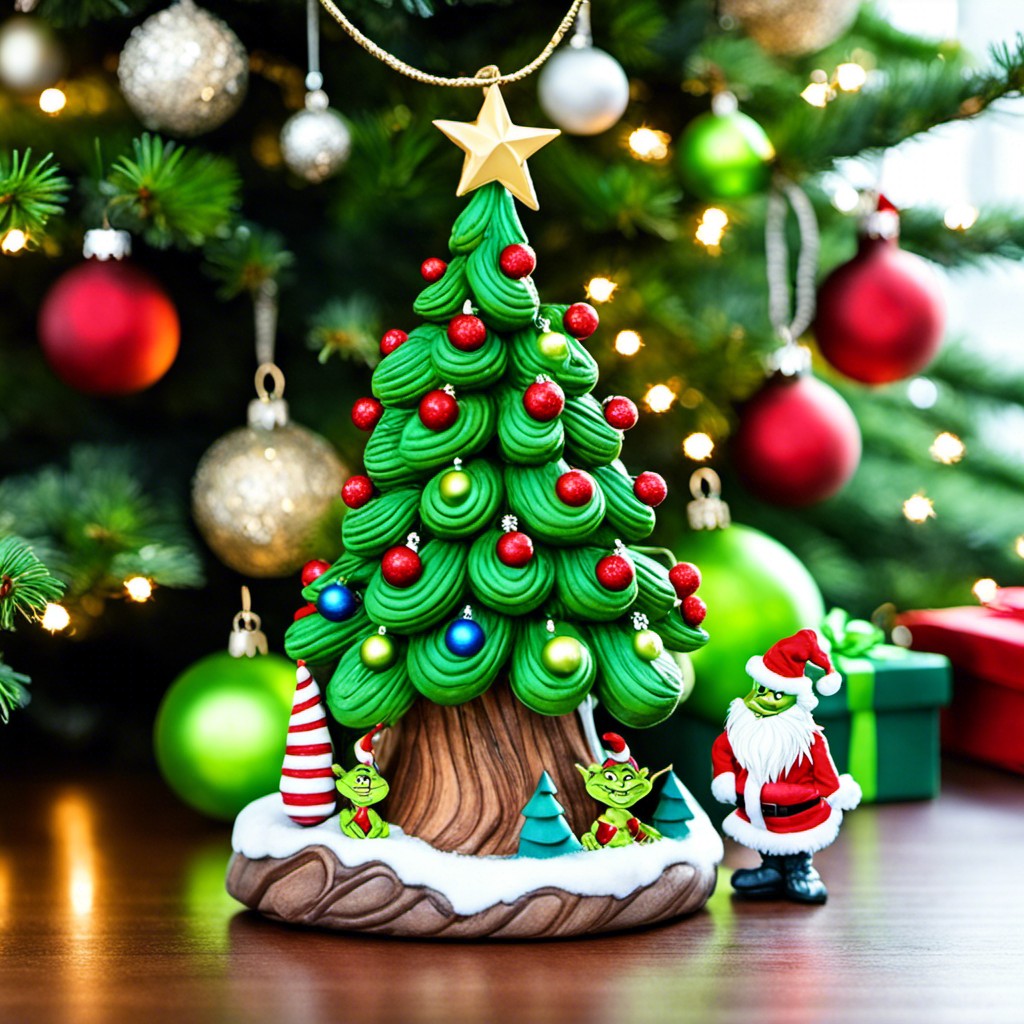 With a variety of options available, including classic posed Grinch, Grinch with a sack full of goods, or the more affectionate Grinch who's heart grew three sizes, these tiny masterpieces can be used to great effect.
Space them evenly among the branches for a coherent look, or group them in clusters for a dramatic impact.
Remember to place some near the tree lights to illuminate their intricate details.
Also, consider the height placement, keeping some easily reachable for little hands to enjoy.
Transparent thread or fishing line is an excellent choice for hanging these figurines, as it helps create the illusion of them floating around the tree.
Use Grinch Themed Ornaments
Having your tree sparkle with the spirit of Whoville is simply delightful. Start by purchasing or crafting your own ornaments that showcase characters from the beloved Dr. Seuss book – not only the Grinch himself, but what about his dog Max, or the adorable Cindy Lou Who?
Next, consider looking for ornaments that showcase key elements from the story. Think along the lines of the stolen roast beast, or Grinch's sleigh teetering at the top of Mount Crumpit. Also, ornaments depicting the Grinch's heart growing three sizes can act as a visual cue for the transformation he undergoes, adding a deeper layer of meaning to your festive display.
Remember, these ornaments can be as elaborate or as simple as you wish, depending on your budget. Even a basic bauble with a picture of the Grinch's face can be enough to set the tone. The trick is to scatter these throughout your tree, mixing them among more traditional ornaments to create an overall whimsical effect that captures the unique charm of Grinch's tale of Christmas spirit.
Ribbon Shaped As Grinch's Scarf Wrapping Around the Tree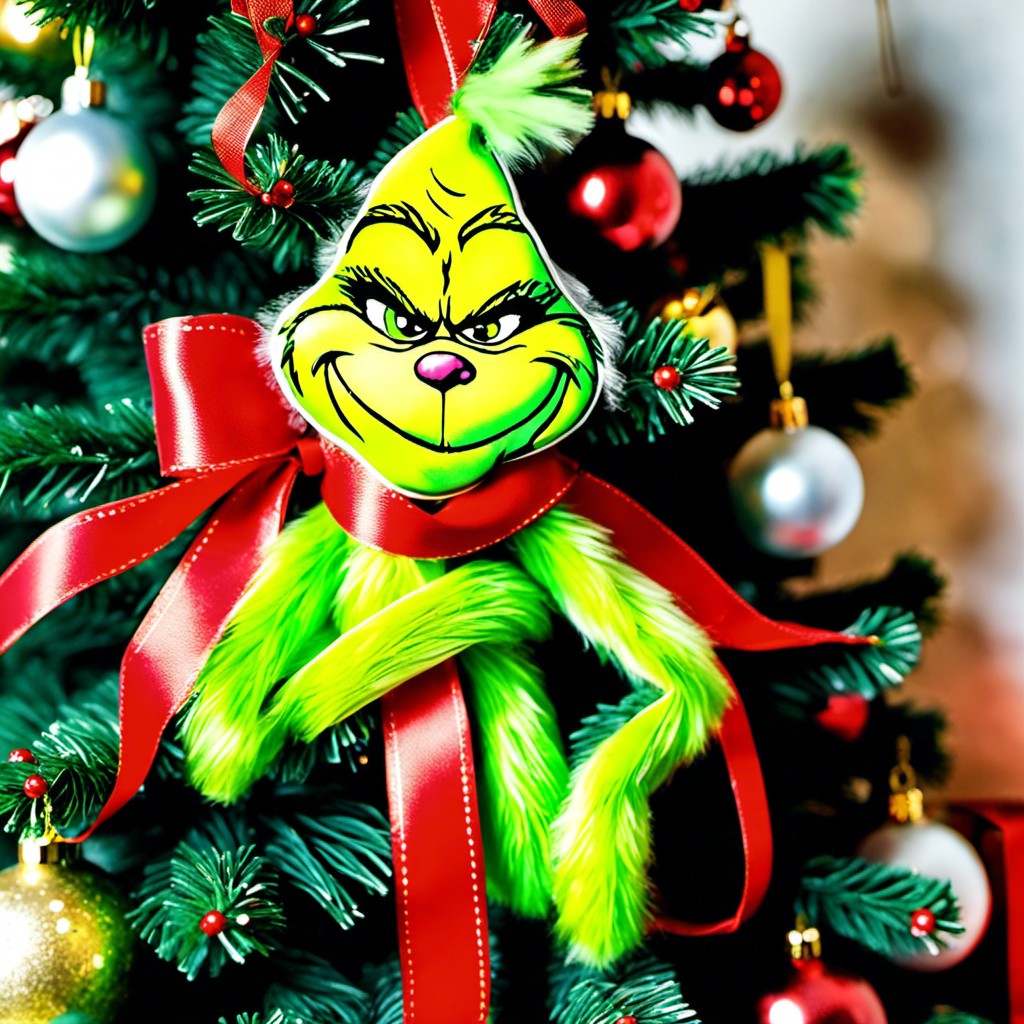 Wrapping ribbons around your tree mimicking the Grinch's scarf adds a recognizable touch to your holiday decoration. Here's how to make it effective:
1. Select a Thick, Red Ribbon: Look for a material that has a nice sheen to it so it catches the light nicely.
2. Determine the Starting Point: Usually, it's best to start at the top.
3. Angle it Right: The ribbon should wind around the tree in a descending diagonal pattern.
4. Space Evenly: Ensure that the 'loops' of your ribbon scarf are evenly spaced from top to bottom for a consistent look.
5. Secure with Wire: Use clear or green floral wire to secure the ribbon in place without obstructing the overall aesthetic.
Remember, less is often more. The idea is to create a simple yet recognizable homage to our favorite Christmas grump, the Grinch.
Red Heart Ornaments Signifying Grinch's Heart Growing Three Sizes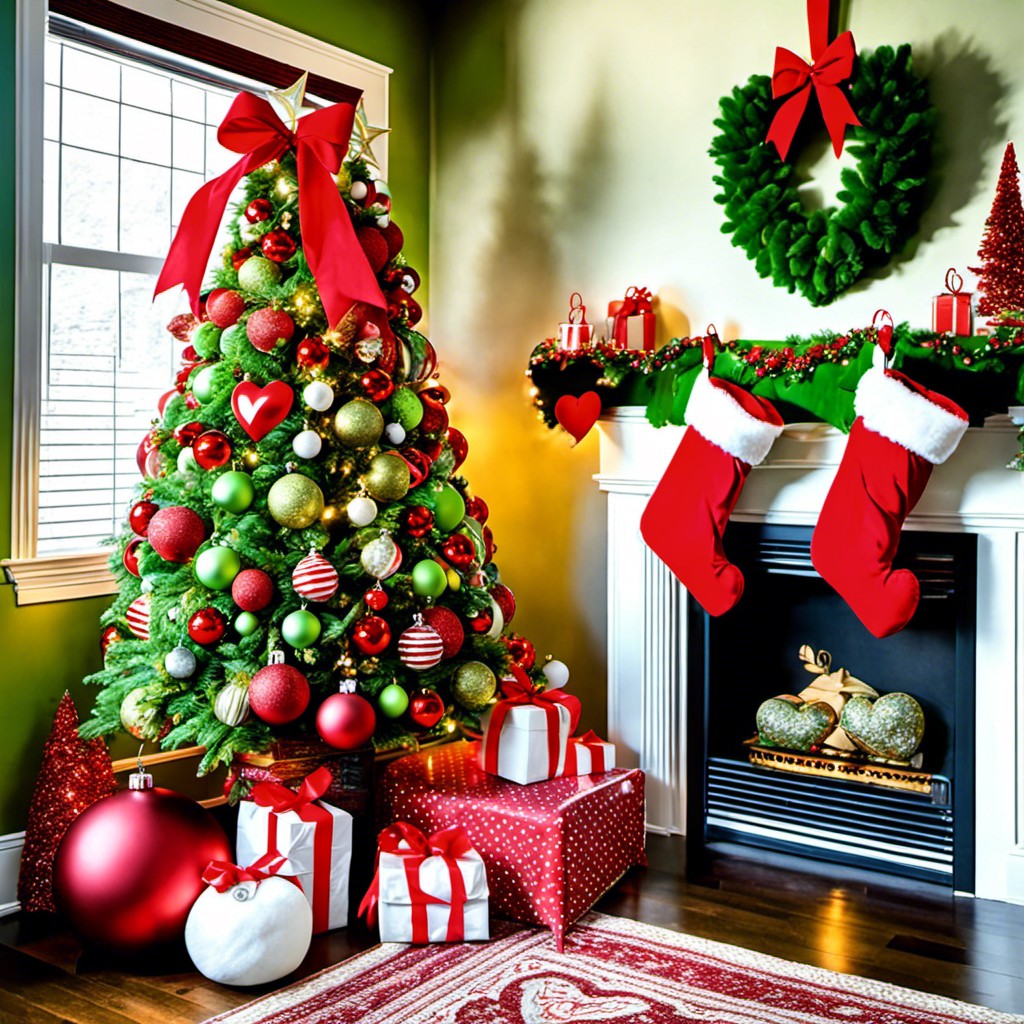 In the spirit of the story, add a unique touch with red heart ornaments. Symbolizing the iconic scene where the Grinch's heart expands threefold, these decorations encapsulate the true meaning of Christmas – love, joy, and goodwill.
1. Size Matters: Opt for various sizes, akin to the transformation of Grinch's heart.
2. Placement: Highlight these ornaments; position them in prominent locations on your tree.
3. Personal Touch: Consider DIY options. A simple cut-out from red felt or cardstock can deliver a charming effect.
4. Glitter Effect: Add a touch of sparkle. A gentle dusting of glitter on your heart ornaments imparts a festive shimmer.
5. Number Symbolism: Display three hearts together, representing Grinch's heart growing three sizes that day.
Remember, these ornaments serve as a reminder of the story's poignant message, making your Grinch Christmas tree more than just a decoration.
Whoville Inspired Tree Decorations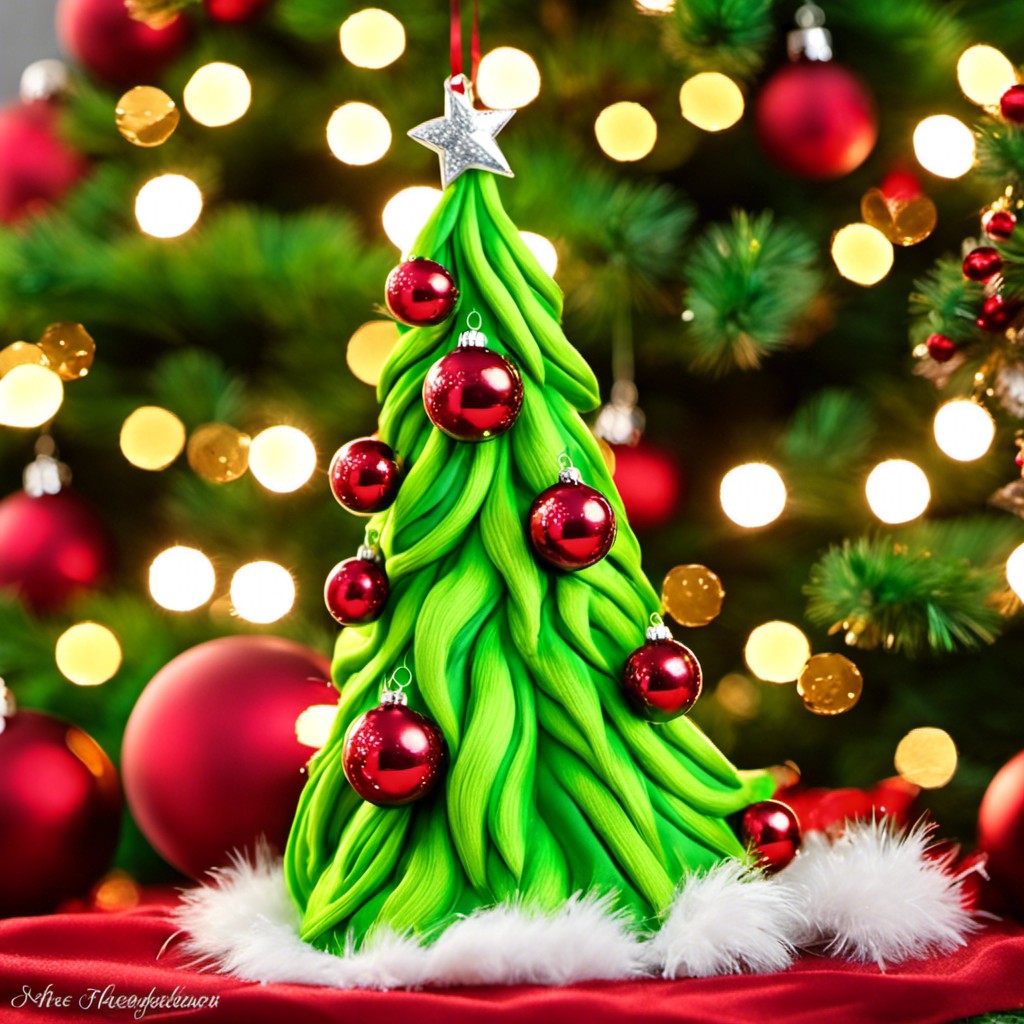 Here's an opportunity to infuse your Christmas tree with the whimsical charm of Dr. Seuss's imaginary town. Bedeck your branches with colorful, offbeat ornaments that breathe life into Whoville's essence.
Think polka-dotted baubles, candy-cane shaped lights and fantastical, exaggerated shapes in bright, primary colors. Consider adding oversized ribbons, striped patterns, and large multicolored lights.
A dash of creativity can help mimic Whoville's stacked and spiraled houses – place miniature boxes, wrapped in fun papers, one atop another, along your tree.
Don't forget Whoville's resilient spirit – interlace decorations with symbolic items like a plucky red heart or a tiny sack of 'stolen' Christmas goodies.
Highlight the town's flair for celebrations with tinsels, streamers, and confetti – let your tree be a true reflection of the jubilant warmth Whoville stands for.
Grinch Face Tree Topper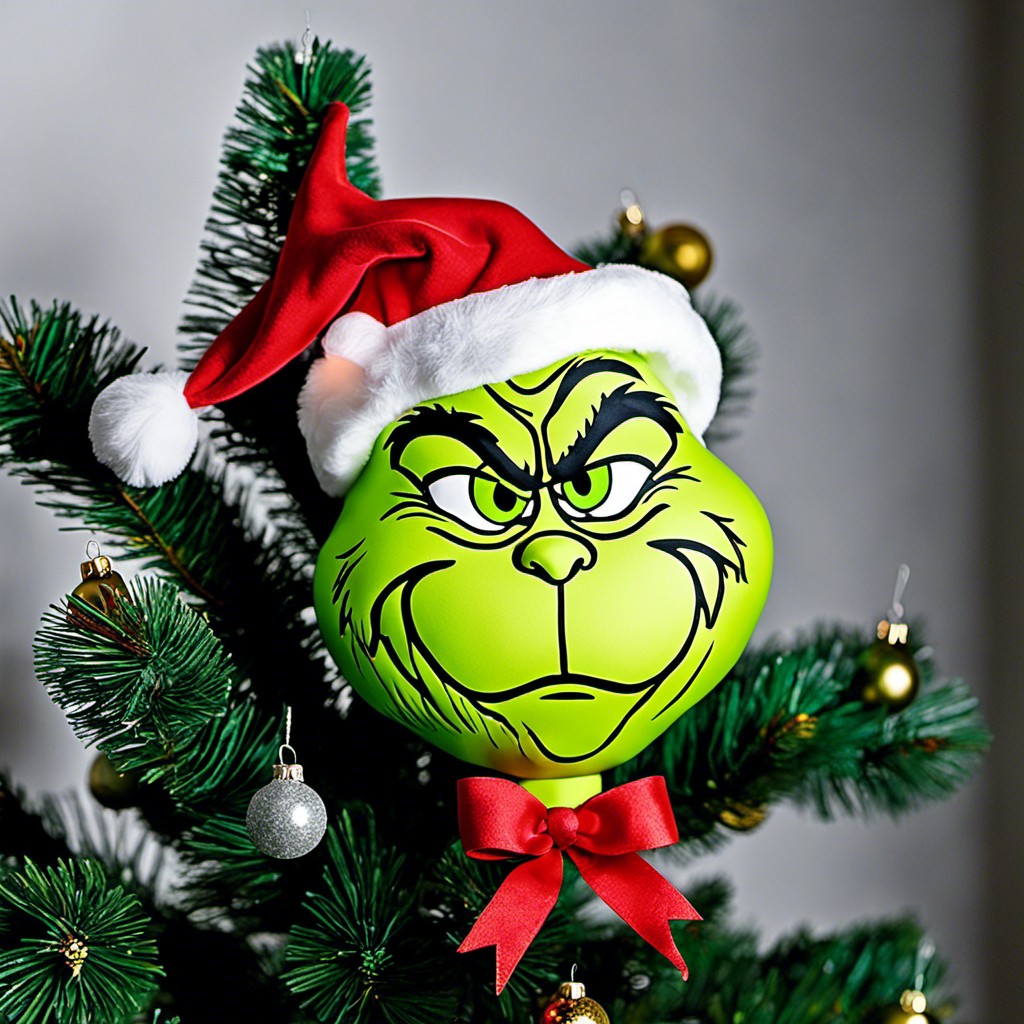 This special feature adds a touch of whimsy, capturing the Grinch's famous, mischievous smirk. To achieve this, a green tree topper can be personalized with some simple craft supplies.
All you need is green and white felt for the face and eyes, and a touch of black can be used for detailing. Hand stitch or use fabric glue to assemble the parts together.
Don't forget the yellow thinkling gaze! A red Santa hat can crown your Grinch face to raise the holiday spirit.
This topper inevitably becomes an eye-catching element with unique character, substantially raising the fun quotient of your tree.
DIY Grinch Stealing Christmas Lights Ornament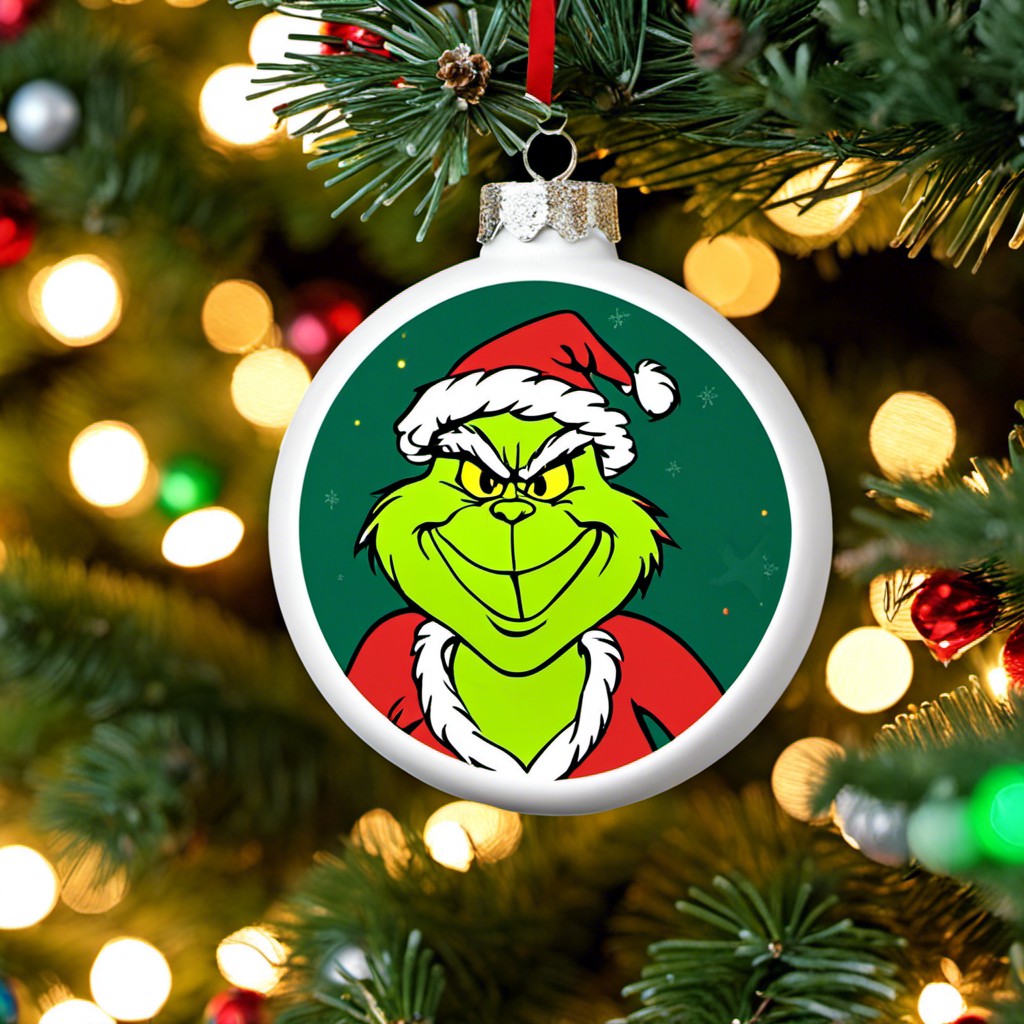 Creating this DIY ornament is a whimsical way to incorporate the Grinch directly into your tree, and it's easier than you might think. All you'll need are a few common craft supplies: a plain Christmas ornament of any size, green paint, an elongated Grinch hand template, and a string of mini LED lights.
Step one, simply paint the ornament green. Let it dry. Step two, cut out the Grinch hand from the template and then paint it green. Affix this hand to the ornament such that it appears to be grasping it.
To finish off, make it look like the Grinch is actively stealing Christmas lights. Wrap your string of mini LED lights around the ornament and secure with fine crafting wire or thread. For a dynamic effect, allow a few loose bulbs to "drop" from the Grinch's hand.
This craft is not just a delightful addition to your tree, but serves as a brilliant conversation starter during holiday parties. You'll be sure to charm guests with your creativity while staying within a budget-friendly framework. The best part? This personalized ornament will add a unique and heartwarming touch to your holiday decor.
Use Grinch Quotes On Some Ornaments
Embellishing your festive tree with ornaments adorned with notable quotes is a charming way to incorporate the cranky, yet loveable, character into your decor. Here's how to do it:
1. Select some quotes: Opt for memorable lines from the movie or book. "Maybe Christmas, he thought, doesn't come from a store," could work well, or perhaps, "I'm speaking in rhyme!"
2. Choose your ornaments: Clear fillable ones will enable you to print your selected quotes, cut them out, roll loosely and place inside. Alternatively, you could write directly onto solid color ornaments.
3. Use a legible font: If you're printing your quotes, remember to go for a clear, readable font in a size that fits your chosen ornament.
4. Get creative: Try using a bit of glitter or small beads alongside your quotes in clear ornaments for a more eye-catching effect.
5. Hang them strategically: Place them at varying heights around the tree to make sure they catch the eye. These quote-filled decorations will not only add a unique touch to your tree but will also act as conversation starters for any visitors during the holiday season.
Decorate Tree With Grinch-themed Winding Garlands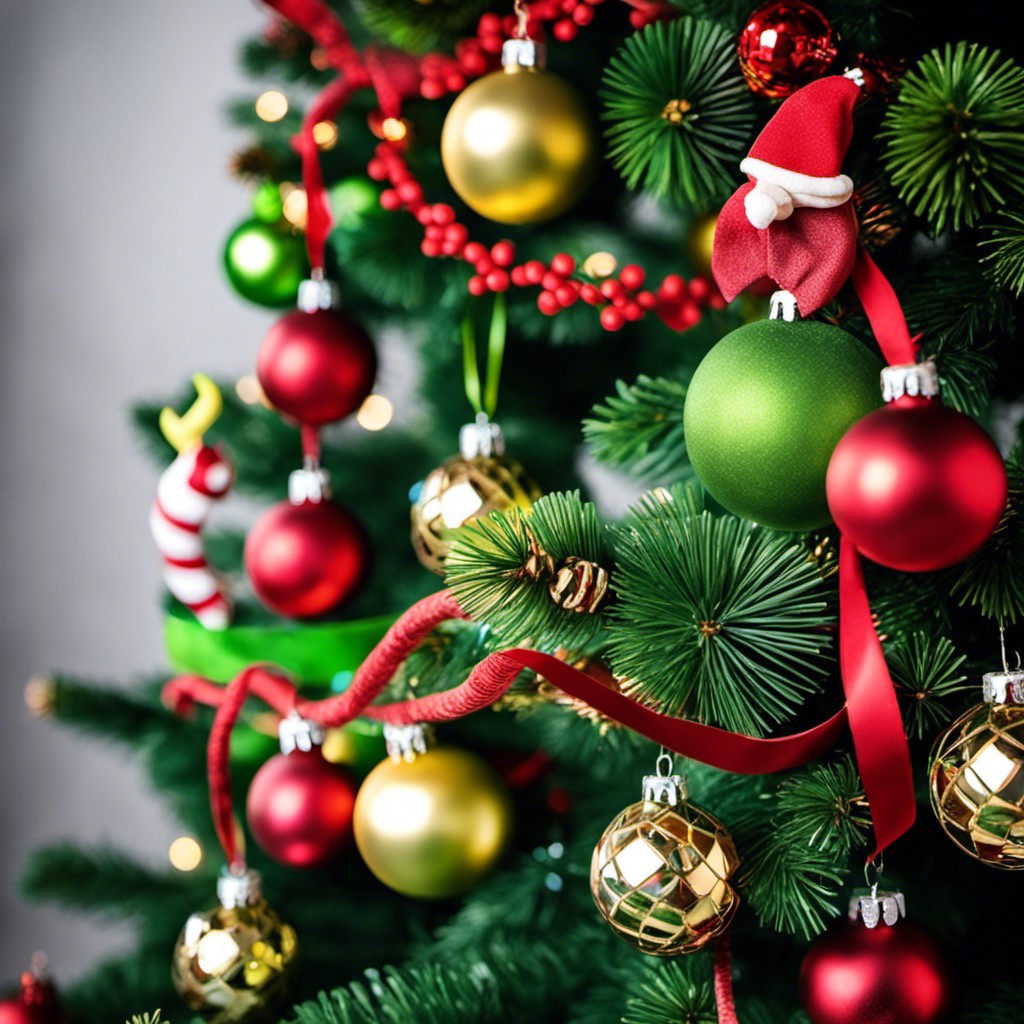 Creating winding garlands that encapsulate the Grinch theme can add an extra layer of whimsy to your tree. Here's how to achieve this:
1. Opt for green and red fabrics or ribbons, emblematic of the Grinch's colors.
2. Consider adding small ornaments or baubles to the garlands for a cheerful touch.
3. Garlands can also feature memorable quotes from the movie, either hand-written or printed on small cards.
4. To make it more Grinch-like, you could even consider adding faux green fur along the length of the garlands, a nod to the Grinch's infamous furry character.
5. While placing the garlands, start from the top and wind down in a swirling pattern to mimic the Grinch's winding hills leading to Whoville.
6. Make sure the garlands are securely fastened to the branches to prevent any mishaps.
7. The garlands should not overshadow the tree but act as a complementing feature, enhancing the overall Grinch theme.
This approach not only adds to the aesthetic but also keeps the Grinch spirit alive. Remember, it's all about capturing the essence of the Grinch in the most playful and inventive way.
Green Feather Boas to Replicate Grinch's Hairiness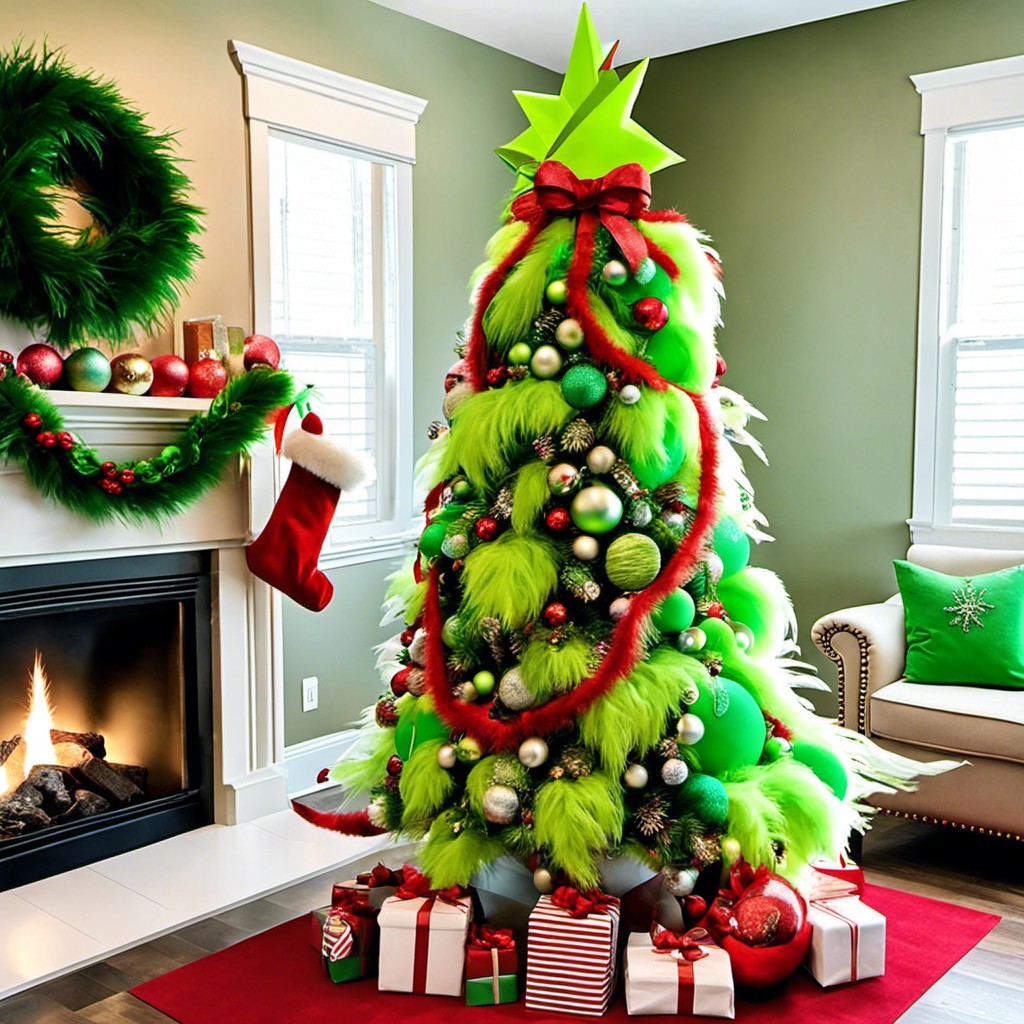 Experimenting with materials can unlock new layers of authenticity for your tree. One unique material you can incorporate is a green feather boa. This fluffy, vibrant accessory provides the perfect imitation of Grinch's notorious shagginess, bringing to life a quintessential aspect of his character.
Consider the length and thickness: A long, full boa creates a voluminous impression of rough, green fur. Arrange the boas from top to bottom, keeping them evenly dispersed for symmetry. Secure them in place with ribbon for lasting hold.
Use varying shades of green to create depth and amplify realism. Darker, murky greens for shadowy depth, contrasted with bursts of bright, verdant hues for a lively exterior.
Finally, remember to keep safety front of mind – ensure boas are safely secured, and consider fire safety if pairing with lights. This imaginative idea integrates playful texture and eye-catching aesthetics to enrich your Grinch-themed tree.
Use Only Items From the Grinch's "Santa Bag" As Decorations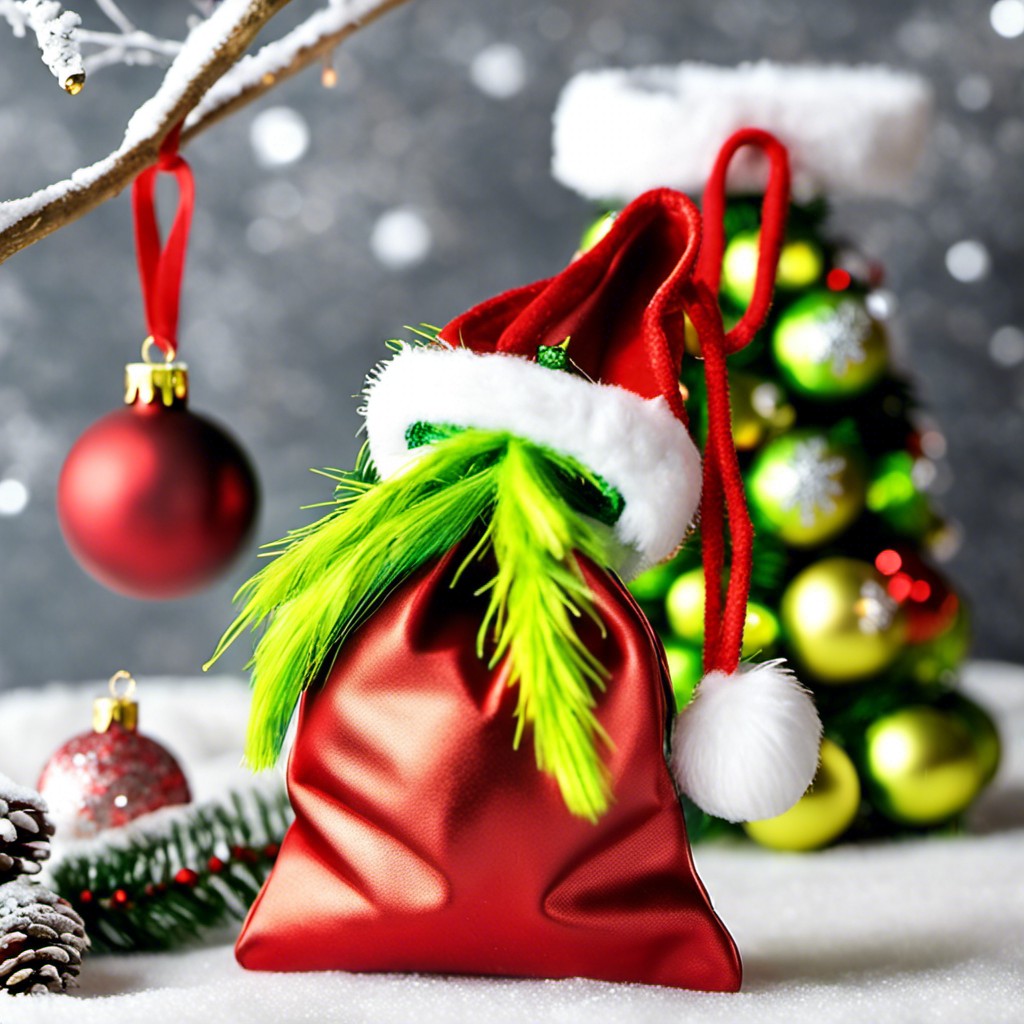 Continuing with our discussion on Grinch-inspired tree decorations, let's dive into a fun concept: decorating your tree using only the contents of the Grinch's iconic "Santa bag". You can go a creative mile with this charming idea!
1. Baubles: Though the Grinch initially filled his bag with stolen Christmas goods, we can fill it with colorful baubles. Reds, greens, and gold glittering balls would be a great start!
2. Stolen Stockings: Stockings are essential Christmas décor, stuffed by Santa with goodies, so why not mini versions for the tree?
3. Whoville House Ornaments: The Grinch's bag was filled with little Whoville goodies, remember? So why not make a bold statement with miniature Whoville houses dotted all over your tree.
4. Cindy Lou Who's Candy Canes: No Christmas decoration spree stops without candy canes, the ones intended for sweet Cindy Lou. Make sure your tree has some!
5. Roast Beast: No, not a real one! How about a roast beast ornament as a quirky nod to the Christmas dinner intended for carving?
6. Tiny Wrapped Gifts: Last but not least, putting small boxes wrapped in bright papers and ribbons would truly encapsulate the Santa bag vibe.
Remember, the goal is not to depict the Grinch's initial malintent, but rather his change of heart and the spirit of Christmas. Keep it festive, keep it fun!
Candy Cane Decorations Signifying Grinch's Attempt to Steal Christmas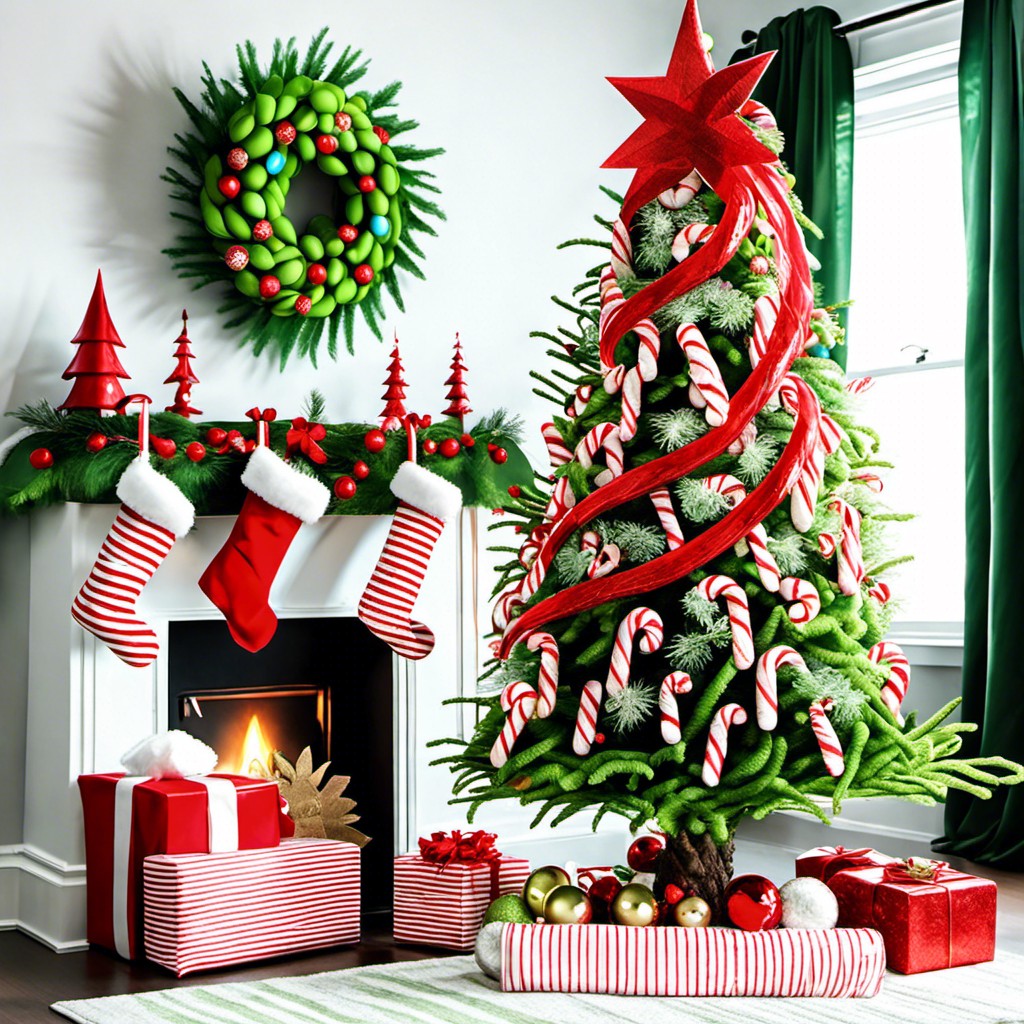 Taking inspiration from the story, using candy cane decorations adds a fun and creative touch. These can represent the Grinch's plot to take away holiday cheer.
1. Try using crafted candy canes with a slight twist to mimic the ones the Grinch tried to steal.
2. Multiple candy cane sizes can create a visually appealing variance and depth.
3. Pair larger candy canes with smaller ones for balanced tree decor.
4. Hang them from various points on the tree for an all-around view.
5. Opt for candy canes with ribbon embellishments for an added touch.
6. Do not limit yourself to traditional red and white canes. Green or Grinch-themed candy canes will blend seamlessly with the overall scheme.
7. Candy cane clusters can make good fillers for any empty spots.
8. Consider adding a glow with light-up candy cane ornaments for an enchanting holiday feel.
9. Craft-loving readers can create DIY candy canes using beads, pipe cleaners, or paper.
Experiment with the placement and style of candy cane decorations for a unique Grinch-themed Christmas tree that captures the essence of this beloved tale.
Grinch-themed Stockings Hanging From Tree Branches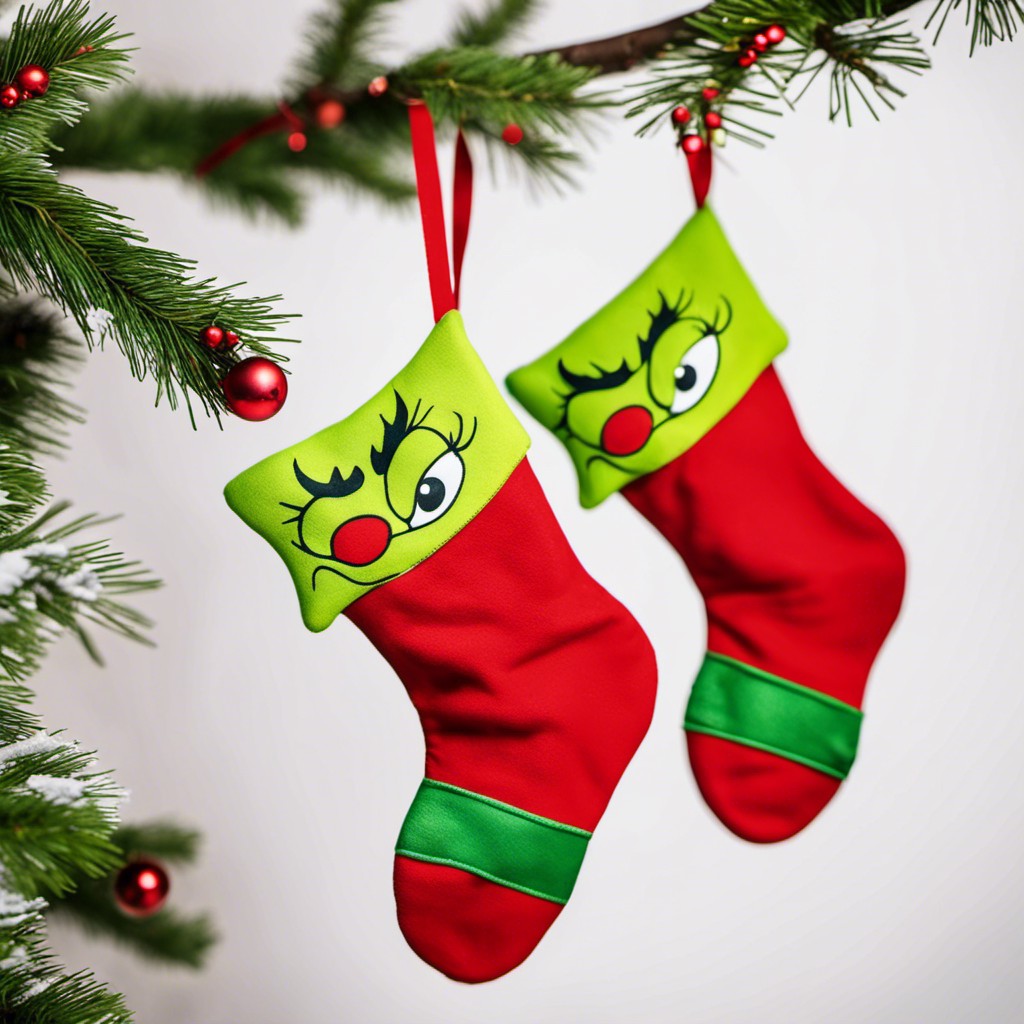 With these decoratively diverting stockings, you're bringing a slice of Whoville right inside your living room. Opt for stockings that feature the Grinch's distinct face or perhaps, one of his famous quotes. Position them on your tree branches with clear hooks that vanish into the background, or use Christmas lights to secure them. It's a fun, simple embellishment with instant holiday punch.
For a DIY approach, purchase plain green stockings and reconstruct the Grinch's countenance on them using felt in contrasting colors. The bushy eyebrows, green face, and dandy Santa cap are easy enough for even novice crafters. For those with a penchant for knitting, crochet adorable Grinch-themed stockings in festive hues. If sewing or knitting isn't your preferred route, consider stocking-shaped ornaments in Grinch themes, available online or in holiday stores. They add the perfect touch of Grinch charm to your tree!
Remember, the aim is to make the stockings noticeable but not overpowering, ensuring they contribute to the overall Grinch-themed aesthetics of the tree without monopolizing attention. Incorporate them interchangeably with other decorations, maintaining a balance that's pleasing to the eye.
Glittery Red and Green Baubles in Grinch Colors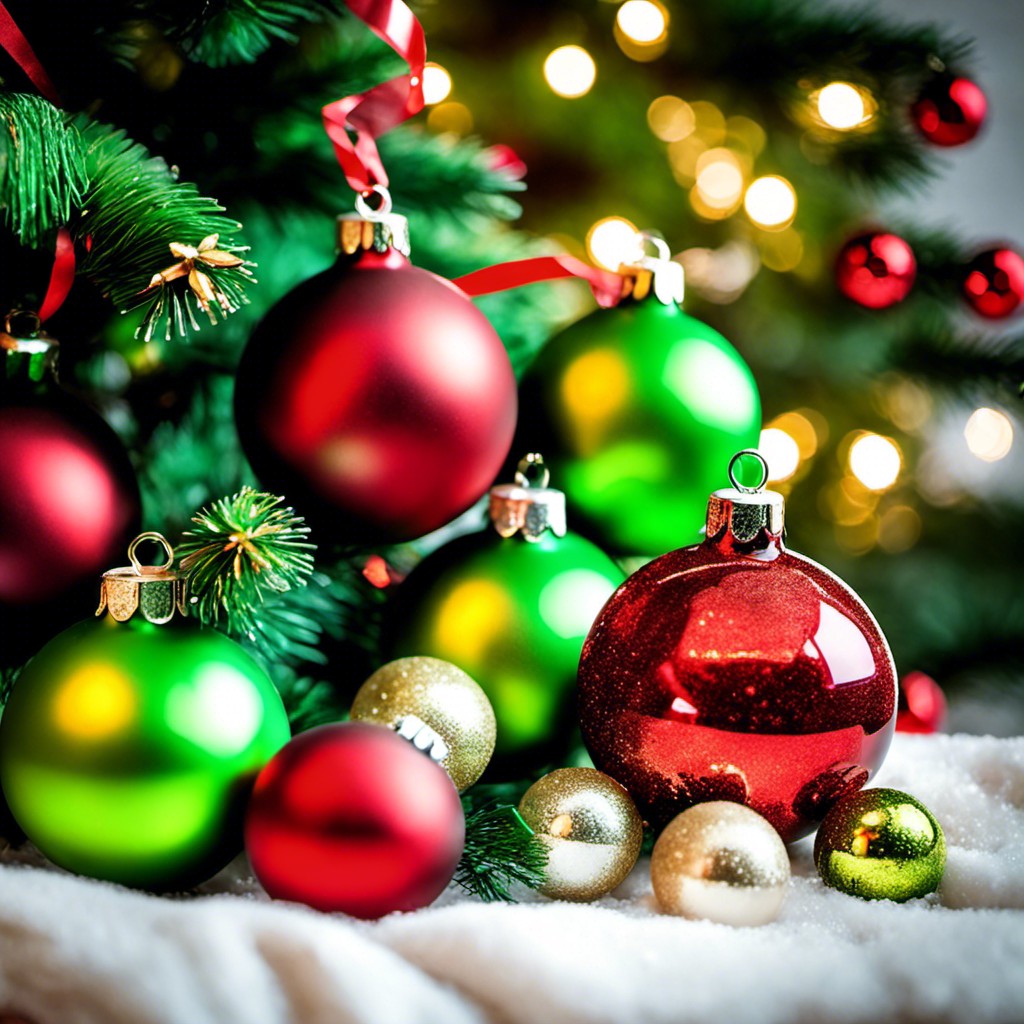 These baubles will serve as an excellent addition to your Grinch-themed tree, injecting the perfect dose of holiday cheer while adhering to the iconic color scheme. Glitter on these shiny ornaments reflects light, which can definitely bring your tree to life.
1. Complementary Colors: The combination of red and green is classic. It also resonates well with Grinch's character design, making your tree both festive and thematic.
2. Increased Visual Interest: Glittery ornaments create a festive sparkle, adding depth and visual interest. They can catch and reflect lighting from within the tree, enhancing the overall illumination.
3. Size Variation: Think about incorporating a mixture of sizes to generate a richer, more balanced visual aesthetic. Smaller baubles can fill in gaps between branches, while larger ones draw the eye.
4. Strategic Placement: Focus on evenly spacing your red and green baubles. It maintains visual balance and ensures that both colors get their due representation.
5. DIY Option: If you're struggling to find baubles in the right color or texture, consider a fun DIY project. Use non-toxic craft glue, fine glitter in red and green, and clear baubles to create your own!
Implement these tips, and your tree will shimmer with Grinch-inspired delight!
A Combination of Grinch Green and Christmas Red LED Lights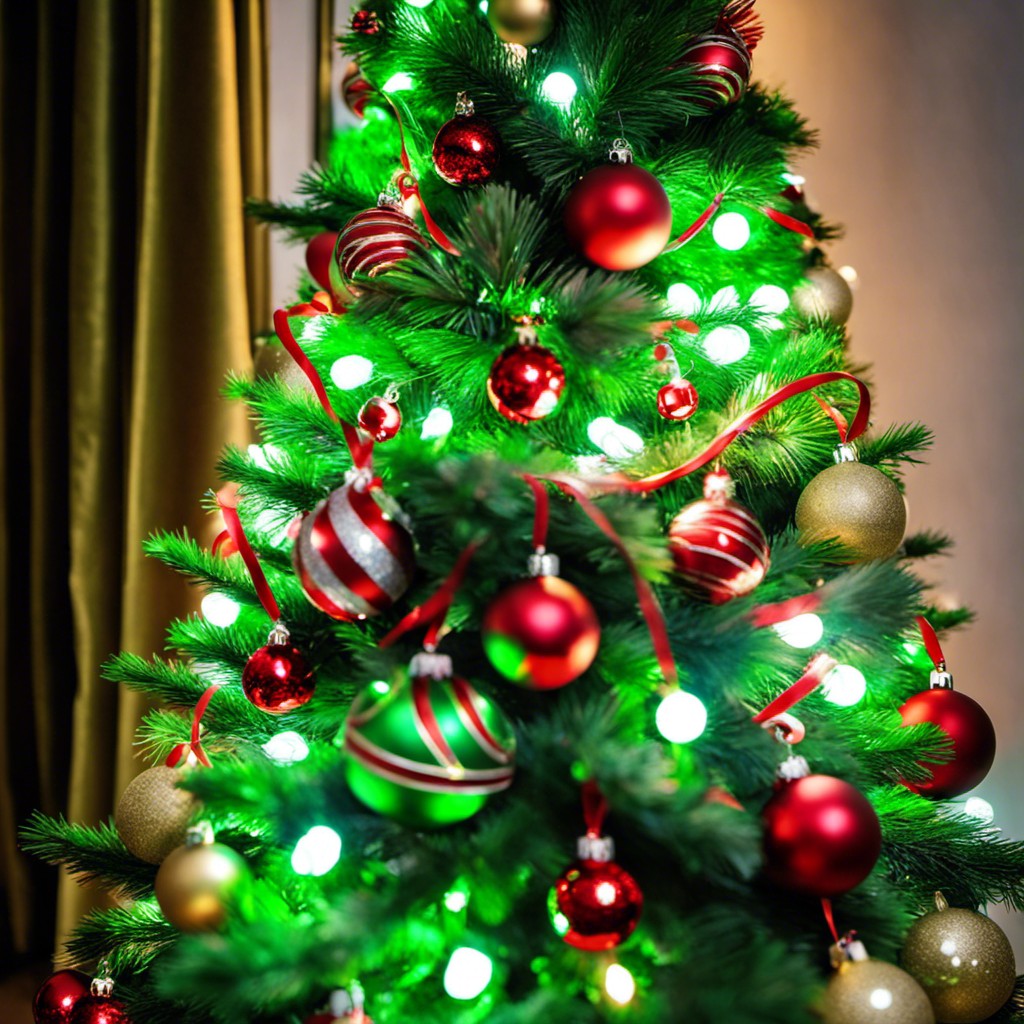 Lighting plays a crucial role in decor, and our Grinch-themed Christmas tree isn't an exception. Add a magical touch with Christmas red and Grinch green LED lights, mirroring the central colors of our beloved character.
1. Intersperse the two colors evenly across the tree, creating a dynamic festive look.
2. Using green lights primarily with bursts of red can mimic the Grinch's famous color palette.
3. Considering the lights as a starting point, it aids in the even placement of other ornaments.
4. Twinkling LED lights can simulate the Grinch's change of heart.
5. Red lights represent the true Christmas spirit, and green ones signify the Grinch, combining the narrative within the decor beautifully.
6. LED lights are energy-efficient, bringing not just charm but practicality to the festive cheer.
Remember, the aim is to evoke festive joy and engage in storytelling through these colors!
Grinch Paw Print Ornaments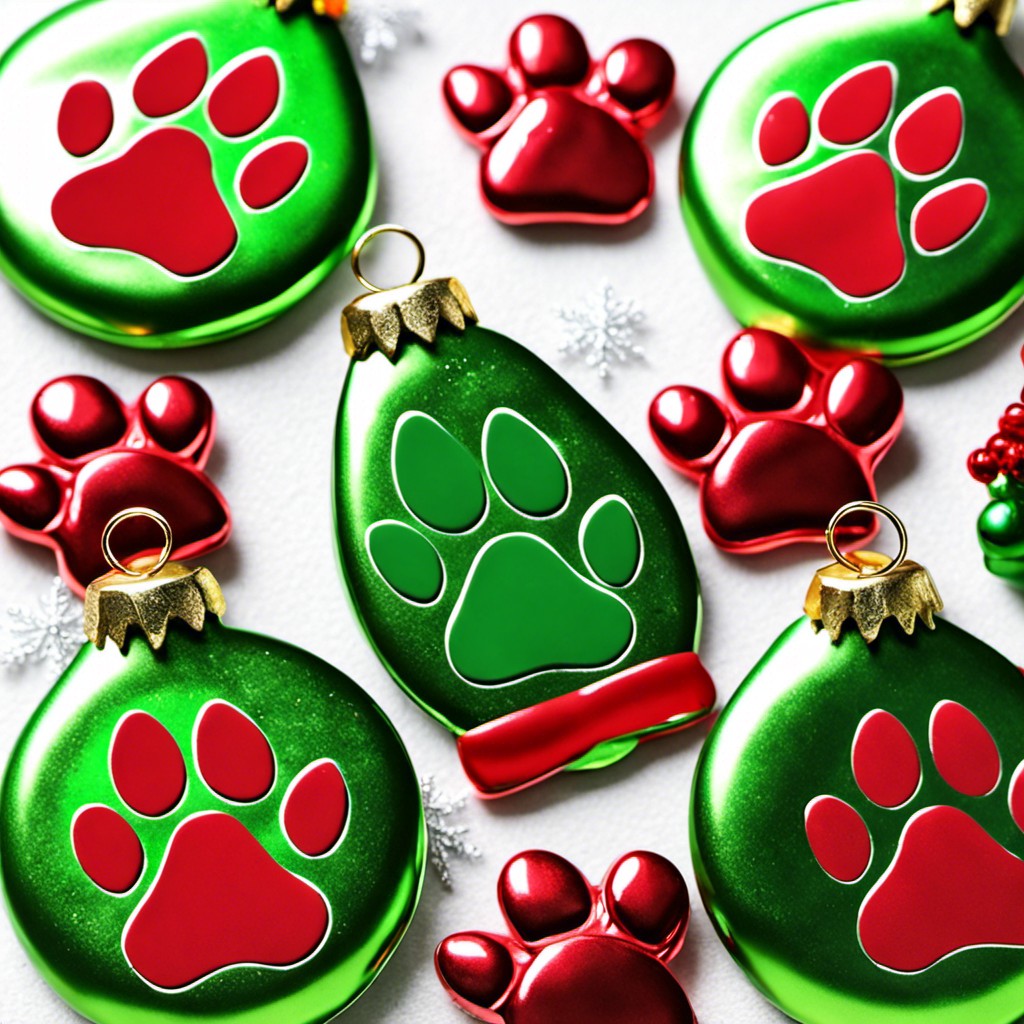 A distinctive finishing touch to your tree, paw print ornaments embody the Grinch's sneaky escapades around Whoville. To capture this essence in your decoration, you can take two routes.
First, purchasing pre-made ornaments. Various platforms offer these, typically in green to match Grinch's fur, often with a tinge of snow for added festive flair.
The second, more personal option, is embarking on a DIY project. Utilize simple materials like green felt or paint and permanent markers on clear baubles. For an authentic touch, incorporate the Grinch's fingers' distinct elongation and curve. Remember, it's all in the details. The final product might just become a cherished keepsake, evoking Christmas mischief and cheer in equal measure year after year.
Incorporate Elements of Mount Crumpit in the Tree Décor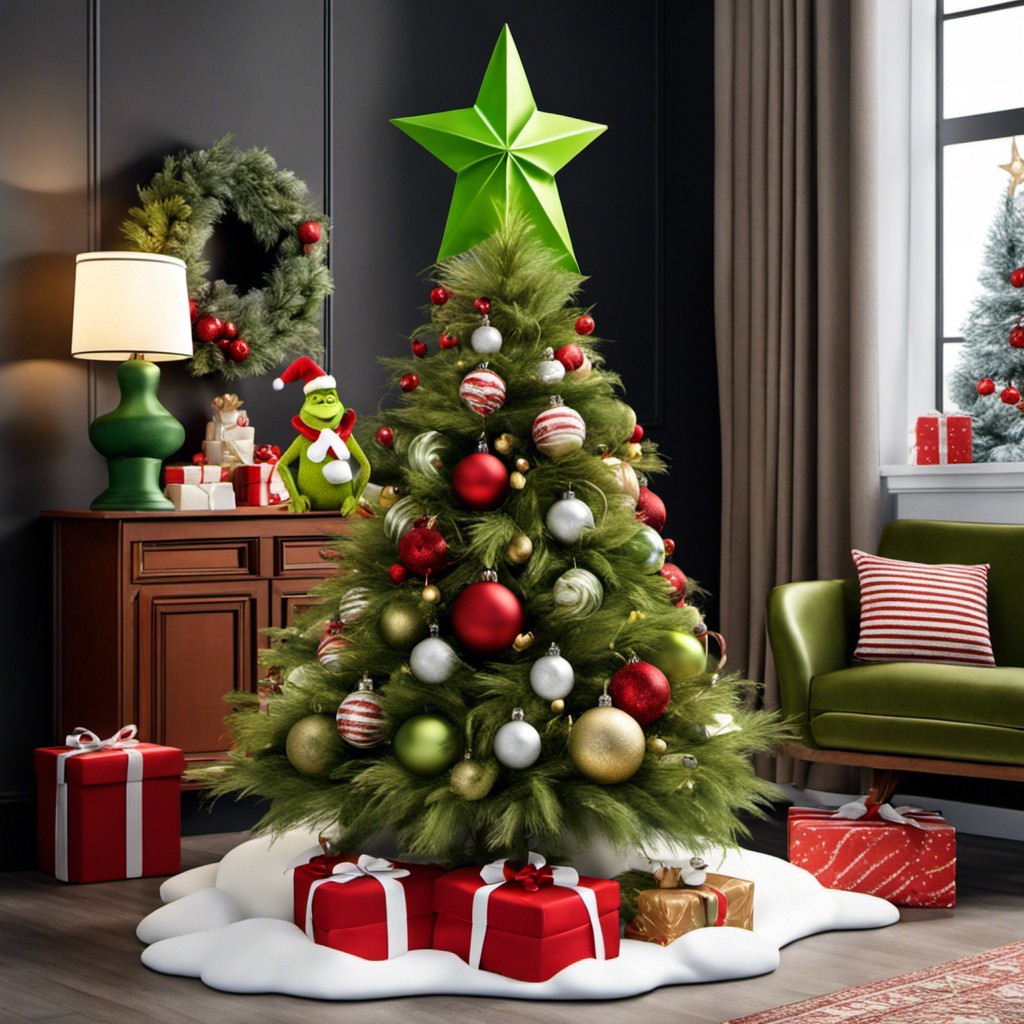 Adding elements of Mount Crumpit can truly set your Grinch-themed tree apart. Start by incorporating miniatures of the clifflike peak where the Grinch resides. This can be made at home with papier-mache or purchased from a hobby store.
To give an illusion of height, place the Mount Crumpit piece at the top of the tree, nestled within the branches. Surrounding it with white cotton balls or faux snow creates a snowy peak effect, and adding small, twinkling blue lights can lend the sparkle of a starlit Seuss night.
Consider hanging small sled ornaments around the tree to further the narrative of the Grinch's sled ride down to Whoville. This can be a fun DIY project, using popsicle sticks or small bits of wood.
Lastly, incorporate small parcels or gift-like ornaments around the base of your tree, symbolic of the presents the Grinch realizes are not integral to the spirit of Christmas. This can also help create the look of the base of the mountain, with 'Whoville' at its foot.
Remember, subtlety and clever implementation are key to avoiding a cluttered look. With these steps, you'll captivate your holiday guests with a tale they'll recognize and love, straight from the pages of Dr. Seuss!
DIY Cindy Lou Who Doll Ornament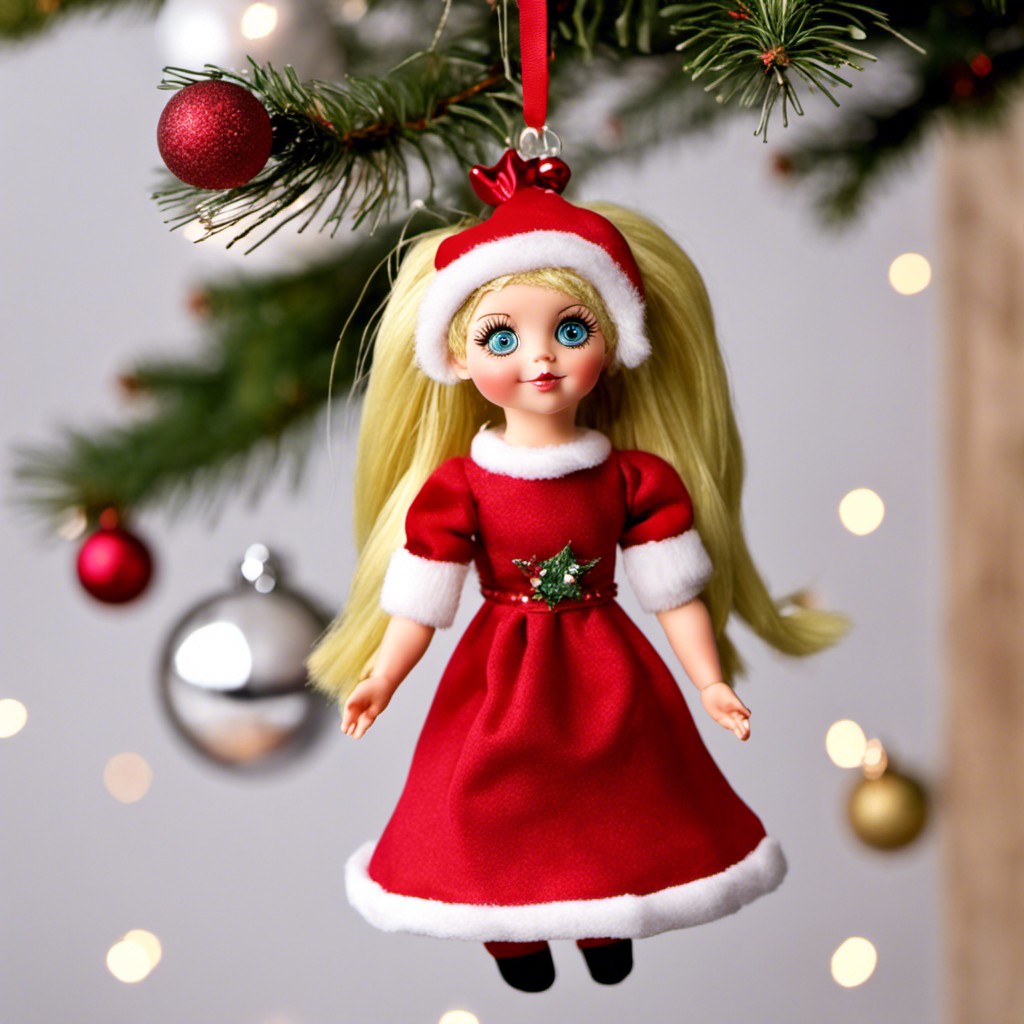 Start by crafting Cindy's distinct hairstyle, a high ponytail with a red bow, using yarn and a small piece of red fabric- the main identifier of the character.
To make the doll's face, use a small round wooden bead and draw on facial features with fine tip markers.
For the body, you could opt for a simple cylindrical wood piece, perfectly safe for the tree and lightweight.
Dressing the doll up will define the character further, a tiny red wrap-around cloth will make the perfect cloak for Cindy, and petite white shoes using clay can be added to her feet.
Once every part of Cindy Lou Who is ready, assemble all pieces using hot glue, making sure each piece is secure.
Once completed, attach a piece of string or thin ribbon at the top of Cindy's head to hang her on the tree.
A pretty yet easy DIY ornament that brings to life one of the best-loved characters from Whoville, adding character and fun to your Grinch-themed Christmas tree.
Recap
Liked this article? Here's what you can read next: