Last updated on November 25, 2023
Transforming ordinary windows into extraordinary festive sites is incredibly easy because homemade Christmas window decorations are packed with budget-saving potential and dazzling style.
Adorning your windows with Christmas decorations can transform your home into a festive wonderland, and it need not bust your budget. This insightful guide will teach you how to create ravishing yet affordable Christmas window decorations. From beautiful hanging ornaments and DIY candleholders to sparkling lights and handcrafted paper snowflakes, these decoration ideas will be suitable for every taste and budget.
You will also learn how to effectively arrange these elements to achieve a breathtaking effect. Stick around to read the detailed guidelines, recommended materials, tips, and tricks.
Key takeaways:
Paper Snowflakes: Create unique and personalized snowflakes for a magical effect.
Window Stickers: Add a playful scene with various designs and layering.
Christmas Ball Window Boxes: Transform a window box with shatterproof ornaments and greenery.
Hanging Window Ornaments: Suspend ornaments at various heights for a festive display.
DIY Ornament Garland: Use colorful baubles and string to create a cheerful garland.
Paper Snowflakes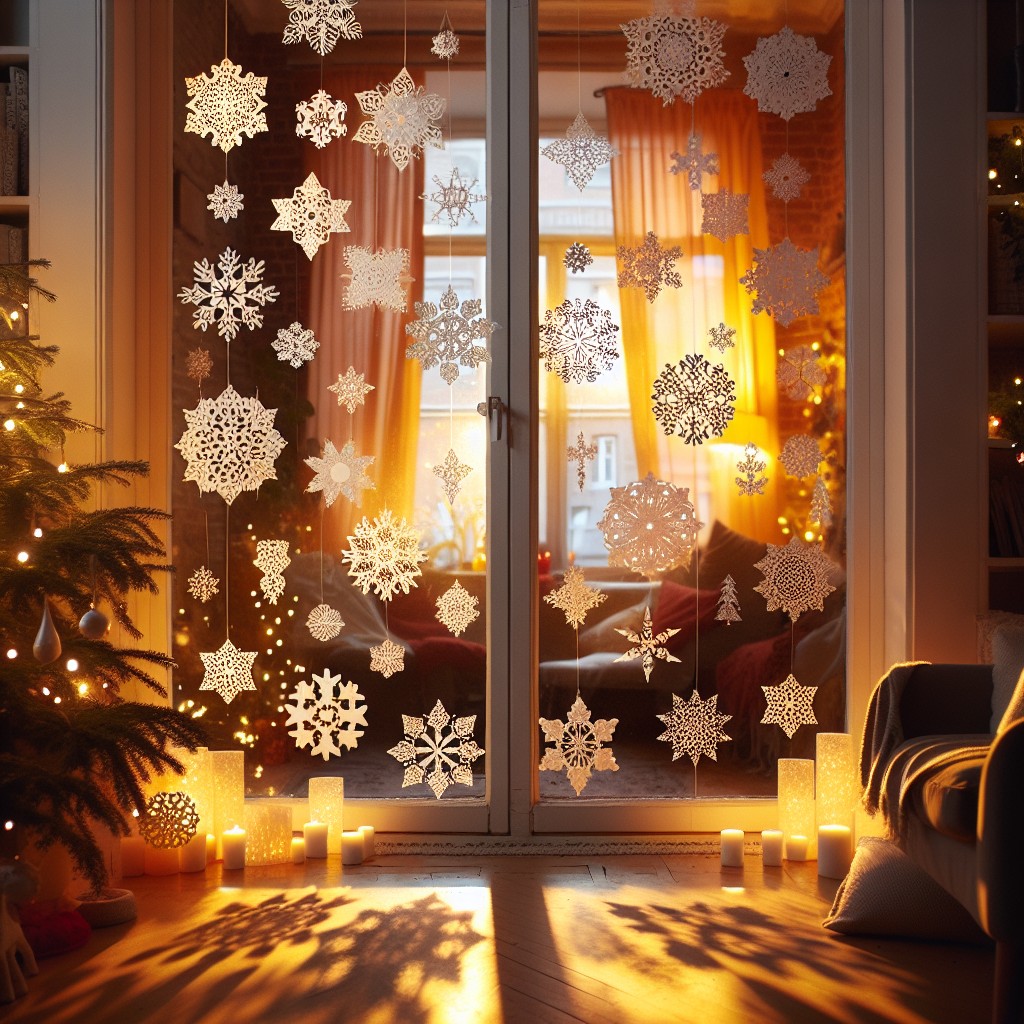 Crafting paper snowflakes offers a timeless and personalized touch to your Christmas window decor. Utilize plain white paper or spice it up with parchment or shiny foil paper for a varied effect.
Master intricacy and variety by experimenting with different folding techniques and cuts. Once you've created a flurry of unique snowflakes, attach them to the window panes using double-sided tape for an enchanting snowfall effect.
This not only creates a festive mood from the inside, but also enchants passersby with a homemade winter wonderland façade. Remember, no two snowflakes are alike, so each cut brings a special uniqueness to your display.
Window Stickers
Embrace the festive spirit with the simplicity of window stickers. These adhesive accents are an excellent option for renters or those seeking a non-permanent decoration. With a variety of designs from snowflakes to Santa Claus, they create a playful scene on any glass surface.
Choose stickers that complement your overall theme, whether it's a winter wonderland or a classic Christmas cheer.
Position them at varying heights to give the impression of falling snow or a dynamic display.
Layer different shapes and sizes to add depth to your visuals.
Combine with string lights behind the glass to illuminate your designs at night.
When the season ends, remove and store them with ease, ready for next year's festivities.
Selecting reusable window stickers allows for a budget-friendly option that you can enjoy year after year.
Christmas Ball Window Boxes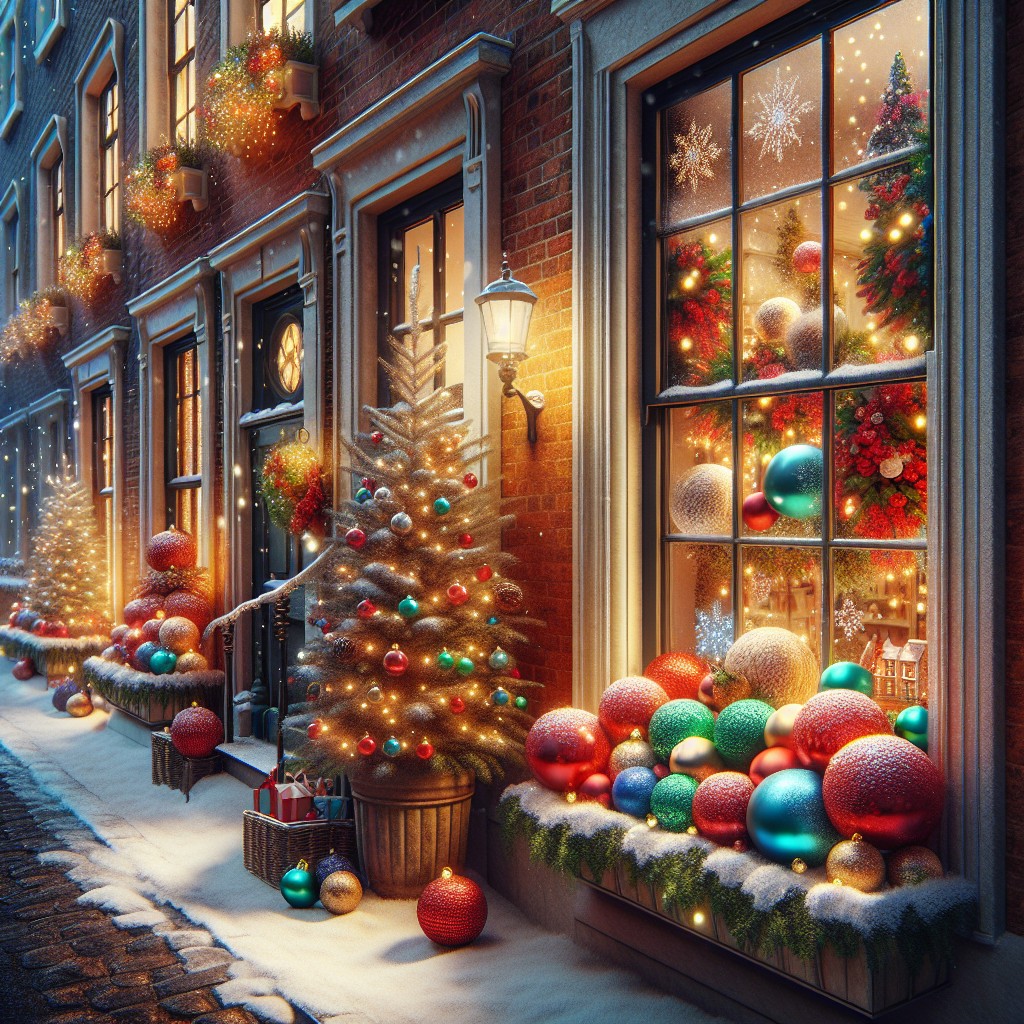 Transform a simple window box into a festive focal point using Christmas balls and greenery. Choose shatterproof ornaments in various sizes and colors for visual interest.
Position larger balls at the bottom and fill in gaps with smaller ones to create a full, layered look. Intersperse with sprigs of evergreen, holly, or eucalyptus for a natural touch.
Secure the decorations using floral wire to prevent them from shifting. This approach offers an eye-catching display from the inside out, adding a pop of holiday cheer to any view.
Hanging Window Ornaments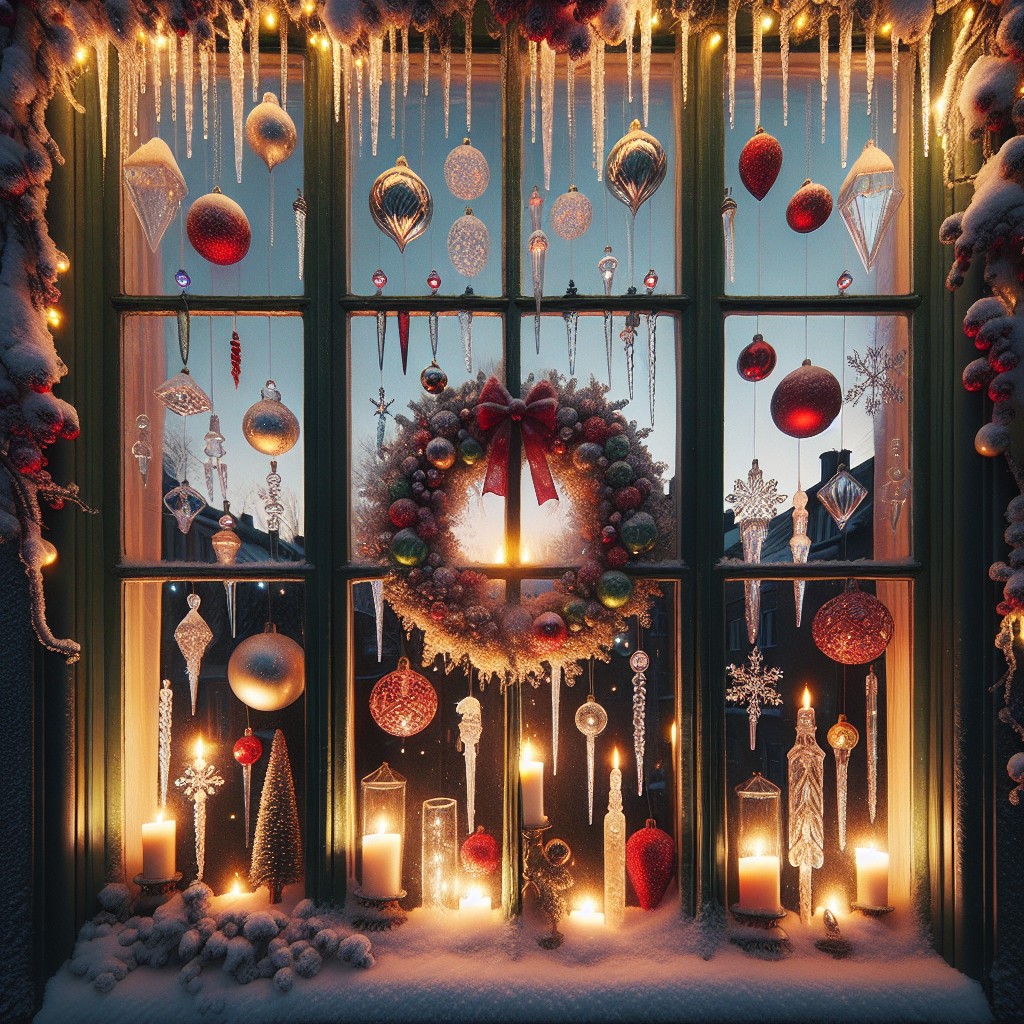 Transform your windows into a festive display by suspending ornaments at various heights. Use clear fishing line or ribbon to create the illusion of ornaments floating in the air.
Opt for shatterproof ornaments to avoid any accidents, especially if you have pets or young children. Choose a color scheme that complements your existing decor, such as classic reds and greens or a more modern palette like icy blues and silvers.
Space ornaments evenly to maintain a balanced look, and consider adding small adhesive hooks or suction cups to secure your decorations without causing damage to window frames.
To enhance the visual effect, mix in some twinkling fairy lights, ensuring they are safe for indoor use. Remember to check the view from outside to ensure your display looks great both inside and out.
DIY Ornament Garland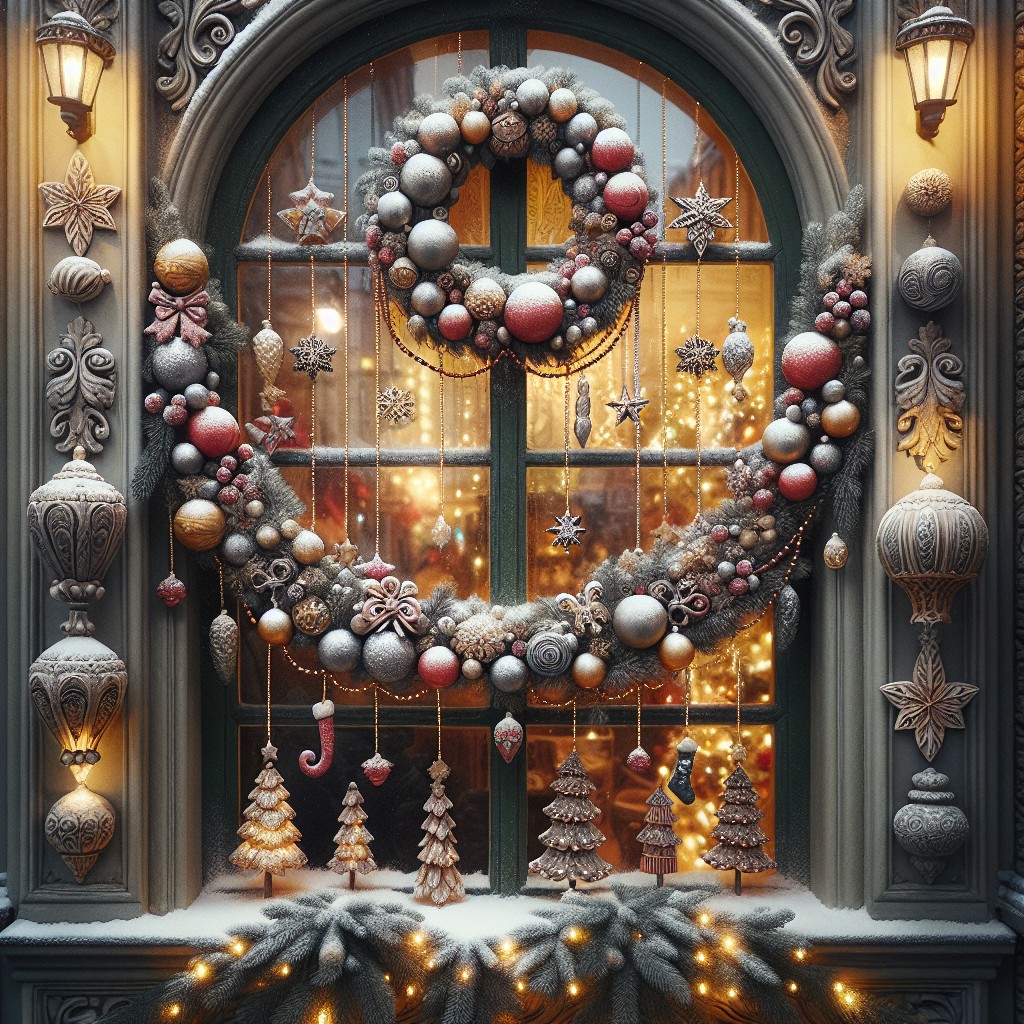 Transform your windows into a festive display with a homemade ornament garland. Gather an assortment of colorful baubles, various sizes adding visual interest. Opt for shatterproof ornaments for durability. Use a sturdy string or fishing line for a floating effect. Space ornaments evenly, securing them with knots or hot glue for fixed placement. Ensure the garland length matches the window width for a tailored look. Hang with removable adhesive hooks to protect your window frames. The finished garland adds a cheerful holiday touch visible both inside and out.
Modern Window Christmas Tree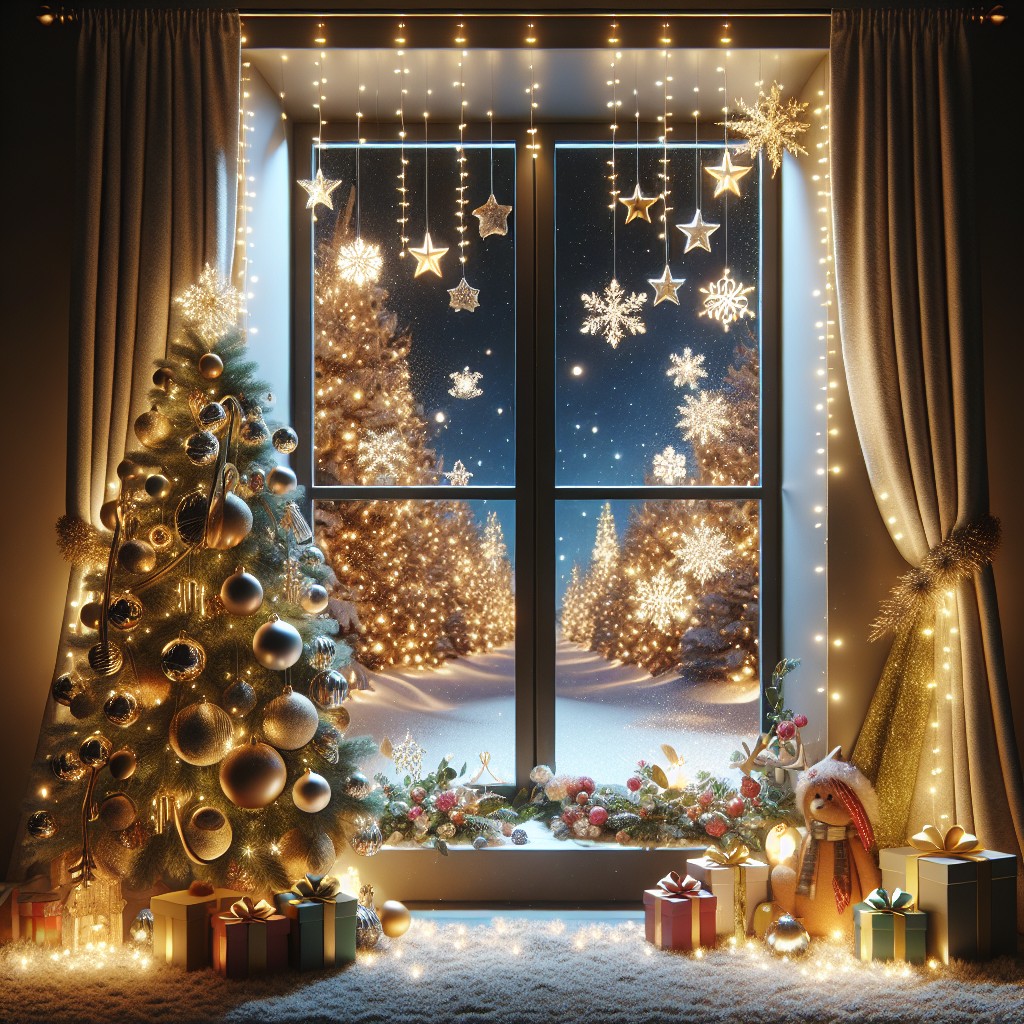 Create a sleek and contemporary display with a makeshift tree that fits neatly against your windowpane. Opt for a minimalist design using washi tape to outline a stylized tree directly on the glass.
Alternatively, arrange a series of progressively smaller floating shelves adorned with festive objects and string lights to mimic the tiers of a traditional Christmas tree.
Enhance the visual depth with small potted evergreens or clear glass ornaments that catch the light and create a sparkling effect.
For a finishing touch, anchor your creation at the base with neatly stacked presents or a few oversized pine cones.
This unexpected decor element keeps your sill uncluttered while maximizing the festive impact as seen from inside and outside your home.
Christmas Wreath Window Seat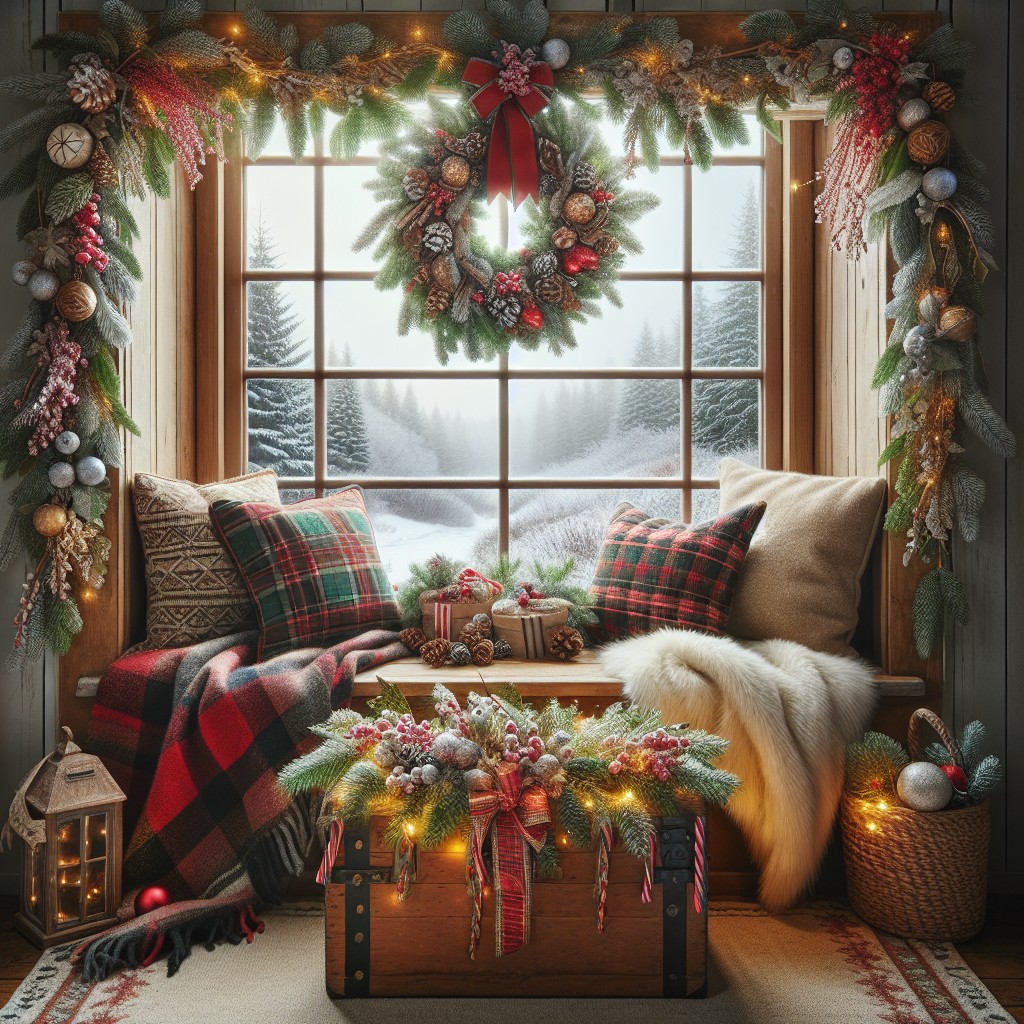 Enhance the coziness of your window seat by draping a lush Christmas wreath. Select a wreath with a diameter that complements the size of the window for aesthetic harmony.
Integrate string lights or battery-operated LED fairy lights to infuse a warm, inviting glow. If your window seat allows, anchor the wreath with clear fishing line or removable hooks to keep the view unobstructed and maintain the wreath's shape.
For a personalized touch, intersperse the greenery with family heirloom ornaments or hand-crafted decorations that reflect your home's color scheme or holiday theme. This approach sets the scene for a picturesque nook perfect for sipping cocoa or delving into your favorite winter read.
DIY Easy Laurel Leaf Wreaths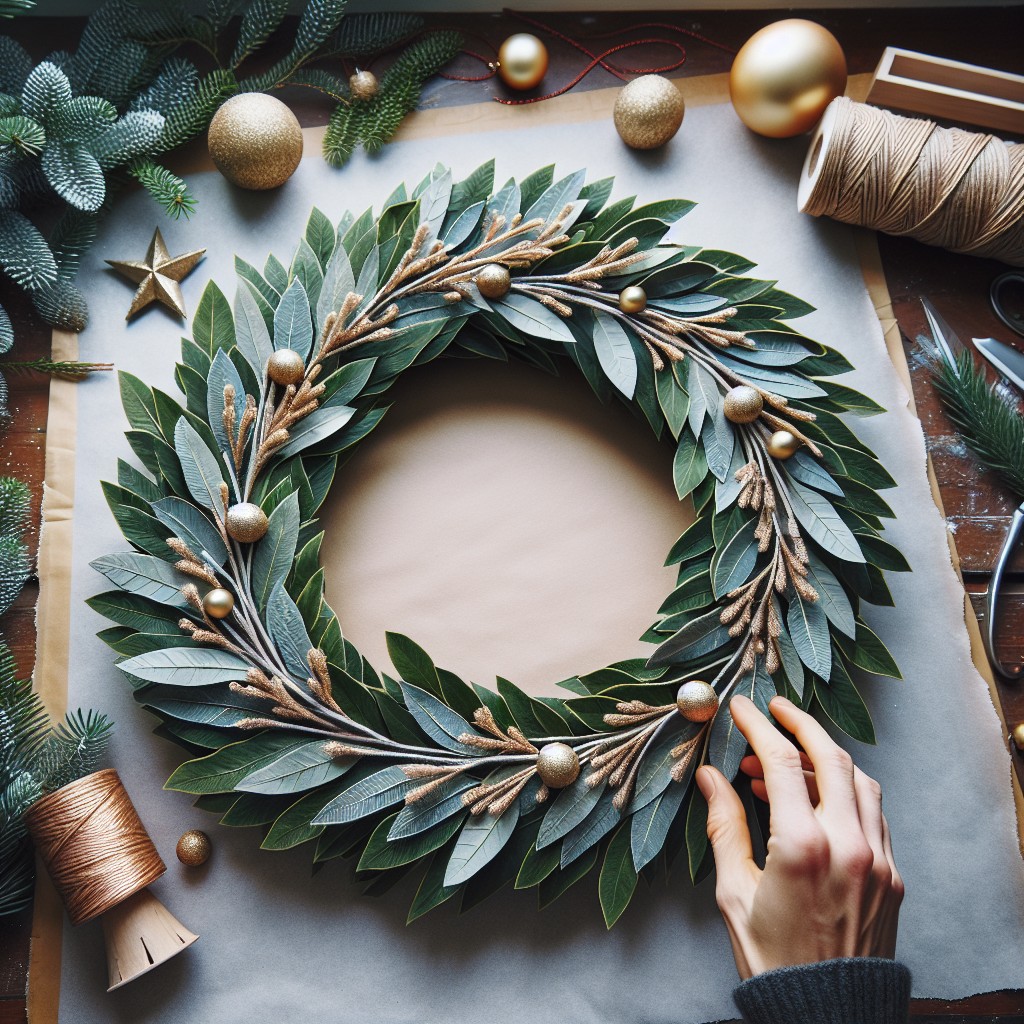 Crafting your own laurel leaf wreaths is a simple and elegant way to dress up your windows. Begin by gathering fresh or faux laurel leaves. For a fresh wreath that smells as good as it looks, source laurel from your garden or a local florist. If longevity is your goal, faux leaves from a craft store work just as well.
To form the wreath's base, use a wire frame or a circular form. Attach the leaves using floral wire, layering them to ensure full coverage and a lush appearance. Customize your wreath's size to fit your window perfectly; smaller for a delicate touch or larger for a statement piece.
Consider adding a festive ribbon or a string of twinkly lights to bring a warm, holiday feel to your laurel wreath. This versatile decor blends seamlessly with both traditional and modern aesthetics, making your window the perfect backdrop for holiday cheer.
DIY Green and White Winter Wonderland Display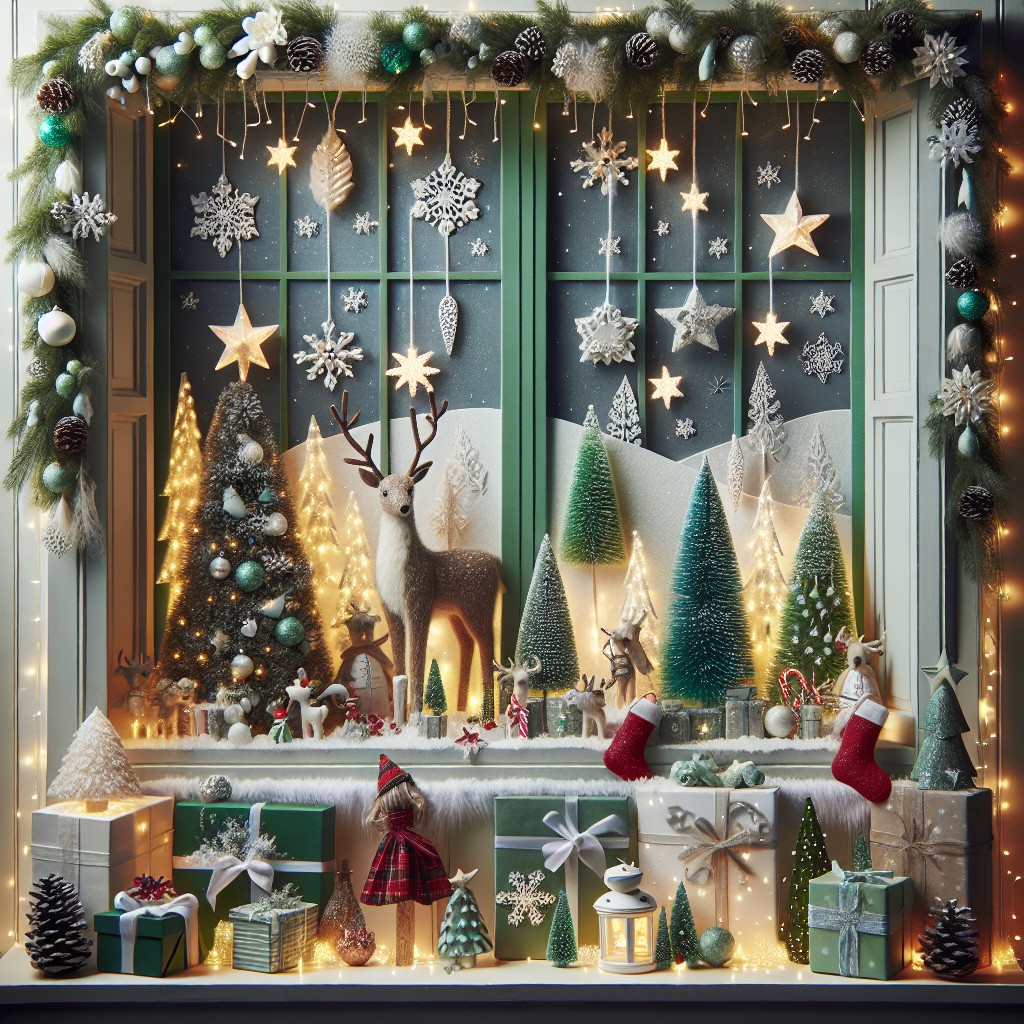 Transform your window into a serene winter scene with a green and white color scheme. This DIY decoration uses simple materials to create a festive, eye-catching display.
Start with gathering evergreen clippings—a mix of pine, spruce, or fir works well. Arrange these greens along the windowsill or hang them in a cascading fashion using clear fishing line for a floating effect.
Complement the greenery with white accents: cotton for snow, paper or fabric snowflakes, and white fairy lights to mimic the sparkle of frost. Incorporate various textures by adding white pompoms or feathers. To enhance the winter wonderland theme, upcycle old jars into snow globes with white glitter and miniature trees.
This setup not only captures the essence of the season but also serves as a beautiful backdrop for indoor activities. With the green and white color palette, you evoke the calm and tranquility of a snowy Christmas while maintaining a stylish and budget-friendly approach.
Flocked Wreath With DIY Wooden Sign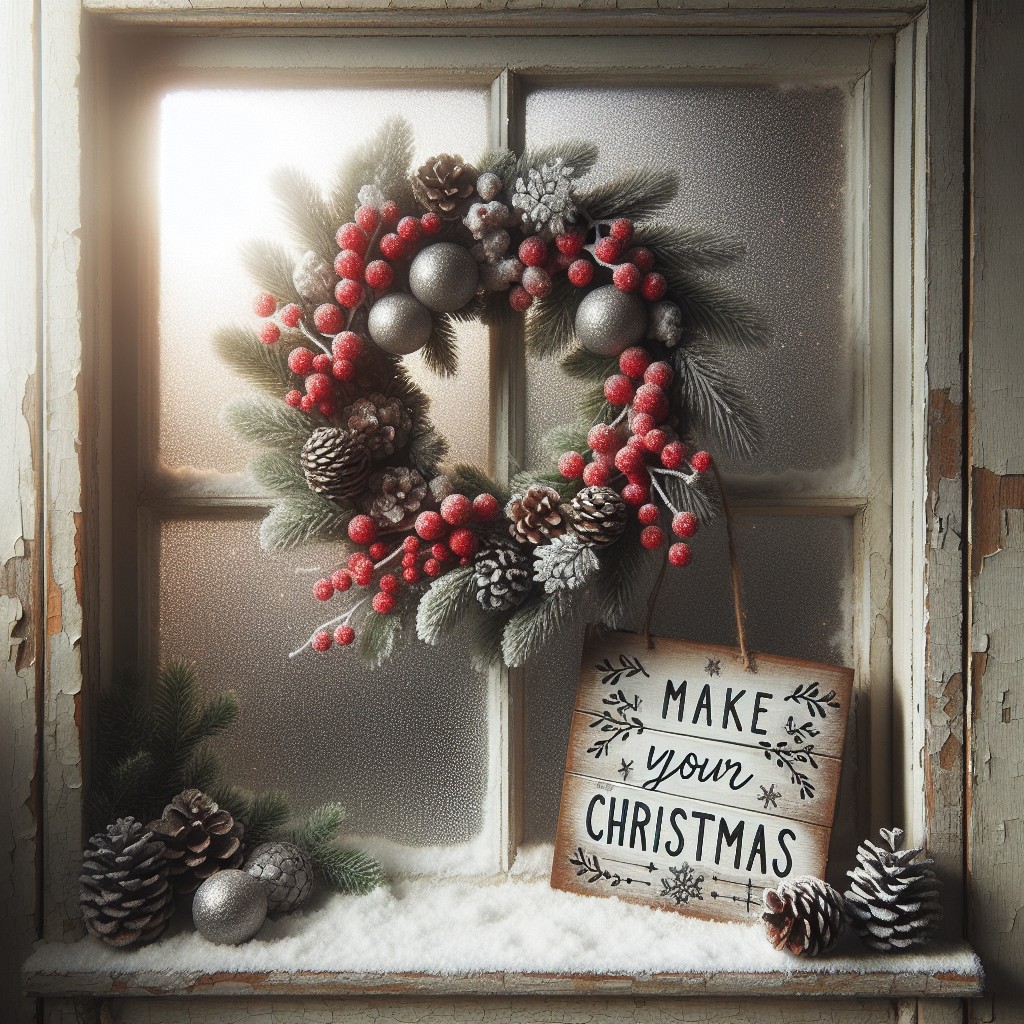 Transform a basic wreath into a snowy masterpiece by applying a flocking spray for that fresh-snow-fallen look. Once you've achieved the desired wintry effect, add a personal touch with a homemade wooden sign.
Here's what you'll need to get started:
Flocking spray: Available at most craft stores, it mimics the look of snow and is easy to apply.
Plain wreath: Choose one that complements your window size.
Wooden plaque: A simple plaque from a hobby store will do.
Paint or wood stain: Select a color that stands out against the flocking.
Letter stencils or a paint marker: For those who prefer a freehand approach.
Ribbon or fishing line: To attach the sign to your wreath securely.
First, cover the work area and apply the flocking spray to the wreath, following the manufacturer's instructions. Allow it to dry completely. In the meantime, you can work on the wooden sign. Stain or paint the plaque, let it dry, and then add your festive message with stencils or a paint pen. Once everything is dry, use ribbon or fishing line to fix the sign to your wreath, and hang it in the window. The contrast between the crisp, white flocking and the rustic charm of the wooden sign will create an eye-catching display.
DIY Dried Orange Garland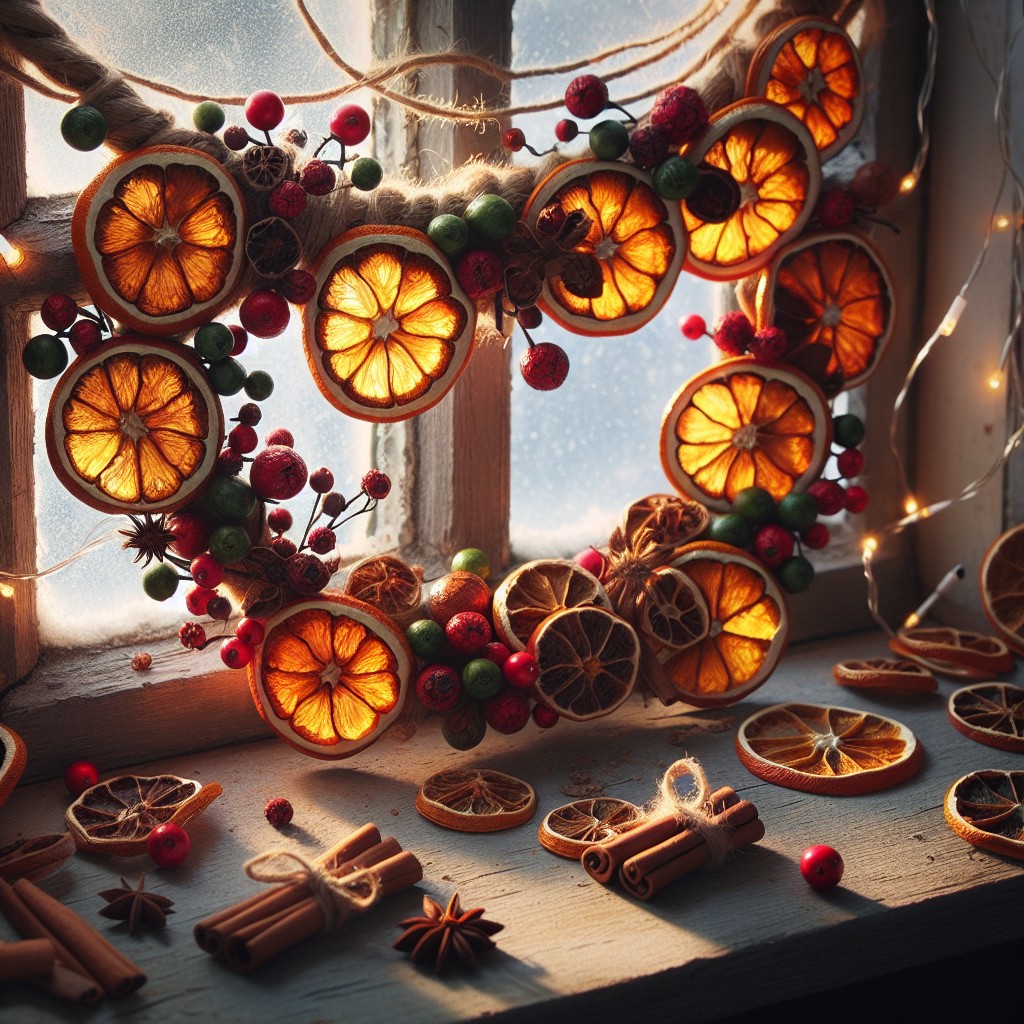 To craft a charming dried orange garland, begin by thinly slicing several oranges and baking them at a low temperature until they're completely dehydrated. This not only preserves their vibrant hue but also releases a subtle, refreshing citrus scent.
After the orange slices have cooled, thread a string or twine through the centers, spacing them out to your preference. For an added festive touch, intersperse the oranges with cinnamon sticks or bay leaves.
The versatility of this garland allows it to be draped across the window, intertwined with existing curtains, or hung as a standalone decoration. Not only is this project cost-effective, but it also adds a warm, natural element to your holiday decor.
DIY Large Wreath Hack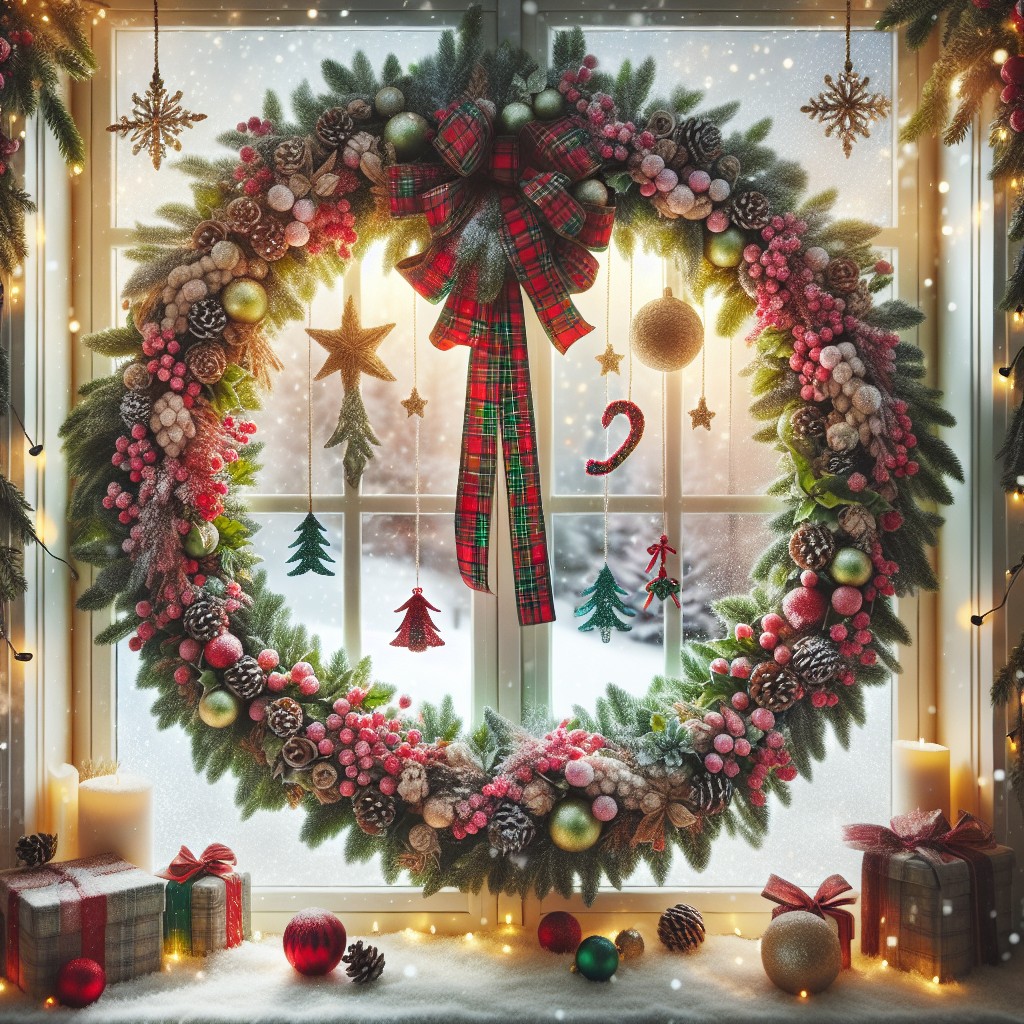 Transform a standard hula hoop into a grand holiday wreath for a fraction of store prices. Here's how:
1. Select a Hula Hoop: Choose a size suitable for your window.
2. Spray Paint: Coat the hoop with metallic or green spray paint to provide a festive base color.
3. Wrap with Greenery: Use faux evergreen garland or real branches to wrap around the hoop, securing it with floral wire.
4. Embellish: Add Christmas lights, baubles, and ribbons to enhance the wreath's holiday vibe.
5. Secure with Ribbon: Tie a thick ribbon on top for hanging and to add a decorative touch.
6. Hang with Care: Use either a suction cup hook or a small nail to secure your oversized wreath to your desired spot.
Remember, the charm is in the custom details. Adding pine cones, cinnamon sticks, or even a string of pearls can give your DIY wreath a personal flair.
DIY Festive Window Boxes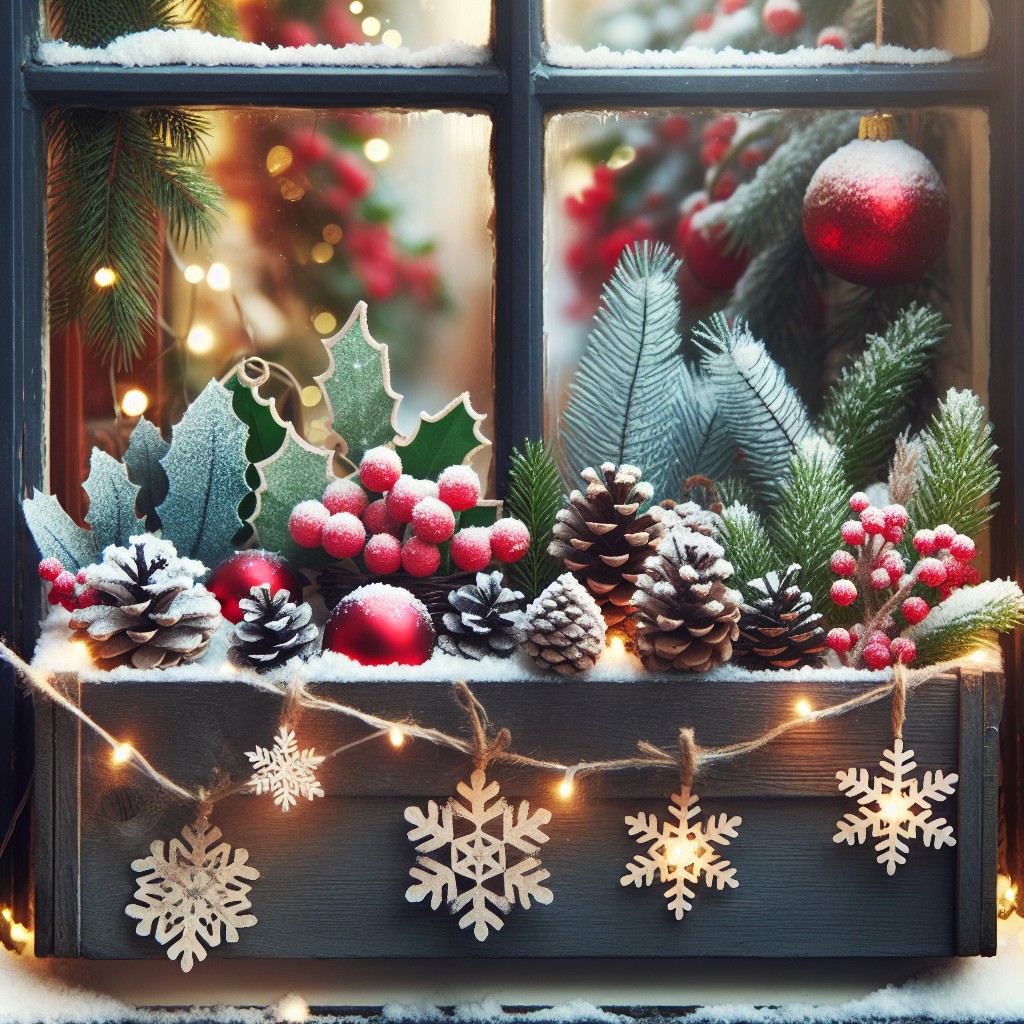 Transform an ordinary window box into a festive showcase with a few easy steps. Begin by lining the box with moisture-resistant materials to protect it from wintry conditions.
Choose a mix of evergreen branches, like spruce and holly, for long-lasting greenery that withstands the cold. Intertwine battery-operated LED lights amongst the branches to add a warm glow. Add pops of color with red berries or small ornaments.
For a finishing touch, include pinecones or cinnamon sticks for a natural look and a subtle holiday scent. This approach not only enhances curb appeal but also brings a sense of seasonal cheer to any window.
DIY Oversized Ornaments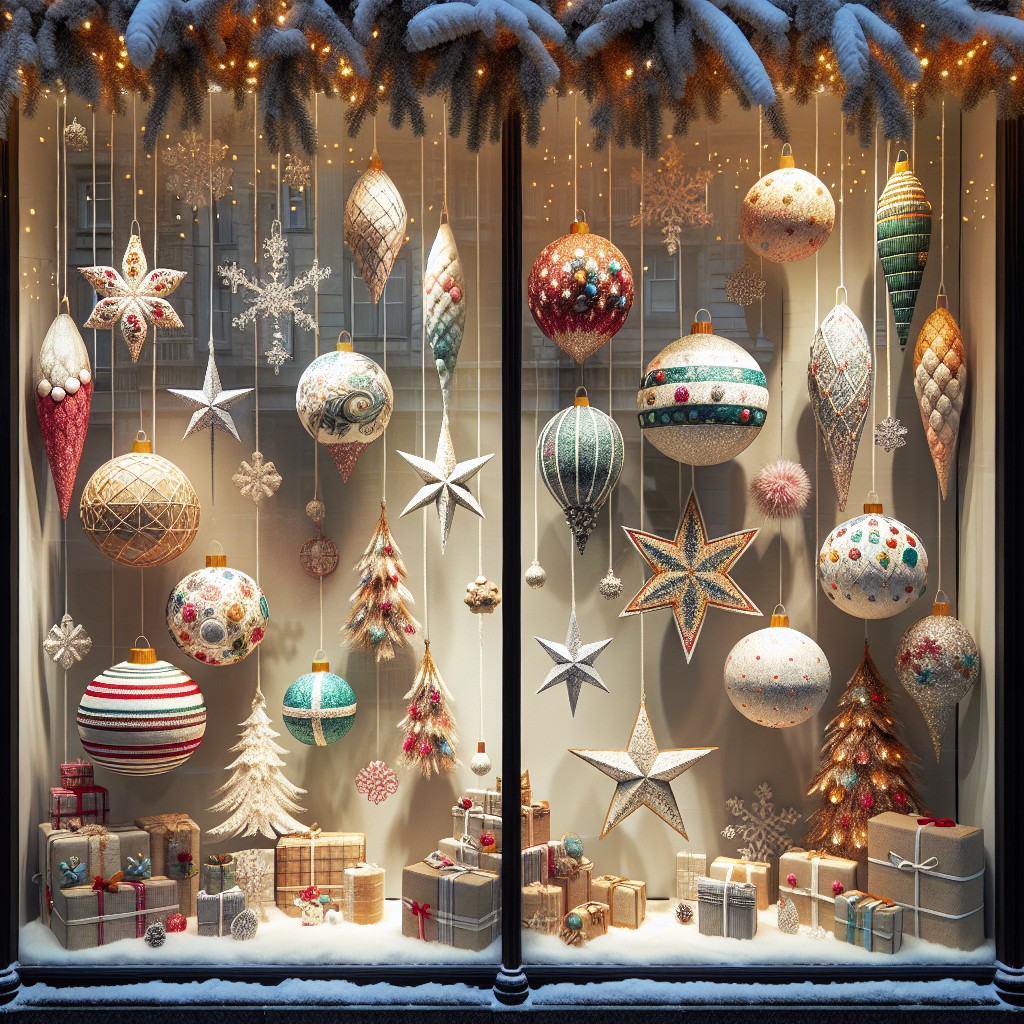 Transforming inexpensive items from your local craft store or repurposing materials from around the house, you can create eye-catching oversized ornaments. Start with large, lightweight balls such as children's play balls or papier-mâché spheres.
Use metallic spray paint for a mirror-like finish that catches the light and enhances the festive ambiance. To achieve the ornament caps, cut out pieces of metallic cardstock or repurpose foil baking cups and glue them to the top of your spheres.
To hang the decorations, attach loops of ribbon or heavy-duty fishing line securely to the caps.
For a textured variation, wrap spheres in chunky yarn or strips of festive fabric, securing them with hot glue. To add dimension, decorate with sequins, glitter, or artificial snow for a frosted effect.
These prominent features not only draw the eye but also create depth and interest on a larger scale. Suspended at varying heights in your window, these homemade ornaments offer a whimsical and personalized touch to your Christmas decor, dazzling both during the day and when backlit at night.
DIY Striped Ribbon Wreath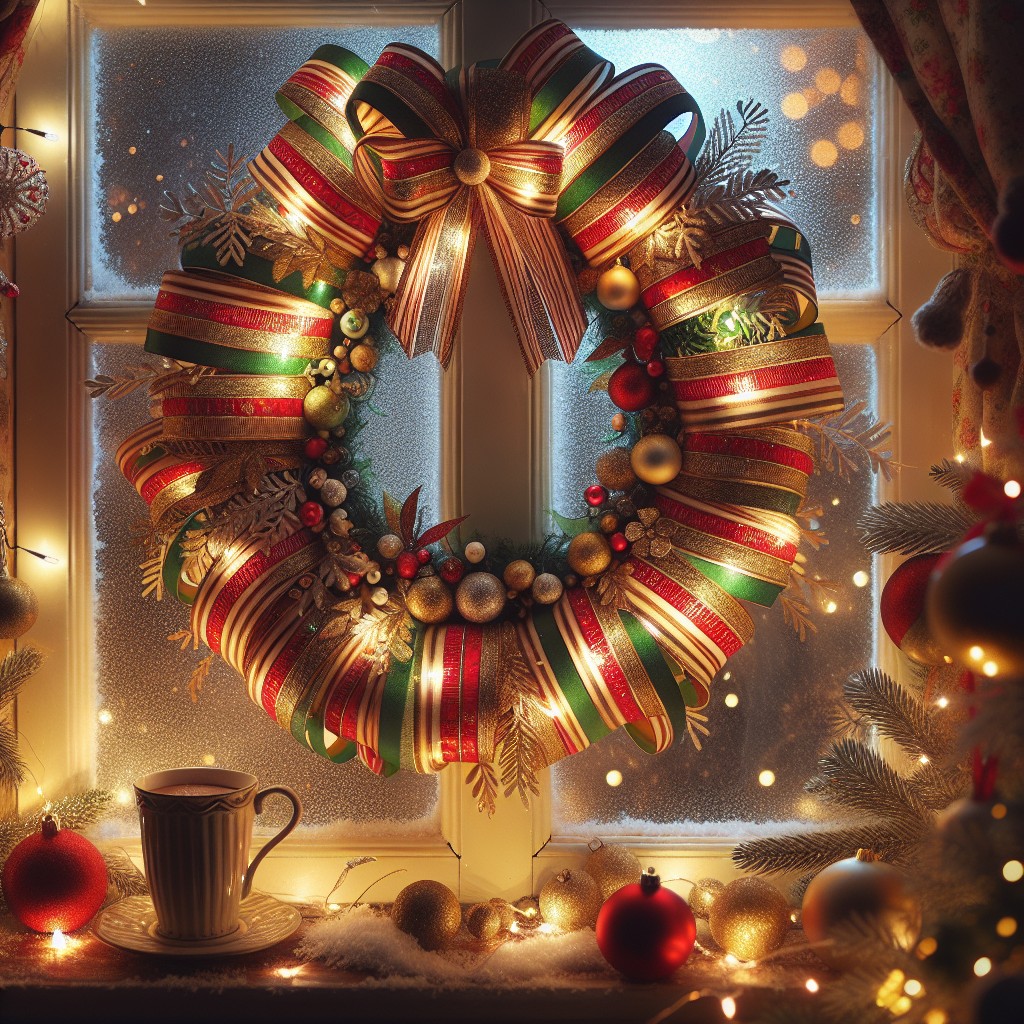 Creating a striped ribbon wreath is a chic and affordable way to dress up your windows for the holiday season. Begin with a foam wreath form as the base, which is readily available at craft stores. Choose ribbon in two or more colors to align with your Christmas theme; traditional red and white or a combination of metallics like gold and silver add a festive touch.
Wrap the first ribbon around the wreath form, ensuring each wrap is snug and overlaps slightly to prevent the form from showing through. Secure both ends with floral pins for a clean look. Next, take the second ribbon and wrap it in a similar fashion, but leave gaps to let the first color show through, creating a striped effect.
For added embellishment, hot glue small ornaments, pine cones, or bells at even intervals. Finally, attach a loop of ribbon to the top of the wreath for easy hanging. This simple yet elegant DIY can be customized to any size window and matches effortlessly with other decorations.
DIY Swedish Candle Wreath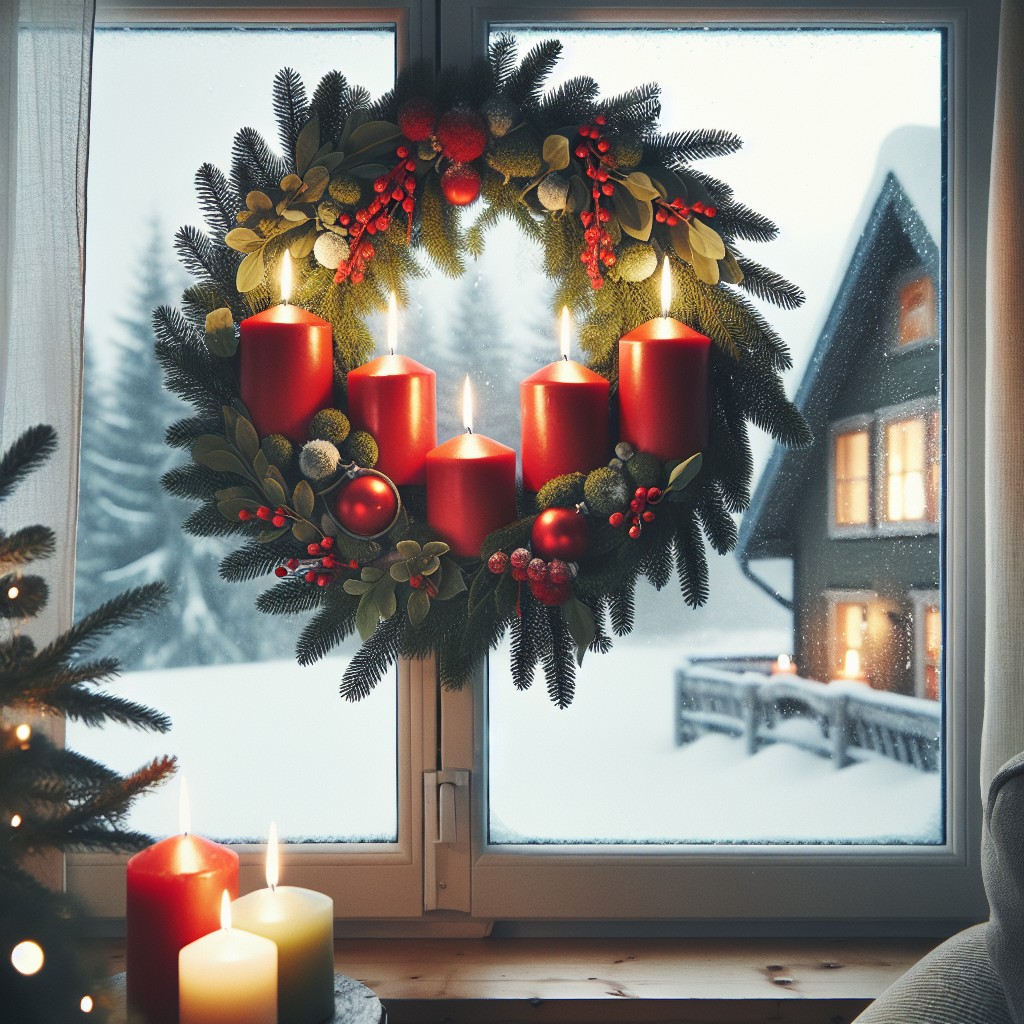 Create a warm, Scandinavian-inspired glow in your window with a DIY Swedish candle wreath. To craft this simple yet elegant decoration, you'll need a foam wreath base, greenery, battery-operated candles, and ribbon.
Start by wrapping the wreath base with ribbon for a neat background. Then, intertwine sprigs of evergreen, securing with floral wire to evoke the charm of a winter forest. Next strategically nestle the battery-operated candles into the greenery. Ensure they're spaced out for a balanced look and safe from potential flammable materials.
For a final touch of Nordic flair, add small accents such as red berries or minimalist ornaments. When viewed from outside, the soft candlelight provides a serene, inviting ambiance, reflecting the cozy spirit of the season. Hang your creation with a sturdy ribbon in front of the window to achieve an enchanting floating effect as the daylight fades.
DIY Little Snowflakes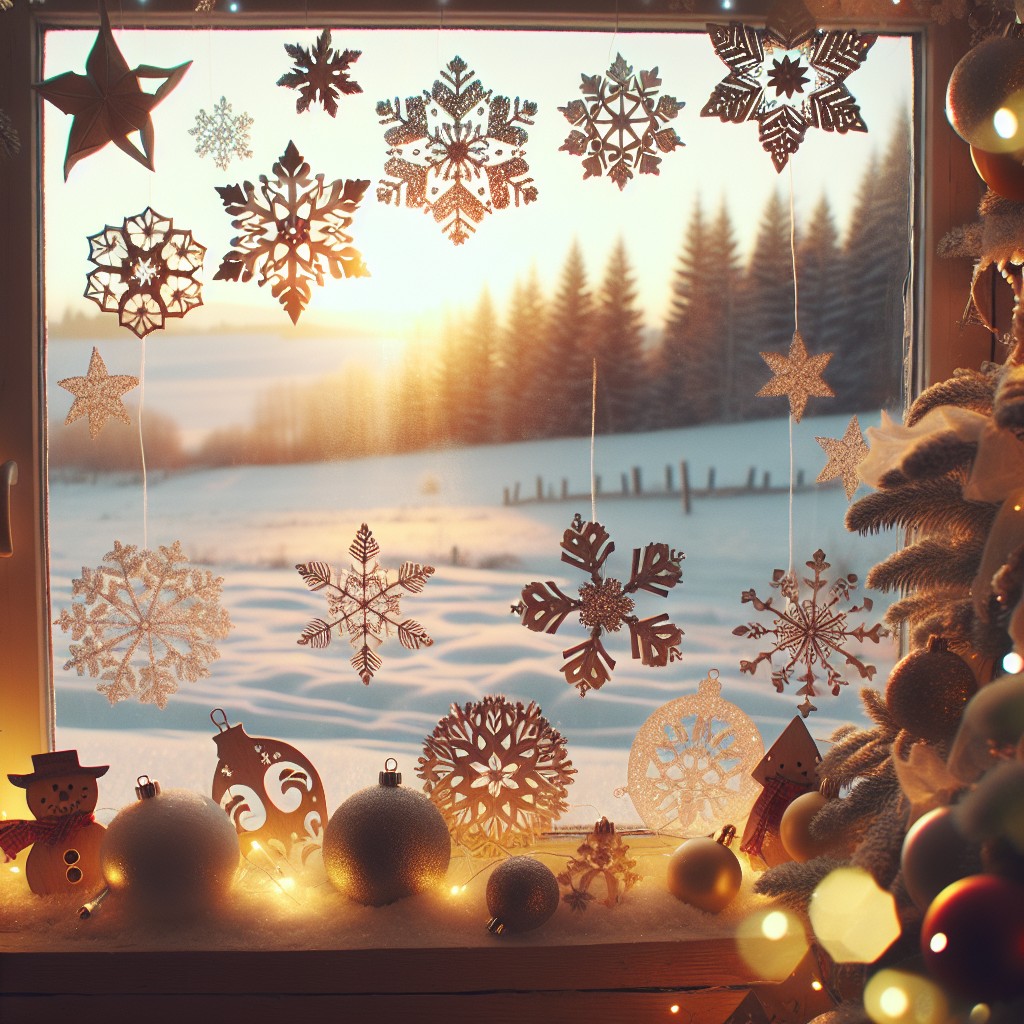 Transform your windows into a winter tableau with delicate paper snowflakes. This project is not only cost-effective but also a fun activity for all ages.
All you need is white paper, scissors, and string for hanging. First, fold the paper into a triangle and continue folding it into smaller triangles. Cut out patterns along the folds and edges to create intricate designs.
Unfold gently to reveal your unique snowflake. Attach a piece of string and use transparent tape to hang them at varying lengths. For added sparkle, a light dusting of glitter mimics the shimmer of real snow.
Consider layering multiple snowflakes or varying sizes for a dynamic effect.
DIY Magnolia Leaf Garland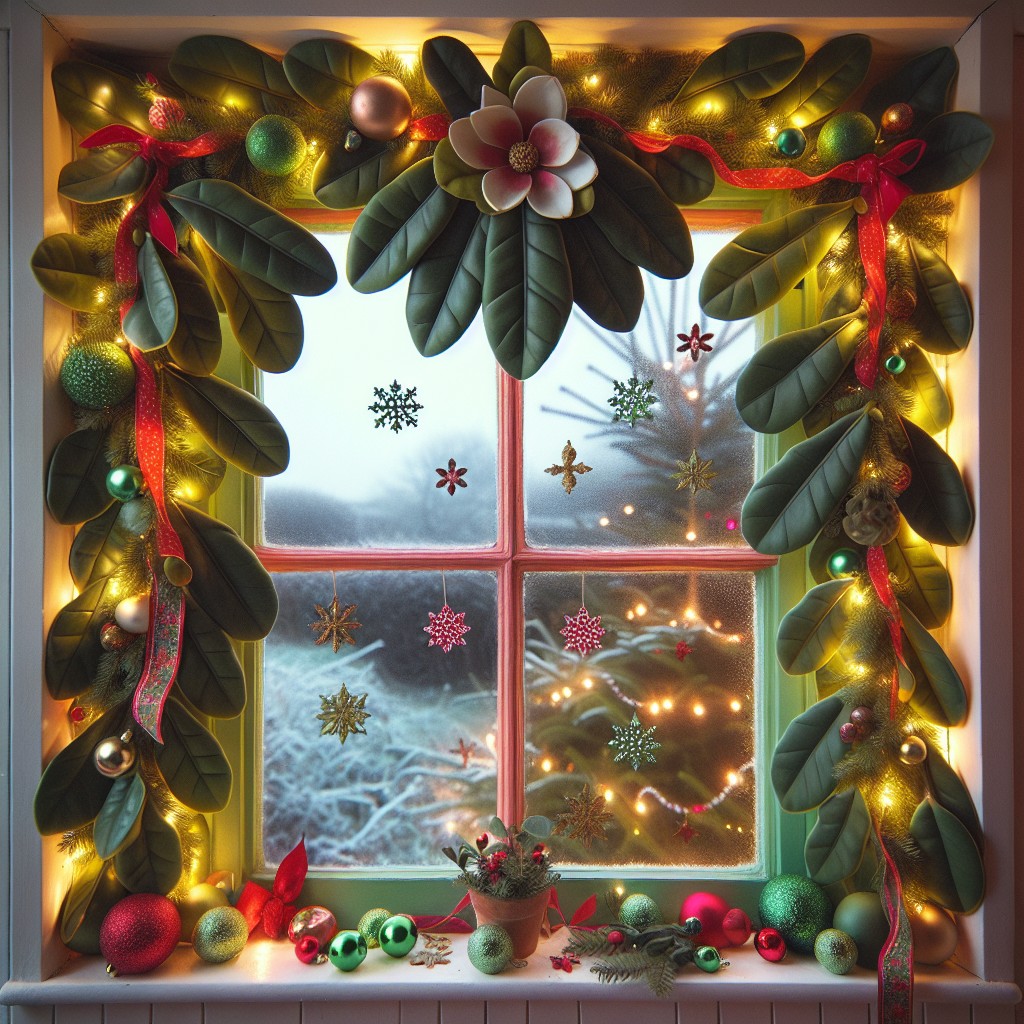 Creating a magnolia leaf garland is a stylish and natural way to bring festive elegance to your windows. To start, gather fresh magnolia leaves or purchase silk ones for a longer-lasting decoration.
Here are some key pointers to craft your garland:
Selection of Leaves: Choose leaves with deep green tops and rich, coppery undersides for a two-tone effect.
Wire Base: Use floral wire to form the base of your garland. This will ensure flexibility and durability as you shape it around your window frame.
Attaching Leaves: Start by attaching the larger leaves first with floral wire or hot glue, overlapping them for full coverage, and then layer smaller ones on top for depth.
Fullness: For a lush look, ensure that you add leaves until you achieve the desired fullness.
Accent Pieces: Intersperse the greenery with small ornaments, pine cones, or fairy lights to add a touch of sparkle.
Secure Placement: Use clear command hooks at the corners of your window frame to hold the garland in place without damaging the walls.
Maintenance: If using fresh leaves, mist them occasionally to keep them vibrant throughout the holiday season.
By following these guidelines, your handcrafted magnolia leaf garland will frame your windows with a festive, Southern charm that's both elegant and budget-friendly.
DIY Christmas Wreath Trio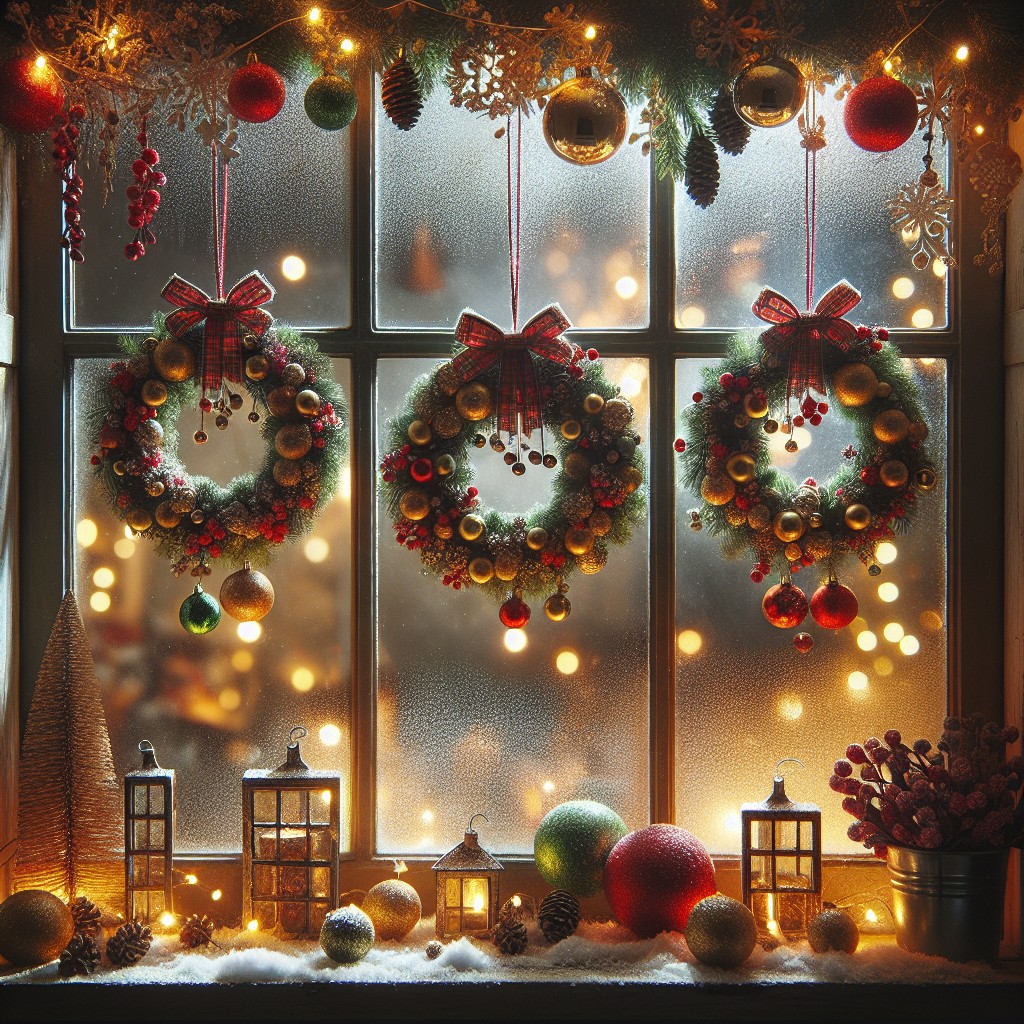 Creating a trio of wreaths offers visual harmony and interest to your window decor during the festive season. Harness the power of threes for rhythm and emphasis in your display:
1. Selection of Sizes: Choose three wreaths of varying sizes for a dynamic but cohesive look. This staggering breaks monotony and draws the eye across the entire window.
2. Harmonious Styling: Unify the wreaths with a consistent decorative theme – whether it's the same type of greenery, color ribbons, or a pattern of lights. This helps to create a harmonious appearance.
3. Strategic Placement: Space the wreaths equidistantly and align them at the same height across the window for a balanced tableau. This arrangement offers a pleasing sense of order.
4. Secure Attachment: Use clear fishing line or suction cup hooks to hang the wreaths securely and discreetly. This keeps the focus on your beautiful designs, not on how they're attached.
By following these tips, your window will exhibit a festive flair that's both stylish and easy to achieve.
Vintage Christmas Kugel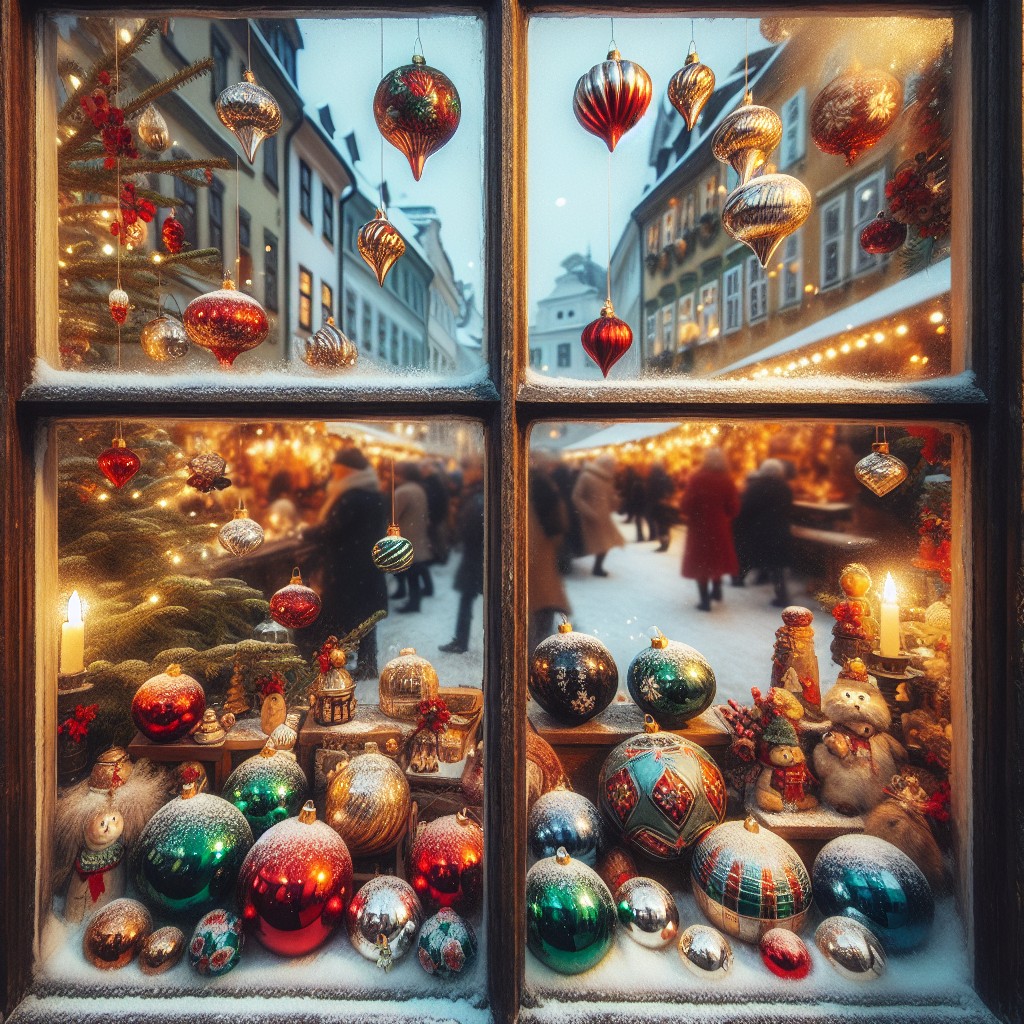 To infuse nostalgia into your Christmas window decor, incorporating vintage Kugels is a charming option. These heavy glass ornaments, originating from Germany in the mid-1800s, come in a variety of colors and sizes, perfect for catching the light and adding a warm, traditional feel to your display.
When selecting Kugels, look for rich, deep colors and original brass caps to ensure authenticity. You can hang them at varying heights with ribbon or fishing line for an eclectic touch. Cluster them together for a dramatic effect or space them out to create a subtler, elegant look. Mixing them with newer, yet traditional ornaments can create a timeless display that bridges past and present. Remember to place them near window panes where they can reflect both indoor lighting and winter's natural light for a cozy seasonal ambiance.
Pop of Silver
Incorporate touches of silver to deliver a dash of sophistication to your decor.
Utilize silver tinsel, delicate wire ribbons, or shimmering ornaments.
Strategically place them around your window to catch and reflect the light, creating a sparkling effect both day and night.
Combine with frosted glass decals for a chic, wintry vibe.
Keep balance in mind; a little silver goes a long way in creating that magical holiday sparkle.
Simple Wreaths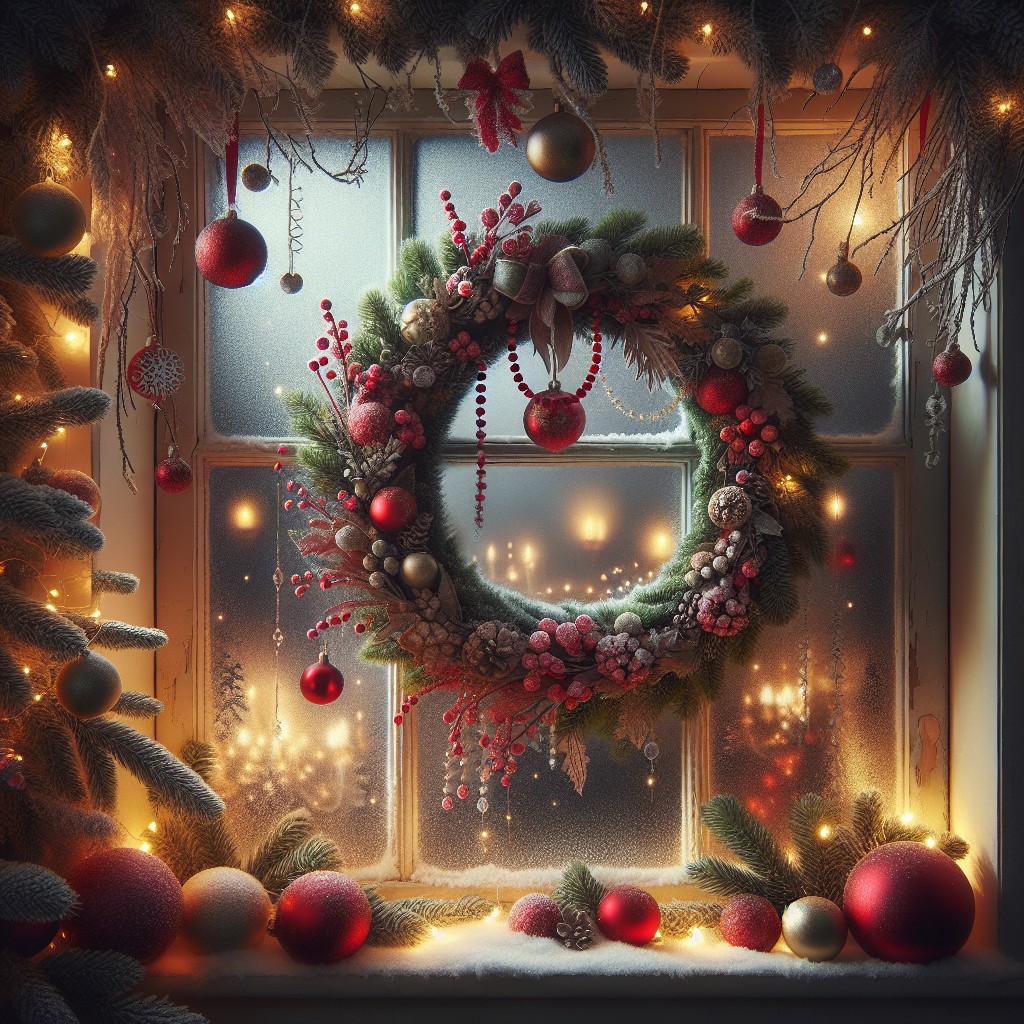 Harness the elegance of evergreen circles by adorning your windows with simple wreaths. These understated decorations bring a touch of seasonal charm without overwhelming your space.
Use fishing line or suction cup hooks for a floating effect that integrates seamlessly with the glass. For versatility, consider bare wreaths that you can embellish with a string of fairy lights or a tasteful ribbon bow to match your overall color scheme.
If you're eco-conscious, opt for a reusable faux option or craft your wreath from sustainable materials. These wreaths can be uniform in size for cohesion or varied to create visual interest. Remember, the key is in the simplicity, letting the natural beauty of the wreath speak for itself.
Mismatched Candles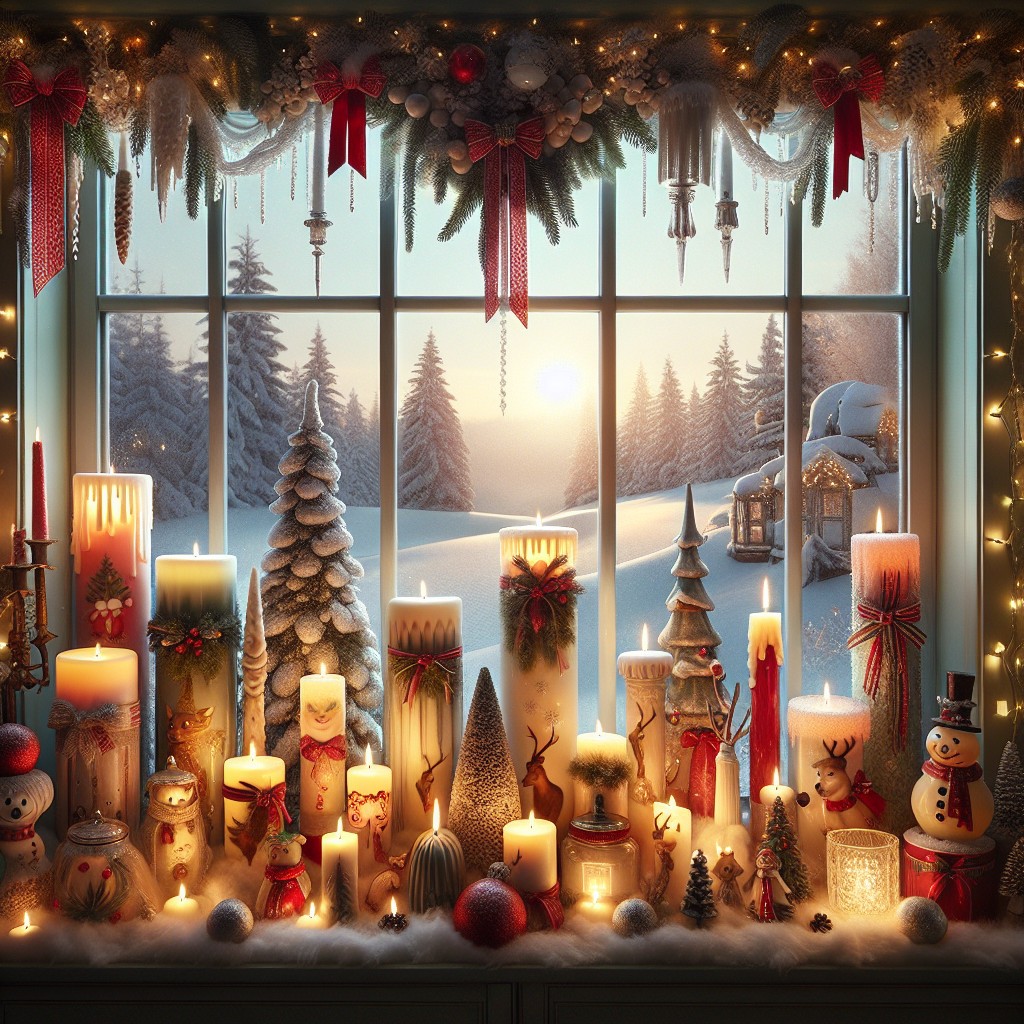 Create an eclectic ambiance with a collection of candles you already have at home. Opt for candles of varying heights, colors, and thicknesses to add depth to your windowsill display.
Arrange them in groups, allowing some space in between to create a visually striking arrangement. To enhance safety and prevent any fire hazard, consider using LED candles as an alternative to traditional ones.
Playing with the mismatched look not only saves money but also gives you the freedom to blend different styles and eras for a unique and cozy winter vibe. Use stable holders or candlesticks to secure them safely on the sill, remembering to keep them away from any flammable materials.
Draped Garland With Bow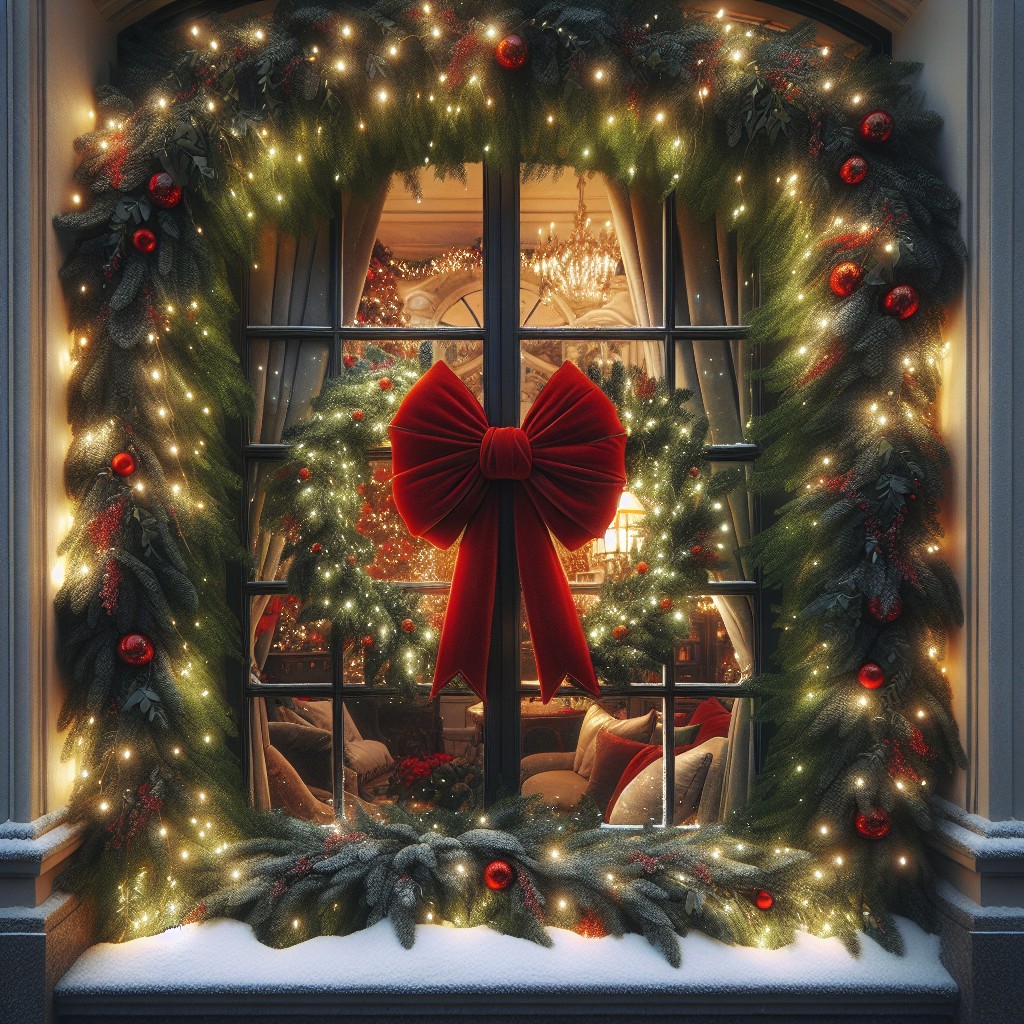 Transform your windows into a festive focal point by elegantly draping garland across the top. For an added touch of holiday cheer, incorporate a bow in the center or at each end of the garland.
Choose a ribbon that complements your existing décor—velvet for a luxurious look or burlap for a rustic feel. To ensure a secure display, use removable adhesive hooks placed strategically along the window frame. These hooks should be clear or match the paint to blend seamlessly.
The garland itself can be fresh evergreens for a natural scent or faux for easy maintenance. Remember to fluff the branches for a fuller, more natural appearance. The best bows are ones that maintain their shape, so opt for wired ribbon. Fold the ribbon back and forth to create loops, twist wire around the center and fluff out the loops to finish your bow.
This timeless decoration adds charm and elevates your holiday decor with minimal effort and cost.
Entryway Wreath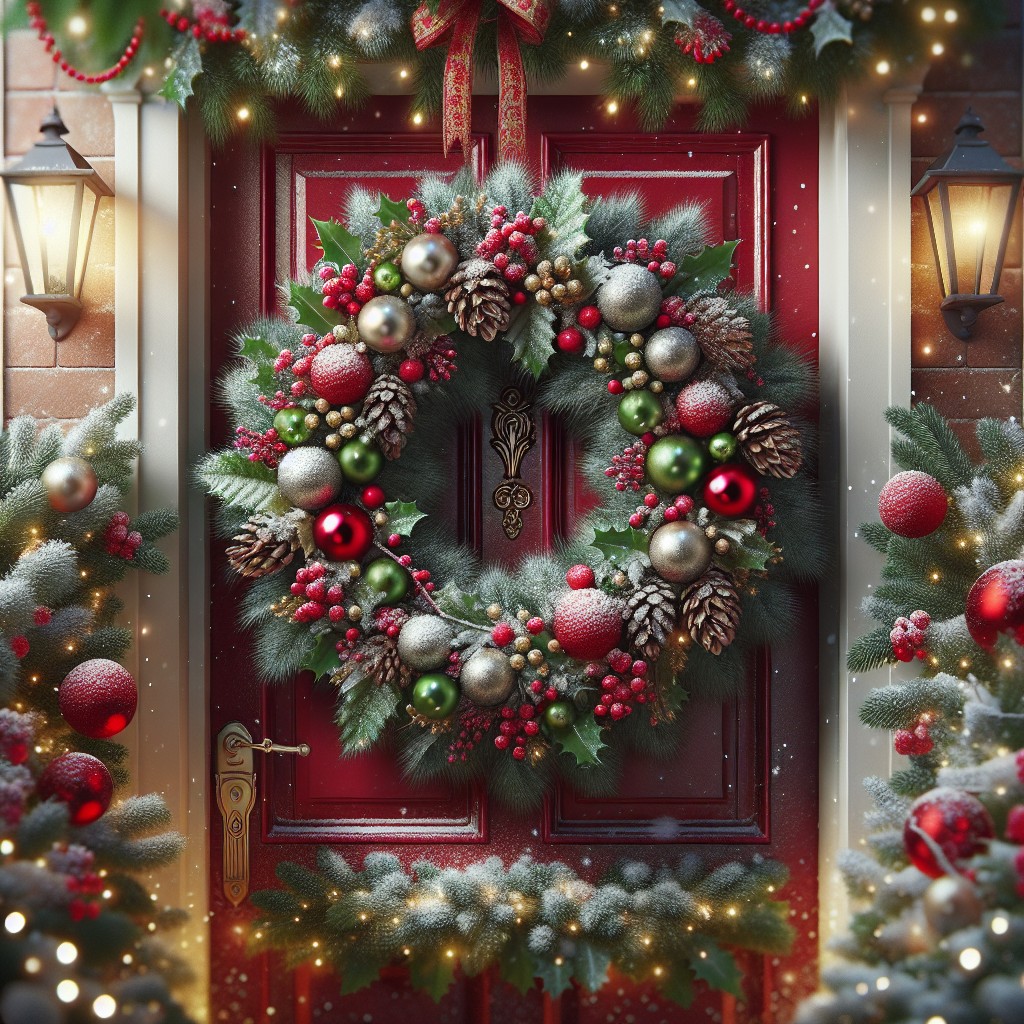 Transform your home's entrance into a festive portal with a lush, eye-catching wreath. Opt for classic evergreens for a traditional touch or experiment with unconventional materials like burlap, ornaments, or even upcycled materials to make a statement.
Incorporate twinkling lights to brighten up nighttime arrivals, welcoming guests with a warm and cheerful glow. Adjustable wreath hangers make it easy to display your creation without damaging the door, and they blend seamlessly with any decor.
Personalize your wreath with a monogrammed initial or a festive holiday ribbon to add a unique twist that reflects your personal style. Remember, the entryway sets the holiday mood for your entire home, so choose a wreath that represents the spirit of your Christmas celebrations.
Graceful Evergreen Garland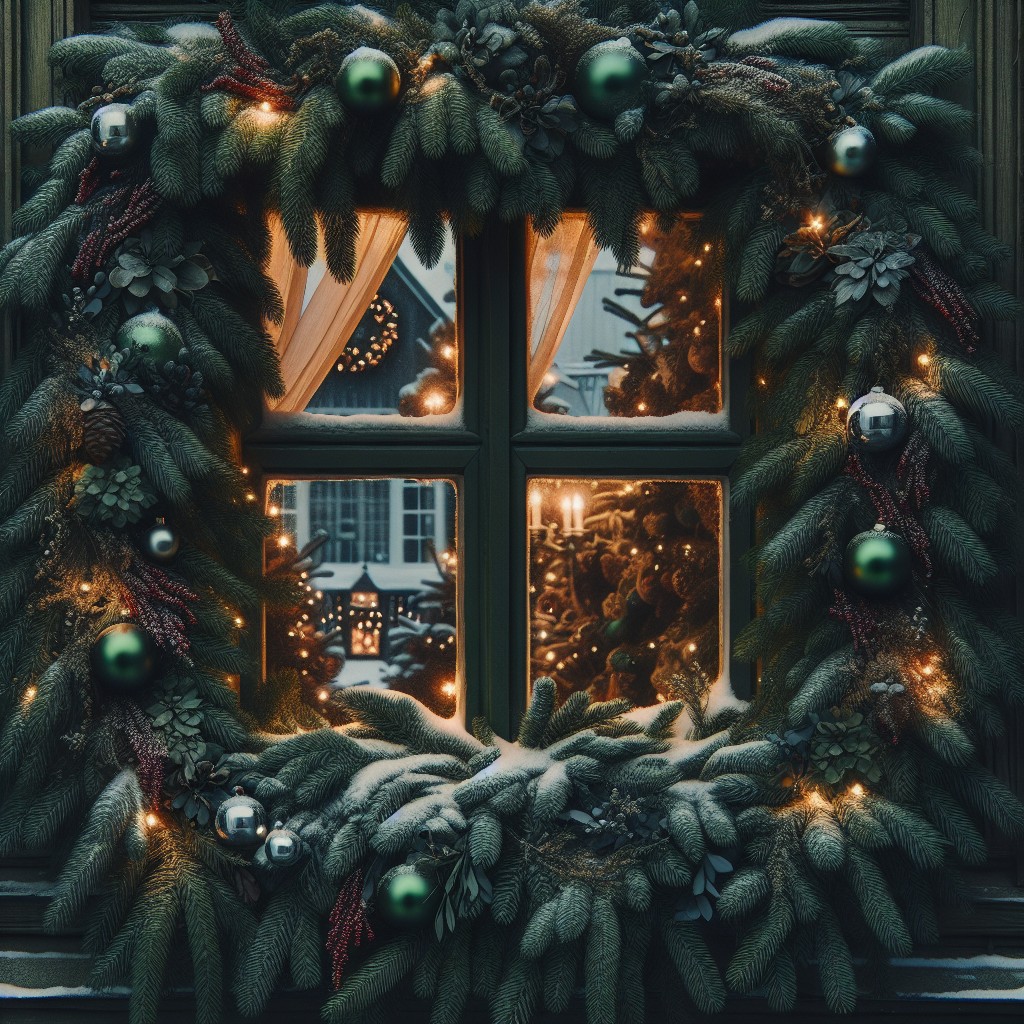 Transform your windows into a festive showcase with a graceful evergreen garland. Select fresh or faux greenery such as pine or fir for a natural touch.
Drape or twist the garland to frame the window, securing it with clear adhesive hooks or suction cup hooks for an unobtrusive hold.
Intersperse the greenery with soft white lights to imbue a cozy, warm glow that illuminates the room.
For additional flair, tuck in some red berries or small pinecones.
This simple addition brings a classic holiday charm to your space, making it a focal point that can be admired both inside and out.
Remember to keep the garland lush but not too heavy to ensure it stays in place throughout the season.
Winter Wonderland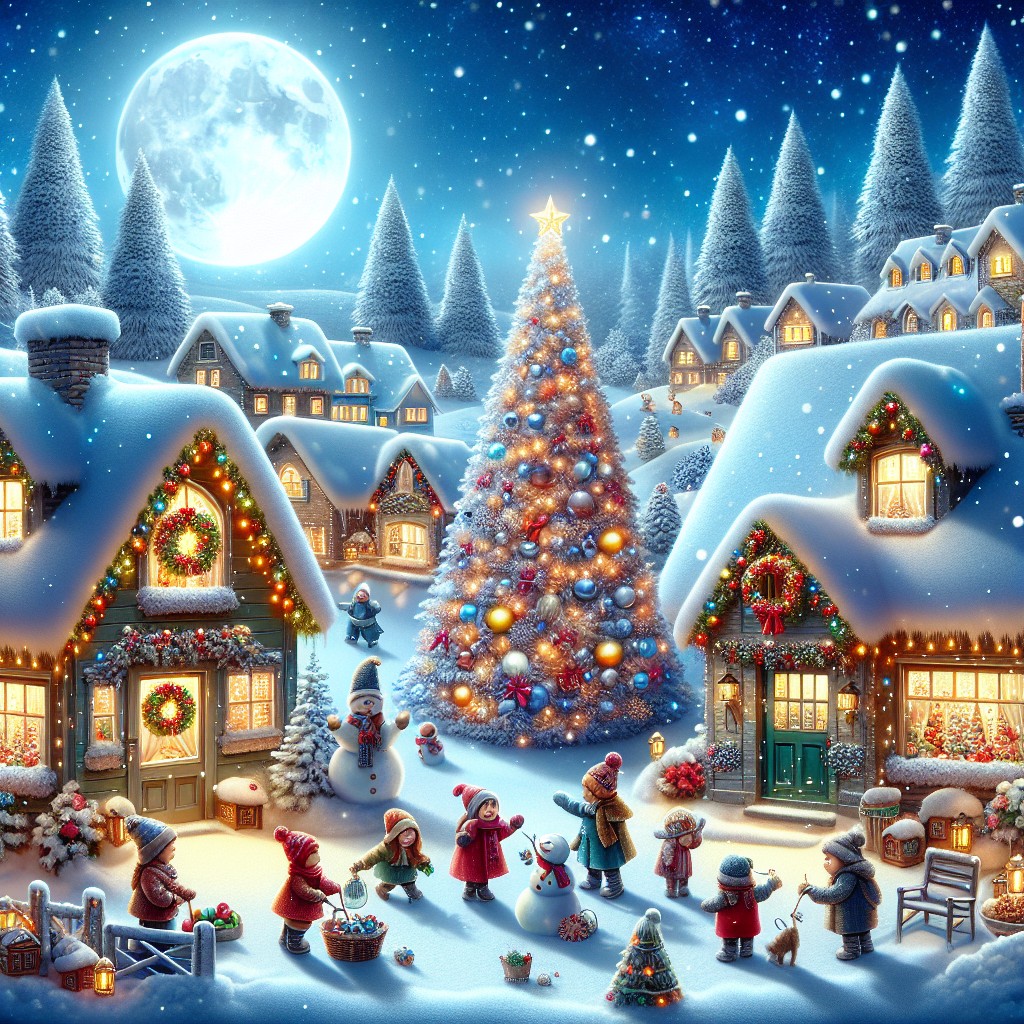 Transform your window into a frosted fairy tale with a Winter Wonderland theme. Here's how to capture the enchantment:
1. Icicle Hangings: Create the illusion of icicles with clear fishing line and cut-out paper or foil shapes; vary the lengths for a natural look.
2. Snow Spray: Use artificial snow spray on window panes for a frosted effect. Stencil on delicate snowflakes or frost patterns for added charm.
3. Twinkling Lights: String up white or blue LED lights across the window's perimeter to mimic the gentle sparkle of a snowy night.
4. Faux Snow: Lay cotton batting along the windowsill, sprinkled with glitter to resemble freshly fallen snow sparkling in the moonlight.
5. Woodland Creatures: Incorporate small, white animal figurines such as owls, deer, or bears to give life to your scene.
Remember, less is more; a few well-placed details can bring your wintery dream to life without overwhelming the space.
Merry Minimalism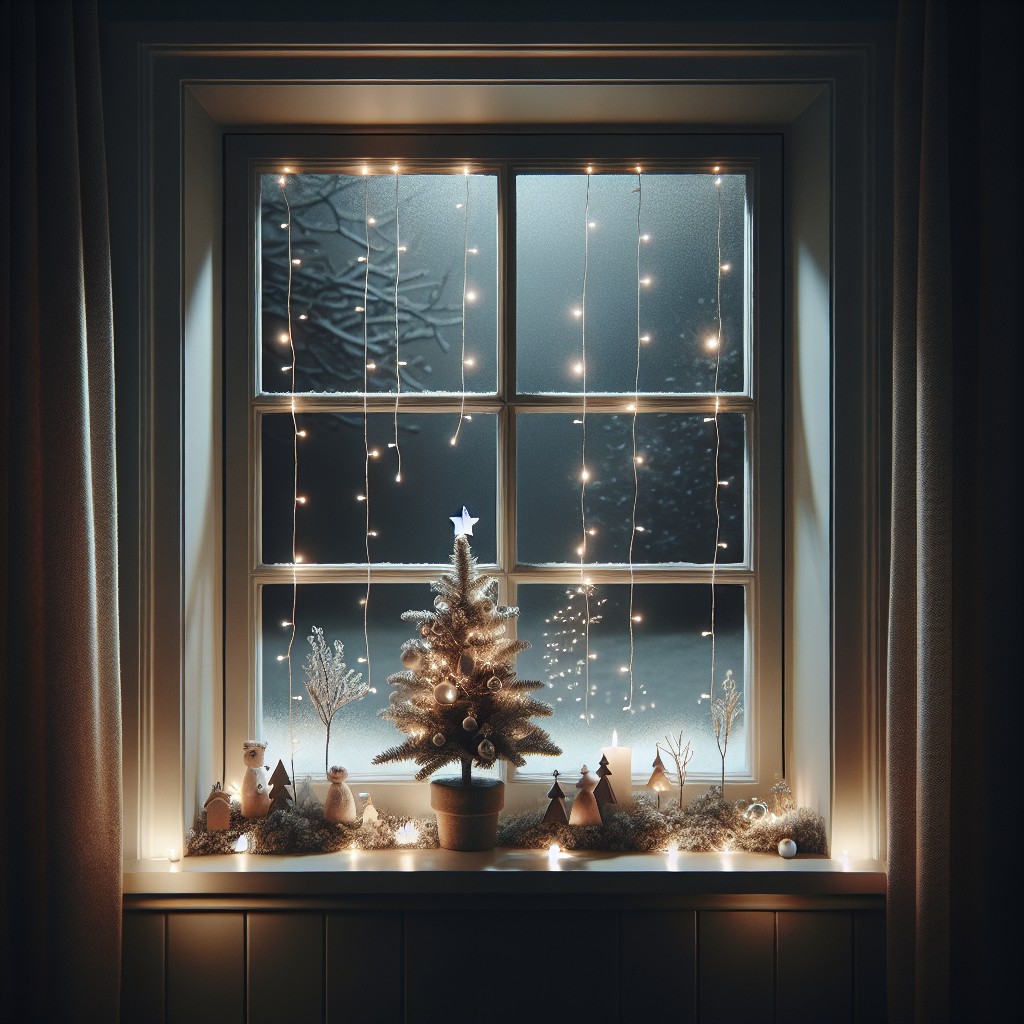 Embrace a less-is-more approach by focusing on the clean lines and simplicity of your decorations. Choose a restrained color palette—think whites, silvers, and golds—to maintain a serene atmosphere.
Select a few high-impact pieces, like a single string of white lights framing the window or a minimalist scandi-inspired star hanging at its center. Add subtle warmth with a delicate strand of LED fairy lights nestled on the windowsill or a small potted evergreen.
Remember, the key is to create a space that feels peaceful and uncluttered, allowing the beauty of each individual element to shine through.
Availability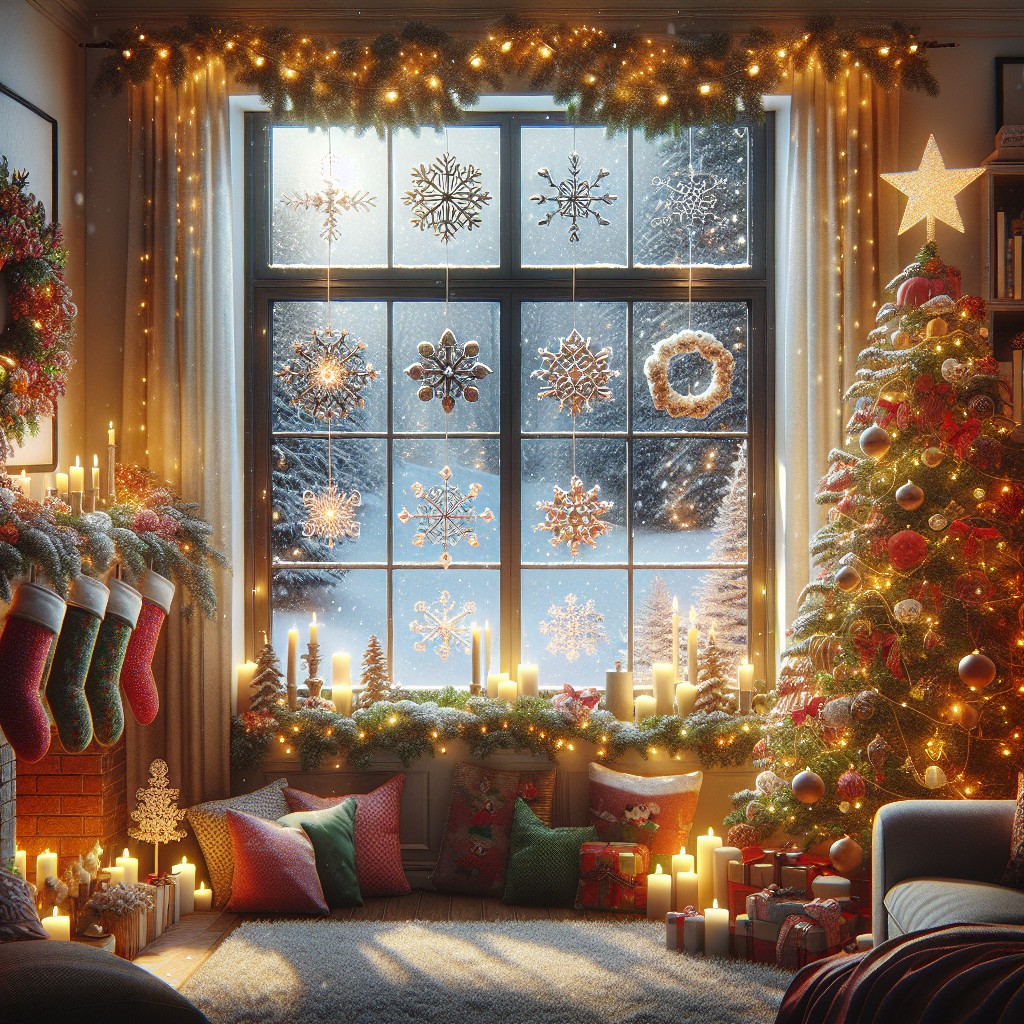 Finding materials for your festive window decorations can be a breeze with a little creativity. Look beyond specialty stores; many craft essentials are available at dollar stores, thrift shops, or even in your own backyard.
For paper snowflakes, printer paper or old book pages are perfect, while branches and greenery for DIY wreaths can often be foraged or purchased at local markets.
Seasonal window stickers, a variety of ornaments, and ribbon can be found at discount retailers, providing a cost-efficient way to add holiday sparkle.
Remember to check online marketplaces for second-hand items that can be upcycled into unique decorations.
With a resourceful mindset, you'll discover that the materials needed for a festive and inviting Christmas window display are readily accessible.
Price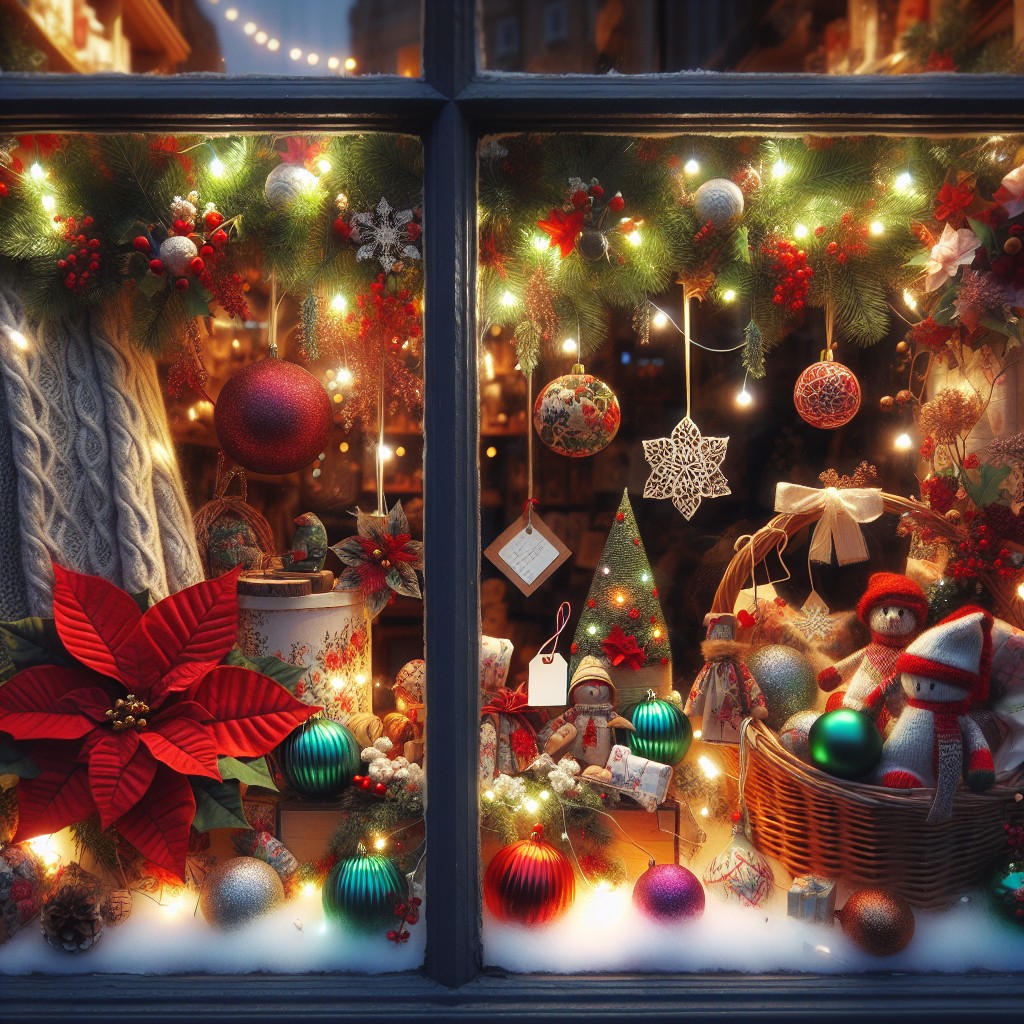 Creating a festive atmosphere doesn't require emptying your wallet. Consider these cost-effective tips for dressing up your windows:
Repurpose materials: Look around your home for paper, fabric, and old decorations that can be transformed into holiday displays.
Dollar stores and thrift shops: These are treasure troves for affordable craft supplies and vintage finds.
DIY projects: Crafting your decorations, like paper snowflakes or hand-painted ornaments, can be a fun, inexpensive activity.
After-season sales: Buy decorations after the holidays at significantly reduced prices and save them for the next year.
Focus on impact: Choose one or two window decorations to make a statement rather than cluttering the space with multiple items.
FAQ
How can I decorate my window for Christmas?
For a festive window decoration, line the interior with twinkling lights, then supplement the sparkle with a couple of seasonal wreaths—a traditional green one and another made from vibrant red berries.
How to draw on windows for Christmas?
To decorate windows for Christmas, you can use holiday-themed paper stencils, artificial snow, or painters' tape to create various festive designs directly on the window surface.
How do you dress a window sill for Christmas?
To dress a window sill for Christmas, harmoniously arrange bottlebrush Christmas trees with foliage or faux garlands, add your festive collectables, and hang baubles with ribbon along the casement windows for a stylish and elegant touch.
How to decorate a large window box for Christmas?
To decorate a large window box for Christmas, consider using poinsettias or evergreens depending on your climate, and conclude the setup with twinkling lights and jingle bells for a festive and magical look.
What are budget-friendly materials to use for DIY Christmas window decorations?
Affordable materials for DIY Christmas window decorations include recycled paper, twine, old Christmas ornaments, construction paper, mason jars, and holiday-themed fabric.
What are some easy-to-follow designs for creating your own Christmas window art?
To create your own Christmas window art, you can trace simple Christmas motifs like stars, trees, or snowflakes on window cling film or use a mixture of dish soap and craft paint to draw directly onto the window.
How can I utilize outdoor space to extend my window decorations theme?
To extend your window decorations theme into your outdoor space, incorporate elements such as color schemes, materials, and shapes in the form of outdoor rugs, furniture, plants, and lighting fixtures.
Recap
Liked this article? Here's what you can read next: