Last updated on September 23, 2023
Here are some creative Japandi Christmas decor ideas that will bring a unique, modern look to your holiday decorations this year.
From minimalist ornaments to cozy textiles, these ideas will help you create a festive atmosphere.
The Japandi style of decorating for Christmas is a combination of Japanese and Scandinavian designs. It focuses on minimalism, simplicity, and natural elements.
To create Japandi Christmas in your own home, start by incorporating neutral colors such as white, beige, gray, and black into your decor. Add some wood accents to bring warmth to the space and incorporate natural materials like bamboo or rattan for texture and visual interest.
Finally, add some festive touches with minimalist holiday-themed decorations like garlands of evergreen branches or paper lanterns lit up with fairy lights to complete the look.
Here are more ideas to build your own cozy Christmas decor.
Cozy Coffee Corner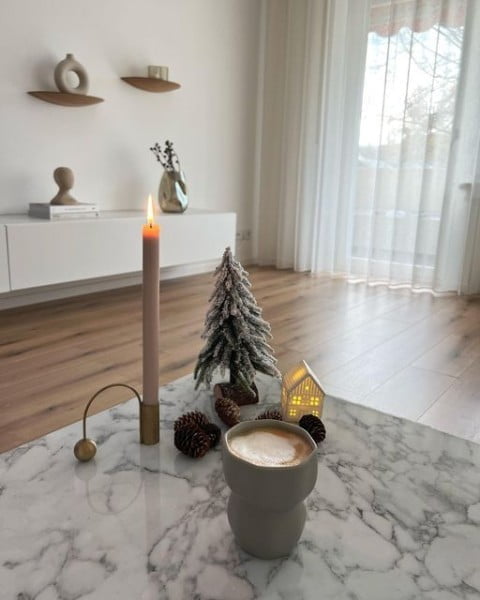 Source: @yeldasengzr
This Japandi decor idea for Christmas is a great way to bring together the best of both Scandinavian and Japanese design. The main focus of this look is on neutral tones, minimalism, and natural elements.
Start by adding some cozy beige furniture pieces, such as a sofa or armchair with some accent pillows in muted colors. Then add some sculptural pieces like a coffee table book, or candle holder to give the room an interesting focal point.
Finally, add some greenery, like plants or branches, to bring in a natural element and complete the look. With these simple touches, you can create a beautiful Japandi-inspired Christmas decor that will make your home feel warm and inviting.
Minimalist Tablescape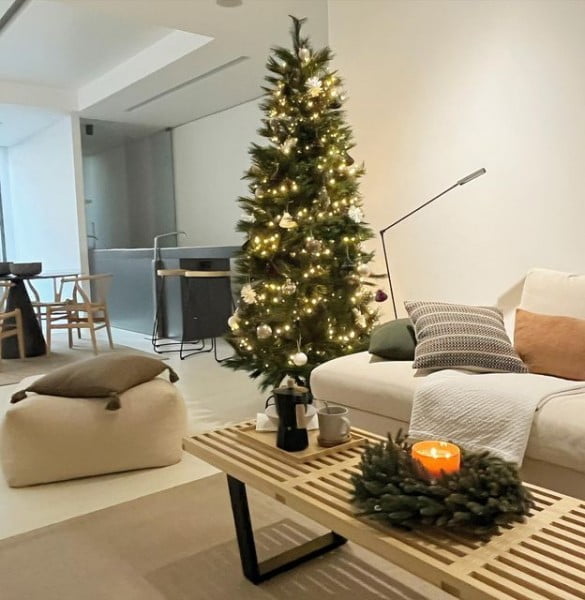 Source: @livingwithpallin
Start by creating a cozy atmosphere with warm lighting, natural textures, and neutral colors. Then add some festive touches like a Christmas tree decorated with white ornaments and lights, as well as some traditional Japanese decorations such as paper lanterns or origami cranes.
Finally, accessorize your space with items that reflect both cultures, such as wooden furniture pieces, woven baskets, and ceramic vases.
Minimalistic Japandi Christmas Tree Branch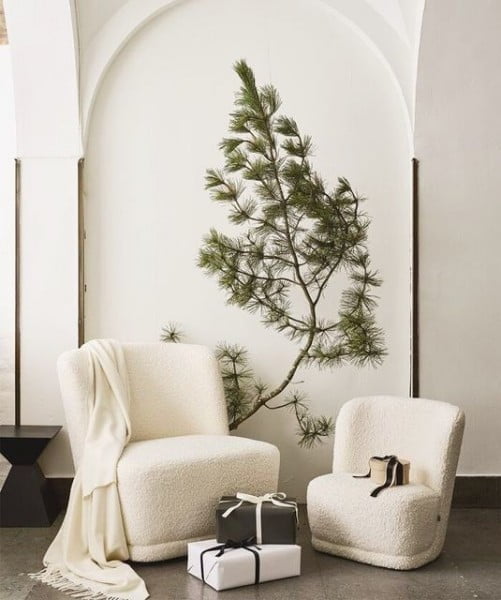 Source: @japandi_design
Add some minimalist festive touches with holiday-themed decorations like gift boxes and evergreen branches. This idea is very frugal, but it conveys an important Holiday message.
Little Christmas Tree
Source: @jtjejtje
Find a small Christmas tree that will fit in your hallway or entryway. Then, choose some white lights to hang on it – not too orange, yellow, pink, or blue – to create a soft and subtle glow.
Finally, add some simple decorations like pinecones and wooden stars to complete the look.
You can also add other elements, such as candles or blankets, for extra warmth and coziness.
Cozy Fireplace Mantel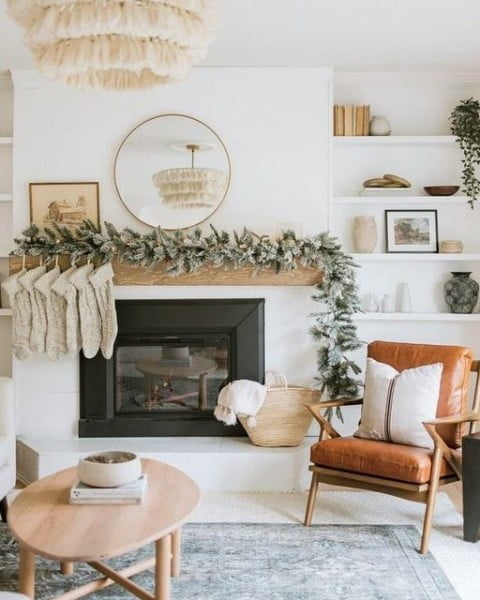 Source: @japandi_design
Incorporate natural elements like evergreen plants on the fireplace mantel for an organic touch. Add some festive touches with holiday decorations, such as Christmas socks.
White Christmas Tree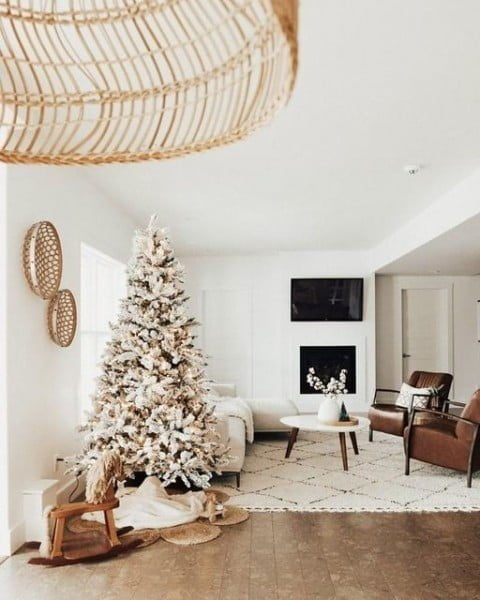 Source: @japandi_design
An all-white Christmas tree is the minimalist Japandi decor feature you want in your home. It's a subtle way to celebrate the important things in life without going overboard.
Evergreens and String Lights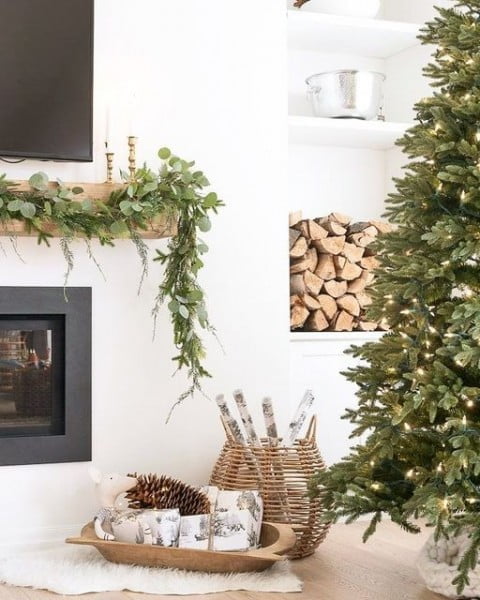 Source: @japandi_design
Decorate a fireplace mantel, a shelf, or a ledge with evergreen plants. Add some warm accents like candles or string lights to make it feel cozy during the holiday season.
Christmas Tree with Japandi Decorations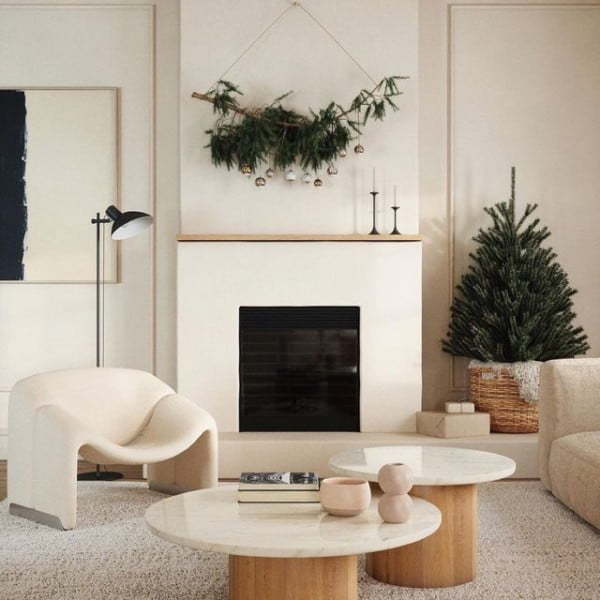 Source: @kori_interiors
This Japandi decor idea for Christmas is a great way to bring a unique and timeless style into your home. Start by adding some natural elements such as wood, plants, and textiles in neutral colors like white, beige, and gray.
Then add some festive touches with silver and gold accents like Christmas ornaments.
Japandi Christmas Socks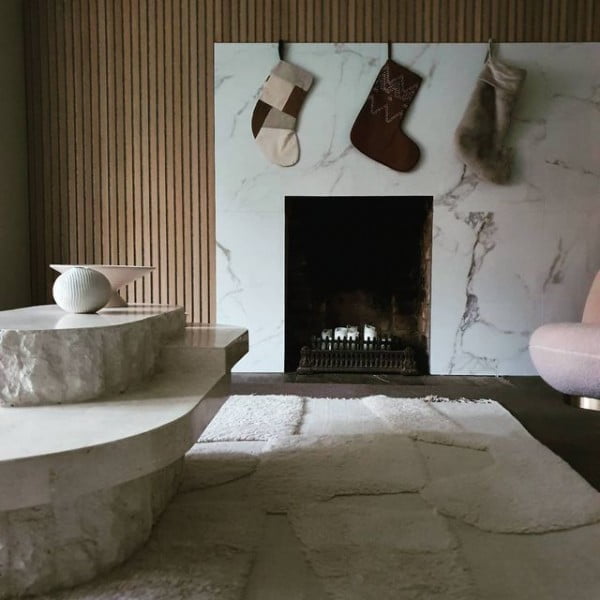 Source: @our_henley_hus
Choose socks in neutral colors like whites, beiges, and grays. Incorporate traditional Japanese elements like paper lanterns or origami stars to complete the look.
Pampas Grass Tree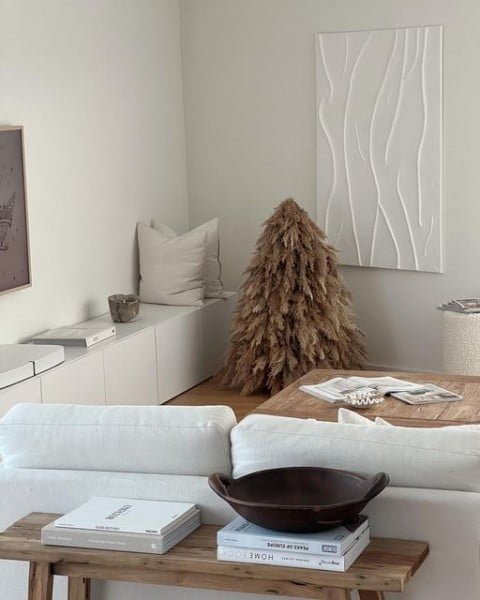 Source: @homestyledecor__
Use white walls and furniture as a backdrop for the tree, then add natural elements such as pampas grass, or other plants around it. You can also hang some festive decorations like fairy lights or paper snowflakes on the wall behind it.
Origami Christmas Decor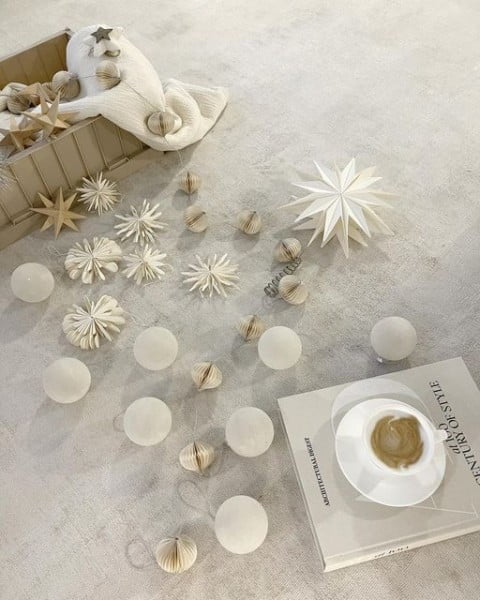 Source: @dekorator_wnetrz
Use festive decorations like origami garlands, ornaments, string lights, or small Christmas trees with traditional Japanese ornaments for a unique touch.
You can also use soft textures such as faux fur rugs and blankets to make the space even more inviting.
Recap
Liked this article? Here's what you can read next: