Last updated on December 12, 2022
Designing a home with no entryway or minimal space for one is challenging. Here are some options to consider.
Your home's entrance communicates to guests what they can expect from the rest of the house — whether it's a big lobby or a small mudroom — how you decorate it makes all the difference.
But what if you don't have a traditional entryway to speak of?
The trend is to pack this small space with lots of rustic decor appeal that creates a cozy, welcoming effect. Think wooden furniture, flower vignettes, oversize mirrors in a distressed frame, and everyday items as decor pieces (like tote bags, hats, etc.)
You don't need a designated room to create all this. An empty wall near the entrance is all it takes to use the following ideas.
Faux Entryway or Foyer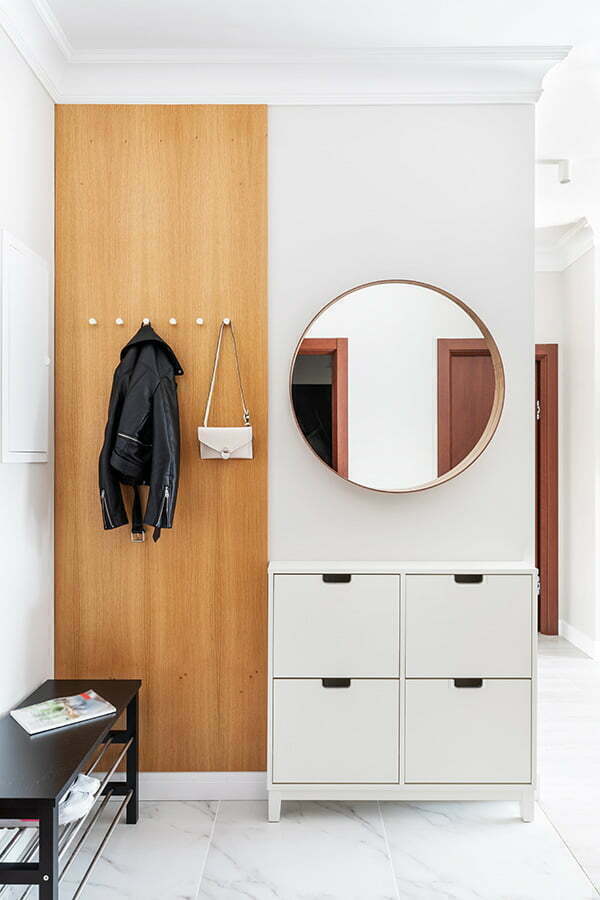 You can call the faux entryway any wall near the entrance door equipped with storage for shoes, outwear, etc. This entryway wall is designed with convenience in mind.
A round mirror not only lets you check yourself up before leaving or after returning home, but it also adds decorative interest. A small dresser allows you to keep stuff near the door but keep it out of eyesight.
Lastly, wall hooks are just enough to hang coats and bags. A small bench provides seating and space to store shoes.
It's just one of many ways to create a small but practical faux entryway.
Bookcase Partition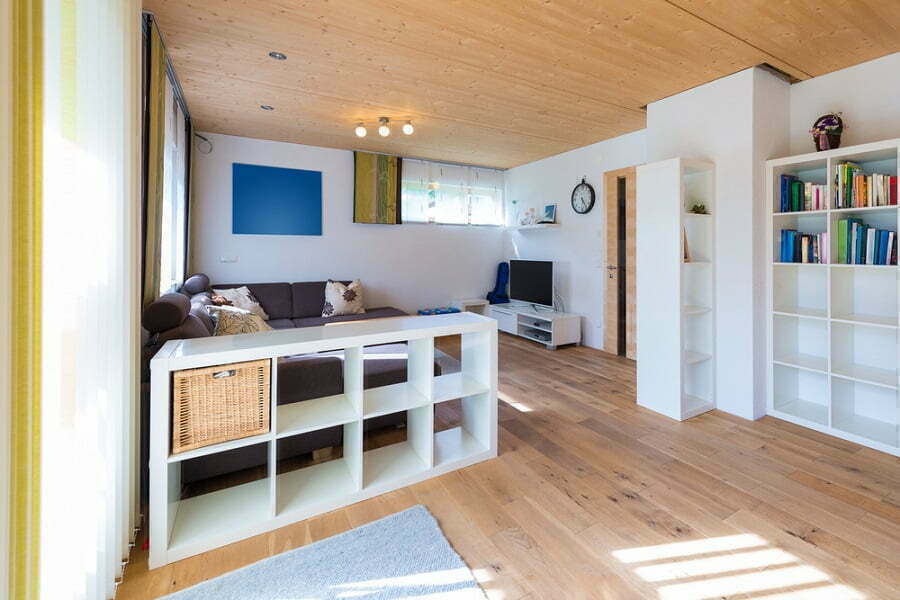 Living in a small apartment frequently requires rooms to be divided in inventive ways to make the most of the available square footage.
Consider a bookcase room divider. Adding a bookshelf is all that's required to split a large room into two distinct and usable areas and create an entryway.
Entryway Organizers
Create the illusion of an entryway by using wall organizers. You can make them yourself or buy practical organizers to bring the order to a wall near the entrance.
Create a coat rack or an alternative with a strip of wall hooks. Add a small bench underneath and a narrow bookshelf on the side. This setup not only creates a traditional entryway layout but also doesn't distract from the rest of the room's decor.
Hooks on the Wall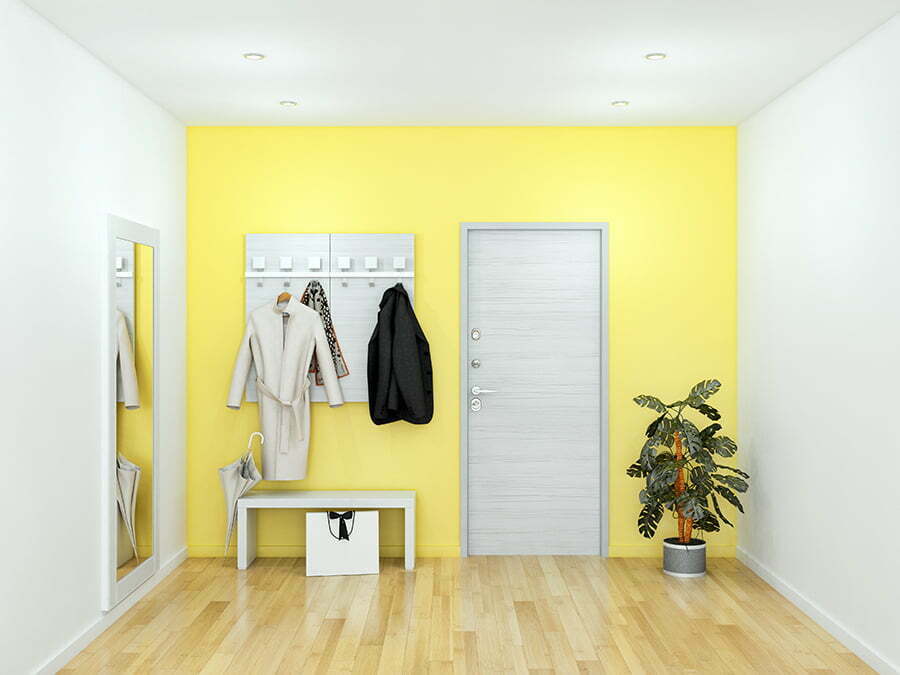 Wall hooks are all it takes to turn any way into an entryway. Combine them with a small bench underneath, and you have a fully equipped entryway without using much space.
Wall Shelves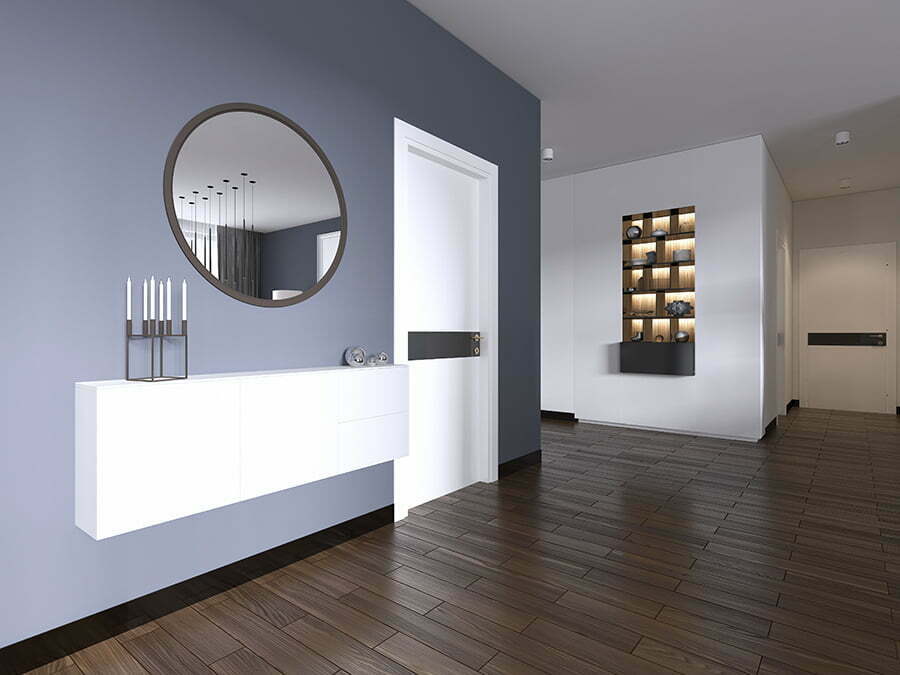 Another idea with to install a few shelves on the wall by the entry door. Add as many as you have empty wall space. You can incorporate a mirror on the same wall too. There's no wall space that wouldn't lend itself to this idea.
Console Table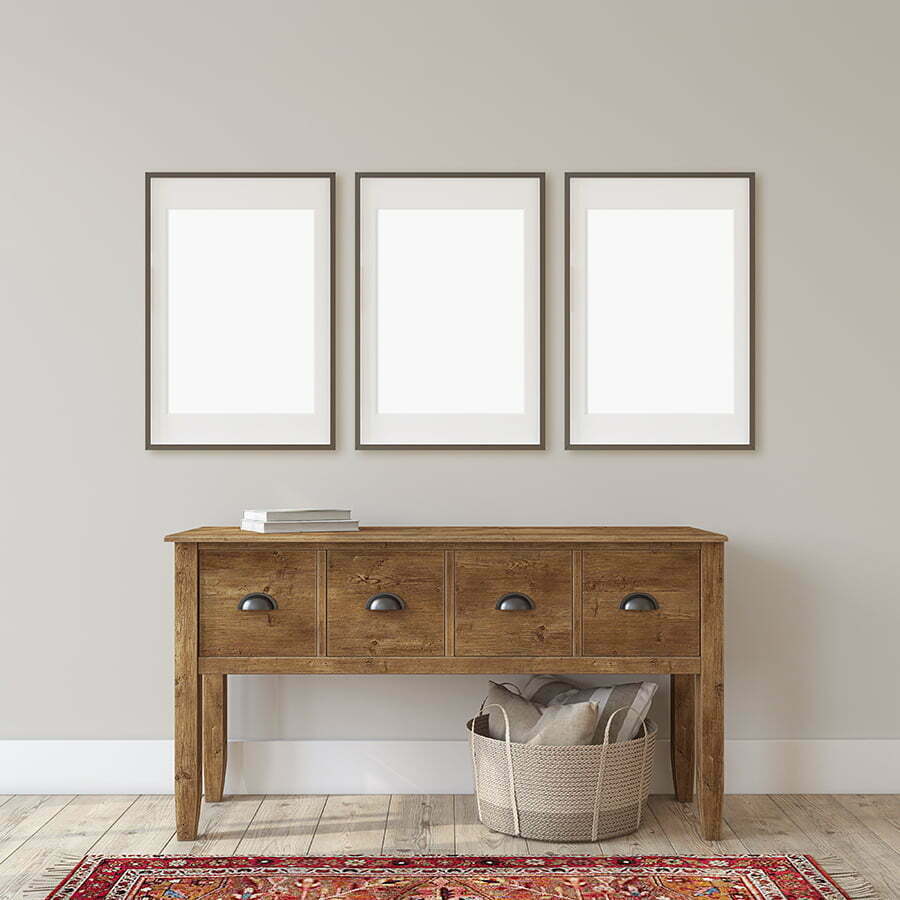 A simple narrow console table placed near the exterior door will provide you with storage space for things you commonly take out with you. And it will define the space as an entryway.
This uplifting entrance, created out of an awkward half-wall, maintains a minimalist aesthetic by incorporating a table with vibrant rustic tones. A tall console table leaves room underneath for storage baskets where you can keep shoes, umbrellas, and other items.
Another idea would be adding chalk paint has been to the upper portion of the wall to produce a functional message board.
Consider also placing an attractive area rug in front of the console table.
A Narrow Hallway Works as an Entryway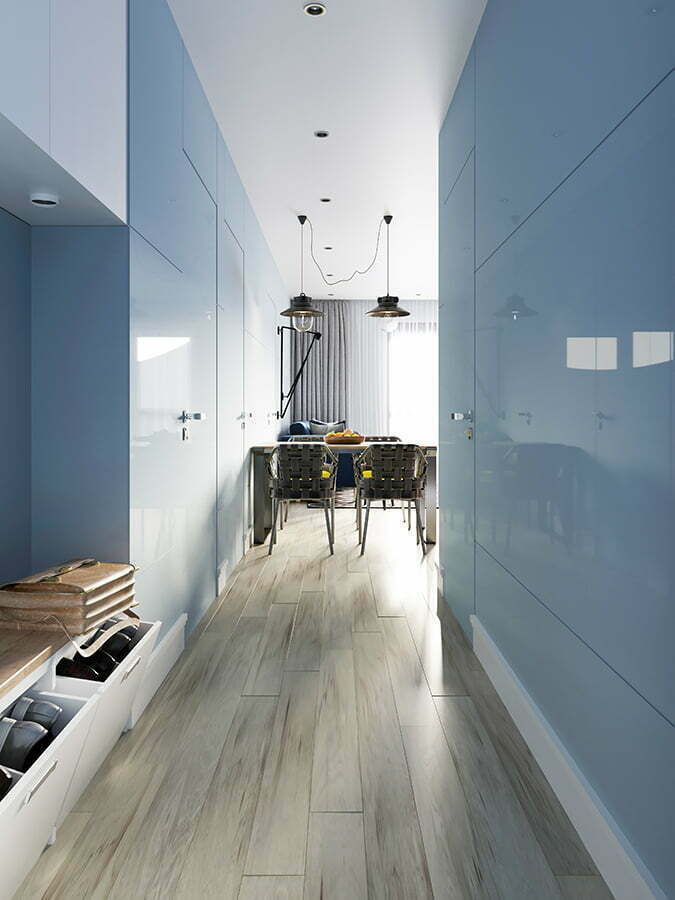 Even modest foyers serve as the initial point of contact. You can quickly compensate for the lack of space by making the hall luxurious and memorable.
Regardless of the dimensions of your "non-foyer," creating a welcoming and pleasant entryway can be accomplished by equipping it with the appropriate furnishings and accessories.
Baskets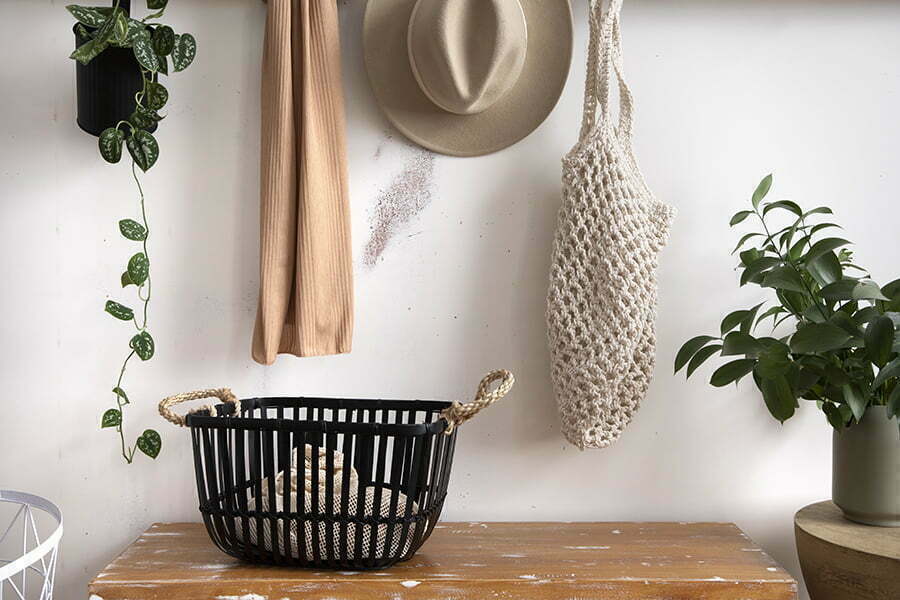 A basket or a container that can use to store items that are being removed from the home is one thing that you might not immediately consider adding to your entryway.
It is helpful to have a central location where you can store things you always take outside. It will help you remember to take those things with you when you leave the house.
Accent Wall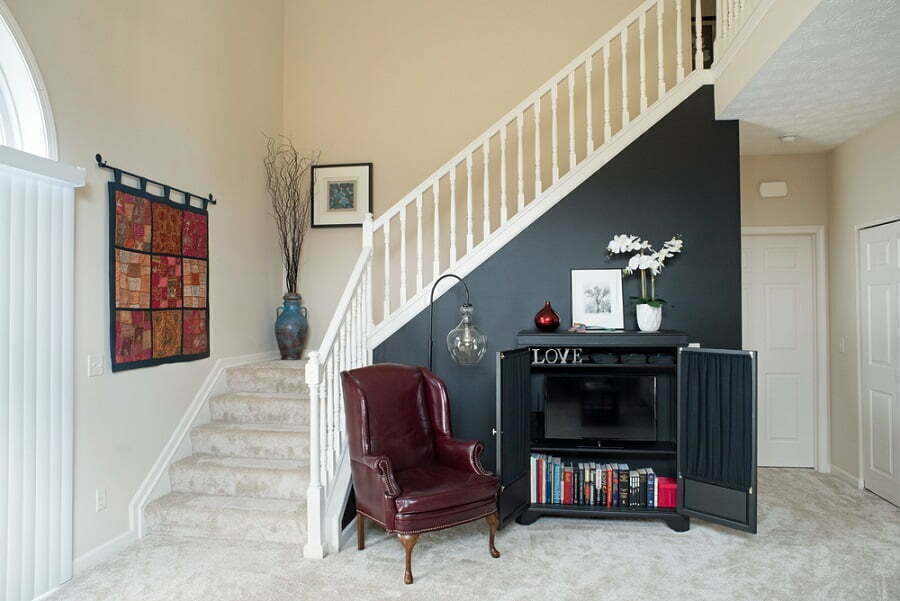 An accent wall is added to a room for two reasons: to draw attention to a section of the space that would otherwise go unnoticed or to provide the area with a decorative flair that it might be missing.
You can use an accent wall to create a separate entryway area. Bring a color scheme in your home together while also adding a sense of excitement to the overall design of your home's interior.
Mail Organizer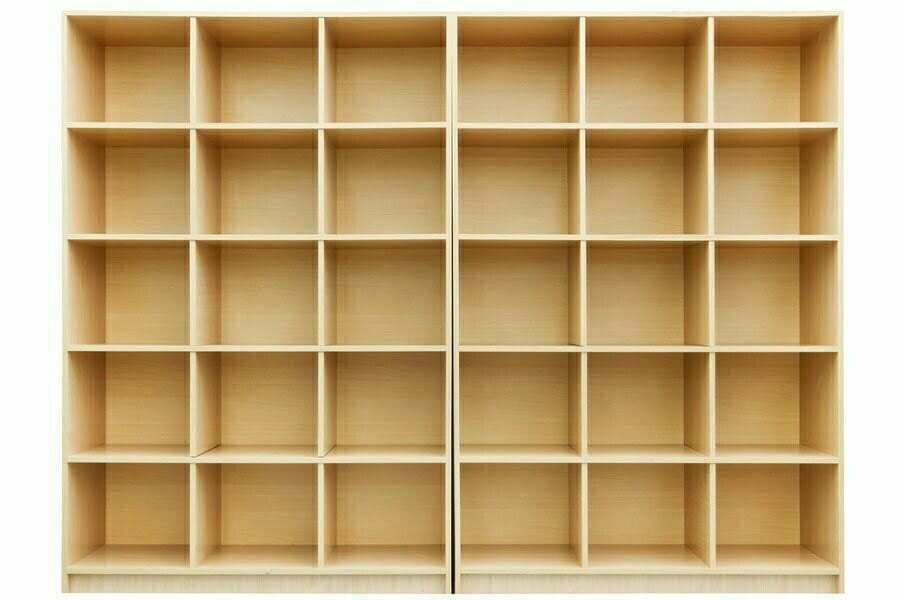 You can reduce the clutter caused by mail by establishing an organized mail center in your home.
Dedicate a specific location to organizing the mail by the entryway. Make sure you have plenty of space to set up stacking trays or baskets for your everyday items.
Hanging Bike Storage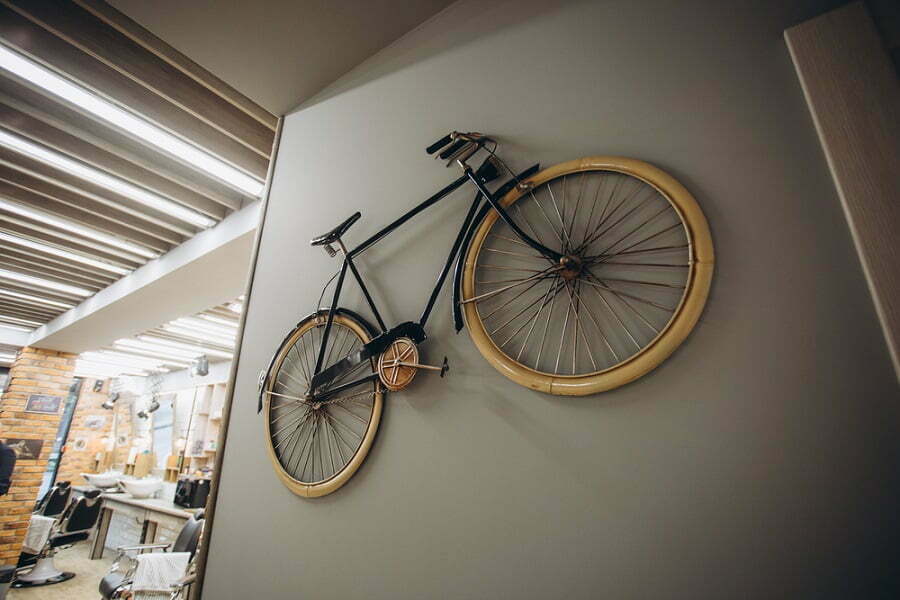 Utilize any extra wall space that you have in your home to store your bicycle, particularly if your home has particularly high ceilings.
A straightforward wall bracket that fastens via bolts to the wall's surface will do the trick nicely.
Storage Bench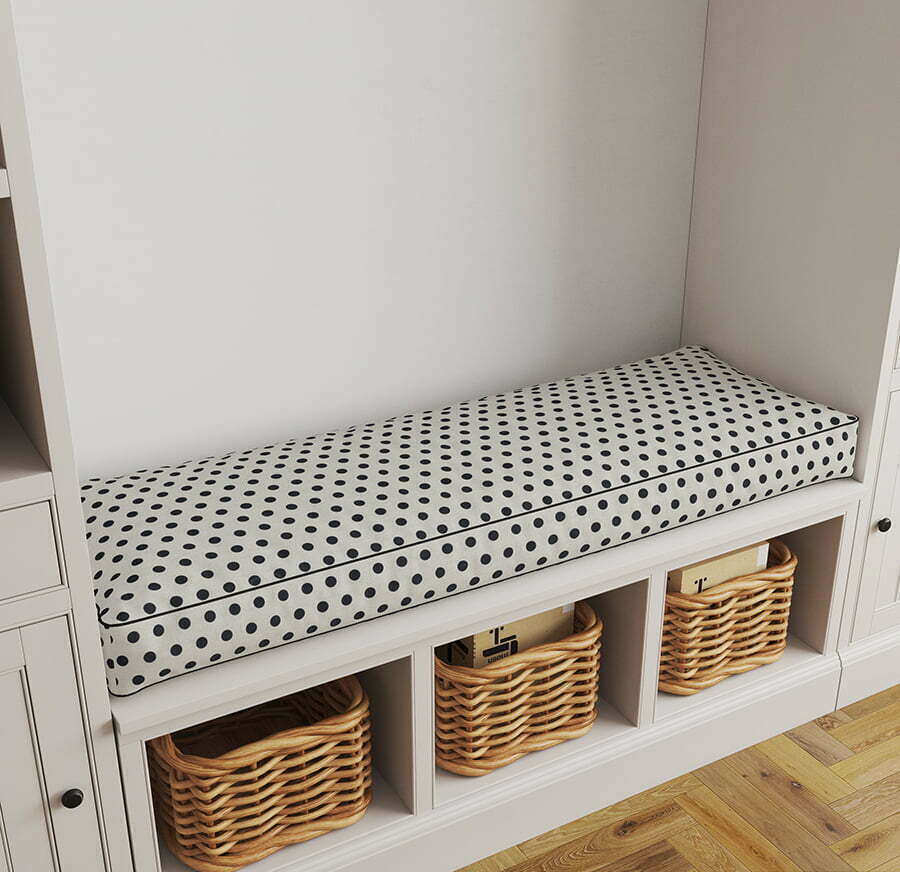 Place a bench in your doorway to create the appearance of a foyer, which will serve both a practical and aesthetic purpose.
A wooden bench in a distressed finish would add character to the space. A built-in bench would make a convenience for guests to take a seat and remove their shoes before entering the home while still providing a streamlined look.
A traditional coat rack with hanging hooks is not necessary if there's a closet nearby. Baskets placed underneath the bench help to keep smaller items in order.
Storage Crates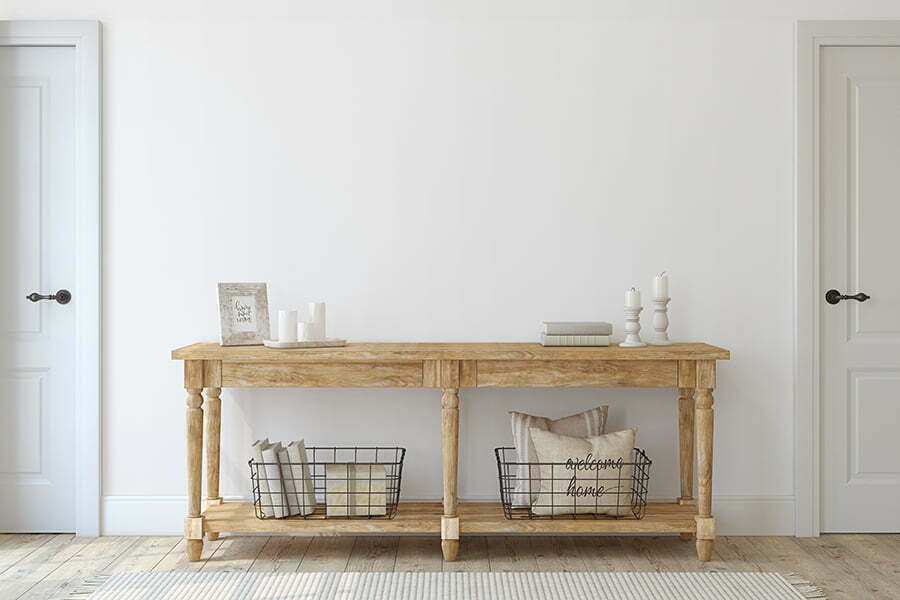 If you want to add instant storage to your small entryway, consider using a storage crate. Use crates that look pretty — wire crates, vintage milk crates, wicker baskets, etc.
If you have a storage bench or a tall console table you will be able to put these containers underneath and save space.
Use a Nearby Closet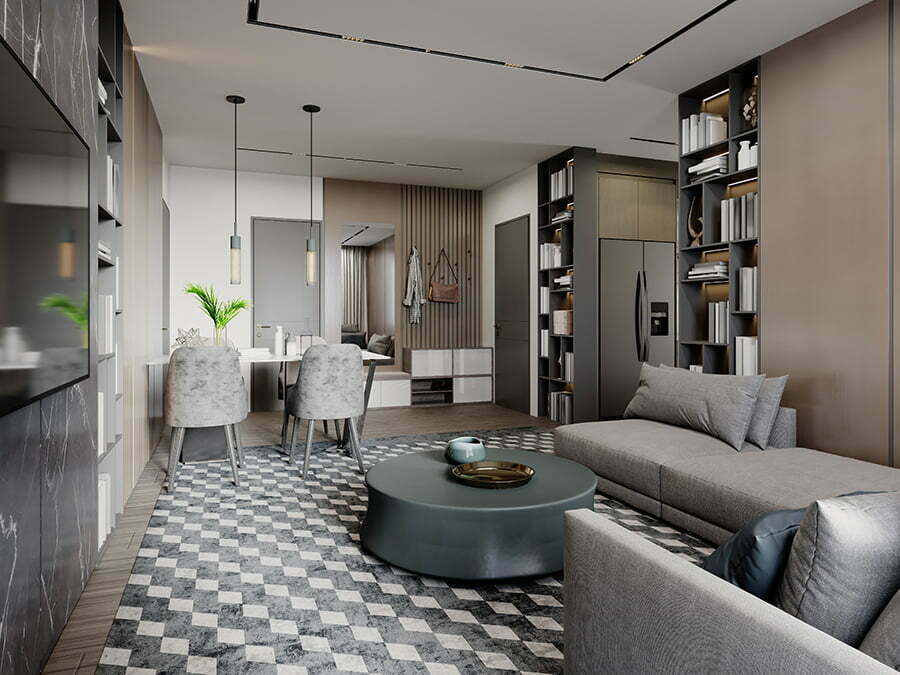 It is possible to use a well-organized closet as an entryway if it's near the entrance. In contrast to an actual entryway, you can shut the door when visitors come to your house and keep it out of sign. On the downside, you can't use this space for decor.
An All-in-One Storage Unit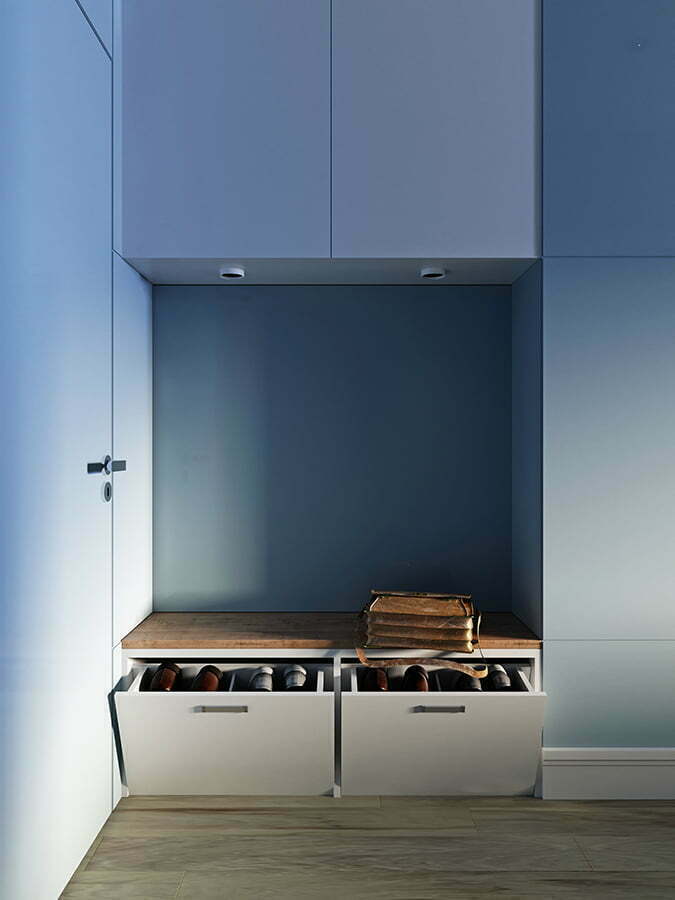 These all-in-one cubed units, which take their design cues from office filing cabinets, ensure that everything has its proper place. Give each family member their own cubby to store their belongings and a few spares for guests.
Boot Tray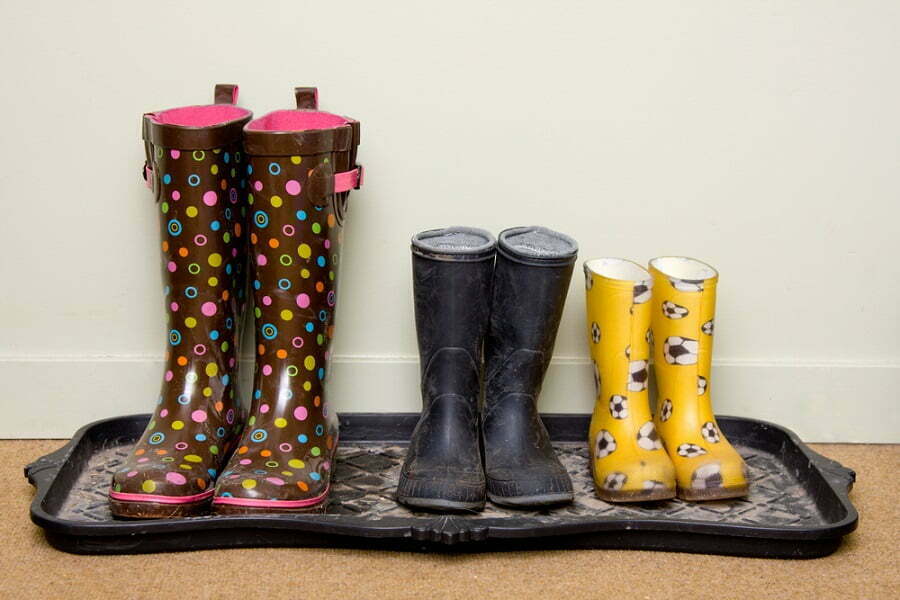 A boot tray will prevent dirt and debris from spreading throughout your home from your shoes, and it will make cleaning tasks like vacuuming and mopping go more quickly and smoothly.
A boot tray should be placed in the hallway because it is aesthetically pleasing and can hold up to multiple pairs of shoes at once.
Using a boot tray is one of the simplest ways to solve the problem of storing shoes when there is no traditional entryway.
Entryway Pet Crate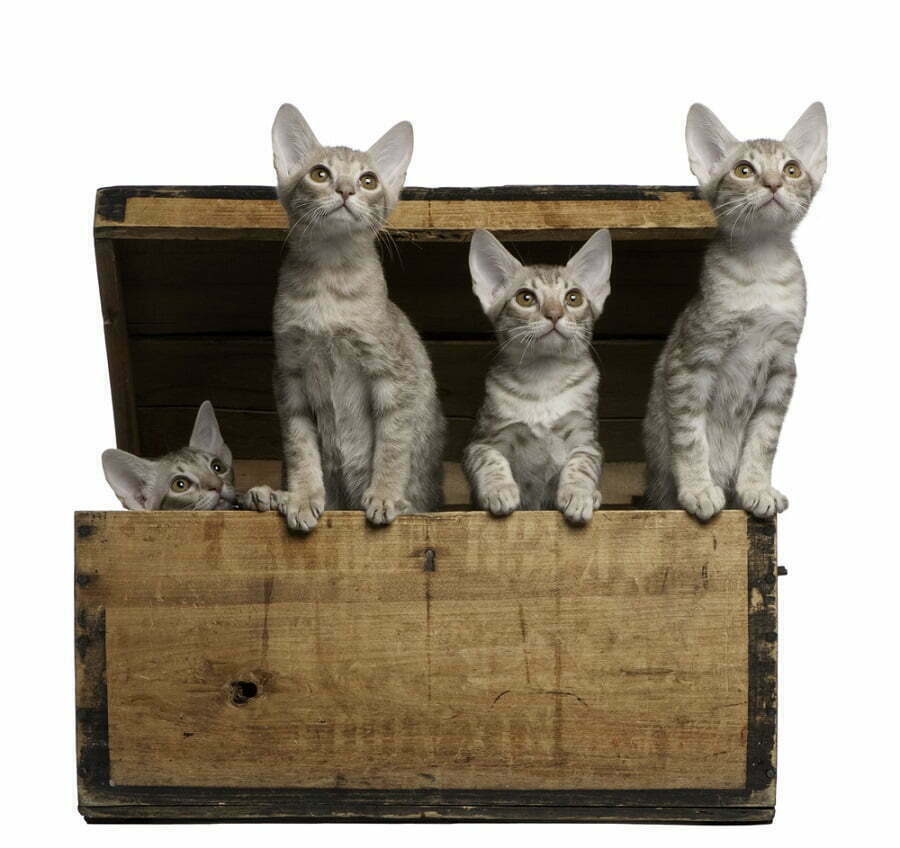 If you have a pet, keeping its cage near the entrance might be a good idea. Then it can serve as a surface to keep small things you use outside too.
Store all of the necessities for the family pet in a single location for easy access. Your four-legged companion will find great comfort in curling up in his own space, mainly if his bowls of food and water are nearby.
Wall Covering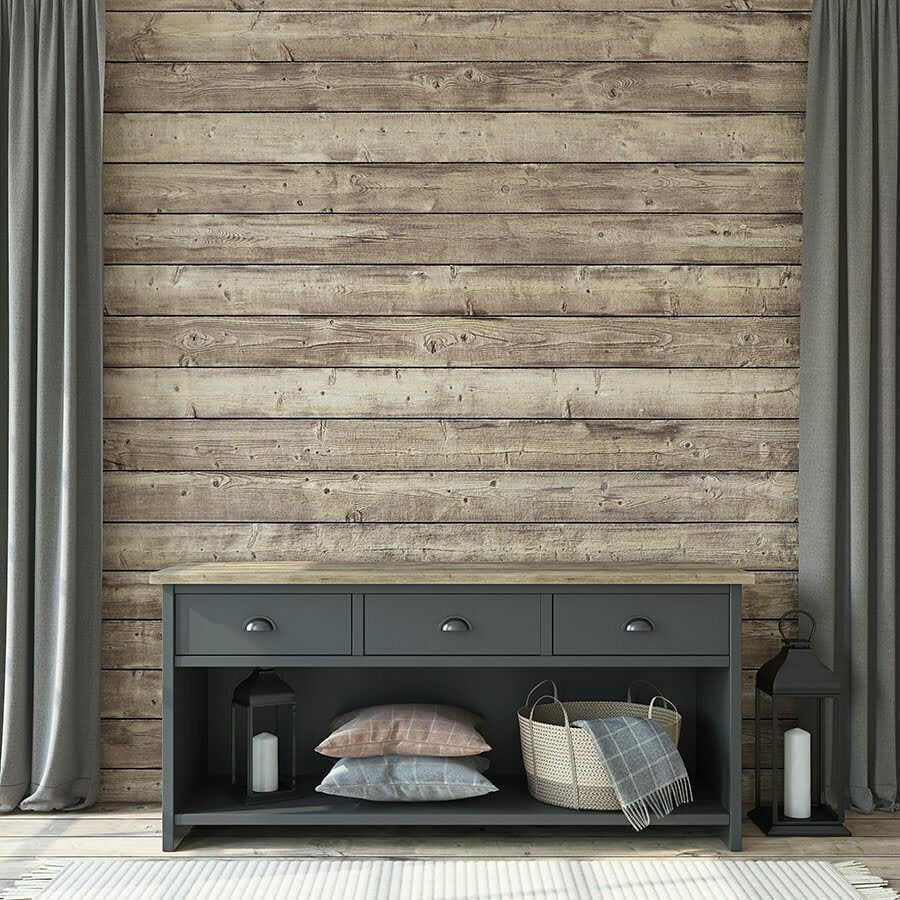 Adding a wall treatment to your foyer is an excellent choice if you want to give it a more sophisticated appearance.
You can use walls with a white background and colorful, narrow and horizontal lines to add some lightness to the atmosphere in short hallways. Don't forget the curtains too.
Mirror with a Shelf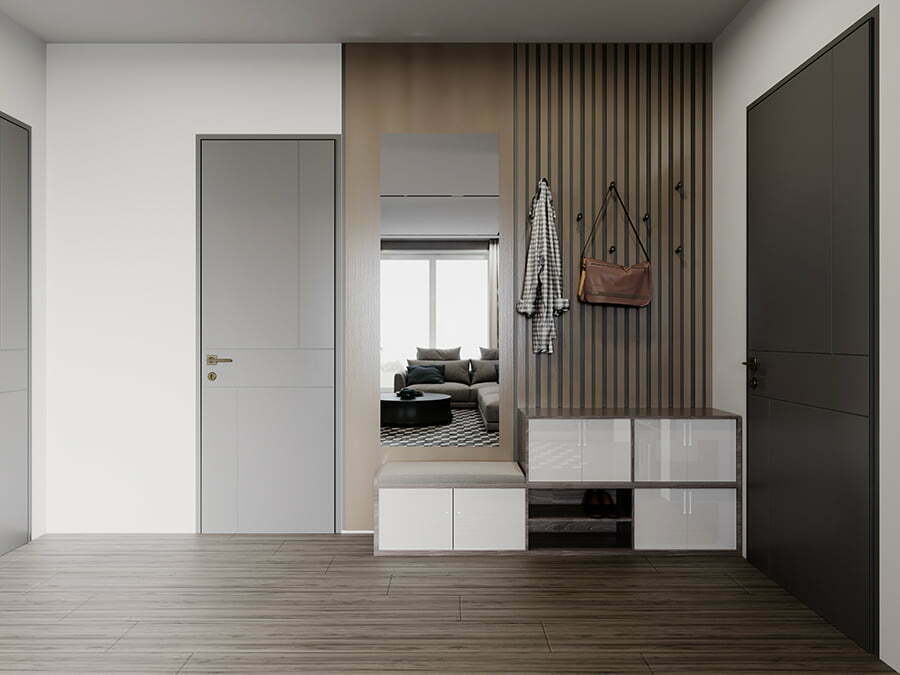 A mirror with a shelf is a real space saver. Hang a mirror that also includes a surface to keep small things. It is a functional and decorative addition to your entryway wall space.
Pair of Chairs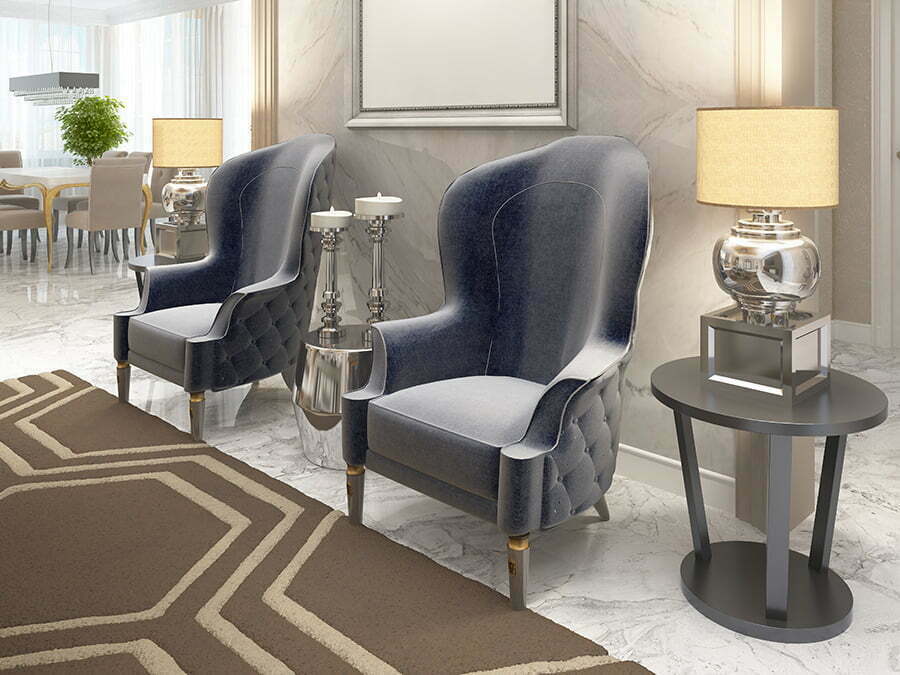 Adding chairs to your entryway is a great way to get an accent piece that won't take up a lot of space but will still look nice.
If you have visitors over, you can quickly transform these chairs into additional seating, or it can serve as a convenient spot for guests to hang their coats.
Potted Plants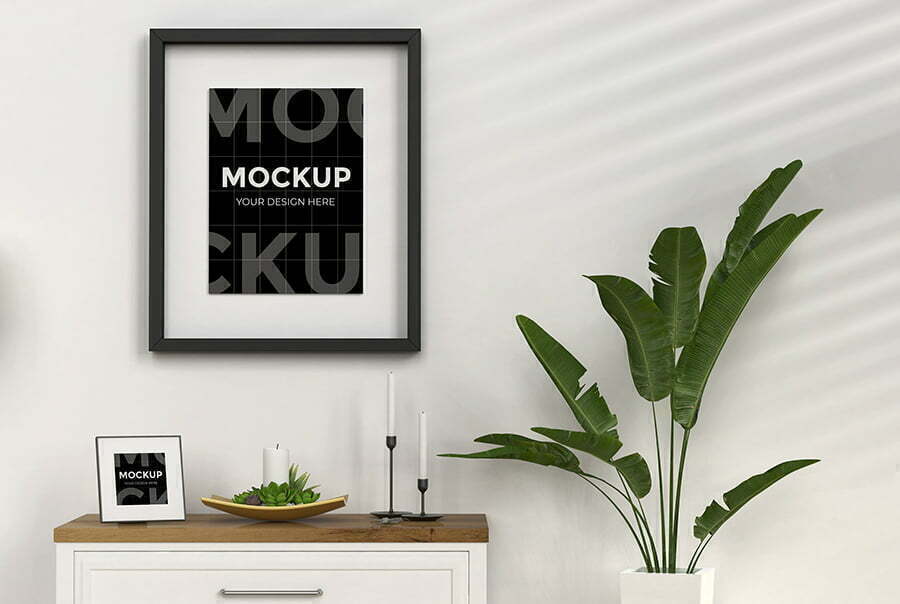 Adding potted plants to your entryway is a way to extend the outside to the inside. It creates a natural way to welcome guests into your home without shocking them with decor.
Room Separators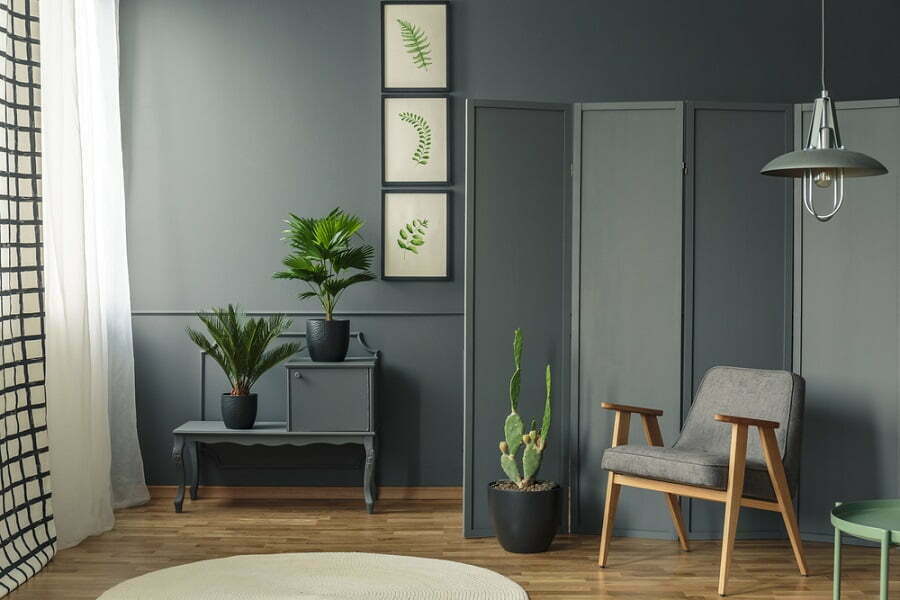 A screen or a divider is a piece of furniture that is arranged in such a way as to divide a room into distinct sections.
Interior designers and architects frequently make use of room dividers as a method for separating a given space into multiple distinct sections. And you can use it to separate the space of a room as an entryway.
Use Corner Space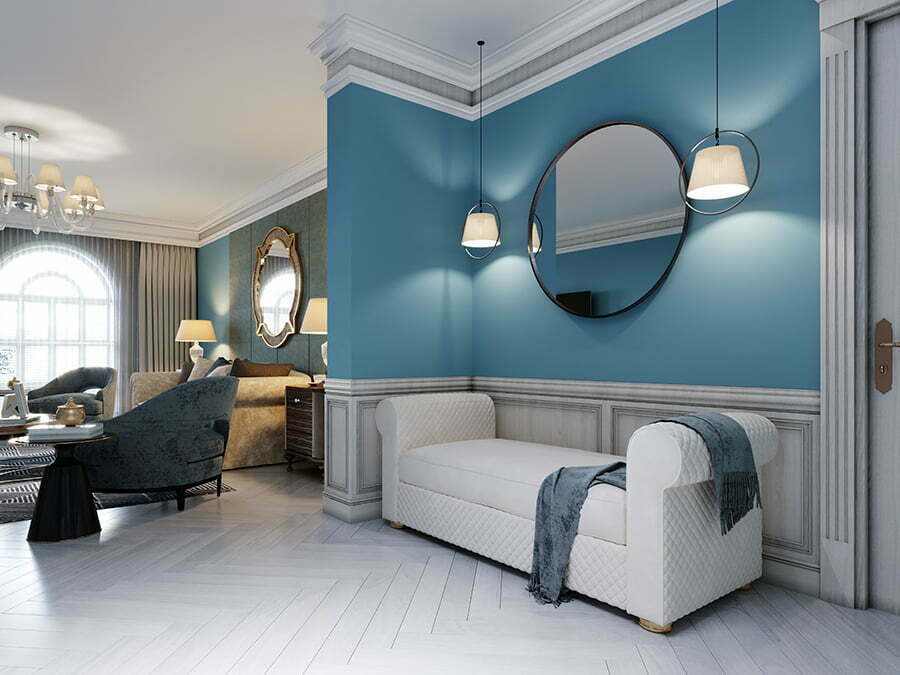 This faux entryway in a corner provides access while remaining out of the way.
A small bench offers a place to sit, while a storage bench would also provide space for storage (shoes and other everyday items.)
A corner is also an excellent place for a coat rack or a coat tree.
Coat Rack
A sturdy rack is the best option if you are looking for a quick and easy solution that won't break the bank to hang hats and coats by your front door. Use corners and empty wall sapce.
FAQ
Do you need an entryway?
A boot tray is an excellent solution for an entryway. Place it near the entrance, even if there's no official entryway, and you enter the room immediately. A small storage bench will also work.
Do I need an entryway?
An entryway provides you with a place to rest and remove your outwear and dirty shoes at the point of entry without tracking them through your home. It also gives your guests a sense of being welcomed and at ease in your residence.
What should be the first room in a house?
The first room in the house beside the entryway or a mudroom (or if there isn't one) is usually the living room or the kitchen.
How do you make an entryway in a small space?
Use a wall near the entrance to hang practical wall organizers and hooks. A nearby closet will also function as the coat rack and storage for your handy items.
Recap
Liked this article? Here's what you can read next: