Last updated on November 10, 2023
Embark on a whimsical journey through this blog post because it is brimming with imaginative Toca Boca room ideas to spark creativity in your home's décor.
Immerse yourself in the vibrant and playful world of Toca Boca with these creative room decor ideas. From wall decals and color schemes to DIY furniture and accessories, we've got everything you need to transform your child's room into a Toca Boca paradise.
With our budget-friendly tips, you'll be able to recreate the whimsical characters and scenes from your child's favorite Toca Boca games, fostering their imagination and creativity.
Dive in and discover how you can bring Toca Boca to life in your home.
Space Themed Room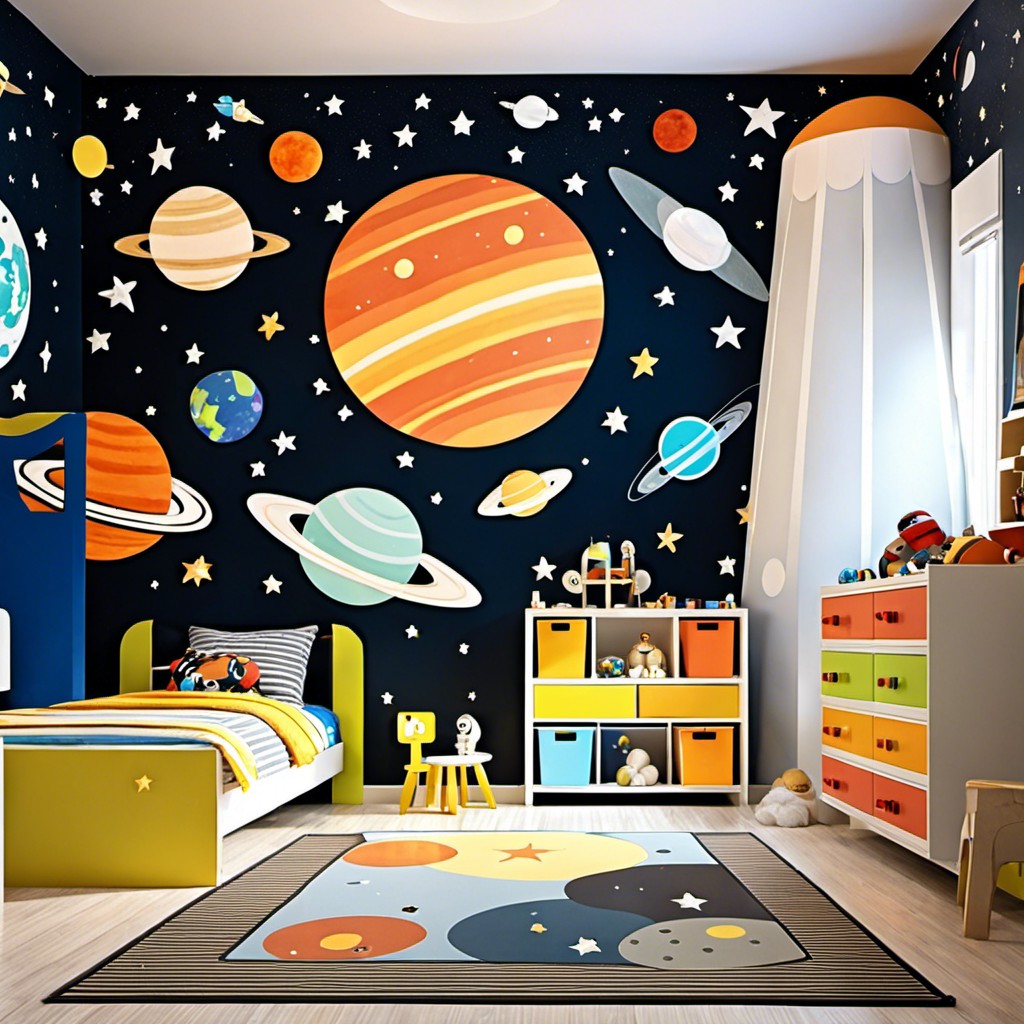 Harness the wonders of the cosmos right in your child's room. With a celestial plan, this theme transforms a mundane room into an intergalactic haven.
1. Color Palette: Opt for a dark, starry backdrop with black or deep blue hues for walls. For balance, consider brighter furnishings and linens in shades of silver, white, or electric blue.
2. Lighting: LED star projectors or glow-in-the-dark star decals bring the night sky indoors.
3. Furniture: A rocket-ship bed or a moon-shaped chair add playful elements without sacrificing comfort.
4. Accessories: Astronaut-themed wall art, bedding with constellation patterns, or decorative throw pillows shaped like planets increase the space vibe.
5. Learning Component: Wall decals depicting planets with their names or a corner with astronomy-related books spark curiosity about the universe.
6. DIY Tips: Paint a simple wall mural depicting a galaxy or make a hanging model of the solar system.
Remember, the room doesn't need to resemble a spaceship literally. It's about encapsulating the essence of outer space – adventure, mystery, and endless possibilities!
Underwater Room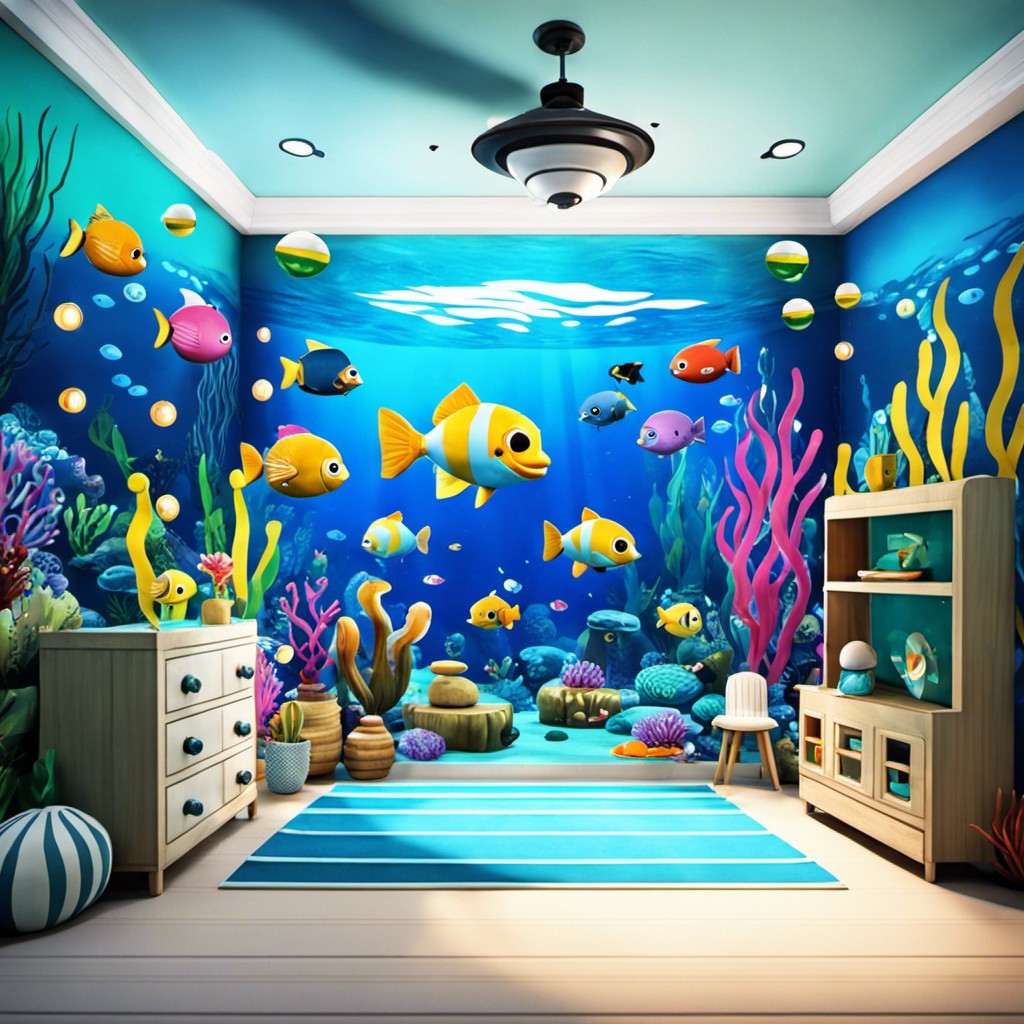 For a splash of excitement, an underwater theme can create a captivating space. Visual depth can be achieved by using different shades of blues and greens for the walls, resembling the ocean's layers. Wall decals of marine life, coral reefs, seashells, or undersea treasure are cost-effective and easy to apply or change.
Consider curtains or blinds embroidered with marine life and rugs with nautical designs for a complete look. A bedspread or comforter featuring underwater scenes can add a comforting feeling, just like sleeping beneath the waves.
Accent furniture like a repurposed trawling net or a nightstand decoupaged with vintage nautical charts can add a whimsical touch. Similarly, accessories like a fish tank, seashell collections, or driftwood can make the room truly represent an ocean's depths on a shoestring budget.
Lighting also plays an integral role, and a blue-hued light bulb or a jellyfish lamp can bring some underwater magic. Remember, budget-friendly doesn't need to be a compromise on creativity!
Safari Jungle Room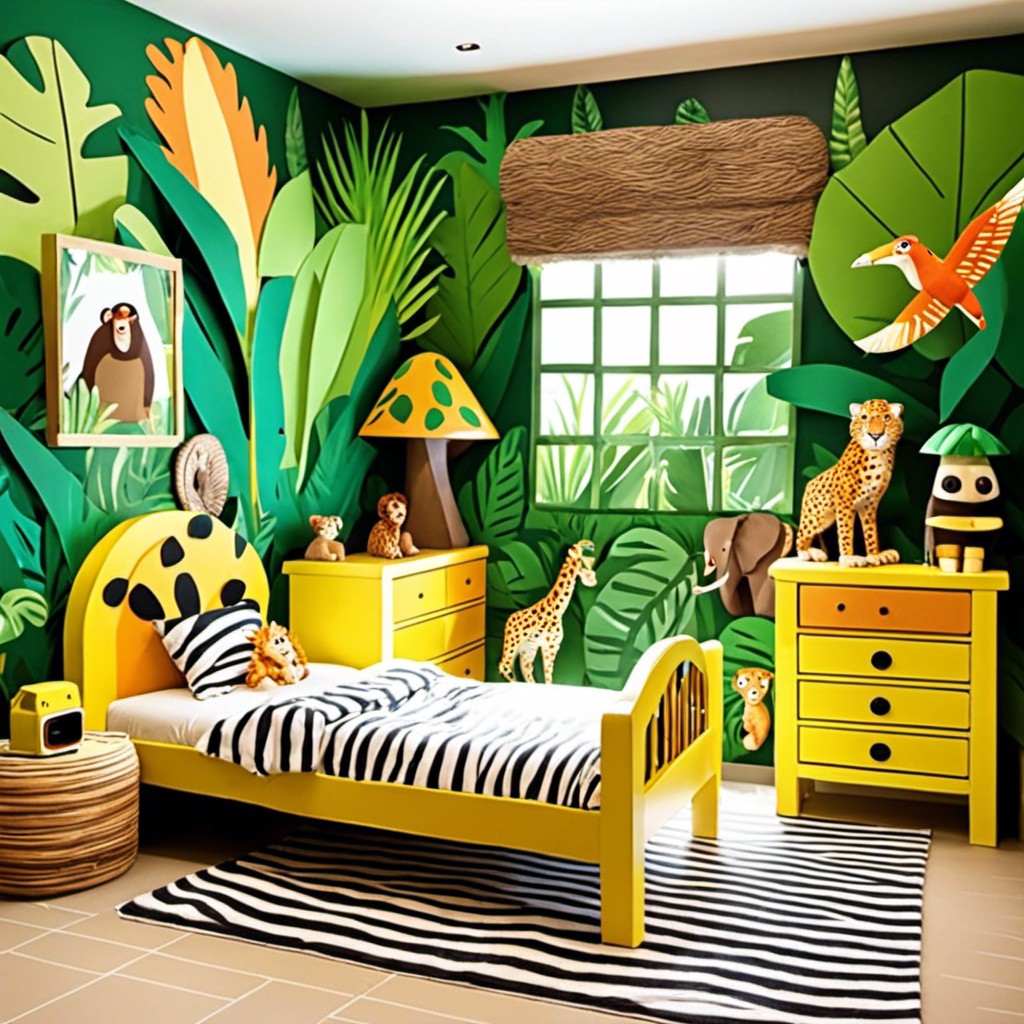 Jumping right into the jungle's heart, this Safari-inspired room will excite any adventurer at heart. It's all about incorporating elements that scream "wildlife" and "nature." Bringing in shades of green, earthy browns, and vibrant animal prints can create a perfect backdrop for your Safari Jungle experience.
1. Wallpaper or Wall Decals: Use jungle-themed wallpapers or decals featuring animals, trees, or tribal prints.
2. Safari-inspired Furnishings: Opt for wooden elements, wicker baskets, and rustic, rugged furniture. A throw rug with zebra or leopard print can add an exotic touch.
3. Plants: Real or faux plants of differing sizes and textures can enhance the jungle vibe. Consider adding a large leafy Monstera or a tall, slender Snake plant.
4. Animal Figurines: Incorporate ceramic, wooden or plush animal figurines. Elephants, lions, and giraffes are great choices for this theme.
5. Lighting: Opt for warm, diffused lighting. A bamboo or rattan lampshade will complement the theme perfectly.
6. Cushions and Throws: Use cushions or throws in animal prints or shades of green and brown.
Remember, balance is key. It's about creating a jungle vibe without overwhelming the space. You want the room to feel adventurous, yet comfortable and welcoming!
Retro Diner Room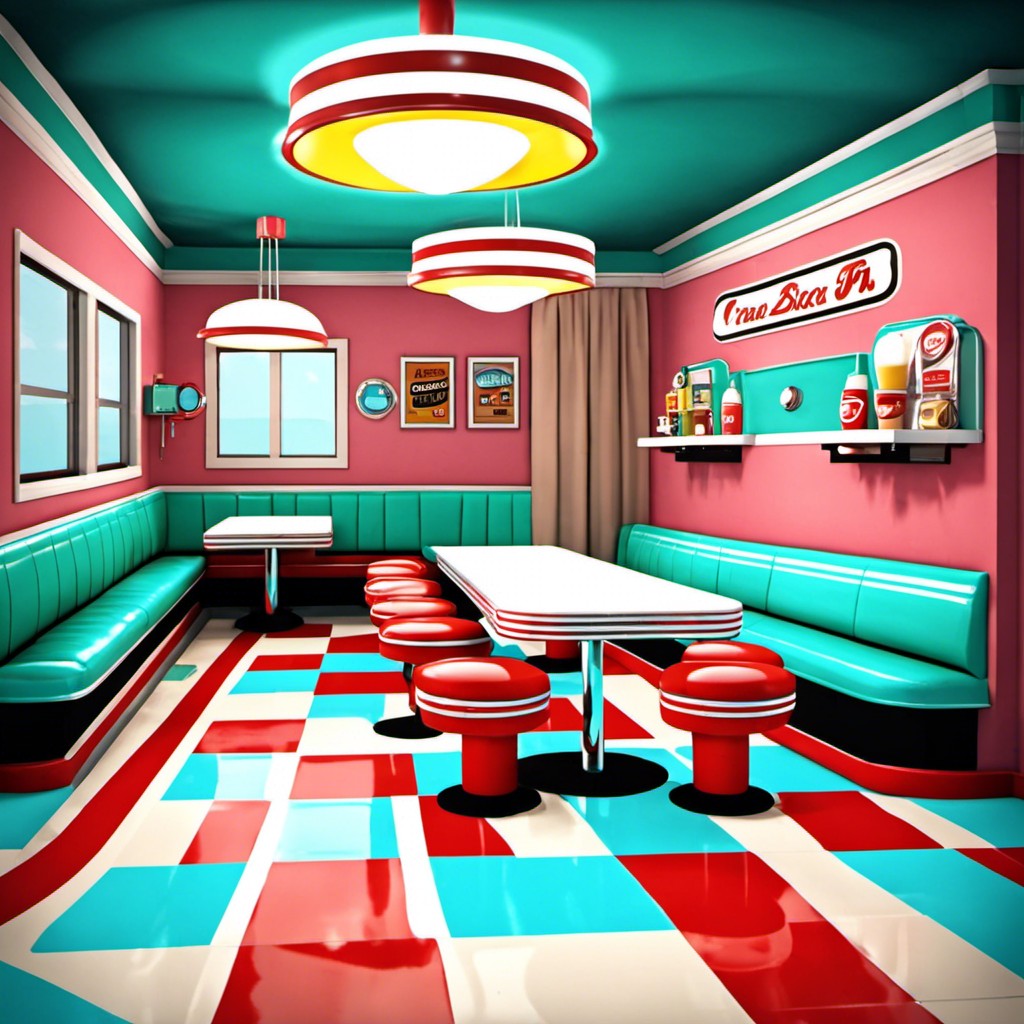 To achieve the nostalgic flair of an old school diner, start with a red, black, and white color scheme. Staple pieces like a coca-cola fridge or a vinyl record player can add the '50s vibes in a jiffy. A metal edged table with red cushioned chairs is also a must-have. For the walls, choose checkered patterns and hang neon signs or old concert posters. Classic diner memorabilia like a jukebox, retro menu board, and milkshake glasses would tie the room together. Don't forget to inject some elements of fun and surprise, such as a popcorn machine or a retro phone booth.
To adjust the design to fit your budget, consider DIY options. Perhaps, you could create your own art inspired by retro advertising or craft a table from reclaimed materials. Keep in mind, it's not about getting it perfect; it's about capturing the spirit of the era.
Lastly, effective lighting is essential. String lights or pendant lights with metal shades offer a warm ambience that makes your diner room inviting. Remember, the goal is to create a cozy spot where everyone would love to hang out and enjoy some root beer floats and burgers.
Fairy Tale Room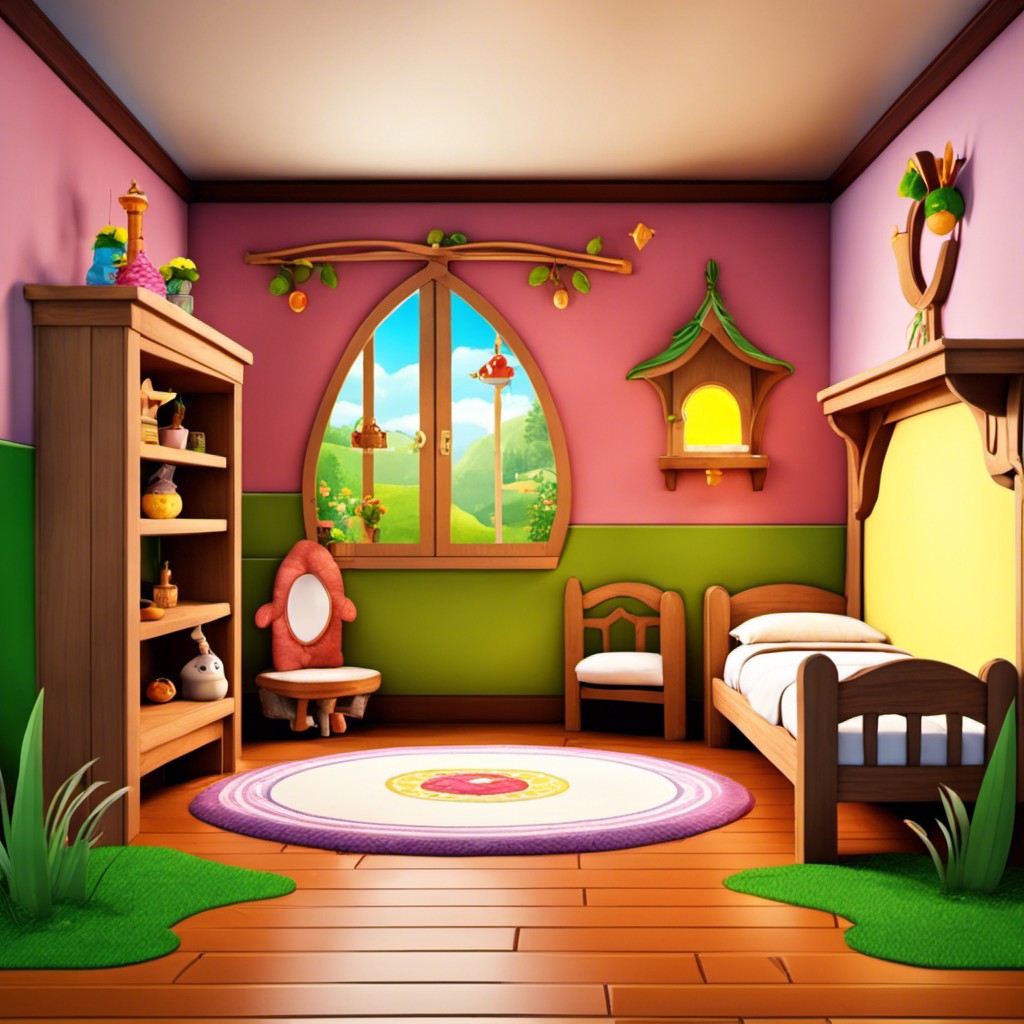 Transforming your room into an enchanting getaway requires a few key elements. Think lush, with velvet textures and whimsical details from murals to decals or throw pillows featuring classic characters. Opt for a color palette of royal blues, purples, or pinks paired with metallic silver or gold accents for a luxurious feel.
Don't overlook lighting – a charming chandelier or string fairy lights can set an enchanting mood. Lastly, for a royal touch, incorporate a canopy over a bed or reading nook. Remember, your creativity is the magic wand here, so have fun while conjuring up this fairy tale transformation!
Haunted Mansion Room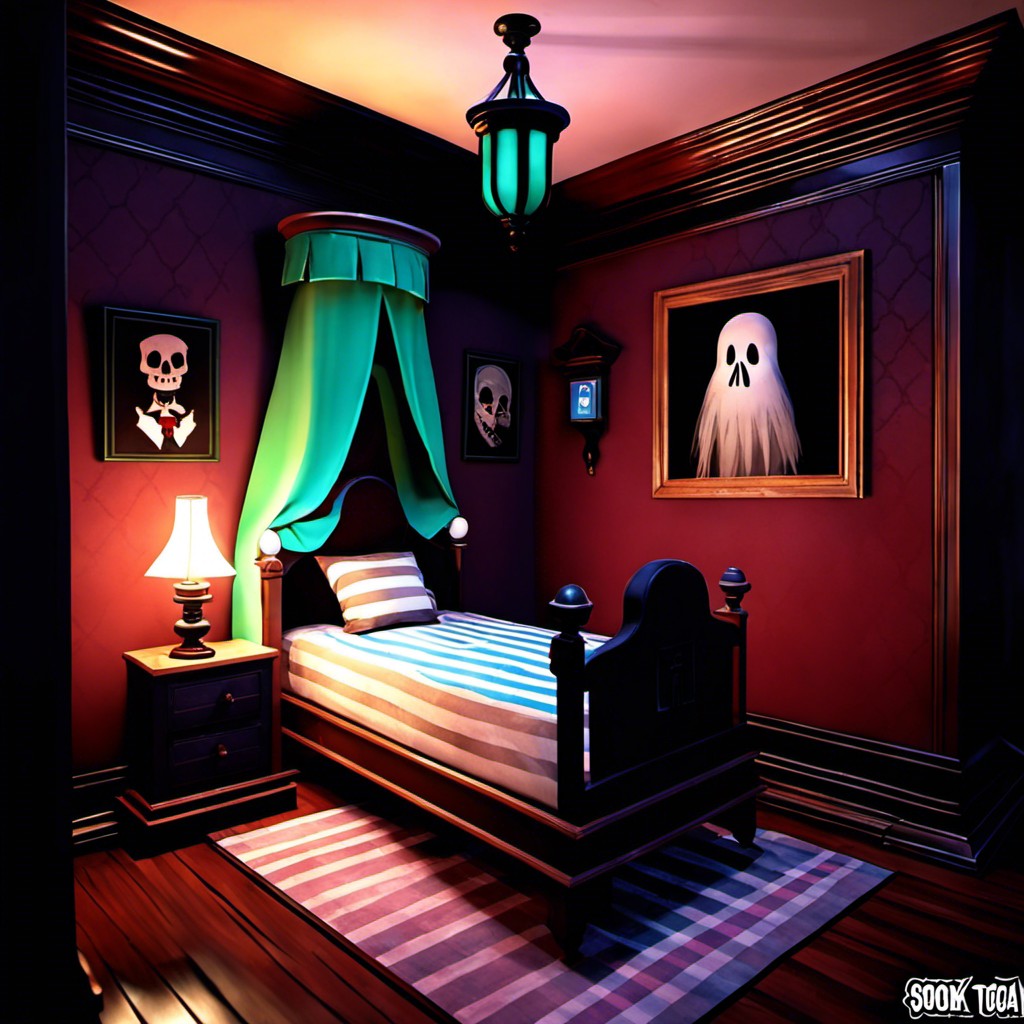 Stepping into a haunted mansion room can be eerily exciting, and it gives you the chance to experiment with less conventional decor. Start with the walls: dark, rich colors such as deep purples or blacks can create that haunting ambience. Adding antiquated wallpaper patterns can enhance the aged and eerie atmosphere you are looking for.
Consider using low-light lamps or candle-like bulbs to manipulate the light – minimal and shadowy illuminations work well here. A grand chandelier with faux-dust or spider webs can be the statement piece of the room.
Adding vintage furniture, like high back chairs and wooden side tables, can provide that antiquated vibe. Top them with thematic ornaments such as black lace doilies, skulls, vintage frames or eerie portraits. Throw in a weathered rug for a touch of authenticity and comfort into the mix.
Don't forget those mysterious corners. Use cloth drapes, cobwebs, antique suitcases stack or old trunks as hidden secrets spot enhancers. A mirrored wall can also add depth and mystery to your room.
Remember, the goal isn't to frighten, but to create a unique atmosphere with a touch of spooky. Effort and creativity can give the room a bewitching charm that will leave an impression. Have fun experimenting!
Pirate Ship Room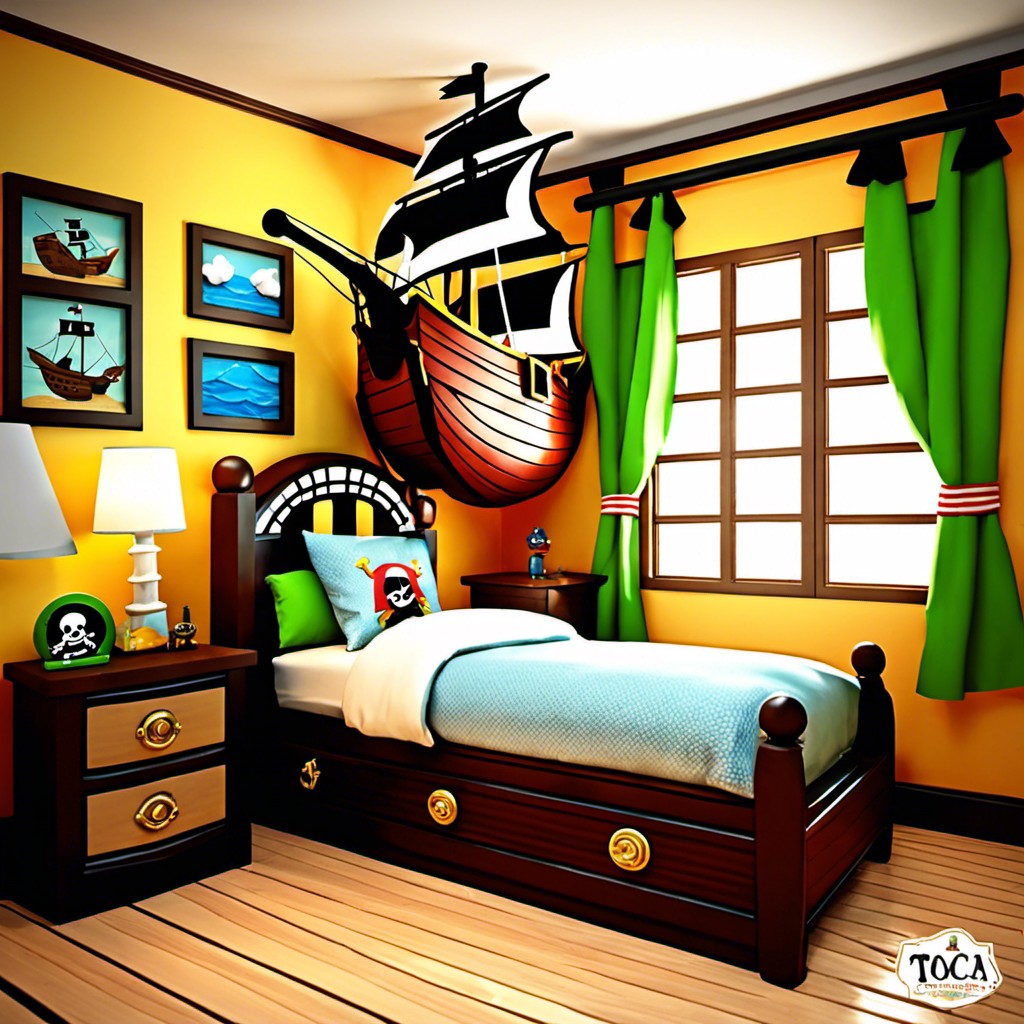 Setting sail with the pirate theme takes creativity, energy, and most importantly, a good eye for detail. Start with the walls. Paint them a deep ocean blue, slip in a few painted seagulls, maybe even a far-off island for authenticity.
Showcase flags and use them as wall hangings. Skulls and crossbones, of course, make the best recognizable pirate symbols. For furniture, aim for an old-world look. Hardwood or weathered-looking faux is great for dressers and bookshelves. Your bed can transform into a ship by adding a DIY ship wheel or by fashioning a headboard to look like a ship's prow.
Rugs with treasure map designs are perfect for the floor. To elevate the adventure mood, include fun elements like a hammock or a faux parrot. How about barrels or treasure chests for extra storage or seating? Remember to consider safety for climbing or seating fixtures, ensuring they are sturdy and kid-friendly.
Accessories complete the look. Use nautical themed items like boat steering wheels, anchors, pirate hats, or even a toy telescope. Think creativity, fun, and immersion without overwhelming the space. With these guiding steps your little buccaneer will be ready to set sail every time they step into their room. Keep in mind, DIY projects and thrift stores can be your best friends while creating this space.
Beach Resort Room
This decor theme gives a nod to coastal living. Inviting you to relax and enjoy, even when you're miles away from the nearest shore. Let's dive deeper into elements that can help achieve this setting:
1. Color Palette: Lean towards cool blues, sea greens, sandy beige and white, mirroring the natural elements found on a beach resort.
2. Furniture Choices: Opt for light, worn-out wood furniture. They scream beach life. Rattan, bamboo, or seagrass pieces also lend a laid-back coastal vibe.
3. Textiles: Incorporate linen or hessian fabrics for upholstery, curtains and cushions which have a brilliant rugged appeal.
4. Wall Decor: Posters or wall art of palm trees, surfboards, coastal landscapes, or nautical motifs will keep you rooted in theme.
5. Accessories: Shell-shaped items or bowls of decorative driftwood, sounds of sea waves audio files, a hammock or hanging swing chairs are perfect for completing the feel.
6. Lighting: Warm, soft lights work really well. Consider lantern-type designs or fixtures made from natural materials.
7. Flooring: If suits, go for a sandy-colored carpet, otherwise light-washed hardwood flooring garners the same effect – pairing it with a patterned rug is a good idea.
8. Plants: Nothing beats green tropical plants. Yucca, Areca Palm or Snake plants work well for an indoor beach vibe.
In no time, you'll be walking in your home feeling the sand beneath your feet with the air carrying that salty, sea aroma. Just remember to leave your flip-flops at the door!
Superhero Lair Room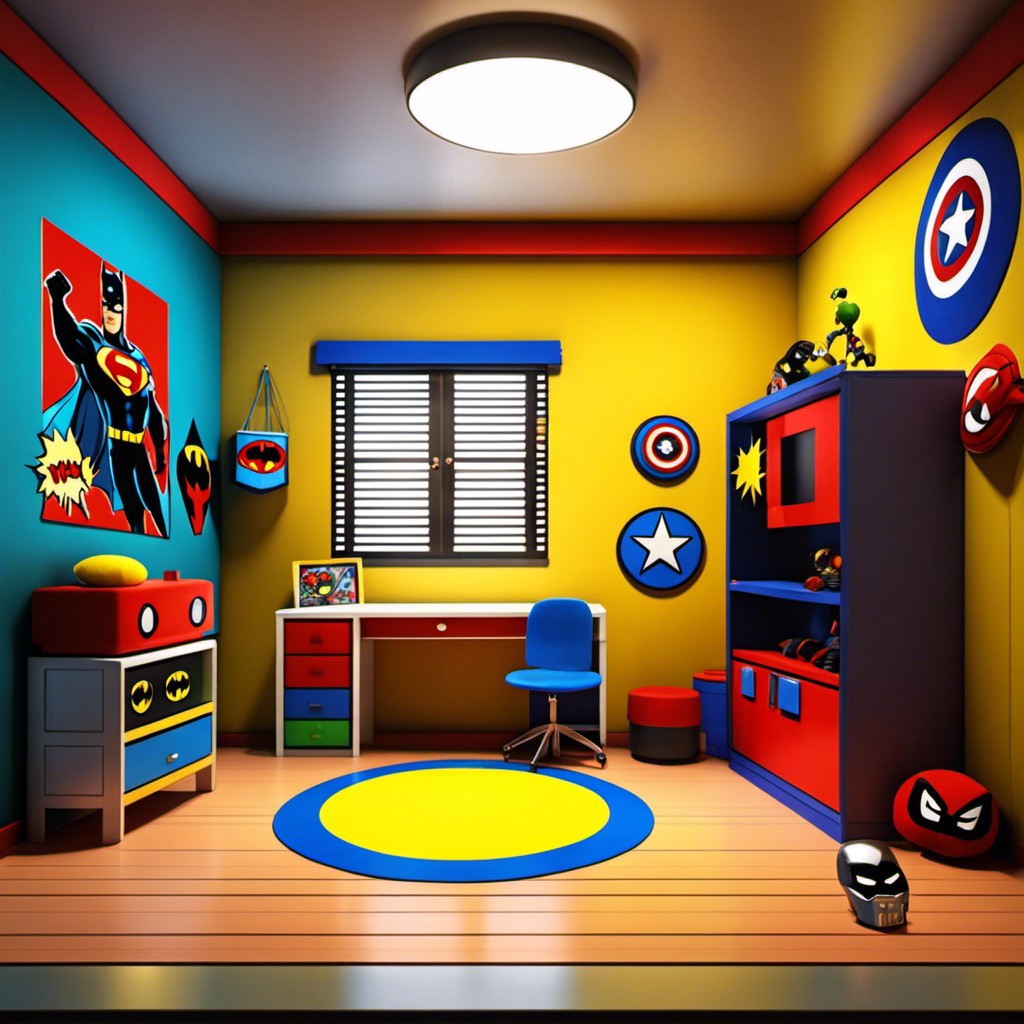 Packed with power and fun, this DIY design won't break the bank…unlike actual superhero gadgets. The key elements include wall graphics, utility desks, bold colors, and storage solutions that evoke a sense of excitement and adventure.
1. Wall Graphics: Begin with large vinyl decals or posters of your favorite superheroes. These add instant appeal and are easy to install and remove.
2. Utility Desks: Think Batman's operation centre, think smart, sleek metal desks. Reinforce the vibe by adding a vintage desk lamp.
3. Bold Colors: Reds, blues, and yellows are iconic superhero colors. Incorporate them generously but thoughtfully without overpowering the room.
4. Super Storage: Opt for multi-purpose storage units. They can store toys, books, and also double as display space.
5. Accessories: A few action figures, superhero-themed bedding, and DIY superhero artwork would put heroic finishing touches to the room.
With these points at the ready, you'll have a fun, powerful, and imaginative room without the superhero-level expenditure.
Treehouse Room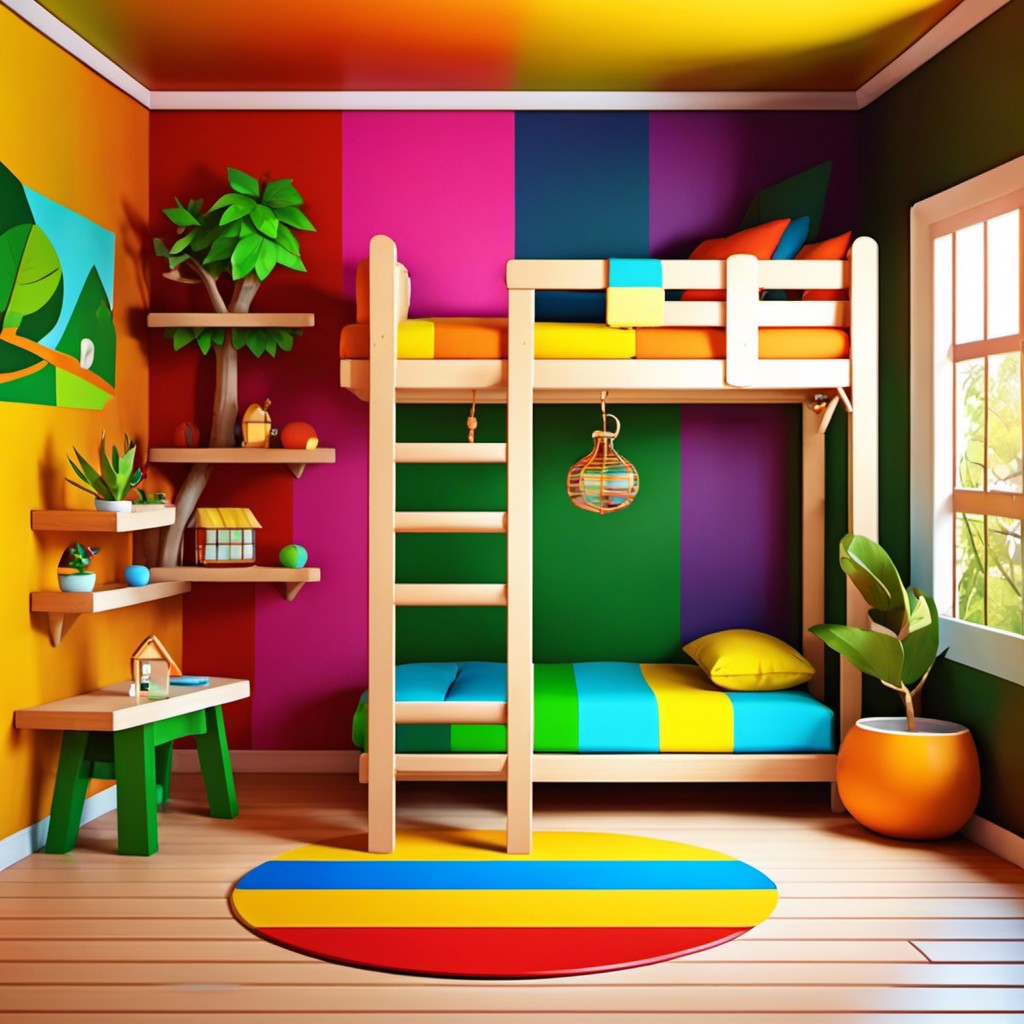 Injecting elements of nature into a child's playing space can foster curiosity and imagination. The Treehouse Room encapsulates the thrill of an outdoor adventure inside the comfort of your home.
Start by incorporating elements like wooden furniture and shelves that imitate tree branches. Use leafy or forest-themed wallpaper to give life to the walls.
A ladder, preferably wooden, can add a fun climbing experience and serves as a transition from the ground to a loft bed. If possible, use ample windows or art that emulate windows sharing a view of the forest.
Fluffy, earth-toned rugs and pillows can add comfort and stylize the room. Finally, strategic placements of stuffed birds, squirrels, or other forest-related toys would complete the immersive experience.
Art Studio Room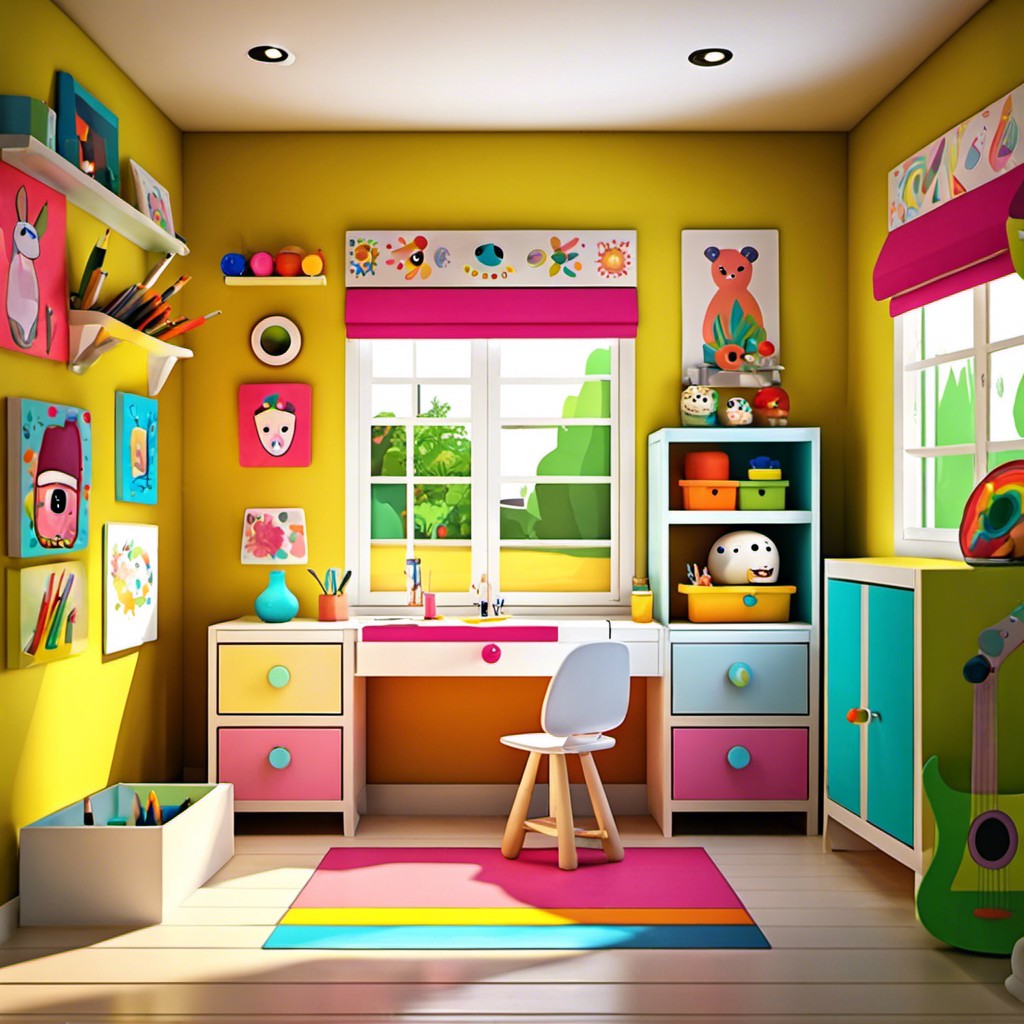 Breathing life into this concept involves a balance of functionality and creativity. Find low-cost alternatives to pricey easels and storage units such as repurposed ladders, old wooden crates, or even thrifted bookshelves. Include various levels of lighting, from desk lamps for detail work to bright but diffused room lighting to mimic a professional setup.
Decor reflects the world of art styles; try DIY abstract canvas pieces or display kids' artwork for a pop of personal flair. Use a bold color palette, incorporating shades that foster creativity like yellows, blues, or purples. Paint a portion of the wall or a large board with chalkboard or dry-erase paint for a versatile, changeable piece.
For flooring, consider remnant linoleum or vinyl for easy cleanup, add a funky area rug for warmth. Don't forget the comfort; include a cozy corner with seating for brainstorming sessions or art breaks. Stick to the budget by repurposing items, thrifting, or investing time in DIY projects. The result is a vibrant, inspiring space primed for artistic expression.
Candy Land Room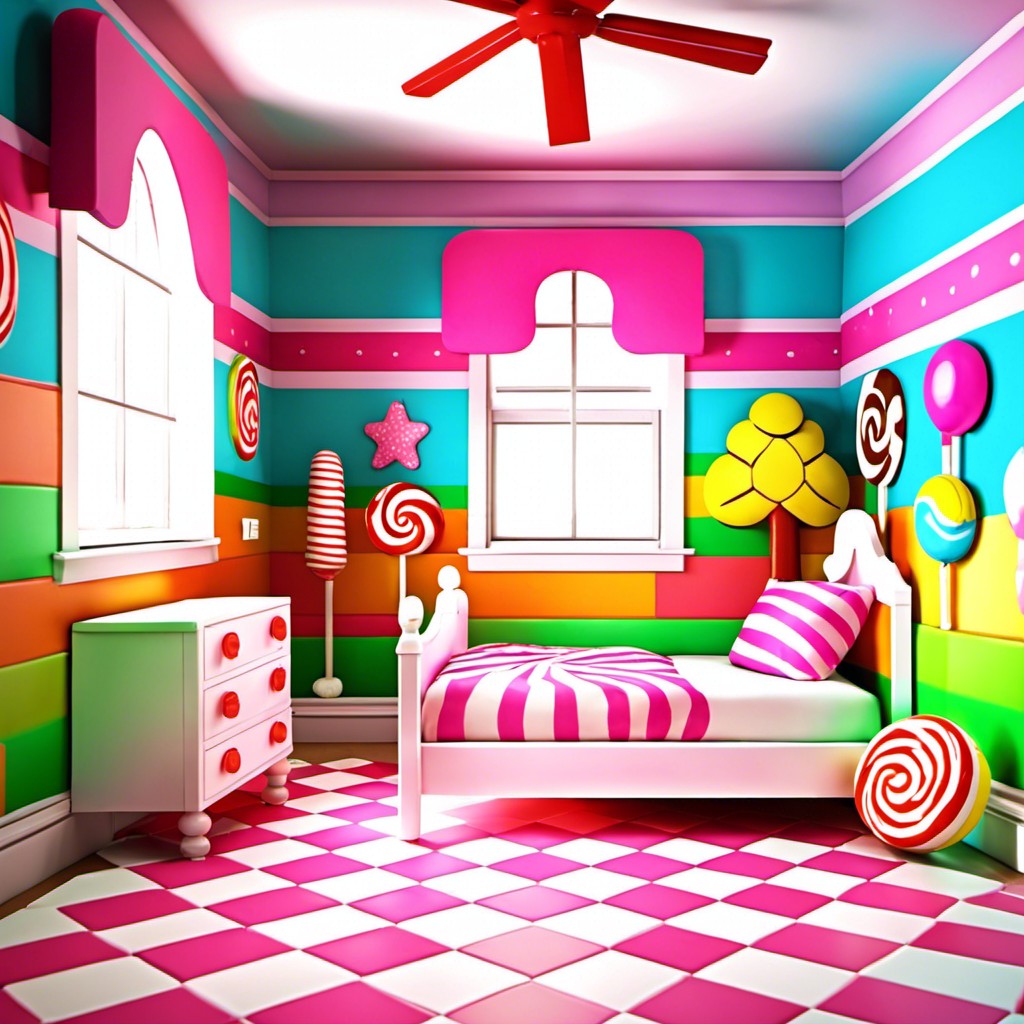 Let your child's imagination run wild with a magical Candy Land themed room. Capture the enchanting essence of this classic board game through creative décor choices scaled down to suit your budget.
Here are some tips:
Color Palette: Bright, vibrant hues are your best friend for this theme. Think pastel pinks, purples, blues, and yellows to recreate the magical lands.
Walls: Have fun with peel-and-stick candy decals which you can easily remove or rearrange, giving the room a dynamic look without permanent commitment.
Storage: Use rainbow-colored bins and shelves for storage purposes that seamlessly fit the theme while serving a practical purpose.
Bedding: Opt for colors or patterns reminiscent of confectionery motifs. Try a sprinkle printed comforter to add a candy-coated charm.
Furniture: Whitewashed pieces can balance out the vivid color scheme, or add more color with brightly painted items. A bean bag chair in bubble gum pink or a donut-shaped ottoman can add whimsical flair.
Accents: A gumdrop shaped lamp or peppermint-patterned curtains can add perfect finishing touches to the room.
Remember, this theme gives you a lot of creative leeway. Let the sweet magic of Candy Land guide your décor choices!
Ancient Egypt Room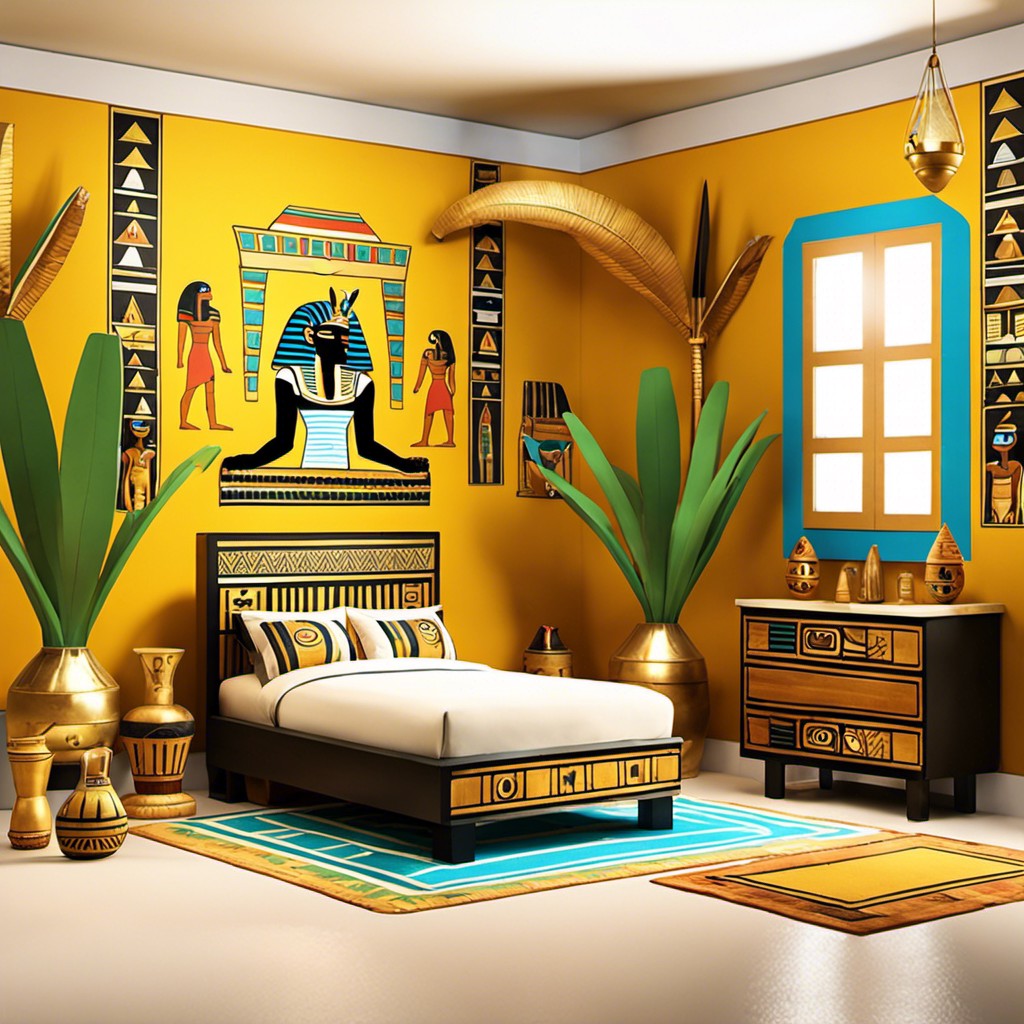 To start, paint the walls with a warm sand or golden-brown hue, using stencils to add iconic pyramid silhouettes or hieroglyphic designs. For the floors, consider textured rugs with an earthy touch to resemble desert sands.
For an authentic feel, add decorative items like miniature sphinx statues, papyrus scrolls, or replica canopic jars.
Furniture wise, opt for pieces that have an antique, rustic touch. This would help in creating a traditional atmosphere. Don't skip on choosing elements like ornate gold mirrors and lantern-style lighting fixtures to complete your room.
Lastly, incorporate linen or cotton curtains and bedding in shades of turquoise, sapphire, or carnelian, which were commonly used in Ancient Egypt. Also, consider adorning your room with faux palm trees or potted papyrus plants for a bit of lushness and freshness to contrast the desert vibe.
Don't forget that a few hieroglyphic cushions or throws could add an extra level of Egyptian aesthetics to your new favorite space.
Prehistoric Caveman Room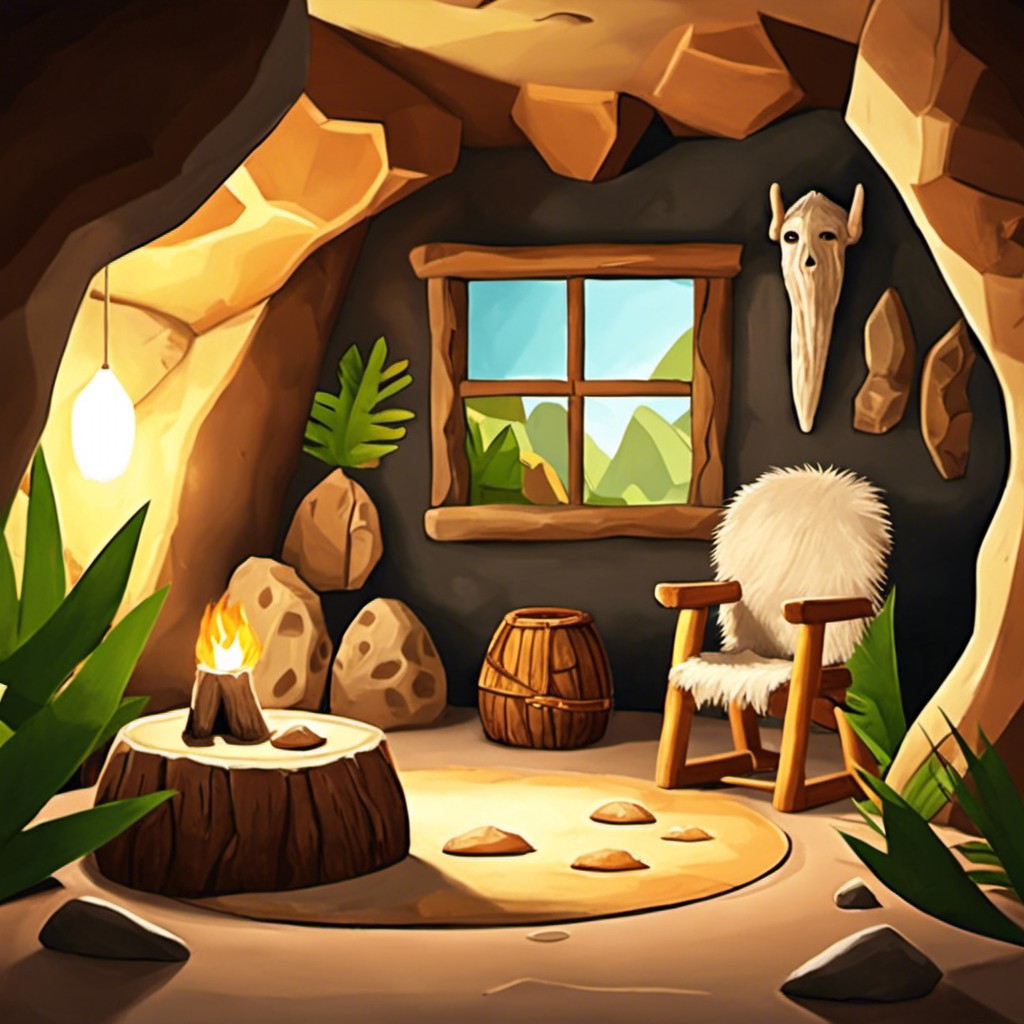 Be prepared to transport your child back in time with a few creative adjustments! Consider utilizing materials such as faux fur on the bedspread or rugs to bring out a coziness and roughness that depicts cave life.
Use wooden furniture, it gives a raw, earthy tone, very similar to the caveman era. Don't shy away from adding atypical pieces like artificial bones and fossils as decorative elements, they can serve as captivating conversation starters.
Murals or wall decals can feature simplistic cave drawings to highlight an authentic cave atmosphere. Maintain a warm color palette with shades of brown, beige, and hints of muted yellows and oranges to mirror a flame-lit cave ambiance.
Remember, it's about simplicity and functionality, fuse these elements together to create a truly unique prehistoric retreat.
Robot Laboratory Room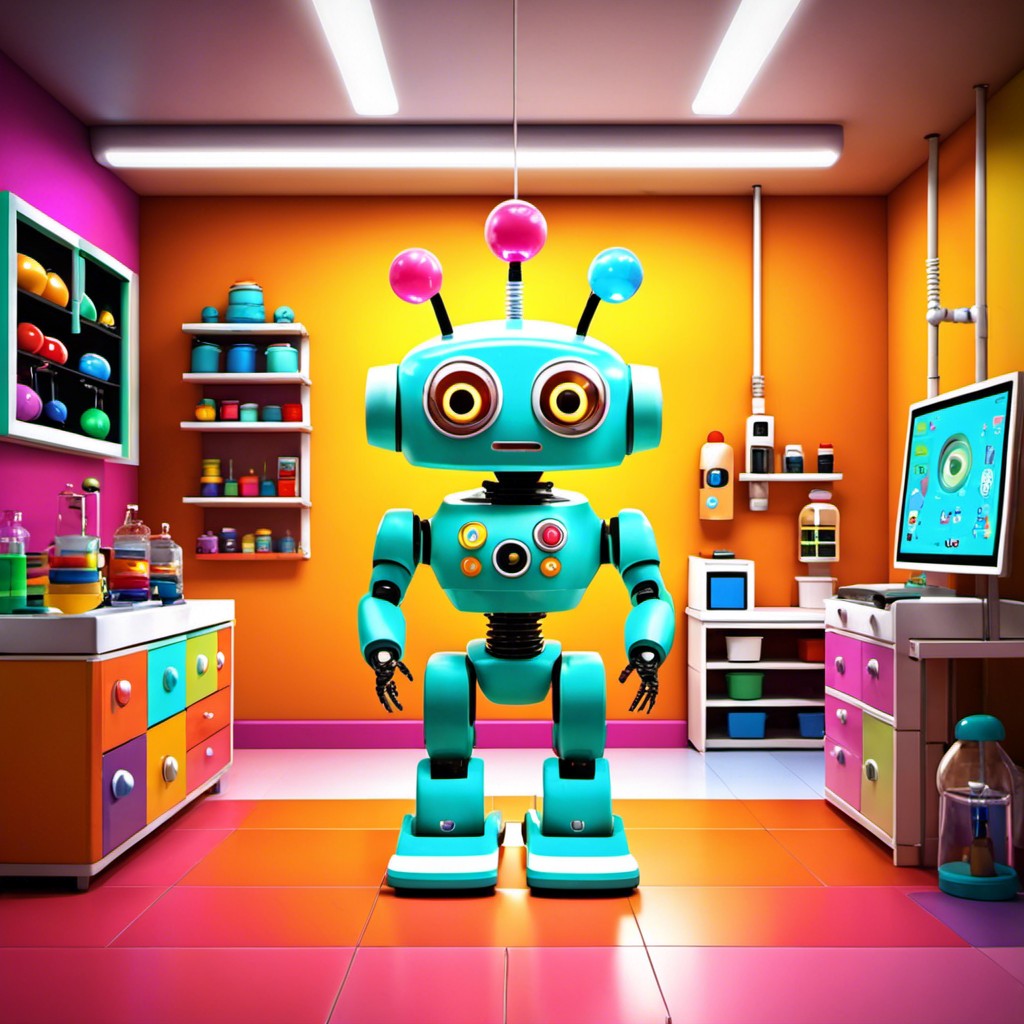 With a playful mix of futuristic and industrial elements, this room allows your child to immerse in their own robotics lab fit for a young scientist. Focus on incorporating metallic and neon accents, gears and cogs decor, and scientific motifs.
Here are some key points to consider:
1. Use silver or gray as primary color while introducing pops of neon blue or green for a high-tech vibe.
2. Choose metallic or industrial style furniture such as a metallic desk or a gear-shaped bookshelf.
3. For beddings and curtains, look for prints with robots or circuit patterns.
4. Decorate the walls with fun vinyl decals resembling circuitry, gears or robot-themed artwork.
5. For lighting, consider installing LED strip lights or a pendant light resembling a satellite or spaceship.
6. Include interactive elements such as a magnetic wall or a tabletop robotics kit for creative play.
Remember, the idea is to create an exciting, interactive space that stirs the imagination, without breaking the bank!
Magical Forest Room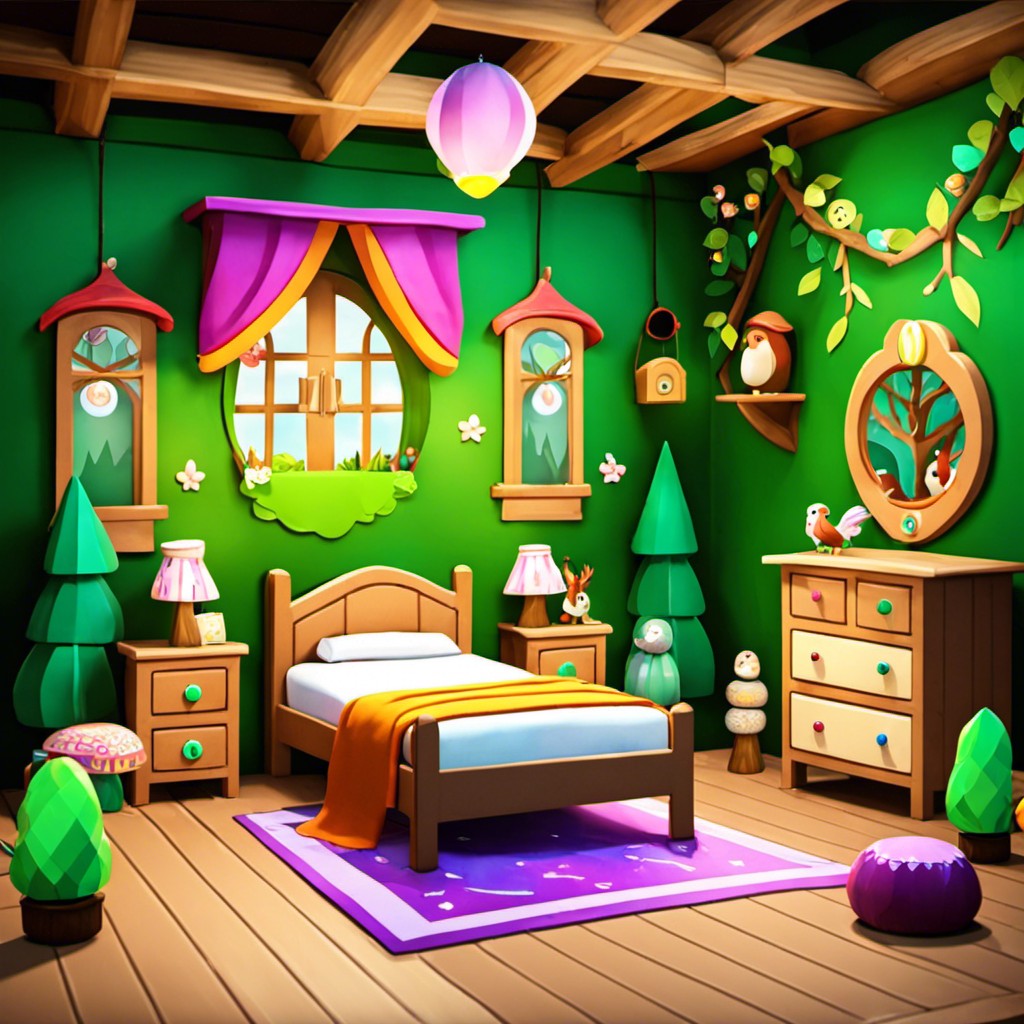 To create a Magical Forest Room, turn your space into an enchanting wonderland. Apply forest green paint or wallpaper with tree patterns on the walls, but keep the ceiling light for a spacious feel. Adorn windows with leafy, thicket inspired drapes or install wooden blinds for an earthy touch.
Get creative with bed linens and cushions featuring prints of mythical creatures or forest florals. A mosquito net canopy could add a whimsical element to the room. Bring to life the forest floor with rugs mimicking grass or moss. Incorporate soft lighting with twinkling fairy lights or mushroom-shaped lamps for an extra magical ambiance.
Don't forget to add forest-themed furnishings and storage. Oak or pinewood furniture would work perfectly. A tree stump ottoman or side table would be a unique addition. For storage, consider mushroom-shaped shelving for books and toys. Lastly, include natural elements like potted ferns or hanging ivy. Now, your Magical Forest Room is ready to inspire dreams of mythical adventures.
Cowboy Saloon Room
Mixing elements of rustic charm with a dash of bold persona embodies the essence of this concept.
Emphasize natural wood finishes in furniture and flooring. A vintage bar counter becomes a unique centerpiece.
Use warm lighting fixtures like lantern-style lamps to enhance the ambience. Old-fashioned, leather armchairs provide a comfortable sitting area.
Install saloon style swinging doors for entryways to genuinely replicate the spirit of an old west tavern.
Infuse cowboy-related accessories, such as horseshoes, cowboy hats, and large wagon wheel decor.
Toss in a checkered tablecloth, and barn-style windows, to complete the atmosphere.
Be sure to use muted, warm, and earthy tones for color schemes, aiding in that authentic, country-western ambiance.
Delve into the spirit of the Wild West right at the comfort of your own space.
Ice Castle Room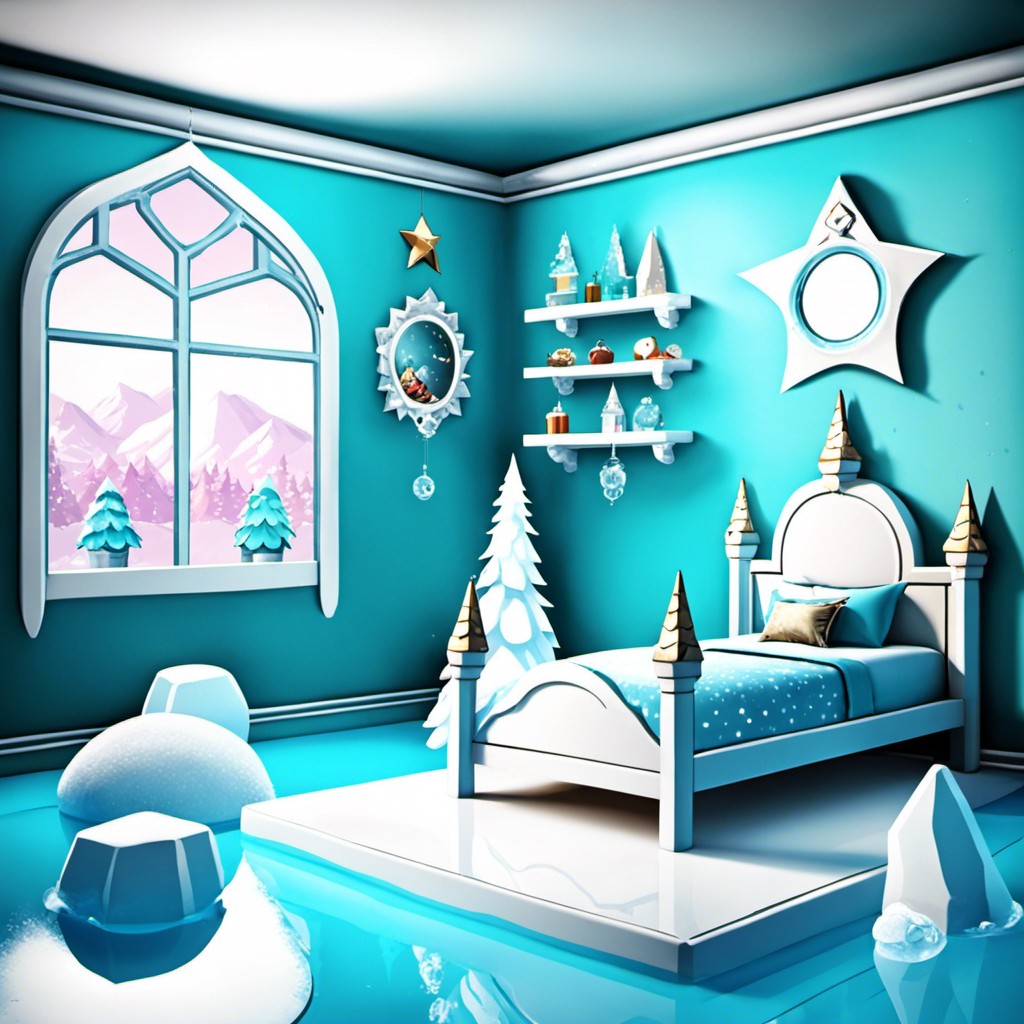 Formulating the Ice Castle Room can really be a dazzling experience. Incorporating white and various shades of icy blue throughout the space helps in achieving this frosty haven.
Foam cutouts of snowflakes, hung from the ceiling, can make an enchanting detail. A canopy over the bed to mimic a grand, arching icicle would add to the whole thematic realism.
Don't forget the lighting – LEDs can create an otherworldly glow, especially if you opt for those with a cool white light. Frosty decals for the windows or transparent furniture – like an acrylic desk or clear plastic chairs – are yet more ways to bring the ice castle theme to life.
Hint at the grandeur with miniature ice castles or figurines on the shelves – you can make these yourself for a fraction of the cost of store-bought decorations. For wall art, consider a large mural or wall sticker of a snowy landscape.
Finally, fabrics and textiles are key for this look. Choose shimmering curtains, fluffy white rugs, and luxurious white velvet or faux fur throws for the bed. Don't be afraid to experiment with textures to evoke the image of ice – it's all about bringing the cold, magical atmosphere of an ice castle into the room, without having to lower the thermostat!
Sunny Farm Room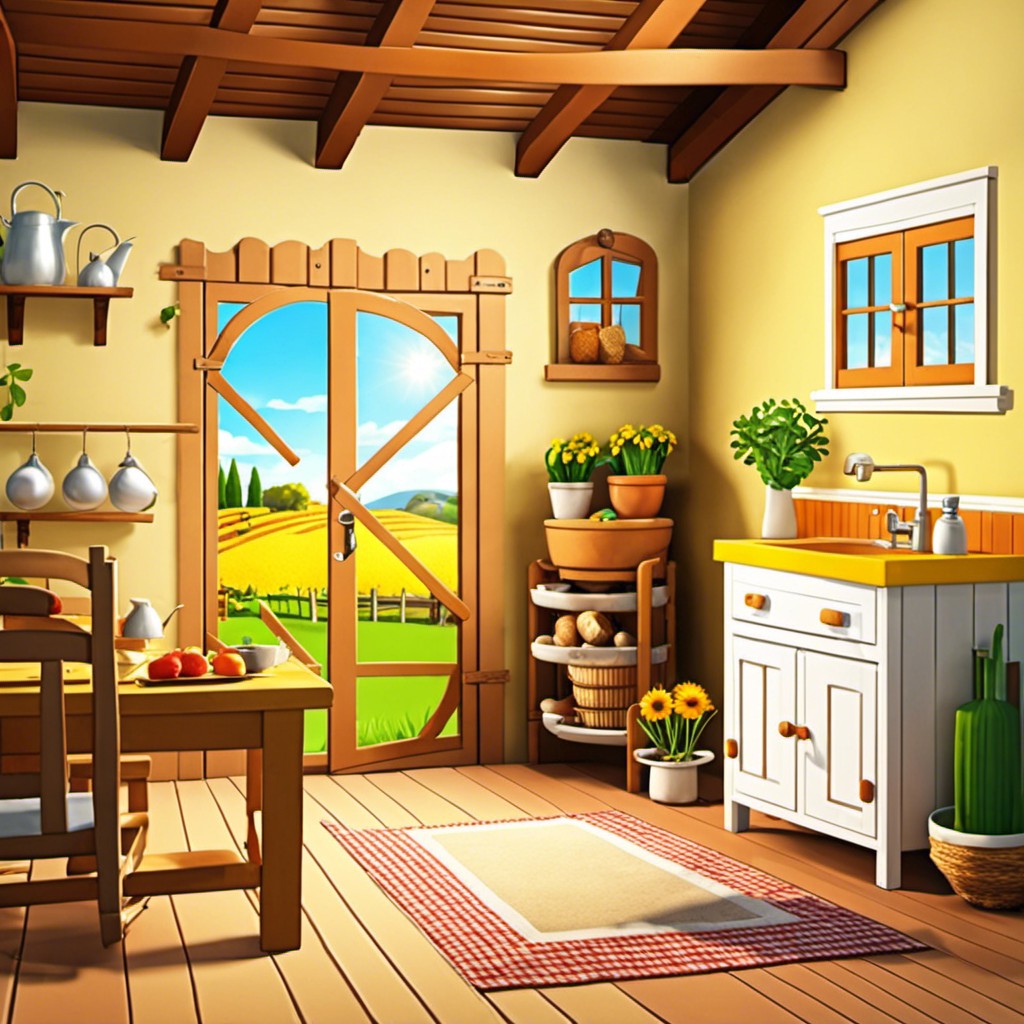 Kick-start this project with earth-toned wall colors to reflect the rustic outdoors. Consider textures like shiplap or weathered wood for an authentic farm feel.
Next, accentuate the room with reclaimed wood furniture to emulate a barn's charm.
Now, let's add personality. Display farm-themed artworks, like renderings of animals or crops. Fabrics also contribute a lot – think gingham curtains, quilted throws, and burlap cushions.
When it comes to lighting, create warmth with vintage style metal lanterns or an overhead barn-style pendant light.
Layer some child-friendly elements. Introduce educational toys and books about farming. A toy barn or tractor can serve as both plaything and décor.
Lastly, carve a cozy reading nook with haystack-like bean bags or a teepee tent for a playful spin. It's a delightful union of function, fun, and farm aesthetics.
Medieval Castle Room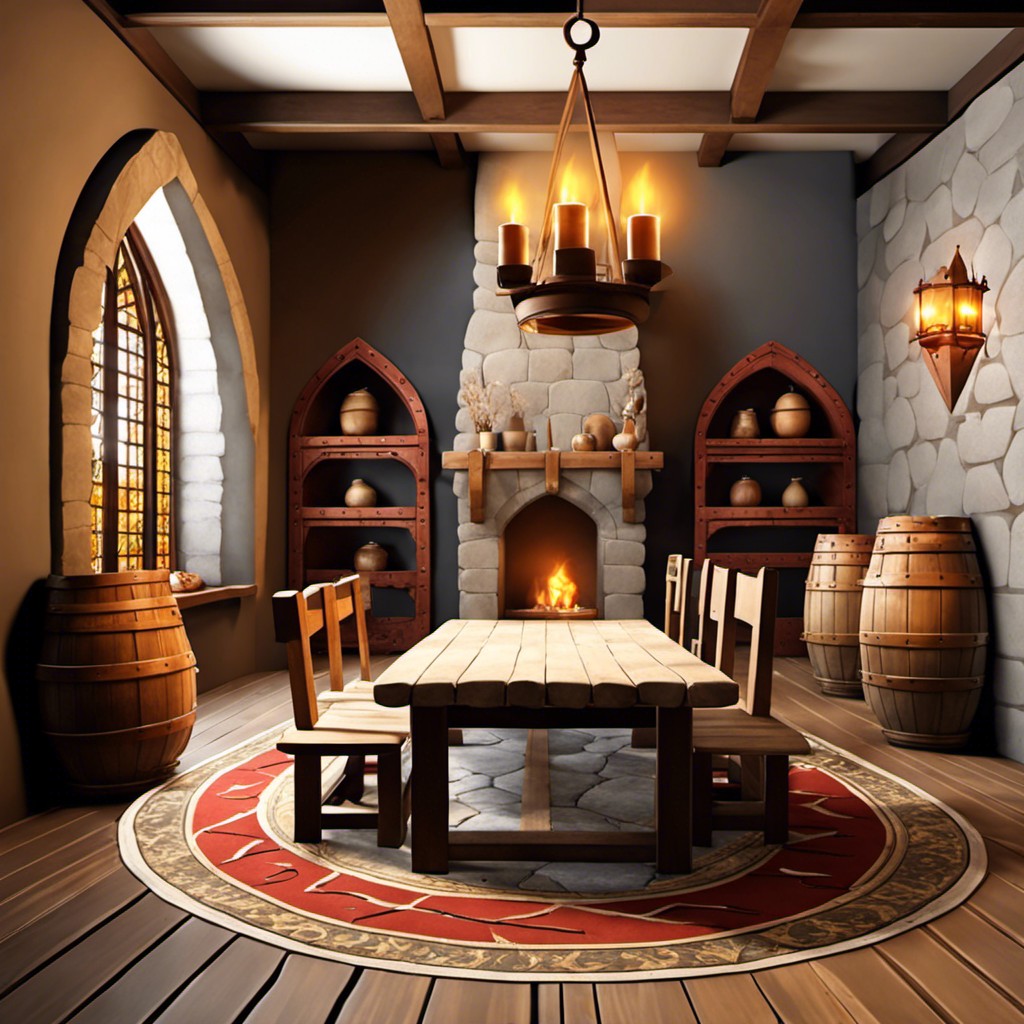 To craft the perfect Medieval Castle Room, there are a handful of essential elements to include. Flank your child's bed with torch-style wall sconces to mimic those lighting castle corridors in days of old. Stencil or paint stone-wall effect on the room walls. Craft a DIY wooden drawbridge bookshelf or bed frame for that authentic castle vibe.
Opt for colors like rustic browns, deep blues, and muted golds to capture the medieval era's moodiness. Don't forget to use patterned ceiling tiles or decals to emulate the times of long-ago architecture. Consider a knight-themed bedspread, a rug emblazoned with a family crest, and include a selection of stuffed dragon toys for an added level of whimsy.
The key to a prosperous Medieval Castle space is balancing historical elements with the playful aspects of childhood. Your kids will be ruling their personal kingdom with a radiant smile in no time!
Remember, setting the room's mood lies heavily in the lighting – might want to invest in a chandelier or a rustic lamp to get that eerie medieval castle feel right. And lastly, accessorize! Old chests for toys, knight armor clothes hangers, castle-themed decors, and more can give a final touch to the Medieval Castle Room.
Recap
Liked this article? Here's what you can read next: