Last updated on July 12, 2021
Here are our top 10 picks for the best L-shaped desks of 2020. We set out the criteria as well as pick our number one L-shaped desk. Read on to find out what it is.
► Our top choice: This L-Shaped Office Desk
Looking for the best L-shaped desk you already know the qualities that such a design brings to the room. It's the best desk design to save space. The shape consisting of two perpendicular desktops fits perfectly in any corner and creates a work triangle for your workspace. It's the most natural workplace for you to set up for your home office.
What are the criteria we need to look at when choosing this type of desk?
Chair space. Even though it's a space-saving design, it doesn't mean that it has to be compact and limited in space. You need enough room for the chair (especially if you're sitting long hours) and moving about to work comfortably.
Storage space. With all the desktop space you need room to store all your things. L-shaped desks can provide shelves and even cabinets or hutches for storage.
Keyboard tray. Nowadays, we all have a computer at our desk. So having a keyboard tray integrated into the design is always a welcome addition.
Standing desk conversion. This is a function that some desks have and it may be a useful investment.
The length. This is where you need to decide on how big a desk you need for your workplace. Regardless of size, it will probably fit in any corner, but you don't have to place it in one. The extra tabletop can serve for meetings and sharing workspace.
Other useful features: USB ports, cable management, CPU stand.
An Important Consideration: Your Work Style
Regardless of our top choice for the L-shaped desk, your work style may suggest otherwise. Indeed, if you're spending all of your time at the computer or on the phone, a small desk is fully enough to accommodate you. However, if your work involves a lot of paperwork as well, there will be a lot of moving about and the need for more table surface.
Keep this in mind when choosing your desk.
What are the caveats we've noticed when researching products?
Some desks scratch like crazy. This is a quality trait that must be considered. MDF board versus solid wood makes a huge difference.
Carefully consider the size of the table.
Wobble action is unwanted but alas present in several products.
Here are our top picks including our editor's choice. They all contain useful links and if they are tagged with #ad it only means we are compensated for any purchases you make. Of course, there's no additional cost to you for it.
L-Shaped Computer Desk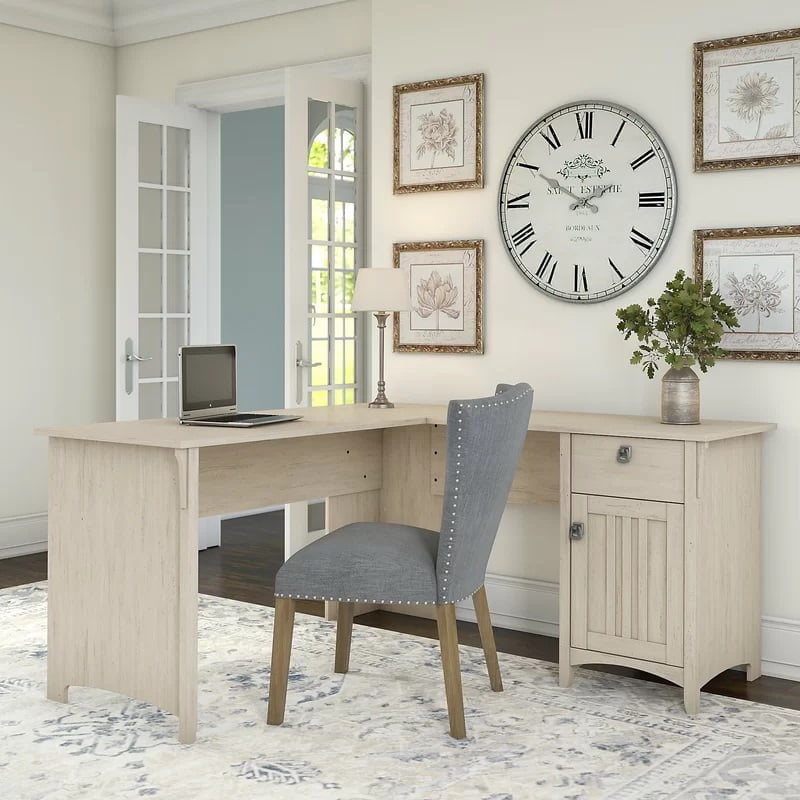 This L-shaped computer desk is a great partner for the desk worker. It has plenty of workspace and provides extra storage with the cabinet and drawer. It is expensive though and is really heavy to move around. Assembling is easy though you might need extra help to build it.
Pros: Eco friendly; extra storage; good quality material; plenty of workspace; long lasting.
Cons: Need extra help in assembling; expensive; heavy.
L-Shaped Desk with a Hutch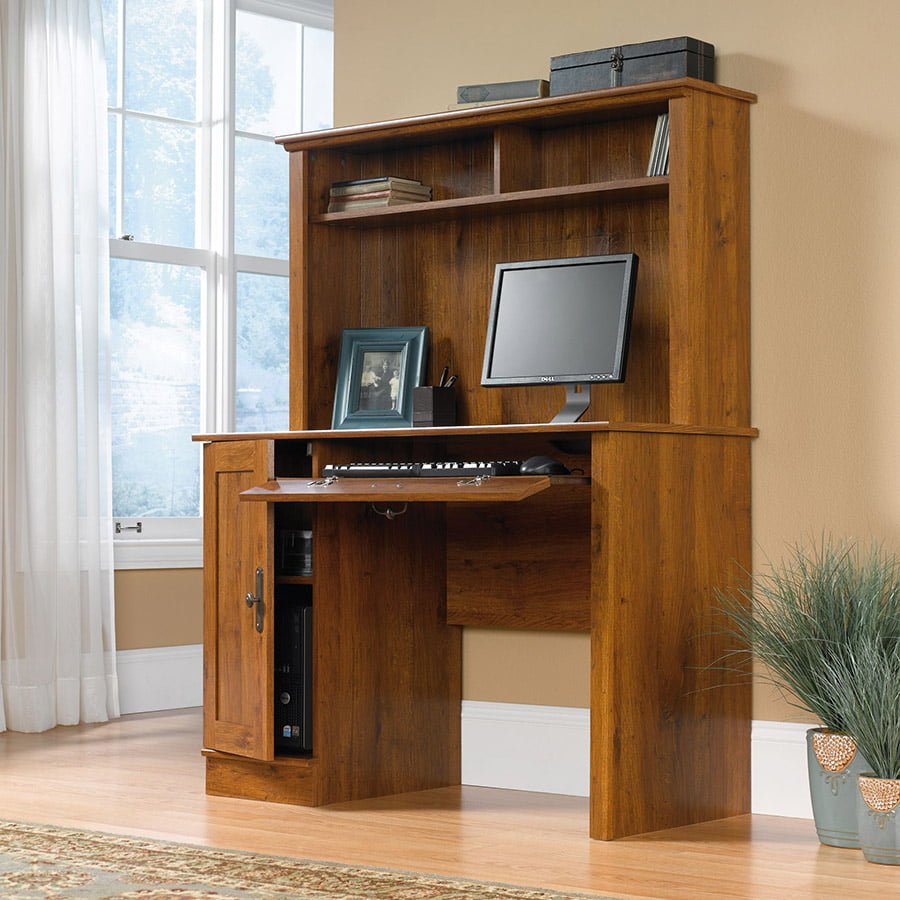 If your work needs to be in front of a computer, this would be your perfect partner. It has a slide-out shelf for keyboard and mouse under the workspace, a cabinet for a CPU tower, and extra papers or files that can be stored in the open shelves and storage on top. It is relatively small and breaks easily if not used properly.
Pros: Slide out shelf; cabinet for CPU tower; adjustable open shelves; affordable; open storage on top; wire retaining grommet.
Cons: Difficult to assemble; flimsy; smaller compared to others.
Small Corner Desk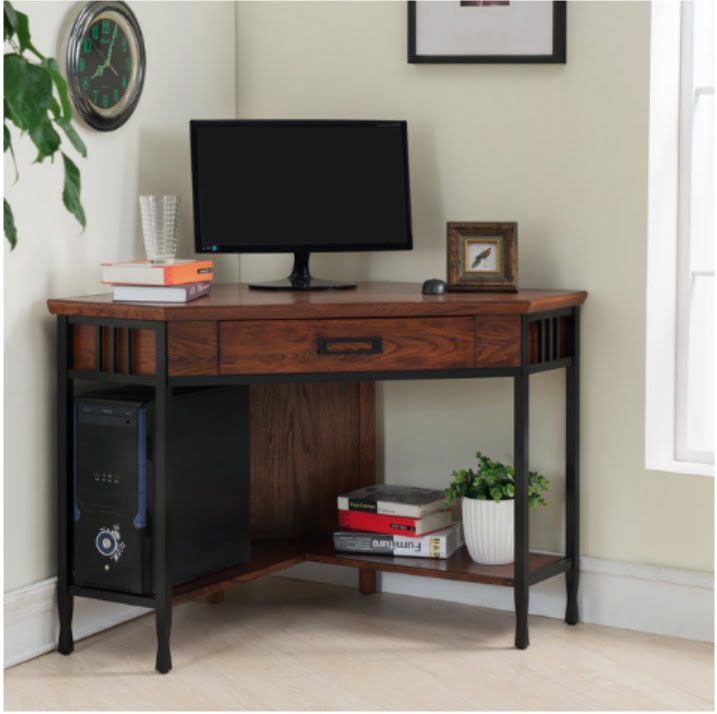 A portable, easy to assemble desk that has a small workspace making it a great a study table or simple work table. It has a sliding shelf to keep a laptop, keyboard and mouse while the open space underneath can fit computer towers or books.
Pros: lower storage shelf; wire retaining grommet; front lid; portable; easy to assemble.
Cons: A bit pricey; small workspace.
L-Shaped Office Desk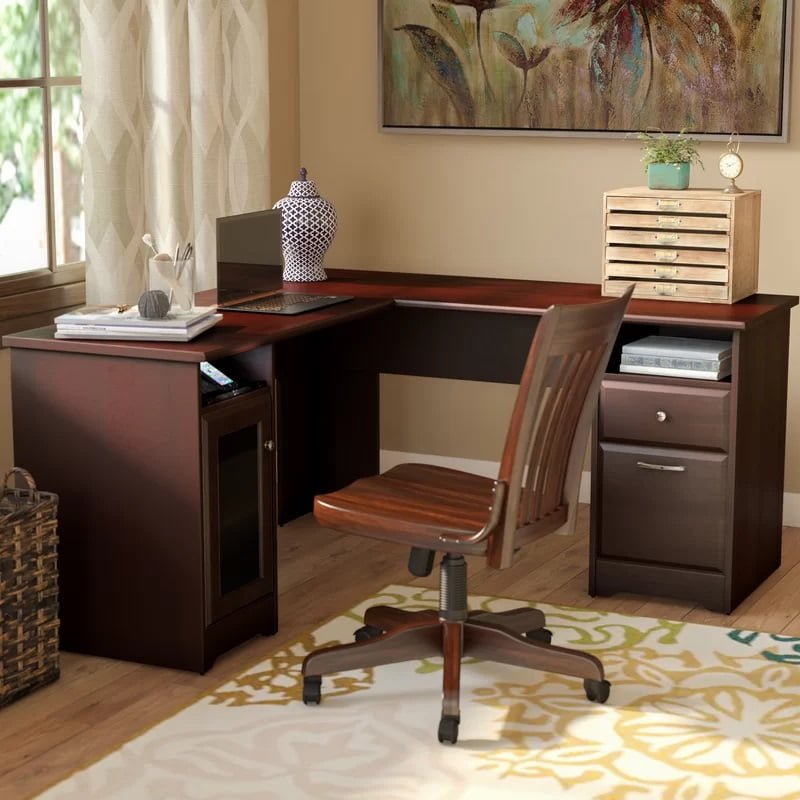 This desk is our top choice for the best L-shaped desk. Why? It's stylish and we love it. It provides plenty of surface and storage space, and it has a few nifty extras that are helpful.
This expensive but elegant looking office desk is strong that it can hold up to 200 lbs of items. It has plenty of workspace and storage for computers, towers, printers, or papers. It even has USB ports to charge your gadgets.
Pros: 200 lbs capacity; chargers; plenty of work space; extra storage; elegant looking.
Cons: Expensive; hard to set up; fades easily.
White L-Shaped Desk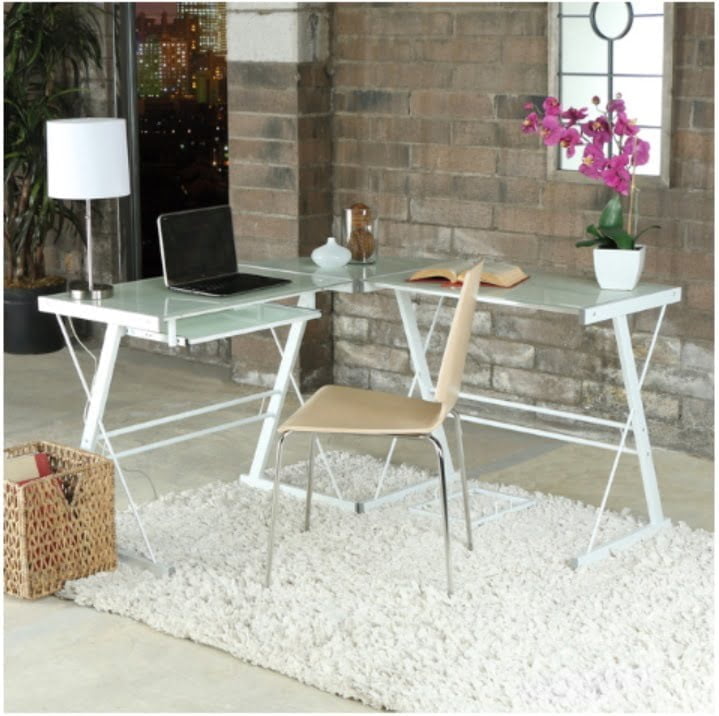 This very simple desk looks expensive but it's actually affordable. Even though it has a small keyboard tray and less storage for your extra things, it is easy to build and easy to drag. It is made of lightweight materials but offers plenty of workspace on top.
Pros: Plenty of workspace; portable; easy to assemble; sturdy; expensive looking.
Cons: less storage; small keyboard tray; lightweight materials.
Small L-Shaped Desk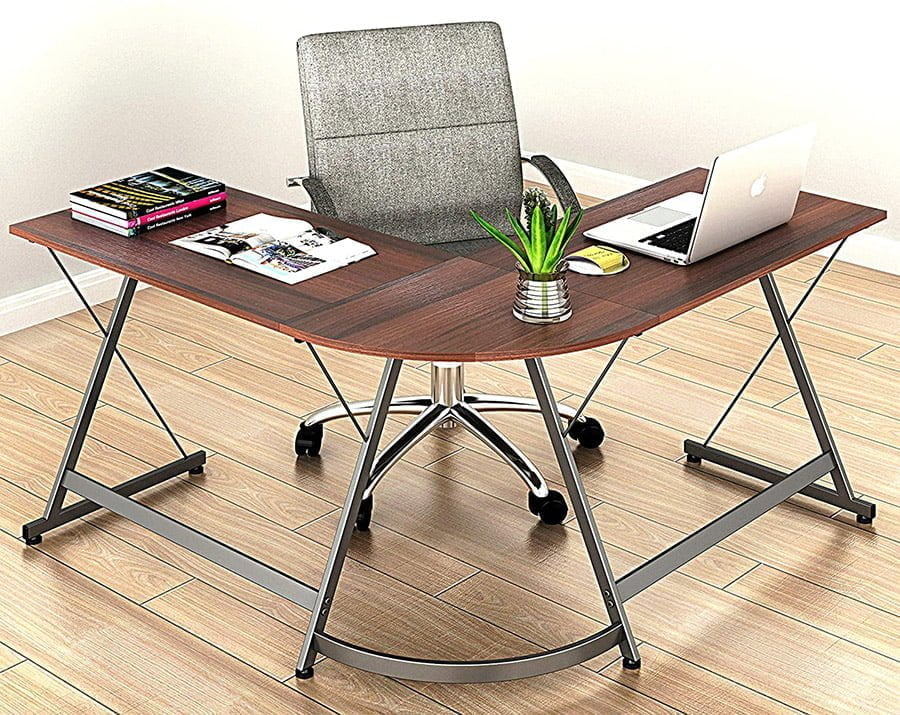 If you need plenty of legroom to stretch while having the perfect height, then this desk will do the job. But because of it's open space underneath, it doesn't have extra storage and can get damaged easily by water. It has a good amount of workspace and can balance on uneven floors.
Pros: Footrest bar; adjustable glides; easy to assemble; legroom; affordable; comfortable height.
Cons: No extra storage; wobbly; gets water damage easily.
Corner Desk with Storage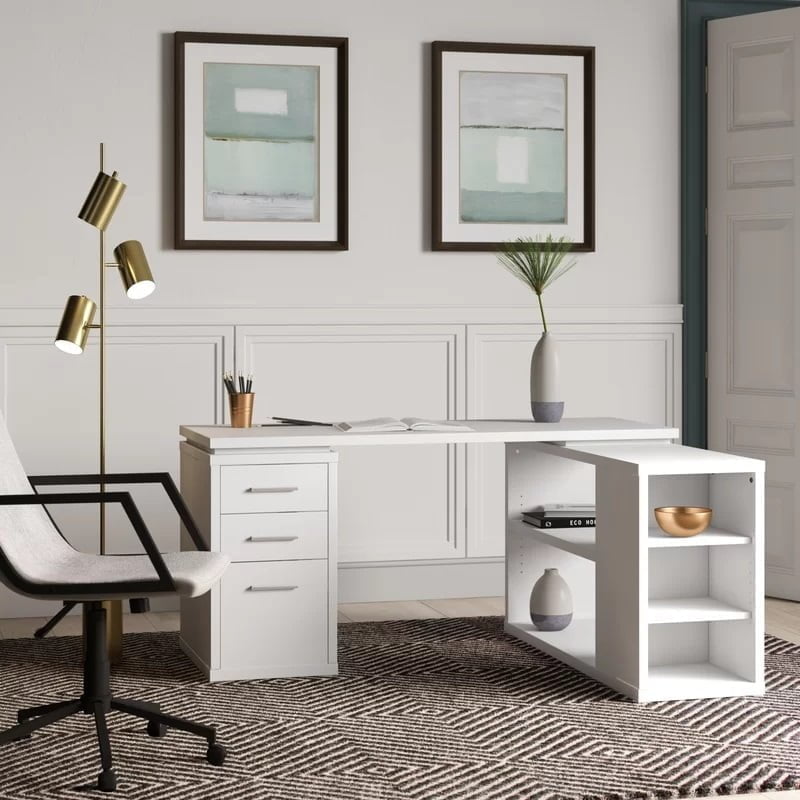 This desk may look small but it's, in fact, heavy once assembled. However, its best feature is that it is flexible that you can customize if the drawers should go left or right. It provides plenty of storage, both open and close shelves, and takes little space in your room.
Pros: Plenty of storage; flexible; quick to build; compact; beautiful looking.
Cons: Less work space; pricey; heavy than it looks.
L-Shaped Standing Desk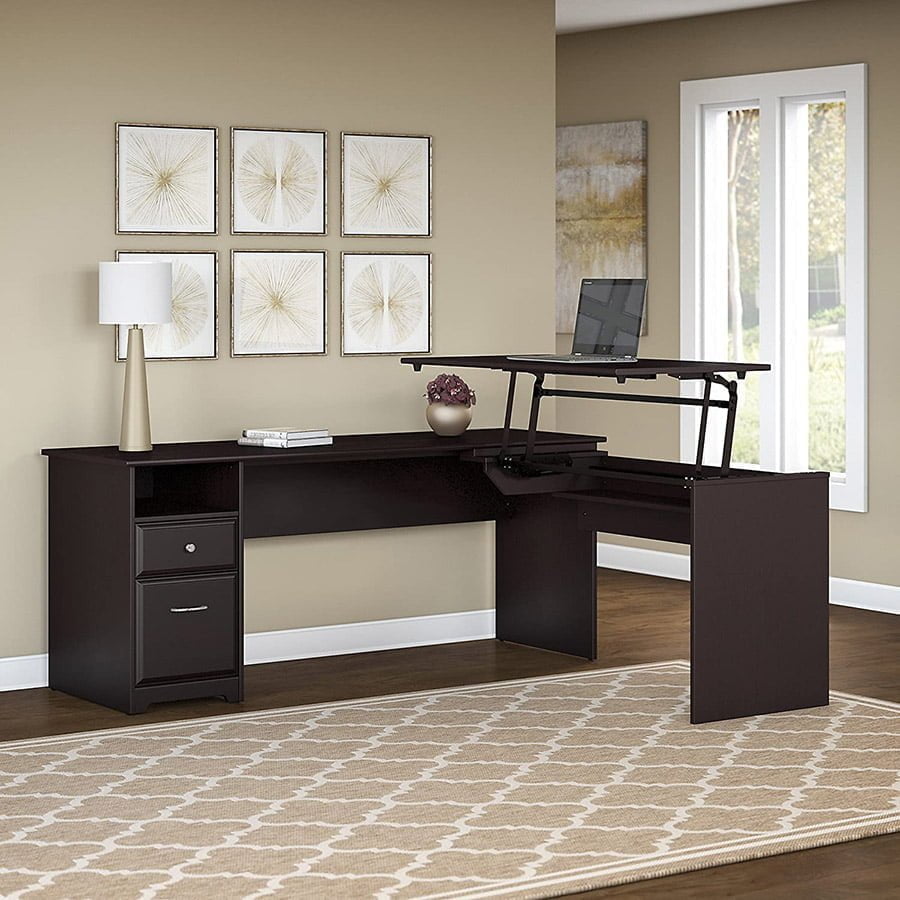 A really expensive desk but worth every penny. It covers plenty of space as it has a lot of work space on top, plenty of storage to use with drawers and open shelves. The best feature is it can be used while sitting or standing with 3 adjustable height positions. It can accommodate up to 200 lbs while sitting and 20 lbs on standing.
Pros: Lots of storage; sitting and standing use; adjustable standing height positions; plenty of workspace; 200 lbs capacity and 20 lbs for standing height; scratch resistant.
Cons: Really expensive; difficult to assemble; chips easily.
Modern L-Shaped Desk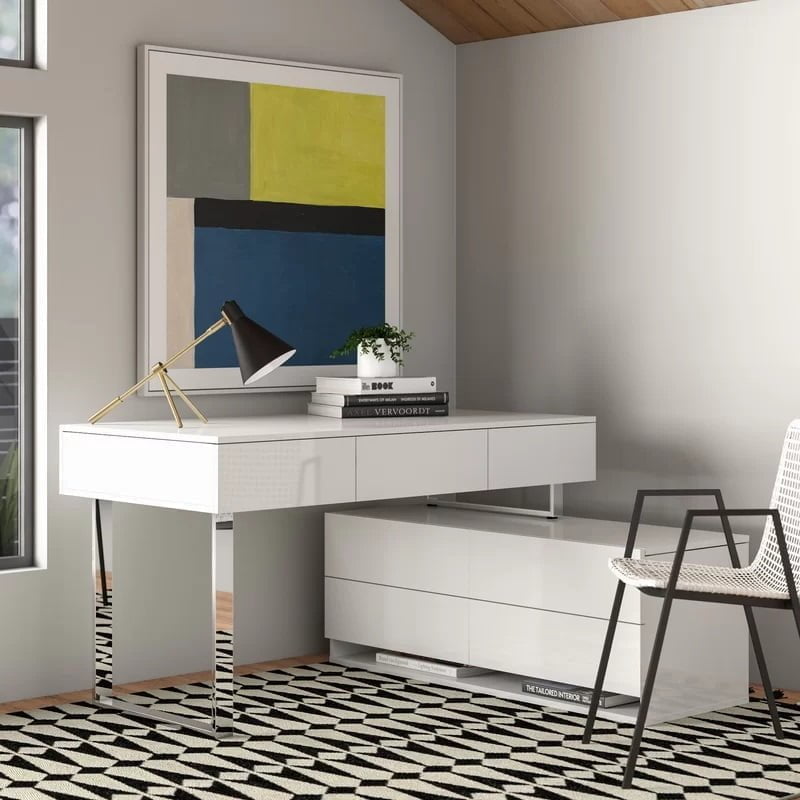 This desk doesn't offer much storage or workspace but because of its unique design, you can rotate the desk to fit it in a long wall or corner. It is quick to assemble and not that heavy to move around.
Pros: Unique design; compact; rotating desk; quick to assemble; portable.
Cons: A bit overpriced; few storage and workspace; easily scratches.
Large L-Shaped Desk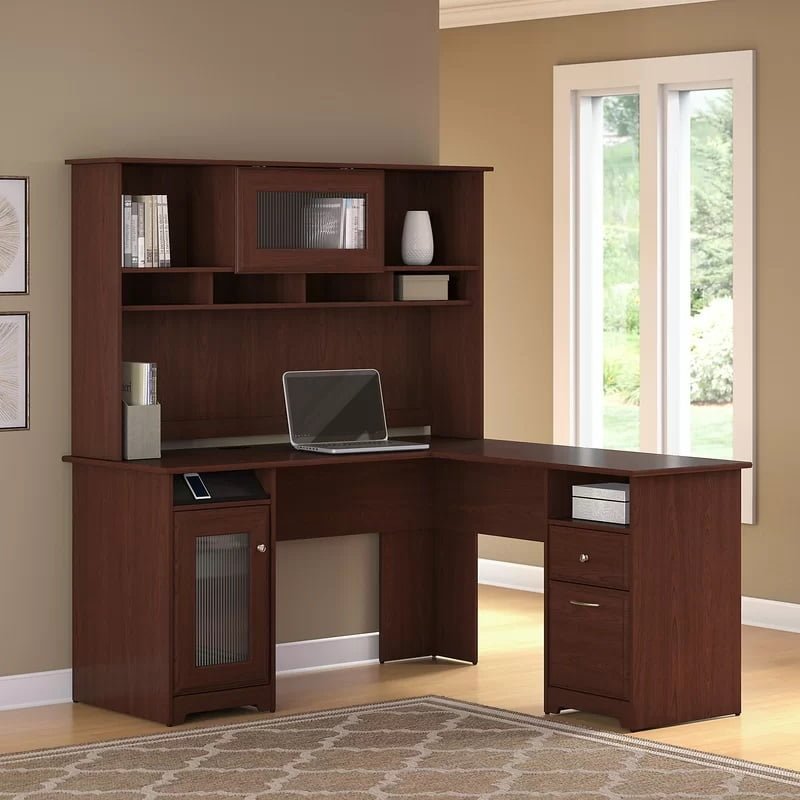 This L shape desk is really expensive but definitely worth every penny. It has USB ports for charging electronics with matching cable management features. It packs full power when it comes to storage as it has a hutch, a cabinet, drawers, open shelves, and plenty of workspace on top.
Pros: USB port; cable management; plenty of storage; lots of workspace; really sturdy.
Cons: So expensive; takes lot of time to assemble; scratches easily.
FAQ
What material is the best for an L-shaped desk?
Solid wood is the best choice as it is durable and good looking, albeit more expensive. Durability is important as this is your work desk that gets enough beating during the day.
Why use an L-shaped computer desk?
It's space-saving and functional. An L-shaped computer desk is an all-around perfect workspace for home or office. It helps you create a work triangle (so to speak) where you can access everything you need for work without leaving your chair (or standing mat).
Where should I put my L-shaped desk?
You have a few options. The most popular is, you guessed it, in the corner. But you can also place it in the middle of the room as well. Also, consider forming a U-shaped workspace by using an extra bookshelf.
Recap
---
Disclosure: As an Amazon Associate we earn from qualifying purchases.
Liked this article? Here's what you can read next: