Last updated on January 21, 2021
Looking to get the right desk for your home? Here are the best desks of every type for every room in the house.
Curious to see what's the best? Our editor's choice is this L-shaped corner desk.
A home office is in every house these days, even if it means a single computer desk somewhere in a corner. And it doesn't matter if you have a day job or work from home – you need a place where you can go about your business. Since we're all about doing everything right as far as home decor and furnishing goes, we want you to have only the best desks in your home.
The purpose of this list is not to overwhelm you with options, rather give you our opinion about the desks of every type that you may need. We're giving you our top choices, including several popular types of desks. And while we've chosen a workstation desk as the best overall, do check out the entire list of other great options that might better fit your specific needs.
We have included shopping links for every desk. These links earn us a commission at no expense to you.
What's Inside?
L-shaped Corner Desk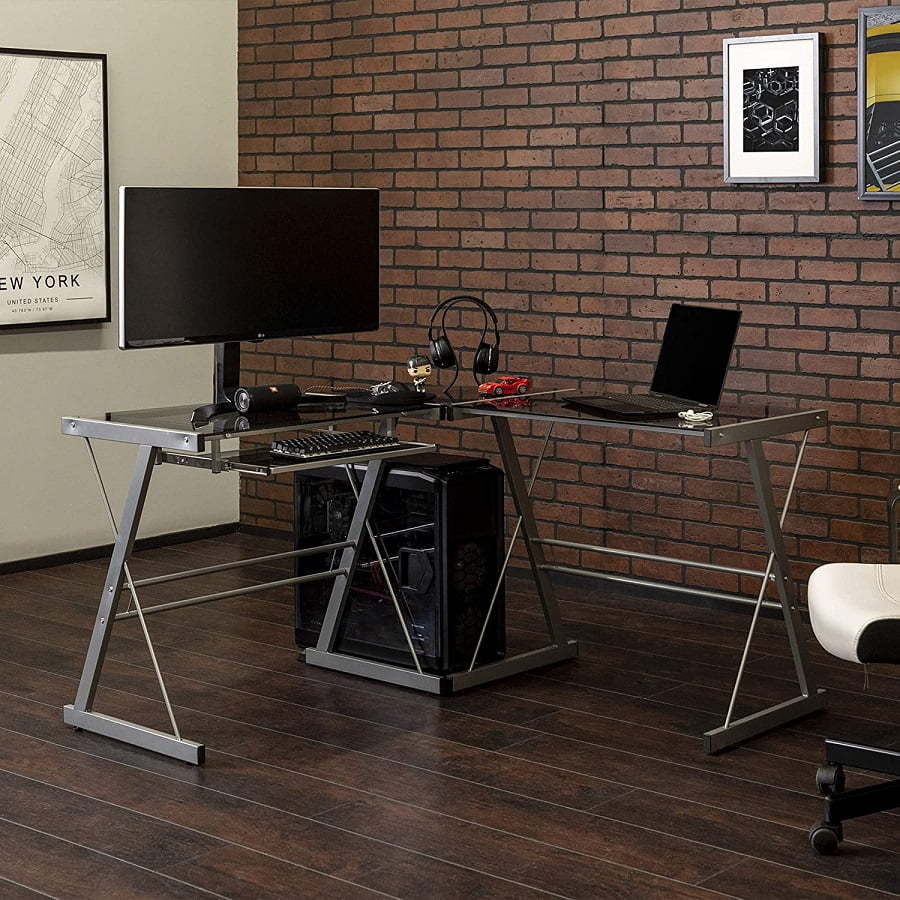 If you want a simple desk with a modern polished look that goes virtually in any home decor style, this is a perfect choice. This home office desk features a beveled glass top supported by a powder-coated finish steel frame. The L-shaped desk design saves space and leaves plenty of room to move and work.
Why it's our top choice? The desk features a sliding keyboard that can be detached from one corner of the desk to another. It also comes with an extra CPU stand for more convenience. The design is sleek and simple – a good choice if you want a clear, clean, uncluttered desk without the extra shelves and drawers.
Small Corner Desk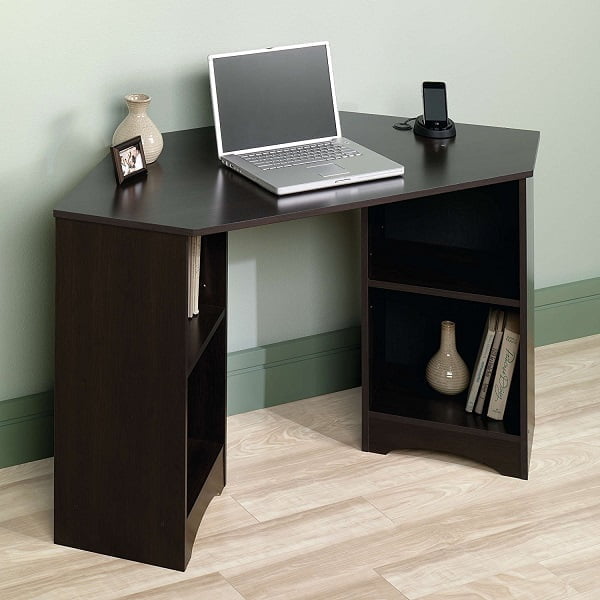 The Sauder Beginnings corner desk comes in a cherry finish and features four adjustable shelves for storage or displaying items. Measuring 53 1/8″ W x 23 1/2″ D x 28 3/4″ H, this corner desk provides a decent-sized workspace even in small spaces. Although it doesn't have a drawer for storage, the cubby-style shelving does provide a place to put work materials and items. This is a sturdy piece capable of providing an ideal work surface while saving space.
Why it's our top choice? It's very compact, so it will fit in even the tiniest spaces, yet it provides enough desktop space for a laptop and shelving space for your paper documents or books. The wooden finish is really pleasing to the eye, and it will never become an eyesore in your decor.
Adjustable Standing Desk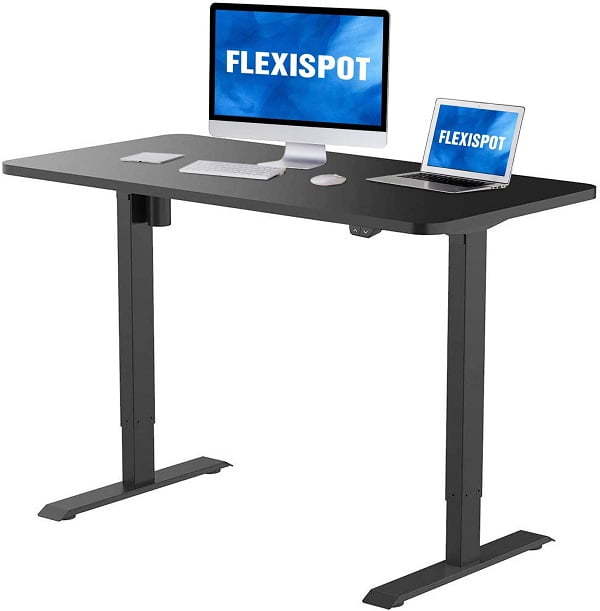 This is a bare-bones, plain, adjustable height desk, which is exactly what you are looking for if you want to start using a standing desk. The architecture allows for optimum space underneath for your legs with no odd protrusions touching your knees. The frame is well made and simple to put together with the given instructions.
We think it's an incredibly fair price for what you're getting compared to other electric desks at about 1.5x-2x the price. The motor is pretty smooth and quiet. Premium versions are a little smoother and quieter, but in our opinion, it doesn't really matter — you're not riding this thing on the freeway, merely changing the height.
From the cons, we'd mention the absence of a keyword tray.
White Compact Computer Desk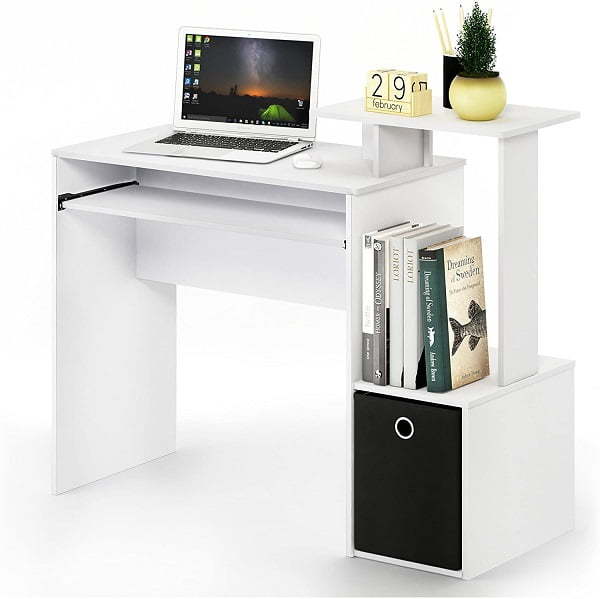 The Furinno Econ small white multipurpose desk is ideal for providing a workspace in small spaces. Perfect for a small office, nook, or a kids' room, this desk provides just enough desk space. The drawer and shelf are perfect for storage and ideal for keeping the surface clear.
It is white and neutral, making it the perfect addition to a modern space with clean lines and a fresh look. This engineered wood white desk would make a sturdy workstation space that is both aesthetically pleasing and practical.
X-Base Desk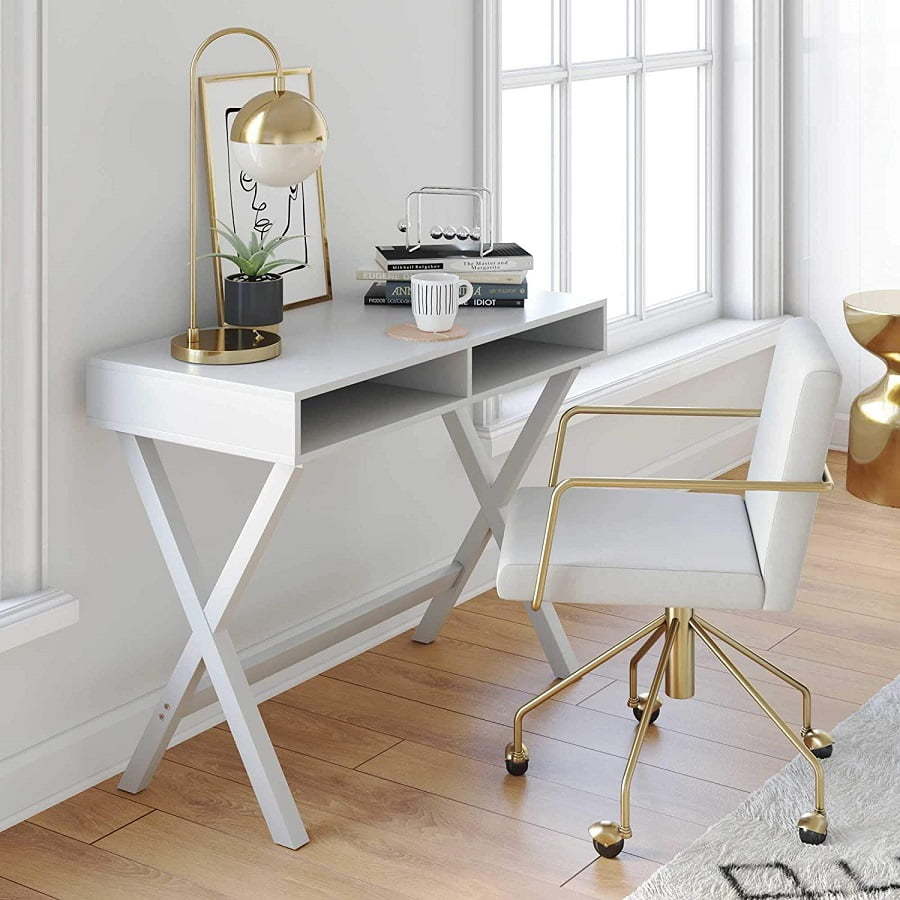 What a perfect blend of simple and contemporary in one adorable and versatile item of furniture. You could picture this as a part of a farmhouse ensemble — or just as easily see it as a fashionable accessory in a modern living room. No matter what style of furnishings you currently have, this small desk will fit perfectly with what you already have in the room.
Glass Writing Desk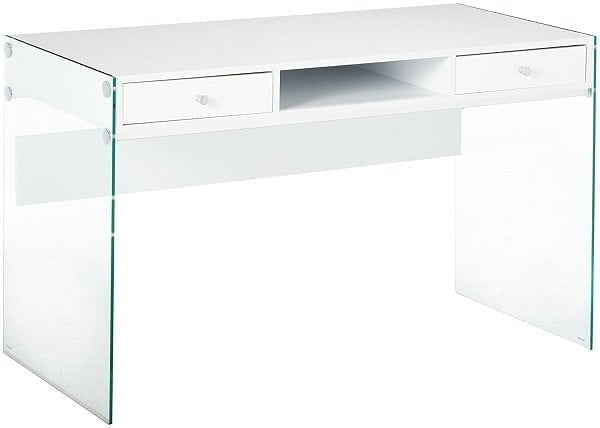 The Coaster contemporary glossy white writing desk features two drawers and a cubby for storage. The sides are glass for an open and airy look and feel. The large exposed chrome bolts give it an industrial look and contrast to the white finish softness. Also available in weathered grey and glossy black, the Coaster desk can fit into any space and décor. At 49″ long, it provides a large work area perfect for a laptop or computer monitor, a lamp, and other accessories.
Why it's our top choice? While it features a glass frame, it's very sturdy and long-lasting. The look of the glass frame is stunning.
Modern No Tools Student Desk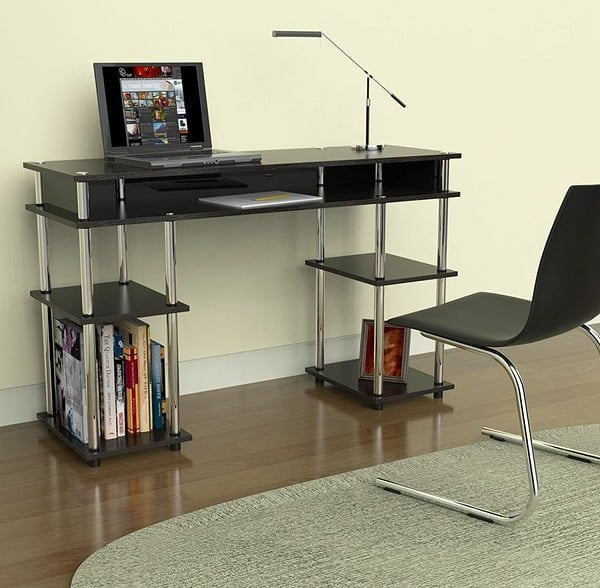 For those tight little spaces where you need a desk's functionality but can't fit a standard-sized unit into the available space, this little chrome and black pillar desk is the perfect solution. One of its most attractive features is the ease with which it can be assembled by just about anyone– and without needing to have any tools at all.
The large number of support pillars in the design also means that it is a surprisingly sturdy piece of furniture once it is assembled. Perfect for dorm use, as it can be assembled on the spot and taken home in the trunk of the car once the academic year is finished.
Why it's our top choice? We really like that its sleek modern look is combined with top functionality. This desk provides tons of storage and desktop space while occupying minimal space. It will work in just about any kind of decor as well.
Black Computer Desk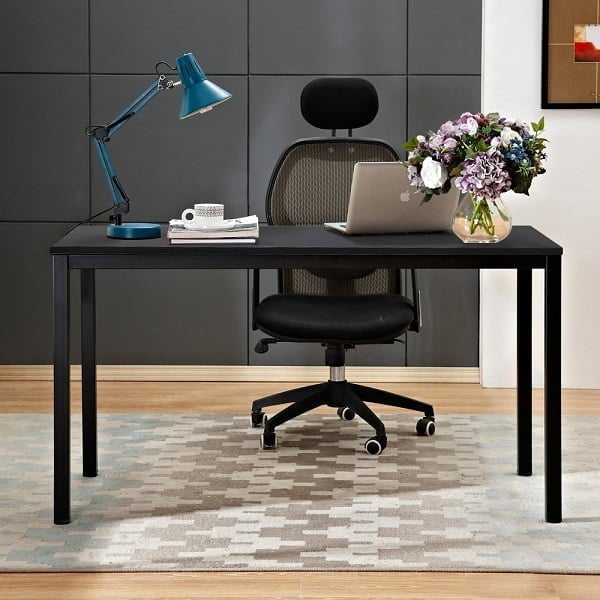 This Need Computer Desk is 63″ wide (other sizes available) with BIFMA certification. It features a high-stability metal frame thicker than the average size and provides a large-scale workspace. The work surface is E1 solid partial wood with high resistance to scratching and friction.
This black desk is practical and designed with quality craftsmanship in mind. It is easy to install and considering the variety of materials used. It is also extremely affordable. For a simple design with a dark and sleek finish, the Need computer desk is worth every penny.
Wall-Mounted Drop-Leaf Desk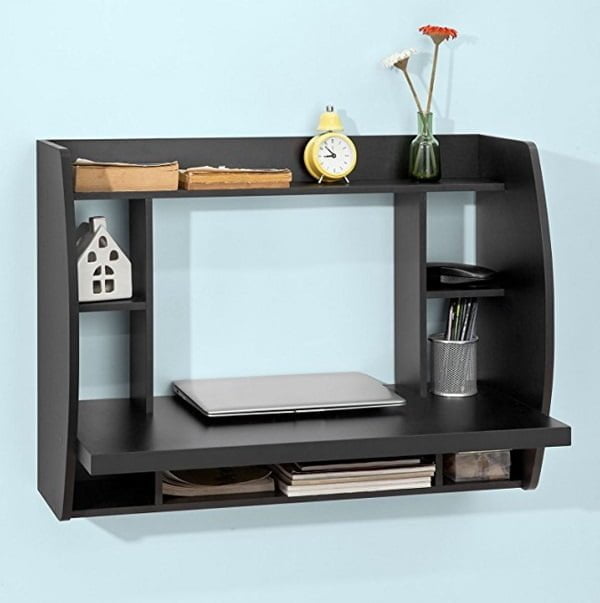 The Haotian wall-mounted drop-leaf table is the ultimate in space-saving solutions. The table is mounted directly on the wall and folded up when needed, and folded down when not in use. Ideal for use as a laptop table, small dining table, or a child's work desk, the Haotian comes in a bright red color to add a pop of visual interest to any space. At 60cm wide and 40 cm deep, this is a highly affordable way to integrate an additional work station or table into space.
Why it's our top choice? This floating desk is as functional as they get. For one mounted piece, you get multiple storage shelves as well as the desktop. With the sleek modern design, you don't have to worry about fitting in your decor either.
Rustic Desk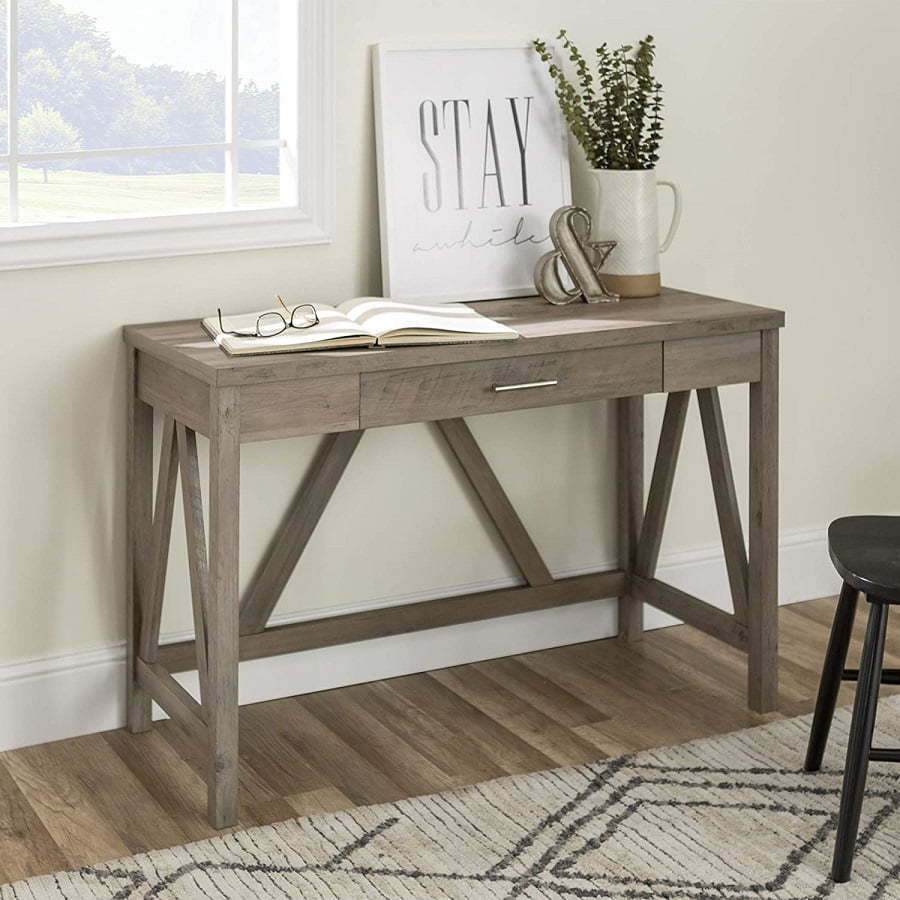 For its price, this is a bargain. Yeah, this piece is covered in veneer, but you aren't shelling out $500 for the furniture either. It looks great for the price. It's well built when assembled and has a great pull out drawer rails. The only downside might be that it takes some effort to assemble it, especially if you're not experienced in furniture assembly.
FAQ
Are L shaped desks better?
L shaped desks are ideal in corners. This design offers the most usable work surface per square inch, simply because it runs along the corner — space that otherwise would go unused.
Where should I put my L shaped desk?
Besides the obvious corner placement, you can put it in the middle of a room as well. The desk can face a window (but not your back). A good place is against a wall where it doesn't block any path.
Whats a good price for a desk?
You can get a really good desk for $150 to $200. Expect a decent quality piece of furniture with a metal frame and manufactured wood for the price.
What should I look for in a desk?
The right desk for you is one that takes full advantage of the space available in your room and gives you the most desk space. So you should measure the place where you will put the desk carefully, and choose the right design style as well as dimensions. Consider its storage capability as well.
Liked this article? Here's what you can read next:
---
Disclosure: As an Amazon Associate we earn from qualifying purchases.