Last updated on September 14, 2020
Looking to get the right desk for your home? Here are the best desks in every category for every room in the house.
A home office is in every house these days, even if it means a single computer desk somewhere in a corner. And it doesn't matter if you have a day job or if you work from home – you need a place where you can go about your business. Since we're all about doing everything right as far as home decor and furnishing goes, we want you to have only the best desks in your home.
The purpose of this massive list is not to overwhelm you with options, rather to give you our opinion about the desks of every type that you may need. We're giving you our top choices and several runner ups that are good but just not quite there to be at the top based on our criteria. Check out these short lists.
What's Inside?
Best Home Office and Computer Desks
Not all desks are meant to be computer desks (as there are other options, such as vanity desks or small desks for kids, etc.), but this list is exclusive to real home office computer desks. Check out our top choice and the runner ups, as well as the deals for computer desks under $40.
Soreno Silver Corner Desk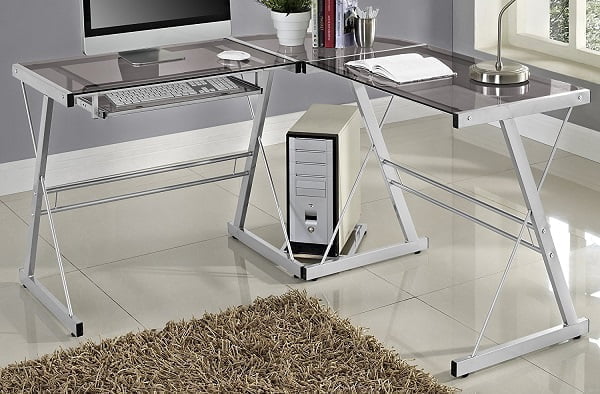 If you want a simple desk with a modern polished look that goes virtually in any home decor style, this is the perfect choice. This home office desk features a beveled glass top supported by a powder coated finish steel frame. The L-shaped desk design saves space and leaves plenty of room to move and work.
Why it's our top choice? The desk features a sliding keyboard that can be detached from one corner of the desk to another. It also comes with an extra CPU stand for more convenience. The design is sleek and simple – a good choice if you want a clear, clean, uncluttered desk without the extra shelves and drawers. It's available on Amazon (#ad) at a very affordable price and has thousands of 5 star reviews.
While it's our subjective top choice, we do understand that a single desk may not be the best fit for everyone, so here are our runner ups for the home office computer desk.
Green Forest L-Shape Corner Computer Office Desk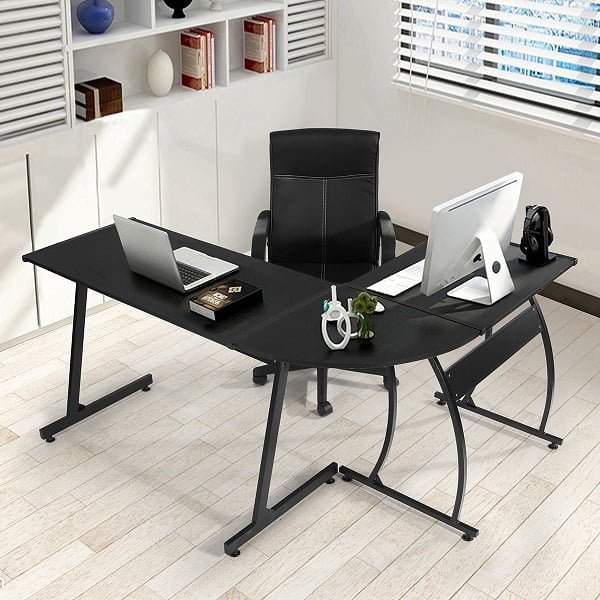 This home office desk is the perfect space-saving solution for small areas or corner offices. The L-shaped wooden top offers enough work space to hold a laptop or a computer monitor. If you prefer, there is enough space to allow you to work on two computers at the same time, with space to spare for books, notes, and other desk accessories.
The top is made of a lovely, green forest-colored medium-density fiberboard (MDF) that is sturdy enough to hold your computer equipment, binders, and file boxes. The desk is composed of 3 pieces, allowing you enough flexibility to meet your needs. The work top is supported by a sturdy metal frame with a matte finish. It is the perfect contemporary look for a contemporary office. Available on Amazon.com.
Ulikit L-Shaped Corner Desk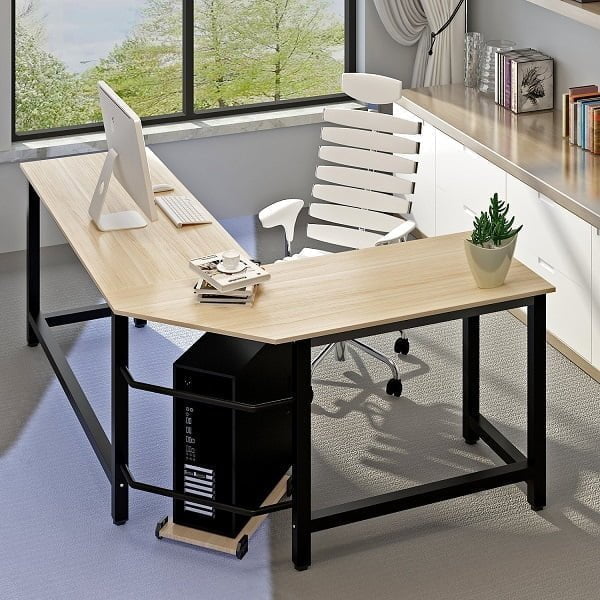 This is another space-saving home office desk that will fit right at home in any corner office. The L-shaped, wrap-around design offers enough work surface for busy days and plenty of unobstructed space to get organized.
The work top is made from light teak particle board and supported by powdered coated black steel legs. It features a wheeled CPU stand for extra storage, perfect for placing a tower-type CPU, books, magazines, or binders. The work surface is lightly textured for extra grip so you can avoid those messy slips. It is easy to assemble and comes with a two-year warranty. Available on Amazon.com.
Alexander Computer Desk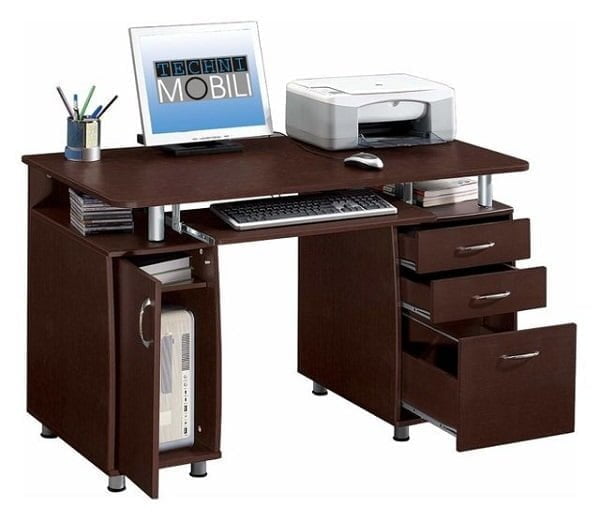 This is a compact, sturdy home office desk designed especially for those who spend long hours working in front of a computer screen. All business and very functional, this desk features a slide-out keyboard shelf and four drawers – three to store papers, books, supplies and binders, and one taller drawer for keeping a CPU and print paper.
Smooth work surface and a chocolate brown body highlighted by chrome handles make this a perfect choice for any home office. The desk is made of heavy-duty engineered wood and a PVC laminate veneer that resists moisture. The powder-coated supports are scratch resistant and sturdy. The drawers are heavy-duty as well, capable of holding as much as 22 lbs. Available on Houzz.com.
Odina Modern Home Office Desk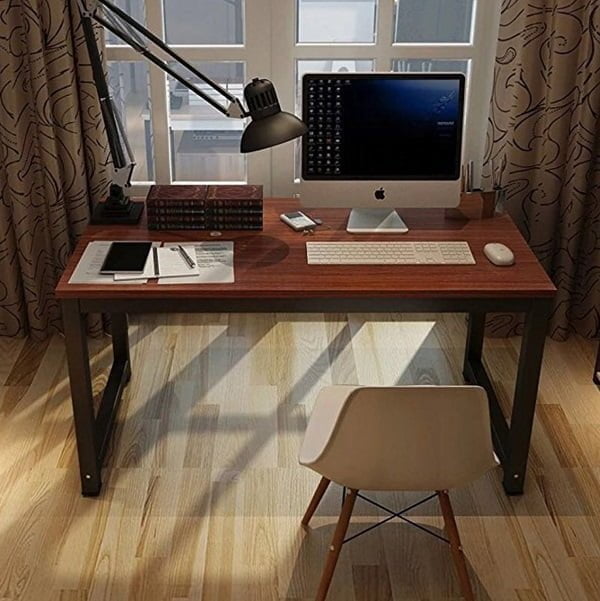 Simplicity is key for this sturdy and stable dark chocolate table. With adjustable leg pads that can handle uneven floors and a smooth, roomy work top that can handle the busiest days. The wooden top is made from scratch- and water-resistant particle teak wood while the frame is made from stainless steel.
The simple, unfettered, modern classic design that can fit any type of work environment is probably the best selling point of this desk. The size is not so bad, too. There is plenty of work surface to hold your computer monitor or laptop, printer, and office supplies. Plus, there is plenty of space under the table to stretch your legs. It is multifunctional as well. It can double as a writing desk, a study table, a display table, or even a dining table. Available on Amazon.com.
Best Corner Desks
If you're dealing with small spaces, you probably don't have the luxury of having a separate room as your home office. In that case, it's probably just a corner in the living room or bedroom. The ideal option is a corner desk. And here's our choice for the corner desk.
Sauder Beginnings Corner Desk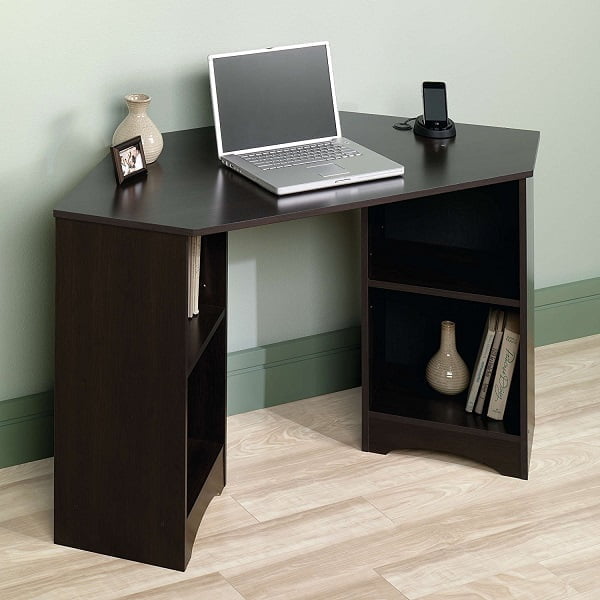 The Sauder Beginnings corner desk comes in a cherry finish and features four adjustable shelves for storage or displaying items. Measuring 53 1/8″ W x 23 1/2″ D x 28 3/4″ H, this corner desk provides a decent-sized work space even in small spaces. Although it doesn't have a drawer for storage, the cubby-style shelving does provide a place to put work materials and items. This is a sturdy piece capable of providing an ideal work surface while saving space.
Why it's our top choice? It's very compact so it will fit in even the tiniest spaces, yet it provides enough desktop space for a laptop and shelving space for your paper documents or books. The wooden finish is really pleasing to the eye and it will never become an eyesore in your decor. Finally, it's available on Amazon (#ad) for under $100.
If you're still not convinced, next are our runner ups for corner desks.
SHW L-Shaped Corner Desk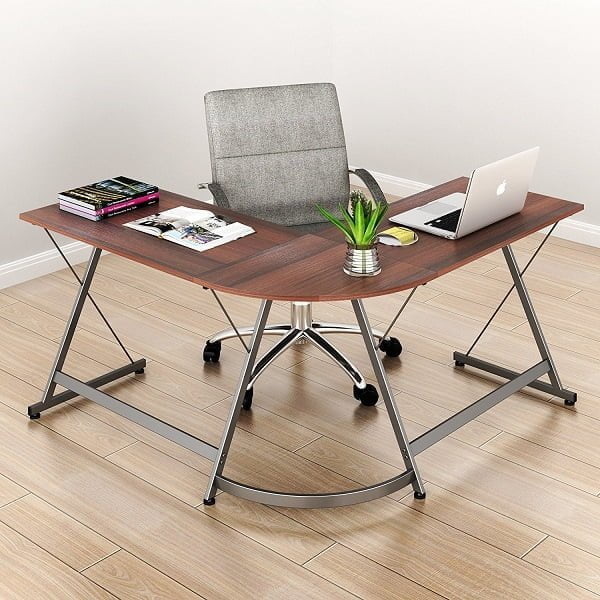 This SHW L-Shaped corner desk features an espresso wood top and a steel frame with a powder-coated finish. The foot rest bar is ideal for added comfort, and the L-shape saves space in any room. Ideal for an office or dorm, the SHW L-shaped corner desk marries form and function as the wood finish is warm and rustic while the steel frame brings the contrast of sleek and industrial. This 3-piece corner desk is as simple to assemble as it is to slide into any corner in a room. Measuring 51″ W x 19″ D x 28.5″ H, this desk provides an ample work space area. A corner doesn't have to be a wasted space any longer and can easily be turned into a fully functional work space. Available on Amazon.com.
Luke Corner Desk Mission Oak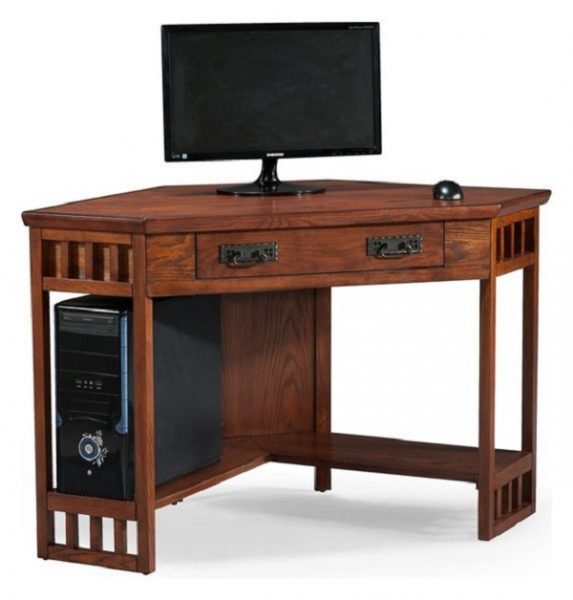 The Luke corner desk in mission oak is ideal in a space in need of some rustic charm and warmth. This classic piece is made from solid hardwoods and oak veneer. The drop-down front conceals the keyboard, and the hardware adds a touch of stately elegance. Two lower shelves are perfect for tower and/or printer storage. For a classic look, this desk is ideal in a study or office. Measuring 24″ W x 30.25″ D x 48″ H, this desk is ideal for fitting into a tight corner and making use of otherwise wasted space. Available on Houzz.zom.
Ulikit L-Shaped Corner Office Desk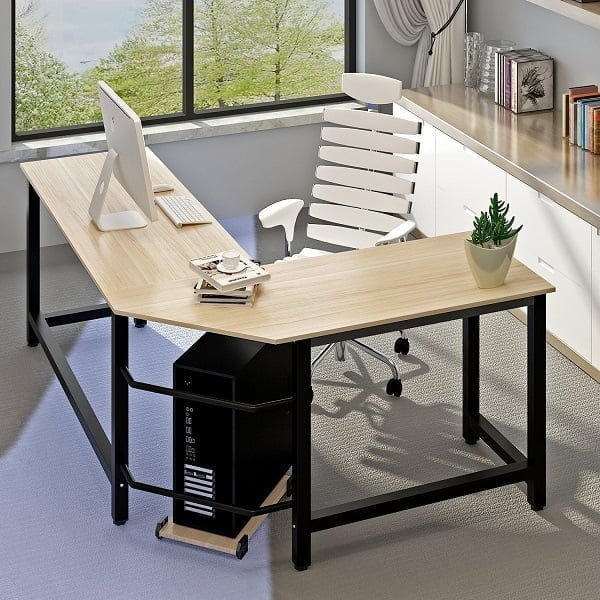 This L-shaped corner office desk makes use of that pesky corner space while adding an open and airy feel to an office space. The desk features a durable and sturdy steel frame and is made from E1 eco-friendly particle board and a smoked-glass desktop. Its wrap-around style makes it perfectly suited for any corner space, and as it is fully open underneath, there is plenty of room for leg-stretching and tower/printer storage. Measuring 57.9″ W x 44.1″ D x 29.1″ H, this L-shaped wrap-around desk adds both form and function to a work space. Available on Amazon.com.
Reclaimed Corner Desk by LostDogFurnitureCo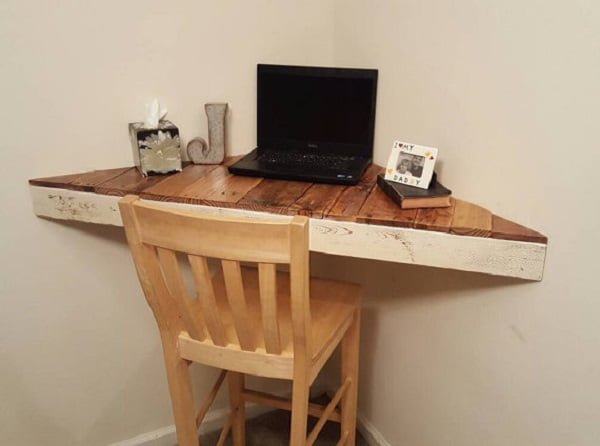 This reclaimed wood corner desk by LostDogFurnitureCo will bring rustic charm to any corner. This corner desk is handmade and can be fully customizable to any size and finish: stained, painted, weathered. Made from a reclaimed wood and pallet top, this is a one-of-a-kind piece that will add as much visual appeal as it does functionality. For the ultimate primitive and simple design, this LostDogFurnitureCo desk is the ideal piece to bring some warmth and character into a space. Available on Etsy.com.
Best Standing Desks
If you're aware of the healthy benefits of standing desks, you're definitely going to want one. So stop sitting around and check out our top choice for the standing desk. You may also consider a standing desk converter.
Alto Standing Desk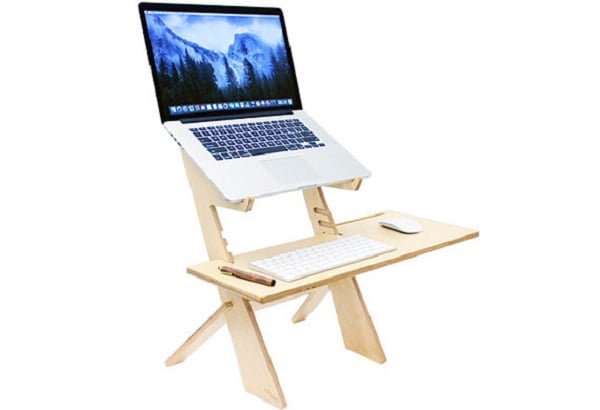 This cleverly designed product can be placed over any desk to improve ergonomics. The high quality walnut and birch wood ensures longevity. The minimal footprint allows much of the surface to be utilized for other purposes. The keyboard height may be adjusted to five different levels for greater comfort.
The top part can easily hold a clamshell laptop with a 13-inch screen or larger. Desktop users won't be as happy since it is not optimized for detached monitors. The creator is also offering this product in 4 sizes to guarantee a good fit.
Why it's our top choice? Sure, this standing desk will need an additional surface to stand on, and it will only accommodate a laptop. But in most cases that's all you'll need. It's handcrafted of natural wood with the best of ergonomics in mind. So we're happy to feature something handmade that doesn't come from a big store. Can't get any more eco friendly than that. This standing desk is available on Etsy (#ad).
Still need more options? Here are our runner ups for standing desks.
SDADI Mobile Stand-up Desk 3.0 Edition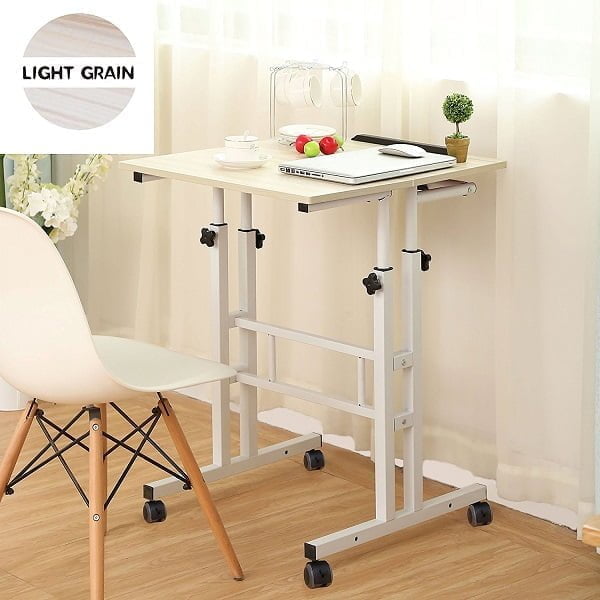 Users that need a movable desk will love this model as it has wheels for portability. This makes it easy to clean the floor underneath and to reposition if there is a new room layout. The height is also adjustable so it is possible to work while sitting or standing, depending on a person's preference.
The front half can be of a different height from the back half. It can be tilted diagonally to optimize it for reading books or magazines. This edition also features a toughened surface that prevents scratches. A built-in cable management system keeps everything tidy. Available on Amazon.com.
VARIDESK 49900 Pro Plus 36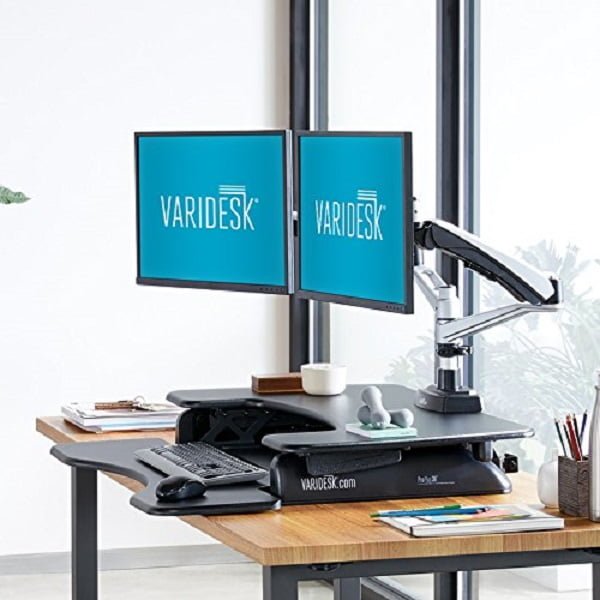 A lot of people already have a desk which they plan to keep, but they also want the ability to stand while working to reap the benefits: increased blood circulation, reduced muscle tightness, and so on. This product is an ideal solution as it can be placed over an existing desk.
The height can be adjusted to the user's needs with 11 different levels to choose from. The top part is meant to hold monitors while the bottom is suited for keyboard placement. It comes fully assembled so it can be used right out of the box. Available on Amazon.com.
Brighton High Desk with 2 Drawers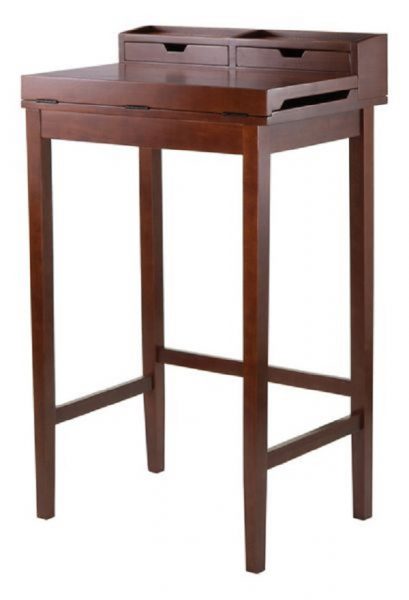 Those who would like to get a dedicated standing desk may want to consider this Brighton desk. The lack of height-adjustment limits its range of potential users but the solid wood construction makes the item sturdier than its competitors.
The front part can be flipped 180-degrees to extend the working surface. There are also drawers that can hold pens and other office supplies. Its classic design makes it a beautiful addition to any room. It may be used as a laptop stand, reception desk, drafting table, workstation, or podium. Available on Houzz.com.
Furniture of America Therona Contemporary Standing Desk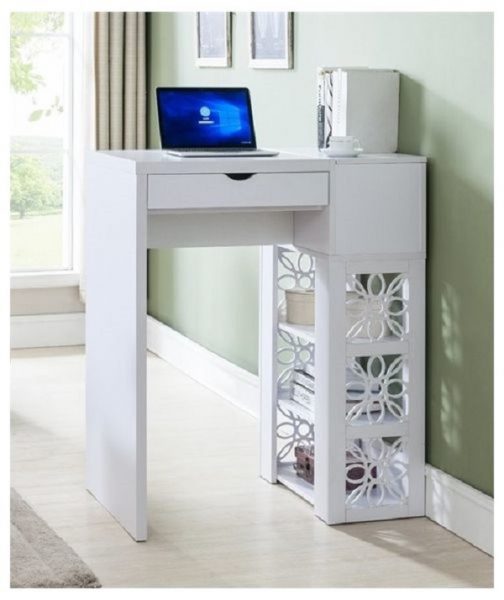 This is another fixed height desk meant for working while standing. It is bigger than the Brighton with much of the bulk being dedicated to storage. There is a three-layer shelf with ornate décor serving as one leg. Above this is a storage box with a flip-open top for lesser-used items.
There is also a large drawer that should be perfect for office supplies and documents. The top surface has clean lines and ample size. It can hold a laptop, some books, and even a drink or two for the tired worker. Available on Houzz.com.
Best White Desks
Is color your main criteria for your perfect desk? It's a very valid option to make and we have an exclusive list for white desks. Here is our top choice.
Exacto Chrome Base Computer Desk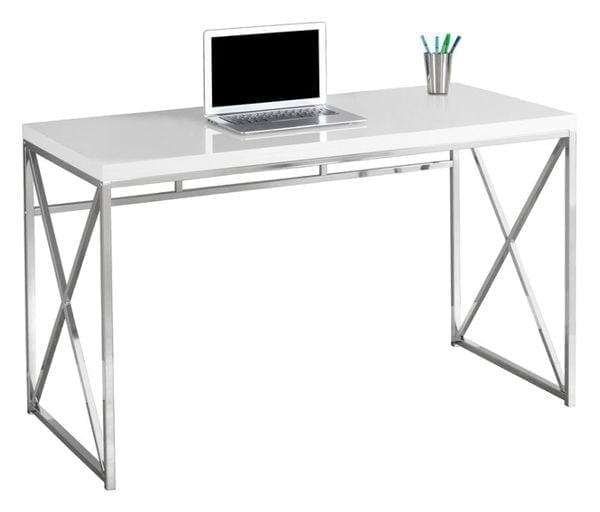 The Exacto Chrome base computer desk is as modern as they come. With its glossy white surface and chrome legs, it is the very essence of modern. Although the desk does not have a drawer for storage, it is extremely easy to install and has a large enough surface area at 48″ long to make up for it. When paired with a modern and sleek computer chair, the Exacto desk can easily become a contemporary focal point to any room. It is low-maintenance and can easily be wiped clean. The chrome X-design legs provide a nice contrast to the glossy white surface offering its users style and practicality.
Why it's our top choice? We get what you need from a white desk – home decor value is your top choice. That's why you need a modern and sleek design that is as lightweight as it is functional. And that's exactly what this desk is. It's also available at Houzz for a very affordable price. (#ad)
Prefer something else? Check out our runner-ups for white desks.
Topeakmart White Compact Computer Desk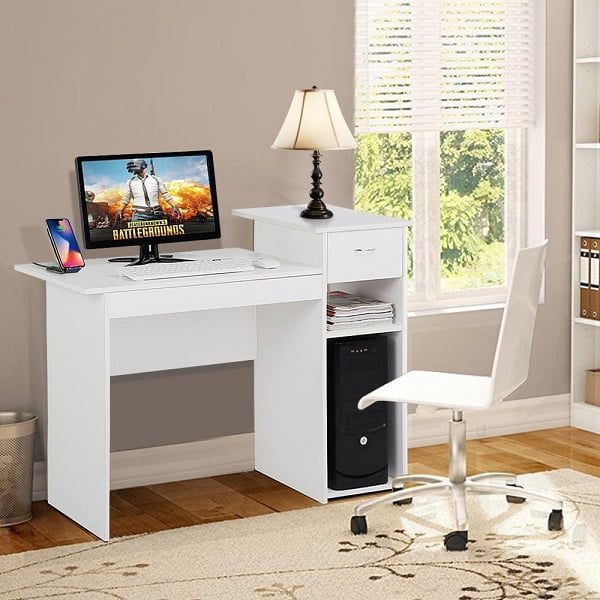 The Topeakmart small white computer desk is ideal for providing a work space in small spaces. Perfect for a small office, nook, or a kids' room, this desk provides just enough work space. The drawer and shelf is perfect for storage and is ideal for keeping the surface clear.
It is white and neutral, making it the perfect addition to a modern space with clean lines and a fresh look. This wood white desk would make a sturdy workstation space that is both aesthetically pleasing and practical. Available on Amazon.com.
WE Furniture Storage Desk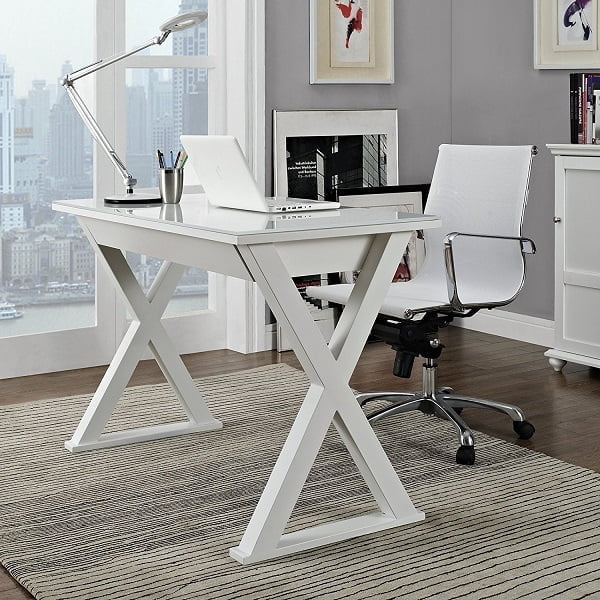 The WE Furniture storage desk is sleek and modern. The X-frame leg design gives it a unique style that will enhance any décor. At 48″, it is a smaller desk perfect for an office or for adding a work station into a space.
It has a powder steel finish with a large wood drawer for storage. The tempered glass surface lends it an air of sophistication while protecting the surface from heat and any spills. White in color, it can blend into any space while bringing with it practicality and contemporary appeal. Available on Amazon.com.
South Shore Artwork Craft Table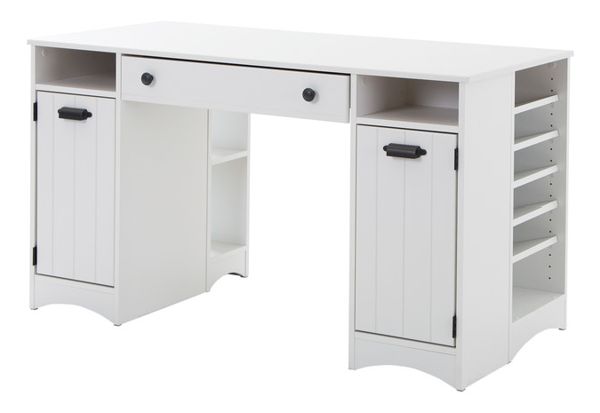 The South Shore Artwork craft table is ideal for those with large storage needs. With a large drawer, cabinets, and side storage, few desks can compete with the South Shore craft table's storage capabilities. Pure white and unique with its board bead cabinet doors and dark hardware, it has a more vintage look perfect for craft rooms, sewing rooms, offices, or for a student workspace. Available on Houzz.com.
Habitables White Desk in Lacquer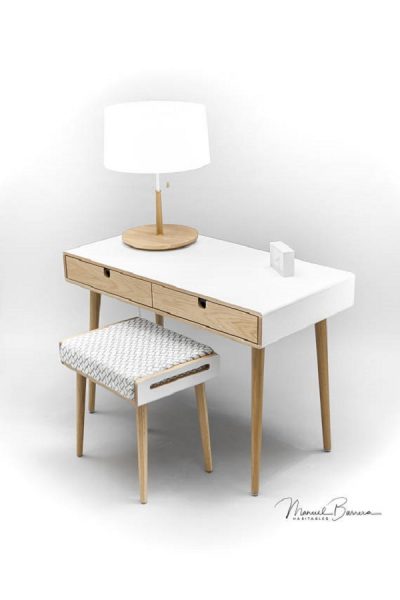 This Habitables white desk in lacquer makes a stunning dressing table and comes with a white stool. With a hefty price tag, this desk is a piece of art and not just a work surface. It is handmade by Habitables from wood, oak, and roble. It is mid-century in style and features two smooth-sliding drawers for storage.
This desk would bring modern beauty to a space like few other things would. Its clean lines are simple and stylish. Made in Madrid, Spain, the stool is also handmade from wood with grey linen fabric that would compliment any décor. If you are looking for a dressing table or work surface that is as simple and elegant as it is practical, this Habitables piece would definitely fit the bill. Available on Etsy.com.
Best Small Desks
While small spaces benefit most from corner desks, you may still prefer a regular small desk. For those cases, we have another short list of the best products with our top choice.
Mid Century Modern Small Desk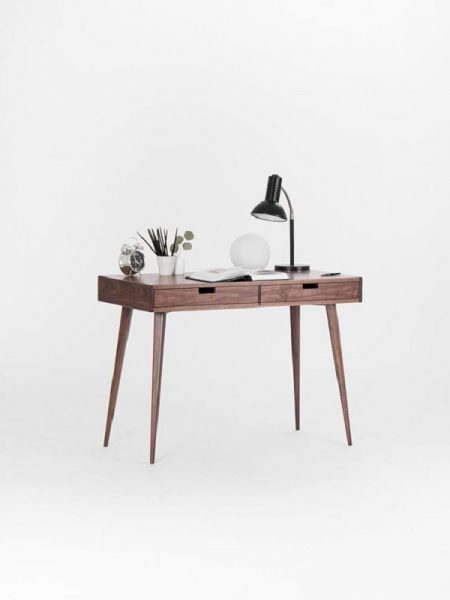 The Atomic Age is calling and it wants to tell you about this fabulous replica Mid Century Modern Desk/Table that is available in either walnut or oak and with your choice of matching wood drawers or contrasting white or black ones.
Not only is it stylish, svelte, and very practical, but it is also something that is so uniquely its own that nothing else can really match it. Everyone will want to know where you got it and where can they find one for themselves. The hard part isn't a question of finding a place to put it, but of stopping yourself from ordering two of them.
Why it's our top choice? Alright, so it's on the expensive side (it's the most expensive desk among our top choices). But we just fell in love with it. For such a small desk, you get not just a piece of furniture but a real decor statement and perhaps even the focal point of a room. Because you deserve it. Available on Etsy.
Not convinced? Here are our runner-ups for small desks.
Prepac Sonoma Small Wood Laminate Computer Desk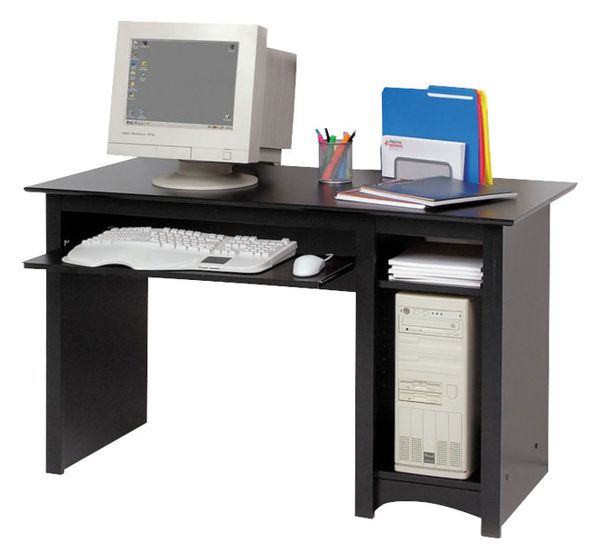 Here is a timeless classic design for those who need a small computer desk for their home or office. Yet the reason for the enduring nature of this desk design is simply that it does the job very efficiently and with a minimum of extraneous features. It has everything you need in a computer desk and nothing else.
In the classic architectural paradigm that form follows function, this little desk is a prime example of that concept. The Prepac Sonoma also comes in a maple finish for those who have more traditional decor in their office. Available on Houzz.com.
Mott Dark Brown Wood Modern Small Desk with Sawhorse Legs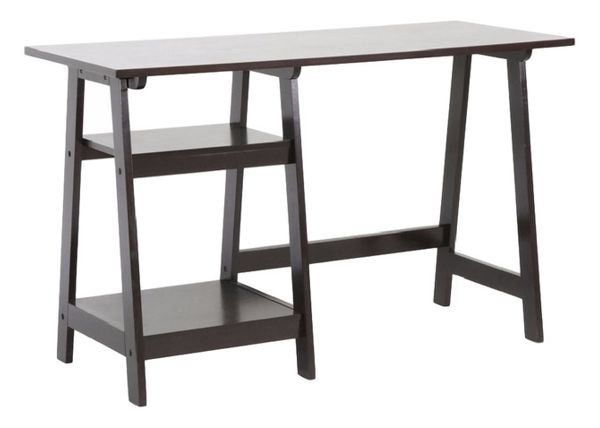 Open spaces have increasingly been in vogue for some time. Whereas desks were once these massive boxy contraptions that concealed everything, modern work spaces are more open and inviting. This small desk is an excellent example of that principle. Everything is neatly laid out and yet readily accessible without having to search for what you need.
The sturdy sawhorse legs add extra strength without sacrificing the fundamental petite nature of the piece. Additionally, it is a very versatile unit that can easily do double duty as both a desk and a table without looking awkward in either role. Available on Houzz.com.
Tangkula 2 Tier Computer Desk Home Office Wood Writing Table Workstation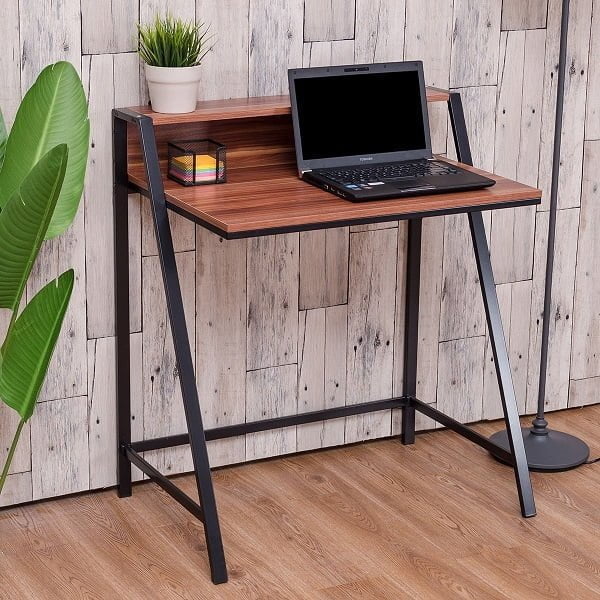 Now here is a fascinating new take on the old standby computer desk. This is the perfect small desk for those spaces that need to host a computer or laptop but perhaps not in a formal setting such as a specific office.
This desk is such a unique design that it hardly counts as a desk at all. Instead, it is more of an outstandingly useful way to maximize some otherwise unused bit of space in just about any room in the house. It looks that good and is that versatile. Available on Amazon.com.
Nathan James Kalos Home Office Computer Desk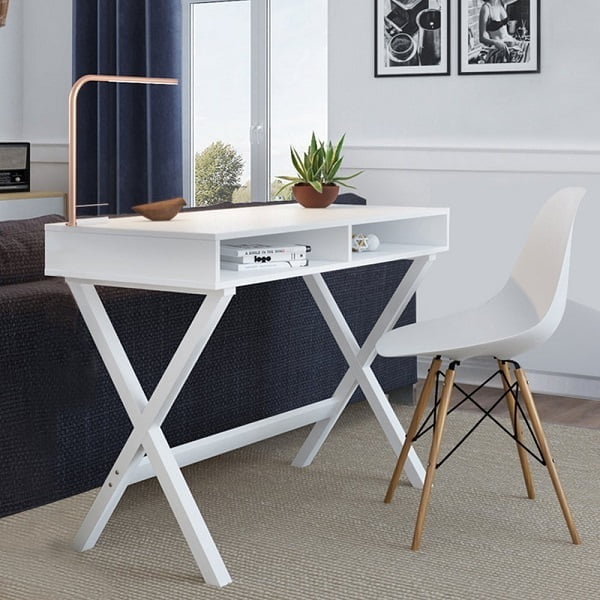 What a perfect blend of simple and futuristic in one adorable and versatile item of furniture. You could picture this as a part of a farmhouse ensemble — or just as easily see it as a fashionable accessory in the Jetsons living room. No matter what style of furnishings you currently have, this small desk will fit in perfectly with what you already have in the room. Available on Amazon.com.
Best Glass Desks
You're probably aware of the term "invisible" furniture. It's used to describe furniture that occupies virtually no visual space in home decor, i.e., translucent glass or acrylic furniture. Glass desks fall under this category. Check out our top choice for the glass desk.
Coaster Contemporary Glossy White Writing Desk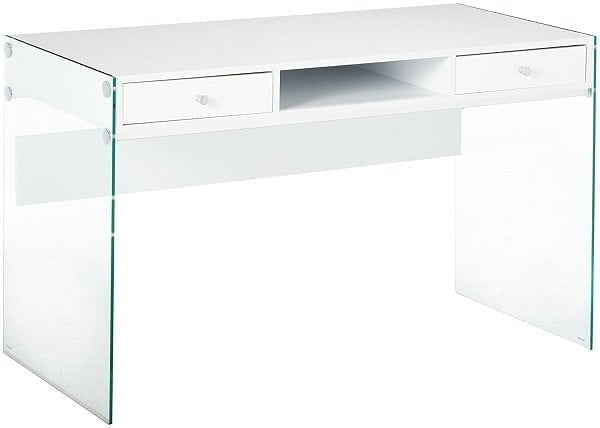 The Coaster contemporary glossy white writing desk features two drawers and a cubby for storage. The sides are glass for an open and airy look and feel. The large exposed chrome bolts give it an industrial look and make a nice contrast to the softness of the white finish. Also available in weathered grey and glossy black, the Coaster desk can fit into any space and décor. At 49″ long, it provides a large work area perfect for a laptop or computer monitor, a lamp, and any other accessories.
Why it's our top choice? While it features a glass frame, it's very sturdy and long lasting. The look of the glass frame is stunning. It's available on Amazon (#ad) at a very affordable price for this kind of product. All this makes it a great glass desk option.
Need more options? Here are our runner-ups for the glass desk.
Writing Table with Tempered Glass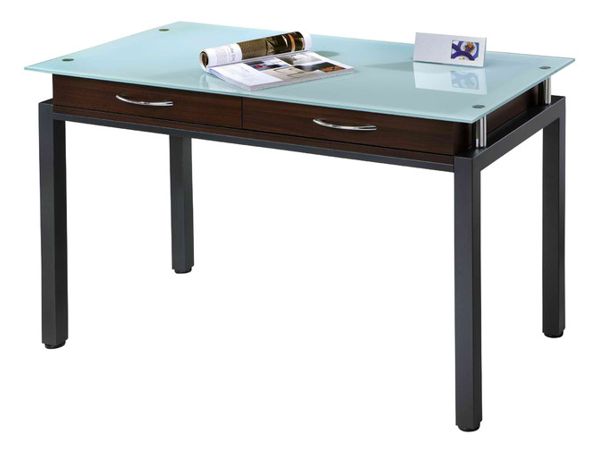 This writing table with tempered glass features a dark finish with chrome accents. With two smooth-sliding drawers perfect for keeping writing materials stored and hidden, this writing desk is the ideal size for keeping up with correspondence. The tempered glass makes it easy to keep clean and protects the surface from heat or damage from spills.
With modern flair, this glass desk is perfect for compact spaces and lends the room a splash of sophistication. Available on Houzz.com.
Glass Computer Desk with Pull-Out Keyboard Tray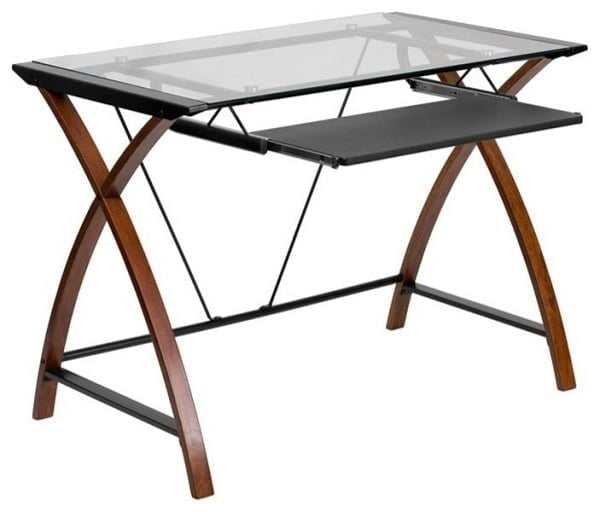 This glass computer desk with pull-out keyboard tray is the ultimate in sleek and simplistic modern design. The desk surface is small so is ideal for a laptop but not much else. The desk does not feature a drawer, so if you are looking for a more massive glass desk with storage, this will not be a good option.
For smaller spaces and those who want to make a significant aesthetic splash with this ultra-modern and streamlined looking work station, this glass computer desk is ideal. Available on Houzz.com.
Zaya Double Drawer Glass Computer Desk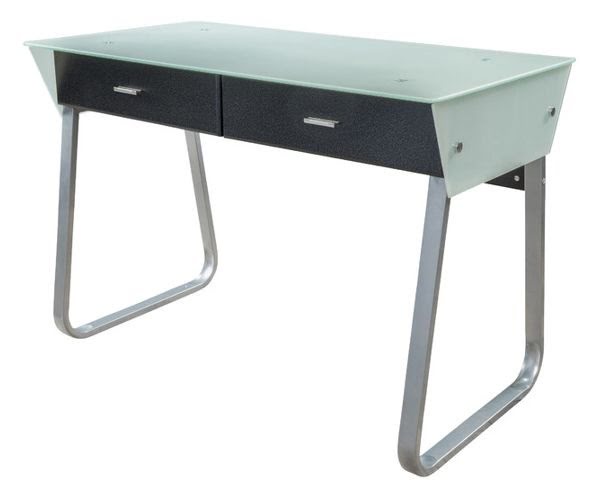 The Zaya double drawer glass computer desk has two spacious smooth-sliding drawers for storage and a sleek white finish for the desk's exterior. The drawers are grey with chrome-looking pulls while the desk legs are also chrome. It is lightweight and easy to put together. Ideal for housing a laptop, a lamp, and a stack of papers, the Zaya computer desk is sleek, modern, simple, and edgy-looking. Available on Houzz.com.
Target Marketing Systems World Map Desk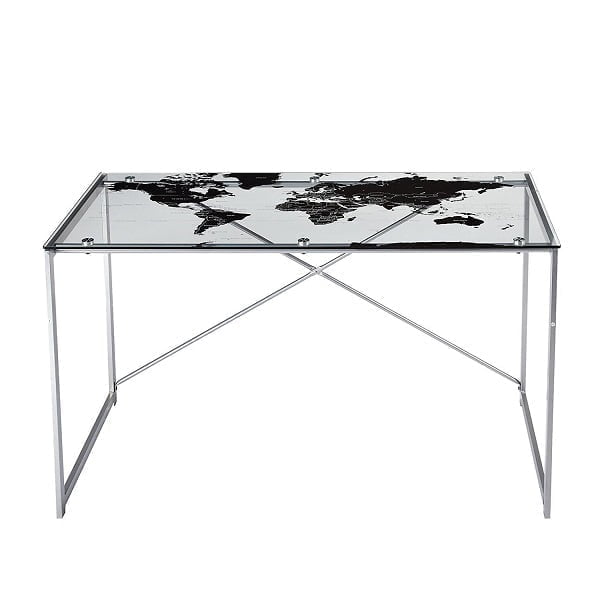 The Target Marketing Systems world map desk features a clear top and silver legs. The desk is all surface space with no drawers or cabinets for storage. The glass surface features a world map printed on the underside of the glass. Users have pointed out that for those with lots of items and materials to put on the surface, they will be covering up the world map design. Weighing only 50 lbs, it is lightweight, easy to move around, and simple to assemble.
This elegant piece with exposed chrome bolts is sturdy and practical as a large work space. For those wanting a statement piece that is sure to start conversations, the Target Marketing Systems world map desk is ideal. Measuring 24″ x 51″ x 30″, the work space provided is ample, as is the beautiful splash it will make in any space it is added to. Available on Houzz.com.
Best Modern Desks
Do you care about home decor value that your new desk would bring to your home? If so, a modern style desk is one of the top choices. And here's our short list for modern desks.
Convenience Concepts Modern No Tools Student Desk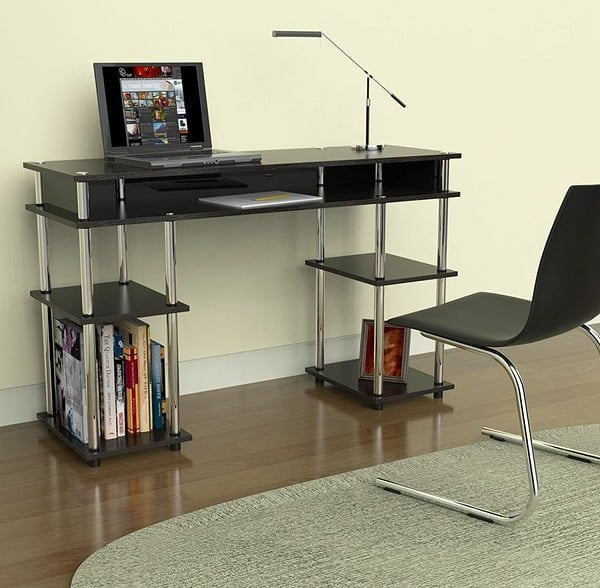 For those tight little spaces where you need the functionality of a desk but can't fit a standard-sized unit into the available space, this little chrome and black pillar desk is the perfect solution. One of its most attractive features is the ease with which it can be assembled by just about anyone– and without needing to have any tools at all.
The large number of support pillars in the design also means that it is a surprisingly sturdy piece of furniture once it is assembled. Perfect for dorm use, as it can be assembled on the spot and taken home in the trunk of the car once the academic year is finished.
Why it's our top choice? We really like that it's sleek modern look is combined with top functionality. This desk provides tons of storage and desktop space while occupying minimal space. It will work in just about any kind of decor as well. The affordable price available on Amazon (#ad) is just icing on the cake.
Need more options to decide? Here are our runner-ups for modern desks.
bonVivo MASSIMO Contemporary Desk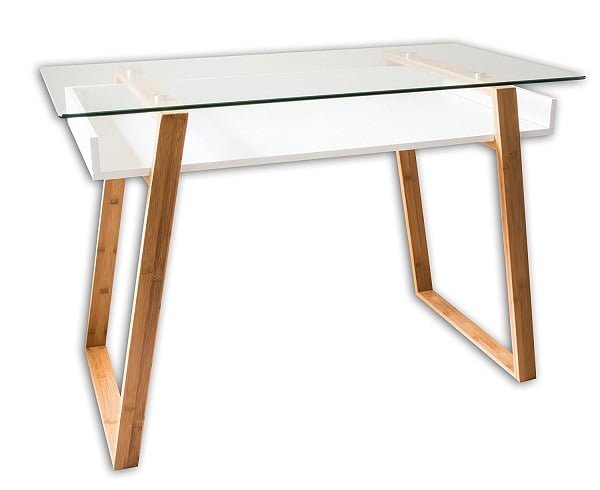 Minimalism is the wave of the future as shown by this pert little glass-topped desk with white lacquered storage compartment underneath. This modern desk employs a very clever blending of glass, painted surfaces, and natural-looking wood legs to provide its sleek and practical design. With a little bit of everything in its makeup, this desk would look great just about anywhere you would choose to use it. Available on Amazon.com.
Monarch Computer Desk with Tempered Glass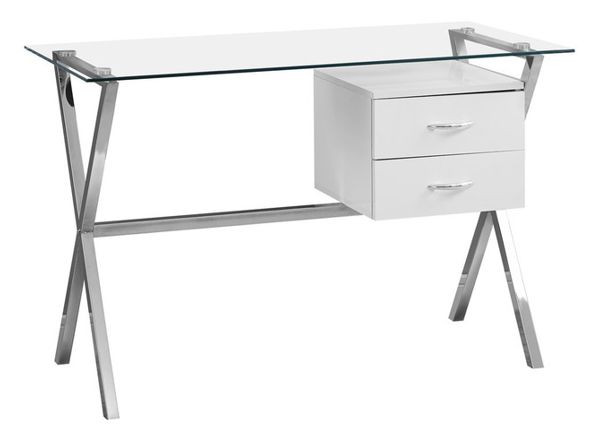 Glass and chrome make a big comeback in this generously proportioned computer desk. The open design means that cleaning underneath it is a breeze, while the sturdy X-brace chrome legs provide plenty of support for even the heaviest of loads on top.
Underneath the solid glass surface is a smart drawer unit that comes in either modern-looking Glossy White or more subdued and traditional Gray that will fit in great with any office décor. This is a great way to have the significant elements well-displayed while simultaneously keeping the wandering essentials safely tucked away as well. Available on Houzz.com.
Walnut Desk Modern Desk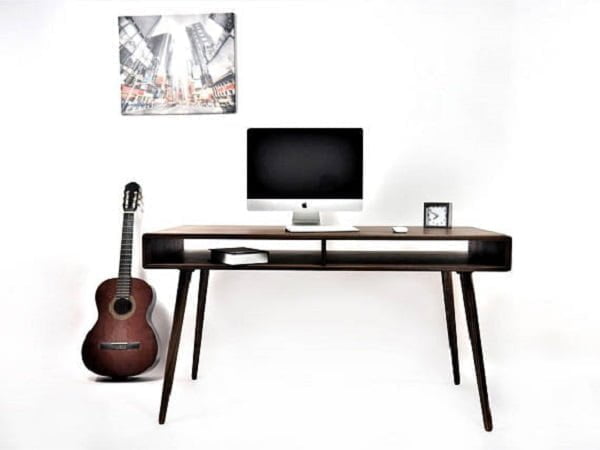 One of the best and latest trends in office furniture design is the creation of modern desks that do not look anything like desks, but rather as if they were pieces of beautiful furniture that had been repurposed for use as a desk.
What this does is to cut that glaring edge of severe functionality out of the equation and leave one with more of a sense of individuality and creativity. Rather than an endless row of precisely similar units, this desk jumps out at you and has a huge message to convey about the free spirit who chooses to use it for a desk. Available on Etsy.com.
Coaster Analiese Industrial Antique Nutmeg Writing Desk with Four Drawers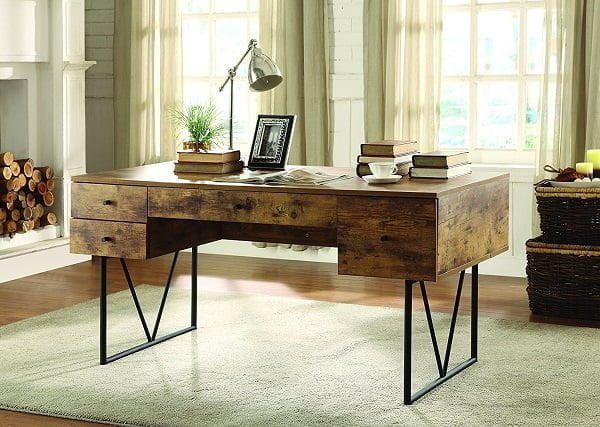 Individuality and creativity also comes to the fore when one chooses furniture that is evocative of another era. When placed inside a modern space, the contrast between the old and the new can be extremely attractive.
For those who still deal with a lot of paper as opposed to being all-digital, the suite of four expansive drawers for storage is a definite bonus over open-design desks. Everything you need can be carefully stored out of view and thus prevents the cluttered look from taking over. Available on Amazon.com.
Best Black Desks
If you're sure that your home decor requires a black desk, we have a short list for you. These black desks combine style, function and value for the price, and…. they're black. Check out our top choice.
Julia Desk Black Ash Veneer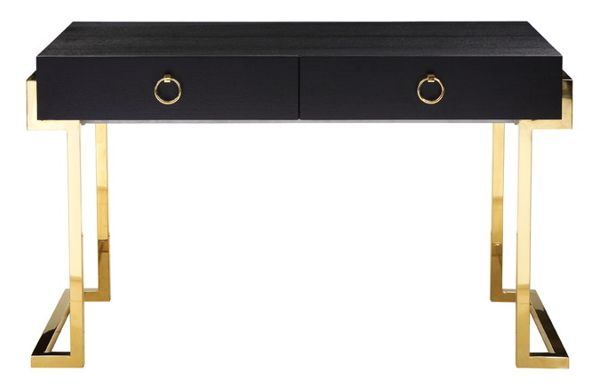 The Julia Desk in black ash veneer with gold legs and drawer hardware is sleek and modern with a touch of sophistication and elegance. It has modern and clean lines with two ample-sized drawers for storage. Ideal for those wanting a smaller surface space, this desk is also ideal when used as a statement piece in an entryway, foyer, or used as a writing desk.
The dark finish and shine of the golden legs contrast each other correctly to create a look of drama to class up space. The Julia desk has a unique feminine flair like few other work space pieces.
Why it's our top choice? Yes, this desk is not entirely black, but take a look at those gilded legs. It can easily be the focal point of the entire room or make a great accent at the very least. The desk is versatile in its design so it can be used for just about any purpose. Available at Houzz (#ad), it gets our top choice award for the black desk.
Need more options? Check out our runner-ups for black desks.
NIK Desk Black Frame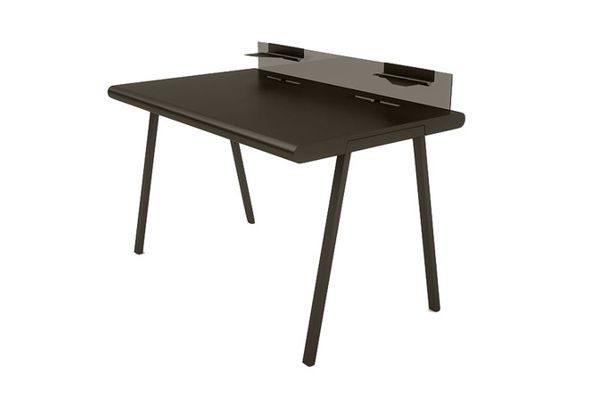 The 48″ NIK black desk is ideal for providing a small work space. It has clean and simple lines and the dark finish brings a touch of drama to a space. While the desk is lightweight, it is reportedly difficult to assemble as the glass is hard to slide into the slots.
Without a drawer for storage, this desk is designed as a small work surface. The NIK black desk would be ideal for a smaller writing space, an accent table, or as a decorative piece to create visual interest in a space. Available on Houzz.com.
Furrino Go Green Computer Desk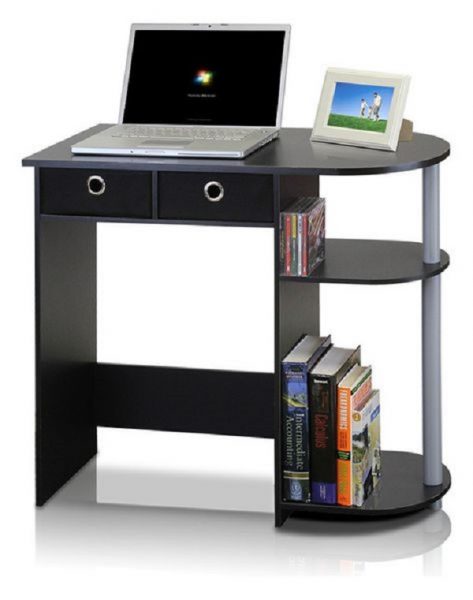 The Furrino Go Green Computer Desk is black and grey and features a unique design. Straight on one side and curved on the other, the Furrino computer desk features two curved shelves and two ample-sized drawers for storage.
This computer desk is ideal as a work space as there is room for a laptop or computer monitor and any other necessary work materials. It is sturdy in design, easy to assemble, and affordable. Users have reported that its affordability is, however, reflected in its quality. Available on Houzz.com.
Need Computer Desk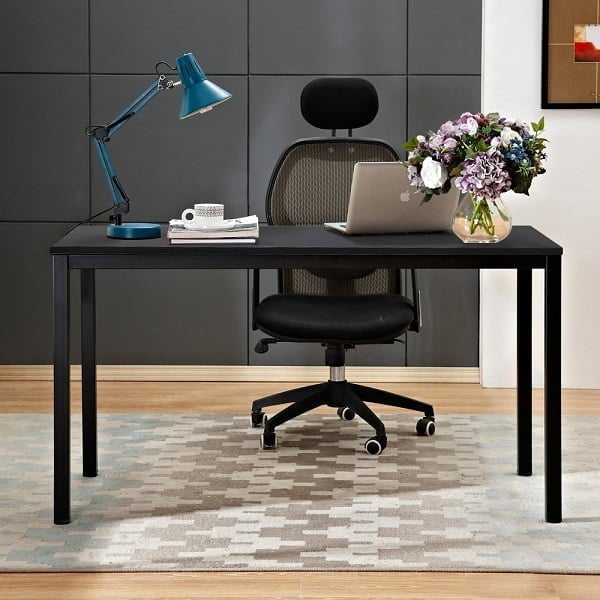 This Need Computer Desk is 55″ long with BIFMA certification. It features a high-stability metal frame thicker than the average size and provides large-scale work space. The work surface is E1 solid partial wood with high resistance to scratching and friction.
This black desk is practical and designed with quality of craftsmanship in mind. It is easy to install and considering the variety of materials used. It is also extremely affordable. For a simple design with a dark and sleek finish, the Need computer desk is worth every penny. Available on Amazon.com.
Viva Rotating Office Desk and Shelf Combo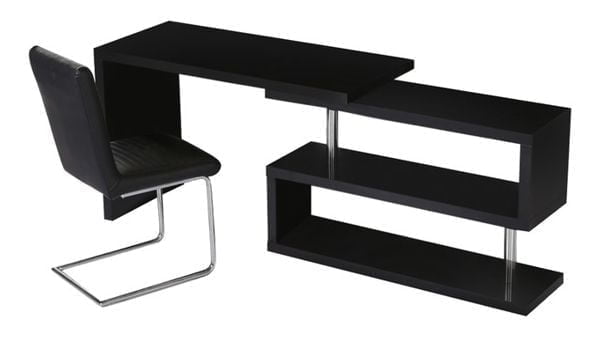 The Viva rotating office desk and shelf combo are one of a kind. It features a unique angular design few other pieces have. The black surface and silver legs give a space a modern and clean look and feel. The rotating portion of the desk is a clever design feature, but users have reported that it was difficult to assemble and not sturdy enough to move around.
The two shelves the desk system provides are handy for storage or displaying décor items. The work space is ample, and the modern design makes it a perfect focal point in space. Available on Houzz.com.
Best Floating Desks
Floating desks occupy the least space though they require an empty wall to be mounted on. If those conditions are met in the space you're looking for to use them, here are your best options. The following floating desk gets our top choice award.
Haotian Wall-Mounted Drop-Leaf Table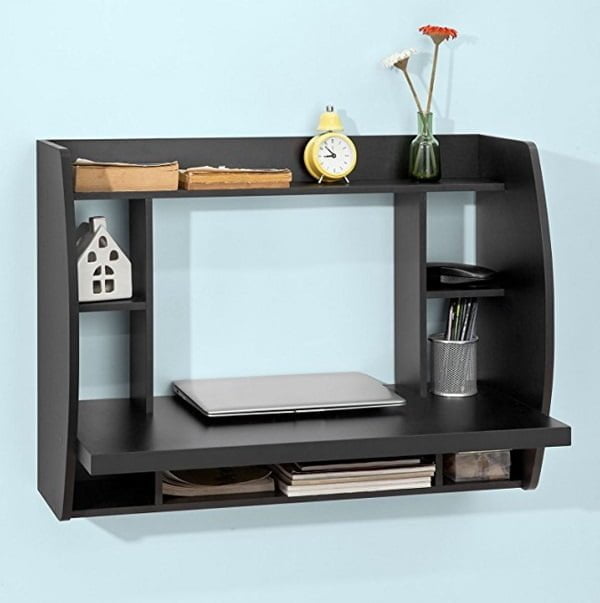 The Haotian wall-mounted drop-leaf table is the ultimate in space-saving solutions. The table is mounted directly on the wall and can be folded up when needed and folded down when not in use. Ideal for use as a laptop table, small dining table, or a child's work desk, the Haotian comes in a bright red color to add a pop of visual interest to any space. At 60cm wide and 40 cm deep, this is a highly affordable way to integrate an additional work station or table into space.
Why it's our top choice? This floating desk is as functional as they get. For one mounted piece you get multiple storage shelves as well as the desktop. With the sleek modern design you don't have to worry about fitting in your decor either. All in all, it's a great and cheap option, available on Amazon. (#ad)
Don't agree with our choice? Check out these runner-ups for floating desks.
Floating Desk with Storage and Keyboard Tray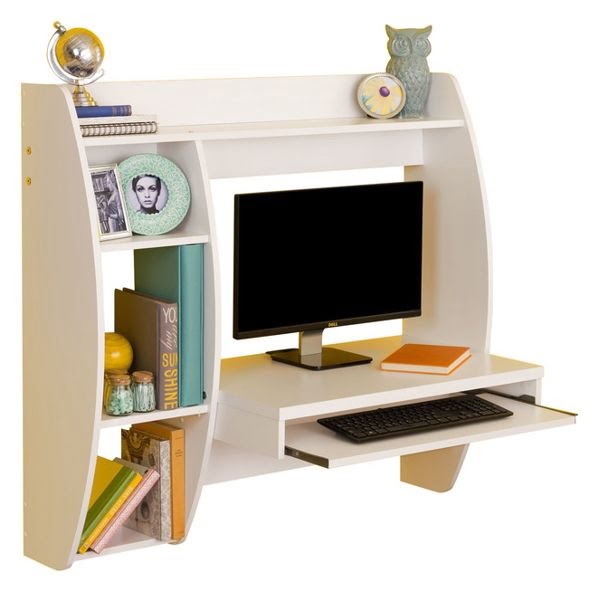 Floating desks are an excellent solution for small spaces in need of a work surface, and this floating desk is no exception. Its asymmetrical design makes it a unique piece that mounts directly to the wall. Mounted on the wall, it is off the floor and out of the way. Perfect for tucking a chair up close without compromising on style or space.
The top shelf and side shelves provide a nice amount of storage, and the keyboard tray slides out smoothly for use. Hidden wire management is part of the design to keep the desk's sleek and finished look. Manufactured by Prepac Furniture, this lovely white floating desk can turn an empty wall into an office space. Available on Houzz.com.
Prepac Floating Desk with Storage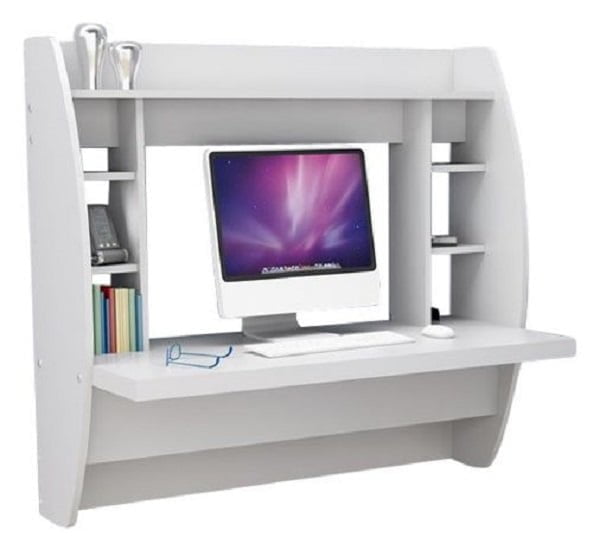 This Prepac floating desk features an innovative and stylish design the brand is known for. The top and side shelves provide an excellent storage option for work or décor items. The side shelves are also the ideal size for speakers. The metal railing system makes it a cinch to install, and the wire management system helps keep the work space looking neat and organized.
It has a 100lbs maximum weight tolerance which is more than enough for work space of this size. It's finished in white laminate making it a breeze to maintain and keep clean. Available on Houzz.com.
Industrial Rustic Wall-Mounted Table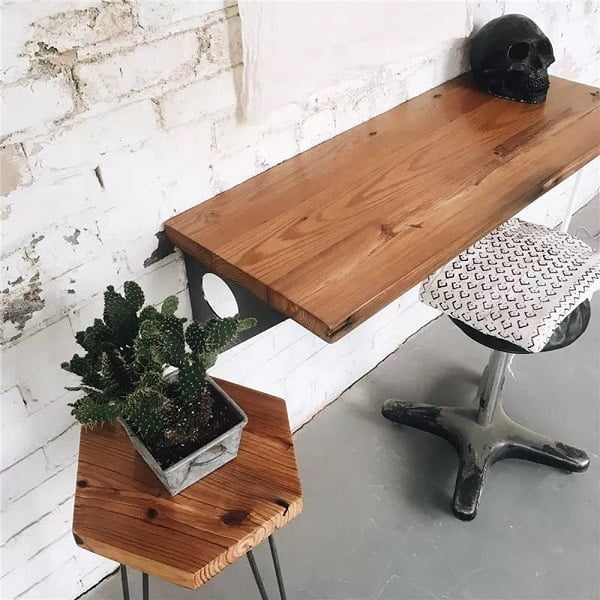 This industrial rustic wall-mounted table or desk surface is ideal for breathing some rustic charm into space. It is unique in its design and features a warm wood surface with metal brackets. At 80cm long x 30cm tall x 3cm wide, the wall-mounted table is perfect in an office, kitchen, bar, dining room, anywhere needing an additional work space. Available on Amazon.com.
WoodUpCo Cable Suspension Rustic Floating Desk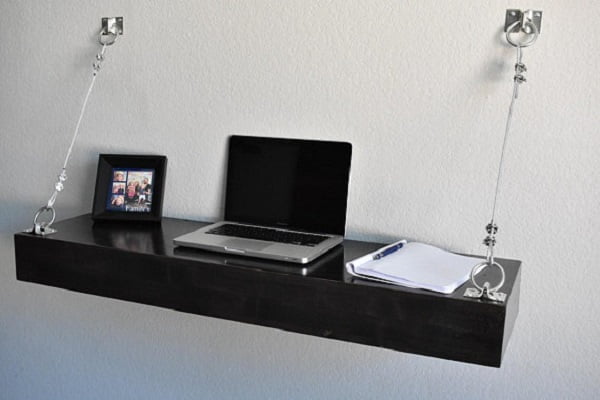 This cable suspension floating desk is handmade from wood and steel. It is made to order so can be customized to suit the specific size and finish requirements. Its simplistic design will lend a space an industrial vibe as the wood contrasts the functionality of the steel cables. The stain for the wood comes in a variety of options to suit any décor style: weathered grey, dark walnut, special walnut, ebony, provincial, and carbon grey. This floating desk by WoodUpCo is as much a piece of art as it is a practical piece. For those wanting a truly unique handmade desk of superior style and craftsmanship, this cable suspension floating desk is the one. Available on Etsy.com.
Best Makeup Vanity Desks
Up until this point, we talked mainly about home office desks of all types. But desks can be used for other purposes as well, such as makeup and vanity desks. Here are our top choices.
Bobkona Saint Croix Vanity Set with Stool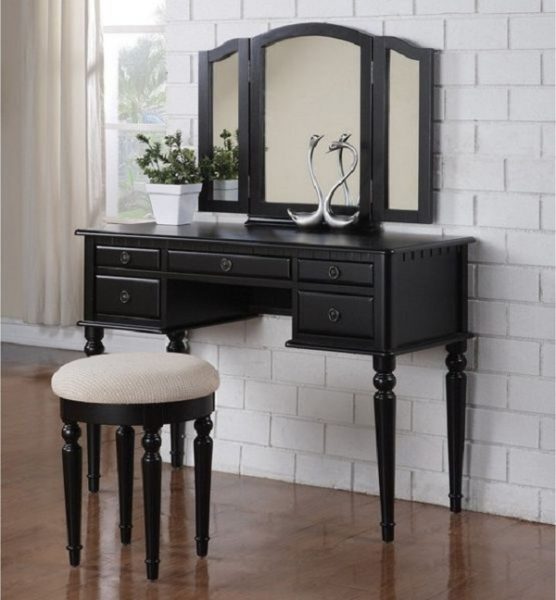 The Bobkona Saint Croix Vanity Set doesn't just look beautiful, its practical as well. One particular feature that is handy is the foldout mirror with extensions on the side which makes catching various angles easy. With a total of 5 draws, you have more than enough space to store makeup supplies, jewelry, beauty supplies, and other trinkets. The matching stool is covered in a plush fabric and makes hair and makeup time as simple as can be.
Why it's our top choice? It's a tough one! There are great options in different styles to choose from so this choice is very close. Still, this vanity set is our favorite. It comes as a full set with a stool and mirror so you get more than just a desk. The classic design is very appealing as well. Finally, it comes at a very affordable price all things considered. Available at Houzz. (#ad)
Don't agree with us about this choice? Here are some other great runner-ups for makeup vanity desks.
The Coaster Caroline Bedroom Vanity Desk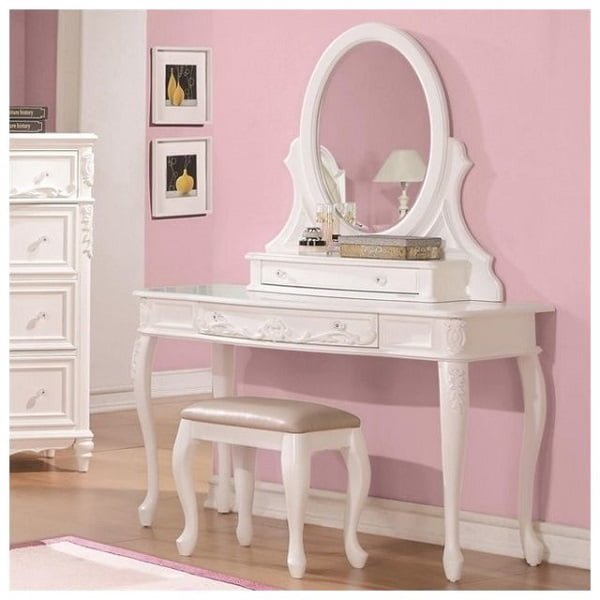 The Coaster Caroline Bedroom Vanity make up desk is fit for a princess. The makeup desk contains lots of decorative details that make it stand out, yet it's small size makes it ideal for a teenagers bedroom, studio apartment or any other confined space.
Little girls will also love getting all dolled up with this vanity desk as it contains a large drawer to store all their makeup and other trinkets. It is especially appealing to little girls since the four legs of the makeup desk are curved and resemble the feet of a ballerina. Available on Houzz.com.
SONGMICS Vanity Table Set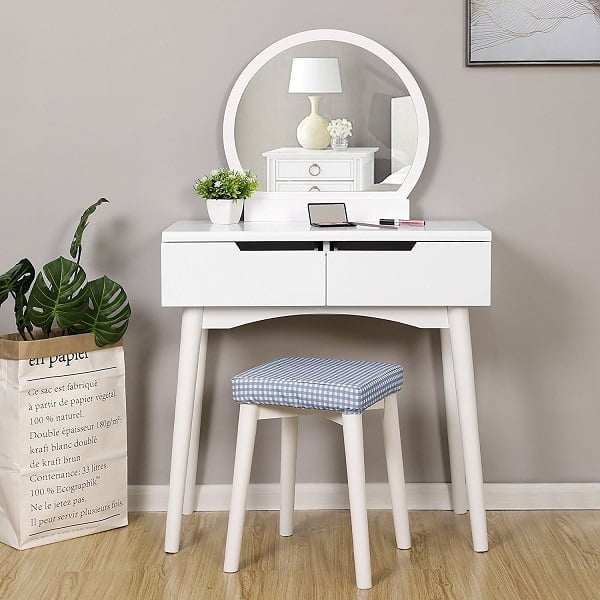 The SONGMICS Vanity Table Set comes complete with a mirror, two vanity draws, and cushioned stool. The two sliding draws allow you to store various supplies, while the stool cover can be removed to wash easily. The modern design makes it easy to fit in and compliment multiple decor designs. It arrives almost completely assembled, and all you need to do is add the mirror and legs to make it fully functional.
Some customers complained about slight chipping and one of the drawers not closing completely. Other than that this vanity set is small, compact and modern enough to compliment any room in the home. Available on Amazon.com.
The BEWISHOME Vanity Set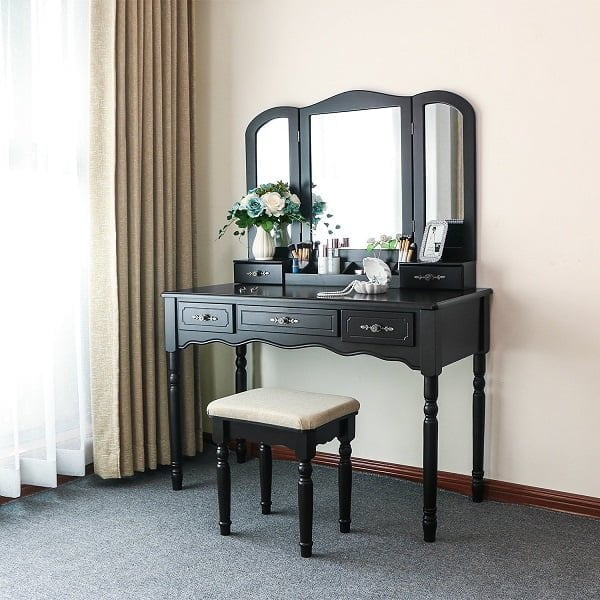 The BEWISHOME Vanity Set combines elegance and functionality in this modern and versatile makeup desk set. There's lots of storage space with five draws to organize and store your beauty supplies, makeup, and jewelry. The tri-folding mirror allows you to view your face from various angles when doing your make up.
The mirror is removable allowing the makeup vanity desk to be used as a laptop, homework or writing desk. The padded seat on the stool is not just comfy but sturdy and secure enough to sit on while you do your hair and makeup. Available on Houzz.com.
Three Piece Make Up Heart Mirror Vanity Set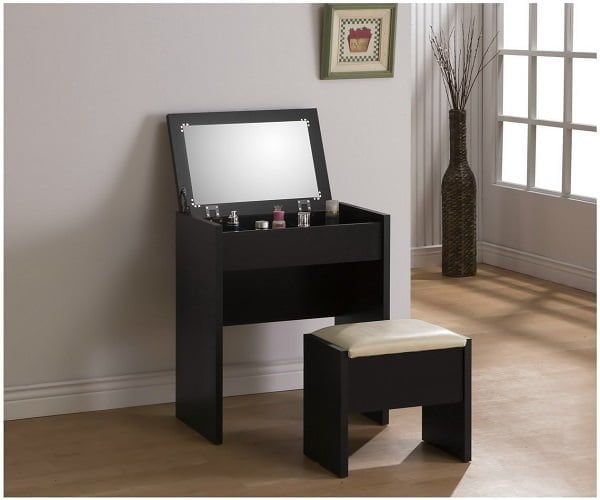 If you're looking for an item that is ultra compact, it doesn't get more compact than the three Piece Make Up Heart Mirror Vanity Set. However, this is not its only benefit, the vanity desk contains plenty of storage both underneath the fold up mirror, and the seat on the stool comes off completely to reveal a large storage draw.
What this makeup desk is compact enough to be used in the hallway, bedroom, living room or any room in the house. So if you are looking for modern simplicity and ultra-functionality, this would be the makeup desk for you. Available on Houzz.com.
Best Rustic Desks
Looking for that farmhouse rustic look for your home office? It's certainly a trendy home decor style, and a rustic desk can be the perfect accent in your home, no doubt. So here are our top choices for this type of desks.
7Magok Reclaimed Wood Desk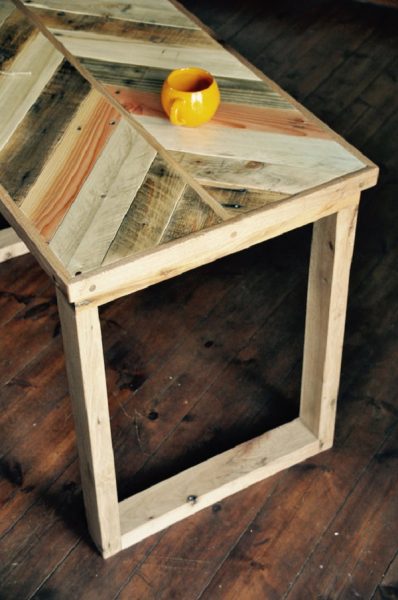 This reclaimed wood desk by 7Magok is a handmade item you can feel right about as it is eco-friendly. It is lovingly created from pallet wood and salvaged timber. It is made to order so can be customized to suit any size requirement.
The chevron pattern in alternating stains gives the desk a warmth and visual interest you will be hard-pressed to surpass with an assembly-line factory piece. Its simplistic and rustic design will breathe character into any space it graces, not to mention providing a lovely surface upon which to work.
Why it's our top choice? Rustic implies handmade and we had to choose something from Etsy for this. And what a great choice it is. This rustic desk is everything that we want this type of piece want to be. We hope you'll love it just as much. Available at this Etsy shop. (#ad)
Need more options? Here are the runner-ups for rustic desks.
VidaXL Reclaimed Wood Desk with Iron Legs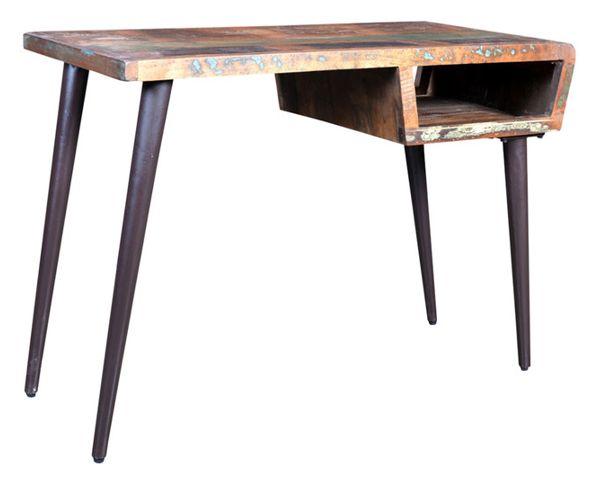 The VidaXL reclaimed wood desk with iron legs is a must-see piece. The reclaimed wood top has a unique and rustic finish which plays against the fresh industrial iron legs. There is a small compartment under the desk top for storage.
Pride of craftsmanship is evident in this piece as the use of reclaimed wood means every desk is unique and one of a kind. Measuring 43.31″ W x 19.69″ D x 31.5″ H, this desk is a smaller work surface, but what it lacks in size, it more than makes up for in character and depth. Available on Houzz.com.
Urban Industrial Executive Desk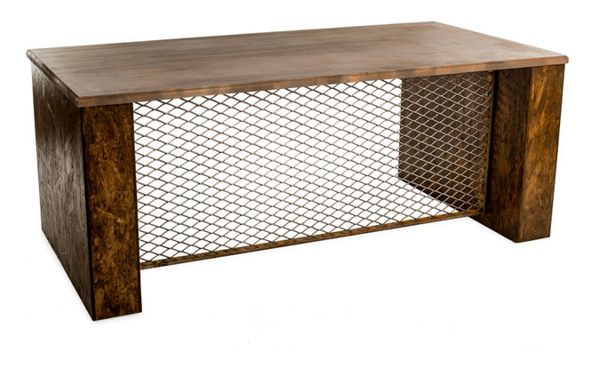 The Urban Industrial executive desk is vintage all the way. It features a vintage brown base with a rusted top, and a rusted metal grate makes up the desk's backing. For a rustic desk that's sure to be a conversation-starter, the Urban Industrial is sure to liven up any space. Measuring 36″ W x 72″ D x 30″H, it provides a decent-sized work surface. There is no additional storage with this desk, so it is ideal solely as a work surface. Available on Houzz.com.
Powell Furniture Calypso Desk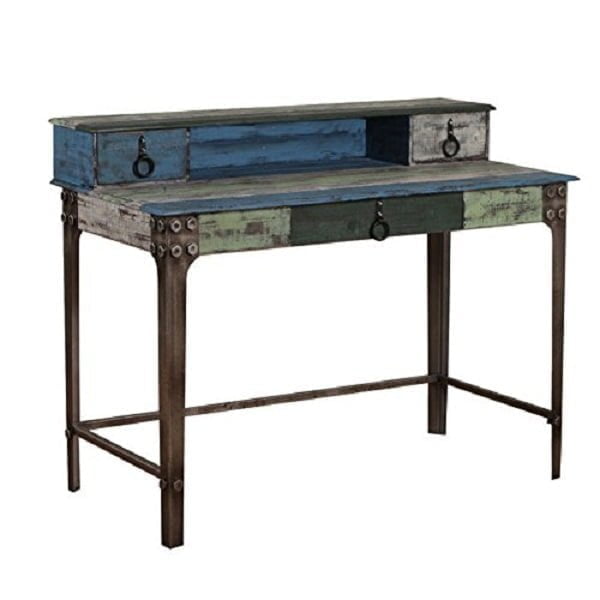 The Powell Furniture Calypso desk is a unique and original-looking piece. It has a weathered antique look perfect in a space that channels the spirit of days gone by. Few things are more trendy than the distressed look, and the Powell Furniture Calypso desk offers a heavily distressed and aged finish. It features three drawers with metal hardware and measures 47″ W x 23.5″ D x 38.8″ H. This desk is ideal for adding a big decorative punch that is also functional as a work surface with added storage. Available on Amazon.com.
RizAndMikaMake Reclaimed Wood Desk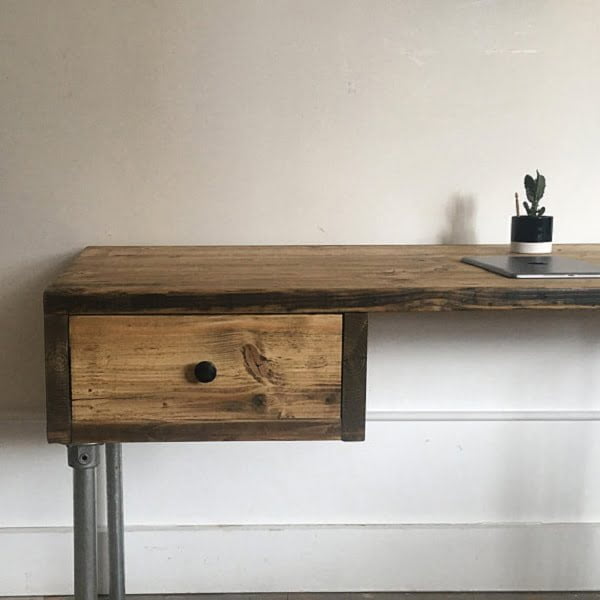 This reclaimed wood desk by RizAndMikaMake is a handmade item that features a beautiful wood top with galvanized steel tubular legs for added stability. The desk has a smooth-sliding drawer on a glider for storage with a classic black drawer knob. The design marries rustic and industrial styles for a unique finish and feel.
The reclaimed wood desk is made to order so can be customized to suit any size requirement or stain preference. For those looking for a rustic and industrial desk, they can put their stamp on, selecting your size and stain is a fabulous way to be a part of the design process without having to do the work yourself. Available on Etsy.com.
Best Kids Desks
Finally, we have the last short list, and it's all about the little dwellers of our homes. We want all that's best for our kids so here are the top choices for kids desks.
Tribesigns Solid Wood Kids Study Desk and Chair Set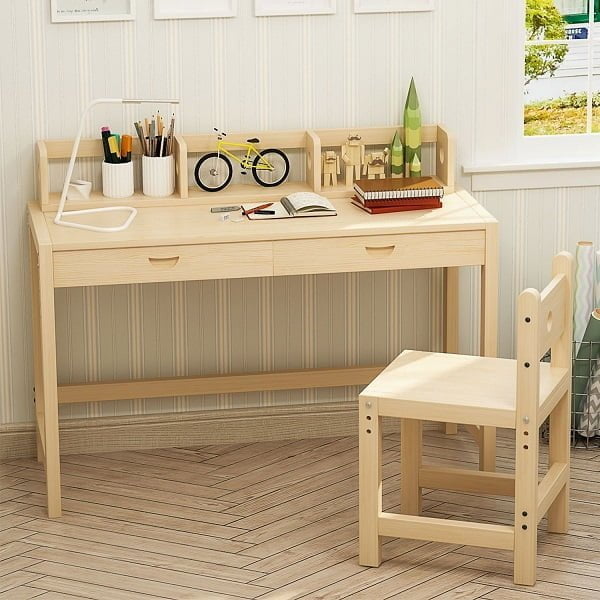 The Tribesigns kid's study desk is solid wood and features an adjustable height so it can grow with your child; the chair also features adjustable height. The unfinished look is perfect as is or can be finished to suit your child's personality or bedroom décor at a later date.
The drawer space is ideal for storing craft or stationary materials. This kids desk is easy to assemble and has a work surface large enough to accommodate a laptop or computer monitor. The desk and chair are solid wood for the quality of craftsmanship and sturdiness.
Why it's our top choice? The solid wood build of this desk and chair set is what sold it to us. It's very attractive, minimalist and free of moving parts (except the drawers). Not to mention its cuteness factor. The price is affordable too – available on Amazon. (#ad)
BestMassage Children's Desk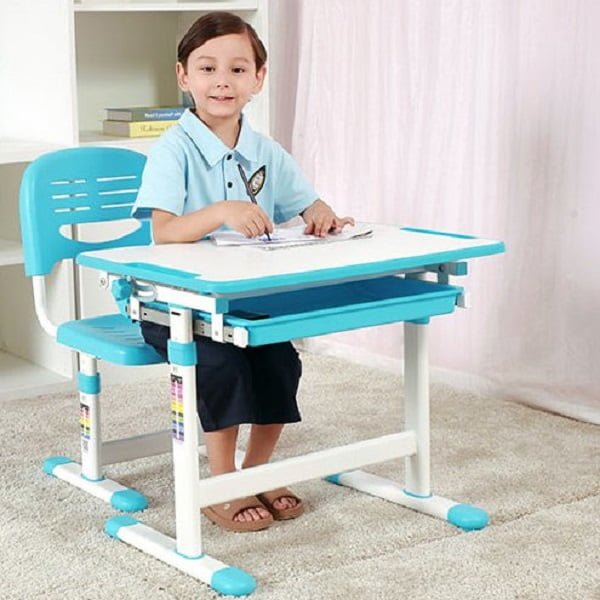 The BestMassage children's desk and a chair are recommended for ages 3-14. The desk and chair are adjustable to accommodate different heights. It is ergonomically designed with your child's spine development in mind. It is also designed around the perfect eye-to-surface distance to reduce eye strain.
Bright blue, it will appeal to the imaginative child and brighten up their space. The work space features storage perfect for all those creative materials, and the desk surface can be tilted from a 0-to-40-degree angle to satisfy different project needs. Made from high-quality MDF board and a solid steel frame, it can support a weight of up to 154lbs. Available on Amazon.com.
Lipper Writing Workstation Desk and Chair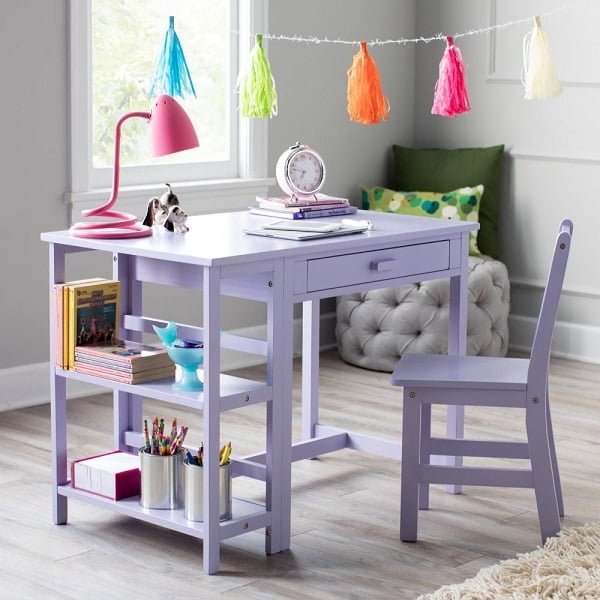 The Lipper writing workstation desk and chair make a perfect kids' desk as it has shelves on the side for storage or staging favorite accessories and a smooth-sliding drawer for storing work materials. Lavender in color, it adds a unique and soft look to a girl's bedroom or work area. It is easy to assemble and will brighten up any space. Available on Amazon.com.
Kids' Complete Desk System Set
This Kids' complete desk system set measures 43″ x 39″ x 27″ and comes in a two-tone color combination. Available in blue and white and five additional color options, it will brighten up any space. The work surface features a shelf for work materials and a cabinet-style space and two shelves underneath the desk's surface. People who have purchased this desk system warn that the white color is more of an off-white than a pure white. The desk is easy to assemble, practical, and affordable. Available on Houzz.com.
Child's Slanted Top Desk and Chair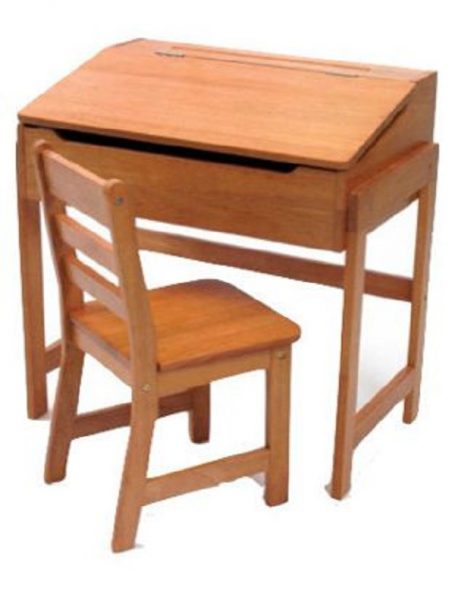 This child's slanted top desk and chair recall the design of school desks of the past. For those with an appreciation for older designs and a more vintage look, this desk is for you. The desk and chair are pecan in color and are made of solid wood. The desk top lifts up for storage of work materials to be kept safe and hidden inside.
The desk and chair are easy to put together and perfect as a child's small work space to be tucked away in a room. As the desk and chair are smaller and suited for younger ages, it is also easy to move around so the child can have a work space wherever is needed. Enjoy the simplicity and practicality of this child's desk. Available on Houzz.com.
Liked this article? Here's what you can read next:
---
Disclosure: As an Amazon Associate we earn from qualifying purchases.