Last updated on June 15, 2021
Looking for the best platform bed frame to accommodate your comfy mattress? We've made our picks of the year, now it's your turn. Read on!
Here is a list of the top-rated platform bed frames that you can choose from. They can improve the quality of your sleep, the beauty of your room and can even provide storage space.
Sometimes called cabin beds, platform beds are usually made up of solid frames meant to provide flexible support and ventilation to a mattress. That eliminates the need for a box spring.
Every one of the bed frames in this post has its advantages and drawbacks. So how do you use it to its full potential?
How to choose the best platform bed?
Here are some of the things to consider:
The height of the bed frames as it can be hard for some people to use.
Can the bed frame accommodate you? Some can go up to more than 200 lbs and some cannot.
The design because there's a lot to choose from – starting with modern styles and finishing with vintage designs.
Of course, there's no ideal product and we do have something to say about the drawbacks of many of the available options out there.
Here are the common caveats to consider:
Some are hard to assemble so you might need help with it.
It may be a bit squeaky that some people might find irritating.
Now let's get down to business and review our top picks. Most of these frames fall under slightly different categories, so we recommend checking them all. You will then be able to make the best choice. Do note that as an affiliate site we are compensated for qualifying purchases at no expense to you. The links are tagged #ad for transparency.
So which one of the following will you put your mattress on?
What's Inside?
Platform Bed Frame with Storage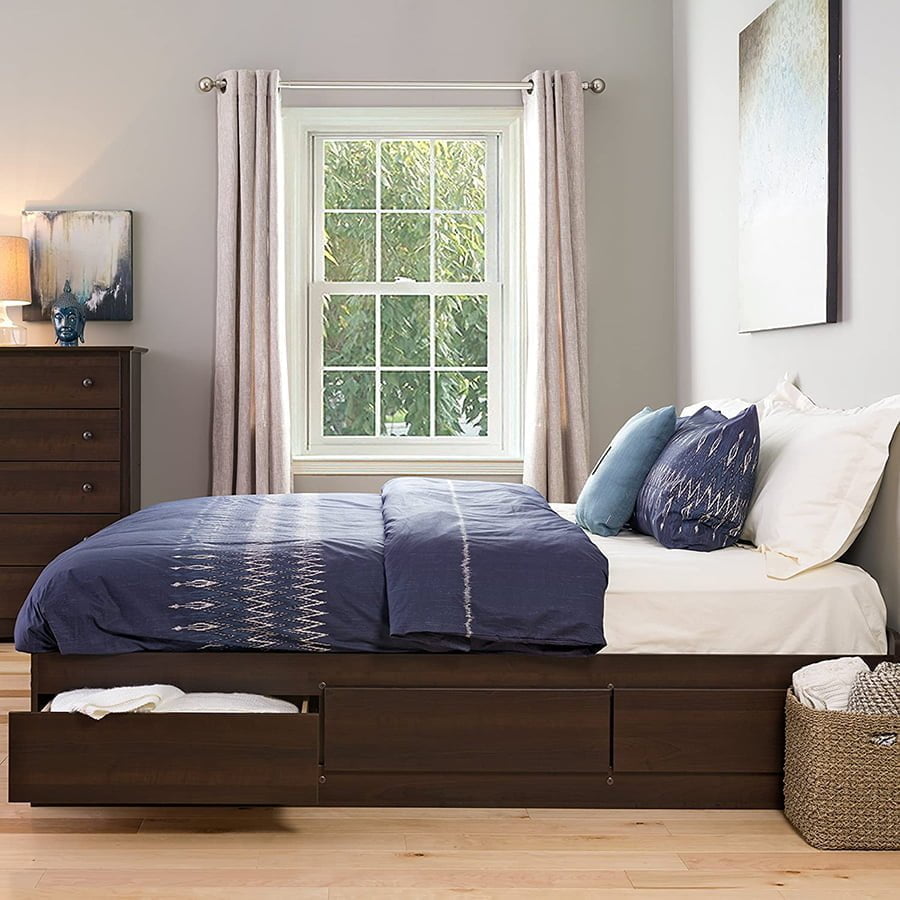 Even though it takes effort to build this bed, it's worth it because it's made up of laminated composite wood, plywood slats, and metal supports with rich espresso finish. It even has 6 drawers for a lot of extra storage. And naturally, you don't need a box spring for this.
Pros: six drawers that can store anything without taking up more room; the slat support system needs only a mattress; the frame is very sturdy; the color is nice with no chips and looks just like the photos.
Cons: quite hard to assemble and it does take a lot of work.
Metal Platform Bed Frame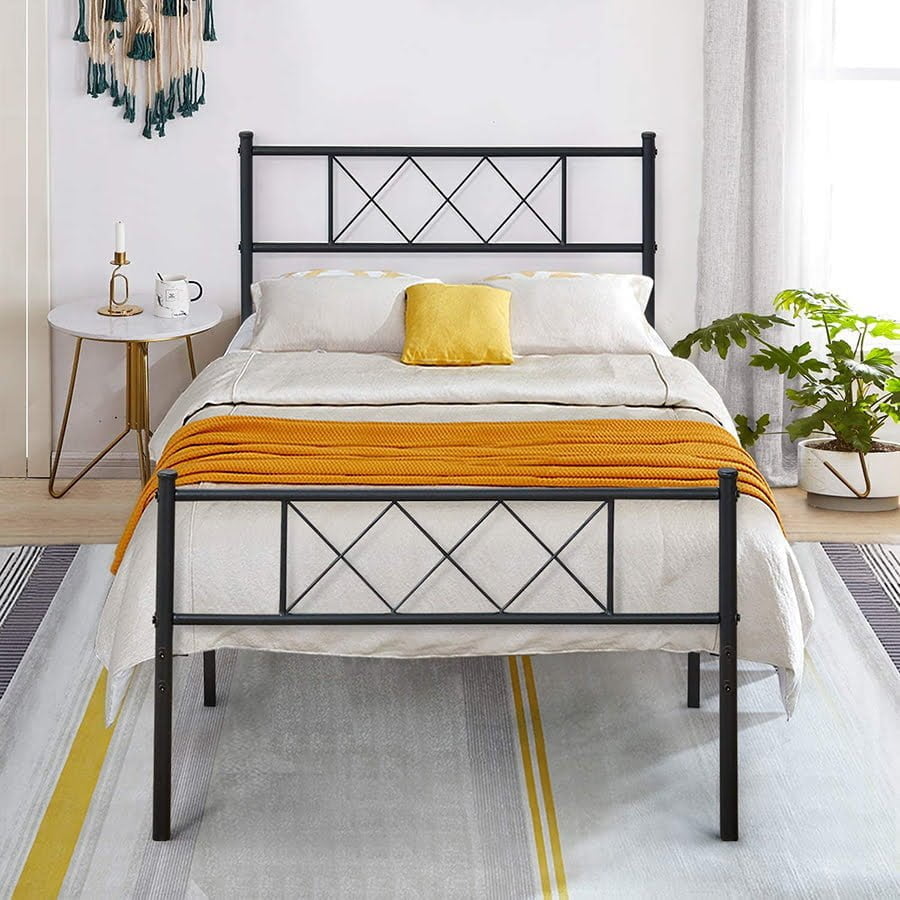 This unit is stylish that comes with a headboard and footboard. Sure, you need two people to build it but once built, you'll be able to sleep comfortably. It's not noisy and you can add extra height if needed.
Pros: has a lot of poles to reduce weight; no squeaks at all; about 12 inches of height underneath for storage; it can be put on risers if any additional height is needed.
Cons: two people needed to assemble.
Solid Wood Platform Bed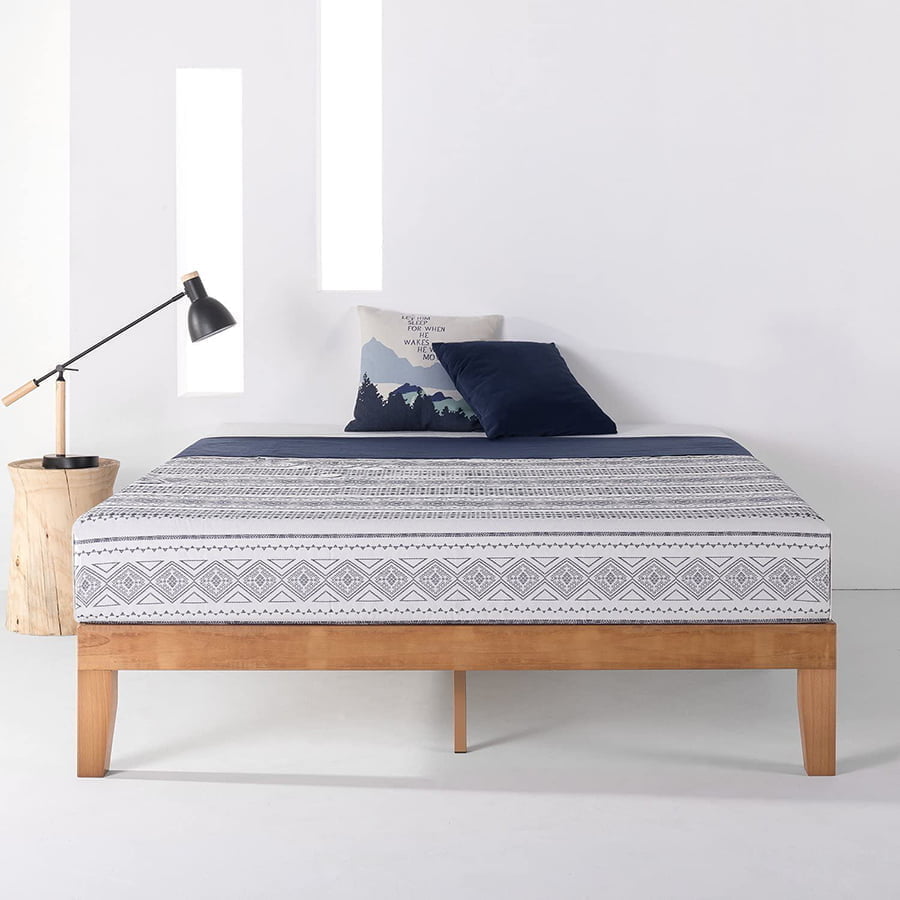 A queen platform bed that doesn't need a spring box, this mid-century modern style furniture is easy to assemble and has a solid wooden frame for better durability. Has under the bed storage too.
Pros: noise-free construction; non-slip tape on the wooden slats for stability; made of solid hardwood; easy to assemble; it has an under the bed storage of approximately 8 inches that fits large storage boxes.
Cons: the middle legs are too long and had to be removed because it made the rest of the legs uneven.
Platform Bed Frame with Headboard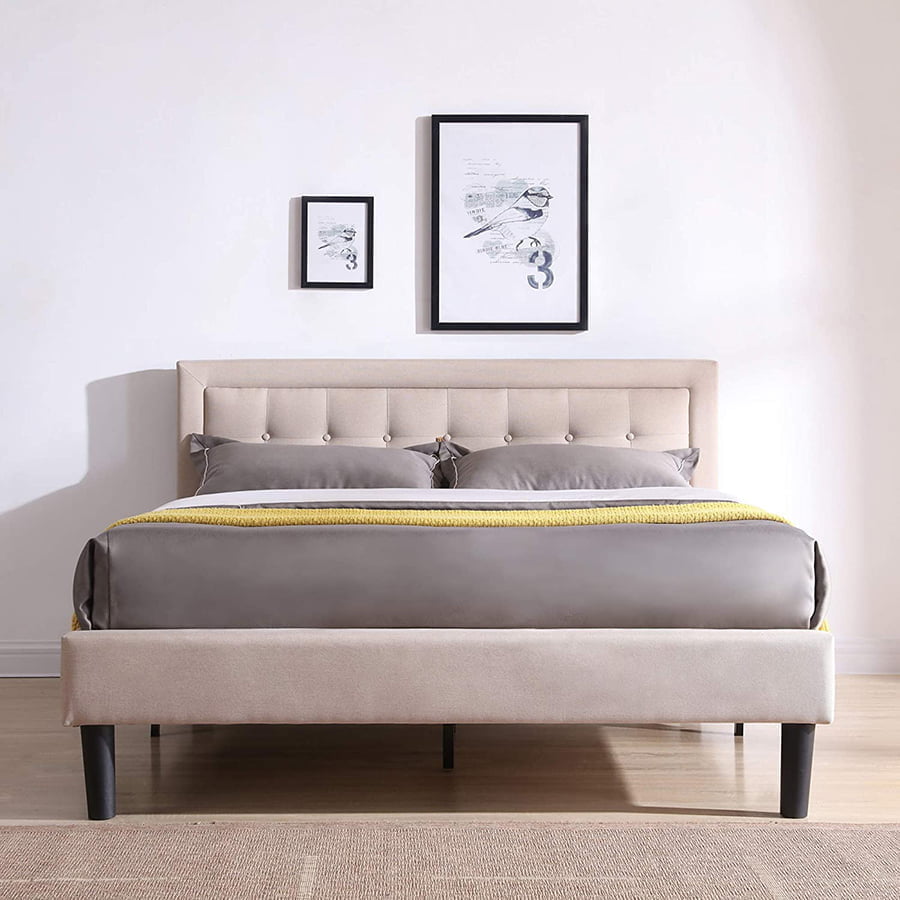 It may have a chemical smile that might be unpleasant for some but it has wooden supports to prevent accidents like tripping over your legs. It's easy to set up and can fit any type of room.
Pros: the slats are spaced evenly across the top of the platform and form a solid base for the mattress; padded frame makes for safe and sturdy bed frame; easy to follow instructions.
Cons: there is a chemical smell.
Modern Bed Frame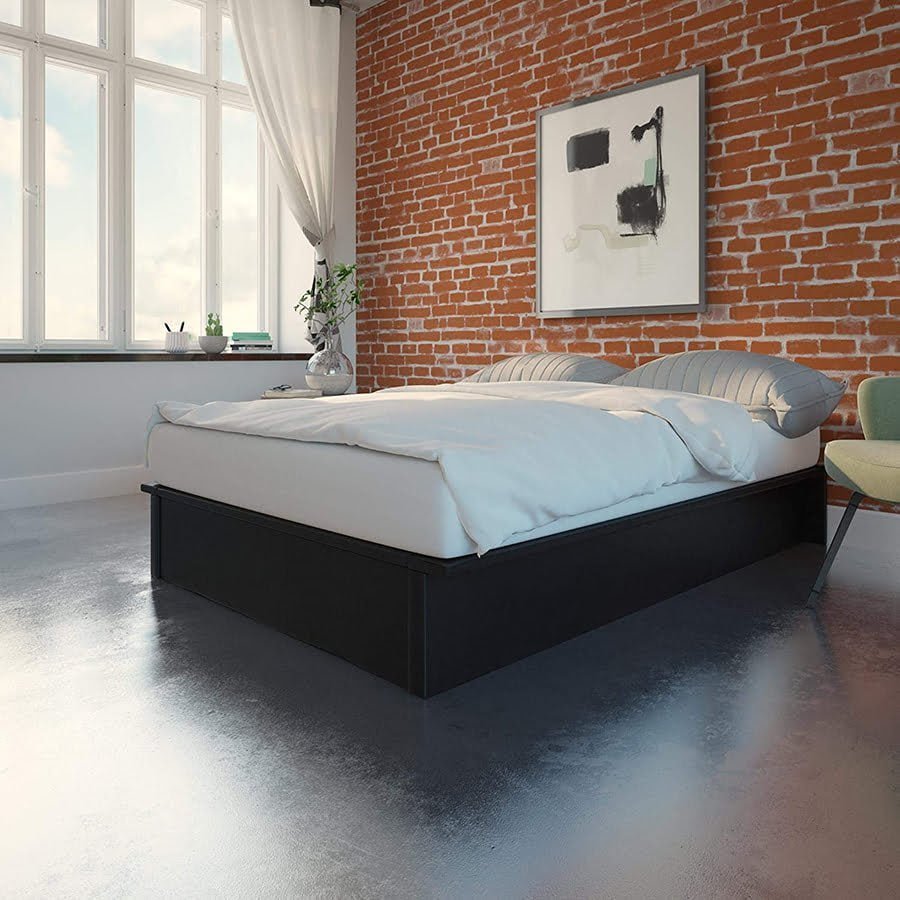 It may take longer than usual to set up this bed frame but it's totally worth it. It keeps your mattress fresh for longer use, upholstered drawers inside and out and the metal side rails provide stability and durability.
Pros: the slat bases allow air to pass freely beneath the bed (keeps your mattress fresher longer); it's fully upholstered (even the drawers, inside and out); two large drawers; very sleek and simple modern design.
Cons: setting up the frame is time-consuming; the mattress also slips off a lot.
Japanese Platform Bed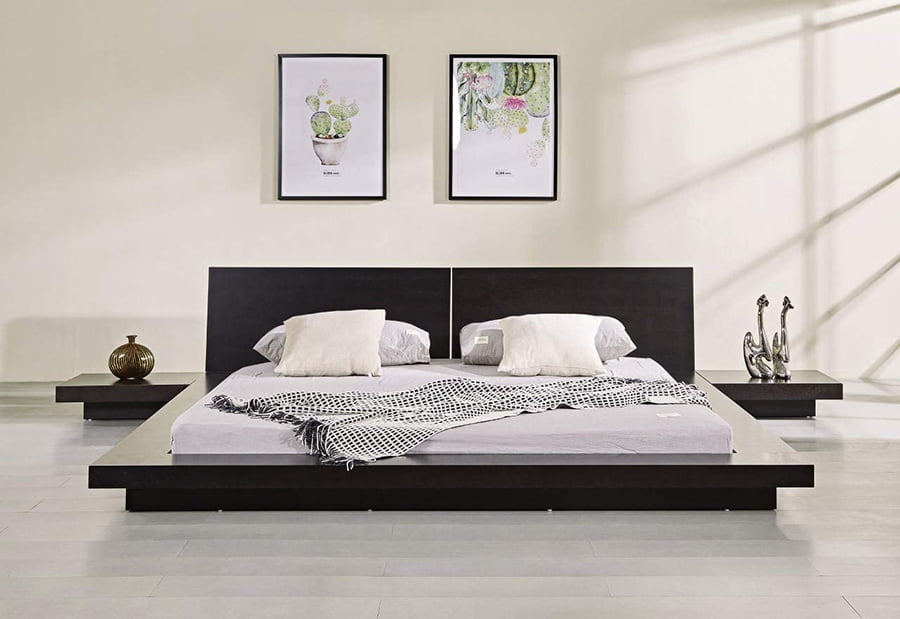 This is a Japanese style bed with two built-in nightstands on both sides with espresso color finish. It is low to the ground and of high quality. Looks incredible and easy to build.
Pros: low profile, solid hardwood frame; detachable nightstands; it does not creak or wobble; sleek and stylish Japanese style bed.
Cons: side tables are not attached which way be a bit uncomfortable at times because they move.
Upholstered Platform Bed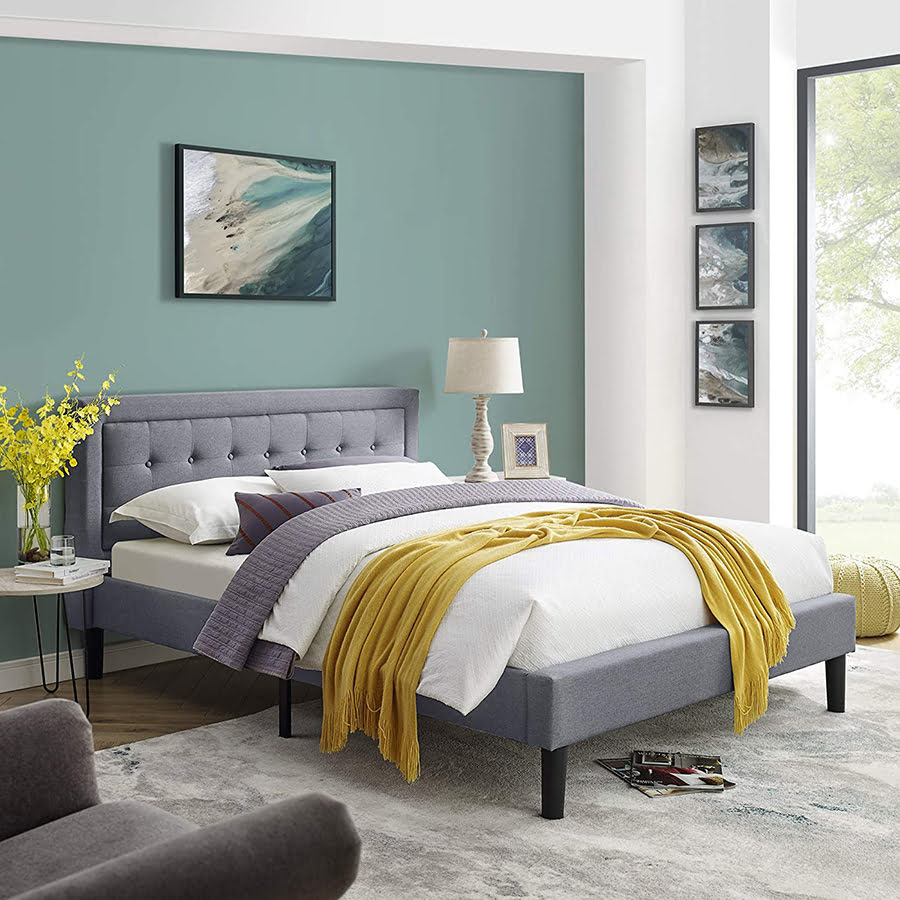 This furniture can carry up to 225 lbs evenly distributed on both sides. The perfect solution to update your bedroom into a modern-looking one.
Pros: the headboard fabric is tough with a really nice polished look for the price; the bed does not wobble at all; durable wood slat foundation with sturdy center support.
Cons: the color of grey is significantly darker in real life than in the pictures.
Low Profile Platform Bed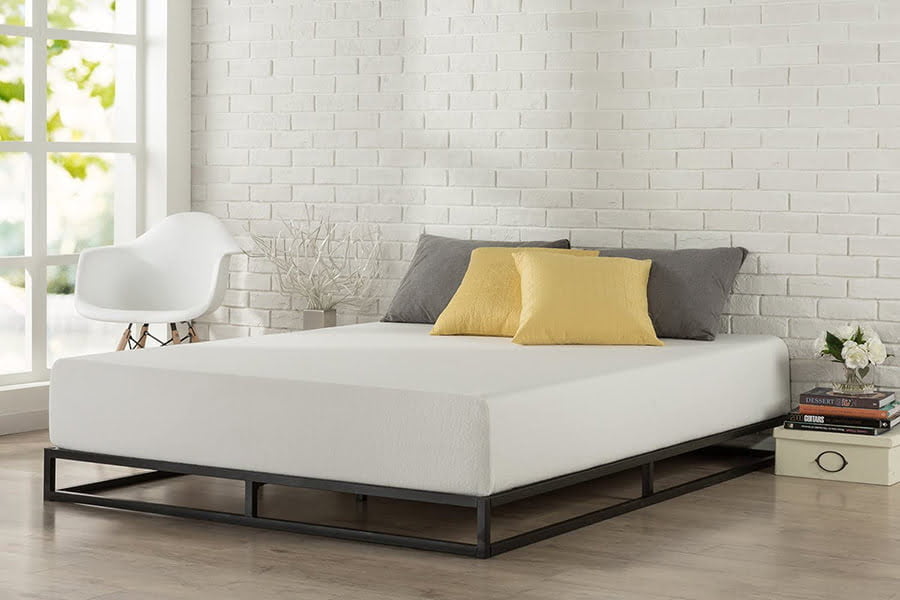 Built with strong steel frames to prevent sagging and increases mattress life, this can be assembled in minutes and can support memory foam, spring, and hybrid mattresses. The wooden slats even prevent the mattress from moving.
Pros: great for higher profile mattresses; non-slip tape on the wooden slats; you can fit anything about 12-inch tall or less underneath the bed.
Cons: there is no real support that goes down the middle of the frame.
Mid-century Modern Bed Frame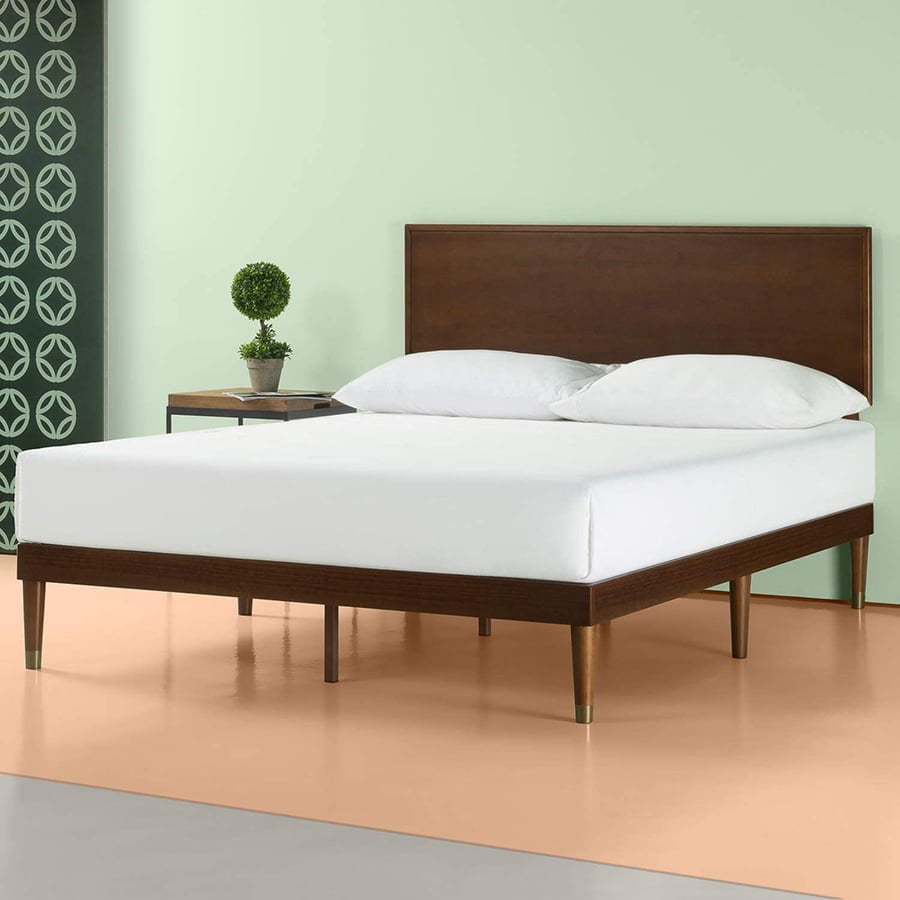 A wobbly headboard may seem to throw you off but it can be adjusted for your preference. It has excellent mattress support, doesn't need box spring, and it's easy to assemble.
Pros: adjustable height headboard; has good quality; the platform itself is sturdy and there is even velcro/pegs to hold the slats in place.
Cons: the headboard seems a little wobbly even with all the bolts tightened.
Minimalist Bed Frame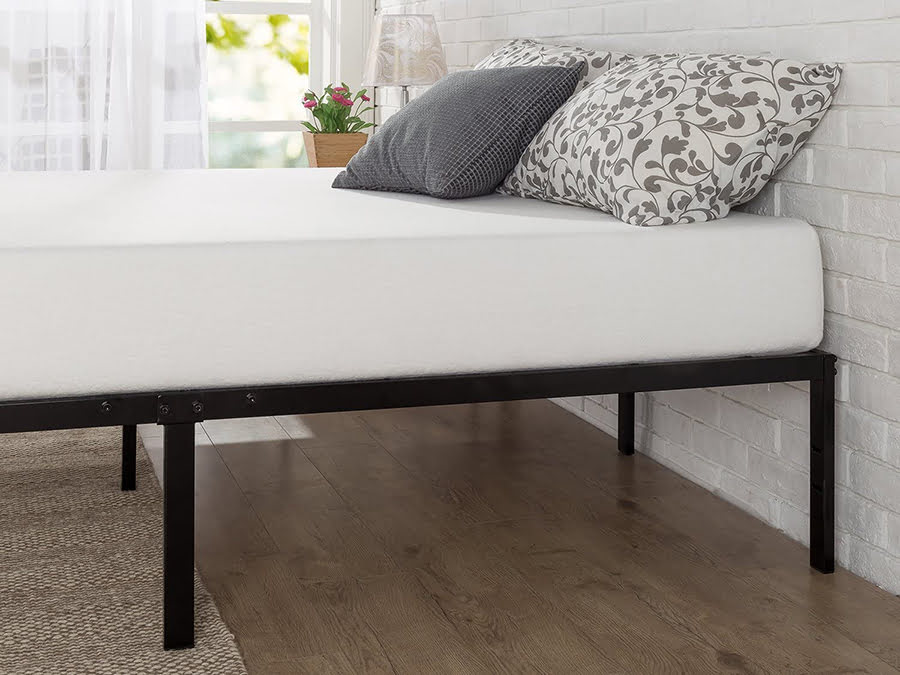 It has 12 inches of clearance underneath for extra under the bed storage space. It is not squeaky because of its foam-padded tape and the slat support can increase mattress life.
Pros: foam-padded tape added to the steel frame to reduce noise; a metal platform frame provides reliable and durable mattress support; very sturdy and doesn't move or wobble at all; it also looks great in minimal style.
Cons: there's no interior lip for the mattress to rest on so it's completely dependent on the narrow cross pieces and the external box.
Liked this article? Here's what you can read next:
---
Disclosure: As an Amazon Associate we earn from qualifying purchases.