Last updated on February 4, 2022
Looking for a sleeper solution for a small room? Here are the best bunk beds for small rooms that will help you use the available space wisely.
Which bunk bed is the best for the purpose? We pick this Twin-over-Futon Bunk Bed.
You wouldn't be here if you didn't know the benefits of using vertical space in a small room. That's exactly what bunk beds are all about. But did you know that you can use them for storage and even workspace as well? There's no piece of furniture more functional than the modern bunk bed.
You have these types of bunk to choose from:
Twin over twin.
Twin over full.
Full over full.
Loft bed (no bottom bunk).
Twin over futon.
Bunk bed with trundle.
Build-in desk and storage shelves.
As you can see, there's a lot to think about. What sizes and features do you need?
It is also a misconception that bunk beds are for kids only. While it's a great bed type for a small kids' room, you can accommodate sleeping in a small guest room with bunks as well.
Have these things in mind as you check out our list of top picks (with shopping links that earn us a commission at no expense to you.)
What's Inside?
DHP Twin Over Futon Bunk Bed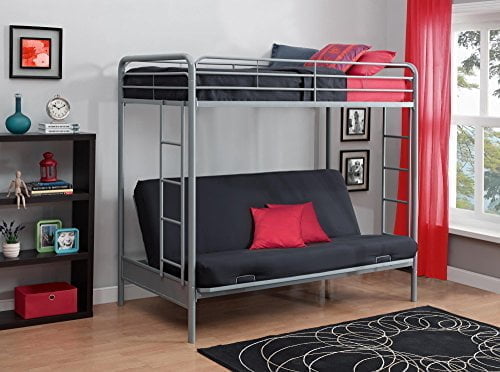 This is our editor's choice. While this bunk bed doesn't have built-in storage features, the convertible futon and a sturdy frame do it.
It is made of a steel frame and is 78 x 54.5 x 72.5 inches tall. It weighs 107 pounds. The upper bunk can hold 200 pounds and the lower one 600 pounds. It has a safe guardrail for the top bunk, a childproof mechanism, and an integrated ladder. The futon at the bottom converts into a full-size bed. The ladder has safety features for those parents who are worried about their children messing around while they are asleep.
Quick facts:
Total dimensions of 78″ W x 72.5″ H x 54.5″ D.
Weight limit of 600 lbs (bottom bunk) and 200 lbs (top bunk).
Accommodates a twin and full mattress.
Metal frame.
DHP Bunk Bed Over Desk and Bookcase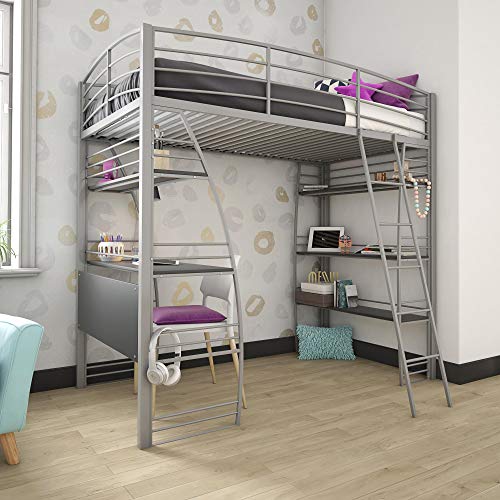 The bunk bed is built out of metal and has a silver color. The size of the bunk fits a 75-inch by 39-inch mattress. It has a built-in desk and multiple side shelves, which you can use for storage. It also has safety railings to protect the sleeper from falling out and has metal slats that provide stability and durability.
Quick facts:
Dimensions of 77.5 by 41.5 by 74 inches.
The frame is made of metal.
Has safety rails and ladder.
Weight limit up to 200 lbs.
Storkcraft Hardwood Twin Bunk Bed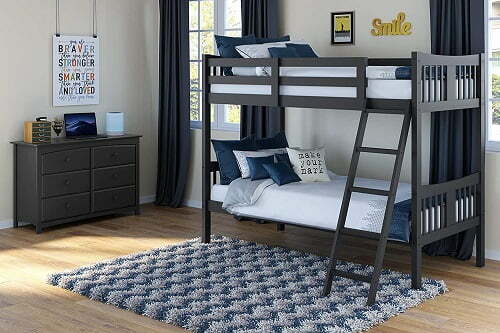 This bunk bed is made of solid hardwood (rubberwood). It is 78″ in length and 42″ in width. The height from the bottom of the frame to the top mat is 64″. The bunk bed supports a twin-size mattress and has safety features such as anti-slip copping that prevents accidents and a plug from elevating the ladder away and, more importantly, preventing children from climbing over it. The bed frame itself consists of screw-driven slats. The beds can be separated into two single beds.
Quick facts:
The frame is made of solid rubberwood.
Measures 78″ length by 42″ width by 64″ height.
Fits a twin mattress.
Can be separated into single beds.
4 different finishes are available.
Twin Over Twin Bed with Trundle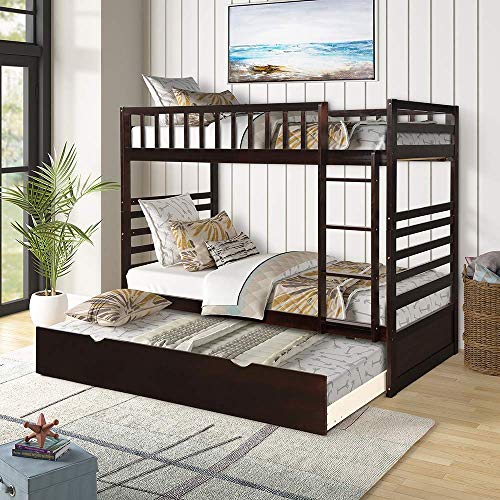 The bunk bed comprises solid wood, plywood, MDF, and iron alloy bolts. It is 74″ lengthwise and 39″ wide. It has ten levels of supportive wooden slats for its frame. The pins are put on the side and under the bed to provide a safe environment for sleeping. It has high rails to ensure safe sleep for children and a weight capacity of 150lbs for the top bunk, 200 lbs, and bottom bunk, 175 lbs on the trundle bed. It also has support slits running across the middle to be well-balanced.
Quick facts:
The frame is made of solid pine wood.
Weight capacity of 200 lbs (bottom bunk) and 150 lbs (top bunk), and 175 lbs (trundle).
Size of the bunk is 74" by 39".
Softsea Twin Over Full Bunk Bed for Kids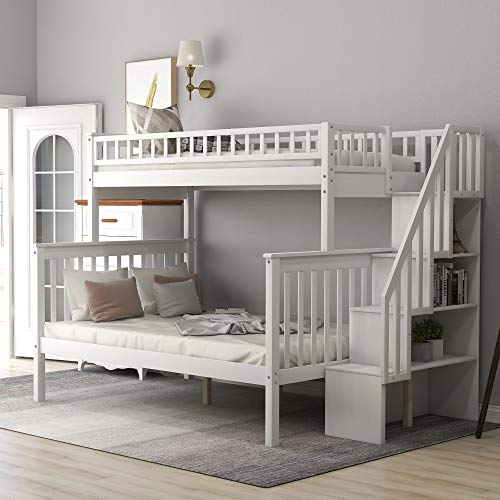 The bunk bed is made of high-quality pine wood, and MDF has easy to put together with clear instructions and no box spring required. The upper bed's size is 42.9″ x 76.9″, the down bed is 51.6″ x 76.9″. This bunk bed is a hybrid of a twin and a full-size bed.
This bunk bed differs from the typical bottom bunk on top, with either kids or adults. If you are a parent looking for this bed type, then the lower bunk will be your best choice.
Quick facts:
The frame is made of engineered wood.
Full bed and twin bed.
Maximum weight capacity of 250 lbs.
Merax Solid Wood Twin Loft Bed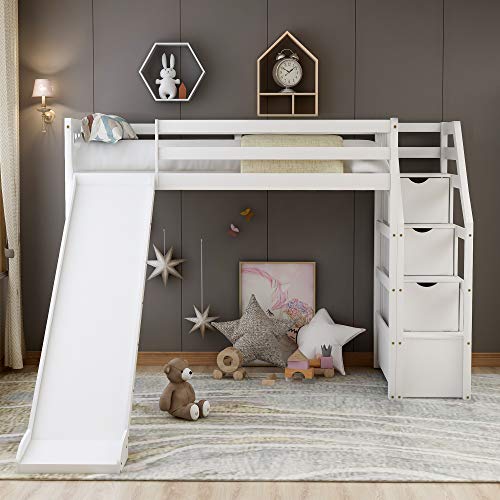 This twin-size loft bed, made of pinewood, has a clean and elegant appearance. The bed frame has an easy assemble design that can handle a weight capacity of 250lb. This bed has no box spring required and easy assembly following the clear instructions included with each release. It is sized 42.4"W x 78.4"L x 61.4"H, and can hold 250 lbs.
Quick facts:
Made of pine wood.
Overall size 42.4'' W x 78.4''x L 61.4'' H.
Weight capacity of 250 lbs.
Has a built-in slide and storage drawers.
Walker Edison Brighton Classic Metal Twin Bunk Bed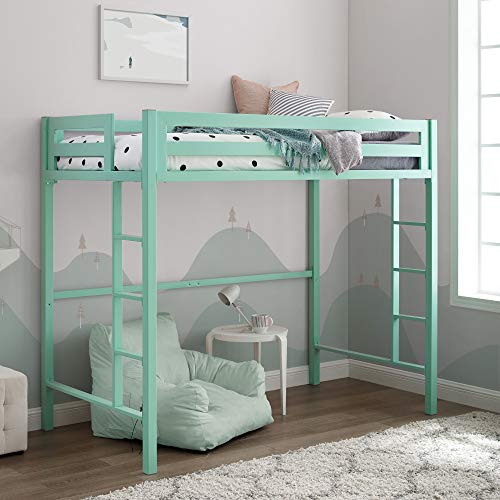 The frame of this bunk bed is made of metal. It has four guardrails. It has slats on all levels. It has eight safety features that are sure to keep kids out of harm's way, including safety edge rails, a foot bumper on the bed below and top, and against other sharp edges, including a ladder guardrail to ensure that little fingers don't catch or get stuck.
The bunk bed is 68 inches high, 43 inches deep, and 79 inches long. The floor for the bovel is 54.5″ high and 38.25″ deep, and 79″ long.
Quick facts:
Total dimensions of 79 x 42 x 68 inches.
Metal frame.
Weight support for 250 lbs.
Triple Twin Over Twin Over Twin Bunk Bed
This triple bunk bed is made of wood and metal. It is 81.7″ x 43.2″ x 78.1″. It can handle up to 200 pounds on each bed and meets ASTM and CPSC standards for safety. The beds are slatted boards with guardrails to ensure the top two bunk beds have adequate safety measures in place for small kids who might not seem sure-footed on top of them, or the people that sleep there could feel safe.
Quick facts:
Three twin size bunk beds can be converted into separate beds.
Weight capacity of 200lbs for each bed.
Made of hardwood.
Low Bunk Beds Twin Over Twin Size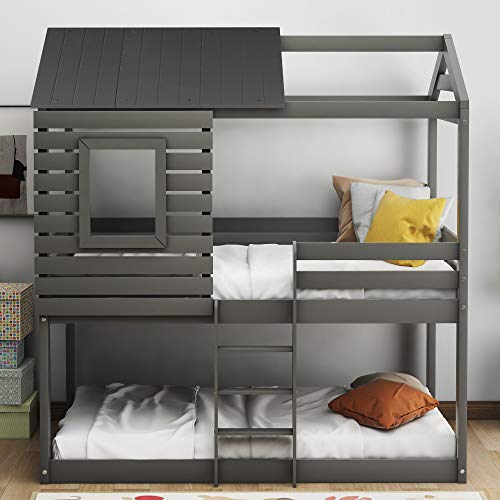 This is a product for those with low ceilings, and it also fits those with small children. The top bunk isn't so high and leaves enough room between the top bunk and the higher ground that there is no worry about accidentally bumping one's head again the railing. The bunk bed has strong construction of real solid wood to be long-lasting. Children will love sleeping in this cabin bed with their friends and siblings, while parents prefer to open the sleeping space.
The bunk bed is made of manufactured wood and solid pine wood. The size varies depending on the needs of the customer. The frame has a heavy-duty ladder for easy access to the bunk above. The mattress rests on slats and features ventilation to help combat condensation from moisture caused by frequent use or too much humidity in small rooms. However, mattresses are not included with this item, and they would need to be purchased separately, depending on your preferences.
Quick facts:
The frame is made of solid wood.
House bed design.
Built-in ladder.
Kids Loft Bed with Rolling Portable Desk and Storage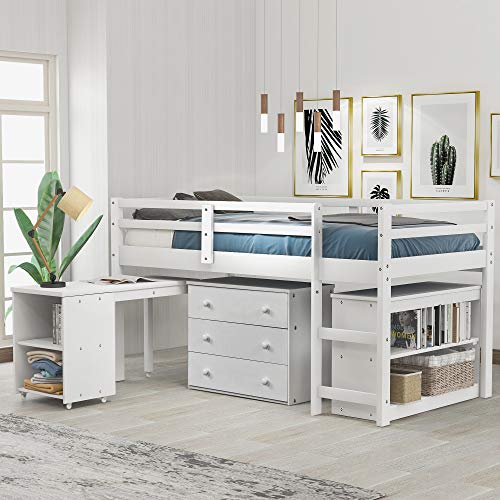 The bed provides easy access to the top bunk and has a ladder for safety. It can be placed at the head level of the upper bunk or attached to wall railings and provide a safety hinge for the lower ladder position. The product measurements are 58 x 78 x 63 cm that is 22″ x 30 11/16″ x 10 3/8″.
The bunk bed is made of plywood and pine. It is a study loft bed that features two bunks for some sleepover guests. There are three kids' room sets, and they can cooperate relatively well with the whole furniture set. In terms of material, heavy-duty material will assure you that the sleeping place can feel at ease under such conditions as your family members shaking shared bedrooms and your pets wandering in the nighttime summer vacation.
This outstanding loft bed offers a special study area underneath. The bed frame is built with sturdy pine wood and plywood for robust stability and long-lasting strength. Furthermore, the surface treatment is finely processed to ensure the product lasts longer. It has three storage drawers that make it perfect for all of your child's toys and books. It also features full-length guard rails and a ladder, so they can easily climb up or down from their bed safely too.
Quick facts:
Made of pine wood.
Has a lot of storage space with a pull out desk, 3 drawers, and 2 shelves.
Total size of 78.4 by 42.5 by 44.5 inches.
FAQ
What's a shorty bunk bed?
A shorty bunk bed is shorter than the average bunk bed. In addition, bunk beds are usually made from metal or wood, but a shorty bunk bed is often made from plastic or another material.
How do you arrange bunk beds in a small room?
The best place for a bunk bed in a small room is in the corner. At the very least, try to place them against a wall but avoid blocking windows.
Liked this article? Here's what you can read next:
---
Disclosure: As an Amazon Associate we earn from qualifying purchases.