Last updated on November 7, 2023
Want to make your home decor look classy and elegant? Here's how. Check out our complete guide with tons of unique ideas.
Creating home decor that is ahead of the trends isn't that easy but it's not only a matter of guesswork too. At the beginning of every year, we hear a lot of different opinions from design experts as to what styles and designs will be trending this time. Truth be told, most of them don't live up to the hype. But those that do, usually build on the designs that were popular last year too.
Styles that transcend years are what we consider the safe trends to try if you want to create a trendsetting decor. So having heard numerous opinions and seeing how trends have changed in the past years, we've made a list simple ways how you can set your own trends in your home decor.
Unplugged Living Room
It seems that our time spent with technology keeps increasing every year in every aspect of our lives. More and more homeowners wish to find time to get unplugged, so to speak, and spend time with their friends and family or just reading a book. A completely tech-free living room is becoming more than a trend.
More But Softer Colors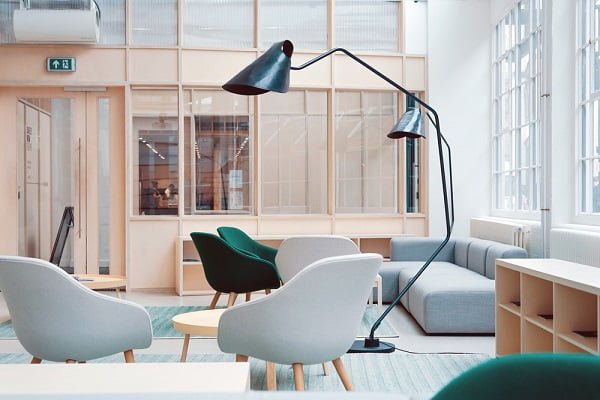 We see a trend in adding more colors to the interior design but doing so in a subtle manner. Instead of vibrant pops of color and busy patterns that were popular a few years ago, we now see softer moody hues that still introduce colors but do it delicately. Go for adding color via accent pieces, furniture, rugs, and choose soft hues.
Bathroom That Looks More Like a Living Space
Gone are the days when the bathroom was all about minimalist look and function only. We've seen a lot of new decor ideas and styles for bathrooms that make it look more like a living space and this trend will continue in the coming years. So feel free to experiment with wall art, seating, side tables, vignettes and almost everything you would do in other rooms of the house.
Formal Dining Room
The trend of modern integrated dining areas (sometimes none at all) is making a 180 degree turn and it's going back to the traditional formal dining room where a whole family can gather for a dinner distraction free.
Mixed Materials in the Kitchen
Instead of a sleek modern look with a choice of one or two materials, we expect to see more mixed materials that make the kitchen more visually interesting and more alike to other rooms in a home.
Warm Grays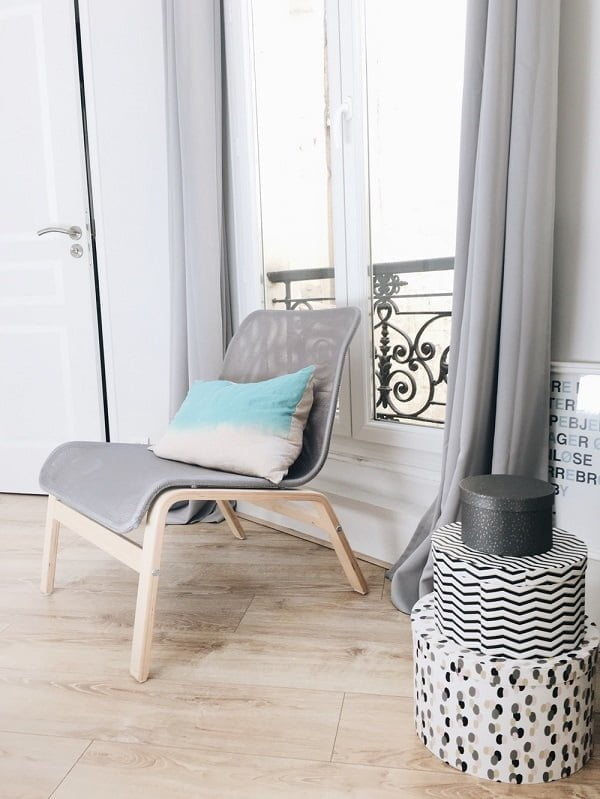 Gray is becoming the new white as we see a lot of kitchen and bathroom designs going for the warm and neutral grays with the cabinets, walls and even the floor.
You might think using so very little color in the interior design will make your home dull and boring, but you'll see that the contrary is true. Using the shades of grey can actually give you a lot of flexibility to emphasize almost any element of the decor.
Colored Stainless Steel
From shiny stainless steel that has been popular during the previous years, we turn to colored finish. We can see a lot of black, matte black, gilded, even rose color metallic hardware, fixtures and kitchen appliances.
Special Kitchen Features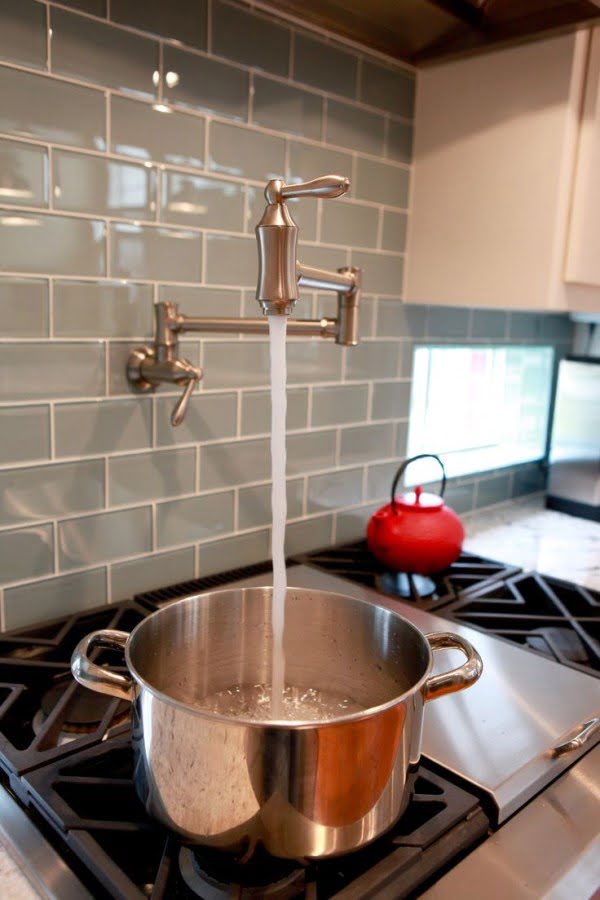 Adding a special element to the kitchen as an accent that adds function is getting ever so popular. It can be a pot filler, and automatic faucet or even just a dining table on wheels.
A Vintage Piece in Every Room
Adding at least one vintage piece to every room has been popular for a while as a way to make your home more personal and original, and it will continue to do so. Especially as it's so easy to find something online on sites like Etsy.
The Comeback of the Fireplace
We've mentioned that tech-free living rooms are getting popular, so when the TV is out, the fireplace comes back as the rightful owner of the title of the focal point of the room. And even if you don't have a real fireplace, you can get a decorative one.
Find the Anchor
An anchor in home decor is an accent item that brings everything together. It can be a couch in an accent color, a table, a piece of art, a colorful rug, or even just a bunch of throw pillows. The important thing about an anchor is that you have to choose one first and then decorate around it.
Balance Patterns and Solids
Solid colors may be boring but too many busy patterns make the place look cluttered. The key is finding the balance between the two. So for every pattern item you add, make sure there's enough solid color in the room to balance it out. Make sure they don't compete but complement each other.
Mix Metallic and Colors
Mixing metallic finish and colors is a trick of the trade for many designers. Brass fixtures and dark cabinets add a lot of depth, especially when contrasted with bright walls.
Combine Different Pieces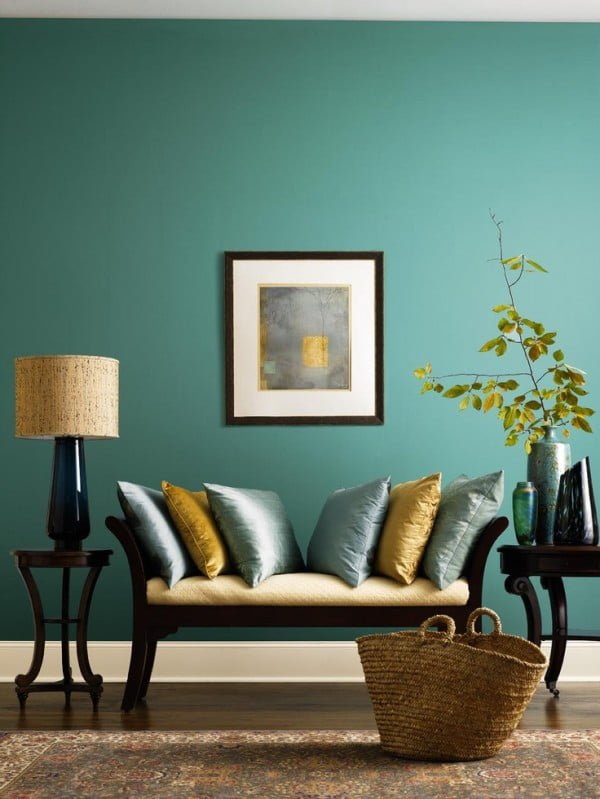 Getting furniture in sets is not what professional designers do. The truly beautiful decor is made of combining different pieces to create something unique.
Mind the Sight Lines
The key to maintaining a balance and natural flow of furniture in a room is planning for the sight lines. Each room has a path to the door, windows, and seating, make sure that path is not obstructed.
Make a Gorgeous Bathroom
It's easy to forget the bathroom but your home decor is not complete if your bathroom is a mess. Make it look gorgeous.
Add Seating to the Bedroom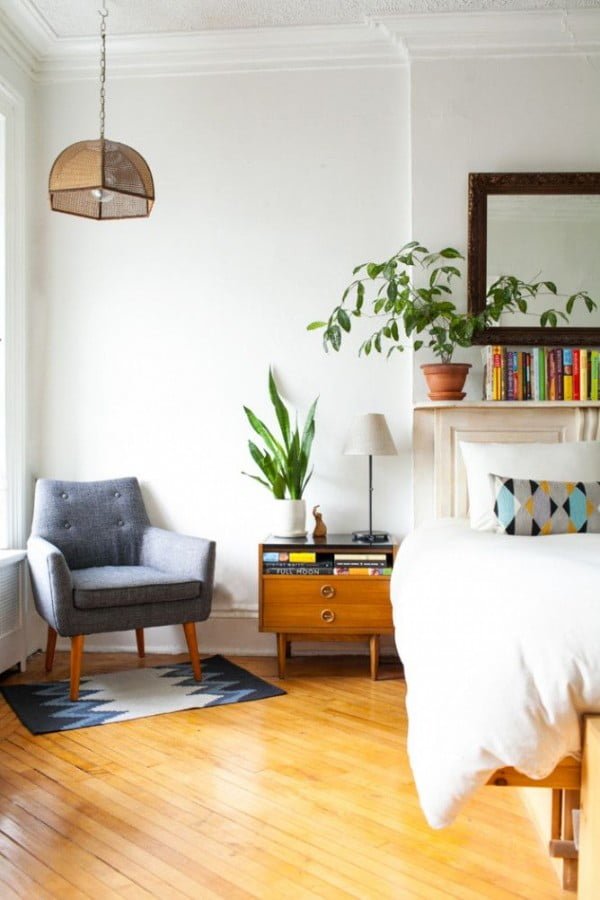 Even if your bedroom is small, find some room for a chair and it will look bigger and more complete.
Use Lacquered or Mirror Trays
Elevate your vignettes by using lacquered or mirror trays.
Layer the Lighting
Layering the lighting is the number one tool of romantic design. Use table and floor lamps to add layers and find the right lighting. Remember, everything looks better in the right light.
Soften the Edges
Add houseplants, floor lamps or even create vignettes in the corners of a room to soften the edges, add depth and make it look bigger.
Use Symmetry
Use matching chairs or pictures alike to add symmetry to the room and make it look well balanced and important.
Draw Attention with Eye Catchy Pieces
This tip is especially useful in a room that starts looking cluttered. When there's a lot going on and several pieces compete to be the anchor, add something eye catchy to direct the attention the way you want.
Break the Tension with Books
Sometimes the room's decor may become too strict. A very quick and easy to break the tension is to add bundles of books around.
Embrace the Rule of Thirds
You may know that things look most visually pleasing when they come in threes. The reason behind that is actually the rule of thirds or the golden ratio that's the staple of design. To put it simply, divide a space into thirds and use one third as the focal point. So besides creating vignettes of three objects (or groups of objects) you have to make sure they aren't all alike and make one piece the accent.
You can use this rule in any aspect of home decor, from painting the walls to furniture arrangement, hanging wall art, and arranging accessories.
Choose Accessories with Meaning
You can create beautiful decor with random store-bought accessories but what really gets oohs and aahs is a display with personal items that tell a story. It can be memorabilia from your travels or past events, anything that you can tell your guests about.
Get a Unique Piece of Furniture
A vintage dresser, or a fancy side table, get any unique or fancy furniture that pops out in your decor to add instant personality.
Start a Collection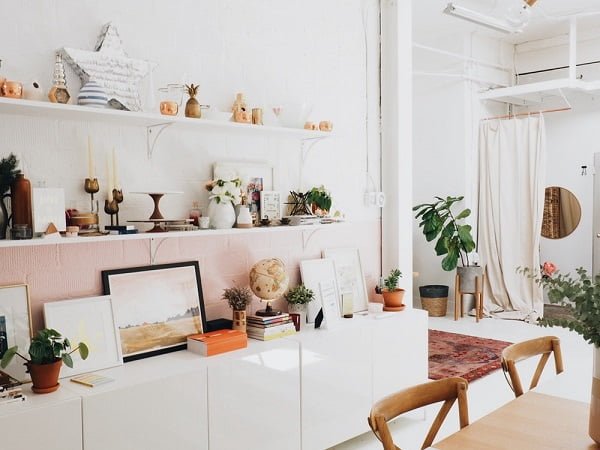 Collections tell a story, they are personal and original, and you might already have a collection of something that you haven't even thought about. Music records, old cameras, phones, even postcards, any collection makes an accent when put on display.
Use Colors That Flatter You
Home decor starts with colors and you should use only those that appeal to your style. Choose those colors that you find pleasant, colors that other people associate you with. Perhaps it's the color of your eyes or the colors you like to wear, making them all about you.
Decorate with Things You Love
Before even starting to decorate, think about what you love, what makes you feel comfortable and happy. Bring only those things to your home that define you and make them define your home. That's what makes home decor really personal.
Use Wall Signs
The decor of your home evolves over time and consists of little details that you add over time. So you will bring the accents that feel right and make you comfortable. Using wall signs is a simple way to convey a message and make a room a little more original.
Create Contrast
One of the best rules of home decor is to avoid uniformity because it looks cookie cutter and boring. So use contrasting furniture and styles, juxtapose things to create contrast.
Create Drama in Small Rooms
A small room looks most original when it's the world of its own. So don't be afraid to use a lot of detail, wall accents, and patterns, color explosion to create a dramatic decor.
Use Whimsical Elements
Nothing adds character better than small surprises around the home.
Greet Guests with an Accent Piece
As soon as guests enter your home the first thing they see should set the mood and give a glimpse of what's to come. Make the first impression count.
Use Curved Furniture
Soften the edges with curved furniture and your decor immediately breaks away from the default cookie cutter style.
Mix and Match
Mixing and matching furniture, materials, and patterns is the major tool of creating original decor so make proper use of it. Avoid all matching furniture sets and try to mix in different finishes.
Make Use of Display Cabinets
Display cabinets are great to show off your hobbies, personal things and your life in general. But don't overload the shelves, use empty space to emphasize and group items together. You shouldn't try to put everything you have on display, pick things selectively and change them up from time to time.
Don't forget that a display cabinet can find a place in other rooms than the living room, and it makes a great accent in the kitchen, for example.
Use Mirrors
Mirrors provide a unique way to add original accents while being functional. So find a place somewhere on your walls to make use of them in any room possible.
Wall Art and Pictures
Last but not least, and the most obvious way to make your home decor original is, of course, using wall art and pictures. It's where you can really use your creativity and personalize.
A Club Chair
Whether it's leather or an upholstered chair, it's essential to a reading nook or a personal cozy place in your home to crawl up in. A club chair is a timeless classic, that's why we find it essential.
Luxury Throw Blankets
You need at least one cashmere or silk blanket in a deep color or pattern that will add style to any piece of furniture. A gorgeous luxury throw blanket will make a stunning accent anywhere.
A Big Comfy Sofa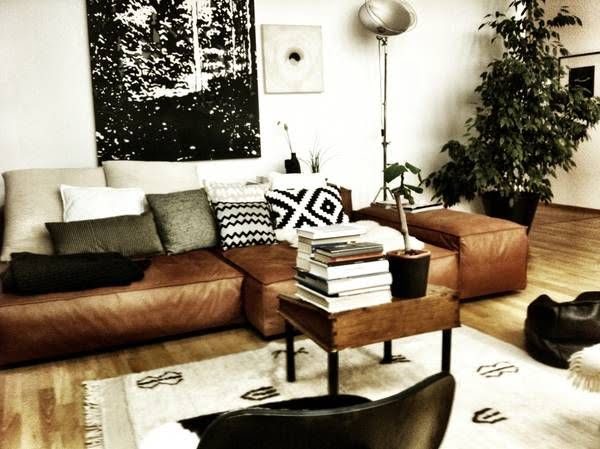 A sofa big enough to stretch on and be able to seat at least three people without cramping up is absolutely essential for a well decorated and comfortable home.
Wool Area Rug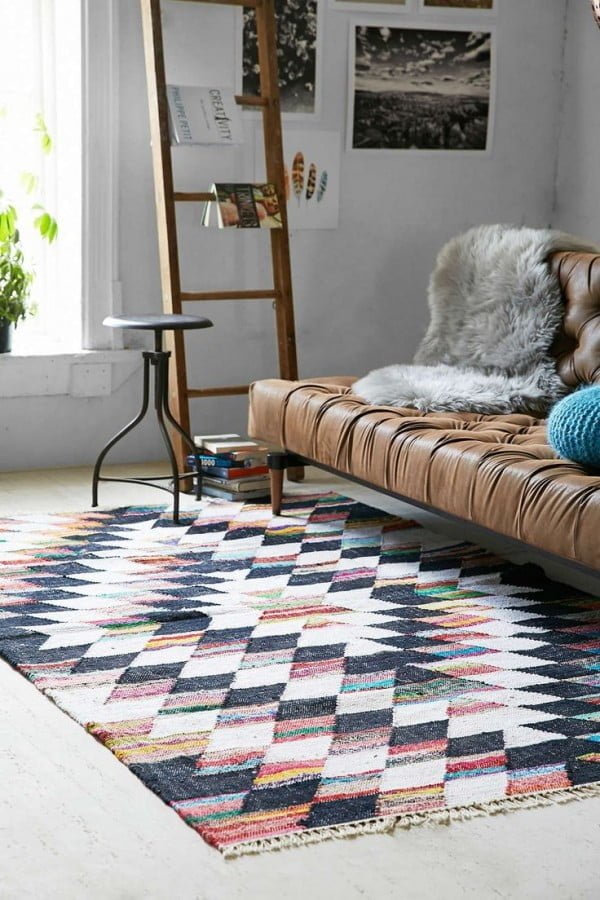 Pick a pattern that you'll love and get a soft wool area rug that will feel comfortable for your feet. It's all about making your home cozy more than anything.
Art You Love
Wall art isn't just about accents, matching colors, and patterns, it's more about what makes you feel good in your own home. So get art that you can fall in love with.
Organized Bookshelves
A bookshelf tells a story and it will store many tales of you and your home, so to speak. This is where you will show off your life, so it's essential that you keep it organized with your favorite books, accessories, and collectibles.
Matching Towels
The choice of towels is an essential part to bathroom decor so getting sets of towels in your favorite patterns will provide you a powerful decorating tool.
A Tall Plant
It's almost impossible to avoid the boxed out feel in a room unless you do something about those edges. Tall houseplants are perfect at this because they will add depth instantly and soften the edges placed in any corner.
A Quality Mattress
No matter how strict your budget is, don't save on a mattress. It's not so much essential to the look of the bedroom as for your health and wellness. And a well-decorated home is one where you feel well yourself.
Bathroom Accessories That Aren't Cheap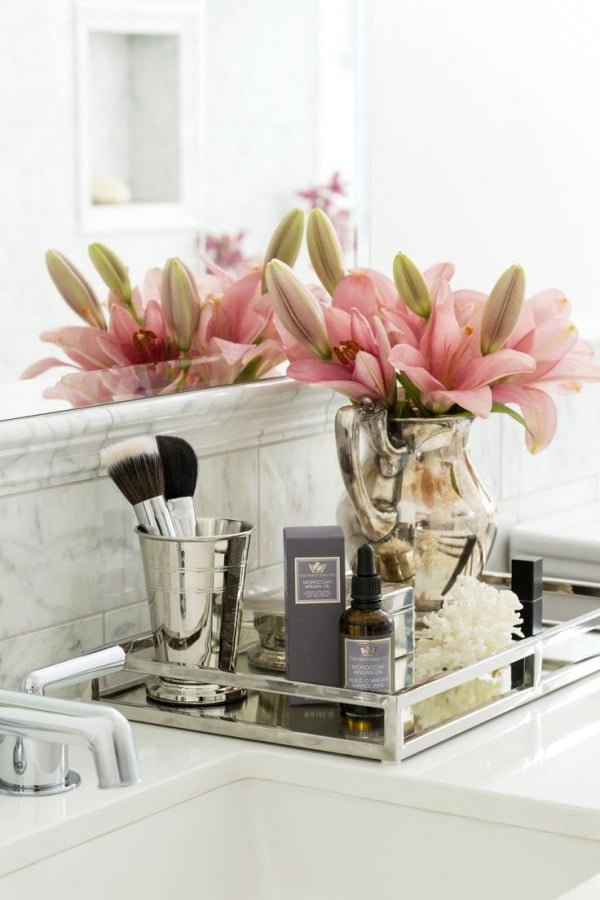 Your home isn't a cheap hotel so why would you use plastic disposable accessories in your bathroom? Invest in attractive and long lasting essentials for a well-decorated bathroom.
A Round Dining Table
A roundtable that hosts six people is a classic and solves multiple home decor dilemmas related to the room layout and hosting multiple guests.
A Pharmacy Lamp
Another timeless classic that you can use just about anywhere from the bedroom to the living room and even the bathroom, wherever extra lighting is needed.
Two Nightstands
Small spaces sometimes dictate home decor that isn't exactly ideal. If you can, try to keep it symmetrical and have two nightstands at each side of the bed. It's isn't just about the visual look too – it's much more comfortable if you share the bed with your partner.
Real Napkins
Host dinners like a real adult person and get some real napkins. They aren't that expensive and are so much classier than paper napkins.
At Least 3 Light Sources in a Room
Most rooms we see are very underlit. Lighting is crucial to home decorating so make sure you have at least three light sources in a room. Create layers of light with recessed light, chandeliers, lamps, and sconces to eliminate all those unnecessary shadows.
Fresh Flowers or Herbs
If you're not a flower person (you're a guy living alone, we get it), you'll benefit from growing fresh herbs in the kitchen. Having something fresh in your home is a great way to keep it lively all year round.
Vintage Dishware
There are so many uses for vintage dishware in home decorating that it's pretty much essential to have a few pieces of it. From accents in the kitchen to makeshift planters, the pastel colors and patterns that vintage dishes usually have give you a lot to experiment with.
Under the Bed Storage
Even if you just add a few baskets under the bed, that space is better used for storage than left empty to collect dust.
Beautiful Boxes
Collect beautiful boxes, either buying them for storage or keeping fancier shoe boxes. They will always come in handy to store little things and even hide the unsightly eyesores.
Use Patterns in Neutral Colors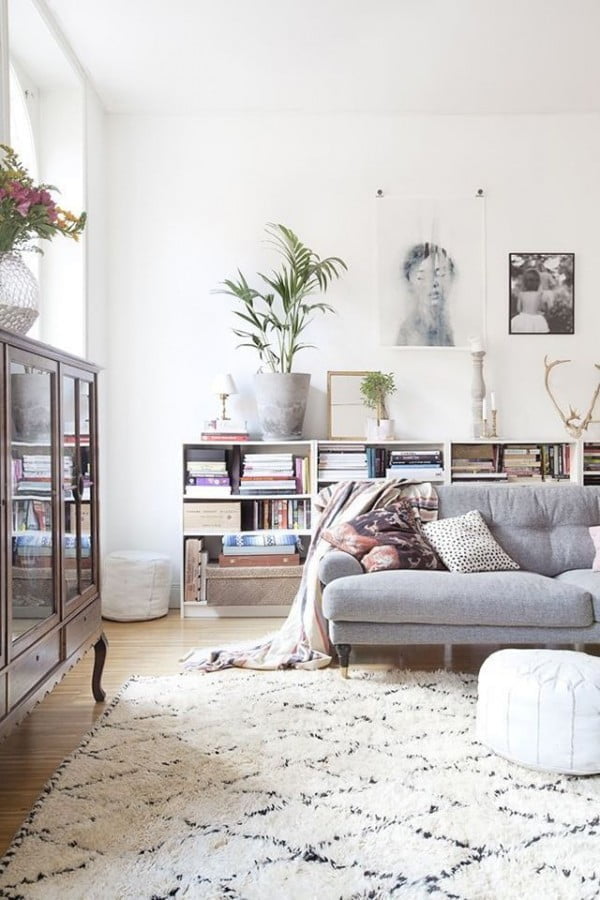 Having a neutral color palette means you have to play with patterns. Keep the patterns subtle without popping colors, but find a combination that adds depth to the room.
Create a Gallery Wall
Having a full-blown picture gallery wall is a great way to personalize the room with pictures that tell your story.
Create Wall Paint Patterns
This idea goes back to using patterns to add depth to space, only this time think beyond the textiles. This wall paint strip creates a different decor flow and makes an accent of neutral colors, pictures and suspended shelves for display.
Get a Piece of Unique Furniture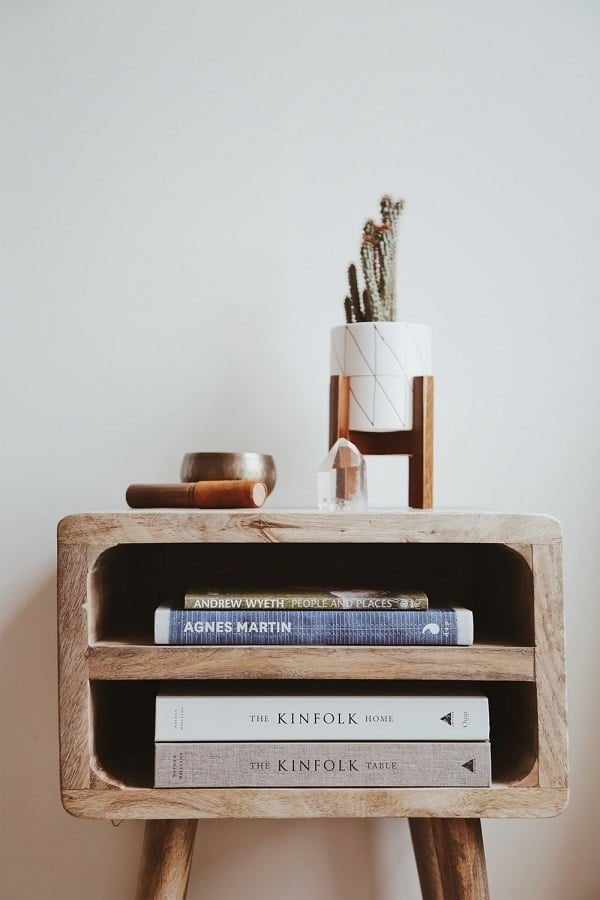 A vintage dresser, or a fancy side table, get any unique or fancy furniture that pops out in your decor to add instant personality.
Make the Bookshelves Pop
There are several DIY ways to make the bookshelves pop, but one of our favorites is the wallpaper backboard. Add a subtle pattern wallpaper to create an accent.
A Different Approach to a TV in Decor
Instead of adding a TV on its own shelf in a bookshelf or a cabinet and letting it disappear, install it in front of the bookshelf and make it the centerpiece that brings the display together.
Create Personal Lighting
We've talked a thousand times before but it's worth saying again, layered lighting can make or break the room decor. Get several lamps, install recessed light dimmers, add new fixtures, and find the lighting that is pleasing to you personally.
Stack, Don't Clutter Up
Your personal this-and-that's make great displays but don't throw them around randomly, stack them and group them up to find an aesthetic look.
Get a Fancy Mirror
Ornate brass or gilded mirror frames make the perfect accent in neutral home decor.
Experiment with Subtle Wall Decals
Adding personality to a neutral decor is all about keeping it subtle. Try light floral patterns to add that subtlety.
Wooden Finish Furniture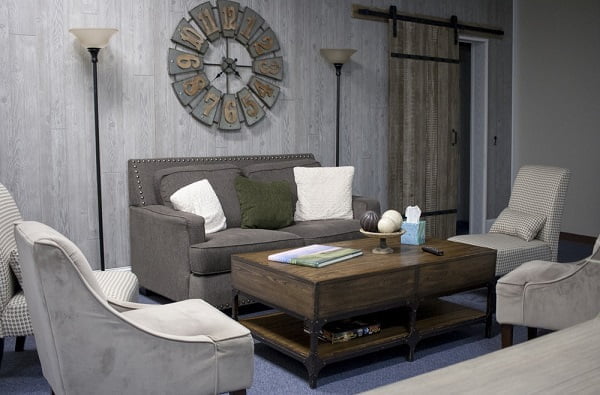 Wooden finish furniture adds warmth, character, and personality, so try adding a coffee table, or stools in timber or similar finish.
Coarsely Woven Rugs
Coarse rugs take the edge off a strictly neutral look and make it softer, warmer and more personal.
Paint a Door in Chalk Paint
A quirky way to add a personal accent in a neutral scheme is black chalk paint. You'll have an empty canvas for a creative personal touch from thereon-in.
French Decor Style
Elegant French home decor is the embodiment of combining homespun comforts with European elegance. It uses a chic and muted color palette that incorporates natural wood, exquisite hues of gold and flax and burlap colored fabrics. Patina is also used to highlight detailing in metal. This injects quiet elegance and adds a rich sense of style to a room.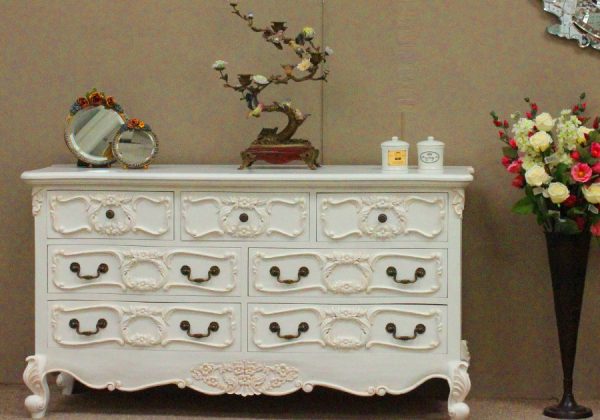 Accessories are integral parts of elegant French home decor. Well-designed scrolling metalwork and vintage-inspired designs enable versatile accessories to adapt to various styles of homes. Whether you have a rustic elegant home or a shabby chic cottage, it will be enhanced by the right French home décor.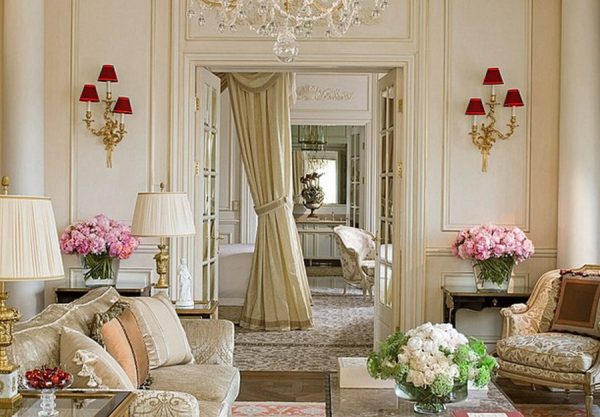 French flavor can be easily injected into a room via architectural details that throwback to yesteryear. However, the look can be created without having to live in a primeval chateau. To add charm to your French-inspired kitchen, you can incorporate hand-scraped wood beams and rustic stone tiles. The look can also be enhanced by patina finishes, intricate molding details and curved archways.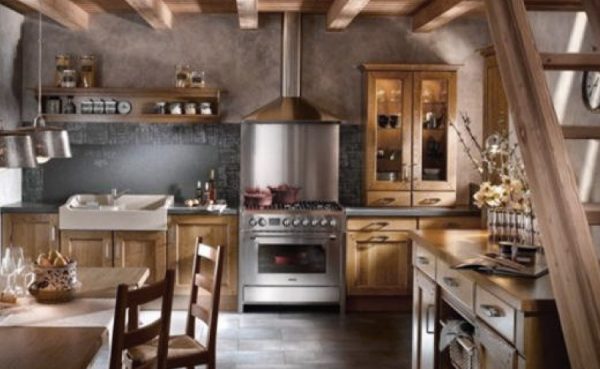 French country décor is a meeting of rustic country and European sophistication. This inviting and graceful style can use old-world characters to accomplish the French country look. It strikes the perfect balance between comfort and beauty and the style can be seamlessly incorporated into both country houses and elegant homes. You can introduce this warm, welcoming design style to your home by adding soft patterns and soothing hues, pretty furnishings, and noteworthy accent pieces.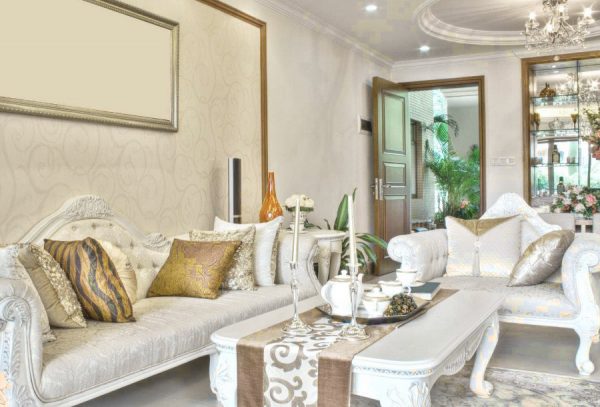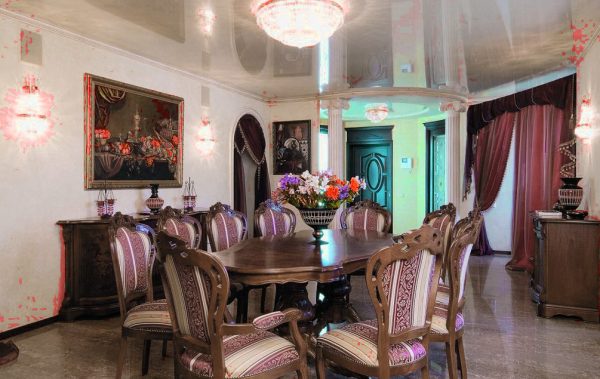 Provincial patterns and fine-looking fabrics are hallmarks of the French country style. More delicate patterns and softer colors are used to balance the hectic lifestyles that exist these days. Lacy accents, decorative trims, and attractive fringes provide an elegant finish.
Notable materials and decorative faux finishes can be used to accomplish the old-world style of elegant French home decor.
Architectural Mirrors
Use architectural design mirror frames to add architectural interest to your home decor. It's much easier than adding crown molding, for example, and a mirror in this style can have a very dramatic effect.
Fake Windows
Mirrors can be used as decorative windows, especially placed on the walls against real windows. This way they reflect the light to make the room brighter and make a decorative statement at the same time.
Mirror Gallery Wall
Picture gallery walls make a strong statement as a decor feature, but mirrors are that much more effective. They don't have to be matched to the wall color or room palette, the only thing you have to think about are the frames.
Mirror Frames
When it comes to mirror frames, you have a lot to experiment with – from the popular sunburst frames to traditional rectangles, accent round frames and everything in between. Our tip is to create a mirror wall and add to it as you pick up accent mirrors over time.
Vignette Mirrors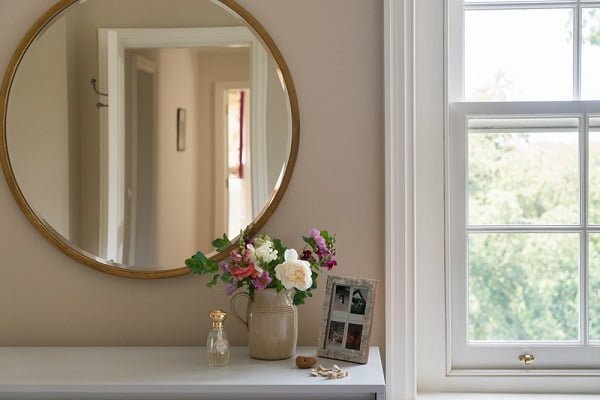 A mirror behind a vignette works as a great backdrop that elevates the composition. Hang mirrors over display surfaces for this dramatic effect.
Layered Empty Frames
Add depth to a mirror by simply placing an empty picture frame against it. For example, this round frame gives the rectangle mirror new shape without even having to re-frame it. You can put to use any old vintage frames you may have.
Fake Garden Windows
Similar to the interior decor, architectural mirror frames can make decorative windows on the walls or the fence in your garden or patio.
Outdoor Mirrors
Having a mirror on the wall of the porch or patio will make it feel more like a room.
Focal Point Mirrors
Mirrors are great focal points that bring everything together. For example, this gallery wall makes use of around mirror as an anchor for varied size pictures.
Black Kitchen Cabinets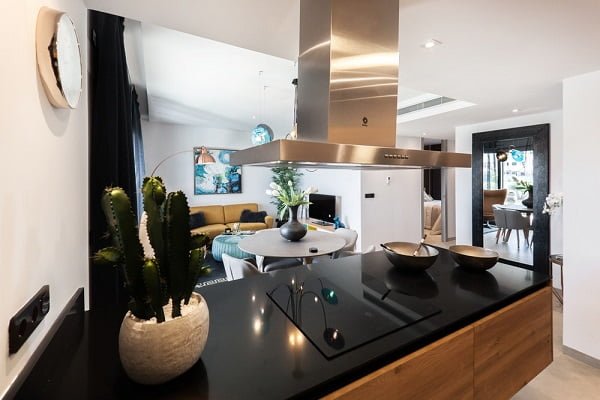 We like introducing some contrast to the kitchen with black cabinets. Black isn't dominant here, rather it contrasts with white cabinets and walls, as well as the subway tile pattern.
Black Lighting Fixtures
If you want to add black accents in a more subtle way but one that still has a dramatic impact, try black pendants, lamps and other lighting fixtures. They don't distract from the rest of the decor but make their presence felt.
Black Staircase
Painting the staircase black is a great way to make a strong accent, and if it's mixed with the soft wood finish you get a sophisticated and masculine style. In any case, black stairs will work with any color scheme.
Black Accent Furniture
It will always create drama in a room, especially if combined with metallic finishes of other decor pieces, such as this mirror frame, table lamps, and Chinese garden stools.
Black Appliances
If you're one for decor trends, black stainless steel is this year's feature in the kitchen. Black appliances create a break in the kitchen style where other colors and patterns are used, usually in soft grey hues or whites.
Black Accent Pillows
It isn't common to go for black accent pillows unless you're going for a complete black and white decor style, and well, black doesn't pop like other colors. However, a black throw pillow provides a visual break and it can be used to introduce a new pattern.
Black Pattern Rugs
Bring the room together with a black pattern rug as the anchor. It doesn't draw attention away from the room decor and doesn't disturb the color flow while still providing the warmth and softness.
Black Striped Curtains
Similarly, you can dress the windows in a black and white pattern curtains to add depth and actually make the windows look bigger.
Get One Fancy Lighting Fixture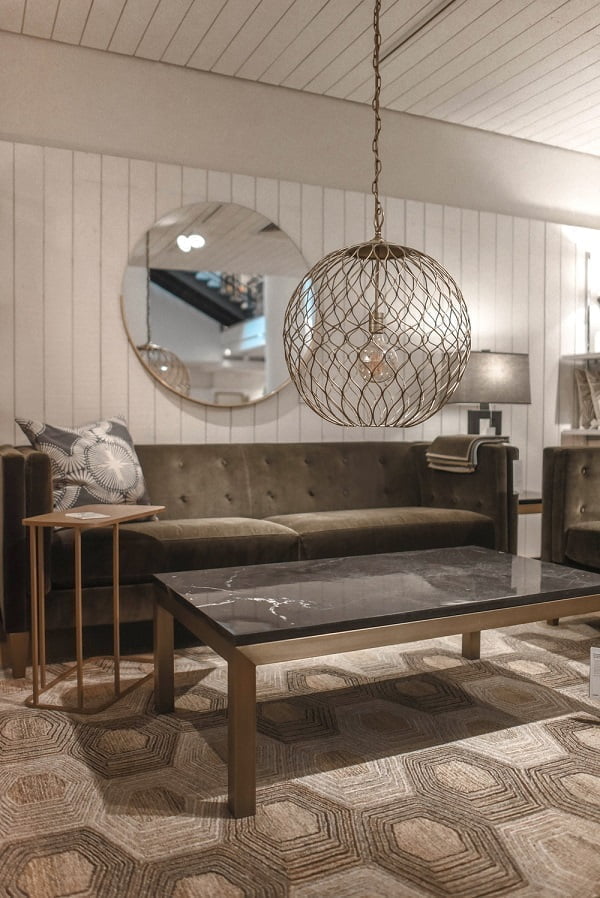 Get a lighting fixture or a chandelier that looks interesting. It makes a big accent and draws attention while making it seem well thought out and expensive.
Embrace the Moldings
Moldings are the sign of luxury for a reason, they add depth and dimension to the room and make it look finished. They aren't expensive to add too, and you can even do it yourself.
Upgrade Your Textiles
Throw pillow casings and covers are go-to accents in the living room and bedroom, by upgrading them you're increasing the perceived value of your home. Choose elegant materials like linen, cotton or even silk and avoid cheap looking polyester. Get bigger plushier throw pillows for the living room sofa to amp up the elegant appearance.
Style Your Windows
Getting the window treatments right is a big aspect of an elegant home, so much so that it can make or break the appearance you want to create. You don't have to use expensive drapery, you can quite easily style the curtains and shades to make it look elegant. If you're going to use drapes, avoid the cheap-looking polyester fabric.
Match the Hardware Finishes
Elegant and matching finishes of cabinet pull handle, faucets and lighting fixtures in the kitchen and the bathroom give a luxe appearance. Change them to match or use spray paint to match the color at the very least.
Expose Hardwood Floor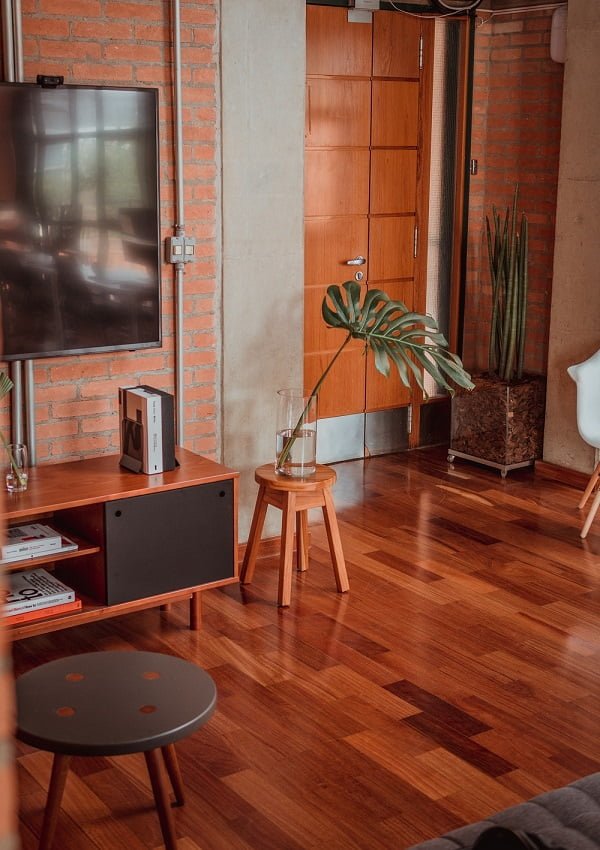 Wall to wall carpeting and big rugs make the room look soft but the hardwood or even laminate floor looks classic and elegant. That's the look we're going for so leave the floor bare and go easy with rugs.
Fake the Built-in Look
Built-in cabinets break the elegant forms of moldings and classic wall design. If you like big shelving space, use big floor to ceiling cabinets and secure them with crown molding.
Embellish the Ceiling
Ceiling embellishments are accents to luxurious decor. So make the ceiling stand out for an expensive look by embellishing the area around light fixtures with a ceiling medallion or vinyl decals.
Stay Minimal
The minimal uncluttered decor will always stand the test of time better than busy decor. Choose quality over quantity if you want to keep it timeless.
Add Color Accents with Accessories
Of course, neutral only colors are boring and have no character. You need pops of color and accents, but instead of committing to wall painting or big accent furniture, choose small accessories like throw pillows, or even smaller furniture like stools or ottomans that are easy to switch.
Think Through Every Detail
Choosing every detail that you add to your home not only will save you money but make you like your home better for a long time. Give it a good thought and don't buy things on a whim.
Functional and Comfortable is Timeless
Always choose functional and comfortable over trendy and stylish. Something that looks chic today might look tacky in a year and you'll have to throw it away. On the other hand, comfortable furniture will be hard to get rid of even if you need to because you fall in love with it.
Blend Old and New
As time goes by you will add many decor pieces of different styles from different epochs. You can even emphasize it with antique items. Such a blend gives your home a well-collected look.
Display the Best of the Best
You may have a lot of collectibles and accessories that you'd like to show, but don't just put everything on display. Keep the best of the best only and you can rotate things to keep it fresh.
Choose Functional Window Treatments
Lighting is very important in home decor and natural lighting is irreplaceable. Choose window dressing with functionality in mind to let as much light in as possible.
Consider Classic Features
Classic is timeless so consider such features as crown molding and ceiling medallions for an accent that will stand the test of time.
Smart Storage
Smart storage never goes out of style and keeps your home clutter free. This cabinet design provides ample storage space with extra slide out compartments and it will be just as good for years to come as it is now.
Choose Small Trendy Pieces If You Have To
Just because you want a timeless decor doesn't mean that you can't indulge in trends. However, do try to get smaller pieces only that you can easily swap out when you get bored of them.
Keep What You Love
In the end, the only thing that matters is that you surround yourself with things that you personally love. It doesn't matter what style, trend or whether it's timeless in general sense as long as you love it and you want to keep it forever.
Keep Rearranging Things
There's no one right way to arrange a vignette, a display shelf or even the furniture. Keep rearranging things regularly and look for new ways to create a different look. The key to being creative is always changing things.
Keep a Stash of Decor Pieces
You can't work on your decor empty handed that's why you need a good stash of various decor pieces to turn to anytime. You don't need to display everything you have, in fact, you need only a small part of it, but having something to choose from will enable you to be a lot more creative.
Display Your Collections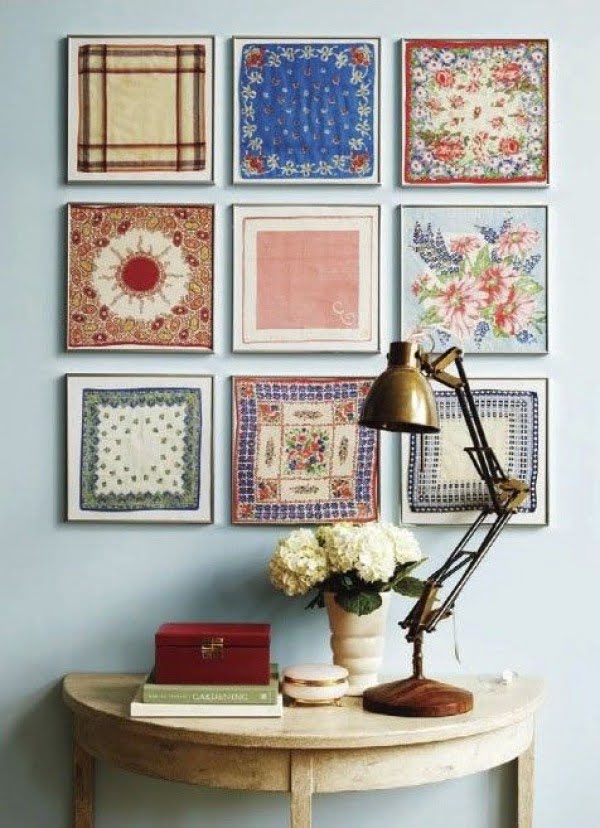 One of the best ways to show your creativity is by displaying a collection. So if you haven't got one, better start collecting something. It can be absolutely anything that you like and find interest in. A collection that you spend time creating translates the effort to your home decor and it will not go unappreciated.
Check Thrift Shops Regularly
It's not about being cheap and trying to save every penny, thrift shops are great for random decor gems that you won't find anywhere else. You'd be surprised how unique vintage thrift shop finds can inspire you.
Use Striking Colors
Nothing kills creativity more than neutral colors. Yes, a neutral pallet is safe and leaves an empty canvas for accents, but it's also dull and uninspiring. Let a touch of striking color dictate the decor and you'll feel your creativity gaining momentum.
Decorate the Kitchen to Inspire Cooking
You probably spend a lot of time in the kitchen, so make sure it inspires you to cook and eat healthy. Create a mini herb garden that will make you want to eat fresh food.
Keep a Decor Journal
Anytime you get a spark of creativity, make sure you have somewhere to scribble a note down or sketch out what's on your mind. Keeping a journal will help you get your creative thoughts together.
Take Risks
Creativity isn't born out of playing it safe, you have to take decor risks. For example, experiment with neon colors or mixing patterns, you won't find out what works until you try it.
Create a Beautiful Pinboard
Having a pinboard available to pin art, notes, jewelry and other ideas is a great way to keep your creativity alive. Use an attractive frame or even a beautiful cover fabric and you can make it part of decor in any room.
Decorate the Bathroom Like Any Other Room (or Even More)
Make the bathroom your home spa by really putting your effort into its decor. Bathroom is often the least decorated room in most houses, so use that space to be creative.
Create Mood Boards
Mood boards allow you to get the vibe of the room's decor to be, and it's a great way to get inspired.
Create an Outdoor Getaway
No matter how small your backyard is, even if you just add some seating to it, make it a place where you can go out of the house and spend a moment to think.
Practice the DIY
Nothing helps your creativity grow than creating something beautiful yourself. So embrace the DIY and try to find the time to practice it regularly.
Recap
Liked this article? Here's what you can read next: